Libyan desserts have a complex flavor from the Middle Eastern region that will make your meal so memorable. Turkish and Moroccan culinary features also appear in Libyan cuisines. I'm sure you will love the following sweet specialties.
From the crumbly Abambar to the soft and smooth Asida, all these tasty Libyan specialties will fit your taste. Just hop on to this savory journey and explore the upcoming desserts.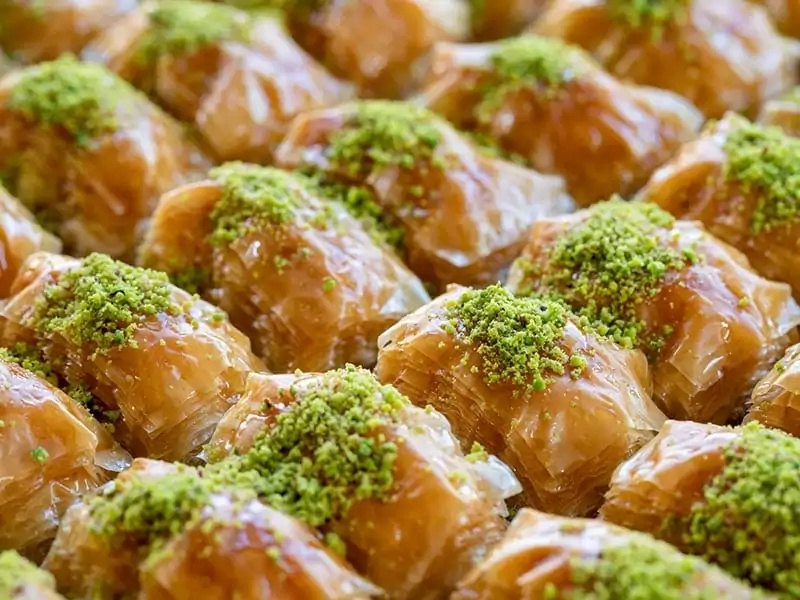 12 Libyan Desserts To Diversify Your Must-Have List
Now! Let's immerse ourselves in these Libyan sweet courses' delicious and delicate flavor. Hey! What to wait for? Let's dig in.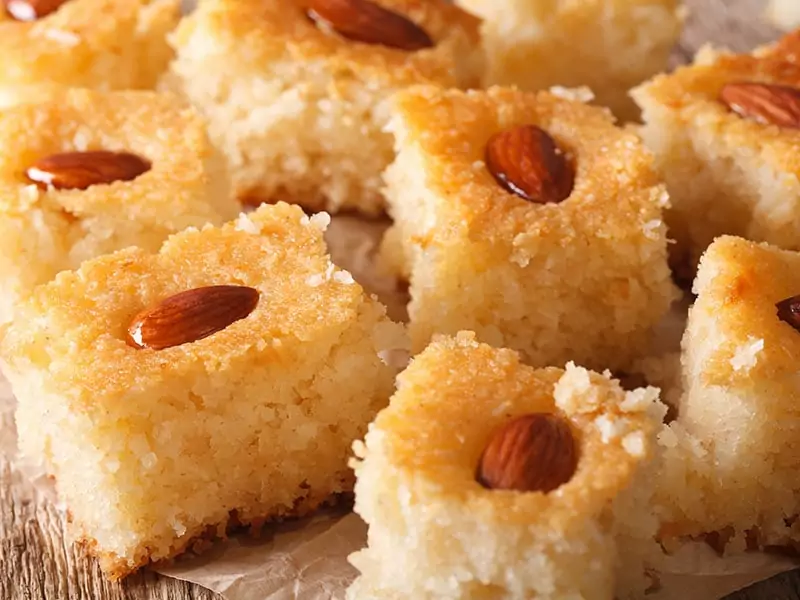 Speaking of Middle Eastern cuisine, Basbousa is a vital dish in this region's culinary culture. It's one of the most delicious desserts in Libya that will satisfy your taste. The soft and slightly moist semolina cake is sweet and delightful syrup bathed.
You can add lemon to create a touch of citrusy to the cake. Basbousa is perfect for serving any meal or even some special occasions. Customarily, the cake is cut into small squares with almonds on top.
The sweet flavor of this Basbousa came out great! You have to give it a try!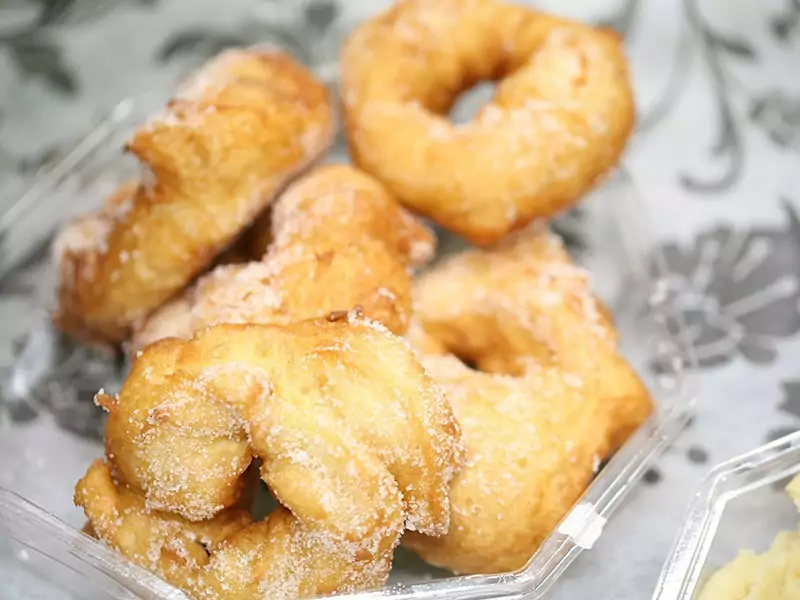 Who doesn't love doughnuts, right? Sfinz is a delicious Libyan morning dish that you should not skip. The dish is usually served as a snack in the morning or afternoon to satisfy your empty stomach.
You can pair it with a hot cup of tea to finish your meal. These fried doughnuts have crispy edges with a soft interior. You can add cheese to create extra creaminess for this doughnut.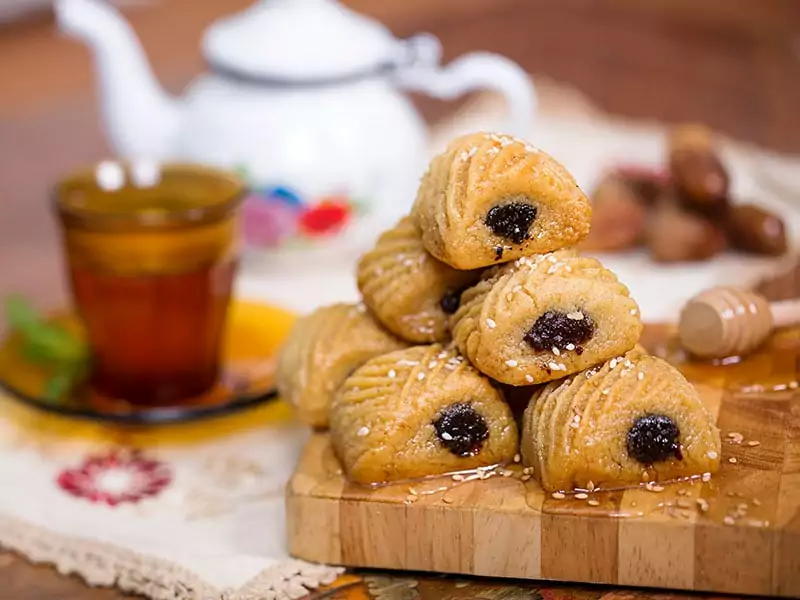 Here comes another semolina sweet dish in Libya. Magrood is a tiny cookie with a honey taste. The date filling creates a little chewy and fudgy texture in the cookie's center. Bake these cookies until golden, and you have a nice batch of Libyan treats.
The cookies are soaked in honey and sugar syrup overnight to gain a lovely sugary flavor. You will find a delightful aromatic scent from sesame seeds that complements the sweetness. Garnish them with some colorful sprinkles, and the cookies are ready to serve.
Do you want to try a touch of flaky dessert? This Libyan Diblah will surprise you! This treat is the harmonization of Mediterranean and North African cuisine. The treats are fried until brownish-golden and reach the perfection of crispiness.
You can add some honey for extra sweetness. The presence of lemon juice or orange syrup gives this Diblah a delightful citrusy flavor, not to mention the enchanting flavor of sesame seeds.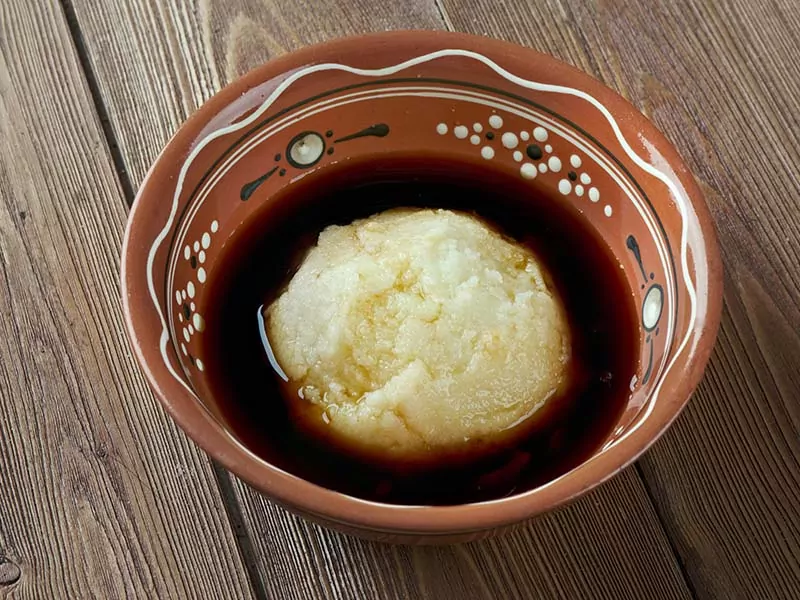 Asida or Aseeda is a unique dessert of the Middle Eastern regions. This dish is usually served in celebrations like Eid and other traditional ceremonies in Libya (child's births, for example). Basically, Asida is a boiled flour pudding with a slightly chewy texture.
This is a perfect Libyan dish to complete your dinner table. There are plenty of choices to pair with this pudding. You can use date syrup, honey, and melted butter for the dish. The dish is served hot and enjoyed with either hands or spoons.
Yum! This Libyan Aseeda looks great. It's time to try it!
Kunafah is a sweet and cheesy dish that is traditionally served in Ramadan. It has a crunchy edge with the crumbly texture of the shredded pastry. The cheese filling will charm you with its gentle creaminess flavor.
This Libyan dish is perfect for lunch. You should use Kunafah hot when the filling is oozing, and the edges are still crispy. Add a touch of greenery accent for this cake with crushed pistachios. I'm sure your family will adore the taste of this dessert.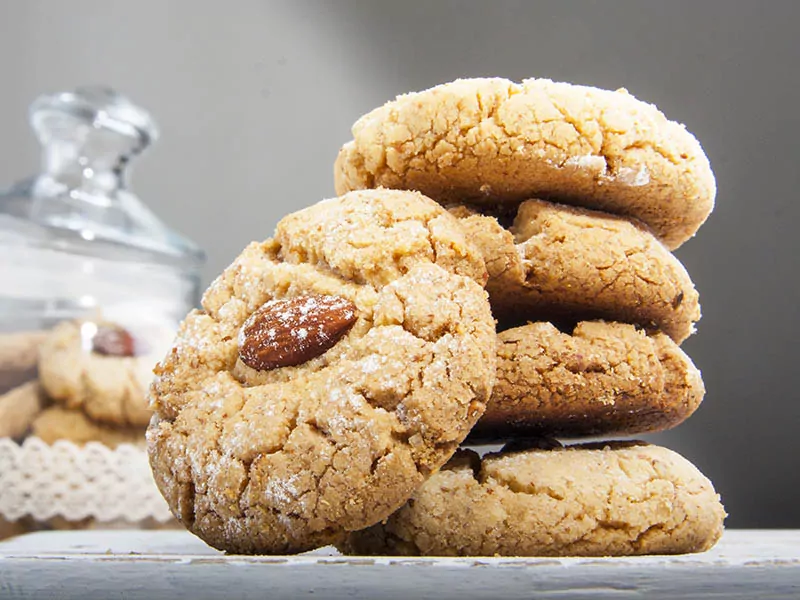 Let me greet you with some delightful cookies from Libya. Abambar looks like half of the macaroon with a crumbly texture in every bite. After being baked, the cookies have a unique look of cracks and beautiful brown color.
The presence of almonds in the recipe adds a nutty flavor and mesmerizing scent to the cookies. Bake a batch full of this delectable abambar to your family right now; I bet they will love it.
Full of nutty flavor and super delicious; you have to try these Abambar now!
Baklava is another popular dish that contributes to the reputation of Libyan cuisine. The dessert has a flaky cover with an enchanting sugary and buttery filling. The chopped nuts form a magnificent crumbly texture for the dish.
However, these wonderful treats aren't exclusive to Libya alone. Baklava is a well-known dish in Bosnia, Greece, Turkey, Algeria, and numerous other countries.
Each layer of the cake will take you to heaven of fantastic sweet courses. The dish is usually served in Ramadan and on other occasions in Libya. In addition, Baklava is famous in numerous other countries. For example, the people in Montenegro love this dish dearly.
Baklava is an excellent choice for any meal to gather all your family members.
OMG! I'm sure you can not resist these crispy Kaak. Kaak is a traditional Libyan biscuit that is aggressively consumed in this country. There are many variants of Kaak, but they all have flaky edges with an enchanting sesame aroma.
You can shape this Kaak in any form you want; I have collected a stick and ring recipe right here. However, the twisted pastry dough is the signature appearance that you should keep.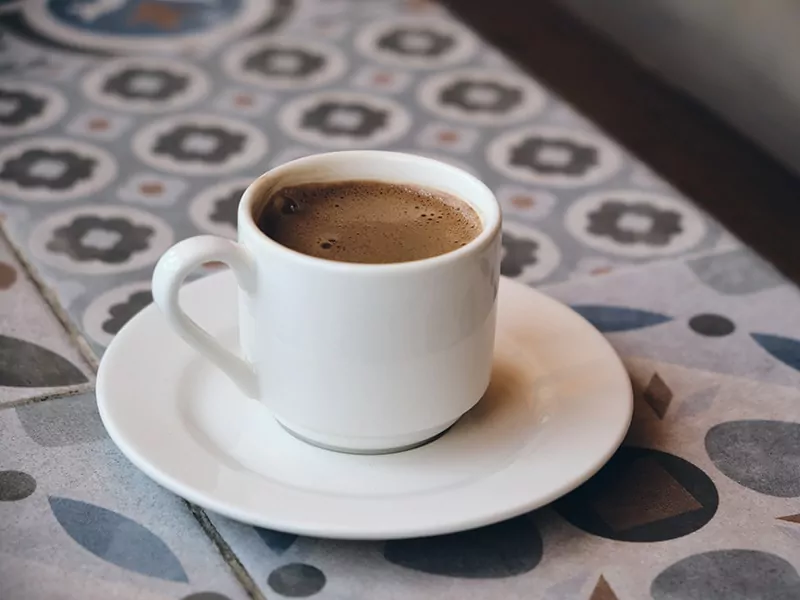 Qahwah is a traditional Libyan coffee that will brighten up your moody morning. To make this coffee, you need a unique coffee pot from Turkey. This pot will form a unique coffee flavor that you can not find anywhere else.
When the pot starts oozing, you can add the required ingredients to the pot. Cardamom is the key ingredient that adds a slightly nutty and earthy taste to Libyan coffee.
Hey! Do you want to try an astonishing middle eastern pudding drink? This milky Sahlab will be the best choice for you. When the freezing, snowy days come, this drink will embrace your body with its sweet and rich taste.
The drink is full of vanilla flavor with a gentle buttery taste from desiccated coconut. You can finish the drink with chopped nuts (walnuts or pistachios) and raisins for extra flavors.
This Sahlab recipe is the best choice on winter days.
Jilapi is another crispy treat in Libya that has a melt-in-a-mouth texture. The dish has other names such as 'Jalebi' or 'Zalabia' ('in Libya) with different shapes. Jilapi traditionally has a spiral shape with sugar syrup. You can also find this dish in Yemeni culinary culture.
These crispy treats have a lovely floral scent from rose or orange-blossom water. Jilapi is perfect for treating your guests or adding to your kids' lunch box.
Want a bite of this crispy Jilapi? Make it now!
I hope that the suggested recipes inspire you to try something new for the upcoming meal. Trying new recipes allows you to explore the taste and the culture of the country.
Don't hesitate to share this post with your friends. I bet they will love these tasty recipes. Have a nice day, and see you again in the next post.
Nutrition Facts
8 servings per container
---
Amount Per ServingCalories172
% Daily Value *
Total Fat 5.5g

8

%
Cholesterol 5mg

2

%
Sodium 226mg

10

%
Potassium 57mg

2

%
Total Carbohydrate 26.5g

9

%

Dietary Fiber 1g

4

%
Sugars 2.4g

Protein 4.1g

8

%
---
* The % Daily Value tells you how much a nutrient in a serving of food contributes to a daily diet. 2,000 calories a day is used for general nutrition advice.