I'm sure you don't want to miss these Libyan foods because this country has a fusion culinary culture that you can't find in any other country. In fact, North African, Berber, and Mediterranean cuisines affect the Libyan flavor and cooking methods.
Italy also influences the culture in Libya, especially in Tripoli (a capital city of Libya). So, you will find some Libyan foods with Italian features in this country. Are you excited yet? It's time to dive in!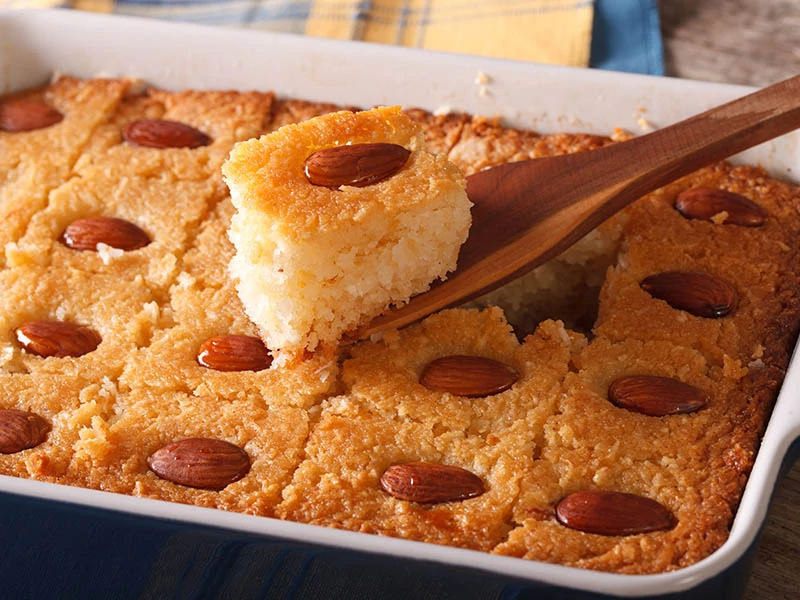 Libyan Main Courses
Initially, let's fill your stomach with these delectable dishes from Libya. From Shorba to Imbakbaka, they will satisfy your hunger.
1. Bazin (Libyan Unleavened Bread)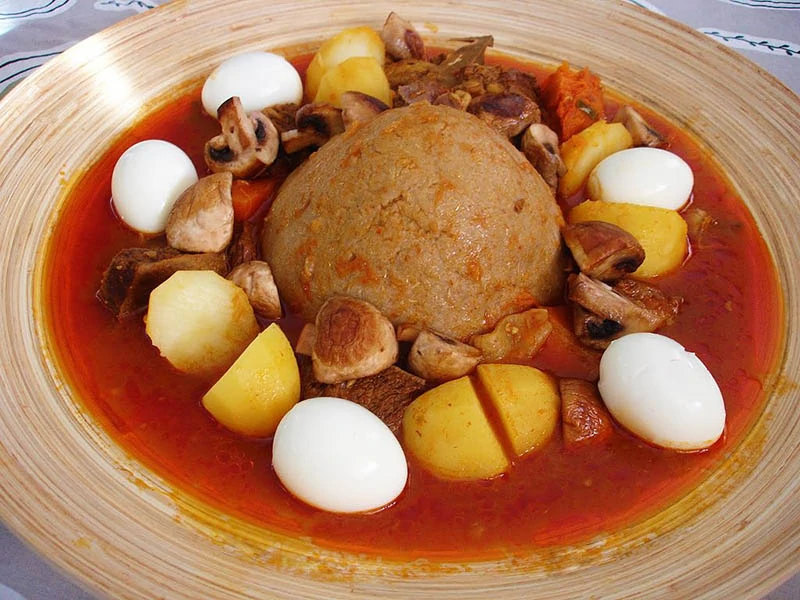 Bazin is a special kind of bread in Libya usually made from barley, salt, and other ingredients. The boiled barley dough is mashed with a special stick called 'Magraf'. After being baked or steamed, the outcome has a dumpling-like appearance with a lovely hard texture.
Libyans usually enjoy this dish together using their right hand. You can pair Bazin with boiled eggs, tomato sauce, and mutton (sheep meat). There is a version paired with meat-and-potato stew. Place a raw egg in the soup or stew while still hot.
Tomato sauce mixture or cooked pumpkins are some typical companions for Bazin. The sauce of Bazin is a result of cooking mutton, helba, turmeric, and other fragrant ingredients. Add lemon or pickled (or fresh) chilies if you want a unique flavor.
2. Pilaf orr Pilau (Libyan Rice Pilaf)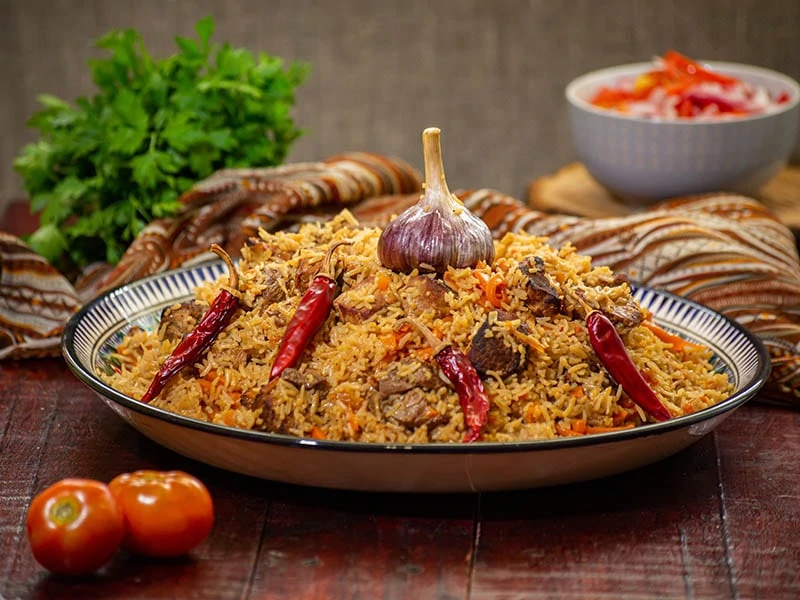 Do you want to try an impressive Libyan meal for lunch? Pilaf will be an ideal choice for you. This is a popular dish in the Middle Eastern and in some  Asian countries, like in Indian food menus.
This rice has its authentic flavor from being soaked in stock or broth for a long time. Vegetables, meat, and spices are added along with a sophisticated technique to form perfect rice that does not adhere.
In Libya, people usually add raisins (or plump sultanas) and almonds for their rice Pilaf. Cinnamon, cumin, or cardamom are added to perfume the rice with a delicate aroma. You can serve the dish standalone or pair it with stewed lamb or meat.
Pilaf uses thin and longer rice compared to ordinary ones. Moreover, there are countless varieties of Pilaf worldwide with differences in flavor and cooking methods.
Some versions do not use meat or vegetables. These styles are popular in Turkey and some Persian countries. On the other hand, the chef will add saffron for a beautiful yellow color on special occasions.
3. Shakshuka (Poached Eggs)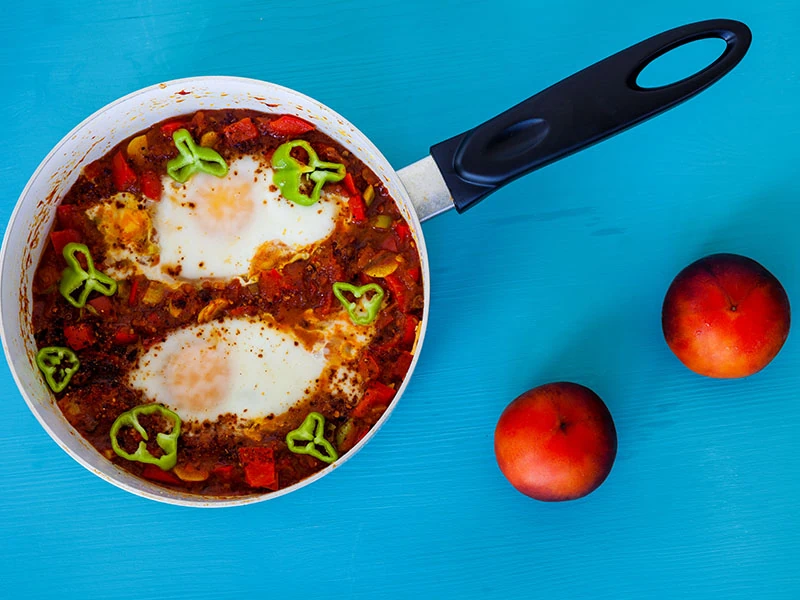 Yummy! The dish is an ideal breakfast choice in Libya. Shakshuka is a dish with a creamy taste from eggs and a bit tangy with flavorful tomato sauce.
The ingredients are straightforward with simple preparation, so Shakshuka is the best choice for a busy morning meal. Shakshuka appeared in North Africa in the mid 16th century and was brought to Israel by Libyans and Tusnians.
The dish is one of the most famous dishes in Libya and other countries in the North African region.
Shakshuka started gaining its reputation in the region thanks to the Jewish immigrants to Israel in the 1950s and 1960s. Then, in 2012, Israeli chef Yotam Ottolenghi mentioned the international recognition of Shakshuka in his book.
Minced lamb, potatoes, parmesan cheese, and chorizo are some common ingredients to create other variants of Shakshuka around the world.
4. Couscous (Libyan Couscous Stew)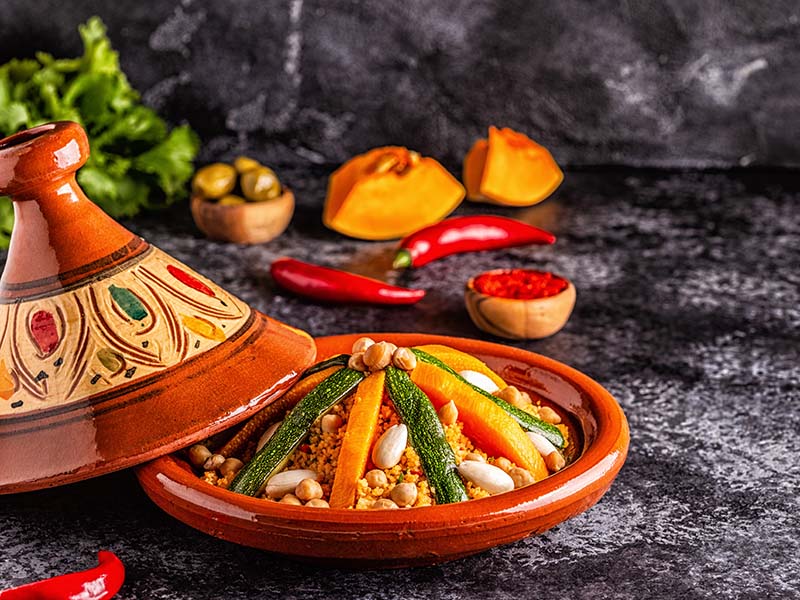 If you are looking for stable food in Libya, you should try Couscous. Customarily, the dish contains rolled durum wheat semolina with steamed granules. Couscous is packed with nutrients and vitamins that might be suitable for your diet.
The dish's origin is in the North African region and is recognized by UNESCO in the Intangible Cultural Heritage Lists. Cereals like Bulgur, sorghum, and pearl millet are usually added to make the flavor more memorable.
In Libya, you will find two common types of Couscous: Couscous Belbulsa and Couscous Belkhodra. The first one only has onions, chickpeas, meat, and spicy sauce, while the second one has extra veggies for a wonderful taste.
Couscous first appeared in the 11th century by the Berbers from Algeria and Morocco. Then, the dish started to get its reputation across the European and the Mediterranean region.
You will find the dish in most Western supermarkets in pre-steamed status. Most products you find in supermarkets will be a mechanized version. However, quick-preparation packages of Couscous are available if you want to make it.
5. Imbakbaka (Libyan Chicken Pasta)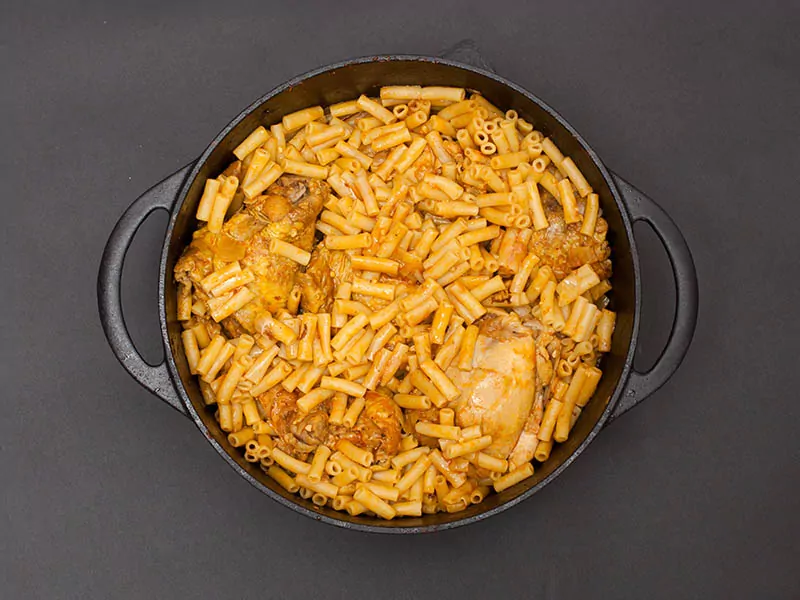 Want to twist your dinner table with a Libyan dish? Imbakbaka will change your perception of ordinary pasta. This dish proves that Italian cuisine plays an important role in Libyan culinary culture.
Italian food culture was adapted in Libya between 1910 and 1947. The dish is a simple recipe that you only need one pot to cook. Sweet and spicy flavors harmonize splendidly in this spectacular dish.
Traditionally, people use chicken to add a savory flavor to the dish, but the veggies version like peas, chickpeas, and carrots will fit your 'green' diet.
6. Mafrum (Libyan Stuffed Vegetables)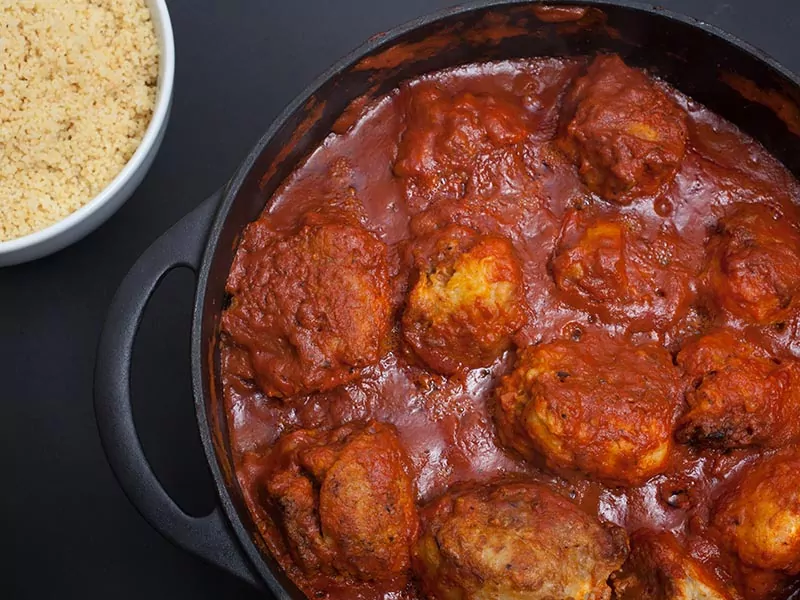 Jews in Libya have created a unique dish that you will admire for its sophisticated and savory flavor. Mafrum combines juicy meat stuffed in potatoes and bathed in a tasty sauce. Some versions of Mafrum even use eggplant and cauliflower to substitute potatoes.
Or, if you are a veggie-lover, you can make a dish full of these spectacular ingredients. The sauce for Mafrum usually has a beautiful red color, and the entire dish is perfect to pair with Couscous.
This dish is often a weekend meal instead of a weekday meal because of the preparation and cooking duration. However, the fruits of your effort are a dazzling meal for your family.
7. Aslooz (Libyan Couscous-Based Dish)
There is a special dish in Libya that you can only enjoy its best flavor in spring or summer. The dish is called 'Aslooz'; this is also the name of a seasonal plant in Libya that has a unique flavor.
You can find this plan almost everywhere in the countryside or the mountain area of Libya. The plant is harvested during January and February, and people pair this plant with Couscous for an extraordinary flavor.
Aslooz is a family dish that you can enjoy with your beloved one after a hard-working week. Couscous and Aslooz are flavored with a special carrot sauce that usually has a piquant flavor from chili pepper.
8. Rishta (Libyan-Style Pasta)
In the North of Africa, Rishta or Rishda is a spaghetti-like dish with an exquisite flavor. In Libya, it is a popular pasta dish with thin noodles bathed in Busla – onion-rich sauce in this country.
Rishta in Libya is often known as Rishdat Cascas (Couscousiere Rishda) and Rishda Imbaukha (steamed Rishda). In Tripoli (the capital city of Libya), the dish is a heat and is loved among the local citizens.
A dish called 'Makaruna Imbaukha' (steamed pasta) can be misrecognized with Rishta. However, they are quite different because Makaruna Imbaukha uses a special pasta called 'dry angel-hair pasta'.
9. Shorba or Sharba (Lamb and Tomato Soup)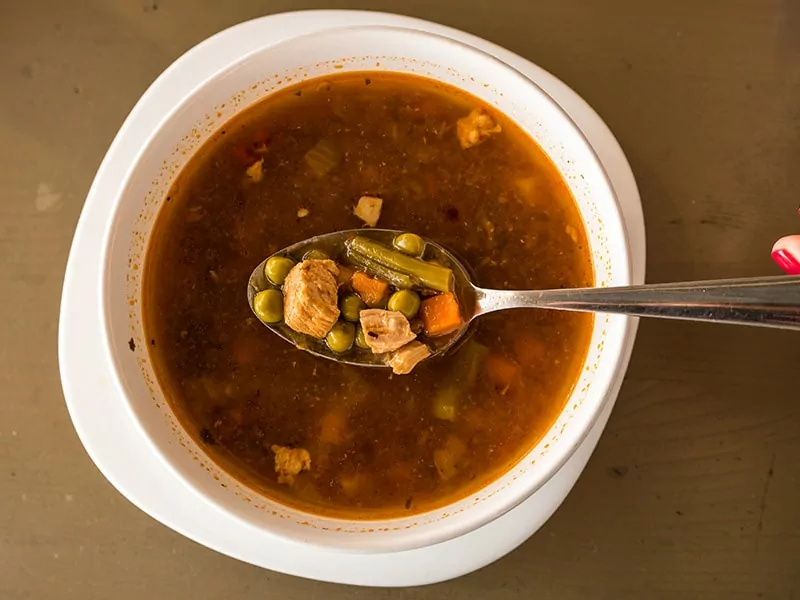 Let's try this amazing tomato-based soup from Libya – Shorba (also known as Chorba). The breathtaking red color of the soup will allure everyone in your family. The soup is so famous that it has become one of Libya's most beloved national dishes.
Shorba is a Persian delicacy often served during Ramadan month in Libya and other North African countries. The dish has its piquant taste and fragrant aroma from turmeric, turmeric, and cayenne pepper.
Traditionally, Libyans use lamb to bring a savory and rich flavor to the soup. Some Shorba variants have bulgar, couscous, pita, or rice for a carb diet.
10. Mbakbka (Libyan One-Pot Pasta Dish)
Mbakbka is a North African specialty that is influenced by Italian cuisine. In Libya, people usually make the dish in just one pot, so convenient, right? In the early to mid-20th century, pasta arrived in Libya, and this specialty was born.
Traditionally, the pasta is paired with tomatoes, spices, and chicken. Although sometimes, other types of meat are used for this dish too.
Harissa is often a top-chosen sauce to make this Mbakbka tastier. However, if you love a mild taste, you can adjust the number of piquant ingredients. The pasta is a perfect dish to treat your family on winter days.
11. Haraimi (Spicy Fish Stew)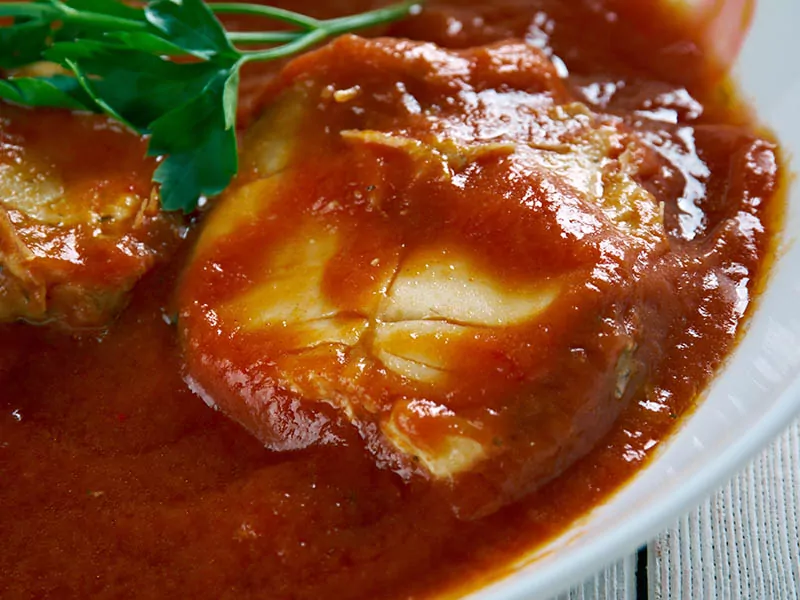 Yummy! Harraimi will change your perception of fish stew. This stew dish is a cuisine of Libyan Jews that was created back when Italians colonized Libya. The dish has a spicy tomato sauce that you can pair with bread, rice, or Couscous.
If you are afraid of the fishy smell, don't be worried. Fragrant spices like onions, garlic, and pepper will eliminate the smell of the dish. The spicy flavor will complement the fish flavor, giving you the most sophisticated taste.
You can make this dish to warm your family table on freezing winter days.
12. Tajine or Tagine (Slow-Cooked Stews)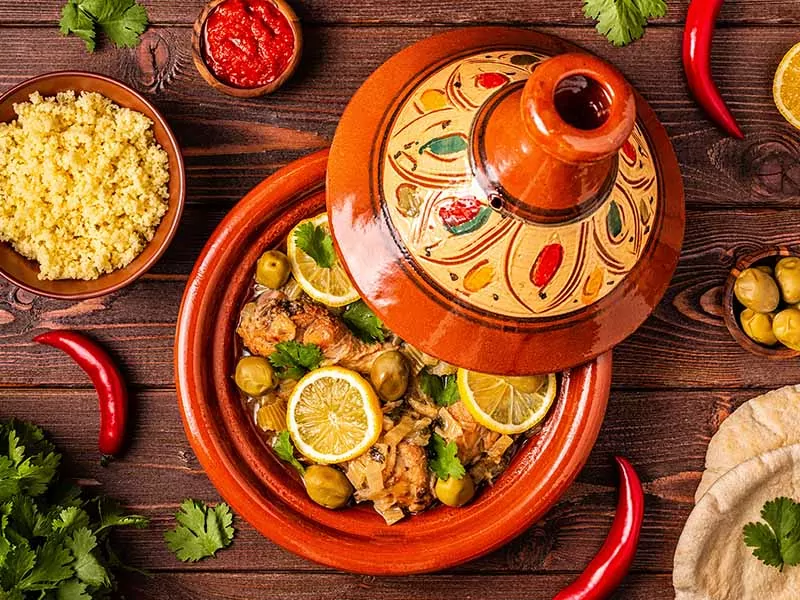 In Libya and other North African nations, there is a special stew recipe that is slow-cooked in a unique earthenware pot. Tajine originates from a Berber word 'ṭajin' means 'shallow earthen pot'.
The pot is heated on burning charcoal with a small space separating the pot and the heat. So, the dish is slow-cooked until all the ingredients reach the perfection of texture and flavor.
Tajine is an antique dish that was popular in the 9th century. There are many ways to prepare Tajine, but the most famous way is written in Ibn al-Adim with sheep's tail, lamb, and other spices.
Libyan Desserts
Libya has tons of tasty desserts waiting for you to unfold their taste. These scrumptious Libyan sweet courses are one of the core features constructing the one-of-a-kind culinary culture of this country.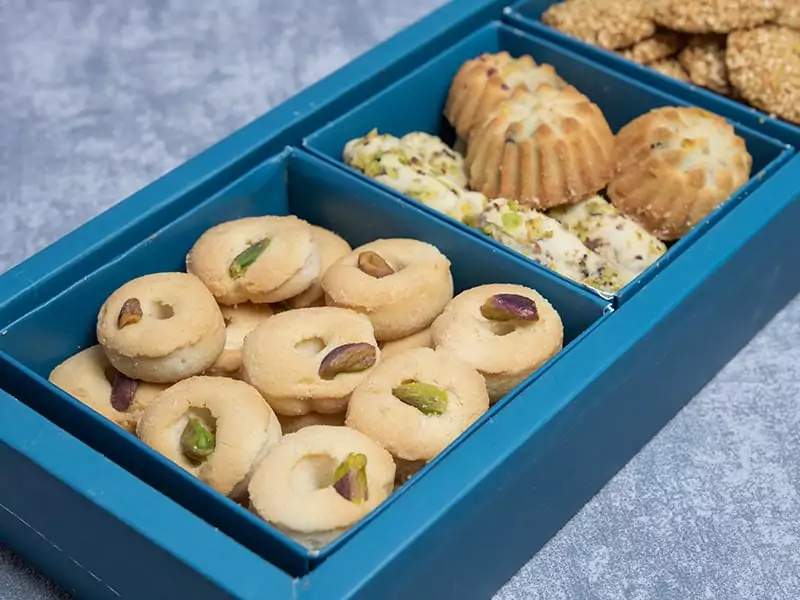 Ghoriba is a tasty shortbread-type biscuit with an enchanting crumbiness and sweetness. You can call the cookies Qurabiya or Ghorayeba too. The dish is insanely popular in Egypt, Arab, Libya, and other nations in the neighboring region.
The cookies are a perfect companion for Libyan tea, Maghrebi mint tea, and Arabic coffee. There are plenty of Ghoriba variants throughout the region, but they all share a signature crumbly texture.
14. Basbousa (Semolina Cake)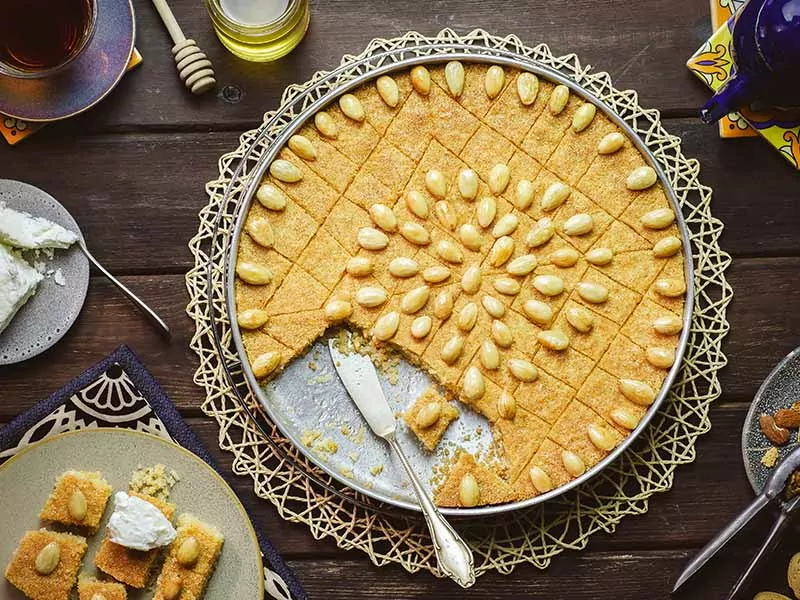 Basbousa is a semolina-based cake with a delightful sweetness. The sweet taste is a result of soaking the dish into sweetened syrup. In Libya, people usually add desiccated coconut into the cake mixture for a lovely rich flavor.
Customarily, the cake is garnished with almonds for an exciting texture and nutty flavor. The cake is often paired with Arabic cardamom coffee and Qashta cream.
The syrup for the cake is usually a fragrant one like rose water or orange blossom water. The fragrance is one of the critical features of the cake that makes everyone love it.
15. Asida (Flour Pudding)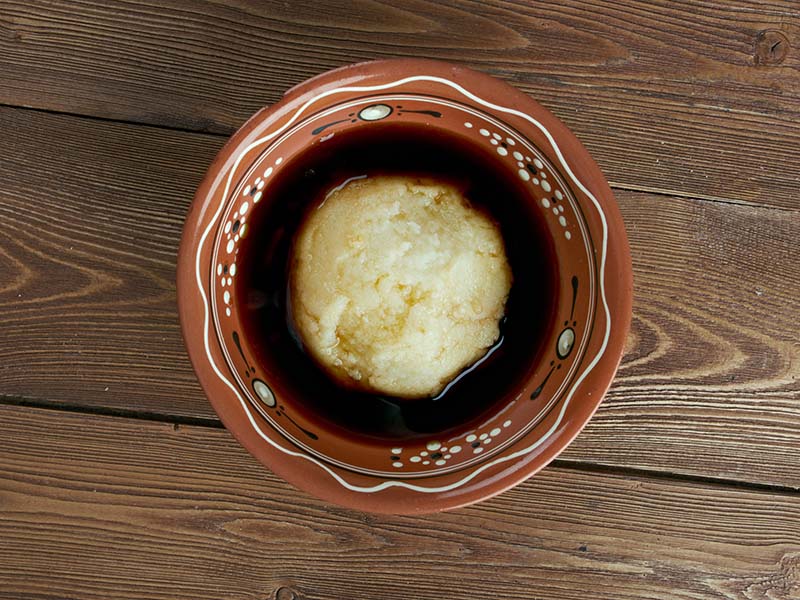 Let me treat you to a magnificent dish from the Maghreb. Asida is a soft, boiled dough with a beautiful sweet flavor. Libyans often make this dish to celebrate birth, Eid, or Mawlid. Like Bazin, the dish is usually served for many people at one table.
Rub and molten sheep ghee are some typical choices to pair with Asida. People usually enjoy the dish by hand (right hands). The dish's first recognition was in the Arabic cookbook called ' Kitab al-Ṭabīḫ' around the 10th century.
Asida is a fantastic dessert choice for your family table. The dish is traditionally used for breakfast to fill your energy for an exciting working day in Libya.
16. ​​Kunafa or Knafeh (Layered Pastry With Cheese)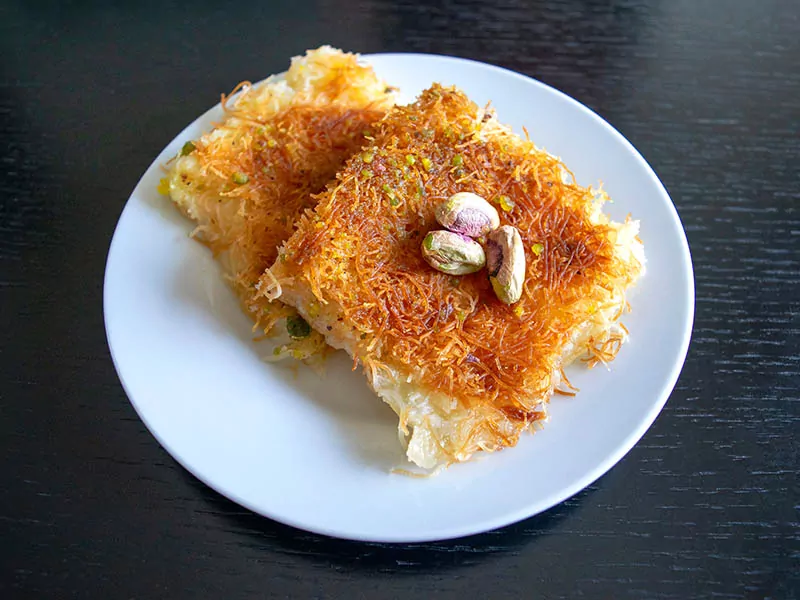 If you love pasta soaked in sugar-based syrup, Kunafa is a beautiful recipe for you. The dessert is layers of pastry with cheese and nuts soaked in sweetened syrup. The moist texture of this dish will allure you and your family members.
The origin of this sweet treat is in the Middle East, especially in Egypt, the Levant, and Libya. Kunafa is the best representative for sweet courses in Palestinian cuisine. You will find Libyans make this treat a lot during Ramadan months.
Kunafa has tons of variants because each country has a different way to shape, flavor, and even cook the cake. However, baking the cake in the oven is one of the most typical ways to create Kunafa's authentic flavor.
Libyans enjoy the dish both cold and warm with a glass of Arabic coffee or cold Qamar al-Din. A touch of Qashta cream will add a creamy taste to the dessert.
17. Ka'ak (Bread Rings)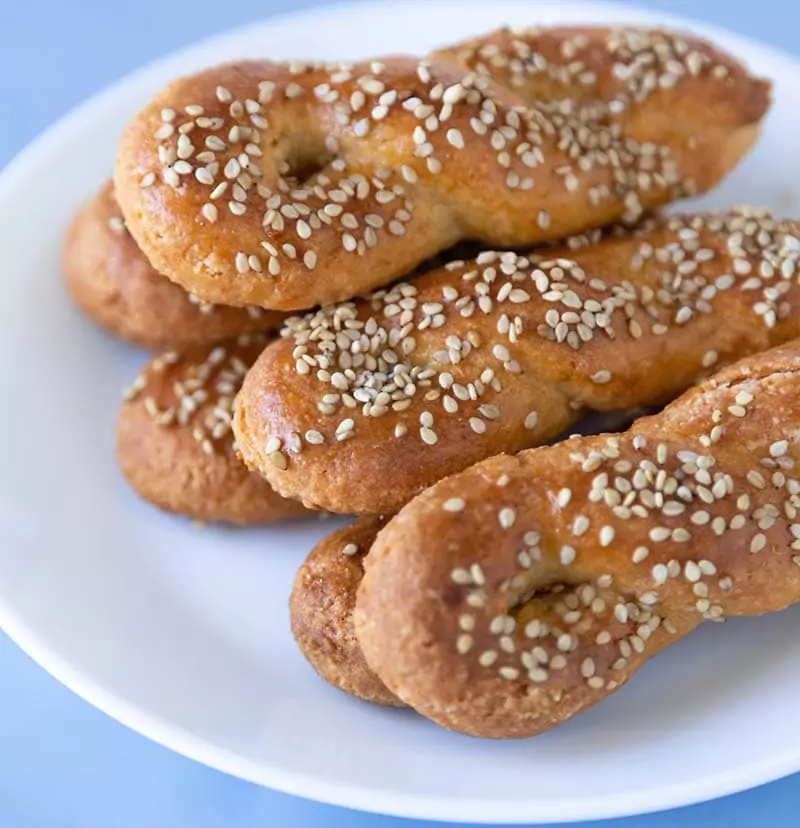 You can not miss this Libyan specialty because it is so tasty. Ka'ak is a delicate bread that is famous among the Arabic word. It is also known as 'Kahqa' and is a must-have dish when traveling to Libya.
Since Roman times, Ka'ak has been an indispensable dish for the local citizens. At this time, the bread often has an incredibly crispy cover and soft interior. In modern days, you will also find Ka'ak, which looks like a hardened biscuit.
The bread often has a ring shape and is usually sold by street vendors every day. Libyans enjoy Ka'ak for breakfast as companions for other dishes like hummus and falafel. You can have it in both savory and sweet versions.
18. Mahalabia or Muhallebi (Milk Pudding)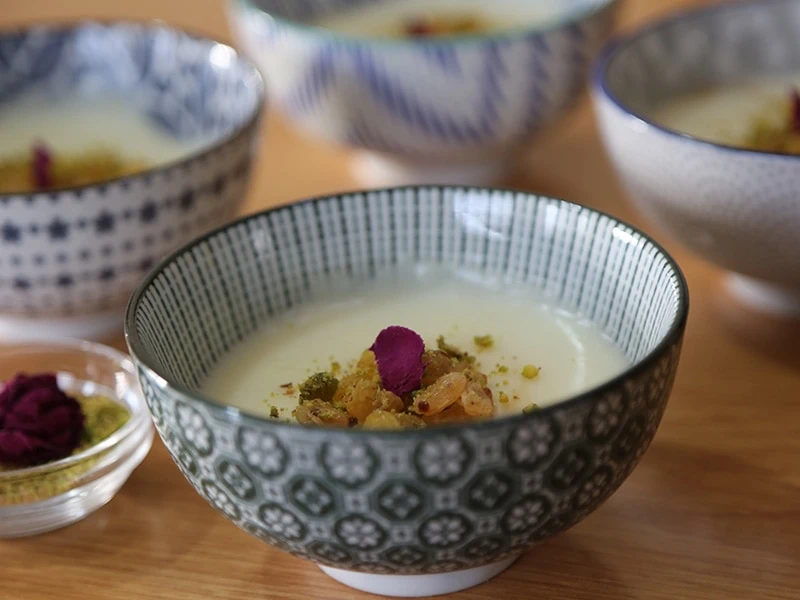 Hey! Do you want to enjoy a special pudding in Libya? Let's dive in and try Mahalabia, a sweet milk pudding with a splendid aroma. Starch or semolina, milk, and rice are some main ingredients.
The dish first appeared in the seventh century in Arab cuisine. This pudding is named after an Arab general named al-Muhallab ibn Abi Sufra. His Persian chef made him this irresistible pudding, and the rest of the story is a legend.
In Libya, this pudding is a religious dish commonly made during the Ramadan month. It is a quick-and-easy dish that you can enjoy every morning.
Some Other Libyan Specialties
Hang on! These last two Libyan dishes will be a scroll stopper for you. Give them a try, and you will be amazed by the upcoming treats.
19. Filfel Chuma (Chili Garlic Paste)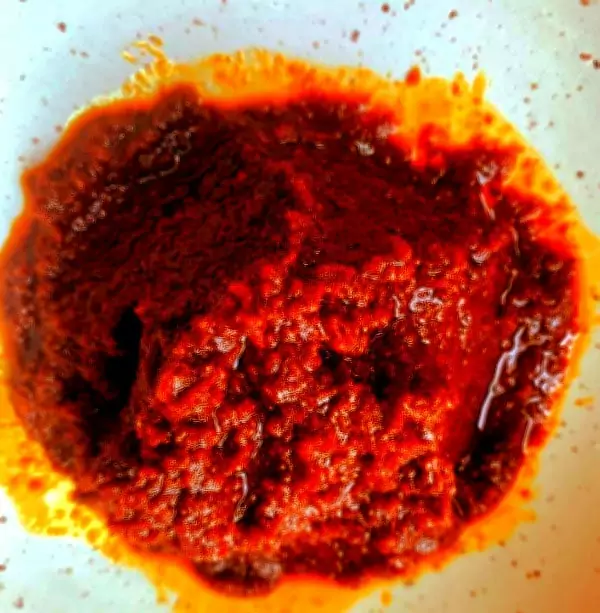 Filfel chuma or Pilpelchuma is a traditional Libyan chili paste used in many dishes, especially Jewish cuisine. In fact, this condiment has been widely used since the late 20th century after arriving in Israel.
Overall, this spicy paste is very tangy and garlicky, so it goes well with some stew and grill dishes. Moreover, this chili garlic is also a good companion with hummus – a Middle East chickpea paste.
You can easily tell that the lemon juice inside the paste merges perfectly with the spicy chili to balance the creaminess of hummus. 
20. Hummus (Chickpea Paste)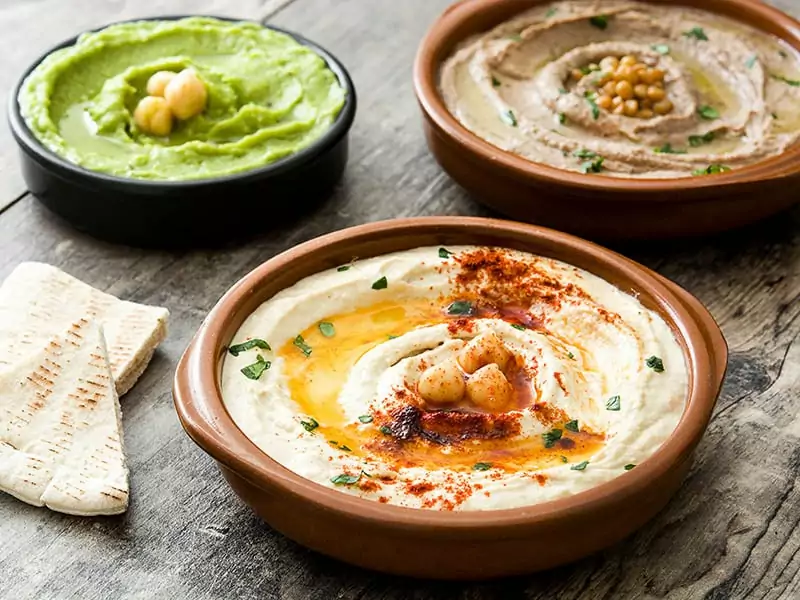 Hummus is a well-known appetizer originating from Mediterranean countries for centuries. In Arabic, hummus means chickpea, a popular and most-liked vegetable that provides a good source of vitamins and nutrients.
In general, hummus is very helpful for some physical issues. In fact, it can help lower heart disease risk, control digestive health and help you in your diet routine.
The dish's flavor is interesting too. It has a slightly creamy taste with a hint of nutty taste from the pea. Plus, you may love to have it with some pita bread-a type of Middle East wholemeal bread. Believe me; they will be a perfect match for each other.
21. Sharmoula (Libyan Salad)
Want a healthy dish from Libya? This Sharmoula will satisfy your taste. The dish is like salsa with diced vegetables like cucumber, jalapeño, fresh herbs, and tomatoes. A touch of olive oil makes it stand out from ordinary salad.
Sharmoula is considered Italy's colonization of Libyan cuisine; the dish shares some features like the famous Italian bruschetta. Traditionally, people will pair this salad with pita bread or French bread by scooping the salad and placing on these ingredients.
The salad is so easy to make that Libyans will let the youngest member in the family make it. This is a great idea to let the kid learn how to make a meal and increase the family bond among the family members.
22. Kefta or Kofta (Libyan Meatballs)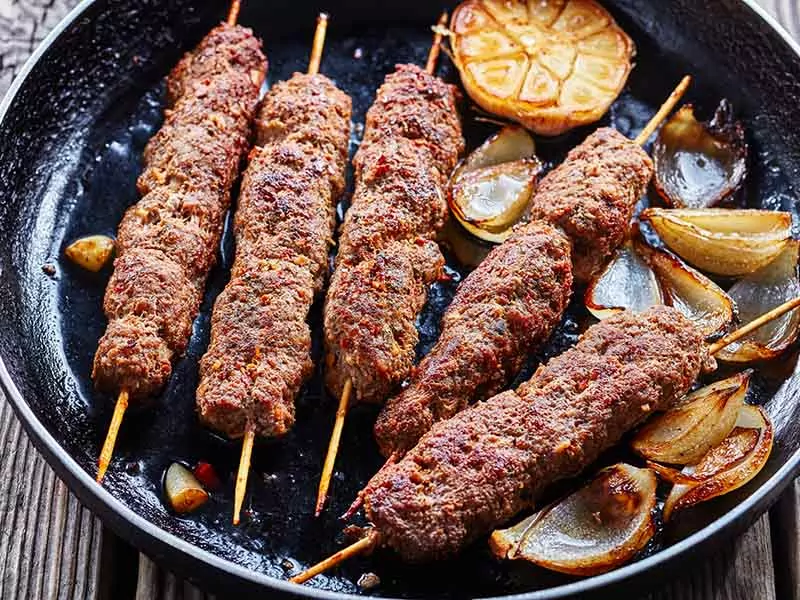 Hey, meatball fans! You have to try this dish when traveling to Libya. Kefta is a typical meal in Tripoli, often called Kefta Trapelsia. In other regions, the dish is not as popular as in the capital city.
In addition to Libya, the dish is famous in Central Asian, Middle-Eastern, North Africa, and Balkan regions. Ask anyone in Tunisia, and they will tell you that it is one of the most well-known dishes in Tunisian cuisine.
Mutton, pork, lamb, and even chicken are excellent choices to make the dish. Spices and other ingredients for this dish vary in different nations. In Libya, onions seem to be the most typical choice.
Kefta first appeared in Arab cookbooks and then started getting its reputation in India and other countries. Libyans usually shape it in balls, but you can find other shapes like patties and cylinders.
23. Usban Or Osban (Libyan Rice Sausage)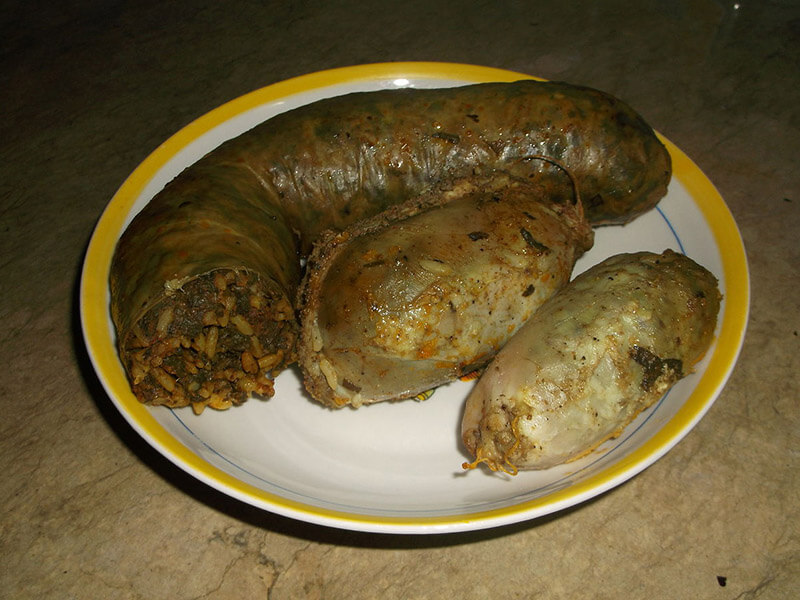 Usban (also known as Osban) is a traditional type of sausage in Libya that is filled with rice and herbs. It is a specialty in Maghreb (North Africa) that Libyans and other neighboring countries adore.
This sausage varies from region to region, with a twist in herbs and spices used for making it. However, turmeric, cinnamon, parsley, and black pepper are some typical choices for Usban. Chopped liver, heart, and lamb meat will bring a tasty, juicy flavor to this sausage.
Usban is often considered a haggis, but it is not a common choice for breakfast. Libyans usually pair Usban with the main meal for special occasions. Mseyer (a quick-pickled vegetable in Libya) is a lovely companion for this sausage.
---
Are you ready to try these tasty foods? These Libyan specialties are the best to treat your family to a breathtaking meal. So, don't wait any longer; explore these tasty foods with me right now!
Feel free to share and hit the like button if you find the most helpful. Thank you for being so supportive, and I will see you in the next post.