Uzbek foods feature a brilliant combination of Silk Road's East and West cuisines. In addition to the magnificent Islamic wonders like the Registan Square Samarkand or the Walls of Khiva, local foods are also a vital part of Uzbekistan's heritage.
If you are a traveler to Uzbekistan unaware of what to eat during the trip, do not freak out! There are tons of options that you can try out. And trust me, these local dishes will be the highlights of your entire vacation.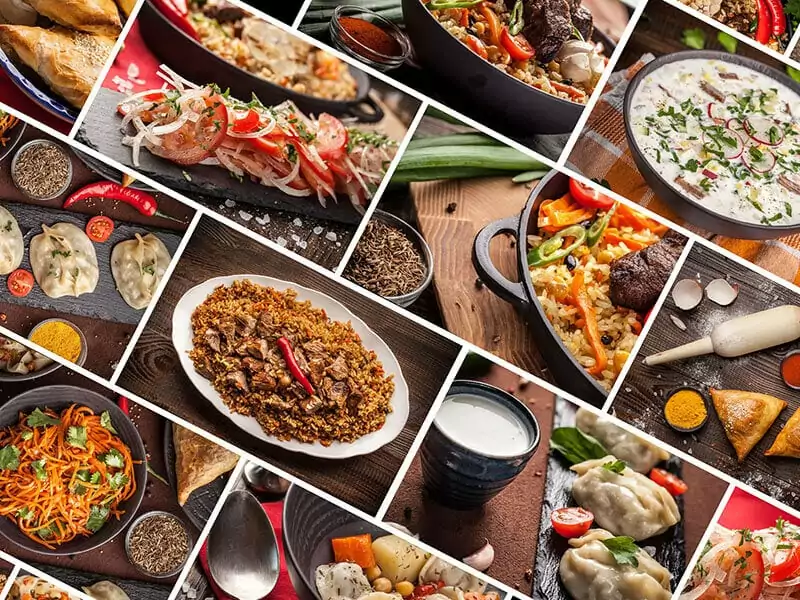 With that being said, let's explore my list of awe-inspiring Uzbek dishes right now! Prepare to witness a lot of meat, noodles, dumplings, and peculiar tastes as you scroll down!
1. Manti – Steamed Dumplings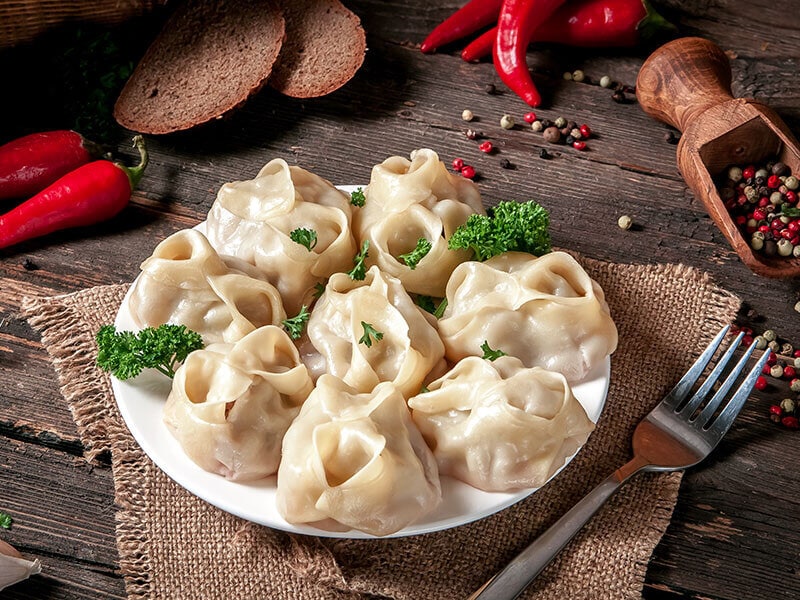 If you a die-hard fan of "mantou", you would go crazy when trying Uzbek manti. Sharing many similarities in flavor and texture, this appetizer is the perfect local rendition of the Chinese staple.
The dish is so popular that you can even find many variants in the food culture of Armenia, Kazakhstan, and more.
"Steamed dumplings" is a more descriptive name for manti, as it pictures exactly what this Uzbek food is. Usually, Uzbek people love to wrap ground lamb or beef inside the round-shaped dough, together with other greens and seasonings (like cumin).
Don't worry if you are a vegetarian. Simply replace minced meat with refreshing vegetables like pumpkins, turnips, potatoes, and you are good to go!
To enjoy manti the local way, don't be scared to dip dumplings in yogurt and consume them with your bare hands. Make it juicier by bringing suzma to the party and expecting a different taste (better, of course)!
2. Shurpa – Lamb and Vegetable Soup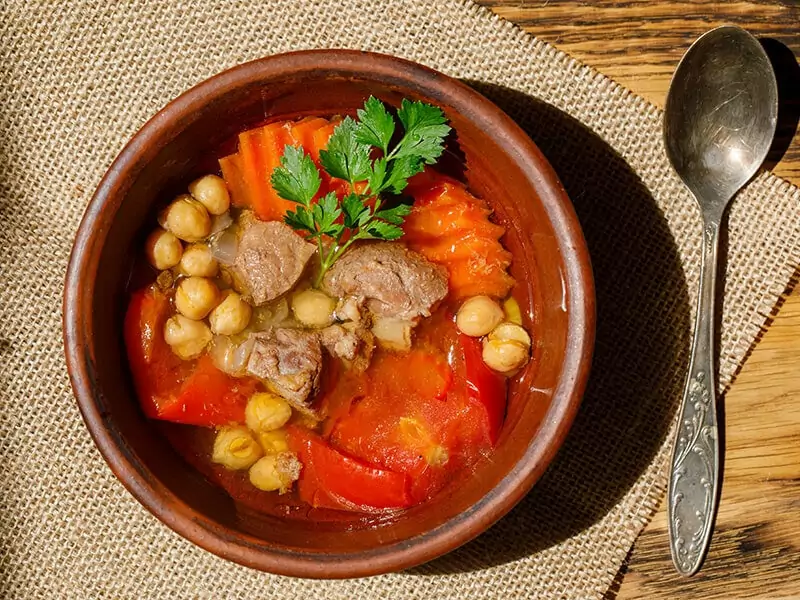 Your Uzbek travel experience would be incomplete without the robust taste of shurpa – the most popular lamb and vegetable soup in the country. This thick soup is a cuisine staple that every tourist must try!
Shurpa never fails to amaze you, no matter how many times you have been to Uzbekistan. Its awesome taste changes depending on the season. There will be fresh fruits in the summer, while turnips are what you find when enjoying in the autumn.
Another reason to love shurpa is its popularity in the Central Asian country. Almost every restaurant in Uzbekistan serves this mouthwatering appetizer. I certainly cannot think of a greater start to your main meal than this warm and scrumptious dish.
For all history fans out there, I bet you will be surprised to know that shurpa was the favorite meal of Tamerlane – a legendary warlord of Timur.
3. Chuchvara – Uzbek Tortellini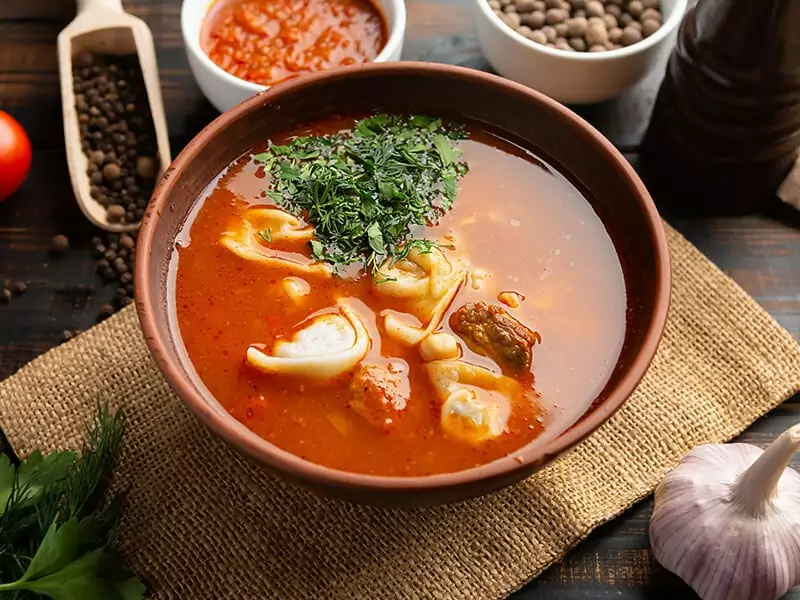 Another lovely starter for your Uzbek main course is chuchvara. The dish is a smaller version of manti – the first candidate on this list. There are various ways to prepare chuchvara, one of which is turning it into a soup.
If you love Chinese food just like me, you can sense a huge resemblance between chuchvara and wonton soup. Indeed, wonton soup is the inspiration for the birth of chuchvara in this Central Asian nation.
Sprinkle the dish with fresh dill on top and serve it with a side of gravy. Let's remember its name as the dish you are reading about belongs to the "must-try" list at least once in your life!
4. Tukhum Barak – Egg Dumplings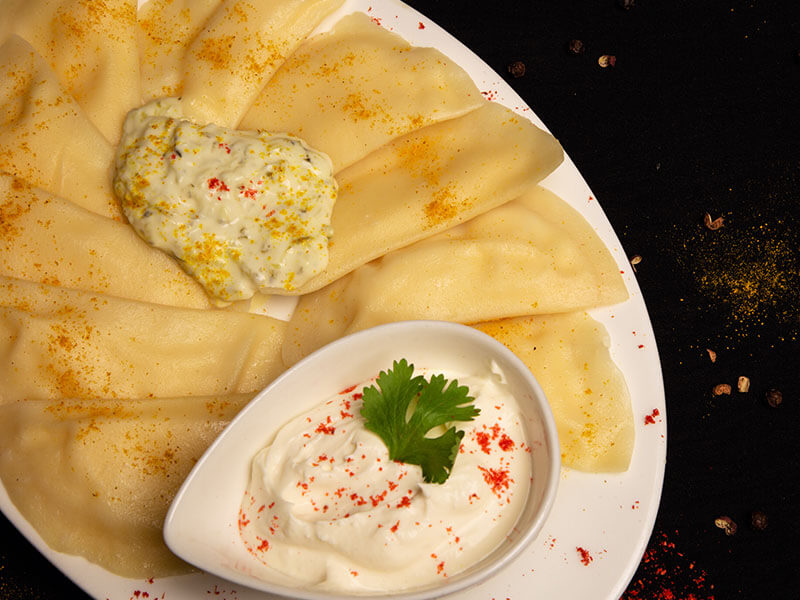 Love dumplings, but want to try something different from manti and chuchvara? I've got you covered with tukhum barak, or egg dumplings. Three dumpling dishes out of five suggestions! It just shows how much love the Uzbeks have for this type of food.
You are looking at one of the oldest dishes in Uzbek cuisine, dating back more than a millennium. Tukhum barak features a splendid combination of eggs and milk to generate its unique cheesy flavor.
Sometimes, you will find pumpkins and onions in these envelope-shaped dumplings. Once steamed, the dish is good to go with yogurt and a side of lemon slice. Its rich nutrients can even help you keep blood pressure in check.
5. Dolmas – Stuffed Grape Leaves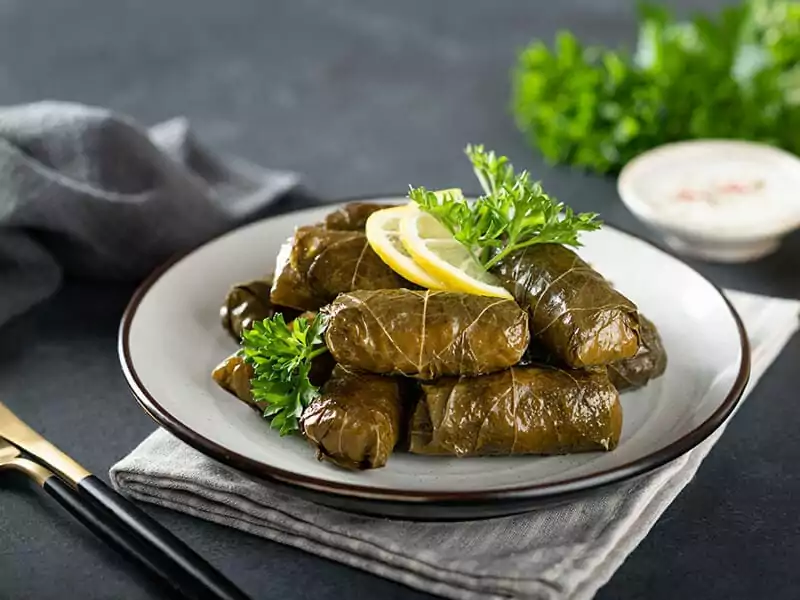 There are high chances you have come across dolmas before. It is one of the most popular dishes in Uzbekistan and other Mediterranean nations.
The peculiar taste of rice and minced beef filled inside grape leaves has imprinted on the minds of many Uzbek generations.
There are two traditional ways to make dolmas in Uzbekistan: stuff in bell peppers or grape leaves. However, the latter version steals the spotlight.
6. Bademjan – Eggplant Salad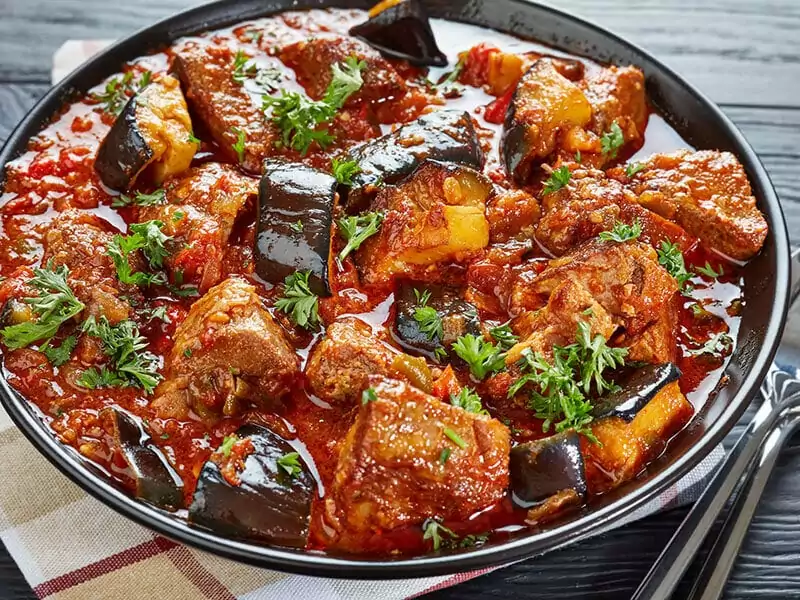 Do not mistake this Uzbek bademjan with the Persian stew of the same name. This iconic eggplant salad comprises sliced eggplants, radishes, and peppers, garnished with parsley.
This Uzbek dish is one of the most popular appetizers in the region. Like other Uzbek meals, bademjan is a preferred dish among local families. So, if you want to experience a local family meal, this eggplant salad is a must-try recipe.
7. Plov – Lamb and Rice Pilaf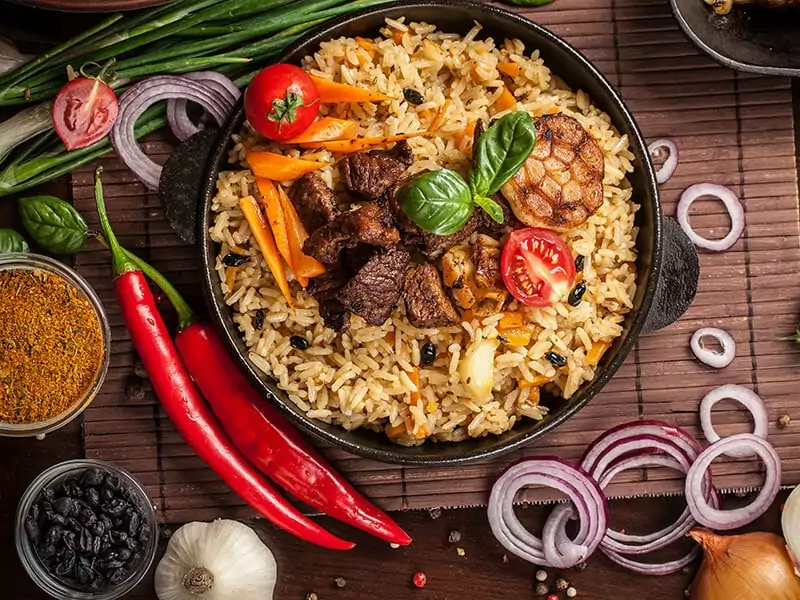 Choosing a dish to represent Uzbek cuisine is probably the simplest task in the world. There will never be another option better than plov. Although widespread throughout Central Asian nations, Uzbekistan is its original place with many irresistible variations.
This national dish's history dates back to the tenth century, as a Persian scholar documented it in his medical books.
However, local myths said that Uzbek plov was the outcome of Alexander the Great's order to his chefs in the 4th century. He wanted to make a light yet full rice meal for his troops, using everything they had on hand at the time.
Imagine you are hungry after a long day exploring Uzbekistan's awe-inspiring architecture. Just go to any local restaurant and pick plov. Its genuine flavor with lamb meat and rice will never let you down!
Serving it with a refreshing salad and a cup of tea will make your Uzbek plov tastier and more wholesome. Outside Uzbek, Plov is also a well-loved dish in Azerbaijan, Armenia, Afghanistan, and many other nations.
I decided to put this dish on top of my main meal category because of its huge popularity and hearty flavors. Another reason is its worldwide recognition. This national dish of Uzbekistan is the official UNESCO Cultural Heritage of Humanity.
8. Tuy Palovi – Wedding Pilaf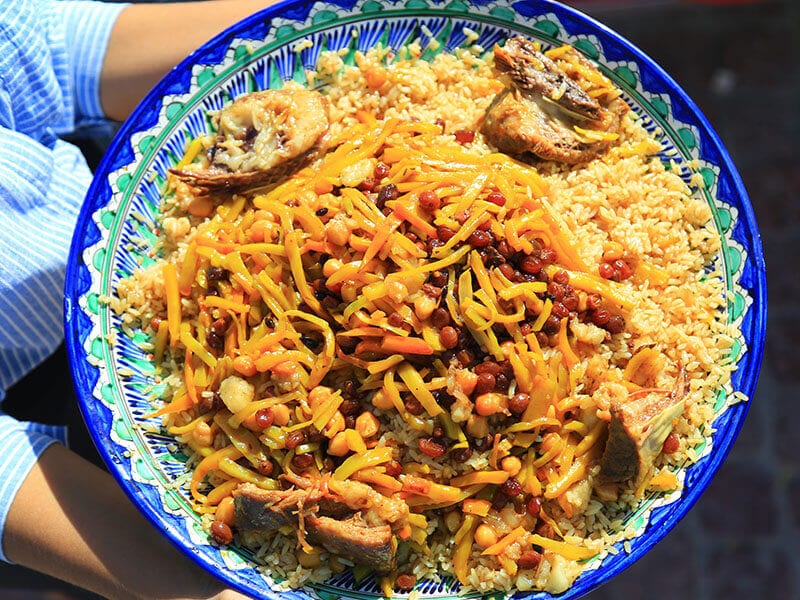 Among over 200 varieties of plov, tuy palovi stands out as one of the classic rice dishes from Uzbekistan. As its English name implies, the dish is always served at weddings and prepared by men only.
If you are lucky enough, you can try this recipe on September 1st, Uzbekistan's independence day.
Normally, people prepare several hundred kilograms of tuy palovi for large events like weddings and holidays. Its rich and appealing taste will surely win the heart of all participants.
9. Shashlik – Meat Skewer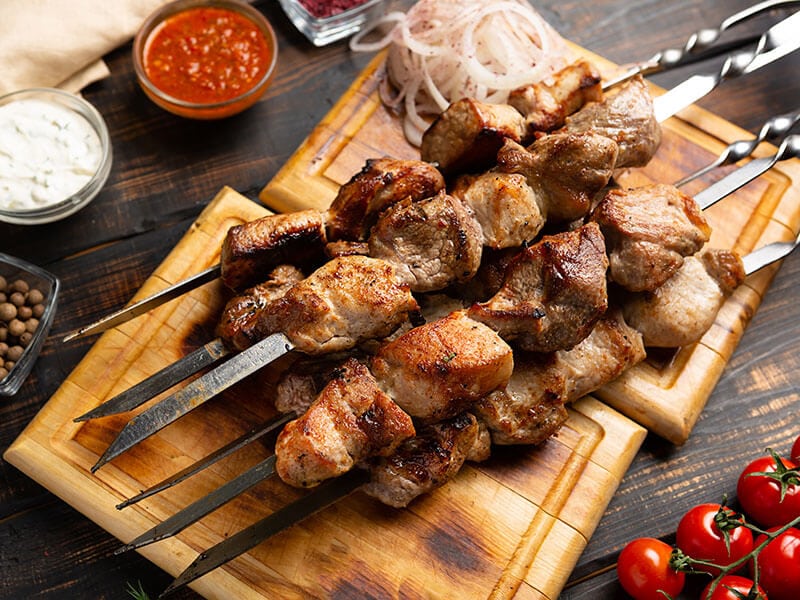 Derived from the phrase "shish kabob", an original dish in Uzbekistan and other Eastern European nations, shashlik includes a variety of ingredients, such as beef, lamb cubes, chicken legs, or even horse flesh (although it is not popular among visitors).
Then, those meaty components are skewered on a metal shank and roasted over hot coals. It sounds like your favorite kebab, right? You can find and enjoy shashlik on a plate in restaurants or straight from street food sellers.
10. Lagman – Noodle Soup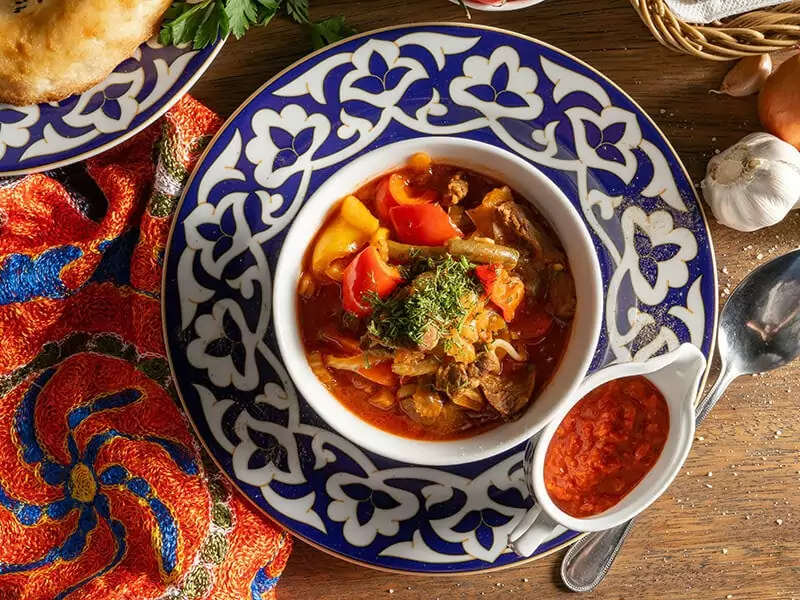 In the Dungan language, lagman means "stretched dough", or hand-pulled noodles. There are two versions of lagman: soup and stir-fry. In addition to the chewy noodles, the flavorful broth made from beef (or lamb) and veggies makes the soup substantial.
If you happen to explore Uzbekistan under chilly weather, having a hot bowl of lagman soup is the best idea ever! The hearty and cozy Uzbek breakfast dish, plus cumin seed and basil, will bring a smile to your face after every spoon.
11. Fried Lagman – Stir Fry Noodle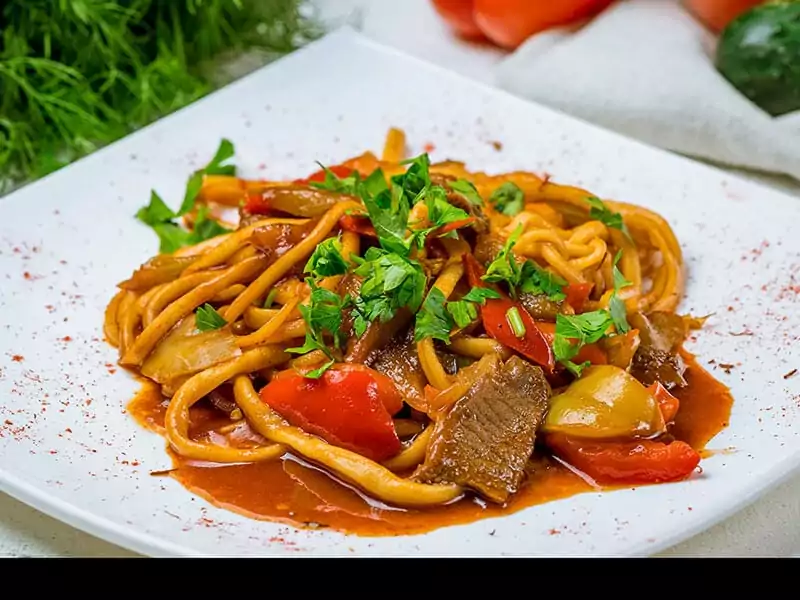 Fried lagman is just another way local Uzbeks cook the chewy noodles. Instead of making a hearty stew, local people pan-fry the noodles with peppers and other veggies available in the kitchen to create this stir-fried pasta.
You can customize the recipe to your likings by adding a fried egg on top. It not only adds more flavors but also makes the meal more decorative!
If you have the chance, let's try Khiva's specialty of green noodles with dill. It is a special type of fried lagman that you should not miss while you are there!
12. Dimlama – Beef and Vegetable Stew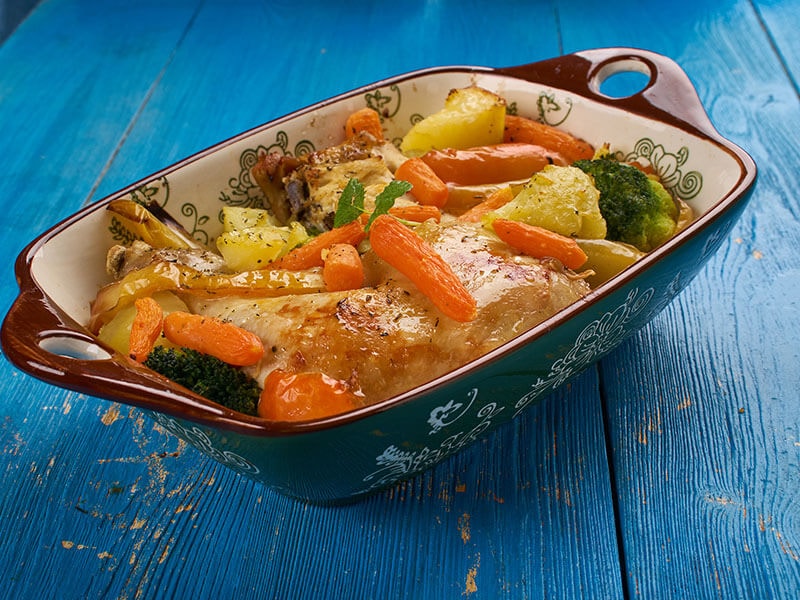 In the spring and autumn of Uzbekistan, dimlama is a popular seasonal dish. It is a hearty stew made in a single pot, featuring the usual meat of beef or lamb, potatoes, and cabbage.
You can easily substitute the meaty ingredients with fruits to generate a vegetarian-friendly version. Trust me! Regardless of what components are used, the end product is always a mouthwatering stew that will have you licking to the last drop!
Dimlama is a simple seasonal dish with huge popularity in Uzbekistan.
13. Hasib – Lamb Sausage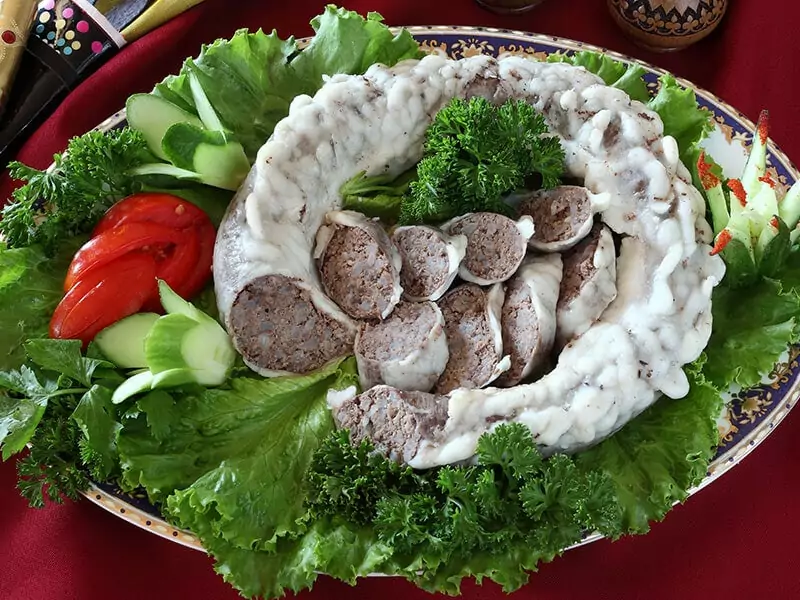 Hasib is a thick, intestine-encased lamb sausage. Yes, you read that right! Although it sounds weird, this unique kind of sausage is one of the most delicious and impressive Uzbek foods to have. And you know what's better? That is enjoying hasib in broth to experience its full taste!
Honest advice for you all! Don't try to be the chef here and home-cook hasib. There are tons of complex preparation to convey the unique taste and scent of hasib. So, unless you are a professional, it is best to buy it from credible restaurants.
14. Mashhurda – Mung Bean Soup with Beef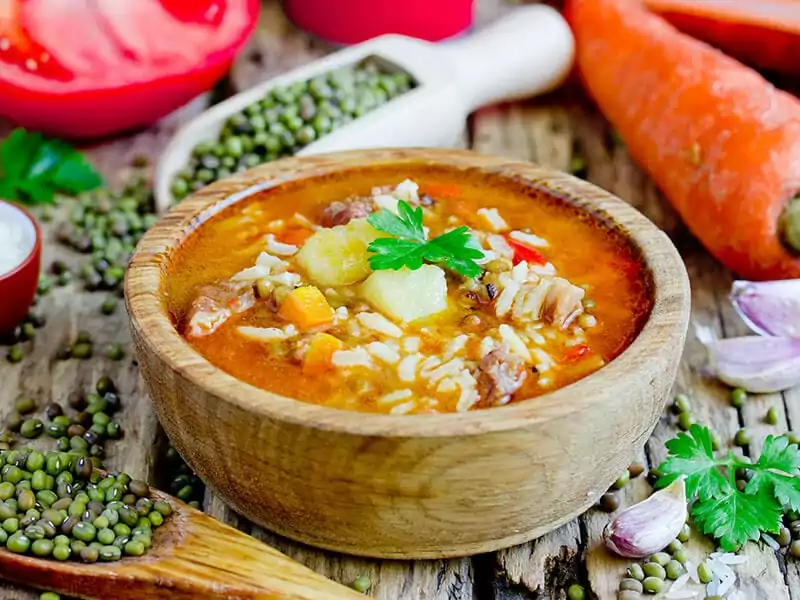 You may have guessed by this point that soups play an important role in Uzbek foods. In this soup category, mashhurda (or moshkhurda) is a true gem. This delectable dish will add a mind-blowing mix of mung beans and beef to your Uzbek dinner.
Its one-of-a-kind flavor will surely be one of the most memorable highlights of your Uzbek trip. So, whenever you cannot think of what you want to eat for an Uzbek dinner, always come back to this fail-proof dish!
15. Naryn – Horse Meat Pasta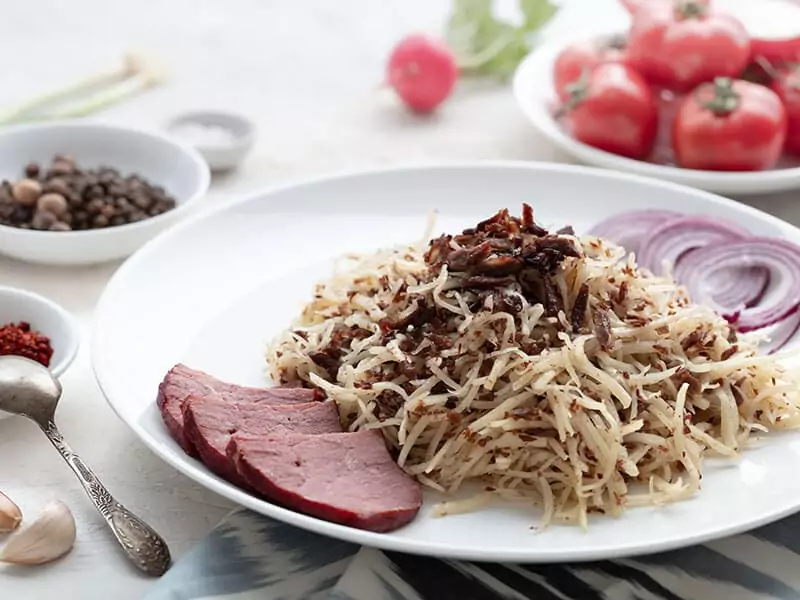 Have you ever noticed this huge mound of noodles and meat peeking out from behind the counter when visiting street food stalls in Uzbekistan? If such a scene happens, be sure to stop by and ask for the meal called naryn.
Being the most beloved dish in Central Asia, naryn is traditionally cooked with horse meat and handmade noodles that resemble shredded cheese. Other versions include lamb or beef instead. This is a national dish of Kazakhstan and Kyrgyzstan.
Regardless of meat type, naryn always goes well with yogurt and broth. Therefore, always leave room for these two accompaniments when tasting naryn.
And did you know that naryn has another name of beshbarmak, meaning "five fingers". It is the instruction of how to eat naryn the local way – using your five fingers. So, make sure to follow that instruction in your next yummy time!
16. Tabaka – Pan-fried Chicken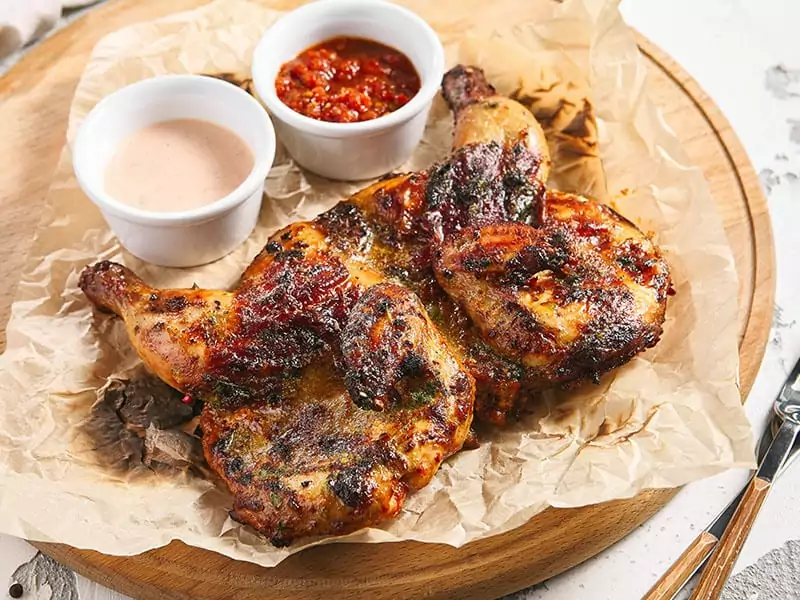 It would be a huge miss to skip tabaka, pan-fried chicken, in my list about Uzbek cuisine. Fried chicken is the staple dish in every nation. And certainly, the Uzbeks also have a local version of their own that is awesome and out-of-this-world.
You can find tabaka served everywhere in Uzbekistan, from ordinary street food stands to Tashkent's central business districts.
Although lamb and beef are the two most popular meat types in Uzbekistan, this pan-fried chicken dish still earns itself a popular spot in both the heart of local people and travelers.
The secret lies in a recipe that has been handed down through generations for over 60 years. Unlike other fried chicken recipes that are too oily, tabaka relies on butter instead. This small twist has made the dish healthier and more organic.
17. Nukhat Shurak – Chickpeas Soup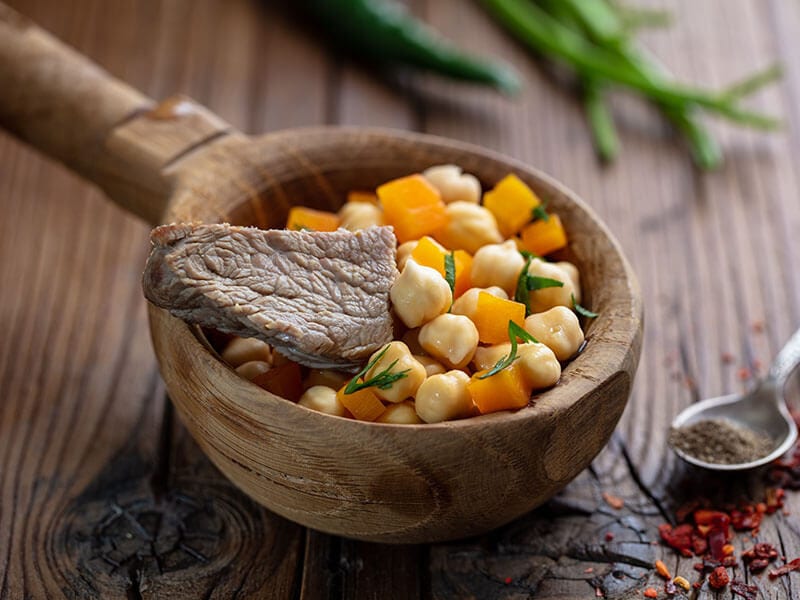 Did you know that people have discovered many medicinal benefits of chickpeas since ancient times? For that reason, the protein-rich ingredient is an indispensable source of food worldwide, including in Uzbekistan.
Nukhat Shurak is a renowned dish utilizing the substance. The dish is especially popular in the Samarkand region, as chickpeas are grown mostly here.
You will meet again the usual meat (lamb or beef) blending beautifully with chickpeas. Through some simple preparations, you can achieve a delicious and nutritious plate of nukhat shurak on the table in no time.
And don't forget to add fresh greens and onions to the party!
18. Mastava – Rice Soup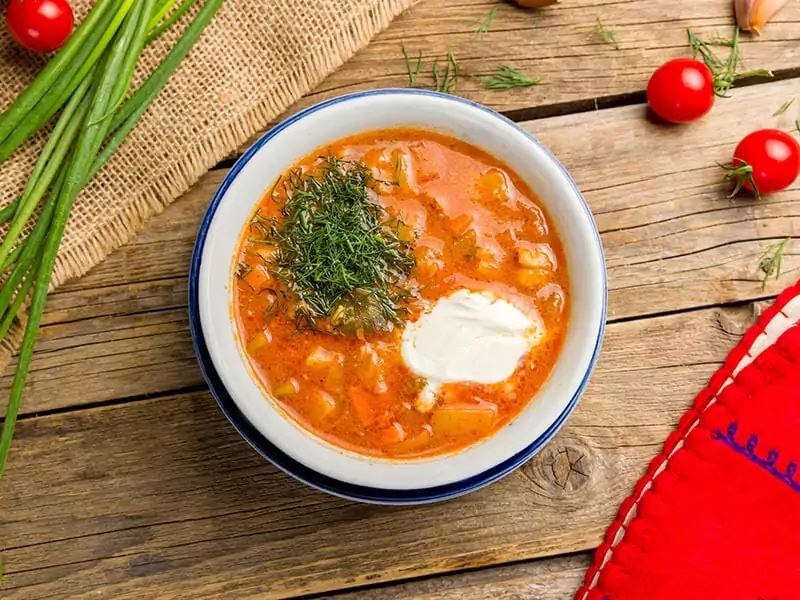 Among Uzbek households, mastava is one of the simplest and most popular meals. The rice soup is easy to put together, yet it has the ideal balance of flavors and textures. The addition of sour cream and cilantro makes its taste more appealing and distinctive.
Thanks to its high concentration of health-promoting vegetables like fresh herbs, onions, carrots, potatoes, and tomatoes, this soup is the favorite dish of those who are sick or old.
Briefly speaking, mastava can help you achieve the best of both worlds: a tasty dish that provides a variety of health benefits.
19. Tandoori Lamb – Grilled Lamb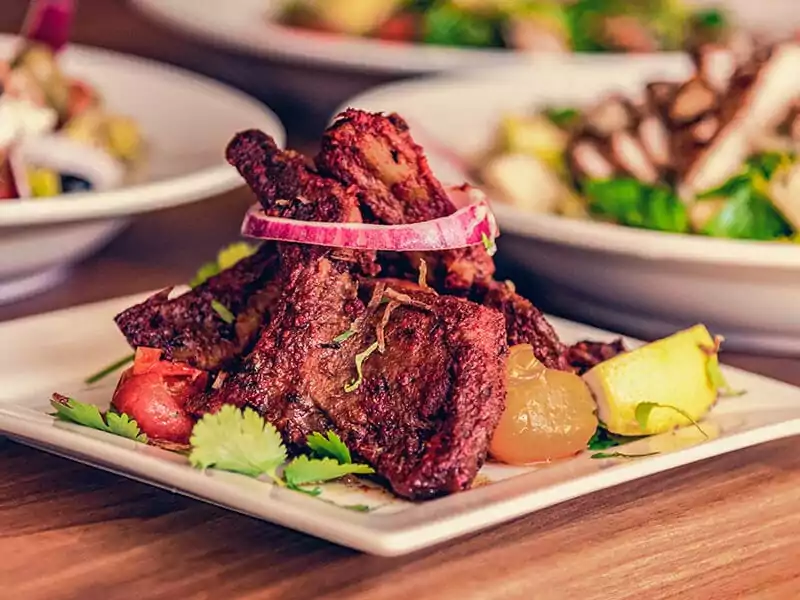 Tandoori lamb is all about luscious, marinated lamb chops grilled in a searingly hot clay oven (tandoor). It is the true epitome of Uzbekistan's opulent cuisine. So, never miss out on this recipe right here to make the most of your time in this Central Asian nation.
Technically, this flavorful yet simple meal contains only three ingredients: lamb, cumin, and pine nuts. Then, put them through the tandoor and let it do the magic. The outcome is aromatic and delicate lamb chops.
The final step is to garnish your tandoori lamb plate with chopped parsley and cumin seeds.
20. Kazan Kabob – Barbecue in The Cauldron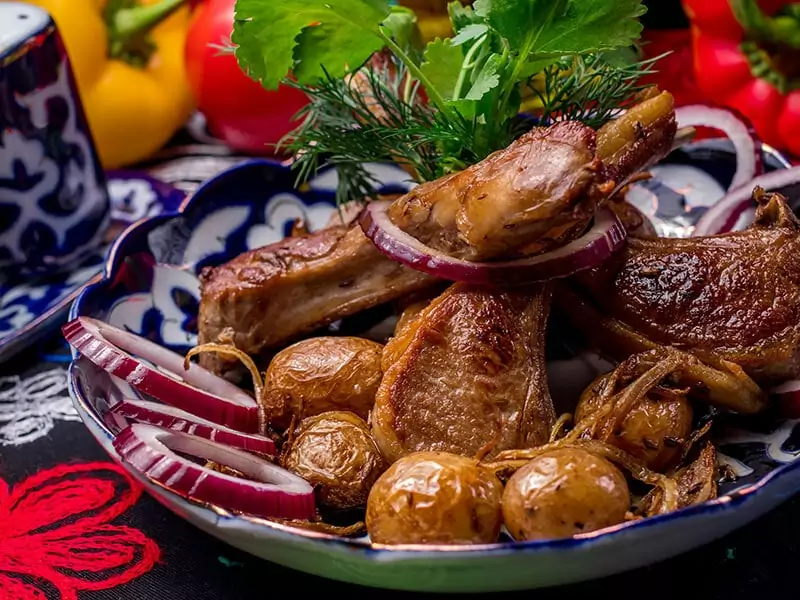 Kazan means cauldron, and kabob means your favorite kebab. So, as the name implies, kazan kabob is a kebab cooked in a cauldron.
The cooking process of kazan kabob is very straightforward. It begins with frying the meat and potatoes at a high temperature. Then, cover the cauldron and allow the mixture to steam until the water evaporates.
Obviously, this Uzbek lunch dish is not your typical meat skewers found in the cuisine of Turkey or the Balkans. Instead, it is unique and wonderfully delicious in its own way. Once kazan kabob enters your lips, it will melt right away in your tongue.
21. Shivit Oshi – Green Pasta
Craving some local pasta? Look no further than shivit oshi, a green pasta dish with huge popularity in Khiva. The dish consists of green-colored noodles topped with a savory stew of meat, carrots, and potatoes.
This pasta recipe will wow you with its vibrant colors and one-of-a-kind design. A good practice is to serve shivit oshi with a side of tart yogurt to reduce its richness.
Spend some time wandering Khiva's old structures and exploring this hidden gem of the city! You will never regret it!
22. Hanum – Steamed Meat Roulette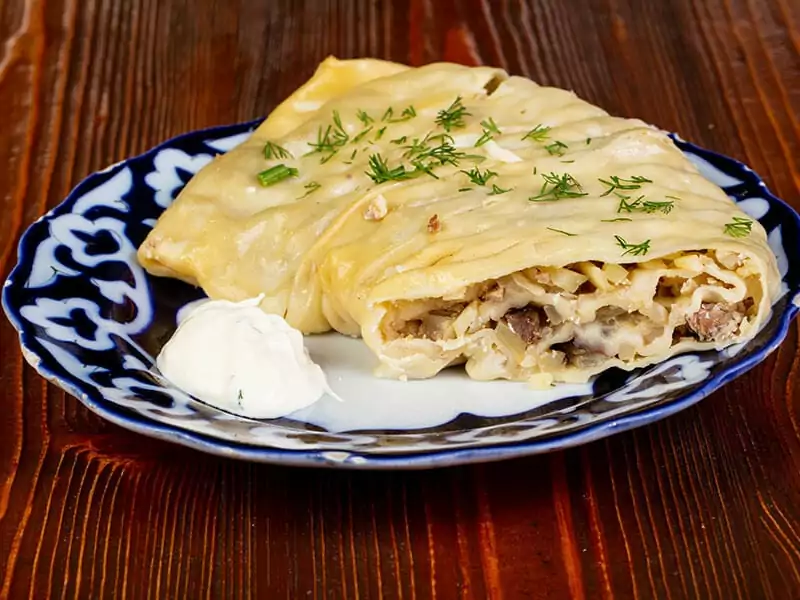 Hanum is a must-try recipe if you are seeking a meal that will awaken your taste senses. Expect to taste soft and sizable wraps packed with juicy meat, potato strips, fresh onions, and tomato sauce.
This Uzbek meat wrap recipe is really close to manti in terms of the content. However, you can utilize your imagination to form hanum into various shapes. The most popular shape is "gul-hanum", which is a flower hanum.
23. Non – Bread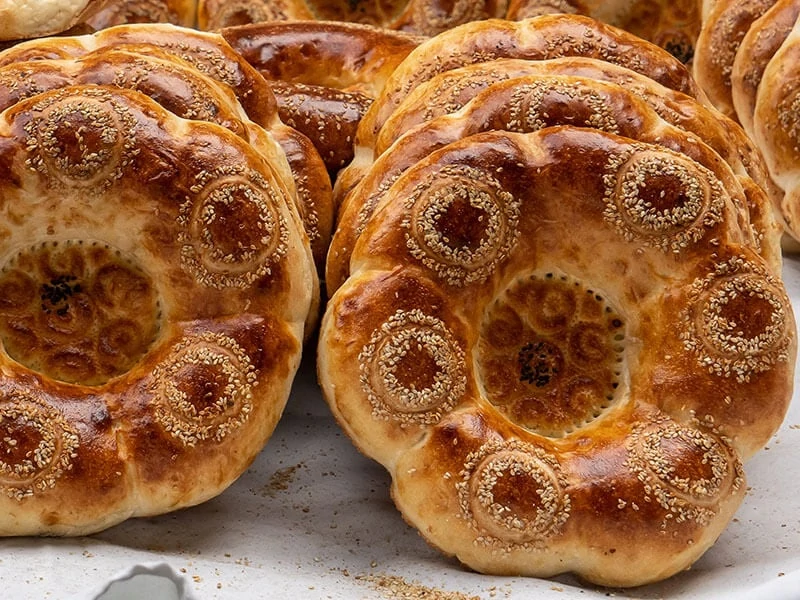 Don't ever think Uzbek bread is a dime a dozen, as you are about to witness the most iconic food in the country.
In Uzbekistan, bread is prepared in tandoor ovens and has a deliciously smokey flavor. Additionally, you will notice that nons come in the form of a circle with a braided texture and a flat disc in the center.
However, be aware that the flavor and appearance of this tasty kind of bread vary widely from region to region, so keep an eye out for them while you go.
Nearly every meal in Uzbekistan includes bread, or "non" in its Persian term. You can easily find folds selling baked bread on every street corner and in every market.
Most cities even have bicycle delivery guys who come to cafés and restaurants early in the morning to bring out the loaves.
I cannot stress how essential bread is in Uzbek cuisine. The foods are so popular that you will see a certain expression on the waiter's face if you dine at an Uzbekistan restaurant without ordering "non".
Non also acts as a token of Uzbeks' generosity. Local people always offer visitors to "taste the salt of the bread" whenever they come, a custom that dates back centuries.
24. Suzma – Tangy Yogurt Cheese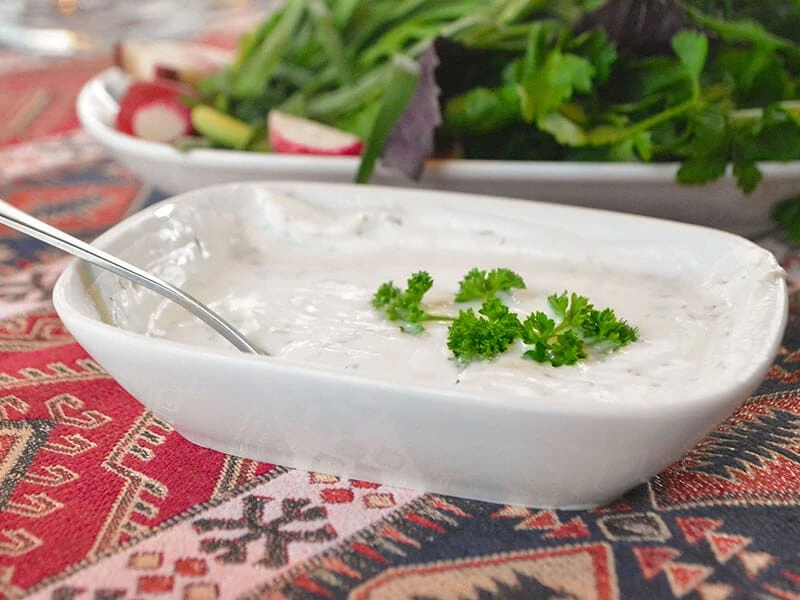 Did I mention suzma is a great accompaniment to manti? In addition to the traditional dumplings, this tangy yogurt cheese also pairs perfectly with bread and other Uzbek foods.
The word "popular" may not depict exactly its reputation in the country. If I must choose a substitute word, it will be "national". Suzma is a true national food that is almost as ubiquitous as water.
Suzma is also the only dish that helps distinguish first-time visitors and seasoned travelers. You will never find its name on any restaurant's menu. Yet, just ask for suzma, and the waiter will rate you as an authentic local.
25. Qovurma Chuchvara – Fried Ravioli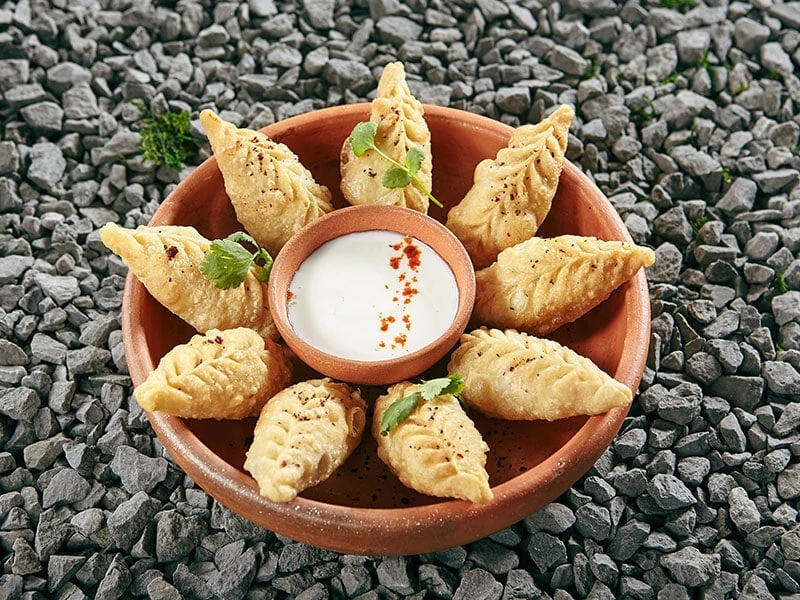 Imagine you have chuchvara as a starter and instantly fall in love with the dish. You want more, but the appetizer time is over! Don't be sad, as you can order "Qovurma Chuchvara" on the menu. It is basically chuchvara in a fried version.
This variant is ideal for big groups. That is why you often see the dish appear at weddings and other social gatherings in Uzbekistan. And like most Uzbek foods, you should enjoy Qovurma Chuchvara by hand.
You will have a tough time finding an excuse to stop eating this sizzling hot chuchvara, as its seasoned beef filling and crispy shell are so hypnotizing. Take it to the next level by dipping the food into a cold yogurt or smetana (sour cream).
26. Achichuk – Tomato Salad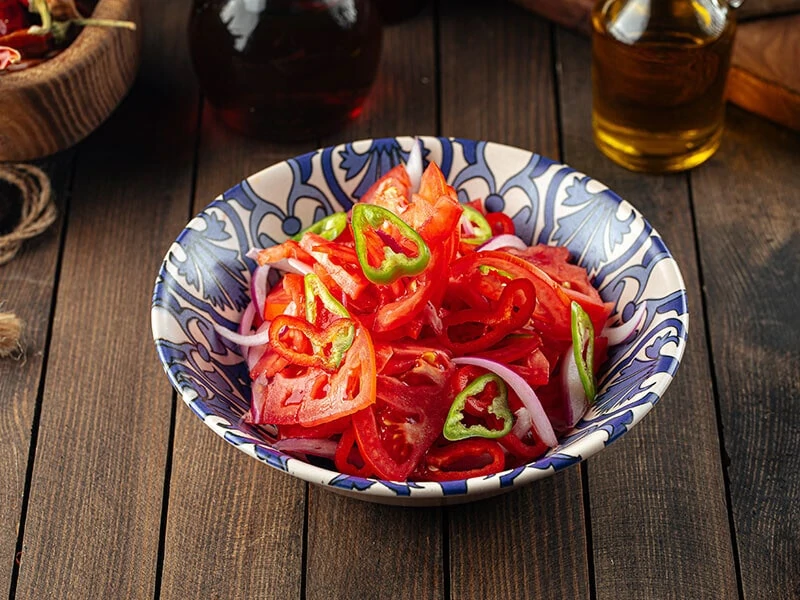 If you ask a local Uzbek people for a salad meal suggestion, you will receive the answer of achichuk repeatedly. This basic tomato salad is the most popular dish in every local restaurant menu and family meal.
When I say basic, I really mean it! Achichuk is easy and uncomplicated yet so flavorful and vibrant! You can replicate the dish effortlessly right at home with tomatoes, onions, fresh herbs, and ground chili peppers. That is all it takes!.
27. Bakhor – Spring Salad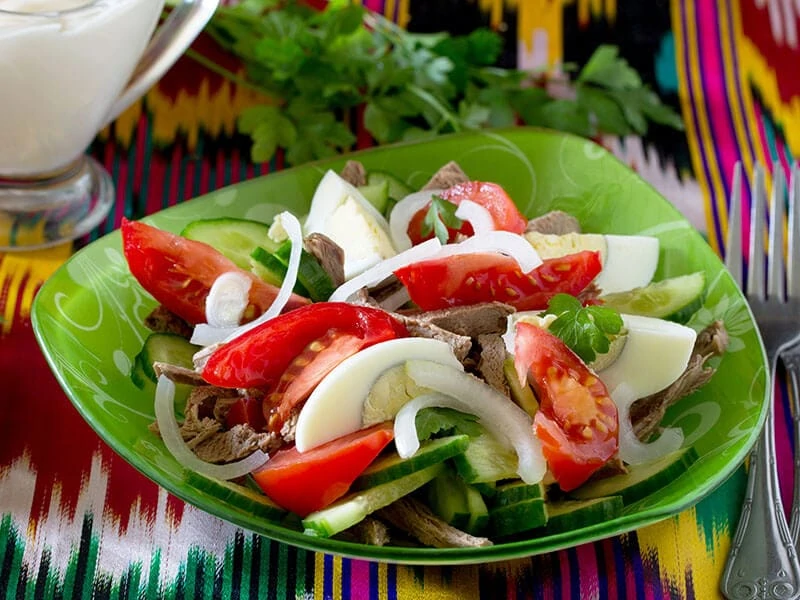 Another salad option to try during your Uzbekistan trip is bakhor or spring salad. People call it spring salad because the veggies used are only accessible in the spring and summer.
Expect to enjoy a very wholesome salad featuring red radish, green chilies, and even plain yogurt for extra flavors. It may sound strange at first for tourists. However, I can guarantee that it is a fail-proof salad with a refreshing and delicious aroma.
28. Samsa – Crunchy Pastry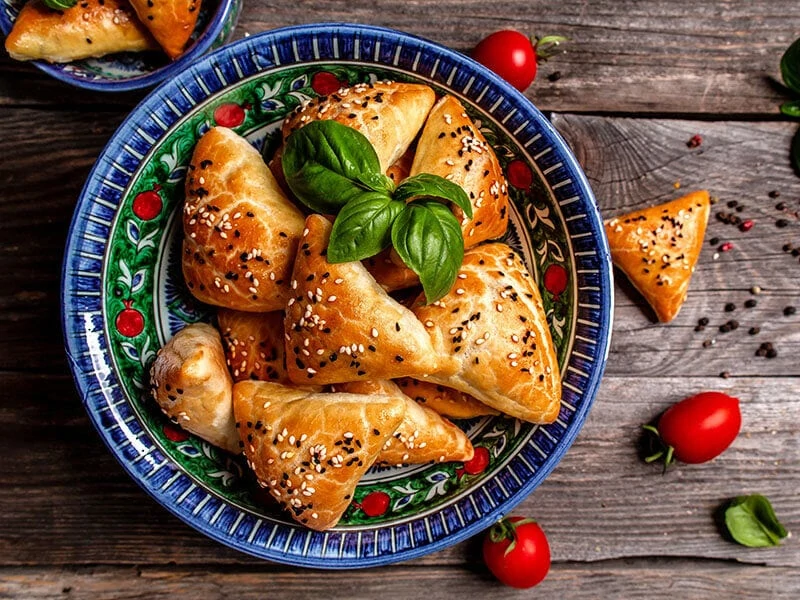 The first snack option worth trying is samsa, which is available practically everywhere in the nation. It is an effort of local people to adopt the Indian version (samosa) into this crunchy, triangle-shaped pastry that you are reading about.
Samsa's filling is packed with meat and vegetables. However, instead of frying in the oven, Uzbeks prefer baking it. On some occasions, they even add potatoes and pumpkin to the fillings.
In Uzbekistan, waking up to a plate of samsas and a pot of tea is a pretty common occurrence.
29. Dried Fruits and Nuts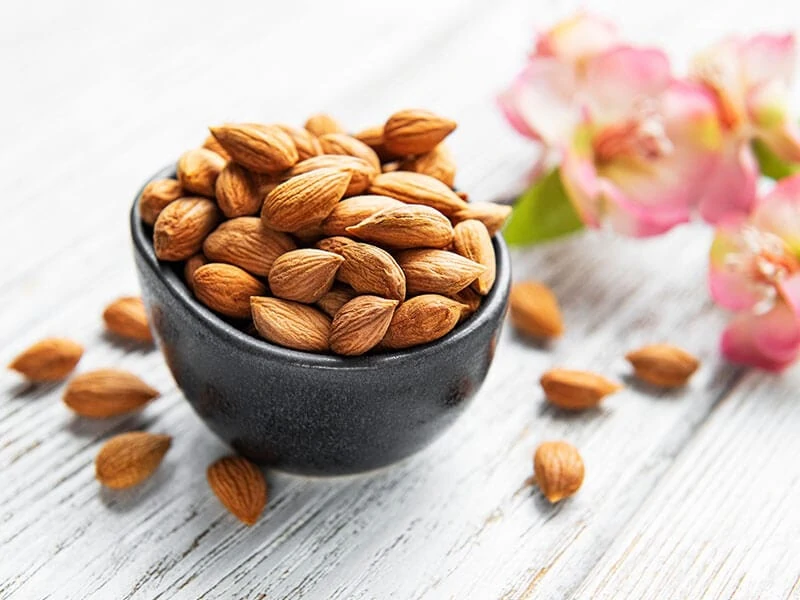 Dried apricots, raisins, and a variety of nuts are favorites in Uzbekistan, as they are widely available at all bazaars and street markets here. A platter of dried fruits and nuts is almost always present at a dinner table.
It may surprise you that local people here don't consume a lot of chips or junk foods. Instead, they adore organic nuts and fruits. While sipping a beer, a handful of toasted apricot seeds is the ideal accompaniment. You don't need anything else!
30. Kashk – Full-Fat Yogurt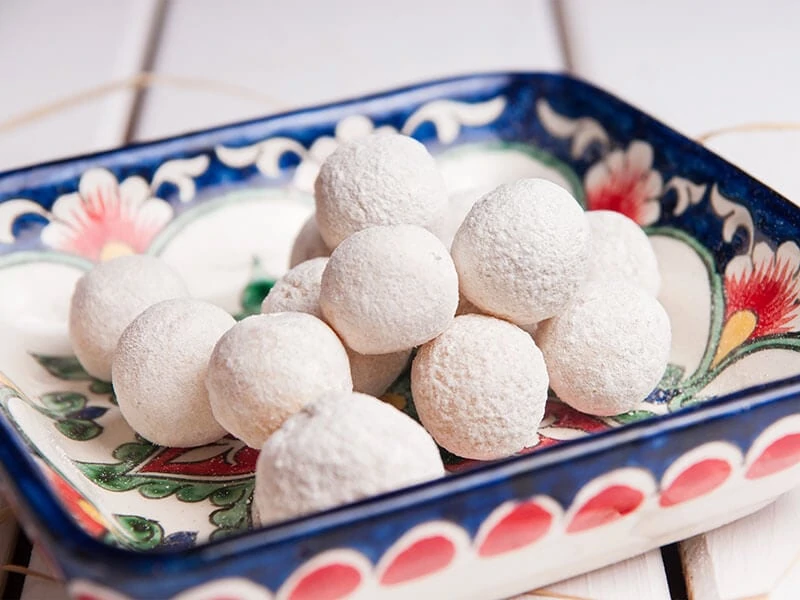 Everyone loves yogurt, right? However, if you are expecting a sweet treat here with kashk, you are going to be disappointed. Kashk is a full-fat yogurt variant made from fermented milk and features a special salty taste.
People commonly mistake kashk with liquid whey. If liquid whey is what remains after the curdling and straining process, kashk symbolizes the real curds that develop while cooking yogurt.
To me, this Uzbek food is a beautiful combination of cheese and yogurt, which contains a considerable amount of calories. Its extended shelf-life and nutritional content make this dessert an essential food choice for Uzbek people throughout the winter season.
You should try kashk with flour-based foods like non or barley broth and cereal-based products containing curdled milk like oatmeal. It will never fail you, I promise!
31. Uzbek Melons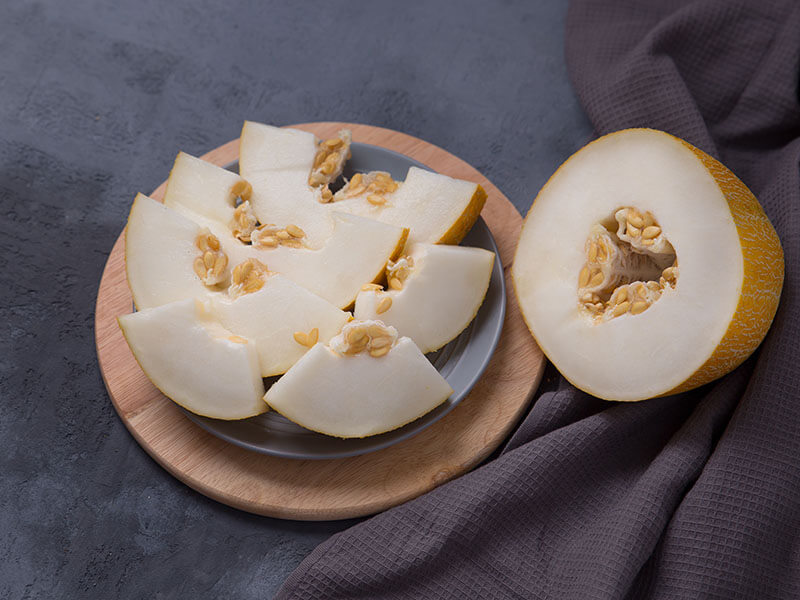 Just like France is the home of croissants, Uzbekistan is the home of the sweetest melons in the world. Who needs chocolate and candies when you have got such delicious melons?
If Western culture considers melons as a thirst-quenching tropical fruit, emblems of summertime, then you will find Uzbek melons quite far from such a norm. Most melon varieties here are winter types featuring tons of different vitamins and antioxidants.
Aside from the rich nutrition, what distinguishes these melons is the unusual and unique technique that local Uzbeks employ to preserve the fruit.
These melons will spend their winter holidays in a "qovunxona", a specialized melon shelter. The fruits will gradually mature in these shelters throughout the winter months, becoming softer, sweeter, and more melony day after day.
When matured in this manner, Uzbek melons can last up to eight months, making them accessible all year round and appropriate for overland travel over large deserts and steppe areas if required.
32. Halva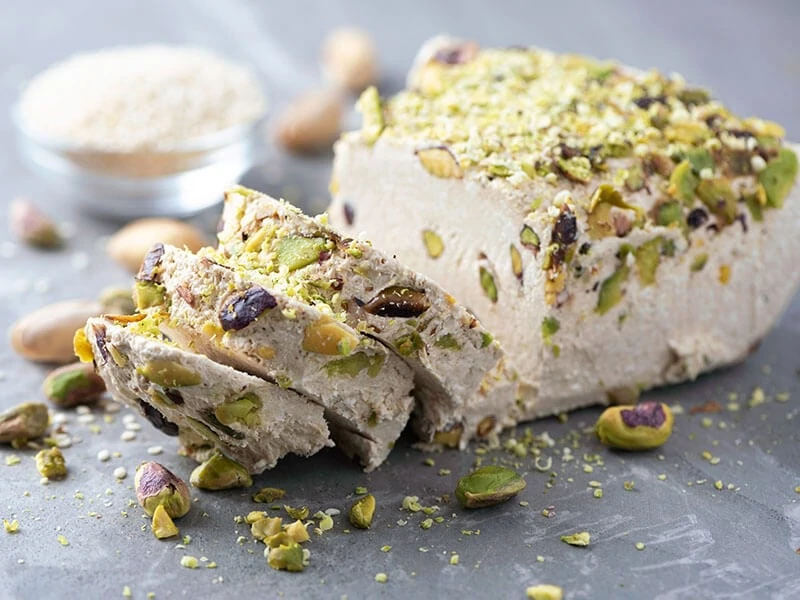 In many Asian and Arab nations, halva is a popular dessert, including Uzbekistan's twist on the dish. A variation called Halvaitar is a well-known dish in Tajikistan.
Just visit the local sweet stores and experience Uzbekistan's dizzying array of halvas, from the simplest to the most sophisticated types.
This rich fudge-like dessert is popular all around. From the same ingredients of sesame oil (or sunflower seed oil) and sugar syrup, each halva vendor has its secret element to formulate a distinct taste and texture.
That secret varies from vanilla bean, chopped almonds to cocoa powder and chocolate chips.
You can pick up halva at Chorsu market, the Siab bazaar, or other major markets. As I said, there are a plethora of halva flavors to choose from. So, take your time and explore what fits your tastebuds the most!
33. Parvada – Caramel Sweet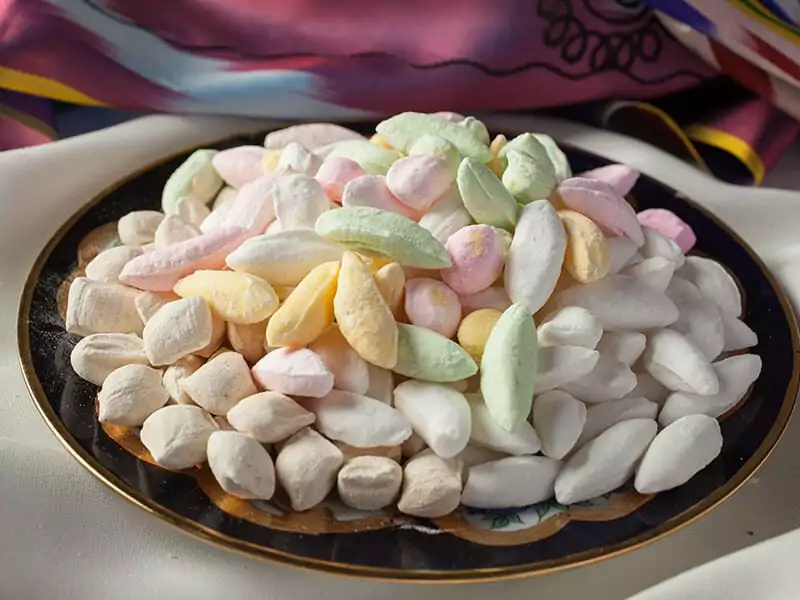 Parvada is an easy and healthy candy recipe that you can try making at home. This little white sweet is a cinch to whip up and oh-so-delicious.
All there is to do is combine sugar, flour, and lemon juice. There is no additive, preservative, or flavoring used in the preparation whatsoever. Therefore, you can feel confident this treat will not do you any harm.
34. Sumalak – Wheat Bran Pudding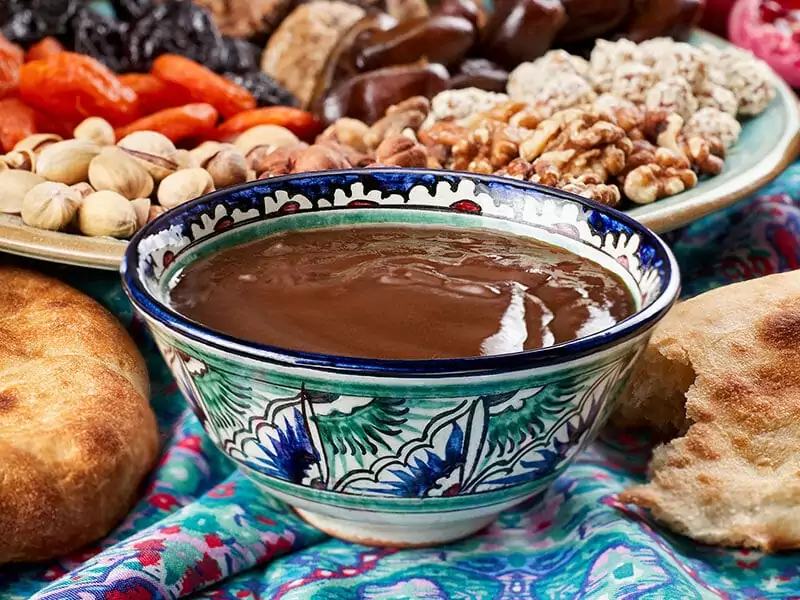 Spoiler: The following Uzbek food is extremely local, and not many tourists know about it! Popular by the name "sumalak", this wheat bran pudding is made just once a year on New Year's Day. It is the symbol that local people enjoy to celebrate a fresh start.
Depending on the region, the techniques used for preparing sumalak are different. However, the ingredient list remains the same everywhere: just flour and wheat grains washed in olive oil and water.
As a tradition, only elderly ladies prepare sumalak on New Year's Day. The process takes all night and spans into early morning hours as well. During such time, the whole family often dances, sings national songs, and tells children about the dish's origin.
There is a widespread myth that your wish will come true if you make a wish on your first sumalak try!
35. Choy – Tea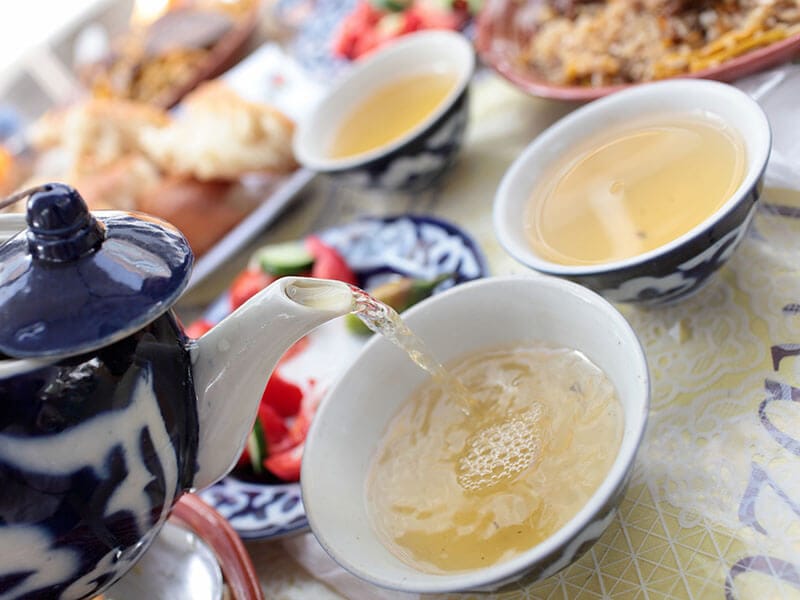 Like Turkey and Iran's culinary culture, Uzbekistan has a significant tea tradition. In this country, tea is more than simply a beverage. It is a cultural legacy. Tea is the first thing you receive from the host as a welcome gift when you enter his or her residence.
Local people have a special love for hot tea, even on hot days. Green tea and black tea are the two most prevalent choices in most cities.
In Uzbekistan, you must follow a certain set of procedures in order to enjoy a cup of tea.
Normally, you will be served one bowl more than the number of people expected to share the teapot. The extra bowl is useful for mixing the tea initially. This mixing step is to ensure that the tea flavor is well-infused.
There is one more thing you need to know. It is customary in Uzbekistan for people to pour tea for each other before they do the same for themselves.
36. Ayran – Salty Yogurt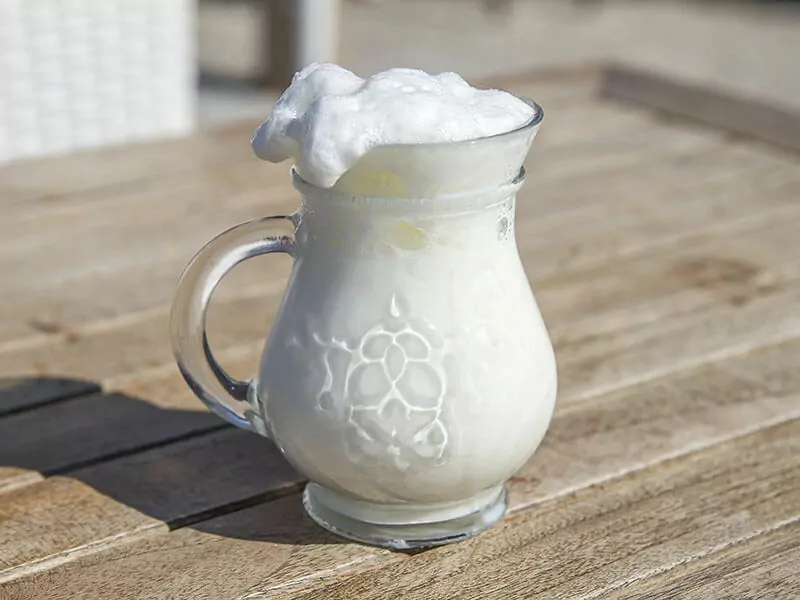 Although ayran is the national drink of Turkey, this cold salty yogurt is also a big hit in Uzbekistan. Not only adored by local people during the hot days, but ayran is also a best-seller among summer visitors.
A common practice is to garnish this local drink with radishes and parsley. They pair nicely with ayran's ingredient of dill and cucumbers.
It is best to enjoy this light and refreshing drink in the morning or before dinner. The drink will undoubtedly make your tastebuds ready for the main course.
37. Chalap – Cold Yogurt Soup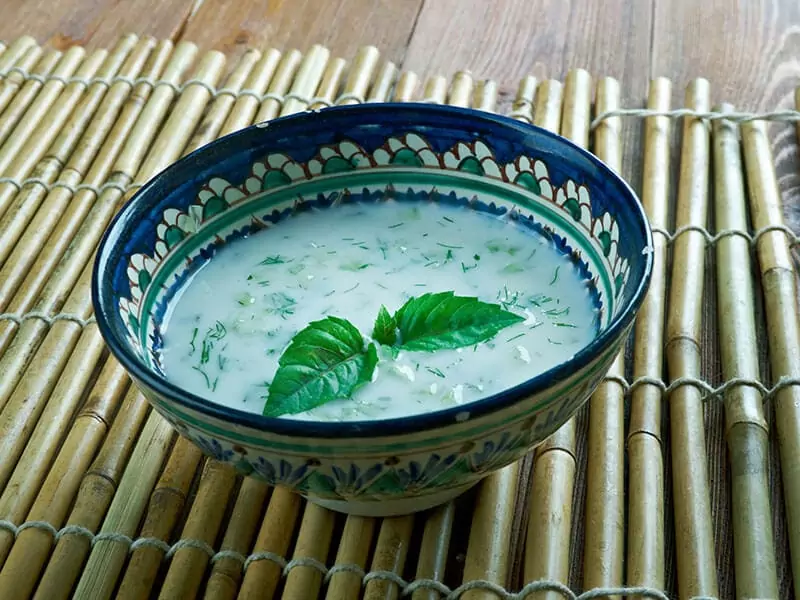 Chalap, or charlop, is a chilled yogurt soup that features cilantro, cucumbers, parsley, and radishes. Chalap's taste profile is similar to the pungent and salty smoked cheese.
It makes a perfect starter to your main meal. However, since chalap is so light and refreshing, Uzbek people prefer the idea of enjoying it as an extra sweet, especially in the heated summer.
38. Nawat – Rock Candies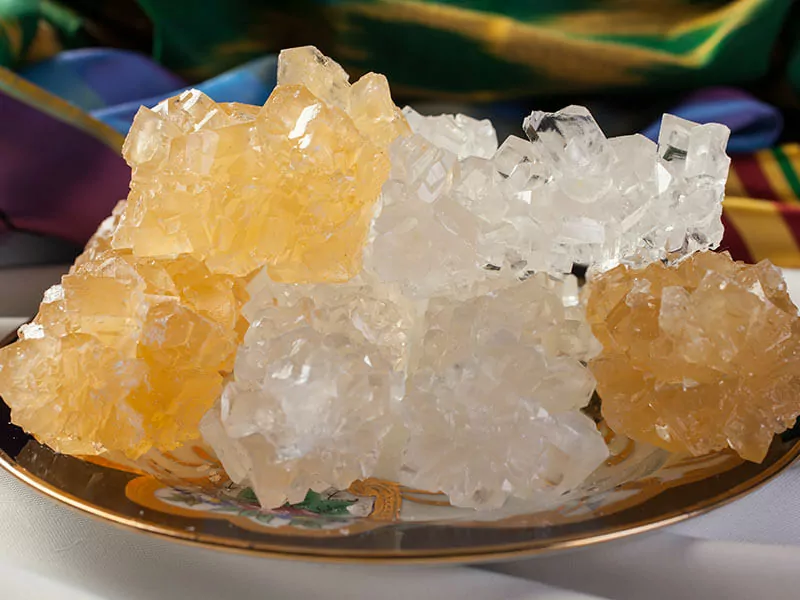 Writing about Uzbek foods without mentioning nawat is like drinking a water bottle without opening the cap. What I mean is that you will miss out on one of the most iconic flavors of Uzbekistan!
Nawat is a one-of-a-kind indigenous sweet made of mostly crystallized sugar. Besides its genuine and unique flavor, nawat also has positive impacts on the human body, especially the female body.
Many local people use nawat as a replacement for the traditional lollipops to treat a sore throat or cough. It also helps alleviate menstrual discomfort and cure inflammatory disorders.
Consuming nawat will make you become energized for a longer period of time. As a result, it is a favorite treat of many elders. Combining nawat with green tea or grape juice is the best practice out there!
39. Holvaytar – Halva with Flour
Whenever a local Uzbek moves into a new home, that person shall prepare this holvaytar dish and share it with the neighbors. Holvaytar is a sweet dish with brilliant chocolaty color and beautiful taste.
Feel free to use holvaytar to satisfy your sweet craving as it is extremely healthy. Made by combining halva with wheat, the end product of holvaytar is often topped with nuts for more texture.
---
Compile Your Own Uzbek Cuisine Checklist!
The above recommendations are only a small slice of what Uzbek foods can offer you. However, they are the most cultured recipes out there. So, make sure to write them down on paper and form your own checklist!
Bring it with you on your Uzbekistan exploration. I would love to hear your sharings in the comment section below. How many recipes have you tried? Are there other suggestions you'd like to make?
Check out other posts on my blog to learn more about the cuisines of other nations!,