Suppose you're exploring Azerbaijani foods, you may have heard of or even tried Plov, but that's not all! This cuisine hides more gems than you can expect, and it's also a good place for vegetarians to visit.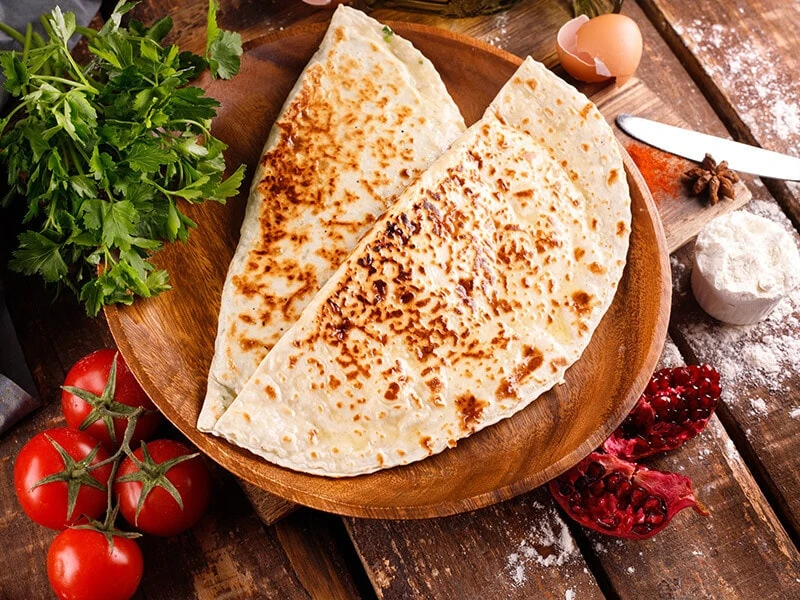 Azerbaijan is in the middle of Eastern Europe and Western Asia. Therefore, its national dishes have their own taste yet are inspired by multiple cultures. Now, allow me to walk you through this article with information that surely will enlighten you!
1. Lavangi – Stuffed Fish or Chicken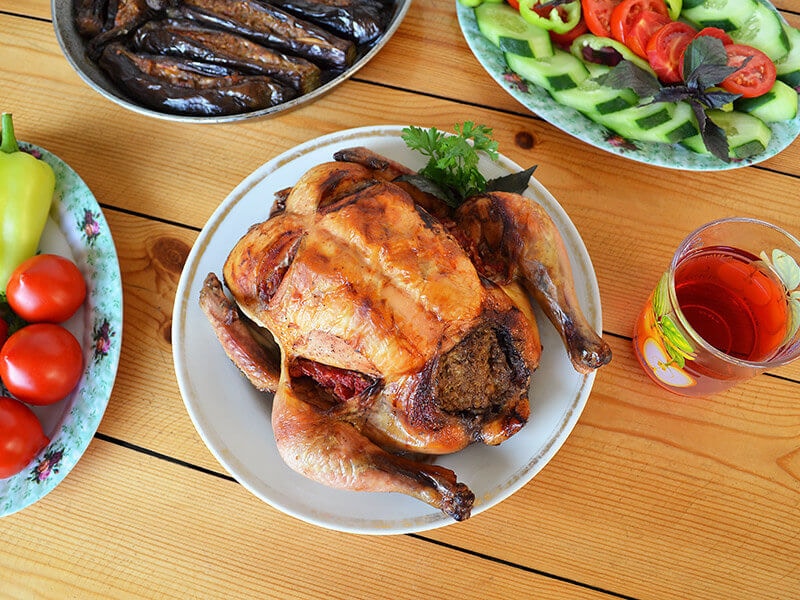 Indeed, Azerbaijani cuisine is famous for spices, and Lavangi is a great representative of such dishes. Though it's fuzzy to determine when Lavangi first appeared, this dish originated in Gilan province, Lakaran, and is now well-known across the country.
Baliq Lavangi is the most common version and is made of cultural fishes such as kutum or asp. Toyuq Lavangi is nevertheless famous, which referred to stuffed chicken, and ducks are also great substitutes.
In addition, you can also find the vegetarian version of Lavangi using eggplant instead of fish and poultries. No matter what the base is, Lavangi is stuffed with walnuts, onions, and countless condiments and seasonings, making it a great fusion of flavor.
2. Piti – Lamp Soup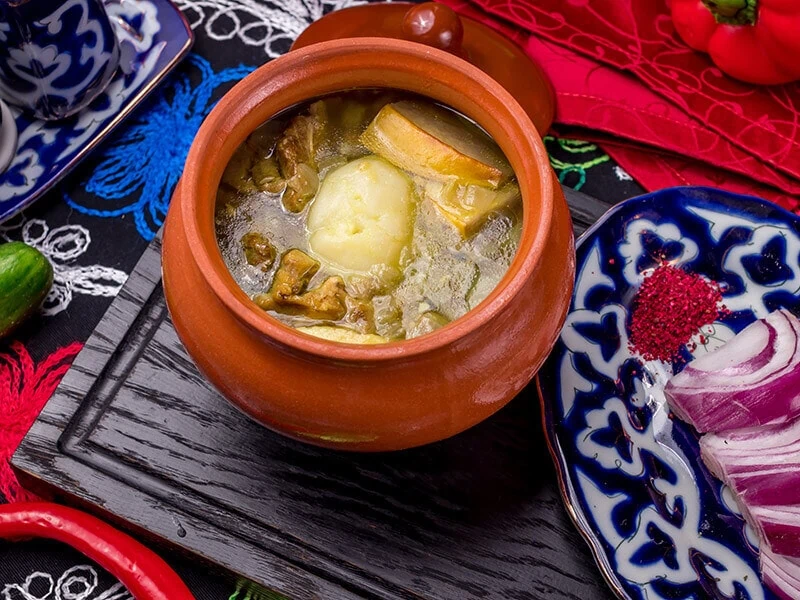 Though Piti is widely known as one of the Azerbaijani national soups, it's more like a stew dish due to the long cooking process.
The main ingredients of Piti are diced lamb or mutton, toasted chestnut, chickpeas, and saffron water. The mixture is prepared in a traditional clay pot and then slow-cooked for 5 to 6 hours.
You can find many versions of Piti in Azerbaijan's neighboring countries, especially in the gastronomy of Moldova and Georgia. Still, its origin is located in the city of Shaki, and you'll only be able to enjoy the best Piti here.
3. Buglama – Lamb Stew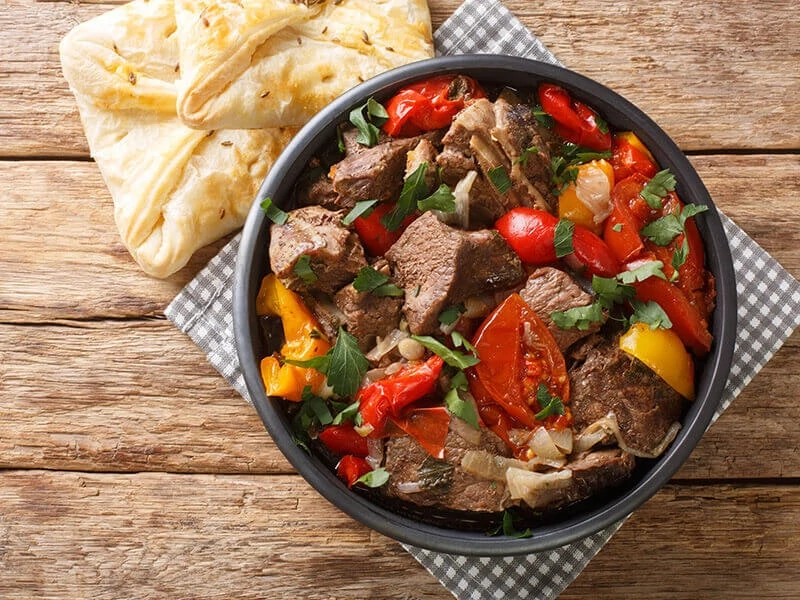 The term "Buglama" in Azeri means steamed, which indicates the fact that this dish is cooked over its own ingredients' juice. It's also a culinary staple in Georgia and Azerbaijan.
To prepare the traditional Buglama, the Azerbaijanis will combine onions, tomatoes, bay leaves, peppers, diced or chopped lamb, and only a few amounts of liquid in a pot. The pot will then be sealed tightly and slow-cooked.
Though this signature dish is mainly made with lamb, you can also find fish, beef, or poultry as substitutes. In addition, many cultural vegan restaurants also served Buglama using tofu in place of the meat bases.
4. Dushbara – Dumpling Soup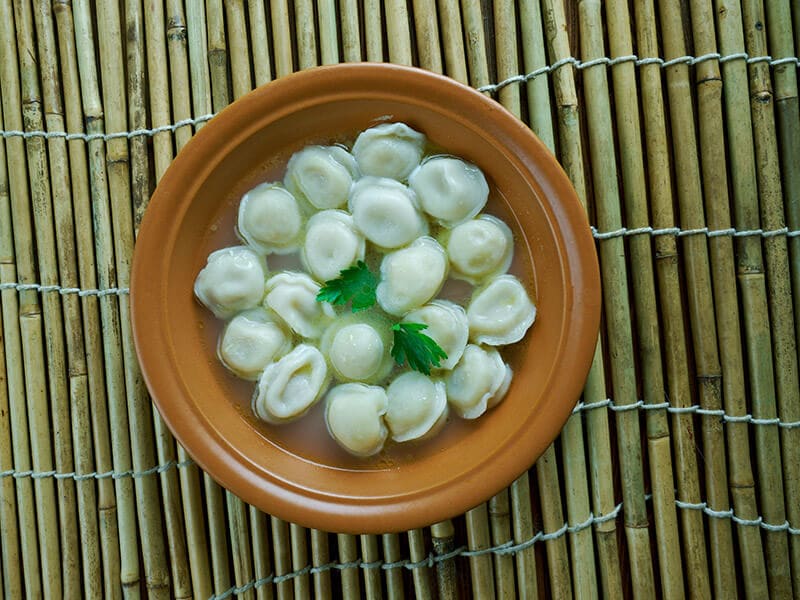 Unlike the dumplings in American food culture, Azerbaijani Dushbara is more relative to the most ancient dumplings dish – the China version. It refers to ground meat, herbs, and spices wrapped in a flat dough then boiled.
However, the signature of Dushbaras is their small size. Interestingly, there's a challenge for either the cook or eater to fit as much Dushbara as they can on a spoon. The traditional way to serve this dish is in lamb broth, with some mint, wine vinegar, and garlic.
5. Bozbash – Traditional Meat Soup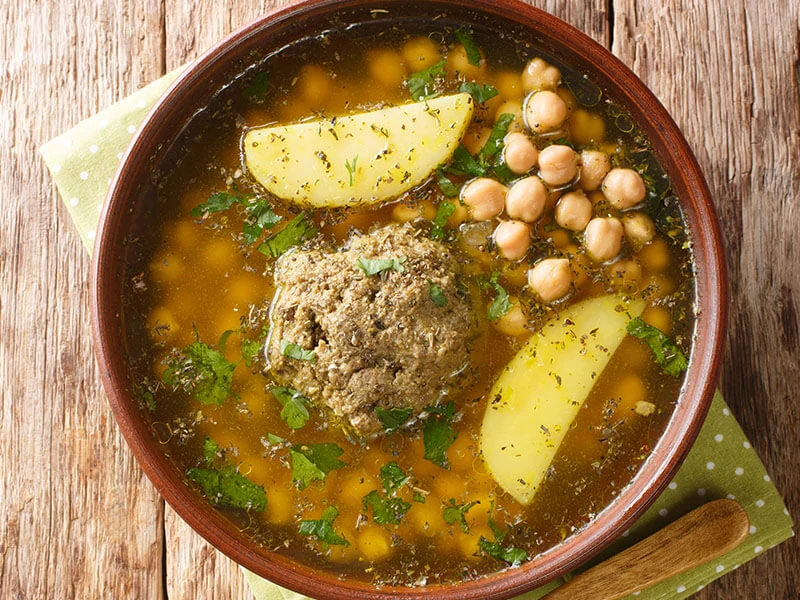 Bozbash is a traditional delicacy of Armenia, Iran, and Azerbaijan. It was first made during the 19th century, and the origin of its name is believed to be a compound word of "boz" – light gray, and "bash" – head in Turkish Azeri, which indicates the color of the dish.
Bozbash comprises meat bases, peas, potatoes, and local spices such as turmeric and saffron. The most famous version of this dish is Kufta Bozbash, using a large-sized cultural meatball, and the Bozbash broth may have different flavors depending on the region.
6. Djiz-biz – Traditional Lamb Dish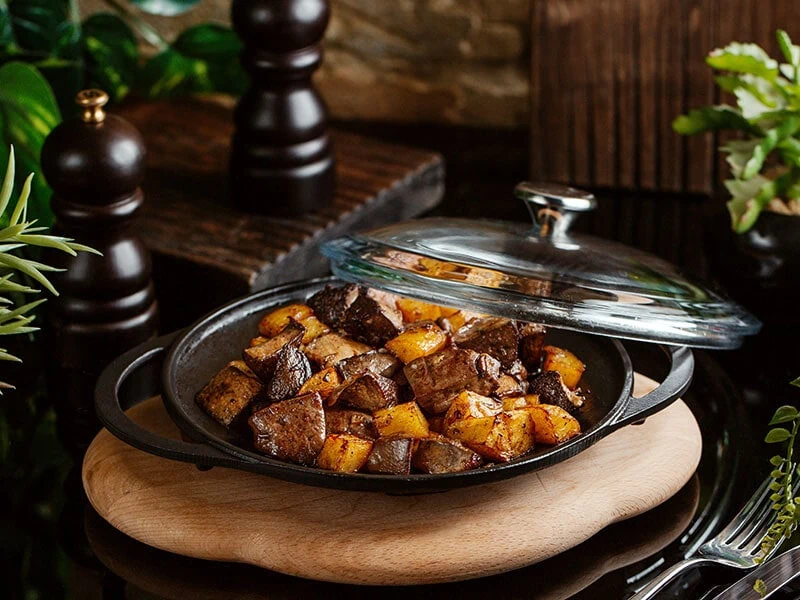 Also known as Jiz Biz or spells Jiz Byz, this is an Azerbaijani cultural dish made of fried lamb organs such as kidney, heart, lung, and intestine. Modern restaurants also serve this dish with fried potatoes. Tomato is also a great companion during the summer.
Though it may feel like a hash made of lamb offal, Djiz-biz is a nutritious dish. Each of its components requires a specific cooking technique and is meant to be cooked separately. The locals would prefer to enjoy Djiz-biz with bread, pickles, vegetables, and red onions.
7. Khingal – Pasta Dish with Meat and Yogurt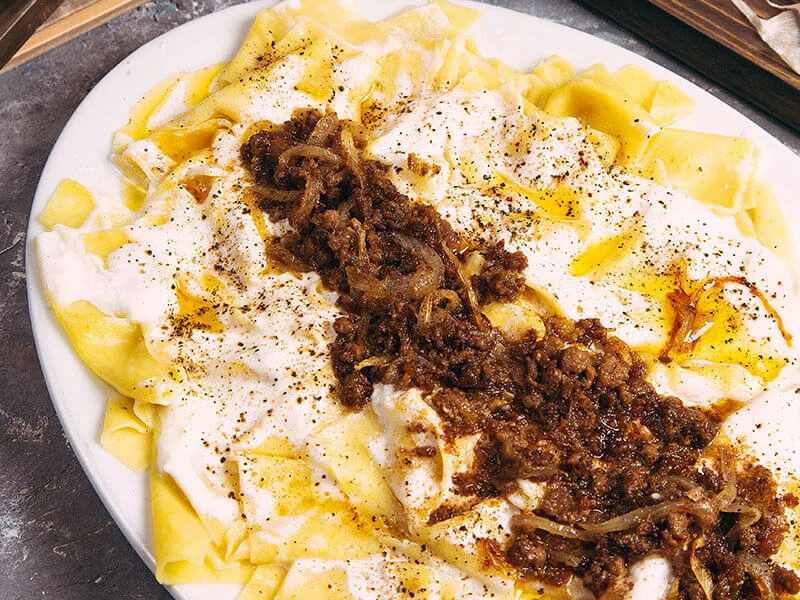 Though it's maybe a lookalike of Georgian Khinkali or the Armenian version, Azerbaijani Khingal is believed to be the first pasta-like dish that appeared in the Caucasian region.
Khingal is extremely popular in Azerbaijan nowadays, and almost any families have their own recipe for this dish. However, the traditional Khingal is mainly made of flour, egg, salt (for the pasta), various spices, and yogurt, then served with lamb or chicken.
The most popular version of this delicacy is Yarpaq Khingal, in which its dough will be rolled or flattened and cut into small squares or leave-shaped pieces.
Azerbaijani cooks will cook ground lamb with butter, onions, and spices until golden brown. Meanwhile, the pasta is boiled and drained. Finally, they top the delicious meat mixture on top of the pasta along with a herbal yogurt sauce.
8. Lula Kebab – Grilled Lamp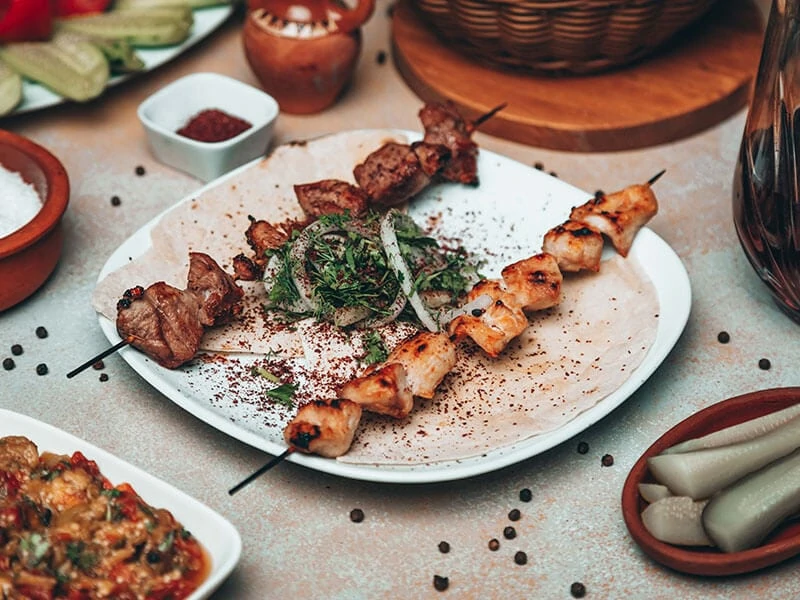 Kebab is an invention of the Turks but has become a staple in Middle Eastern cuisine. The word "Kebab" in the Arabic tongue means "roasted meat", hence this traditional dish is usually grilled or roasted over an open flame.
There are numerous Azerbaijani dishes for Kebabs, yet Lula Kebab is the most common version. Traditionally, Lula Kebab is minced lamb or mutton, salt, lemon, seasonings, and herbs. The meat is then shaped into cubes and skewed before roasting.
Lavash – a traditional Azerbaijani flatbread – is a perfect companion for Kebab in general, alongside slices of red onion.
9. Baliq Shashlik – Baku Fish Kebab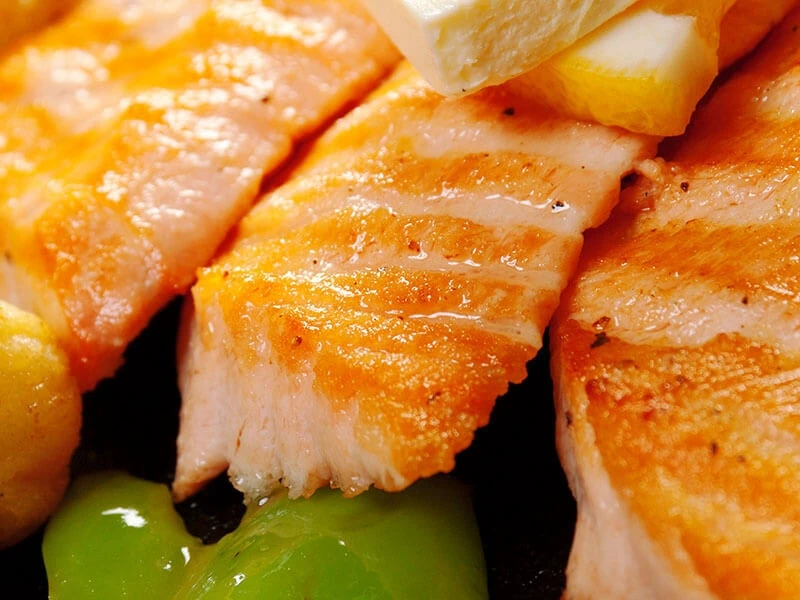 It's hard to talk about Kebab without mentioning the Azerbaijanis' Baliq Shashlik; in fact, many would rank this dish as the best food in this country.
"Baliq" means fish in general in Azeri, and though the Caspian Sea has provided a wide variety of fish for Azerbaijan, the most common one for Kebab is sturgeon. The fish is chopped into chunks, marinated, skewed, and grilled.
Baku is famous for its Baliq Shashlik, whose signature is the dill and lemon flavor in the marinating mixture. Tomatoes, red onions, and lemon wedges are excellent accompaniments for this Kebab.
10. Plov – Traditional Rice Dish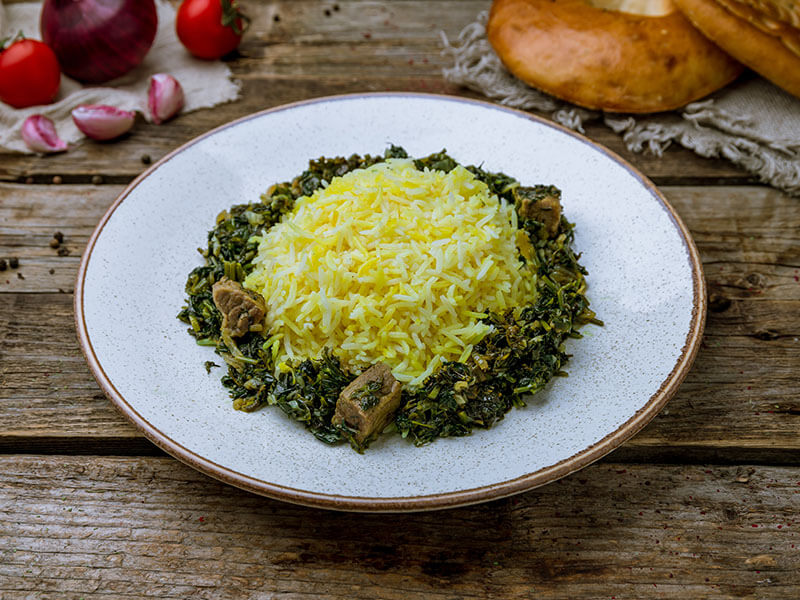 Plov or Pilaf is a famous dish that you can easily find in Asia and Western Europe. The signature of Azerbaijani Plov is rice that has been flavored with butter, saffron or cinnamon or both. It also offers a slightly sweet and rich flavor that comes from dried fruits and nuts.
Moreover, Plov has a wide range of accompaniments from vegetables, herbs, and seasonings. You'll also notice at the bottom of the Azerbaijani Plov lay a layer of Gazmag – a golden crust made of flour, butter, egg, saffron water, and yogurt.
It's available in both vegan and non-vegan versions, which is made with fish, pork, mutton, chicken, beef, or lamb. Each family or restaurant will have its own way to create and serve Plov, but it's highly recommended to try Plovs in Baku – the Capital of Azerbaijan.
11. Shah Plov – Pilaf with Crust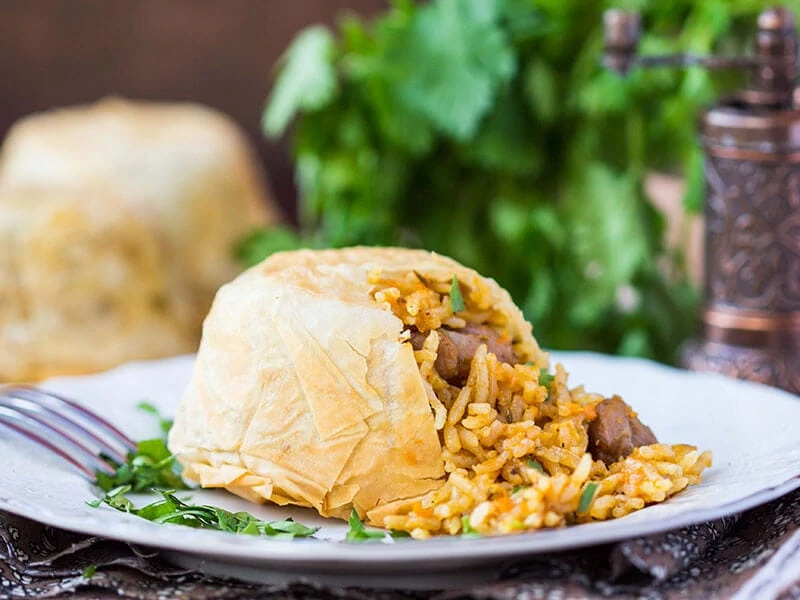 Shah Plov, also known as Khan Ashi, or King Plov, is what most people will think of when talking about the national dish of Azerbaijan. The Plov base is quite similar to the regular ones, including rice, chopped meat, roasted nuts, dried fruits, vegetables, and seasonings.
The difference is the pilaf is wrapped in a crust that is either made of Gazmag or Lavash. When serving, these crispy crusts will form the Plov into a block on the plate and normally cut into eight fanfares to unveil the hearty dish inside.
Its origin is traceable back to the Golden Age of Islam, around the 7th to 13th century. Nowadays, due to its complicating process of cooking, Shah Plov is more likely a dish for occasional feasts such as weddings or parties.
12. Badimjan Dolmasi – Stuffed Eggplant, Tomato and Pepper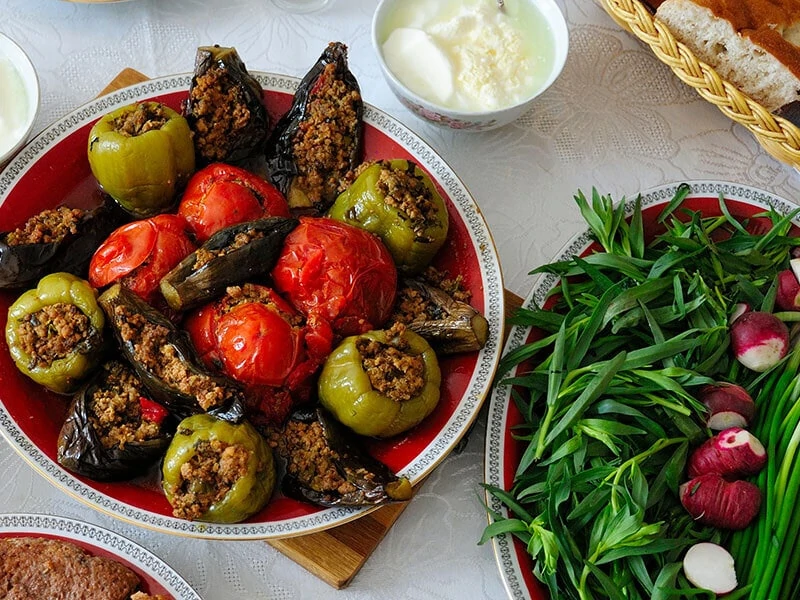 Dolma is a famous dish that sprouted from the Ottoman cuisine and is now present in numerous regions' gastronomy such as the Balkan, the Caucasian, the Middle East, the Eastern Mediterranean, and Azerbaijan has taken it as a portion of traditional food.
It's the term for generally stuffed vegetables with ground meat, onions, and local herbs and spices. Rice is may or may not included in the fillings, and when Dolmas come with rice, it's typically served cold.
During the summer, the Azerbaijanis would use tomatoes, bell peppers, and eggplants for the vegetable bases. The locals call this trio the "Dolma Sisters" (Uch Baji). These delicious veggies are stuffed with meat and an array of herbs, then cooked simultaneously in the same pot.
For the most authentic experience, don't forget to enjoy these Dolmas with Azerbaijani garlicky yogurt sauce. Besides, Dolmas can also be made with vine leaves – I'll cover this dish separately further down.
13. Yarpaq Dolmasi – Stuffed Grape Leaves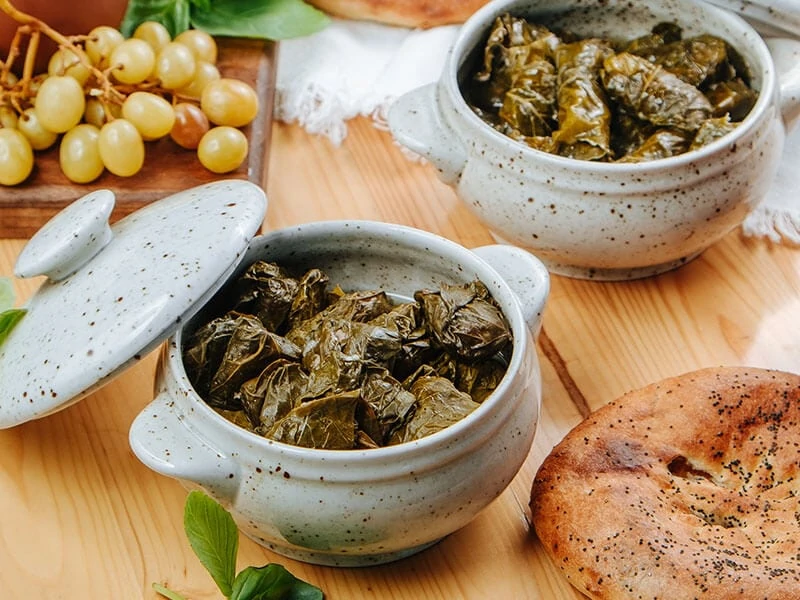 Dolma is a traditional dish of Azerbaijan, and the ones that are made with grape leave wrappings, or Yarpaq Dolmasi, are among its culinary staples. The locals are even proud that this is the best version of Dolma in the world.
The filling of Yapaq Dolmasi is also more flavorful than the regular version, adding some extra butter, dill, and mint. Though it's more common as an Azerbaijani dinner dish for the cold month, the locals enjoy this dish throughout the year nowadays.
It's also a common dish in Azerbaijani feasts or parties. In addition, you can also find the carbage leave wrappings version, and it's mostly available in the autumn or winter.
14. Shirin Plov – Sweet Rice Dish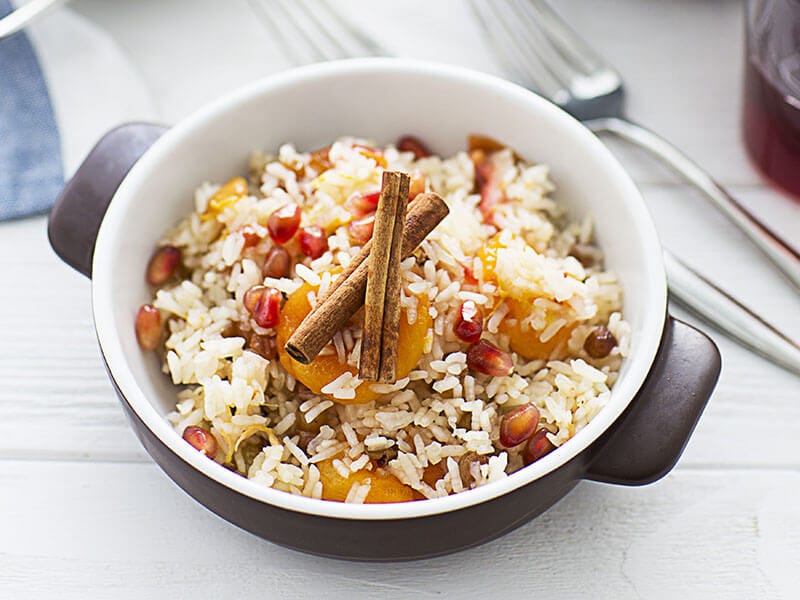 Shirin Plov is among the most cultural dish of Azerbaijan that stemmed from the capital of Baku. It's also cooked on top of a Gazmag layer, but the fillings are alternated with chestnuts and seasonal dried fruits such as apricots, raisins, or black plums.
Though Shirin Plov contains a sweet flavor, it's often served as a cultural Azerbaijani lunch dish alongside some Kebab or grilled meat instead of a dessert. Otherwise, you can also have it as a vegan main course.
In addition, the traditional rice used for any Azerbaijani Plov is Basmati rice – a type of long, slander-grained rice that offers a unique aroma and flavor.
15. Pomidor-Yumurta – Eggs and Tomatoes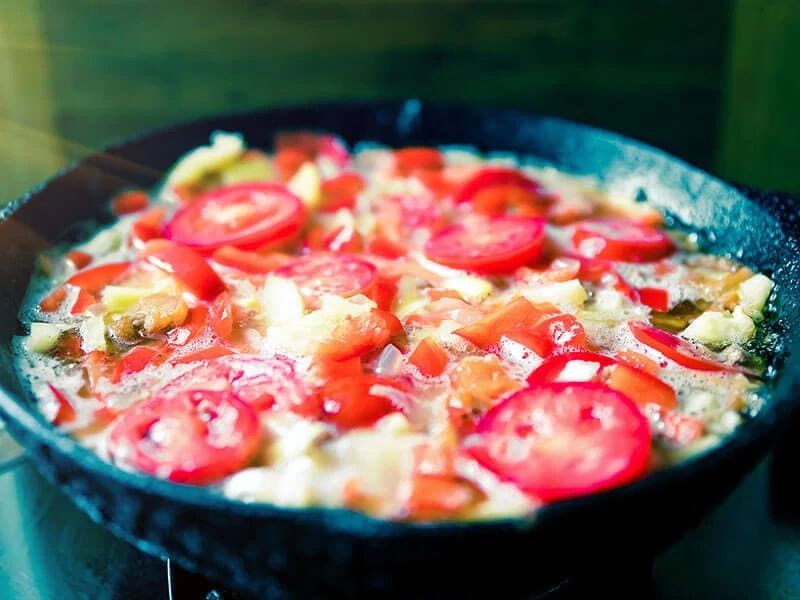 Starting with one of the most famous Azerbaijani breakfast dishes, Pomidor-Yumurta, and it's as simple as its name – eggs and tomatoes. First, the tomatoes will be chopped and cooked on a copper pan until they're collapsed and released juice.
Then, the beaten eggs are added, along with some salt and optional spices. Podimor-Yumurta, also known as Pomidor Chighirtmasy, is likely sprouted from the Ottoman cuisine dish called "Shakshouka". It's also a lookalike of Turkish Menemen.
16. Mangal Salaty – Grilled Vegetable Salad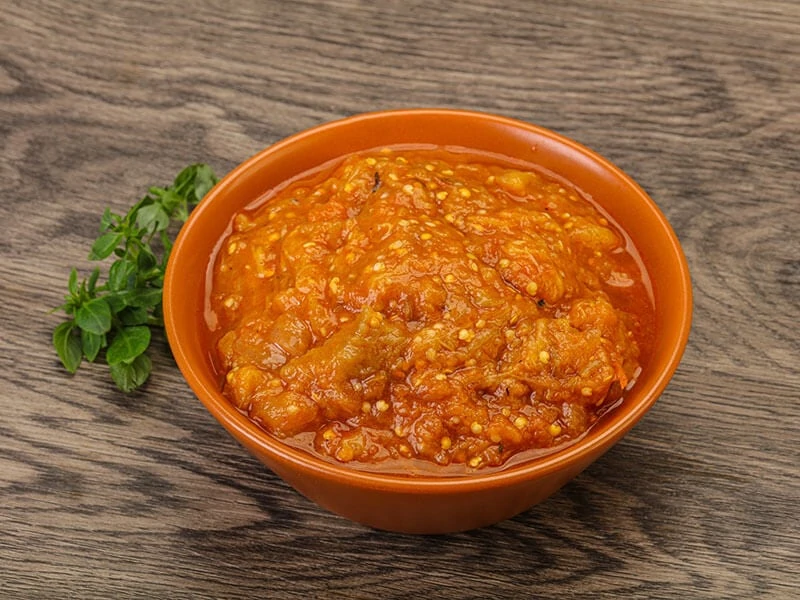 Unlike most salads you've seen, Azerbaijani Mangal Salaty is a mixture of grilled or roasted vegetables. Eggplants, tomatoes, red onions, and peppers are the irreplaceable ingredients for this salad; other local spices are optional.
Though it's more well known as an accompaniment for kebabs or grilled meat dishes, Magal Salaty is a vegan food and can be served alongside some bread for a delicious breakfast. Eggs are an excellent addition to this dish if you're a vegetarian.
17. Gutab – Stuffed Flatbread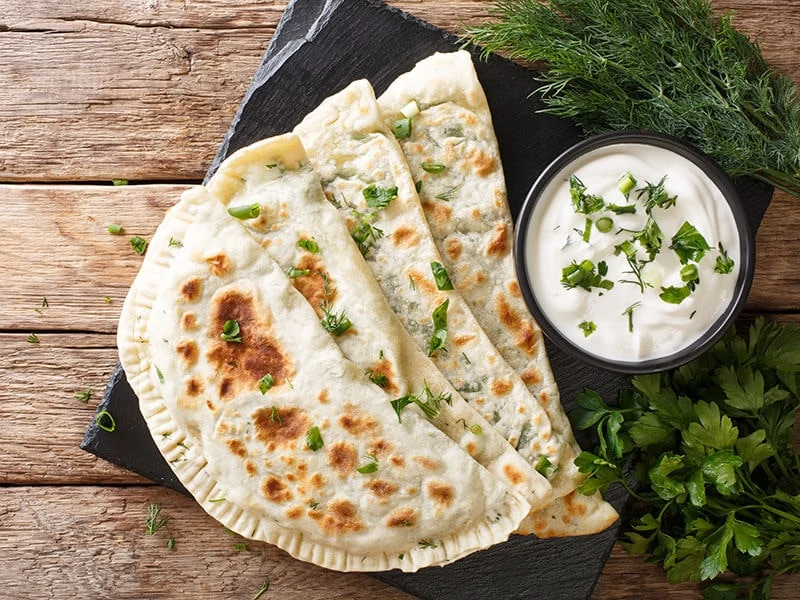 Gutab, also spelled as Qutab, can be considered the brightest representative of fast food in Azerbaijani cuisine. It first appeared in Azerbaijan but also claimed its reputation in South Caucasian and Jewish regions.
Gutab is usually made of stuffed Lavash with a wide range of fillings that may or may not include ground meat, and the herb version is called Green Gutab or "Yashyl Qutab". Pumpkin, spinach, cilantro, onions, and dill are the main ingredients for the vegetarian ones.
There are also sweet versions of Gutab that include sumac and pomegranate seeds. Whether it's vegetarian or non-vegetarian Gutab, it has a half-moon shape and is meant to be served with cultural yogurt condiment or beverage.
18. Dovga – Yogurt Soup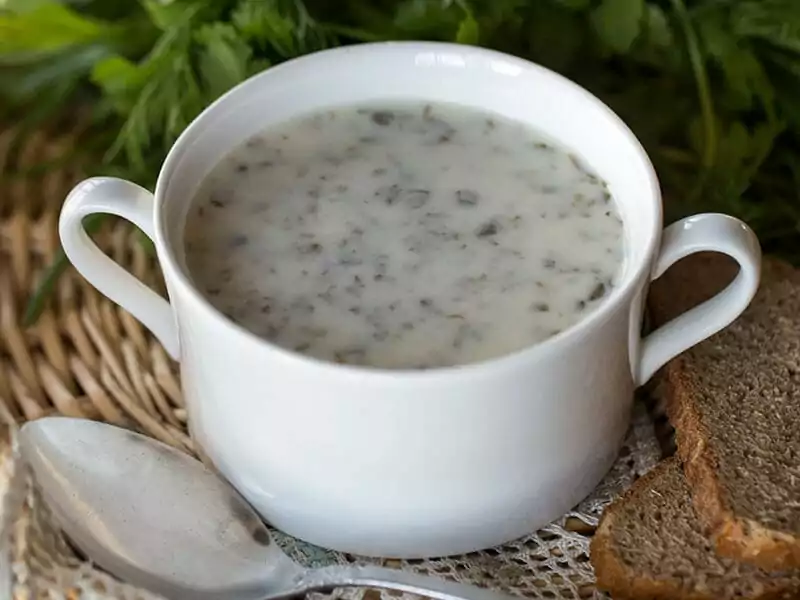 Dovga is one of the most popular culinary delights of Azerbaijan, and it can be served both hot or cold, depending on the season. It can refer to either drink or soup, comprising yogurt, rice, spinach, chickpeas, dill, mint, and coriander; eggs are an occasional addition.
It is usually served between meat courses and is abundantly present at Azerbaijan weddings. Originated in the Western region of Azerbaijan, this is now a famous dish in Turkey, Iran, and Armenia.
Though the ingredients of Dovga soup are vegetarian safe, you would want to inquire that it does not include any meat accompaniment. In some regions, such as Baku, restaurants would likely add small meatballs into the soup.
19. Ovdukh – Cold Soup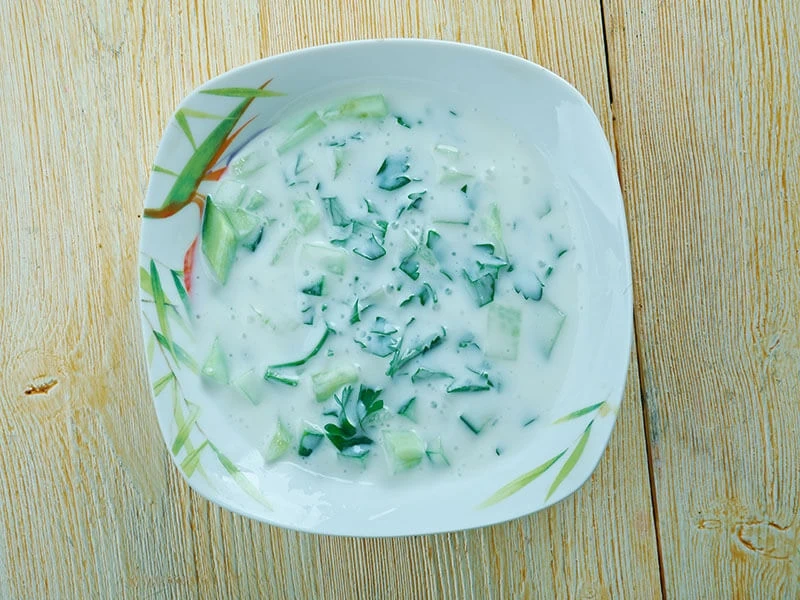 Ovdukh, also known as Dogramach, is pretty similar to Dovga; however, the ultimate difference is Ovdukh is made without any heating process. Moreover, the yogurt base used for this soup is usually Kefir.
Other vital ingredients for Ovdukh are chopped dill and cucumber; eggs and extra herbs are optional. The mixture is sometimes diluted with water to form an excellent beverage. It's widely used during the summer months thanks to its refreshing deliciousness.
For further enlightenment, Ovdukh rarely contains any meat or starchy ingredients. So that whether you're a vegetarian or tempted to lose weight, it's a better option than Dovga if you want a cold soup for the summer trip in Azerbaijan.
20. Pakhlava – Layered Pastry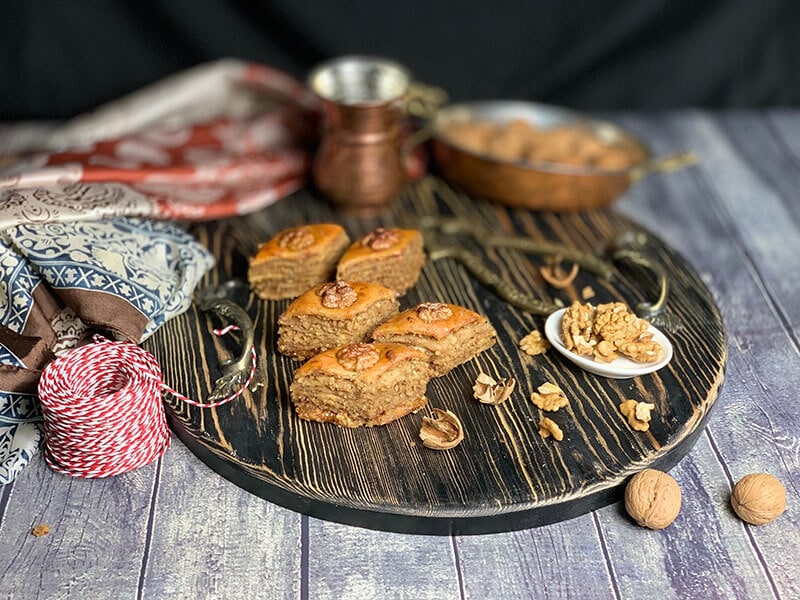 Sprouted from the Ottoman Turkish cuisine, the Azerbaijanis' Pakhlava or Halva is a descendant of the world's famous Baklava. Traditionally, Pakhlava is usually prepared for Novruz, a traditional festival in March to celebrate the upcoming spring.
However, it's now widely used throughout the year, and almost every restaurant, bakery, pastry shop, or family has its own recipe for the cultural Pakhlava. Still, the signature of this Azerbaijani sweet is multiple layers of nuts flooded with syrup or honey.
It's also usually topped with a mixture of yolk and saffron; nuts like walnut or hazelnut are for the garnishings. Many would describe Pakhlava as the sweetest pastries they've ever tried, and the locals would likely enjoy it with their cultural black tea.
21. Shekerbura – Sweet Pastry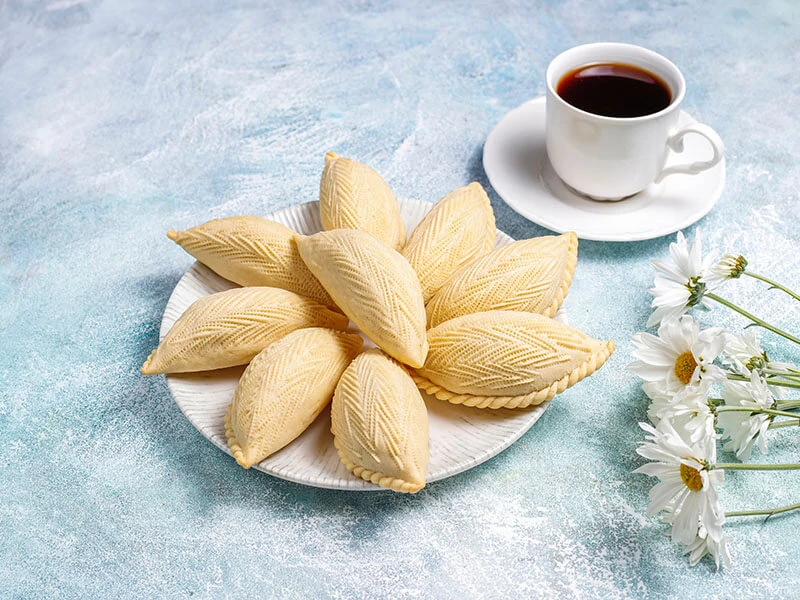 Shekerbura is another sweet that is associated with the Novruz celebration but can be found all year round. Its origin can be traced back to the 7th century or the Iranians Empire era. This treat is also popular in Afghanistan and Central Asia these days.
The filling of this pastry includes sugar and ground nuts, such as walnut, almond, or hazelnut. It will be formed into a half-moon shape and carved with a flame-like pattern to indicate the Novruz symbolism.
The Azerbaijanis have the tradition of gathering with friends or families to make these sweet delights. It's either to prepare or to enjoy the Novruz celebration.
22. Badambura – Almond Puff Pastry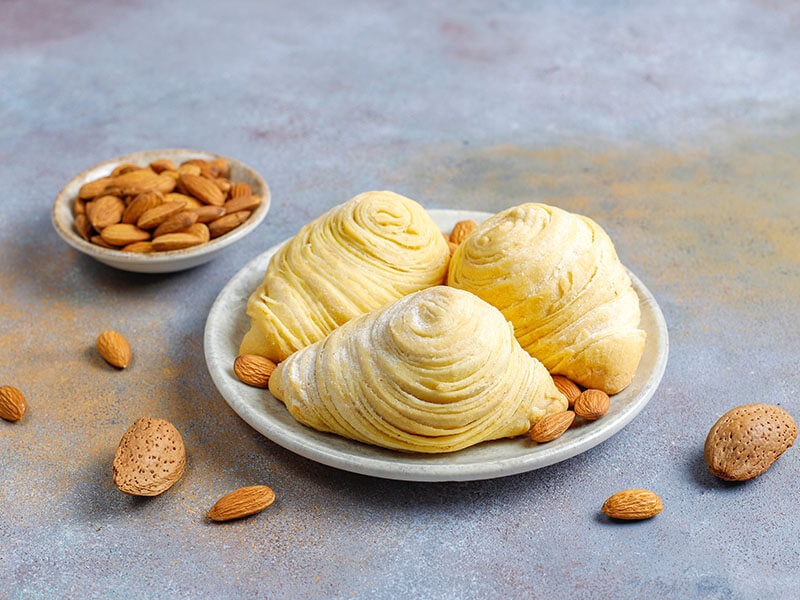 While "bura" means pie in general, and "badam" means almond, Badambura is not that simple. It does have some uniqueness to be listed in Azerbaijan's most famous traditional food.
Badambura is a pastry made of countless flaky dough layers filled with almonds with some cardamom and vanilla to enhance the flavor. It's baked until it reaches the light golden brown crust.
This is also a sweet pastry associated with the Novruz. Though it is usually garnished with icing sugar, Badambura is a less sweet option than the two delicacies I've named above.
---
Ready To Be Filled With Deliciousness In Azerbaijan
The Land of Fire, that what's the world know of Azerbaijan. However, don't feel overwhelmed by this name and underrating its cuisine. The gastronomy of this country has a wide range of options, from hearty and heavy, to light and comforting, all waiting for you to discover.
Especially if you're a vegetarian, this is a perfect place for your next trip with colorful cultural dishes made without meat bases. On the other hand, the meat lovers will also find themself in love with the incredible local kebabs.
Please share this article with your beloved ones who wish to explore their taste. Also, don't forget to share your thoughts in the comment section! I'm positive that you and other readers might have some helpful pieces of information!