There are numerous Tajik foods to explore when visiting this wonderful country. Tajikistan is famous for the trekkers for its hospitality, lakes, and mountains. However, it'll be a huge omission to travel here, skipping its fantastic cuisine.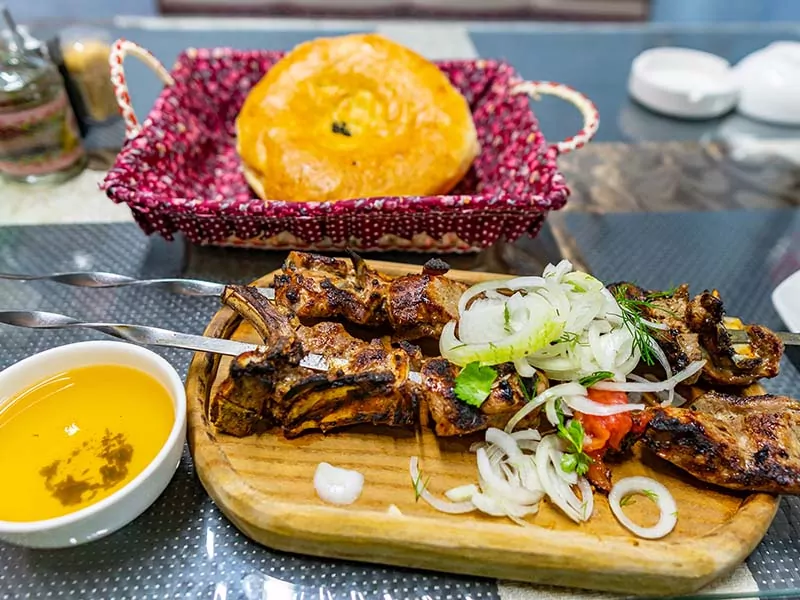 Tajikistan is a landlocked country in Central Asia with an arid continental climate. However, a number of empires and dynasties contribute a wide array of cultures to this gastronomy. Keep scrolling to get the information surely will enlighten you!
1. Halvaitar – Traditional Confectionery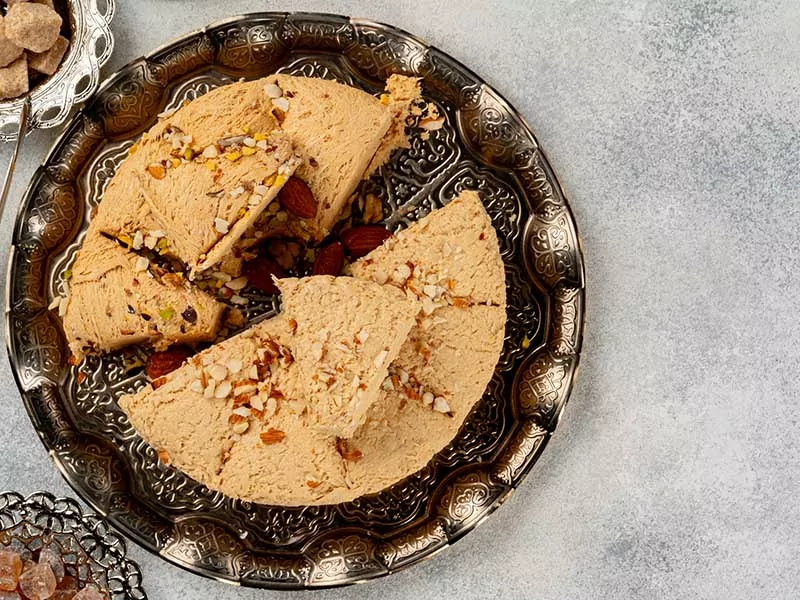 Halvaitar is a variation of the well-loved Middle Eastern dish Halva, and these consist of sugar syrup and layers of crushed nuts for the base. Tajik recipe uses flour for the base, and nuts are just optional; it also comprises mutton fat.
To prepare this, the Tajiks first cook the flour with mutton fat until it reaches light brown, then add the syrup. After that, they pour the mixture over a plate and cut it once it is chilled. They often add Vanilla to enhance the flavor.
2. Pashmak – Cotton Candy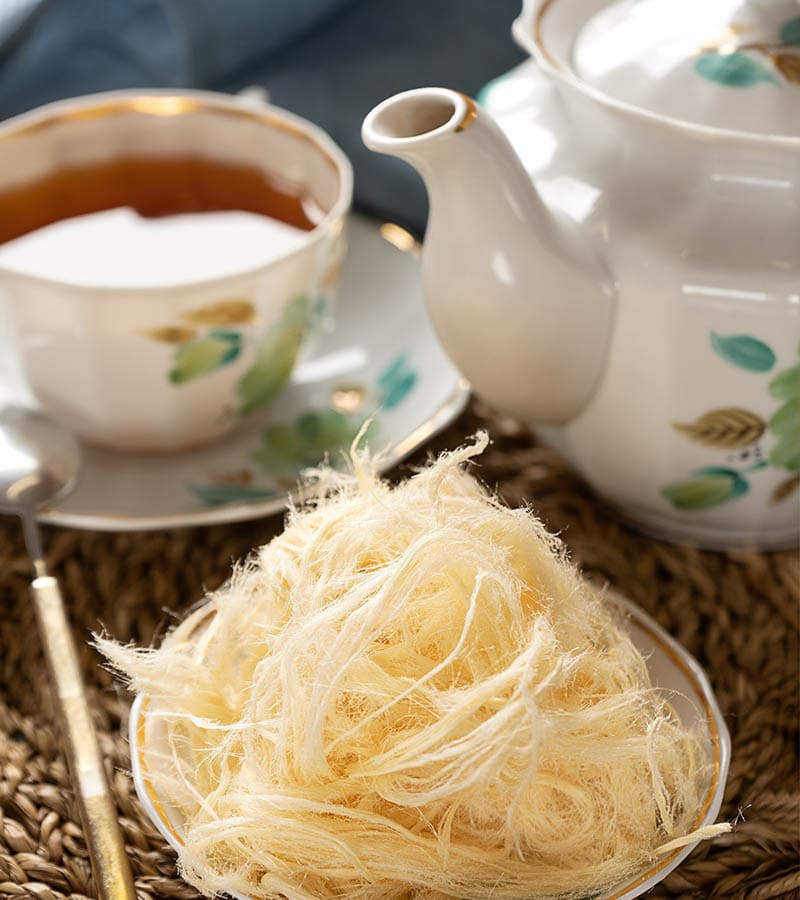 Pashmak is a famous sweet that sprouted from the Iranian city of Yazd, and it's now widely used in the Central Asia region. The Tajiks also make Pashmak out of flour and sugar, but the making process is quite trickier.
They first melt the sugar with a small amount of water; this mixture sometimes includes citric acid. Then mix it well with flour and stretch it to form thin threads; butter is occasionally added in this step.
It can be served in a bowl, but the Tajiks usually form Pashmak into skeins of yarn in Tajikistan. A good Pashmak will melt right in your mouth without causing the "too sweet" feeling.
3. Non – Traditional Oriental Flatbread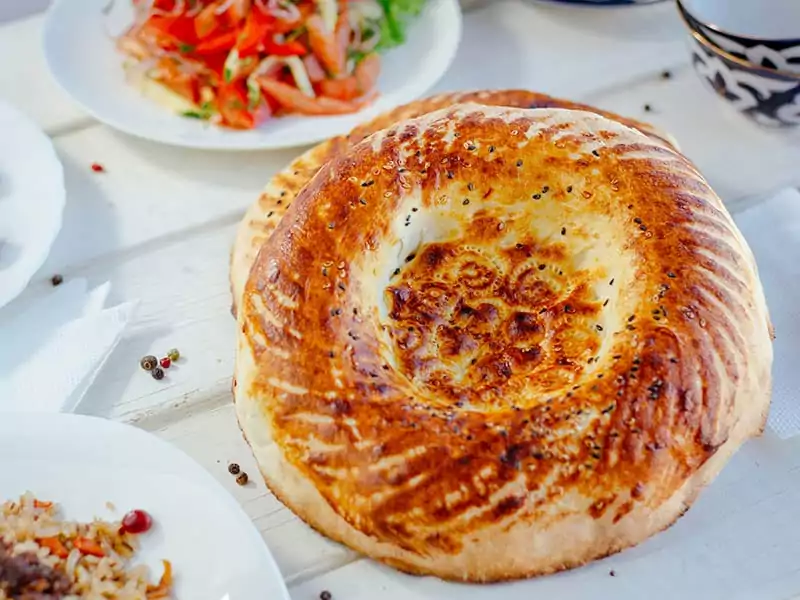 Non, also spelled as Naan, is a culinary staple present in almost any Tajik meal. It's a traditional flatbread widely used in Uzbek cuisine and other Central Asia Countries. In Tajikistan, a family will consider they're run out of food just by missing Non.
Comprising flour, yeast, plain yogurt, egg,  and oil, Nan is present in many sizes of uneven round shapes; black sesame seeds or shallot is added sometimes. Many Tajik breakfast foods only come with tea or coffee with Non.
Interestingly, the Tajiks bake their Non by "sticking" it into the sides of a traditional clay oven called Tandoor, without any tray. The Tajiks adore their Non so that they rarely waste it, even just a little crumb. The folks believed that putting it upside down would cause bad luck.
4. Fatir – Rolled Flatbread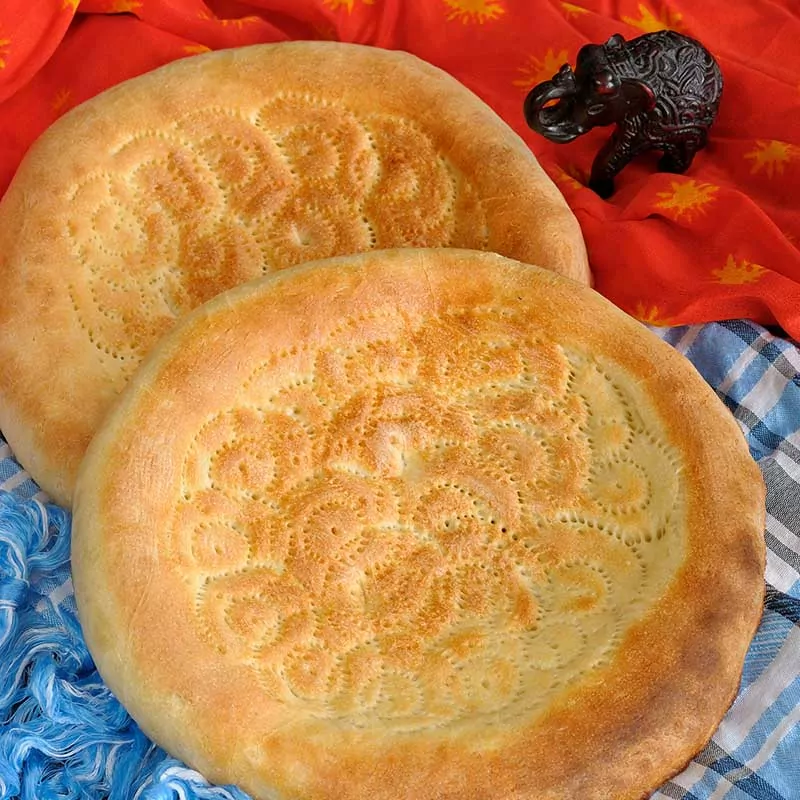 You can consider Fatir as another version of Non, which usually appears thinner. The making process of Fatir is almost the same with Non, but the baker will roll, then fill and grease the dough with butter before baking. Hence, the outcomes have multiple flaky layers.
In addition, there's a traditional dish called Fatir-Maska. This dish is made of cut Non, crushed-and-mixed well in Ghee – a Middle Eastern butter type. The Tajiks top the mixture with melons or peeled grapes and mostly serve it during the summer.
5. Oshi Palov – Traditional Rice Dish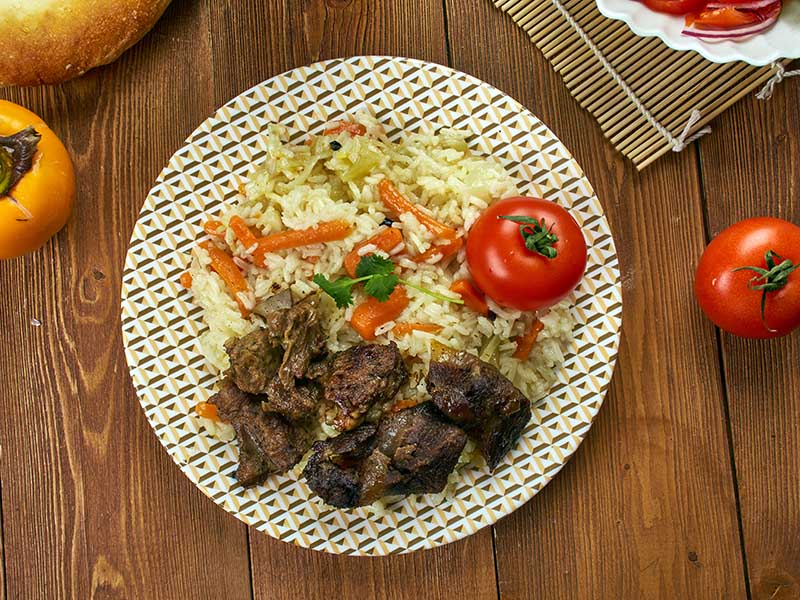 Palov, Plov, or Pilaf is a typical dish among Central Asia and Middle Eastern gastronomy. Each region has its own way of preparing this culinary delicacy, not except Tajikistan. In fact, UNESCO has acknowledged Oshi Palov as a part of Tajiks' cultural heritage.
In Tajikistan, Oshi Palov is also called Osh or "King of meals", and there are over 200 recipes of this delicacy. Traditionally, the Tajiks will slow-cook or fry this dish on Kazan – a type of traditional large cookware that is similar to cauldrons, boilers, or Dutch ovens.
The main ingredients include rice, chopped meat like lamb or beef, and hearty vegetables with regional seasonings. Oshpaz is the specific title for this dish's chefs. The Tajiks also serve this delicacy on a large communal plate with bare hands.
In addition, Oshpaz sometimes cooks an Oshi Palov that is large enough to serve a thousand people. The Tajiks call these large Palov an Oshi Nahor, or "morning Palov", and usually have it on typical occasions, such as weddings.
6. Qurutob – National Dish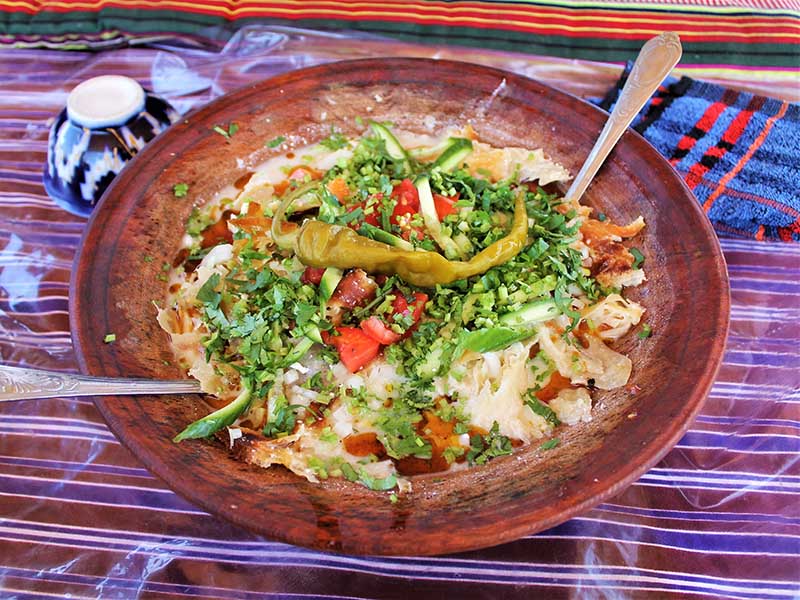 Qurutob perhaps is the brightest representative of Tajik gastronomy. Basically, it's a salad consisting of cucumber, tomatoes, peppers, meat, and fatir as the key ingredients. Cottage cheese, sour cream, other spices, and herbs are optional.
However, its uniqueness and the root of its name come from Qurut – typical salted and dried yogurt balls. When preparing Qurutob, the Tajiks will soak these balls in water until they're diluted before using the mixture as a base.
Qurutob is a typical Tajik communal dish; hence the locals usually serve it on a large plate or bowl – called Tabaq – made of walnut or plane trees. The Tajiks also enjoy this dish with bare hands. Though it seems like a messy mixture, Qurutob is definitely worth the try!
7. Shakarob – Tomato Onion Salad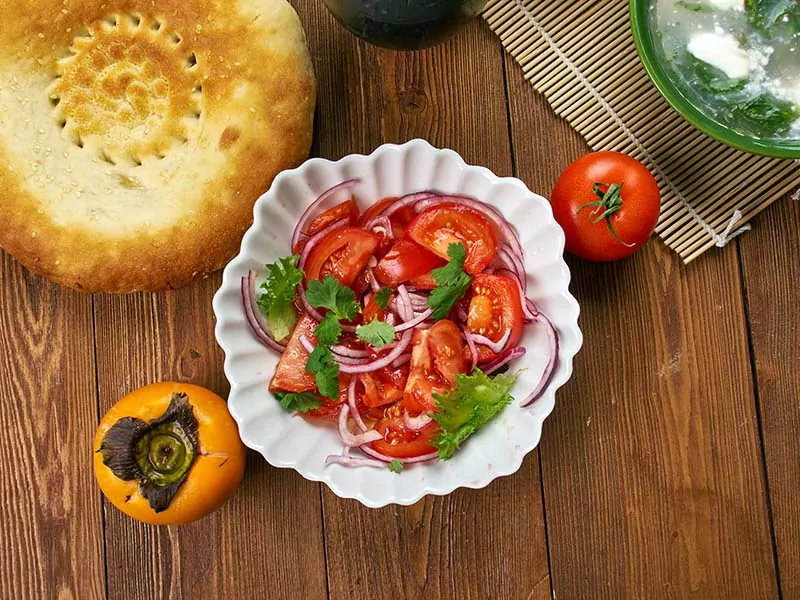 Qurutob has many different versions throughout Tajikistan, and Shakarob is one of its counterparts. The critical difference is Shakarob always excludes meat, and it includes Chakka – a Middle Eastern dairy product that is referred to as either cheese or yogurt.
This is also a well-known Tajik dinner food since it's effortless to do and comfortable to consume at late night. Moreover, you can tell that Shakarob is a safer choice for vegetarians while traveling to Tajik rather than Qurutob.
8. Sambusa – Savory Pie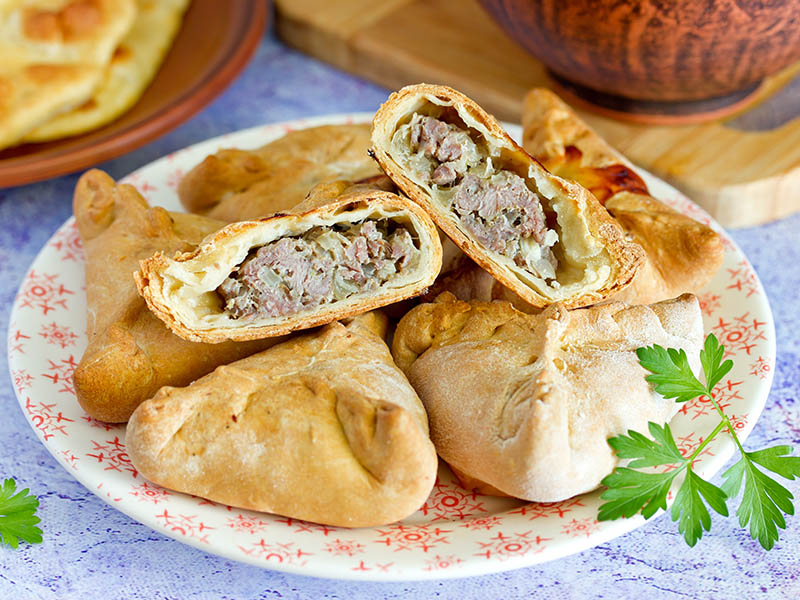 Sambusa or Samosa is a typical meat pie present in Central Asia for ages and is traceable to the 10th century. It's now famous to the world as a triangle-shaped pie stuffed with minced meat and onions.
The Tajiks either bake it in the Tandoor or deep-fry it. You'll find numerous versions of Sambusa here, such as Sambusa Katra, which is present in a teardrop shape stuffed along with lamb slices. Tofu, peas, or pumpkin are fillings for the vegetarian ones.
Nowadays, there are many kiosks and street food vendors that solely sell this delicacy. Surprisingly, you can also purchase Sambusa in grocery stores, though mostly they're buying Sabusa in large numbers and reselling it.
9. Belyashi – Fried Meat Pie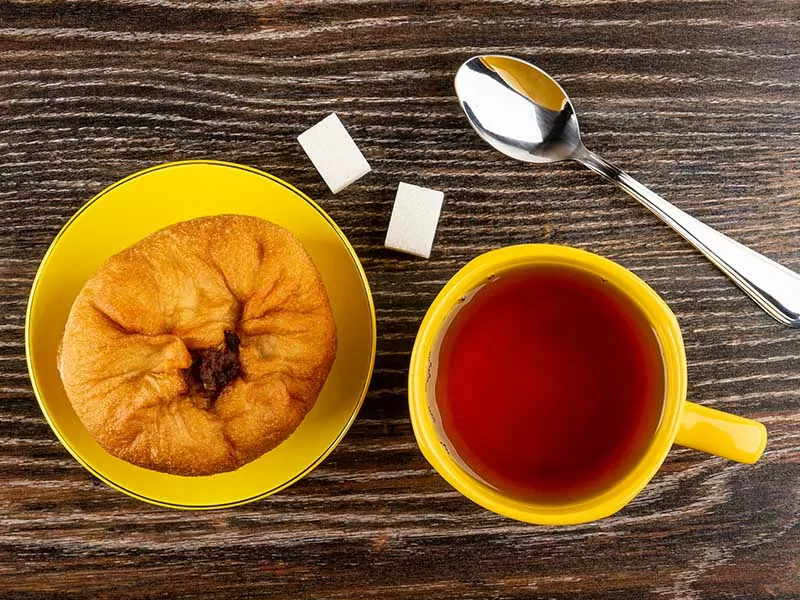 If you opt for a quick meal, Belyash it's an excellent choice though you may not be able to stop after eating one of them. This is a deep-fried pastry filled with minced meat, onion, and cultural seasoning.
Traditionally, the Tajiks will make Belyash out of lamb meat, but you can easily find the beef version these days. The signature of this pie is the dough is not entirely covering the meat fillings but leaves a small hole in the middle.
Though they may be similar, there's no proof about the relation between the Tajiks' Belyash and the Russian's Peremech. Therefore, you can assume that Belyash is one of the Tajiks' inventions.
10. Shurbo – Meat and Vegetable Soup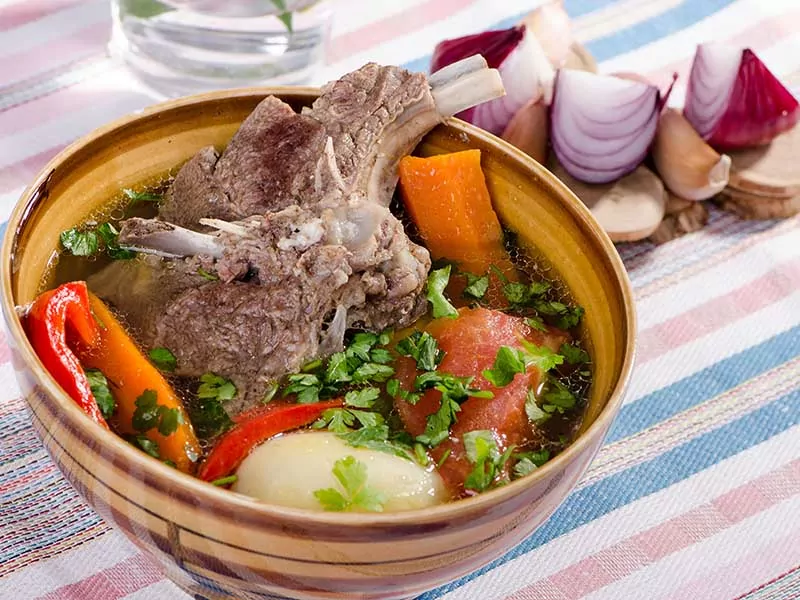 Shurbo is the generic term for a type of hearty vegetable soup in Tajikistan. It comprises potatoes, carrots, onions, peppers, and meat. The Tajiks often add tomatoes and other regional spices. Herbs would be the last addition once the soup is ready.
One of the most common Tajik lunch foods is Kaurmo Shurbo, made with chunks of mutton or beef. Any Shurbo is served hot, along with the traditional bread such as Non or Fatir.
The Tajiks often take out the potatoes and meat ingredients to have them separately when serving.
11. Lagman – Meat and Noodle Soup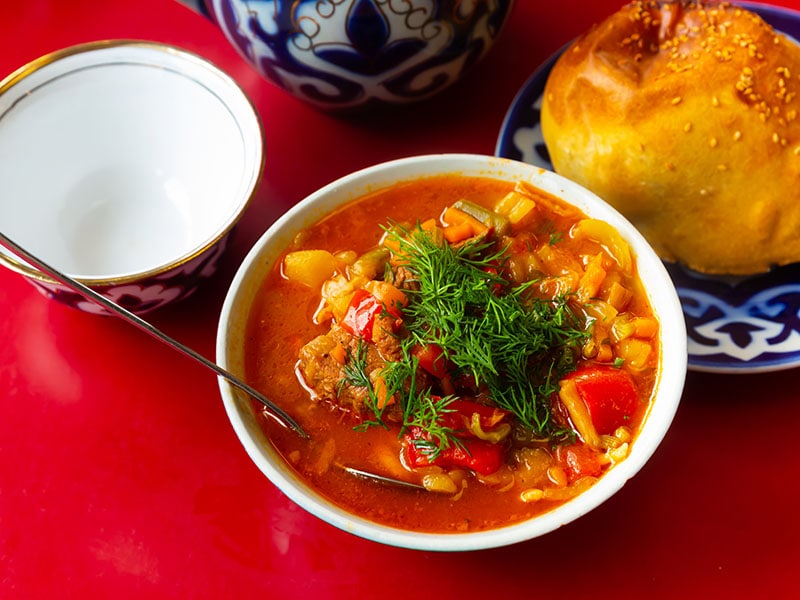 Lagman is a typical soup served with noodles in Central Asia as well as China. It's particularly famous in the cuisine of Kazakhstan, Kyrgyzstan, and Russia. However, the Tajik version stands out from the rest due to the specific preparation.
The Tajik first cooks the chopped beef until it's softened, along with potatoes, tomatoes, carrots, and cabbage. Then they pour water into the mixture with a wide array of spices to form a flavorful broth. In another pot, they cook the pulled noodles individually.
When serving, the chefs will pour the broth mixture over the noodles and top the dish with some herbs as well as Chakka – the cultural sour milk.
Moreover, there are multiple versions of Lagman. Some variations even don't require broth at all. You can easily find Gyozo Lagman, which comes with boiled noodles, or Bozo Lagman, with fried noodles.
12. Ugro – Noodle Soup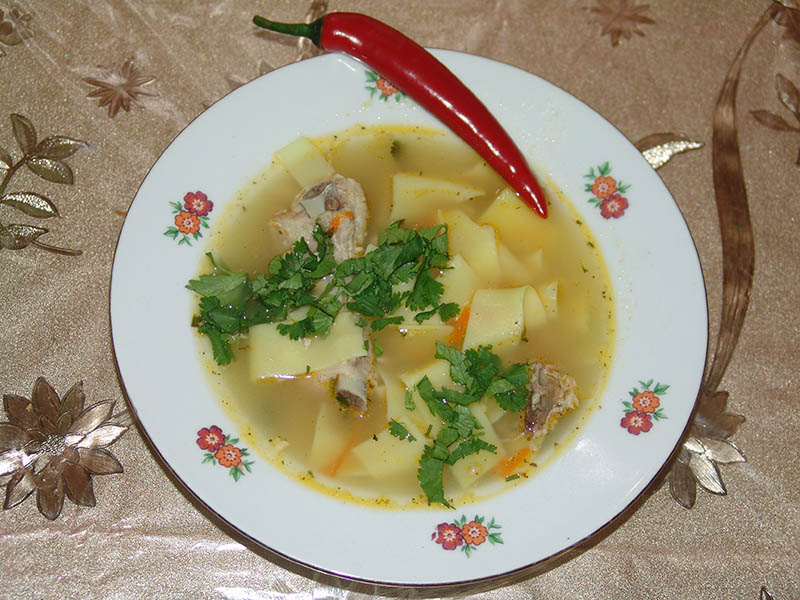 Basically, Ugro is also a soup with noodles, and you can consider it a variation of Lagman. Actually, Urgo is also a name of a thin noodle variety in this country.
The broth also has some distinct differences. Though it still uses lamb or beef as the meat base, Urgo is simpler by just comprising carrots, onions, tomatoes, and chickpeas in the broth. The Tajiks do not add too much herbs and spices to this dish.
13. Piti – Lamb Soup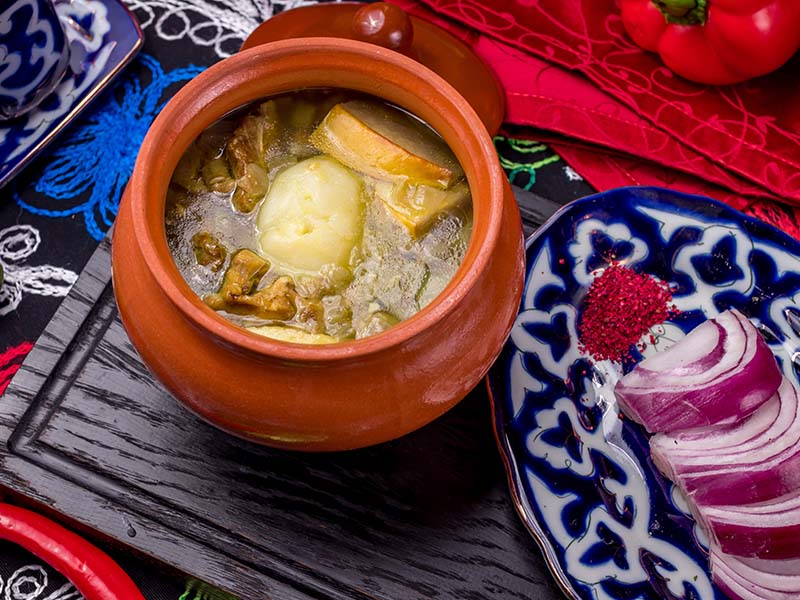 Piti is a typical lamb soup that originated in Azerbaijani cuisine. However, it has traveled to Tajikistan and spread its popularity here. Essentially, the Tajiks prepare this soup with diced lamb or mutton, chickpeas, tomatoes, and a wide range of regional seasonings.
No matter where you have it, the restaurants usually recommend eating Piti by two courses. The first is to enjoy the broth with slices of traditional bread. Then, take out the solid elements, mix or mash them all, and dig in!
The signature of Piti is the traditional clay pot that it's cooked in, and its cooking process takes over 5 hours, making it more relative to a stew than a soup. In addition, you can find the beef version of this culinary delicacy throughout the country.
14. Mastoba – Rice Soup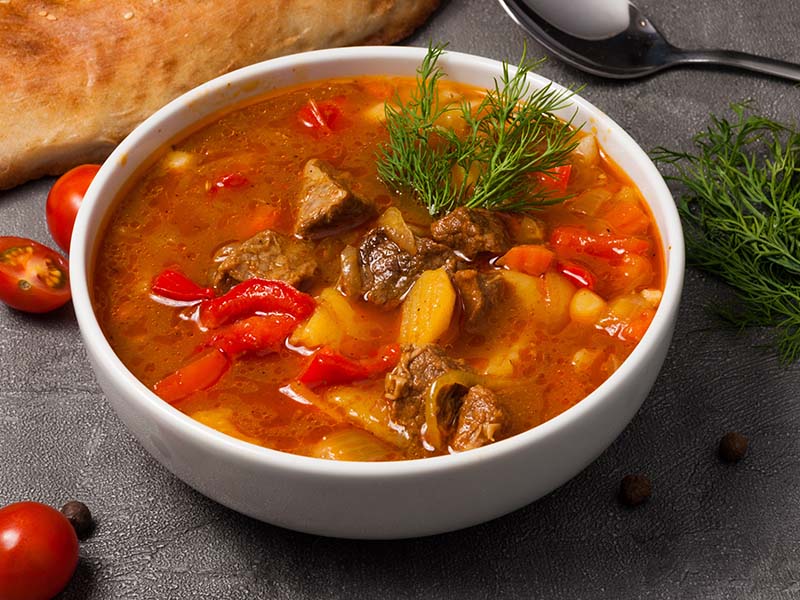 There's no confirmed information about the origin of Mastoba, but the Uzbek's Mastava is likely to inspire this dish. Regardless of that, this dish is another hearty soup that is abundantly served in Tajikistan.
The Tajiks make Mastoba out of rice, tomatoes, and meat bases; though lamb is the most common version, you can also find mutton or beef ones. Other key ingredients are onions, garlic, potatoes, peppers, and carrots.
Chakka or Katyk (both are traditional sour kinds of milk) is also a very frequent addition to this soup. In addition, the Tajiks usually serve Mastoba in an oval-shaped bowl called pialah, kasa, or takva.
15. Oshi Burida – Herbal Soup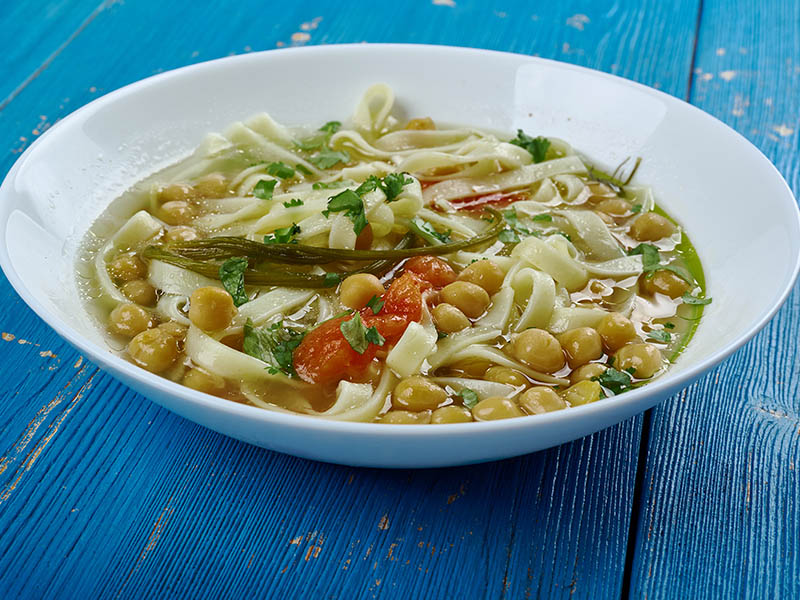 Oshi Burida is another soup that you can either enjoy as an entree or a light meal. Though it's less famous to the world than the soups that I've mentioned above, this soup is a traditional delicacy that has been served for ages.
It's more famous in the villages these days. Oshi Burida has appeared in the culinary history of Tajikistan for so long that almost any family has its specific recipe. On the other hand, the Tajiks also put their faith in the affection of relieving colds.
It's more famous in the villages these days. Oshi Burida has appeared in the culinary history of Tajikistan for so long that almost any family has its specific recipe. The Tajiks put their faith in the effection of relieving colds.
The locals could add countless herbs to this nutritious soup besides vegetable bases like carrots, greens, bell peppers, and chickpeas. The Tajiks also serve Oshi Burida hot along with the traditional noodles and topped with some Chakka.
Check out the secrets of making a delicious and nutritious Oshi Burida soup!
16. Damlama – Vegatable Stew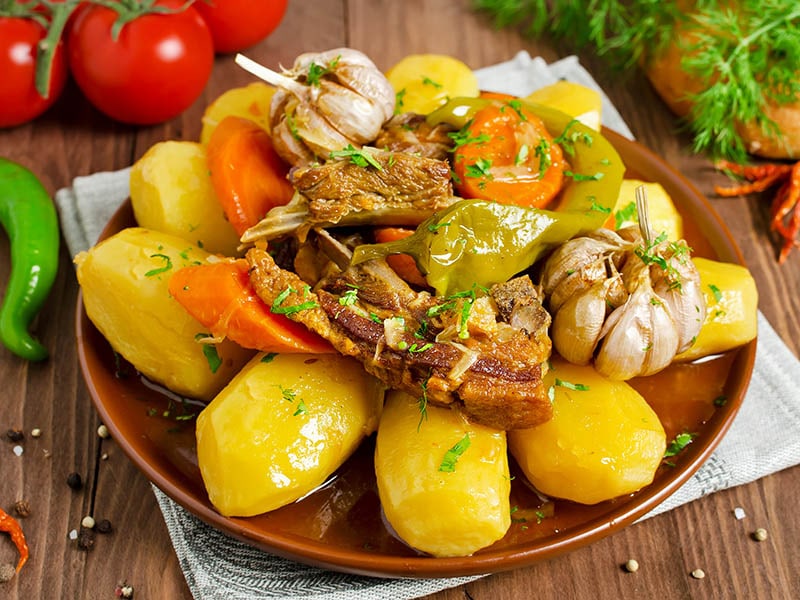 Damlama is a popular dish among the Central Asia countries, and it's also one of the Tajik staples. The Tajiks prepare it with chopped beef, potatoes, peas, and seasonal vegetables.
Then they cover the compound in cabbage leaves or clean cloth, then place it in a tightly sealed Deg – cultural thick-walled cookware. The locals prefer to cook Damlama for up to 7 hours in its own juices, without any liquid addition.
17. Kabob Pamir – Venison or Yak Kebab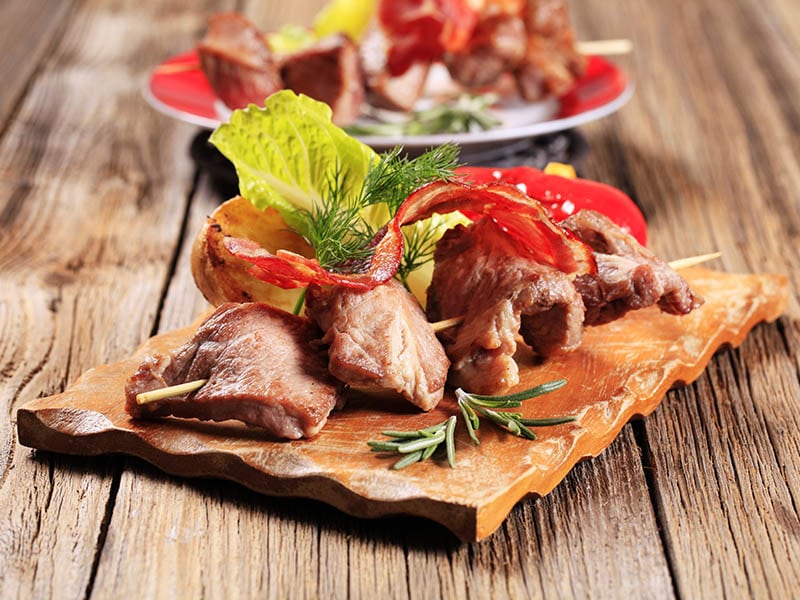 Kebab is famous around the world as the term for skewered and grilled meat. Well, Tajikistan does own some outstanding Kebab dishes that you should try, even if you are or aren't a fan of barbecue.
Especially in Pamir, a mountainous region of Tajikistan, you'll have a high chance to enjoy Venison or Yak Kebab with the best quality. These are the regional deer and cattle meats with distinct flavors.
The locals usually prepare their Kebab with Ghees, peppers, cilantro seeds, cumin, and dill. As with other Kebabs, they also serve these delicacies with fresh flatbread and cultural salads.
18. Mantu – Dumpling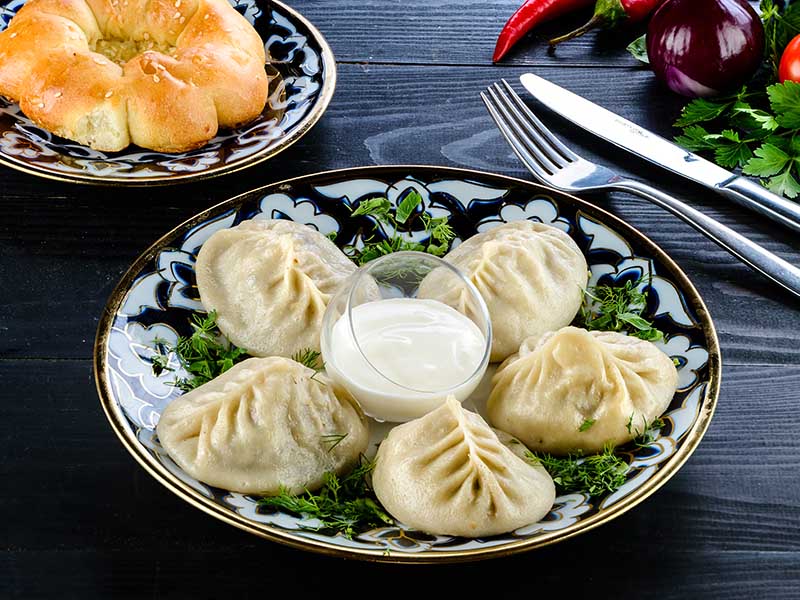 You'll notice that the Tajik's Mantu is very similar to the most ancient version of Dumplings – the recipe from Chinese cuisine. Indeed it is; however, Mantu is extremely popular in Tajik cuisine. They even have specific cookware for this dish – Mantupaz.
The most common fillings for Mantu are beef, lamb, mutton, or chicken. The making process of this delicacy is quite complex and takes time. Each Mantu needs to be shaped either neatly or delicious-looking; therefore, it usually requires at least two chefs for this dish.
A Glimpse of Tajik Gastronomy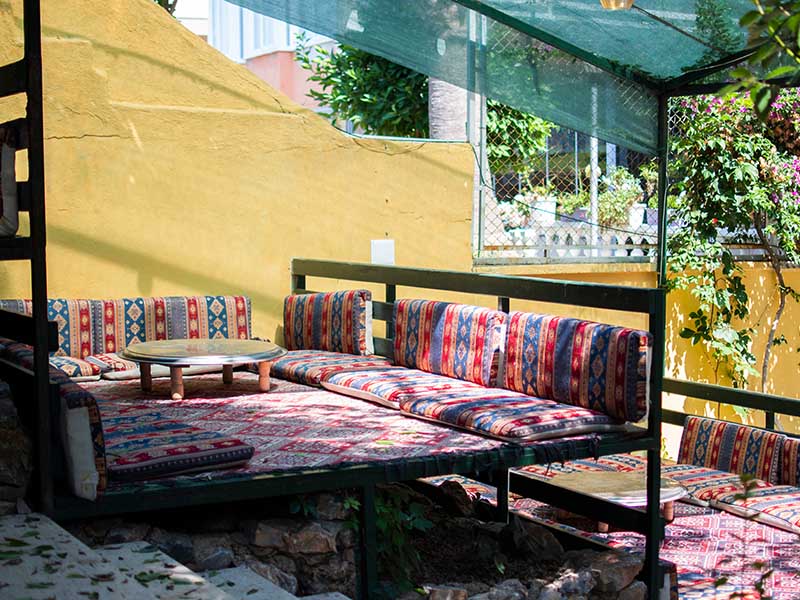 Geographical Influence
Located in Central Asia, Tajikistan's mountainous terrain influences its culinary palette, with many dishes being hearty and warming.
Food Etiquette
When breaking bread (non), always use your hands, using a knife can be considered disrespectful.
Guests are often served first, and it's polite to wait for the host or eldest person to start eating.
Eating Habits
Traditional dishes include 'plov' (a rice dish with meat and carrots) and 'shurbo' (a meaty broth).
Fresh salads, often with tomatoes, cucumbers, and onions, accompany main dishes.
Dietary Restrictions
Fasting during the month of Ramadan is common, with special dishes prepared for 'iftar' (the evening meal to break the fast).
Dining Ambiance
Music, storytelling, and poetry might accompany meals, especially during festive occasions.
The Dining Table – Dastarkhan
Decorative cloths or spreads are often laid out on the Dastarkhan, adding to the meal's aesthetics.
Traditional drinks like 'Qymyz' (fermented mare's milk) or 'Choy' (tea) are often served.
Festive Foods
On special occasions like Navruz (New Year), unique dishes like 'Sumanak' (a sweet pudding) are prepared, often involving communal cooking.
Cultural Emphasis
The act of sharing food is deeply symbolic, representing trust, friendship, and mutual respect.
---
No More Hesitation For Tajik Cuisine!
Although Tajikistan is notorious for the harsh climate, I'm positive that you're ready to travel there to enjoy their traditional and seasonal foods at this stage of the article.
For the trekkers, don't just go there to travel. It'll be a lot of fun to enjoy the marvelous dishes in Tajikistan with your bare hands.
Have you found the treasure on this list? Do I accidentally skip on your favorite Central Asia dish? Is there any assumption about Tajik cuisine that makes you ponder? Feel free to share those thoughts in the comment section; other readers and I would love to see them!
Also, don't forget to share this information with your beloved people! They may love this magnificent cuisine just like you are right now. Then, are you ready to start your trip to this beautiful country?