Brazilian foods reflect the great and diverse culture of this beautiful country. If you are planning a trip to Brazil, it is a must to list out the dishes you will try. This article will introduce you to many delicacies that you should never miss.
You will see individual lists of main dishes, appetizers, and desserts as you go through them. They will help you to choose the most suitable dishes based on what you are looking for. Are you ready? Let's get straight into it!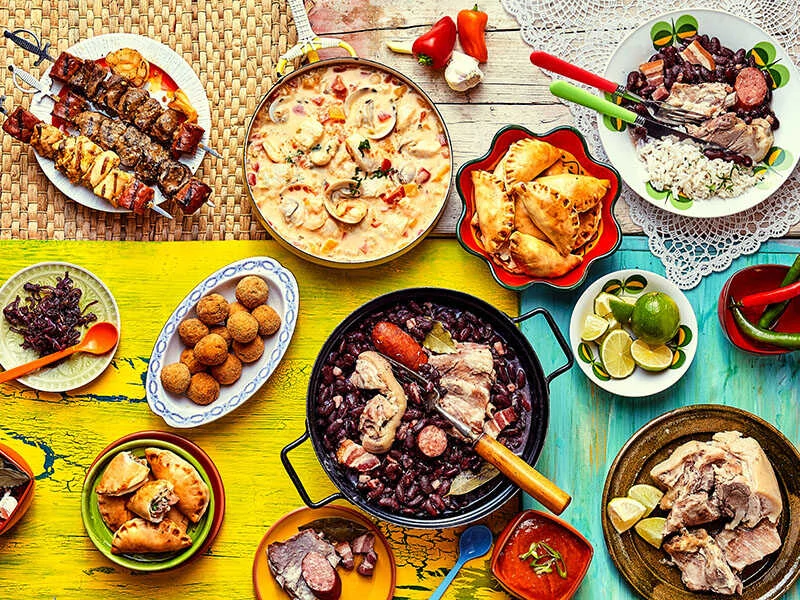 Appetizers
Enjoying some delicious appetizers is a great way to start the meal. In Brazil, you have plenty of options. Follow me and discover the best dishes to go for.
1. Coxinha (Chicken Croquettes)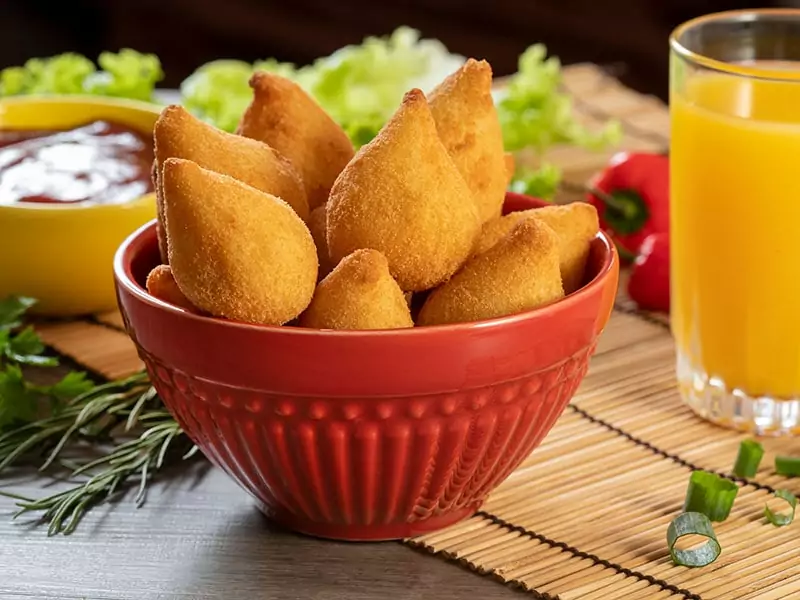 Coxinha is an authentic Brazilian recipe. Not only is it popular in Brazil, but it is also regarded as one of the best appetizers in the world. Of course, you should never miss it, shouldn't you?
It was first made in São Paulo in the 19th century, and there is an exciting story behind it. Legend has it that there was a son of a royal family in Limeira who only ate chicken thigh.
But since there was not enough chicken for him, the chef made another dish by shredding the chicken, shaping it, then frying it to perfection.
The result was surprising. The whole family fell for that dish and introduced it to the other part of the country. Eventually, it is now a crucial part of Brazilian cuisine.
2. Arrumadinho (Dried Meat)
Arrumadinho is a flavorful appetizer that originated in Pernambuco, a state in the northeast of Brazil. Its name is derived from a Portuguese word, which means "to arrange neatly."
This dish consists of dried meat and vegetables. In terms of meat, Carne De Sol is often used. Other elements vary depending on people's liking. At first, every ingredient is arranged separately on the dish. You can mix it in any way that you prefer.
3. Pastel De Queijo (Cheese Pastries)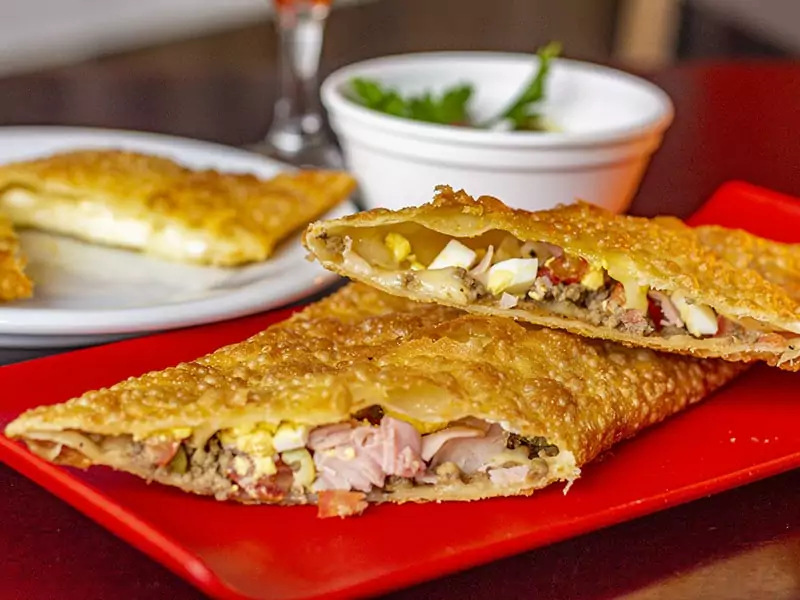 This is the only Brazilian dish that has an Asian origin. Some said it was created based on a Japanese dish named "gyoza dumpling." Others believe it is the Brazilian version of the Chinese egg roll (don't mistake egg rolls with spring rolls, these aren't the same dish as some may think).
It is hard to describe how Pastel De Queijo looks like and tastes like because it can have multiple types of shapes and flavors. In general, it has fried dough and filling, which can be either sweet or savory.
Pastel De Queijo is a very famous appetizer and street food in Brazil because of its versatility. You will never get bored because its flavor will never be the same.
Side Dishes
A main dish is better complemented by some side dishes so that its flavor will be well-balanced. Here are the 2 most versatile side dishes from Brazil that can go with any of this country's delicacies.
4. Molho A Campanha (Vinaigrette Salsa)
Speaking of vinaigrette, you will probably think about France, where the name is taken from. Vinaigrette means "vinegar" in French. I am sure that once you come to Brazil, anyone will recommend this dish to you.
This salsa is made simply from tomatoes, bell peppers, and onions. They are diced and mixed with vinegar. It is a perfect companion for meat dishes. Also, you can enjoy it as a refreshing snack.
5. Mandioca Frita (Fried Manioc)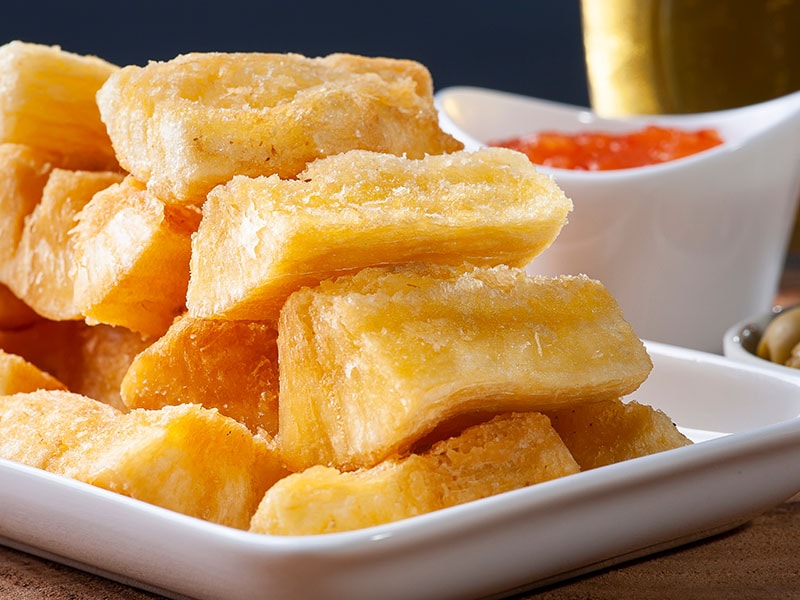 Manioc, cassava, or yuca have been Brazil's beloved root vegetable. It was found 7000 years ago in South America. There are plenty of dishes that are made from manioc, and Mandioca Frita is one of the most popular ones.
The way people make it is pretty simple. Only the root, oil, and some salt are used. But the flavor is incredibly awesome.
The outside has a golden-brown color and crispy texture, while the interior is creamy and starchy. I believe that it is a perfect snack whenever you want to fill up your stomach.
Main Dishes
Of course, the main dish should be the most essential element in your Brazilian party. Choose it wisely, and you will have the best culinary experience on your trip.
6. Feijoada (Black Beans Stew)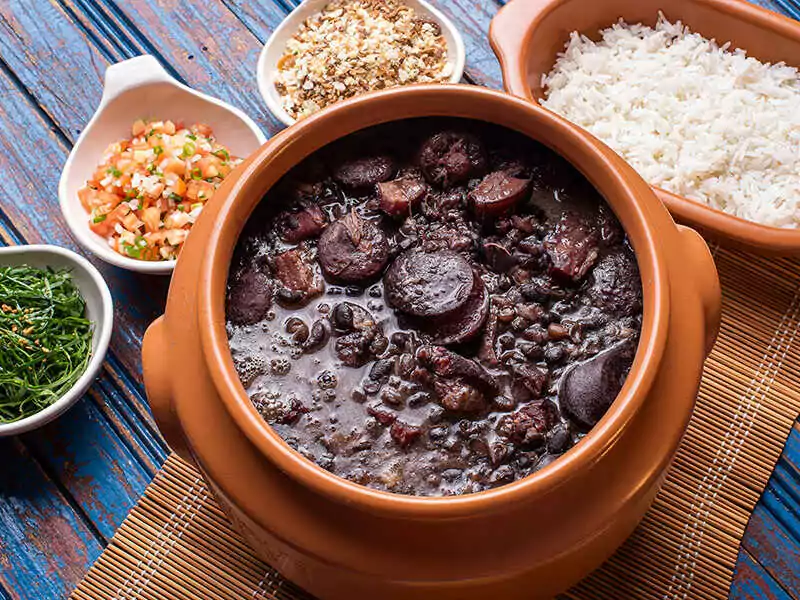 Brazilian cuisine is heavily influenced by the Portuguese, who colonized the country. They brought Feijoada when coming, and it has become the national dish of Brazil. Its name stems from a word in the Portuguese language, meaning "beans."
This hearty dish is made from black beans. There is a story that tells that the African slaves in Brazil used all of the remaining parts of the pork, namely the ears, tail, and paw to create a stew. They cooked everything together, leaving a strong lovely aroma that spread very far.
Nowadays, neat cuts of meat are used but you can always find the traditional version that has cuts of meat of all shapes.
7. Carne De Sol (Sun-Cured Beef)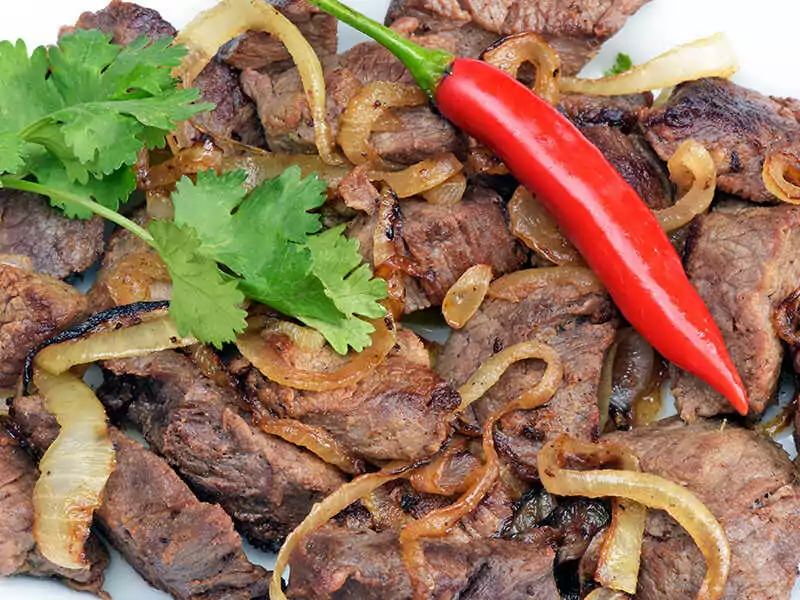 This dish also has a lovely name, that is "meat of the sun." A dish that originated from Portuguese cuisine, the food got its name because it is dried under the sun before serving because there was no fridge back when it was invented.
It comes in the form of thick cuts of beef. They are left under the sun for 1 to 2 days until cured, resulting in a delicate salty taste. People enjoy Carne De Sol by itself and use it as an ingredient for other dishes such as hamburgers and Arrumadinho.
8. Churrasco De Picanha (Barbecue)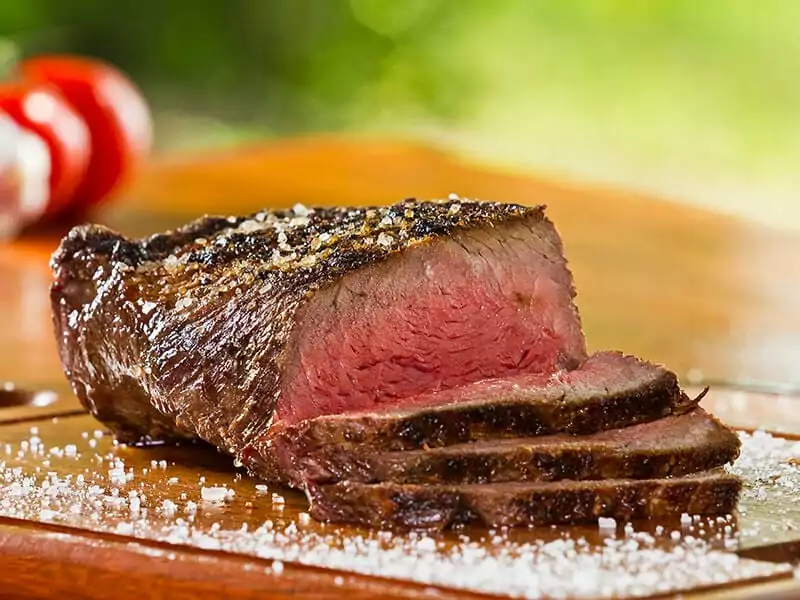 This dish has an interesting history. It was invented by the gaúchos, the European horsemen who resided in the Grade do Sul area, in the 18th century during which the Europeans colonized Brazil.
The gaúchos wanted something to eat after herding the cattle, so they seasoned the beef, skewed it, and grilled it on the ember.
Later on, this technique was widely adopted and became famous all around the country. If you participate in any outdoor party in Brazil, you will always see Churrasco De Picanha as the spotlight.
9. Arroz Carreteiro (Wagoners' Rice)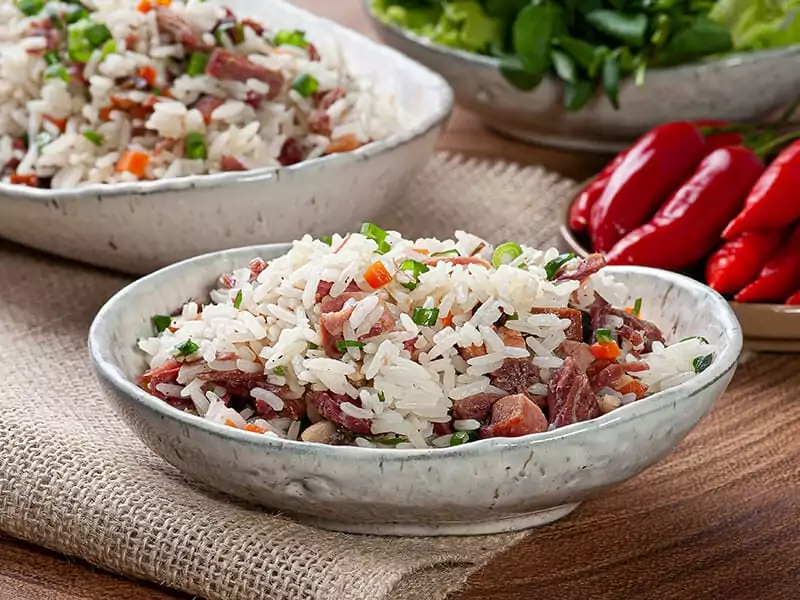 Arroz Carreteiro is a universally loved rice dish in Brazil. Legend has it that the gauchos created a dish from rice and beef to bring along when going through the plains.
By drying the beef, they could keep it for a long amount of time. People also call it "Wagoners' rice" to associate it with its city of origin.
Nowadays, it is also made with leftover beef. It provides a lot of nutrition, but it also helps to avoid wasting food. Since it reflects the culinary tradition of Brazilian people, it has a meaningful status in the culture of the country.
10. Cachorro Quente (Hot Dog)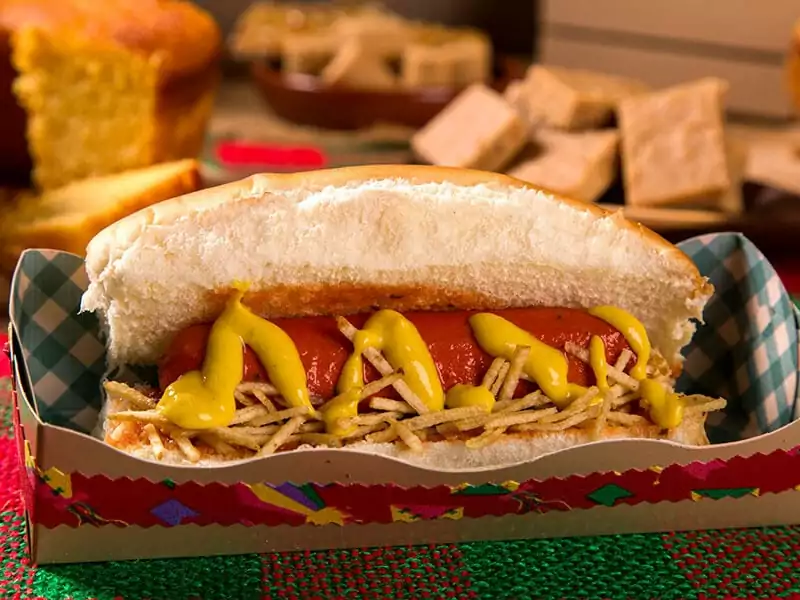 Americans already have plenty of delicious hot dogs, but why should you try them in Brazil? This is because the toppings here will stun you even more. Instead of listing what they are, I think it is better to say that everything is in Brazilian hot dogs.
You will find more toppings than ever when you see them. The most flavorful and fulfilling hot dogs are just around the corner. What are you waiting for? Learn how to make tasty steamed hot dog buns and how to cook hot dogs so that you can enjoy the best Brazilian hot dogs ever.
11. Moqueca (Seafood Stews)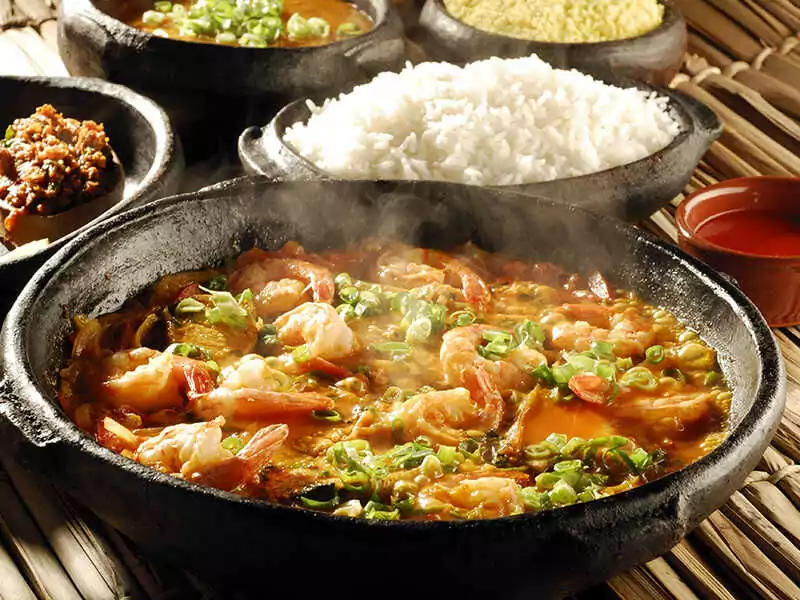 Moqueca is a special dish that reflects the cultural diversity of Brazil. The original version stems from this beautiful country. As time went by, some foreign elements were added, namely the African palm oil and the Portuguese refogado.
This dish is a seafood stew. It is made from shrimp, fish, vegetables and flavored with coconut milk and tomato paste. Moqueca is the favorite Brazilian lunch dish of many. When you taste it, you will realize that it has a distinctive feature that you can never find elsewhere.
There are a few versions of moqueca. The Biano version is richer since it contains coconut milk, palm oil, and peppers. Moqueca capixaba is lighter and healthier since olive oil is used.
In the southern area, moqueca often has a beautiful red hue thanks to the annatto seeds. It also contains shrimp, carb, and lobster. People often serve with farofa, rice, or pirão.
12. Vatapá (Shrimp Stew)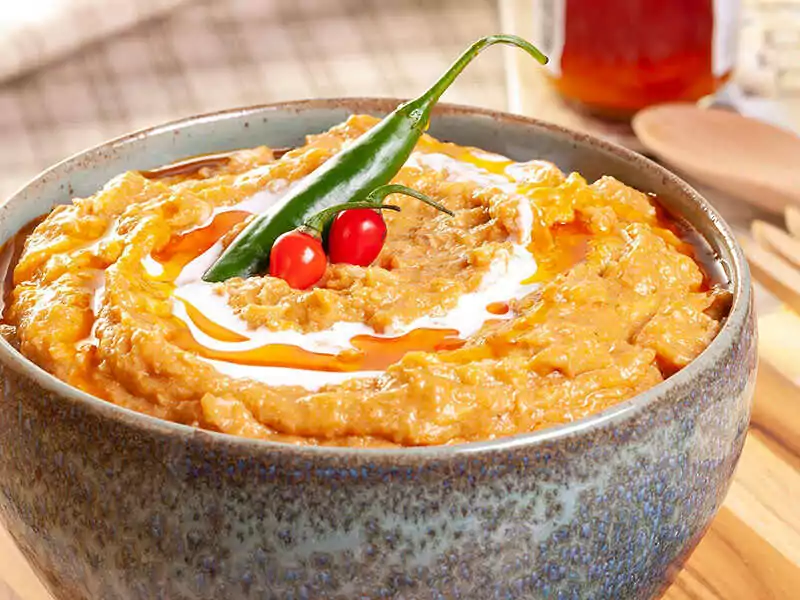 Just like other foods, Vatapá was brought to Brazil by a group of African people named Yoruba between the 16th and 19th centuries. This food that begins with "V" is very popular in the northeastern regions, especially the state of Bahia.
There are a lot of versions of Vatapá across the country, but the key ingredients remain the same, which are shrimp, coconut milk, and palm oil. When mentioning stews, you might think of a hearty warm bowl. But this is not the case for Vatapá. It is actually served cold.
13. Farofa (Toasted Cassava)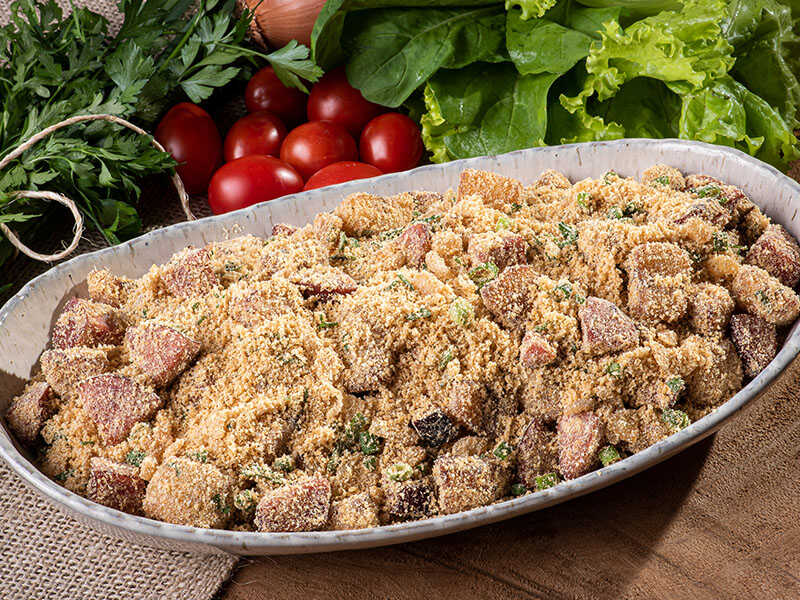 While many Brazilian foods originated from Portugal, Farofa is different. This dish was invented by a group of Indian people in Brazil named Tupi-Guarani. However, its name is derived from the Portuguese language. Besides Brazil, the dish is also well-known in Angola.
Farofa is made from cassava flour or cornflour. The flour is toasted in butter and olive oil then onion and garlic are added for more flavors. This dish is a popular lunch recipe. It can be served as a main dish and a side dish.
14. Barreado (Southern Brazilian Meat Stew)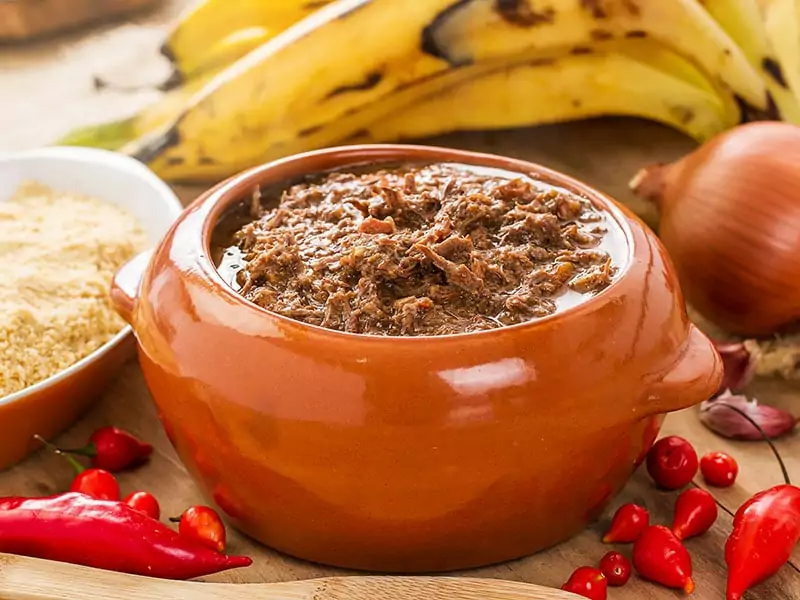 If you plan to come to Paraná state, make sure you try Barreado because it is a very important part of the regional heritage. It was created by the Portuguese people in the 18th century. The name of the dish came from a Portuguese word, which implies that it is cooked in a clay pot.
Barreado is slow-cook stew made from beef, beef bouillon, herbs, vegetables, and seasonings. People cook for 1-2 days, resulting in fantastically mouth-melting tender pieces of beef and a flavorful sauce. When enjoying Barreado, also place on the table some rice and banana slices.
15. Acarajé (Black-Eyed Pea Fritters)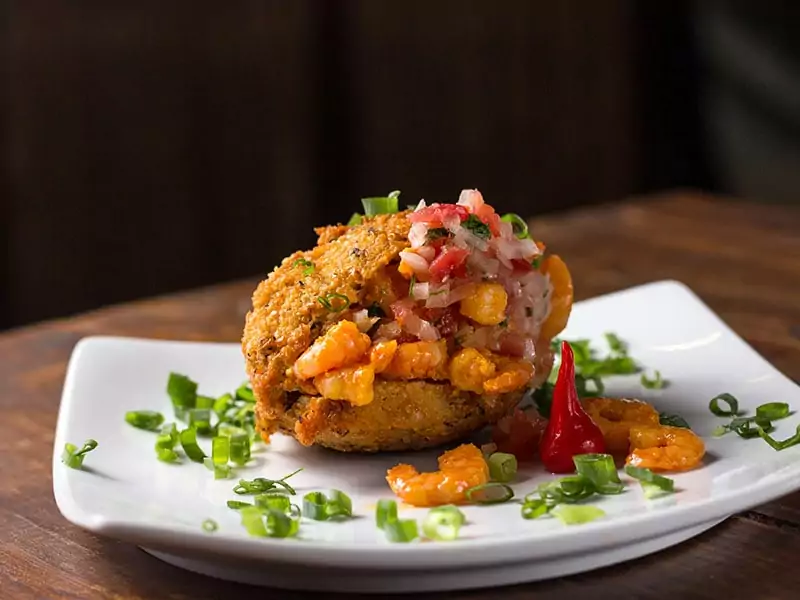 Acarajé is a very famous street food in Brazil. Some people say that it is native to western Africa, while others believe it was brought to Brazil by the Nigerian slaves during colonization.
There is a humorous story behind its name. It should be called "Acara" only. But the Yoruba people say "I have Acara" when selling it. And that sentence is translated to "acara-jé," which gave birth to the current name.
Acarajé features a ball-shaped dough made of black-eyed peas. It is filled with some vegetables and savory ingredients such as shrimps, onion, and chilly pepper, then fried until crisp.
Whenever you buy Acarajé in the northeast area of Brazil, remember to say "cold" when the seller asks whether you want it to be hot or cold. They are not asking you about the temperature of the dish but about how spicy you want it to be. Be careful because it can be spicier than you think.
16. Pato No Tucupi (Duck In Tucupi Sauce)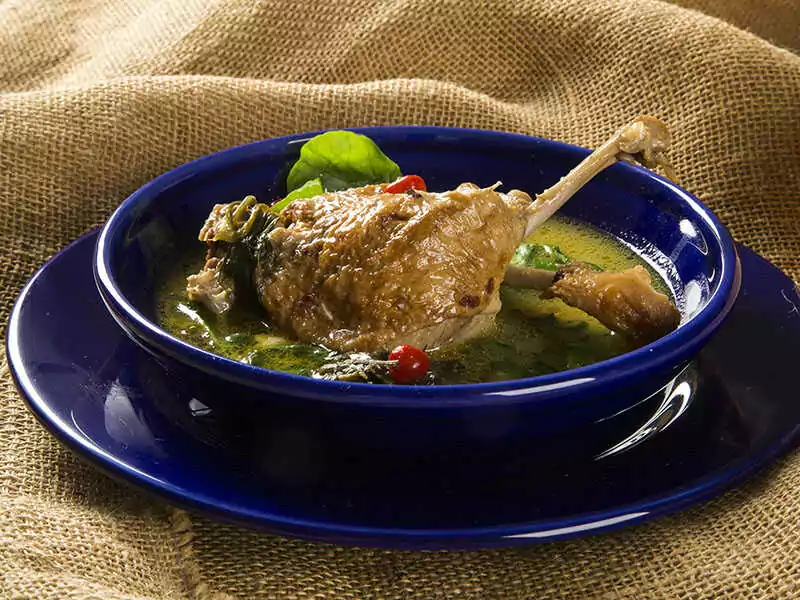 Duck No Tucupi is one of the most favorite foods of Brazilian people. It originated in the northern part of the country and is incredibly pervasive in the city of Belem and Santalem.
To make this dish, people stew duck with tucupi, which is the yellow liquid from manioc root in the Amazon jungle. That liquid is not safe to eat raw so people have to boil it for 3-5 days before serving. Its tangy and citrusy taste pair well with duck meat.
Its ingredients are impressive, aren't they? I am sure that Pato No Tucupi is unique. It is a festive dish that is served in the Círio de Nazaré, the largest festival in Brazil. It has a very important status in Brazilian cuisine.
17. Bauru (Classical Sandwiches)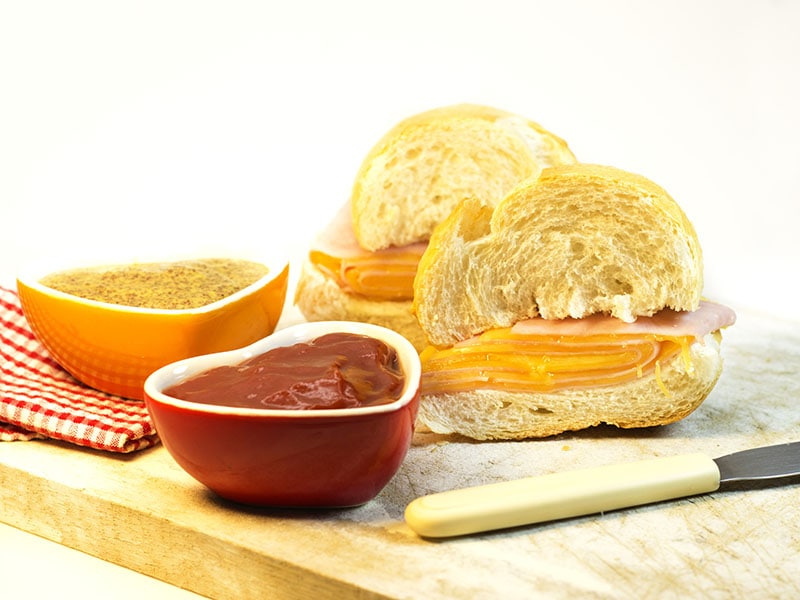 Bauru is the specialty of São Paulo. In the 1930s, there was a law student named Casemiro Pinto Neto who came to the Ponte Chic restaurant and ordered a unique sandwich.
Since then, it has become a famous dish at the restaurant and continues to expand its popularity to the entire state.
Are you curious about what makes this sandwich so special? It comes in the form of 2 slices of crispy bread filled with ham, cheese, pickles, and tomatoes. The difference between Bauru and ordinary sandwiches is that the bread is not soft at all.
Desserts
Whenever you need something sweet, you can always find perfect Brazilian desserts at both the bakery and street vendors. Let me show you the most iconic ones!
18. Bolo De Rolo (Roll Cake)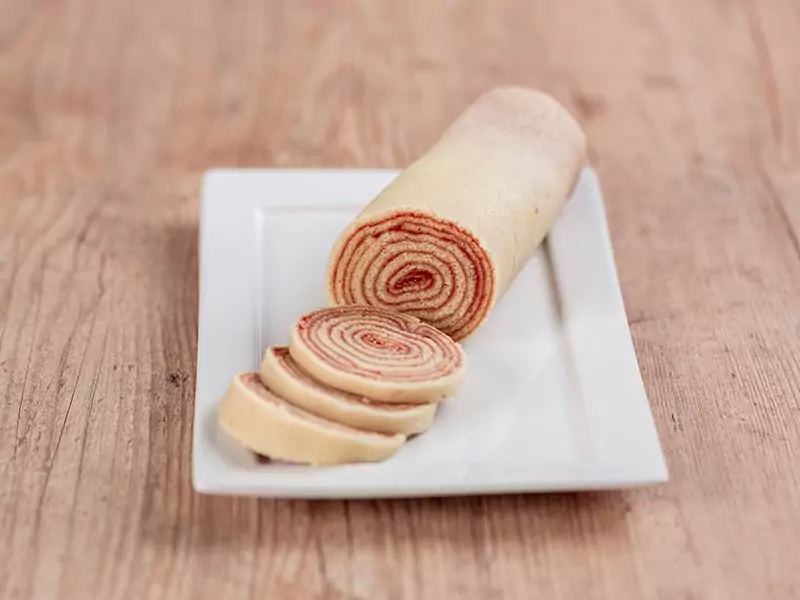 Can you imagine a roll cake with 18 layers? That must be a very impressive one. Luckily, Brazilian cuisine has this amazing dessert. The blend of plenty of layers results in a stunning appearance and lovely taste that everyone will fall for.
Bolo De Rolo originated in the state of Pernambuco in the 17th century. It was brought to Brazil by a Portuguese woman. She created it based on a Portuguese cake recipe called Colchão De Noiva.
19. Pamonha (Brazilian Tamales)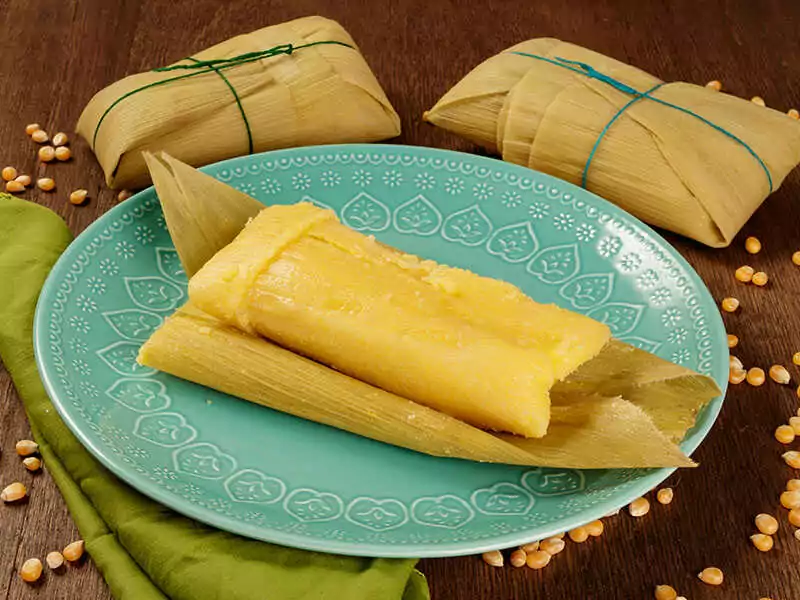 Pamonha is sometimes called "Brazilian tamales" since it is also wrapped in corn husk. It is a traditional dish of Brazil with ground corn and coconut milk as the main ingredients.
The name "Pahoma" is taken from the word "pa'muna" in the Tupi language. It means "sticky," which is the most distinguishing feature of this dish. Portuguese and African immigrants brought it here years ago, and since then, it has been loved in the country.
It has an attractive yellow hue thanks to the corn. It is boiled, mashed, and wrapped, creating a sweet taste and chewy texture that is just appealing.
Tamales are now served in Festa Junina, a festival that celebrates the finishing of the harvest season and the beginning of the winter. It's not a bad idea to incorporate this Brazilian food into your daily meal as tamales can go with many delicious dishes.
However, if your concern is whether tamales contain gluten, you need to be more selective with your tamales, as some might contain small traces of gluten. You can find many frozen tamale products in the supermarket.
20. Sagu (Tapioca Alcohol-Infused Drink)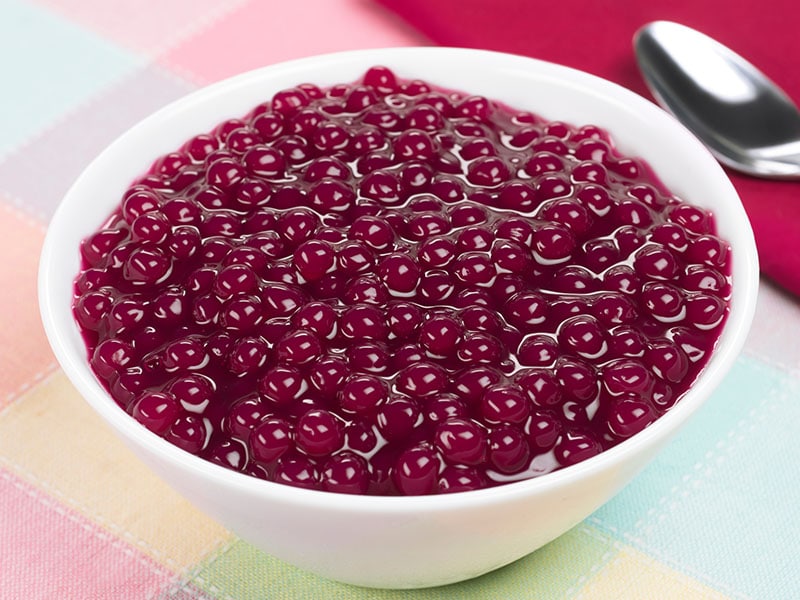 Have you ever tried a dessert that contains alcohol? If not, you should never miss Sagu. Once you try it, I bet that you will come to Brazil again for it. This dessert is made from pearls of tapioca, wine, and sugar.
In the past, Brazilian people had long been using tapioca for food. When the Portuguese people settled there, they started to cook Port wine to tapioca pearls, creating a delicious dessert that has become increasingly popular nowadays.
Due to the excellent flavor, Sagu is often served with other sweet treats, especially those that have a velvety texture, such as custard and cheesecake.
21. Quindim (Egg Custard With Coconut)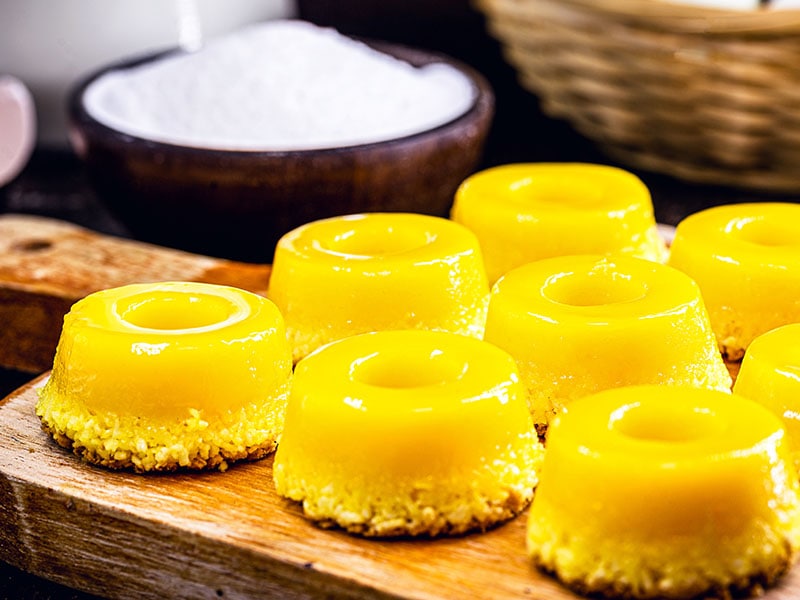 In the 17th century, the African slaves came to Bahia, a city of Brazil, and take a beautiful dish with them, that is Quindim.
Its name is derived from the Bantu language, which means "the characteristics of adolescent girls". It is quite weird, isn't it? But just leave it aside and come to its taste.
This dessert is made of egg yolks, coconut milk, and butter and decorated with upturned cups. It has a beautiful round shape and eye-catching yellow hue provided by egg yolks. Its sweet and rich flavor will definitely astonish you.
22. Brigadeiros (Brazilian-Style Chocolate Truffle)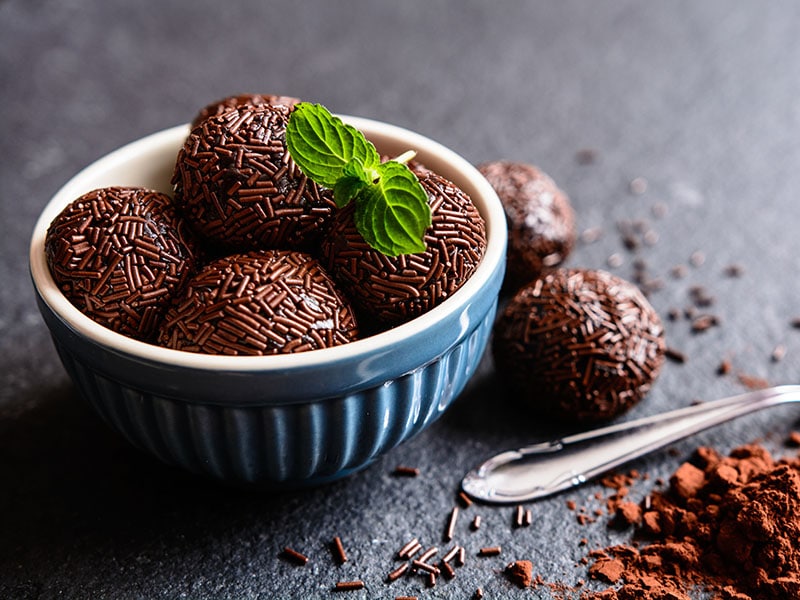 This name seems to be the name of a person, right? Yes, it is. It is named after Brigadier Eduardo Gomes, who invented this dish in the 20th century. This dessert is the Brazilian version of chocolate truffle.
Brigadeiros has a cute appearance that anyone will love. It is made of condensed milk, cocoa powder, eggs, and butter and is typically served at occasional parties, such as birthday parties. Its sweet taste and elegant look will excite you.
23. Açaí Na Tigela (Açaí In The Bowl)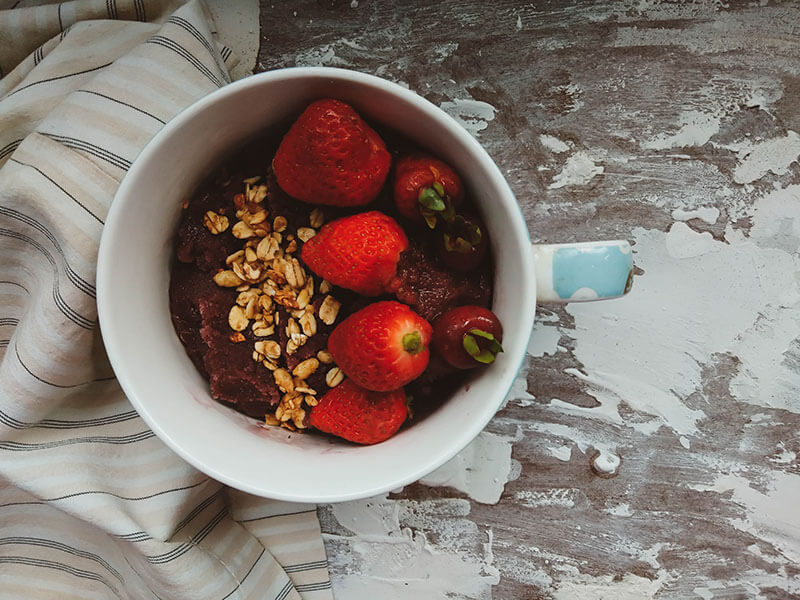 Do you know acai berries? It is the heart of this popular dessert. It was the martial artist Carlos Gracie who introduced this amazing dish to the Southern regions of Brazil in the 1980s. Later on, it became one of the most loved desserts in the country.
Besides acai berries, Açaí Na Tigela also contains bananas, strawberries, and many fresh and nutritious fruits from Brazil. This dessert is a real summer retreat. It will refresh you and beat the heat. Don't miss it when you come to Brazil.
24. Cocada (Coconut Candy)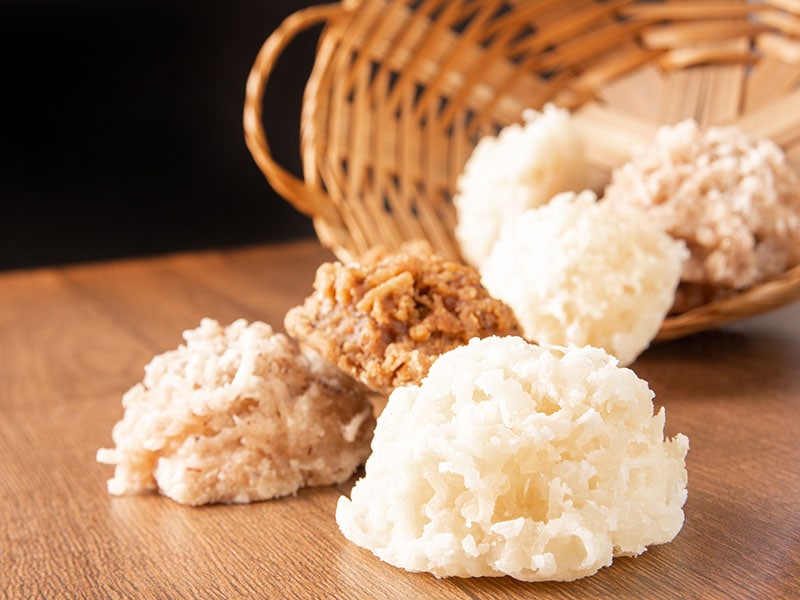 Cocada has a nickname of "the food of the gods". It has a very important meaning to the ritual tradition of Brazil. A group of ethnic African people transferred to the north-east region of the country during the colonization period.
This dessert is simply made from milk and coconut. It is hard to describe its distinctively amazing texture, but I am sure that it is different from any dessert that you've ever tried. The combination of milk and coconut creates a rich and sweet taste that few can resist.
25. Beiju De Tapioca (Tapioca Crepes)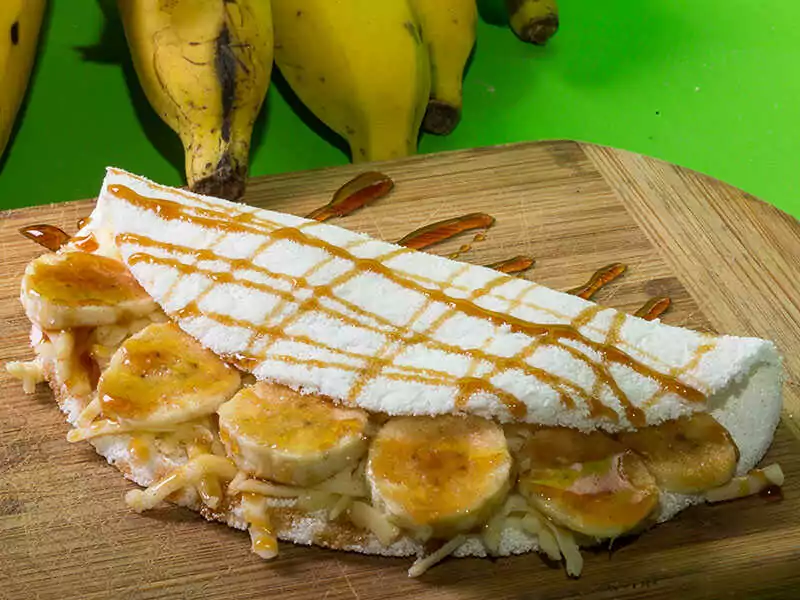 I have mentioned a few dishes that are made from tapioca. It is genuinely Brazilian people's beloved food. They also use it to make crepes. The starch from tapioca is used to make the pancake.
There are plenty of types of fillings that you can choose from. The most common ones are bananas, cheese, and chocolate. If you feel hungry in the middle of the day, then Beiju De Tapioca will be the perfect quick meal.
26. Beijinho De Coco (Coconut Little Kiss)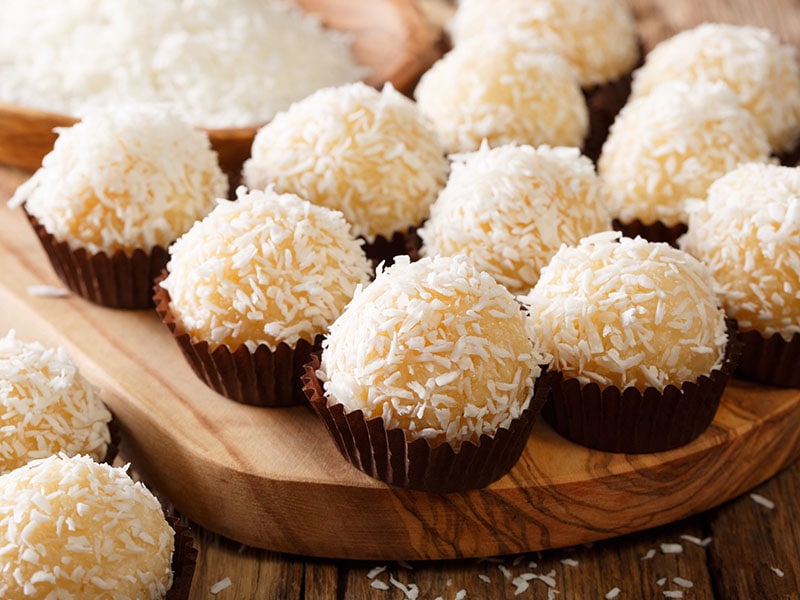 This dessert has a very cute name. In English, it means "coconut little kiss." It comes in the form of small ball-shaped buns made from coconut, butter, and condensed milk.
The buns are then smothered with plenty of coconut pieces. Sometimes, a clove is placed on the top for decoration. These coconut balls are a perfect treat for fans of coconut desserts due to their adorable shape and undeniably enticing flavors.
Traditionally, these buns are served on children's birthdays. It is certainly a lovely dessert that every kid loves. These buns look like snowballs. It will attract not only the kids.
27. Curau De Milho (Corn Pudding)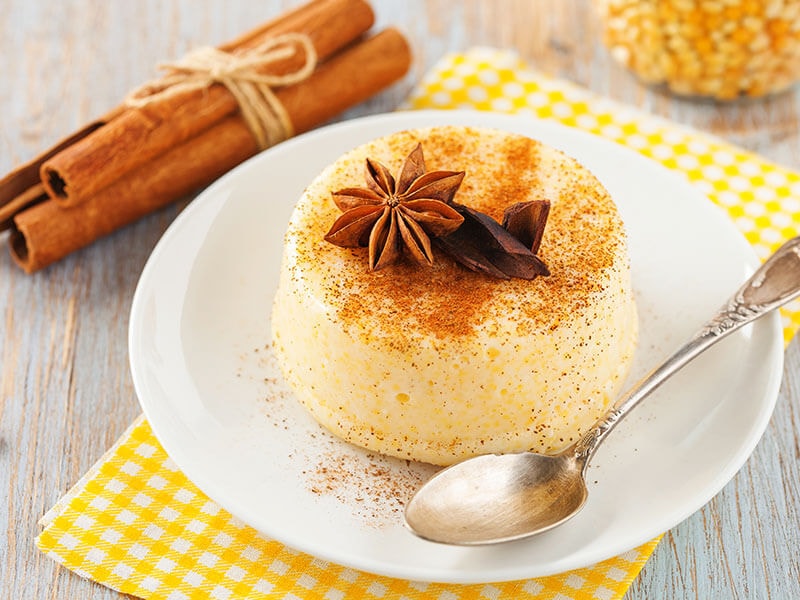 During Festa Junina, Brazilian people will serve Curau De Milho, a sweet treat made from fresh corn, sugar, and milk. In Caruaru, a town in northern Brazil, people make a very large bowl to celebrate the days. In 2008, they even used up 4,500 ears of corn.
Curau De Milho has a custard-like texture and a deliciously rich and sweet taste. Some people say that it will not be so appetizing when you try it the first time. But from the second time onwards, you will fall for it.
You can enjoy it both warm and cold. How amazing it is to get both a cozy and refreshing feeling from the same dessert!
28. Paçoca (Peanut Candy)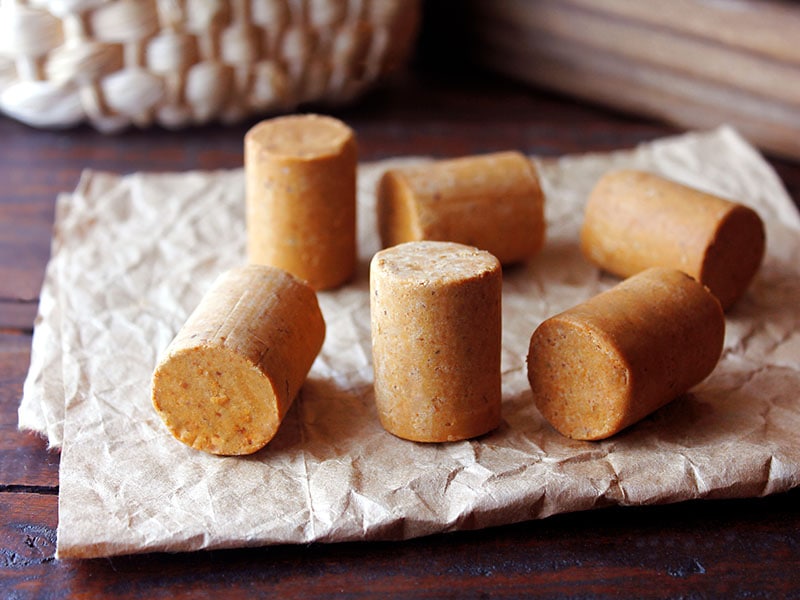 Another dessert that is served during Festa Junina is Paçoca. You will see it very often in the southeastern region of Brazil, specifically the Sao Paulo and Minas Gerais states. It is a candy made of peanuts, sugar, and salt.
This candy has a brown color and a hard and dry texture. Its taste is incredibly sweet. All of the kids will fall for it immediately. And, of course, you will.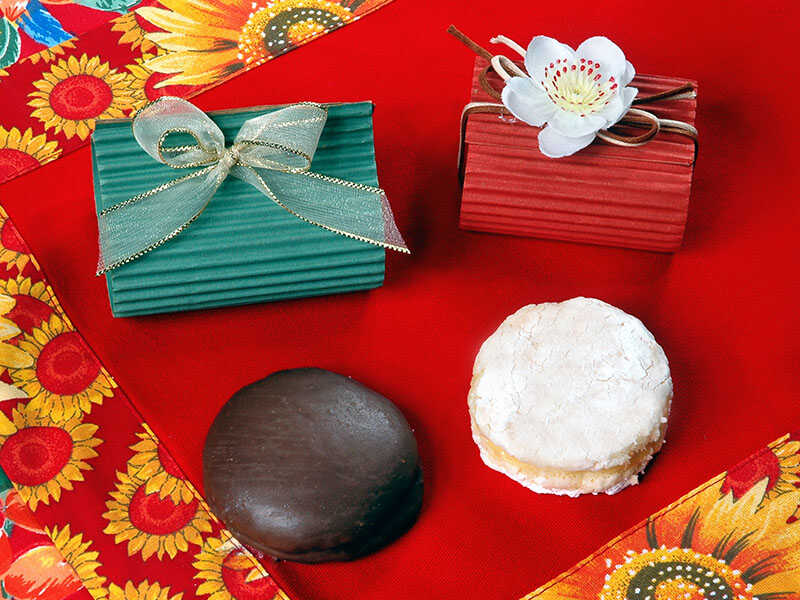 If you come to Brazil for a wedding, you will have a chance to try the traditional wedding cookies. That is Bem Casado. Its name is a Portuguese word named "Happily Married!". Some say that the bride and groom give the guest this dessert to share their luck.
Bem Casado is always wrapped like a small adorable gift. People make the sponge dough from potato starch, egg white, and sugar. In the middle are a layer of dulce de leche and some sugar glaze.
30. Pão De Queijo (Cheese Bread)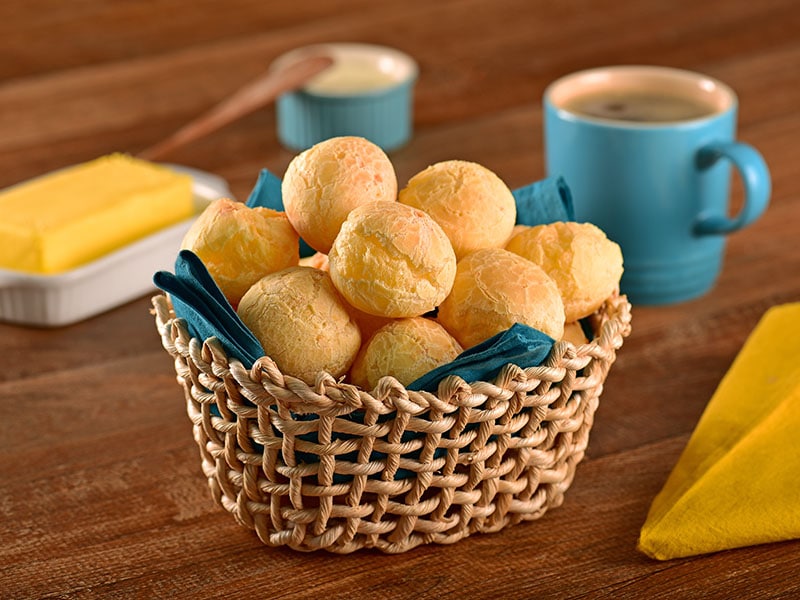 These adorable buns were brought to the state of Minas Gerais by the Portuguese and influenced by the African slaves. Pão means "bread" and queijo can be translated into "cheese." So this dish can be seen as "the bread of cheese."
Pão de Queijo is presented in any gathering of Brazilian people. It is mainly made of tapioca, roots of the cassava plant, and Minas cheese. People consider it as one of the most important Brazilian breakfast dishes. Make a try when you come!
Drinks
I believe that you are also in need of some mouth-watering drinks to enjoy during your Brazil trip. I suggest you 4 most popular ones, including both alcoholic and non-alcoholic beverages.
31. Quentão (Cachaça And Spices Drink)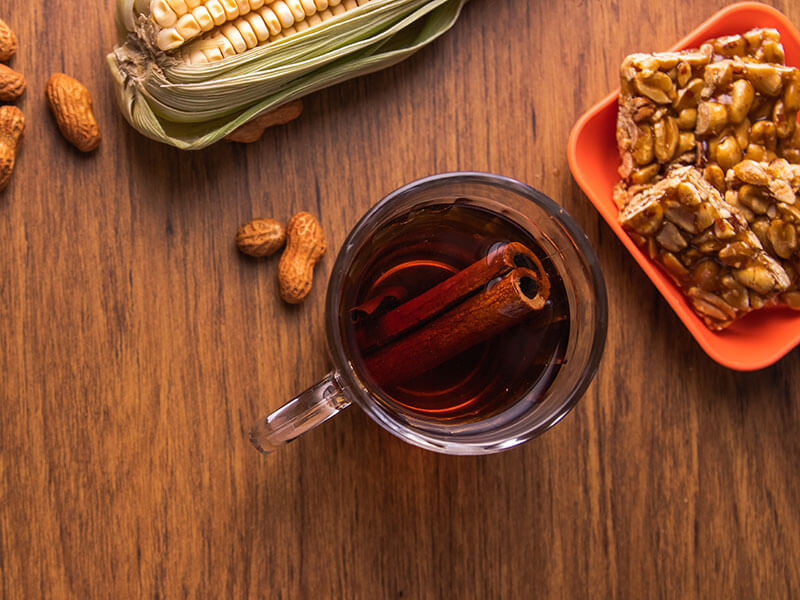 Quentão is a hot alcoholic drink made from cachaça and spices. If you want a more extreme experience, I highly recommend it. Its name can be translated to "very hot". It can burn your mouth, leaving an incredibly exciting feeling.
This drink is typically served in Festa Junina, a large festival normally held in June. How amazing it is to have an extremely hot drink while sitting outside on a cold day. I promise that it will be one of your best experiences in Brazil.
32. Aluà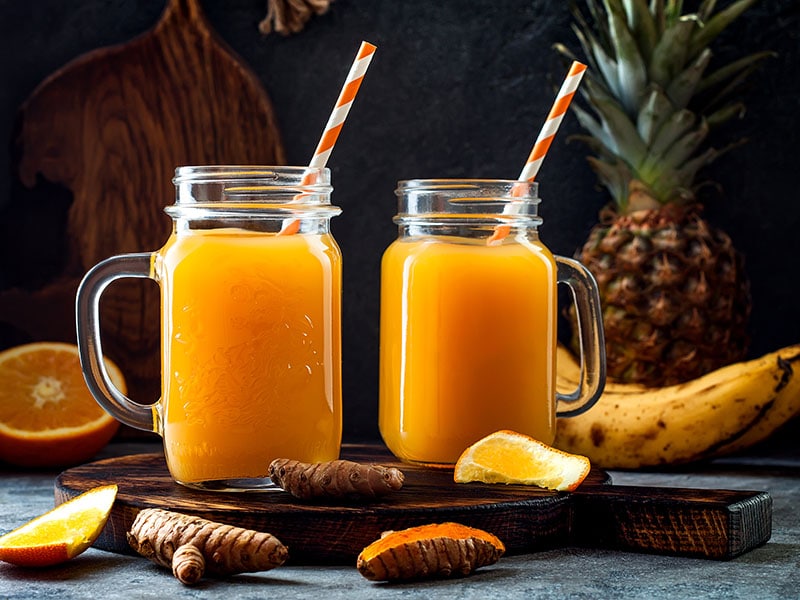 Aluà is a non-alcoholic drink made from pineapple, ginger, corn, and lemon juice. There is no fixed recipe, and the ingredients vary a lot depending on people's liking. Its history is still unexplored, but some people posit that it was created before the colonization of the Portuguese.
Nowadays, people serve it in Festa Junina and other celebrations. It is a refreshing drink that will spark you in the hot summer days in Brazil.
---
Before Your Trip Ends, Try These Brazilian Delicacies!
Have you chosen your favorite Brazilian foods to enjoy? If you have plenty of time, try all of them. You can hardly find such impressive dishes and tasty dishes in other countries. Maybe you don't even want to go back.
Do you have any other delicious Brazilian dishes to share? If yes, feel free to leave it in the comment section. I wish you a meaningful and fulfilling Brazil trip with the greatest culinary experience.