Suppose you are on a trip to Brazil and want to enjoy some distinctive desserts here. The reading will recommend some typical ones to choose from the restaurants, bakeries, or even from friendly street vendors.
If you want to better understand Brazillian desserts, my reading also gives you some basic information to get an overall perspective about them.
Now, drag it down to discover what you are curious about!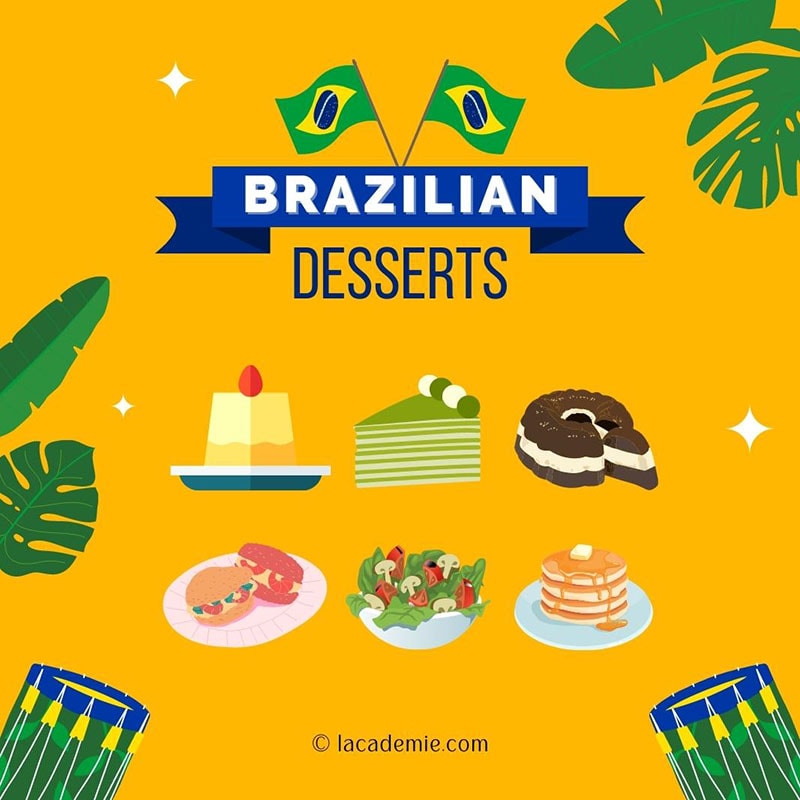 How Many Brazilian Desserts Are There?
You must be fascinated with 27 Brilian desserts I will introduce to you right now if you are a sweetness lover. Let's see what they are!
Brigadeiro
Quindim
Goiabada
Maria Mole
Pamonha
Curau de Milho
Geléia de Mocotó
Pé de Moleque
Brazilian Acai
Classic Passion Fruit Mousse
Pudim (Brazilian Style Flan)
Layer Brazilian Guava Cake Roll
Brazilian White Corn And Coconut Porridge
Cocada Cremosa (Brazilian Coconut Pudding)
Pavê (Layered Dessert)
Banana Frita (Fried Bananas)
Brazilian Ambrosia Salad
Creme de Cupuacu
Acaraje
Cartola
Tapioca Pancakes
Rabanana
Queijadinha (Brazilian Coconut Tarts)
Brazilian Papaya
Brazilian Sunrise Cocktail
Creme De Abacate
Brazilian Carrot Cake
Top 27 Fantastic Brazillian Desserts You Must Try On Your Trip
Now, I will let you know some basic information about 28 stunning desserts from Brazilian culture. They will satisfy you, I promise!
1. Brigadeiro (Brazilian Fudge Balls)
Hands down the most well-known dessert in Brazil, and it is available at almost all parties because everyone loves it, and I think you will.
The Brigadeiro is not glamorous. It is simple and is about the size of a golf ball. The incredible cake is made with condensed milk, a fair amount of butter, and chocolate powder.
The perfect Brigadeiro will be sweet but not too sweet so that you can eat dozens of them before stopping your meal.
2. Quindim (Brazilian Coconut Egg Custard)
Quindim originated from a Portuguese recipe but was adopted by Brazilians. You will see its appearance in nearly every bakery in that country, family gatherings, or even birthday parties.
Quindim is a distinctive custard dessert that has a creamy and soft consistency because it is made out of eggs, sugar, butter, coconut milk, and grated coconut, making it a unique Brazilian cake.
Besides, you also feel crunchy when eating quindim, which is also based on grated coconut. Like Brigadeiro, the cake can be served in plenty as the flavor is addictive.
3. Goiabada (Brazilian Guava Paste)
An exceptionally succulent sweet, this typical dessert is made from melted guava and sugar. The guava flavor brings the jam flavor of natural sweetness. It is made both paste-like or more solid so that you use a knife to cut it.
It is commonly served with cheese to counteract the sweetness, formidable, delectable combination.
4. Maria Mole (Coconut Marshmallows)
The maria mole is considered the most popular during Saint Cosme and Saint Damian holidays. You can find it everywhere because they are every kid's favorite.
This dessert is made of egg white and gelatin. It has the natural sweetness and the consistency of a marshmallow. Let's try it, and you will know why they are loved so much!
5. Pamonha (Brazilian Sweet Corn Cake)
Sweet corn seems like a well-known ingredient in several desserts in Mexico, but here is another sweet treat from Brazil that can highlight the deliciousness of sweet corn.
Indeed, pamonha is a unique cake that seems to exist nowhere else but in Brazil. This beloved Brazilian street treat is made from freshly grated corn mixed with milk, making it suitable to go savory. The texture is exceptionally smooth, with pudding-like consistency.
The cake is commonly served mainly during the Festa Junina, a winter festival, and it is often filled with sausages or cheese.
6. Curau (Brazilian Sweet Corn Pudding)
Curau is a pudding-like sweet made from coconut milk, cinnamon, ripe corn, and sugar. Like Pamonha, Curau is commonly eaten during the Festa Junina festivals and served cold in a cup.
The soup has a smooth and creamy consistency because it is refrigerated as soon as it comes out of the oven.
You should see the video below:
Geleia is actually a type of jam whose main ingredient is cow hooves because of the consistency of boiled cartilage. The jam gets the strong taste of the dish when you add milk and sugar.
The jam is often eaten as other jam on bread and cakes, but the most die-hard fans eat it on its own as a dessert.
If you are hungry because steps to make cow foot soup will make you irresistible. You should see the video below:
8. Pé de Moleque (Brazilian Peanut Brittle)
Peanut brittle is an outstanding treat in many cuisines. If you have tried this dessert in Indian recipes, you should also try this Brazilian peanut brittle and see which one is better. For me, they are both amazing.
The Pé de Moleque is made from roasted peanuts mixed and cooked until it becomes hard as a rock and it is cut into square pieces to be served. The sweet is extremely popular among kids.
This classic Brazilian candy is crispy, chewy, and buttery, making it suitable to be a fabulous dessert in the country.
To brighten your day with an energizing and blow away your tiredness, you should choose acai as a dessert which is a frozen smoothie-like mixture and can be gone well with crunchy granola and delicious fruits.
It is a delectable dish after high-intensity activities, such as playing soccer, spending a lot of time at the beach, and going to the gym.
It will be better if you serve it with ice.
If you are super into condensed milk, this kind of dessert must be your choice!
Classic passion fruit mousse is relatively easy to make but a delicious dessert that has a light, airy texture as mousse.
This fruity mousse dessert is made out of passion fruit pulp—condensed milk, whipping cream, egg whites, unflavored gelatin, and sugar.
Watch this video to know more:
11. Pudim (Brazilian Style Flan)
There are countless varieties of flan. For example, Flan de Queso in toothsome Puerto Rican dessert, or Flan de Ciruela in Caribbean sweet course, etc. So let's check how it looks and tastes like in the Brazilian version.
Pudim – one of the famous traditional Brazilian desserts, is a type of creamy, caramel-coated custard flan that is made from regular whole milk, eggs, sweetened condensed milk, and sugar.
This kind of custard flan is enjoyed chilled and cut into pieces. You can enjoy Pudim on its own or combine it with different Brazilian tasty fruits or whipped cream. These accompaniments will enhance the flavor even better.
The term "Bolo de Rolo" actually defines tons of different types of jelly-roll-like cake with a lot of distinctive features. Basically, the cake is made up of numerous fine and thin layers coated by rich chocolate ganache filling.
This kind of roll cake is very crucial to Brazilian culture and gastronomy, and it was officially designated as a cultural legacy of the Pernambuco state in 2008.
Thus, you can easily enjoy it from almost all bakeries, cafe, restaurant, or food venues at the airport
Brazillian white corn and coconut porridge or Canjica is a must-have dessert throughout the winter meals, especially during Festa Juninas. This kind of dessert is a little similar to rice pudding, but it is more soft and smooth.
Canjica is so good! I mean, you will feel sweet, warm, coconut milk, and fresh when it is served in cold cups.
You will find it easy to cook, so consider it if you want to make something for your family breakfasts, snacks, or desserts.
14. Cocada Cremosa (Brazilian Coconut Pudding)
One more easy-cooking but tasty cake you can eat before stopping eating is Brazillian coconut bars. And If you are super into coconut, this kind of pudding will knock your socks off!
You just need to take around 10 minutes to make this classic Brazilian recipe, but it will satisfy your sweet tooth with a melt-in-your-mouth creamy and adorable pudding treat.
Your pudding will be more incredible if you top it over with chopped favorite fruits. That's so good, believe me!
15. Pavê (Layered Dessert)
You will get addicted to chocolate trifle cake made with a combination of sweet cream made from crunchy crackers, chocolate, and a large amount of liquor. It is like tiramisu but does not need baking.
You can serve it cold and enjoy its distinctive texture, flavors, and varieties.
Now, I will introduce my most favorite traditional Brazillian dessert to you. Those are fried sliced or whole bananas which are also seasoned with sugar and cinnamon. They are actually nutritious, delicious, and versatile.
In fact, fried bananas can be served as an easy and quick side food in your Brazilian-themed party too! And you need to change a little bit of the ingredients to add the savory flavor into this dish.
But for dessert, a tropical flavor can be served with any kind of dish. Let's try when you get a chance!
Watch this video to know more:
Ambrosia will make your meals more colorful and eye-catching. This kind of Brazillian dessert is made by pouring sweet syrup of cinnamon and cloves into a milk pot and slowly cooking the eggs.
You will be amazed at its delectable, fresh, juicy, and nutritious taste!
18. Creme de Cupuaçu (Brazilian Cupuaçu Ice Cream)
Your meal will be perfect for stopping with Creme de Cupuacu, a type of ice cream, made by mixing the fresh pulp of Cupuacu fruit with cream and large amounts of sugar in the mixture. The dessert has a distinct and acidic flavor.
Besides, Cupuacu is exceptionally beneficial to your skin and hair.
Acarajé is a kind of Brazillian dumplings, but its look is not normal like some dumplings you have seen before. However, what makes this kind of Brazillian dessert popular among everyone is its distinctive spicy flavor.
You know, the dough is made out of a mixture of onions, garlic, and string beans. After being deep-fried, the dumplings will be crunchy and have a characteristic taste.
20. Cartola (Top Hat Bananas)
Another cake that is associated with bananas is Cartola. You can make it with some common ingredients like fried bananas, cinnamon, sugar, a generous amount of butter, and a regional cheese (queijo coalho), making it get an incredibly tender texture when heated.
Moreover, the cake is special by different layers to make it: banana, syrup, and sugar. That's so amazing to eat. Trust me!
Tapioca is a white dough that originated from the manioc plant, and it is also the main ingredient for making Tapioca pancakes. And don't mistake flapjack and pancake because they are 2 different types of food.
These pancakes are served as crepes with various fillings like fruit jam, ham, cheese, chocolate, or meat. Moreover, tapioca cakes have a characteristic consistency which is a combination of a gummy paste and a solid dough.
22. Rabanada (Brazilian French Toast)
Rabanada, another version of French toast, is made out of round or oval sliced bread dipped in milk and beaten eggs. After being fried and sprinkled with cinnamon sugar, you can enjoy Rabanada cake, which is sweet and crunchy as a result.
You can find Rabanada cakes popping up everywhere during Christmastime as the Brazilian Rabanada is deliciously indulgent.
Check it out if you want to know how to make Rabanada:
23. Queijadinha (Brazilian Coconut Tarts)
Queijadinha, a creamy, decadent, and loaded with coconut, is made with main ingredients like coconut and cheese, making it an adorable cake for you to taste after eating a lot of main savories.
Queijadinha cakes are like a macaroon and a custard!
One more Brazilian dessert you can enjoy is Brazilian papaya cream which is the mixture of fresh papaya with vanilla ice cream, making it a smooth and adorable taste. It is served with a drizzle of cassis liqueur.
If you have free time, making the papaya cream will be a good idea for your family's dessert. I guarantee they'll love it.
Will let you know how to make Brazilian papaya cream for your desserts!:
25. Caipirinha (A Brazilian Sunrise Cocktail)
Now, it's time for you to know about a type of Brazilian cocktail which is refreshing to drink for summer, Caipirinha. If you come to Brazil on summer days, the cocktail will make you refreshed, enjoyable and energetic.
With its beautiful color and easygoing flavor, this Brazilian sunrise is an ideal choice for entertainment!
This video will show you how to make a glass of Caipirinha cocktail. Let's try it at home!
One more amazing Brazilian cream is Creme de Abacate, which is made with avocados, lime juice, milk, and some sugar. I love this cream so much because it combines a buttery flavor with the tartness of lemon.
You will be addicted to this kind of cream that is incredibly tasty and healthy, believe me!
One dessert that makes you water your mouth and widen your eyes is a type of Brazilian cake made with carrots. The cake is the perfect cake to serve your beloved family members.
The body of the cake is a simple mixture of flour, peeled carrots, eggs, and sugar, making it a sweet and appealing cake, while the top is covered by a layer of chocolate glaze.
Watch this video to know more:
Expectation Vs. Reality
Sometimes, you cannot find your dessert in the aforementioned list because it doesn't cover all Brazilian desserts. They are the most popular and typical suggestions for you if you get a chance to go to the country.
Enjoying Brazillian desserts can partially help you know about the local or national culture of the country.
I hope that the post will be helpful for you, please feel free to share the post and leave your comments below about your real experiences with Brazilian desserts.
Nutrition Facts
24 servings per container
---
Amount Per ServingCalories64
% Daily Value *
Total Fat 2.5g

4

%
Cholesterol 8mg

3

%
Sodium 28mg

2

%
Potassium 75mg

3

%
Total Carbohydrate 9.5g

4

%

Dietary Fiber 0.3g

2

%
Sugars 9g

Protein 1.5g

3

%
---
* The % Daily Value tells you how much a nutrient in a serving of food contributes to a daily diet. 2,000 calories a day is used for general nutrition advice.