As you will soon realize, instant pot Mexican recipes are easy to make. I am experimenting with many easy yet wonderful Mexican recipes to implement an instant pot as part of the cooking process. An instant pot or pressure cooker is impressive because of its various functions.
The outcome is amazing, as many dishes in Mexican cuisine are perfect matches to go with the instant pot. Thanks to the versatility of the pot, your cooking time is cut down drastically, saving you more time to do other tasks.
But enough about the usefulness of instant pots. Let's dive into the Mexican recipes that you should be making.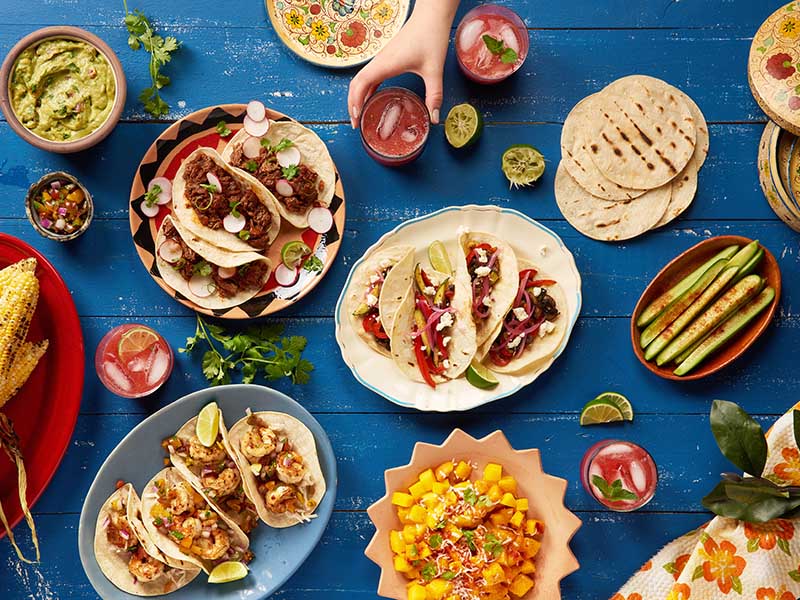 Stupendous Mexican Dishes Using An Instant Pot
Mexican cuisine is famous for having many dishes that require a long time to cook. Now, with an instant pot, you can confidently make delicious Mexican dishes without spending an entire day cooking.
Total time: 40 – 50 minutes.
Chicken Tortilla Soup is a variation of the traditional Mexican soup recipe with Tortilla. The original cooking method requires the locals to submerge the pieces of corn Tortilla completely in the broth mixture. People usually use chicken broth as the base.
When you use an instant pot to make Chicken Tortilla Soup, the process is much more simplified. You only need to combine all the seasonings with the chicken stock. Chicken Tortilla Soup packs with intense flavor; thanks to the instant pot, the chicken is soft and tender.
Total time: 15 minutes.
In Mexico, the term Elote refers to an ear of corn. Mexican locals often enjoy grilled corn as both a salty and sweet dish. Typically, they add a variety of seasonings like chili, cheese, and mayonnaise before grilling it over the coal.
The secret to making a good Elote relies heavily on your instant pot. Instead of grilling the corn, you will be boiling or steaming them. It makes the corn kernel softer than the grilled variety. Finally, you can spread your seasoning mixture over the corn and start enjoying them.
Total time: 1 hour – 1 hour and 35 minutes.
Originating in the Michoacán state of Mexico, Carnitas (Little Meat) is a traditional pork dish with very juicy and tender meat. Traditionally, the locals use a copper pot to cook the rich pork meat for 3 – 4 hours before it gets shredded for serving on a Taco or Tortilla.
Before placing the pork in your instant pot, make sure to marinate it in a generous amount of seasonings for a better overall flavor. In addition, I prefer using lime juice in the sauce or the pork to balance the flavors. Don't forget you need to shred the meat for the sauce to coat well.
Tenderized Carnitas is what you're missing from your everyday meal.
Total time: 17 – 20 minutes.
To my surprise, Fajitas origin is from both the US and Mexican cuisines. In terms of meaning, Fajita refers to the stripped meat or pepper that is served on Tacos and Tortillas as filling. However, people in the North of Mexico also have a variation called Arrachera.
For a busy weeknight, Chicken Fajita is easy to make with an instant pot. The stripped chicken is juicy and infused with flavors from other ingredients. However, you won't get that smoky flavor like regular Fajitas, which have the meat chargrilled.
Total time: 23 – 30 minutes.
Arroz Rojo is a type of rice that originates in Mexico with a distinct red color when served. The rice is sauteéd with oil and fat on a skillet until it reaches a golden brown color. In Mexico, the locals consume it as a side dish.
Making Arroz Rojo is a breeze as there are a few steps involved. The combination with other seasonings and vegetables makes for a flavorful Arroz Rojo. The result you get is a rice dish with a fluffy, soft, and crumbly texture.
Total time: 20 – 35 minutes.
Salsa is a common ingredient in Mexican cuisine; it is usually used as a condiment for Tacos or tortillas.
There are 2 types of Salsa. The red Salsa (Salsa Roja) is made from tomato chunks, while the green version (Salsa Verde) is based on green peppers. And regardless of what type, they are ideal options for summer instant pot ideas.
Typically, the tomatoes-based Salsa has a sweet and fruity flavor; the Verde variety has a slight tart. To make the sauce, you need to sauteéd the Jalapeño chili with tomatoes to gain a fragrant scent. Then you can start mashing the sauteéd mixture with onion, bell pepper, and garlic.
Finally, the addition of lime juice elevates the depth of flavor to a whole new level. Depending on your liking, you can add some cilantro on top for garnish.
Total time: 1 hour – 1 hour and 15 minutes.
A direct translation of Frijoles A La Charra means "Cowboy Beans" it's a traditional Mexican stew, first named after the country's Charros (horsemen). The main highlight of Frijoles A La Charra is the Pinto beans. Mexican locals often have it warm with a liquid consistency.
The most common way to cook Frijoles A La Charra is to boil the dried Pinto beans for an extensive amount of time or until the beans become soft. Then people start transferring bacon and other ingredients into the soup at the final stage.
The result you get is a Frijoles Charros mixture with an earthy, nutty, and rich flavor. Interestingly, if you use beer to cook the Pinto beans, then the soup is called Borracho by the locals.
Discover the secret to making delicious Frijoles Charro.
Total time: 40 minutes – 1 hour.
Pozole is a traditional Mexican stew that locals create by cooking Hominy (dried corn kernels products) in a broth with meat. People used different colors of chili sauce to dictate the broth color, with 3 common types of Pozole, red (Rojo), green (Verde), and white (Blanco).
Pozole is a delicious ketogenic Mexican dish as pork is an amazing source of protein. Your instant pot will help the pork become more tenderized and absorb extra flavors. Normally, the broth of Pozole has a thick consistency, making it perfect for dipping with Tortillas.
Pozole is so easy to make with this simple guide.
Total time: At most 30 minutes.
In Mexico, Mole sauce often appears in many dishes and is an important part of the country's cuisine. Currently, Oaxaca and Puebla are the two states of Mexico that claim to have first invented Mole.
To create Mole, the locals pick out one or a variety of chilies to mix with cinnamon and chocolate. Then people will grind the mixture into a fine powder before simmering it with water. Typically, Mole sauce has a pungent flavor and thick consistency.
For the best chicken Mole, my suggestion is the thighs because they are juicy and succulent. In addition, you can add tomato sauce to enhance the overall flavor depth of the dish.
Total time: 50 – 60 minutes.
In Latin American countries, Black Bean Soup is a popular dish with high nutritional value. The dish is a solid choice to provide a high amount of fiber, iron, and Vitamin B9.
It's a breeze to make Black Bean Soup using an instant pot, as you no longer require to soak the bean for a couple of hours before cooking. For the broth, you can either use water or vegetable stock as the base. Then start adding a mixture of vegetables and seasoning.
Your Black Bean Soup should come out with a black broth color, while the beans should be soft and not mush. The soup serves as a healthy side dish for your celebration of Cinco De Mayo.
Total time: 30 – 45 minutes.
The Mexican locals call Taquito by different names like Flauta, Taco Dorados, or Rolled Tacos. In Mexico, Taquito is a dish where a corn Tortilla is rolled up along with the filling. Commonly, people will fry the Tortilla until it becomes crispy before serving.
For the chicken filling, I recommend using the chicken breast as it yields the most meat. You can use a pressure cooker to cook the chicken to ensure a tenderized meat structure. Then, it's all about assembling the ingredients onto the Tortilla before frying the Tortilla to a crisp.
Total time: 30 – 40 minutes.
Quinoa is a type of flowering plant in the Amaranth Family, which people cultivate for its edible seeds. Mexican locals mix Quinoa with various types of vegetables to create a concoction similar to a salad.
Quinoa is the perfect nutritional meal for your diet. The seeds of the plant are rich in B Vitamins, minerals, and protein. Thanks to a combination of diced avocado and corn kernels, it enhances the creaminess and sweetness of Mexican Quinoa.
Mexican Quinoa might just be on your list of nutritional meals.
Total time: 25 – 35 minutes.
Say hello to your new favorite rice dessert of Mexican cuisine, Arroz con Leche. It combines your regular rice with milk to create an almost pudding-like mixture. Mexican locals usually add raisins or cinnamon as toppings for the dessert.
The iconic Mexican dessert has a creamy taste and is often easy to make. The key to success at Arroz con Leche is in the rice mixing process. You need to time it just right, mixing too little or too much will result in your Arroz con Leche losing the creamy texture.
Total time: 30 – 55 minutes.
Many cuisines around the world consider chicken soup to be a remedy for illnesses. In Mexican cuisine, Caldo de Pollo is the beloved Mexican chicken recipe of every local. Originally, people cook chicken breast with a variety of vegetables for a warm Caldo de Pollo on cold nights.
The soup is loaded with flavorful vegetables, Mexican seasonings, and sweet chicken stock. When making Caldo de Pollo with an instant pot, you get a softer meat texture along with vegetables that will melt right in your mouth.
Making Caldo de Pollo has never been this easy with an instant pot.
Total time: 55 minutes – 1 hour 20 minutes.
Did you know that the Chilorio recipe has existed for more than 300 years? In Mexico, specifically the state of Sinaloa, Chilorio is made from fried pork with chili sauce. Usually, people use Chilorio as a method to preserve stewed meat.
In Chilorio, pork shoulder is favorable for the texture. Start by adding seasoning to the chicken stock and stir the mixture well with the pork shoulder. You will need the pork to be tender enough for shredding into small strips before flavoring it with the spicy chili mixture.
Total time: 55 minutes – 2 hours.
Quick, straightforward, and filled with flavors, Barbacoa is the next-level beef dish. In different regions of Mexico, locals use different parts of beef meat to make Barbacoa. In Texas and Mexico, the meat is only sold on holidays or weekends.
While there is a barbacoa pork recipe using a crockpot, this one will utilize your instant pot for a shorter cooking time. And use a generous amount of chili like in the traditional version.
For the best result, you should sear the chunk of beef on the two sides before rubbing various seasonings. You will need to cook until you can shred the beef chunk with forks.
You will never taste anything better than this flavorful beef Barbacoa.
Total time: 1 hour 30 minutes – 2 hours 20 minutes.
Caldillo is a hearty Mexican soup that will fill you up on cold days. The soup incorporates strips or cubes of steak with potato chunks, and spicy green chili to make your night more flavorful.
To create Caldillo, you will need to have Chipotle chili powder for a distinct flavor to the broth. Chipotle chilis are small Jalapeños that locals smoke-dry for later consumption.
First, you need to sear the beef cubes with seasonings on all sides before adding the seasoning mixture of Chipotle chili, onion, and oregano. Finally, you can add the broth and simmer the mixture in a pressure cooker with "soup mode" for around 40 minutes.
Remember, you should set your pressure cooker on natural release for 10 minutes, before alleviating the remaining pressure by hand.
Total time: 20 – 35 minutes.
Lentil is a type of legume that has various seed colors like yellow, red, black, green, or brown. The stew made from lentil seeds is a popular dish in Latin America, Europe, and the Middle East. Originally, lentil soup is light on the seasoning; the broth gains its flavor from ingredients.
Besides lentil, the soup also includes celery, carrot, and onion. Lentil soup is earthy, nutty, and creamy in terms of flavor. Thanks to the generous amount of lentils, the broth has a thick consistency with natural sweetness.
Lentil soup is "the healthy recipe" that you're looking for.
Total time: 10 – 45 minutes.
Although you may be skeptical about the color, Black Bean Dip is a nutritional Mexican appetizer fit for various dishes. Black Bean Dip is far different from Black Bean Soup in the consistency level, where the black bean needed to be pureéd for making a thick dipping sauce.
To make your Black Bean Dip more flavorful, I recommend preparing a mixture of chili powders with Jalapeños and lime juice. Your sauce should have a creamy texture with a slight hint of tartness from the black beans. It is typically served with Tortilla chips as a side dish.
Total time: 20 – 25 minutes.
Are you looking for a new twist on your plain old rice? Then you need to try the cilantro lime rice recipe. It's a perfect vegetarian Mexican recipe to go with your Enchiladas, Tacos, and Fajitas. The outcome is delicate, lite, and delicious rice.
I recommend choosing long-grain, Basmati, or white Jasmine rice for the best result in flavor and texture. Don't forget to add a splash of oil to the rice in the cooking process so it will come out shining.
Finally, you can combine chopped cilantro and lime juice with some oil to drizzle it over the rice. As a side note, you may need to toss the rice several times with the cilantro lime for the ingredients to mix well.
Spice up your vegetarian diet with this Cilantro Lime Rice recipe.
Total time: 2 hours 35 minutes – 3 hours 50 minutes.
Tamale is a soft corn dough dish native to Mesoamerican cuisine. People often steam the corn dough in a husk or banana leaf. Typically, Tamale has various fillings ranging from fruits and vegetables to cheese and meat.
Traditionally, people use a mixture of chili powder like paprika with cumin to create the flavor for the filling. As for an instant pot Tamale recipe, after you're done preparing all the ingredients, set your pot to steam mode and put the Tamale on a rack for steaming.
After some time, your Tamale will become a bit soft. Don't panic, because the Tamale needs a couple of minutes of resting before firming up again.
Total time: 1 hour – 1 hour 20 minutes.
Pinto beans are the most popular crop production in the North of Mexico and Southwest of the US. In Spanish, Pinto beans are called "Judías Pintas" (speckled beans). People often consume Pinto beans in soup or mashed up to use as filling for Tacos, Sopaipillas, or Burritos.
When cooked, Pinto beans have a nuttier and creamier taste with a slightly earthier note than black beans. Most often, you can have Pinto beans as a side dish with rice for a healthy meatless meal.
What Mexican Instant Pot Recipe Is Your Favorite?
You will never have to go through another boring meal just because you're in a rush. Try one of these Mexican recipes with your instant pot for a stress-free cooking process. Who knows, you may discover some new ways to approach Mexican cuisine.
That's all I have to bring for this article. Thank you for investing your reading time. If you're excited about these recipes, please feel free to share them with your friends. You can also drop your ideas about Mexican instant pot recipes right in the comment section.
Nutrition Facts
8 servings per container
---
Amount Per ServingCalories177
% Daily Value *
Total Fat 5.3g

9

%
Cholesterol 48mg

16

%
Sodium 744mg

31

%
Potassium 540mg

16

%
Total Carbohydrate 20.4g

7

%

Dietary Fiber 6.8g

28

%
Sugars 9.4g

Protein 15.3g

31

%
---
* The % Daily Value tells you how much a nutrient in a serving of food contributes to a daily diet. 2,000 calories a day is used for general nutrition advice.