When you first think about vegetarian Mexican recipes, it is probably dishes that have avocado in them. It's more than that, as Mexico has a diversified range of vegetables to replace meat. The result is nothing short of a magic trick when compared to the original meat taste.
Veganism is gradually becoming a trend with many people becoming aware of their health. To answer the vegan trend, Mexican cuisine also adopted amazing recipes that are free of meat and dairy products.
I'm sure you will be more than happy to explore the wonderful vegan dishes that you can add to your healthy plant-based menu.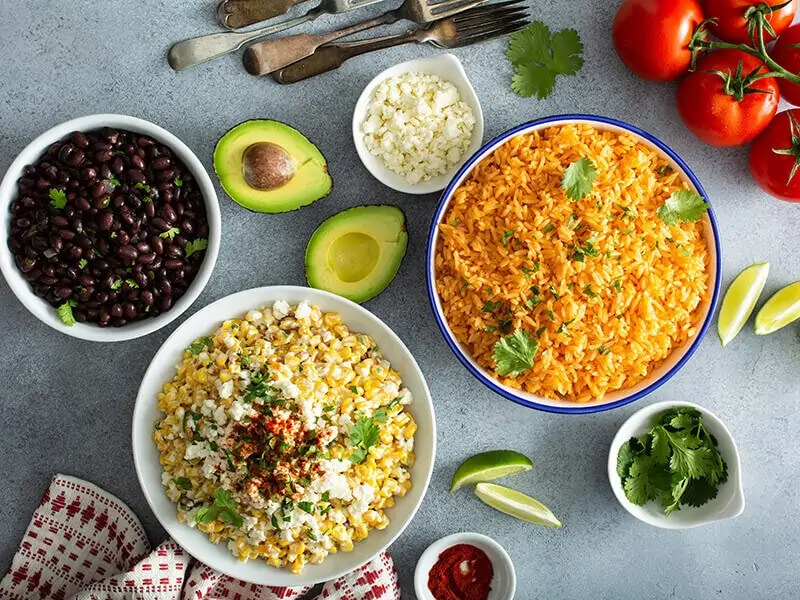 Explore Irresistible Vegetarian Dishes In Mexico
These plant-based meals can pack more punch than you think, with an almost equal amount of nutrition that meat can deliver. Don't be shy to try one of these outstanding Mexican recipes for your next meal. You will no longer waste your vegetables lying around in your house.
Total time: 25 minutes – 1 hour
If you want a light taco that has no meat for fillings, that is entirely possible. You can use "vegan taco meat" or black beans to replace animal meat in your taco. Vegan taco has a lighter calories count, making it a suitable light snack.
You will hardly recognize the differences between vegan Taco filling and real meat, as they are similar in textures. The bean mixture requires you need to sauteé the Jalapeno and onion first before adding the beans.
The black bean filling is often accompanied by a dairy-free version of Créma sauce. Instead of using traditional milk to create the sauce, vegan mayonnaise is a perfect replacement. The simple filling allows you to incorporate many types of ingredients for an explosion of flavors.
Total time: At most 50 minutes
I know what you're thinking. Making regular Enchilada sauce is tough enough, but making a plant-based version of it is even tougher. On the contrary, the sauce of vegan Enchiladas is the easiest thing to make. You only need to use vegetable broth to be the base.
As for the filling, use a mixture of cauliflower, walnut, and mushroom to get a similar effect to regular Enchiladas. In addition, your Mexican seasonings are excellent additions to make the dish more flavorful.
If you don't like cauliflower, spinach and black beans are a great combo to be Emchilada's filling. Remember, you can also use plant-based cheese to make your Enchiladas more appetizing than ever.
An Enchilada full of vegetables is surprisingly easy to make.
Total time: 10 – 15 minutes
Chipotle Guacamole is a better dip to have than mayo or cream-based dip. I mean Guacamole still has a high calories content, but at least you can make it from natural ingredients.
Most Guacamole texture is dictated by the avocado and Jalapeno flavors. For the creamiest consistency, I recommend using Hass avocados, as they have the richest meat.
A perfect taste of Guacamole should be zesty, crunchy, and creamy. You should also slice in extra tomato chunks for a better overall experience. Guacamole is versatile since you can use it as a dip for any Mexican dish.
Total time: 30 minutes
As a traditional recipe of Spanish culture, Migas is a dish made from stale bread. It was first presented by shepherds. In Mexico, locals often start their morning with Migas for a nutritional Mexican breakfast recipe. Mexicans usually add shredded Tortillas to the dish.
To compensate for the lack of meat and eggs, you should use tofu for a meat-like texture. My advice is to break up the tofu so it can mix better with other ingredients. Plus, you can always accompany Mexican Migas with extra Tortillas as a side dish.
Total time: Approximately 10 – 15 minutes
Pico de Gallo or Salsa Fresca is much more different from regular Salsa. Traditionally, Salsa is wetter than Pico de Gallo, but the main difference is in the ingredients. For Pico de Gallo, Mexican locals will use raw ingredients like Jalapeno, diced tomatoes, and chopped cilantro.
Pico de Gallo has a chunky texture of fresh ingredients, which makes it a perfect substance for Tacos. Generally, you will need to use various vegetables and slice them into small cubes. Tomato is a must-have ingredient to create the distinct bright red of Pico de Gallo.
Total time: At most 50 minutes
Are you looking for a new plant-based filling for your tasty Mexican Tacos? I would recommend using cauliflower as the perfect substitution for meat. Although it's no easy task to turn cauliflower into Taco filling, it's worth the effort to make it for your vegetarian diet.
The key to creating a perfect cauliflower filling is in the roasting step. I recommend using high heat to achieve a crispy cauliflower texture. Interestingly, the inside of the cauliflower is soft, which is opposite to the outside texture.
Cauliflower Taco is so easy to make, yet delicious at the same time.
Total time: 30 minutes – 1 hour 15 minutes
Tamale is usually a Mexican corn dough filled with minced pork, but for this non-meat version, you can use black beans instead. People use different ways to steam Tamales before serving. It's a quick and easy meal for your entire family.
Vegan Tamale pie can pack full of flavor, depending on the types of vegetables you use for the filling. The black beans make for a light and creamy experience. As a side note, using canned tomatoes will save you some time and make the filling sweeter.
Total time: 35 – 45 minutes
It's easier to make the iconic corn Tortilla than you think. For those who are unfamiliar, a Tortilla is a type of flatbread that uses corn flour or wheat flour to be the main ingredient. Typically, a Tortilla has a flat disc shape. Mexican locals often grill or fry the Tortilla before serving it.
The Mexican locals favor corn-based Tortilla as it has less fat and more fiber. Plus, the slight sweetness of corn Tortillas makes it more compatible with other traditional Mexican dishes.
For the best Tortilla dough, you should knead it well for approximately 2 – 3 minutes. Then you can use something heavy to press the dough into a round shape. You can make various dishes with a Tortilla; it makes for a perfect side dish or delicious add-on to your vegetarian meals.
Total time: 1 hour 05 minutes
Mexican rice mixes with vegetables to make this a perfect make-ahead meal. The main highlight of this dish is the explosion of vegetable flavors. You can make this dish with any vegetable that you have in your house.
Although the name has the word Burrito in it, there's no Tortilla used in the process of making Veggie Burrito Bowl. The fact that people include the word "burrito" is because many ingredients of this dish usually appear in a Burrito.
As for the rice, I recommend adding a special mixture of Jalapeno and cilantro to create a unique flavor to the rice. Any type of rice will work wonders for this recipe.
Recipes for a Mexican veggie rice bowl can be varied, but the common thing is that Guacamole and tomato will also appear. Guacamole helps bond other vegetables. I recommend adding lettuce of any type for the crunchy texture along with beans for the creaminess.
Total time: 5 – 10 minutes
In Spanish, the direct translation of Aguas Fresca is "fresh water or cool water", but that doesn't mean your water is plain in taste. Aguas Fresca is not limited by fruit flavor; there are also seeds, flowers, and cereal flavors that you can make.
Aguas Fresca is the perfect addition to your vegetarian recipes, as this simple-to-make Mexican dish tastes delicious. For a refreshing glass of Aguas Fresca, you should blend fresh fruits with ice and sweeteners of your choice. I like adding simple syrup to keep the fruit flavor intact.
Discover how you can make Aguas Frescas with simple ingredients.
Total time: 25 – 30 minutes
Fajita refers to shredded meat used as filling for Tacos or Tortillas. However, if you want to go vegan on Fajita, then Portobello mushroom is the closest choice you will ever have.
Portobello mushroom is big and has a meaty texture. Unlike other mushrooms, Portobello mushrooms don't shrink when you bake them. Add to that some Guacamole for the creaminess, and you have an amazing filling for your flour Tortillas.
To bring more flavors, onion can be sautéed for an additional caramelized taste. Finally, adding colorful bell peppers can make your Portobello Fajitas more appetizing.
Total time: 1 hour
Until today, no one knows the exact origin of Sopa Azteca. However, it is still a delicious Tortilla soup that should make it into the list of your comfort food. Better yet, the vegan version of Sopa Azteca has few changes but retains the original flavors.
Instead of using chicken stock, people utilize vegetable stock for the base of the soup. I would prefer to add extra Tortilla chips for the crunchy texture and diced tomatoes for the sweetness of the soup.
Total time: 30 minutes – 2 hours 35 minutes
Arroz con Leche is a traditional Mexican dessert. It's so simple that you only need 4 main ingredients and some condiments to make it. To make it vegan, all you need is to swap the regular milk for plant-based milk (almond or soy milk).
It will be hard for you to realize the differences in the flavor of vegan Arroz con Leche. The non-dairy version retains the rich and sweet flavors of regular rice pudding. I usually add a slice of orange zest over the top with some raisin or cashew for a delightful snack in the afternoon.
Arroz con Leche is an amazing treat for your healthy plant-based diet.
Total time: 35 minutes
Here's another iconic Mexican soup recipe that has no meat. Caldo de Verduras is created entirely from plant-based products. The soup is easy to make because it utilizes available vegetables around you.
If you're in a rush, store-bought vegetable stock can work well for the base of the soup. However, you can use diced tomato along with other vegetables to customize your soup mixture. Caldo de Verduras is best served with grilled Tortilla as a side dish.
Total time: 10 – 20 minutes
It's quite obvious that a fruit cup can't fill you up as a meal, but it is certainly an outstanding option for a fruity treat. Interestingly, Vasos de Fruta offers a wide range of how you can customize to your taste.
Typically, watermelon, pineapple, and mango are the most common fruits used for Vasos de Fruta. At first glance, the Mexican fruit cup may look like plain diced fruits served in a cup. It is packed with mild spicy flavor from Chamoy sauce and Tajin (chili powder can also be used).
Total time: 25 – 50 minutes
To my surprise, Mexican wedding cake's origin is not in Mexico. Instead, the dessert may originate from European countries as a snack to go with tea. Traditionally, Mexican wedding cookies are coated with a white layer of powdered sugar with a filling made out of various nuts.
In Mexico, the cookies often feature in special events like weddings or as a traditional Mexican Christmas treat. However, the locals also consume it as a light snack or treat in the afternoon. Commonly, people pair Mexican wedding cookies with a nice cup of warm tea.
If you're on a vegan diet, you need to swap out the regular butter with coconut oil. For an original taste, I recommend you to use walnuts for a flavor close to the original Mexican version. A perfect Mexican wedding cookie is nutty and packed full of sweetness.
Making these tasty Mexican wedding cookies has never been simpler with this guide right here.
Total time: 10 minutes
The first chocolate drink was recorded around 2500 – 3000 years ago in the Maya era. Hot chocolate only became popular after it was introduced to European countries from Mexico. In the 19th century, people even used hot chocolate as a treatment for stomach and liver sickness.
You need to be aware of Chocolate Atole because the original recipe requires using dairy products. However, you can simply swap this for almond milk for a dairy-free Chocolate Atole. As for garnish, coconut cream is your best choice for additional creaminess.
Total time: 25 – 28 minutes
Elote is a traditional Mexican grilled corn full of flavors. The Mexican locals usually have Elote as both a savory and sweet dish. Normally, the corncob is rolled through a mixture of spices before it's grilled until the corn kernels have a crunchy texture.
Elotes are easy to prepare as you only need a little time to make them. As for a plant-based diet, vegan mayonnaise should be a perfect alternative. Grilled corns have a sweet flavor, which accommodates well with the tangy and savory of other spices.
Total time: 9 – 30 minutes
Sweet potato and black bean to freshen up your Burrito recipes, why not? The requirement for this recipe is so simple that you can just make them with store-bought items. You will no longer need to spend big bucks for those expensive non-meat burritos at the supermarket.
The combination of sweet potatoes and black beans makes for a mild, creamy, and sweet flavor. People wrap these two ingredients with other vegetables and spices to create a healthy burrito that fits any vegan diet.
Healthy and convenient, what more can you ask from a Burrito.
Total time: 3 – 24 hours
Concha or Pan Dulce is an iconic Mexican bread with a crunchy outer shell. Interestingly, the bread is shaped so that it looks similar to a seashell.
Local Mexicans adore Conchas, as people frequently have them at any time of the day as a quick snack or an appetizer.
Like other vegan recipes, it's simple to swap the eggs used in Conchas for soymilk. If you want it to be fully plant-based, be sure to use vegan butter. For the signature stripe shell, I recommend using a knife to make incisions on the dough for people without a bread stamp.
As you bite into Concha, you will instantly taste a sweet flavor of natural nectar. The inside of Concha is soft, making it perfect to pair with a cup of coffee. Concha takes a longer time to make due to the yeast in the dough requiring time to rise before it can be baked.
Total time: 20 – 45 minutes
A less popular variety of Salsa, Morita de Chile Morita utilizes the Morita peppers to be the main ingredient. Morita peppers are small ripe Jalapeno harvested at the end of the season.
Commonly, people smoke these peppers for less time, making their texture softer and retaining a more natural fruity flavor.
To turn these little smoked jalapenos into Salsa, you will need to soak them in hot water first. While you're at it, start charring the outside of your garlic for a smoky Salsa flavor. Finally, you can combine everything by using a food processor or blender.
Salsa de Chile Morita is a nice addition to your Salsa arsenal. It pairs nicely with Tortilla, egg, and nacho as a dip.
Total time: 4 hours 50 minutes
A sweet and spicy jam to make for your family and friends, Habanero Jam offers an intriguing twist to regular jam recipes by using Habanero peppers. These little peppers have a natural sweetness and fruity flavor, however, the most important feature is the strong spiciness.
First thing first, you need to blend your Habanero down to a thick mixture. Then you can add the Habanero mixture into a pan along with a concoction of sugar and sugar. After a couple of minutes of simmering, the Habanero mixture should thicken up.
Habanero Jam is great to great over bread and sandwiches. I prefer having the jam with savory dishes for the extra kick of heat.
Total time: 5 – 8 hours (including the rice soaking phase). 13 minutes for the cooking process
Horchata or Orxata is a popular plant-based Mexican drink. In Mexico, the locals use rice to make Horchata de Arroz. However, you shouldn't be mistaking Horchata with Mexican rice pudding because they have a different consistency.
Traditionally, Horchata is made with dairy products, but almond milk can be used as an alternative for a dairy-free recipe. For a helpful tip, you may need to soak your rice for a few hours before it can be blended with other ingredients.
Learn how you can make use of your rice to make delicious Horchata.
Total time: 35 minutes – 1 hour 25 minutes
It wouldn't be a perfect Mexican vegetarian dish without having Churros as a recommendation. For those who don't know, Churro is a popular fried dough that often appears in Spanish-speaking countries. When fried, Churro is crunchy on the outside but soft on the inside.
Although you may think Churro is completely vegan friendly, the original recipe has eggs in the dough-making process. However, it's perfectly fine to exclude eggs from the dough mixture. Egg-free Churro tastes the same as regular ones.
Total time: 25 minutes
Originally, a Quesadilla has cheese and meat filling of many kinds. However, when the filling only consists of black beans and yams (or sweet potatoes), people call it Yamadilla. This is a well-rounded dish and delicious dish with amazing nutritional values.
To make Yamadilla, you need to boil and simmer the yam (or sweet potatoes) until you can mush it by using a spoon. Then, a combination of lime and condiments are added to flavor the sweet potatoes mixture.
Serving Yamadilla is simple, you only need to spread the sweet potato mixture over the Tortilla and add some beans for an extra creamy texture. A small tip from me is to fry or grill the Tortilla shell to a crisp for a better overall taste.
Total time: 1 hour
Fried avocado is an interesting tweak that you should try on your Tacos. Many may doubt the flavor of fried avocado but it tastes amazing as the avocado will melt in your mouth. As a small piece of advice, you may need to pick ripe avocados for the best effect.
Fried avocado is becoming a popular Mexican appetizer for people with a plant-based diet. To accompany the fried avocado pieces, you have an array of options like beans, peppers, and spices.
My recommendation is to have Fried Avocado Tacos as a light breakfast.
Uncover how you can make Fried Avocado Tacos right at your home.
Total time: 40 minutes – 1 hour
Mexican Chocolate Brownie has a crackling outside and rich flavor on the inside. Normally, Brownies have cocoa powder as the main ingredient and are often cut into square pieces for serving. They are amazing treats to end your dinner on a high note.
For a plant-based Mexican Chocolate Brownie, you need to swap out dairy products like milk and yogurt for plant-based ones. The changes you make are almost unnoticeable but it makes for a healthy brownie recipe that doesn't rely on animal products.
Total time: 15 – 50 minutes (depending on your preparation process)
A Mexican salad mix that combines everything you love about vegetables, then you need to give Mexican Chopped Salad a try. The salad dish provides a well-rounded meal with valuable nutrients for your diet.
The recipe of Mexican Chopped Salad can vary greatly depending on the region. However, the most common ingredients are Tortilla, zucchini, and beans to add extra textures to the salad. For the best experience of the dish, I would advise you to prepare a flavorful dressing.
Mexican Chopped Salad is an amazing twist you can have on your salad recipe.
Total time: Around 35 minutes
Sope is a popular dish in the Central and South of Mexico. Mexican locals often have Sopes with toppings like cheese, refried beans, and colorful sauces. Although locals usually use the meat for the topping, it is entirely possible to have Sopes as a plant-based meal.
The original base of Sopes doesn't require meat to be a part of the recipe. In addition, people usually add extra refried beans to Sopes to enhance the sweet and earthy flavor. Adding a tablespoon of vegetable oil will greatly bring out more flavor from Sopes.
Total time: 25 – 40 minutes
Prepare to make your weekend a lot more flavorful with this entirely vegetable-based recipe. Originally, Nacho is a combination of fried Tortilla and melted cheese. Although Nacho was first invented in the city of Piedras Negras of Mexico, it was the US that made Nacho famous.
Making Nachos from vegetables is easy as you only need to combine all the ingredients. Frequently, you should include walnuts or cashews for a nutty flavor.
The most important element for a Nacho lies in its sauce for dipping. A simple method is to use a mixture of crushed cashew, maple syrup, and lemon juice for a cheese dip. Another version is the Queso sauce which incorporates cashews with a variety of chili powder and coconut yogurt.
Total time: 30 minutes
Mexican Bean Burger is an alternative recipe for people who love a juicy burger in their plant-based diet. The non-meat patty of this burger will surprise you with how similar it is to a delicious beef patty.
To quickly combine the ingredients into a patty, I suggest using a food processor or a blender for a fine patty texture. Next, you will need to divide the patty mixture into small balls before flattening them to form the burger patty.
The process to make the patty is not simple because you need to mush the beans to create the perfect meat-like texture. On average, bean patties have more nutritional value than meat variety, making it a solid choice for a healthy burger.
What's Your Favorite Vegetarian Mexican Recipe?
Mexican cuisine offers so many customizations that you can have on a dish. Vegetables taste amazing when you know how to accommodate a variety of them. I hope one of these recipes will make an appearance on your next meal.
Have I helped you diversify your menu? If so, let me know which recipe is your go-to choice. Please share your ideas about these vegetarian Mexican recipes in the comment section.
Sharing this post with your friend will help me a lot. Your opinions are always exciting for me to read.
Nutrition Facts
8 servings per container
---
Amount Per ServingCalories21
% Daily Value *
Total Fat 0.2g

1

%
Sodium 181mg

8

%
Potassium 237mg

7

%
Total Carbohydrate 4.5g

2

%

Dietary Fiber 1.4g

6

%
Sugars 2.8g

Protein 0.9g

2

%
---
* The % Daily Value tells you how much a nutrient in a serving of food contributes to a daily diet. 2,000 calories a day is used for general nutrition advice.