The diverse cuisine of Mexico gives birth to a variety of Mexican breads that suits the needs of the locals. Many types of bread are served along with tasty Mexican meals as side dishes. That's why you should stick with this post to find a perfect replacement for your boring baguette.
When Mexican bread is the topic, many could only come up with Tortilla as a representative. But there is more than that. So come along with me on a journey to discover more exciting bread recipes that Mexico has to offer.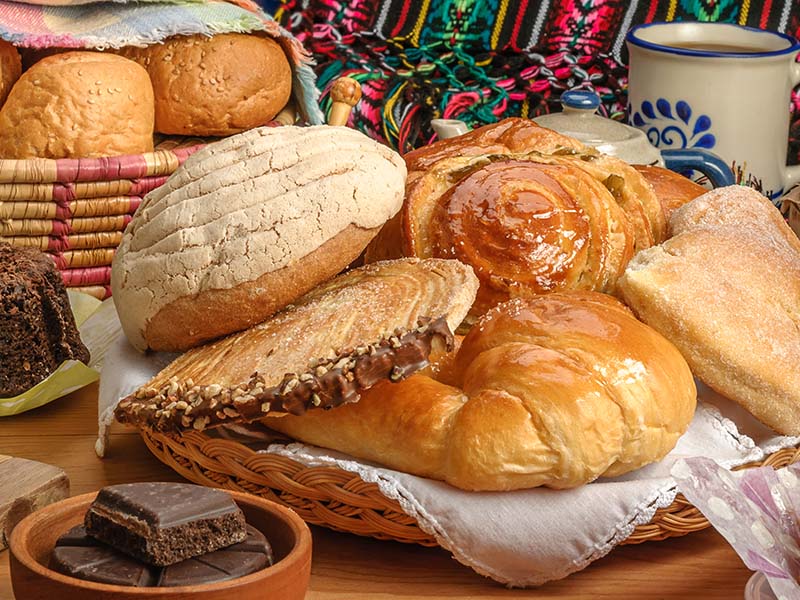 Legit Mexican Bread Recipes To Recreate In Your Home
Around the world, bread is a versatile dish that appears in almost every meal. In Mexico, the locals take the dish to a whole new level with numerous Mexican recipes of bread for different festive events. I'm certain that you will fall in love with one of these recipes.
Total time: 2 hours (including 1 hour 15 minutes of resting).
In Spanish, the word Concha means "Shell", which refers to the unique shape of this Mexican sweet bread. Normally, Concha has a seashell-like look with a crunchy topping layer and a soft texture on the inside.
People tend to have Concha along with coffee for a quick morning meal recipe in Mexico. Typically, Mexican locals use a bread stamp to create the signature stripes for Concha, but you can also achieve the same effect by making incisions with a knife.
As you would expect from most bread recipes, you will need active yeast to help the dough of Concha rise. My advice is to leave the dough in a bowl and cover it with a blanket so the yeast can work its magic.
For toppings, you can use cocoa powder and cinnamon right in your home. You will need your topping to reach a paste-like consistency before it can be spread over the Concha.
A side note from me, make sure you let the Concha have some resting time after removing it from the oven. The period will allow the Concha's interior to stabilize into a solid state.
Learn the simple steps to make Concha from the comfort of your kitchen.
Total time: 55 minutes.
Originating in Spain and Latin American countries, Buñuelos is similar to a dough version of the Fritter (foods fried in batter). People often serve the dish with a variety of toppings; however, Mexican locals like using Piloncillo syrup (unrefined cane sugar syrup) for Buñuelos.
In Mexico, the Buñuelos are served differently as locals usually feature a bit of anise to the dough. When served, vendors will sprinkle some additional powdered sugar over the Buñuelos. The dish is most common during Christmas or Las Posadas (16th – 24th December).
For this recipe, the Buñuelos dough is a simple mix of all-purpose flour with warm water, baking powder, and salt. I suggest a simple topping of sugar and cinnamon as it can be hard in some areas to lay your hands on Piloncillo.
Remember, you only need around 60 seconds to fry the Buñuelos on each side so it turns to a golden brown color. So you better watch out for the time and temperature of the oil in order not to burn the Buñuelos.
Total time: 1 hour 50 minutes.
Bolillos or Pan Francés is a Mexican savory bread that is derived from Central America and Mexico. Some even say that Bolillos is like a shorter version of the baguette with a unique oval shape.
Different regions of Mexico have various names to refer to the Bolillos. On average, a standard Bolillos has a length of 15 centimeters. The outside crust is crunchy, while the interior is soft with a slightly sweet taste.
Before baking the Bolillos, locals commonly give the dough a slash to prevent it from cracking in the oven. When Bolillos is perfectly baked, it has a beautiful golden brown color.
Total time: 3 hours 20 minutes (including 2 hours of rising for the dough).
If you're looking for a signature bread recipe to celebrate the Day of the Dead (November 2nd), then Pan de Muerto is your go-to option. It is a popular homemade dish in many Mexican households during festive events.
Pan de Muerto is characterized by a round shape with a soft texture similar to a bun. Many people say that the top of Muerto bread depicts the grave of deceased ones.
For decoration, locals use excess dough to create a skull shape over the crust. The recipe for Pan de Muerto is as basic as other sweetbreads, with the addition of ground anise.
For the glazing layer, locals whip up a simple mixture of sugar with orange juice and zest. When the Pan de Muerto is ready for baking, they lightly brush the crust with an orange-flavor glaze. Don't forget to let the Pan de Muerto cool before serving it.
Whip up this recipe of Pan de Muerto so you can celebrate the Day of the Dead in style.
Total time: 2 hours 5 minutes (with 1 hour of resting for the dough).
Elote is a Spanish word to refer to "corns". However, Pan dulce de Elote has nothing to do with corn aside from the shape. This interesting bread will surely impress anyone with its magnificent corn look.
On the recipe side, Elotes Pan Dulce consists of the same ingredients as other types of Mexican sweet bread. The filling is a combination of egg yolks with orange zest, butter, and cinnamon. Most often, people wrap the filling with the dough after scoring it with lines.
To give the corn look to the Pan Dulce, you can use a knife or a spatula to run numerous lines in such a way that they cross one another over each side of the flattened dough. After everything is ready, Elotes Pan Dulce should have a light golden brown color when served.
Total time: 1 hour 55 minutes – 2 hours 6 minutes (including 1 hour 30 minutes of resting for the dough).
Similar to the Bolillos in terms of ingredients, the Telera is a type of Mexican white bread that locals often use to make sandwiches. However, the Telera doesn't possess a crunchy exterior as the Bolillos do. Instead, the Telera's interior is more crumbly than the soft texture of Bolillos.
Locals tend to stuff Telera with some fillings based on flavorful ground beef recipes from Mexico for a quick meal to get through the day. However, you have the option to customize the fillings according to your will.
People commonly distinguish Teleras and Bolillos by the number of slashes on the bread. The Telera has 2 slashes over its shell while the Bolillo only has one.
A conventional Telera recipe includes flour, active dry yeast, and warm water, although you can also add sugar for the overall sweetness.
Total time: 50 minutes – 3 hours 26 minutes (with 2 hours of steeping).
Capirotada is one of the most traditional Mexican dishes. It was supposedly invented in the 15th century in Spain. In some ways, the dish has many similarities to a bread pudding. Capirotada made its way to the New World by Spanish conquistadors.
In the past, locals usually consumed the dish before the Lent period (commemorating Jesus's 40 days of fasting), but now people have it during the event or on regular days as well. During Lent, meat is forbidden, so people resort to cheese for adding extra protein to the Capirotada.
Locals start making the dish by tearing rolls of Bolillos bread into bite-size pieces. While at it, they make a syrup mixture by adding Piloncillo, cinnamon sticks, and cloves in one pot of warm water. The syrup will need to have a thick consistency before you can move to the next step.
Then, they will spread the Bolillos cubes over a baking tray as the base for other fruit ingredients to go on top. In addition, you can add some raisins or crushed nuts to your liking and repeat the layers. Commonly, you should serve Capirotada warm for the best experience.
Making Capirotada for your dessert is a perfect way to wrap up any dinner with a bang.
Total time: 5 hours 50 minutes (including 3 – 4 hours of letting the dough rise).
The Cemita is a specialty of the Puebla city of Mexico. In terms of meaning, residents of Puebla refer to Cemita as the bread roll and a sandwich dish that also uses the Cemita. Interestingly, people in Puebla city don't use eggs to make the Cemita.
Although the authentic Mexican recipe of Cemita doesn't require eggs, you can still include them to make the mixing process easier. In addition, you need a mixture of cream and milk to combine with the flour.
As for the topping, sprinkling a generous amount of sesame seeds over the bun will seriously improve the texture and flavor. To make the Cemita more fragrant with a milky flavor, make sure you save a little bit of the milk mixtures to brush over the buns when they're done baking.
Total time: 40 minutes.
A classic Mexican cornbread served in one skillet is something I always have my tummy readied for. The dish is perfect for serving alongside some Mexican beef dishes for your night. I'm sure Mexican cornbread will soon become your family's favorite as a side dish.
As suggested by the name, cornmeal is the central ingredient of the dough blend. Most often, you can always add some Jalapeno (a Mexican green chili) with some cheese for the filling. Despite the appearance of chili, the dish only has a mild spicy flavor.
Typically, the edge of Mexican cornbread has a slightly crunchy texture, while the inner remains soft and moist. If you want to lower the spiciness from the Jalapeno, I suggest removing the membrane and the seeds of the chili.
If you ever feel hungry in the afternoon, then try out this recipe for Mexican cornbread.
Total time: 1 hour 4 minutes (with 45 minutes of inactive for the dough to rise).
Are you craving some delicious Mexican treats for your next meal? I suggest giving it a go on Oreja or Banderas for your next dessert. In Mexico, locals often have the dish as an inexpensive snack from street food stalls.
In Spanish, the word Oreja means "ear", but it also refers to the shape of this pastry dessert. However, you can also serve it as a delicious Mexican starter to your meal. Oreja tends to have a crispy texture with a generous coating of sugar and cinnamon on its surface.
The dish often appears during Cinco de Mayo (May 5th) as a snack to celebrate the festive event. After removing from the oven, Orejas should last up to 5 days in an airtight container.
Total time: 45 minutes.
It's difficult not to include the iconic Mexican Tortilla when it comes to listing bread recipes. Indigenous Mexicans create Tortillas by flattening out the corn dough mixture into a flat and circular disk shape. This recipe is ideal for those who are asking if they can add bread to a vegan diet.
The history of Tortillas dates back to the Mesoamerican era when the dish was an essential part of the cuisine. In Mexico, many believe that the Oaxacan region of Mexico was the first to produce Tortillas in 1500 – 500 BC.
Although corn Tortilla is the favorite representative of this dish, the wheat flour variety is also a popular choice because its ingredients are easier to find. If you're looking for an authentic take on the Tortilla, I suggest finding masa harina (corn flour) in your area to prepare the flatbread.
Total time: 2 hours 20 minutes (with 20 minutes of resting after baking).
Ojos de Buey originates from the Pan Dulce (sweet bread) category of Mexican cuisine. The bread consists of a flaky ring with an orange-flavored pound cake on the inside. Some people speculate that Ojos de Buey was first created by a Chinese baker in the 1800s in Mexico.
Mexican locals usually make Ojos de Buey as fulfilling Mexican treats for selling. In general, the dish is less sweet than other types of sweet bread. However, the texture of Ojos de Buey is intriguing as it has a crunchy layer of sugar on the crust with a crumbly cake in the middle.
The filling of Ojos de Buey is a batter concoction of whole milk with orange zest, all-purpose flour, and unsalted butter. After shaping the dough into a ring shape, then you can start adding the flavorful batter into the middle of the mold.
Remember, Ojos de Buey will need at least 20 minutes of resting to stabilize the entire structure.
Total time: 2 hours 55 minutes – 3 hours 30 minutes.
The Rosca de Reyes is a variation of the Rosca, a traditional ring bread of Spanish and Portuguese cuisine that often appears in Mexico and South American areas. In Spanish, the direct translation of Rosca de Reyes is "three kings bread" or "ring of kings".
The dish often makes its appearance on El Dia de Los Reyes (January 6th/ Day of the Kings) as a unique specialty to celebrate the event. In addition, people often make Rosca de Reyes as a traditional Christmas dish in Mexico to celebrate the event.
In Mexico, El Dia de Los Reyes is the day for Christians to show honor to the three wise men who gave presents to Jesus. The holiday often happens a couple of weeks right after the Christmas celebration. It is also an occasion for people to exchange gifts.
The dough of Rosca de Reyes usually has a zesty flavor because of the addition of orange zest. The dish stands out thanks to the colorful decorations on top of the crust. For the filling, locals often decorate the bread with colorful dry fruits strips.
If you want a beautiful golden brown color on your Rosca de Reyes, then brushing it with light egg wash will do the job.
Total time: 3 hours 20 minutes.
Here's another excellent Mexican bread roll that you can have for your dinner. Pan de Yema is a type of Brioche (a bread made from eggs and butter with rich flavors) that owes its origin to French cuisine.
Although Pan de Yema also shares a similar production process with Bolillos, the outcome is different as the exterior of Pen de Yema is more buttery. In addition, the bread has a slightly sweet and salty flavor, making it unbelievably scrumptious.
Another feature that sets Pan de Yema different from Bolillos is the scoring pattern. For Pan de Yema, locals tend to make a star instead of a simple slash over the dough.
Discover the simple ways you can recreate the flavor of Pan de Yema.
Total time: 3 hours (including 2 hours 30 minutes of resting for the bread).
Level up your bread flavor with this delicious recipe of Mexican Jalapeno Cheese Bread. Better yet, you can either make this dish with a bread machine or simply bake it in the oven. You can pair some tasty soup recipes from Mexican cuisine with this Jalapeno bread.
The dough mix is a simple combination of all-purpose flour with active dry yeast, cheddar cheese, and Jalapeno pepper. For the bread machine, you only need to set the machine to "Dough" mode with all the ingredients loaded inside.
If you don't have a machine to do the job, then it's always reliable to knead the dough with your hand. In this way, you will improve your baking skills and feel the dough better. After baking, the shell should be hard and sounds hollow on the inside.
Like any freshly baked bread, you should cool your Jalapeno cheese bread well before cutting it. This type of bread is great for serving along with soup or a nice bowl of chili.
Which Mexican Bread Is Your Favorite By Far?
That's all I have to offer for the scrumptious journey through all different types of Mexican bread. I hope you have a great time reading this post and also learn something new from it. Maybe you should give one of these recipes a try for your next meal.
You will no longer have to suffer from bland baguette anymore, now that you have this post saved. Don't forget to share this useful post with your friends and relatives. If you have any interesting ideas about this topic, please let me know in the comment section.
Nutrition Facts
12 servings per container
---
Amount Per ServingCalories417
% Daily Value *
Total Fat 17.4g

27

%
Cholesterol 73mg

25

%
Sodium 516mg

22

%
Potassium 135mg

4

%
Total Carbohydrate 58.3g

20

%

Dietary Fiber 2g

8

%
Sugars 17.8g

Protein 7.6g

15

%
---
Calcium

38

%
Iron

3

%
Vitamin D

20

%
* The % Daily Value tells you how much a nutrient in a serving of food contributes to a daily diet. 2,000 calories a day is used for general nutrition advice.