My first impression of the Mexican soup recipes was the insane spiciness. However, the country offers more than just thick stews; Mexican locals are resourceful in using natural ingredients to incorporate in tasty Mexican soup dishes.
Mexican cuisine relies heavily on corn-based products, so it's common to encounter many soups used along with Tortillas. Similar to the world's cuisine, Mexicans utilize various food products to set the tone for their broth.
This article can soon blast away the idea that Mexicans only have spicy dishes. Some cooking procedures in this list will also be a great addition to your Mexican menu at home.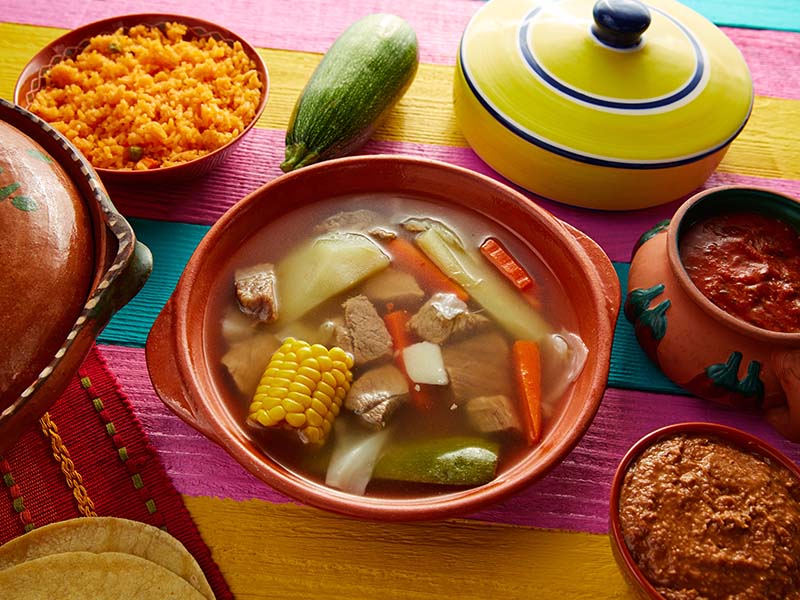 Appetizing Mexican Soups Tailor Just For You
Whether you begin your meal with a light soup recipe or have it as a main dish, Mexican cuisine will never let you down. People often fall in love with the bold flavor of Mexican broth. So let's begin with a traditional dish in Mexico.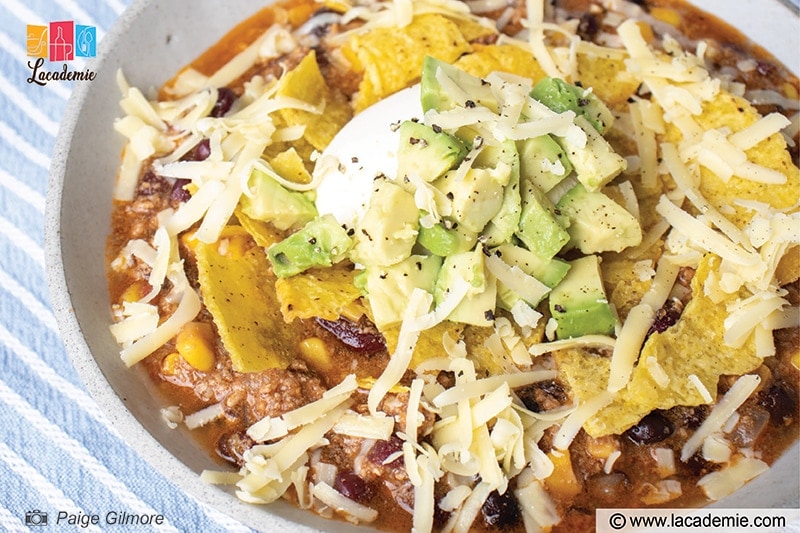 Taco is an iconic food from Mexico, so why not change it into soup for your next Mexican party? Also known as sopa de taco, this recipe uses the main ingredients in taco fillings, leading to a similar flavor.
If you miss the crunchy feeling, place some taco chips or shells as a topping. This soup is also perfect with guacamole or cornbread. Prepare as many toppings as possible, and place them on a plate, so your family members can customize their own bowl.
And don't limit your creativity! Swap the ground beef with chicken breast or reduce the chili powder, you can do anything you want with this recipe.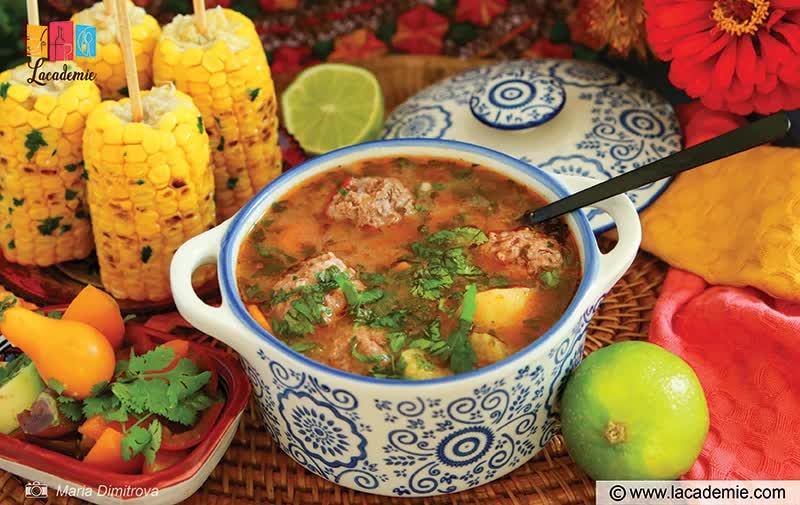 In Spanish, Albondigas means "meatball". Albondigas soup is a light concoction of sautéed onion, tomato, and broth. Commonly, the Mexican locals will make these meatballs separately before adding them into the boiling broth.
Normally, the dish will have a clear soup base. A touch of mint mixed in the meatballs makes all the difference to your experience. Albondigas offers a refreshing sensation when served hot. For the best flavor, I recommend combining mint and oregano.
Mexicans often call this dish Clemole or Tlemole. It's a traditional Mexican dish that combines strong flavors from Mexican seasonings and a variety of meat. For Clemole de Pollo, the chicken will be the main ingredient.
The base for Clemole will most often be the chicken stock. In this case, the locals add zucchini and corn to enhance the flavor of the chicken stock. Besides the chicken, the signature note for this dish is the reddish color from the chili sauce mixture.
For the sauce, people make a viscous mixture by using roasted chili pepper and black pepper to turn up the heat for the stew. Adding this sauce to the soup shouldn't make the Clemole de Pollo have a thick consistency but rather enhance the spiciness.
Although Caldo de Pollo also has chicken as the main ingredient, like Clemole de Pollo, the broth of Caldo de Pollo is much lighter in color. Caldo de Pollo is popular around the Latin Americas region as an amazing Mexican chicken recipe.
Traditionally, you can have this soup plain to enjoy its original flavor of chicken and vegetables. Caldo de Pollo is special in the way it is presented. Instead of slicing or shredding chicken, the locals will often keep the breast, thigh, or drumstick of the chicken whole.
Fun fact: The locals of Mexico often use Caldo de Pollo as a remedy to cure a cold or aid post-labor women in recovery.
If you're a little bit under the weather, try Caldo de Pollo to lift your mood.
Sopa de Fideo or Sopita de Fideo is a noodle soup with a proposed origin in Spain. Fideo is a thin noodle that people often cut or break up before serving.
The broth is the main highlight of Sopa de Fideo, as people often use a mixture of vegetable broth to set the tone for the soup. So you can bet that this is a healthy vegetarian Mexican recipe for your next meal.
In Mexico, the locals will add in a touch of lemon juice to improve the flavor. People usually have it hot as a way to warm themselves up.
It's a surprise that Mexican cuisine possesses such a light and creamy soup, while the country is famous for spicy dishes. Crema de Nuez is a mild, thick mixture that exploits the nutty flavor of walnut. In Mexico, Crema de Nuez is a reliable Mexican starter before the main dish.
Crema de Nuez is a dish that can comfort you after a long day at work. The soup has a taste similar to Nogada sauce. For Crema de Nuez, it is essential that you make a good homemade stock for the soup. As for garnish, chopped parsley makes a fine addition.
Popular in the North of Mexico, Caldo de Queso uses potato and shredded cheese as the main highlight. You can make this dish a quick Mexican crockpot recipe for your next dinner with your family.
The Northern Mexicans usually use chicken stock for the soup base, but you can use other animal options. Then a combination of potato, tomato, and onion will be added to the pot. To make it more flavorful, locals use tomato puree to give the broth a vivid color.
Finally, the addition of cheese appears at the final phase of the cooking process. The cheese gives Caldo de Queso a creamy and gummy texture. For a side dish to go with Caldo de Queso, people often have fried corn Tortillas.
Discover how you can make Caldo de Queso for your next comfort meal.
As the name suggests, this traditional Mexican soup has a Tortilla as the base for ingredients. Until now, the secret to Sopa de Tortilla remains a mystery, but many people think it could originate from Mexico City in Mexico.
By submerging the Tortilla in a combination of garlic, onion, and tomato, it can absorb all the aroma from various ingredients. Mexican locals use chicken stock to cook this soup. If you don't have much time, you can make this chicken Tortilla soup with your crockpot.
Commonly, Sopa de Tortilla features sliced avocado, sour cream, and fresh cheese as condiments to adjust the flavor. In other regions of Mexico, people use different types of ingredients to create many variations of Sopa de Tortilla.
Unlike other vegetable soups that have a mix of vegetable flavors as the main highlight, the focus of Caldo Tlalpeño is on the chickpeas and the chicken meat. In addition, people will put an array of beans to create diversity in flavor.
Traditionally, you can add chipotle chili, garlic, and onion for a more savory taste. The Mexicans often pair Caldo Tlalpeño with avocado or cheese for an additional creamy texture. If you're looking for something to dip with the flavorful broth, I suggest using fried Tortillas.
Are you craving seafood during your trip to Mexico? Then Caldo de Siete Mares is Mexican seafood that you can't miss. In general, it is a combination of freshly caught sea creatures like crabs or fish with a spicy broth mixture.
Caldo de Siete has a liquid consistency with a flavor similar to fish stew. My recommendation for the best broth is to use a variety of seafood to create the flavor's depth. Typically, it will have the sweetness from the seafood with a tingly spiciness of Mexican seasonings.
Make your next soup an explosion of seafood flavors with Caldo de Siete Mares.
With around 114 known species of Nopal cacti in Mexico, you can tick edible Prickly Pear cactus for your next unique Mexican experience. The Mexican locals often use large cactus pads to make various dishes like salad, stew, or soup.
The cactus in Nopal has a slightly tart flavor. To turn the cactus into Nopal, Mexicans first remove the cactus spike. Then they slice the cactus pads into small cubes and add some traditional Mexican seasonings.
Cacti can be found everywhere around the world, so next time you see one, think about making Nopal. It's a soup that catches everyone by surprise the next time you serve it.
Pozole is stew or soup native to Mexico. Originally, people created Pozole using a mixture of dried corn and meat, but you can try making this a simple Mexican instant pot recipe. Traditionally, there are 3 types of Pozole Blanco (white), Verde (green), and Rojo (red).
In Mexican cuisine, Pozole Rojo has a distinct red color from the copious amount of dried chili. People usually have Pozole with many types of condiments to adjust the broth's tone.
During the new year's occasion, Mexican families often use Pozole to celebrate the end of the year. In some regions, Pozole is also featured in the country's National Independence day. You should try making them at home for your next cozy meal with the family.
Sopa de Lima is a staple soup of the Yucatan state of Mexico. It's a simple and tasty Mexican dish that utilizes lime juice to accompany various meat and broth. In 1946, a man who goes by the name of Katún first introduced Sopa de Lima as a dish that represents the Yucatan region.
Although you may think it is super sour because of the lime juice, this isn't the case. For Sopa de Lima, ingredients like meat or bell pepper directly impact the outcome of the stock's taste.
A traditional Sopa de Lima plate has a light broth with a slight touch of citrus flavor. Yucatan locals frequently have this traditional dish for dinner and use crispy Tortillas as a delicious side dish.
Sopa de Lima is a delicious light dish that works well for your diet.
Similar to other corn-based soups of Mexico, Chileatole has a thick mixture with some corn kernels. In addition, Mexican locals usually add some pumpkin leaves and epazote (a type of Mexican herb) to direct the flavor.
In Mexico, there are 2 varieties of Chileatole, one having a green broth color and the other being red. The color of the broth is dictated by the types of chili used.
The spotlight in Chileatole is the Mexican chili sauce. Adding the thick chili paste and powder intensifies the heat and gives a signature color to the dish. Mexican locals usually serve hot Chileatole on cold days to warm themselves up.
Similar to the way that Mexicans use cactus to make Nopal, they also incorporate xoconostle (a native Mexican cactus) into Mole de Olla. The broth of this dish also relies on animal stocks. For a traditional approach, epazote is used to adjust the tone of Mole de Olla.
The word "Mole" refers to a mixture. Most often, you can use pepper, green bean, and squash to create the base mixture for Mole de Olla. To turn up the heat for the dish, people will use a generous amount of chili sauces and powder.
People often have Menudo as a traditional dish in Mexico for many special holiday occasions. Menudo is created by using the cow's stomach as the main ingredient. If you love spicy food, then this is the dish for you because Menudo is loaded with thick chili paste.
Traditionally, many Mexicans consider Menudo a great dish to cure a hangover. Mexican family members often partake in different stages of the cooking process. The locals often have Menudo as a form of Mexican Christmas food to celebrate the holiday.
In the Northwest regions of Mexico, there's a white version of Menudo with the name Menudo Blanco. For this version, people won't include the chili mixture. Menudo most often uses tripe to make, but people often include cow tendon or feet.
Uncover the secret to making authentic Mexican Menudo right here.
For a light dinner but still packed full of nutrition, I recommend trying Mexican vegetable soup. It's a popular Mexican vegetarian dish for people in need of changing the flavor of their plant-based meal.
Sopa De Verduras utilizes black beans or tomatoes for the main flavor. However, you can use different types of beans available in your area. It's a hearty and savory dish that you can make with just leftover vegetables in your house.
Chicken fajita is an excellent dish with low fat and gluten-free. The soup is a great solution for people that want a yummy keto Mexican dish. The broth of Chicken Fajita soup has a thick consistency and will impress its consumers with a bold flavor of chili paste.
The soup is a great way to enjoy cold winter nights. For this delicacy, you need to use chicken breast for more meat texture and less fatty. To add a creamier texture, you can feature cheese or heavy cream to make chicken Fajita the ultimate comfort food.
If you're looking to have a healthy meal, then try chicken Fajita.
Carnitas means "little meat" in Spanish. It's a dish originating in the Michoacán state of Mexico. Although you may spot this dish served on crunchy Mexican Tacos as pulled pork, Carnitas can still be enjoyed with the liquid.
Although the cooking process of Carnitas can take up to 45 minutes, the dish will instantly impress you because of its tender meat. The addition of bell pepper and beef broth added extra sweetness to the stew.
With a thick stew mixture, Carnitas is an excellent choice to accompany with crispy Tortillas for a hearty meal. During cold days, Carnitas works wonderfully to keep you warm and cozy throughout the night.
Mexico has an abundant amount of avocado. This recipe takes advantage of avocado as the main ingredient. For the base of Chicken Avocado Soup, locals use chicken broth for a light mixture with other vegetables.
For the finale, Mexicans often slice the avocado into small cubes and add them straight at the end of the cooking process. The avocado will provide a creamy and mildly sweet flavor when mixed with the broth mixture. Most often, you can sprinkle some herbs for garnish.
Making this dish is a great way to use your Tortillas before they become stale fully. The method to make Mexican chicken Tortilla stew is simple and often has many variations across the country. For example, adding beans to the recipe and people call it "Tarasca".
Chicken Tortilla Soup is suitable for rainy days or when you feel a little bit under the weather. The Tortilla will be shredded into thin slices and fried to achieve a crunchy texture. After that, you're ready to add the spicy chicken broth over your fried starch base.
Let's make an easy pot of Mexican chicken Tortilla soup now.
Carne en Su Jugo is a staple dish of Guadalajara in Mexico. The direct translation for this dish's name is "meat cooked in its juice". Many residents believe Carne en Su Jugo was invented at a restaurant in 1967 as a cure for hangovers.
To create Cene en Su Jugo, Mexican locals simmer minced meat (beef or pork) along with tomato and other spices before transferring to a plate for serving. Then you can add a variety of toppings like beans or bacon for extra flavor.
Jalisco residents often pair Carne en Su Jugo with Corn Cake or Tortilla for their meal. In addition, Horchata is the favorite Mexican drink for the residents to consume after filling their belly with Carne en Su Jugo.
Try out Jalisco's staple Carene en Su Jugo right from your home.
Are you tired of having regular chicken soup? Then replace the chicken with soft and tender fish. Your fish will be the base flavor for your broth. The dish has a liquid consistency, but the fish tastes much lighter.
You can make your spicy tomato sauce to add to this Mexican-originated fish dish for a traditional approach. The broth should be clear with no fishy scent. To remove the unpleasant smell from Caldo de Pescado, the Mexican uses a concoction of chili, onion, and garlic to boil the fish.
Which Mexican Soup Fits Your Liking The Most?
Maybe some people still like the strong and bold flavors of Mexican cuisine. But this is to show you that Mexico can offer a variety of soup dishes. Some of them may be exotic, but they are equally inviting for you to try on your next adventure to Mexico.
It's a pleasure that you've shown interest in this article. If you have any suggestions about Mexican cuisine, be my guest and leave a comment. I'm more than happy to read about your amazing opinions.
Nutrition Facts
10 servings per container
---
Amount Per ServingCalories242
% Daily Value *
Total Fat 5.5g

8

%
Cholesterol 61mg

21

%
Sodium 625mg

27

%
Potassium 591mg

17

%
Total Carbohydrate 21.9g

8

%

Dietary Fiber 5.5g

20

%
Sugars 3.1g

Protein 26.8g

52

%
---
* The % Daily Value tells you how much a nutrient in a serving of food contributes to a daily diet. 2,000 calories a day is used for general nutrition advice.