Mexican Christmas foods can turn your Christmas nights to another notch. As a country that possesses many festivals, it's no surprise that many terrific Mexican recipes are dedicated to celebrating Christmas. So if you're curious, then keep on scrolling.
Besides Christmas night, Mexico also has Los Posada, a traditional celebration that lasts from 16th to 24th December. If you're lucky enough to be in the country during this time, then it's a matter of time before you're treated to some unique dishes for this event.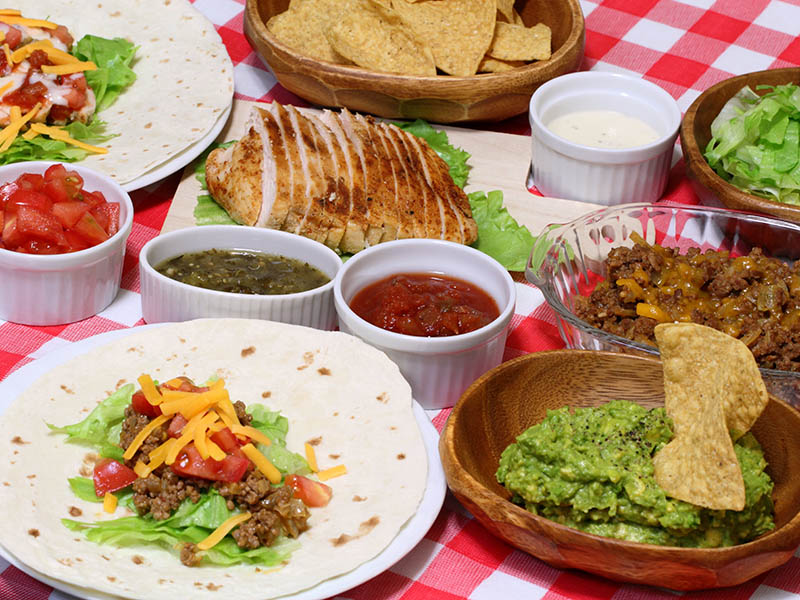 Christmas Dishes From Mexican Cuisine For Your Family
Christmas is an important occasion for family gathering events. With that, foods play a major role in these events because nothing beats a good dinner with family members.
Mexican cuisine offers so many variations of dishes that you should save especially for Christmas. I'm confident that these classic Mexican dishes will bring your family closer to the dinner table. So let's get cooking.
Total time: 45 minutes.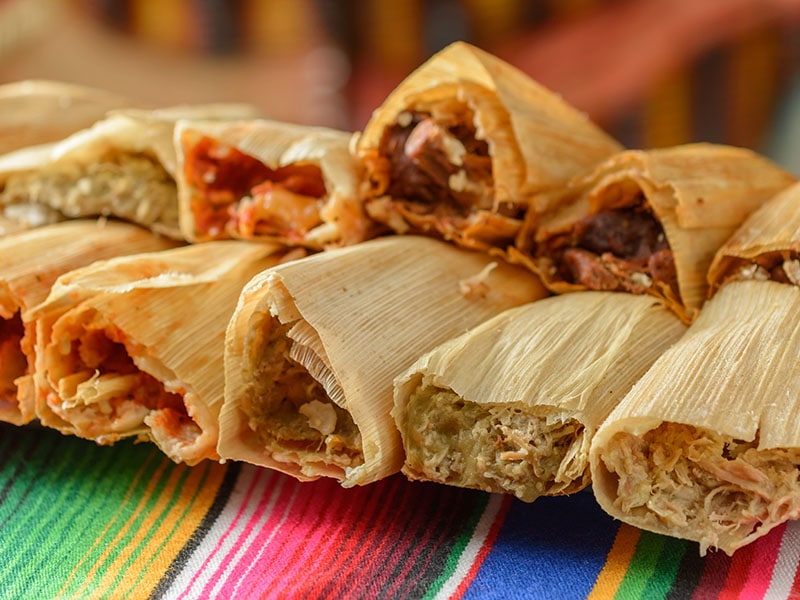 Tamale is a traditional Mexican meal made of corn dough. Mexican locals tend to fill the dough with sweet or savory ingredients. Many people suspect that Guatemala and Mexico are the first countries to spread Tamale steaming methods to other Latin American countries.
When it comes to cooking Tamales, people often steam the corn dough in a corn husk or banana leaf. Besides the cornflour, locals prefer using broth from animal or vegetable products to make the dough.
You can use any type of meat to combine with various Mexican condiments for a flavorful filling. Independently, Tamale has a neutral flavor and is often influenced by the filling flavors. However, the most distinctive feature of a Tamale is the firm and spongy texture of the dough.
Total time: 12 hours 40 minutes (including 12 hours of soaking the cod).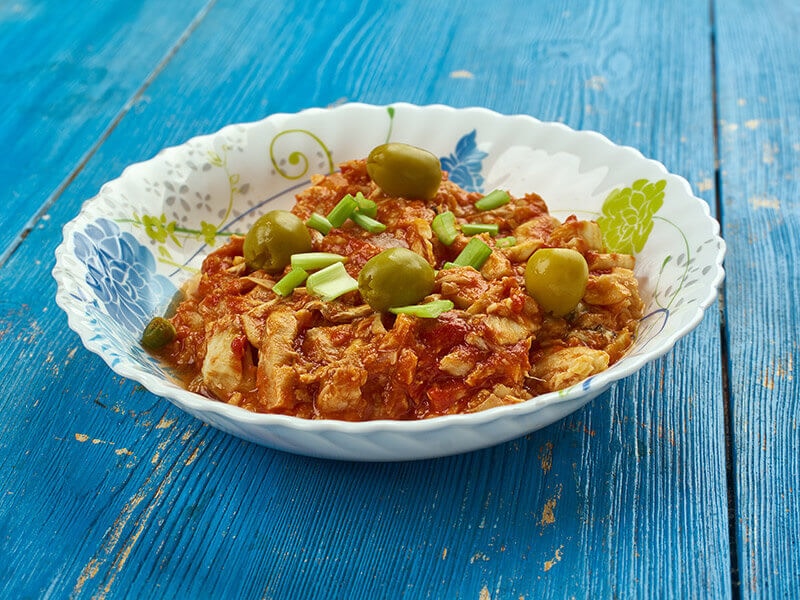 Bacalao Vizcaína or Bacalao de Navideño is a dish that utilizes salted cod. When Christmas approaches, many Mexican families start desalting a large amount of cod to prepare for Christmas Eve dinner.
Many believe the Spanish brought Bacalao to Mexico. The dish is often related to many religious festivals or rites. Bacalao became popular with Mexicans because of the Catholic church's restriction on meat for holidays, so people turned to fish instead.
To prepare the salted cod, locals will soak it in water for a long time to soften the texture and reduce the salt content. Then, people combine a variety of Mexican spices with salted cod, red pepper, tomatoes, and potato all in one pan.
After it's cooked, Bacalao has a consistency similar to a stew. Surprisingly, the cod only has a mild flavor with decent saltiness, but it also doesn't have any fishy scent to it.
Learn the secret to making tasty Mexican-style Salted right here.
Total time: 1 hour.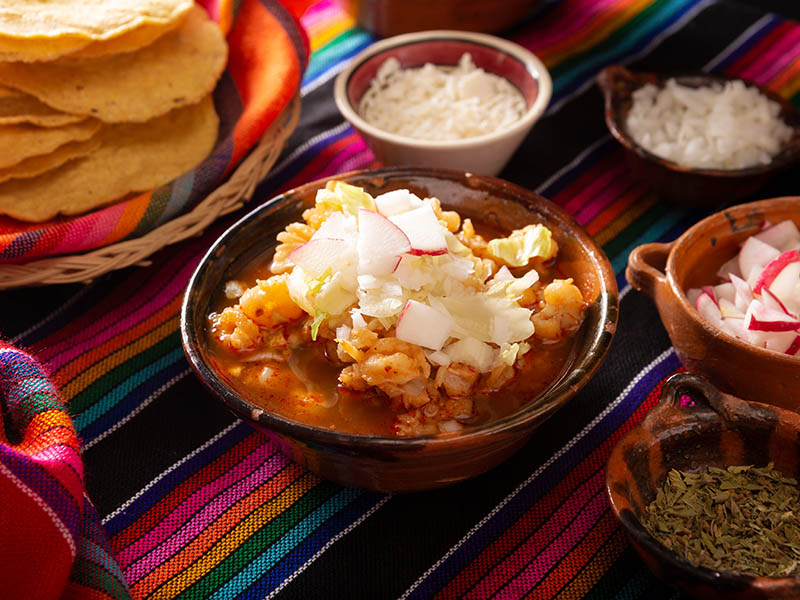 The bold flavor with various colors of Pozole will leave any eater mind-boggling. The dish is a signature soup recipe from Mexico with pork as the main ingredient. The broth of Pozole always has hominy (dried corn kernels) to create the authentic flavor of the soup.
Traditionally, Pozole Verde is made with tomatillo (a Mexican tomato with husk) and green chile, while the Rojo variation has a generous amount of red chili and tomato sauce for the red color. The Pozole Blanco is different from the other two varieties because there's no sauce involved.
For this Rojo recipe, the red broth mixture consists of Guajillo chili (dried Mirasol chili) with tomato. However, you can save time by using canned red chili sauce. For the pork, I suggest cutting it into small chunks to prevent them from being too soft.
Total time: 40 minutes.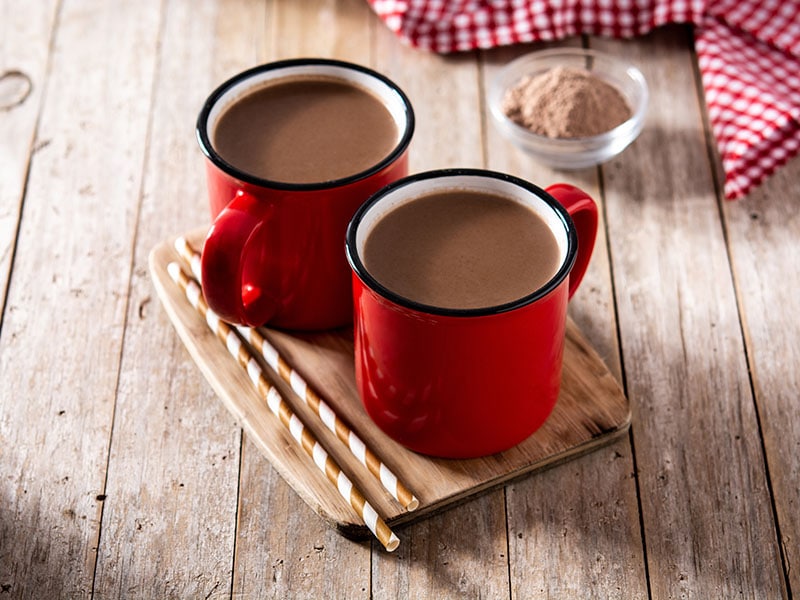 If you're a big fan of chocolate drinks, then the thick Champurrado mixture has to be on your bucket list. People often have Champurrado as a light Mexican morning meal recipe for the day. In Mexico, locals often enjoy Champurrado during festive events.
Thanks to the addition of corn dough, Champurrado is super rich in flavor and thicker than any regular chocolate beverage. The iconic Mexican drink is often a favorite choice for both children and adults.
Instead of using regular sweeteners like white sugar, Mexican locals favor Piloncillo (unrefined cane sugar) to add a slightly burnt caramel flavor to Champurrado. In addition, people prefer using cinnamon sticks to stir Champurrado, many say it adds more taste to the beverage.
Total time: 2 hours 55 minutes (including 2 hours 15 minutes of resting).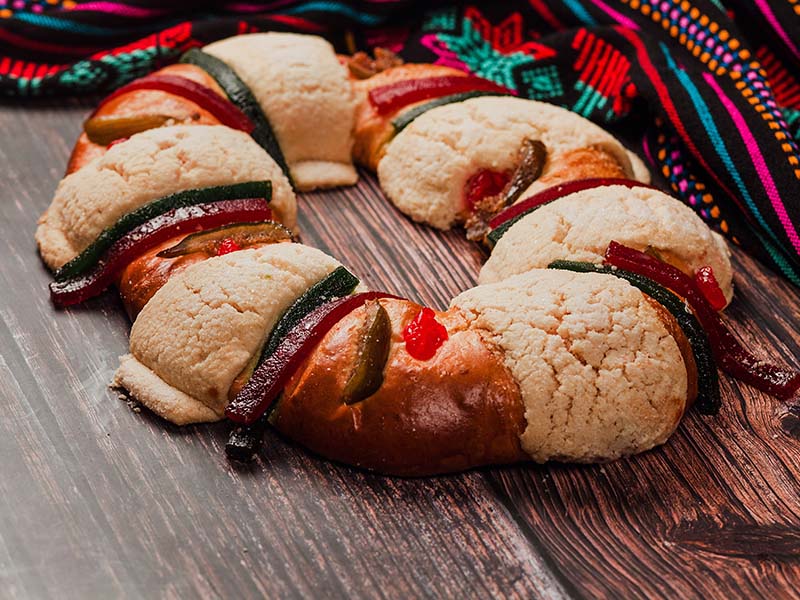 Instead of waiting for Santa Claus, many Mexican children prefer waiting for Rosca de Reyes to serve. The dish is a Spanish and Portuguese bread that Mexicans usually have to celebrate Christmas.
In Spain, Rosca de Reyes means "three kings", and the residents often celebrate El Dia de Los Reyes (Three Kings' Day) with it on January 6th. Depending on each country, the bread may have different adaptations to fit the culture.
A little bit more information about El Dia de Los Reyes: Latin American and Spanish celebrate the special day by giving out presents to children. The true meaning behind the event is for Christians to show honor towards the incarnation of God as Jesus Christ.
In Mexico, people usually celebrate El Dia de Los Reyes right after the Christmas holiday. Many Mexicans see the festive event as a farewell to the Christmas celebration.
The traditional Mexican bread variation of Rosca de Reyes has colorful sweet decorations on top. Most often, Mexican locals use various types of glace and paste over the bread. The bread has an oval shape, with orange zest often appearing in the dough.
Making Rosca de Reyes is a sure-fire way to impress anyone over your house.
Total time: 1 hour 10 minutes – 1 hour 20 minutes.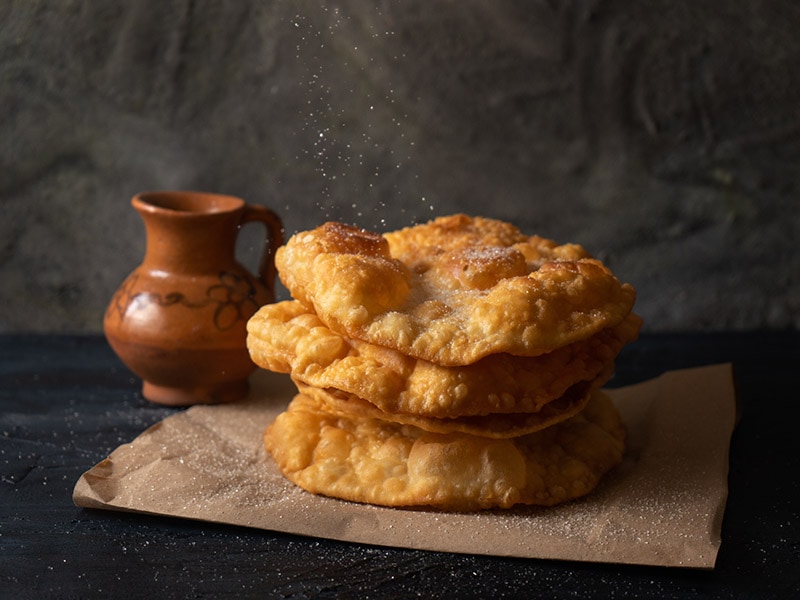 Originating from Spanish cuisine, Buñuelos is a thin fried dough that locals in Spain usually have as a dessert. In other countries, people see Bunuelos as similar to fritters. Buñuelos was recorded to be first enjoyed among the Moors, the Spanish former Muslim population.
In Mexico, people make Buñuelos from a dough combination of all-purpose flour with baking powder and oil. Next, the dough is flattened to a small dish shape and fried in hot oil. Commonly, locals serve Buñuelos in a simple mix of sugar and cinnamon.
Total time: 1 hour 28 minutes (including 1 hour of chilling).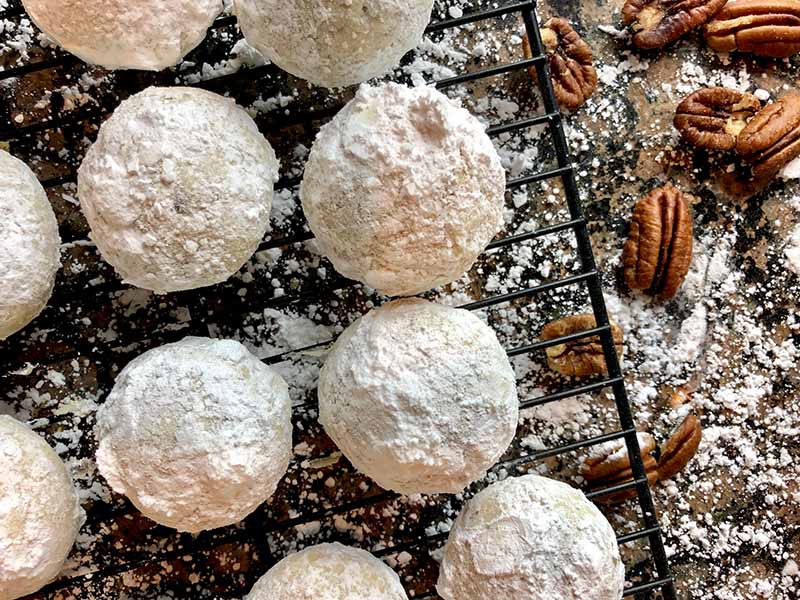 Despite the name, you don't need to come to an actual Mexican wedding to lay your hand on these delicious Mexican Wedding Cookies. This tasty Mexican treat originates outside of Mexico. To be more specific, many often call it Russian tea cake.
The cookies have no connection with Russian cuisine, with many people speculating that the cookies made their way to Mexico by Spanish nuns. Whatever the case, Mexican locals love featuring these delicious cookies on the Christmas occasion.
Traditionally, Mexicans sprinkle Mexican Wedding Cookies with a thin layer of powdered sugar, so, understandably, many refer to them as snowballs. However, the pecan seed is the highlight of the cookies as it provides an extra crunchy texture to the treat.
If you're having a hard time getting pecan nuts, I recommend using almond, or walnuts as substitutions. Mexican Wedding Cookies are surprisingly soft with a slightly nutty and rich flavor from pecan seeds. The dessert makes for a perfect snack along with a cup of warm tea.
Recreate that wonderful flavor of Mexican Wedding Cookies right with this easy guide.
Total time: 45 minutes.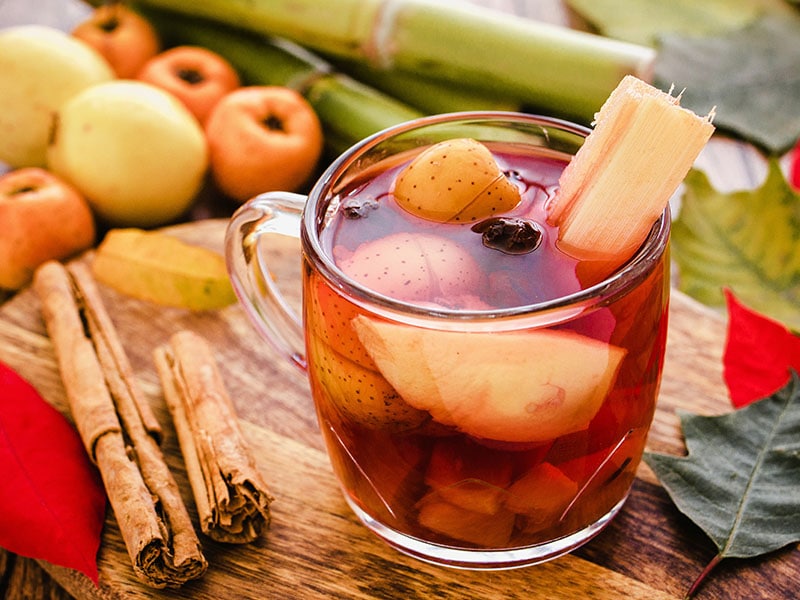 Ponche Navidaño is a traditional Mexican punch that commonly appears during Los Posada (16th – 24th December) and on Christmas night. People often serve the drink in a clay pot mug with the addition of strong alcohol.
Although the original recipe requires the usage of alcohol, some versions of Ponche Navideño for children don't have it. Most often, locals will make the drink from dried hibiscus with various types of fruits like guavas, apples, and oranges.
Ponche Navideño is served warm with a cinnamon stick to stir the mixture. If you want some alcohol to it, then I advise adding a splash of brandy or rum.
Total time: 4 hours 8 minutes.
In Mexico, many locals refer to Adobaba as a dish where people marinate pork with red chili and vinegar. Typically, Mexicans will serve Pierna de Cerdo Adobada with the bone remaining in the meat. The dish usually has a bright red color coming from the chili.
People use the butt or shoulder of the pork to make Pierna as it provides a huge chunk of meat with a balanced texture. For the chili mixture, I recommend using Guajillo and Ancho chili (dried Poblano chili) to mix with the vinegar. Don't forget you can use orange juice for the sourness.
After roasting the meat for many hours, make sure you give it some time to rest so the meat can lock in all of that delicious juice and flavors. Pierna will make everyone's mouth water for it.
Total time: 35 minutes.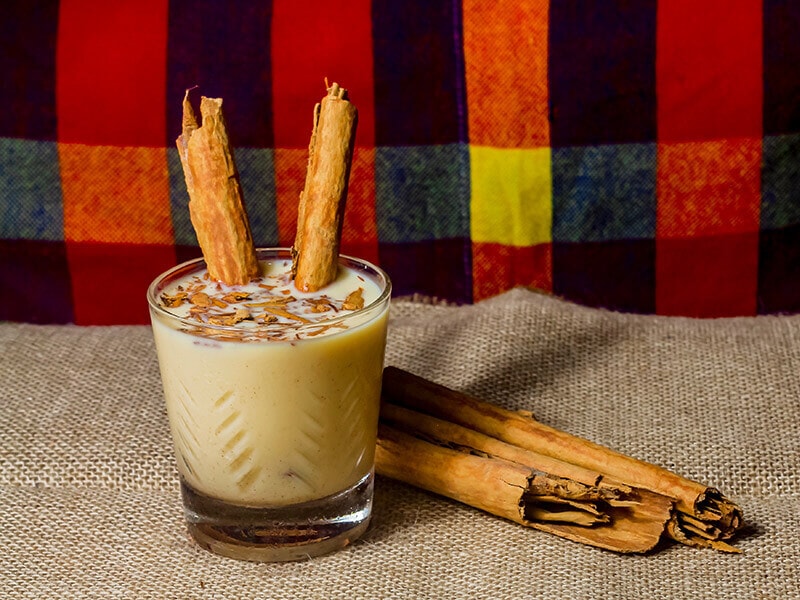 In many Latin American countries, Rompope is a flavorful drink that is similar to standard eggnog. Although this creamy Mexican beverage is for Christmas, Rompope is so popular that you can find it anywhere in Mexico.
Many Mexican folks say that Rompope was invented by the nuns in the city of Puebla of Mexico. Traditionally, a Rompope concoction includes egg yolk, sugar, and cinnamon. Thanks to the egg yolk, the drink has a beautiful yellow color.
Rompope sets itself apart from other eggnog recipes by adding baking soda to the mixture, although no one knows its real use. As for the alcohol, rum or brandy will do the job. Remember to use a cinnamon stick to stir the mixture.
This is the next-level eggnog that you need to be making.
Total time: 1 hour.
Polvorone de Canele is a traditional dessert in Mexican cuisine. Most often, locals will serve the cookies at weddings. In Spanish, the word Polvo means "dust", which many will make a connection with the light coating of cinnamon sugar on the cookies.
However, Polvorones are far different from Mexican wedding cookies as it lacks the pecan nut and a white coating of powdered sugar. Commonly, locals use butter with salt and cinnamon to make the dough.
Polvorones de Canele has a light brown color and is usually served as a sweet Mexican starter before any main dish. The cookies are buttery and sweet with a light cinnamon fragrance.
Total time: 2 hours.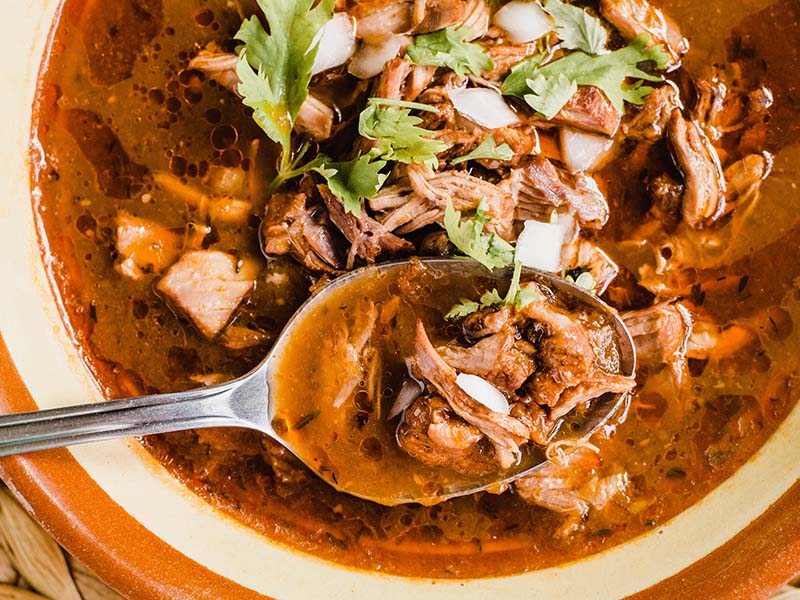 Birria is a specialty of the Jalisco state of Mexico. Traditionally, the residents of Jalisco use lamb meat to make Birra, but other types of meat like beef or pork are also acceptable. Most Birria recipes prefer using beef as it is more affordable and easier to find.
Interestingly, you can cut down on a lot of time by applying some crock pot Mexican techniques to help the meat quickly become tenderized. That way you get to spend your time on different tasks.
For this Birria recipe, my recommendation is to combine the lamb with beef for a flavorful meat mixture. As for the broth's blend, you need a concoction of Ancho chili with Guajillo chili and Chipotle pepper (dried Jalapeno pepper) to enhance the spiciness.
Birria often has a thick broth consistency with a bold flavor. Commonly, Birria fits the standard for a Mexican crock pot recipe as the meat needs time to become tenderized.
Total time: 42 minutes.
Marranitos, Cochitos, or Puerquitos are the names to refer to Mexican cookies that have the shape of a pig. These Marrnitos are a cross between sweetbread (Pan Dulce) and cookies. They are so cute that you may not even want to have a bite at them.
In Mexico, people use Piloncillo instead of white sugar as sweeteners for the Marranitos cookies. In addition, Marranitos often include cinnamon with vanilla extract for a more fragrant taste.
In the kneading process, you should knead the dough into a smooth paste before cutting it into pig-shaped cookies. As a side note, you may want to brush the cookies with a light egg wash so they will have a nice golden brown color.
Creating Marranitos is easy as pie with a few steps in the kitchen with this homemade recipe.
Total time: 14 hours (with around 12 hours for making the sauce).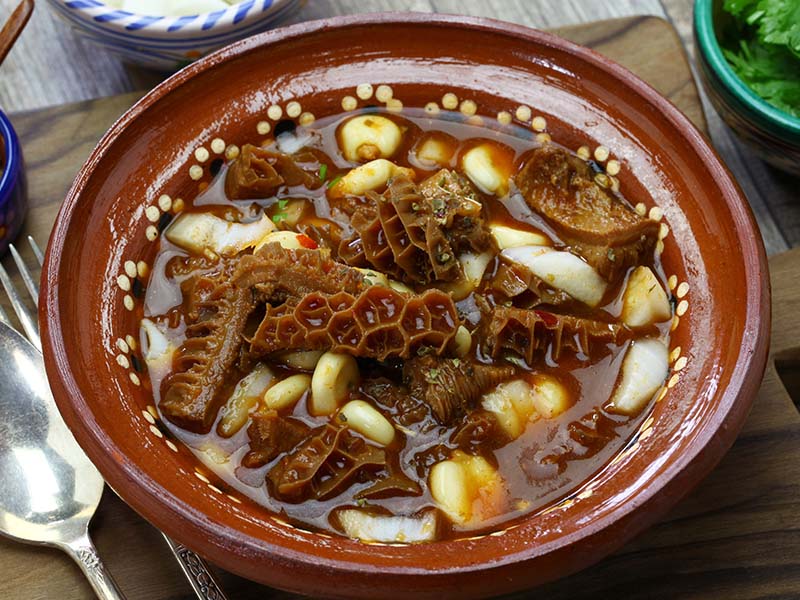 Menudo is a Mexican soup that features cow tripe as the main star of the dish. It has a distinct red color derived from the copious amount of red chili pepper. In some areas, Mexicans use Menudo as a remedy to cure a hangover.
Preparing Menudo is commonly a family activity in many Mexican households. The cow tripe tends to take a significant amount of time to cook. People will spend at least 2 hours cooking the tripe so it becomes tenderized.
As for the sauce, locals usually soak chilies in water for quite some time before processing them into the sauce. Note that the chilies need to become soft for them to be incorporated into Menudo.
Menudo is often served hot for a special occasion like Christmas. The soup has a thick broth, making it more appetizing on cold days.
Total time: 1 hour 15 minutes.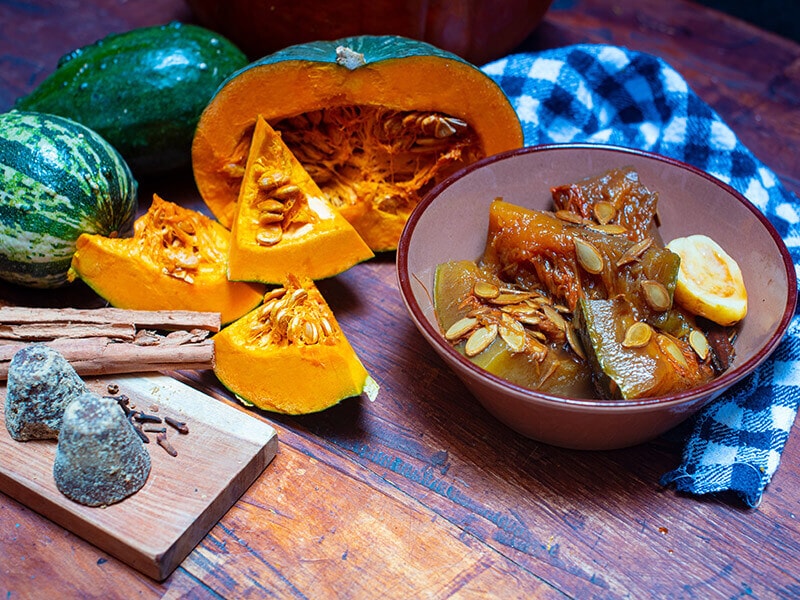 I never thought that pumpkins could make such good candy. Calabaza en Tacha is a type of sweet pumpkin candy in Mexican cuisine. The locals will coat the pumpkin slices in a layer of Piloncillo syrup with some added cinnamon for a richer flavor.
Calabaza en Tacha is super simple to make as it only requires 5 ingredients. First, you need to remove the inner part of the pumpkin and cut it into small pieces. Next, simmer a mixture of orange juice with cinnamon, water, and Piloncillo.
Finally, the pumpkin pieces are added to simmer for some time before serving. Calabaza tastes amazing by itself, but you can improve this by pouring milk or sprinkling some raisins over it to enhance the flavor.
Total time: 1 hour 5 minutes.
If you're looking to instantly grab everyone's attention at a party, Pollo Almendrado will do the job wonderfully. The stew is an impeccable harmony between tender chicken with flavorful Almendrado sauce.
The main star of this dish is, of course, the Almendrado sauce, a blend of almond nuts with tomatoes, onion, and Mexican spices. The sauce gives Pollo Almendrado a nutty, savory, and creamy flavor that's hard to forget.
Total time: 8 hours 15 minutes (with 8 hours of chilling).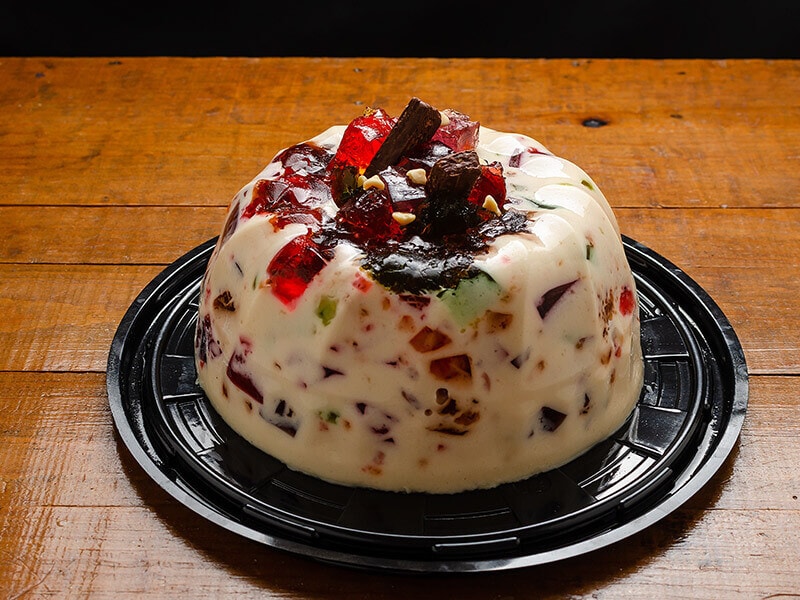 Gelatina de Mosaico, or Mosaic gelatin, is a tasty Mexican dessert that is decorated with various colors from the ingredients. People sell Gelatina de Mosaico at local fairs, markets, and food carts. The Mexican version of the dish usually comes in lime or strawberry flavor.
To make Gelatina de Mosaico, you can choose any favorite flavor of jello. In addition, you will need to prepare some gelatine for the mixture. As for the milk concoction, I suggest combining condensed milk with evaporated milk and standard milk.
Remember, your gelatin mixture will need quite a while to set in, so I recommend putting it in a refrigerator for around 8 hours. The fine flavor of milk is perfect to go with the fruity jello.
It's always a perfect time to have mosaic gelatin when you know the secret behind it.
Total time: 2 hours 20 minutes.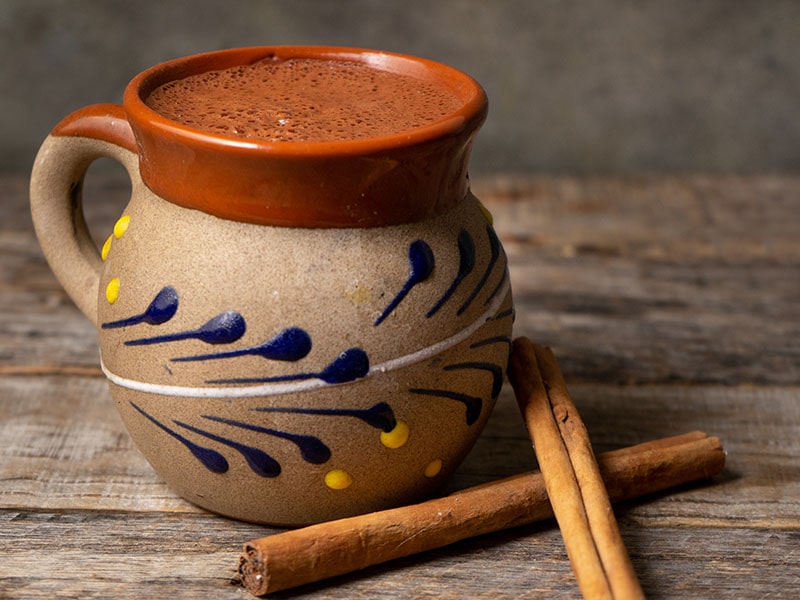 Mexico has been the home of chocolate since the Mayans first invented the concept of hot chocolate drink around 3000 years ago. The drink gained popularity when Europeans were introduced to cocoa from Mexico.
Different from hot chocolate in other parts of the world, the Mexican variation is characterized by a thick consistency and a lesser sweetness. To add to that, Mexican usually includes ground cinnamon to enhance the richness.
Although Mexican hot chocolate may sound similar to Champurrado, these two drinks are completely different from each other. Commonly, Champurrado has a thicker consistency because of the incorporation of corn dough.
For an added kick, some will even use cayenne powder to add the necessary heat. If you want an extra cocoa flavor, you should sprinkle a thin layer of cocoa powder before serving.
Total time: 8 hours 20 minutes (including 6 hours of marinating).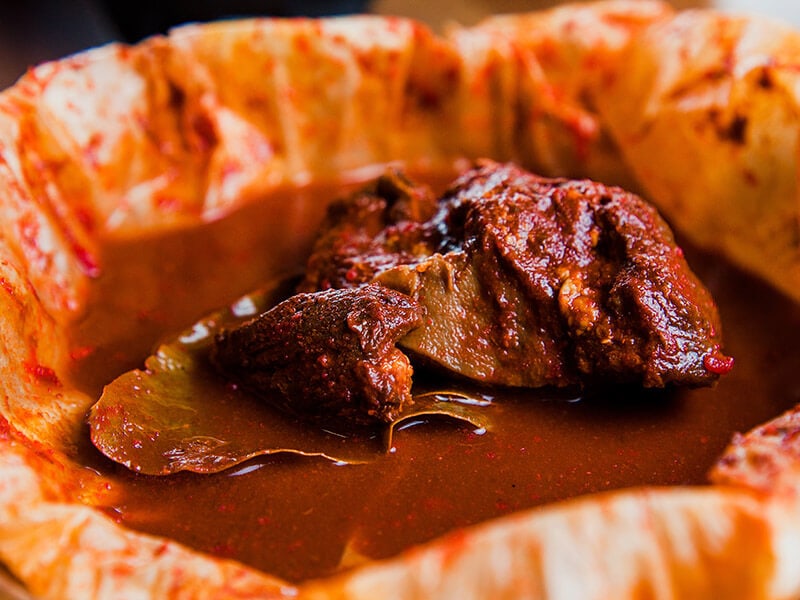 Mixiote is far from just an individual dish: It's a style of cooking. You only need to pick out your favorite meat before seasoning it with dried chili paste. Then, locals will wrap the seasoned meat with a banana or an oven-safe bag to let it steam in the oven.
For this recipe, my preference is lamb as it has more fat and a strong flavor. If you don't have chili paste, you can make it up by combining guajillo, ancho, and Morita (smoked dried Jalapeno). It's best to use a blender to combine the various chili into a paste-like consistency.
In addition, you should also use some liquids like vinegar and chicken stock to keep the lamb moist. The result you get is a spicy and tender chunk of lamb that tastes wonderful.
Total time: 2 hours 40 minutes (including 2 hours of resting for the cookies).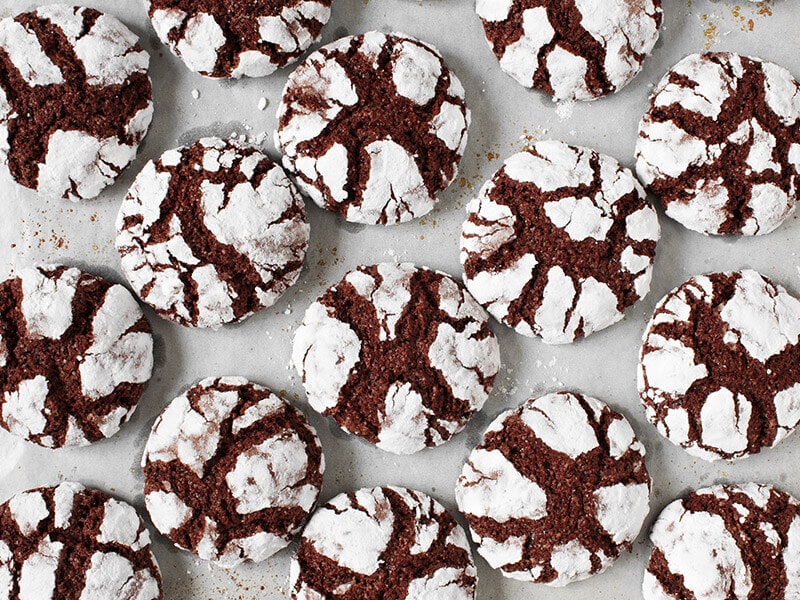 These chocolate crinkle cookies are the best gift you can offer to your family during the holidays. Once you start taking a bite at the cookie, no reason will stop you from cleaning out the rest of the plate.
For the dough, locals use all-purpose flour as the base to mix with delicious cocoa and some granulated instant coffee for a hint of caffeine. However, it's the addition of cayenne powder that gives the cookies a unique mild spicy flavor.
Before baking the cookies, don't forget to divide the dough into small balls and coat them with powdered sugar. After the baking process, you should rest the cookies for some time and then remove them from the baking tray.
If chocolate cookies are your favorite, this recipe is a must-try.
Total time: 45 minutes.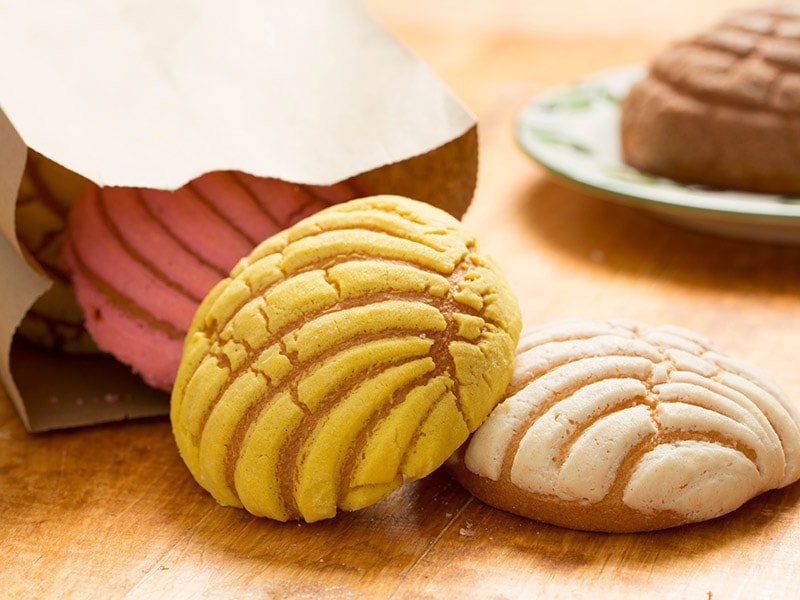 Concha or sometimes called Pan Dulce is a type of Mexican sweet bread that indigenous people usually feature in many festival events as a side dish. The bread is characterized by a seashell appearance with multiple stripes on the crust.
Typically, the crunchy outer layer has the same flavor as the inner of Concha. However, locals will sometimes make the crust with strawberries, coffee, or chocolate flavors. Around Mexico, people have Concha along with coffee for a light start to their breakfast.
Making Concha is pretty similar to how you make a standard loaf of Mexican bread, except for the unique shell design. To make the seashell crust, you only have to make a few incisions with a knife, or better yet, use a bread stamp to save your time.
Total time: 9 hours 50 minutes (including 8 hours of resting).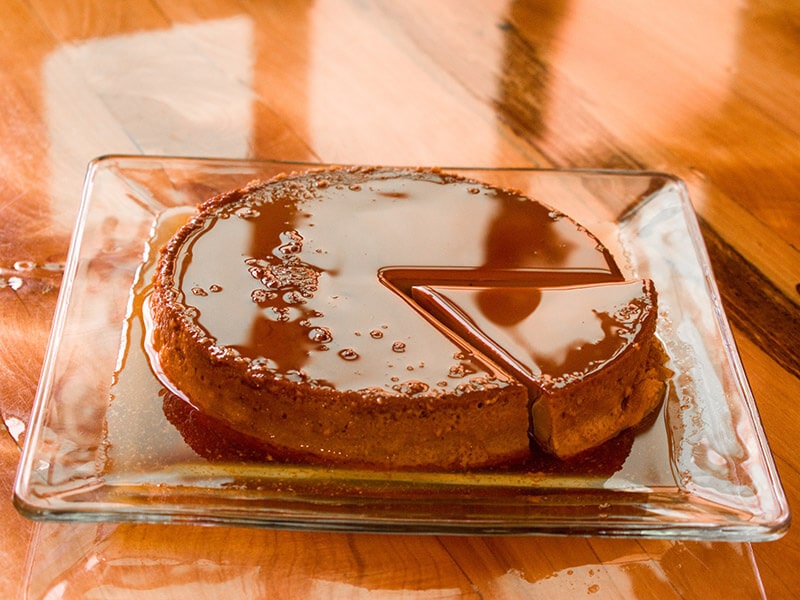 Although Flan is not native to Mexican cuisine, this soft creamy dessert remains a fan favorite in the country. Most fans of Flan love the combination of the caramel sauce and the creamy texture of the cake. In Mexico, people adopt the dessert with a few tweaks to create Flan Napolitano.
Although Napolitano is not too popular, some parts of Mexico still make it. This Mexican version of flan has cream cheese to improve the overall creaminess of the dessert. The rest of the ingredients are similar to traditional flan recipes, with egg, milk, and sugar for the concoction.
One useful tip from me: After baking the flan in the oven, make sure you give it some decent resting time because the flan mixture needs time to set.
Total time: 40 minutes.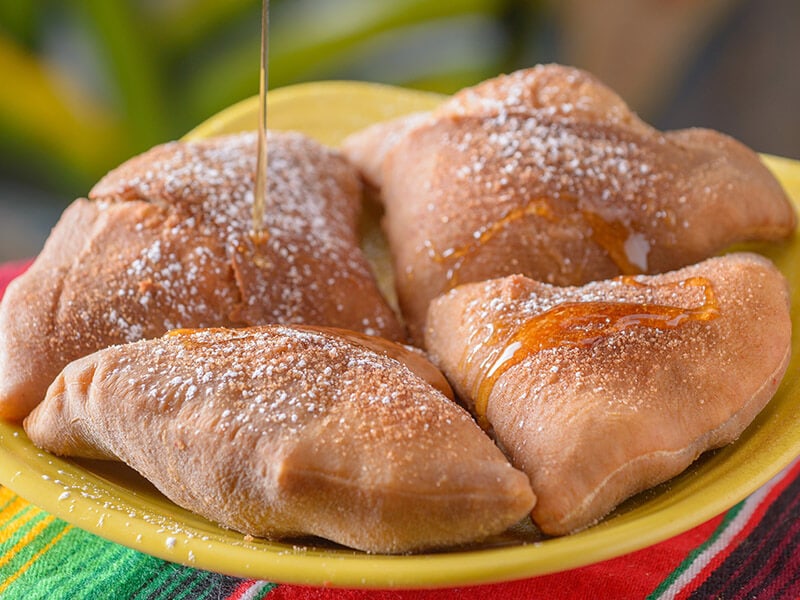 Sopaipillas go by many aliases (Sopapilla, Cachanga, or Sopaipa), depending on which Hispanic country you're in. A conventional Sopaipilla has a pastry type of dough and looks like a little rectangular pillow coated with sugar.
To make Sopaipilla, people usually deep-fry the dough until it reaches a light golden brown color. The fried pastry tends to have a savory filling, with people often having it with few additional condiments. For a light snack, I recommend drizzling honey over the Sopaipillas.
Discover how you can make simple Sopaipillas for your entire family.
Total time: 45 minutes.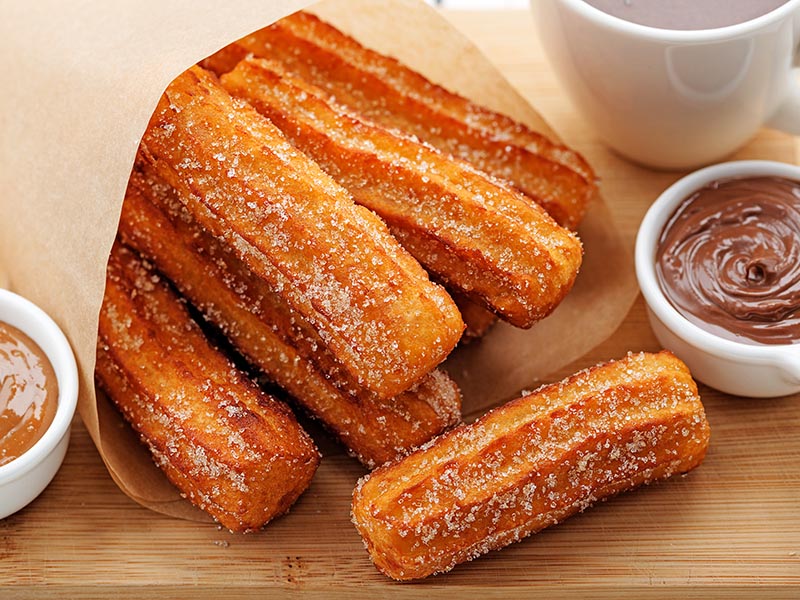 Even if you haven't ventured to Hispanic countries, you probably already heard about Churros. To put it simply, this dessert is a fried dough stick that is rolled with sugar and cinnamon. Despite the vague origin of Churro, many suggest that the dish came from Chinese cuisine.
A standard Churro will need to have a crunchy outer layer, but the inside is the polar opposite for it has a soft texture. Besides the simple blend of cinnamon and sugar, you can make a thick chocolate sauce for the Churros.
You will need double cream, chocolate chips, and ground cinnamon to start making the sauce. The chocolate-infused dip is a huge game-changer to your Churro recipe. Make this recipe on Christmas, and you have a delicious snack to munch away with your family.
Total time: Around 1 hour 15 minutes.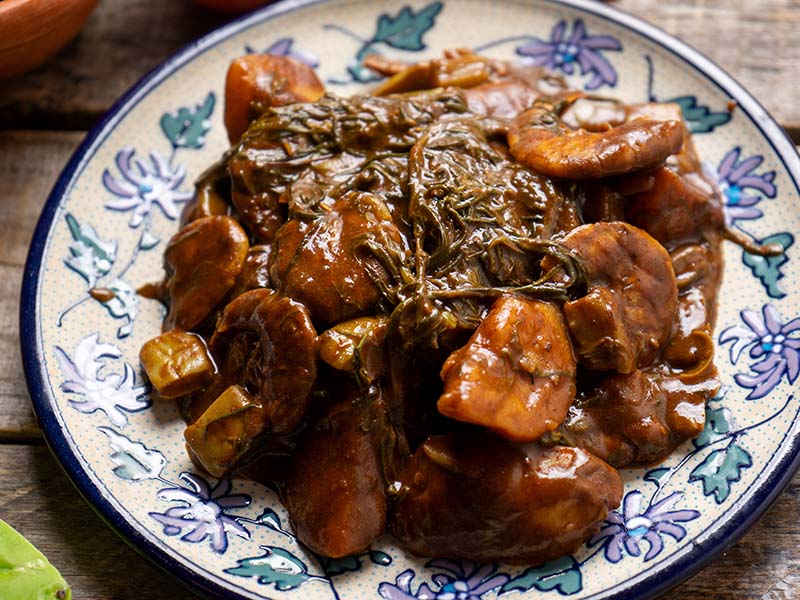 Here's a dish that you have little knowledge about. Romeritos is a rare specialty of central Mexican cuisine that employs seepweed as the main highlight. Depending on the region, residents may use a variety of seepweed to make Romeritos.
Typically, the leaves of seepweed or Suaeda are a bit crispy with a light citrus flavor. The dish is commonly composed of potatoes and cactus pads for some improvement in texture and flavors. In addition, people also incorporate dried shrimp to enhance the sweetness.
In a traditional recipe of Romerito, the inclusion of mole sauce (made from Mexican dried chili, squash seeds, and tomato) gives the dish a viscous consistency. Romeritos appear mostly during Christmas and Lent (commemorating 40 days of Jesus fasting in the desert) in Mexico.
Turn your night into a stupendous one with the flavorful Romeritos.
Total time: 2 hours 15 minutes.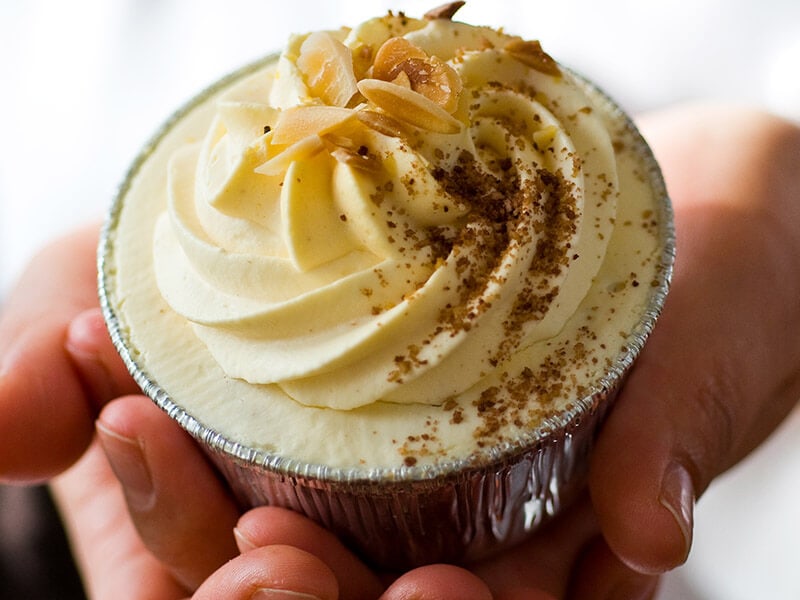 Tres Leches is a type of sponge cake famous in many Latin American countries. The term Tres Leches means "three milks" in Spanish, when people use a combination of condensed milk, whipped cream, and evaporated milk.
Many suspect the recipe for Tres Leches cake already appeared in the 19th century in Mexico as a result of a cross-cultural movement between Europe and America.
This cupcake version of Tres Leches is smaller, but they are a showstopper at any meal. To get the milk evenly distributed, I suggest poking a couple over the cupcake before pouring the milk over it.
Despite the milk, Tres Leches cupcake has a spongy texture instead of being soggy. Top it off with whipped cream, and you're good to go with a splendid dessert for the Christmas occasion.
Total time: 1 hour 10 minutes.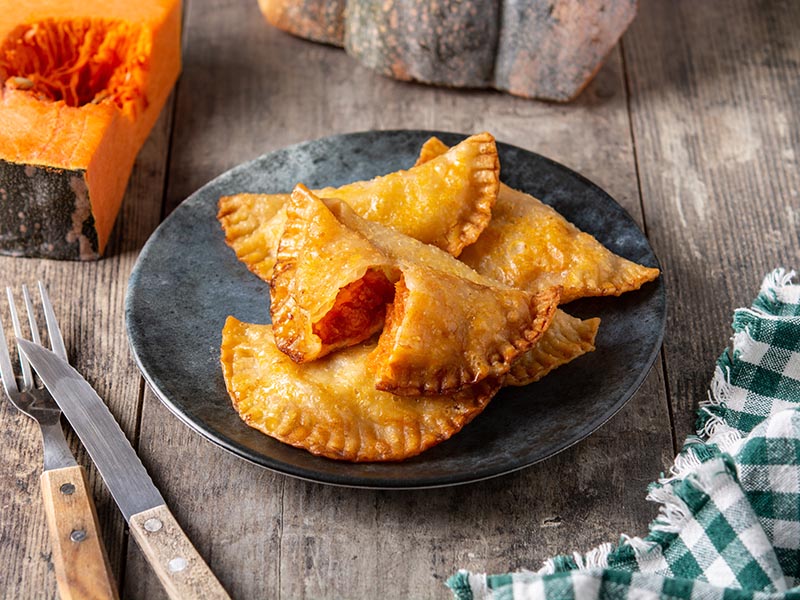 Originating as a favorite street food and a homemade dish of Spanish cuisine, the Empanada resembles a conventional turnover with either savory or sweet fillings. The outer layer of the Empanada is a layer of pastry that is fried or baked until it gets a beautiful brown color.
This pumpkin version of the Empanada is more popular in the Sinaloa and Sonora states of Mexico. Pumpkin is cut into small chunks and combined with brown sugar and cinnamon for the filling. Then, you can brush the Empanada with light egg wash to get that beautiful color.
The pumpkin filling brings a whole new flavor to Empanada with a slightly earthy taste. I'm sure the creamy texture of the filling will win over anyone's feelings for this dish.
Your Christmas Festive Events Are Now More Fulfilling Than Ever
I hope you have a fun time as I do while discovering all the stupendous dishes that Mexican cuisine has to offer. I'm certain your next Christmas party will be a blast with one of these recipes. Mexican cuisine will never let you down, no matter the occasion.
That will wrap up my sharing for this post. If you have any other suggestions, let me know more about them through the comment section. Share this post with people around you: Maybe you will get treated with one of these dishes on your next meal. Thank you!
Nutrition Facts
16 servings per container
---
Amount Per ServingCalories222
% Daily Value *
Total Fat 12.2g

19

%
Cholesterol 103mg

35

%
Sodium 144mg

6

%
Potassium 47mg

2

%
Total Carbohydrate 26.3g

9

%

Dietary Fiber 0.8g

4

%
Sugars 17.8g

Protein 3.4g

7

%
---
Calcium

24

%
Iron

1

%
Vitamin D

12

%
* The % Daily Value tells you how much a nutrient in a serving of food contributes to a daily diet. 2,000 calories a day is used for general nutrition advice.