Not everyone knows what to serve with quesadillas, although it is fine when being served alone. However, if you prepare some side dishes for quesadillas, you will have complete meals, and I am sure all people like this.
I will provide some special dishes, and you just need to spend less than 30 minutes making them. Besides, you should know about their nutrition facts, a few tips for the dishes and more to make your wishes come true.
Let's scroll down now!
What To Serve With Quesadillas?
Quesadillas is a traditional food starting with Q that originated from Mexico, and it is well-known there and loved all over the world, especially in Salvadoran rich cuisine. It is not strange if you catch the restaurants in the USA serving quesadillas without any empty chairs.
You can be freely creative quesadillas with beef, cheese, or chicken and any food you like to make your own dishes. To help your meals be more diversified, there are a lot of dishes you can serve alongside quesadillas.
You are able to hold a perfect meal by combining suitable side dishes with the types of quesadillas you intend to serve. Using recipes having Mexican spices will upgrade chicken quesadillas while preparing side dishes with summery flavor is a perfect friend for tomato basil quesadillas.
Almost all kinds of quesadillas should be served when they stay hot since the cheese will warm and melt well. You can cut quesadillas into triangles for easy-to-eat by hands and divide for many people. I don't waste your time anymore; check it out!
Rice Side Dishes
As I mentioned, quesadillas are a Mexican dish, and they will go well with rice side dishes. Almost rice recipes are easy to cook and meet many people's flavor. Therefore, I am really excited to introduce you to 2 rice side dishes that many restaurants have cooked them. Bring all restaurants to your home, why not?
Spanish Rice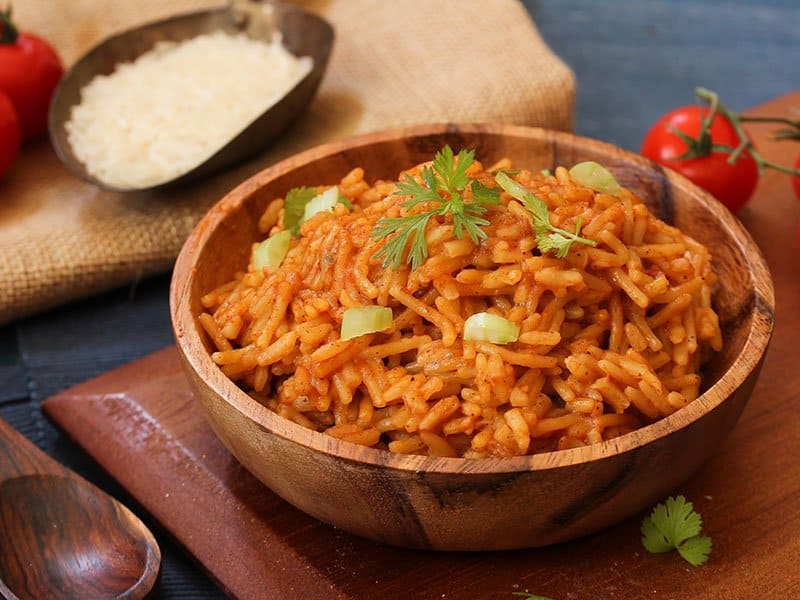 Are you surprised when hearing the name? Why can Spanish food work well with Mexican food? Indeed, it is another name of Mexican Rice, and that's why it is excellent for quesadillas.
You can also enjoy this side food with your tacos if you want. So let's see how you can cook it and how much nutrient content it contains.
Nutrition Facts for 1 Serving Size:
| | |
| --- | --- |
| Calories | 90 |
| Fat | 4g |
| Sodium | 447mg |
| Potassium | 108mg |
| Carbohydrates | 13g |
| Protein | 1g |
What You Need for 6 Servings:
5 cups of long-grain rice
6 ounces of tomato sauce
75 tsp of salt
09 cups of oil
75 tsp garlic, minced
75 cube of chicken flavored bouillon (can replace with 4 cups of chicken broth)
Garlic pepper and cumin
3 cups of water
5 stems of cilantro (depending on your taste)
How to Make:
Step 1: Brown rice in a large pan filled with oil. Remember to set heat on medium and constantly stir to avoid burning the bottom of the pan. You should stir until the white rice becomes golden brown.
Step 2: There are 2 options for you in this step. If you use the cube of chicken flavor bouillon, you need to add water to a bowl and drop the cube into it. Place the bowl into the microwave and wait for 3 minutes before taking it out.
Meanwhile, if you use chicken broth, you can skip the second step and jump down the third.
Step 3: Pour all cooked water, salt, tomato sauce, cumin, garlic, and garlic pepper into the cooked rice in the pan.
Step 4: Whisk them to help spices dissolve completely, then cover the pan. The estimated time for the dish is for 30-40 minutes when you simmer it, and you can wait or do other tasks during that time.
To avoid undesired accidents, you should check it frequently until all things are cooked, and rice drain well, which means there isn't any liquid left. To help you have porous rice and eye-catching color, you should fluff up before eating.
This video will provide you a visual view of how to make Spanish rice.
Tips for the Dish:
Using long-grain rice is the best for this dish since it is not sticky like short-grain rice.
You can use brown rice instead of white rice if you have health problems when consuming white rice. Both of them are considered the most suitable ones to create the soul of the dish. Excellent brown rice is perfect for you on a strict diet.
Salsa can be used when you don't have tomato sauce on hand; this depends on your taste.
Brown rice needs to be simmered longer and added more water than white rice. Normally, each cup of brown rice needs 1/3 more water.
Who Shouldn't Enjoy the Dish?
Spanish rice uses white rice to cook; therefore, almost all people who cannot consume white rice shouldn't enjoy it. However, brown rice can help them deal with these issues. Let's see what side effect white rice as well Spanish rice can bring to you:
All bran and germ of white rice are removed to extend the storage time and add more flavor. Thus, it is called empty-carbs rice since many nutrients are lost. If you want to be full longer, white rice is not a very suitable option.
It is conserved, linking to the risk of type 2 diabetes as its GI is 64. The carbs are turned into sugar levels in the blood quickly. If you or your family members have diabetes type 2, it is not recommended they consume it.
Many researchers show that if you consume much white rice, the risk of metabolic syndrome is higher.
Until now, eating white rice hasn't been proven yet that affects weight loss. However, some reports point that cutting white rice in a daily diet can promote weight loss.
People who are suffering from allergic symptoms relating to eating any ingredient in the recipe shouldn't enjoy the dish.
Black Beans And Yellow Rice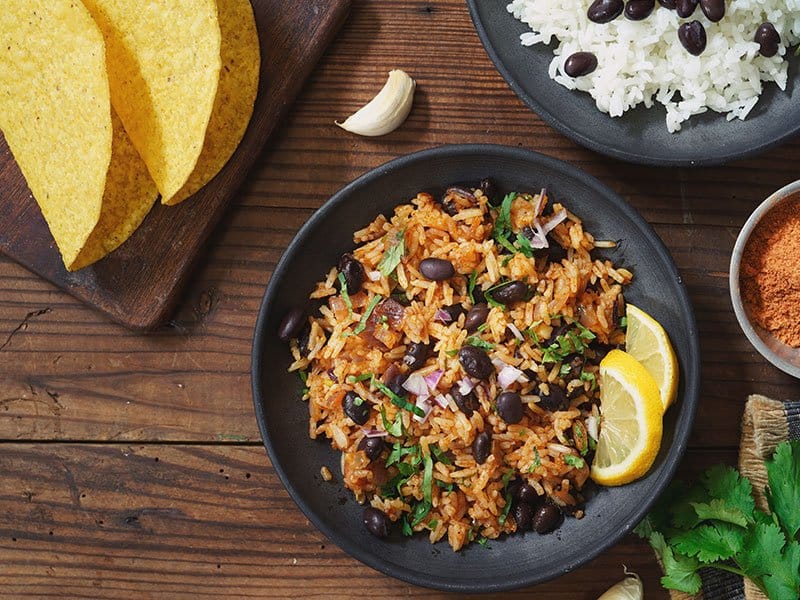 Another Mexican rice is introduced to you that is black beans and yellow rice. You need to spend much time compared to other rice dishes since you have to cook black beans and rice to serve together.
Nutrition fact of 1 serving size (100g):
| | |
| --- | --- |
| Calories | 454.6 |
| Fat | 11.4g |
| Sodium | 17.8mg |
| Cholesterol | 0mg |
| Carbohydrates | 73.1g |
| Protein | 15.6g |
What you need for 4 servings:
3 cups of rinsed and drained black beans (processed black beans can be acceptable)
3 tsp of olive oil
1 chopped white onion
4 minced garlic cloves
1 tsp of chili powder
1 seeded and minced small jalapeno
½ seed and minced red pepper
1 tsp of cumin powder
5 cups of vegetable stock or water
1 cup of long-grain rice
½ tsp of grated ginger
1 of tsp ground turmeric
Salt
4 tsp ground coriander
How to cook:
Step 1: Place a soup pot on the stove and control low heat. After the pot is hot and there are no water spots left, add 2 tsp of olive oil and stir 2 cloves and jalapeno pepper gradually until all things are nearly cooked. I did, and I think it takes you 5 minutes to cook things.
Step 2: In the same pot, you need to add soaked and drained beans and pour water into it as long as the water reaches 1 inch.
Step 3: After all things are boiled, you have to simmer them on low-medium heat for about 1 – 1.5 hours or until the beans are soft and you can squeeze them easily. You can season some pinches of salt and peppers.
Step 4: While waiting for beans, you use another large pot for cooking rice. You will put grated ginger, ground turmeric, ground coriander, salt, and rice into the hot-oil pot and stir well. Then pour water and boil them with cover on medium-high heat until boiling water.
Continue cooking rice on low heat until there is no liquid left. This process will take you about 15-20 minutes to finish. Take it out off the stove and let it sit for about 5 minutes. To help the rice be soft and drained well, you should fluff up and serve when rice stays warm.
Tips for the dish:
Using a heavy-bottomed pot will help you avoid burning rice and keep it warm longer.
Onion and red pepper are added to increase the sweetness of black beans, and you can use more if you want to sweeter.
The rice is perfect for the dish should be long-grain rice, and processed beans can bring you similar results as using fresh beans.
If you are vegetarians, this dish is excellent for you to try. Black beans are rich in protein that you can use to alter animal protein.
Using high-ranking canned baked beans is also an excellent substitute for fresh black beans and helps you save time for simmering.
Who shouldn't enjoy the dish?
Besides the reasons you shouldn't eat white rice in the previous part, there are several notes for you when enjoying black beans. I just have a few notices for you don't go anywhere.
All beans, including black beans, have a high fiber content; therefore, if you usually have an upset stomach or IBS, you can get bloating and gas when you consume black beans. In that case, you should add beans a little by little to your diet.
Canned black beans are not suitable for people with high blood pressure as these products are rich in sodium.
If you still want to use processed black beans to save time, you can use "reduced sodium" items on their label or rinse beans under the water well before eating.
Soaking beans longer, selecting sprouted beans, or disposing of the water used to soak dried beans can help you eliminate the digestive problems.
Cilantro Lime Rice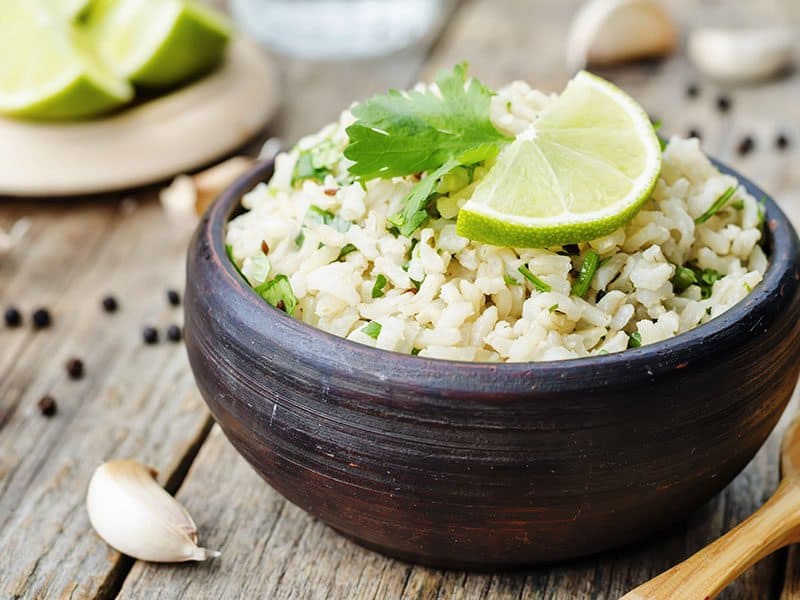 I am sure that you have heard "Cilantro Lime Rice" many times when you come to any Mexican restaurant. And it could be an ideal dish to pair with various foods, like enchiladas, quesadillas, etc. If you have not known how to cook it yet, this recipe is a perfect gift I give you, my beloved readers.
Nutrition Facts of 1 Serving:
| | |
| --- | --- |
| Calories | 69 kcal |
| Fat | 3.5g |
| Sodium | 585mg |
| Sugar | 0.1g |
| Carbohydrates | 8.7g |
| Protein | 0.8g |
What You Need for 4 Servings:
1 cup of basmati rice or extra-long-grain rice
2 cups of water
1 tsp of salt
½ juice from half of a lime
3 tsp of vegetable oil
3 tsp of fresh minced cilantro
How to Cook:
Step 1: You need to heat oil in a saucepan on low heat to ensure the oil is warm enough before adding juice, rice, and salt. You should stir them ahead to ensure each rice is coated with sauce. After 1 minute, you pour water into it and boil.
Step 2: When water evaporates, reduce heat to low and starting simmering it. It takes you 22-25 minutes to allow the rice to absorb water completely.
Step 3: Turn off the stove and keep the cover for 5 minutes. Afterward, sprinkle cilantro and drizzle some lime juice, then toss all things and serve.
Other recipes to make cilantro lime rice also base on these basic ingredients. If you want to cook a more creative cilantro lime rice, you can check this video.
Tips for the Dish:
Using extra-long-grain rice or basmati rice will bring you a soft texture and a subtle, sweet taste. Brown rice is not a bad idea, but you should check its directions carefully.
You can use coriander instead of cilantro to make a new and wonderful recipe.
You should use lime, not lemon, and squeeze properly to avoid releasing too much lime oil as it can make the juice a little bit bitter.
If you don't have available fresh lime juice, you can use a canned one.
Who Shouldn't Enjoy the Dish?
Besides notices when enjoying white rice, I also provide you information about 2 other ingredients. Lime and cilantro are likely safe to eat; however, a few researchers have recorded some situations that people suffer side effects when eating dishes relating to lime and cilantro.
If you are allergic to lime or any citrus fruit, you should avoid consuming them since they can cause several allergic symptoms such as breathing difficulties, swelling, and hives.
You should add a reasonable amount of lime juice to avoid acid reflux and digestive symptoms because of its high acidity.
You can use cilantro without worrying about its side effects. Nonetheless, if you are allergic to cilantro, let's consider it carefully before consuming it since you can experience throat swelling, hives, and facial swelling.
Soup Side Dishes
Are you curious about what soups I will recommend for you? Heart-warming albondigas soup and chicken tortilla soup are amazing dishes that you certainly like. But that's not all, there are more delicious soup dishes to explore in this section!
Chicken Tortilla Soup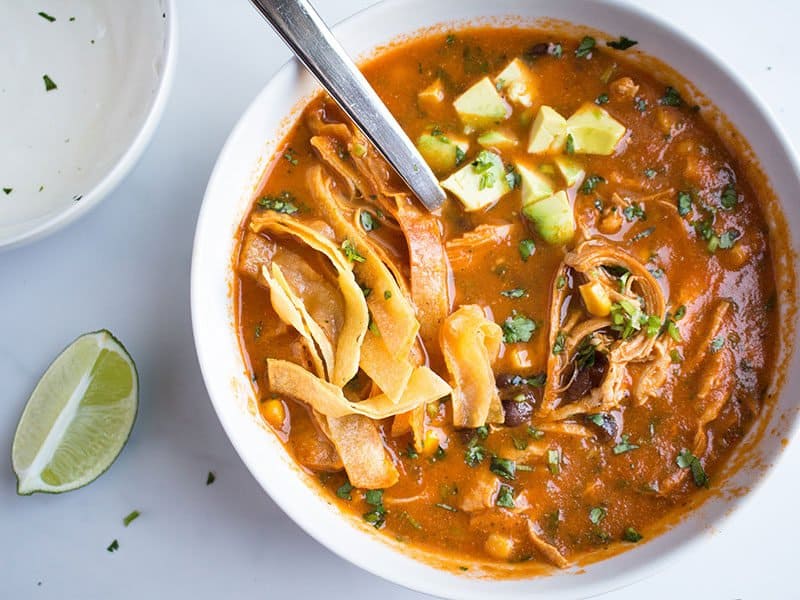 Chicken tortilla soup will be an excellent Mexican accompaniment for you since it just needs several ingredients and takes less time to cook. Let's see how quickly it is cooked!
Nutrition Facts of 1 Serving Size (409g)
| | |
| --- | --- |
| Calories | 163.3 |
| Fat | 3.8g |
| Sodium | 828.5mg |
| Cholesterol | 30.2mg |
| Carbohydrates | 15.5g |
| Protein | 16.2g |
What You Need for 5 Servings:
2 small chicken breasts (boneless and skinless)
½ chopped medium onion
1 tsp of olive oil
½ chopped jalapeno pepper
2 minced garlic cloves
1 cup of corn
¼ green pepper
¼ cups of water
1 tsp of cumin
1/8 tsp of cayenne pepper
½ tsp of chili powder
2 cans of diced tomato (7 oz per can)
4 cans of chicken broth (7 oz per can)
2 cans of tomato sauce ( 4 oz per can)
½ cups of tortilla chips
How to Cook:
Step 1: You need to stir garlic, jalapeno, green pepper, and onion in a large pot filled with oil. You stir them until everything is soft.
Step 2: Pour the remaining ingredients except for tortilla chips in this pot and boil them on medium-high heat.
Step 3: When the water is boiling, you will take the chicken breasts out and shred them. There are many ways to do this, such as using 2 forks or cut breasts into small sizes.
Step 4: Pour the cut chicken into the pot and reduce the heat to low-medium and simmer for about 45 minutes. After that time, you can serve it when staying hot and add tortilla chips to upgrade the flavor.
Tips for the Dish:
You can use other parts of chicken for cooking this dish if desired. However, chicken breasts are the softest part and take you the least time to cook.
If you are not sure about whether chicken broth can be spoiled or not, use it as soon as you can for the best flavor.
Sauteing several ingredients in advance is the best way to add more aroma to the broth.
If you want the dish with low carbs, you can remove the tortilla from the recipe.
You can add mix-ins when you cook this soup, such as black beans, rice, and more.
Instead of using tortilla chips, you can sprinkle on the top with shredded cheese, chopped cilantro, lime wedge, and more.
You can refrigerate leftover soup in an airtight container, and it can last for up to 7 days in the refrigerator and 3-4 months in the freezer.
Don't forget to watch this useful video to help you make the dish quicker.
Who Shouldn't Enjoy the Dish?
If you are wondering whether you should eat chicken or not, you have to read this section to find information.
Chicken contains cholesterol the same as red meat; if you are suffering problems relating to the high level of cholesterol, you should consider when enjoying this dish.
If you are allergic to any ingredient in the recipe, please think carefully before eating it.
For example, eat chicken can cause some allergic symptoms such as itchy, sneezing, difficulty in breathing, sore throat, hives, and more. If you are allergic to chicken, you can be allergic to poultry, fish, and shrimp.
Therefore, when you alter chicken to other meat, you should avoid using them.
If your body doesn't allow you to consume a large amount of sodium, you can just eat a little bit of the dish since its sodium level is quite high.
Albondigas Soup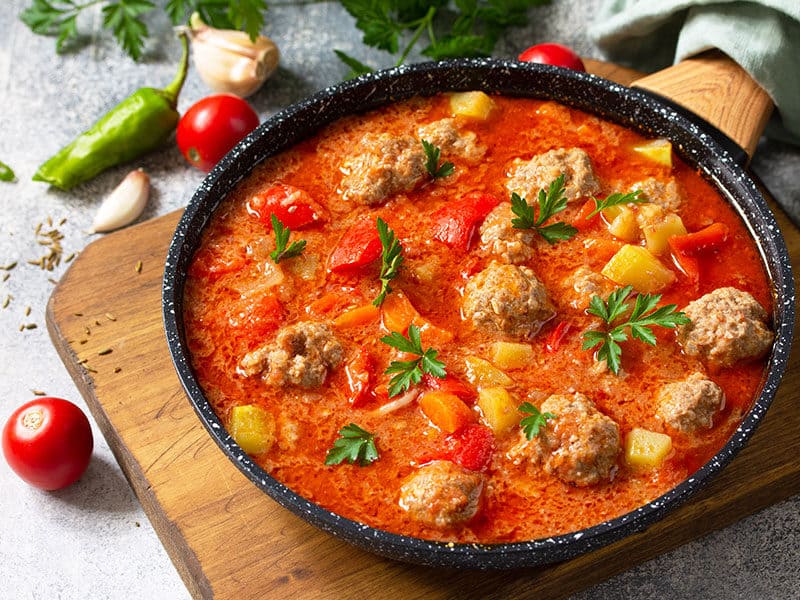 Albondigas means meatballs in Spanish that are made of beef and rice. Your body will get nutrients from veggies since this dish contains potatoes, carrots, and more.
Nutrition Facts of 1 Serving Size:
| | |
| --- | --- |
| Calories | 269 kcal |
| Fat | 10g |
| Sodium | 678mg |
| Potassium | 1060mg |
| Carbohydrates | 21g |
| Protein | 22g |
What You Need for 6 Servings:
For meatballs
1 pound of lean ground beef
1 tsp of minced garlic
1 egg
½ cups cooked white rice
¼ cups of chopped cilantro leaves
¼ tsp of pepper
¾ tsp of Kosher salt
For the soup:
2 tsp of olive oil
2 cups of diced onion
3 medium-sized carrots (peeled and sliced)
6 cups of beef broth
5 cups of Russet potatoes (peeled and cut into cubes about ½ inch)
8 oz of canned tomato sauce
15 oz of canned diced tomatoes
½ tsp of ground cumin
1/4 cups of chopped cilantro leaves
½ tsp of dried oregano
1 large sliced zucchini
Pepper and salt
How to cook:
Step 1: You need to make meatballs ahead. Pour all ingredients for meatball into a large bowl and whisk them until everything is combined well. Make sure salt is dissolved completely.
Step 2: Take a spoon by spoon out of the mixture and roll it into ¾ inch. Remember to make the same size for a quick-to-cook and eye-catching appearance. Then, place the meatballs on the trays and place them in the fridge. You can use the great frozen meatballs that you just need to thaw and drop into the sauce.
Step 3: After refrigerating meatballs, you can start making the soup. Before adding onion and carrot to a large pot, you have to heat the oil on medium heat to ensure the aroma can release. You need to spend 3-4 minutes cooking them.
Step 4: Add the garlic and stir for 30 seconds to avoid burning the garlic. Put all ingredients for soup into the pot except for zucchini and chopped cilantro since they are easy to overcook. Then reduce the heat to a simmering setting and simmer for 10 minutes.
Step 5: After that time, you can drop meatballs into the pot and extend the simmering time for 10 minutes before adding zucchini.
Step 6: You just need to cook zucchini for 5 minutes and season with pepper and salt according to your taste. Turn off the stove and sprinkle with cilantro. Now, it's high time to enjoy.
Are you curious about how to make the dish, in fact? If you are, this short clip is a perfect gift for you.
Tips for the Dish:
Using white rice will help you create a sticky agent for meatballs, and the meatballs are hard to break apart.
You need to cut potatoes and carrots into small cubes to ensure they have a similar cooking time as meatballs.
You can use mint instead of cilantro if you like the coolness and freshness of mint. Mint is a traditional addition to this soup.
If you are a fancy hot soup, you can add a few spoons of hot sauce or crush more pepper into it.
You can cook the dish into a slow pot when you want to taste the softest meatballs and veggies by pouring all things into the pot, and set up cooking time is 4-6 hours. Broil meatballs in advance can help them keep their shape.
Who Shouldn't Eat the Dish?
Beef is one of the main sources that provide you iron and vitamin B-12 that are significant to produce new blood cells. Besides, people want to build their muscle, enzymes, bone, and other tissues, don't forget to add beef to their diet.
However, not every people can consume beef, and if you have not known who they are, you can reference these bullets.
People who are suffering heart diseases should not consume much beef as beef contain saturated fat that relates to raising cholesterol level as well as the risk of heart disease.
Numerous reports have recorded that many people are allergic to red meat, including beef. Some symptoms they will get are hives, itchy, and even more serious situations. Therefore, be careful when tasting beef; you are in the same cases.
White rice is not a perfect energy source for people who want to weight loss.
The high potassium level can cause several health problems for those who cannot tolerate much potassium, such as kidney problems.
Salad Side Dishes
Salad is always suitable for those who want to eat more vegetables and avoid getting fed up when eating many quesadillas. Here are 2 salads that I think are perfect puzzles for quesadillas.
Jicama Slaw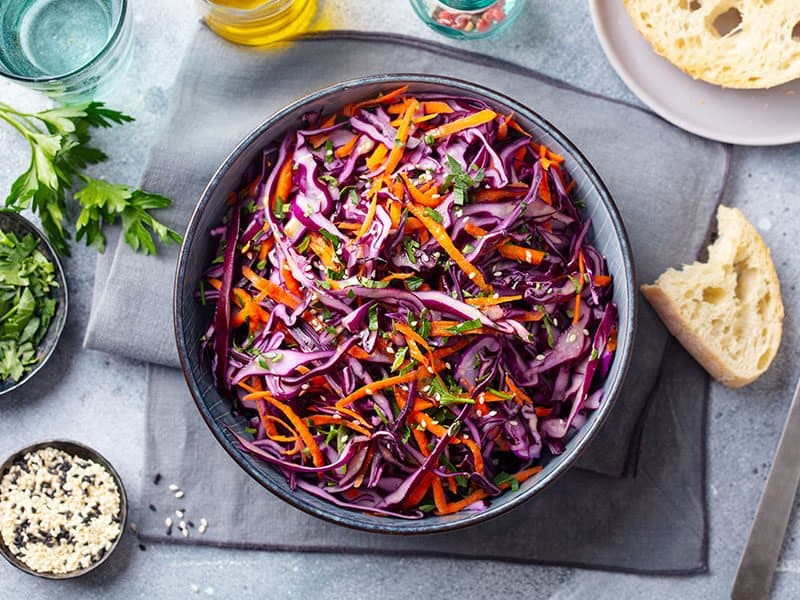 Jicama slaw is the best choice for vegans with a light, crispy and fresh flavor that you can consume as a food accompaniment to tamales besides quesadillas. And I am sure all you will like it.
It is quick to make and simple to prepare all ingredients by shredding vegetables and tossing them with vinaigrette.
Nutrition Facts of 1 Serving Size:
| | |
| --- | --- |
| Calories | 225 kcal |
| Fat | 13g |
| Sodium | 327mg |
| Potassium | 453mg |
| Carbohydrates | 24g |
| Protein | 2g |
What You Need for 8 Servings:
For Jicama slaw:
½ head red shredded cabbage
1 large shredded jicama
2 shredded carrots
1 large sliced red pepper
½ sliced white onion
For sauce:
¼ cups of rice vinegar
½ cups of olive oil
¼ cups of lime juice (the best choice is freshly squeezed)
½ tsp of chili powder
2 tsp of honey
1 tsp of Kosher salt
½ tsp of red chile flakes
¼ cups of chopped cilantro leaves
½ tsp of ground pepper
How to Cook:
Step 1: You need to whisk all ingredients for dressing before adding shredded vegetables in a large bowl to help them dissolve completely.
Step 2: Pour veggies into this bowl and toss until they are coated evenly. Remember to let it sit for about 15 minutes at room temperature to make each shredded vegetable can absorb well.
Tips for the Dishes:
You should use a mandoline to help you cut cabbage and onion in thin slices aside from prepare jicama and carrots at match sticks.
You can keep this salad in the fridge for several days.
After shredding veggies, you need to drain them well to avoid adding water to the dressing when mixing things up.
You can keep vegetables in the refrigerator for about 5-10 minutes to keep them fresh and cool. Therefore, when you toss them, they will be crunchier.
Who Shouldn't Enjoy the Dish?
Naturally, vegetables are likely safe for most people except for the following people:
Veggies have a high fiber content; therefore, you may experience constipation when consuming much of them.
Jicama contains a high level of carbs, and it is not suitable for those who are on a low-carb diet or restrictive keto
Baked Sweet Potato Salad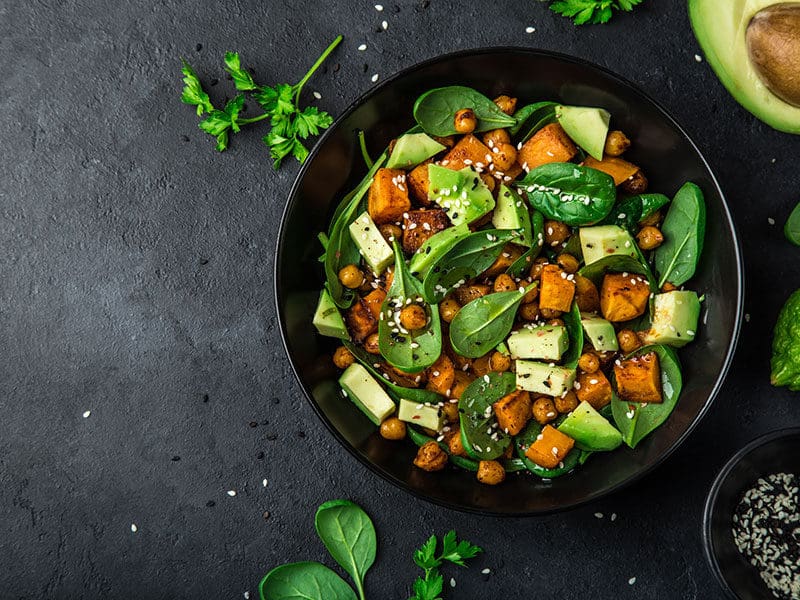 You can try to combine roasted ingredients with others to make an unforgettable salad dish. Why not? The roasted things will help your dish have a smoky aroma, and the freshness of veggies is added can make you mouthwatering
Nutrition Facts of 1 Serving Size (Not Included Hemp Seeds)
| | |
| --- | --- |
| Calories | 292 |
| Fat | 6g |
| Sodium | 730mg |
| Fiber | 9g |
| Carbohydrates | 57g |
| Protein | 5g |
What You Need for 6 Servings:
3 large chopped sweet potatoes
1 ½ tsp of salt
1 tsp of best-quality avocado oil or olive oil
½ cups of chopped red onion
4 oz of chopped spinach (baby spinach is the best option)
2 tsp of lemon juice
2 tsp of apple cider vinegar
1 chopped avocado
1/3 cups of dried cranberries
1 or 2 tsp of hemp seeds (depending on your taste)
Ground black pepper
How to Cook:
Step 1: You need to preheat your oven at 400 degrees F. Place sweet potatoes in a large bowl, drizzle a little bit of oil and a pinch of salt, and then toss them well.
Step 2: Set up the baking setting for about 30 minutes or until the sweet potatoes turn into golden brown. Remember to flip up the other side while roasting. When everything is done, you take them out of the oven and let them cool down.
Step 3: Whisk apple cider vinegar and lemon juice in a large bowl and add spinach, dried cranberries, and onion. Afterward, pour the baked sweet potatoes into this bowl and stir well.
You should add avocado pieces at the last moment to keep their shape and sprinkle some salt and pepper, then toss gently to avoid breaking them. If you use hemp seeds, you can add them before serving.
Although there are just 3 steps to finish this salad, you can watch this cooking video to reduce the mistakes you can make while cooking.
Tips for the Dish:
You can roast sweet potatoes ahead to save time for preparation.
Roasting sweet potatoes not only release their aroma but also bring out their sweetness.
You can serve the dish immediately or store it in the refrigerator until you want to serve it. The flavor seems to stay good despite serving at room temperature or cold.
You can keep leftover salad for 2 days in the fridge, and you can squeeze a little lemon juice before serving to add taste.
Who Shouldn't Enjoy the Dish?
If you are in the following situations, you should consider carefully before eating this dish:
As you know, sweet potatoes are food containing a high level of potassium that is not good for people who suffer from heart diseases.
Potassium also relates to kidney problems. Your kidney just can deal with a certain amount of potassium; when you eat too many sweet potatoes, your kidney cannot tolerance all potassium that will cause several serious complications.
If you are pregnant or breastfeeding, you should avoid eating avocado since it will decrease the milk you can produce and cause to upset stomach for your babies.
Several people who are allergic to avocado have to avoid eating it since it can make you vomit and allergic skin.
Avocado contains a little latex that can cause some allergic symptoms.
Your digestive system can be affected if you consume too much avocado, such as gastrointestinal irritation.
Pickled Side Dishes
Adding picked side dishes in quesadillas is one of the fiercest ways to upgrade your meals. To save you the troubles of having to find the dissimilarities between pickles and gherkins, I'll introduce you to pickled jalapeños – a delicious and straightforward dish.
Pickled Jalapeno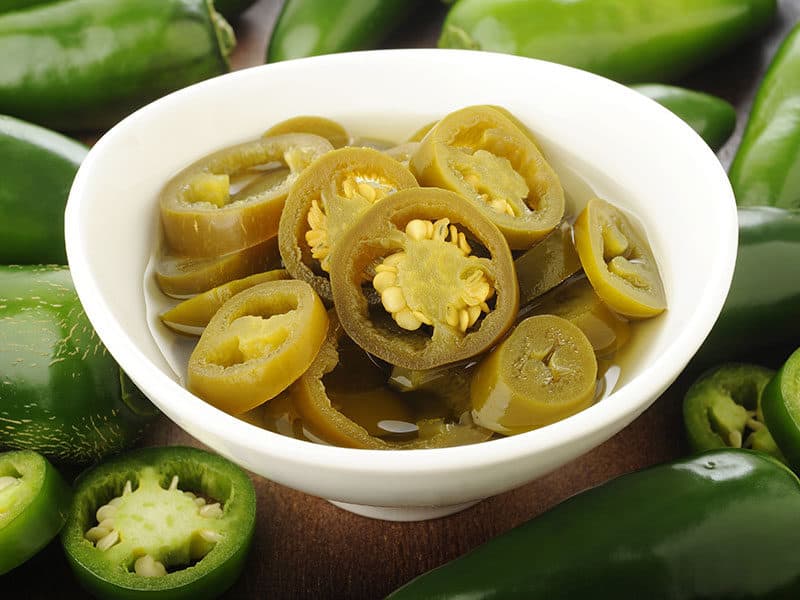 One of the best ways to extend jalapenos' shelf-life is to pickle them. And what's a better way to enjoy pickled jalapenos other than pairing it with some delectable quesadillas?
You just need to sprinkle some slice of pickled jalapeno on top of quesadillas; you can taste an unforgettable flavor. A little bit spicy for jalapeno with cheese flavor in quesadillas are the perfect combination.
Nutrition Facts of 1 Serving Size:
| | |
| --- | --- |
| Calories | 16 |
| Fat | 0g |
| Sodium | 636mg |
| Fiber | 0h |
| Carbohydrates | 4g |
| Protein | 0g |
What You Need for 20 Servings:
15-20 large jalapenos (discard their stems and slice them)
2 crushed garlic cloves
1 cup of water
4 tsp of sugar
2 tsp of Kosher salt
1 cup of distilled white vinegar
How to Cook:
Step 1: Boil the mixture of water, garlic, sugar, salt, and vinegar in a medium pan, and constantly whisk to allow the ingredients to dissolve completely. When the sauce is boiling, you pour all sliced jalapenos into it and press them until all slices are overwhelmed into the liquid.
Step 2: Shut off the heat and let it cool down for about 10-15 minutes.
Step 3: Prepare a clean jar and pour jalapenos and pickled liquid into it. You need to ladle the liquid until it reaches the top of the jar. After it cools thoroughly, you can secure the lid and place it in the fridge for use longer.
Have you been clear about how to make pickled jalapeno? This video will help you erase your worry.
Tips for the Dish:
You should wear gloves when cutting jalapenos to protect your hands from jalapeno oil.
You can keep it for about 2 months in the refrigerator if you secure the airtight lid.
The longer you keep it in the fridge, the milder spicy heat of jalapenos is.
I measured that a quart size jar is fit to 20 medium jalapenos.
You can look for smooth jalapenos since the small brown lines on jalapenos show that they are spicier.
Who Shouldn't Enjoy the Dish:
Jalapenos feature many potential benefits, such as containing many kinds of vitamins, promoting weight loss, helping fight cancer, and more. However, it still has several side effects that you should know.
Your mouth will be a temporary burning sensation after eating jalapeno. If you are not good at consuming spicy heat of peppers, you shouldn't enjoy the dish.
Suppose you are suffering from reflux, you should avoid eating jalapenos due to capsaicin.
You can experience unpleasant symptoms when eating jalapenos if you are irritable bowel syndrome. These complications are burning, cramping, abdominal pain, and diarrhea.
Sauce Side Dishes
In among numerous sauces to serve with quesadillas, I have picked the sauce that I think they meet almost people's taste and takes you less time to prepare. They are Guacomole and Adobo sauces.
Guacamole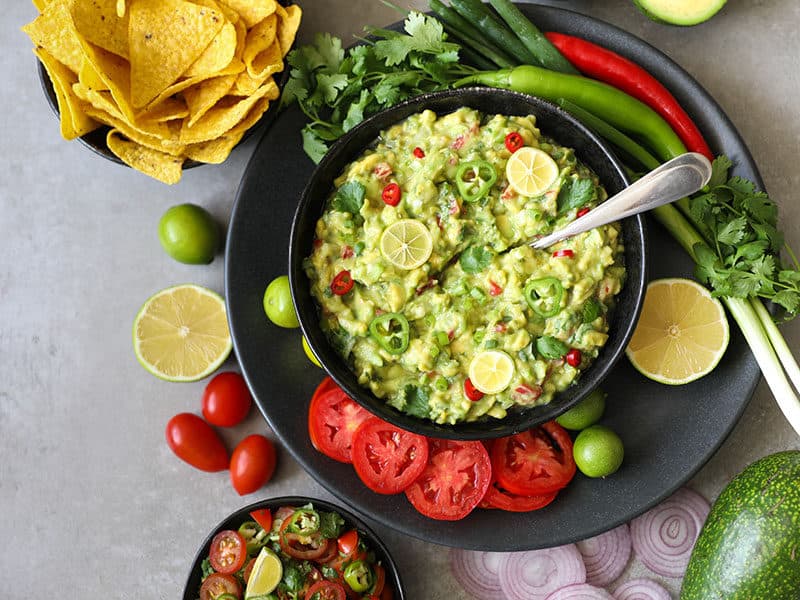 Guacamole is made of a few premium quality ingredients, and its flavor is not too fancy or try to be unique, but all things that melt together perfectly.
You can extend its shelf life for longer use with a few tips to freeze guacamole. Overall, if you have a trip to Mexico, guacamole is one of the must-try dishes.
Nutrition Facts of 1 Serving Size:
| | |
| --- | --- |
| Calories | 184.8 kcal |
| Fat | 15.8g |
| Sodium | 305.5mg |
| Fiber | 7.6g |
| Carbohydrates | 12.3g |
| Protein | 2.5g |
What You Need for 4 Servings:
3 ripe avocadoes
2 diced Roma tomatoes
½ diced small onion
3 tsp of chopped fresh cilantro
2 minced garlic cloves
1 juiced lime
½ tsp of salt
How to Cook:
Step 1: Take avocado meat after removing its pit and seed. Scoop the meat into a bowl. You can use a fork to crush avocado that makes it chunky. If you like a smooth sauce, you can use blenders mash avocados.
Step 2: Add the rest of the ingredients to the sauce and whisk them together until salt dissolves completely and everything is a blend. You should add lime juice and salt gradually to give it a flavor best.
Step 3: You can immediately serve with tortilla chips or keep it in containers with its fit-tight lid.
Besides the mentioned way to make guacamole, you can reference 2 more recipes to create the best guacamole ever by watching this excellent video.
Tips for the Dish
You should use fresh lime juice instead of processed juice since the flavor is likely different between them.
You need to pick avocados with stem to ensure it is fresh. You can gently press on one head and feel the avocados stay a little bit firm and not too soft.
The yellow or red onion will give you the same taste.
The sauce cannot be watery; therefore, choosing Roma tomatoes is a good choice since it is less juicy than others.
You have to squeeze lime carefully to avoid releasing much lime oil, as the oil can make your sauce a little bit bitter.
When you store leftover guacamole, you need to flat on top and pour ½ inches of cold water to maintain it green. Then secure an airtight lid and place it into the fridge. When you want to serve it, you just need to dispose of water and stir it before eating.
Who Shouldn't Enjoy the Dish?
The dish's main ingredient is avocados; thus, people who are allergic to avocado or in pregnant or breastfeeding shouldn't enjoy it.
Adobo Sauce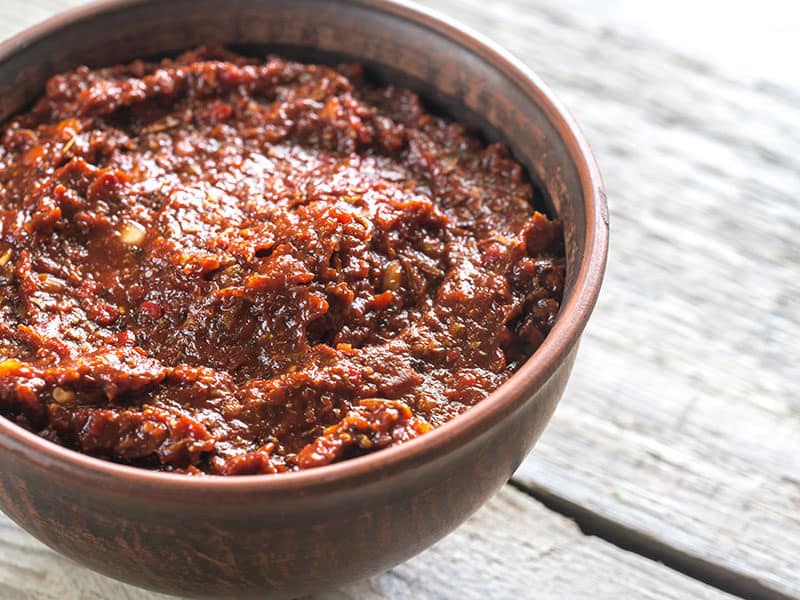 If you are fancy hot sauce, you will be satisfied with Adobo sauce. It has dark brown and is rich in chipotle peppers flavor. This sauce is a traditional Mexican sauce that has thick consistency of ground ancho and guajillo.
Nutrition Facts of 1 Serving Size:
| | |
| --- | --- |
| Calories | 57 kcal |
| Fat | 4g |
| Sodium | 122mg |
| Potassium | 45mg |
| Carbohydrates | 4g |
| Protein | Not specified |
What You Need for 10 Servings:
½ cups of ancho chile powder
¼ cups of cider vinegar
3 garlic cloves
1 tsp of oregano
2 tsp of brown sugar
½ tsp of salt
¼ tsp of cinnamon
½ tsp of ground cumin
¼ tsp of allspice
¼ tsp of black pepper
3 tsp olive oil
How to Cook:
Step 1: You mix the chili powder and 1.5 cups of boiling water in a blender or food processor, then secure the lid and let it sit while you prepare other ingredients.
Step 2: Add chopped tomatoes, brown sugar, vinegar, salt, oregano, cumin, garlic, pepper, allspice, and cinnamon in the blender or food processor and start blending everything to create a thick consistency like BBQ sauce. If it is too thick, let's thin it by adding water.
Step 3: Pour the sauce into a Dutch oven or skillet and cook it after heating oil on medium-high heat. Then reduce the heat and simmer sauce for about 20 minutes without covering with the lid.
Step 4: You can sprinkle chipotle chiles before serving and keep the leftover in an airtight container, and put them into the refrigerator for longer use.
This video will show you how to make Adobo sauce by using guajillo peppers.
Tips for the Dish:
There are 2 types of chipotle peppers you can use: dried and smoked ones that have 2 different ways to cook.
If you use dried peppers, you should bend and crack them, then simmer and cook for about 30 minutes in a saucepan filled with water. Check it often to add more water if needed.
After that, let it cool down and add cooked peppers to the sauce after step 3 and extend the simmer time for 10 minutes.
Otherwise, you just need to add smoked peppers directly to the sauce after step 3 and simmer for additional 10 minutes.
Despite the kinds of peppers, you have to store the sauce like step 4.
Instead of using ancho chile powder, you can use common chile power if you have it on hand.
Who Shouldn't Enjoy the Dish:
There are not many notices for people wanting to enjoy this dish; however, if you are suffering from any health problem relating to allergic to any ingredient in the recipe, you should consider it when tasting.
Baked Side Dishes
Baked side dishes always have a secret attraction to many people, including me. Therefore, I have tried to make them many times to find the perfect dishes to serve alongside quesadillas. Now, I really confident to bring you 2 delicious recipes that you certainly like it that are cheesy potatoes and
Cheesy Potatoes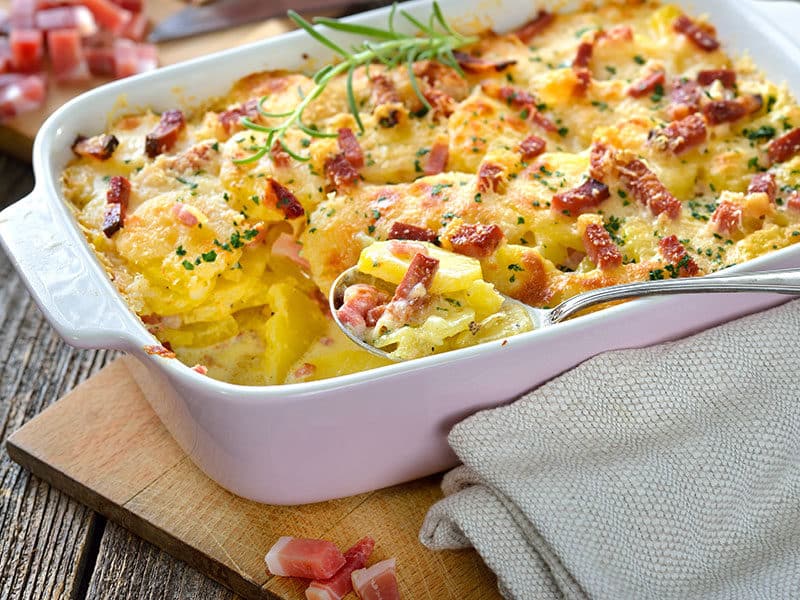 You are American, and you are also a big fan of Mexican cuisine; you cannot miss these Cheesy Potatoes since it is an excellent combination of 2 kinds of cuisine.
Nutrition Facts of 1 Serving Size:
| | |
| --- | --- |
| Calories | 348 |
| Fat | 23g |
| Sodium | 488mg |
| Potassium | 795mg |
| Carbohydrates | 25g |
| Protein | 13g |
What You Need for 8 Servings:
3 pounds of diced potatoes
1 cup of sour cream
¼ cups of melted butter
¼ cups of chopped green onion
2 cups of divided cheddar cheese
1 cup cream of chicken soup
How to Cook:
Step 1: The first step is to preheat your oven at 375 degrees F and apply butter on the surface of the baking dish to avoid sticking.
Step 2: If you use canned potatoes, you can skip this step and continue following the third step. On the other hand, when you use fresh potatoes, you need to simmer them for 12-14 minutes or until they are cooked. After that, you drain the water and let it cool down slightly.
Step 3: Mix melted butter, onion, soup, sour cream, and 1.5 cups of cheese in a large bowl, then pour cooked potatoes into it and toss them well. You should stir till the sauce coats potatoes evenly. Once you have done, spread all into the greased baking dish.
Step 4: Sprinkle the remaining cheese on top of the dish and bake for about 30 minutes, or when you realize there are bubbles on top and the cheese's surface turned into brown.
Check this video to know how simply a cheesy potatoes dish is made.
Tips for the Dish:
You can add crunchy topping by slightly crushing cornflakes, toss with melted butter, and then sprinkle on top before baking.
If you freeze cheesy potatoes ahead, you need to thaw the dish and bake at 400 degrees F or until it has a similar appearance as step 4.
I recommend using the premium-quality cheddar cheeses to get the best result; however, using your favorite one is fine.
You don't need to be followed my recipe strictly, and you can use any type of potatoes you want.
Who Shouldn't Enjoy the Dish?
Cheesy potatoes dish is quite safe to eat except for several people with health issues cannot consume it.
People with diabetes cannot eat many potatoes as carbs in potatoes are quick to digest and have a high level of glycemic load that can increase sugar in your blood.
Potatoes can cause several problems with obese people since they are rich in carbohydrates, leading to weight gain.
If you overeat potatoes, you will face a higher risk of high blood pressure compared to others who eat the proper amount of potatoes.
Your body lacks enzyme can break down lactose shouldn't eat cheese as overeating can cause gas and bloat, and the cheese doesn't contain fiber that is not good for people suffering constipation.
If you are allergic to casein, low-lactose cheese also cannot help you.
People with high blood pressure should be careful when consuming cheese since it is rich in sodium.
FAQs
I will provide you more information about what to serve with quesadillas in this section. If you have wondered about this article, I will help you find the satisfying answers. Let's check them out.
Let's Make A Perfect Quesadillas Party
Have you had ideas for cooking side dishes to serve with quesadillas? I am glad that you find several dishes. Almost all my recipes are quick to cook and prepare, which means even you are busy people, you still have enough time to make some dishes for eating alongside quesadillas.
If you find my post useful, you can share it with your beloved people. It is also a wonderful opportunity to gather your friends and prepare a quesadillas party together. That sounds great.
When you have any trouble while following my recommended dishes, you can text me in the common box chat below. I am always here to reply to you whenever I can. Don't forget to come back to my site every day to update new recipes. Love you all!
Nutrition Facts
4 servings per container
---
Amount Per ServingCalories69
% Daily Value *
Total Fat 3.5g

6

%
Sodium 585mg

25

%
Potassium 9mg

1

%
Total Carbohydrate 8.7g

3

%

Dietary Fiber 0.3g

2

%
Sugars 0.1g

Protein 0.8g

2

%
---
* The % Daily Value tells you how much a nutrient in a serving of food contributes to a daily diet. 2,000 calories a day is used for general nutrition advice.