If you don't know what to serve with tamales, here is a simple guide that can help you surprise your friends and family.
Mexican tamales or tamal consists of corn-based dough steamed in corn husks or banana leaves. The great thing about tamales is that you can maximize your cooking creativity.
You can even use your crockpot to make this Mexican crockpot delicacy. Or just apply any cooking technique that you prefer.
Therefore, don't be intimidated by tamales. With this thorough guide for steaming tamales, the dish isn't that hard to make, and so are its side foods. When served with other delicious treats, you can enjoy your tamales better.
In this article, you will learn more about tamales, and things you can serve with tamales, including side dishes and sauces. Let's get started!
What Are Tamales?
Tamales are a traditional dish in Central and South America, but the tamales we are going to talk about today are Mexican tamales.
The Mexican version of tamales refers to masa, specialized corn dough, wrapped in a corn husk, filled with meat and beans. Further, cooks use top-notch and versatile tamale steamers for the required texture.
If you wonder if tamales are free of gluten, it depends on the ingredients you use to make them. Most ingredients are available in supermarkets, except the corn husks. You can find those in Mexican stores or order online.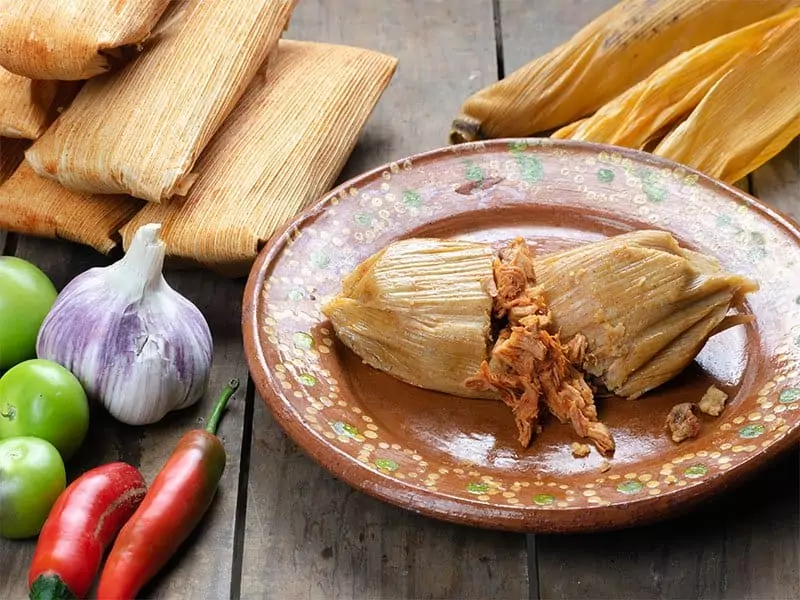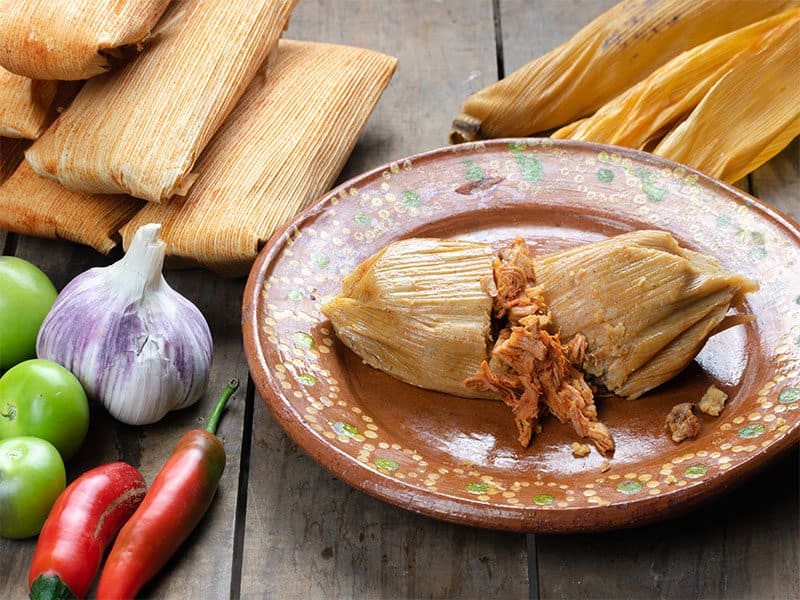 The filing is where you can get creative, and use chicken, beef, pork, cheese, or vegetables and make your vegan tamales.
Other ingredients include mild-flavored oil, such as healthy avocado oil for dipping sauces and cooking, stock, spices, and corn flour. Moreover, you can extend tamales' shelf life if stored in the fridge or freezer. 
What To Serve With Tamale?
Traditionally, beans or rice is what goes with tamales. Sometimes, when tamales are prepared on the street, there isn't a side dish, and people eat them on the go.
However, if you're making a full-course meal with scrumptious authentic Mexican dishes and tamales as a central point, here are 10 recommendations you can consider.
Bonus, find the list of popular toppings and sauces to serve with tamales!
#1 Black Beans
Black bean is a versatile side dish and goes perfectly with Mexican tamales. Moreover, they are an ideal component to make many side items of tacos. You can use canned black beans you buy in any store or prepare it yourself.
However, preparing black beans from scratch might be a bit time-consuming as it needs time to cook. An instant pot will be handy for preparing black beans as well as pre-soaking.
I recommend pre-soaking black beans in a large bowl a day before you plan to cook them. Tomorrow, rinse the beans and put them in a large pot, and bring water to boil. Cover the pot and reduce the heat. Let the beans cook like that for around one hour. Next, have to spice your beans.
Use fresh or garlic powder, salt, pepper, cumin, chili powder, and coriander mixed with olive oil to spice your black beans. Put your spicy black beans in small bowls and serve with tamales. Add parsley or rosemary for freshness and prettier presentation.
#2 Jicama Slaw
Jicama slaw is the easiest, healthiest side dish to prepare and serve with tamales. This vegan salad features thin-sliced vegetables, tastes delicious, and doesn't take much time to prepare. If you use a good chopper for veggies, you can prepare the jicama slaw in even less time.
Wash and slice cabbage, peel and slice jicama and carrots. Mix everything in a bowl, and make your salad seasoning using salt, pepper, lemon juice, chili powder, rice vinegar, canola oil, and honey. You can even chop cilantro leaves and mix them too.
Serve jicama slaw in small bowls and enjoy a fresh and colorful side dish for your tamale.
Watch this video to know more:
#3 Mexican Rice
Let's stay in the time, and serve some Mexican rice with Mexican tamales. It is quite easy and inexpensive to make and it makes a perfect buddy for tamales. Here is how to make it.
You will need white rice, tomato sauce, chicken broth, salt, pepper, onion and garlic, and whatever other spices you prefer.
Stir onion and garlic on vegetable oil, add white rice and chicken broth. Bring everything to the boil and add enough tomato sauce to cover the rice. Let it simmer for 20 or 25 minutes, and try if the rice is cooked.
That is all! You can add corn, carrots, or any other vegetables you like to the mix.
Watch this video to know more:
#4 Pinto Beans
Pinto beans are a versatile side or main dish, and suitable for people on different diets, such as dairy-free, gluten-free, or vegan. These are also easy to make and go well with a tamale.
Soak dry beans the day before cooking, as it will reduce the cooking time and make beans softer and more delicious.
I recommend using an instant pot for pinto beans, but you can also cook them on the stove for one hour, or one hour and a half.
If you want a vegan variant, don't use bacon or ham. Instead, you can flavor your pinto beans with chipotle peppers, green chili, diced tomatoes, garlic, onions, salt, pepper, and cumin. If tomatoes are off the season, you can use canned tomatoes as a replacement for fresh, ripen tomatoes.
Combine all ingredients in a large pot, cover with water and bring to the boil. You can sauté garlic and onion first, and then slowly add other ingredients and beans to get richer flavors.
Then cover the pot and let it simmer until the beans are cooked. The exact cooking time depends on the beans' quality, soaking time, and method of cooking. For example, if you soaked the beans in water eight hours before cooking, they will soften up in less than one hour.
If you are cooking beans for the first time, try to see when beans are cooked.
#5 Avocado Salad
I recommend preparing a Mexican version of the healthy avocado salad using fresh ingredients. You'll need yellow and red cherry tomatoes, cucumbers, red onions, avocados, chopped cilantro, salt, pepper, balsamic vinegar, and olive oil.
Cut cherry tomatoes in half, and slice cucumber into 1/2 inch bites. Cut your avocados in medium-sized dice, and mix everything in a large bowl. Season with salt and pepper, add a generous amount of olive oil and balsamic vinegar.
Instead of balsamic vinegar, you can use lemon juice for extra freshness. The Mexican avocado salad is easy to make, but make sure you are using more avocados than any other ingredients. That way, the fresh flavors of cherry tomato and cucumber won't overpower avocado creaminess.
#6 Mexican Corn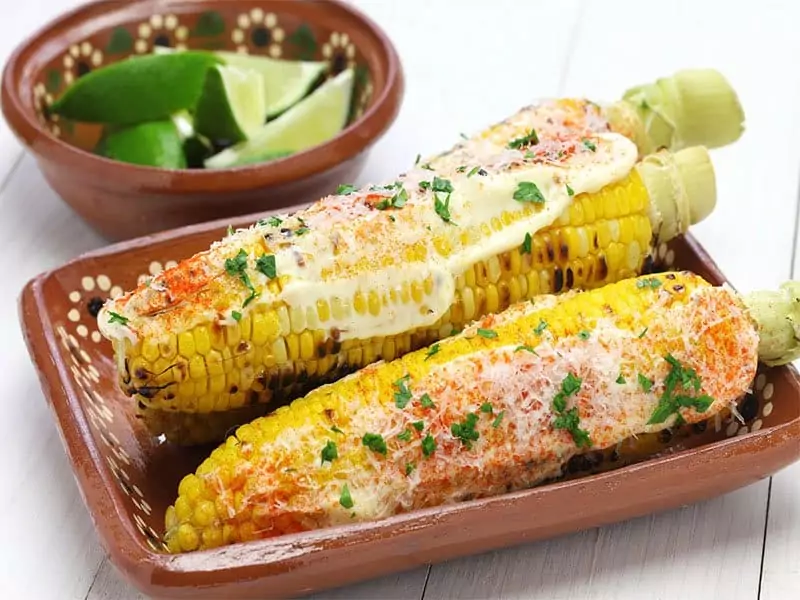 Elote is well-known street food, and you can easily make it at home.
You will need a reliable grill to prepare Mexican corn. Turn the grill on medium heat and grill the corns by turning them on each side for a couple of minutes until they become golden brown from all sides.
Mix mayonnaise with chili powder, grated cotija cheese, and chopped cilantro and put it on top of warm corn. Even if you don't like mayo, you won't be able to resist the combination of cotija cheese and mayo mixed with sweet corn flavors. Serve Mexican corn on a stick, to mimic the street-food eating style.
#7 Mexican Corn In A Cup
If you are worried that eating corn from a stick might be inconvenient for your guests you can serve Mexican corn in cups. The ingredients are the same as in the previous side dish. Once you grilled it, use a spoon to grate it into the cup. Then, mix it with Mexican crema or mayo combined with grated cotija cheese and chili powder.
If you cannot find cotija cheese, you can use parmesan cheese.
#8 Fried Eggs And Spicy Salsa
Tamales aren't a conventional dish you eat every day. But, who says you can mix them with something as simple as fried eggs and salsa?
Serve a few tamales on the plate, and place one fried egg on top of the tamale. Serve with homemade spicy salsa with tomatoes, chopped jalapeno, onions, garlic, cumin, and other spices.
You can also use the finest ready-made salsa or omit jalapeno if you don't like spicy food. This serving combination is excellent if you have tamale leftovers from last night's party.
Pro tip: you can put some vegetable oil in the pan and heat tamales before you start frying the egg. It will give your tamale extra crunchiness.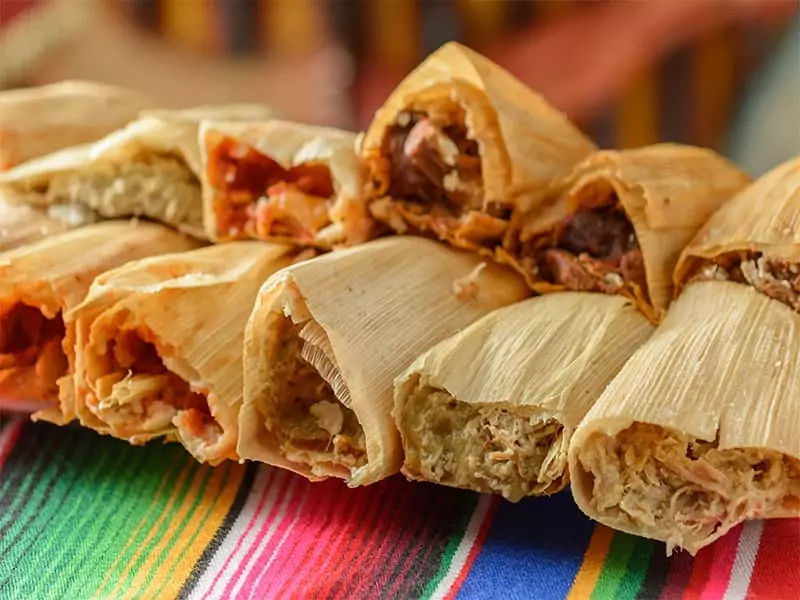 #9 Horchata
The next one is my favorite Mexican drink and technically, not a side dish. But, it goes perfectly with tamales and is fun to make. Here is the Mexican version of the recipe.
Prepare rice, almonds, milk, and extras such as cinnamon, vanilla extract, evaporated milk, and sugar to taste. I recommend using cinnamon sticks instead of cinnamon powder for an extra kick of flavors.
Also, you will have to soak rice, cinnamon, and almonds in water the night before you plan to serve. Then strain the water and mix all other ingredients in the blender to make a drink.
Strain the drink through a fine mesh cloth or using a strainer. It will give the drink a smoother texture. You can also add cinnamon sticks before serving.
Watch this video to know more:
#10 Avocado Soup
Lastly, if you want to take an extra step and surprise your family with a rich and delicious side dish, I recommend making avocado soup.
It is quite easy to make, but if you want to serve it with tamales, make sure to chill the soup at least two hours before serving.
Use ripen tomatoes and chicken broth and combine them in a blender until you get a creamy texture. Pour the soup into a serving bowl and keep it in the refrigerator. Garnish with mango slices and crabs.
Top 3 Sauces To Serve With Tamales
You need to make at least one sauce to serve with tamales and your chosen side dishes. Here are my top five sauce recommendations for tamales!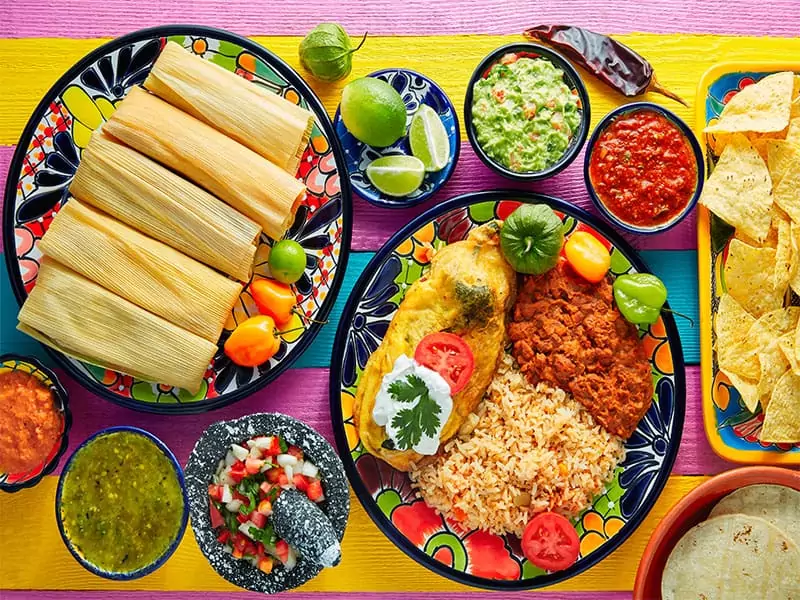 #1 Ranchero Sauce
Nothing smells more Mexican than popular ranchero sauce. It works as an excellent dipping sauce for tamales and contains traditional ingredients for Mexican cuisine.
These include jalapeno, tomato, onions, a Mexican mixture of chili powders, and herbs. You can make your own ranchero sauce or find it in a jar in Mexican supermarkets.
For a homemade ranchero sauce, you need to find Mexican spices, such as ancho, guajillo, chipotle powders, and mix them with cayenne, cumin, oregano, salt, and pepper. If you have ground cumin, that will work too, just use a spice grinder to get powder.
Start by cooking onion and jalapeno peppers on olive oil, add garlic, chicken broth, and diced tomatoes. Cook everything until you get the sauce consistency you want from your sauce. Add chopped cilantro and your spice mixture, and your homemade ranchero sauce is done!
#2 Double-Chili Sauce
Double chili sauce is delicious if you like spicy sauces. Start by cooking onion and garlic in a saucepan with vegetable oil. Then process cooked garlic and onion in the blend, where you will add soaked chili peppers, tomatoes, and chicken broth. Process the ingredients until the consistency is smooth.
Again, heat vegetable oil and put masa harina, or corn flour you used for your tamales. Masa harina might be hard to find, but don't worry, there are other options in place of masa harina you can use. For example, cornmeal or cornstarch.
Cook it on medium heat for one minute and add the mixture to your blender. Stir everything and cook on low heat for five minutes.
Then, put your spices. I recommend sugar, honey, oregano, cumin, salt, a bit of cinnamon, and cloves. Cook it on low for a couple of more minutes, and you're done. You can add chicken broth to thin the structure of the sauce and keep it in the fridge for several days.
#3 Guacamole Sauce
Avocado and tamales are the classic combinations many of us would eat every day. Guacamole sauce is versatile and simple to make. Here is my favorite recipe to make the best guacamole sauce for tamales.
The recipe includes authentic ingredients such as ripen avocados, onions, cilantro, lime juice, serrano pepper, and salt. I recommend dipping the onions in hot water before you chop them. It will reduce their flavor a bit and let avocado stand out.
I add a hand of chopped tomatoes and cumin when I make guacamole sauce for tamales, to make it juicier. Also, I don't recommend blending avocados too much for guacamole; you can leave small chunks of it, which will add sharp texture.
Tamales – Fun, Versatile, And Easy To Mix Dish
Tamales are freezer-friendly, so you can make a bunch of them and freeze the leftovers. They will be as good as freshly prepared when you defrost them.
Generally, tamales are excellent for mixing with other fun dishes. You can make a theme dinner and serve everything Mexican – tamales, ranchero sauce, horchata, Mexican corn and enjoy the harmony of Mexican flavors.
If you want something fresh, make a guacamole sauce and a fresh vegan salad with jicama, cabbage, and carrots.
There are numerous combinations of tamales, side dishes, and sauces. What is your favorite one?
If you liked my tamales serving guide, don't forget to like and share the article!
Nutrition Facts
8 servings per container
---
Amount Per ServingCalories199
% Daily Value *
Total Fat 12.9g

19

%
Sodium 323mg

14

%
Potassium 397mg

12

%
Total Carbohydrate 21.8g

8

%

Dietary Fiber 7.5g

29

%
Sugars 10.2g

Protein 2g

4

%
---
* The % Daily Value tells you how much a nutrient in a serving of food contributes to a daily diet. 2,000 calories a day is used for general nutrition advice.