Tamales are food people love, but not all tamale-lovers can answer: ''how long do tamales last in the fridge?'' If you're wondering the same and are eager to learn more about tamales, you got the right place! Stay tuned!
As a die-hard fan of this treat and a culinary lover, I tried to grab the ins and outs of tamales. What makes me mind-blowing is the incredible, crumbly, and time-honored taste of the corn. No wonder tamales are a perfect fit for get-togethers, holiday festivals, and party tables in diverse cultures.
Not just to give you the answer to the question above, I will also unveil more of tamales' lesser-known facts.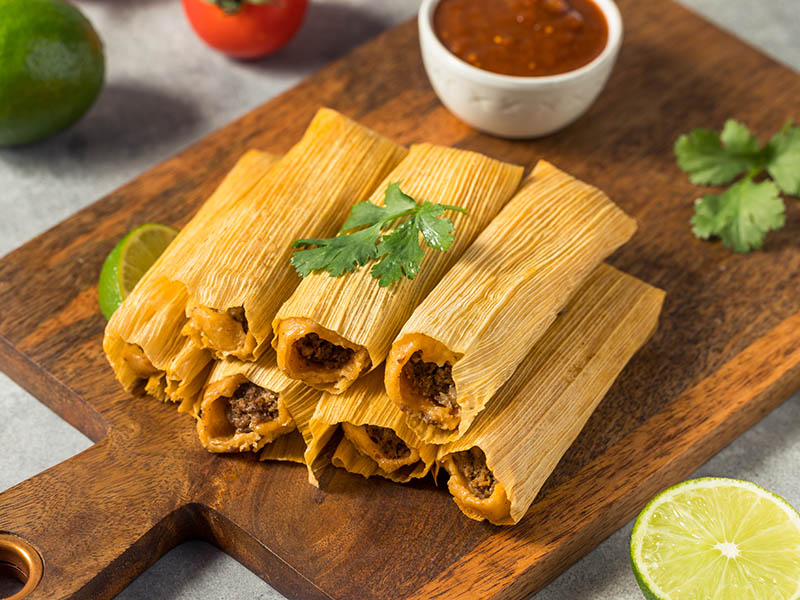 What Are Tamales?
Tamales are a Mexican delicacy made from savory fillings and corn dough (corn masa). This street food originated in Mesoamerica as early as 8000 to 5000 BC. Tamales are typically covered in corn husks and banana leaves.
The word ''Tamal'' originates in ''Tamali'' – a word of an ancient Mexican language named Nahuatl (1). Tamali means ''wrap'' in Nahuatl.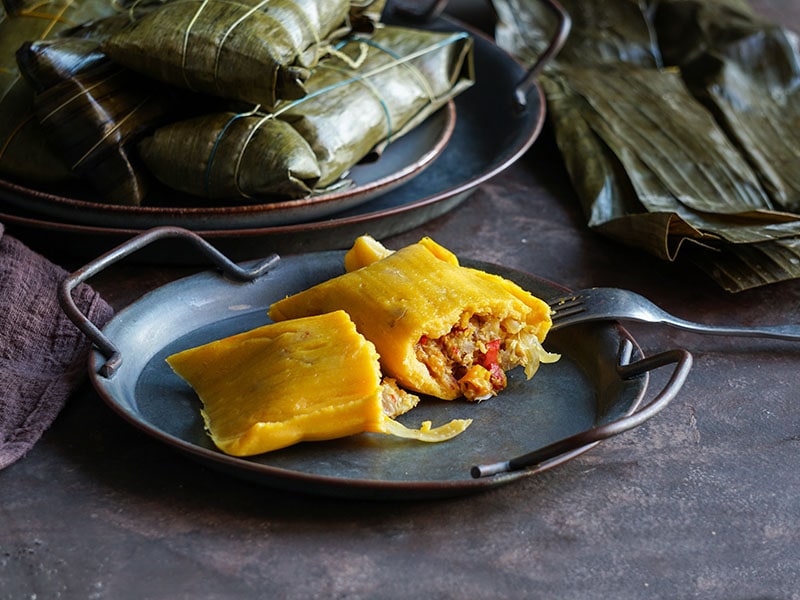 This treat is often served for holiday festivals, parties, and families' warm-ups to help everyone assemble.
The earliest tamales in ancient Mayan and Aztec cultures contain squash and beans only. Until Europeans spotted and developed this kind of food, tamales became more elaborate.
By far, tamales have had around 600-1000 variations worldwide, but mainly tamales, tamalitos, tamals, chuchito, paches, or pasteles.
They appear everywhere in Mexico – on the highways, street corners, and local stores, to name a few. Tamales are not only the typical Mexican street food, but it is also a popular dish across some Caribbean islands (Dominican Republic, Tobago, Curacao, Aruba, Cuba, and Trinidad…), Central and South America, and the Philippines.
The most conventional way to cook tamales is steaming. Notwithstanding, other methods like boiling, baking, and grilling are acceptable.
Let's learn more about homemade tamales around Latin America!
How About Tamales' Basic Ingredients?
In summary, tamales' primary ingredients typically include:
For the dough:
Sweet corn dough / fresh masa / masa herina
Lard
Water
Broth (chicken, beef, or vegetables)
Salt
Baking powder
Dried corn husks
Wanna know how to make delectable tamales with ease? This guide can be of great help!
Some fillings ideas:
Savory fillings: beef, turkey, venison, chicken, or pork
Sweet fillings: fresh or dried fruits (blackberry, pineapple,…), red or green salsa, and mole (green, chocolate, red, yellow,…)
Fillings with herbs, rice, legumes, beans, cheese, or vegetables are optional.
Other regions add sauces or toppings like sour cream, chili, and tomato sauce.
Get inside the vegetarian tamales world for now!
How Long Do Tamales Last In The Fridge?
Like other dishes, the setting in which you store Tamales (in the freezer, the fridge, or standard room setting) and their state (cooked / uncooked) at the time of storing affect the shelf-life of tamales.
Look at the table below for a quick recap of tamales' shelf-life:
| Storage Condition | Normal Room Temperature | In The Fridge | In The Freezer |
| --- | --- | --- | --- |
| Cooked tamales | About 1 - 2 hours | About 4 days - 1 week | Up to 6 months |
| Uncooked tamales | About 1 hour | About 4 days - 1 week | Up to 4-6 months |
As seen on the table, cooked tamales last 1 week while uncooked versions last up to 6 months in the fridge.
Cooked Tamales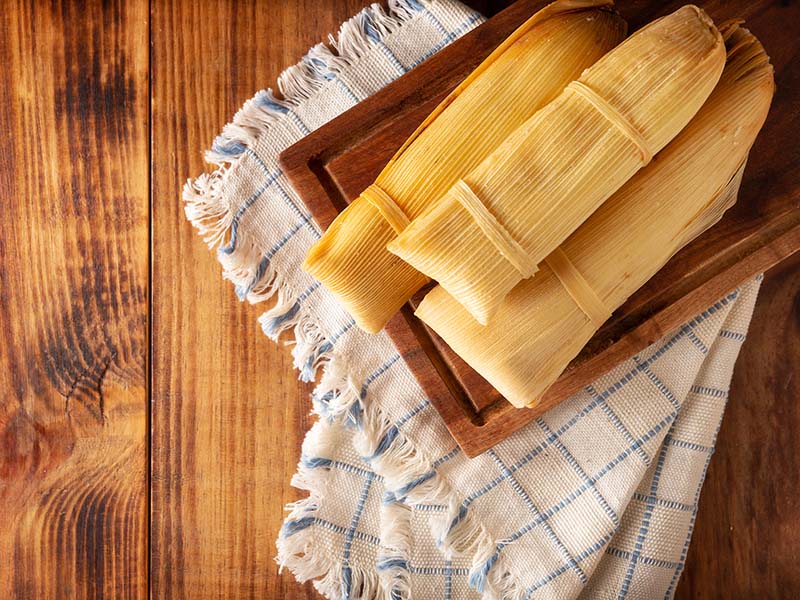 I adore tamales. With that in mind, not just spending time preparing and cooking, I also look for the best ways to keep tamales.
As aforementioned, cooked tamales' lifespan in the refrigerator is about 4 days to 1 week. When this time is almost over, your food may deteriorate and lose its quality and taste day by day. Thus, consume your food as soon as possible. Do not let them get low before consuming!
Beyond that, leftover cooked tamales need refrigerating promptly to minimize the foodborne bacteria. In fact, you can keep cooked tamales at normal room temperature for 1 or 2 hours only.
To last the tamales longer, you might as well try a freezer. Freezing conditions can keep the tamales' intact for up to 6 months.
Uncooked Tamales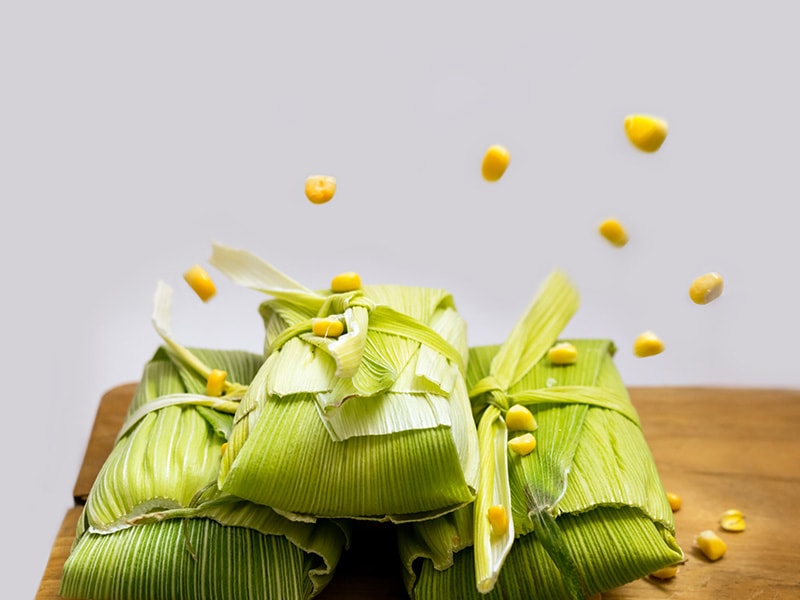 Like cooked tamales, the regular uncooked version's lifespan (without meat) can be anywhere from 4 days to 1 week in the fridge. Still, freezers can help tamales last up to 4-6 months.
You should not leave uncooked tamales outside for more than 1 hour. Toward uncooked tamales, including meat, do not wait for that long. Even refrigerated uncooked tamales just last for 48 hours after making or opening.
Instant tamales are incredibly long-lasting, up to a few weeks in the fridge. The freezer even expands their shelf-life longer. Notwithstanding, instant tamales are never as delectable as traditional ones, yet they are more comfortable with the less half-time cooking time required.
No matter what types of tamales you use, you'd better notice their expiration date and details on the packet's covers. The consumption within a full month after purchase is preferable.
On top of that, freezing tamales contributes much to saving the environment by mitigating the amount of uneaten food thrown away.
How To Store Tamales In The Fridge The Right Way?
Storing tamales in the fridge is not tricky. I have rounded up some ideas for distinct types of tamales: cooked and uncooked. Have a quick look at the instruction below:
A Well-rounded Guide
Storing tamales in the fridge with just 4 steps:
Step 1: Cool Down Tamales
Uncover the husk and allow tamales to cool down at room temperature of 21–22°C prior to refrigerating them.
Step 2: Store Tamales Inside The Bags
Place all tamales in sealed plastic bags, aluminum foil, or Ziplock containers. Cover each tamale layer with plastic before adding the next layer. Tuck the plastic down the tamales' sides. The more cautiously you wrap, the better the tamales' shape and flavor.
Seal your containers when it's filled.
Step 3: Write Details On The Containers' Covers
Write the storage date on each container to ensure you track the expired day and consume fresh tamales.
Step 4: Refrigerate Tamales
Refrigerate tamales and arrange one container next to another to ensure proper air circulation. Eat tamales within 7 days only after refrigerating.
Significant Notes For Tamales Storage In The Fridge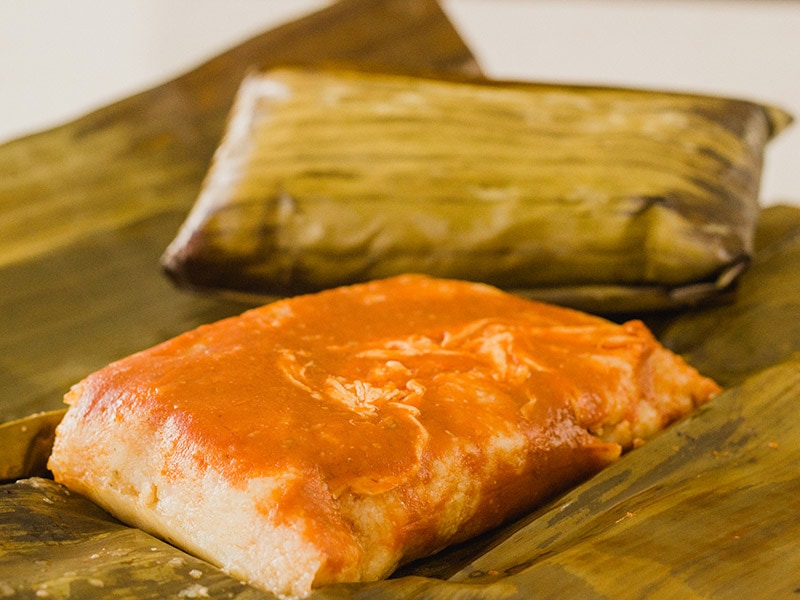 Proper storage helps cooked tamales fresh for one week and uncooked for up to 6 months (only 4 months for tamales containing meat).
Avoid tamales' heat dropping too fast or never put warm tamales in the fridge without cooling them down. With warm tamales in the refrigerator, you foster microbial growth, notably salmonella. Beyond that, warm tamales wrapped in aluminum foil can't cool themselves down for hours, even in the fridge. This time is long enough to turn food spoiled.
A frozen compartment is advisable for uncooked tamales.
Do not forget the expiration date! After that time, your food will start degrading and become no longer edible.
Airtight containers protect tamales from oxygen and cross-contamination from other refrigerated food.
Both freezer and refrigerator alleviate tamales' texture and quality. Accordingly, nothing seems better than eating tamales right after purchase.
Long storage makes the dough heavier, and the texture declines gradually.
How To Reheat Tamales
Above is the storage guide. Regarding reheating step, steamers sound the most popular, yet may not be available sometimes. Worry not! Air fryers, rice cookers, microwaves, and frying pans also excel in the same task – reheating tamales.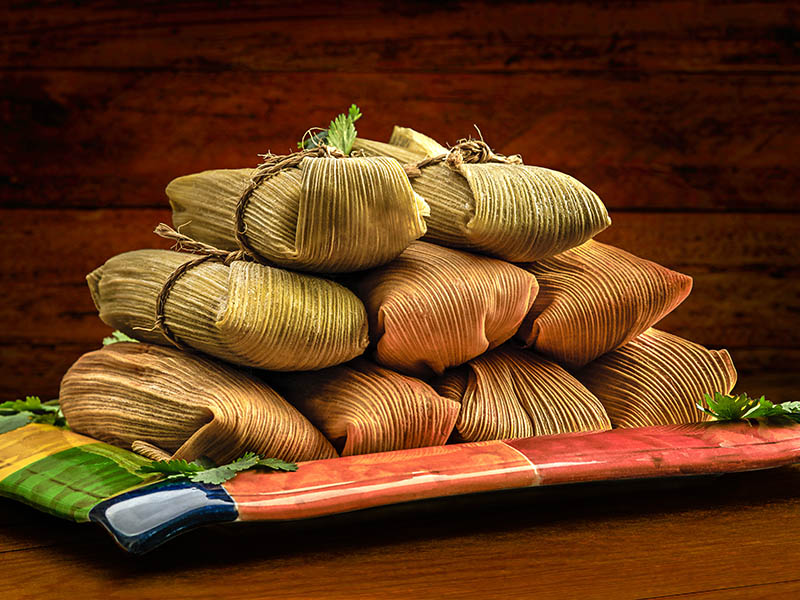 How To Use Steamer To Reheat Tamales
Undoubtedly, a steamer is an optimal option to reheat tamales as traditionally. A high-quality tamale steamer does the trick in retaining tamales' original texture and taste.
There are several simple steps to using a steamer:
Step 1: Pour Water Into The Pot
Pour 2-3 inches of water into your pot. Do not let the water touch the steaming basket's bottom. Otherwise, your tamales will get soggy while touching and absorbing much water.
Step 2: Place A Basket Into Your Pot
Put the basket into your pot with a tight-fitting lid available.
Step 3: Place Tamales In The Basket
When water boils, put all tamales available in your basket.
Step 4: Steam Tamales
After all, you need to cover your pot again, then set the steamer to a medium heat level.
It takes only 30 minutes to reheat your treat with a steamer. Frozen-tamale reheating needs 10 minutes more than refrigerated ones.
How To Use An Air Fryer To Reheat Tamales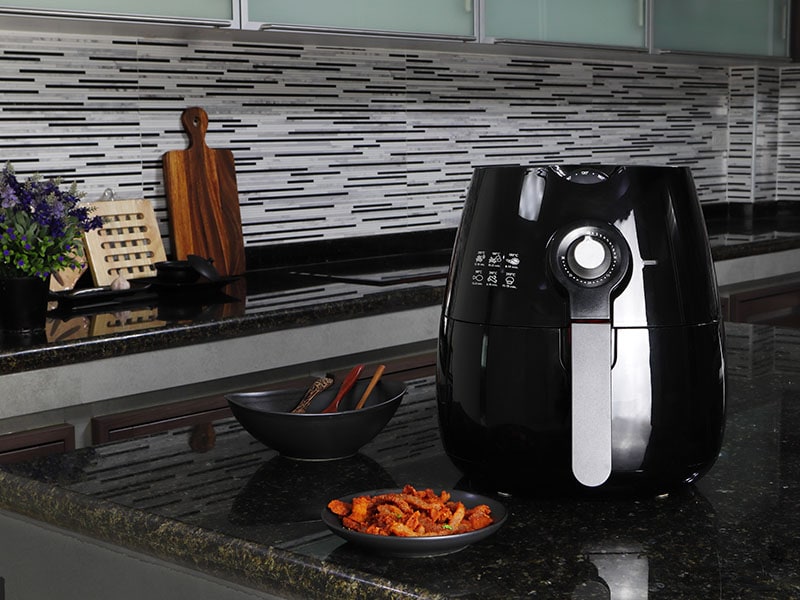 Yes. An air fryer works wonders to reheat tamales. It is an epic replacement while the cooking area has no steamer available.
Step 1: Turn On The Air Fryer
Turn your air fryer to medium heat at 325F for 3 minutes.
Step 2: Prepare Tamales
Brush tamales with a bit of oil and wrap them in aluminum foil or baking paper. Press any air inside each container and seal them entirely.
Step 3: Put Tamales In The Fryer Basket
Place tamales in the fryer basket without overcrowding them. Arrange them with space to ensure air circulation and evenly cooking.
Step 4: Wait And Get Things Done!
Wait for your air fryer to reheat tamales for about 5 minutes only and remove tamales. Serve hot.
Notwithstanding, remember to track the proper cooking time to preserve tamales' moisture and original flavor during reheating.
Learn how to reheat tamales in the air fryer properly and simply!
How To Use A Rice Cooker To Reheat Tamales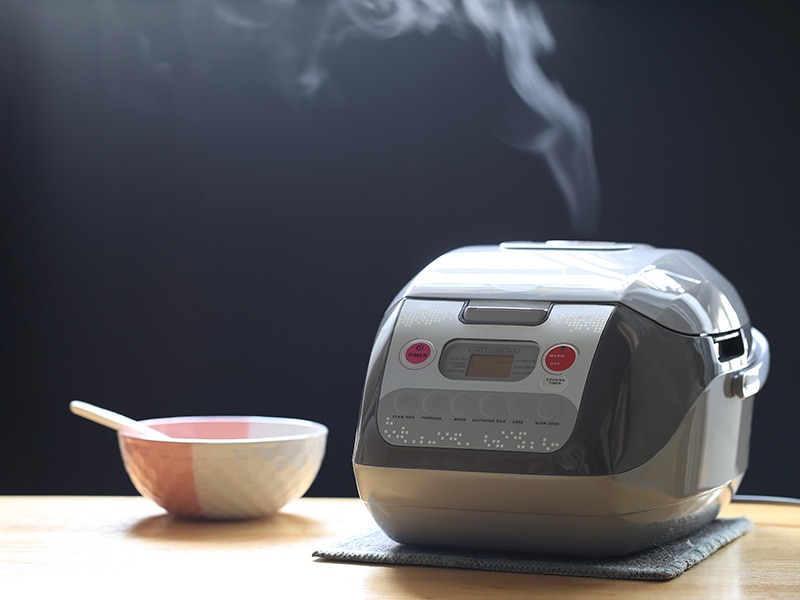 Interestingly, you could also utilize a rice cooker to alter a steamer. You may be surprised with the new role of your rice cooker – reheating tamales pretty well. Some steps to follow:
Step 1: Prepare The Rice Cooker
Pour 4-5 inches of water into your rice cooker bowl. Turn on the regular cook to heat the water.
Step 2: Arrange Tamales In The Basket
Lay tamales in the steamer basket side by side and tightly. Place the steamer basket on top. Never let tamales touch the hot water to avoid turning soggy.
Step 3: Steam Tamales
After covering the top layer with a layer of 4 – 5 husks and covering the rice cooker with its lid, steam tamales. It takes about 60-90 minutes to have things done.
Step 4: Remove Tamales
Once your tamales can pull away easily, it's done! Remove and let them cool down before eating.
How To Use A Microwave To Reheat Tamales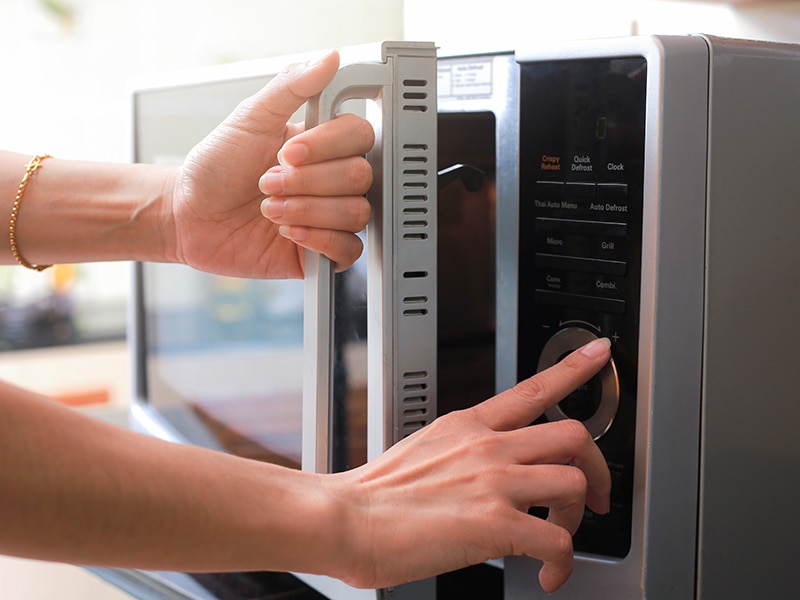 If you fear microwave ruins your sweet tamales, worry not. In fact, a microwave performs pretty well in reheating tamales with 4 easy steps below:
Step 1: Wrap Tamales
To best reheat tamales with a microwave, use a moistened paper towel to wrap them.
Step 2: Put Tamales In The Microwave
Fit your tamales on a microwave plate with layers in a proper space (1 inch between each tamale), helping your food cook evenly.
Step 3: Reheat Tamales
Set your microwave for about 15-30 seconds to reheat all tamales.
Step 4: Take Tamales Out And Enjoy
Remove your tamales, unwrap the surrounding corn husk and paper towel, and everything is good to go.
How To Use A Frying Pan To Reheat Tamales
Absolutely yes. This way adds flavors and nice texture to the tamales.
Follow the step-by-step instruction for the best result:
Step 1: Prepare A Frying Pan
Warm up your frying pan at a medium level. Pour a little oil or butter into your frying pan.
Step 2: Place Tamales Inside The Pan
Add and arrange tamales to fit into your frying pan to ensure all tamales are heated evenly.
Step 3: Reheat Tamales
Once the tamales' bottom turns golden, flip all and repeat. Wait until the other side turns golden, and tamales are heated through with light brown color.
Step 4: Remove Tamales
Take tamales outside, soak up the excess fat with tissues and let them cold down. And it's time to enjoy tamales in your me-time.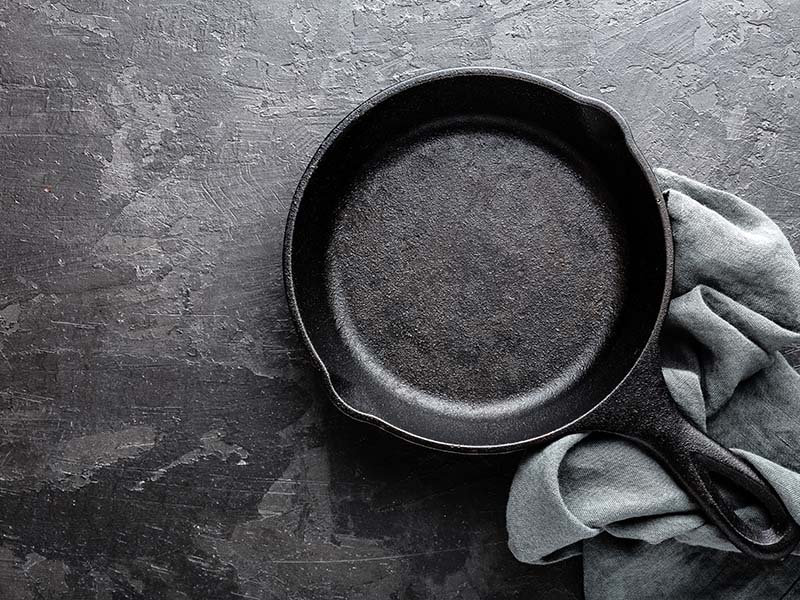 How To Tell If Tamales Go Bad?
You can determine when they go bad with seeming ease. A sour, stinky, or rotten smell and mold growth are signs of tamales getting spoiled.
As for the color, spoiled tamales foster bacteria and mold growth, causing recognizable discoloration. Tamales may turn from a yellowish color to orange or pink.
Thus, if you notice significant color changes, it's time to let your tamales go. Otherwise, you would get severe food poisoning if you eat them, notably tamales containing meat. Fillings with seasoned and sauced meat are quick to turn bad.
Wary at vegetable tamales as well! Moldy ones seem less likely to cause severe health issues, yet throwing them away once they get moldy sounds better.
Cover your tamales thoroughly to keep them off flies, which often contaminate food and spread diseases to humans.
Can Moldy Tamales Make You Sick?
Absolutely yes. Expired tamales often include campylobacter, clostridium, salmonella, and staph bacteria. Their toxins harm you and make you sick in no time.
Even fully cooking can not eliminate the bacteria's toxins released utterly, threatening your health more or less. Thus, you had better order the new ones once you figure out any weird signs (sour smell, discoloration,…) on your tamales.
FAQs
Above are several primary matters surrounding tamales storage. The time to go for more interesting questions has come!
Storing Tamales In The Fridge – A Simple But Vital Way!
Not just Tamales, Mexican delicacies are non-stop a hot thread in culinary-gossip columns. No wonder ''How long do Tamales last in the fridge?'' appears as a hot search.
Now that you gained the ins and outs of Tamales storage in the fridge. Tamales can only ''survive'' for a while under the room conditions. Hence, be wise to keep the uneaten fresh in the refrigerator after consumption promptly!
Hopefully, what I unveil in this writing can please you. What you've just read is worth noting to enjoy tamales and keep you healthy!
If you still have more to share, leave some comments! Let's make exciting ideas endless!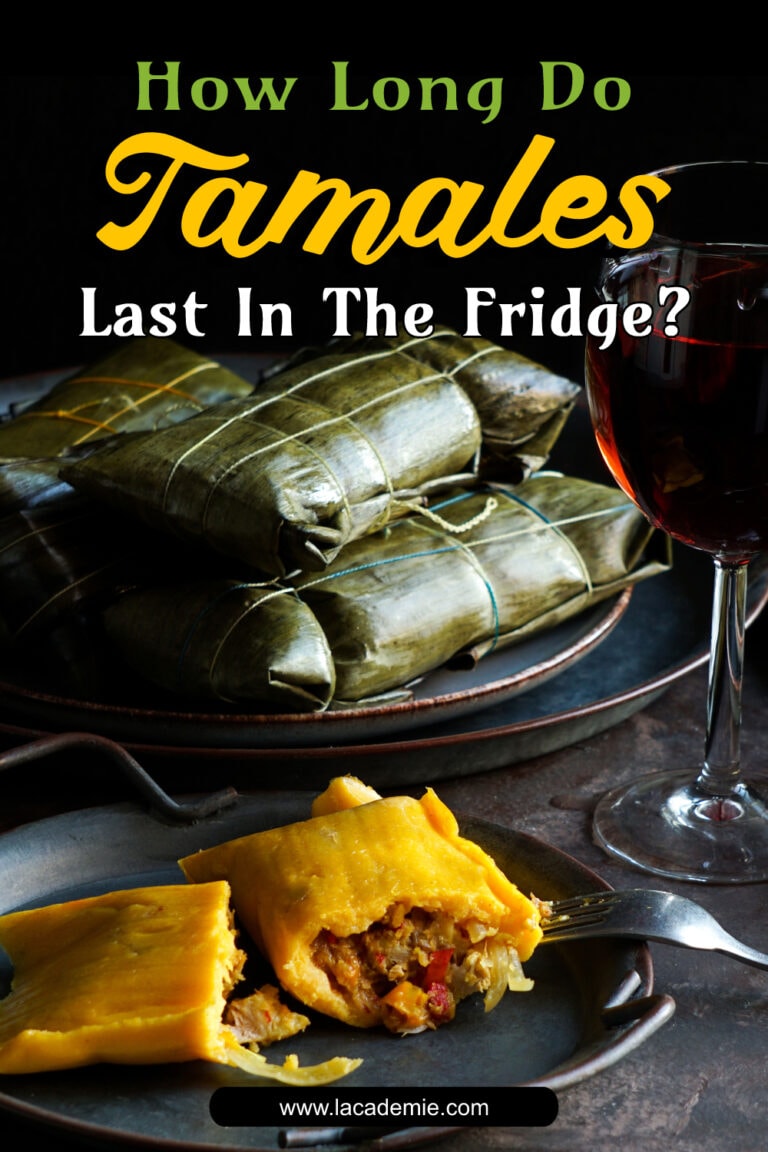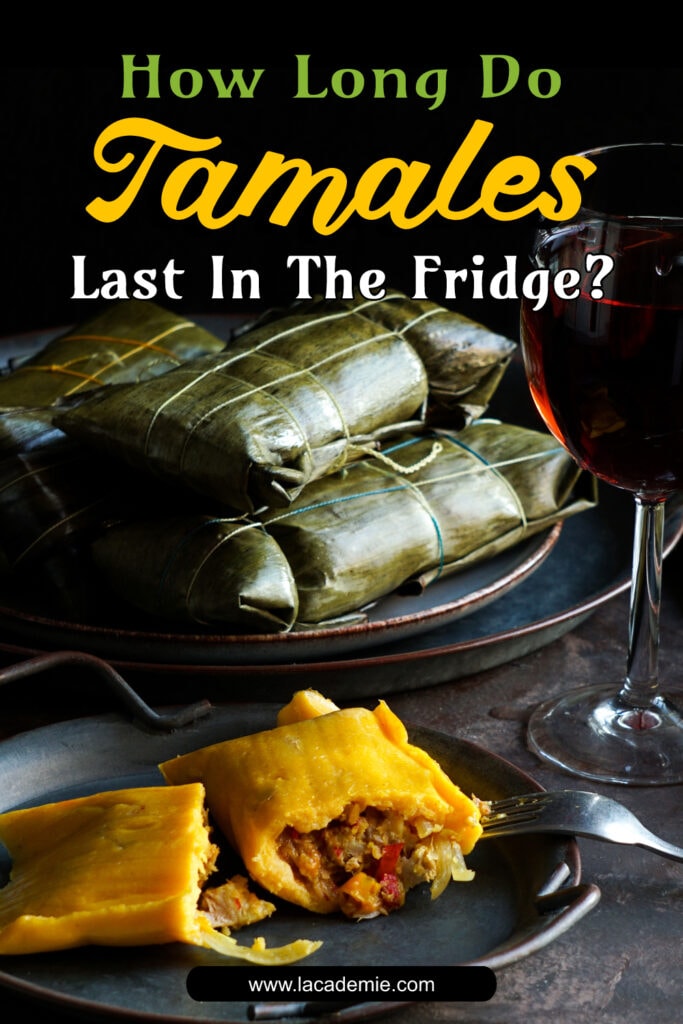 References:
Nawa.gov.pl. How Has the Language of the Aztecs Changed.
Medlineplus.gov. Phosphorus in diet.
Medlineplus.gov. 2021. Atherosclerosis.