How many Mexican fish recipes can you name? If you're having a hard time listing some of the most iconic Mexican fish dishes, you're not alone. Despite having a vast diversity of traditional Mexican recipes, the country doesn't seem to possess many popular fish dishes.
But not to worry because I got your back. If you have some fish at your house, give one of these recipes a try. I'm sure you will find a Mexican recipe that fits your cup of tea for an exciting meal with family and friends.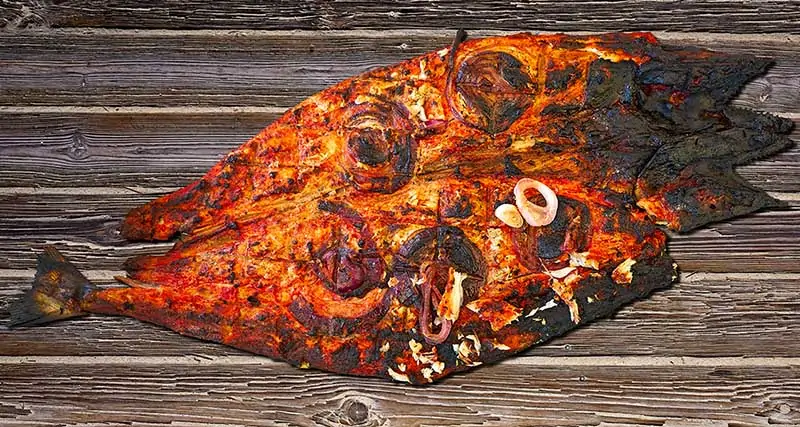 Flavorful Mexican Fish Recipes You Have To Try
If you're worried that traditional Mexican dishes can go overboard with their seasoning, it's the opposite of that. These recipes are extremely simple, but the flavor you get in return is mind-blowing. So let's jump right into it.
Total time: 40 minutes.
Coastal Mexican residents often serve Ceviche de Sierra as an exciting Mexican appetizer for tourists. Most often, when Ceviche de Sierra is served with deep-fried tortillas, people will call it Tostada (a dish with savory topping on a tortilla) instead.
In Latin America, ceviche is a staple dish that appears on many occasions. The highlight of this ceviche dish is the fresh mackerel. A mackerel filet has a similar taste to salmon with a light sweet flavor on the tongue.
It's simple to make Ceviche de Sierra, since you only need to toss freshly cut mackerel meat with Jalapeno (Mexican chili), lime juice, and oregano for 1 minute before it's ready to serve.
Enjoy your meal with the freshest taste of mackerel by following this guide.
Total time: 20 – 30 minutes.
Starting from the state of Guerrero in Mexico, Tiritas Pescados is a specialty of the Zihuatanejo harbor city. Many people suggest that the dish was invented in the 1980s when local fishermen used simple ingredients to create a ceviche by using available fish on the ship.
For a simple Tiritas Pescados, lime juice is a must-have because the citrus flavor helps create the texture of the fish meat. Although there's no limit to what kind of fish you can use, I suggest using filet or white fish for the best flavor.
Besides lemon juice, you should use oregano and salt for a simple seasoning mixture. Other ingredients are onions and peppers to taste.
Total time: 1 hour 10 minutes.
Colima is a small state in Western Mexico with many exotic dishes, including Ceviche. The name refers to a Latin American specialty in which the fish is only cooked using the acidity of lime juice. If you've never eaten raw fish before, this is a perfect time to try it.
Different from regular ceviche where the fish meat is often kept in small chunks, the Colima-style Ceviche uses minced fish instead. When served, the locals serve the ceviche dry without the marinating liquid to stop the curing process over the fish meat.
As for the marinating liquid, I suggest combining a mixture of diced tomatoes with lime for a flavor mixture. Adding some Serrano peppers and carrots will greatly enhance the texture of the dish. For garnish, cilantro and avocado slices will make a wonderful combination to the ceviche.
Total time: 45 minutes – 1 hour 15 minutes.
If you ever have a chance to visit the beautiful Veracruz state of Mexico, remember to experience Huachinango a la Veracruzana, an iconic recipe of the state. The dish is a combination of Spanish cooking with pre-colonial Mexican cuisine.
Traditionally, the locals of Veracruz marinate an entire red snapper in a mixture of pepper, garlic, and oregano. Of course, the red snapper will have to be descaled and gutted before cooking.
The red snapper stands out from other fish because of its beautiful red color. People often describe red snapper's meat as subtly nutty with a mild sweet flavor. The texture of the fish is firm, making it perfect for many dishes.
The sauce for this dish consists of onions, chili, olives, and tomatoes. People will often bake the whole red snapper with the sauce mixture until the fish becomes tender. For an optional side dish, I recommend using the dish with white rice.
Discover how you can make one of Veracruz state specialties right at home.
Total time: Around 30 minutes.
Originating in the Nayarit region of Mexico, Pescado Zarandeado is a tasty Mexican dish that utilizes various kinds of fish in the region. Typically, the locals of Nayarit will grill the fish over mangrove wood charcoal, so the dish gains a distinct smoky flavor.
In today's cooking, you can grill the fish over regular charcoal with some light seasoning. Although there's no limit to the type of fish, my best recommendation is red snapper for a naturally sweet and nutty meat flavor.
Total time: 25 minutes.
There's nothing better than coming home on a cold day and having a tasty Mexican soup recipe for the night. It's one of those comfort foods that will surely make your night cozier with its flavorful broth and hot spices.
To make the dish, you need to start by choosing your fish. My preferred choice is always whitefish (fish that have white meat) for the mild flavor and sweetness. The rest is combining chili powder or red chilies to create the heat for the soup.
A small hint, you can use tomato to create a more vivid red color for the soup or to complement the sweetness of the fish.
Total time: 30 – 33 minutes.
The Mahi Mahi is a native fish of the Gulf of Mexico. People often know about the fish by its striking green color with blue and yellow highlights. Besides Mexico, this fish is a common food in Fiji, Costa Rica, and Hawaii.
Mahi Mahi Taco (a half-folded fried corn tortilla with fillings) is popular around the coastal area of Mexico as a delicacy.
When cooked, Mahi Mahi meat turns from brown to white and has a flakey texture. For the best meat texture, I recommend using the Mahi Mahi filet to cook with. Make sure you season the fish with simple ingredients like smoked paprika, onion, and garlic powder.
Renovate your Taco with this delicious Mahi Mahi recipe.
Total time: Around 39 minutes.
Do you think cilantro with whitefish makes for a good combo? Let this recipe of Mexican baked white fish prove that to you with a creamy flavor of the sauce and tenderized fish meat.
The dish's sauce is characterized by a striking green color of cilantro. In addition, the appearance of garlic and onion also helps direct the flavor of the cilantro sauce. Most often, people will use a blender to combine the ingredients for a pureé-like mixture.
Finally, the sauce is poured over the fish meat before it's baked in an oven. Although cilantro often loses its aroma and flavor when cooked on high heat, you can easily fix this by using a large amount of cilantro for the sauce.
Total time: 1 hour 10 minutes.
Did you know that tilapia is the second most popular farmed fish around the world, beaten only by carp? Because of its wide coverage around the world, many cuisines around the world adopted tilapia into everyday meals.
Like many varieties of fish, the best part of tilapia is the meaty filet, which is perfect for any delicious keto Mexican recipe. To bring some Mexican spirit into this dish, you will need to marinate the fish with Mexican oregano, chili powder, and lime juice.
Before baking the tilapia in the oven, make sure you pour into the baking tray a can of tomato sauce to accompany the marinated tilapia. Cover the tray with some tin foil, and your Mexican baked tilapia should be ready in 10 or 20 minutes.
Make this hearty baked tilapia for your next awesome dinner.
Total time: Around 30 minutes.
It's always amazing to finish your dinner with a light and hearty plate of salad, but what if you can spice it up with the addition of salmon? Your tasty Mexican salad will instantly become a hit with your family and friends.
To prepare the salmon for the salad, you will need to sear both sides of the salmon filet. Remember to season the salmon filet with simple condiments like chili, garlic, and cumin powder. Make sure to pay attention to the temperature as salmon takes little time to cook.
Finally, you can start assembling your salad by mixing a variety of vegetables with a dressing of your choice. The rich and buttery flavor of the salmon meat with the crunchy seared outside will elevate any salad dish to a whole new level.
Total time: 30 – 45 minutes.
Instead of only having cattle or poultry meat for your Taco fillings, I suggest trying out a super crispy fish filling to switch your experience. A crunchy Mexican Taco with fish filling is a perfect balance recipe for a fresh and less greasy meal.
For the batter, you can either use a mixture of flour and baking powder or breadcrumb as a simple choice. Remember, if you choose to use the flour mixture, make sure you add 1 can of lager beer to create a desirable batter.
Don't forget you can make a delicious sauce mixture to pair with the fried fish. To keep the sauce simple, I suggest using sour cream or yogurt as the base of sauce with some lime juice to adjust the flavor.
Total time: 35 minutes – 45 minutes.
Almost every country around the world has its version of fish soup. This delicious Mexican dish is simple to make as it's a combination of vegetables and fish cooked in a broth mixture. Most often, Mexican Caldo Pescado has natural sweetness from the ingredients and is served warm.
To create the broth's base, people simmer the fish with garlic and onion to eliminate the fishy smell. Next, you can add tomatoes and chili to intensify the flavor of the soup. For vegetable options, your best bets are in carrots and tomatoes to accompany the flavorful broth.
Uncover the secrets to make a heart-warming Caldo de Pescado for your dinner.
Total time: 50 minutes – 1 hour 10 minutes.
If you're having a hard time finding red snapper to make the original Huachinango a la Veracruzana, then it's entirely possible to use white fish as a replacement. In Spanish, the word "a la Veracruz" only refers to the cooking style of the Veracruz region.
The dish will require the most basic Veracruz-style ingredients like mild flavor tomato sauce with olives and capers (edible flower buds used for seasoning). You may not know this, but it's the caper that gives Veracruz-style white fish a tangy flavor and complements well with the olive.
Although not every Veracruz-style dish requires chili, you can still slice in Jalapeno for extra Mexican spice. The flavorful tomato sauce of the dish makes it a wonderful option to have along with white rice for the people in Veracruz.
Eating Fish Is Now More Exciting When It's A Mexican Recipe
What do you think about these Mexican fish recipes? Each Mexican fish recipe is unique in flavor and tailored to that specific region. If you're planning on a trip to coastal areas around Mexico, then consider trying one of the dishes.
Well, that's all I have to provide you with for today. Thank you for your attention to the post. If your friends or family members are in Mexico, share this exciting post with them. Please place your thoughts in the comment section. It's always a pleasure for me to read them.
Nutrition Facts
6 servings per container
---
Amount Per ServingCalories83
% Daily Value *
Total Fat 1.4g

2

%
Cholesterol 37mg

13

%
Sodium 43mg

2

%
Potassium 276mg

8

%
Total Carbohydrate 2.9g

1

%

Dietary Fiber 0.7g

0

%
Sugars 0.9g

Protein 15.3g

30

%
---
Calcium

20

%
Iron

1

%
Vitamin D

2

%
* The % Daily Value tells you how much a nutrient in a serving of food contributes to a daily diet. 2,000 calories a day is used for general nutrition advice.