Discover the vibrant world of Fijian foods, where tropical flavors and cultural influences blend to create an exotic culinary experience.
This island nation's cuisine is indeed a colorful blend of fresh ingredients and time-honored cooking techniques that will captivate your senses.
So let's follow me to dive into this gastronomic journey and explore the rich traditions that a must-try for any foodie.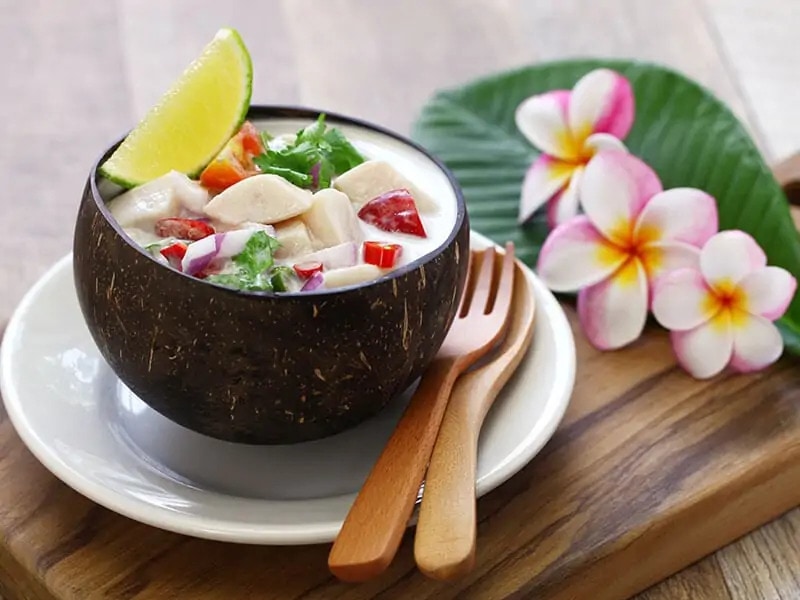 Quick Fact About Fijian Food
Here are some important insights about this culinary practice!
Cultural Influence
The indigenous culture, along with the various immigrant communities, has created a very special and healthy cuisine in the South Pacific.
One significant influence on Fijian foods comes from the Indo-Fijian community. That's why you will see some of their dishes featuring local twists on Indian signature food, like curry, Roti, and fish Surawa.
Key Components In Meals
They highlight the use of farm-based foods with roots in the combination of foraged and cultivated ingredients.
Starchy vegetables are staples in this cuisine. For example, taro (also known as dalo), cassava, and sweet potatoes are very common in local meals. Taro leaf is one of the essential vegetables here as well.
On the other hand, they use a lot of coconuts (in various forms) and spices to enhance the flavor.
Regarding the main proteins, as an island nation, Fiji has a rich source of fresh seafood, such as fish, octopus, and shellfish. How about meat? Lamb and chicken are the most popular ones in this country, while pork or cattle is occasionally served at special events.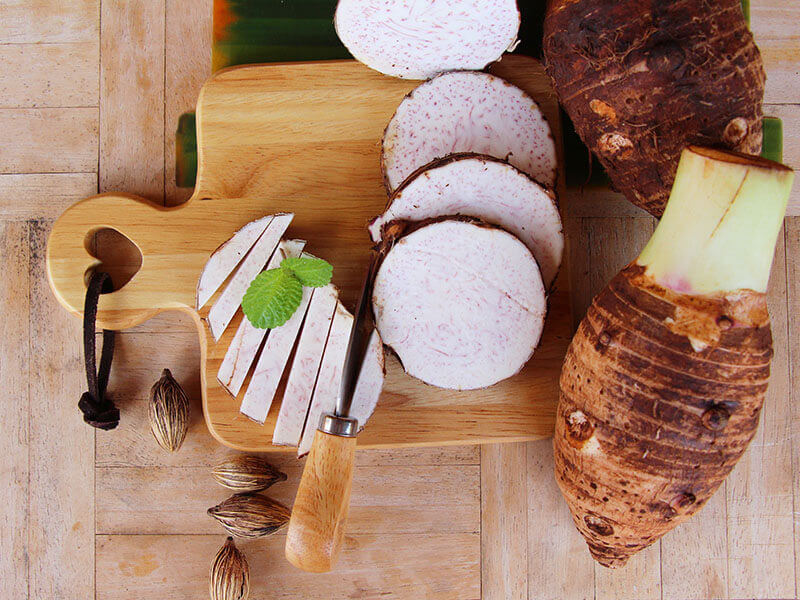 Meal Structure
Fijian breakfast favorites can be bread, cereal, and coffee or tea, while some families prefer roti served with curry or taro/fish soup. So it is clear to see that the breakfast meal in this country reflects both local and international influences.
Lunchtime in Fiji is a versatile affair, with traditional village meals featuring cassava/taro, soup, and tea, while Indo-Fijian families may opt for a meal of rice and curry with a side of salad or chutney. Plus, the appeal of Western fast food has become a popular choice among younger generations.
On the other hand, Fijian dinners showcase hearty dishes, such as stews, curries, and stir-fries, often accompanied by rice or root vegetables. Their desserts are also flavorful as they are made with coconut, ginger, cassava, and spices.
Meat-Based Dishes
1. Palusami
(Boiled Taro Leaves And Coconut Cream)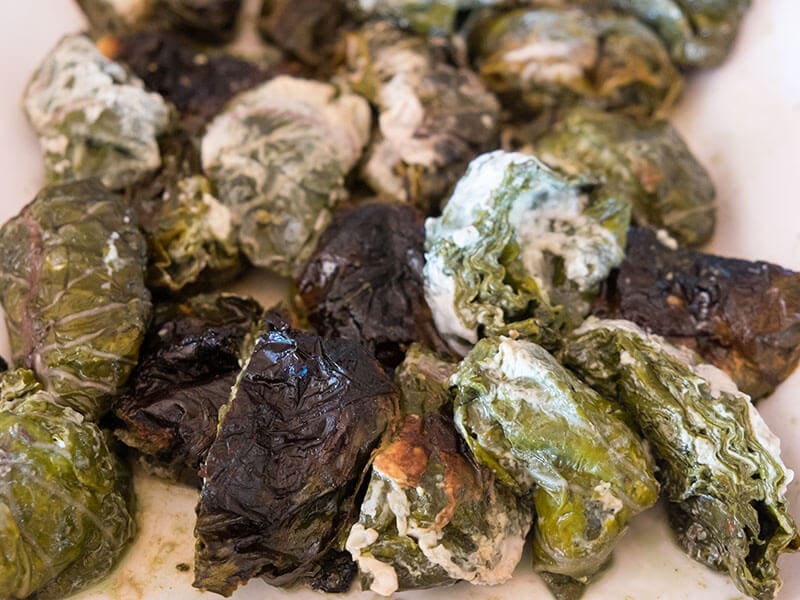 Palusami is a great recipe in many regions of Polynesia. You can find it in Samoa cuisine or in Hawaii and Fiji. Unlike the name "Palusami" in Fiji and Samoa, it is called "Laulau" in the Hawaiian food list.
It contains corned beef mixed with onion, garlic, and coconut cream, then wrapped in taro leaves (rourou). Fresh meat is rare on this island, so people often use corned beef instead. Furthermore, the locals also use seafood to prepare it.
Fijians will use Lovo (an underground oven) to cook this recipe. However, ovens are preferable in modern times. Traditionally, Fijians will precook the meat before making this food.
2. Chicken Chop Suey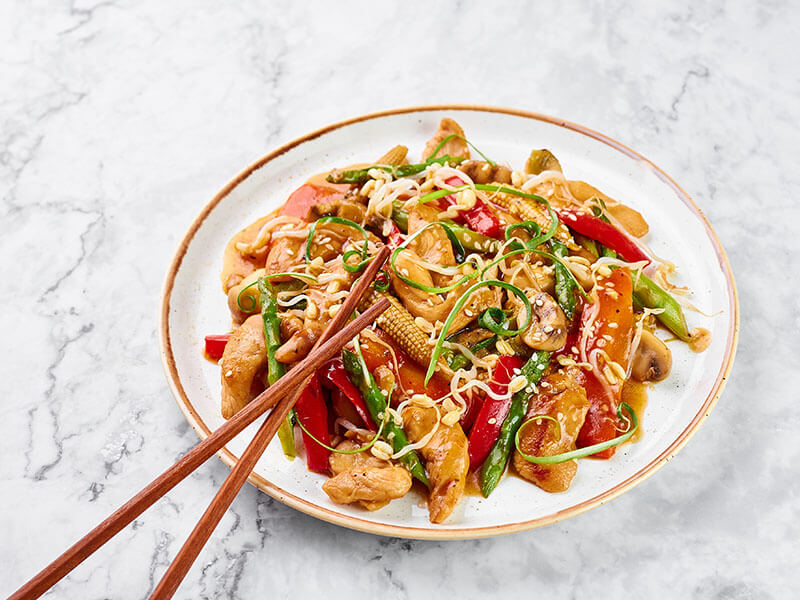 Chicken Chop Suey is a famous Chinese delicacy, especially as a takeaway meal. Many people say that it is a mixture of American and Chinese cuisine. Li Hung Chang (a Chinese ambassador) cooked this recipe on August 29, 1896, to serve his guests when he came to New York City.
Chinese settlers brought this fantastic recipe to Fiji in the 19th century. Gradually, it has become famous across the country. You can find carrots, bean sprouts, Chinese cabbage, and chicken in this delicious food.
To enhance the chicken taste, Fijians will slice chicken into small pieces and season it with ginger, soya sauce, and other spices. Then, they will stir-fry all ingredients and serve them with noodles or steamed rice.
3. Lamb Stew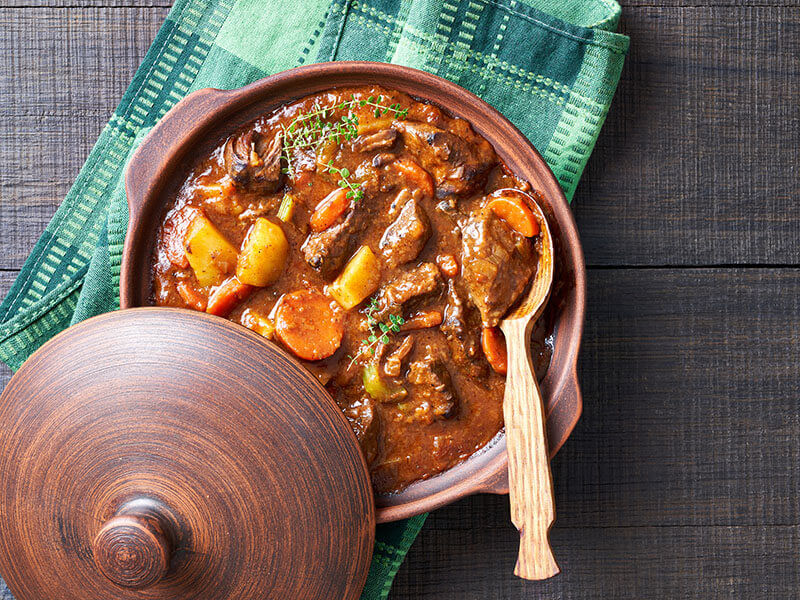 It is time to add protein to your body with this delicious lamb-based recipe. Regarding its history, lamb stew is a long-standing dish in Ireland. It appeared in the Roman cookery book in the 4th century AD. Gradually, it spreads to many other regions worldwide.
Lamb stew is a dish made with lamb, carrots, and potatoes, cooked together to create a flavorful meal. The attractive feature of this food is the fantastic gravy with many different spices.
4. Duck Curry
Fijian duck curry has its origins in vibrant Indian cuisine. This delicious dish is often prepared and served at parties in Indo-Fijian households, making it a central feature of their celebrations.
The main ingredients in Fijian duck curry include tender duck meat, which is marinated with a flavorful blend of turmeric, garlic, ginger, and more. Moreover, locals prefer using organic duck to increase the quality of this curry.
An interesting fact about this curry is you might find a metal spoon in the duck curry pot, which is a traditional method used to tenderize the meat in Fiji. To make it a complete meal, enjoy your curry with beers or cocktails. These combinations are perfect!
5. Goat Curry
Although goat curry is the invention of people in Southeast Asia and the Indian continent, it is well-known in Fiji and has become a staple food of this country.
And similar to Indian cuisine, the curry is even better when served with rice, tamarind sauce, raita (yogurt), and chutney.
Fijians will use a slaughtered goat to make this wonderful dish. On the other hand, mutton or lamb are ideal replacements for goats. After slow-cooking meat with spices and other ingredients, you will have a yummy curry.
6. Lovo
(Grilled Meal In Underground Oven)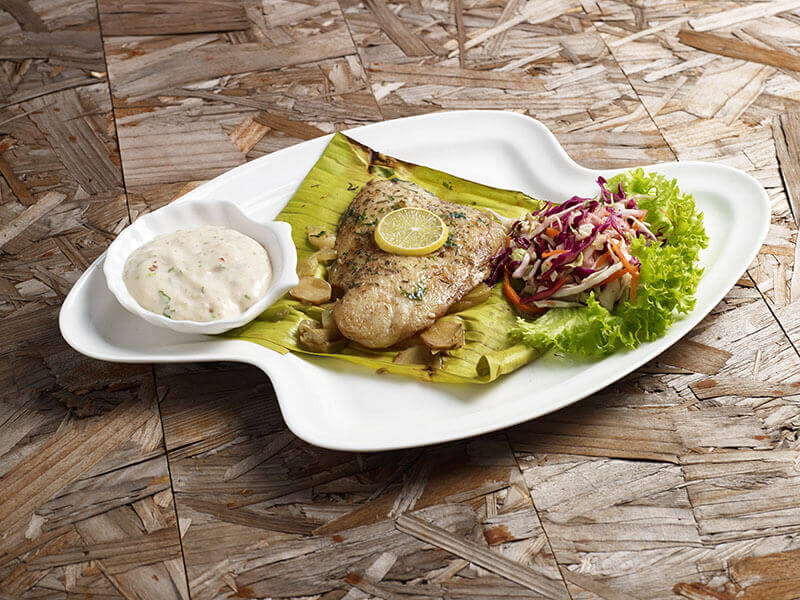 In fact, Lovo ("hangi" in New Zealand) is a traditional method of cooking in Fiji. It plays a crucial role in social gatherings, festivals, weddings, and events here. FYI, "Lovo" refers to a "feast cooked on the earth" in Fijian.
This is a method where food (e.g., meat, fish, and vegetables) is placed in an improvised underground oven. It involves lining a hole in the ground with coconut husks, which are then covered with heated stone.
Food items are wrapped in leaves (can be banana or taro leaves) and placed on top of the stones, which are then buried and slow-cooked for several hours. As a result, you will have a distinctive smoky dish.
Seafood Dishes
This part is for those who love seafood. These dishes' freshness and characteristic taste will stimulate your taste buds. Let's check them out.
7. Grilled Mahi Mahi
(Fijian Grilled Fish)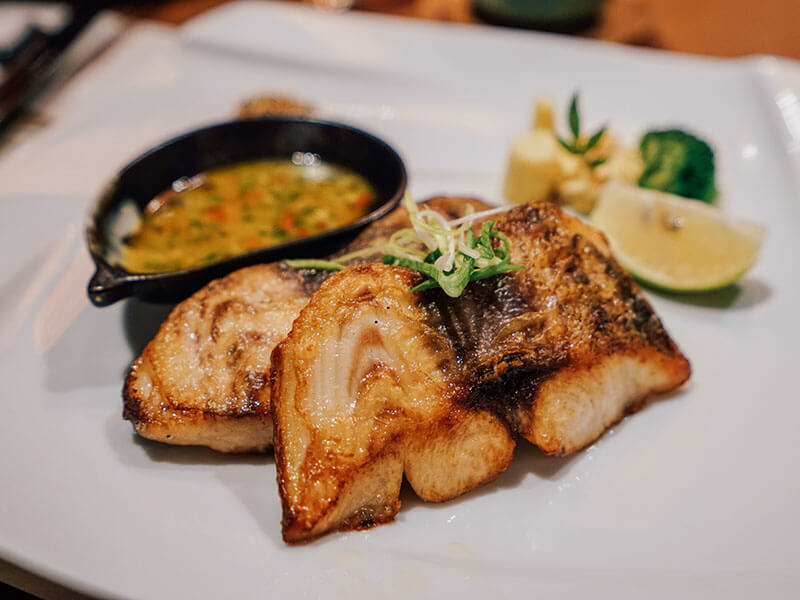 Mahi-mahi is a typical warm-water fish that has a bright color with a mildly sweet flavor. This fish belongs to the Coryphaenidae family. You can see Mahi Mahi commonly in Costa Rica, Fiji, Hawaii, the Gulf of Mexico, and the Indian Ocean.
There are many ways to prepare mahi-mahi, and grilling is one of the most common methods in Fiji. To create this recipe, chefs will season the fish and add olive oil to the surface of the fish piece. After grilling for 4 to 5 minutes per side, you can consume this food.
8. Kokoda
(Raw Fish Salad)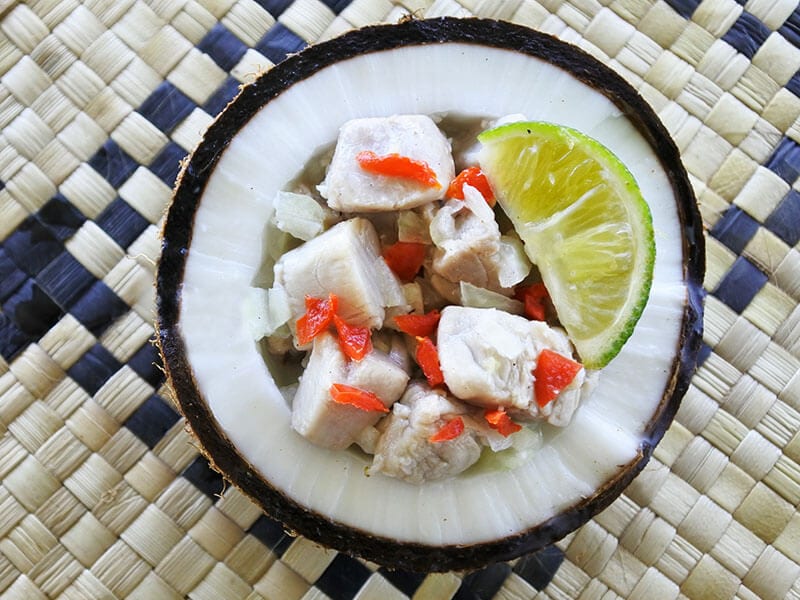 Kokoda is a traditional food of Fijian cuisine. It is a perfect combination of Mahi Mahi or other local raw fish with coconut milk. Moreover, a bit of citrus taste from limes will tickle your taste buds.
This amazing food has its origin in Papua New Guinea and the archipelago of the Fiji Islands. In fact, this is Fiji's version of ceviche from South American culinary culture. However, the use of coconut milk makes it distinct from ceviche.
In resorts in Fiji, people will serve this fantastic dish on a giant clamshell or coconut shell to give it an attractive look.
9. Crabs Curry
This rich curry is a great combination of coconut cream and crabs that will fascinate you from the first bite. Though it is not a Fijian-origin delicacy because it comes from Southeast Asia and the Pacific areas, crab curry is a well-loved food among locals.
However, its popularity in Fiji will surprise you. Here, this rich curry is often consumed with steamed rice. Before cooking, Fijians will remove the shell and crack other parts of the crabs.
The parts of the crabs will be added to the pot with other spices, like turmeric, ginger, mustard seeds, etc. After that, chefs will add coconut cream and shell into the pot and cook for 40 minutes to 1 hour. And you will have a delicious and warm curry to enjoy with your family.
10. Kuita Vakalolo
(Octopus Stewed In Coconut Cream)
Let me tell you about Kuita Vakalolo – a fantastic local delicacy made from octopus and coconut cream. Fijians often cook this dish at events and special occasions.
To bring the best experiences to diners, restaurants in Fiji will serve this tremendous dish with cassava, kumala (sweet potato), or taro. Fresh octopus will become tender and more delicious after simmering with tomatoes, chilies, onions, and coconut milk for a long time.
11. Fish Curry or Fish Surawa
Fish Surawa is another dish that takes the culinary world by storm with its blend of flavors. The foundation of this dish lies in its two main ingredients: firm white fish and creamy coconut milk.
The addition of aromatic spices, such as chilies, cumin, and turmeric, further elevates the flavors. Of course, no dish is complete without the perfect garnish. With some freshly chopped cilantro sprinkled on top, it not only adds an appealing visual element but also increases the freshness.
Fish Surawa is a versatile dish that pairs beautifully with a variety of foods. The best idea is to serve it alongside a warm bed of fluffy rice. The rice will soak up the coconut-milk curry base to provide you with a hearty meal for lunch or dinner.
Vegetarian and Vegan Dishes
If you follow a vegetarian or vegan diet, the dishes in this section are suitable for you. The main ingredients are plant-based, but their flavor is still amazing.
12. Roti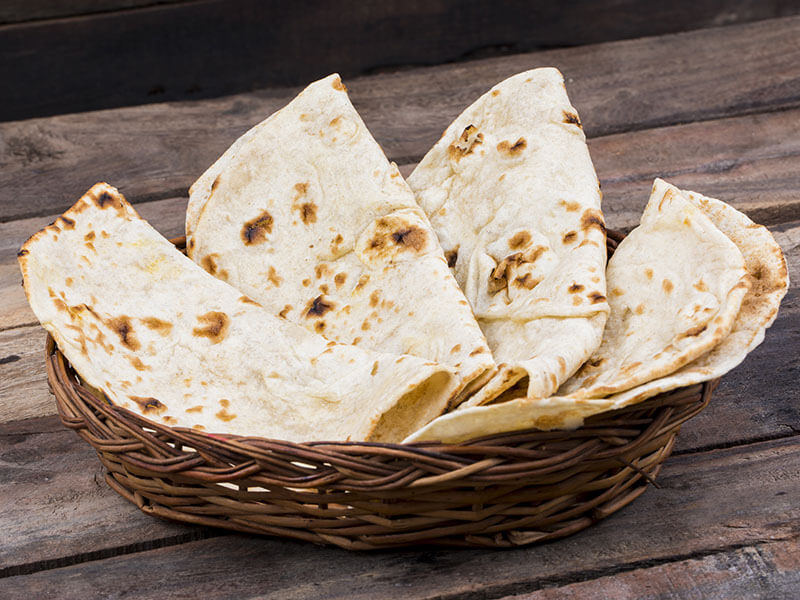 Fijian-style roti has its roots in Indian culinary tradition, brought to the islands by Indian immigrants who introduced this delicious flatbread to the local palate.
Made with simple ingredients like flour, water, and sometimes oil or ghee, this round, thin bread is cooked on a griddle until golden brown and slightly crispy. Its tender, flaky texture is excellent for scooping up flavorful curries.
Overall, it's a scrumptious combination that highlights the fusion of Indian and Fijian culinary traditions. So it is not hard to find roti in Fijian daily meals.
13. Rourou – Taro Leaves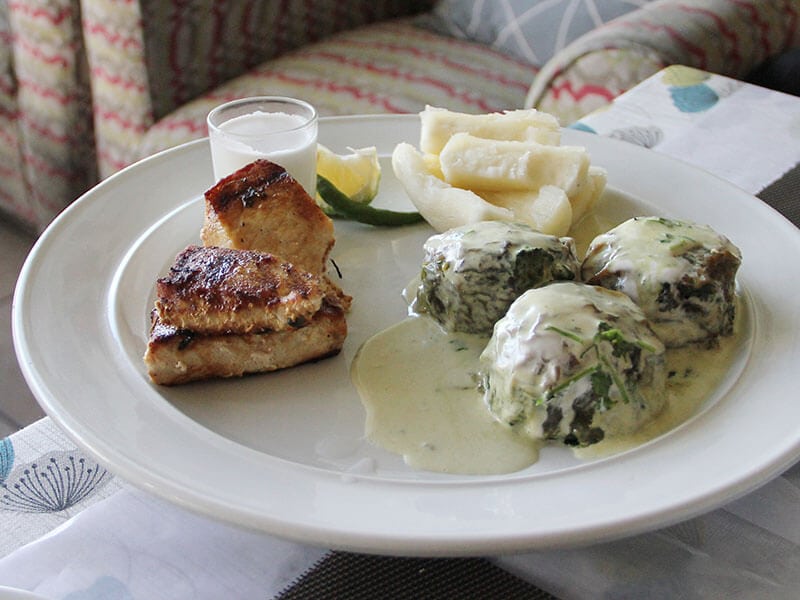 Rourou showcases the versatile use of taro leaves, a staple ingredient in Fijian meals. Obviously, the main star here is the humble taro leaf. These large, vibrant green leaves possess a subtle, earthy flavor that's both comforting and captivating.
When cooked, the taro leaves develop a velvety, melt-in-your-mouth texture that's truly unmatched. By simmering in a coconut milk broth and spices, everything blends so well to create a harmonious taste experience.
Cooking Rourou is an exercise in patience and precision, as the taro leaves must be handled with care to achieve the desired texture and flavor. It often acts as a soup or a yummy side dish to enjoy with the main dishes.
Listen to how to make Rourou in Fijian style.
14. Nama – Seagrape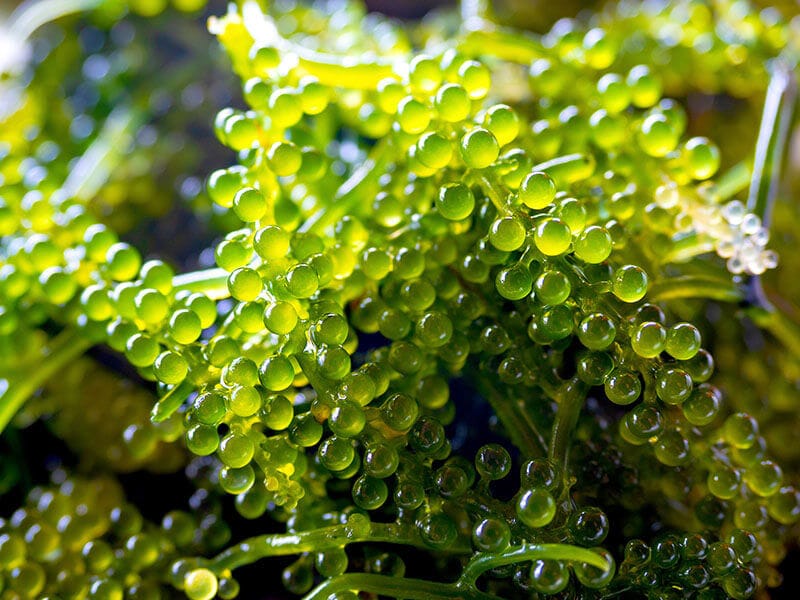 Known for its distinctive texture, Nama (aka seagrapes) is a celebration of Fiji's rich marine biodiversity. If you haven't seen seagrapes before, they are small, green, and succulent seaweed that forms clusters resembling grapes.
These tiny pearls of the sea are packed with essential nutrients and minerals, making them not only delicious but also a healthful addition to any meal. Nama is a rich source of iodine and other healthy nutrients. The flavor profile of Fijian Nama is a delightful fusion of freshness and brininess.
In many restaurants in Fiji, you can find Nama served fresh with lemon juice, tuna, tomatoes, chopped onions, and chili. Fijians also often mix Nama with coconut milk to create a tasty dish. In addition, it tastes better when mixed with kumala (sweet potato), taro, or cassava.
15. Taro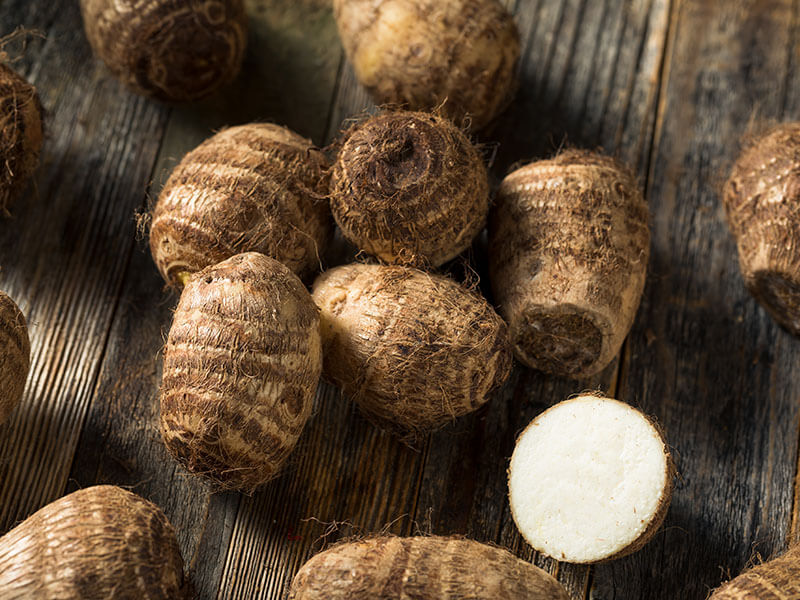 As mentioned above, taro root is a staple food of Fijians. More specifically, it occupies 60-70% of export crop production on the Island of Taveuni – the 3rd largest island of Fiji.
It is a root vegetable and has many similarities to yams and potatoes. Moreover, you can take part in Taro Day during the first full moon in May when traveling to this country.
There are many ways to prepare taro here. Fijians often fry it to make chips or fries. Mashed or boiled taro is also common.
16. Coconut Bread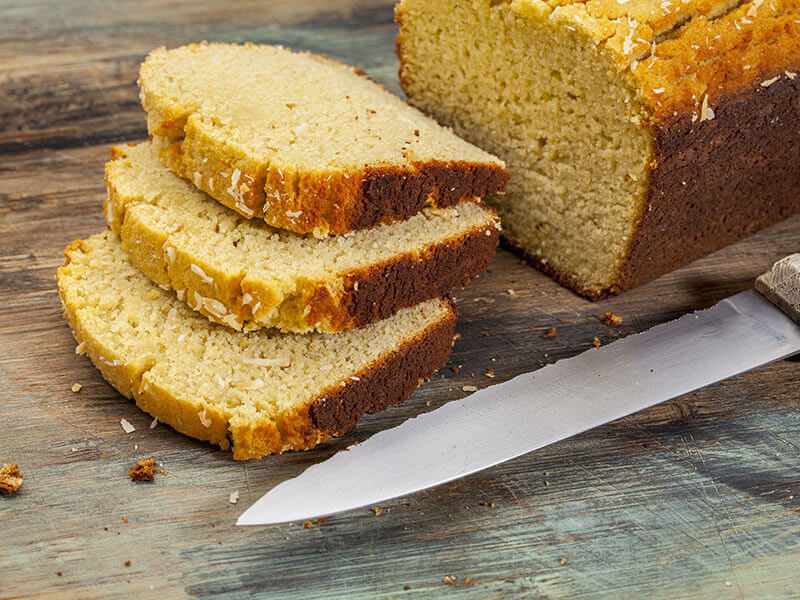 When it comes to mouthwatering Fijian choices for breakfast, coconut bread is a top choice.
Interestingly, this dish has its roots in the northern region of Guatemala, specifically in Izabal, where it was first created. Over the years, it has become an integral part of Fijian daily meals, with a rich history that spans thousands of years.
Coconut holds a significant place in Fijian cuisine, as it is regarded as the "tree of life" in the country. And this bread is a yummy concoction made from coconut milk, shredded coconut, flour, and other flavorful ingredients.
17. Duruka – Fiji Asparagus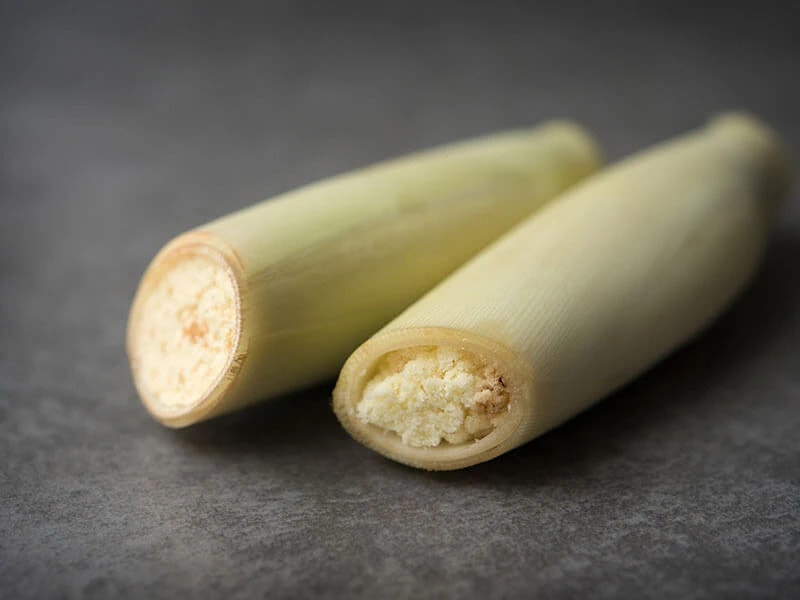 Duruka, commonly known as Fiji asparagus, is a fascinating plant with a variety of uses.
This perennial plant is known for growing in vigorous clumps. While it looks similar to sugarcane from afar, closer inspection reveals a plant with a much narrower stem and thinner leaves.
Fiji boasts several varieties of duruka, with some thriving along riverbanks to avoid erosion.
Flower heads are a popular commodity, often sold in local markets for use as a vegetable. The colors of these flowers also vary. Besides fresh plants, you can find them available in canning products.
18. Baigan Choka
(Roasted Eggplant with Herbs)
Baigan Choka traces its origin to the Indian subcontinent and has found a place in the hearts and kitchens of the people in Fiji.
This delightful dish features eggplants as its main ingredient. The flavors of Baigan Choka are a delightful mix of smoky and spicy notes.
The reason why it has this flavor is because of the process of roasting the eggplants and combining them with ingredients like tomatoes, garlic, onions, chili peppers, and fresh herbs.
To make it, the eggplants are first roasted until tender and charred, then peeled and mashed with the other ingredients to create a rich, chunky mixture. Finally, it is often served as a side dish or an accompaniment to other foods, such as roti or rice.
Desserts and Drinks
After finishing the heavy meal with the above dishes, you need some sweet and yummy dessert to refresh your taste buds. Let's save their name in your travel book right now.
19. Lote
(Cassava Dessert)
Lote is a dish crafted from grated cassava, pumpkin, sugar, and coconut cream. Some versions come with mashed bananas to create a dessert with a nice texture.
The finished Lote offers a tender, moist texture with the sweetness of the sugar, complemented by the nutty, creamy notes of the coconut cream. Plus, the pumpkin and cassava provide an earthy balance to the overall flavor profile.
In general, it is a very easy dessert to make at home. First, you need to boil water with sugar and other ingredients. You can add coconut cream at this point, or only add it before serving. Either way is acceptable!
20. Lolo Buns
(Coconut Buns)
Lolo buns are a famous dessert in this island country. Also, in Hawaii, this delicacy is available under another name, which is Pani Popo.
You will love the spongy and soft texture of Lolo Buns at the first bite. They are a combination of bread flour, milk, butter, and coconut milk. After baking, these bins are aromatic with an eye-catching golden brown color.
Furthermore, it is perfect for consuming them with iced tea. Besides, you can enjoy Lolo Buns as breakfast or side dishes in many local restaurants.
21. Cassava Cake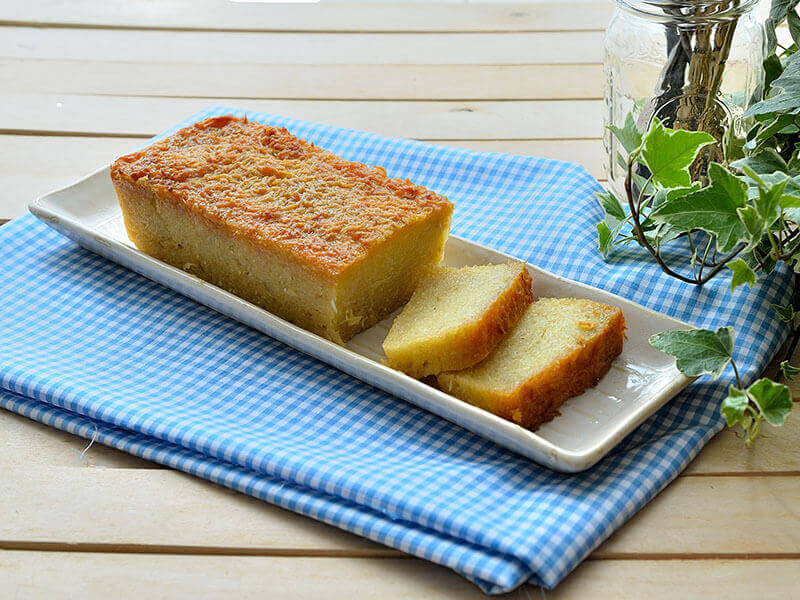 Cassava cake is a famous Filipino dessert, but you can find it in Fiji easily since it is a staple root vegetable in the region.
During Spanish colonization, people in the Philippines made this delicious food in the 16th century. Gradually, this recipe spreads to many parts of the world.
To make it, the cassava root is first peeled and then grated. After that, they will add coconut milk and spices to the grated cassava, then bake the mixture in a pan until golden brown.
The finished cake can be served warm or cold, depending on personal preference. In Fiji, locals also add butter, fresh fruits, and jams on top to increase the flavor.
22. Kava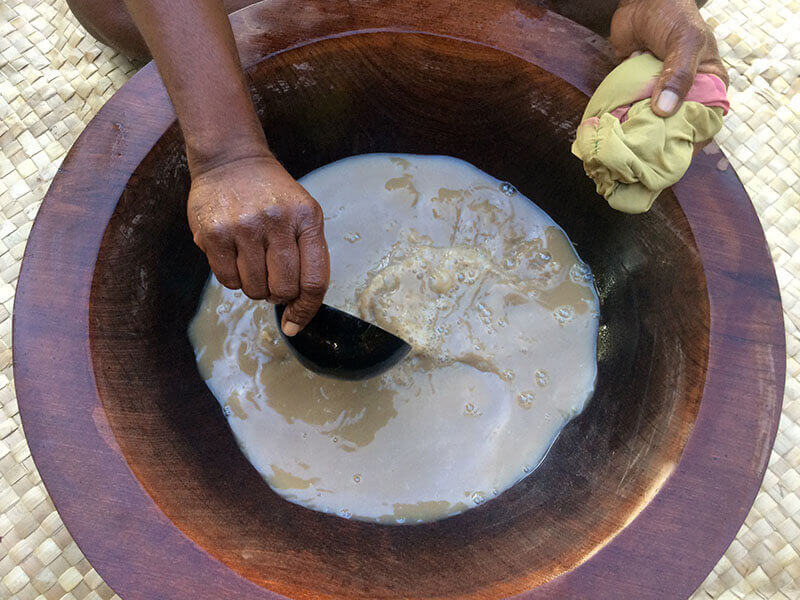 Kava, also known as yaqona or grog, is deeply rooted in Fijian culture. This drink is made with powdered kava root, then mixed with cold water.
The resulting beverage is a significant part of social gatherings, cultural occasions, and ceremonies in this region and other Pacific regions, particularly popular among young men.
In Fijian tradition, kava is typically served cold in a shorn half-shell of a coconut, known as a bilo. Moreover, drinking kava offers a relaxing effect to the drinker, which can last for a few hours.
23. Vudi Vakasoso
(Plantains Cooked In Coconut)
Vudi Vakasoco is another excellent Fijian sweet treat you should not miss. Vakasoso means "something added" in Fijian, which means you can add something to a dish. In this recipe, plantain and coconut are two key ingredients.
Actually, the word "vudi" means plantain in Fijian. To prepare this dessert, people will stuff grated coconut in the plantains, then cook them in coconut milk.
Besides the rich and excellent taste of coconut milk, you can feel the wonderful texture of plantains. It is a dense banana variety that resembles apple bananas in Hawaii.
You can consume it cold or warm, depending on your preference. For a better experience, you can try it with ice cream.
24. Vakalolo
(Steamed Coconut And Cassava)
Vakalolo is a typical dessert across the country. However, each region will have its own recipes, but the main elements include cassava, brown sugar, and coconut.
It is a steamed dessert, typically wrapped in banana leaves before being cooked. To make Vakalolo, grated coconut and cassava are mixed with sugar and spices, and the mixture is then divided into small parcels.
After steaming, the dessert is best enjoyed warm. And it often pairs with a coconut milk sauce (made from coconut cream and brown sugar) poured over the top.
Regarding its origin, there is no exact information about the history of this dessert, but it is said that the British brought this recipe to Fiji.
25. Purini
(Pudding Cake)
Purini has its origin in England. It is a traditional dessert of Fiji with many characteristic features. The main difference between Fijian pudding cake and English steamed pudding is the appearance of coconut milk instead of dairy product.
In addition, you can feel a hint of smoky taste from this Fijian recipe because Fijians often cook Purini over a wood fire. In addition, its texture will be firmer than the English version. You can also find raisins, nuts, and bananas in some variations.
Typically, natives will serve warm Purini with jam or butter, along with a cup of hot tea.
26. Honey Cake
The last sweet course that I believe you will love is this Fijian-style honey cake. features a blend of honey, coconut, and spices as its main ingredients.
The flavor of Fijian Honey Cake is rich and aromatic, with the sweetness of honey complementing the warmth of spices, namely cinnamon, ginger, nutmeg, etc.
As for texture, Fijian Honey Cake is dense and moist. Fijian Honey Cake can be served as a standalone dessert, or accompanied by a cup of tea or coffee, making it a versatile choice for different occasions.
FAQs
Do you want to explore more about the traditions that make this island fare truly unforgettable? Check these frequently asked questions and the answers for more details.
---
Fiji's Culinary Treasures: Island Flavors You Can't Resist
Have you had the chance to savor any of the Fijian delicacies mentioned in this post? Remember, food is an essential aspect of any journey, so be sure to add these remarkable dishes to your travel wishlist.
And if you find this post helpful for your next trip to this island country, don't hesitate to share this post on your social media pages or with family and friends. Additionally, I'd love to hear your thoughts and experiences with Fijian cuisine. Drop a comment below and let me know your insights. Thank you!