Treat yourself well with fabulous Samoan recipes at home right now. They will make your eyes bigger.
A short visit to Samoa is necessary to appreciate all the best gourmet foods. You may taste a range of delicious dishes on this island, which is made from several ingredients and techniques, numerous fruits, and raw materials concerning outstanding flavors and aromas.
In case you cannot afford to travel, are you eager to bring these unique dishes to your kitchen? Landing on this site, you do not need to shop more or find out any recipes for Samoan-style meals. The all-in-one article I attach here is full of the necessary information related to Samoan recipes.
Are you curious now? Keep dragging your mouse and experience.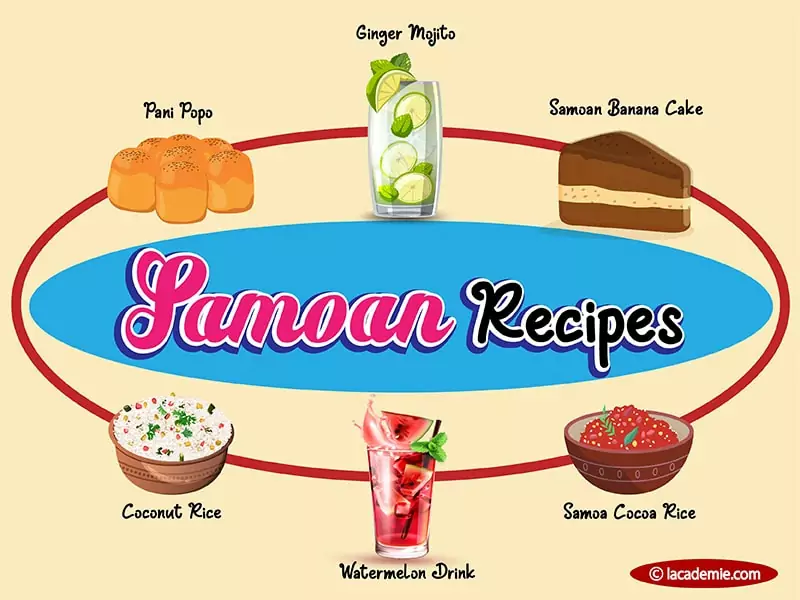 A shortlist of popular Samoan dishes is attached to diversify your menu. You might be fed up with what to eat for mornings, afternoons, or even evenings. Do not worry and look through my recommendations below.
Samoan Snack and Drinks
Pisua
Samoan steamed pork buns( Keke pua'a)
Watermelon drink (Vaimeleni)
Ginger mojito
Sweet coconut bread (Fa'apapa)
Samoan poi
Samoan Desserts
Samoan pineapple half-moon pies (Paifala)
Panikeke
Coconut caramel bread (Fa'ausi)
Samoa poke cake
Samoa cocoa rice (Koko alaisa)
Pani popo
Samoan banana cake (Keke fa'i)
Samoan banana tapioca pudding (Suafa'i)
Masi Samoa
Samoan Main Course With Some Popular ingredients
Chicken Recipes
Samoan chicken(Moa Fa'asaina)
Kale moa
Samoan chicken baked in banana leaves(Taisi moa)
Beef or Pork Recipes
Palusami
Sapa sui
Coconut-based Products
Fa'alifu fa'i
Oka
Coconut rice
Top 23 Attractive Samoan Recipes You Are Looking For
These Samoan recipes will satisfy your hunger within a couple of minutes. And there are more than 20 lists of food below. Pick your favorite dishes and create your own ones.
Simple-and-Easy Samoan Snacks And Drinks
Do you have any Samoan-style snacks and drinks on the menu? If not, these succeeding suggestions are brilliant options for you.
One of the brilliant choices for coconut-based products is pisua. It has many tapioca pearls inside. In case you lack tapioca pearls, granular sago can be used instead. The sweetness of this mesmerizing dessert from Samoa is coconut milk and caramelized sugar combination.
Besides, it attracts all my attention based on stunning colors. If you wanna have a homemade pisua, pick this recipe. Save this suggestion and experience.
Coming from Chinese-style cuisines, Samoan steamed pork buns have a similar shape to pork fillings. They can be added onions, garlic, and soy sauce to increase the flavors.
It can be made with steaming or baking. Serve it with a hot version to retain its tastes. Are you ready for a hot snack? Pick this recipe.
You will find a quick and simple recipe via this video.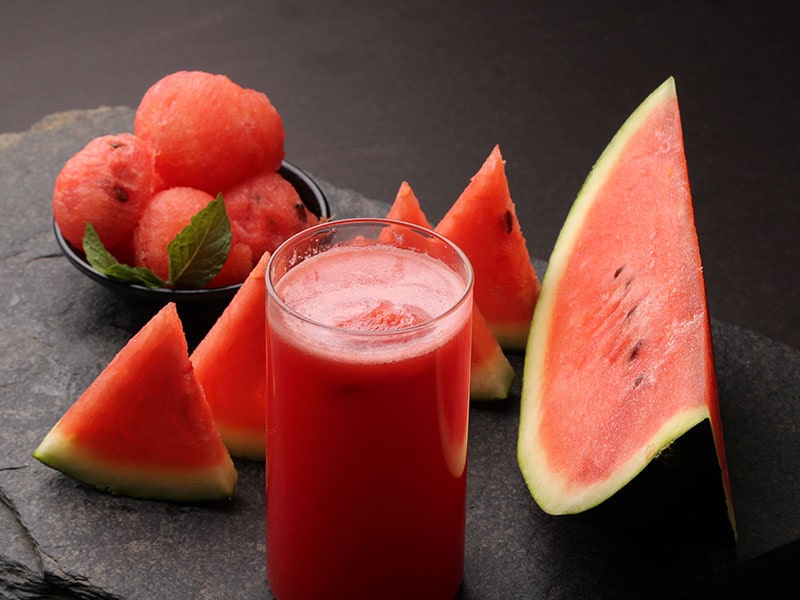 A must-taste drink on these hot days is watermelon juice. It's a super easy and time-consuming recipe for any busy person. Within a few sips, you will taste fresh, sweet, and yummy flavors. Better for a cold drink by refrigerating in a couple of hours.
Wanna a slightly sour flavor? Add one or two teaspoons of lemon juice and make your summer holiday more extraordinary.
Out of lemon juice? You can opt for lime juice instead. Not sure if your lime juice can go rancid? Do a small taste test before mixing it with the watermelon juice to make sure it is still fresh. And once you've made the drink, it's best that you finish it within one day.
Let's jump into this video to know how to make the quickest watermelon drink:
A small cup of ginger mojito will provide you with a huge benefit. In addition, a combination of peppery, sweet, pungent, minty smell, and a little sour flavor is a good resolution for these warm days. It can be done with simple ingredients such as ginger syrup, mint leaves, white rum, and lime juice.
Let's refresh your days with this beverage.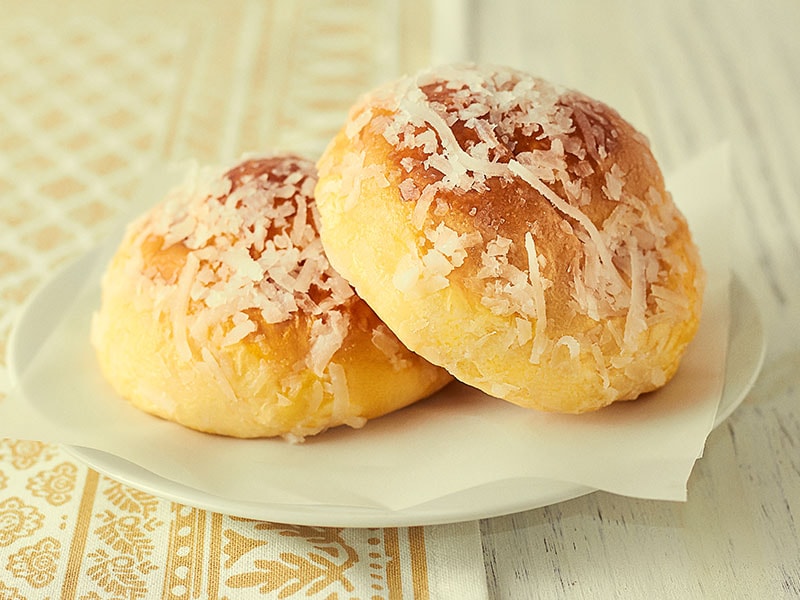 Have you heard about fa'apapa? Do you love baked bread? Are you a big fan of coconut-based products? Can sweet and moist bread be your preference? If yes, this sweet coconut bread belongs to you.
It is also a good option for snacks and brunches. You can save morning time to bake and enjoy this dish.
If you are looking for a snack for the afternoon, try this one. Samoan poi is a 4-ingredient dish with a vanilla aroma.
The mashed banana mixed with sweet coconut, sugar, and sour lemon, or lime zest is a good choice for fruit lovers. More importantly, this pudding should be used in a short time to keep its nutritions.
7 Fabulous Samoan Desserts You Will Love
It's time to enjoy the sweetness with some dedicated desserts. Delicious, attractive, appealing, aromatic, and yummy. Keep reading if you want to have an easy-and-simple recipe.
What are you going to do next Sunday? Why don't you try a new recipe? It requires time and effort to bring you new tasty food. Sweet, savory, and coconut-based flavors are some highlight points in this half-moon pie.
Another special thing is its filling. Instead of infused apples-based ingredients, pineapple goes well with this dish. Make sure these half-moon pies are baked enough to get the best aroma.
Let's get started right now to have a wonderful Sunday.
Another name for round pancakes is panikeke. It gives me a deep impression with stunning shapes, unique flavors, eye-catching colors, and various cooking methods. It is suitable for cold days. Serve it with a hot version for more deliciousness.
Try to place these ball-shaped panikekes at the table, especially events, family reunions, and particular occasions. They will help you have an awesome ending.
This video will help you make panikeke at home quickly.
A traditional Samoan dessert with creamy caramel made with coconut milk will make your ending meal stunning and gains eaters' attention. It is a mixture of dense coconut bread in coconut sauce. Sugar is added to sweeten this dish, while coconut flakes are placed on the top as a flavor enhancer.
The balanced color of white coconut and light brown caramel sauce will make your mouth water.
Samoa poke is a great cake for sweet lovers. Buttery, sweet, and eggy are some common flavors in this dessert. Chocolate frosting, toasted coconut, and caramel sauce are better to pair with Samoa poke cake as popular toppings.
You might have to say wow when finishing this recipe. It's a perfect combination of colors, aromas, and flavors as well. Your family will love it.
If you are a homemade-oriented person, Koko alaisa is a good choice. It is a staple dish, a mixture of chocolate or cocoa with rice, and coconut cream perfection.
Since it is vegan, gluten-free, and super easy to make at home, Koko alaisa is particularly served in important celebrations, ceremonies, or events to show your heartwarming.
This dish is also placed at the housewarming tables to welcome guests. Try to experience this dish, you will be surprised about its benefits as well.
I love coconut, and these Samoan coconut rolls are ideal choices for my mornings. When I wake up, I am into making some delicious and appealing pani popoes for my family.
They are soft, sweet, and easy to make with super simple ingredients at home. To have a better pani popo, you can choose vegan-based ingredients. This helps you strengthen your health. Serve them in your desserts and enjoy.
Sometimes, you can change your menu with these fascinating coconut rolls for dinners. A ball-sized roll will attract your kids as well.
You can make your pani popo with an easy-and-simple guideline by watching this video.
Keke fa'i is the name of Samoan banana cake. It is mixed with flour, baking powder, sugar, salt, eggs, butter, and vanilla extraction. Bananas are mashed before combining with hot milk to create out-of-the-ordinary tastes.
In addition, if you are a chocolate lover, spread a thin chocolate frosting on the surface of this cake. With a sip of Italian coffee served in a beautiful cappuccino cup and bite a piece of Samoan banana cake. What a wonderful afternoon tea!
Beyond that, you can make this dessert a couple of days in advance. So why not add this treat to your reservoir of recipes for making banana desserts, especially if you're not sure if it's wise to put bananas in fridges. A sweet, moist, and delicious banana flavor is waiting for you now.
Banana tapioca pudding is the next choice for you. Sometimes, suafa'i is also called on Samoa island for the same recipe. This is a super easy, simple, and time-saving dish in Samoan-style desserts. You can use available materials in your kitchen as well.
Sweet, banana-flavored, creamy together with tapioca toppings, and chocolate chips will make your dish colorful, rich, subtle, and decorative.
Masi Samoa is a specific cookie. It looks so appetizing. It is coconutty, eggy, chocolate-flavored, sugary, and has fruit jams inside. It should be served at the table if your guests are into sweets.
This Samoan coconut cookie will also be a hint of buttery pastries and work well in relaxation time. It's better for you to start a wonderful afternoon. Sipping a cup of tea, and enjoying these shortbread cookies.
3 Popular Ingredients Should Be Added To Your Main Course
Many common ingredients are typically used in Samoan staple meals. They are chicken, beef, pork, and coconut. These recipes below will make your menu brighter.
Chicken Will Make Your Samoan Recipes Brighter
You can find them in most traditional cuisines in Samoa. Chicken is common and rich in nutrients. Let's read and find out what dishes you may prefer.
Have you ever tasted Samoan-style chicken with coconut rice? It's perfect, an amazing recipe, and good to use in main courses. Soft and gluey rice will match with addictive ingredients such as soy sauce, apple cider vinegar, onions, garlic, salt, and peppers. You can enjoy a mixture of sweet, salty, pungent, and slightly sour.
Moreover, coconut milk can be used to cook rice instead of water, which makes this dish incredible.
If you have a preference for curry spice, chicken curry is an excellent option for you. You might find it with another name in Samoa, Kale moa.
Chicken and potatoes are the main ingredients in this recipe. By mixing veggies, coconut, garlic, carrots, celery, and other seasonings, you will taste salty, spicy, pungent, and tangy within a bite.
The aromatic curry-flavored sauce will impress you and your friends for the first time. Are you ready to add this recipe to your menu?
A special thing in this list is baked chicken in banana leaves. The recipe calls for sweet potatoes, ginger, coconut milk, and other spices, which are probably marinated together with chicken in banana leaves.
You can serve this dish with rice, veggies, and other side dishes as flavor enhancements as well. It's such amazing food that you will shout for joy.
Remarkable Samoan Dishes: Beef Or Pork Recipes
Beef and pork are commonly placed in the Samoan recipes. Here are three popular dishes I have ever made. You will not be disappointed when tasting them.
Wanna have a good shape? Be in a healthy regime, and look for "green" products? Eating with nutritional ingredients in one meal? Palusami should be considered. In addition to being a famous Samoan treat, the dish is well-known in Fiji – Samoa's neighbor country.
The companion of beef in this recipe is coconut milk and taro leaves in the traditional cuisine. Unlike the signature taste of taro, the leaves boast nutty notes with a barely noticeable metallic undertone. Hence, the combination of coconut milk and taro leaves make interesting flavors.
For those who are seeking a refreshing bite, it's a good idea to add in some spinach. Finely chop onions to give the dish a perfect flavor balance, and you'll have the ultimate Samoan dish to impress everyone.
If you are finding a step-by-step recipe, this video will help you do it.
Sapa sui is known as Samoan chop suey. It is preferred by many eaters due to its distinction. Chinese style, noodles, soy sauce, sugar, garlic, ginger, and meat. Beef, pork, or chicken can be used instead in this recipe.
Try mixing and matching with common veggies such as carrots, broccoli, and cabbage for tastier and yummy.
White rice, green bananas are some side dishes that will make your dishes stand out. Enjoy this meal with your family, and they will love it too.
Fulfill Your Stomach With Coconut-based Products
Some classic dishes you must try are coconut-based products. Several dishes use many variations of coconut.
Does it look delicious? You're possibly going to fall in love with this due to its unique substances. Green bananas are placed in savory coconut sauce, which received many compliments from critics.
If you are a fan of bananas with some saltiness, sweetness, and thicker coconut milk, you are supposed to make this recipe at home.
Try to get your desired flavors by adding more ingredients if necessary.
A simple visualization here will help you know how to make fa'alifu fa'i easily:
This dish shows you how salad is made in Samoa. It's so fascinating. Samoan raw fish or fresh tuna, and coconut milk are matched with chopped chili peppers, coriander, parsley, and pieces of lemon. Sometimes, you can place marinated raw fish in coconut cream to enhance flavors as well.
You can be surprised due to its aromatic smells, awesome flavors, and extraordinary recipes. Besides, this Samoan dish can provide you with vitamins regardless of calories, which is suitable for a healthy diet.
One of the most inspiring foods in Samoa is coconut rice. It is super soft and a little bit gluey. This is known as a staple food with stunning and aromatic flavors. You can try coconut milk to cook instead of water. Your dish will become brighter.
At the end of the cooking stage, add coconut milk powder on the top to make this recipe unique. You can turn this into coconut rice puddings, a must-try dish in Senegalese cuisine. Creamy and milky, this simplistic dish makes the perfect breakfast food or a quick snack.
Enjoy Your Meals With These Authentic Samoan Recipes
There are always some differences between real tastes and recipes. You can make your dishes and add seasonings until you get the desired flavors.
Samoan foods are so popular with simple ingredients but fabulous performance. You can create a small Samoan space in your kitchen based on this recommendation. Choose a dish you are fond of and experience.
In some cases, you might have another taste and make the dish more distinctive, do not hesitate to send me a message via comments. Whenever you have done a Samoan meal, keep contacting me. I am always waiting for you.
Share this post with your family and enjoy it together.
Nutrition Facts
4 servings per container
---
Amount Per ServingCalories699
% Daily Value *
Total Fat 45.4g

70

%
Cholesterol 221mg

74

%
Sodium 480mg

20

%
Potassium 578mg

17

%
Total Carbohydrate 29.2g

10

%

Dietary Fiber 1.2g

4

%
Sugars 2.1g
---
* The % Daily Value tells you how much a nutrient in a serving of food contributes to a daily diet. 2,000 calories a day is used for general nutrition advice.