How do you come up with ideas for Samoan desserts?
Tired of what to cook for every meal. Fed up with surfing for a new dish. And shopping makes you exhausted. Forget your problems and try some fabulous sweet recipes below.
Samoa is popular with diverse materials and known as a wonderful food land. You will save a huge amount of time to make dishes perfect because Samoan-style recipes are simple, easy, and ready to make at home.
In addition, you do not need to worry about what you will eat tomorrow. My suggestions are thought to make you satisfied.
What are you waiting for? Let's get started now.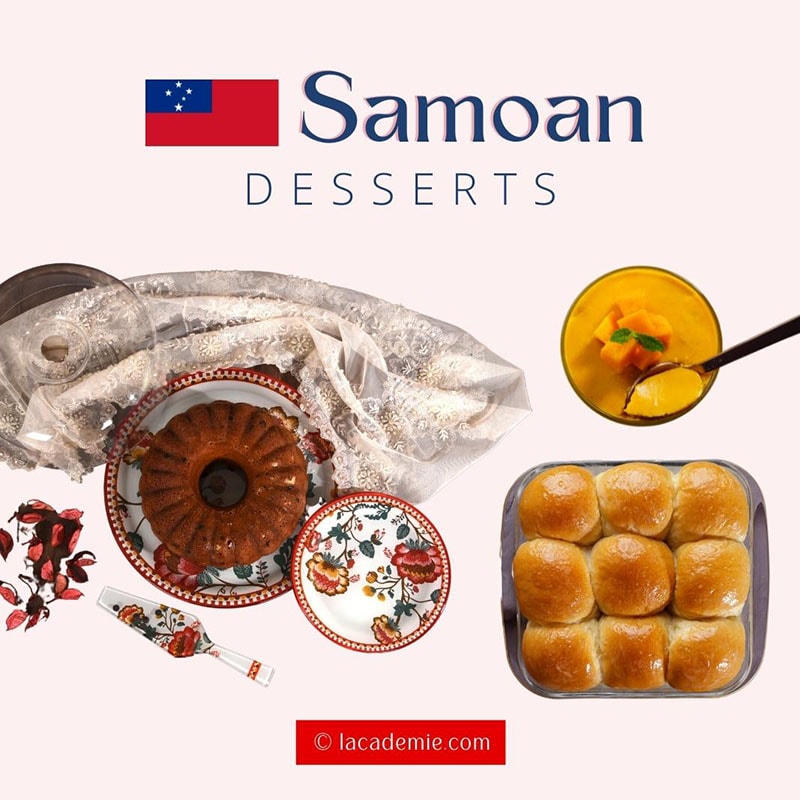 The Best Desserts In Samoa You Should Try At Least Once
Before starting to make your creative foods, go through the summary below. It should be better to have a closer look at what you are going to cook now.
Samoan Cakes
Samoa poke cake
Keke fa'i (Samoan banana cake)
Samoa cake
Samoa bundt cake
Samoa cheesecake
Samoa cupcakes
Attention-Grabbing Puddings
Coconut mango tapioca pudding
Mango pudding
Puligi (Samoan steamed pudding)
Suafa'i ( Banana tapioca pudding)
Samoan poi ( Banana pudding)
Samoa cookies
Masi Samoa ( Coconut shortbread cookies)
Samoan Pies
Pailafa (Half-moon pies)
Frozen Samoa pie
Samoan Sweet Bread
Fa'apapa (Sweet coconut bread)
Fa'ausi( Coconut caramel bread)
Others
Koko alaisa ( Samoa cocoa rice)
Panikeke (Samoan round pancakes)
Pani Popo (Samoan coconut rolls)
Ko'pai ( Caramel dumplings)
Pisua (Samoan coconut jelly)
Samoa macarons
Samoa muddy buddies
24 Outstanding Samoan Desserts You Will Love
When discovering staple dishes Samoan cuisine, it will be a huge oversight not to mention the various sweet treats available here.. Look through and pick one recipe that you love.
Samoan Cakes: Best Solutions For Upcoming Desserts
Lack of ideas for the following desserts? Let's think outside the box. These cakes and their family below will be the best solutions for you.
Samoa poke cake is a wonderful present for chocolate-coconut caramel lovers. It is a combination of sweet chocolate frosting, aromatic toasted coconut, and eye-catching caramel sauce. You can enjoy buttery, sweet, eggy within a bite.
A good idea for special occasions, celebrations, and outside parties. Serve it at the table and wow. Perfect!
If you don't know, Samoan banana cake has a local name that is Keke fa'i. Its ingredients are not too exclusive, including flour, sugar, eggs, and more, but its flavor can make you say wow. The reason is a combination of mashed banana and hot milk, making never-out-of-date tastes.
Don't skip the chocolate sauce that will be spread on the top of this cake. The chocolatey, sweet, and moist cake can bring you a wonderful tea time with the help of a cup of coffee.
One of the reasons I love this cake is the stunning inside texture, more than two layers, bittersweet chocolate, crumbly cookies, caramel sauce, and other dairy products. The yummy type of chocolate creates an irresistible flavor.
However, It depends on your preference to make a desired Samoa layer cake with more flavorings and ingredients.
It is a decorative cake for any special occasion, celebration, or event. Try this recipe, and wow!
Looking for a distinctive dessert with eye-catching decoration? Want to have a particular party with friends?
Beyond the traditional cake, this bundt cake has a unique appearance and works well with coconut-based products. It is a great present for chocolate-brown sugar-cream butter lovers. A combination of sweet, bitter, buttery, and coconutty will melt in your mouth within a bite.
Place it at the end of the meal and enjoy!
Samoa is popular with traditional cheesecake. This dish is the perfect combination of adorable and delicious. You can make it with a mini size, bar, or round shape, which depends on your culinary purposes.
Besides, you will love this cake due to its aromatic scents, including cream cheese, butter, and vanilla. An incredible gift for birthday parties as well.
Are you addicted to sweets? This Samoa cupcake is a better idea for your party tonight. Subtle, elegant, and attractive, this is also a perfect cupcake choice for Valentine's Day.
They are a heavenly combination of toasted, shredded, unsweetened coconut, semi-sweet chocolate ganache, and caramel sauce. They seem easy to use at the end of meals because your visitors are in individual servings.
Grabbing the quickest method on how to make Samoa cupcakes. Check out this video:
There are 5 ridiculous Samoan-style puddings. I hope they will benefit you. Save and add them to your next desserts.
Unlike the version of tapioca pudding found among decadent Chinese sweet desserts, this Samoan dessert's pronounced flavors come from coconut milk, juicy mango slices, as well as a spoonful of honey. Sprinkle in a dash of lime zest, and this dessert will be virtually irresistible.
Try to mix more toppings until it archives the desired flavor. Just don't forget that topping, you know, the famous one in the group of fruits and vegetables starting with "M" I just mentioned earlier. A warm version might be better to eat with your family as well.
Here is a short guideline on how to make coconut mango tapioca pudding:
If you are looking for a dessert packed with fruits, this pudding completely suits you. It is well-known as a sweet companion of mango and coconut. Sugar or any sweet substances can be added.
You are supposed to pick high-quality mangoes. Sometimes, you can choose coconut-based products in the store or canned coconut milk if you have a matter of cooking time.
Adding some small pieces of mango on the top to make this dish appealing.
One of the most traditional desserts in Samoa is puligi. It is sweet, coconutty, eggy, creamy, and aromatic. It includes classic custard-made ingredients to serve as a Samoan custard dessert.
Some tastes of cinnamon, nutmeg, and ground cloves can be found in this recipe and give a deep impression on eaters with special scents. This steamed pudding is also great for the Christmas season and makes your dinner time warm and cozy.
For some of you, finding high-quality nutmeg might be quite a challenge. That's why it's acceptable to use something else to replace nutmeg, as long as the alternative has a similar flavor and fragrance. My top recommendations are mace and pumpkin pie spice.
Banana tapioca pudding is the next choice for you. A decorative and Somoan-style dessert you can place at the end of your meal. It's a perfect combination of banana and tapioca in one dish.
You will love its sweetness, coconut flavor, and chocolate tastes. Are you ready to end your meal with a ridiculous dessert? Save this recipe and add it to your menu right now.
I am addicted to fruits and this banana pudding is my cup of tea in summer. Are you ready to make your summer holiday more extraordinary?
There are 4 ingredients inside with a vanilla aroma. You might find mashed banana, sweet coconut, sugar, and lime zest in these puddings. A brilliant choice for outstanding desserts.
By the way, why don't you place this dish on some important occasions? Your guests will have a good impression of you as well.
Cookies will make you happy and have an enjoyable holiday. Why don't you choose this recipe and do experiments on your short-term vacations?
Samoa cookies will make your afternoon enjoyable with a crunchy, sweet, buttery, and slightly bitter flavor. A dessert with coconut as the main star, this recipe also consists of butter, milk, and sugar. It also contains a touch of maple syrup for pleasant toffee overtones.
Significantly, this two-layer cookie is made for chocolate lovers with a stunning chocolate and soft caramels on two sides. If you want to make your meals brighter, try this recipe.
Unlike the vanilla-flavored shortbread cookies typically seen during the fall season, this Samoan recipe for shortbread cookies features a creamy coconut flavor. Although these are crispier on the outside, they have a similar melt-in-your-mouth texture like typical shortbread cookies.
A good way for relaxation is to sip a cup of coffee and enjoy these sweets. Since this does not require much time to prepare, you can start with available ingredients in your kitchen now. An ideal dessert for individual servings as well.
Common Samoan Pies Will Make You Astonishing
There are no worthy words to describe how perfect Samoan pies are. You can practice with my recipes and enjoy them with your family. You would be astonished.
Your Sunday would become fascinating with super eye-catching half-moon pies, which are classic dishes in Samoa. What makes them awesome is their filling.
Instead of infused apples-based ingredients, pineapple goes well with this dish. If these half-moon pies are baked enough, you can enjoy a delectable taste.
If you are a coconut pineapple milk lover, don't skip this recipe. Let's make your Sundays interesting.
This dish consists of everything you need to have in a classic Samoan pie. What makes this pie special is its balanced colors, unique aromas, and great tastes.
Cream cheese, granulated sugar, and heavy cream are some simple ingredients you can find in your kitchen. Beyond the traditional tastes, you can add shredded coconut, toasted melted chocolate, and caramel on top to increase the flavors as well.
Serve it at the table, and your guests will love it.
Samoan Sweet Bread You Will Remember
Do not forget some bread in your dessert menus. If you want to highlight your meals, try these recipes below.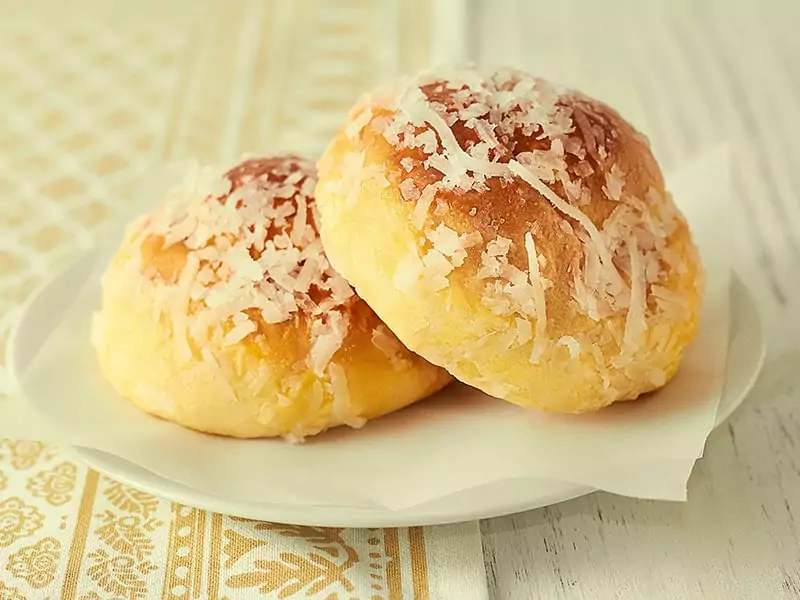 Fa'apapa is not similar to any coconut bread you have ever tried. It is a special type of Samoan bread with a fluffy, moist texture and scrumptious flavor. You certainly cannot stop coming back to take it again and again.
You can enjoy it as a snack or a brunch. There is nothing better than sweet coconut bread to save your growling stomach. Don't forget to bake a large batter to serve for the following day.
Fa'ausi will melt your heart with its sweet and remarkable aromas. You are supposed to eat this dish since it is a perfect combination of coconut milk and caramel sauce. More significantly, you can add some coconut flakes on the top as flavor enhancers.
It's also a decorative dessert if you want to have a noticeable party. Place it at the ending meals and enjoy it with your friends.
Try to put this coconut caramel bread on your table with an easy-and-simple video below:
Others Recipes Might Shine Your Meals
There are several Samoan desserts that you can serve at the ending meals. Let's look at what I have prepared for you below. Save time and choose whatever you want to taste.
A good choice for a home-oriented person is Samoa cocoa rice. It is a staple dish, a mixture of chocolate or cocoa with rice, and coconut cream perfection.
There are no worthy words to describe how delicious it is and how beautiful its appearance is. It might catch your eyes at the first sight. Try it now and wow!
A useful tip for this recipe is to serve at family reunions. It will bring a cozy and warm atmosphere for your family members.
The local name of round pancakes is panikeke. The unique features of these pancakes are stunning shapes, special flavors, golden-brown colors, and different methods to process. It is perfect for winter days. If you want to taste their full flavor, let's serve them right after taking them out of the pan.
These pancakes are not indispensable in special events, including family reunions. They will be a wonderful ending for your meals.
This video will help you make panikeke at home quickly:
Another solution for homemade Samoan dessert is ball-sized pani popo. A new dish that you will love with coconut flavor and sweet sauce. This dessert is suitable for individual servings. Serve them at the end of the meals and kids would like to enjoy them.
Try to use coconut milk in your ingredients to increase their tastes. Sometimes, changes will make perfect. A special gift for coconut lovers as well.
You can make your pani popo with an easy guideline via this video:
You might find this recipe with a lot of variations. The sweet version is recommended to serve in your desserts. Coconut milk, flour, and sugar are combined to make small Samoan dumplings.
Apples or vanilla ice cream can be found in Kopai to diversify flavors, balance colors, and have a better decoration. This recipe also calls for cinnamon to make this dish aromatic.
One of the brilliant choices for coconut-based products is pisua. It has many tapioca pearls inside. In case you lack tapioca pearls, granular sago can be used instead. The sweetness of this snack is coconut milk and caramelized sugar combination.
Besides, it attracts all my attention based on stunning colors. If you wanna have a homemade pisua, pick this recipe. Save this suggestion and experience.
Do you want to taste a delicious Samoan coconut jelly at home right now? Let's look at this simple guideline:
When you do not have ideas for the upcoming dessert, choose this Samoa macaron. The recipe calls for drizzled chocolate, cocoa powder, toasted coconut, and caramel sauce. It sounds perfect for mixing all these ingredients and taste within a bite.
A small Samoa macaron is super attractive for kids. It is also suitable for afternoon teas. Enjoy your sweet dessert with a cup of coffee. What a wonderful day!
It's time for Samoan recipes. Bring your tastebuds to Samoa via this dish. Sweet caramel sauce, bittersweet chocolate chips, and coconut flakes are an amazing combination.
Serve them in a bowl and place them at the table. Sweetness and dedication will be sent to your family members.
If you need a quick and easy recipe, this video will help you:
What Are Your Favourite Samoan Desserts?
After reading my suggestions, you would have opted for some fascinating Samoan desserts as they are super easy, simple, and delicious.
Samoan desserts are free recipes you can use to solve your problems. Trust me; you will not stop eating within one bite: distinctive flavors, available ingredients, excellent methods, and aromatic scents. You are supposed to pick your favorite dishes and try them at once.
Sometimes, you can try to make more creative desserts with your preferred add-ins materials. Do not hesitate to create your dishes and share them with me via comments. And if you have new ideas, send me a message. I am so delighted to receive it from you.
Nutrition Facts
6 servings per container
---
Amount Per ServingCalories481
% Daily Value *
Total Fat 27.2g

42

%
Sodium 12mg

1

%
Potassium 236mg

7

%
Total Carbohydrate 56.5g

19

%

Dietary Fiber 5.2g

20

%
Sugars 24.3g

Protein 6g

12

%
---
* The % Daily Value tells you how much a nutrient in a serving of food contributes to a daily diet. 2,000 calories a day is used for general nutrition advice.