Many people often think about Mango, Mallow, or maybe Mandarin as fruits and vegetables that start with "M".
But, it is not enough! I will surprise you with this list of "M" fruits and vegetables because there are 54 different kinds.
In this post, I will bring to you many fruits and vegetables that start with "M" and more information about them.
Check the list for more information, and be ready to challenge your friends now!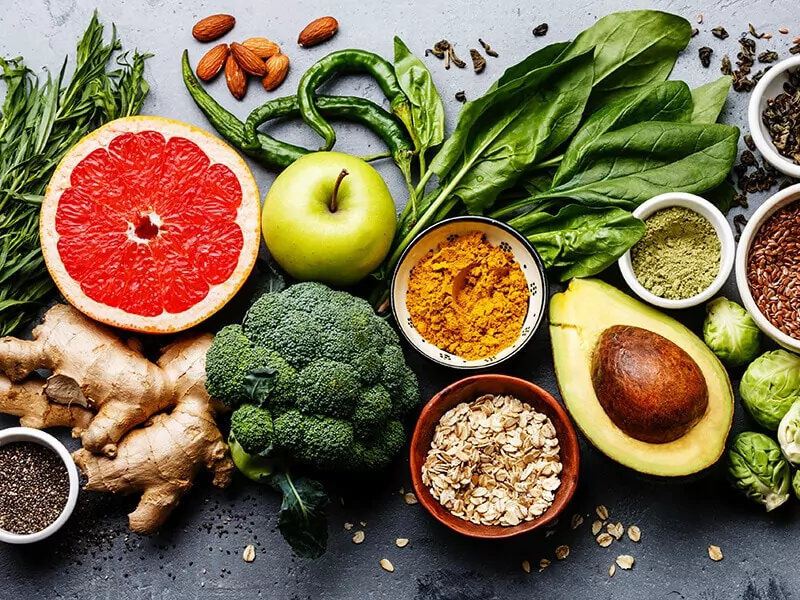 Have You Ever Tried These Fruits And Vegetables That Start With "M"?
Some fruits and vegetables that start with "M" are very familiar to you, such as melon, mushrooms, etc. However, others are pretty new, and I think it helps you extend your "fruit dictionary".
Fruits
Apples
Macoun Apple
McIntosh Apple
Margil Apple
Malay Apple
Peaches
Madison Peach
May Pride Peach
Berry Fruits
Maqui Berry
Mulberry
Mora De Castilla
Moriche Palm Fruit
Miracle Fruits
Mammee Apple
Mock Strawberry
Marionberry
Melon
Orange And Lemons
Mini- Mandarin Orange
Marisol Clementine
Minneola Tangelo
Marsh Pink Grapefruit
Maracuya
Mexican Lime
Meyer Lemon
Madrono
Bananas
Maqueno Banana (Plantain)
Masak Hijau Banana
Other Kinds of "M" Fruits
Mango
Mangosteen
Macadamia Fruit
Mamoncillo
Manila Tamarind (Madras Thorn)
Mamey Sapote
Mangaba
Marang
Marula
Mespilus
Momordica
Mountain Soursop
Merlot Grape
Melon Pear
Vegetables
Mushroom
Mustard
Mung Beans
Moth Beans
Morels
Molokhia
Mozuku
Mallow
Malanga
Mashua
Marrow
Mangetout
Malabar Spinach
Miner Lettuce
Mizuna Greens
There are so many new kinds of fruits and vegetables that start with "M", right? It is time to expand more about them!
Which Suitable Fruits Start With "M"?
Let's discuss fruits starting with "M" first! I felt shocked when I found up to 39 kinds of fruits for this list. You did not hear wrong, 39 "M" fruits!
So, I have to show you their name immediately with some outstanding information.
4 Tasty Apples Start With "M"
Apple is grown in many countries worldwide with various types, different tastes, and even colors. It is so hard to miss these six kinds of apples in the list of fruits and vegetables that start with "M".
1. Macoun Apple
Macoun apple is a hybrid product from McIntosh and Jessy Black cultivar. This kind of apple has slightly dark skin that may look like a plum.
Macoun trees are not easy to plant, but their taste is delightful and juicy. If you want to make a sweet apple pie, choose Macoun apple as the main ingredient.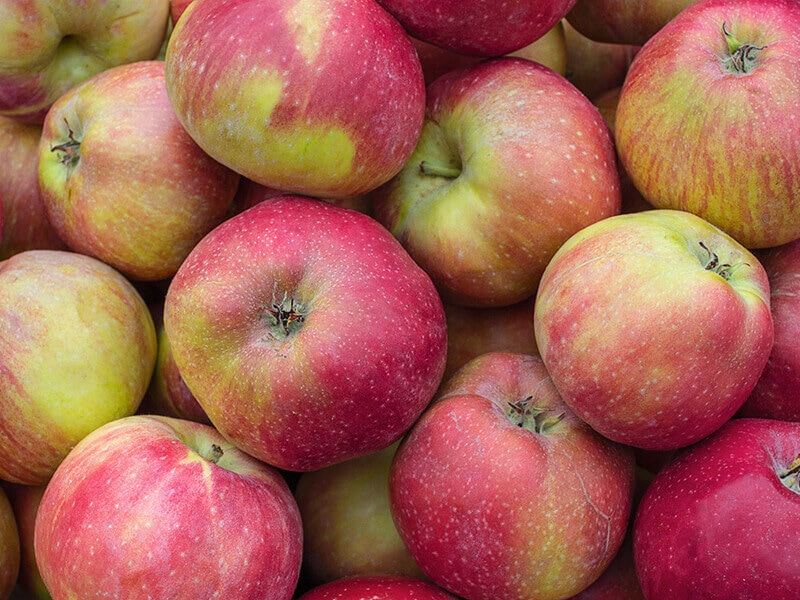 2. McIntosh Apple
McIntosh is considered one of the most famous apple types from Canada. The skin color of this apple is a perfect mixture of green and red with a bit of pink color.
Moreover, it is also a "multi-purpose" apple that can eat raw and cook many delicious dishes. People often choose McIntosh apples for their desserts. However, you should be careful when letting its flesh outside too long because it can be bruised easily.
Best Apple Crisp ever! How to make a perfect Apple Crisp? Let's see this video:
3. Malay Apple
The Malay apple is a tropical species that is often found in Malesia and Australia. The appearance of it looks like a "rose pistil".
When ripening, it is crispy, watery, and slightly sweet. Besides eating raw, Malay apples are used for making wine.
Create your own recipe with Malay apples. Let's see this video:
4. Margil Apple
I fell in love when I saw the beautiful red color of Margil apple when it ripened. Although its fruit is relatively small, its strong taste makes everyone remember.
If you have a chance to try this kind of apple, you can feel its well-balanced flavor between the sourness and sweetness.
How About Peach Fruit That Starts With "M"?
Move to peach fruits, Madison and May Pride peach are the proper names I should suggest to you in this post. See their information now!
5. Madison Peach
Not only in Georgia but Madison Peach can also be grown in other places where there are colder climates.
They have an excellent ability to resist harsh weather conditions. Moreover, its flavor is as attractive as its red skin.
6. May Pride Peach
What a lovely peach fruit! May pride beach has a great appearance with a soft pink color skin.
Another good news for you is that this kind of peach ripes earlier than the others from May to early June. So, it is not challenging to eat peaches in May, right?
Top 8 Perfect Berry Fruits Beginning By "M"
Who are the fans of berry fruits? Keep reading and see which one of "M" berry fruits you know.
7. Maqui Berry
Maqui berry is a small berry fruit, and the interesting point of it is to harvest from nature more than being grown from the farm.
This fruit has the same taste as blackberry and is naturally sweet and refreshing. Besides that, people also use the leaves and stems of Maqui as a precious medicine to treat diarrhea, fevers, diabetes, etc.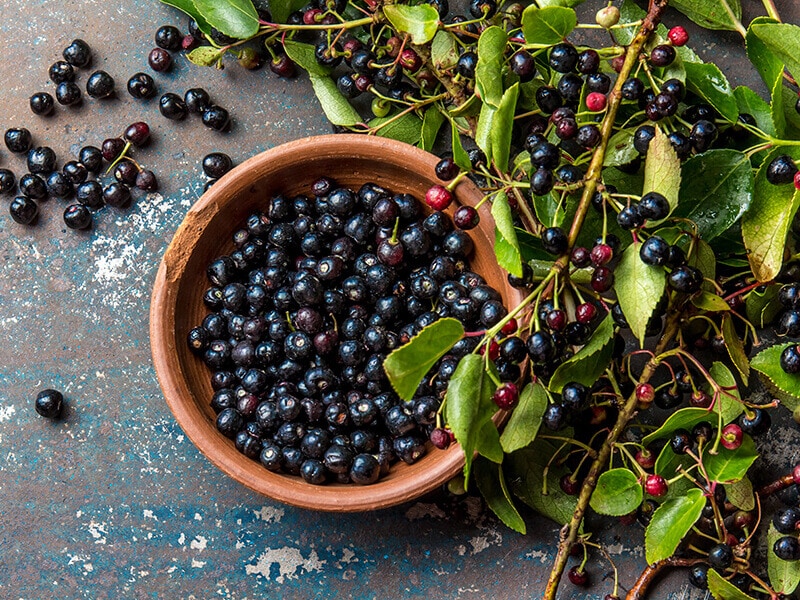 8. Mulberry
Based on the color when it ripens, Mulberry, the general name of berry fruit, will be divided into many other kinds, such as white, red, and black mulberries.
Naturally refined and sweet, mulberries are often used to make candies, wine, etc. Furthermore, their leaves are essential food for silkworms.
I believe that you have eaten one kind of Mulberry before and feel the refined, sweet taste.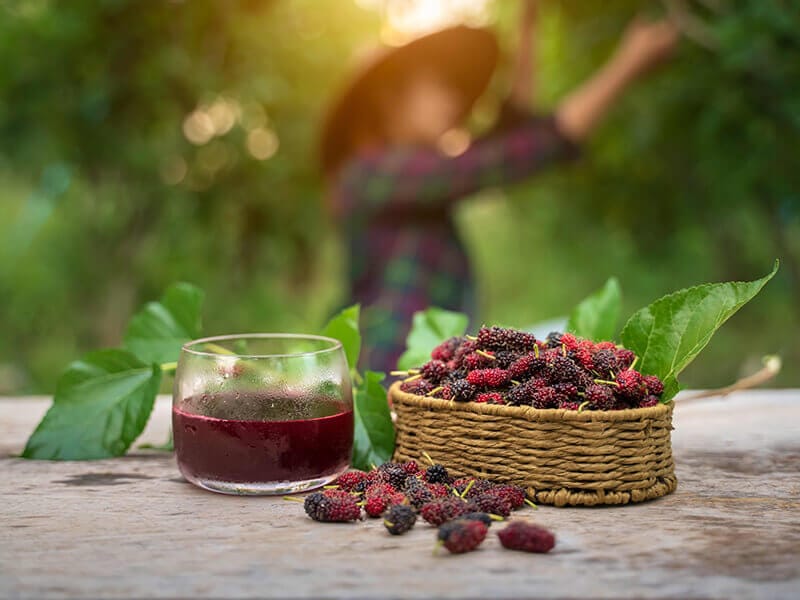 9. Mora De Castilla
Another type of berry fruit that starts with "M" is Mora De Castilla. Mora has a lovely sweet, bitter taste, so you can use it to make some great desserts or snacks, such as fruit salad or tasty smoothies, ice cream and yogurt.
Thanks to vitamin C, calcium, and phosphorus on this berry fruit, you and your family can enjoy a healthy life by frequently eating Mora.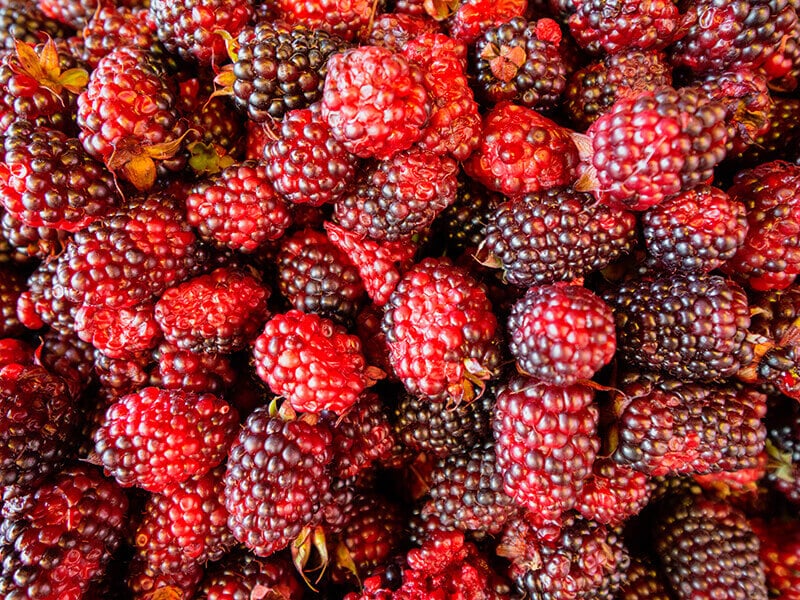 10. Miracle Fruits
The name "Miracle" shows the magical ability of this berry fruit. Miracle fruits are used not only for medicinal purposes but also to turn sour food to be sweeter.
I believe that its red appearance will attract you at first sight. If you have tried it, share with me your feelings about Miracle fruits.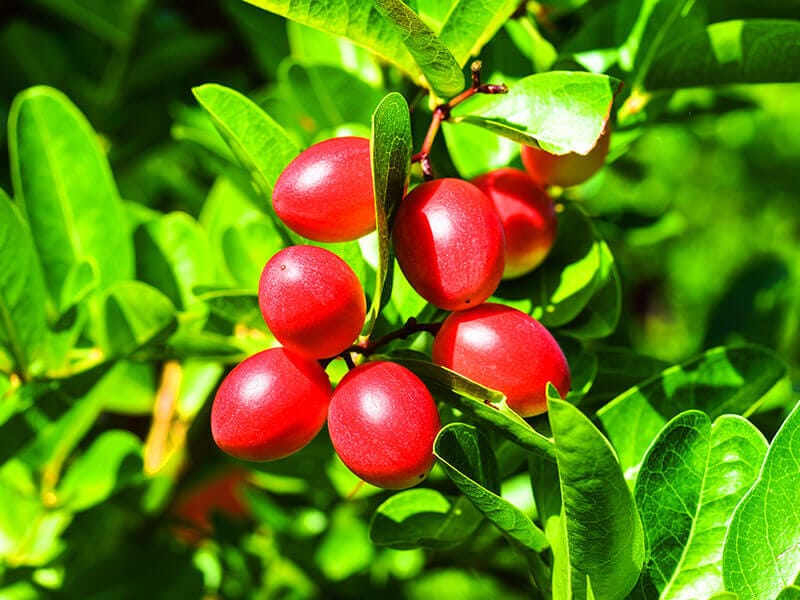 11. Mammee Apple
Mammee apple (Mammea Americana) is a fruit type that relates to the Mangosteen. Many people like this "M" fruit because of its sweetness and softness when ripening.
However, the juice in the seed can stick to your hand and cause uncomfortable feelings, so you should be careful while eating.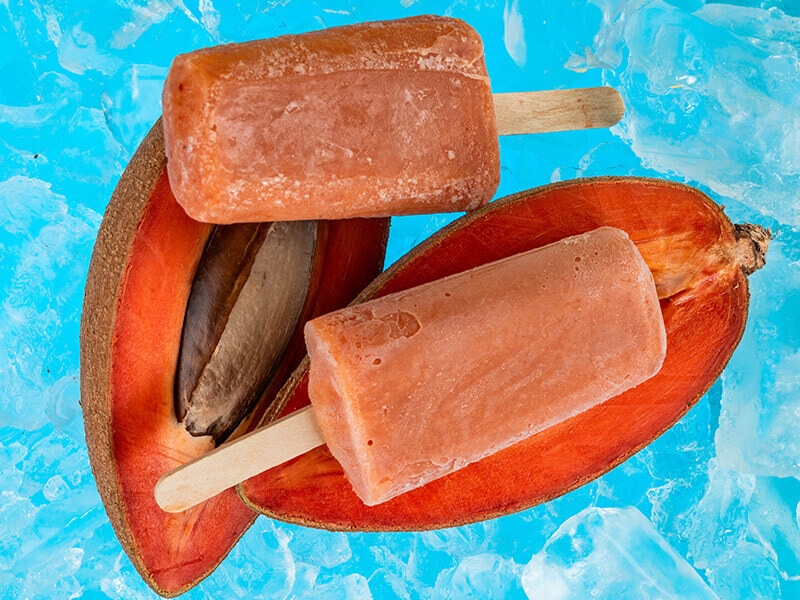 12. Mock Strawberry
The differences between Mock strawberry and a wild one are the flower's colors and the tastes.
Instead of the white flowers of the wild strawberry, the Mock ones develop with yellow flowers. Moreover, many people suppose that the taste of it is less sweet than the wild strawberry.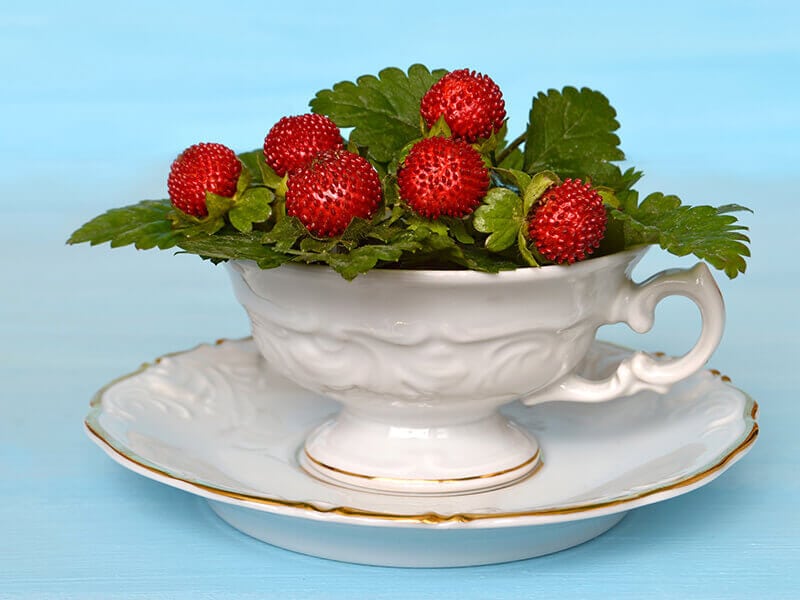 13. Marionberry
Marionberry begins with the letter "M" in the name, a successful breeding program between Chehalem and Olallieberry types.
There are not many changes about the appearance of Marionberry with other common blackberries. But, its improvement is the overwhelming taste that creates an unforgettable feeling for those who have tried.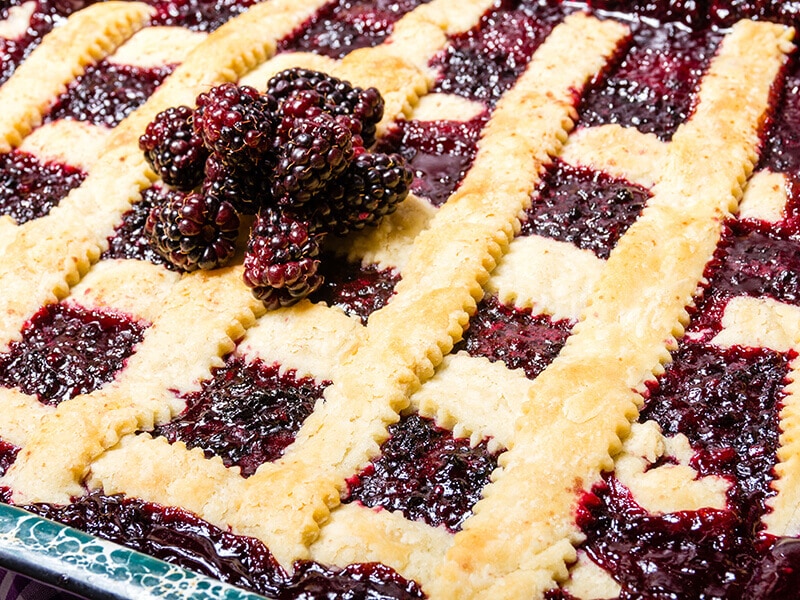 14. Melon
Did you know Melon is a kind of berry fruit? Melon's features are the tender and watery flesh fruits. Plus, many people like Melon because their seeds are easy to remove.
Besides that, I suggest you try musk melon or honeydew instead of watermelon or canary melon which you usually eat.
Muskmelon pudding? Best solution for summer days. Let's see this video:
Which Types Of Oranges And Lemons Suit My List?
As you can see, there are nine types of orange and lemon fruits with the letter "M" that you should not miss on my list. How do they taste?
15. Mini-Mandarin Orange
In Chinese legend, a woman who wants to have a natural aroma will clasp Mini-Mandarins in their hands or use flowers while taking a bath. The scent of this wonderful fruit in orange color is very remarkable, right?
Mandarin's sweet taste and scent help you refresh yourself, reduce stress, or even use it for kids as healthy snacks.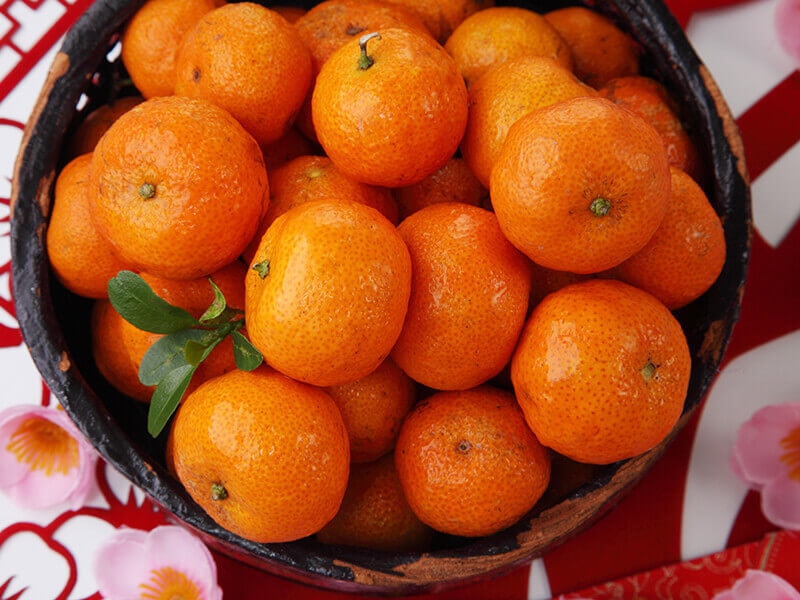 16. Marisol Clementine
Go along with Mandarin; this time, I want to bring the other sweet orange "M" fruit, Marisol Clementine.
Although it has an acid content, it is still a deep sweet kind of fruit. Marisol looks like Mini Mandarin orange, but it has a darker color peel and is smaller than Mandarin.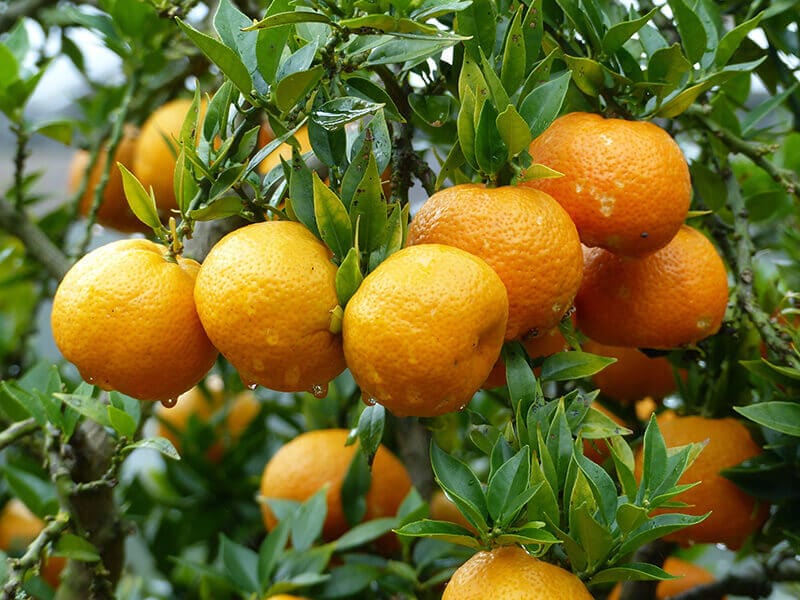 17. Minneola Tangelo
Are you finding an orange that balances between the sour and sweet taste? Minneola Tangelo is the best answer for you. It has the features of grapefruit and tangerine as it's a hybrid breed between these two fruits.
Another special feature of Minneola Tangelo is the small "bell" that protrudes from the head of the fruit. If your living area does not have Mandarin, this fruit is a good replacement for your kids.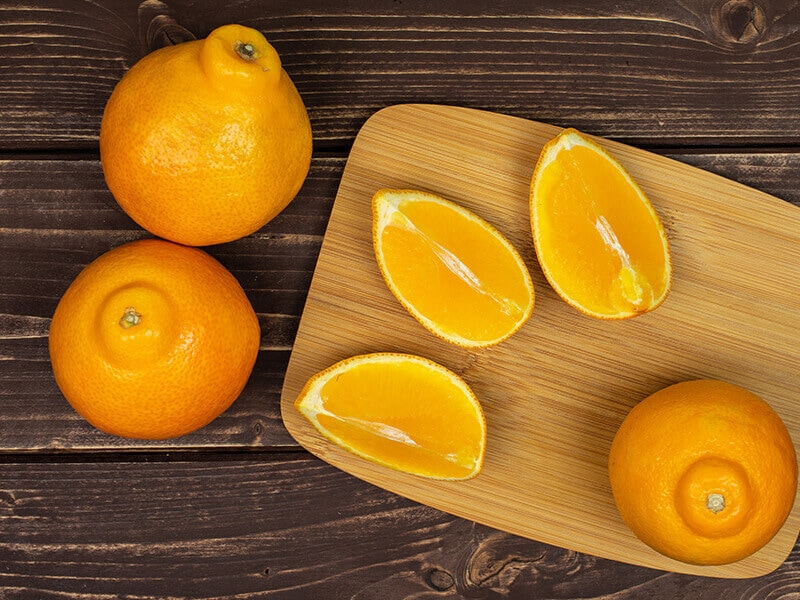 18. Marsh Pink Grapefruit
This delicious grapefruit variety can be found somewhere in Texas. It has smooth skin with light yellow and lovely pink fruit inside. The taste is pleasant, as is the appearance. Thanks to the juicy flesh, you can use this fruit to make or mix with other juicy fruits for many cool beverages, especially on summer days.
Other than its flesh, grapefruit's peel is also usable. You can grate the fruit's peel to create alternatives for orange zest. It can also be utilized for spicing up your tea, infusing alcohol, or whipping up delectable candies that even adults will love.
Add Marsh Pink Grapefruit to your list of fruits and vegetables that start with "M".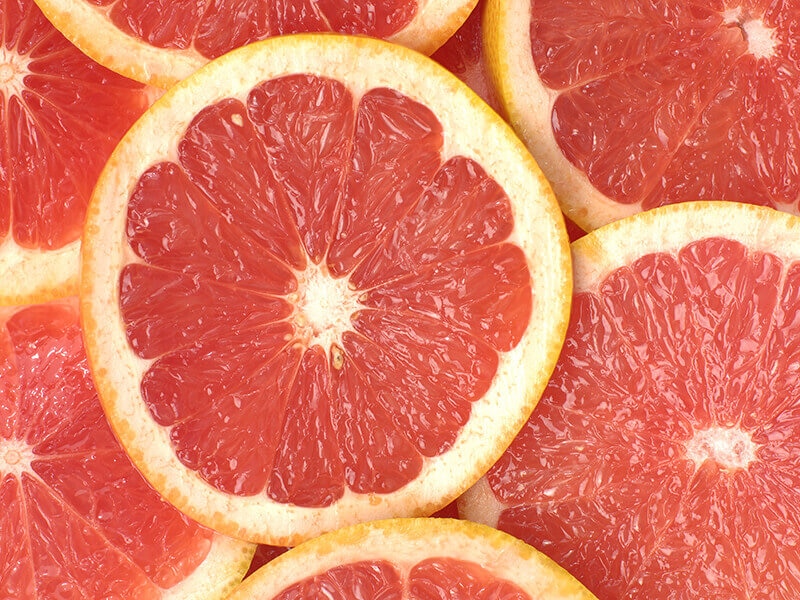 19. Maracuya
It is just a passion fruit but is called Maracuya in Spanish. It develops and proliferates in tropical areas.
The taste of it is slightly sour, so I recommend you combine it with dessert recipes.
Can you make a tasty passion fruit cake without baking? Watch this video:
20. Mexican Lime
Mexican Lime (Key Lime) is a hybrid breeding plant in Southeast Asia. Their peel will turn from green to yellow in the ripening period.
Key Lime has more acidity, is sourer, and has fewer seeds than Persian Lime. This kind of "M" fruit is a necessary part of many dishes with lime lovers.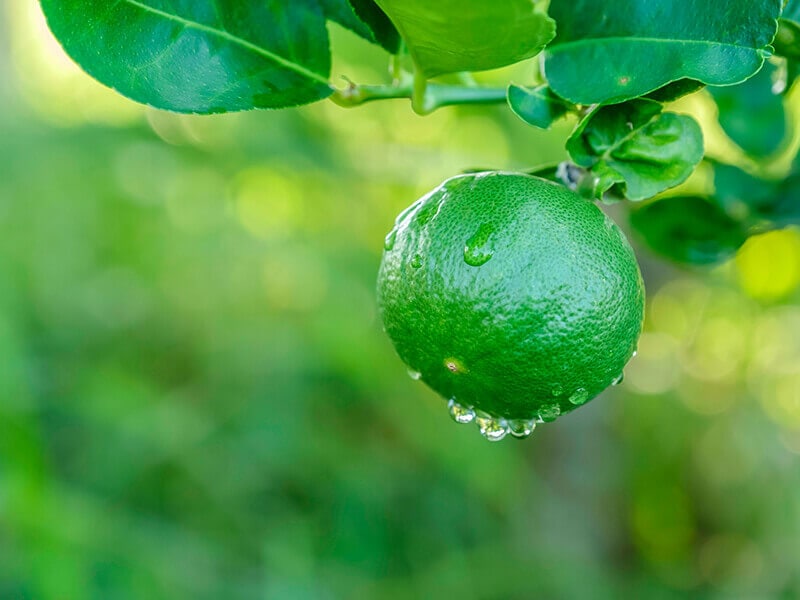 21. Meyer Lemon
"Meyer" starts with Frank Nicholas Meyer, who expanded this kind of hybrid fruit from China to the USA in 1908. Meyer Lemon has a smooth yellow peel with a seductive scent and sweeter flavor than other lemons.
Meyer Lemon has many great functions with bodies and cooking, most notably is lemon-infused desserts. With an abundance of vitamin C, it helps you increase your resistance after a hard-working day. Besides that, this kind of lemon can be used as a spice for many delicious dishes.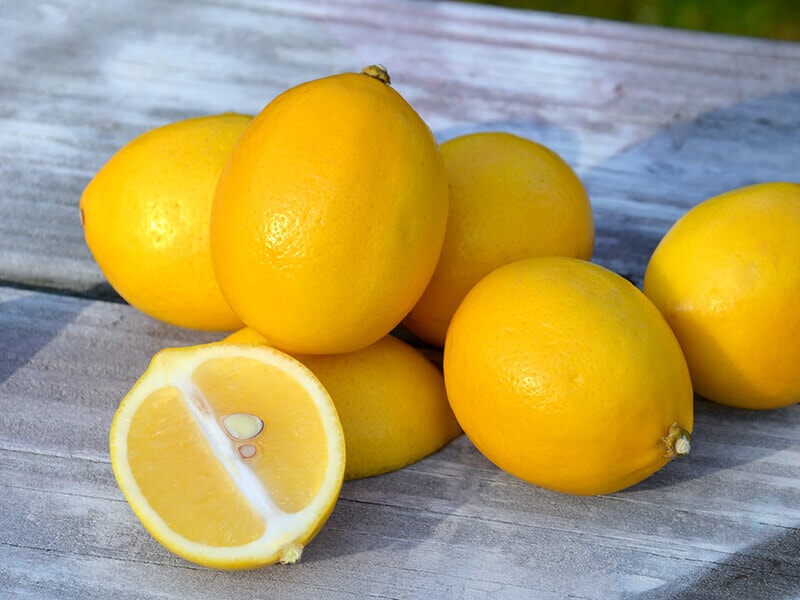 22. Madrono
The Mandrono trees have another familiar name which is "Irish strawberry tree". Its appearance is bumpy skin with pink, red peel colors. The scent of Mandrono is like other citruses, but it is bitter flesh.
Not only used to make jam, but Madrono is also a precious ingredient for Rakia which is a traditional drink of Albanian for the long term. In addition, the flowers of this fruit tree are very important for bee pollination.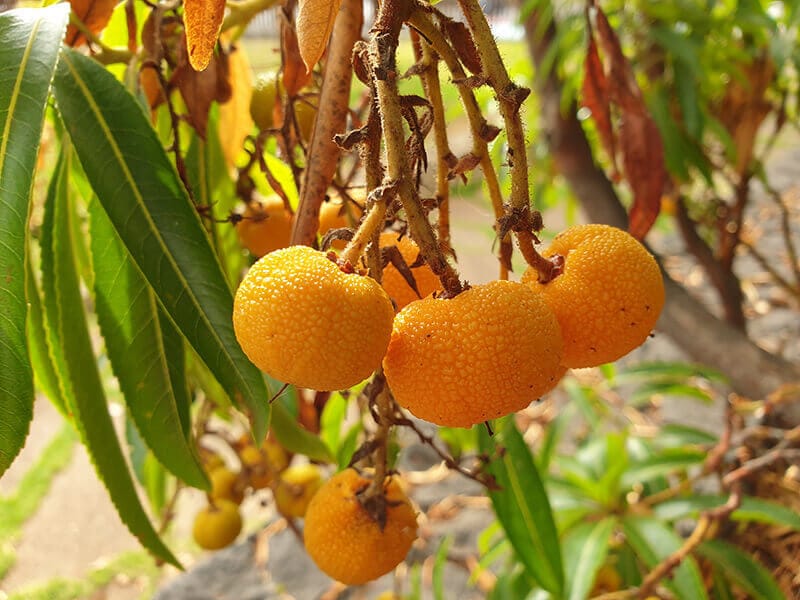 Do You Know The Name Of Banana Start With "M"?
About the banana, I would like to show you Maqueno banana (Plantain) and Masak Hijau Banana that begins "M".
23. Maqueno Banana (Hawaii Plantain)
Many people put Plantains to fry or grill with meat because its taste is savory and quite starchy. Due to this, you might notice that some cuisines, such as Cuba with their side dishes, feature Plantains a lot. Don't confuse them with usual bananas, they shouldn't be eaten raw.
Which is the best way to enjoy Plantain fruit? Let's see this video:
24. Masak Hijau Banana
I assure you that a banana fan often eats this Masak Hijau banana. The taste of this banana is still a controversial topic because some people say it is just like a standard banana, but others think it is more flavorful.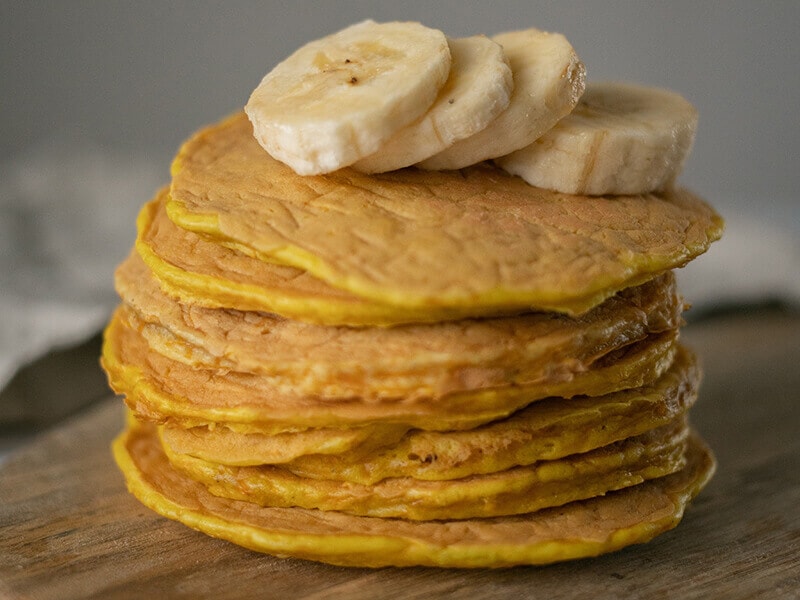 Any Other Kinds Of "M" Fruits?
I have up to 40 kinds of fruits beginning with "M". I will show all of my lists to help you know new types of fruits and the feeling when eating them.
25. Mango
Mango is not an unfamiliar name to everyone. Moreover, I have to say that Mango is my favorite fruit so that I can eat a Mango basket with happy feelings. It is great to eat them raw or even put them as an ingredient for desserts and snacks when it ripens.
One of my favorite desserts with mango is coconut mango tapioca pudding, a famous sweet from the islands of Samoa. Best served warm, this delectable dessert is my go-to treat when I crave something sweet and comforting during cold days.
For those who do not know, Mango contains an excellent amount of vitamin A and C. So, you should eat mango regularly to improve your skin and eyesights.
The easiest Mango pudding for your weekend! Let's make it in the chef level with this video:
26. Mangosteen
Mangosteen is a popular fruit which is cultivated in Asia countries. Its taste tends to be sweet, but if you are unlucky, you can find a slightly sour Mangosteen.
In addition, Mangosteen peels are pretty thick, and you can not eat them, so you have to remove the peel to eat.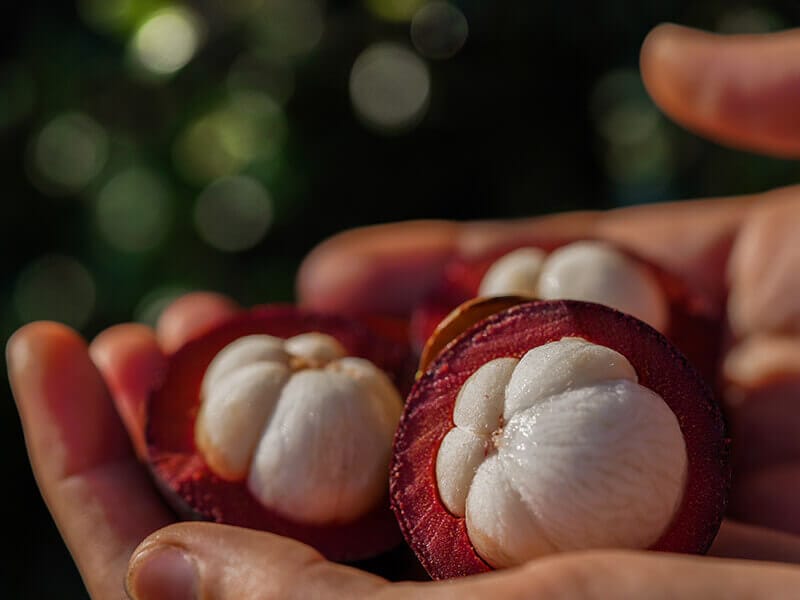 27. Macadamia Fruit
It is wrongly thought that Macadamia trees just grow nuts. They also grow fruits besides nuts. Sadly, the Macadamia fruit taste is not good to eat. That is why people prefer to use its nuts because of its rich creaminess.
While macadamia fruits tend to fall into obscurity, the nuts the tree produces are ideal for various recipes. For instance, desserts in Hawaiian cuisine feature macadamia nuts a lot. To name a few, Hawaiian hula pie, coconut macadamia nut bar all use this creamy ingredient.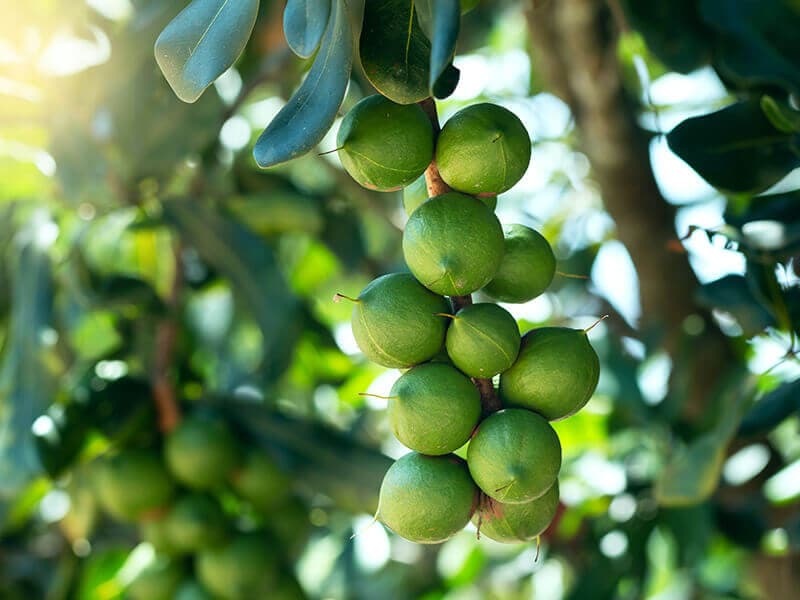 28. Mamoncillo
Mamoncillo (Melicoccus Bijugatus) is called "Spanish Lime" as a common name. This "M" fruit has the close relative of the lychee, so no wonder it tastes almost like the combination of lime and lychee.
Another lesser-known name of mamoncillo is Quenepa. So you can say that technically, mamoncillo can also be consider as a fruit or vegetable with "Q" as the first letter. The more you know, huh?
Furthermore, some people who have enjoyed this fruit said that they felt like they were drinking a unique wine flavor. You can eat them raw and feel the tangy, bittersweet flavor of Mamoncillo.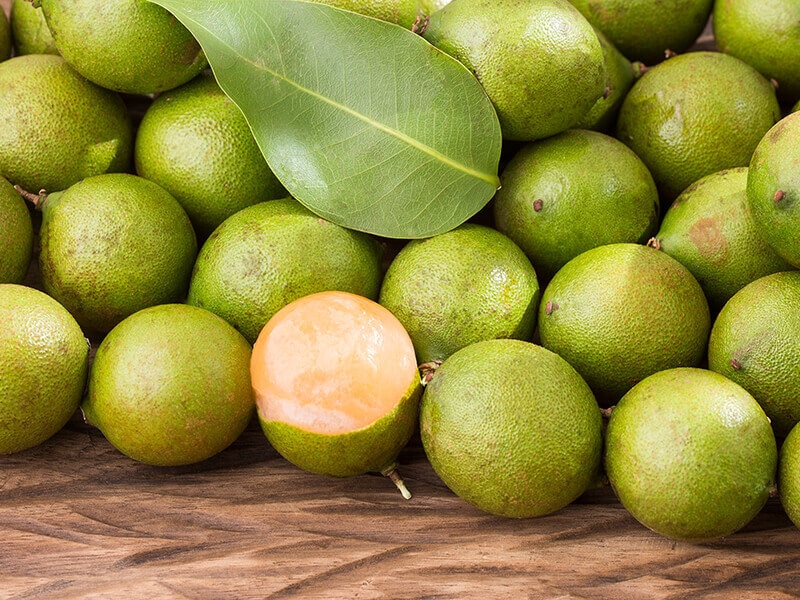 29. Manila Tamarind (Madras Thorn)
Have you ever tried this fruit which originates from Asia countries?
Because Manila Tamarind has a large amount of vitamin C content, this has been used as a part of treatment medicines for toothaches or sore gums. Furthermore, you can make a great beverage from Manila Tamarind during summer days.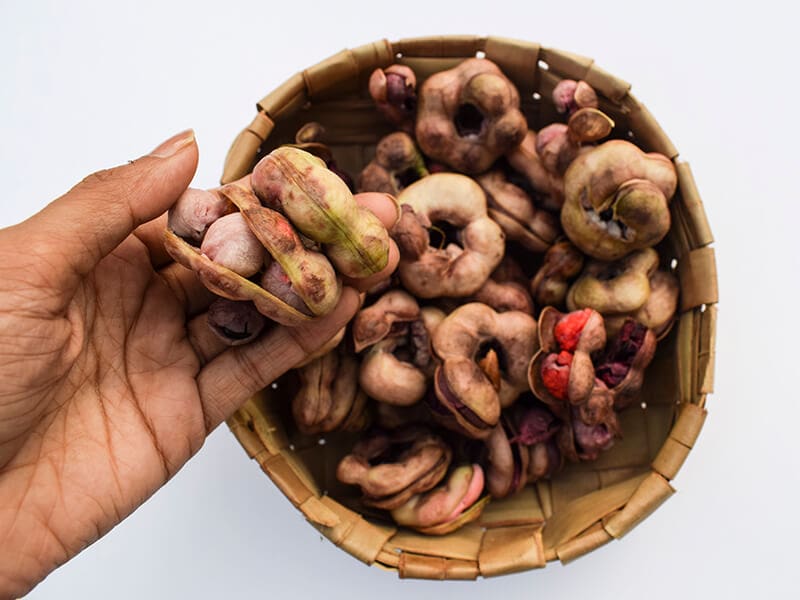 30. Mamey Sapote
Mamey Sapote (Pouteria sapota) is one of the most favorite fruits for desserts of the Latin American community. They like to make milkshakes and ice cream from this kind of fruit because it has a lovely fruit scent.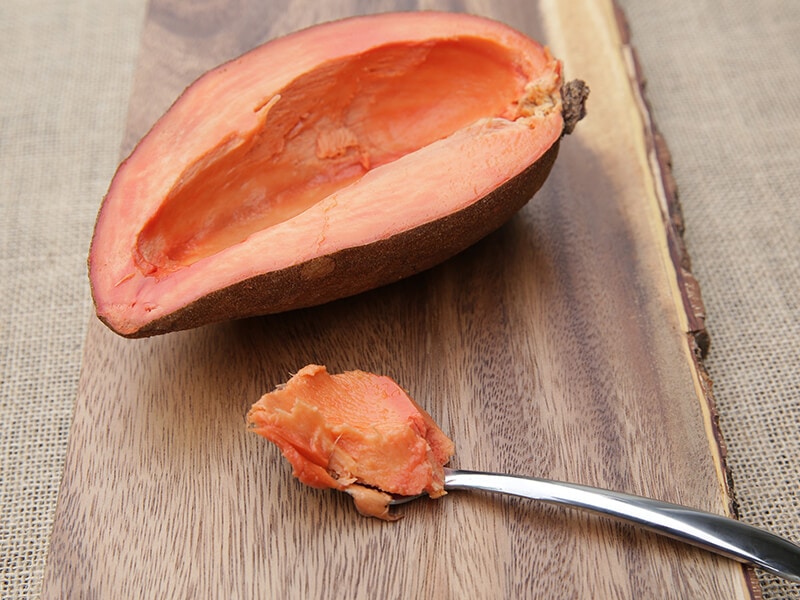 31. Mangaba
The origin of Mangaba is from tropical areas in Brazil. The fruit of Mangaba is a mixture of oval and berry shapes with yellow color. That is why it makes people confused and even can not distinguish by a quick glance.
Mangaba can only be eaten while ripening with a unique sweet taste. People can take advantage of this "M" fruit for wine, ice cream productions.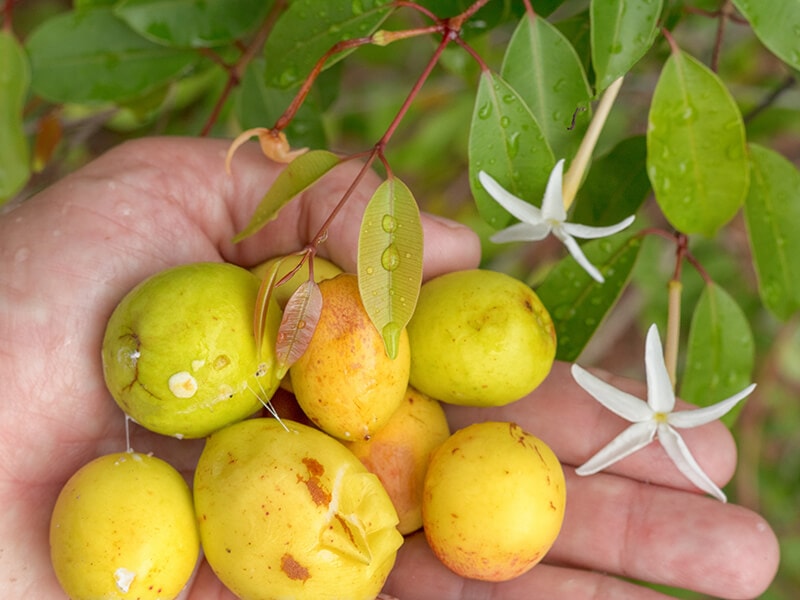 32. Marang
Marang is a popular fruit in Asian countries which science names Artocarpus Odoratissimus. It has a strong smell, and the flesh is white or yellow.
I have had a chance to try this fruit, and I felt the flesh was sweet, but I did not like its smell.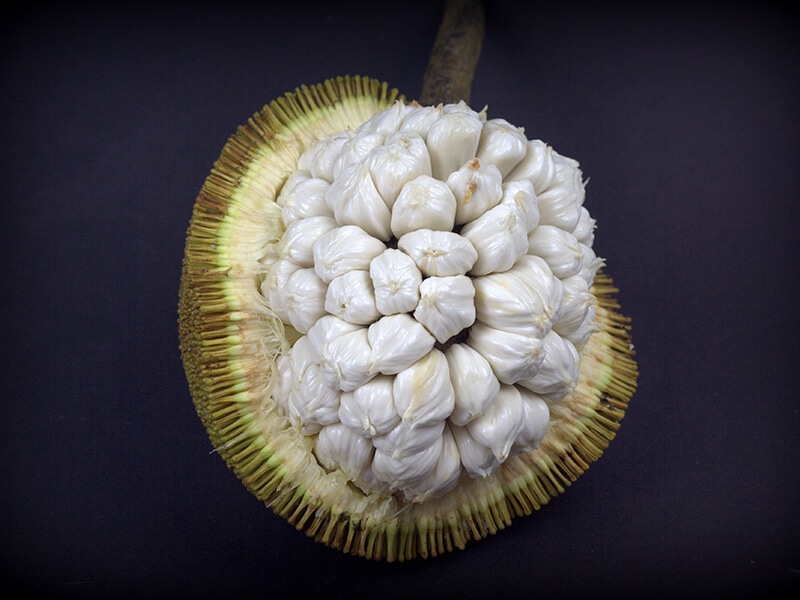 33. Moriche Palm Fruit
If you have a chance to visit South America, you can easily see they cultivate many Moriche palms here.
Moriche palm fruit is widely used for producing wine, jam, ice cream, and other desserts in Peru. The production line of this chestnut color fruit will increase in June when it needs to be harvested from Peruvians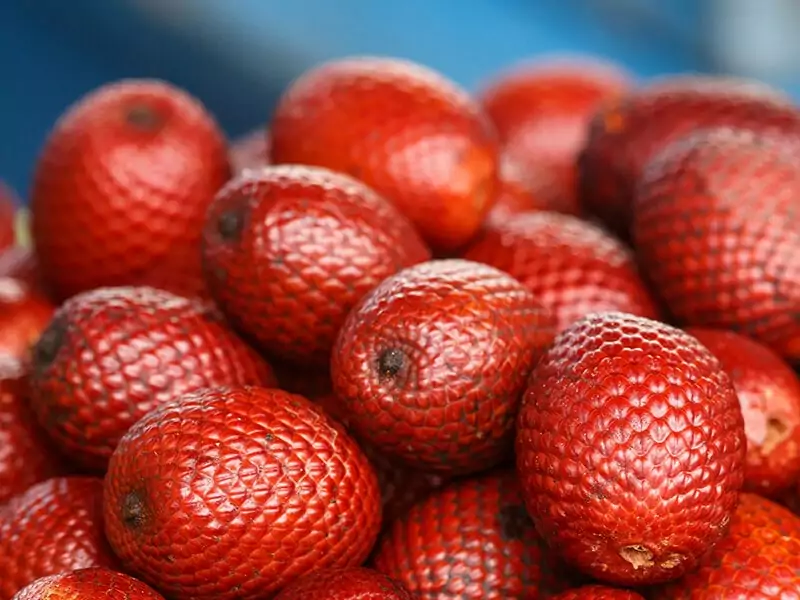 34. Marula
Marula has an essential function in the economic development in Africa, where it is cultivated. People take advantage of this fruit in beer industries or even cosmetic products.
Although it contains high vitamin C, its taste is sour, so people prefer to create Marula beverages or jellies.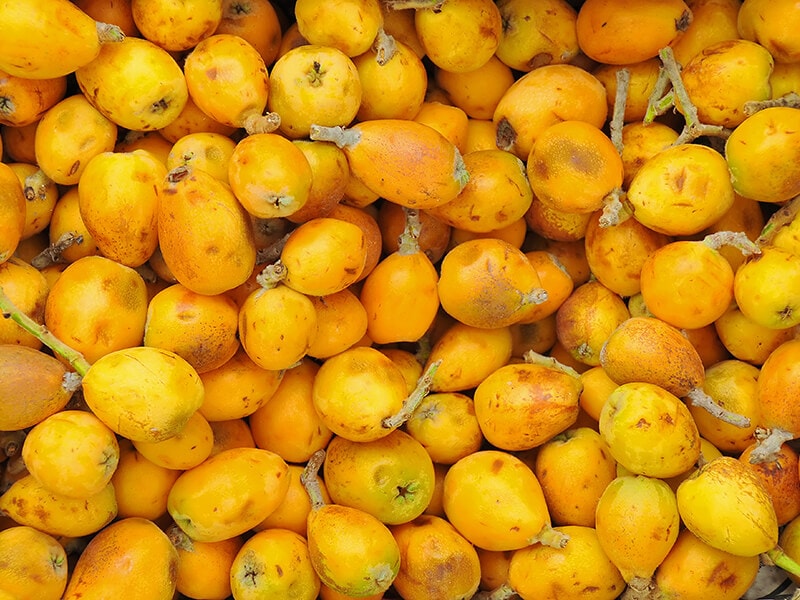 35. Mespilus
A special point of Mespilus (Medlar) is that it can develop quickly in winter and cold weather conditions. Moreover, this unique fruit with a brown shade has a resilient vitality that can live for thousands of years.
If you have Medlar fruits in your hands, try to make food with them.
Check out this video to know:
36. Momordica
Momordica is a genus of plants that has over 60 species. It can be called a "bitter melon" due to its taste.
Thanks to the antibiotic and antiviral features, It is used in some medicines. Otherwise, Asian people like to cook soups with Momordica.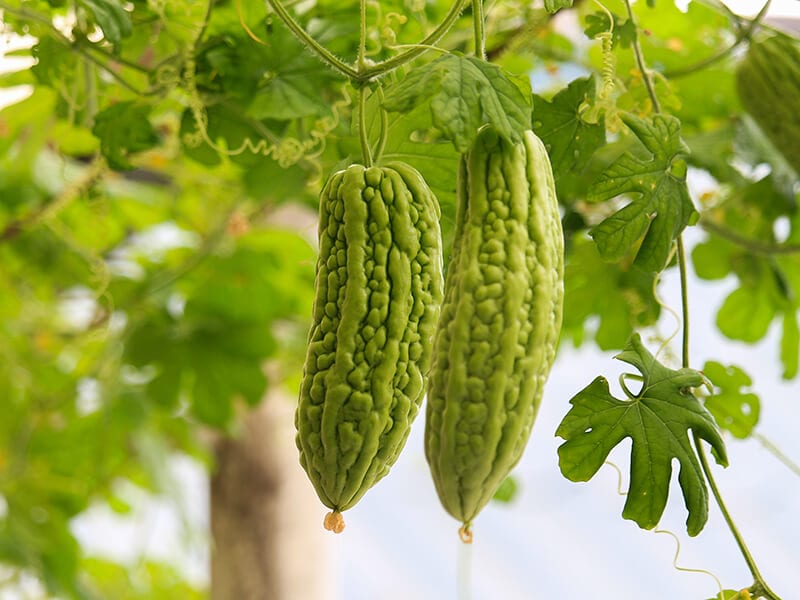 37. Mountain Soursop
Mountain Soursop (Annona Montana) is found in the Amazon. This fruit can be used not only to eat but also as a rootstock for developing other Annonas.
Check out this video to know:
38. Merlot Grape
This fruit has a beautiful blue with a unique sweet taste in the harvest season. Merlot grape is used commonly to make a variety of wines so, people are trying to expand the number of Merlot grape trees to meet the higher demand for wine lovers.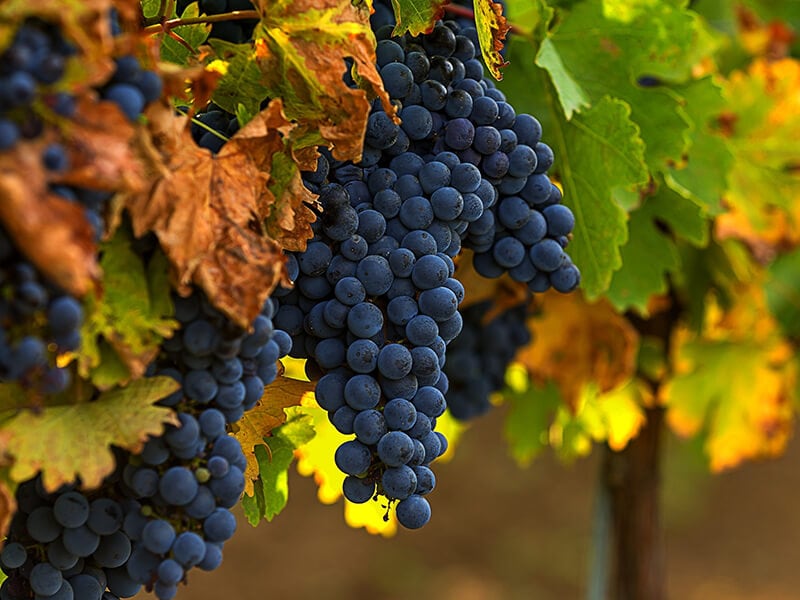 39. Melon Pear
I think you may be confused when hearing about "Melon Pear". Is it a melon or just a pear? It is actually Melon Pear! This fruit is a member of the evergreen shrub family and its taste is a successful combination between cucumbers and melons.
Melon pears have heart or oval shapes when they grow. When you try it, you can feel the flavor of refreshing and slight sweetness.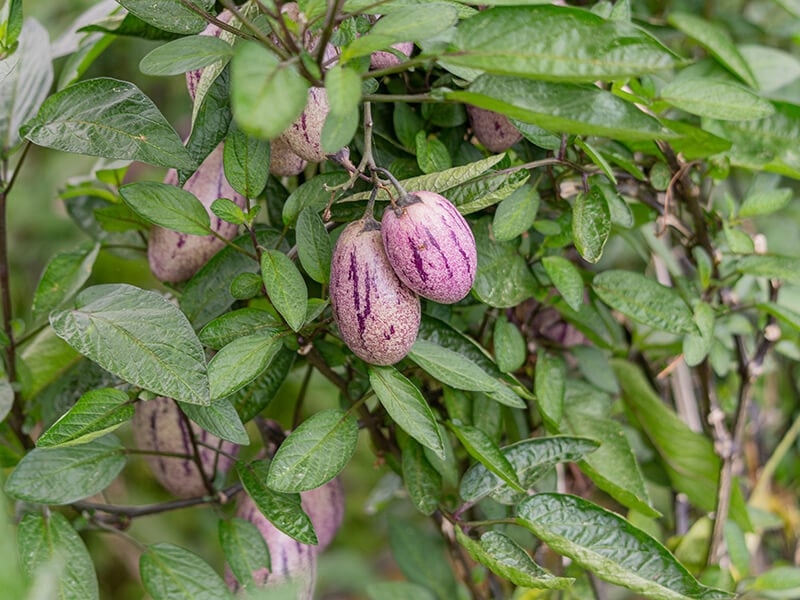 15 Healthy Vegetables That Starts With "M"
How many types of vegetables do you know? Take a look at this part to gain more exciting things and fulfill 15 vegetables to the list of fruits and vegetables that start with "M".
40. Mushroom
I have to think a lot before putting Mushrooms into my list since someone considers it not a type of vegetable. But, when cooking, most people implicitly understand mushrooms are used as veggies that eat along with the main dish.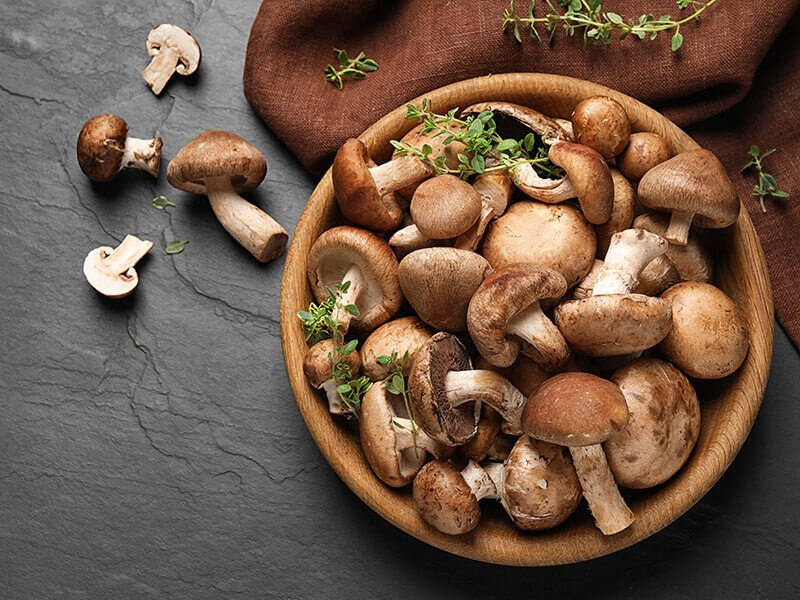 41. Mustard
With Mustard, I want to mention the Mustard plant, not about the bright yellow seeds that we usually see. Don't think that you only can eat the seeds; their leaves are also edible.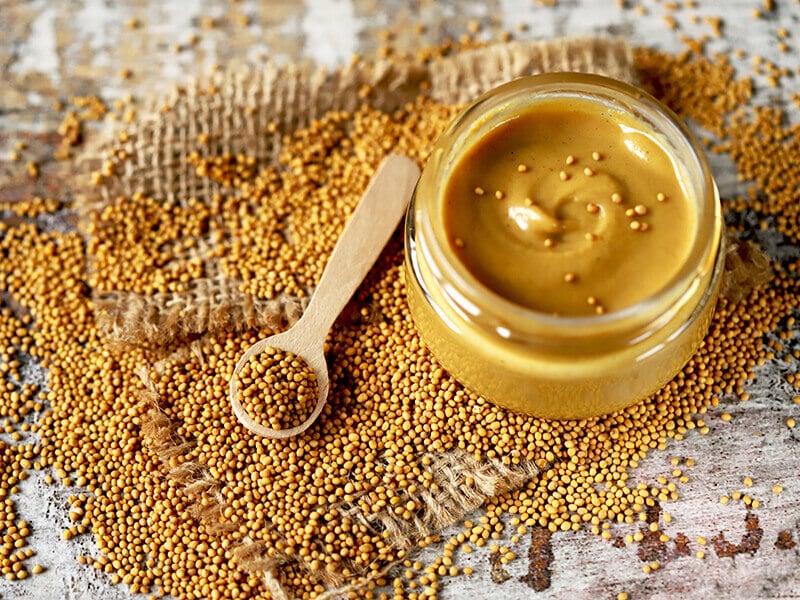 42. Mung Beans
Mung Beans are commonly used in Asia countries, for instance, China, India, the Philippines, etc. This kind of "M" vegetable is a natural ingredient for various dishes and contains low calories.
Mung beans carry – an incredible food that you should not miss. Let's make Mung Bean with this video:
43. Moth Beans
Moth bean (Vigna aconitifolia) is a kind of plant that can live under arid weather conditions. Indians consume many Moth beans every year because they can be cultivated well in their dry areas and serve delicious dishes.
Make a tasty dish with Moth beans for your family now! Watch this video:
44. Morels
I continue to give you more information about simple cup fungi in this list with a honeycomb appearance. That is Morel or the true Morels.
If you have an opportunity to eat in a French restaurant, you can see the Morels as an ingredient in some dishes on their menu.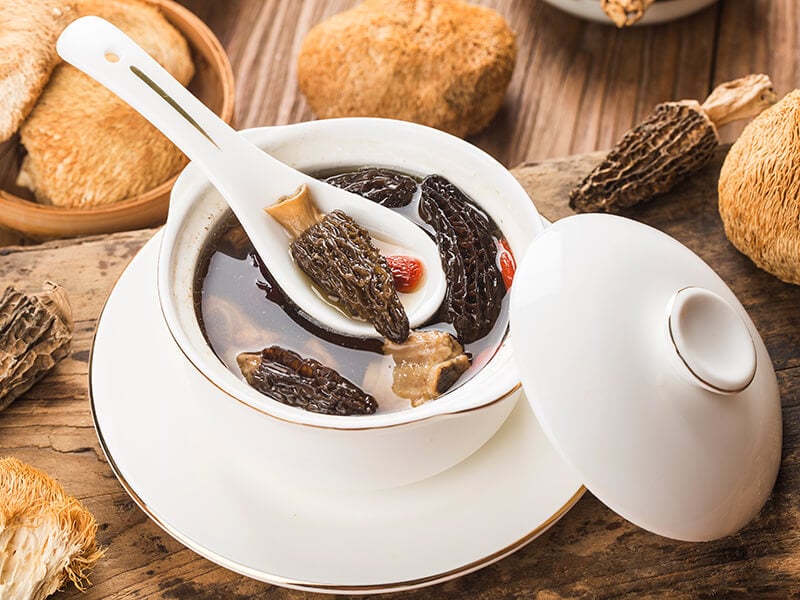 45. Molokhia
Molokhia (or Mulukhiyah) is used as a vegetable in North Africa, East African, and so on. This kind of vegetable can not be eaten raw, so people will try to make soup or stew.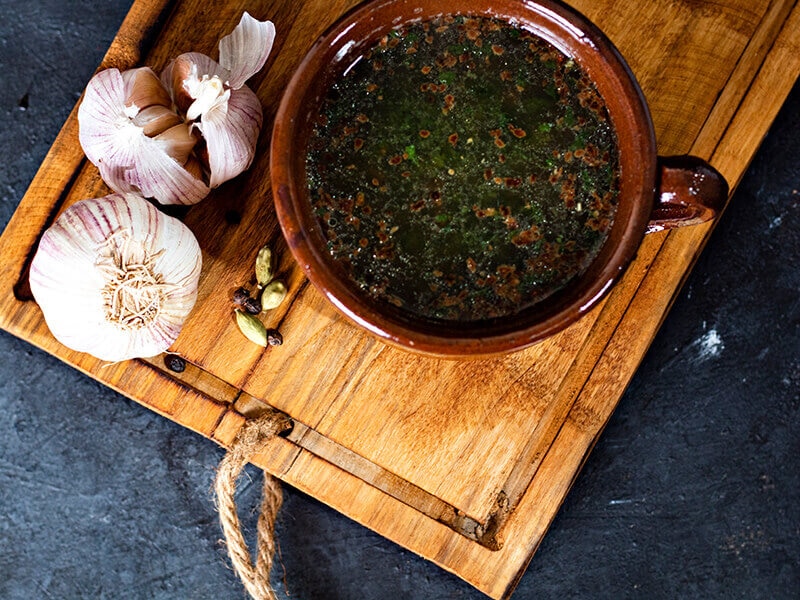 46. Mozuku Seaweed
Mozuku is not a weird name in Japan so you can find it in Japanese salad dishes. It is actually a member of the brown algae family.
Mozuku contains a high Fucoidan, so it has an antibacterial function that is very beneficial for immunity and intestinal tract of users.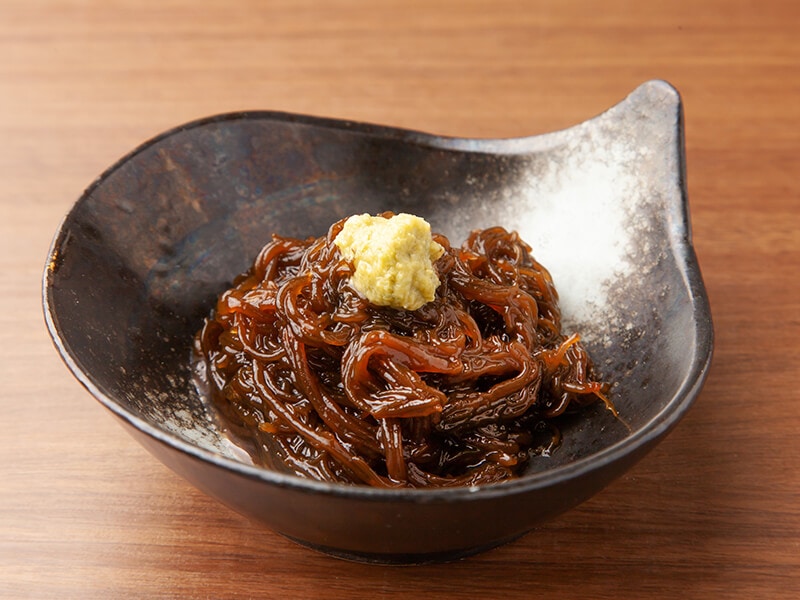 47. Mallow
Mallow is a close name of a member of the Okra (Orko) family with the science name Abelmoschus esculentus. This edible plant is a good source of vitamins, fiber, and antioxidants: people, especially those on a diet, often stew Mallow to eat.
Anyone preferring fried food will also love fried okra as well. For an extra tasty flavor, mix in some Cajun seasonings for some tasty Cajun-flavored side dishes. Even a demanding kid will clean their plate clean when served with fried okra.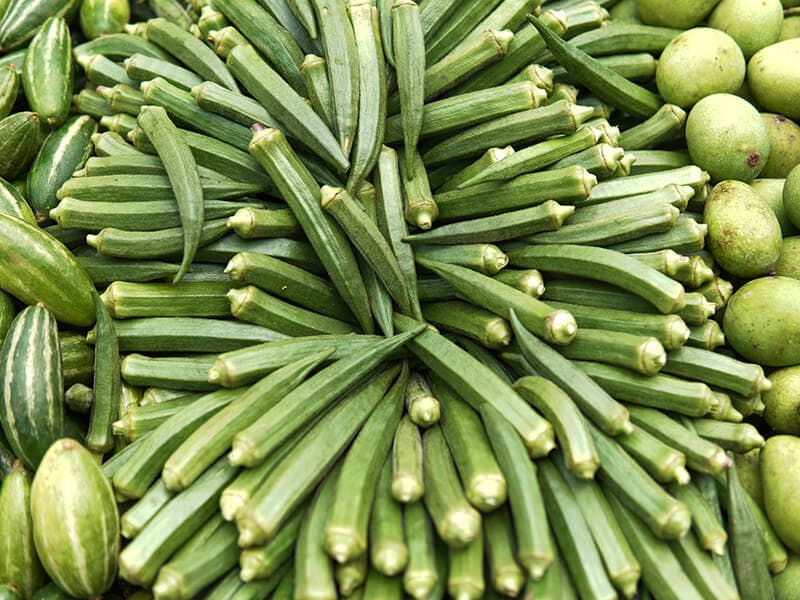 48. Malanga
A large number of Malangas are cultivated in tropical zones, which might be some nations in South America.
People will primarily harvest its corms to serve soups or roast dishes. Besides that, you can try to make "hypoallergenic flour" with this ingredient.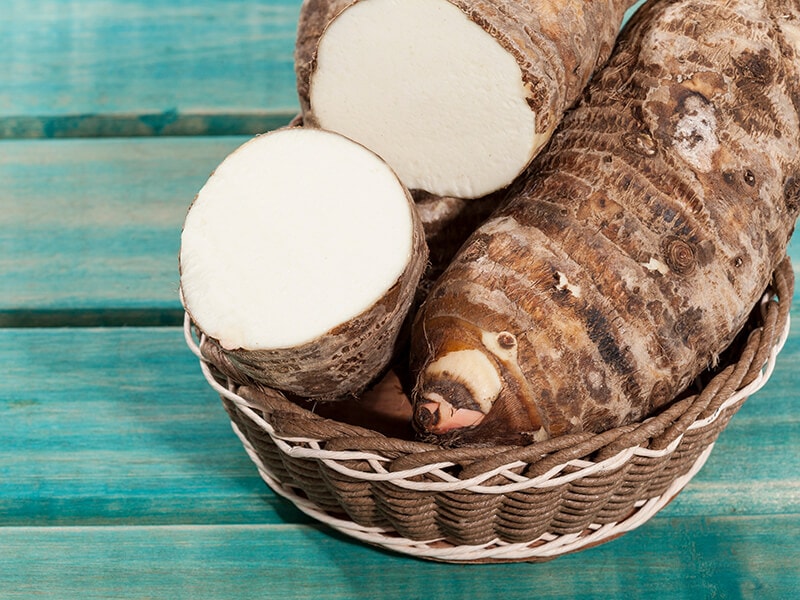 49. Mashua
The natural sweet of Mashua will make you can't forget just after one try. If you need to find this plant on farms, you have to come to Peru, Ecuador, Bolivia, and some other countries in South America. The white color of Mashua can also be used to decorate the dishes in many creative shapes.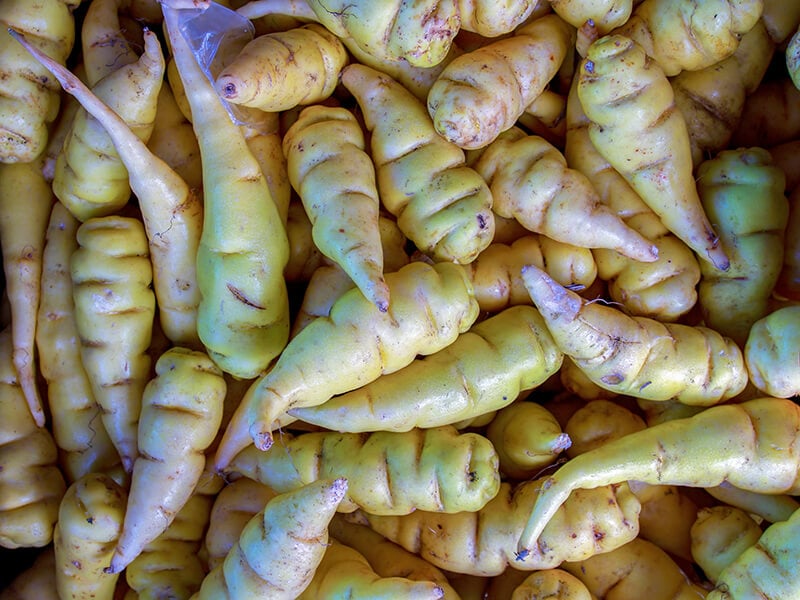 50. Marrow
Is Marrow a kind of berry or vegetable? Different from the scientists, people use Marrow as a kind of vegetable when cooking with meats.
In some cases, you can confuse the grown plant with an elongated watermelon. Marrow is very popular in England, and even they often held a competition to find the person who raises the biggest one.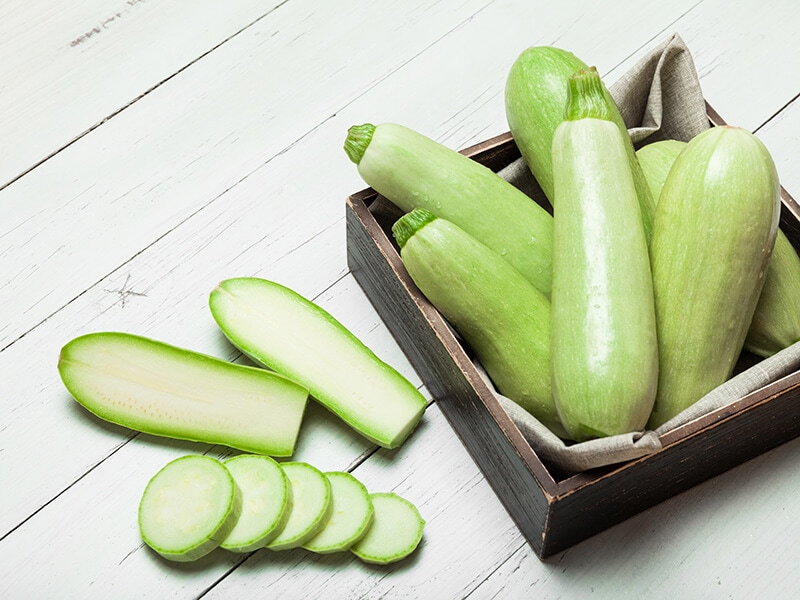 51. Mangetout
Mangetout is a common name that shows two kinds of peas, including snaps and snow peas.
In the UK, the best time to harvest Mangetout is usually from June to September, and they can keep them in the fridge to use for the whole year.
I recommend you add snow peas to stir fry; that can be an exciting experience.
Great ideas for cooking snow peas dishes. Watch this video:
52. Malabar Spinach
Malabar Spinach is an unforgettable name when mentioning fruits and vegetables that start with "M". You can find this plant in many Asian cooking recipes, which is where this plant thrives.
Moreover, its leaves are green, heart shaped. This plant is also beneficial for health due to its high antioxidant properties.
Somes best tips to help your Malabar Spinach grow rapidly. You can see this video to know more:
53. Miner's Lettuce
I think you have seen Miner's Lettuce before if you live in the areas near coastal parts of The USA or Alaska.
This "M" vegetable used to be a savior of miners in the past. The miners ate them to overcome the scurvy during the Gold Rush. That is why people call them "Miner's Lettuce".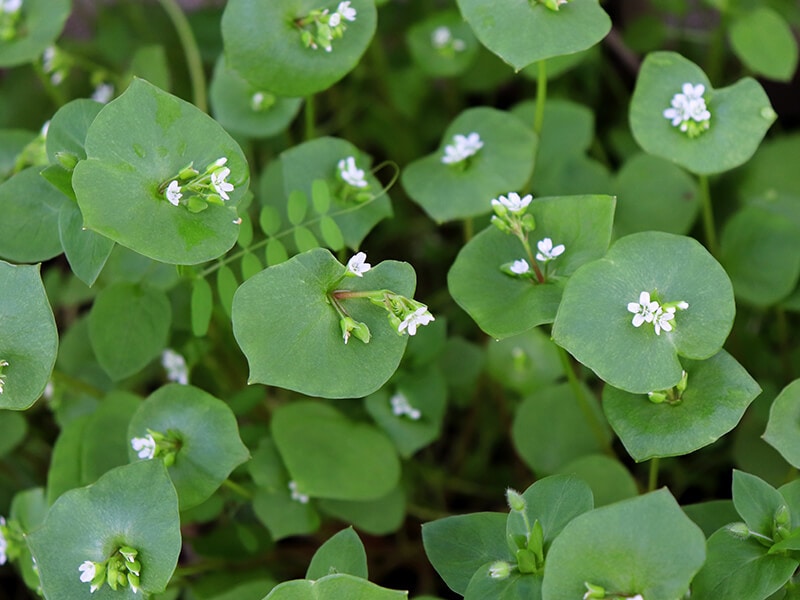 54. Mizuna Greens
Like other vegetables, Mizuna (or Japanese mustard green) provides vitamins and fiber to the user.
This plant has a mild taste and is a favorite kind of vegetable for many people and me. Mizuna is easy to grow and has an excellent cold weather resistance ability.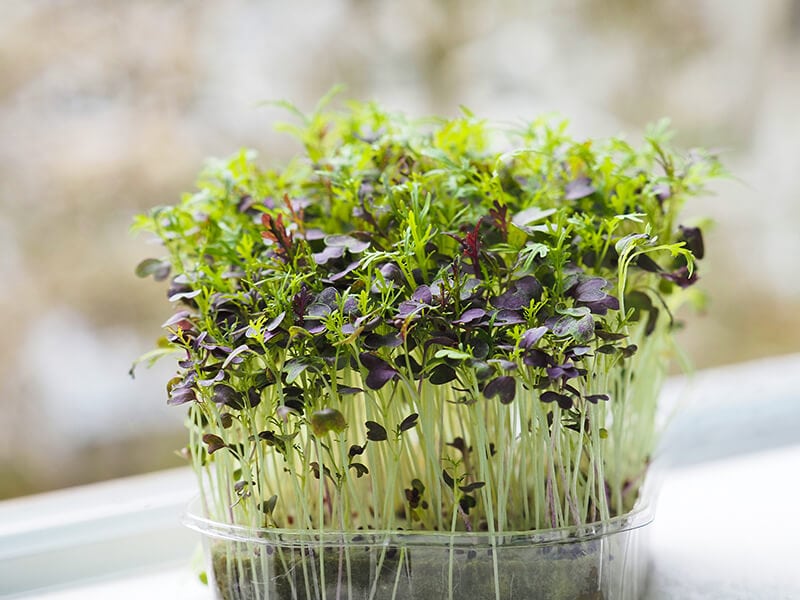 Enjoy New Tastes From Fruits And Vegetables That Start With "M"
That is my "M" fruit and vegetable world! I believe that I have shown you new experiences about fruits and vegetables that start with "M".
If you like any of them or want to create tasty meals by using them as ingredients, Don't hesitate; let's make it now.
After making food with my "M" recommendations, you can show it off to me by commenting on this post; I am glad to see your creation!
Do you know any other fruits and vegetables that start with "M"? Help me add them to my list in the comment section.