Orange fruits are at your service whether you want a drink, a dessert, or an ingredient to bake cakes. These magical fruits are so versatile that their uses seem to be unlimited.
Although orange fruits have the same color, they vary in shape, taste, smell, etc. Below is a list of amazing orange fruits together with their origins, nutritional value, and appearance. Be ready to join this festival!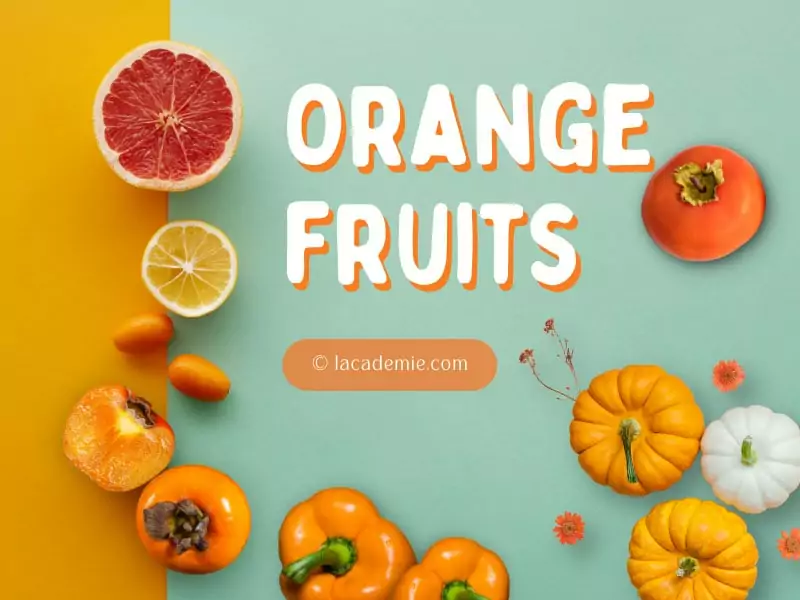 10 Delicious Citrus Fruits That Come In Orange
There are many fruits belonging to the Citrus family. The most well-known members are lemons, grapefruits, pomelo, and, of course, orange. Let's see how amazing they are!
1. Orange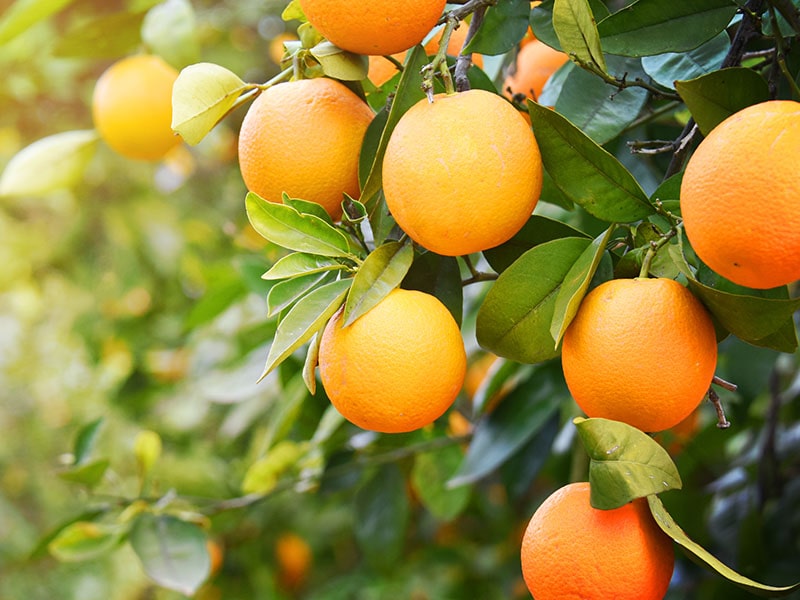 Oranges appear in the fridges of many households around the world. A cup of orange juice or some orange pieces can brighten your day in seconds. Their uses reach full capacity in the summer, when they help you battle against the hot.
It's worth noting that the typical orange varieties on the market are sweet oranges, with Navel orange being the most popular. However, there is a variety that has a bitter taste known as "bitter orange" or "Seville orange".
The origin of sweet oranges dates back as far as 340 BCE, which is evident from their mention in Chinese literature. Nowadays, they are widely cultivated around the world, with most oranges coming from Brazil.
As surprising as it may sound, the sweet orange is a hybrid fruit, and its parents are the pomelo and the mandarin. The fruit has a distinctly sweet taste, a combination of sugar and acid, and is round to oval.
Being nutritious is a major point of oranges. A large amount of vitamin C in these fruits will improve your immune system and strengthen your bones. They can also control your blood pressure, lower your cholesterol levels, and enhance your heart health.
Apart from juicing or eating raw, you can also use oranges as a cooking ingredient for many meat recipes. The peel may serve as a garnish, adding a pleasant aroma to your meal.
2. Tangerine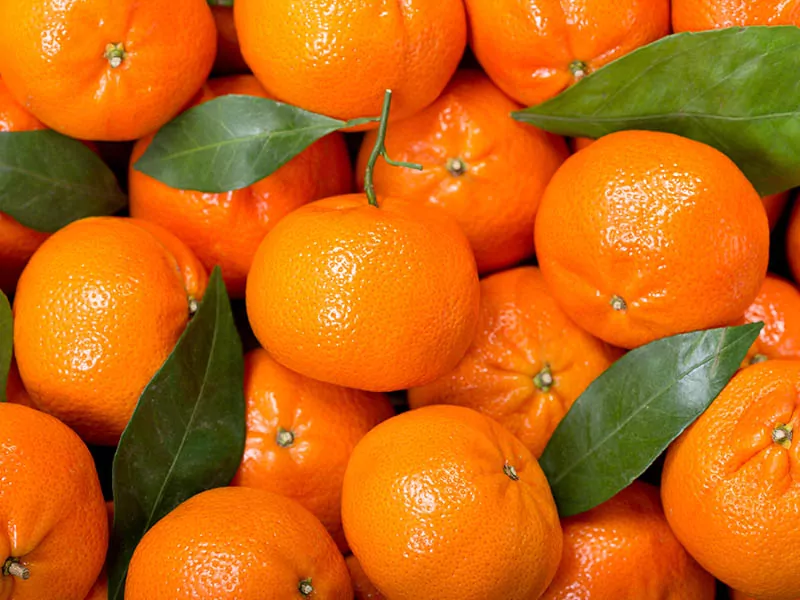 The next citrus on our list is a type of orange. It is a hybrid between mandarin oranges and other pomelo varieties. This small fruit has thin skin, which you can peel easily. People treat tangerines as desserts and snacks or enjoy them as juice and salad additions.
Since tangerines grow best in sunny places, people usually grow them in many southern or southeastern directions. For example, Florida and California in the USA cultivate them in large quantities. Tangerines are harvested from autumn to spring.
In general, tangerines have a sweeter but less tart taste than sweet oranges. Despite having a bitter taste, their skin can make your drinks, cakes, or sauces more flavorful.
Like other orange varieties, this fruit is a superb source of vitamin C, vitamin A, and potassium, good for your hair, teeth, bones, and brain.
However, excessive tangerine consumption may lead to bowel discomfort, which causes diarrhea. Besides, the fiber in the fruit can add a few pounds to your body when absorbed too much.
Do you want to know how healthy tangerines are? Check this out.
3. Kinnow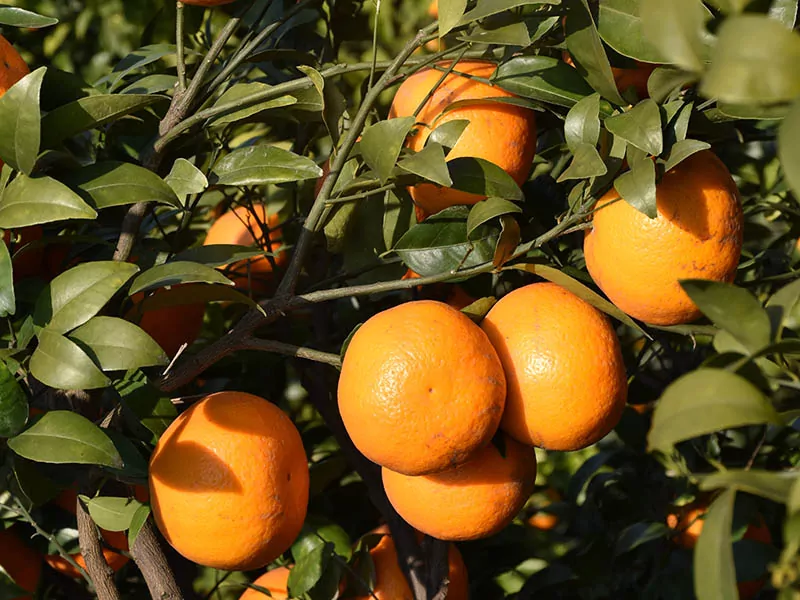 It's almost impossible to distinguish this fruit from an orange just by looking. However, a bite will give it away. kinnow is sour and more succulent than orange despite having a less sweet taste. Besides, the skin of kinnow has a darker color and is also thicker.
Many people love this tree since it's high-yielding. It won't be hard for you to find a kinnow tree carrying more than 1,000 fruits! For this reason, people sometimes see it as more economically efficient than orange. India and Pakistan grow this fruit in large numbers.
Like your traditional citrus fruit, kinnow contains a lot of vitamin C. Moreover, the minerals in kinnow will be a useful tool to help you get bright skin and strong bones.
4. Grapefruit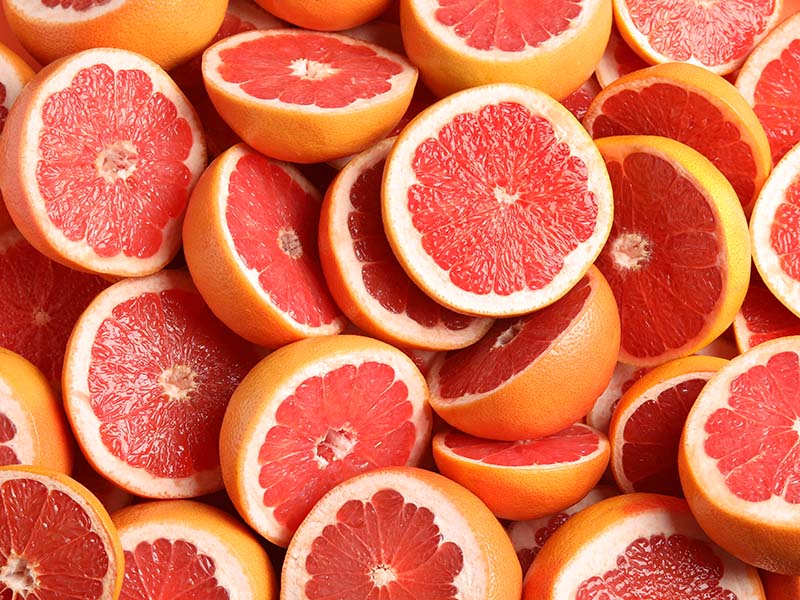 This subtropical fruit has an unclear origin. However, many people believe it is a natural hybrid between the sweet orange and the pomelo. It's considered one of the largest members of the citrus family.
The first record of this fruit was in a book written by Griffith Hughes in 1750. Currently, its popularity has spread all over the world, with China taking the lead in production. The tree yields one crop each year, and fruits can be collected between October and May.
The fruit has juicy, reddish flesh, which gives a taste ranging from sweet to bitter, depending on the grapefruit variety. Fruits with darker meat are usually sweeter. They are perfect as desserts or snacks. You can cut them into 2, 4, or 8 pieces according to your preference.
The beneficial effects of grapefruits on your body are many. They are an excellent source of vitamin C, vitamin A, and fiber. Enhancing vision, reducing inflammation, and speeding up wound healing are some of their benefits.
Check this explanation to know if grapefruits will fit a keto diet or not.
5. Mandarin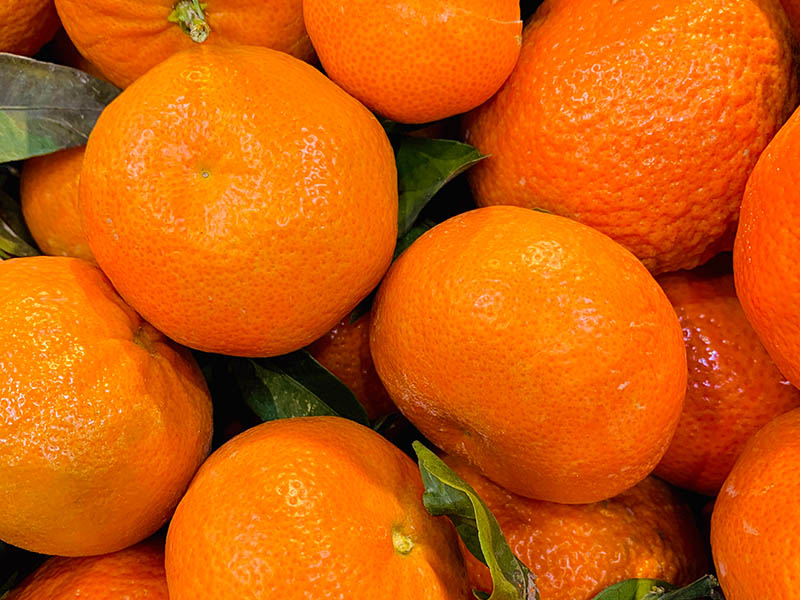 The mandarin, along with the pomelo, the citron, and the papeda, is the ancestors of all the citrus fruits today. The fruit is much smaller than its descendant, the orange, and is round to sphere in shape. It has a thin rind that you can effortlessly remove using fingers.
Many scholars believe mandarin originated in Southeast Asia and southwest China. The Chinese began growing these fruits thousands of years ago. It was later introduced to Europe with the help of an Englishman, Abraham Hume.
One of the many reasons people love mandarins is that the inside is divided into segments in nature. This is convenient for eating as well as sharing with others. A mandarin typically comprises 9 to 15 sections.
The juiciness and sweetness of mandarins are out of the question. It is a common dessert for every meal in many Asian countries. You can also enjoy this fruit with salads or ice cream. The skin can serve as a spice to enhance the flavor of your foods as well.
6. Kumquat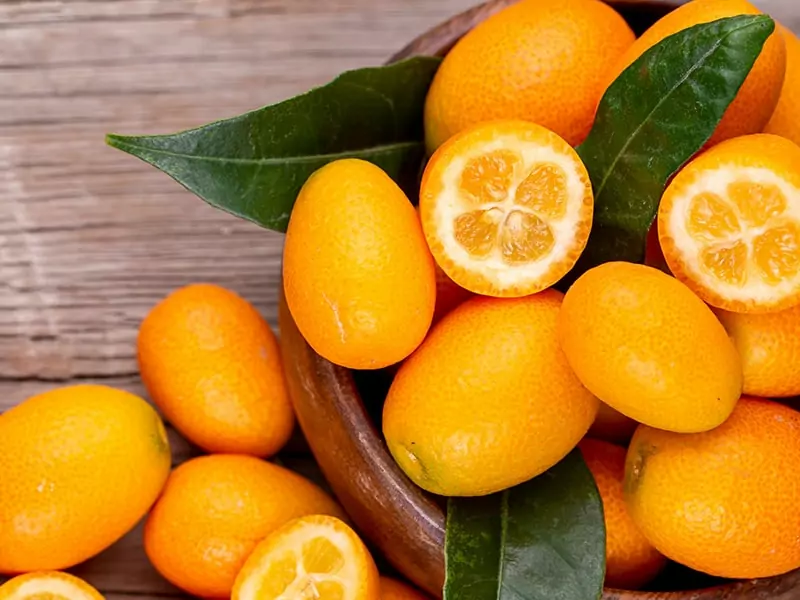 These funny, egg-shaped fruits bear an interesting resemblance to oranges regarding texture and flesh. But the major distinction is that all parts of the kumquat are edible. The tart outside, when paired with the sweetness inside, can result in a unique combination.
Kumquats are native to China, where they are now extensively cultivated. However, you can meet these fruits in California and Florida in the USA. Kumquat trees bear numerous fruits between January and March.
There are several kumquat varieties, such as the Meiwa kumquat, the Jiangsu kumquat, or the Nagami kumquat. Each variant can come with slightly different shapes or tastes.
Only as big as a large olive, kumquats are excellent snacks or desserts. People can add these fruits to their diet daily. Being low in fat and cholesterol-free, the fruits will benefit your health.
Let's check what kumquats are and how to eat them in this video.
7. Blood Orange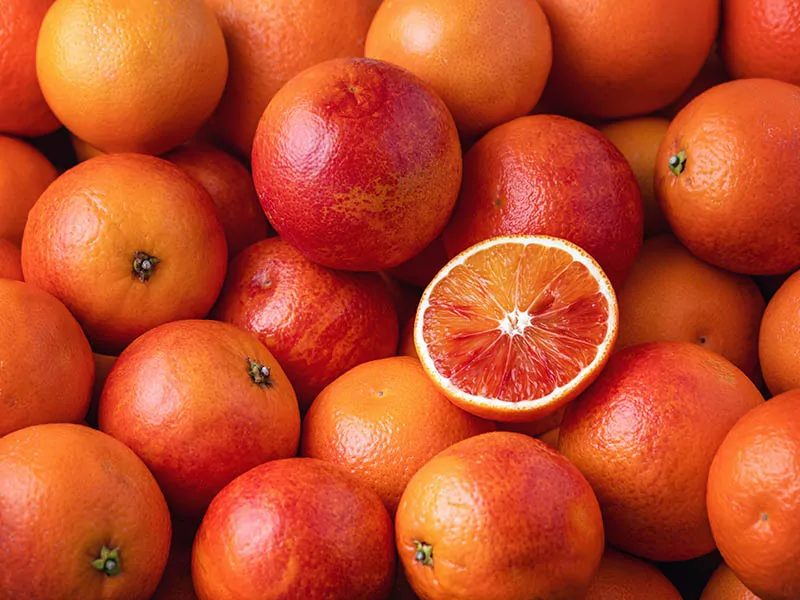 The most striking characteristic of this orange variety is its crimson flesh. This color results from anthocyanins, pigments that rarely appear in the citrus family. This red is sometimes even visible on the rind of the fruit.
The fruit is usually grown in warm and temperate regions and reaches maturity in winter and early spring. After getting out of the tree, the ripening process will stop immediately. This may come in handy since the fruit won't go bad soon.
There are 3 kinds of blood oranges. Moro is the one with the darkest flesh and is popular in the US. Next is Tarocco, a famous fruit in Italy. It tops other blood oranges in terms of sweetness. The last one is Sanguinello, with Spain as its hometown.
The flavor of blood orange is as wonderful as its looks. Many people describe it as a combination of sweet orange, raspberries, tart cherries, and grapefruit.
Blood oranges come with a lot of uses. They can be an ingredient in baking cakes, desserts, meat, or salad. The delightful color also makes it a well-loved garnish.
8. Seville Orange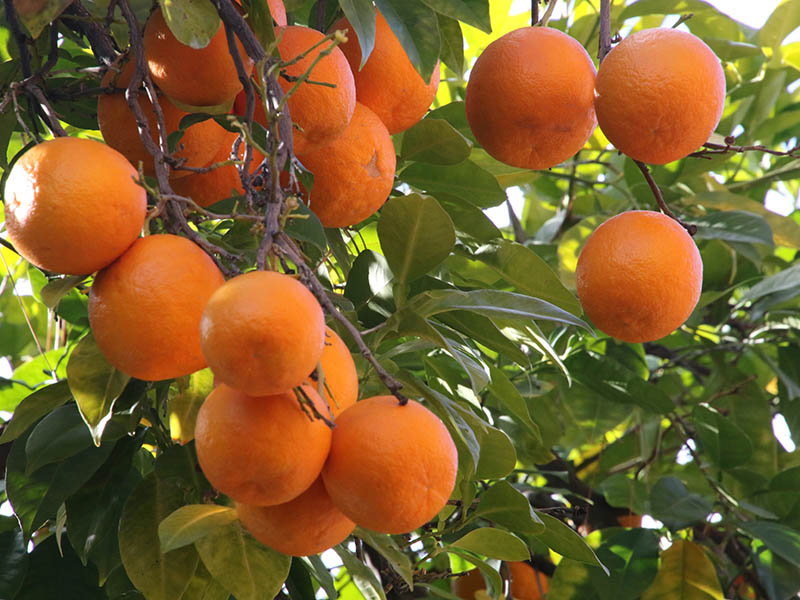 In contrast to your traditional sweet oranges, this variety has a sour and bitter taste. As a result, enjoying it fresh is not recommended. Regarding appearance, Seville oranges are small to medium with thick, rough skin.
Despite the name, Seville orange originated in Asia. It was not until during the 1100s that Sevilla saw its introduction. It gradually became an iconic fruit in Spain, where people still grow it widely. People harvest this fruit during winter and can freeze it for future consumption.
People use Seville orange juice to make syrups, cocktails, or sauces. In Spain, this juice can enhance the flavor of fish dishes. Essential oil and marmalade are also popular products of the Seville orange.
9. Calamansi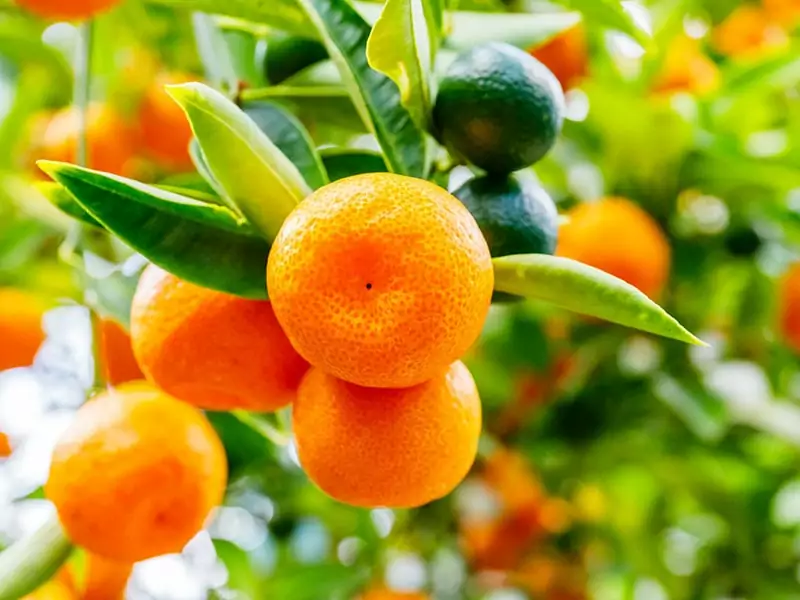 The final citrus fruit on the list has Southeast Asia and Taiwan as its origin. It is a child of the kumquat and another unknown citrus species, likely the mandarin. Like many other citrus fruits, its skin is green when unripe and turns orange as it matures.
The role of calamansi is very significant in the Philippines, where people grow it in considerable numbers. In this country, you can see calamansi appearing in many cuisines.
The flavor of calamansi is a balance between the sourness of the lime and the sweetness of the orange. This is the main reason why people use it in dishes. You can also enjoy it as juice or use it to improve oral hygiene.
Let's check the differences between ripe and unripe calamansi.
3 Orange Winter Squashes That Amaze You With Their Shapes
Moving out of the citrus show, you now join the exhibition of rather unusual orange fruits – the winter squashes.
10. Pumpkin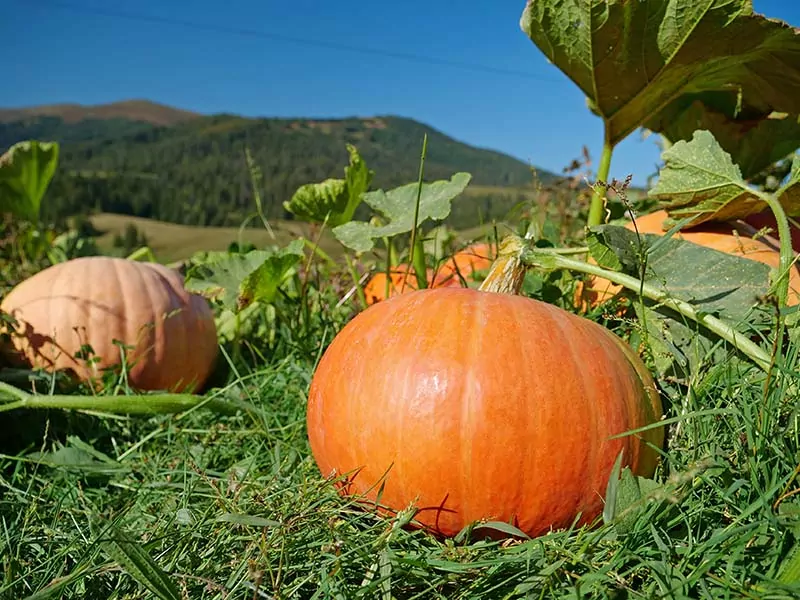 Pumpkin is probably the biggest orange fruit. Scientists believe that the first pumpkin appeared in North America about 9000 years ago. Nowadays, you can see pumpkins in almost every country around the world.
The outside of the fruit is smooth, hard, and varies from mild to bright orange. The meat is usually yellow and contains various large seeds. This fruit appears in many desserts, salads, preserves, and especially, soup.
Pumpkin is rich in beta carotene, which will turn into vitamin A after entering your body. Vitamin A improves eye health, lowers the cancer risk, and boosts the immune system. Pumpkin is ready to be harvested during autumn, from the end of August to the end of October.
This fruit also contains vitamin C, vitamin E, potassium, and many other nutrients. Despite being rich in nutrients, it carries few calories, making it an effective weight-loss assistant.
Pumpkin also has an outstanding cultural value. In North America, it's a tradition for people to eat pumpkin pies in Thanksgiving meals. This pumpkin also earns worldwide recognition as an indispensable decoration during Halloween.
11. Butternut Squash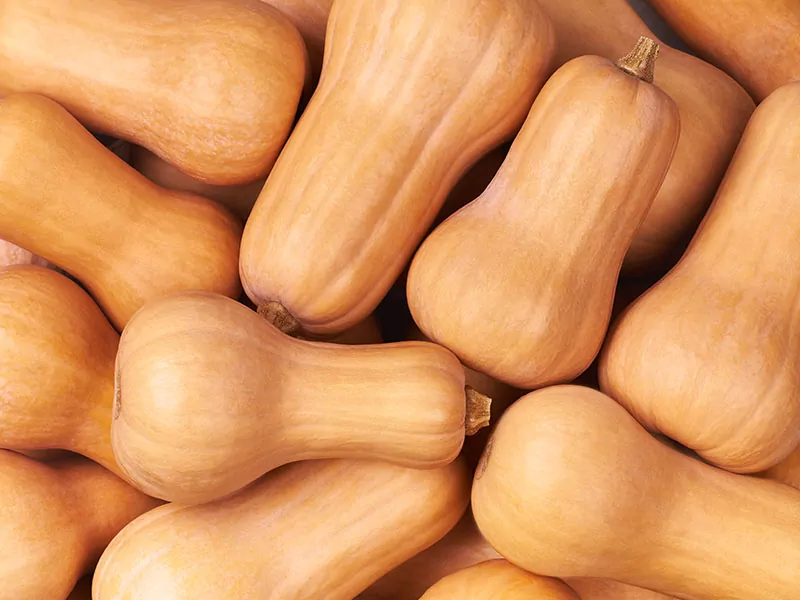 You may have never heard of this fruit before. Although it is a fruit, people usually use it as a vegetable. Its taste closely resembles that of pumpkin, nutty and slightly sweet, which goes with a lot of food. For this reason, it can be an ingredient or a whole dish.
There are many recipes involving butternut squash, so make sure you know the correct way to retain your butternut squash's freshness. You can roast, toast, mash, or boil it. Truly a versatile fruit! Just season it right, and you will have a delicious meal.
When immature, the skin of this fruit is dark green. This color slowly switches to dark orange when the fruit ripens. The inside is yellow to light orange and carries a lot of edible seeds.
What will catch people's attention is the shape of butternut squash. It is long and shaped like a bulb. Some people say it looks like "a giant pear". This shape is understandable since the fruit is a crossbreed between hubbard squash, a special gray fruit, and gooseneck squash.
Like pumpkin, this fruit is incredibly nutritious. From fiber and potassium to vitamin A and vitamin C, they all lie in butternut squash in high amounts.
12. Red Kuri Squash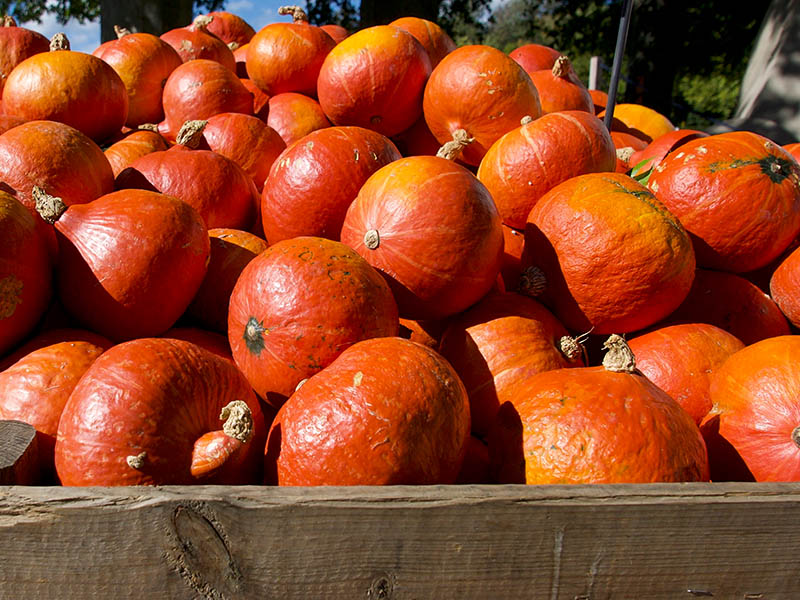 The structure of this fruit is no less peculiar than its brothers. It won't be wrong to describe it as "a giant orange onion". The skin is smooth and dark orange with many faint yellow spots. Inside this fruit is flavorful, rich, and sweet orange flesh.
Since Japan is its hometown, the other names of this squash are "Japanese squash" or "orange Hokkaido squash". However, most Red Kuri squashes on Japan's market are imported from California or New Zealand.
Roasting, baking, and boiling are the 3 most popular methods to cook Red Kuri squash. It is an essential character in various soups, casseroles, and stews recipes. Red Kuri-based cakes, jams, and muffins are also amazing for their nutty flavor.
Check this guide on how to roast Red Kuri squash with honey and paprika.
7 Other Fruits That Also Possess Orange Skin
The next fruits are from other families but still join this list for being orange. Since they come from various genres of fruits, surprising facts may come at any time. Be prepared and let's get started!
13. Apricot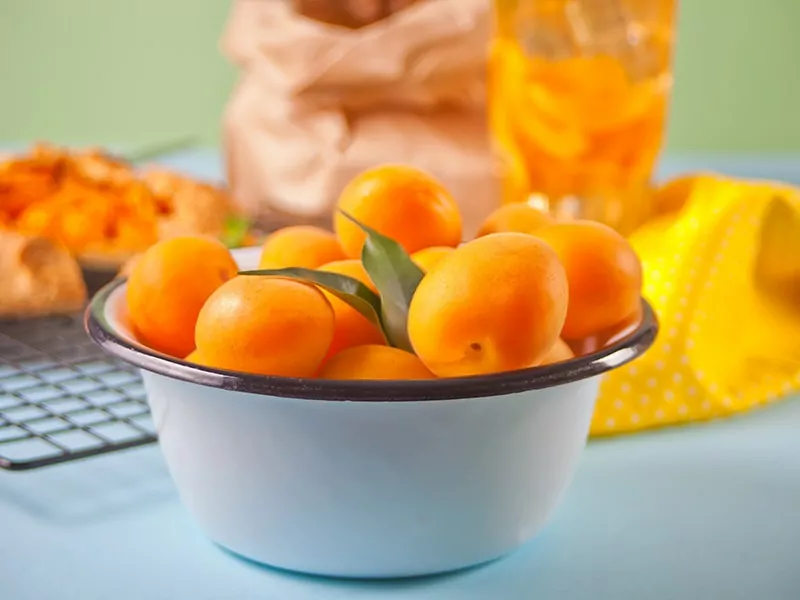 Apricot may have spread its popularity to all continents except Antarctica, but do you know this fruit has a Chinese origin? You will understand why apricots are well-loved by the world soon.
This small fruit varies from round to oval in shape. The flesh is sweet and a little tart with a pleasant aroma. The colorful skin of apricot ranges from yellow and orange to crimson and has a fur-like substance on it. In the middle of the fruit is a large, inedible seed.
People usually prefer to enjoy apricot raw with skin on. Or you can turn apricot into other delicous recipes like juices, salads, ice cream, cakes, and desserts. You will also love jam or chutneys with apricot as the key ingredient.
Apricot is a substantial source of vitamins and minerals. Vitamin A, vitamin C, vitamin E, and potassium are among them. Eating apricot regularly will ensure that you have nice, healthy skin. It also enhances your gut, keeps you hydrated, and protects you from inflammation.
14. Persimmon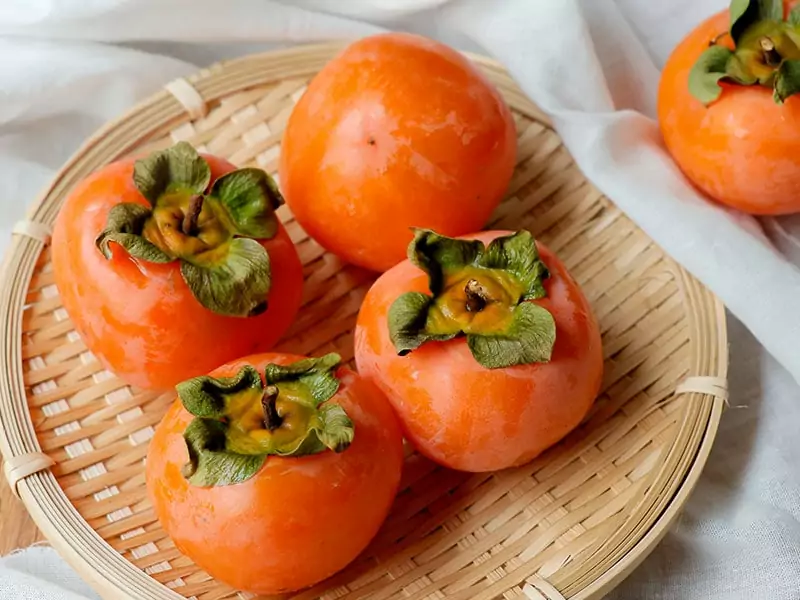 A glimpse may mistake persimmons with tomatoes. They have a similar round and flat shape with glossy and smooth skin. On top of them is a large green stem. However, they are quite different in terms of taste. While persimmons taste very sweet, tomatoes are acidic.
There are many persimmon species around the world. Oriental persimmon, American persimmon, and velvet persimmon are probably the most well known. They are in season from October until January.
You can eat persimmon raw or blend it into juice. You should wait until it is fully ripe. A diet with persimmons will benefit your health, digestive system, and eyes.
Want to know how to enjoy a persimmon? This instruction will take care of that.
15. Mango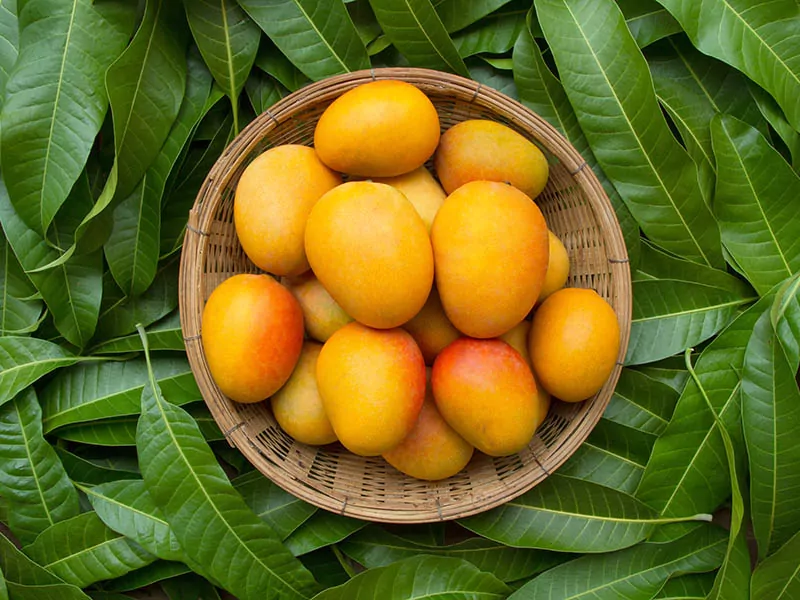 A mango with orange color is rare, but it exists. This fruit can vary from yellow, green, pink, and crimson to orange. Different varieties may bear different colors. You can also notice mini white dots on the skin of this fruit.
Mangoes are tropical fruits that first appeared in India 4 millenniums ago, where people worship them. Nowadays, you can come across mangoes in almost every country around the world. Mango season reaches its peak between May and September.
Normally, mangoes have an oblong shape, with a sharp end in some but blunt in others. The flesh is orange-yellow and gives out a juicy and sweet taste.
Mango appears in many desserts and recipes since its sweet taste can strengthen the flavors of dishes. You can also slice a mango into small pieces and enjoy them with salad, ice cream, or other drinks.
16. Orange Cherry Tomato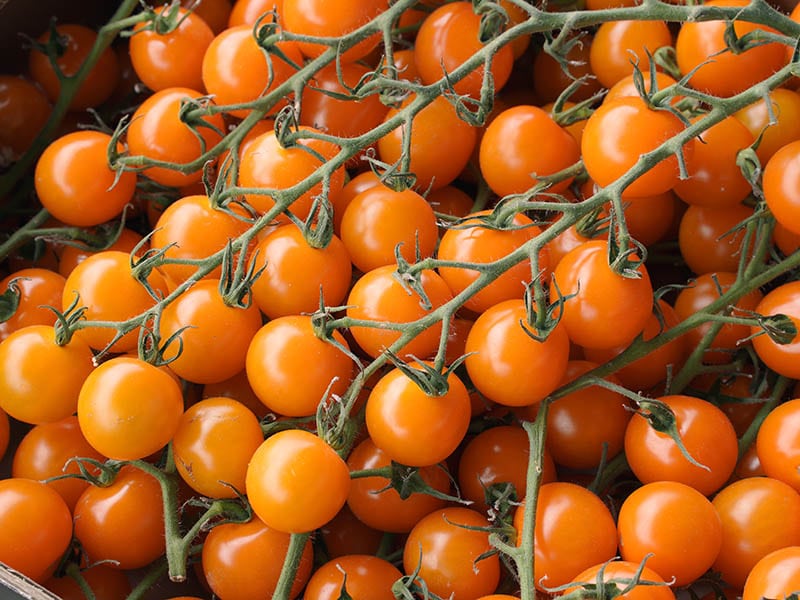 You may think I accidentally put a vegetable into this list. However, based on how people define fruits, tomato is one of them. Tomatoes develop from flowers, and they contain seeds, just like your regular fruits.
The tomato you see here is a cherry tomato variety. It is much smaller than a large tomato but sweeter. In summer and fall, fruits come in abundance, giving the trees a colorful and fancy outlook.
Besides fresh consumption, this tomato will also be a delightful addition to your soup. Crostini with orange cherry tomato as the topping will make a memorable snack.
17. Orange Bell Pepper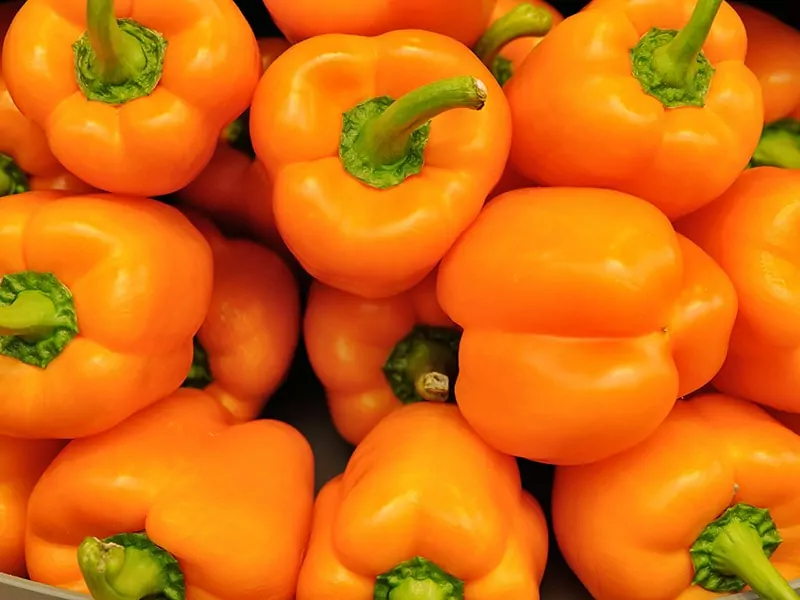 Here you got another fruit that usually plays a vegetable role. This pepper carries a crisp, tangy taste and is sweeter than the green bell pepper.
As you can guess from the name, this fruit looks like a bell with three to four sections. The outside is smooth and edible. You can roast the fruit and season it with olive oil and garlic or cut it into pieces to enjoy with soup.
It's not rare to see bell peppers appear in a green diet. Orange bell pepper is a perfect source of antioxidants. It is also low in fat and calories, making it excellent for a keto diet. This fruit can guard against heart disease or even cancer too.
18. Marian Plum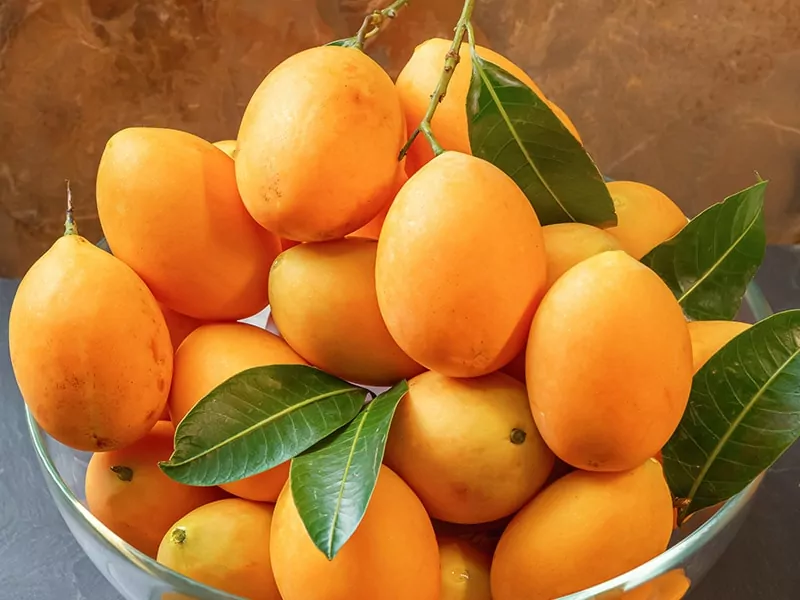 Marian plums are egg-shaped fruits with orange-yellow peels and originally grew in Indonesia and Burma. Nowadays, people in Thailand and some Southeast Asia countries cultivate it for economic purposes.
People categorize Marian plums into sour and sweet kinds. The ones you see on the market are usually sweet. "Mayong", a special type of Marian plum that belongs to Thailand, has a sweet taste paired with a slight sourness.
The entire fruit is safe for eating. You can treat these small fruits as snacks or toppings for salads and ice cream. The sweet and sour flavor makes this fruit a favorite for many people. This taste can remind you of a mango or a peach.
Let's take a closer look at the Marian plum, both inside and outside, in this video.
19. Peach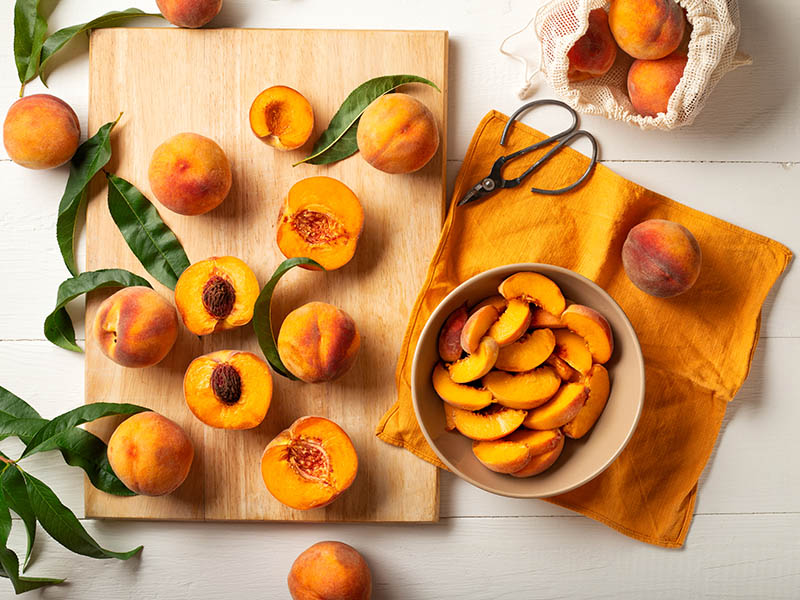 China is the birthplace of this colorful fruit. Today, the top countries regarding peach production are China, followed by Spain, Italy, and Greece. The plants bear most fruits in summer but can reach their season anytime between April and October, depending on the climate.
The rind of the peach is soft and edible; it contains fiber, antioxidants, and many vitamins. The flesh is juicy and savory and will keep you hydrated. Peaches are usually desserts or ingredients for some dishes. You can even make cocktails with any peach you have.
However, do keep in mind that some people may be allergic to this fruit. Symptoms can make your face swollen or cause itchiness in many parts of your body. They can even be more concerning, like coughing or vomiting.
20. Golden Berry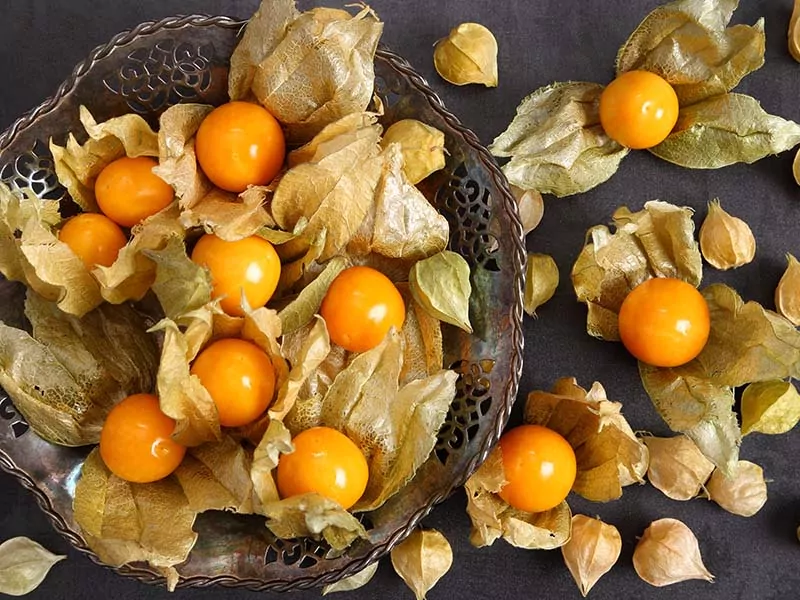 Golden berry is the last guest on this show. It is native to South America but now appears in many markets around the world, like China, Australia, and England. Temperate as well as tropical climates are suitable for the growth of golden berries.
This species belongs to the "Solanaceae" family, which includes a wide variety of plants, such as tomatoes, potatoes, and eggplants.
These almost round fruits look like they are hiding in a paper-like shell. The outside is bright orange and glossy, while the meat is juicy and contains a lot of small, edible seeds.
There are dry and fresh golden berries in the supermarket. You can enjoy them as snacks, add them to salads, or mix them into smoothies. Their sweet and tart taste is also a pleasant addition to fish and meat dishes.
This small fruit carries various vitamins and minerals such as calcium, iron, phosphorus, vitamin C, etc. Eating golden berries helps control cholesterol levels, manage weight, and strengthen bones and teeth.
You will understand more about golden berries and what they taste like after watching this video.
Your Knowledge About The World Of Orange Fruits Has Been Broaden
You may feel overwhelmed after absorbing all the information about these 20 incredible orange fruits. Considering how savory and nutritious they are, you may want to try some in the future.
Let's like and share this article! I am sure that it will also be really useful for your friends or family members. As usual, if you have any thoughts, write them down in the comment section below. Thank you, and stay orange!