I don't know why, but I love mixing milk and orange juice. It's my thing!
Orange juice is acidic and is best digested fast. If you are curious whether orange juice can be ruined, unfortunately, it is, even though it has acidic agents.
Milk, on the other hand, has a lot of protein which is hard to digest and takes more time. If you mix the two, you will get a refreshing beverage.
In today's article, I will share 2 healthy and popular recipes including Morir Soñando and Orange Julius. If you want to learn how to prepare these simple yet delicious recipes, keep on reading.
That being said, let's learn more about this combo and enjoy some drinks.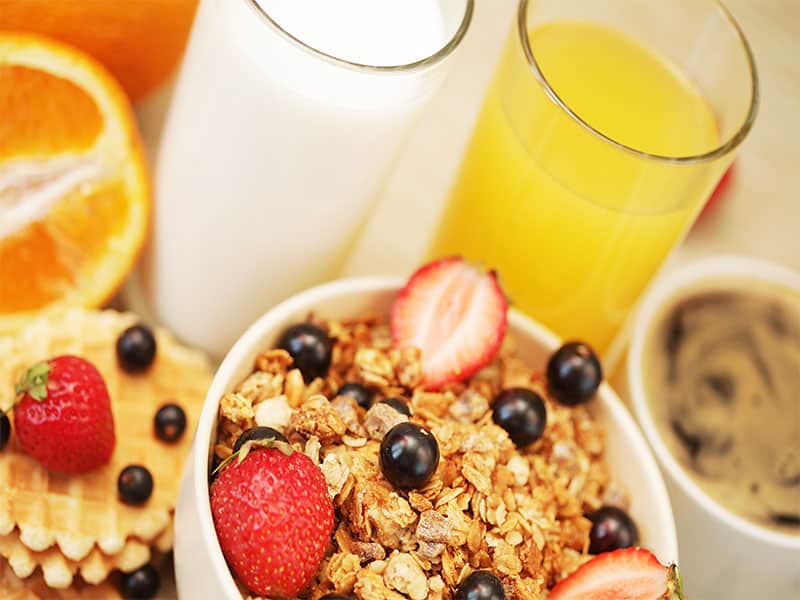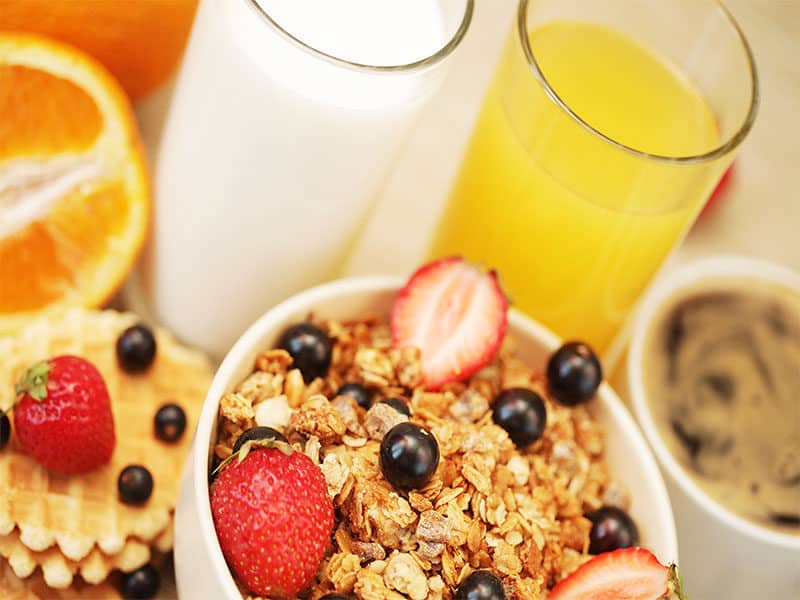 Is It Better To Drink Milk Or Orange Juice In The Morning?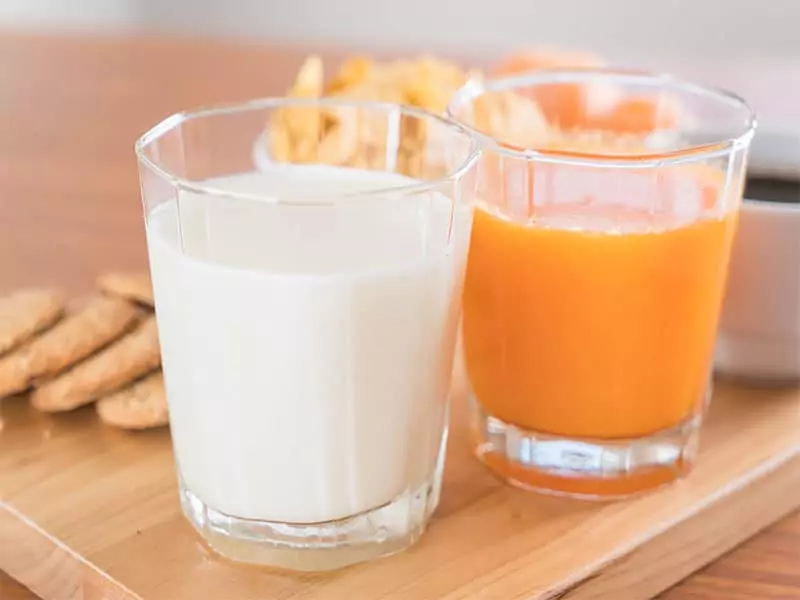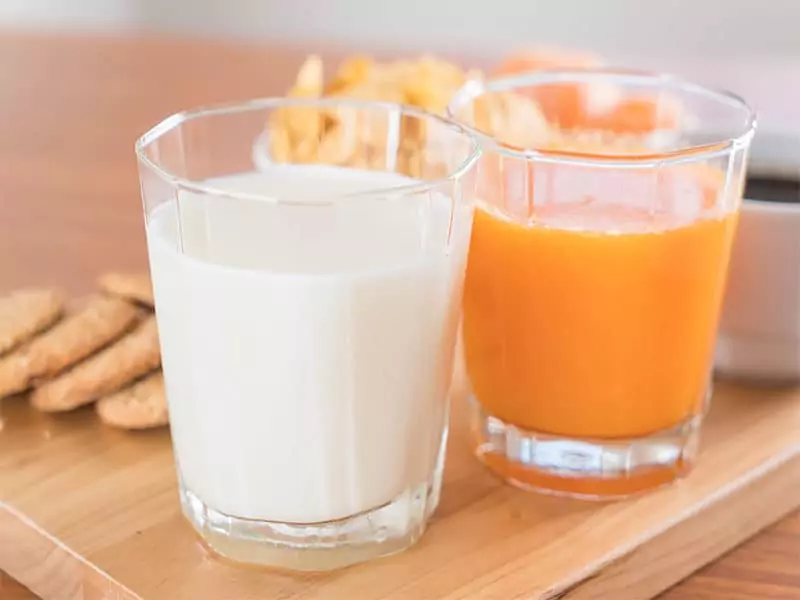 Many people wonder if it's better to drink milk or orange juice in the morning. The truth is, both orange juice and milk have health benefits. However, they also have downsides.
Milk provides plenty of calcium and doesn't hurt your enamel. At the start of the day, you want to take a fresh drink with breakfast that can deliver energy easily during the day and health benefits.
For many people, milk and orange juice are the two common choices. That being said, let's take a closer look at the advantages and disadvantages of drinking milk and orange juice.
Orange Juice
A juice glass made from any typical type of orange will have 45 calories. It also provides enough vitamin C needed for the entire day and protects your skin from the dangerous rays of the sun.
It's also anti-oxidant for your skin. Additionally, orange juice keeps your teeth safe from the effects of pollution.
Consuming too much orange juice can be dangerous. For instance, if you consume orange juice for most of the week, it will negatively affect the enamel of your teeth. It also decreases the enamel acid present in the teeth. Therefore, the enamel coat begins getting spoiled.
Watch this video to know more:
Milk
While milk comes with various types, a glass of any regular milk completes the deficiency of calcium and protein in your body. But here's the kicker.
Milk can also help you to prevent overeating and keep your weight under control. If you consume milk at the start of your day, you can prevent all the fatigue and tiredness.
However, like orange juice, milk has disadvantages too. For instance, since it has many types, it's hard to determine whether your milk has any gluten component. And this is important for people with allergies.
And if you consume fat-containing milk that has unsaturated fat, you can face problems of diabetes and obesity. This type of milk promotes cardiovascular diseases. Thus, avoid full-fat milk in the morning.
Watch this video to know more:
Who's The Winner?
Both milk and orange juice have benefits and downsides. However, since milk doesn't hurt your enamel and provides plenty of calcium, it's safe to say that milk is the winner.
It's more beneficial than orange juice. Therefore, try to consume organic milk instead of full-fat milk. It's rich in beta-carotene, antioxidants, vitamin E, and omega-3 fatty acids.
If you like orange juice more than milk, then consume raw oranges in the morning and have orange juice occasionally to protect your teeth from damage. What do you prefer?
Watch this video to know more:
What Happens When You Mix Milk And Orange Juice?
If drinking milk and orange juice at the same time is unpleasant, drink the juice first. Milk is a buffer and orange juice is acidic. Thus, the milk will buffer the acidity of the juice.
However, in exchange, it makes the milk curdle. Mixing these two ingredients may look and taste nasty. Therefore, if you have a sensitive stomach, avoid this popular but weird combination.
Keep in mind that both juice and milk should be kept at the same temperature before mixing them. And make sure you drink this combination immediately after it's been made.
Watch this video to know more:
Milk And Orange Juice: 2 Healthy Recipes For You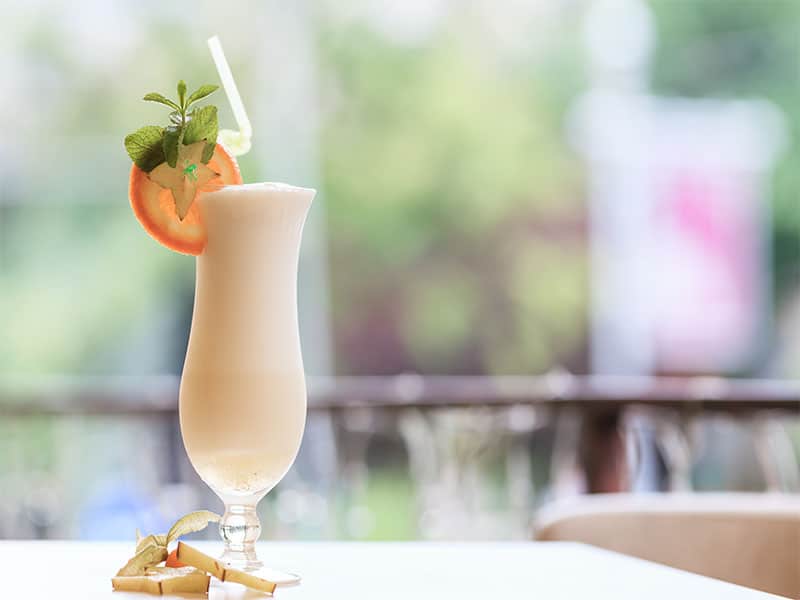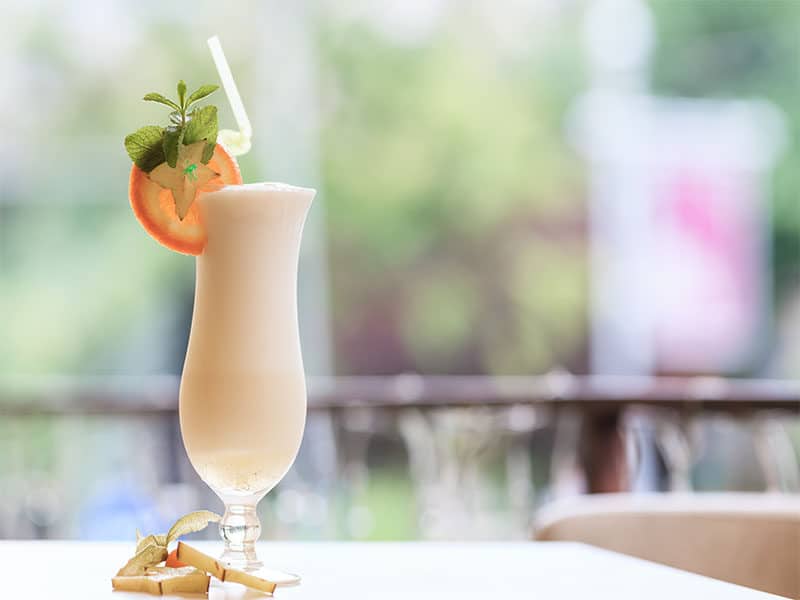 If you're interested in trying this mix, follow the next two recipes. Morir Soñando and Orange Julius are different. However, they both contain milk and orange juice. And they're both refreshing.
Recipe 1: Morir Soñando Recipe
Morir Soñando is a super delicious drink that should be the official beverage on the list of Dominican desserts in the summer. Plus, it's easy to make so you can enjoy this popular drink in no time.
About The Recipe
Morir Soñando is a drink of few ingredients and doesn't require any special bartending skills. Therefore, you can easily change a few things in this beverage and make adjustments.
Sometimes, I alter the recipe to meet the special diets and needs of some family members and friends. If you have a vegan in your family or friend circle, prepare a dairy-free Morir Soñando.
Replace standard milk with rice milk, almond milk, vanilla milk, or some other substitute. The change will alter the taste. However, not so much that your loved one can't enjoy the drink.
Ingredients:
If you're looking for the most refreshing drink, look no further than Morir Soñando. It's a creamy combo of freshly squeezed orange juice and milk. The following recipe provides 4 servings.
6 large oranges
2 cups ice (300 g)
1 tablespoon sugar
1 1/2 cups evaporated milk (360 mL)
1/2 teaspoon vanilla extract
1 large orange for decor
Instructions:
Squeeze the oranges by hand or use a high-function compact juicer. You should get about 1 1/2 cups of juice. Add the ice to a pitcher. Put the sugar, milk, and vanilla over the ice. Stir to mix properly.
Add the juice and still until combined and slightly frothy. Split evenly between four glasses and decorate each one with an orange wheel. It's suggested to drink the beverage immediately.
Watch this video to know more:
Can I Add Alcohol To Morir Soñando?
You can add alcohol to Morir Soñando to make a delicious cocktail with orange juice. The ideal choice will be red or white rum.
Just mix the alcohol with the orange juice in a different bowl and set it aside. Once you've finished whisking the milk with the sweetener, stir the rum and orange juice mixture in.
How Much Of This Drink Should I Have?
There's a misconception that orange juice will curdle the milk in your belly and cause stomach cramps. This idea isn't backed by any evidence, so it's not entirely true.
And I'm saying 'entirely' because individuals with a sensitive belly shouldn't consume this drink. Experts suggest the consumption of 1-2 cups of fresh fruit per day for adults.
Thus, consuming 1-2 servings of orange juice and milk a day is acceptable. If you're taking meds, exclude this drink from your diet because calcium found in milk will tie antibiotics in certain drugs. Also, drinking orange juice can prevent you from absorbing some drugs properly.
This combo will more probably obstruct and prevent the absorption of meds into your body. Your meds could either put you at risk of an overdose or show no effects.
Recipe 2: Orange Julius Recipe
Orange Julius is a sweet mix of milk, orange juice concentrate, sugar, vanilla, and ice. It's not a smoothie but more like a fascinating dessert with oranges because it's so sweet.
About The Recipe
This drink was invented in Los Angeles, California by Julius Freed back in 1926. Three years later, Freed's real estate broker came up with a mixture that made the acidic juice less stressful to his gut and started serving this beverage with a creamy texture.
Ingredients:
The Orange Julius is made with common ingredients from your kitchen. The orange juice concentrate is the key ingredient. However, if you want you can use real fruit. The following recipe provides 4 servings. Don't forget to decorate your glasses with a slice of orange.
1 ½ cups ice
1 cup skim, 2% or whole milk (use dairy-free or plant-based milk such as almond/rice/soy milk if you're lactose-intolerant or vegan)
6 oz can of frozen orange juice concentrate
2 teaspoons vanilla extract
½ cup sugar
Instructions:
Mix the vanilla and milk in a blender. You can use any kind of blender to make this drink. Just pour these two into this appliance and wait until combined properly.
Then, apply the frozen orange juice concentrate and blend again. Finally, add the ice cubes and sugar and blend until the ice cubes are crushed and the mix has thickened.
If your mixture has become too thick, just add a tablespoon of water and blend again. Pour your Orange Julius into four glasses, serve with a straw, and enjoy.
Watch this video to know more:
Can I Add Alcohol To Orange Julius?
Yes, you can make an adult Orange Julius with vodka. Just add ½ cup vodka to the mix and enjoy. Orange juice works with rum and gin too. However, vodka works best for this mix.
How Much Of This Drink Should I Have?
This drink has more sugar than a can of soda and besides the vitamin C from the orange juice, it's lacking nutrients. Orange Julius is practically a sugar bomb with no fiber and no protein.
Meaning, you can have too much of it. One should be enough for the entire day. Also, keep in mind that orange juice is highly acidic and over time, drinking too much can ruin your teeth.
FAQs
Mix It Up
When you're worried if there's a chance Gatorade might go bad, opt for milk and orange juice to boost your energy in the morning. You can either drink these two ingredients separately or together. They both have their pros and cons.
However, try and choose organic milk as it contains more omega-3 fatty acids and vitamin E than regular milk. Once you mix these two, consume the beverage immediately.
This prevents the corrosive effect of orange juice while still providing nutritional benefits. Have you ever consumed this popular mix? What's your opinion on this beverage?
Feel free to share your thoughts and questions in the comments below. Let's chat about this drink. Also, don't forget to share this article with your social media friends.