The question "Does Gatorade go bad" might be immersing your mind now. When you come to grocery stores to buy Gatorade, I guess the first thing you consider is the date on the bottle. You may wonder whether it is the expiration date and the question.
These days, aside from rejuvenating coconut water brands, Gatorade has become pretty standard hydration for workouts, so you may tend to buy Gatorade to store at home for whenever you need it, especially if you exercise regularly.
Due to this fact, you might get into trouble with your Gatorade. For example, how to tell if Gatorade goes terrible or how long should you store those bottles of sports drinks, or even the powdered mix? The answers will be indicated in this article. Keep reading to find out.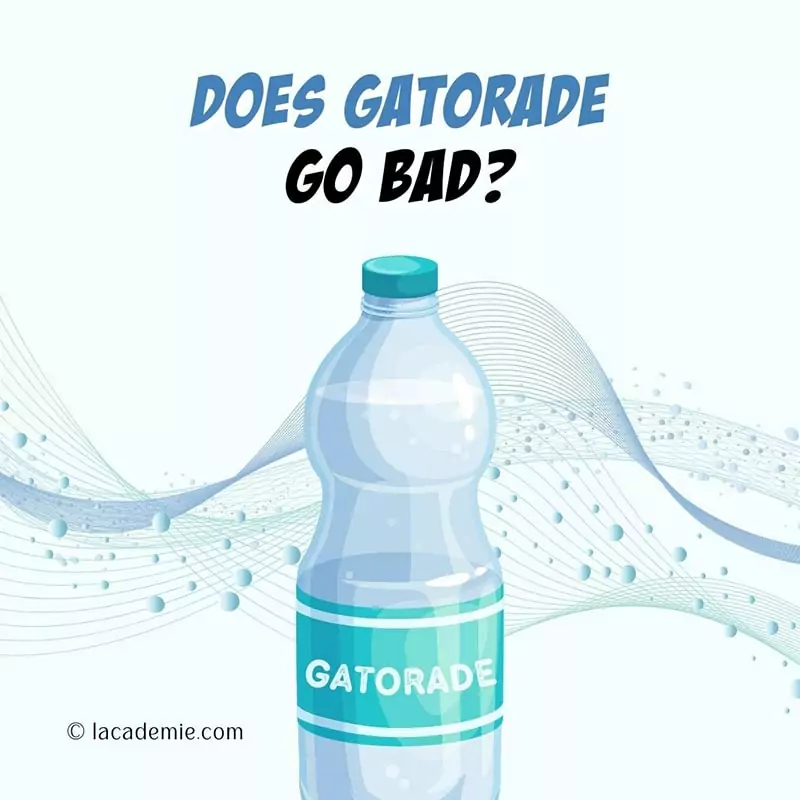 Can Gatorade Go Bad?
According to the FDA's requirements for food products, Gatorade should be used by the best before the dates, just like other electrolyte drinks. (1)
Gatorade doesn't have an expiration date, but it is recommended to serve as a date on which it will be best used. The date on the bottle label represents the period with maximum product quality estimated by the manufacturer.
Gatorade can last for years at room temperature, so do not worry because unopened bottles are still good in the pantry. Gatorade can go bad in some cases since you do not store it properly after opening, leading to bacteria's growth.
What Is Gatorade?
Gatorade is a kind of sports drink. You can easily find it in most sports matches, and it is prevalent in daily life. It is a rich mixture of minerals and sugar that helps to rejuvenate the system after stress and exercise.
Besides its reputation, Gatorade is a drink that contains electrolytes, mainly potassium and sodium, which helps you prevent tiredness and dehydration from sweating and overtime. (2)
Some popular drinks rich in electrolytes to refresh your body include coconut water, fruit juice such as watermelon or orange juice derived from the juicing orange varieties. You can learn a few tips to flavor up almond milk and other plant-based milk for tasty, electrolytes-packed drinks.
Therefore, Gatorade is an excellent source of electrolytes for sports players or generally people who exert physical strain. Moreover, Gatorade also contains a significant amount of sugar in each bottle, replenishing the energy lost due to physical activity.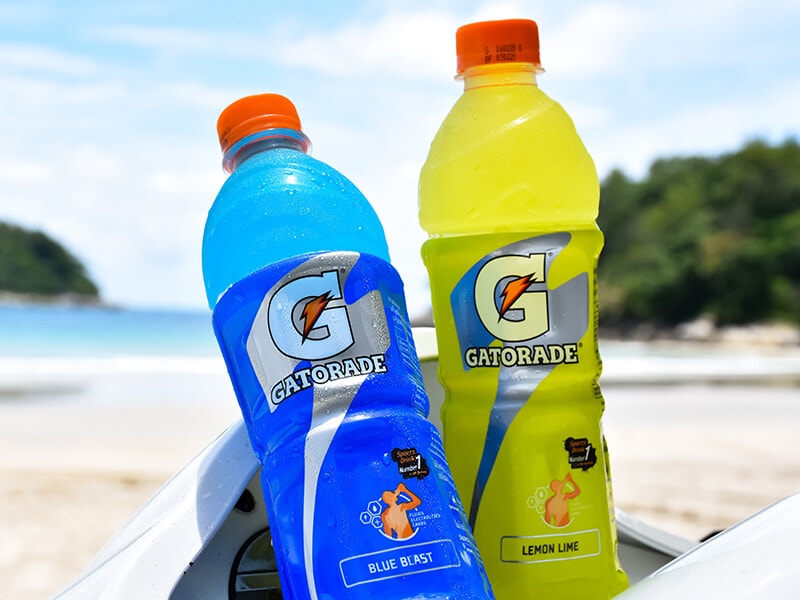 The Incredible Period Gatorade Can Last
The shelf life of Gatorade depends on the storage methods. As you know, Gatorade is safe to store in the pantry, but remember to put it in a dry and cool place so that the moisture can not affect the quality of your sports drink.
More importantly, you should follow the best date on the neck of each Gatorade bottle as it is also a brand and it has a definite period of good use.
Powdered Gatorade
Unopened powdered Gatorade can last for about two years past its best by date if stored in a cool and dark pantry. The good news is that the powder seems to last longer than bottled Gatorade. For opened powder, it is recommended to use it within six months.
When you mix the powder with water, the liquid will only last for a few days. If you find old Gatorade powder in your pantry past its best date one day, do not waste it. That's because your Gatorade is still acceptable to use if the powder has not started to get clumpy.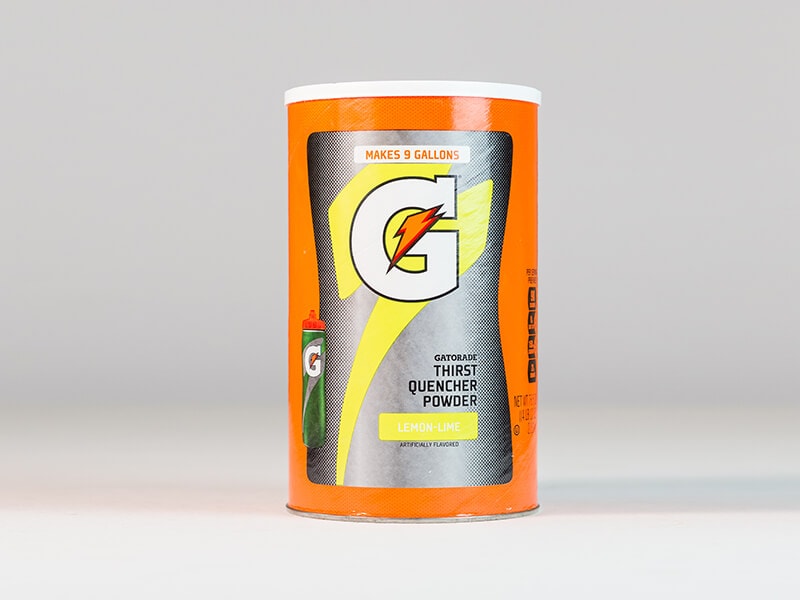 Bottled Gatorade
Unopened bottled Gatorade can stay good for up to 3 years past the suggested date if you properly store it in the pantry. When you open the bottle, you should use it for seven to ten days in the refrigerator and just one to three days on the counter.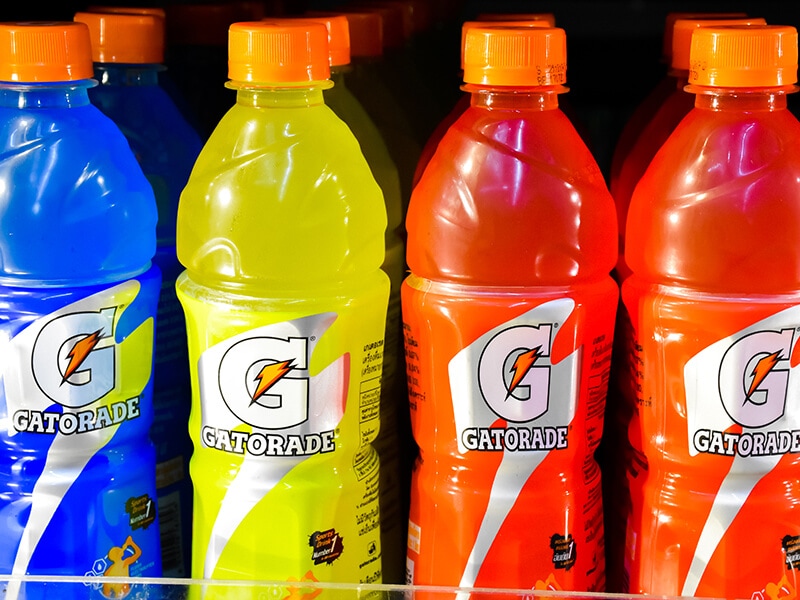 Gatorade Chews
Gatorade is produced under many types of products, including energy chewing gum. Luckily, Gatorade chews don't expire, but the texture of Gatorade chews might become hard if it is past the best before date printed on the label.
Take a look at the table below to compare the shelf life of powdered, bottled, and chewing Gatorade:
| Types | At room temperature | In the fridge |
| --- | --- | --- |
| Unopened powder | Two years past best by date | Not recommended |
| Opened powder | 6 months | Not recommended |
| Unopened bottle | 1 - 3 years past best by date | 1 - 3 years past best by date |
| Opened bottle | 1 - 3 days | 7 - 10 days |
| Gatorade chews | No expiration date | Not recommended |
The Best Indications Of Spoiled Gatorade
Although Gatorade is a shelf-stable product, which means that it can keep for years at room temperature, opened Gatorade can still go bad in about a week. You can quickly check the changes in color, sediment, and smell of your bottle to know whether it has gone bad.
Appearance Of Container
When you go to the grocery stores to find Gatorade, you will see the products with clean, sealed, blemish-free packaging. Notice these appearances and consider using your old Gatorade if its container is dirty and warped, the packaging is damaged, and the seal is broken.
These are clear signs to determine a bad Gatorade which is not safe for consumption. Remember to check the appearance when one day you find an old Gatorade bottle in the pantry. When the bottle is damaged, the content inside may have spoiled and is unsafe to drink.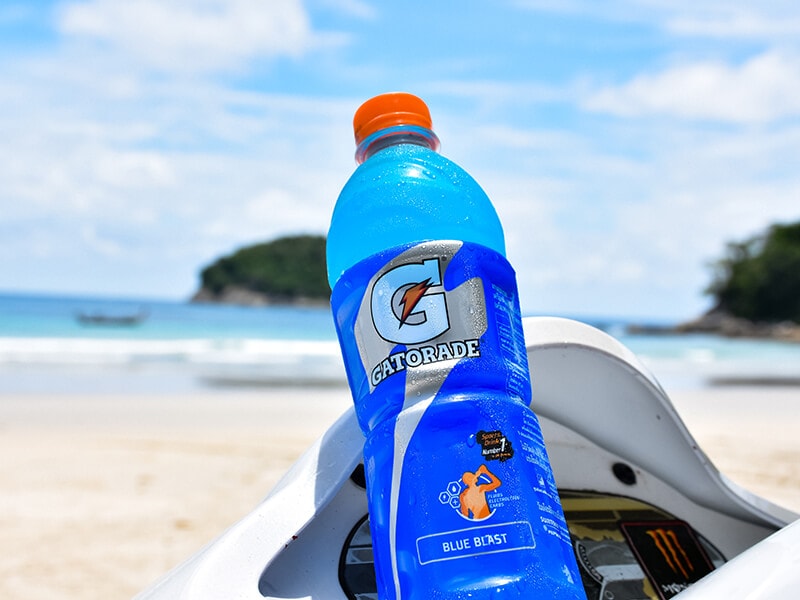 Color Alteration
The Gatorade color is a significant thing to check whether your Gatorade is no longer drinkable. Notice the small changes in the shade. If your light-colored Gatorade turns cloudy or darker, you should not use it anymore.
Sediment On Bottom
It is easy to identify this indication. Fresh Gatorade is a blended substance, so if you see any sediment on the bottom, your Gatorade is no longer safe to use as the ingredients may be starting to separate or something is wrong with your Gatorade.
Floating Particles
This phenomenon happens when you open a Gatorade, drink part of it, and leave it at room temperature. This promotes the bacteria to grow, so floating particles can be mold or bacteria. This type of contamination is a serious issue since it can cause adverse effects to you.
Funny Or Off Smell
The smell is a simple sign that you can rely on. Traditionally, Gatorade has a sweet smell appealing to many people. When you inspect a bad Gatorade, if you notice that the smell is off, funny, or stinky, pour the liquid away and toss the bottle in the trash.
Sour Or Bitter Taste
Taste is also an essential indication. If your Gatorade has been spoiled, the taste will become less flavorful. If you notice a sour or bitter taste in Gatorade instead of sweet fruity notes, this means that your drink has gone bad.
Mold And Clumps
When you do not store your Gatorade properly, it will create an ideal environment for bacteria and fungal growth in bottled and powdered Gatorade.
For Bottled Gatorade: Check the mold floating on the bottom and clumps on the top of your old Gatorade. If you see these signs, your Gatorade has definitely gone bad.
For Powdered Gatorade: You will find mold growth when you see the powder becomes damp and clumps. This case usually happens when you store it in a wet, dark place with moisture and humidity. If you see any lumps of the powder, get rid of the whole tub.
How To Store Gatorade? Valuable Tips You Might Not Know
I will bring the good news for you that Gatorade is easy to store. It does not take much of your time. Your pantry is the best place to store unopened Gatorade, while opened Gatorade is advisable to keep in the refrigerator.
Unopened Gatorade
It is ideal for storing unopened Gatorade in the pantry or cupboard, cool, dark, and dry places. Make sure that you keep it from moisture and heat. Because Gatorade is tightly sealed, keeping it at room temperature for bottled, powdered, and even chewing Gatorade is acceptable.
Prevent From High Temperature
Gatorade is packaged by recycling plastic bottles, so you should keep them away from heat sources. Plastic microparticles will contaminate your Gatorade if you leave it at a high temperature. Indeed, there is no doubt that your energy beverage, in this case, will harm you.
A Dark Place Is The Optimal Choice
It is recommended to store unopened Gatorade in a dark and dry place at room temperature, around 20 degrees celsius. This condition will help your Gatorade retain its optimal quality and delicious taste.
Just like how many people refrigerate fruit juices such as mesmerizing pineapple juice or pumpkin juice, it's best to drink cool Gatorade than lukewarm ones. In other words, you can put your Gatorade in the refrigerator an hour before use to cool it and maximize its freshness.
However, powdered Gatorade should not be kept in the refrigerator since the low temperature in the fridge can affect the quality of the powder.
Opened Gatorade: Refrigerating Is Recommended
Sometimes, you will realize that you can not finish the entire Gatorade. Do not worry since I will reveal proper storage methods to store opened Gatorade to extend its shelf life.
For opened bottled Gatorade, you can store it in the refrigerator for a few days. It depends on the storage temperature in the fridge as well as the actual age of your Gatorade. But the longer you store it in the refrigerator, the less flavorful it is compared to the first time you opened it.
If you keep an open bottle at room temperature, you should consume it within 24 – 48 hours to retain its quality.
For powdered Gatorade, when you open the container, the moisture in the air can absorb the powder. Therefore, you should transfer the powder to an airtight container, such as a glass jar, once you open it. With an oxygen absorber, it will be more effective to keep the powder fresh.
If you've mixed powdered Gatorade with water and have leftovers, you had better transfer it to your refrigerator to ensure that it will not deplete the quality. The storage method of mixed powder is similar to opened bottles of Gatorade.
Should Gatorade Be Frozen?
It is recommended not to freeze Gatorade for long time storage by the manufacturer. Freezing Gatorade will affect its quality and change its flavor. In worse circumstances, the bottle might expand and explore, leading to the distortion of the plastic bottle's seal. (3)
However, you can put your bottle in the freezer if you need to cool it faster for use. Fortunately, the nutritional values will remain unchanged when you freeze this energy drink, but remember to take it out from the fridge when you find the cool level you expect.
There are better cooling methods than freezing, so it is advisable not to apply the freezing process to cool your Gatorade. The best way is to cool your Gatorade with an ice cube tray.
What Happens If You Consume An Expired Gatorade?
Even though Gatorade does not have an expiration date, it also has a shelf life and best by date. If your bottle is past the suggested date on the package, do not worry, as it does not necessarily mean that your Gatorade has gone wrong.
Because the ingredients in Gatorade are stable, they make the drink last longer and not quickly go bad. These ingredients are harmless and will not spoil the human body. All these ingredients are not expired, but they should be used within a definite period for maximum effects.
However, when you suspect your Gatorade is no longer safe to drink, opting for other electrolyte drinks is a better option. Orange juice is a very good alternative, although you might want to check if your orange juice is bad, as this drink's shelf-life might not be as long as you think.
FAQs
If the above information is not all that you are searching for. Keep reading because I will answer frequently asked questions right now. Perhaps there are your issues in the below questions.
Brief Summary Of Helpful Tips You Should Remember
Now you perhaps know the answer to related problems with Gatorade. To make sure you remember all the helpful tips in this post, I will remind you of important things you should not forget.
Opened bottled Gatorade should be kept in the refrigerator for three to five days to retain the best flavor, but a week is still acceptable since it can stay safe within this period. Unopened bottled and powdered Gatorade can last for years after the best before date.
You had better store unopened bottles and powder of Gatorade at room temperature, especially in a dark and cool place away from any heat sources and moisture. Remember to get rid of bad Gatorade with a strong smell to bottles and an indication of mold, clumps, or bugs to powder.
If you are addicted to the taste of Gatorade, you can buy a large case of Gatorade to drink whenever you want. I hope this post's information will help you identify bad Gatorade and storage methods to extend its shelf life.
Should you have any further questions or ideas, feel free to let me know via the comment section. Don't forget to like and share this post with your friends and family who have the same issues as you.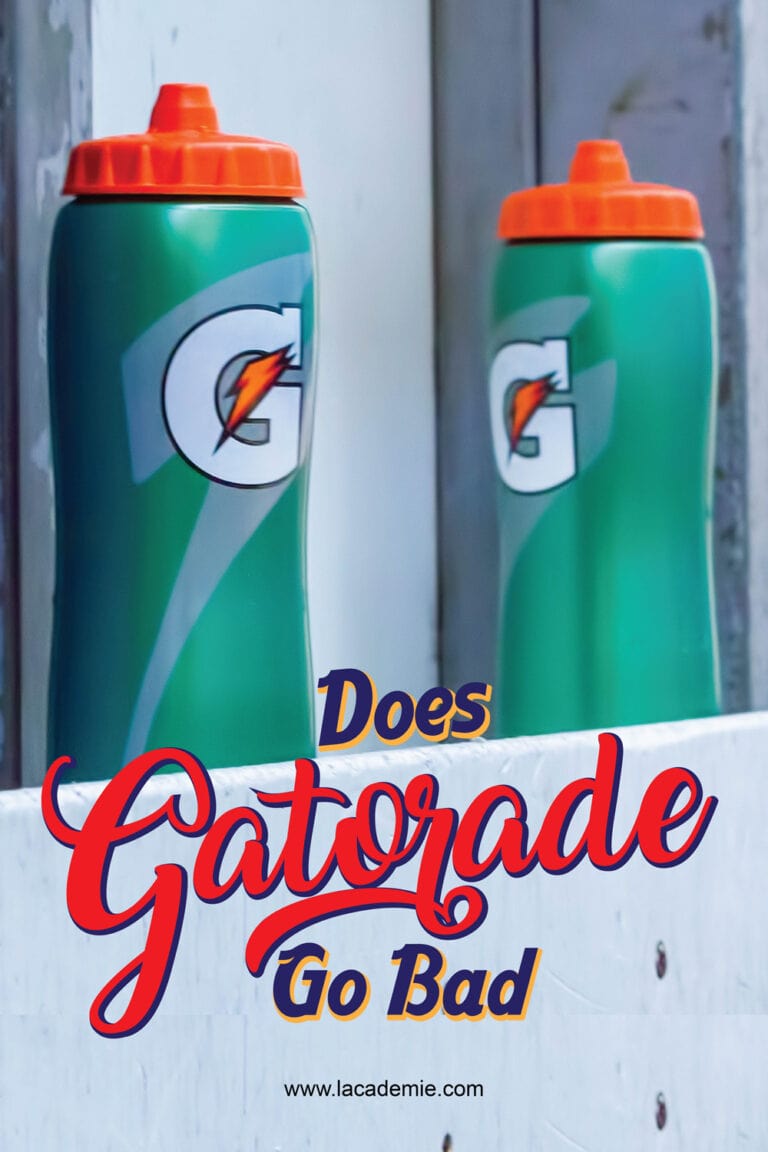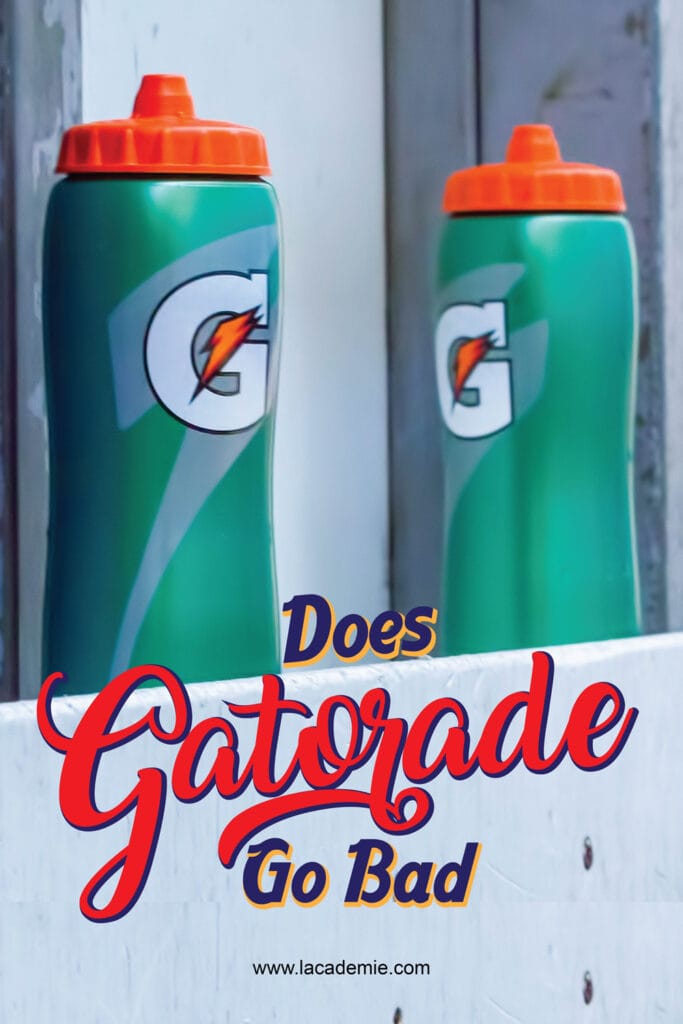 References
1. Depot, H., 2021. Gatorade Expiration Dates. [online] Hydrationdepot.com. Available at: <https://www.hydrationdepot.com/gatorade-expiration-dates.html>.
2. Medicinenet.com. 2021. [online] Available at: <https://www.medicinenet.com/electrolytes/article.htm>.
3. Contact.pepsico.com. 2021. Can I freeze Gatorade? | Contact Gatorade. [online] Available at: <https://contact.pepsico.com/gatorade/article/can-i-freeze-gatorade>.