With the best oranges for juicing, you can do various things in your kitchen. For example, use them to make the tastiest desserts that have orange flavor. Or simply just a glass of freshly squeezed orange juice for your breakfast.
Orange juice is healthy and delicious, but it takes a bit of knowledge and skills to learn how to pick the best fruits. There are several types of oranges, but not all of them are used for juice. Some are bitter and don't produce much juice, while others are sweet and moist.
In this article, I will share the list of the best types of orange you should use for juicing. Moreover, you will learn the benefits of orange juice for your health and how to make a perfect orange juice.
Orange Juice Benefits
Oranges are rich in beneficial nutrients, such as vitamin C and potassium.
One serving, approximately 8-ounce glass of freshly squeezed orange juice contains 110 calories and 67% of the recommended daily intake of vitamin C. Other helpful nutrients are folate and magnesium.
Also, adding orange juice to nutritious and beneficial coconut water makes an excellent refreshing drink, which can help you treat a hangover.
Here are the most important benefits of orange juice.
Promotes Overall Health
Because orange juice is rich in the mineral potassium, it has an excellent impact on overall health. It helps control blood pressure and supports cardiovascular health. Also, potassium supports bone health.
Prevents Kidney Stones
Orange juice affects the pH level of your urine and makes it alkaline. Kidney stones can be painful and cause nausea and blood in the urine.
Alkaline urinary pH has fewer chances to develop mineral deposits in your kidneys.
Prevents And Decrease Inflammation
Prolonged inflammation can lead to chronic disease and severe infection. Orange juice has anti-inflammatory properties and can prevent diseases.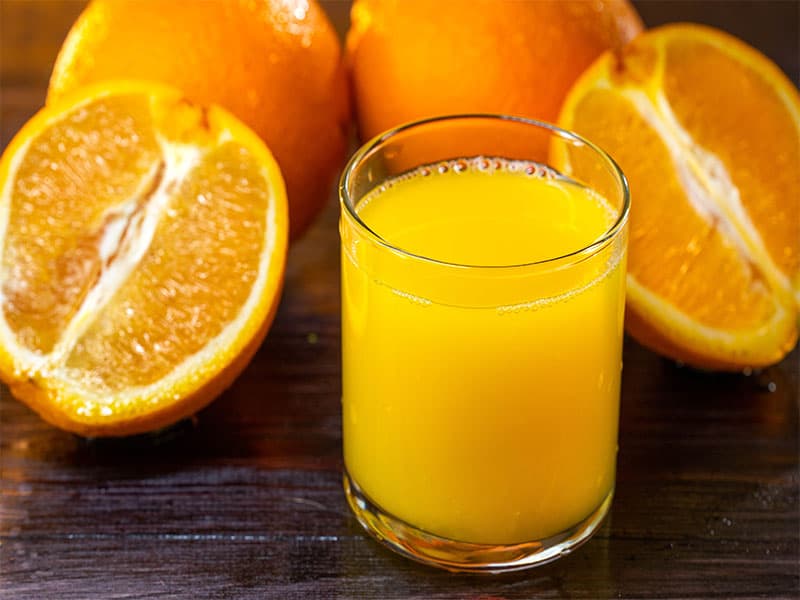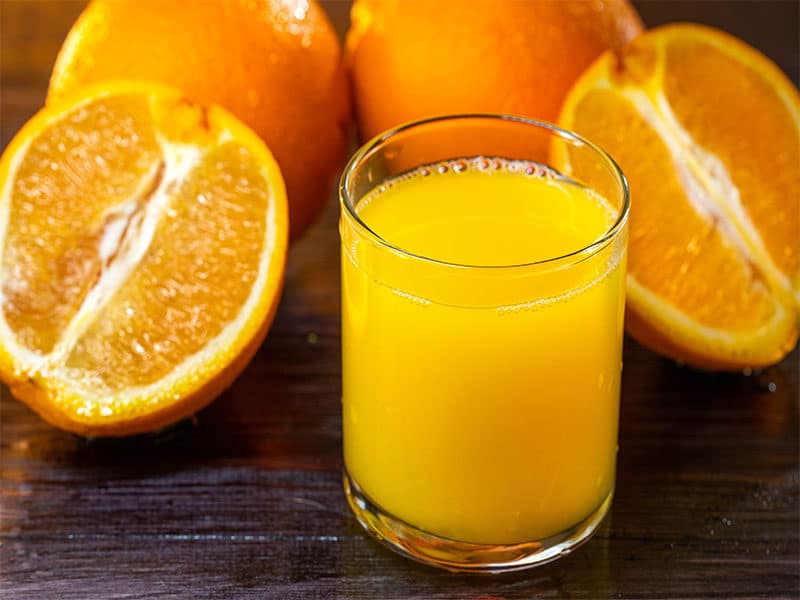 Orange Juice Is Rich In Antioxidants
Antioxidants are important for human health because they prevent oxidative damage and are essential for maintaining good well-being.
They reduce the free radicals' imbalance and improve skin health, and protect against diabetes, cancer, and cardiovascular diseases.
Antioxidants in orange juice are flavonoids, ascorbic acid, and carotenoids.
Watch this video to know more:
Manual Vs. Electric Citrus Juicer
Aside from the simple compact juicer, there are two other ways for you to make orange juice – using a manual or electric juicer. Unlike standard juicers, citrus juices don't use the entire fruit, only the pulp from it. Here is a simple analysis of manual and electric juicers.
Manual
Manual citrus juicers are available in reamer or hand press form. Reamer is easy to use and suitable for small quantities of juice. You have to cut the orange in half and rotate every part over the ribbed cone.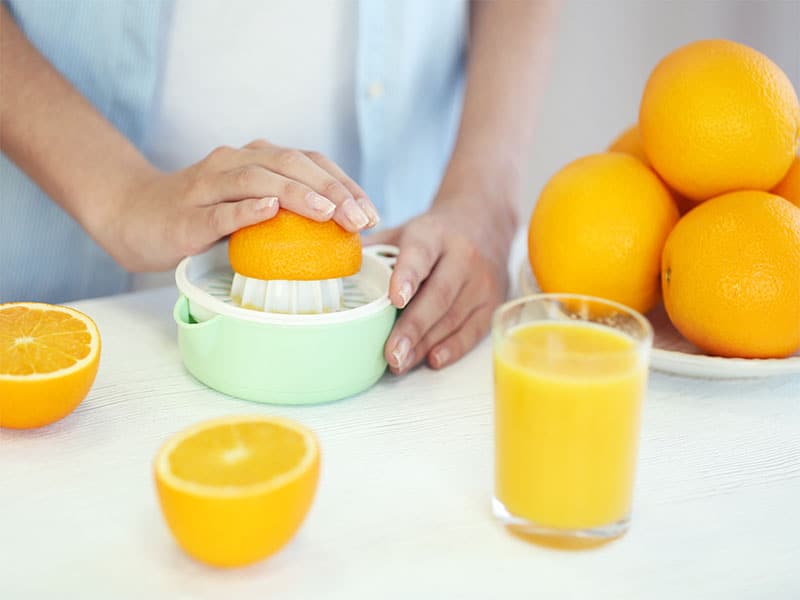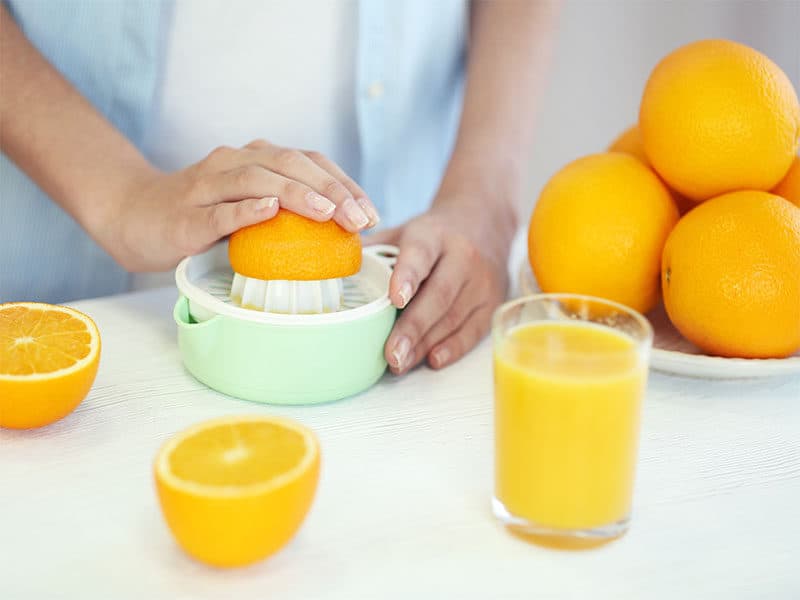 A hand press is easier to use than a manual reamer. It also requires significant hand strength and can be used easily for a couple of orange juice glasses. It is also easy to clean.
Electric Motorized Reamer
Motorized reamer combines the manual juicing method using ribbed cone and lever presses. As you hold the fruit, the motor spins the cone, reducing the required strength.
These electric juicers are best for larger quantities of juice, but they are bulkier and can take some kitchen space. At the same time, you can use an electric reamer for grapefruit or other citrus fruits.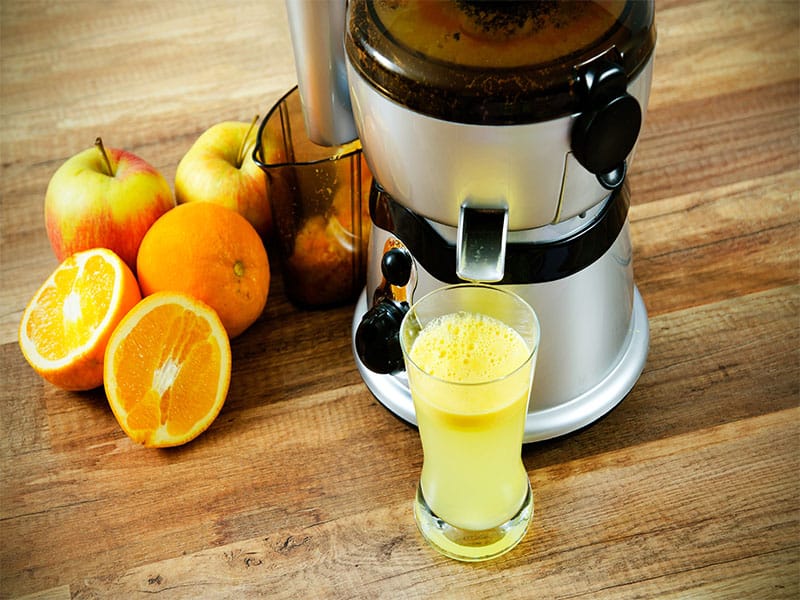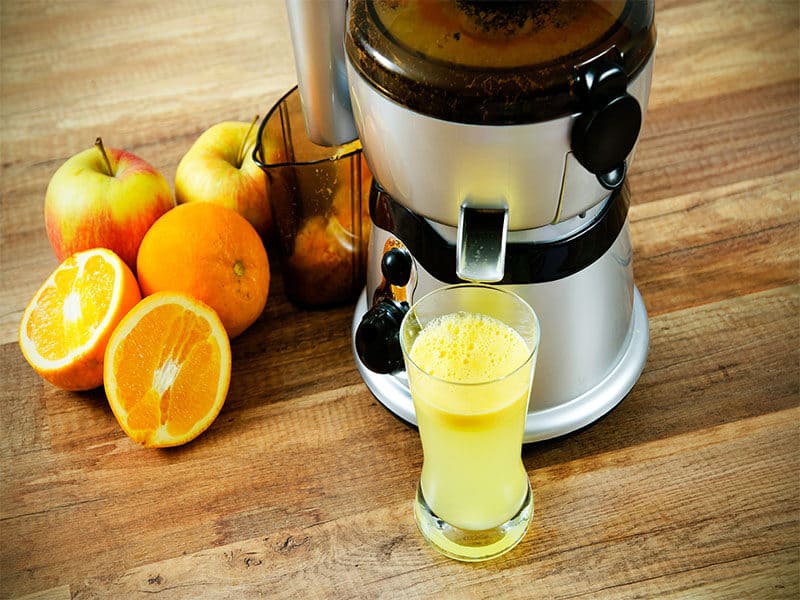 Best Oranges For Juicing
There are hundreds of orange types around the world. A few types are widely available almost the entire year.
They differ in appearance, sweetness, skin, pulp texture, and other properties. Some are better for eating fresh, or for cakes and sauces, while others are perfect for juicing.
Let me introduce you to the seven best types of oranges you can find in supermarkets and markets that make the perfect orange juice. You might want to check out the names and pictures of citrus fruit cultivars to make sure you're not picking up the wrong varieties.
Valencia
Valencia oranges got their name from the beautiful city of Valencia in Spain. But, the largest crops are in Florida, and these are known as the only type that is in the season during summer.
Valencia oranges are available from April until the end of the year.
These beautiful V-something fruit are primarily grown for juice production but have excellent taste when eaten fresh as well.
The average diameter of Valencia orange is from 2.7 to 3 inches, and one fruit weighs just a little less than 100 grams. The fruit also has seed, from one to nine per one orange.
They are great for juicing because they have a sweet and refreshing taste. It is easy to get the most juice from one fruit using a manual or electric reamer. Valencia oranges also contain high levels of vitamin C, fiber, and potassium.
Other than juicing, Valencia oranges are common for food processing, sauces, and sweets.
Valencia oranges are affordable and easy to peel. Therefore, there is no reason not to add them to your weekly list of groceries.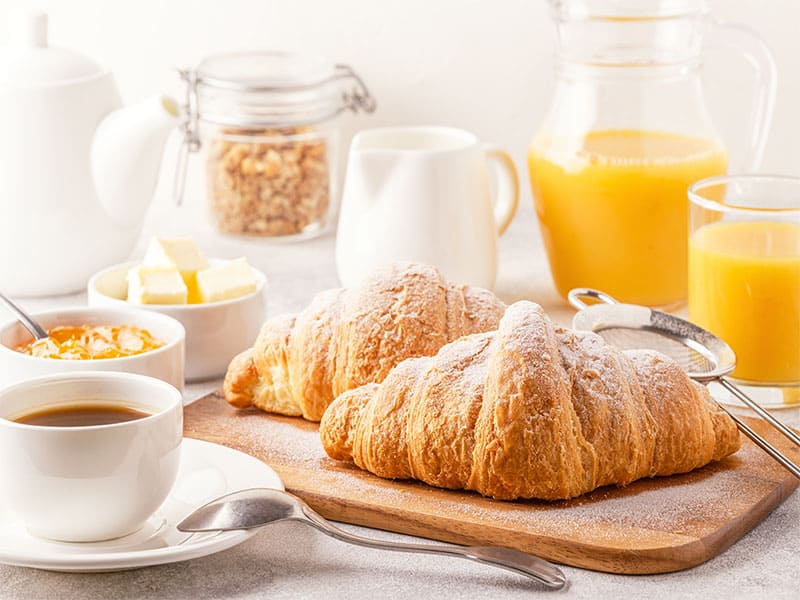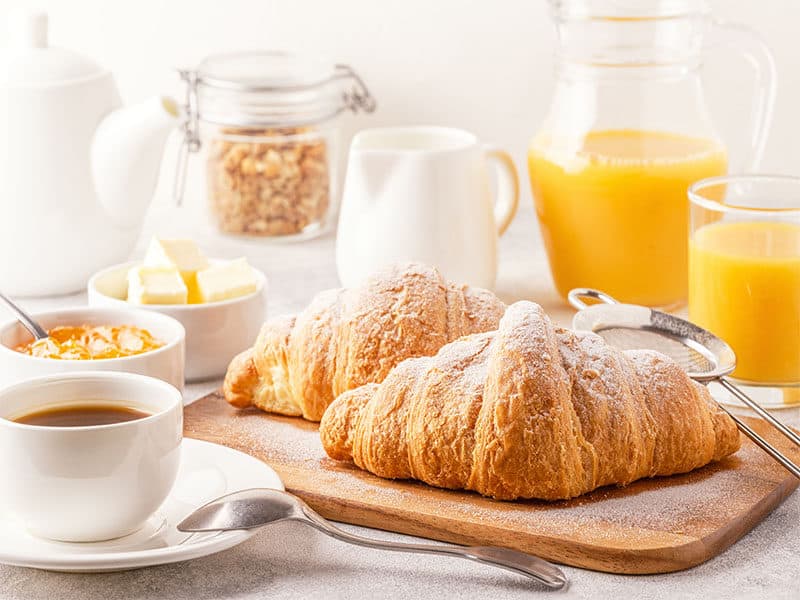 If Valencia oranges are summer oranges, the Navel type must be winter one. Navel type is also widely available, easy to peel, and the best thing – these don't have seeds. They got their names as they resemble human navels. It is because a navel orange tree grows the fruit opposite the stem.
Many people prefer navel oranges because of the seedless nature and soft skin. However, they taste delicious when eaten fresh. Navel oranges are also the most affordable oranges in the supermarket.
They are large, similar to Valencia, and they have high amounts of Limonene. It makes them bitter after a while, so I recommend always using navel oranges soon after purchasing.
Also, it means that you cannot make large amounts of orange juice from the Navel type, as it will turn bitter after a couple of days.
If you own a manual reamer, ripen Navel oranges are great for juice. You won't have to apply that much effort as ripen fruits are easy to squeeze.
Watch this video to know more:
Blood Oranges
So-called blood oranges are an orange and crimson variety. The orange has vivid, almost blood-colored flesh, hence the name of this type.
Blood oranges contain pigment anthocyanins, which is common in other non-citrus fruits and flowers.
Sometimes, you can recognize blood oranges by the color of the skin, as the blood pigment can color the outer parts of the skin.
These ranges don't have a unique orange taste. They taste more like raspberries with the citrus flavor. They are delicious because of the specific taste and great for juice. They also do well when mixed with other types of orange.
However, sometimes blood oranges can be tart. They are also used for jams, and their zest is a common ingredient in delicate baked goods.
Sometimes, blood oranges are a great addition to salads. The world-famous Sicilian winter salad features blood oranges, bulb fennel, and some olive oil. Italians use blood oranges to their full potential for juices, sorbet, and ice cream.
You can find them between January and April.
There are three different varieties of blood oranges – Sanguigno, Moro, and Tarocco.
Moro has the most vivid colored flesh and the strongest raspberry aroma, while Sanguigno has red flesh and a milder aroma. Tarocco is the sweetest of the three and doesn't have the bloody flesh. It is common in Italy.
Watch this video to know more:
Tangerines
Tangerines are great if you want to enjoy a delicious orange juice taste and lose weight. These fruits aren't bitter too much, because they have optimal amounts of Synephrine. It gives them perfect and distinct flavor which gives a special aroma to tangerine juices and sauces.
The only downside of the tangerines is that you cannot always find them. They are available throughout the winter, which makes them very expensive.
Also, tangerines are smaller in size than the previously described types, so you will need more fruits for a full glass of juice.
Tangerines are available in US supermarkets as mandarins.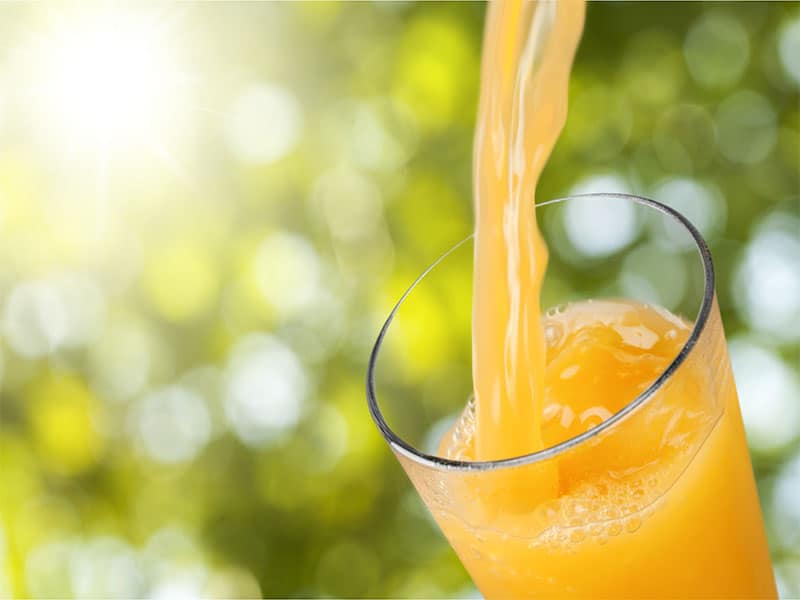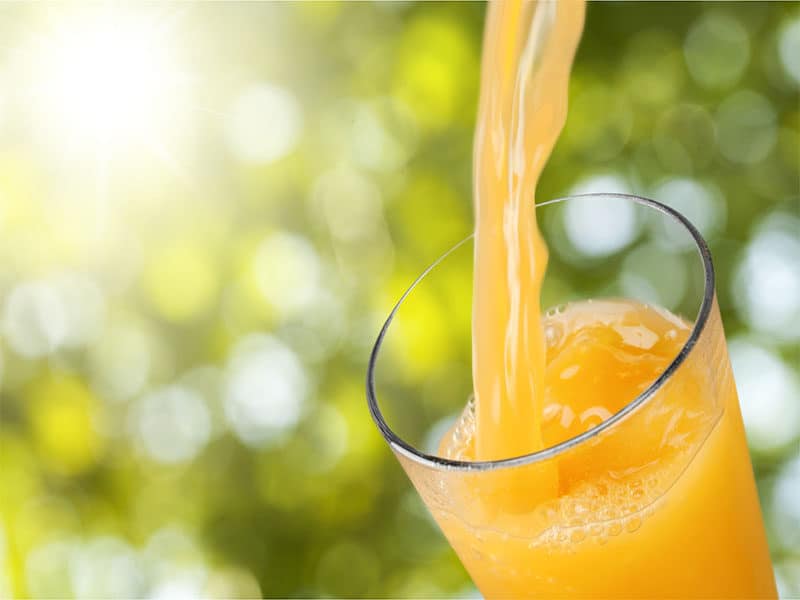 Watch this video to know more:
Clementine
Clementines are smaller than oranges and tangerines, but they have exceptional taste. They are excellent for snacks and cooking because they are sweet and juicy. Clementines have thin, easy-to-peel skin.
In general, you can squeeze them by hand or using a manual or electric juicer. If you end up using an electric reamer, you will be able to get the most out of your fruit.
Clementines are actually hybrid, grown in South Africa, Morocco, and California. You can mix them with other types of orange to prepare refreshing juice or use them for smoothies. Clementines are often seedless.
Tangelo
Tangelo is a combination of mandarin and pomelo. It looks like a huge, bell-shaped orange, so you will hardly mistake it for other types.
Tangelo is rich in vitamin A, potassium, calcium, and magnesium. Tangelo has great benefits for your visual health and immune system.
It has a tart flavor, but it is also very sweet. The average size of tangelo is about an adult fist and has a nipple shape on top of the fruit. Because of it and the loose skin, tangelo is easier to peel than some other types of orange.
Tangelo is popular for its tangy, tart, and sweet taste. You can eat it fresh or use it for juice. If you own a manual reamer with a ribbed cone, tangelo will work perfectly.
There are several varieties of tangelo. Orlando has a mildly sweet flavor and a strong zest smell. Furthermore, it is one of the earliest oranges available, starting from November.
Minneola, sometimes called Honeybell, is large and juicy. It is one of the most popular varieties in the gift fruit trade.
Satsuma
Satsumas are similar to tangerines and clementines. They are very juicy and have a sweet and tart flavor. You can find this orange in various desserts and cocktails using orange juice.
You can find them in supermarkets from October to December, and recognize them by firm skin. This orange type is easy to peel and can be stored in the refrigerator for up to one month. Separating parts and the white membrane is easy, and the juice is intense and vivid color.
Also, satsuma oranges have less pulp and more juice, which makes them perfect for juices.
However, because they are not widely and year-round available, they are a bit more expensive than some other types of orange.
The Best Orange Juice Recipe
Squeezing several oranges into a glass is delicious on its own, but you can add extra ingredients to improve the taste and nutrient value.
If you want to lose weight, stick to the sugar-free version of orange juice and drink only one glass of orange juice per day.
However, you can try more ideas in comprehensive and convenient juicing books to mix and match oranges and other fresh fruit. The next recipe is one nice example.
Things you need:
3 medium-size Valencia oranges
1 lemon
Ginger
Honey
Mineral salt
Mint or basil leaves
The first thing to do is to wash the skin of oranges. Use only clean water to remove the dirt from the skin, which will prevent bacteria growth on the skin.
Cut the oranges and lemon in half, and peel them if you are using a blender. Also, remove the white membrane because it can make the juice taste bitter. Add a pinch of mineral salt, grate a small piece of ginger you stored in the refrigerator, and a few leaves of mint and basil.
Salt might seem like an odd ingredient, but it will boost the sweetness of orange.
When you are done, add one or two ice cubes for extra refreshment.
Aside from the recipe above, you can mix orange juice with some wonderful and healthy cranberry juice on the market to make a two-ingredient, alcohol-free cocktail. This cocktail is perfect to drink in summer!
Things You Can Do With Leftover Orange Skin
Orange skin isn't intended for use in the juice, but you can add it to baked foods. A small amount of grated orange skin will boost the flavors in tea or sugar. My favorite use for leftover orange skin is with ginger tea that boosts my immunity during flu season.
Additionally, you can use orange zest to make orange candles or grate them and add them to homemade all-purpose kitchen cleaner.
Watch this video to know more:
Start Juicing
Home-made orange juice is delicious, healthy, and easy to make. If you drink it in the morning, it will help you wake up and hydrate.
Valencia and navel oranges are the best oranges for juices, but some other types also make a sweet and refreshing orange drink.
Orange juice has plenty of health benefits. It is always a better idea to make your orange juice than to buy commercial juices, as those are rich in sugar or artificial sweeteners.
How did you like my types of orange guide? Which orange type have you tried for juicing?
Don't forget to like and share the article to spread the word about orange juice benefits and the best oranges for juicing!