The world has different types of oranges that vary in different colors and shapes. They are one of the top fruits that offer an ample nutrient package and delightful taste. Wouldn't it be great if you can expand your list of tasty oranges to munch on?
Orange is a great natural treat that you can enjoy through eating or drinking. Now, you don't have to wait any longer; let's explore all the best species of oranges right here. Just keep scrolling!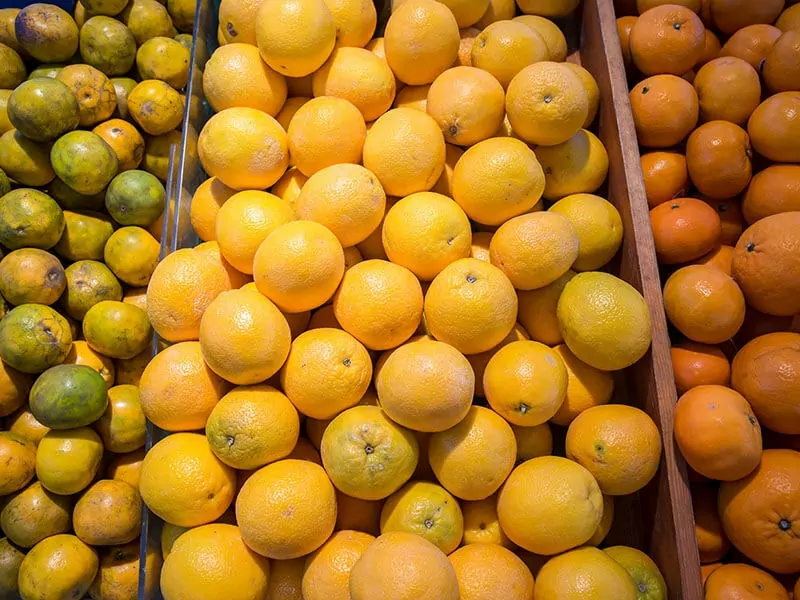 Orange – An Interesting Fruit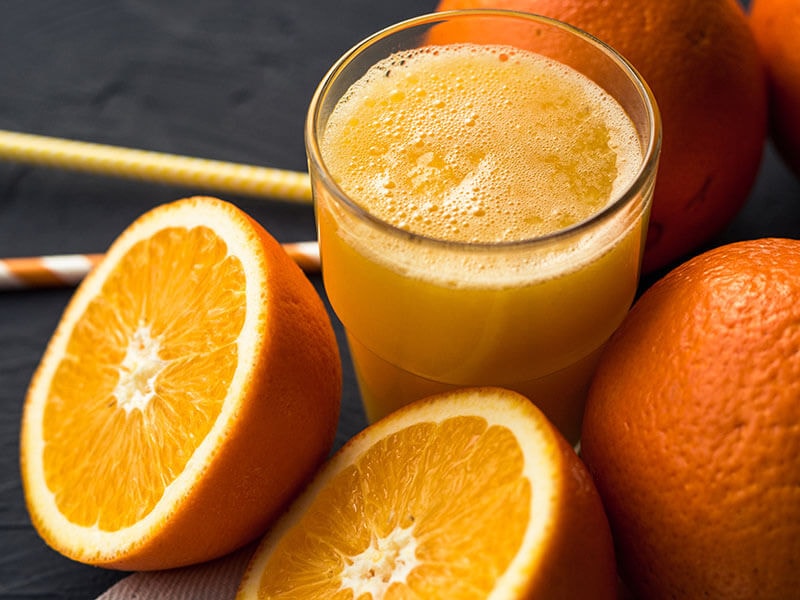 Let's take a quick look at the basic information about this everyday fruit. It is a member of a large citrus family (Rutaceae). Basically, oranges have two main categories: sweet oranges and bitter oranges.
They originate near Myanmar, Northeast India, and Southern China. Sweet oranges first appeared in Chinese literature around 314 BC. The sweet variants account for a major proportion of the production of oranges.
There are plenty of ways of enjoying oranges. You can eat them fresh, make juice or add them to your meal for a refreshing taste. Million tons of oranges are grown and produced every year to meet the demand of people around the world.
Let's Start With Some Sweet Oranges
Orange is famous for its refreshing sweetness, and here are the top sweetest oranges worldwide. Let's dive in!
1. Blood Orange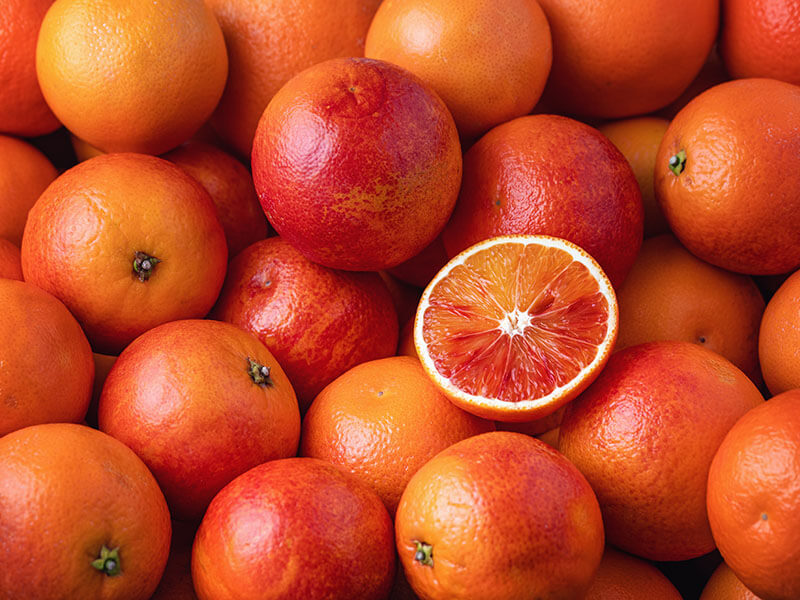 Let's kick off this list with a gorgeous orange from the Southern Mediterranean. This fruit is a natural mutation and is a hybrid between the pomelo and the Tangerine. This orange is smaller than most other orange species.
Blood orange has a light orange hue with thick, pitted, and hard skin. This skin is harder to peel compared to other oranges. The interior of this orange has a lovely dark red color, resembling the color of blood.
This is definitely one of the tastiest orange types to drink. Its flavor is similar to raspberry, highlighted with a gentle touch of citrus flavor.
You might run into three common types of blood orange: Tarocco, Sanguinello, and Moro. Their taste ranges from sweetness to tartness, respectively. Eating blood oranges raw or juicing them are great ideas for the best flavor.
People also use these oranges to make marmalade bases, sauce recipes, and desserts. In the US, blood orange cultivation primarily takes place in California and Florida as this tree prefers a warm and temperate climate.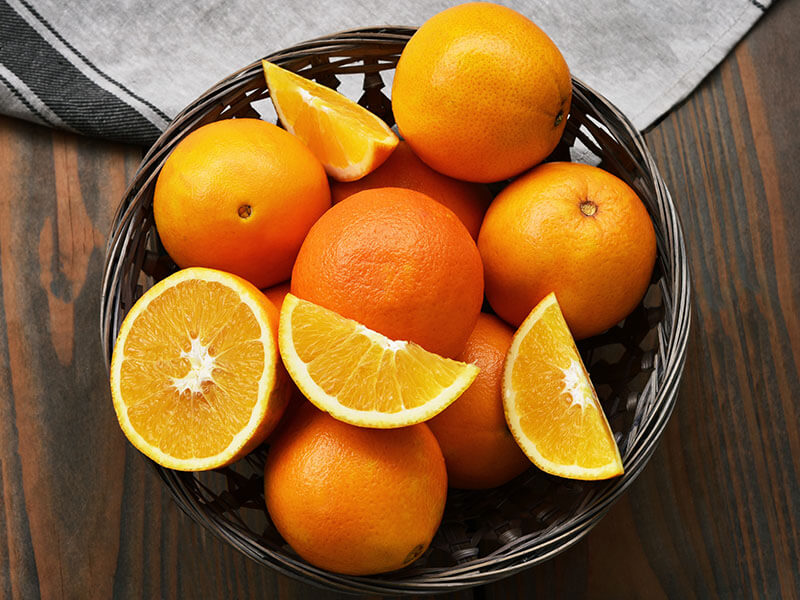 Navel oranges belong to the Citrus sinensis type, and it has a slightly oval shape (around 4 inches in diameter). Its skin is a common bright orange hue that is thick with a pebbly texture.
The fruit that begins with the letter N was first seen in Brazil in around 1820. The name of this orange is because of its indentation appearance resembling a human navel. You will find the indentation located opposite the fruit stem.
People often eat this well-known winter fruit fresh or juice them for drinks (enjoy the juice immediately for the best flavor). The zest of this orange is perfect for baked goods like bread or muffins.
This orange has a thin layer of white pith under the skin and roughly 12 sections of sweet and juicy flesh. Navel orange has a low-acid content with a gentle tart and tangy flavor. The fruit is available from November to June, with a peak season in January and February.
3. Clementine Orange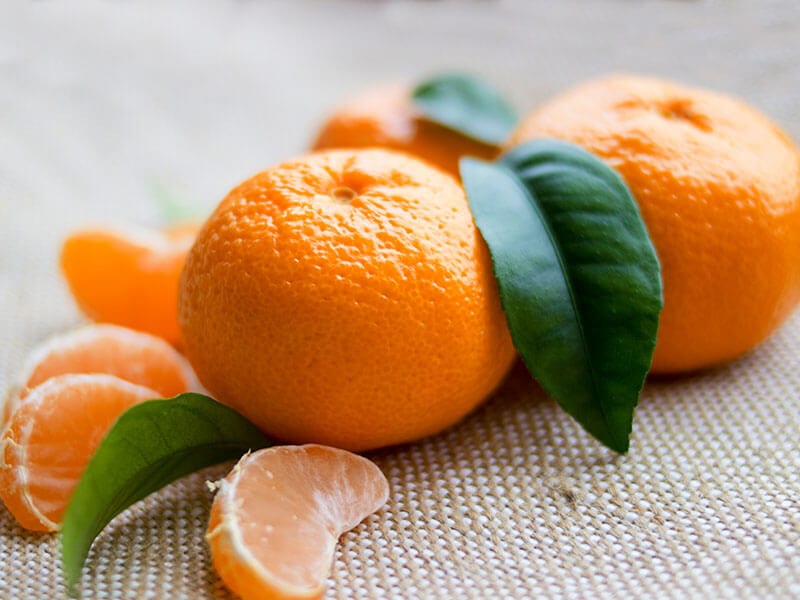 Clementine orange is a hybrid fruit between the mandarin orange and the sweet orange. This type of combination is called 'tangor'. Based on the number of seeds, there are three types: clementines (fewer than 10 seeds), seedless clementines, and Monreal (more than 10 seeds).
Clementine has its name from a French missionary named 'Clément Rodier'. He was the first one in Algeria to produce this fruit in the 19th century.
This cultivar has a sweet, tangy taste. Clementine has a deep orange color with roughly 14 sections of flesh interior. The skin is smooth and glossy with a pleasant aroma that will give you a refreshing feeling.
Clementine oranges are small, acid-less, and easy to peel, so many children love enjoying these fruits. Seedless ones are particularly perfect for making juices and desserts.
Clementine shares some similarities with Tangerine orange, but it has a smaller size with a brighter color. The skin is thinner and smoother compared to Tangerine. Clementine has a flat spot on both the top and the bottom.
4. Tangerine Orange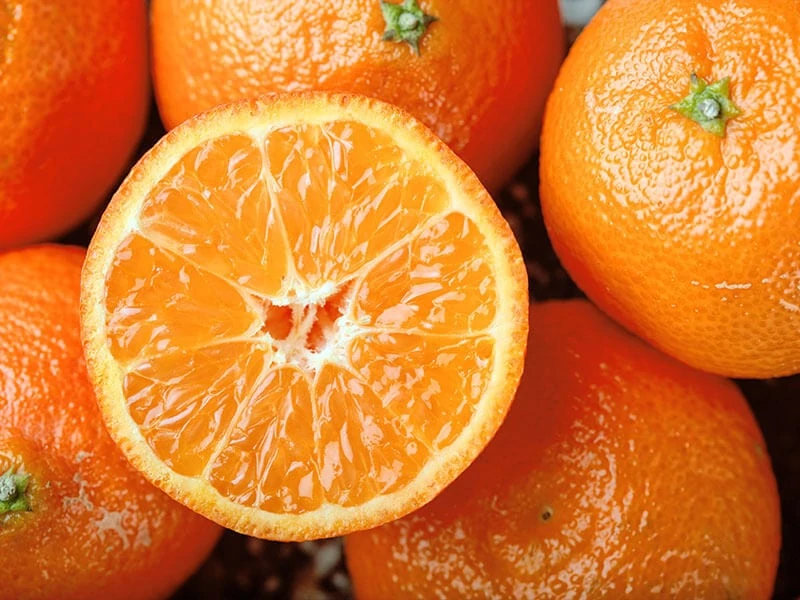 Speaking of Clementine, let's take a look at its cousin, Tangerine. Like Clementine, Tangerine is a Mandarin orange type with a beautiful aroma. This fruit beginning with "T" is much smaller and less rounded than the other oranges.
This fruit has a deeper sweetness and is less sour than common oranges. When Tangerine is ripe, it has a slightly firm or soft touch with a pebbly appearance. Underneath the skin is a thin, white layer of mesocarp, which is a little bitter to taste.
The skin is easy to peel, so people usually enjoy this fruit fresh by hand. You will also see this spectacular fruit in any dish, from dessert and salad to main meals. The peeled skin is often used as a spice (either fresh or dried) for baking cakes or making drinks.
In the United States, many people like to use Tangerine juice and frozen juice concentrate in foods and snacks.
5. Mandarin Orange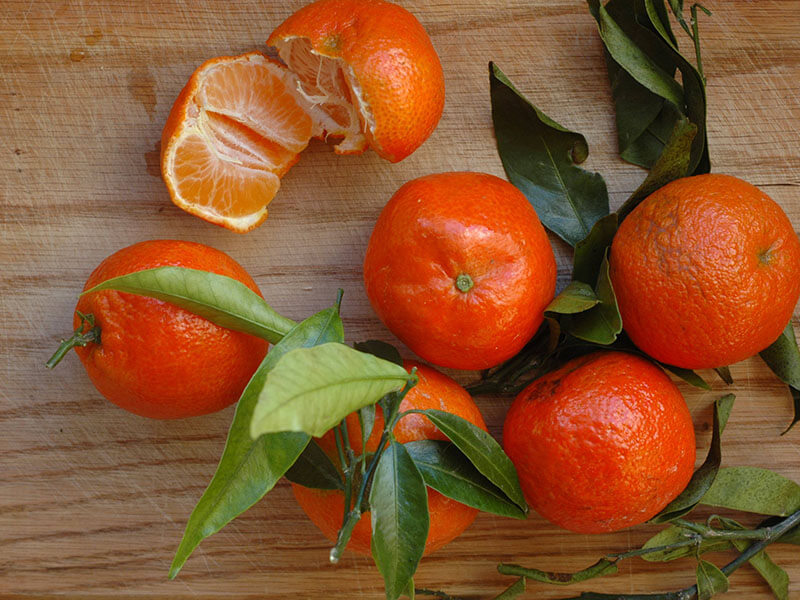 Mandarin oranges (also known as Mandarine or the mandarin) are smaller than other oranges with an oblate shape and smaller size. A ripe Mandarin has soft and slightly firm skin with a pebbly appearance.
The fruit is a natural species that is an ancestor of many other cultivars like grapefruits, some lemon and lime variants, and certain types of oranges. It has a flattened top and bottom with an enchanting aroma. This seedless cultivar is mostly found in tropical and subtropical areas.
Mandarin is easier to peel and has a separated interior with different segments of juicy flesh. Many enjoy eating this fruit by hand to enjoy its fresh, natural flavor. People usually top it in plenty of salad recipes or have it fresh as a snack.
6. Tangelo Orange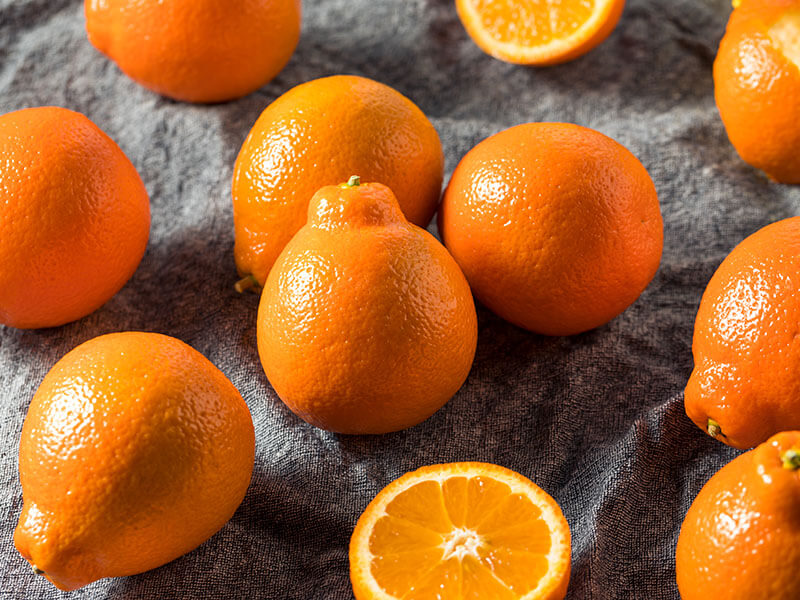 Tangelo is a hybrid cultivar of grapefruit or pomelo with Mandarin orange (any kind). It has a stubby neck at the stem, and the other side is flat. Tangelo has loose skin that is really easy to peel. It must have inherited this feature from Mandarin oranges.
The fruit is a perfect choice to substitute orange zest, especially Mandarin orange and sweet oranges zest. The first Tangelo crosses were created by Herbert Webber in 1898 in California.
However, this cultivar loves the humid and tropical climate, so it is mostly grown in Florida and consumed all over the US.
Tangelo has a tangy flavor with a sweet taste and extremely juicy flesh, making it an excellent choice for juicing or fresh eating. People often use this orange for producing marmalade and candied peel.
Are you ready to learn about Tangelo Orange? Let's go!
7. Jaffa Orange Or Shamouti Orange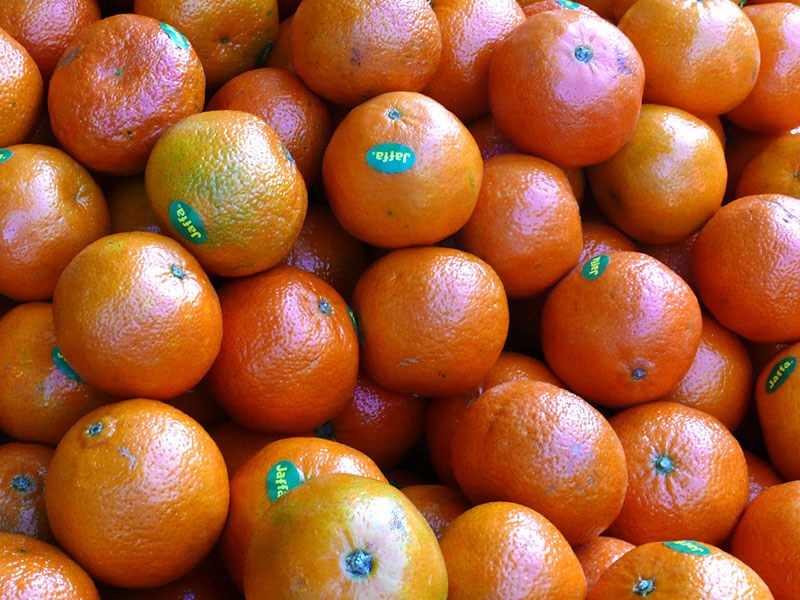 Here comes a brand new species of orange that you need to know. Jaffa orange was created by Arab farmers during the mid-19th century. Shamouti orange is an Arabic name for this orange.
The fruit originated in a city of the same name (which is now part of Tel Aviv in Israel). It is quite popular in many Mediterranean, Middle Eastern, and European countries. Jaffa has thick skin and, with a gentle sweetness, slightly juicy flesh with only a few seeds.
It has a long shelf life thanks to its tough and thick skin. People often eat Jaffa fresh or add it to some sweet or savory dishes. It is not an ideal orange for juice because the juice content is quite low.
8. Lima Orange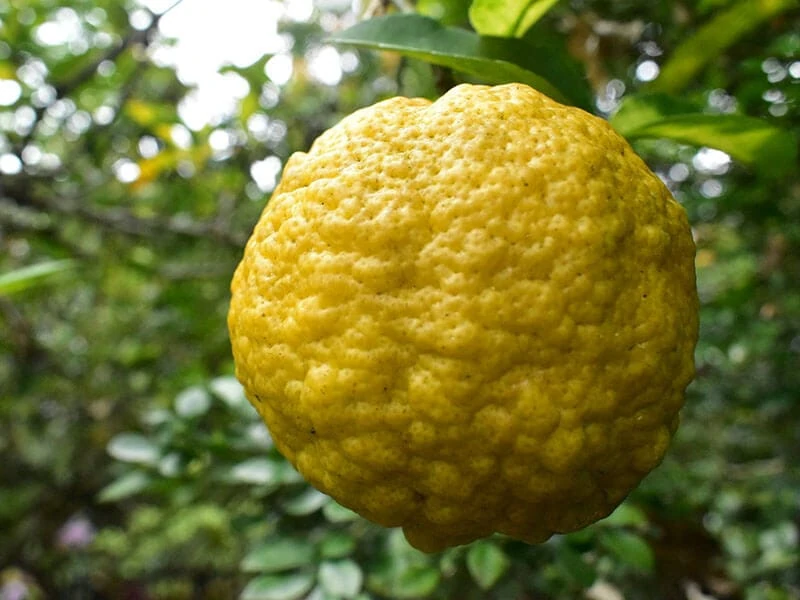 Suppose you love to try a type of orange with an incredibly sweet flavor. You should check out this Lima orange. Despite its small size (around 6-8 cm in diameter), this fruit that begins with L is adored for its low-acidity content.
Lima orange has a fragrant aroma, and people usually use it for making tasty orange sweet courses like cakes, muffins, or tarts. You can also enjoy it raw or have its juice for a delicious drink.
The rind of Lima is thick, bright orange with a leathery and pocked texture. The interior has a white pith that adheres to the orange flesh with a soft texture. There are roughly eight segments of orange flesh with a tender texture.
9. Cara Cara Orange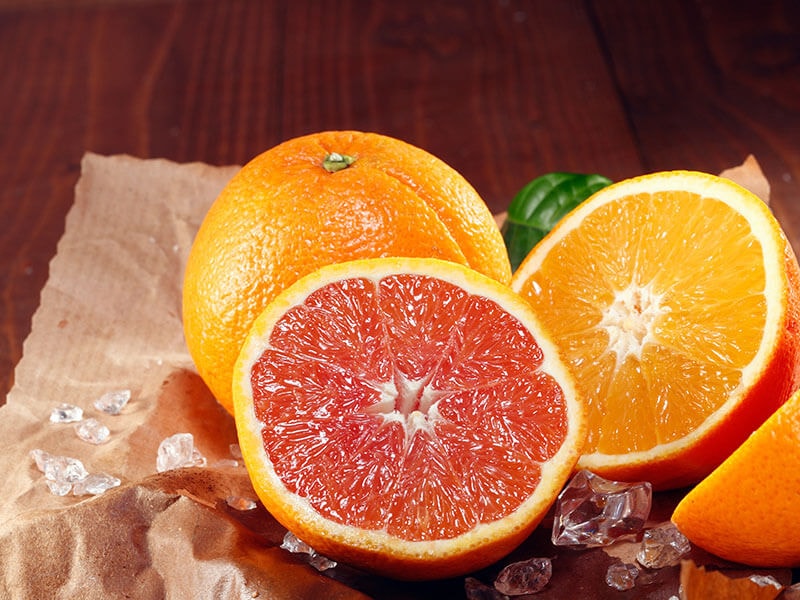 Another member of the Citrus sinensis family is right here! Similar to navel or blood orange, Cara Cara orange has a magnificent sweet taste and a beautiful white orange color. Its shape is slightly oval and reaches roughly 4 inches in diameter.
Cara Cara also has thick skin with a soft white pith covering around 11 segments. In terms of flavor, it closely resembles a sweet and tangy berry. This fruit is seedless, so you can enjoy it fresh without any hesitation.
This cultivar is a result of mixing the Washington navel orange and the Brazilian Bahia orange. People usually use Cara Cara's zest and juice for baking or serve it fresh in a salad dish.
Hey! Here comes some interesting information about Cara Cara Orange!
10. Pera Oranges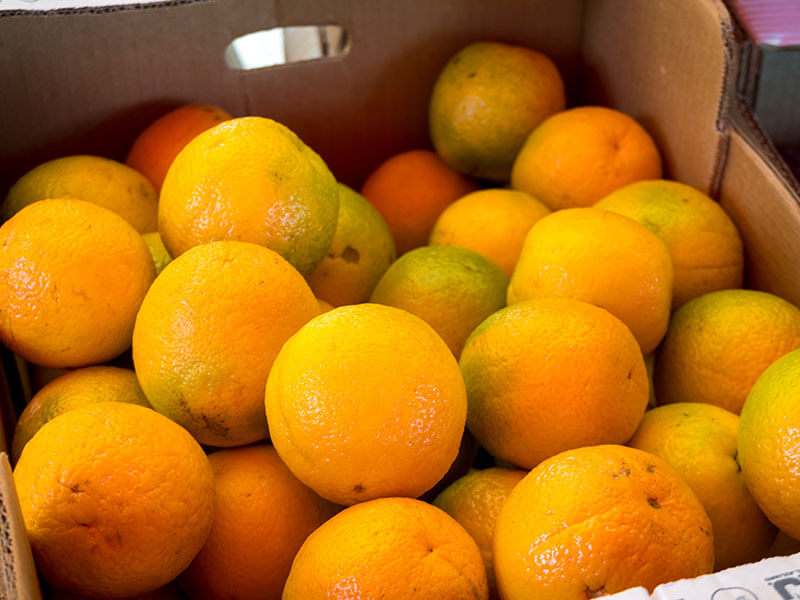 Let's move to Brazil, and I will show you this spectacular Pera orange. It is a common fruit in the country that you must try. This orange has a light orange shade with a rough texture. Its rind is quite thin with well-colored pulps inside.
Pera oranges have a smaller size compared to other oranges and contain 10 segments of juicy flesh. The best part is it has less seed and a smooth surface. This orange originates in Volusia County (Florida).
11. Satsuma Orange Or Satsuma Mandarin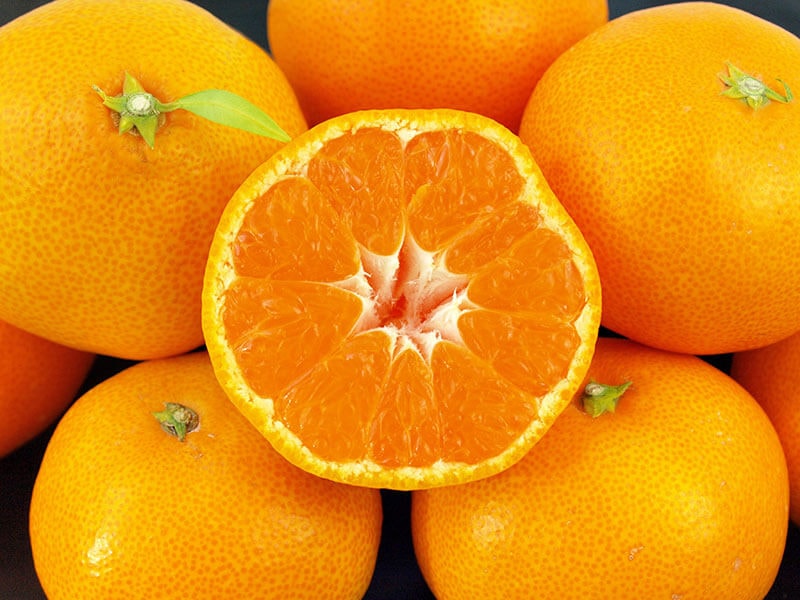 Satsuma orange (sometimes known as Citrus Unshiu) is a type of Mandarin orange created in the Satsuma province in Japan. This orange is small (roughly 4 inches in diameter) with reddish-orange skin.
Like other Mandarin oranges, the skin is smooth and loose and is super easy to peel. It usually has 12 easily separable segments that are soft, sweet, and full of fragrant aroma.
When people grow Satsuma in a humid area, it will ripen when green, while its color will turn reddish-orange and has a sweeter flavor in areas with freezing temperatures (-11°C) at night.
People usually have these Satsuma oranges as a fresh snack or a common raw ingredient in many salad recipes. It is a great idea to put it in your kids' school box for a nutritious meal. You can use it as an ingredient for baked goods, frozen dishes, or sweet desserts.
12. Parson Brown Orange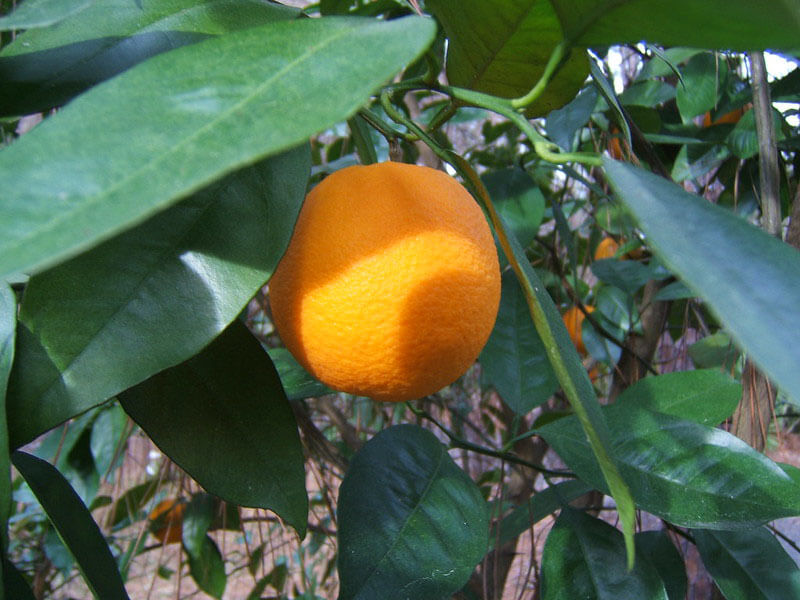 In 1856, a man named Reverend N.L. Brown had grown this tree near Webster (Florida). This tree is not as common as other sweet orange varieties in the region, but its delicate sweet flavor will surely amaze you.
The tree is round, tall, and slim and usually grows in heavy hammock soils. It is a small type of orange (around 2 to 3 inches in diameter) with at least 10 seeds. The tree is more disease resistant and is usually harvested from October to January.
Parson Brown matures very early, forming a firm and juicy fruit with a pebbled and pitted skin. This orange is perfect for juicing.
13. Valencia Orange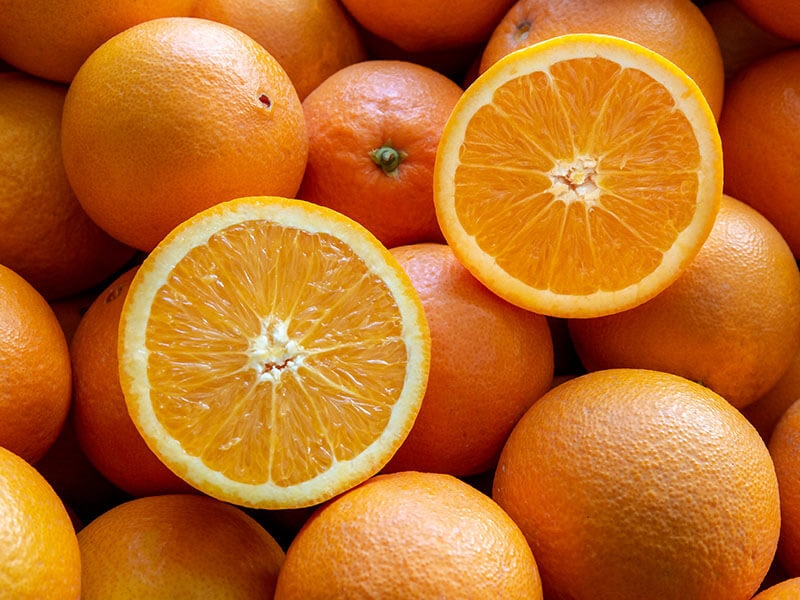 Valencia Orange is another sweet orange from the family of Citrus sinensis species. This orange is named after the famous city that grew it, València (Spain). This type of orange is juicier than other common oranges, so you should give it a try.
If you wonder whether this orange juice goes bad or not, don't worry; you can store it in the fridge for weeks without the juice getting bitter. Remember to discard the seed when you juice the orange.
It is a hybridized product of William Wolfskill (a land developer) and an American agronomist during the mid-19th century. With an average diameter of around 3 inches, these little fruits will treat you with their fascinating sweetness.
People usually harvest Valencia from March to September, with a peak season in summer (April to June). The orange usually has a bright orange hue, but it has a green color during the summer.
This fruit that begins with V has a great quantity of juice, so you can have it juiced for a refreshing drink. You can enjoy it as a midday snack too, but remember to discard the seeds.
Let's immerse ourselves in the humble streets of Spain and taste Valencia orange.
14. Hamlin Orange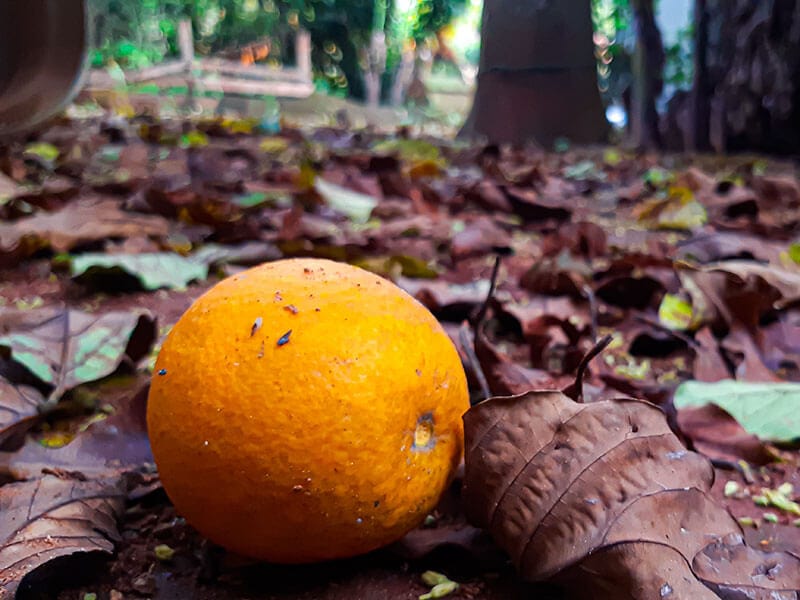 Hamlin is a special orange that gains its sweetness in cold weather. It has a thin skin with an irresistible sweet and tangy taste. Hamlin orange originates in Florida (1879), and this fruit inherits the "H-something" name from its owner, A.G. Hamlin.
This orange is famous in America, especially Florida, and is often harvested from October to January. Hamlin is perfect for enjoying fresh or juicing it because it has a large sweet, tart, and juicy water content.
This fruit with incredibly juicy flesh is round with dull orange or sometimes dark yellow color. It is low in acidity and has smooth skin. When ripe, the fruit has a small number of seeds, so you don't have to worry about enjoying it raw.
The Bitter Oranges Will Amaze You With Their Unique Taste
Bitterness is a special feature in certain types of oranges that make them stand out from the sweet variants. I bet you will want to explore this variant right now!
15. Trifoliate Orange Or Citrus Trifoliata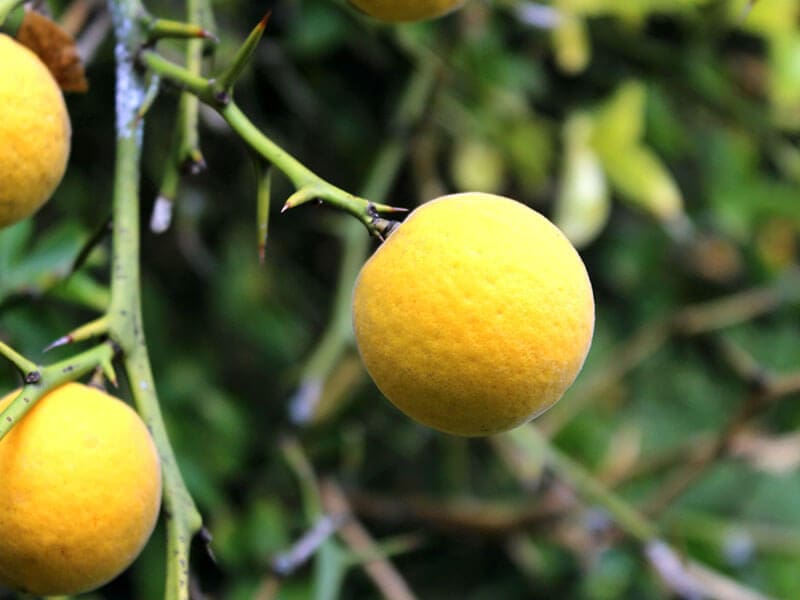 In China and Korea, there is a special orange type with a pleasantly bitter flavor. This tree is tall and has thorns all over its body. Despite that spiky appearance, the tree can produce beautiful and aromatic white flowers.
People usually utilize this tree as a natural hedge around their house. The tree has egg-shaped leaves that spread a fragrant aroma when crushed. This orange is a cold-weather plant as it can thrive at a temperature of -26°C.
Trifoliate orange flavor reminisces the taste of lemon and grapefruit but with a note of bitterness. The fruit has a high acidity content, so you should expect a kick of sourness from it.
The plant will bloom in the middle of spring and give edible fruits around fall. The fruit is quite small with a dull yellow skin with many seeds inside. People usually use it for juice and making marmalade or sweet treats.
All about Trifoliate Orange that you need to know.
16. Seville Orange Or Bitter Orange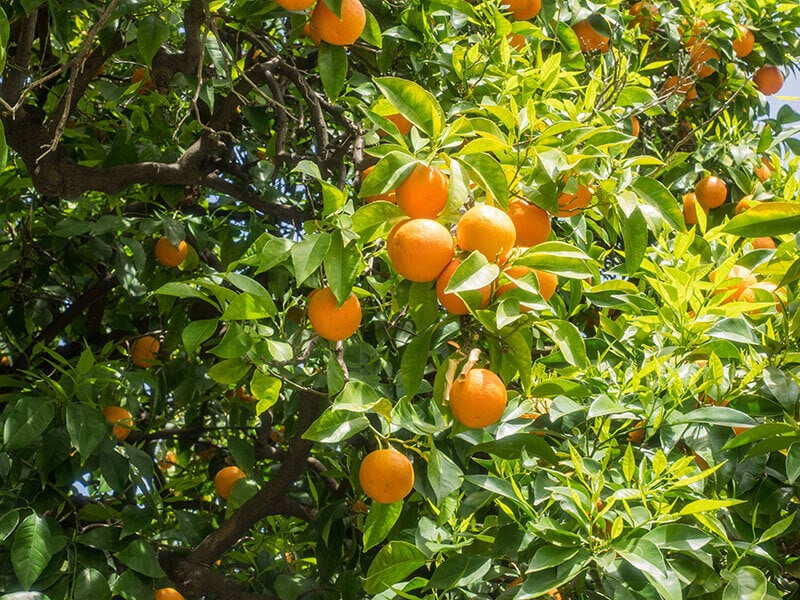 The Iberian Peninsula is home to a spectacular bitter orange that you must try at least once. Seville orange is a combination between the pomelo and the mandarin orange. This orange has an intense sourness that is often used for making marmalade (a British fruit preserve).
The Moors started cultivating this type of orange in the 10th century. Later, it took the name of Seville, a Spanish region in which the cultivar was first grown, and became popular all over the world.
The orange has a small, round shape with a yellowish-orange color skin. It has a dimpled texture with a rough surface. It has around 10 to 11 segments wrapped by a thin layer of white membranes.
Seville orange is well-known for its powerful tartness with a little bitter taste. You can use the fruit for juicing and zesting for savory recipes. Its fragrant essential oil is an ideal seasoning ingredient; people even use it for making perfume.
17. Bergamot Orange Or Citrus Bergamia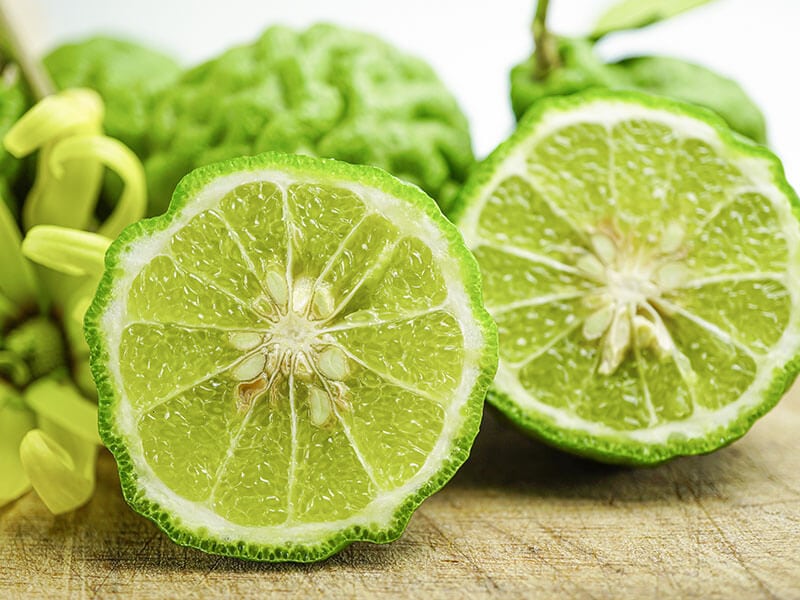 Bergamot is a fragrant citrus fruit with a yellow or green hue resembling the color of a regular lime. This fruit is a genetic result of hybridizing lemon and Seville orange. This lovely fruit is native to Southern Italy with a medium size, just like a typical orange.
The skin's surface often has a smooth texture hiding a fragrant aroma and bitter taste inside. People usually use Bergamot extract for perfumes, cosmetics, food, and drinks for a delightful fragrance.
Earl Gray or Bergamot tea is a famous black tea perfumed with essential oils from Bergamot. This orange also gives the tea an exquisite citrusy taste that you can not resist.
Let's explore some exciting information about Bergamot oranges!
Don't Miss These Delectable Orange Recipes
Oranges are a great fruit with diverse species around the world. Do you know that you could turn them into tasty dishes? Here are some lovely recipes made from oranges that you should try.
Let me invite you to this perfect beverage that is so good, and you can enjoy it anytime. It is a perfect combination of milk and orange juice to adjust the delightful taste gently. Trust me; when you add some ice to the drink, it will be excellent.
If you're looking for a catchy dish for lunch, why don't you try on this orange chicken recipe? The dish tastes so good with crispy chicken in a sweet and sour orange sauce that there won't be enough of it to go around! Your family will certainly ask for more!
This dessert has a wonderful fusion that connects the creaminess from the cake with a slightly sour taste from the juice. In addition, some extra sprinkle sugar on the cake's top will be an exciting combination as well.
I think that this may become your new favorite bread once you try it. Orange bread is very moist and soft from the inside to the outside. It is a great source of nutritious starch that you can add to your breakfast.
Here comes an exciting dessert recipe that you can add to your party. Orange cream cupcakes look fantastic with their delightful figure when you first look at them. Besides the creamy cupcake base, you can spice the frosting with a bit of orange juice to enhance the flavor.
Orange – An Essential Fruit
It is not an exaggeration to say that oranges are crucial in daily human life. Besides being a great source of vitamin C, its juice is a beautiful drink to blow away all the heat of the scorching summer days.
What are your favorite types of orange? Don't hesitate to share your idea in the comment section and hit the subscribe button. More exciting posts about fruits are coming for you.