How many different types of grapefruit have you tried so far, and what do you know about them? It's not an exaggeration to tell you that this kind of fruit is more diverse than you have ever thought, and you will regret not spending enough time knowing more about them.
Since grapefruits are a delicious variety of fruit that have loads of vitamins and provide you with a wide range of health benefits, there is no reason not to include them in your daily diet.
The fruits are versatile and can take part in various meals of your day, whether it is breakfast or snack-time. Their brightening flavor will never fail to impress your taste buds. Scroll down to find out more!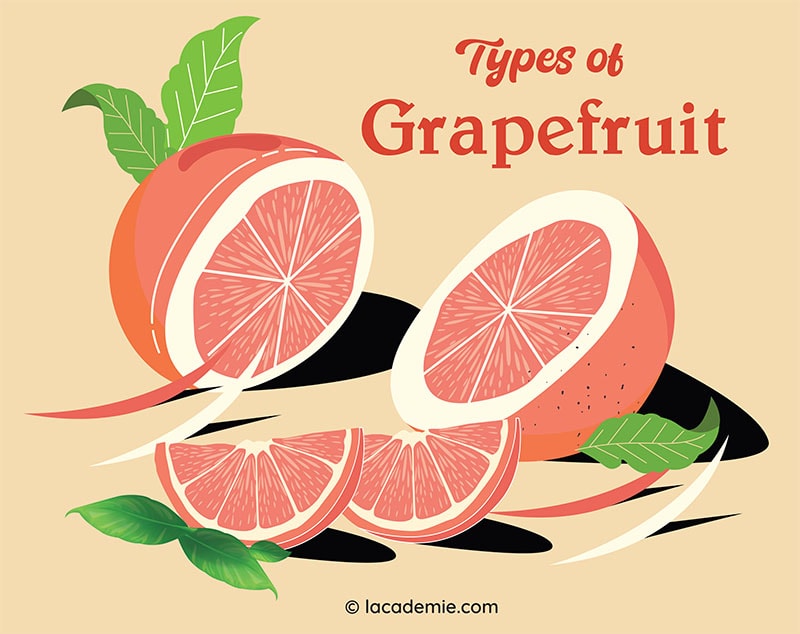 Overall Information You Should Notice About Grapefruit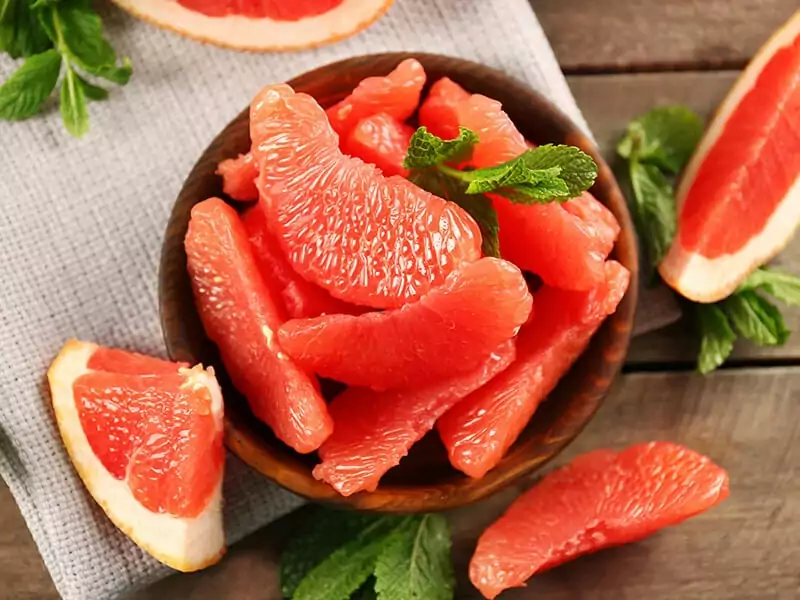 Are you a fan of the citrus family? If yes, grapefruits are not a strange concept for you, right? Delicious, refreshing, and juicy are some words you often use to describe grapefruits. And now, let's discover more about this healthy fruit that people enjoy in the winter.
Grapefruits are a natural hybrid fruit originating in Barbados in the 18 century. First, people called this fruit "forbidden fruit," later changed to "grapefruits." This fruit has earned its name because it grows clusters that resemble grapes.
Grapefruits are suitable for growing in subtropical environments. The color of this fruit and the interior flesh can vary depending on its variety. Most types of grapefruit are sour and sweet with a hint of bitterness.
This fruit variety is packed with various nutrients. It is a good source of vitamins, minerals, antioxidants, and fiber. Grapefruits are vital in enhancing the immune system and preventing high blood pressure.
Grapefruits are very versatile. In some cases, you can use grapefruit zest as a replacement for orange zest. This fruit type is also an excellent addition to many delicacies such as salads, smoothies, desserts, and juices.
If you are craving lime juice but don't have the key ingredient (lime), you can utilize grapefruit juice as an ideal alternative for lime juice. The flavor of grapefruit juice will make you forget the taste of lime.
You should be aware of grapefruits' health advantages.
11 Grapefruit Varieties Developed In The United States
Have you ever bought a great grapefruit but don't know its name for you to return the second time? You can address this issue by using the list below. All of them are from the United States. To learn how to distinguish them, keep reading.
Type Of Grapefruits
Appearance
Flavor And Texture
Uses
Melogold
Yellowish-green skin
Thick rind
Sweet and tart
Firm and juicy
Salads
Fruit cocktails
Desserts
Lavender Gem
Golden yellow to orange
Slightly sweet and mild with a hint of tanginess
Firm, tender, and aqueous
Salad dressings
Marinades
Cocktails
Smoothies
Ruby Red
Red-blushed and thin yellow peel
Sweet-tart
Tender and juicy
Cocktails
Seafood dishes
Sauces
Salads
Oro Blanco
Round or oval
Yellowish-green skin
A balance between sour and sweet
Juicy and tender
Salads
Beverages
Marinades
Dressings
Teas
Pink
Green or yellow skin
Smooth
Sweet-tart
Juicy and soft
Cocktails
Juices
Salads
Star Ruby
Yellow-orange skin with a blush of rose
Sweet-tart
Juicy
Cocktails
Savory salads
Baked dishes
Frozen desserts
Duncan
Round
Light yellow skin
Smooth and even
Sweet, tart, and tangy
Tender and juicy
Like other grapefruit varieties
Flame
Pale red
Sweet
Mildly tangy
Juicy and tender
Juicing
Baking
Desserts
Savory delicacies
Marsh Seedless
Bright yellow to pale yellow
Round and slightly flattened
Sweet and sour
Juicy and tender
Juices
Meat
Fish
vegetable dishes
Thompson Pink
Pale to light yellow skin
Round and smooth
Sweet
Juicy and tender
Like Marsh Seedless grapefruits
Cocktail
Green to yellow skin
Significantly sweet
Juicy and firm
Drinks
Salad dressings
Cocktails
Smoothies
1. Melogold Grapefruit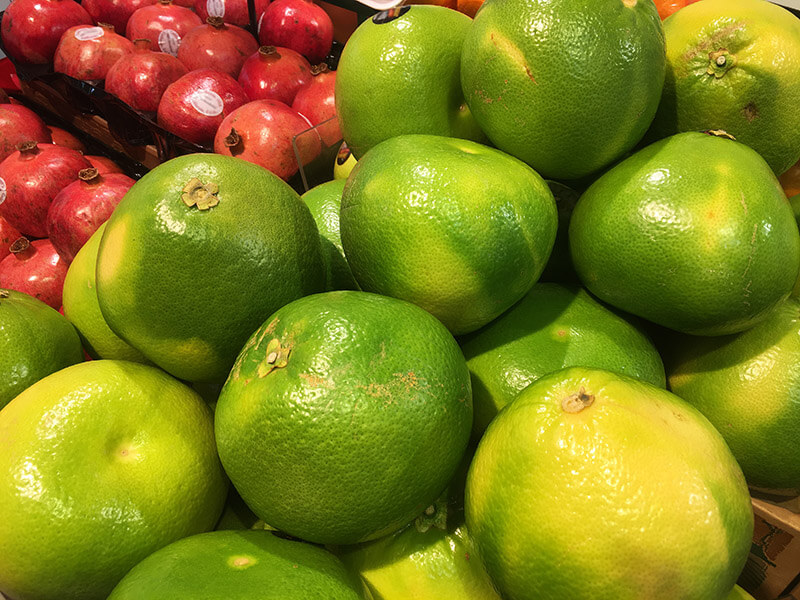 Metro Gold grapefruits are a perfect hybrid between Pomelos and White grapefruits from California. This grapefruit comes out with yellowish-green skin and has a thick rind, similar to Pomelos. This fruit also notices a pale yellow-colored flesh.
These round fruits' name is also the combination of the word "mellow" and "gold", indicating the mild flavor and the signature golden color of this fruit when ripe. Melogold grapefruit possesses a typical sweet and tart flavor of a "true" grapefruit.
Therefore, don't miss this excellent fruit if you plan to make salads, fruit cocktails, or even your favorite desserts. Melogold grapefruits have very few or even no seeds. They will also win a big score with you, thanks to their juiciness and firm texture.
2. Lavender Gem Grapefruit
Let's continue the journey today with a cross between grapefruit and tangelos (a citrus fruit hybrid of tangerines and pomelos) from California, Lavender Gem grapefruit.
Coming out with a golden yellow to orange appearance, Lavender Gem grapefruit is firm, tender, and aqueous. You can utilize this mini grapefruit to make salad dressings, marinades, cocktails, and smoothies to enhance your experience.
Compared to other grapefruit varieties, this citrus fruit is lower in acidity. Therefore, its flavor is not overly tart. Lavender Gem grapefruit is slightly sweet and mild with a hint of tanginess.
When looking at the flesh of this fruit, you will be surprised by its perfectly stunning color. With an incredibly juicy and tender texture, this fruit's pulps are often light pink with many cream-colored seeds.
3. Ruby Red Grapefruit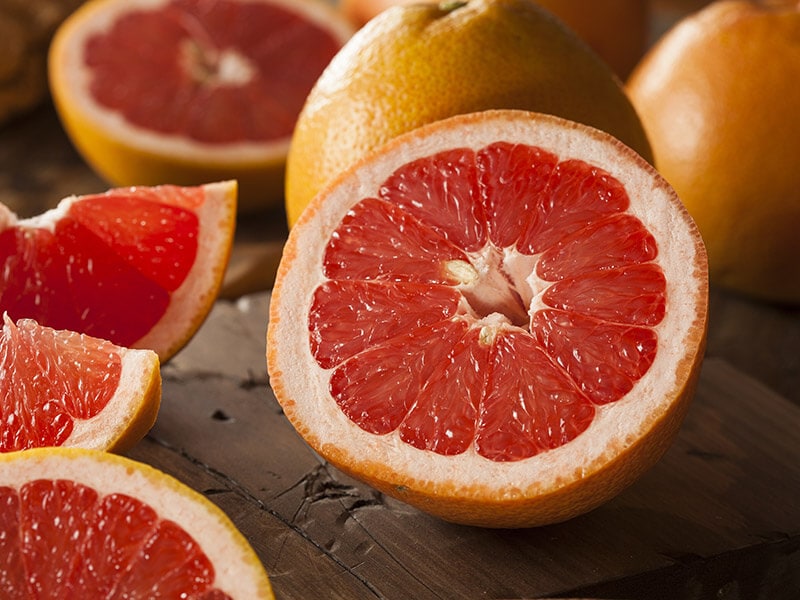 Ruby Red grapefruits are one of the sweetest grapefruit varieties coming from Texas. This world-famous type is also responsible for changing Americans' perception of grapefruits.
These fruits are large with a typically red-blushed and thin yellow peel. Their dazzling color is also the reason that makes you never forget this unique grapefruit. Unlike other Pink grapefruits, Ruby Red grapefruits are seedless.
Sweet-tart, succulent, and easy to peel, these fruits also have a tender and juicy texture. This red grapefruit is a good choice for mezcal-based cocktails, seafood dishes, sauces, and salads.
Besides cocktails, other simple mixed beverages call for this red grapefruit. Ruby Red grapefruit is not only incredibly tasty, but also loaded with numerous health benefits due to its rich vitamins, antioxidants, and minerals.
4. Oro Blanco Grapefruit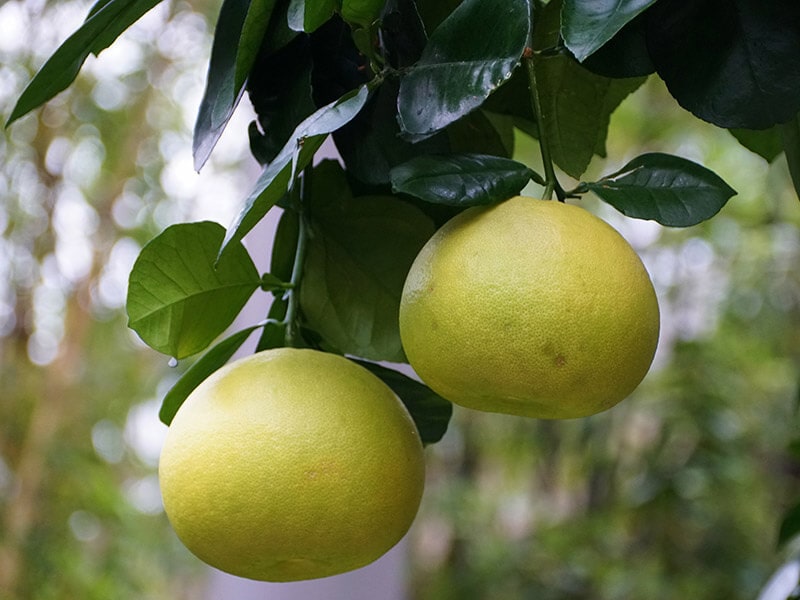 Another sweet grapefruit that you should add to your daily diet is Oro Blanco grapefruit, a hybrid product from California. Many people liken the flavor of this fruit to a perfect balance between sourness and sweetness because its taste is amazingly delicious.
Oro Blanco grapefruits are large and often round or oval, with a characteristic yellowish-green appearance. Nearly seedless, juicy, and tender, OroBlanco grapefruits have yellow flesh as reflected in their name.
For those not in the know, Oro Blanco means "white gold" in Spanish. Like other varieties, this grapefruit is excellent for salads and various beverages. You can also use them to add flavor to your marinades or dressings. Dried Oro Blanco is perfect for use in teas.
Do you want to know more about Oro Blanco grapefruits? Check here for the answer!
5. Pink Grapefruit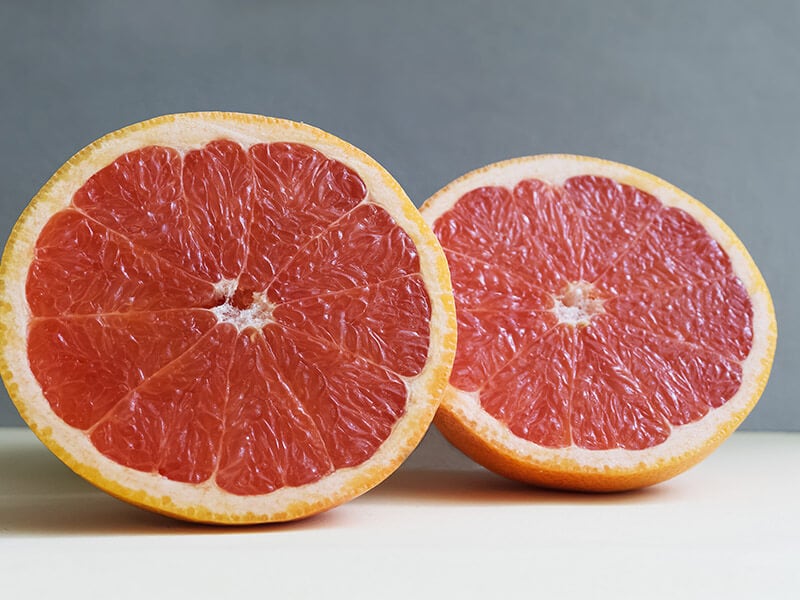 Pink grapefruits are another popular citrus fruit from Texas that you should add to your list. When you slice them open, the first thing you will notice is the signature rosy-colored flesh. It's irresistible and visually appealing.
Containing a good source of vitamin C, vital antioxidants, and fiber, Pink grapefruits are packed with a host of health benefits such as improving immunity, reducing blood pressure, and boosting hydration.
This fruit also has a green or yellow color like other varieties. With a smooth, juicy, and soft texture, Pink grapefruits will please your taste buds due to the perfect blend of sweetness and sourness. Though not as sweet as Red ones, they are more enjoyable than White ones.
You can eat this grapefruit kind solo for the naturally delicious taste. When it comes to drinks, Pink grapefruit is also best for pink-colored cocktails. Moreover, if you need a flavor booster for salads or juices, this large round fruit is a wise decision.
6. Star Ruby Grapefruit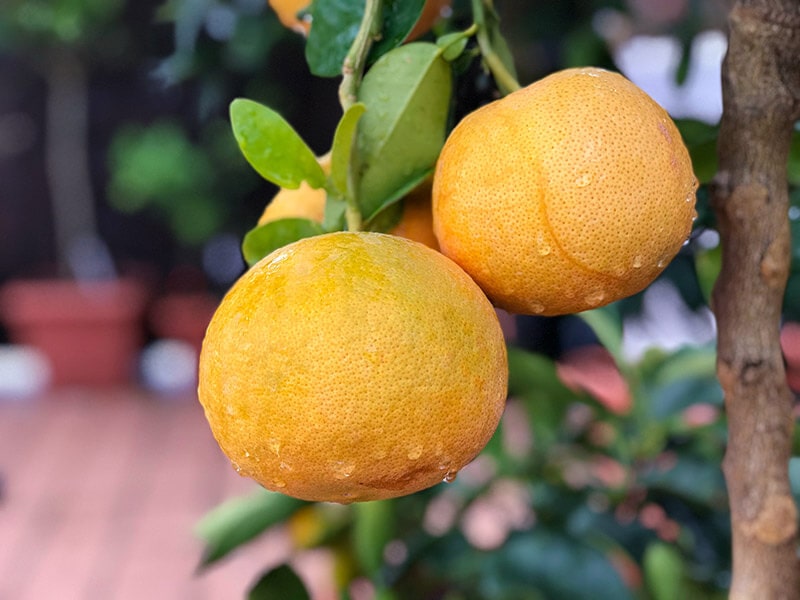 Star Ruby grapefruits are a citrus hybrid with a sweet-tart flavor. Star Ruby grapefruits are globular, coming out with yellow-orange skin with a blush of rose.
The flesh of this fruit kind is intensely red and is thought to be the darkest crimson of all the red grapefruit varieties. You can take advantage of this juicy fruit to make cocktails, savory salads, baked dishes, and other frozen desserts.
Native to Texas, Star Ruby grapefruits are rapidly becoming popular. Many regions in the world also grow this juicy fruit for commercial purposes. However, grapefruits cultivated in Texas still have the best quality and flavor.
7. Duncan Grapefruit
One of the oldest varieties of grapefruit, Duncan grapefruits are the "granddaddy" of all grapefruit types. These fruits are round with a light yellow color, very similar to an orange. Duncan type comes from Floria, and its rind is very smooth and even.
Duncan grapefruits' skin opens to reveal a tender and juicy flesh with a pale yellow hue. This type of fruit contains a remarkable number of seeds. That is also why Duncan grapefruits are not an ideal product for commercial purposes.
Coming from Florida, Duncan grapefruit has a distinctively sweet taste with some interesting notes of tartness. This fruit is full of juice, making it an ideal ingredient for making fruit juices. You can also apply Duncan grapefruit in recipes that call for other varieties.
8. Flame Grapefruit
If you love the beautifully dark pink color a grapefruit displays upon being sliced, Flame grapefruit is a good option for you. Like many other red cultivars, Flame grapefruit also contains high juicy content and has a strong flavor.
Flame grapefruits are sweet, bursting with juice, and mildly tangy. If you feel annoyed about the need to remove the seeds from grapefruits, give Flame grapefruit a try because it includes very few or no seeds.
Blushed red on the outside, Flame grapefruit is best for juicing and eating raw. Furthermore, you can apply this ingredient in baking, desserts, and other savory delicacies.
This reddish-orange fruit is also a citrus hybrid from Texas. It is excellent for long-term use because it can stay in the container for several months.
9. Marsh Seedless Grapefruit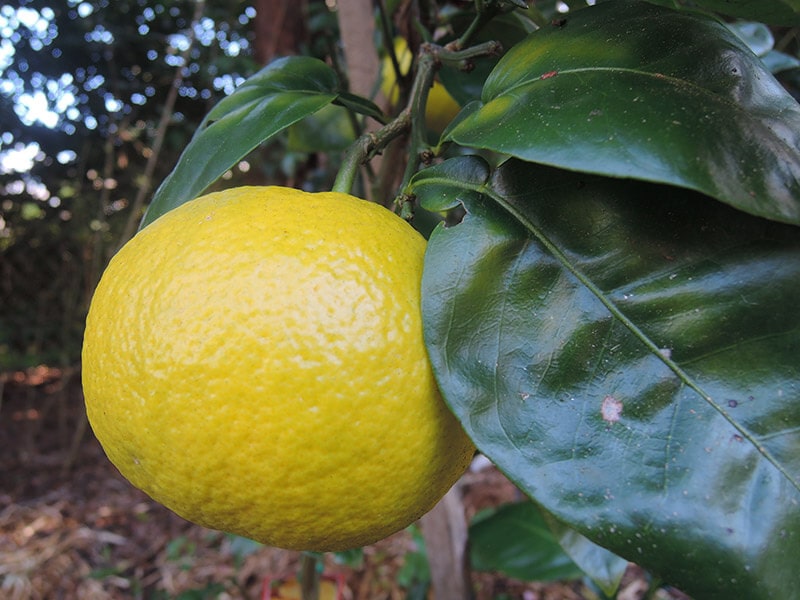 As the name implies, you can easily guess that there is no seed inside Marsh Seedless grapefruit, right? Many people also call this fruit White Marsh grapefruit. The word "Mash" takes from the name of C.M.Marsh, who was the first to breed this grapefruit.
Coming from Florida, Marsh Seedless grapefruit features a color ranging from bright yellow to light golden. These grapefruits are round, slightly flattened with a pale yellow interior, similar to most other varieties.
These juicy and tender grapefruits are also one of the most loved types on the market. This variety of grapefruit is also a mixture of sweet and sour.
You can utilize it for making refreshing grapefruit juice. Moreover, Marsh Seedless grapefruit works perfectly with meat, fish, or vegetable dishes.
10. Thompson Pink Grapefruit
Thompson Pink grapefruits are a relative of Marsh Seedless grapefruits, originating from Florida. Both share the same appearance and flavor. Thompsom Pink grapefruits, also known as Pink Marsh, notice a pale to light yellow skin and a very sweet flavor.
Thompson Pink grapefruit appeared first in 1913, making this type one of the oldest varieties of grapefruit in the world. It has a round and smooth appearance with a typical pink flesh.
When compared to Marsh White, this kind matures a little bit earlier. These medium-sized fruits also have a juicy and tender texture. Due to the similarity between Thompson Pink grapefruits and Marsh White, you can replace this kind in recipes that call for Marsh White.
11. Cocktail Grapefruit/ Mandelo
Cocktail grapefruits, also known as Mandelos, are small fruits containing numerous seeds. Mandelo is an invention of California. Compared to other grapefruits, Cocktail grapefruits are less acidic and significantly sweeter.
They have a characteristic yellow-orange flesh with a juicy and firm texture that you will want to try over and over. The color of this fruit will also range from green to yellow.
You can utilize Cocktail grapefruits in drinks and salad dressings to make your dishes more inviting and appealing. Using them in cocktails, smoothies, or jams will also keep your taste buds happier.
At room temperature, cocktail grapefruits are good for 1 week. Their shelf life will increase to 2 weeks if you store them in the refrigerator.
What is special about Cocktail grapefruits you have never heard of before?
3 Other Types Of Grapefruit From Other Countries
The grapefruit types listed below come from outside the United States. Don't miss your chance to experience their exotic deliciousness If you can get your hands on them.
Type Of Grapefruits
Appearance
Flavor And Texture
Uses
Valentine Pummel
Bright yellow
Round or pyriform
Sweet with a tart aftertaste
Juicy and tender
Jams
Jelly
Pasta
Fish dishes
White
Smooth
White skin
Tart, subtly sweet with a mild bitter hint
Lightly pepped
Marinades
Yogurts
Cereals
Ice cream
Pomelos
Large
Similar to a teardrop
Green or yellow skin
Tart-sweet
Firm
Salads
Granita
Seafood recipes
12. Valentine Pummelo Grapefruit
Are you curious about the unique name of this variety? Native to South Asia, Valentine Pummel grapefruits are a delicious treat that is ready for harvest around Valentine's Day. Moreover, you will notice a heart-like shape when cutting this fruit in half.
Like a spear, this grapefruit type is a perfect combination of blood oranges, Pomelo, and Mandarins. It has vibrant, red flesh with a juicy and tender texture. Every bite will amaze your taste with a sweet flavor and a tart aftertaste.
Valentine Pummelo grapefruit is often round or pyriform. It also has a bright yellow rind like most grapefruit varieties. This fruit is best for eating fresh. Moreover, you can utilize it to make jams, jelly, or add Valentine Pummelo grapefruit in pasta and fish dishes.
13. White Grapefruit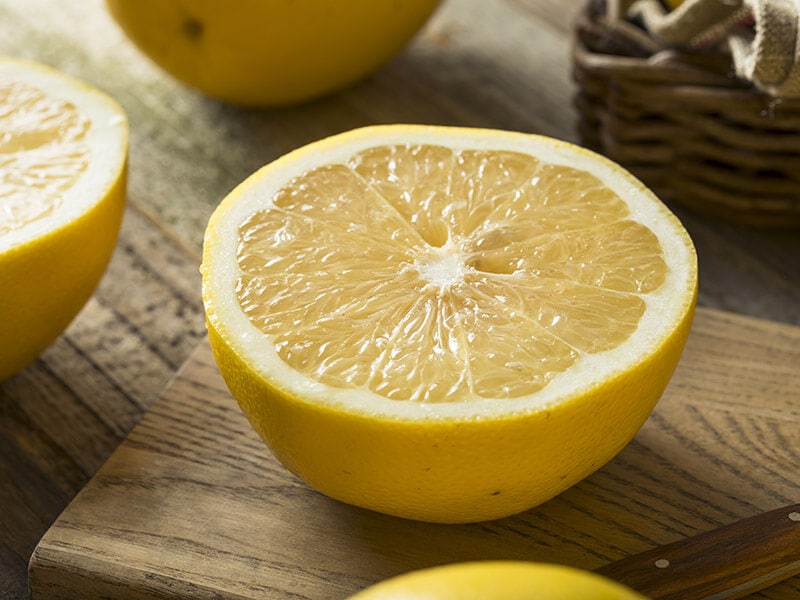 Originating from the West Indies, White grapefruits are considered one of the most miniature sweet grapefruit varieties. They will please your taste thanks to their unique flavor. They are tart, subtly sweet with a mild bitter hint.
White grapefruits are undoubtedly used in delicacies that call for other varieties, such as marinades, salad, and fruit juices. You can also use this fruit as a topping for yogurt, cereals, or even ice cream for a better experience.
White grapefruits have smooth white rind covering the delicious flesh that is translucent and typically pale yellowish with a slightly grainy texture. If you prefer a grapefruit type with an intensely aromatic fragrance, White grapefruits will satisfy you.
This grapefruit type is available in both seeded or seedless forms in farmer's markets or home gardens. White grapefruit is a specialty fruit in the United States, despite its origin in the West Indies.
14. Pomelos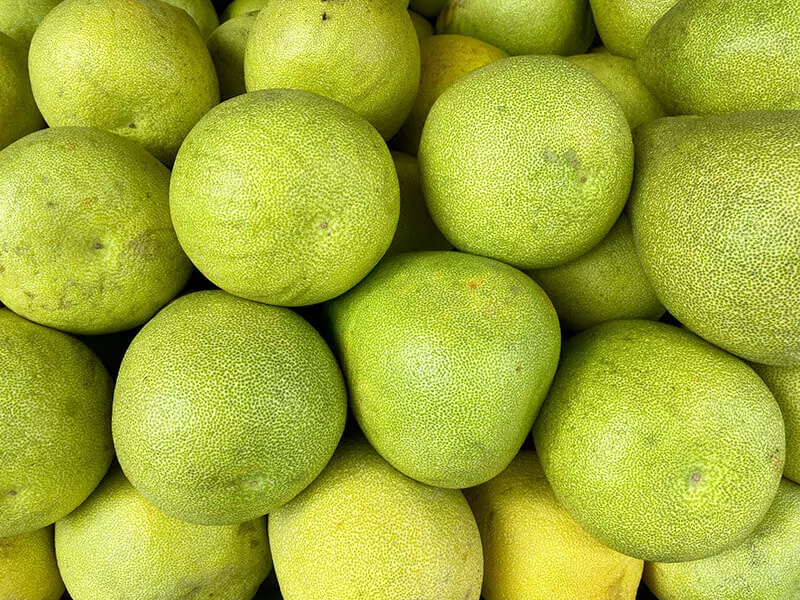 Have you ever heard about Pomelos, one of the best fruits starting with the P letter? Considered the forerunner of grapefruits, pomelo has a shape similar to a teardrop, along with giant size.
This fruit comes from Southeast Asia, so you can find it at any local Asian market around you. Pomelos grapefruits feature a flavor ranging from tart to sweet depending on their varieties. They have a green or yellow appearance with a perfectly firm texture.
The flesh of this fruit is also not fixed. It will vary from yellow to pink. With a dense and spongy pith, Pomelos are very easy to peel. You even can use only your hands to remove the skin of this fruit.
Pomelos are one of the most loved fruits in China, especially on Chinese New Year because the word "pomelo" in Cantonese sounds like the words "prosperity".
Their application is very diverse. You can apply them to prepare refreshing salads, granita (a semi-frozen dessert), and seafood dishes.
The easiest way to open a pomelo grapefruit is here.
Healthy, delicious, and versatile grapefruits are always the top choice for snacks or making desserts. I believe that the list above has provided you with everything you need to know to upgrade your diet with grapefruits. Let's go to a supermarket or farmer's market to make your choice!
What kind of grapefruit do you like best? Leave a comment to share with me your choice. If you are interested in this post, please give this article a "share" to help more people know about these tasty fruits. Thank you, and I hope you will have a good experience with them.