It's challenging to find a substitute for orange zest without altering your dishes' taste and texture. Even if you do, I bet that you don't know how to use it correctly, so let me help you out with that.
So, how many ingredients can replace the role of orange zest, you ask? In this article I will provide you with 12 substitutes for orange zest and of course, it tastes nearly the same (unless you have a really good nose).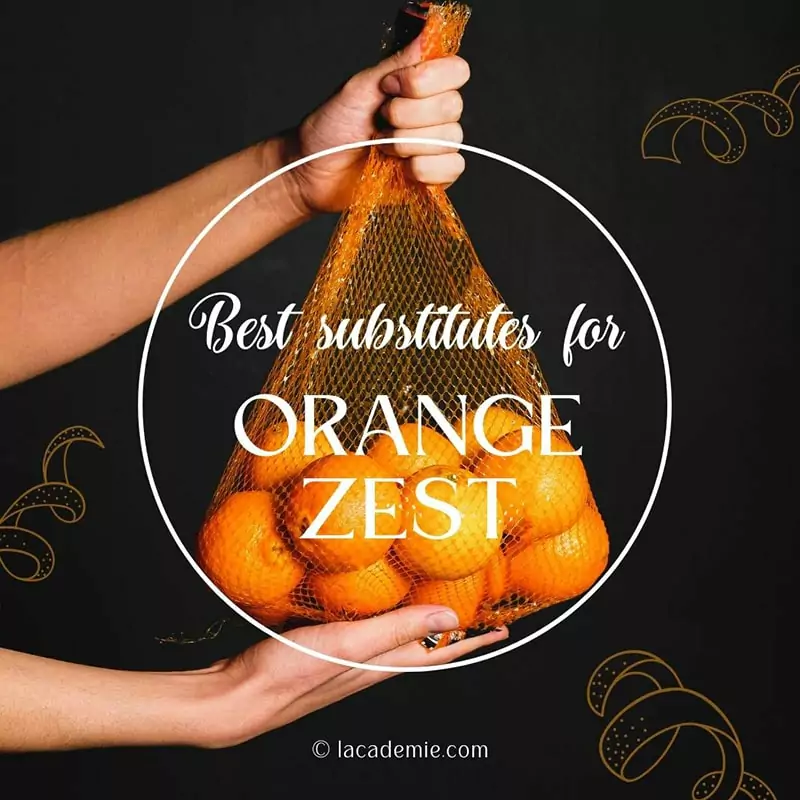 List Of 12 Best Substitutes For Orange Zest
1. Lemon Zest
2. Grapefruit Zest
3. Lime Zest
4. Clementine Zest
5. Apple Cider Vinegar
6. Regular Vinegar
7. Fruit Juice
8. Fruit Concentrate
9. Pure Extracts
10. Limoncello Liqueur
11. Tamarind Paste
12. Orange Marmalade
This article will show you not only the best options that can substitute orange zest but also their strong point.
I won't keep you long, let's find out about these ingredients!
What Is Orange Zest?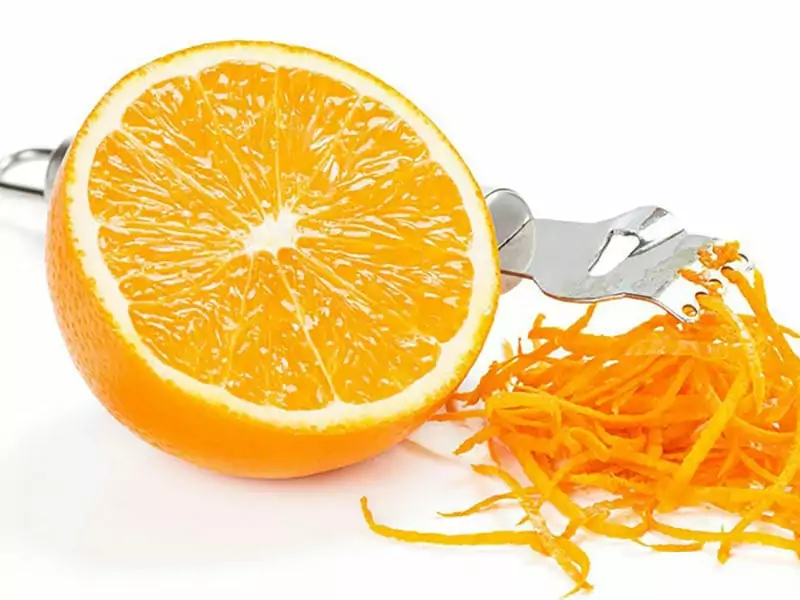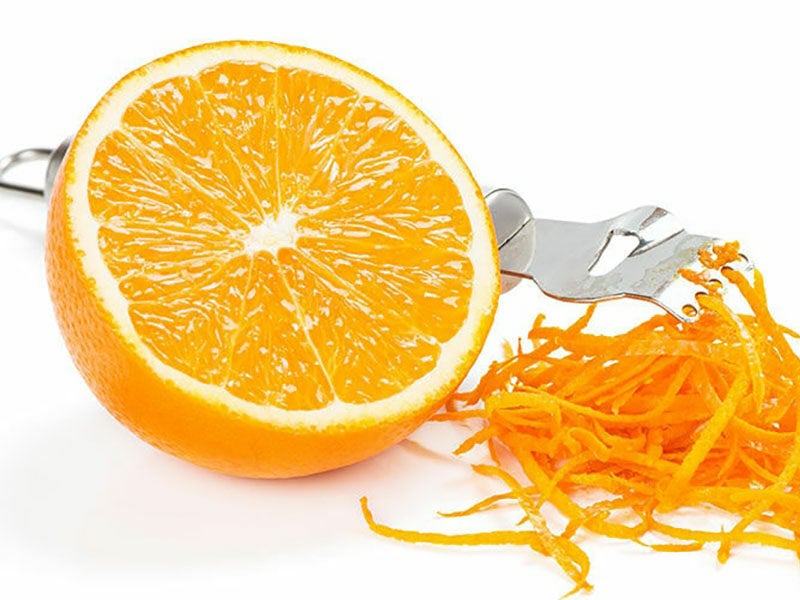 While people often choose oranges for their juicing features, orange zest is also an essential ingredient that is normally used in desserts or drinks to enhance the tangy flavor. The peel consists of two different components: the white layer (albedo) and the orange-colored outer layer (flavedo).
Zest can be obtained by slightly scraping the outer part of the rind, which is the flavedo. Avoid the albedo because it gives a bitter taste.
There are many ways to zest an orange: you can either use a microplane, a box grater, a vegetable peeler or a knife. They all produce the same results as long as you are skilled and careful. It is estimated that a normal-sized orange can give 2 to 3 tablespoons of zest. This also depends on how thick the flavedo is.
Applications Of Orange Zest In Food
It's no exaggeration to say that orange zest is a key player in your dessert-making game. The rind has more citrus oil than the juice, which amplifies the flavor to a great extent.
Desserts
Orange zest is best known for its ability to enhance the food flavor, especially those sweet ones using orange itself. It lends an impeccable amount of citrus tanginess to many dishes, including pies, cakes, cookies, puddings, jellies, confectionary, or even chocolate.
Orange zest itself can be used to make lip-smacking light snacks to end your hunger pangs. Peel the strips, cut them into bite-sized pieces, and toss them into a heated pan. Add water and sugar until the sugar is dissolved. Let the strips simmer and remove them from the pan once they become translucent.
Savory Dishes
Orange zest is also used in savory dishes such as gravy, salad dressing, or even steak. You may recoil from this idea in the first place as this combination sounds more odd than tasty. Trust me; orange zest can give you a subtle note of citrusy aroma in your dish, which guarantees to excite your hunger.
Garnish
You may have seen orange zest on the top of some cakes before. Yes, orange zest, if minced nicely, can be used as a garnish for pastries. From a distance, they look just like sprinkles.
Beverages
Orange zest can also be found in some drinks. The possibilities are endless, so I'm sure you will find something to serve your friends at the next social gathering: Virgin Cosmopolitan, Ramos Gin Fizz, Negroni, and the list goes on.
Health Benefits Of Orange Zest
Is orange zest all about flavor and decoration? Not quite. They can be beneficial for your health in many ways. Here are some benefits that you can gain from orange zest.
As you may have known, oranges can come in various types, but they all share one similarity: The high vitamin C content. To people's surprise, the peel contains 14% of the Daily Value (DV) of vitamin C, tripling that found in the fruit.
The skin is also packed with fiber. Together, they are a great nutritious source supporting our immune system and fighting against diseases like cardiovascular, cancer, or stroke.
The zest also contains a tremendous amount of polyphenols compared to the inner flesh. These plant compounds minimize the risk of chronic conditions such as diabetes or allergies.
Had a few too many last night? Have some tea with orange zest. They are the panacea to hangovers.
Last but not least, orange zest also helps us digest food better thanks to its anti-inflammatory properties.
Orange Zest Substitutes
Scrape your kitchen to see if you have any of these. They are the top-notch choices that can replace orange zest without altering the flavor.
Lemon zest is undoubtedly the premium choice that does the job, not to mention lemons are much cheaper than oranges. They are both citrus fruits with similar sourness and fragrance so you can use lemon zest as a 1:1 substitute for orange zest.
Lemon zest contains many valuable nutrients for your health. They provide vitamin A, C, calcium, and iron and other nutrients that help brighten your complexion. The flavonoid found in the lemon peel also boosts your immune system.
Grapefruit is another cousin in the family of citrus that you can think of. Like oranges, this food with "G" as the first letter in its name is rich in vitamin A and C. It is also proven to improve your blood pressure.
When you inspect different cultivars of citrus fruits with pictures and names, you'll notice that grapefruit is larger than most other citrus fruits. This means that there should be more zest for you to use.
You will need a skillful pair of hands to zest the rind as the protective albedo part is much thicker than the outermost layer. Even if you don't, it's fine – the rind of the grapefruit is not that bitter.
With very little differences in taste, you can use 1 spoon of grapefruit zest for your recipe in exchange of one 1 spoon of orange zest.
Lemon's brother from another mother, the zest of lime is also an excellent substitution for that of oranges. However, lime and lemon have several differences, including their zest. So, you should be careful before choosing either of them to replace orange zest.
The lime zest can overpower other ingredients as it is pretty strong, especially if the lime is still green. To soften the impact, use half of its zest for a teaspoon of orange zest.
When it comes to health benefits, limes are not far from behind. They are rich in vitamins and antioxidants. The lime zest helps bolster your immune system, reduce the risk of heart disease as well as improve your skin.
Clementine Zest
Are those baby oranges, you ask? Well, kind of. Clementines are a hybrid of two types of oranges: mandarin and sweet. Despite having a similar look (clementines in regular are smaller than oranges), they don't have the traits of their parents, which is the tanginess spark of citrus. It's much sweeter and easier on your tongue.
For clementine zest, you also use the ratio 1:1. Once you taste the finished product, it's hard to tell whether it's orange or clementine in it. They taste nearly the same and clementine goes well with almost any sweet treats in this world.
I know there's a world of difference between vinegar and oranges; however, in case when you can't find any fruits in your fridge, go get your apple cider vinegar. The tang of it may make you think twice but trust me, it works.
If you feel like it's a bit too sour, try to combine apple cider vinegar and grape juice in several recipes. Or a few teaspoons of honey are also a nice way to balance the flavor.
Use vinegar wisely, or your recipe would turn into a hot mess. I would say that half a spoon should be sufficient for a spoon of orange zest.
Orange zest also gives way to regular vinegar so long as it has a similar level of tartness. A few drops of vinegar will certainly spike your desserts. If the vinegar is too overwhelming and may cause an imbalance between the ingredients, dilute it with honey. From my experience, vinegar alone works well and does not alter the final taste.
Half a spoon of vinegar will have the same level of acidity as a spoon of orange zest. This may vary by brands, so make sure you test it in advance.
Whether canned or freshly made from your favorite compact juicer brand, fruit juice is an ideal alternative in case you run out of orange zest in your kitchen. You should use the juices belonging to the citrus family, such as lemon or lime.
It's because they are relatively close to the taste of orange zest. However, juice does lack that strong taste, so it's better to double up your dose.
Keep in mind that fruit juice cannot be used with certain recipes because it is, well, a liquid. Don't worry – the solution is coming up next.
Fruit concentration, or fruit concentrate, is basically fruit with water removed. This is done through the evaporation process, which results in a complete loss of nutrients like vitamin C. So, what's left? Only sugar and calories are retained there. To make it become more condensed, syrup-like, artificial additives are added.
Fruit concentration does not seem that tempting, at least if you are concerned about the health factor. However, it comes in handy if you cannot use fruit juice in your recipe. For example, if you are baking a loaf of bread, orange juice does not sound like a good idea since it will give an abundance of moisture to the batter, making it all sloppy.
Moreover, fruit concentrate has more of a punch than fruit juice. It has a stronger and more citrus-like aroma that you cannot resist sniffing. ¾ tablespoon of concentrate should be equivalent to 1 tablespoon of orange zest.
Similar to fruit concentrate, we have citrus extracts, obtained by the rind and the flesh of the fruits. Given that, pure extracts lend the most flavor to your dish so I recommend that you should give it a taste for desired result. I suggest that ½ or ¼ tablespoon of extract comes quite close in flavor to 1 tablespoon of zest.
As the name implies, the pure extracts are completely pure (no preservatives or additives needed) – and you can make them at home, too. Simply blend fruit juice, oil, water, and sometimes alcohol and keep the mix in an airtight container at room temperature.
Need something to wash down your meal? Limoncello is an Italian alcoholic beverage that does wonders. The drink is particularly popular in Sardinian culinary culture.
To make limoncello, the lemon zest is let chill in a type of grain alcohol for a week. After this point, the liquor is strained into a syrup mixture made from water and sugar. The result is a perfect balance between sweetness and tanginess and appealing yellow color.
Thanks to the syrup, Limoncello is sweet but you will also notice the pleasantly acidulous hint of lemon when you take a sip. Normally, Limoncello replaces the role of orange zest in cocktails because of its citrusy flavor. However, the two ingredients are not quite a match since the tartness of lemon is more subtle compared to orange zest.
For 1 spoon of orange zest, I recommend 2 tablespoons of Limoncello. If it's too mild, go for 3.
Give your savory dishes a tangy spin with tamarind paste, a fruit that is harvested in pods. Tamarind has quite a pleasant aroma but definitely not citrusy, so it may give you a completely different vibe. A little taste test is required if you are using tamarind paste to cook your dishes.
If you have a keen sense of smell, you may notice a vague smoky hint in the tamarind paste. Therefore, you should only use it if you plan to marinate your sauces, curries, or meats.
It's no coincidence that I decided to put orange marmalade at the bottom of the list, as it's better off as an alternative ingredient for tamarind paste. Even though it is made from oranges, orange marmalade should only be the last resort for substituting orange zest.
Orange marmalade is a burst of flavor that enhances your culinary experience when combined with any other ingredients. Even so, the orange part in the marmalade is not as vibrant as zest. If your guests are the dessert connoisseur, chances are that they will notice a striking difference – the bitter aftertaste that lingers.
FAQs
Still, left with some questions about orange zest and its substitution? Read this section to see the answers you are looking for.
Further Information
The above mentioned substitutions are not just for the sake of flavor. Orange zest, if not prepared carefully, may pose a threat to your health.
Farm-grown oranges usually have a residue of pesticides on the surface. If consumed, the risk of getting critical diseases like cancer will increase. In some places, the oranges are also coated with preservatives for the curb appeal. Give your oranges a wipe to see whether the color changes.
Therefore, to get rid of all the chemicals, carefully rinse the oranges under hot water twice before cooking.
That's all my knowledge about orange zest and its substitutes. Be experimental and have fun with your ingredients to find out which works best for your needs. What about you? Which one will you opt for your next scrumptious pie? Let me know in the comment section and feel free to share with me and other readers what other ingredients that can do the job.
Nutrition Facts
1 servings per container
Serving Size1 tbsp (6g)
---
Amount Per ServingCalories102
% Daily Value *
Sodium 0.4mg

0

%
Potassium 9.6mg

1

%
Total Carbohydrate 1g

1

%

Dietary Fiber 0.6g

0

%
Sugars 0.3g

Protein 0.1g

0

%
---
Vitamin A

0.1

%
Vitamin C

13

%
Calcium

0.6

%
Iron

0.3

%
* The % Daily Value tells you how much a nutrient in a serving of food contributes to a daily diet. 2,000 calories a day is used for general nutrition advice.