When it comes to tangy-smell and acidic fruits, lime vs. lemon is still a debate to identify the best one. Moreover, not everyone can tell the differences between them.
In the culinary world, lime and lemon are versatile and valuable ingredients to add a little bit of sourness to your dishes. Both of them can shine in various recipes, from savories to desserts.
As a result, they are frequently used interchangeably. So let me assist you in determining lemon and lime differences and similarities so that you may select the most suitable fruit for your dishes from now on.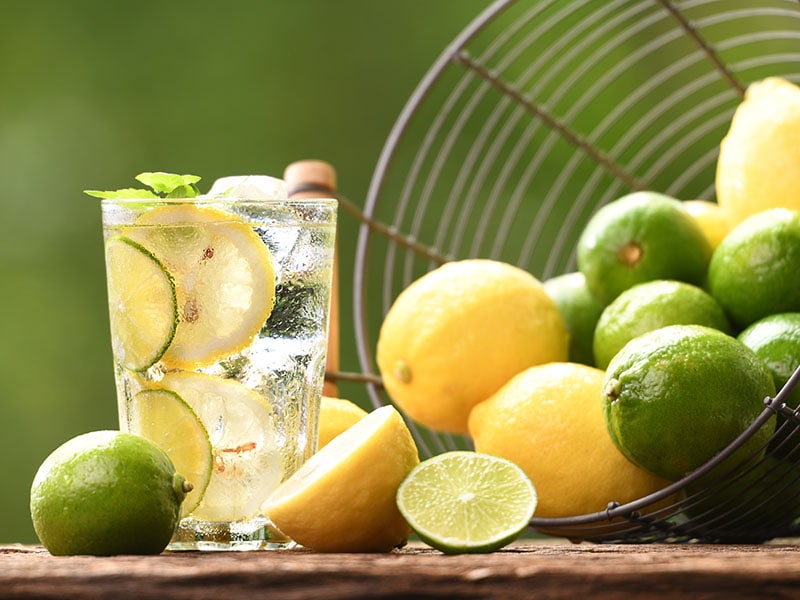 Lime And Lemon Features – Are They Similar Or Different?
Have you ever tried your hands at some recipes for lime water, and wondered to yourself "What's the difference between lime and lemon?" After all, the only apparent difference between them is their colors.
To cut the long story short, aside from their vastly different colors, limes and lemons also have several other dissimilarities. These include: cultivation, shapes, sizes, as well as taste.
Do not go anywhere; I guarantee all information here is what you are looking for about how lime and lemon work and their other characteristics. I'll introduce to you the main varieties, names, and pictures of these citrus fruits so that you'll have an easier time distinguishing them.
What Is Lime? Do You Usually Use Them?
Before getting to know about limes, I used to think limes are unripe lemons. But it is a big misconception as they are different types of fruits. Here is some exciting information about lime.
8 Lime Fun Facts That You Should Know
Lime is a hybrid fruit from male citrons and female sour oranges.
Lime's scientific name is Citrus aurantifolia.
Some types of lime have a yellow peel color when they are mature.
Their origin is still unfound; however, many wild limes can be spotted in Indonesia or Southeast Asia.
In the 10th century, Arab buyers brought lime trees to present them in Egypt and Northern Africa.
During the 12th and 13th centuries, Crusaders introduced lime to Mediterranean countries.
The term 'lime' originated in Spanish.
Lime consists of 88% water, 10% carbohydrates, and 1% fat and protein.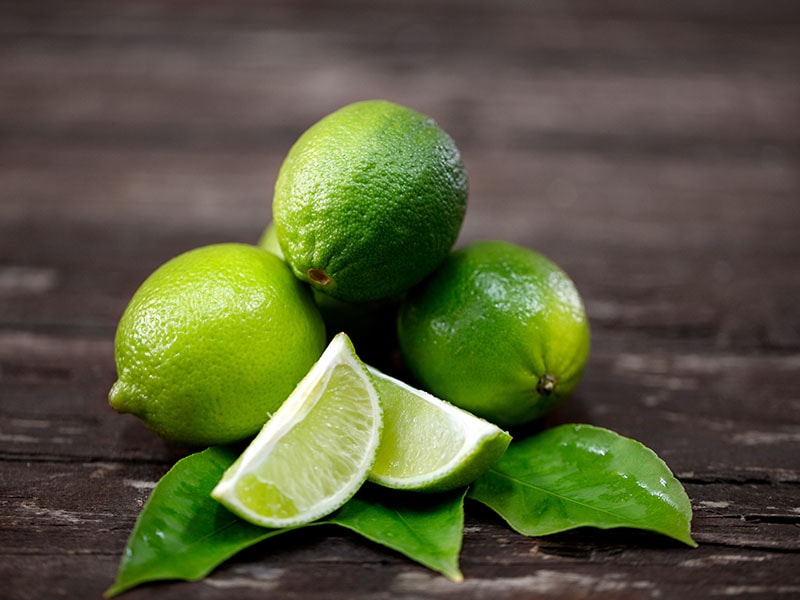 Varieties Of Lime
Limes, like lemons, come in a variety of varieties, from commercial limes to wild limes with 20 types of lime. However, I will only introduce some basic and popular limes around the world.
Key Limes (Mexican limes): A small-sized lime with a round shape is strongly developed in hot climates. Their color is somewhere between yellow and green.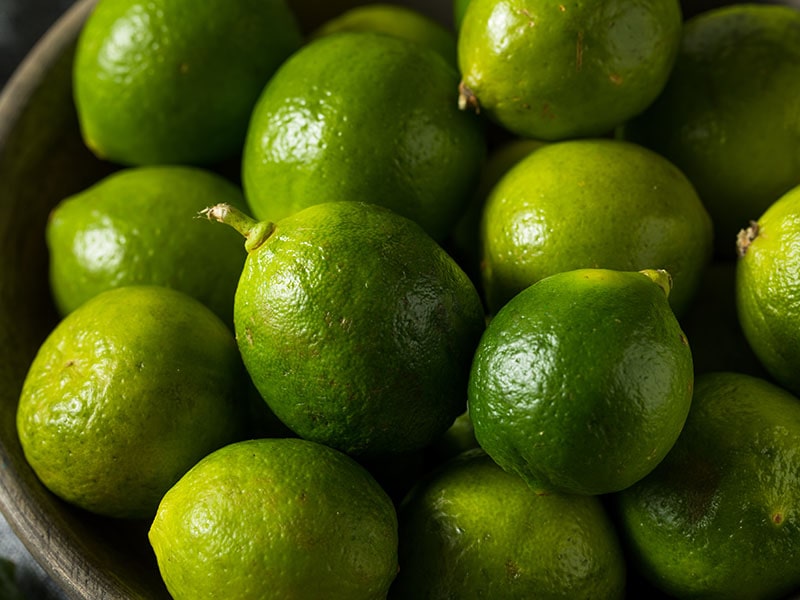 Bearss Limes (Persian Limes): This lime is one of the most well-known types worldwide. They have a larger size and rounder shape compared to key limes. Also, they are seedless lime.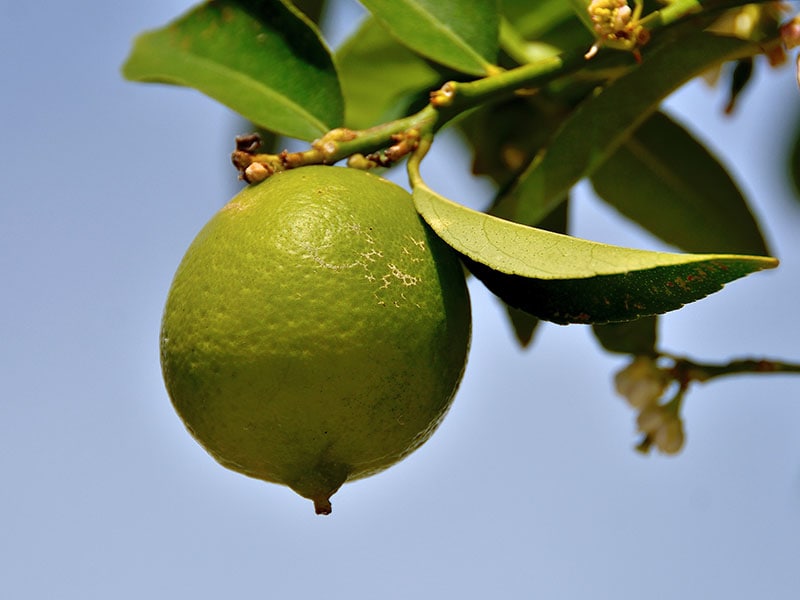 Tahiti Limes: Like Bearss limes, Tahiti limes are seedless with an oblong shape. They also contain less acid.
Kaffir Limes (Citrus Hystrix): The popular lime in Asia has green and bumpy skin. However, when they are ripe, they might have a yellowish color.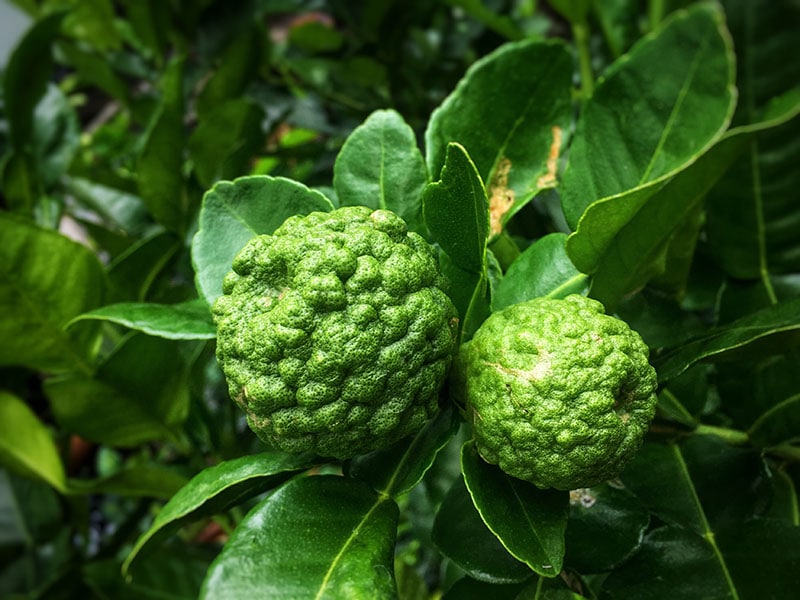 Calamansi Limes (Philippine Limes): Unlike other lime types, this one has orange color in the flesh and is grown in the Philippines and some countries in the Asia region.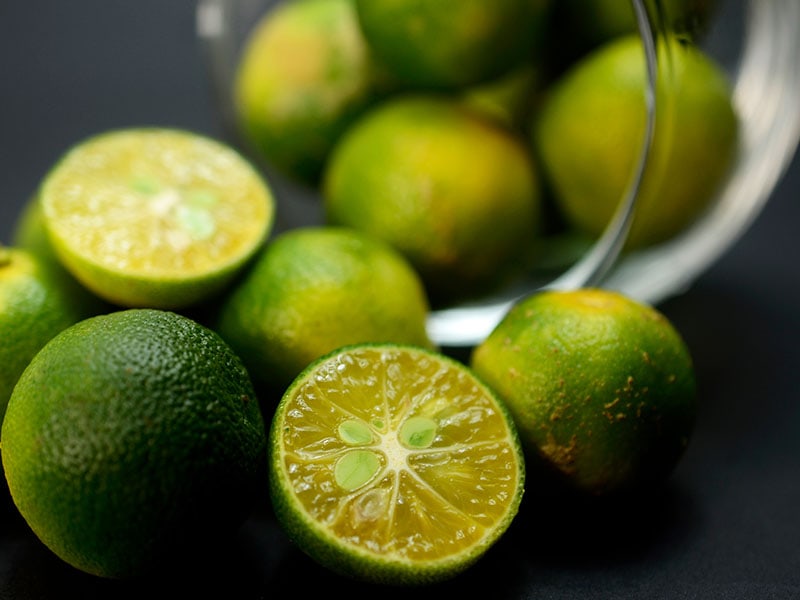 Finger Limes: This lime has a unique shape and flesh with many succulent pearls inside. This fruit or veggie beginning with "F" has a cylindrical and extended body with rough skin.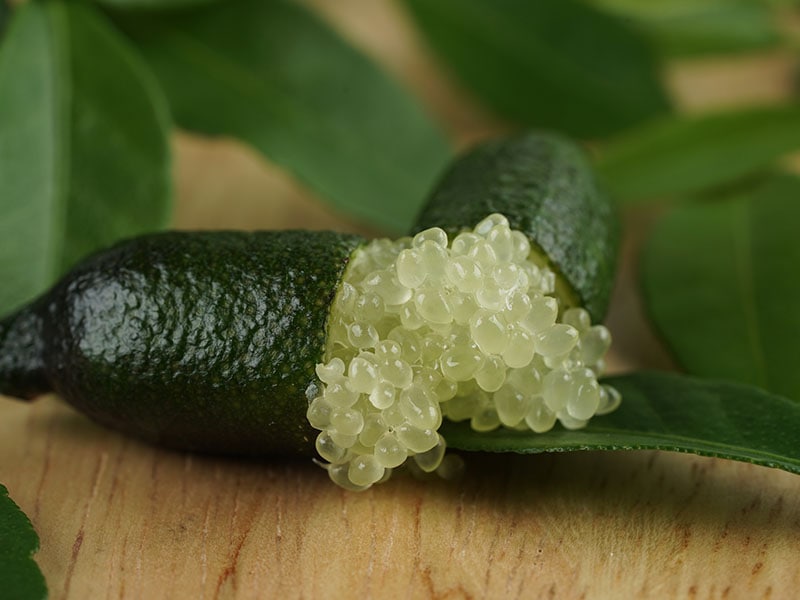 Blood Limes: They have a red color with a small egg shape. Their flavor is sweet and tangy.
Rangpur Limes: This lime has a small-orange look, but its flavor is still acidic.
Limequats (Citrus Floridana): Their green flesh tastes somewhat bitter and sweet. Limequats have a lemon-like look, so you might not recognize them as a lime type.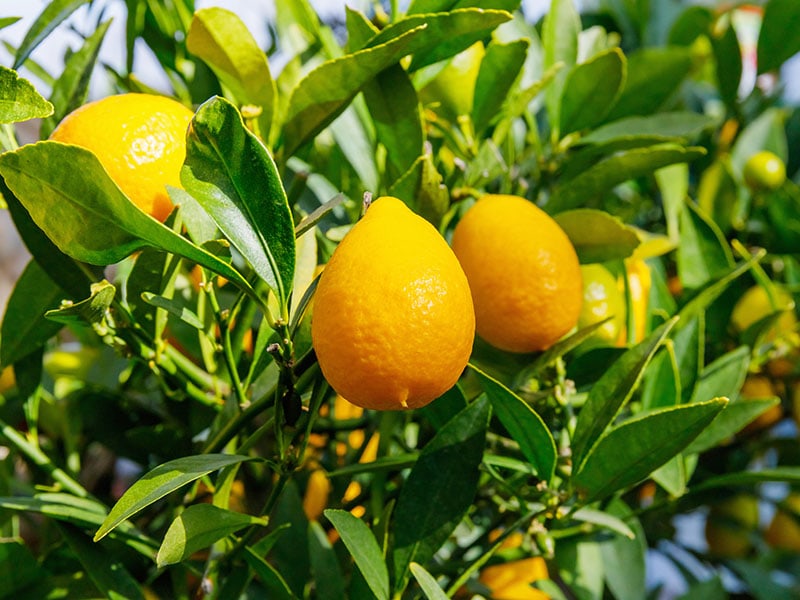 Amazing Uses Of Lime
Like lemon, limes are perfect for culinary, medical, and cleaning as well. Here are the details about how you can use and enjoy lime.
For Culinary
Lime juice can add a tangy flavor to many dishes, from vegetables or meats. You can use them to make various desserts, for example, the key lime pie.
With a strong lemon odor and delicate flavor, some Asian cuisines (like Vietnam and Thailand) also use lime leaves for seasoning purposes.
Similarly, limes go well with various drinks (e.g., juice or cocktails) like lemon.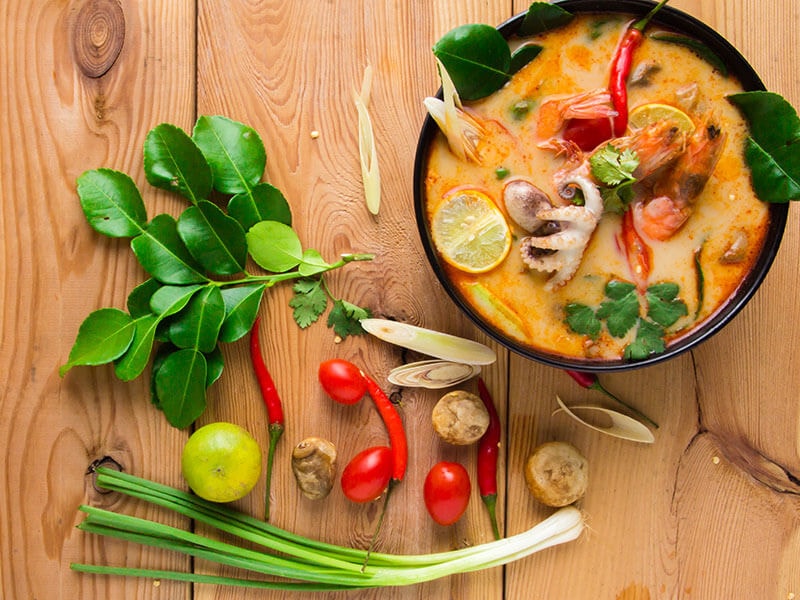 For Medicinal
Lime oil acts the same way as lemon oil in aromatherapy. By using it, you can relax your mind and body.
The antiseptic and antibacterial content in limes works well to produce some medicines. People also use limes to make medicines for diarrhea treatment.
For Cleaner
Besides the same cleaning features as lemon, you can use 2 to 3 drops of limes and combine them with your facial cleanser to enhance the cleaning efficiency.
Or you can use them to clean your house, particularly your kitchenware, as they can get rid of the grease effectively on your stove or in the microwave.
You can also use lime to clean the window. Add lime juice to a spray bottle and spray on the place that you want to clean. They can work well to clean shower doors or some rusty surfaces as well. Moreover, the smell of limes can limit the bad odor from your garbage.
Other Uses Of Lime
As they are high in vitamin C and have other beneficial properties, lime is a perfect fruit for your skincare routine.
Lime can work fine to reduce wrinkles, dark spots, or scars on your face. That's why many cosmetic products (e.g., body and hair oil, soap, deodorant, mouthwash, toothpaste, etc.) use limes to produce it.
When Life Gives You Lemons, What Would You Do?
Making lemonade, perhaps? Lemons, on the other hand, are far more useful. This succulent fruit with a tart flavor is not only good for cooking, but it also has several additional advantages that are beneficial to our life. Let's learn about them in the sections below.
6 Interesting Facts About Lemon
Lemon is a familiar food to many. However, I believe there are still many myths about it. For example, the debate about whether lemon is a fruit or vegetable hasn't reached its end. So, let's learn some cool facts about lemons now!
Lemon origin is Asia, especially in the North of India, North of Burma, and China.
The hybrid between the sour orange and the citron creates lemons with the scientific name Citrus lemon.
Lemons have a sour taste: they contain 5 to 6% citric acid and are high in vitamin C.
California and Arizona are 2 significant places to cultivate and supply lemons in the USA.
Lemon was introduced to Americans by Christopher Columbus in 1493.
Lisbon, Eureka, and Meyer lemons are the most popular lemon types.
Varieties Of Lemon
Whenever I mention this well-known fruit starting with L, the first thing that crosses your mind must be the yellow peel lemon that you normally buy in the supermarket.
But do you ever think that lemons have more than 20 varieties around the world with different appearances as well? Here is short information about some lemon types.
Top 3 Most Common Lemon Varieties
There are 3 lemon types that you can easily find in your local markets. They are Lisbon, Meyer, and Eureka, with some distinctive characteristics.
Lisbon: This one is the most popular lemon with the yellow peel. Lisbon lemon is a medium-sized lemon with an oblong shape.
This lemon variation is an extremely juicy fruit with few seeds (or no seeds). Their peak seasons are winter and spring.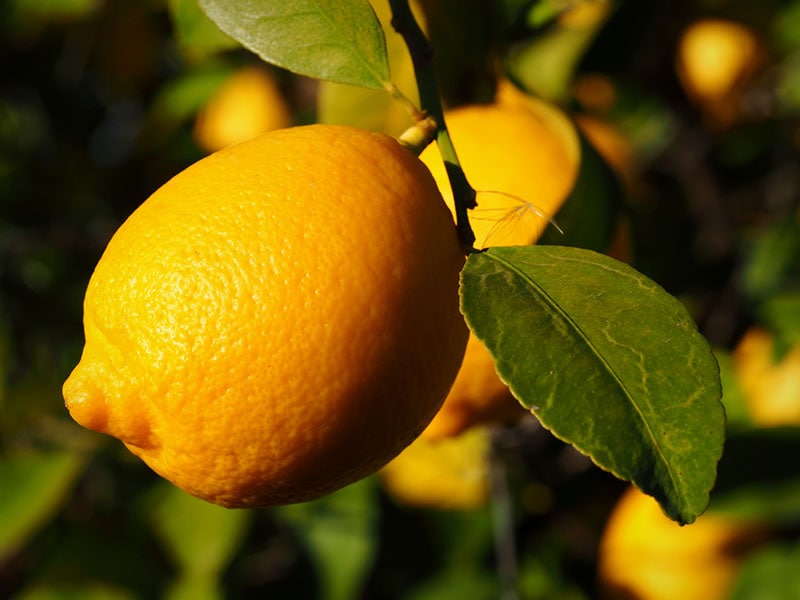 Meyer: This lemon type has a rounder shape and smoother skin with pale orange flesh. Their taste is somewhat between lemon and sweet orange.
Meyer lemon flavor is sweeter than other lemon varieties. So it would be perfect for you to add them to your cocktail or vinaigrette.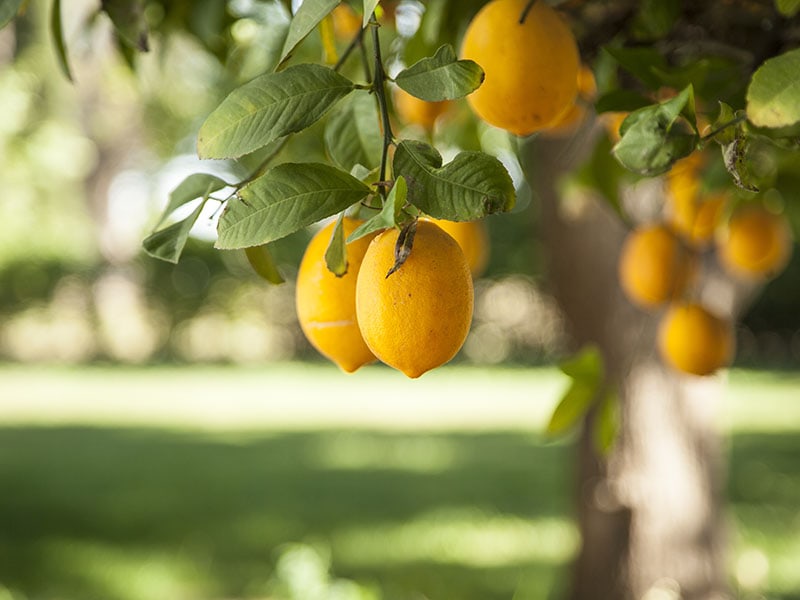 Eureka: They look similar to Lisbon on the outside and have few seeds inside. Their peel is pretty thick with a strong citrus smell. The peak season of this lemon is from late winter to early spring.
Their previous name is Garey's Eureka, which was derived from the first propagator of this tree – Thomas Garey.
Want to know how the 3 most popular lemons, Lisbon, Meyer, and Eureka, are different? This visual view will solve your question.
Other Common Lemon Varieties
And here are some more lemon varieties that are popular around the world. Some will surprise you with their unique looks.
Bearss Lemons: These lemons are very similar to the Lisbon type, and they grow well in humid areas.
Pink Variegated: Their skin is rough with some green stripes and quite similar to a grapefruit.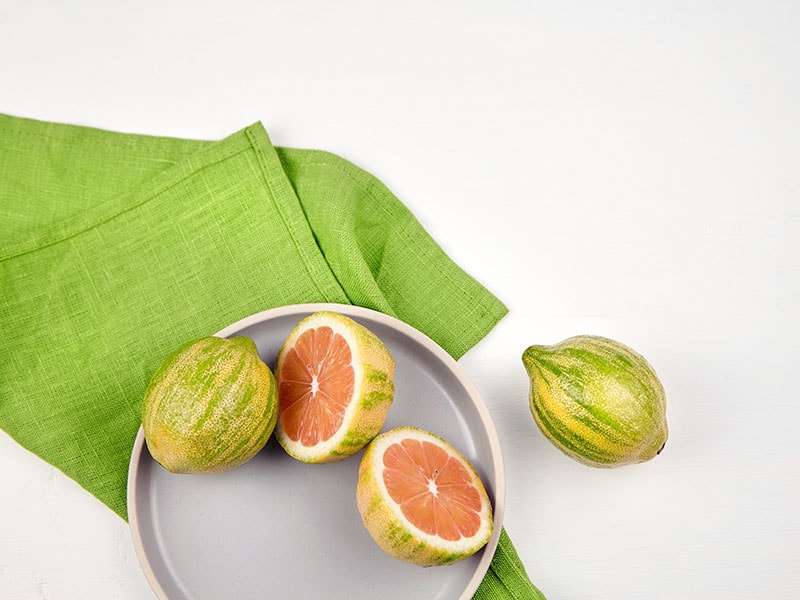 Primofiori: They also have the same look as Lisbon, yet their shape is more oval.
Verna: They are a larger version of Eureka with an almost double size compared to Eureka.
Buddha's Hand Lemons: This lemon has a unique shape with many fingerlings from a circular core.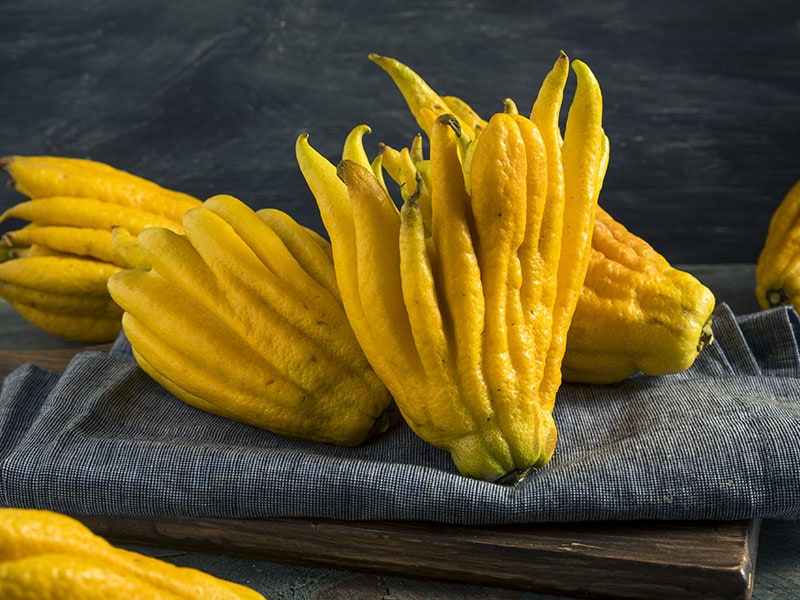 Bush: They look like old lemons with wrinkles and bubbles in their skin.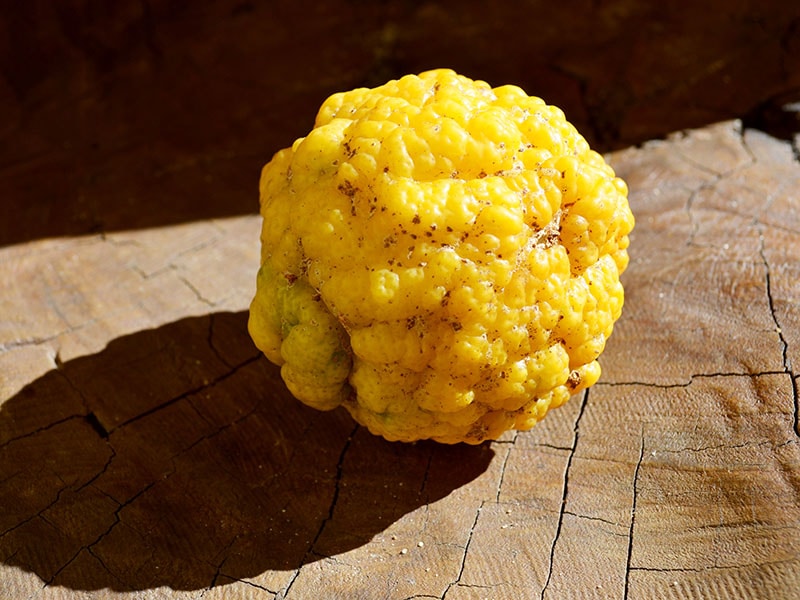 Avon (aka Avalon lemon): This lemon also has the same appearance as Eureka and is mostly used for producing concentrated juice.
Citron Lemons (Citrus medica): This type is not 100% lemon, but they have a similar tangy taste to other lemons.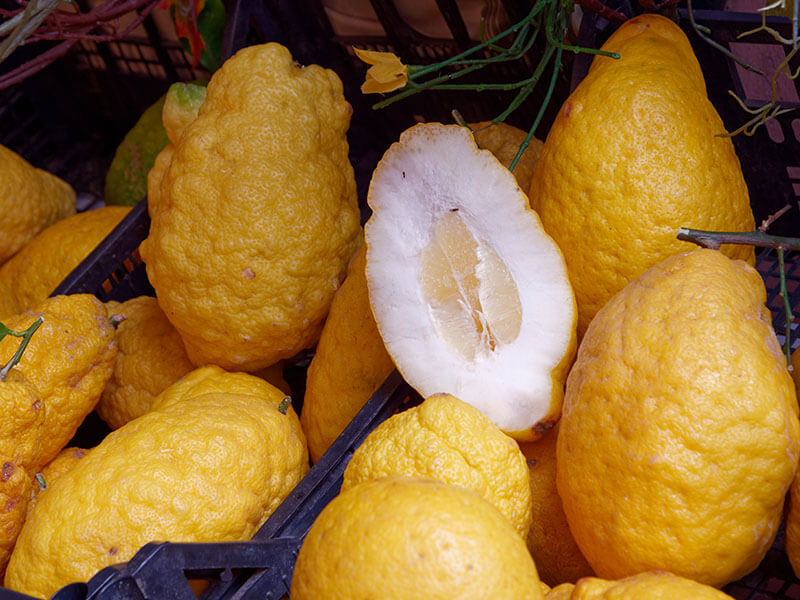 Yen Ben: With thin and smooth skin and only available in fall and winter.
Lemon Usage That Beyond Your Thinkings
As I mentioned, lemons are not only for culinary usage; they also have various benefits in other aspects. Here are the extensive advantages of lemon.
For Culinary
Their advantages are from their juices, skins, and even leaves with specific features that everyone will love.
Lemon Overall: You might have seen many dishes and beverages garnished with some slices of lemon. You can make marmalade from lemons as well.
Lemon Juice: For savories and sweets, lemon juice adds acidic flavor to dishes. Try making some desserts from lemons at least once, you won't be disappointed by the results. And with premium lemon squeezers at your disposal, making a large batch of lemony goodness is easier than ever.
The benefit of lemon juice for preservation is also exciting. You can use lemon juice to marinade fish as the acid content in juice can neutralize fish's amines, making your fish tender.
For fruits that quickly turn brown after cutting (e.g., apples, bananas, avocados), lemon juice can also preserve them in the short term.
Lemon Peel: You can make sweets, lemon sugar, and extract with lemon peel. Adding lemon peel into many meaty or poultry dishes is also a great idea for seasoning it. Also, lemon peel can both add flavor and garnish many drinks.
Lemon Leaves: Making tea is a common way to use lemon leaves. Not only that, Italians use lemon leaves to cover cheese and meats.
For Medicinal
People have used lemon fruit, juice, and peel to make medicine for a long time. Lemon juice is a good natural treatment to prevent bacteria and detox your body organ.
The oil extracted from the lemon can be used as an aromatherapy. The aroma from lemon oil is perfect for relaxation without affecting human health.
Moreover, inhaling lemon essential oil can help pregnant women reduce morning sickness. But do not directly inhale this oil; remember to drop some oil on a cotton ball before sniffing it.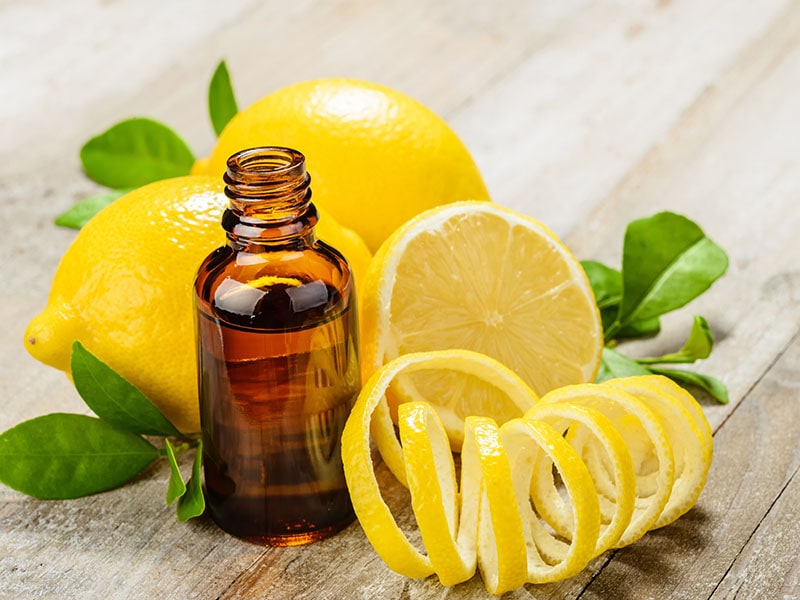 For Cleaner
Lemon and its citric acid are excellent natural cleaner ingredients to clean your kitchen, house, and woody products.
By combining lemon with salt or baking powder, rub them on your kitchenware to clean the grease and brighten your tools. Also, you can polish your wooden items with lemon oil.
For more incredible household applications with lemon, let's check this short yet detailed demonstration.
Other Uses Of Lemon
The acid contained in lemons can aid the process of fermentation.
For agriculture purposes, lemon oil is a great treatment for insects.
Lemons can be linked to electricity production though they have very low power.
Lemon juice can also act as a heat-activated invisible ink.
Lemon juice can act as a natural bleach and increase the blond color for hair.
The Exhaustive Comparison Between Lime And Lemon
Look at this information for a quick review of lime and lemon and their commonalities and dissimilarities. Some of them will surprise you.
Lime
Scientific Names: Citrus aurantifolia
Hybrid Origin: From male citrons and female sour oranges.
Cultivation: Warm weather (Tropical and subtropical climates)
Variations: 20 lime varieties (Popular ones are Key limes, Bearss limes, and Tahiti limes)
Fruit Appearance:
Color: Green (mostly)
Skin: Thinner skin
Shape: Round
Size: Smaller and rounder than lemon. From 1 to 2 inches (3 to 6 cm) in diameter
Tree Appearance: Shorter than lemons with slimy bodies and small leaves
Time to Harvest: Can be picked throughout the year since limes and lemons mature periodically
Taste: Tart and bitter than lemons with a slight hint of sweetness
PH Level: 2.00 to 2.35
Nutrition Level: Quite similar to lemon
Health Benefit: Quite similar in health benefits lemons have a lower glycemic index than lime, decreasing blood glucose concentration.
Health Risk: Similar health risks
Usages:
Used well for culinary, cleaning, and medical
For cooking, lime can be used in dressings, sauces, marinades, beverages, and cocktails.
However, as lime is bitter, they fit well in savory dishes.
Limes are more popular in Mexican, Latin, or Southeast Asia.
Storage: Should be stored in the fridge at more than 4 F degrees, and they can last for up to 2 weeks
Lemon
Scientific Names: Citrus lemon
Hybrid Origin: From female micrantha and male citrons
Cultivation: Moderate climate
Variations: More than 20 lemon varieties (Popular ones are Lisbon, Meyer, and Eureka)
Fruit Appearance:
Color: Yellow
Skin: Thick skin
Shape: Oval
Size: Bigger than lime with an oval or oblong shape. From 2 to 4 inches (7 to 12 cm) in diameter
Tree Appearance: Larger bodies and branches with higher height at around 20 feet
Time to Harvest: Can be picked throughout the year since limes and lemons mature periodically
Taste: Sourer than lime with a refreshing scent
PH Level: 2.00 to 2.60
Nutrition Level: Quite similar to lime, but lemon has higher vitamin C
Health Benefit: Quite similar in health benefits lemons have a lower glycemic index than lime, decreasing blood glucose concentration.
Health Risk: Similar health risks
Usages:
Used well for culinary, cleaning, and medical
For cooking, lemon is also used for dressings, sauces, marinades, beverages, and cocktails.
However, the sweetness in lemon can work well in both savory and sweet dishes.
Lemons are more popular to make desserts and Mediterranean or European dishes.
Storage: Can store well at room temperature or in the fridge, and they can last for around 2 months
Lime Vs. Lemon – Cultivation
Lime can develop well in tropical and subtropical climates. Therefore they are commercially grown and widely used in Brazil, Mexico, Vietnam, Israel, or some South American regions.
However, for hardy lemons, the minimum temperature is approximately 45 F degrees (7 C degrees); therefore, they would be better to grow in moderate climates. China, Brazil, India, Mexico, and Argentina are the 5 nations that produce the most lemons worldwide.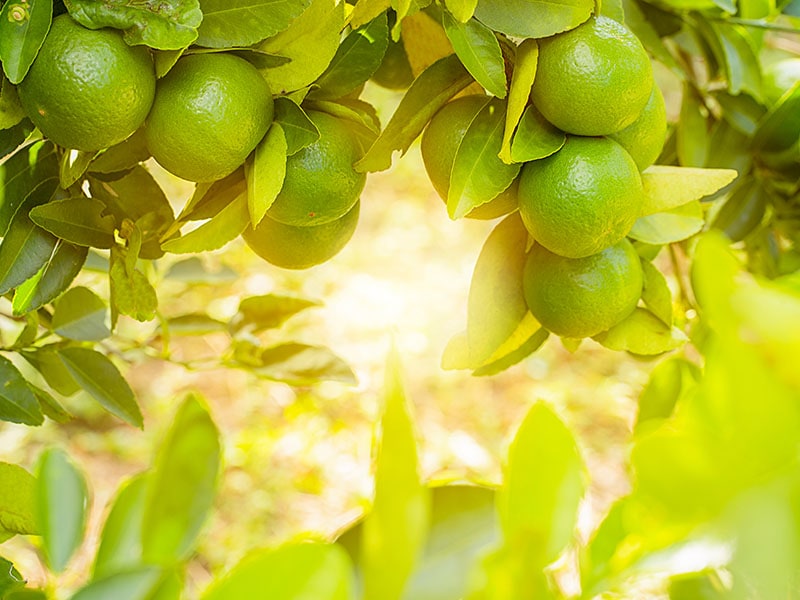 Lime Vs. Lemon – Appearance
The easiest way to tell the difference between lime and lemon is their color. Limes are green, while lemons have a vibrant yellow color. However, some old lime can turn to a yellow hue.
Their shapes are also different as limes are rounder, and lemons mostly have an oval shape. Lime skin is thinner, while lemon skin is thicker and rougher. Moreover, lemons' ends are more pointed compared to lime.
Regarding lime and lemon size, limes are smaller than lemons. A standard lime is from 1.2 to 2.4 inches (3 to 6 cm) in diameter, while lemons are around 2 to 4 inches (7 to 12 cm) in diameter.
However, if you are still confused about their appearance, cut them in half. Lime flesh still has a light green color, and lemon is still yellow.
For more information, lime trees and lemon trees also have different looks as lime trees are much shorter than lemon trees. Lime tree bodies and branches are also smaller than lemons.
Lime Vs. Lemon – Taste
Overall, both of them are sour, but limes are tart and slightly bitter than lemons with a hint of sweetness. However, lemons tend to be sour than limes, with a more refreshing scent.
The sour of both lime and lemon also depends on their pH levels as the pH indicates the acidity. And pH level in lime juice ranges from 2.00 to 2.35, while lemon juice pH is from 2.00 to 2.60, making lemon juice slightly sour than lime juice.
Lime Vs. Lemon – Nutrition Level
Overall, lemons slightly outweigh nutritional levels compared to limes. Here is the table regarding vitamins and minerals in lemon and lime.
| For 100 grams per fruit | Lime | Lemon |
| --- | --- | --- |
| Calories | 30 | 29 |
| Carbohydrates | 11 gr | 9 gr |
| Fiber | 3 gr | 3 gr |
| Fat | 0 gr | 0 gr |
| Protein | 1 gr | 1 gr |
| Vitamin C | 48% of the RDI | 88% of the RDI |
| Iron | 3% of the RDI | 3% of the RDI |
| Potassium | 3% of the RDI | 4% of the RDI |
| Vitamin B6 | 2% of the RDI | 4% of the RDI |
| Vitamin B9 (folate) | 2% of the RDI | 3% of the RDI |
As you can see from the table, lemon and lime nutritional values are pretty similar. However, the level of vitamin C in lemon is much higher than in lime, with 88% and 48%, respectively.
In addition, lemon and lime are famous for being rich in citric acid. But when comparing them, lemons have a little bit more citric acid content than lime with 1.44 grams/oz and 1.38 grams/oz for limes (1). But do not worry; these minor differences will not affect your daily intake.
Lime Vs. Lemon – Health Benefits
There are various health advantages of using lime and lemon. Here are some key benefits that they could bring to your body.
Improve Heart Health: Both of them are high in flavonoid content, reducing the possibilities of cardiovascular diseases like strokes. However, comparing lemon and lime, lemons are a winner as they have higher flavanones.
Prevent Diabetes: Both lime and lemon juice can reduce your blood glucose, thereby controlling diabetes mellitus. Also, the antioxidants in both can protect you from diabetes.
Control Weight: You can use either lemon or lime to aid your weight-loss diet. If you can stand the sourness, you can eat the lemon instead of making juice to enhance the efficiency.
Reduce Cancer: The phytochemical in lime and lemon is more likely to decrease cancers like colon, breast, and lymphoma cancer.
Prevent Kidney Stones: Citric acid, found in lemons and limes, can help you avoid kidney stones by raising the pH level in your urine, allowing the crystals that cause kidney stones to dissolve.
However, the glycemic index (GI) is an important number to show how food can impact blood sugar. High GI results in high blood sugar.
The GI in lime is higher than in lime, with 32 and 20, respectively. So you can conclude that the blood sugar concentration when consuming lime will be higher than when you consume lemon; making lemon is better than lime, based on the GI value.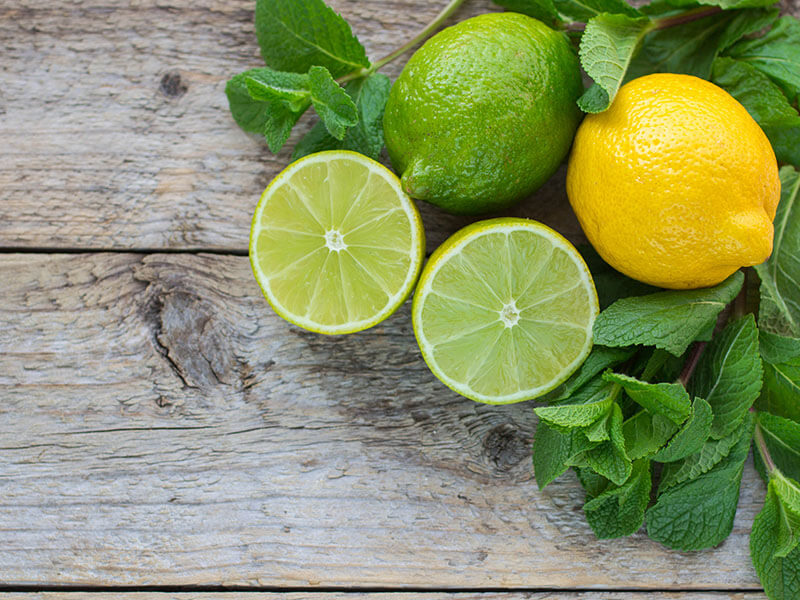 After learning about these advantages, you will never underestimate the potential of lime and lemon to boost your health. You should see the video below:
Lime Vs. Lemon: Potential Health Risks
Besides health advantages, there are some drawbacks that lime and lemon both have, especially when you excessively consume them.
Heartburn: As they consist of a high level of acid, consumption of lime and lemon can result in heartburn and lead to gastroesophageal reflux diseases (GERD) like vomiting or nausea, particularly if you eat them when there is nothing in your stomach.
Oral Health: You might expect the enamel on your teeth can be eroded as the effect of the acid, leading to the sensitive tooth and cavities (2).
Therefore, it would be better for you not to consume concentrated lemon or lime juice regularly. But when you do, use a straw for drinking.
Other Risks: For those allergic to citric fruits in general, lime and lemon contain limonene, a compound that can cause hives on the skin, swelling, and eye irritants.
Also, wearing gloves when you are using citrus-based with other cleaning components to clean your stuff as the mixture of acid in the fruits and chemicals can negatively affect your skin.
Lime Vs. Lemon: Usages
As mentioned in the above parts about lime and lemon usages, they have various culinary, medical, and cleaning applications.
Culinary Uses
Either lemon or lime juices can be added to salad, grain-based dishes, meats, fish, and drinks. Their peels are also perfect for adding a citrus smell to your dishes.
Lime and lemon are both ideal ingredients for desserts, though lemons are more likely to be popular than lime in making desserts. But, the key lime – the star used to make a delicious and well-known key lime pie.
Overall, limes are more suitable for savory dishes, while lemons can pair well in savories and sweets.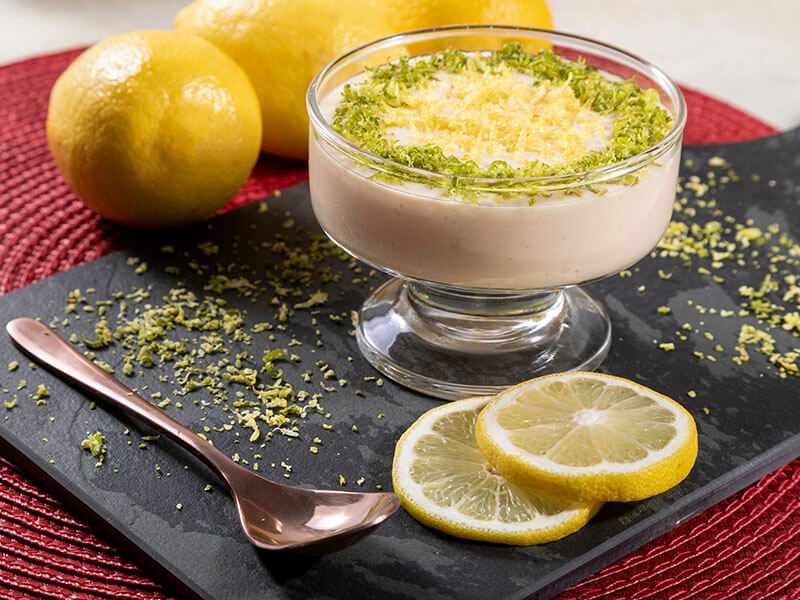 Moreover, lime is more popular in Mexican, Latin, or Southeast Asian cuisines, whereas most Mediterranean or European dishes use lemon. Imagine squeezing lime over your lasagna; it would not be too fit for this dish.
Natural Cleaning Agents
Both of them are excellent components for cleaning. You can kill bacteria by using lemon or lime juice.
White vinegar, baking powder, or water accompanied with lemon juice will create the best natural cleaning agent, so you can easily clean any surface like pots, coffee makers, dishes, microwaves, or even fabrics.
Producing Medical
Both of them have health benefits to create a good treatment for anti-inflammatory and antiseptic properties. The essential oil from lemon and lime is also good for your mental health as it can ease your anxiety and improve your mood.
Lime Vs. Lemon: Storage
Lime can be kept at room temperature, but storing it in the fridge would be better to extend its shelf life. Wrap lime carefully in a sealed bag, and place them in the refrigerator with a temperature higher than 4 F degrees (-16 C degrees). Make sure your fridge works fine as well.
What about lemon? Can lemons last forever? How to store lemons? Well, compared to limes, lemons have thicker peels, making them last well at room temperature and in the fridge for around 2 months. Make sure you keep them away from direct sunlight.
Lime and Lemon Juice Substitutions
In case you do not have lemon and lime juice on hand, there are several alternatives that you can try to add an acidic flavor to your dishes.
For Substituting Lemon Juice
Besides lime juice for lemon juice's substitution, here are 5 common options that you can choose to replace lemon juice.
Orange juice: With a ratio of 1:1 (as 1 teaspoon of lemon juice equals 1 teaspoon orange juice).
White wine or White vinegar: With a ratio of 1:1/2 (as 1 teaspoon of lemon juice equals 1/2 teaspoon of white wine/white vinegar).
Lemon zest: With a ratio of 1:1/2 (as 1 teaspoon of lemon juice equals 1/2 teaspoon of lemon zest).
Lemon extract: With a ratio of 1:1/2 (as 1 teaspoon of lemon juice equals 1/2 teaspoon of lemon extract).
Cream of tartar: With a ratio of 1/2:1 (as 1/2 teaspoon of lemon juice equals 1 teaspoon of tartar cream).
However, taste your dish frequently while adding these substitutions to ensure your dishes come out as you expected.
For Substituting Lime Juice
Although there are some parallels in substitutions for lime and lemon juice, other ingredients can also be used to substitute lime juice.
Other citrus juices: So apart from lime juice, grapefruit or orange can work fine with the ratio of 1:1. But you should note that grapefruit and orange juice are slightly sweeter than lime juice.
Vinegar: For example, apple cider or white vinegar with a ratio of 1:1/2 (as 1 teaspoon of lime juice for 1/2 teaspoon of vinegar).
White wine: With a ratio of 1:1/2 (as 1 teaspoon of lime juice equals 1/2 teaspoon of white wine), especially for making marinades and dressings.
Tamarind paste: With a ratio of 1:1/2 (as 1 teaspoon of lime juice equals 1/2 teaspoon of tamarind paste).
Similarly, it would be best to go with small quantities of substitutions first, then adjust the flavor until you are satisfied.
Cooking With Lime and Lemon
These are some of the most fantastic lime and lemon dishes you can prepare. And once again, lime and lemon will prove that they are flexible and unique in their own way with savory meals and sweets.
What do you usually cook with chicken wings? Do you want to add some fresh and sour flavor to your dishes? Just give this cilantro lime chicken wing a shot.
Especially when the grilling season is around the corner, you do not want to miss this delightful and so yummy dish. The combination of lime juice and cilantro adds a new level of flavor to chicken wings. So, let's fire up the grill.
Although the title calls for key limes, you may substitute ordinary limes from the store if you cannot find key limes. Other limes can work just well in this recipe.
This amazing pie does not even require the use of an egg. However, you will need around 10 limes to get enough juice for the pie. The filling of this pie is a great combination of sweet and sour, thanks to the mixture of sweetened condensed milk, yogurt, lime juice, and lime tart.
Come in a fancy look, but this key lime pie is a no-fuss dessert that you can easily make on a lazy weekend. Watch this video:
It should be fair to have another dessert with lemon. So how about this lemon zucchini bread to bring out the bursting flavor of lemon?
Zucchini, olive oil, lemon juice, lemon zest, and the touch of lemon glaze create the moistest and softest bread for a hot summer day. You can enjoy them as a snack, breakfast, or dinner. Very flexible, right?
Pasta is a simple dish to make regardless of what ingredients that they go along with. This lemon chicken pasta is no exception.
Within 30 minutes, the creamy and gooey pasta with soft chicken, peas, herbs, and some lemon tone is definitely a keeper. I bet your children will fight to get the last bite.
FAQS
Are there any benefits from lime or lemon water? And what is the best way to drink them? Can you replace limes with lemons and vice versa? These answers will provide you the brief information that you are looking for.
So, Lime and Lemon, Which One Is Your Favorite?
Now you know how lime and lemon operate, their nutrition, and their health advantages, you can select the best citrus fruit for you. However, if you want a larger dose of vitamin C, lemons are a better choice than limes.
Furthermore, because they are rich in acidity, they limit the amount you put into your body. So, why do you still hesitate to share this helpful knowledge with your family and friends? Let's help them know about it so they can appreciate and use lime and lemon properly.
References
Kristina, L. P., (2008). 'Quantitative Assessment of Citric Acid in Lemon Juice, Lime Juice, and Commercially-Available Fruit Juice Products'. Journal of Endourology, vol.22(3), pp.567-570.
Gabriela, S., Imola, B. (2014), 'Effect of Acid Erosion Followed by Remineralization Process on Microhardness of Dental Enamel', Procedia Technology, vol.12, pp. 308-315.