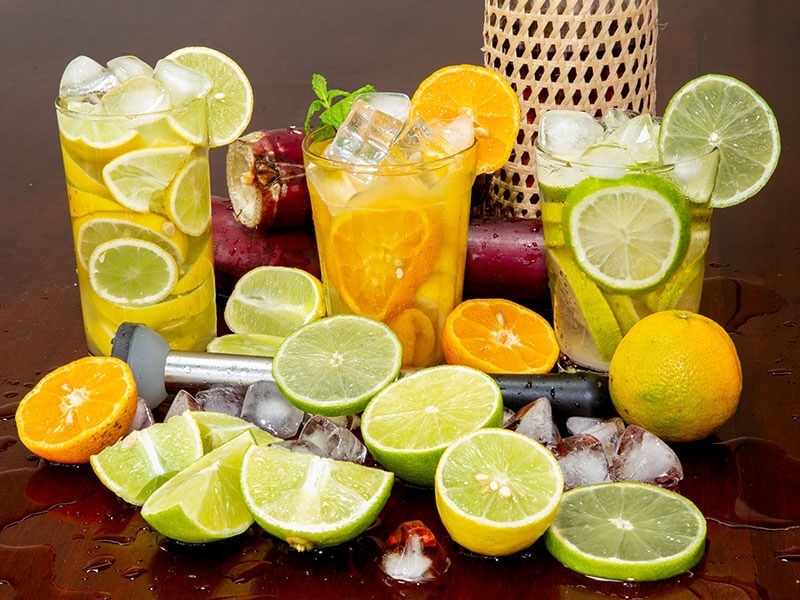 How many different types of lemons have you tried? Three or five? Well, there are way more than that. Lemons are not just lemons. They have many varieties that vary in origins, tastes, growing conditions, and uses.
If you are looking for a suitable type of lemon to grow or cook, this article is written for you. It includes essential information about all lemons varieties. It is the only resource that you need.
Lemons Are Versatile And Extremely Nutritious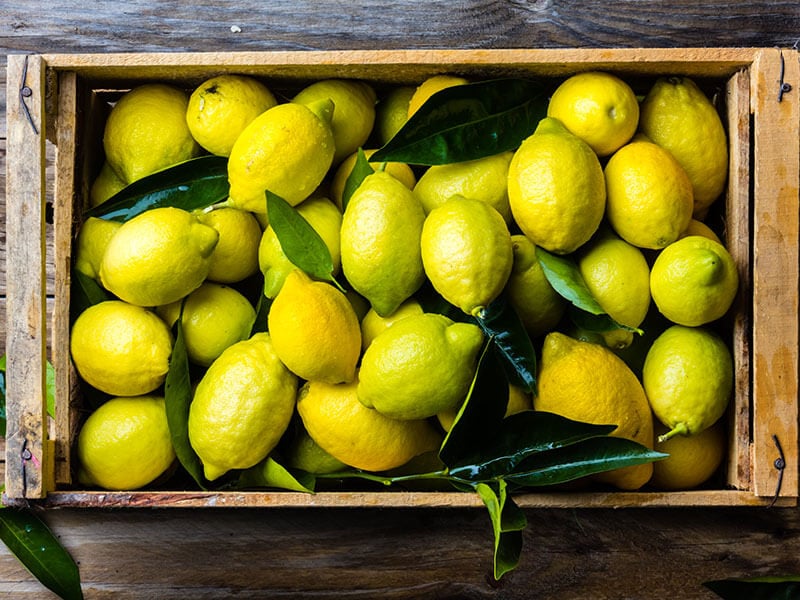 Despite the ongoing argument about whether lemon is in the vegetable or fruit group, it's still one of the most popular foods in the world.
Its juice is a vital ingredient in food and drink recipes. However, the juice is valued, and the peel, oil, and leaves are also utilized for other purposes, such as cleaning and aroma production.
What makes lemons the favorite fruit of everyone is their unique sour taste. This fruit can have many other forms, namely lemon juice, lemon oil, lemon powder, and lemon extract. Among them, lemon juice and lemon extract have some differences. You should learn to distinguish one from another.
Inside every drop of juice, there are plenty of nutritions that bring massive health benefits to your body. Most people know that lemons are rich in vitamin C, maintaining healthy skin and promoting heart health.
Besides, it also contains a lot of other beneficial substances such as citric acids, antioxidants, and phytochemicals. They can help reduce weight, prevent amenia and cancers, and a lot more.
31 Lemon Varieties You Should Try At Least Once
Welcome to my favorite part! I know you have been waiting for it. And here it is – a concise introduction to these citrus fruit varieties with names and pictures. Screenshot or note down any information you find interesting about these lemons because you will need them in the future.
1. Bearss Lemons
This variety is mainly grown in Florida and Brazil. Gardeners love it a lot because it is productive and very easy to grow, care for, and pick.
You can harvest it from summer to fall if you plant it, but you should note that Bearss lemons are not very cold hardy. Make sure you always place it in a cool place.
Many people confuse between Bearss lemons and Bearss lime. Knowing how to distinguish between lemon and lime will help you clarify the confusion.
Compared to other varieties, Bearss lemons are juicier and have fewer seeds. Its skin also contains a higher amount of oil. Regarding the taste, it is sourer, which is perfect for making drinks, such as lemonade.
2. Limetta Lemons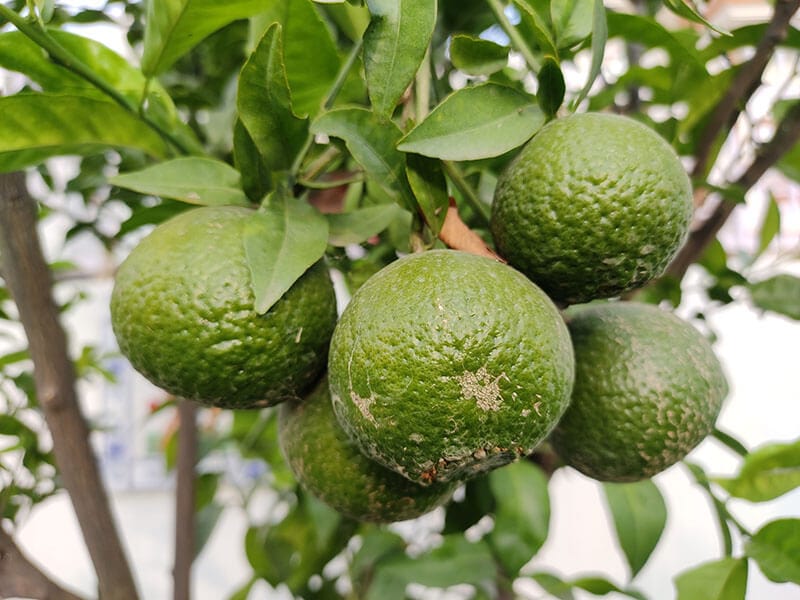 Limetta lemons are also referred to as sweet lemons because of their low acid content. It has an aromatic scent that is amazingly pleasant. This famous L-something fruit is sweet and slightly tart in taste. Because of that, people do not often use it to flavor foods but to make preserved lemons.
A great thing about Limette lemons is that growers can harvest fruit all year round. They have a medium size and a dark green color. But when ripe, they are bright yellow.
Explore them further here if you are curious about Limetta lemons!
3. Lisbon Lemons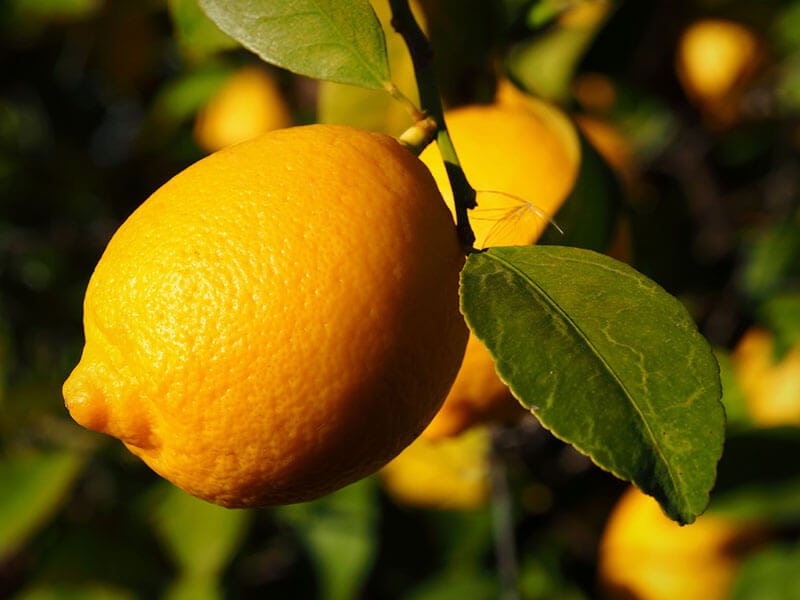 The following lemon type is Lisbon lemons. They come in smooth, fresh, and bright yellow skin. Libson has very few seeds and may not contain any seeds at all. Its citrusy aroma is also incredibly pleasing.
It has an acidic, tangy, and tart taste that makes a perfect element of any food and drink. It is particularly ideal for marinades and desserts such as lemon custard. You can also slice the fruit and use it to garnish your dishes. Its skin can be used as lemon zest.
If you want to plant a lemon tree that produces fruit all over the year, Libson is a great choice. Although the best time to harvest it is winter and early spring, you can feel free to collect it any time of the year.
4. Fino Citron Lemons
Fino lemons are very popular in Spain, especially in the Southeastern areas. People often harvest it from September to April.
As a crucial cooking ingredient in Spain, this variety has a very sour taste and juicy texture. People also use it for medical purposes. Interestingly, people use it to deodorize their refrigerators.
Due to a large number of seeds, this variety is not as common as the others. In addition, the large number of thorns make it difficult to harvest.
5. Yen Ben Lemons
Yen Ben lemons are a delicate variety that is hard to grow and care for. Its peak seasons are summer and winter, but you have to harvest it on time, or else it can spoil shortly after that.
Although Yen Ben lemons have an Asian-like name, they actually came from Queensland, Australia. It is often compared to Lisbon lemons, but many people consider it to be tastier.
This variety comes in yellow color and oval shape. It has very thin and smooth skin. The rind is also very thin, so it has more flesh than the Eureka and Lisbon variety.
Its taste is juicy and strongly acidic. There are very few seeds in its flesh. You can use it in any recipe that calls for lemons.
6. Verna Lemons
This variety is more popular in European countries, especially Italy and Spain. It is highly productive and can yield a large number of lemons each season.
Growers normally harvest them between early February and July, depending on the zone they are grown in. They are highly adaptable and can withstand cold climates.
Like most varieties, Verna lemons have a distinctive sour taste with some bitter notes. It has delightful yellow skin, juicy, tender flesh, and very few seeds.
Many people consider it to be similar to Eureka lemons, but in fact, it is a little bit larger. The rind is thick, and the bud is quite large.
7. Kagzi Lime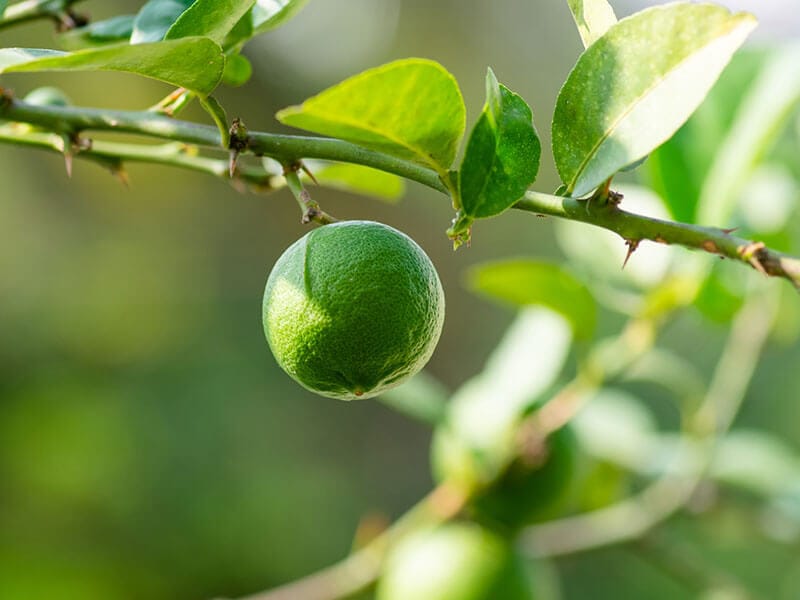 This type of lemons is sometimes regarded as a lime. But it is technically a lemon that originated in Central India. Its peak seasons are summer and winter.
Kagzi limes have a green color and turn to a bright yellow one when they ripen. They are often added to beverage and food recipes. They taste very sour, so make sure that you only use them in a small quantity.
Notably, this variety is also used for medical purposes. It can reduce irritation and treat mosquito bites.
8. Bush Lemons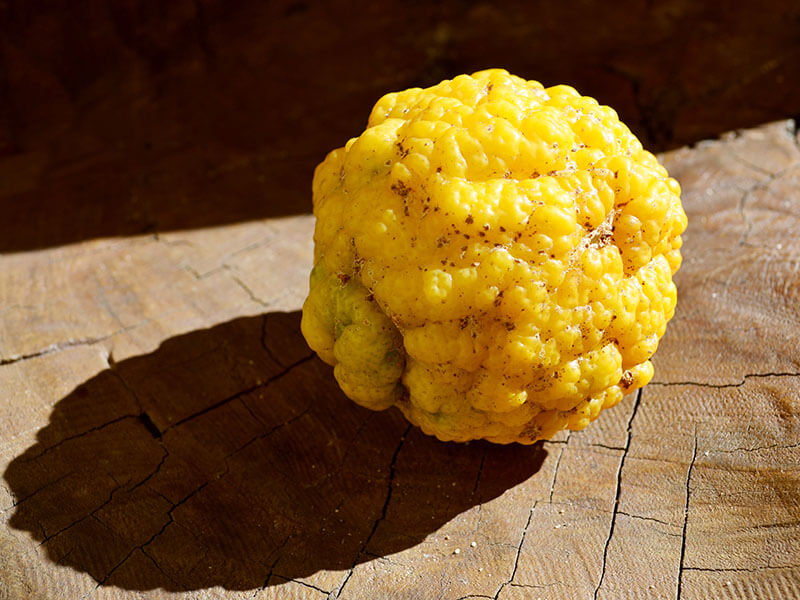 Brush lemons are an Australian variety with an iconic citrusy taste. However, it does not contain much juice, so it is most suitable for seasoning, especially for smokers. Its citrusy flavor will enhance your dishes.
Not only is the juice used, but their leaves are also added to tea, seafood, and meat recipes.
This is a self-seeding variety, so it can grow well in the wild. The seeds will continue to grow as long as they come to the ground.
Unlike other varieties which have smooth skin, Brush lemons have rough skin with a bright yellow hue.
9. Buddha's Hand Lemons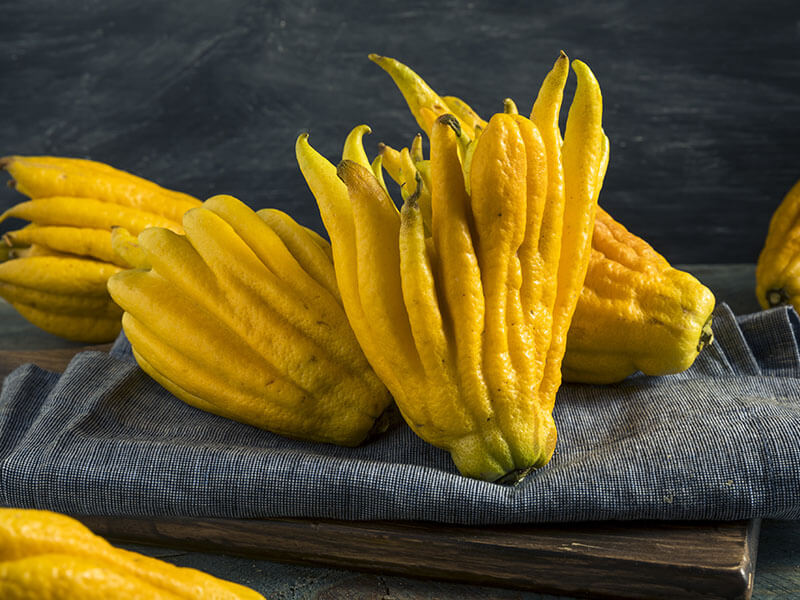 This type of lemon is also called "Finger lemons" because of its unusual shape. There are plenty of long yellow hands growing from the top. In Chinese, this type symbolizes fortune, so it is usually served in religious events.
What is more special about Buddha's Hand lemons is that they have no juice and flesh. People only use its rind.
It has a sweet taste with no bitter notes. Making juice is not a good idea, but you can use it to make candied fruit. You can also eat it raw or simply place it on the table as a decorative item.
Let's find out what you can do with Buddha's Hand lemons.
10. Villafranca Lemons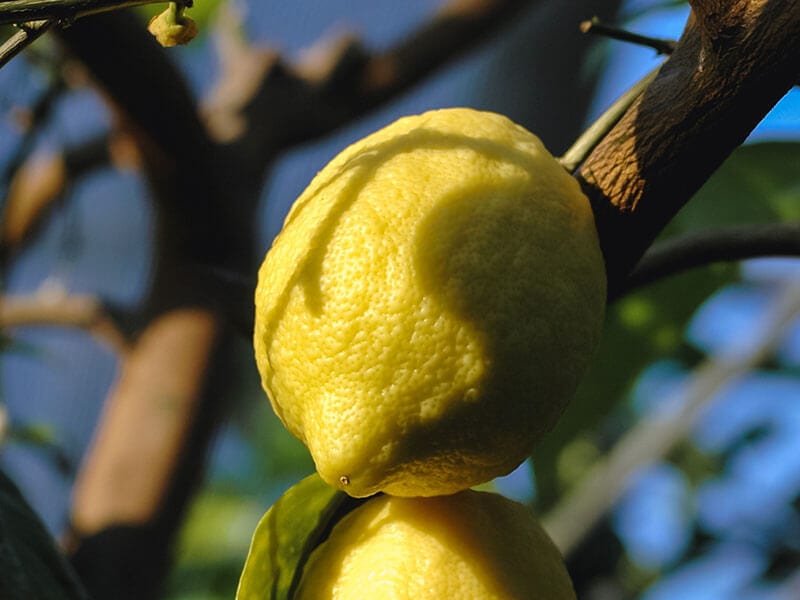 Villafranca is tart, sour, and tangy. This variety originated in Sicilian and has a medium size and bright yellow skin. In America, you can find it in Florida. It is also cultivated in Argentina and Israel. Its peak season is winter.
Compared to other types, Villafranca lemons have a smaller amount of acid. It is similar to Eureka in both taste and shape. Make sure you have someone that can help you distinguish between them.
You can add it to any recipe that calls for lemons. It is an important ingredient of limoncello.
11. Baboon Lemons
If you accidentally get some Baboon lemons, feel free to use them in any recipe. It has a sour taste described as being very similar to limes. It is a Brazilian fruit variety with eye-catching bright yellow skin. Its rind is also bright yellow with some wrinkles.
Baboon lemons are a large and juicy variety. People often use their rind and pulp to make sauces, such as pasta sauce and barbeque sauce.
12. Eureka Lemons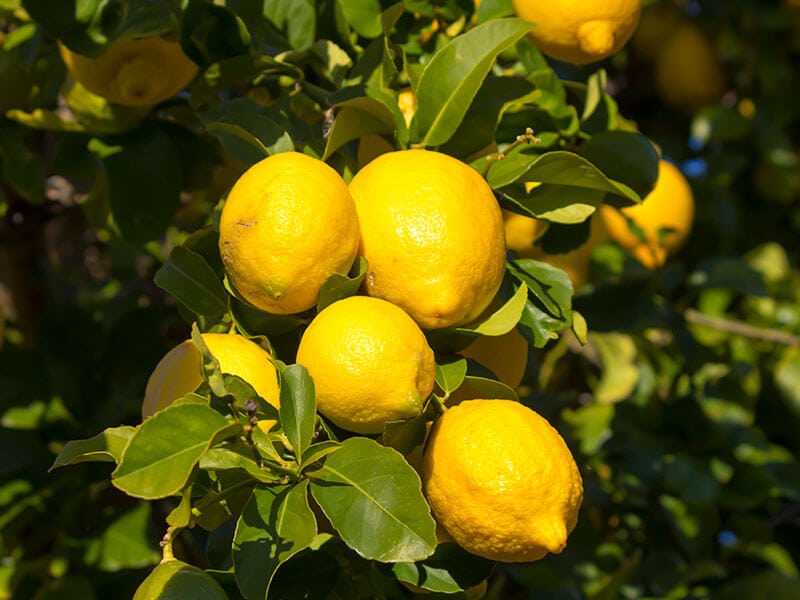 This variety has such an interesting name, doesn't it? Its real name is "Garey's Eureka." It was named after Thom Garey, who created this fantastic lemon.
Eureka has the typical sour and tart taste of lemons. What is more special is its appearance. While the skin is bright yellow, the juicy flesh inside has a beautiful pink color, just like other varieties. Amazing, isn't it?
You can use Eureka varieties in any recipe that calls for lemons, such as marinades, cocktails, and salads. Notably, it is the key ingredient in the meringue pie recipe.
Eureka generates crops all year round, but the best time is between winter and early spring.
A lot of fascinating information about Eureka lemons can be found here.
13. Dorshapo Lemons
This variety has a weird name, doesn't it? All weird names have meanings, and this one is no exception. It was created by putting together the names of the creators of this variety: Palemon Dorsett, Archibald Shamel, and Wilson Popenoe.
They are mild sweet rather than acidic. The amount of acid is very low. You can eat them raw or use them to make juice.
Dorshapo lemons have a round shape that is very similar to Eureka lemons, but they are green instead of yellow. Many people confuse them with limes.
14. Avalon Lemons
Avalon lemons are a very juicy type of lemons. They are available in Florida. However, they are hard to find at grocery stores and supermarkets since people have not produced them for commercial purposes.
Avalon lemons are often utilized to make juice concentrates. But if you can plant them, you can use them to make delicious lemon juice. Look for high-quality lemon squeezers to get as much juice as possible. Also, make sure that you grow them in a tropical area.
This type of lemons is often compared with Eureka lemons and Lisbon lemons because of the similarity in taste and appearance. They have a bright yellow color and a typical tart taste with a slight sweetness.
15. Citron Lemons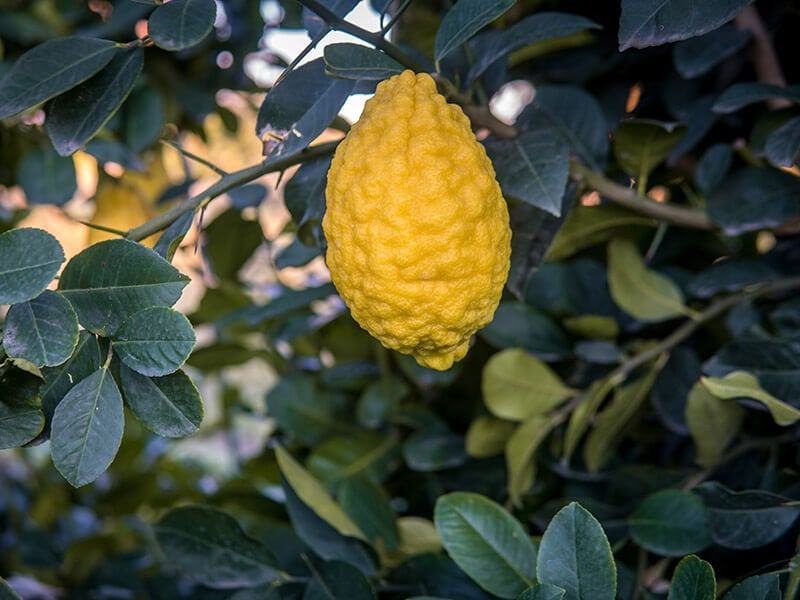 Citron lemons are among the most ancient lemon varieties. They gave birth to other varieties. Compared to others, they are quite large in size and have a round shape. It had a lot of seeds and a very thick peel and rind.
The peel and rind of Citron lemons are used to make candy. People also use the peel to produce pectin (or soluble fiber), and the rind is suitable for culinary purposes. The white pith is also an ingredient of candy. The oil extracted from the is an ingredient of fragrances.
This variety has a very sour taste. It may be the sourest lemon that you have ever tasted. Its skin is bright yellow, while the flesh inside has a lighter tone.
16. Interdonato Lemons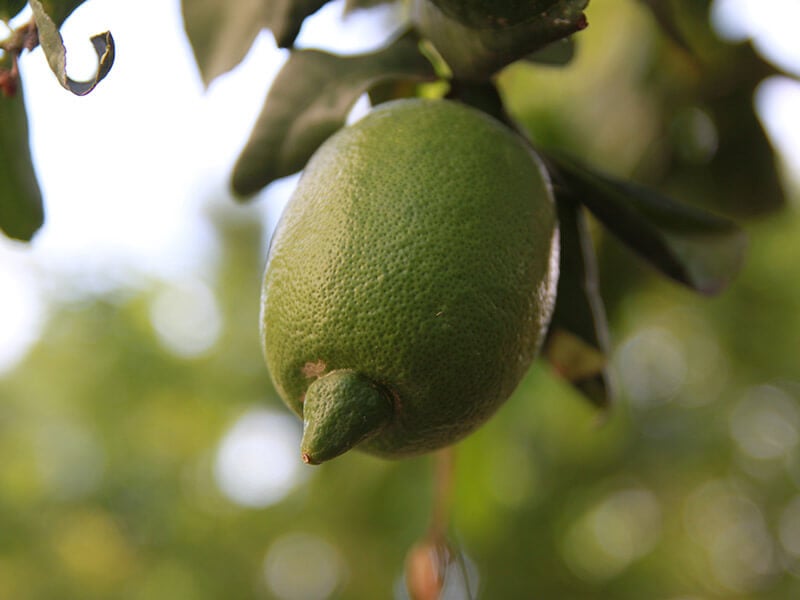 Interdonato lemons are another type of lemon that comes from Europe, specifically Italia and Turkey. It is a very productive variety that is normally harvested in fall and winter.
This variety comes in large, smooth, and round lemons with an attractive yellow color. It has a slightly bitter taste.
If you intend to plant Interdonato lemons, you should grow them in an area with relatively low temperature and high humidity levels.
17. Ponderosa Lemons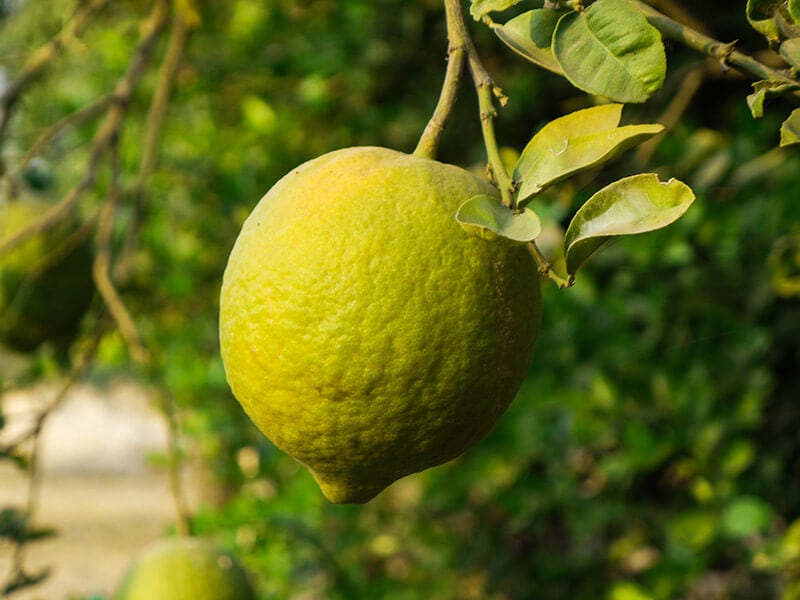 Originated in 1870 in Maryland, Ponderosa lemons are one of the largest varieties in the world. It is a hybrid created by a citron and a pomelo. Its sour, tangy taste and juicy nature make it perfect for cooking and making juice.
Making desserts with Ponderosa lemons is also a great idea because they will be less sour than when you eat them raw.
Concerning the look, this lemon variety has yellowish-green skin and yellow flesh. It has plenty of seeds. The peak season of Ponderosa lemons is between late spring and summer.
You should note that this variety is rare. It is not cultivated for selling. Only those who genuinely love its taste grow it. I hope that you will be one of them.
You will be amazed by how big Ponderosa lemons are.
18. Genoa Lemons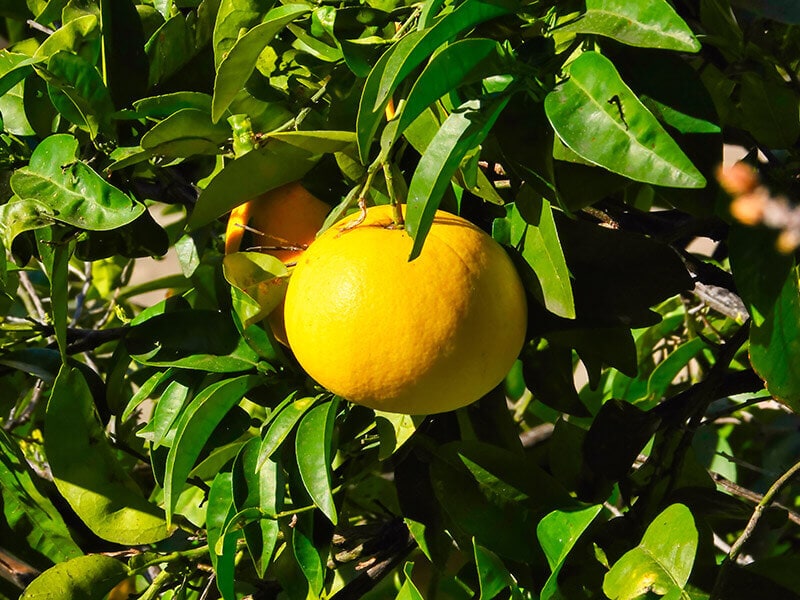 This Italian lemon variety is often associated with Eureka lemons because their looks and tastes are very similar. Genoa lemons come in oblong shape and have smooth and bright yellow skin. It also has a typical sour taste of lemons.
Although this variety originated in Italy, it is also very popular in California. It can withstand cold weather pretty well. However, many thorns make it difficult to harvest the fruit.
19. Lamas Lemons
Lamas lemon is totally different from other varieties because it is not commercialized. They are not a natural variety but an experimental one created by grafting Ponderosa lemons at the University of California.
You can use the juice of Lamas lemons to make delicious juice. Their pulp and rind are perfect for cooking recipes, especially baking.
Nowadays, this fruit is grown in Turkey. It comes medium size has very few seeds. It has a typical sour taste but is of higher quality.
20. Perrine Lemons
Perrine lemons are a yellow variety that comes in small sizes. It was created in Florida as a hybrid between a Genoa lemon and Mexican lime. Growers can harvest between mid-fall and winter. Its color is yellow but not a bright one.
This lemon has a high acidity content, resulting in a sour taste that has both characteristics of limes and lemons. You can use Perrine lemons in any sweet and savory recipe that requires lemons.
Perrine lemons are perfect for marinating seafood as well as adding into poultry, cream-based sauce, olive oil, and salad dressing. People often sprinkle it on rice dishes for some acidic notes. They add it to beverages such as lemonades, cocktails, and smoothies.
It is a great idea to freeze the juice in a cube tray and add it to your drinks. The zest of Perrine lemons is also amazing. They can be a good flavoring for lemon bars, lemon-ricotta cannoli, cheesecakes, and parfaits.
You can also use the zest to top your favorite savory dishes, such as curries, soups, and pasta. It is also a great accompany of fruit, herbs, and seafood, such as passion fruit, apricots, mints, basil, shrimp, and scallops.
I believe that anyone should store some Perrine lemons in the kitchen. To ensure safety, you should also know whether lemon can spoil. If you store it in the pantry, it can last for 1 week. Refrigerating them will help keep them fresh from 1- 4 weeks.
21. Volkamer Lemons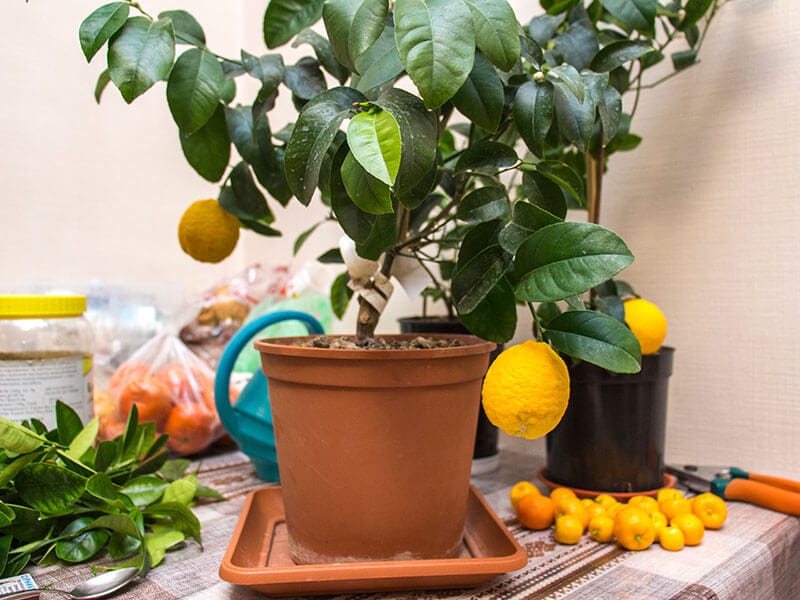 Volkamer lemons are a hybrid between a lemon and a sour orange. Because of that, this fruit with V as the first letter is very similar to an orange in terms of appearance.
This impressive variety has a sweet and slightly acidic taste. It is quite large and has little or no seed. Its rind is red. It also has yellowish-red flesh that is similar to an orange. People rarely use it for culinary purposes but as a rootstock.
22. Meyer Lemons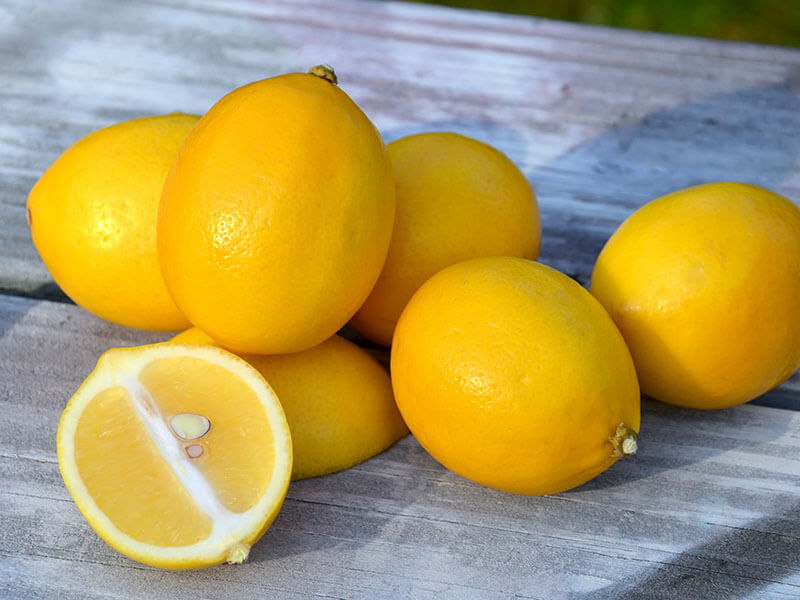 While most lemons have a sour taste, Meyer lemon has a distinctive sweet taste that you will love. This variety has the peak season between November or December and March. You cannot harvest the fruit anytime other than that period.
Some people describe that it has the characteristic of Lisbon lemons, Eureka lemons, and Mandarin orange because it is sweet and has gorgeous deep yellow skin and pale orange flesh. Its rind is thin and smooth.
Due to these special features, Meyer is an expensive variety. Yet it tastes amazing. Its juice is present in drinks such as spritzers and cocktails, given its sweet taste. But you can use the zest and pulps in other recipes.
Having plenty of Meyer lemons? Make this delicious lemon tart!
23. Santa Teresa Lemons
As an Italian variety, Santa Teresa lemons have a lot of outstanding characteristics. It has the iconic sour taste of lemons with some hints of sweetness. It is also juicy and contains fewer seeds.
Santa Teresa lemons have a delightful bright yellow color and a strong citrusy aroma like most varieties. Its peak season is late winter.
You can make plenty of savory dishes and lemon desserts such as fish, sauce, poultry dishes, muffins, and scones with this variety. In Italy, it even substitutes vinegar in marinades and dressing.
24. Sorrento Lemons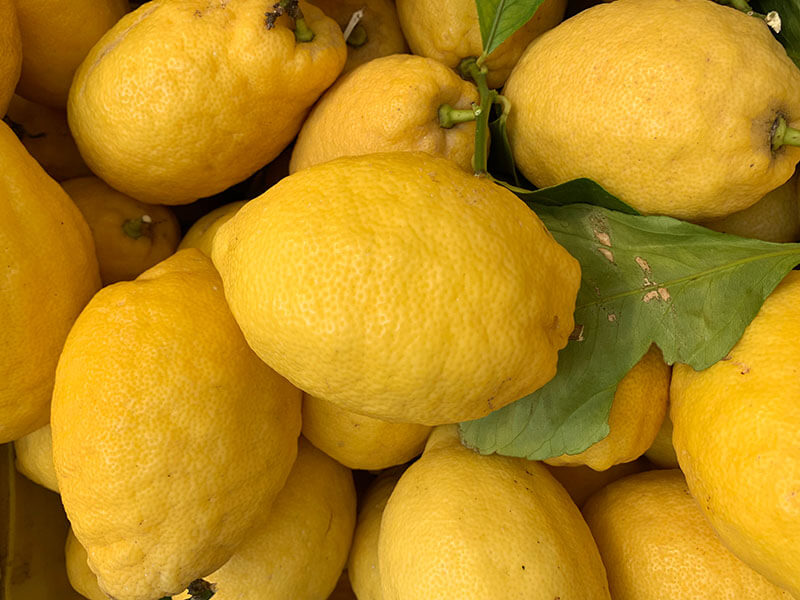 Sorrento is an Italian variety with a tart and acidic taste, juicy texture, and citrusy aroma. What distinguishes Sorrento from other lemon varieties is that it has no bitter note.
It has an oval shape and a beautiful yellow color that everyone falls for. More amazingly, it has very few seeds. Some are even seed-free.
The best time to harvest Sorrento is between spring and late fall. But it is also available all year round.
This variety has a rich zest with an aromatic scent that can enhance the flavor of sorbets, pasta, and marinades.
25. Mediterranean Sweet Lemons
The name tells a lot of things about this variety, right? It came from the Mediterranean and has an incredibly sweet taste. Now, let me talk about things that the name doesn't show at all. An amazing thing about Mediterranean sweet lemons for growers is that it is very productive.
Regarding appearance, this variety has the round shape of common lemons. It is medium in size and has a bright orange color. You will also feel a lovely aroma when placing it close to your nose.
You can add Mediterranean sweet lemons to any sweet and savory recipe. Since they contain vitamin C, they are also utilized for medical purposes such as treating common colds, dehydration, and sore throats.
26. Bonnie Brae Lemons
If you are looking for the juiciest lemon variety, Bonnie Brae lemons are the ones you should go for. It is a great flavoring for your sweet and savory recipes. However, it is quite hard to find. You can get it in California.
Bonnie Brae lemons have an oval shape. It is quite long and only has very few seeds. Besides its juicy nature, it is also loved by the super smooth skin that no other variety can beat.
27. Lemonade Lemons
Looking at this name, you probably think that this variety of lemons is used to make lemonade, don't you? Yes, you are right. Lemonade lemons were the children of a lemon and a Mandarin orange.
This type of lemons has a round shape and smooth skin, just like other varieties. But its color can be either yellow or green. It tastes sweet and a little bit acidic, perfect for making lemonade.
Growers will love this variety because it is very productive. It is mainly grown in Australia and New Zealand, where the weather is hot.
28. Otaheite Lemons
Otaheite lemons are the most special type of lemons on this list. It is not just a plant that only produces fruit but can also be an ornament of your home. This is because it has a charming and elegant appearance that can elevate anything nearby.
The fruit of Otaheite lemons is very small. They have orange skin and white flesh. The flowers will bloom in summer, and the fruit will ripen several months after that. Unlike other varieties, this one has a very sweet taste, thanks to its low acid content.
If you want to grow Otaheite lemon as a decorative plant, remember to cut it often, or else it will grow very fast.
29. Assam Lemons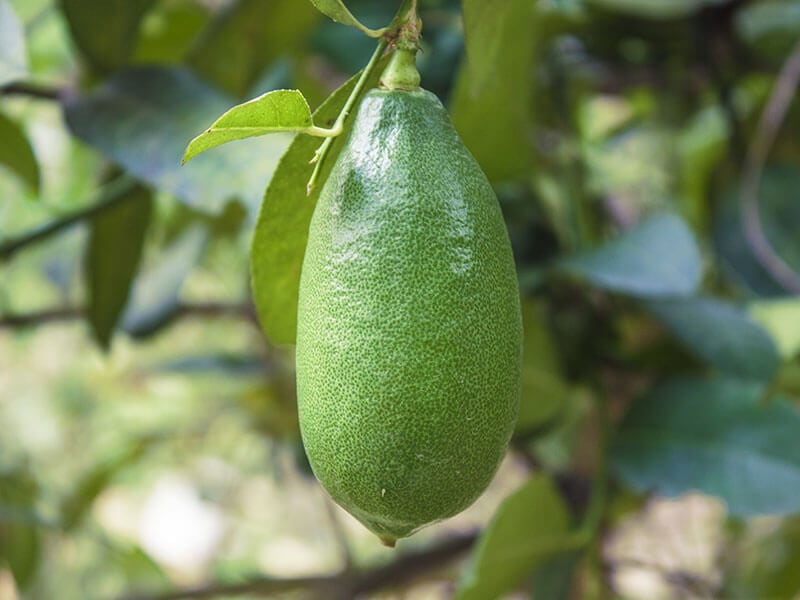 Assam lemons are native to China and Nepal. People also call it Nepali Oblong. This type is less acidic but juicier compared to Eureka lemons and other varieties. When unripe, it is green but turns to a bright yellow hue when ripe.
In Assamese cuisine, this lemon is used to make drinks. In addition, people make picklings from it and use it to garnish savory dishes, such as curries.
Those who grow Assam lemons should note that the plants need a lot more water to produce juicy and high-quality fruit.
30. Lumia Lemons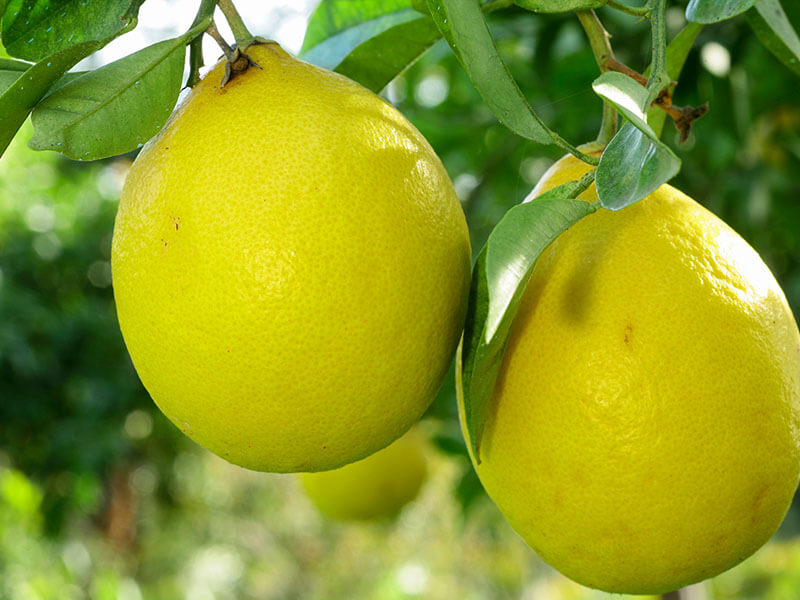 Lumia is not just a lemon. It is a hybrid between a lemon and a pear. Because of that, it is larger than other varieties. It is also called French lime or sweet lemon.
Although Lumia has a yellow color, it is not bright like other varieties. It almost resembles the color of pears. Its skin is incredibly thick.
You are wrong if you think such a large lemon like Lumia should have plenty of juice. It has very little juice and a typical sour taste of common lemons.
31. Pink Variegated Lemons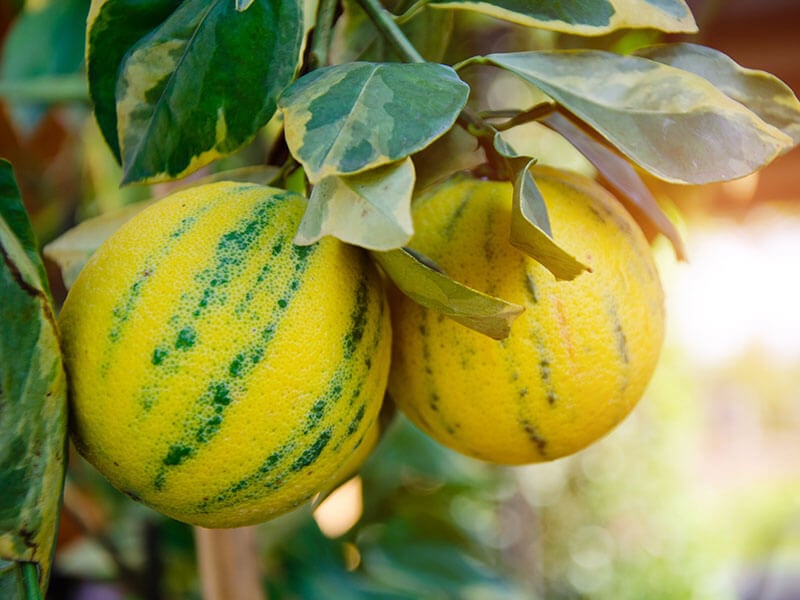 Do you know there is a big gap between regular and pink lemonade? That's because they come from two different types of lemon.
Pink Variegated lemon has a round shape with yellow and green stripes, creating an eye-catching contrast. You will be further amazed by the pink flesh inside as you cut it.
This variety does not have a lot of seeds. It is also milder than other varieties. It tastes sweet with some bitter undertones.
Pink Variegated lemons make a perfect garnish for your dish with such a beautiful appearance. Given their sweet taste, eating them raw is undoubtedly a great idea.
Are You Amazed By How Many Types Of Lemons There Are?
There are so many types of lemons, aren't they? How many of them have you tried? Which varieties are most impressive to you? Many of you are still thinking because there are too many options. But don't worry! You can find a perfect variety of your purposes.
I believe that everyone should know about the diversity of lemons so that they have more knowledge about this essential fruit. By sharing this article, you are providing knowledge to a lot of people. Isn't that amazing?