Brazilian fruits are diverse, so let's enjoy the incredible flavor right now. Thanks to the climate condition, Brazil is a suitable place for developing many different types of fruits. Therefore, fruits have become a favorite food of Brazilians.
There is much exciting information about the kinds of excellent fruit in this country, so it is time to explore helpful knowledge to get the general and specific views about the yummy fruits. Please focus on following this post so as not to miss any essential information.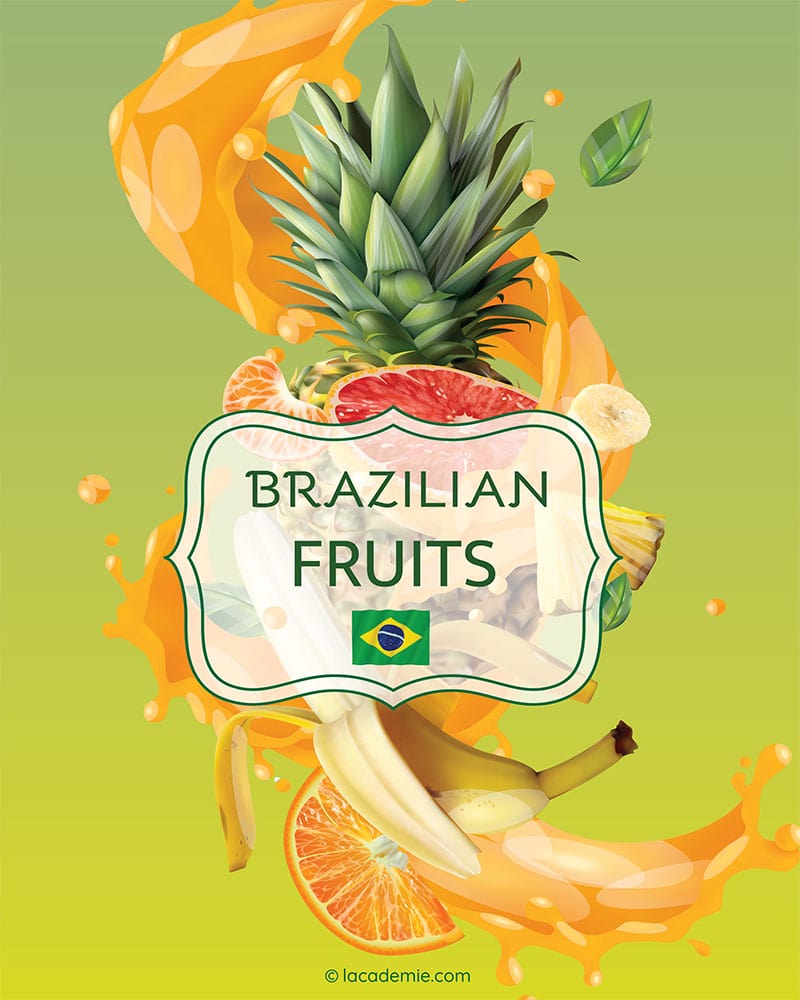 Remove The Seeds With These Excellent Brazilian Fruits
These Brazilian fruits in this part need to be removed from the seed while eating because they are inedible. Let's try them right now if you have a chance to come to Brazil.
1. Cashew Apple – Castanha do Para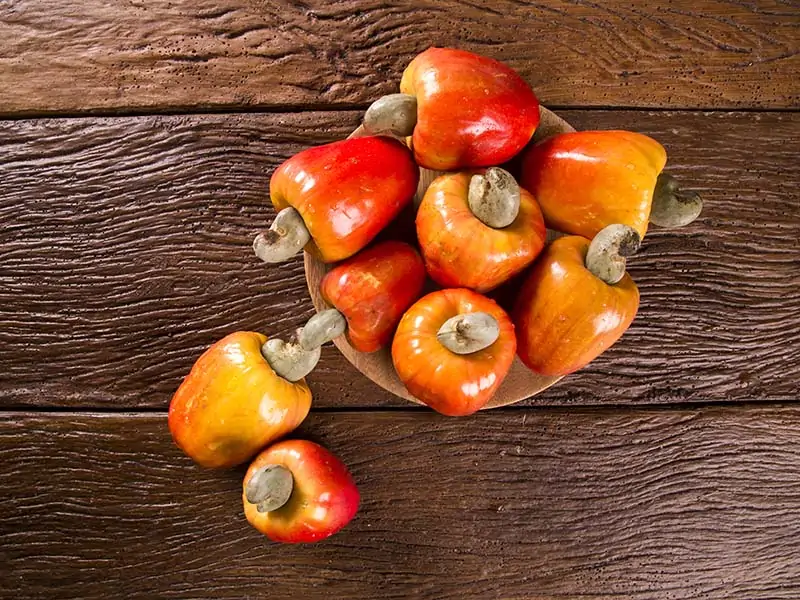 If you love cashew nuts, you should know about this delicious cashew fruit or cashew apple. This excellent fruit originates in Southeastern Venezuela and Northeastern Brazil. Portuguese colonists introduced it to India in the 1550s, and it has become the global fruit.
Cashew apples are often in light reddish-yellow shades. It often appears in oval or pear-like shapes. Its flesh is juicy and sweet, and you can find a bit of astringent flavor from this fruit. Its taste is a mixture of strawberries, bell pepper, mangos, and cucumber.
Primarily, it has an appealing aroma when ripe. Also, it looks unique with a seed attached to the top. You can find a double-shell covering around the seed. Its seed is an excellent snack or essential element in making cashew cheese and butter.
In Brazil, people usually use cashew pulp in processing fruit drinks or liquor. In addition, it appears widely in local Brazilian recipes, such as sauteed okra and stews. You will prefer the amazing taste of cashew jams, chutneys, and other desserts in Brazil.
Nutrients: High in carbs, fat, protein, calories, fiber, copper, phosphorus, magnesium, potassium, iron, and vitamin K.
Season: The season lasts from mid-August to late February in Brazil.
How to eat: Typically, people will remove its seed and roast it to make snack nuts. You can cut this fruit into small pieces and sprinkle it with salt to consume.
Understand more about Cashew flavor by listening to some reviews.
2. Moriche Palm Fruit – Buriti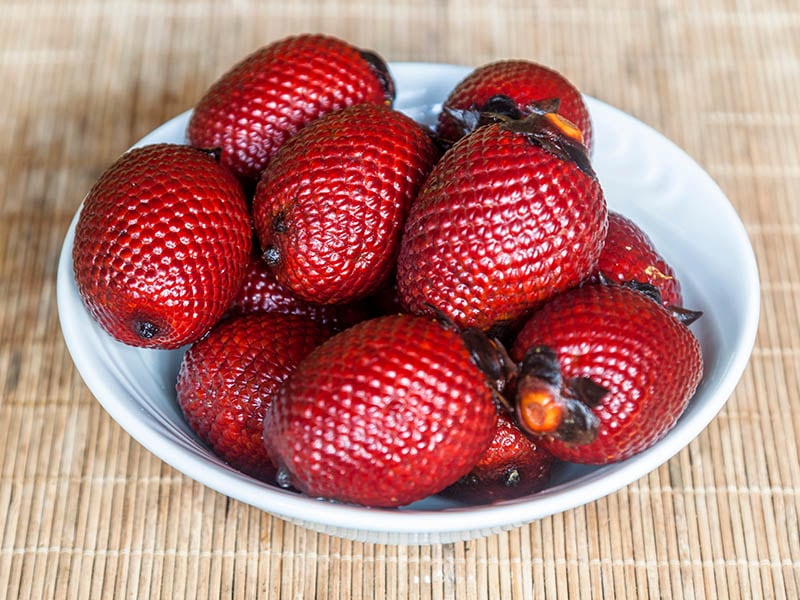 If you are searching for unique South American fruits, Buriti is an ideal suggestion. This fruit is derived from Ecuador, Brazil, Peru, and Colombia. Thanks to its nutritional values, people consider it the "Tree of Life" in Brazil.
Commonly, many people confuse it with chestnuts because of the similarities in shiny scales and color. The yellow flesh will leave a deep impression on your mind and it will remind you about the flesh of Mango. You will see an oval and hard nut inside.
This excellent palm fruit is good for making jams, juice, ice cream, snacks, and wines. You can find many delicious Brazilian desserts made from Buriti. In particular, its oil is an excellent element to improve your skin health, so it is used commonly in cosmetic products.
Nutrients: High in protein, fat, dietary fiber, and vitamin E.
Season: This fruit is popular from December to June in Brazil.
How to eat: You should peel its skin and taste the incredible flavor of the flesh. Moreover, you should squeeze it to get the juice.
3. Cagaita/Cargaiteira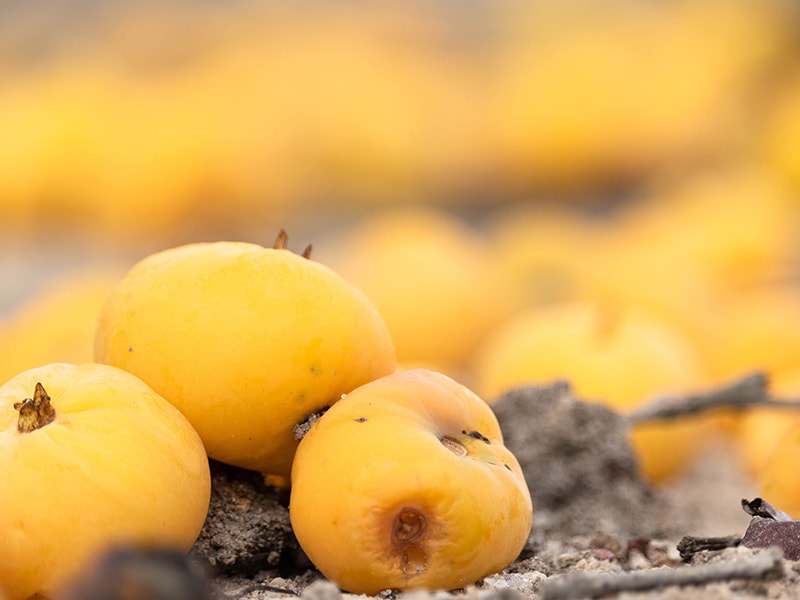 Cagaita or Cargaiteira is an indispensable name when referring to exotic Brazilian fruits. It is a berry with yellow-orange skin. You can come across this fruit in a spherical shape and thin waxy skin. Its appearance looks like a citrus fruit (orange).
However, when you look at Cagaita's flesh, its white pulp is kind of similar to a peach. Your taste buds will be stimulated by its typical sweet and sour flavors and a hint of light astringent taste. A slight gray seed will show up when you break it.
This outstanding fruit is native to Brazil's central Savannah area (Cerrado). Its cultivation occurs widely in Mato Grosso do Sul, Sao Paulo, Goias, and Bahia states of Brazil. September to December is the best time for ripe Cagaita.
It is used commonly in Brazilian cuisine. You can feel its distinctive flavor in jams, sherbets, beverages, and sweet desserts. Also, there is no trouble in consuming it fresh. However, it can cause laxative effects when overeating.
Nutrients: Rich in carbs, vitamin C, water, and flavonoids.
Season: It is often ripe from September to December in Brazil.
How to eat: The best way to consume it is to peel its skin and consume the flesh around the seed.
4. Cupuacu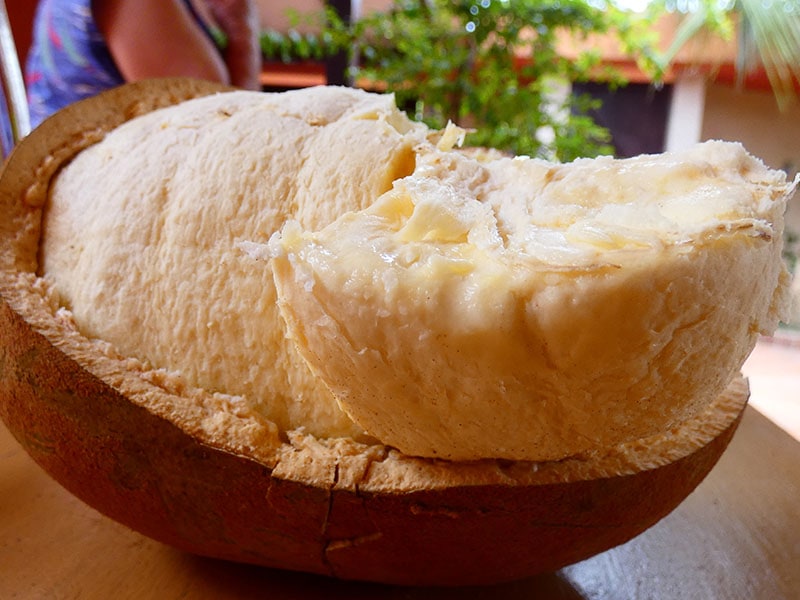 I have to mention Cupuacu in the list of Brazilian fruits. It is a national fruit of this country. This fruit is native to the Amazon Basin, so you can see it in Peru, Brazil, Bolivia, and Colombia.
This fruit is popular in Northern Brazil (Amapa and Para towns). It looks outstanding with brown and thick skin. When breaking it into 2 parts, you will see its juicy white flesh. It has an appealing aroma similar to the mixture of pineapple and chocolate.
The sweetness is the primary flavor of exceptional fruit. When consuming this fruit, you can think of the flavor combination of banana, pear, melon, and passion fruit. It will fall from the tree and break to show its pulp when ripe.
Typically, Brazilians consume fresh Cupacu or make delicious ice creams, snacks, jams, and other sweet desserts. Furthermore, it is the main ingredient in making Cupuacu butter with the same tender texture as white chocolate. It is also suitable for your skin.
Nutrients: It has antioxidants, vitamins B1, B2, B3, calcium, selenium, and amino acid.
Season: It is available from January to April in Brazil.
How to eat: The standard way to consume this fruit is to cut it into 2 parts and use a spoon to scoop the flesh out.
Give Cupuacu a shot to know the authentic flavor of this fruit.
5. Guarana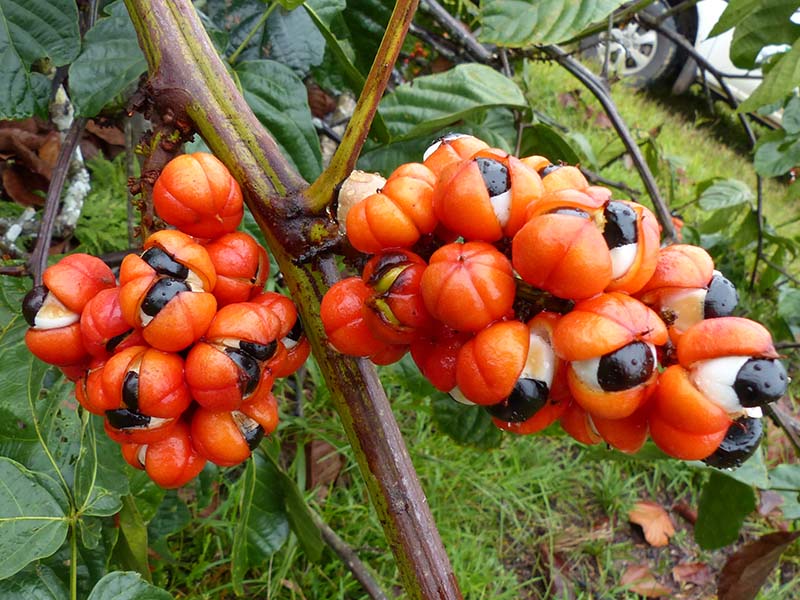 Guarana is a common ingredient in Brazilian drinks. This fruit has its origin in the Amazon basin, especially Brazil. Its name originates from the word "Guara-na" which means "eyes of the Gods" or "Fruit like the eyes" in the Guarani language.
It appeared in Europe in the 16th century, and Spaniard Chroniclers brought it to this continent. This fruit exists in red or brown hues. It looks dominant with black seeds that have white arils.
Its appearance resembles the eyeballs. In particular, you can find a large amount of caffeine content in its seeds when it is six times higher than coffee.
There are many energy drinks containing its seeds. It is the main component in many soft drinks of Brazil, and its name is a synonym of soft drinks. You should try the excellent herbal teas made from Guarana when coming to Brazil.
Nutrients: A source of calories, protein, sodium, potassium, vitamin A, C, and calcium.
Season: Its season runs from November to March in Brazil.
How to eat: Normally, people often use this fruit to make powder and put the powder into the boiled water to make an excellent drink.
6. Soursop – Graviola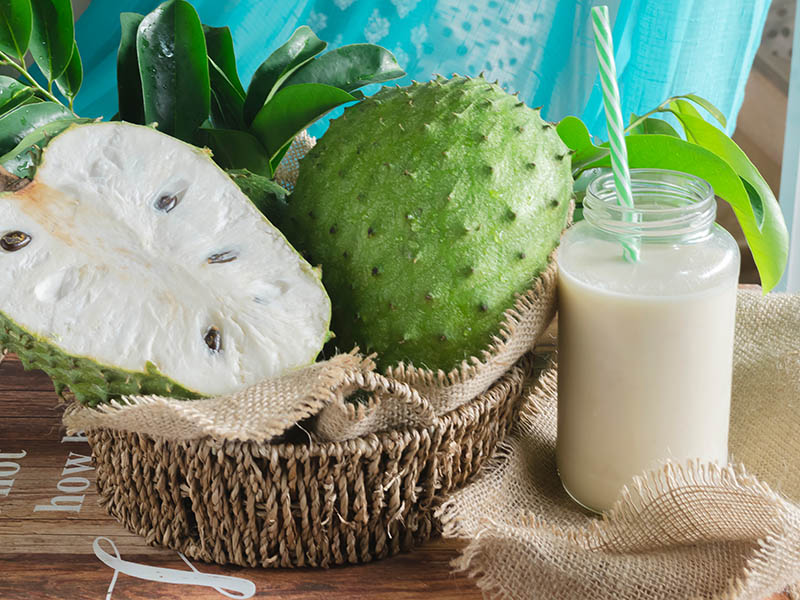 Graviola is the following fruit I have to show in this list. It is also known as Guyabano or Soursop in many other countries. This fruit is native to the Americas and Caribbean. Besides, it is also a well-known Cuban fruit and Filipino fruit.
You will fall in love with its excellent aroma similar to pineapple. You will feel the sweetness and a hint of sour citrus taste from it. Its taste is a mixture of apple and strawberry flavor. The creamy texture of it will make you flutter.
It is a large fruit covered by prickly and dark green skin. Ovoid is the typical shape of this unique fruit. Its flesh is juicy and has a characteristic whitish color. There are numerous inedible black seeds in the pulp of this fruit.
The incredible flavor and texture are suitable for making smoothies, shakes, tea, and frozen desserts. Moreover, Brazilians love to consume fresh Graviola. In terms of health benefits, it is a good choice for treating cancer.
Nutrients: Rich in calories, carbs, vitamin C, calcium, magnesium, phosphorus, potassium, and sodium.
Season: It is common from June to September.
How to eat: To consume it, you need to slice it into 2 parts and scoop the flesh out with a spoon. Remember to remove the seeds while eating.
Learn the methods to consume excellent Soursop properly.
7. Genip – Jenipapo/Genipa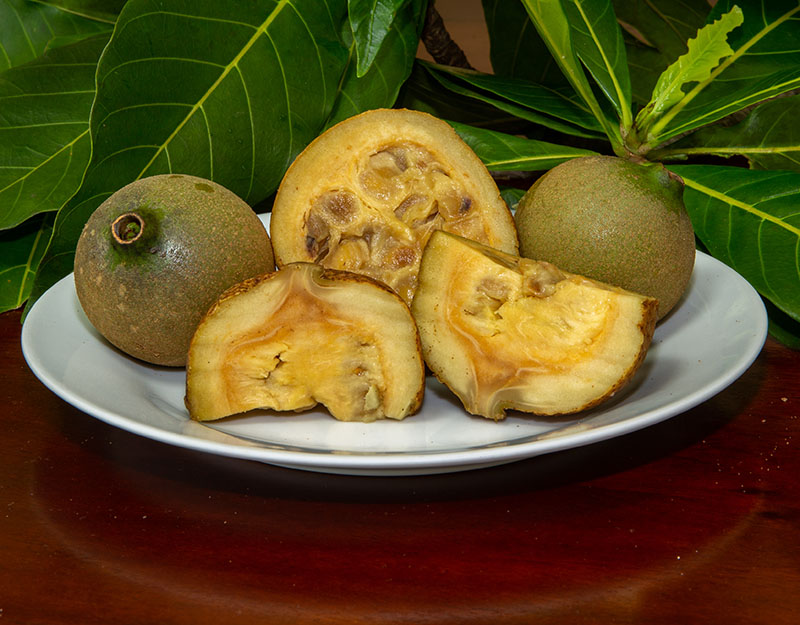 Jenipapo is a Brazilian fruit you should explore. This exotic fruit beginning with J is common in the Amazon forest of South America, and you can also find it in North America and the Caribbean. It is a berry with a diameter of about 5 to 9 centimeters.
The brown or grayish color is the prominent feature of this fruit. In particular, it has a dry texture, so its texture can make you think of rotten fruit. The size and shape are similar to a tennis ball or a melon.
Due to its odd flavor and smell, Brazilians often add it to syrup, compotes, or liqueurs. You can use it in making jellies, ice cream, or drinks. Also, it plays as a colorful agent for foods, such as bread, pasta, or tortillas.
Nutrients: Calcium, vitamin B1, B2, B5, C, and iron.
Season: It is often ripe from February to March.
How to eat: The best way to use it is to peel the skin and remove the seed before eating.
8. Brazilian Cherries – Pitanga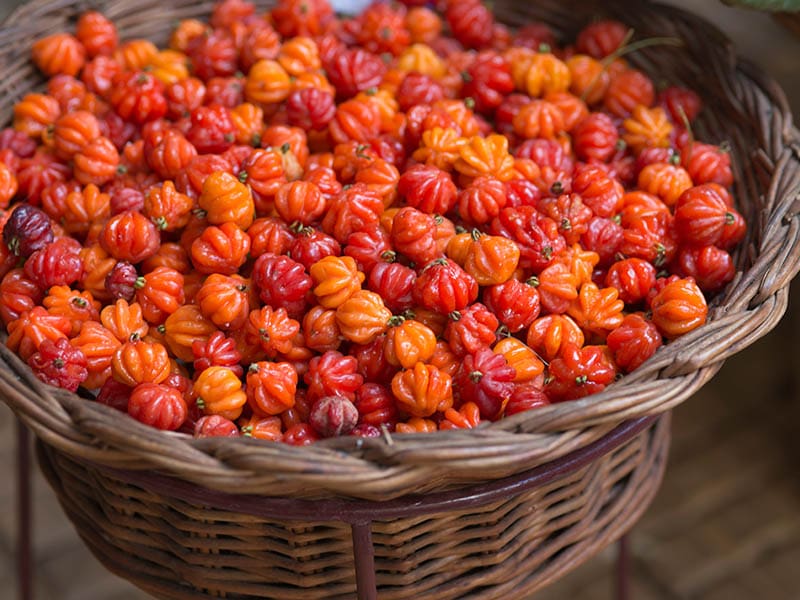 Besides the incredible Brazilian foods, you should try Brazilian Cherries or Pitanga when coming to this country. It is popular on the East Coast of South America from Suriname to Brazil and Argentina.
It acts as a hedge in gardens or screens, so this fruit is found commonly in many homes in Brazil. In particular, it has become an invasive species in some world regions. Its size is the same as a small chili or tomato.
They are common in deep red, black, orange, or green shades. And depending on the ripe level, they can be sweet or tart. If you want to eat a sweet version, you should choose deep red and black cherries, while green and orange types will be tart.
You can feel their flavor in many jams and jellies of Brazilian cuisine. Moreover, they are used in making excellent desserts, such as mousses or marmalades. Brazilians often spread leaves of this plant on the floor to emit a scent.
Nutrients: Calories, protein, fat, vitamin A, and C.
Season: The season often falls in October or January in Brazil.
How to eat: It has edible skin, so you can consume it after rinsing, and remember to discard the seeds.
9. Pitomba – Pitomba Rana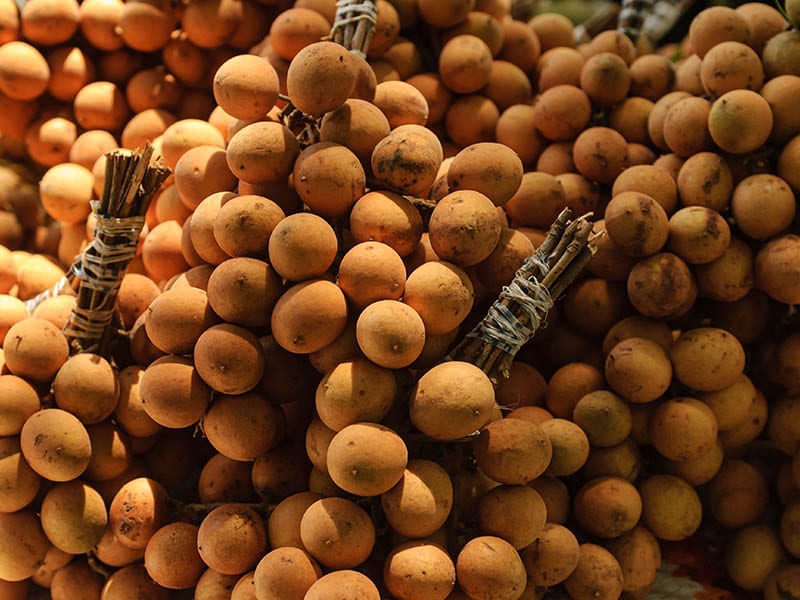 Pitomba is a famous South American fruit that appears in many excellent Brazilian, Colombian, and Peruvian foods. This fruit is native to the Amazon Basin. Besides the Pitomba name, it is also known as Pitomba-Rana and Pitomba-De-Macaco in Portuguese.
It looks like a small orange or potato with yellow or white skin. It has ellipsoid or round shapes. After removing the skin, you will see its white and juicy pulp. When tasting it, you will feel the sweetness and tartness. It has 1 to 2 elongated seeds inside.
There are many ways to use Pitomba, but it is commonly eaten raw and makes juice or desserts. You can use its sap for fish poison and its seeds for treating diarrhea.
Nutrients: High in calcium, phosphorus, protein, iron, and vitamin C.
Season: It is available in November and December in Brazil.
How to eat: Peel the fruit's skin and separate it into 2 halves. Remove the seed and consume its flesh.
Let's taste Pitomba right away to get its authentic flavor.
10. Hog Plum – Siriguela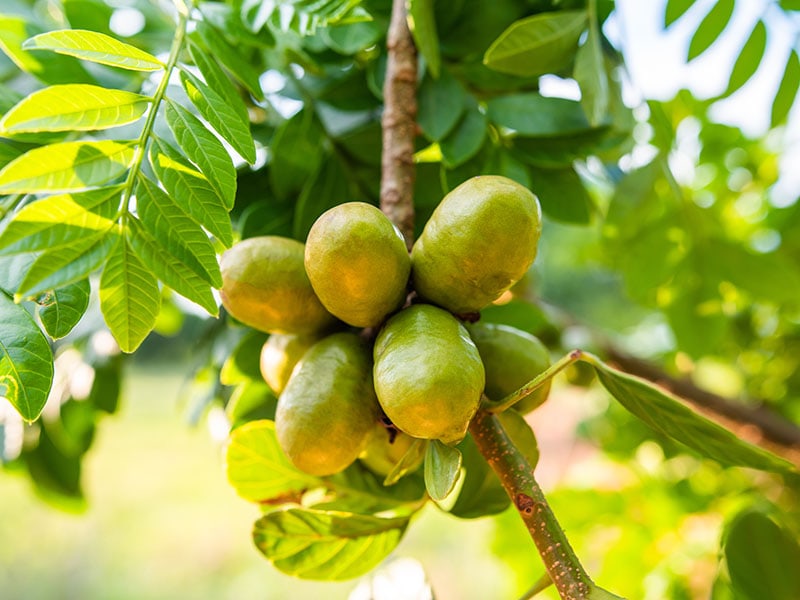 Siriguela is a member of the cashew family and one of the most favorite fruits in Brazil. This fruit originates in the Americas, Central America, and the Caribbean. People usually call it "Jocote" which comes from the word "xocotl". It means "sour fruit" in the Nahuatl language.
This fruit with a name starting with H has existed in Central America for thousands of years, and it has been used for cuisine and medicine. Unripe Siriguela has green or yellowish-green skin and turns purple, red, or even yellow shades when ripe.
This fruit has an edible rind. Beneath the thin skin, you can find yellow and sweet flesh. It has an inedible pit in the middle. Besides the sweetness, you can feel a bit of its characteristic tartness. This can make you imagine the taste of a plum.
This fruit is available in the local markets in Brazil, mainly in the Northeast regions. The easiest way to consume this fruit is to eat it raw with salt. Furthermore, Brazilians make snacks or juice with this fruit.
Nutrients: You can find vitamin A, B, C, calcium, phosphorus, iron, carbs, and fiber.
Season: Its season runs from December to February or mid-summer.
How to eat: To eat it, let's soften it by rolling it between the thumb and forefinger. Put it in your mouth to consume the whole fruit.
11. Acai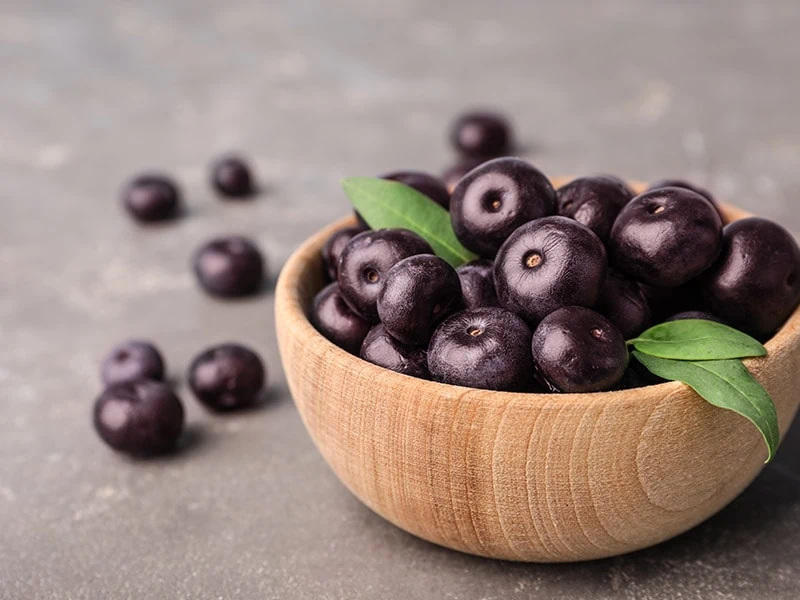 Brazil is a top Acai producer worldwide with over 1.2 million tonnes. This fruit has its origins in Eastern Amazonia, especially in floodplains and swamps. It was a staple food in the 18th century of floodplain regions.
It started becoming popular in the mid-1990s and spread to many other regions worldwide. It is a drupe fruit with a round shape and black-purple color. I think of the grapes when looking at their appearance.
However, it is smaller than a grape, and each branch will have about 500 to 900 fruits. Besides the dark purple, you can catch it in a green hue. You should remember to discard its inedible seed while eating. The tartness of it will stimulate your taste buds right away.
It is known widely in smoothie bowls, powders, and juices. Besides, Brazilians usually eat fresh Acai. It is a good fruit for skin health because it contains many antioxidants and flavonoids.
Nutrients: Rich in calories, fat, sodium, carbs, fiber, protein, and potassium.
Season: It is available from July to December in Brazil.
How to eat: You can consume the whole fruit after washing it. Furthermore, people often soak it and mash it to make the paste.
Discover the excellent health benefits of Acai and yummy recipes from it.
7 Delicious Brazilian Seedless Fruits Or Including Edible Seeds
If you do not want to discard seeds when consuming the fruit, these choices in this section are for you. This part includes seedless Brazilian fruits or options containing edible seeds.
12. Cambuci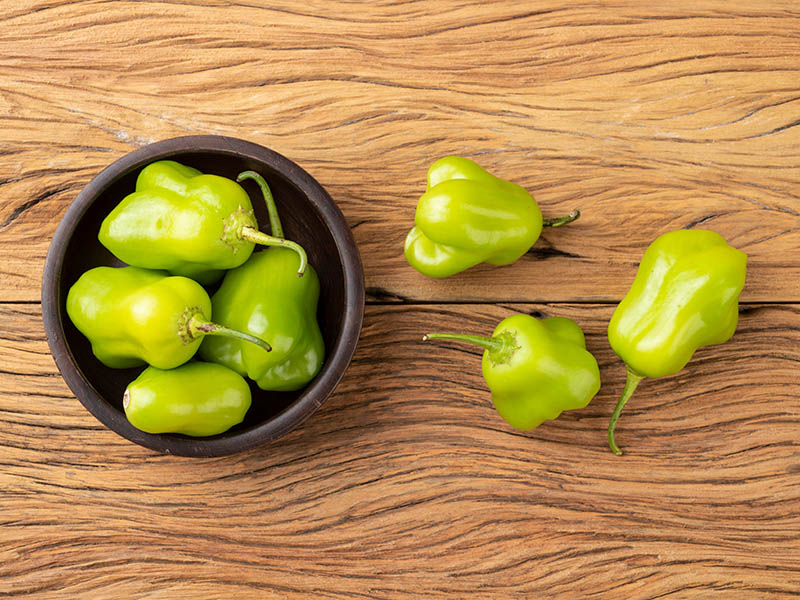 This amazing fruit belongs to the Myrtaceae family and is common in the Atlantic Forest. This fruit is widespread in southeastern Brazil, Rio de Janeiro, Sao Paulo, and Parana states in Brazil.
Its name is derived from the word of Tupi language, which means "clay pot". This refers to the similarity between this fruit and Tupi earthenware. You can imagine an alien spaceship with a green shade when looking at it.
You will never forget the particular ovoid-rhomboidal shape of this fruit. You will see a horizontal ridge in the middle of the fruit. It has light yellow skin when ripe. The sweetness and tartness are the main tastes of this fruit but it is rare to be consumed raw.
Brazilians often make use of it in making jellies, juices, or sherbets. Moreover, it appears widely in liquor, sauces, drinks, and many yummy desserts.
Nutrients: Rich in vitamin C, calcium, potassium, and phosphorus.
Season: Its peak season extends from January to March in Brazil.
How to eat: The easiest way to taste Cambici is to slice this fruit into 2 parts and get the flesh out with a spoon.
13. Goiaba – Guava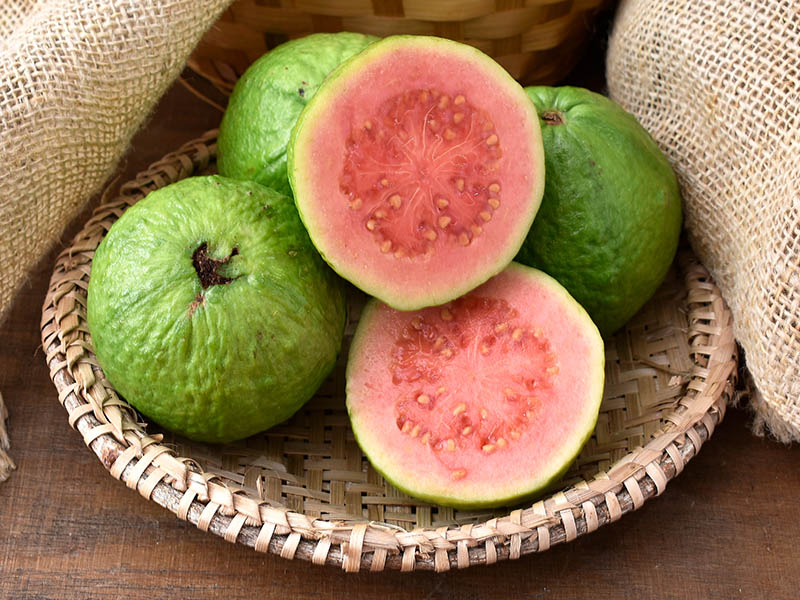 Guava is one of the favorite fruits of both natives and tourists. It is a global fruit as it appears in many regions worldwide. This fruit is derived from Central America, the Caribbean, and northern South America. This excellent fruit is sold commonly in Brazil.
There are many different types of Guava, so their appearance and flavor are different depending on the varieties. Commonly, you can catch it in oval or round shapes. It has rough and edible skin, which can be bitter or sweet. A ripe guava's typical length of life is about a week.
Usually, Guava appears in maroon, green, or yellow colors when ripe. The deep pink or white flesh will show up when cutting it. The excellent acidity and sweetness of this fruit will make you want to try immediately. It contains countless hard and edible seeds inside.
Brazilians often use it to make jams, paste, pastels, and other yummy desserts. You will love to enjoy a glass of fresh Guava juice or drinks on summer days. In addition, you can eat fresh Guava with chili salt as a fruit dessert.
You should taste the best flavor of Goiabada dish that refers to Guava paste. The combination of Guava and Minas cheese is so excellent that people call it "Romeo and Juliet".
Nutrients: High in vitamin C, fiber, folic acid, calories, and other minerals.
Season: It is available all year round in Brazil.
How to eat: You are able to consume its skin, but people often peel the skin since it is bitter. Cut it into small pieces and consume.
Go to the kitchen to make incredible Guava jams right now.
14. Brazilian Berries – Jabuticaba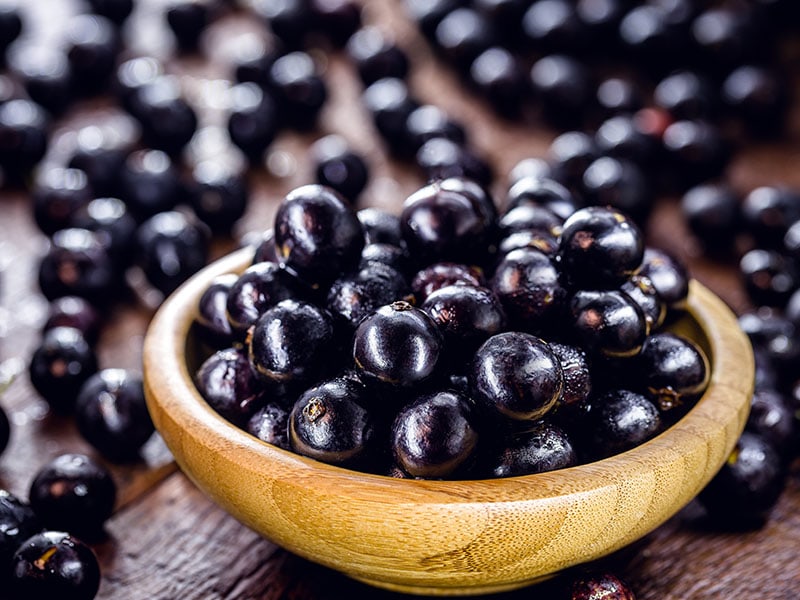 If you plan to take a trip to Brazil, Jabuticaba should appear in your travel book. This delicious black-colored fruit is native to Minas Gerais, Rio de Janeiro, Sao Paulo, and Goias in Brazil. Also, it is popular in Argentina, Peru, Bolivia, and Paraguay.
It is a member of the Myrtaceae, and the fruit will grow directly on the tree's trunk. Its appearance is similar to a Mangosteen. It is covered by dense and purple skin, and you can feel a hint of astringent from the skin.
You will immerse yourself in the sweetness of its white or rosy pink flesh. It consists of about 1 to 4 large seeds depending on the varieties. It has existed in Brazil since pre-Columbian times. It is compatible with eating raw or making jams, wines, or tarts.
Nutrients: High in phosphorus, potassium, vitamin B1, iron.
Season: Its season lasts from late March to April in Brazil.
How to eat: The standard method to eat Jabuticaba is to create a hole in its skin and suck the flesh out.
15. Dragon Fruit – Pitaya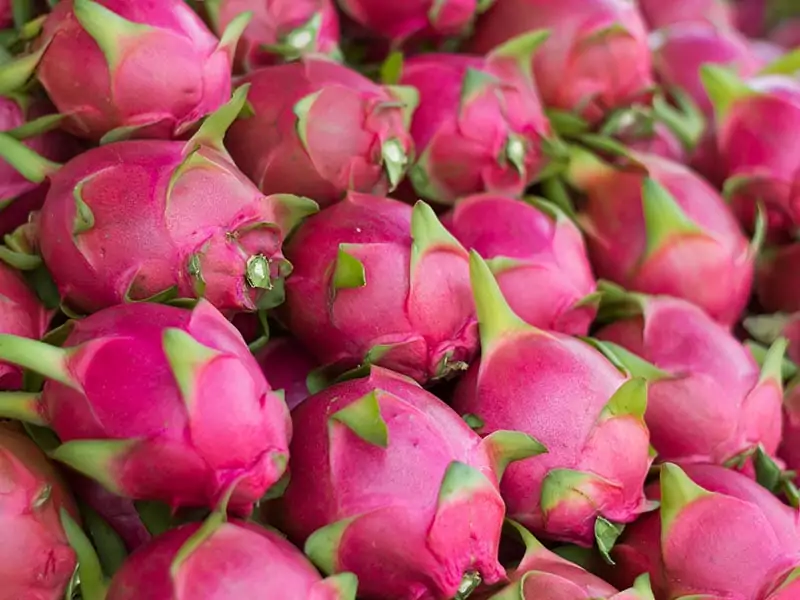 Dragon Fruit is a climate fruit loved by many Brazilians and tourists. It had the name "Dragon Fruit" in 1963 because of the leathery skin and scaly spikes on the outside. Its appearance is similar to the head of a dragon. In addition, people often call it "Piyata".
This well-known fruit is widespread in many tropical regions, such as East Asia, the Caribbean, South America, Australia, India, and other subtropical areas worldwide. Its skin can be yellow, red, or pink, depending on the variety.
You can find 3 different types of Dragon Fruits, including Pitaya Blanca, Pitaya Roja, and Pitaya Amarilla. The first version has pink skin and white flesh. Pitaya Roja looks dominant in red skin and meat, and the final version has white flesh and yellow skin.
The ripe has a slight sweetness that resembles the combination of kiwi and pear. The pink flesh will be sweeter than white flesh. In contrast, unripe Dragon Fruit does not have any characteristic flavor.
Brazilians often eat it raw as a fruit dessert or make smoothies or salad with this fruit. It is an excellent choice to treat the Gut, thanks to its antioxidants.
Nutrients: Rich in calories, protein, carbs, fiber, and sugar.
Season: It is common from December to March in Brazil.
How to eat: You can peel the rind of Dragon fruit and consume the flesh. Or, separate this fruit into 2 parts and use a spoon to get the flesh.
Expand your knowledge with the exciting facts about Dragon Fruit.
16. Mandacaru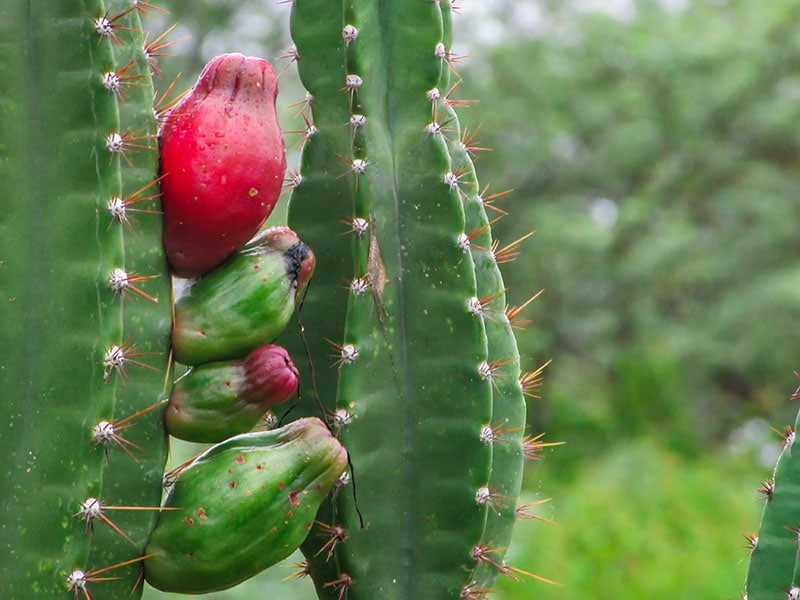 Mandacaru is a common cactus plant in Brazil's Central and Eastern regions. You can easily find it in the middle of spring in Brazil. It has many similarities in appearance with Dragon Fruit with a violet rind.
Besides, you can find countless edible seeds in their white flesh. Its size is the same as an apple, and the sweetness of this fruit will fascinate you. It is a favorite food of birds, so you can not find it in Brazil regularly.
Brazilians often combine it in many local desserts to take advantage of the distinctive sweet flavor. You will supplement sodium, magnesium, phosphorus, and water for your body after consuming excellent Mandacaru.
Nutrients: Rich in sodium, magnesium, phosphorus, and water.
Season: It is available all year round in Brazil.
How to eat: After removing the skin with a knife or your hands, you can consume its flesh directly.
17. Pineapples – Ananas Comosus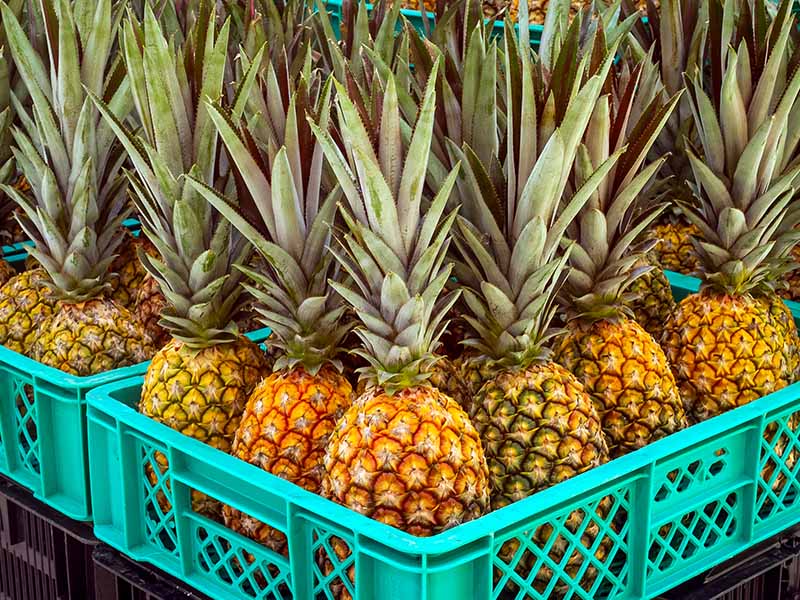 When speaking of Brazilian fruits, I must talk about the pineapple because Brazil is one of the 3 top pineapple producers globally, with about 2.5 million tonnes in 2020. The Parana-Paraguay River drainages are the homeland of this common fruit.
You can acknowledge this fruit quickly, thanks to the harsh and waxy rind that contains many hexagonal units on the surface. When ripe, it often has yellow, deep green, reddish, or orange-yellow shades.
You will love the eye-catching white or yellow flesh of it. Significantly, the juiciness of the flesh is compatible to add to many excellent dishes. The sweet-sour taste is a distinctive feature that captivates many people.
You cannot resist the attractive flavor when mixing this mouthwatering fruit with salt or sugar. Moreover, you should try the grilled version with brown sugar and cinnamon from Brazilians. Also, it appears in rum, cookies, chunks, heavy cream, and other desserts.
Nutrients: A source of calories, carbs, fiber, protein, fat, and vitamin C.
Season: It is common in the summer and autumn months in Brazil.
How to eat: People often peel all skin of it and cut it into small pieces to eat
18. Passion Fruit – Maracuja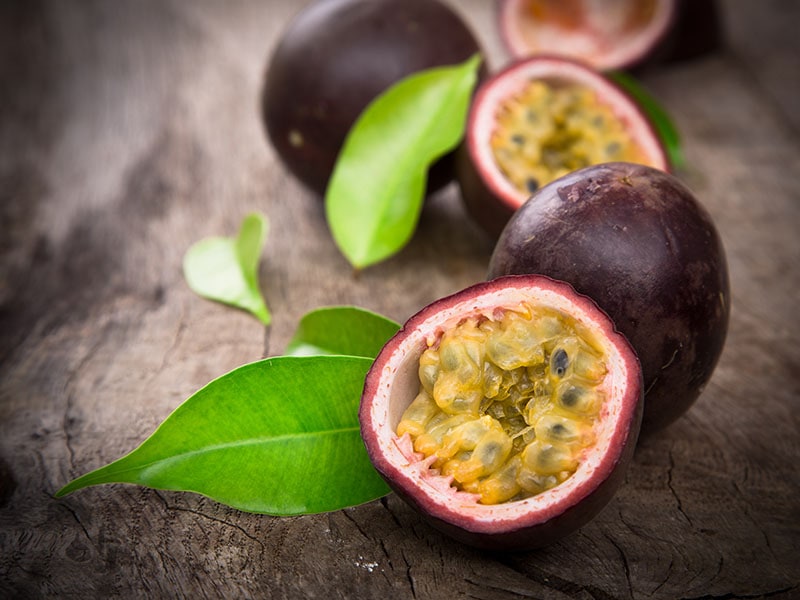 Passion Fruit is common in Brazil and many other countries worldwide. It belongs to the Passiflora family. Its name was used for the first time in 1700 in Brazil. It is native to Brazil and was shown in Europe in 1553.
It exists in round or oval shapes with about 1.5 to 3 inches in diameter. You can recognize it quickly, thanks to the red, purple, green, or yellow colors. It contains numerous edible and juicy seeds in the middle.
There are 4 different types of Passion Fruit you should try, including purple passion fruit, yellow passion fruit, sweet granadilla, and giant granadilla. Brazilians often squeeze its juice to create excellent drinks. Also, it appears in Mousses and Caipirinha or tops of cakes.
Nutrients: High in calories, fiber, vitamin A, C, iron, and potassium.
Season: Its season extends from August to December and March to May in Brazil.
How to eat: The most straightforward way to taste this fruit is to divide it into 2 halves and scoop the flesh and succulent seed with a spoon or squeeze to get the juice.
Until now, I cannot forget the incredible flavor of these fruits, and I believe that you will love them on the first try. I hope that this article's information about these Brazilian fruits will make your tour planning easier and faster.
When you receive any questions about the Brazilian fruits from your friends or relatives, let's show this post to them right away. In addition, I am delighted to know your opinions after reading this post, so please leave them in the comment section.