You are hosting a Thanksgiving dinner party with a roasted turkey, but you are not sure how to tell if a turkey is done?
As turkey meat is a traditional and indispensable dish for most Americans to celebrate Thanksgiving, I know some of you might feel a little bit pressure to cook turkey correctly because no one wants to ruin a party with an uncooked or overcooked turkey.
So don't worry! After reading this post, I guarantee that you can cook them precisely and make them look like a million bucks by using some simple methods and cheap tools.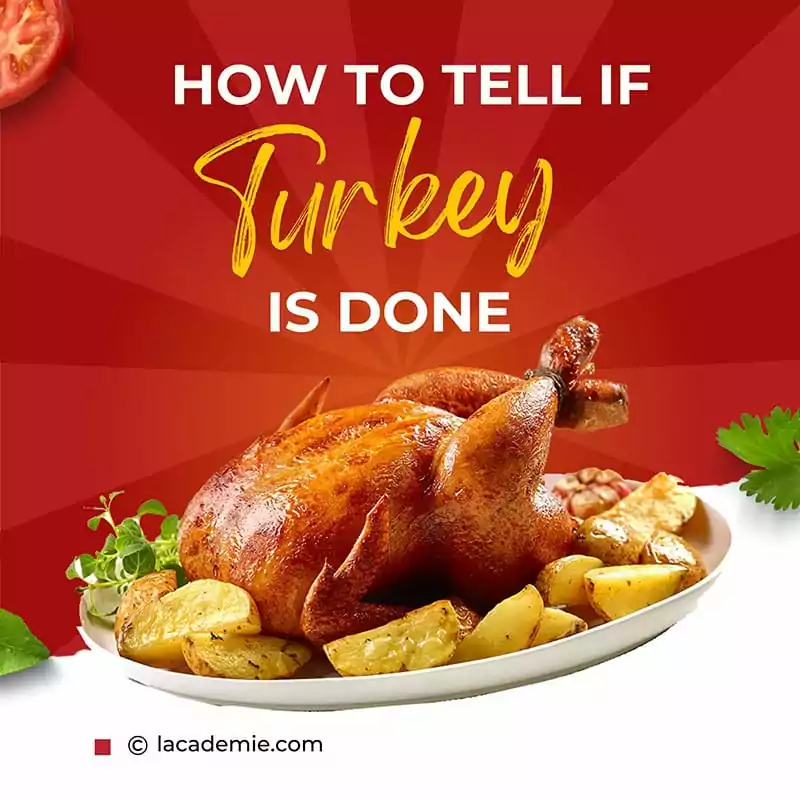 How To Tell If Turkey Is Perfectly Done?
Turkey is easy-to-eat meat, similar to chicken; however, turkeys have large bodies, so it will take a longer time to cook. It would be 3 to 5 hours to cook a whole turkey (depending on their total weight) and the internal temperature of the turkey must be 165 F degrees for your safe consumption.
Also, there are 2 classic methods for determining if the turkey is thoroughly done, by using a thermometer and not using a thermometer. These are also 2 ways to see if pork chops are properly cooked. Truth to be told, you can use these methods for many types of meat.
With Thermometer: This is the most accurate method to check because you can read the internal temperature of your cooked turkey.
Without Thermometer: You can also determine the doneness of your turkey by checking the color of their internal fluid.
How Long Do You Cook A Turkey?
It depends on the turkey's weight. The bigger they are, the longer it takes to cook them. Check the below table to estimate the cooking time for your turkey (1).
| Turkey Weight | Approximate Turkey Cooking Time (Unstuffed) | Approximate Turkey Cooking Time (Stuffed) |
| --- | --- | --- |
| 3 - 4 ib. Breast, Half | 50 mins - 1 hrs | Not applicable |
| 4 - 6 lb. Breast, Whole | 1 hr 30 mins - 2 hrs 15 mins | Not applicable |
| 6 - 8 lb. Breast, Whole | 2 hrs 15 mins - 3 hrs 15 mins | 3 hrs - 3 hrs 30 mins |
| 8 - 12 lb. Whole | 2 hrs 45 min - 3 hrs | 3 hrs - 3 hrs 30 mins |
| 12 - 14 lb. Whole | 3 hrs - 3 hrs 45 mins | 3 hrs 30 mins - 4 hrs |
| 14 - 18 lb. Whole | 3 hrs 45 mins - 4 hrs 15 mins | 4 hrs - 4 hrs 15 mins |
| 18 - 20 lb. Whole | 4 hrs 15 mins - 4 hr 30 mins | 4 hrs 15 mins - 4 hrs 45 mins |
| 20 - 24 lb. Whole | 4 hrs 30 mins - 5 hrs | 4 hrs 45 mins - 5 hrs 15 mins |
| 3/4 - 1 ib. Drumsticks | 2 hrs - 2 hrs 15 mins | Not applicable |
| 3/4 - 1 ib. Thighs | 1 hr 45 mins - 2 hrs | Not applicable |
| 6 - 8 ounces Wings | 1 hr 45 mins - 2 hrs 15 mins | Not applicable |
Note: Assuming an oven heat at 325 F degrees
How To Tell If Turkey Is Done With A Thermometer?
Using a thermometer, preferably a wireless thermometer for meat with high precision, is the most accurate way to tell if your turkey is done. By checking your turkey's temperature to see if it's reached a safe temperature, you can effectively avoid the spread of dangerous bacteria.
Another way to ensure food safety while consuming turkey is knowing the indications of spoiled ground turkey and whole turkey by heart. It'd be a recipe for disaster if you unknowingly prepare spoiled turkey. Then, your efforts to gauge turkey's doneness would be all for naught.
According to the Department of Agriculture, for safe consumption, the internal temperature of a turkey must reach 165 F degrees (2). If you stuff your turkey with other foods, keep in mind that the stuffing must also reach 165 degrees.
There are 2 types of thermometers to monitor the temperature of your cooked turkey: (1) an Oven-proof dial thermometer and (2) an Instant-read thermometer. Use one of them that you find convenient.
1. With An Oven-proof Dial Thermometer
The reason to choose this type of thermometer is that it will be placed and remained inside the oven with the turkey, so you can directly check the temperature without taking your turkey out of the oven.
Here is the step-by-step instruction for you to use this thermometer property as well as to check the correct internal temperature of your turkey.
Step 1: Identify the Thickest Part of the Turkey
In order to make sure you can read the correct temperature from a turkey, try to find the thickest part of the inner thigh.
In case you are unfamiliar with poultry's parts, especially turkeys, the thigh is the top of the leg and next to the breast.
Why do I have to stick the thermometer here instead of the breast? Because the breast of a turkey is white meat while the thigh is dark meat, which takes a longer time to cook. So if the dark meat can be fully cooked, you can be sure the other parts are fine to eat.
Step 2: Insert the Thermometer Into the Turkey
Slightly push the ovenproof dial thermometer into the thickest part of the turkey's thigh without touching the turkey's bone; otherwise, the temperature might not be accurate for you to check.
Make sure that you leave the thermometer on the side so that you can see the temperature during its cooking process.
Step 3: Check For the Temperature
Once your turkey is already in the oven for a period of time, you can remove your turkey from the oven if you see the thermometer reaches 165 F degrees for the internal temperature.
However, if you want to keep your turkey juicier, you can remove them from the oven when it reaches 160 F degrees.
The reason is that your turkey will continue to cook during its resting time, so the temperature might rise 5 more degrees to reach the ideal 165 F degrees at this point.
In contrast, a temperature higher than 165 F degrees will result in dry turkey meat. And no one wants a dry turkey.
Plus, in case your turkey is stuffed with other foods, remember to check it as well. The stuffing must also reach 165 F degrees to make sure they are safe to eat. What you should do is insert a thermometer in the middle of the stuffing to check the temperature.
Step 4: Remove From Pven and Leave Your Turkey Rest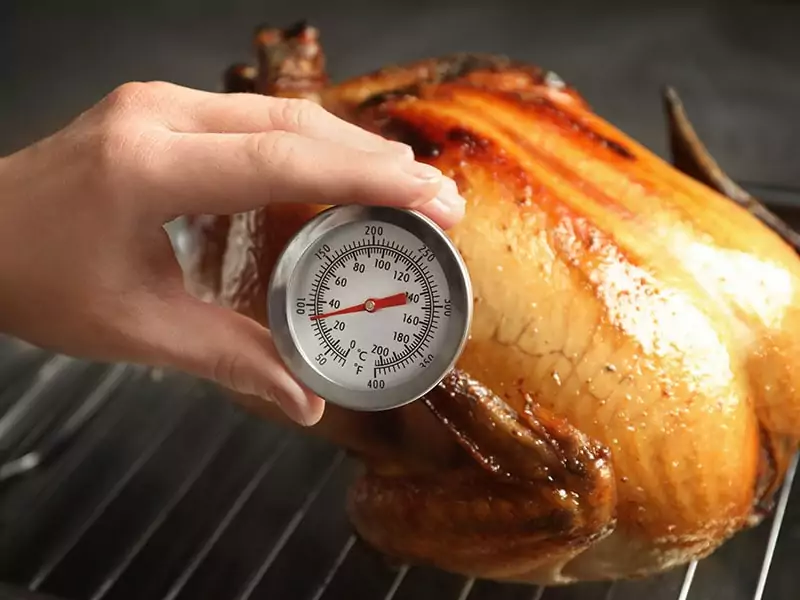 Turn the oven off and carefully remove your turkey from the oven. Allow them to rest for up to 45 minutes before carving.
The liquids inside them will be reallocated during their rest, so you will not have to worry about them running out when you cut the turkey.
2. With An Instant-read Thermometer
As an instant-read thermometer cannot be left in the oven with your turkey, you only use it after you have taken your turkey out. The advantage of this thermometer is it can display the temperature immediately when you use it to check.
Here are a few steps to take the temperature of your turkey by an instant-read thermometer.
Step 1: Take your Turkey Out of The Oven
After a few hours, you might want to check the current temperature. So you have to take your turkey out, but still, be careful to avoid getting burned. Do not forget to close the oven door.
Step 2: Check the Temperature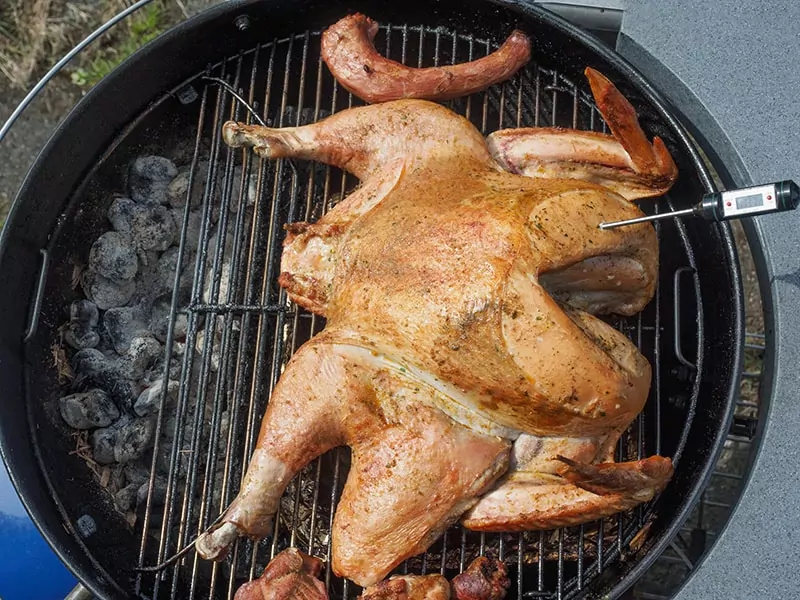 Like using an oven-proof dial thermometer, place the thermometer straight in and deep into the thickest part of the thigh, but do not touch the bone. You can check how to find the thickest part above again.
Hold the thermometer for 20 seconds to 1 minute until you see the numbers of the temperature stop. If it is between 160 to 165 F degrees, your turkey is done.
If not, you can put it back in the oven, then wait until you can finally read the temperature is 165 F degrees. Checking it every 20 to 30 minutes is fine.
Similarly, you may check the internal temperature of the stuffing portion of your stuffed turkey by inserting an instant-read thermometer into the middle of the filling and taking the temperature. You will need to cook your turkey longer if it is below 165 F degrees.
Visual demonstration of checking your cooked turkey is ready to serve.
Without Thermometer, How To Know Turkey Is Cooked?
In case you do not have a thermometer on hand, there are also some easy steps to estimate if your turkey is ready to serve or not. However, this method can only be suitable to check the unstuffed turkey.
If your turkey is stuffed, then using a thermometer is highly recommended to make sure the internal stuffed are perfectly cooked. Uncooked stuffed turkey might result in food poisoning.
Step 1: Check Your Turkey Thigh
As explained above, the turkey's thighs are the meatiest part, so if they are cooked, the rest of your turkey is totally fine.
Step 2: Use the Top of a Knife or a Skewer to Make An Incision
Push the top of a knife/skewer/a sharp specialized shear for poultry to make an incision on the thigh, only about 2 inches (around 5 cm). When you put the knife into your turkey like this, you can see the juices will run out.
Step 3: Check for Clear Fluid
Once you see clear juice running out from the turkey, it means your cooked turkey is done. But if you see blood or light-red fluids, you should put them back in the oven for roasting again.
Remember to check your turkey every 20 to 30 minutes.
Step 4: Leave Your Turkey Sitting Out
Once it finishes cooking, do not slice them right away. Let them rest for around 20 minutes (45 minutes maximum). The reason you must let them sit out is that if you cut them immediately, the fluids will run out, meaning all the flavors will be wasted.
So, just leave them on your kitchen counter, let them cool so the juices can be absorbed back into the meat.
2 Expertise Tricks To Fix Overcooked Turkey
If you only serve turkey once or twice a year on Thanksgiving and Christmas events, I am sure that you might feel a little bit stressed out for cooking them properly, to be sure you will not ruin your party with a dry, overcooked turkey.
So what should you do if you accidentally overcook your turkey? First of all, do not panic because I have solutions, 2 perfect solutions for you.
Use Gravy
Use hot or warm gravy to fix overcooked turkey. Do not soak them in that. You just lightly coat your turkey with the gravy to make the dried meat look and taste moist.
Alternatively, you may add some butter to the gravy and then pour it over the turkey slices. It could help your turkey regain its juiciness.
Warm With Chicken Broth
You can salvage them again by using broth. Use a pan or baking dish, put turkey slices with broth into it, cover them with foil or a lid, then place them in the oven at 250 F degrees for around 10 minutes.
They might not completely save your dried turkey, but at least it will make them appear more appealing and moist.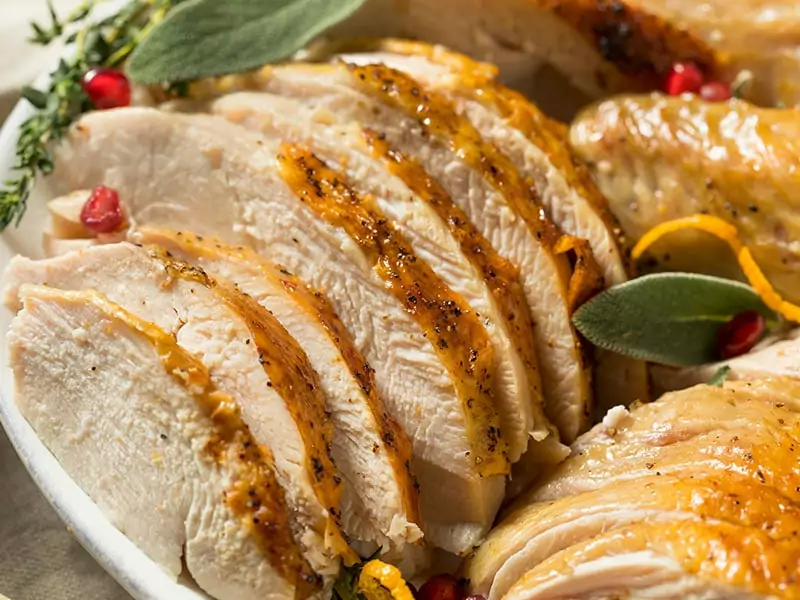 Is Turkey Good For Your Health?
On Thanksgiving, roasted turkey is a classic American food. During this holiday, 46 million turkeys are consumed annually. Therefore, knowing the advantages of turkey is critical for you to maintain excellent health when consuming them.
Turkey may look fat; however, it has less fat per serving than chicken, with just 0.5 gram per 3 oz portion against 3.5 gram for chicken. In addition, they have more protein than chicken.
Besides, turkeys are said to contain the amino acid tryptophan (3), which makes you fall asleep after eating them. However, tryptophan is found in other types of meat. Therefore turkey is not the source of drowsiness.
Overall, like chicken, turkey meat is lean and healthy with various vitamins and minerals. But keep in mind, avoid over-consuming them, not only turkey but also meats in general because 'too much' is never good.
Turkey Fun Facts
Roasted turkey seems like the iconic delicacy for Thanksgiving or Christmas dinners. But there are things that I am sure that you have not known about yet. So get ready to know more about turkey with some fun facts.
Turkey is not from Turkey. They are big birds that originated in North America.
There are two turkey species: wild turkey and ocellated turkey.
Turkeys have different names based on their ages and gender. Female turkeys are hens, males are gobblers, and babies are poult.
Adult gobblers weigh 16 to 25 pounds and are 39 to 49 inches long, while adult hens are 5 to 12 pounds and are 30 to 37 inches long.
Despite their big bodies, wild turkeys can fly. But they cannot fly very far, only up to 55 miles per hour. Domestic turkeys, however, are unable to fly.
Male turkeys may fight you, so you must be cautious while approaching them, particularly during their mating season.
Turkey's head color can change from red to blue to white, and the color changes based on their feelings, so if you see a lighter color, it suggests they are relaxed.
You can identify their gender through their poop. Male turkeys have J-shaped poop, while female ones have spiral-shaped poop. So funny, isn't it?
The vision of a turkey is three times better than that of a human. They have a 270-degree vision and can see colors.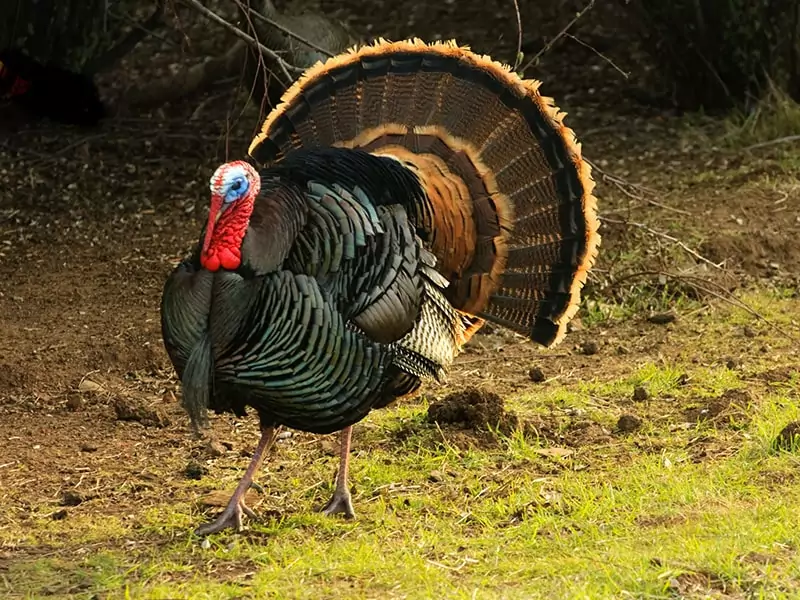 FAQs
Still have concerns about other aspects of cooked turkey? I hope by reading the answers to some frequent questions here, you will be able to have a better understanding of how to properly enjoy your meal. Let's have a look.
Now, It Is Your Showtime
With the information regarding tips to check your turkey after cooking and even ways to salvage them if you undercook or overcook them, now you can impress everyone with a perfectly cooked turkey for your next holiday. Nothing is difficult, is it?
But if you know of any better methods, please share them with me in the comment part. Please also like and share this post with your loved ones so they may learn these essential guidelines and have wonderful holidays with a roasted turkey.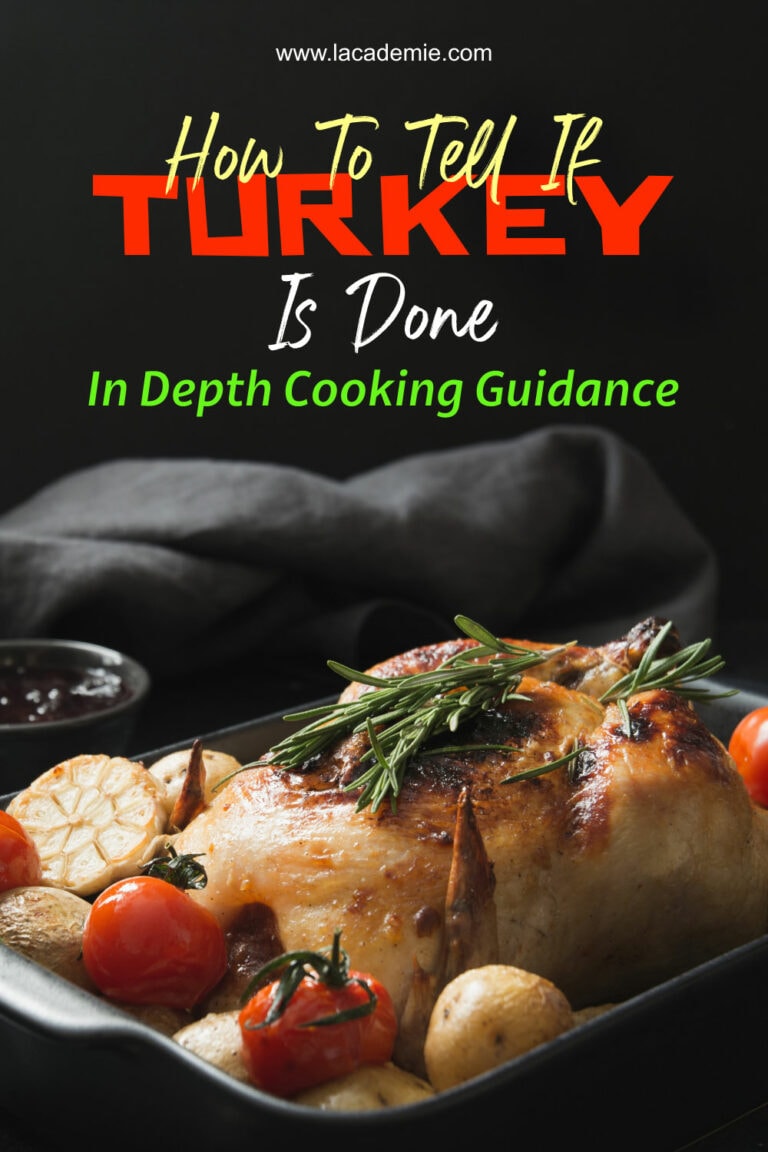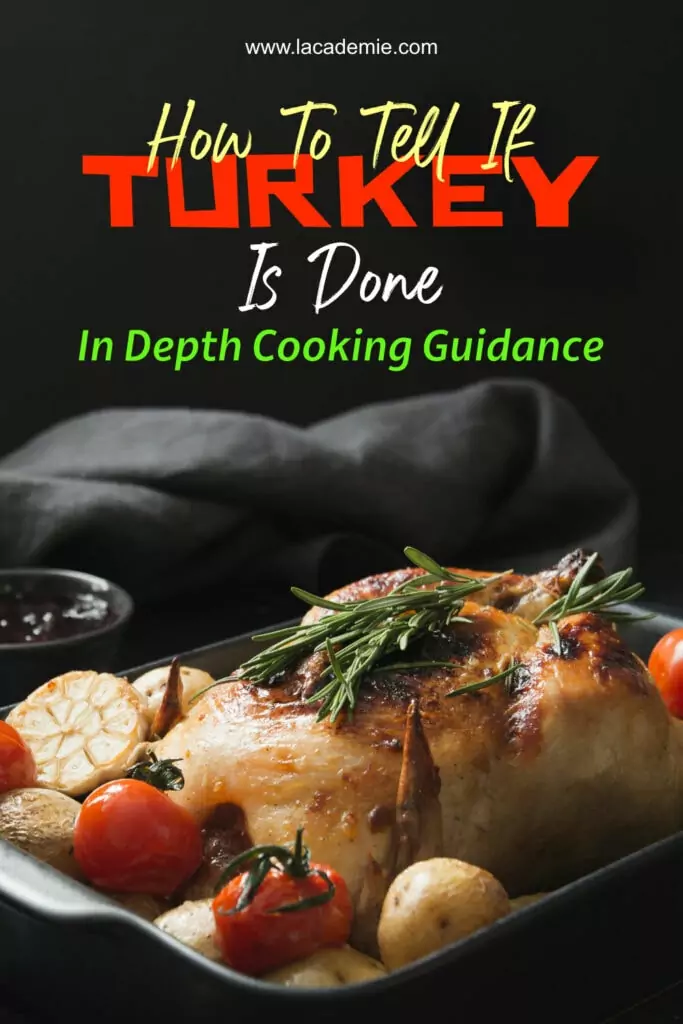 References
Mariane, G. 2017. How To Cook A Thanksgiving Turkey – usda.gov
Usda.gov. 2021. Cooking Meat? Check New Recommended Temperatures.
En.wikipedia.org. 2021. Turkey As Food – wikipedia.