Nicaraguan foods have contributed their diverse flavors to the most exquisite menus for tourists worldwide. Not only does it share the vibrant and freshness with Mexican foods, but it also resembles the gastronomic delight of European dishes.
Despite the modest national wealth, the richness of Nicaraguan cuisine has surprised many foodie travelers. Don't believe me? Allow me to prove you wrong by sharing several dishes that display a better vision of the culinary arts in this country.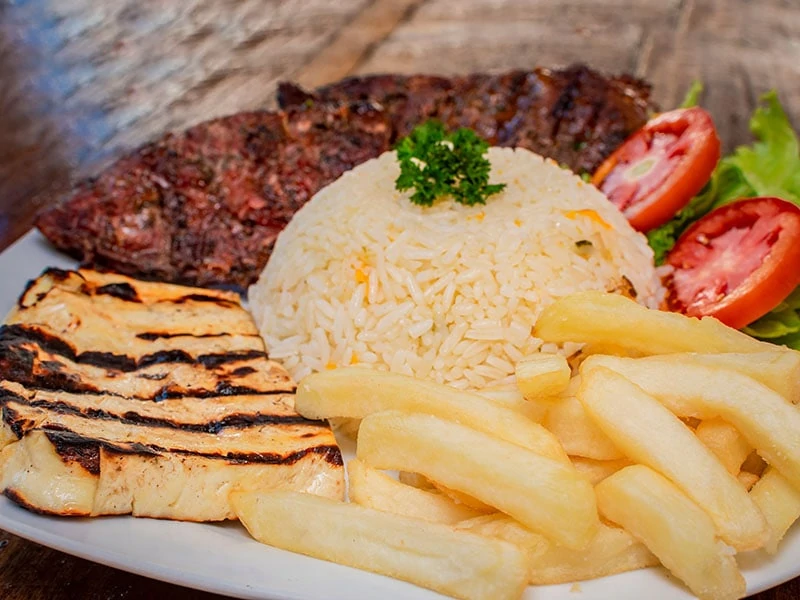 Breakfast Dishes
Nicaraguan breakfast dishes are ideal for rejuvenating and kick-starting your morning after a restful night. If you're seeking a flavorful start in a new destination, these dishes are sure to meet your tastes. Be sure to note them down!
1. Gallo Pinto – Nicaragua's National Dish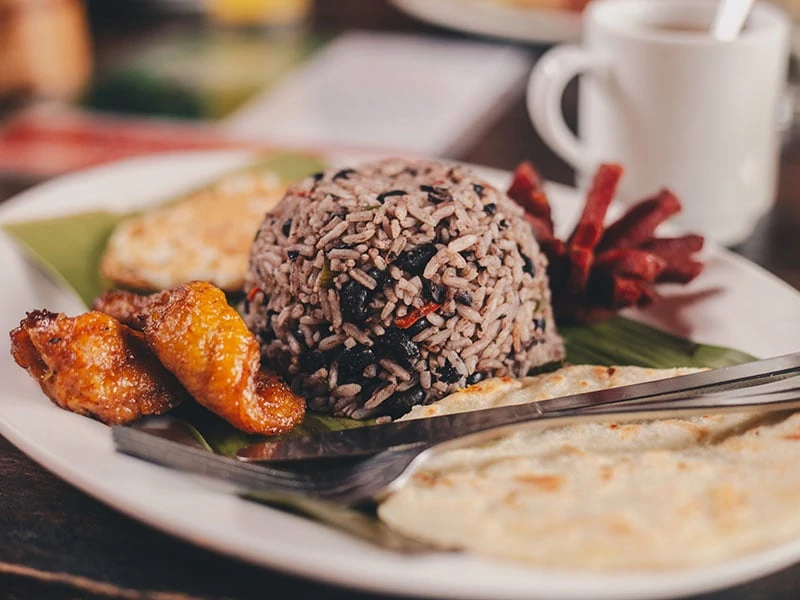 Don't skip the a.m meals if you want a long and healthy life. Foods like dairy, grains, and fruits are the key to giving you enough vitamins and nutrients that your body needs. That's why Gallo Pinto is considered Nicaragua's national dish.
Despite its simplicity, Gallo Pinto is well-loved by both tourists and locals. The exact origin of this meal is still an "open case" since both Costa Rica and Nicaragua claimed this dish as their signature, which has sparked an unparalleled rivalry between the two countries.
Cooked rice and black or red beans are the main ingredients for this filling breakfast. The addition of cheese, fried plantain, and tortilla will add a delicate touch to the final dish. Seriously, this dish will not be complete without some complement foods for red beans and rice.
2. Nacatamal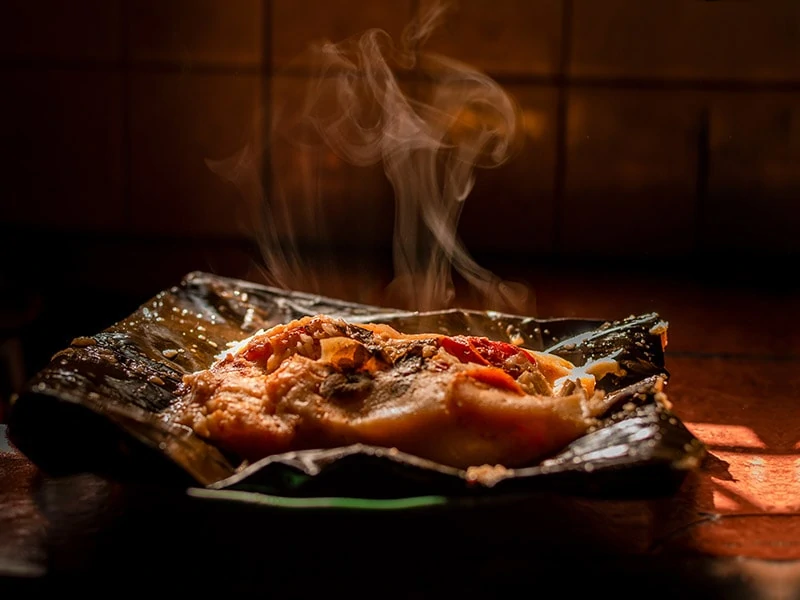 Desire a stress-free cooking on this Sunday? Then reserve some Nacatamales for the weekend. The name of this dish could be translated to "meat tamale". This name originated from the Nawat language of Nicarao people on the Southern Pacific coast.
Nacatamal is a corn dough stuffed with chicken or pork wrapped in banana leaves. Some cooks will also mix the filling with bell peppers, rice, onions, etc.
This dish will often be enriched by adding raisins, prunes, and olives on some special occasions. Pair it with a cup of bitter coffee, and you shall have an authentic Nicaraguan breakfast experience.
3. Vigoron
(Yuca and Cabbage Salad)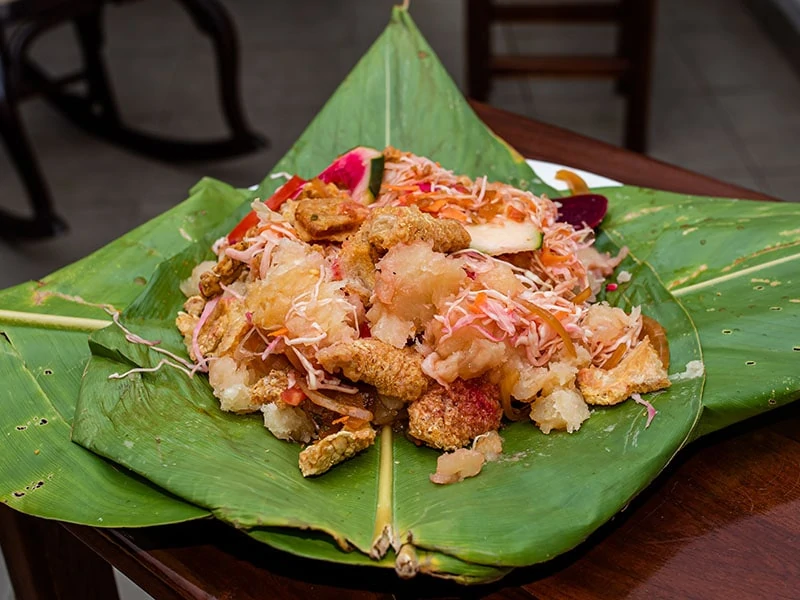 If you're a fan of meat but still want a balanced meal, try Vigoron! This classic Nicaraguan recipe consists of boiled yuca mixed with crispy pork skin and a refreshing cabbage salad. Everything is traditionally served on top of a banana leaf.
Although it might seem redundant to say this, but I cannot stress enough the importance of how you shouldn't mix up cabbage with lettuce. Oftentimes, these two look similar enough to be confused for one another. However, their different taste means lettuce will mess up this recipe.
Vigorón is thought to have been developed in 1914 by Mara Luisa Cisneros Lacayo. She came up with this name after reading an advertisement for the eponymous medical tonic, according to Dr. Alejandro Barberena Pérez.
4. Tostones
(Fried Green Plantains)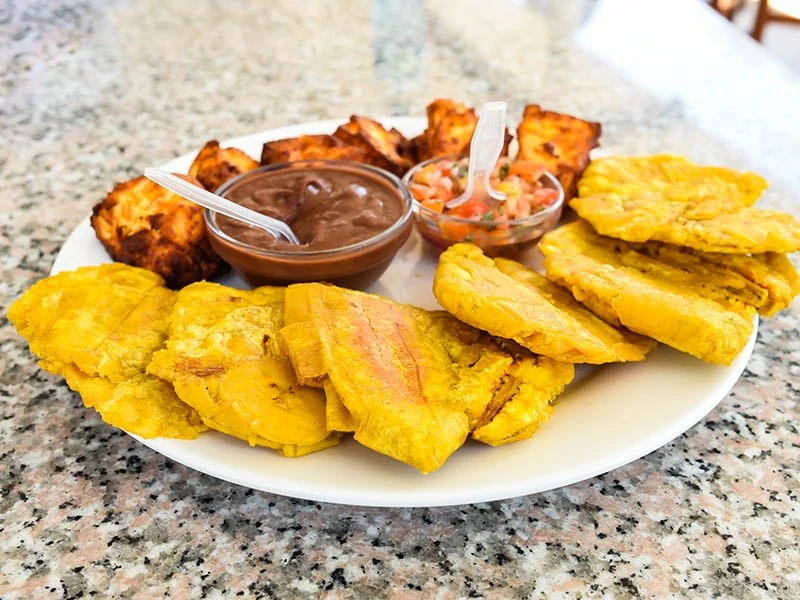 Plantain, also called Planto in Spanish, is one of the primary staple foods in Nicaragua. Plantains are super chewy and yummy when fully ripe. But for green plantains, eating them raw is not recommended. That's why Tostones are a widely popular breakfast or dinner supplement.
Despite the unknown origin, Tostones are an addictive dish in Latin American and Caribbean cuisines. Deep-frying can reduce the nutritional value of this healthy and starchy fruit, so I recommend consuming them in moderation.
5. Tajadas
(Fried Ripe Plantains)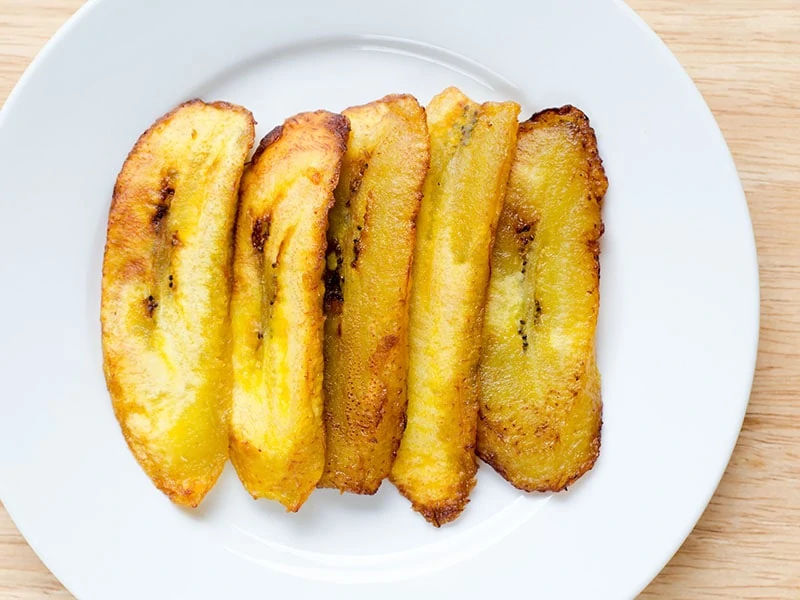 Similar to Tostones, Tajadas are made with plantains. However, people will use ripe sweet plantain slices for this dish instead of green plantains. Sometimes, it can be topped with shredded cheese.
This is a common dish throughout Nicaragua. Other than that, it's also a popular food in Honduras, Venezuela, Panama, and Colombia.
Lunch Dishes
Nicaraguan lunch dishes play a pivotal role in maintaining brain efficiency throughout the day. To stave off intense hunger, consider these tasty recommendations.
6. Carne Asada
(Grilled And Sliced Steak)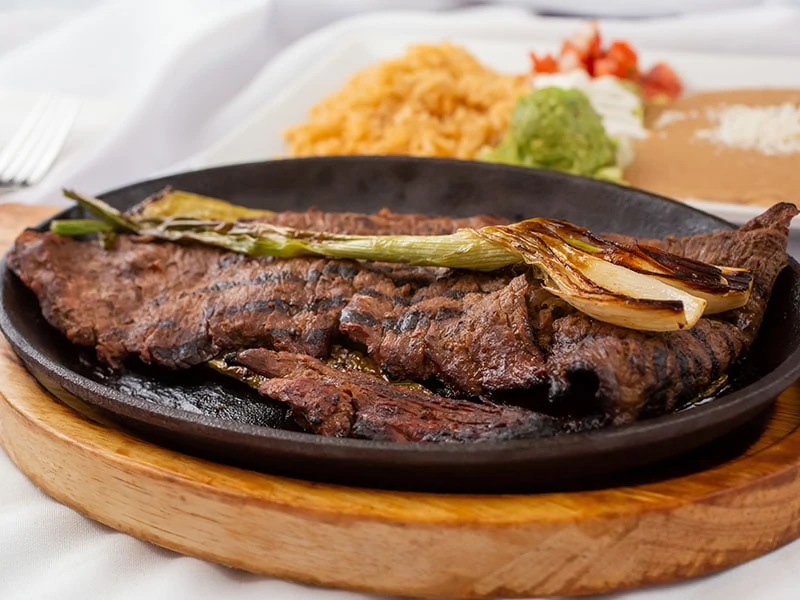 In Mexico and Central America, the term carne asada means "grilled meat", referring to the grilling style of the dish. You can find the dish in many Hispanic countries, and it is considered a staple in Guatemalan cuisine.
Despite this similarity, Nicaraguan-inspired Carne Asada is quite different from the Mexican version.
In the dish, you will see a bunch of well-loved components. The charcoal-grilled meat is obviously the main attraction. Once it's grilled, the meat will be served with rice and beans, cabbage salad, and thinly sliced and fried plantains.
7. Pollo a la Plancha
(Grilled Chicken Breast)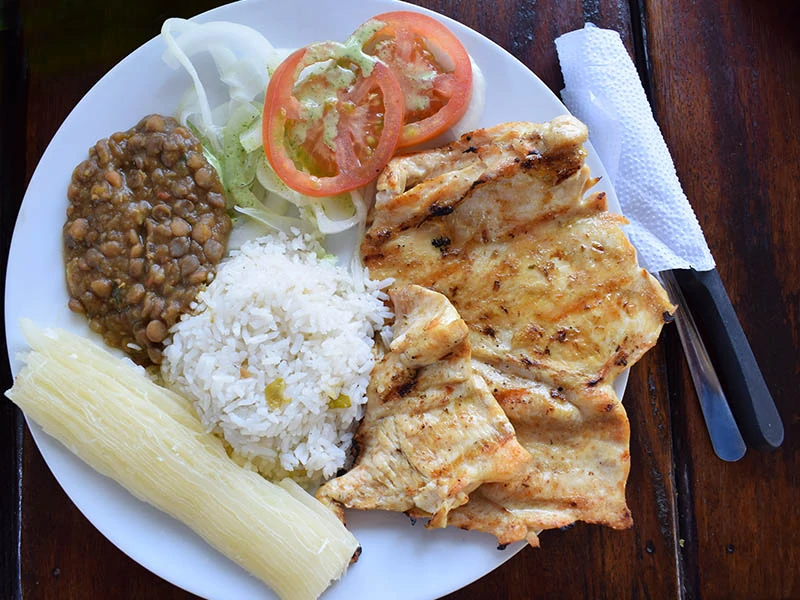 Chicken is undoubtedly one of the most popular ingredients in the culinary world since it's healthy and available at a reasonable price in every supermarket.
So if you're a fan of chicken, give this Nicaraguan lunch dish a try! Pollo a la Plancha is a traditional dish in several Latin American countries and can be found on the menu of almost every Nicaraguan restaurant.
The meal's name translates to "chicken cooked on a griddle". It is also known as Pechuga a la Plancha, which refers to the chicken portion people use for this recipe (the breast).
Can you use any part of the chicken other than the breast? Unfortunatley, no! Each part of the chicken is vastly different. For example, if you compare chicken breast with chicken tenderloin, you'll spot several dissimilarities in taste, texture, and even nutritional values.
8. Berenjenas Rellenas
(Stuffed Eggplant)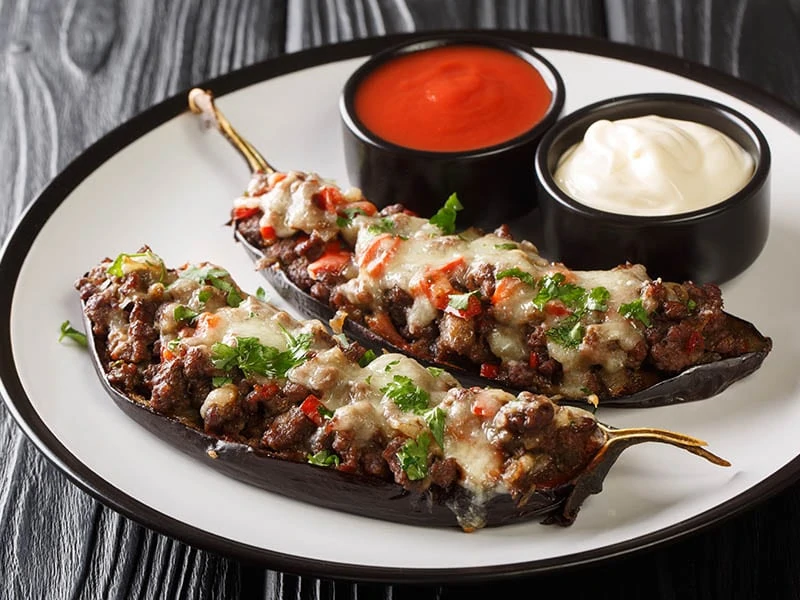 Are you craving a Spanish specialty from Nicaragua? The traditional savory Berenjenas Rellenas is ready to serve you!
Berenjenas Rellenas, or stuffed eggplants, are a classic Nicaraguan delicious specialty with a pronounced eggplant flavor that you can't forget. Regarding its preparation and filling ingredients, this dish has various versions.
The eggplants are usually chopped in half and roasted until soft before the pulp is removed. Afterward, these fruits with "E" as the first letter in their names will get stuffed with ground meat, rice, and other veggies like zucchinis, chili peppers, onions, tomatoes, or mashed potatoes.
9. Sopa de Mondongo
(Tripe Soup)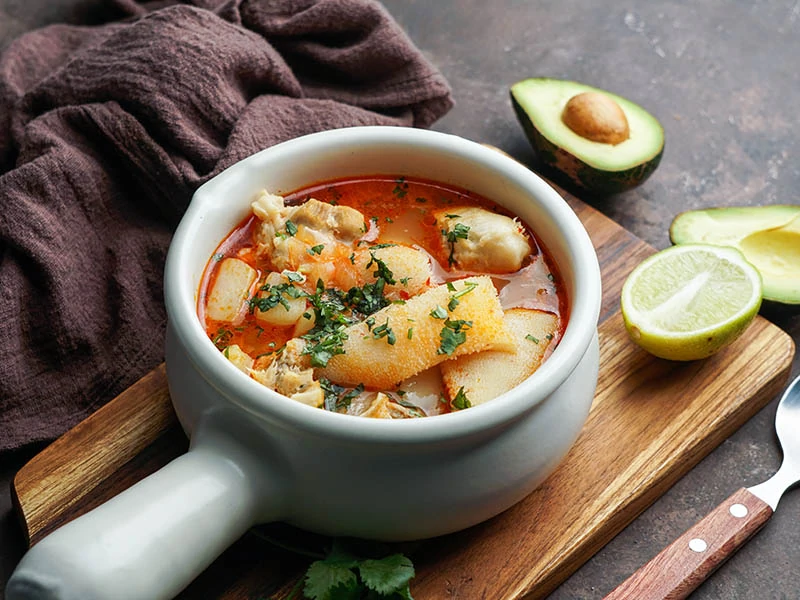 Each country will have a dish to identify it, and Sopa de Mondongo is a true representative of Nicaraguan culinary art. It's a staple in many Latin American homes and first appeared during the Spanish colonization period in the 17th century.
Sopa de Mondongo is a national soup made with diced tripe and vegetables such as onions, bell peppers, carrots. Some will add smoked pork bones or smoked turkey drumsticks to make the dish more hearty and filling.
If you have a chance to experience the cuisine of Bolivia or any other Latin American countries, you'll notice that Sopa de mondongo is also famous there as well. The on-point color and flavor of the soup will surely make your exotic food adventure unforgettable.
10. Baho (Vaho)
(Beef, Plantains And Yuca Steamed In Banana Leaves)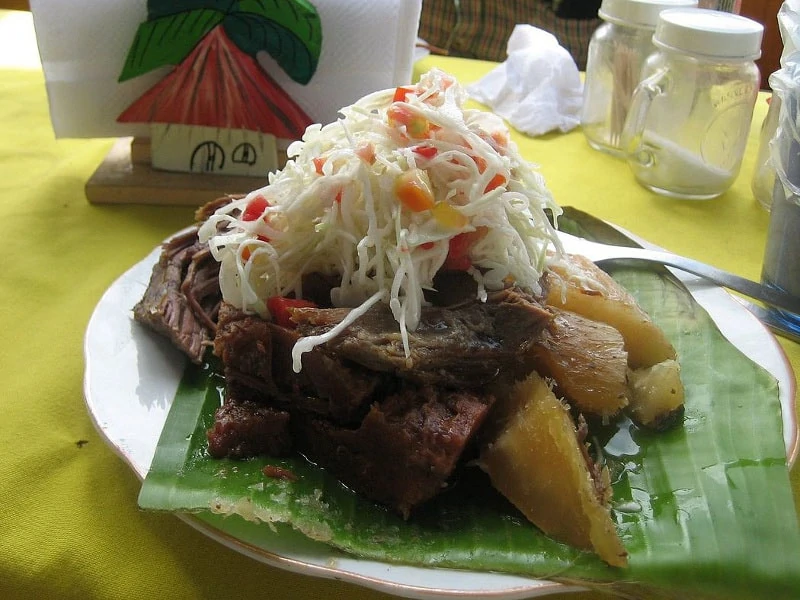 Baho, or Vaho, is one of the cornerstone dishes of Nicaraguan cuisine. The word "baho" means "to steam" in Spanish, referring to its unique cooking method.
It is a staple Sunday food for specific households. So people tend to marinate the meat every Saturday, then they will steam and serve this traditional dish the next day.
Besides the incredible flavor, Baho is also a great hangover cure. So if your head feels heavy after drinking all night, just grab a plate of Baho and enjoy! This dish will pair well with a glass of passion fruit or fresh watermelon juice.
11. Carne Pinchada
(Meat On A Stick)
Carne Pinchada, which literally translates to "stabbed meat", is a popular Nicaraguan fast food. As the name suggests, the main component of this dish is meat (either chicken or beef).
The meat is usually marinated in an alcoholic sauce made from Tona or Victoria beer, wine to give it a unique taste. Then of course, it will be cooked and served on a stick.
If you have the opportunity to go to a Nicaraguan party or celebration, you might be able to enjoy this delicious meat stick along with other side dishes.
Dinner Dishes
Nicaraguan dinner dishes are designed to recharge you after a busy day and set the stage for a restful night. Discover what the Nicaraguans cherish during this special mealtime!
12. Indio Viejo
(Beef Stew)
The history behind the name of this dish will make you laugh. The word Indio Viejo, or "old Indian", derives from a tale told by an indigenous chief to two Spaniards passing through a tribe in Ometepe.
When the Europeans saw the natives eating, they questioned what they were eating. One of them lied and said he was eating "an old Indian" because he didn't want to share his food. And the name just sticks from that point on.
Containing tomatoes, beef ribs and a hint of orange bitters, this legendary Nicaraguan dinner dish is such a comforting dish for colder weather and special occasions. These days, Indio Viejo is served throughout the country, so be sure to give it a taste during your visit.
13. Arroz a la Valenciana
(Valencian Style Rice Dish)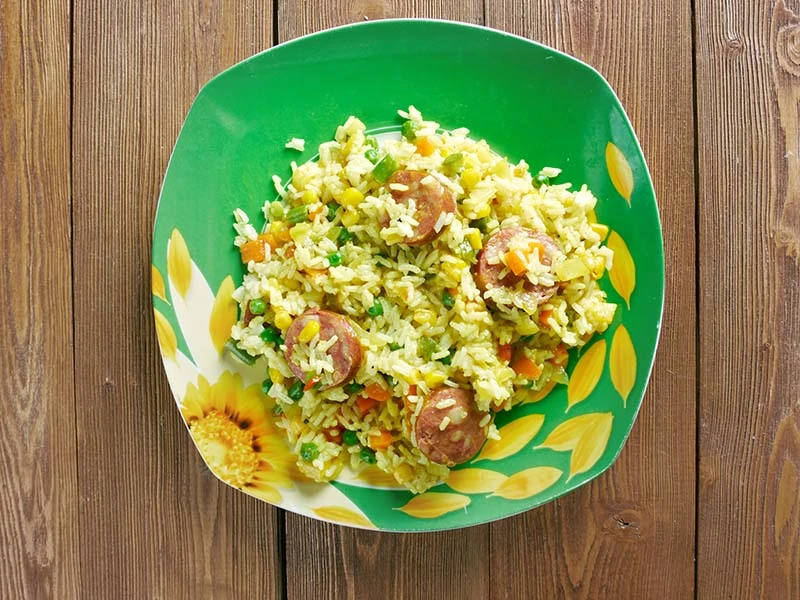 Looking for food ideas to throw family gatherings? Enter Arroz A La Valenciana! This delicious rice dish is usually prepared in a big pan so many people can enjoy it at once.
It consists of rice and meat such as chicken, sausage, shrimp, or scrumptious store-bought canned tuna. And if you pair Arroz a la Valenciana with butter, tomato paste, and white wine, you will have a mouthful of flavors.
Many people believe that this dish is a derivative version of Spanish paella since the name "Valencian" originates in eastern Spain. However, Nicaragua's rice dish was found in colonial times, while the paella didn't emerge until the late 19th century.
14. ​​Rondon
(Seafood Soup)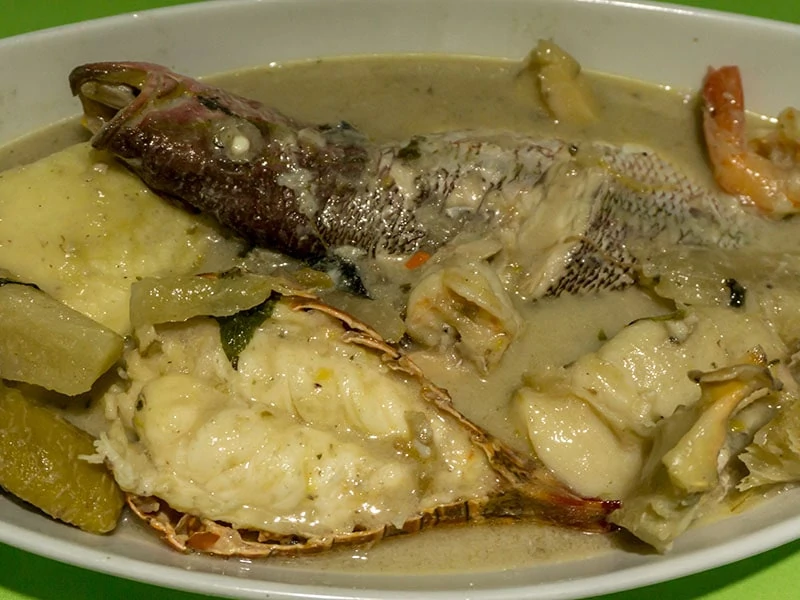 Nicaragua's breathtaking geography and diverse landscape open up an array of fresh ingredients from nature, which is an ideal foundation for Rondon – an exquisite dish from the Atlantic Coast of this country.
The word "rondon" derives from the English "run down", describing how the fish falls apart once it is fully cooked. Some might say this English term refers to the runny consistency of the soup. Fling-Me-Far and Fling Mi For are also common names for this dish.
Although this soup might look unappealing at first, in fact, it's rather messy; travelers are in awe of its attractive hearty flavor. By mixing coconut milk, fresh fish, crab, plantains, and vegetables, you can have a rustic paradise in just a single dish.
15. Salpicon
(Seasoned Minced Meat)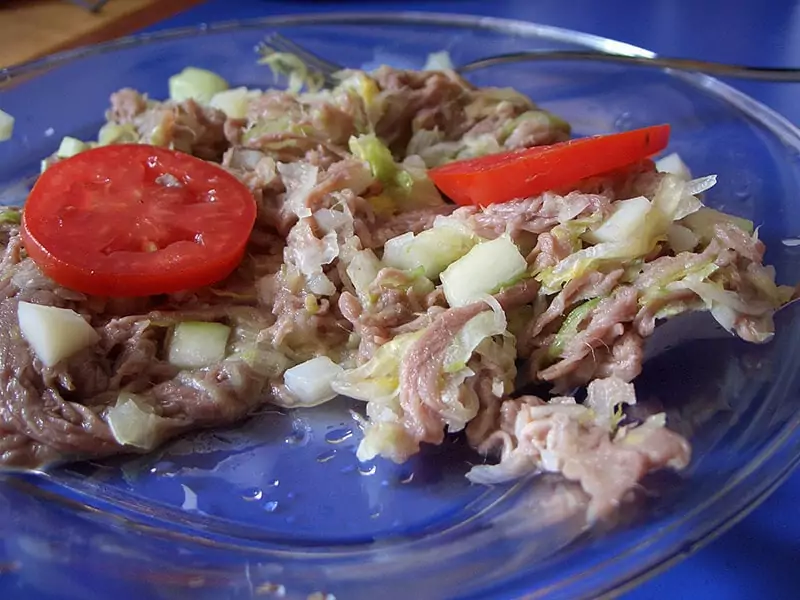 The exact origin of this dish is still a mystery, but many people reckon that it came from a coastal region in Spain. When the Spanish colonized more land in Central America, they brought this tradition along, and it has become a must-have in Nicaragua since then.
Salpicon is a fascinating main dish for families on Saturday or Sunday evenings. This dish is basically minced beef with onions and bell peppers, traditionally served with hot white rice, fried plantains, and fried cheese on the side.
16. Sopa de Cola
(Oxtail Soup)
Sopa de Cola, or oxtail soup, is a classic Nicaraguan soup. This delicious soup is usually made in a huge metal pot over an open fire. The oxtail pieces are simmered in water with various vegetables, spices, and herbs added throughout the cooking process.
Many Europeans might think it's strange to eat oxtails since they believe they are "not safe to eat". However, not only are oxtails safe to cook and consume, but they are also incredibly delicious!
A hot bowl of oxtail soup will surely warm up your tummy and soul during the cold days.
Sweet and Savory Snacks
Whenever the pleasure of a heavy meal has passed, a large amount of insulin might trick the human brain into desiring some salty or sweet treats. So lighten your craving with the Nicaraguan desserts and savory snacks below! Let's start with the savory ones first:
17. Chicharron
(Pork Rinds)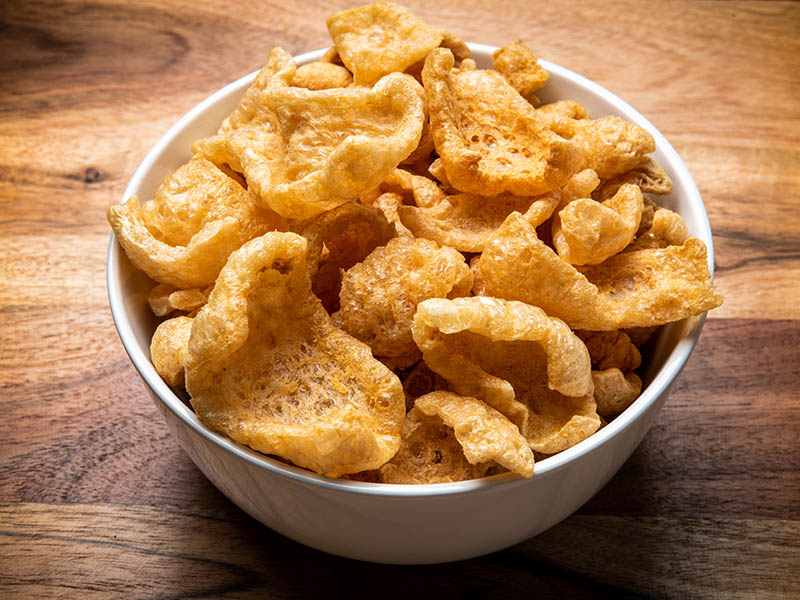 Because Nicaragua used to be Spain's colonization, the flavor of Chicharron is heavily influenced by Latin American culture.
This dish consists of pigskin that has been seasoned and fried. The recipe for Chicharron only calls for raw pork skin, olive oil, and salt. You can find pork skin at local Hispanic markets, but if you're struggling to find it, skin-on pork belly is still a viable option.
This crunchy and savory dish can be served in many different ways, ranging from the main course or side dish to finger-food snacks.
18. Quesillo
(Corn Tortilla with Cheese)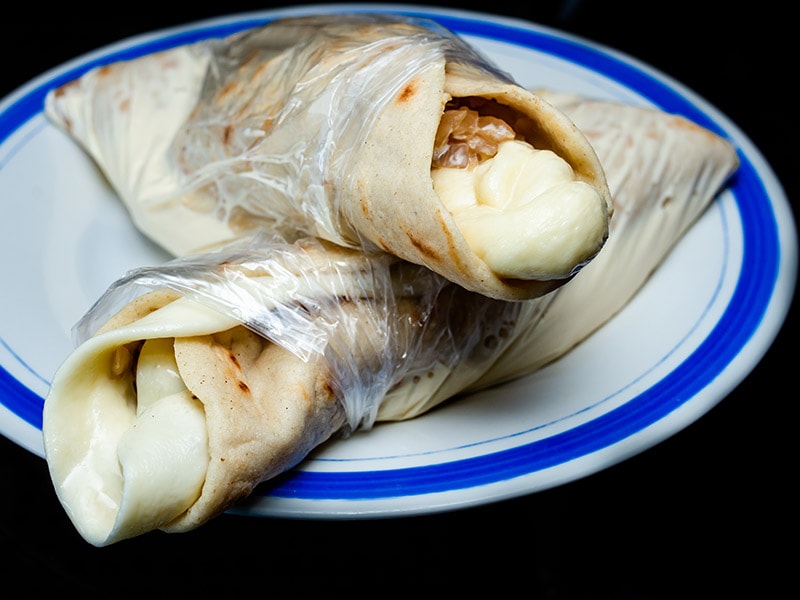 Although there is not much information about the history behind this Nicaraguan dessert, I can't deny the popularity of this on-the-go snack.
Quesillo, meaning "little cheese", is a great way to explore this country's cuisine. In Nicaragua, people usually serve it in a small plastic bag and eat it like ice cream.
The juices from the banana vinegar, the flavors of the sour cream, the soft and melted cheese; everything will combine and make an unparalleled explosion in your mouth!
19. Cajeta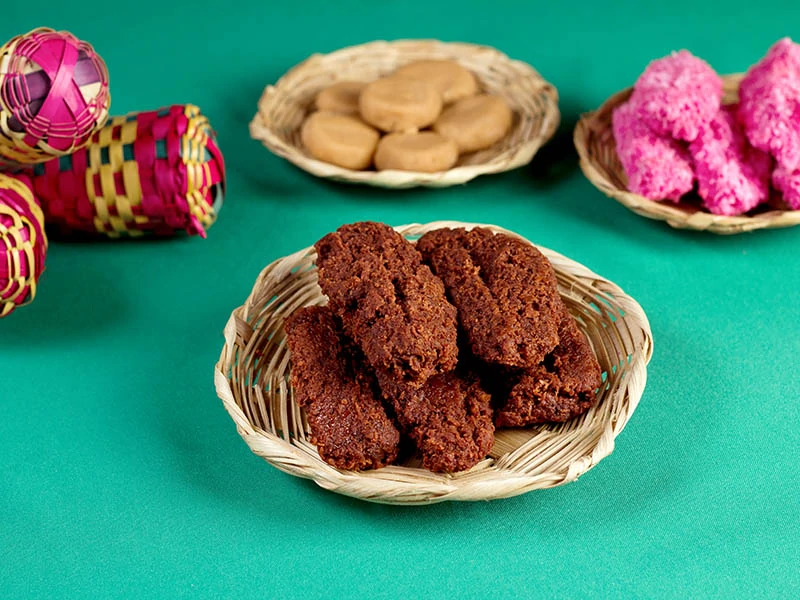 Apart from the white sandy beaches and intriguing volcanoes, Nicaraguan desserts deserve more attention. One of the most well-known desserts in this country is the Cajeta, a type of fudge that commonly appears on special occasions.
There are various flavors for this dessert, including milk (Cajetas de Leche), coconut (Cajetas de Coco), and papaya (Cajeta de Papaya) that you should try out. They can be easily found in the Central markets and the streets.
20. Tres Leches
(Three Milk Cake)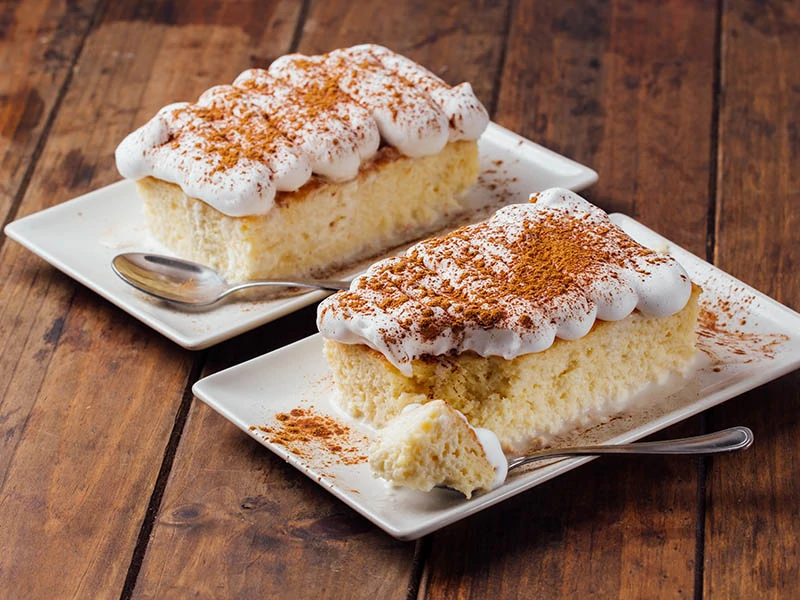 When it comes to Nicaraguan desserts, you can't pass these three milk cakes. The origin of this creamy and airy cake is still a controversial topic, but most historians agree that it gained its reputation in Nicaragua.
The name of the dish describes everything. Whole milk, evaporated milk, and sweetened condensed milk are the three main ingredients to complete this dish. The Nicaraguans love to garnish it with some fresh strawberries before serving.
21. Arroz con Leche
(Rice Pudding)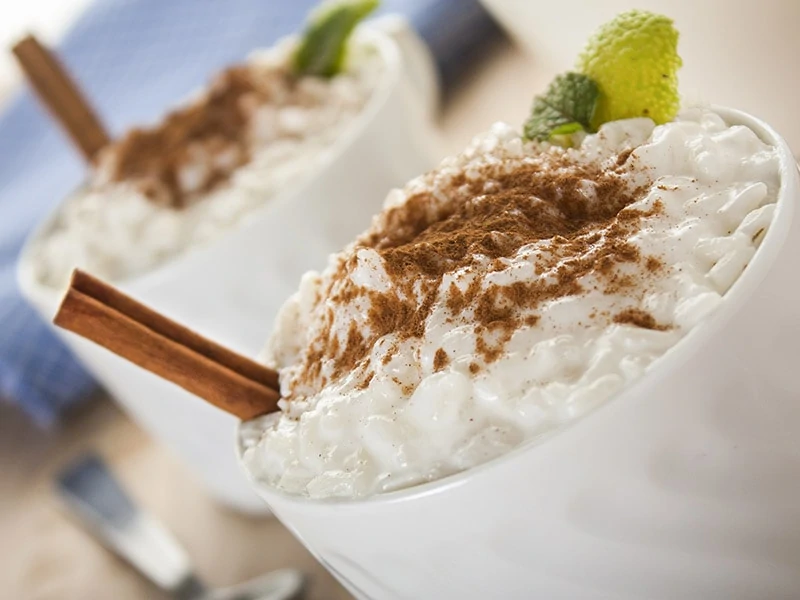 Gallo Pinto, Tamales and Arroz a la Valenciana all linked in one main thing – rice. So don't be surprised when this ingredient is featured in one of the go-to desserts in Nicaragua called Arroz con Leche.
The origin of this dish may be traced back to the Muslim world. It was brought to Spain when the Muslims invaded the Iberian Peninsula's south, so don't be surprised to see this tasty dessert in Spanish cuisine as well. Soon enough, Arroz con Leche became a worldwide phenomenon. 
While almost every country has its own rice pudding version, Nicaraguan rice pudding's creamy and delightful taste will make you go wow. People love adding additional flavor to the dish in this country, such as anise seed, star anise, and raisins.
22. Bunuelos de Yuca
(Yucca Donuts)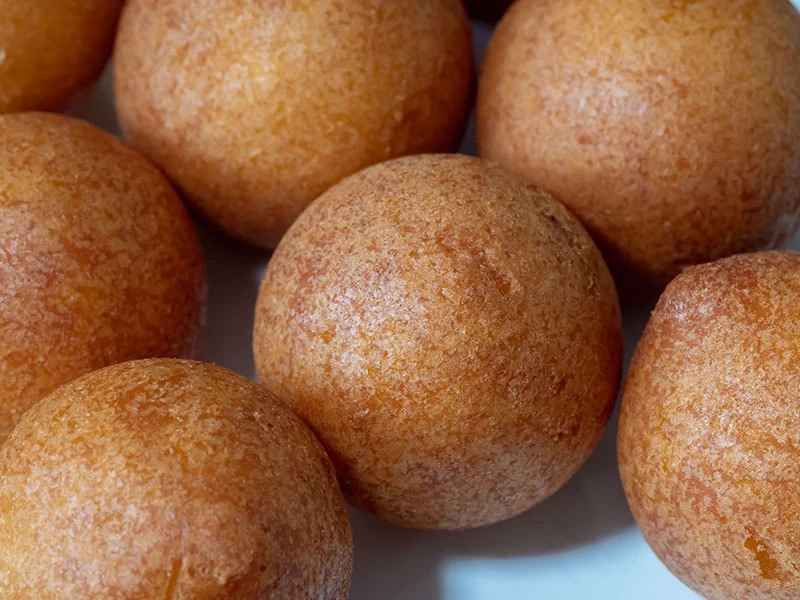 While the Dutchs have Oliebollen, the Nicaraguans have Bunuelos. This Hispanic version of a donut is usually served during holidays since there's a belief that Bunuelos may bring good luck. Most people believe it originates in Spain, among the Moroccan people.
The yucca donut dough is rolled into balls and then deep-fried until golden brown. After dripping off the oil, you will have a delicious and honey-sweet bite of goodness as a result. Enjoy them with a nice strong cup of Nicaraguan coffee to experience a local feeling.
23. Guirila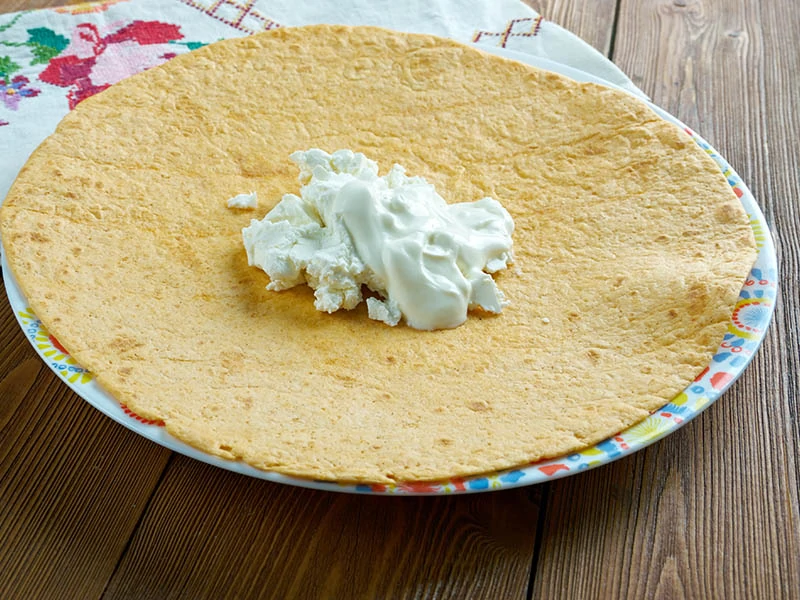 This unique dessert originated in Matagalpa, Nicaragua's northernmost city. At the National Corn Fair, the city even created history by creating a Guirila with a diameter of little over 650 feet!
Guirilas are sweet tortillas prepared from young white corn. They're frequently served with crema (sweet or sour cream) and cuajada, a salty crumbled white cheese from Nicaragua.
The Nicaraguans make this dish by shelling sweet maize, grinding it, then frying or grilling it on banana leaves to keep it from sticking or burning. The only additives to the mix usually are sugar or salt, but sometimes street vendors add milk to stretch it out.
24. Atolillo
Though it might not look like it, the taste and texture of Atolillo is comparable to the well-known flan or crème catalana in other nations.
Atolillo is not only a crowd-pleaser, but it is also a simple dessert that you can make on a hectic weekday. Made from milk, sugar, eggs, cornstarch and cinnamon, this simple custard is delicious when warm and refreshing when served cold.
Some will use rice to thicken the custard in Nicaragua, while the Guatemalans typically use corn. But nowadays, people often go for cornstarch since it is more convenient to find and use.
25. El Macua – National Cocktail
Mexico has the worldwide famous Margarita and Mojito. So what about the signature drink in Nicaragua? Well, the answer is El Macua!
El Macua is the national drink of this country. It was created by a pediatrician from Granada and named after a tropical native bird.
You need rum, guava, orange juice, lemon, and simple syrup to make this drink. Shake it up, pour it into a highball glass filled with ice, and enjoy. I'm sure that you'll like it after the first sip.
26. Pinolillo
(Cacao Corn Drink)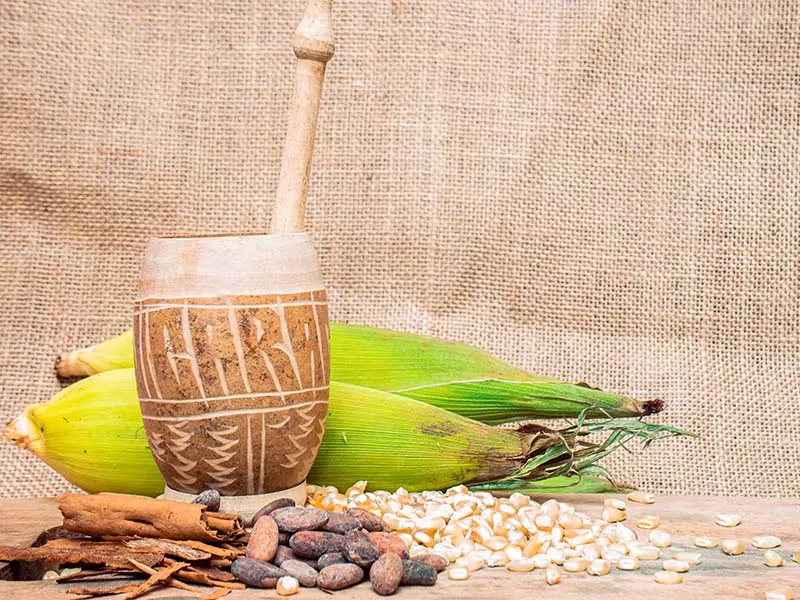 Are you fond of cold beverages after a meal? How about trying Nicaraguan Pinolillo? This drink is quite similar to chocolate milk, but it's a creamier dairy-free version. This famous indigenous drink can be bought in many Latin markets.
The two main ingredients of Pinolillo are cacao and roasted purple corn, which are healthy products to manage weight issues and improve circulation.
---
Adopting Nicaraguan Food Culture In Just A Snap!
Nicaragua's slogan is Pura Vida, which can be translated to "simple life". That's why the cuisine in this country is so cheerful and comforting. I hope that some of my Nicaraguan foods recommendations somehow inspired you to take a trip to Nicaragua in the future.
Do these fabulous and unique dishes match your preference? I can't wait to hear your thoughts in the comment section.
Also, if you can, please share this article with your beloved so they can become a foodie expert like you. Thanks for reading, and don't forget to leave a like!