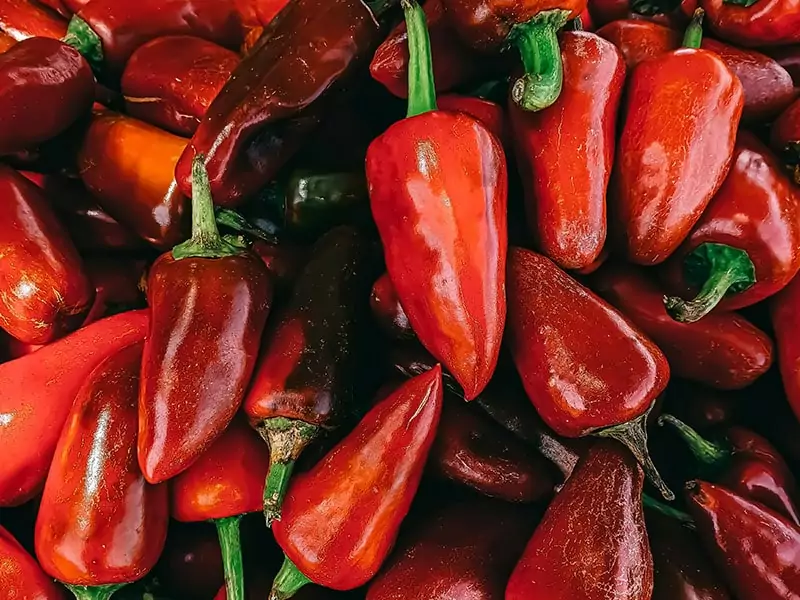 How many foods that start with J have you experienced? Tasting the signature food of a culture is a way to experience and gain insight into the mainstream life of locals. And to do that, having a well-prepared, well-described list of food with you is essential.
Today I'm bringing to you a comprehensive list of some interesting yet delicious foods that start with J. Some of these are widely known, but others are exotic, and you might never have heard of.
Brief information about its origin, taste, texture, and uses are included; that technically covers everything that you need to know! Can't wait any longer? Let's jump right in!
The Comprehensive List Of J-Named Foods
Fruits
Jaboticaba
Jamun/Jambul
Jackfruit
Jambu
Japanese Plum
Jujube
Jostaberry
Juniper Berry
Juneberry
Jonathan Apple
Vegetables
Jalapeno
Jamaican Hot Pepper
Jarrahdale
Jerusalem Artichoke
Jelly Mushrooms
Julienned Vegetables
Jicama
JoJo Potatoes
Meat & Seafood
Jambon
Jewfish
Jellied Eels
Jokbal
Jerky
Jägerschnitzel (Pork Schnitzel & Mushroom Gravy)
Jambon Au Madere (Braised Ham W/Madeira Sauce)
Snacks & Desserts
Jaffa Cake
Jaffle
Jam Roly-Poly
Jam
Jawbreaker
Jell-O
Jelly Doughnut
Jelly Roll
Jelly Beans
Jésuite (French Almond Cream Pastries)
Jimmies
Johnnycake
Jordan Almonds
Jumbles
Junket
Jalebi
Beverages
Jasmine tea
Jenever (Dutch Gin)
Julep
Dairy Foods
Jameed
Jocoque
Jack Cheese
Other Foods
Jambalaya
Jasmine Rice
Jiaozi
Jollof Rice
Jook
Jachnun
Fruits
1. Jaboticaba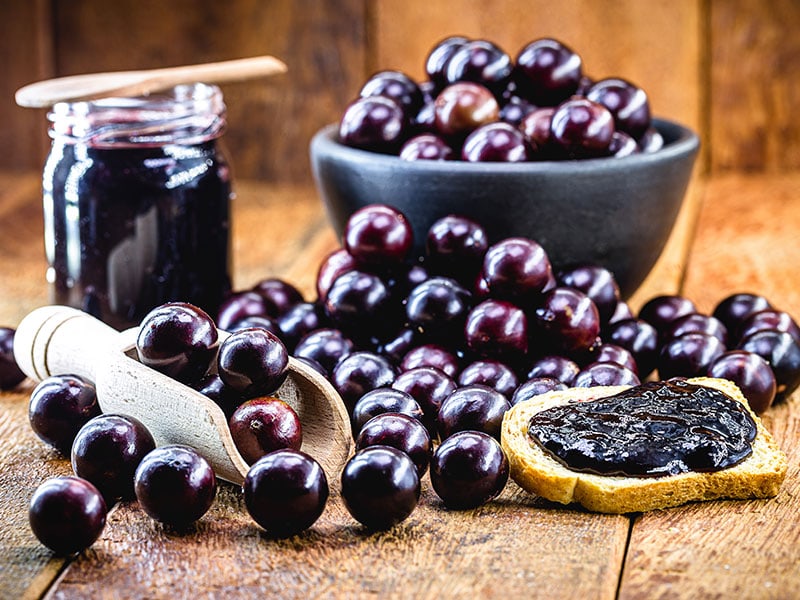 Jaboticaba, or the Brazilian grape tree, is a rare, unique-looking plant native to Southern America, particularly common in Brazil, Uruguay, and Argentina. The jaboticaba tree, known scientifically as Plinia Cauliflora, is their proud source of this unique plant.
Jaboticaba fruits grow exuberantly in bunches directly on the trunk and twigs of the tree. They are green in color in their early stage, then develop a pink shade, and finally turn to a dark purple color, similar to grapes when they are ripe.
These have round and puffy shapes; each fruit can be up to 4 centimeters in diameter. The dark purple skin wraps over the white, translucent, juicy pulp. Furthermore, the tantalizing fusion of tangy grape candy and luscious lychee is what the flavors of these delectable treats resemble.
Jaboticaba fruits can be eaten fresh right off the tree, and it is recommended to eat these within 3-4 days after harvesting because the fruits have a rather short shelf-life. In Brazil, fruits are used to make wine.
2. Jamun/Jambul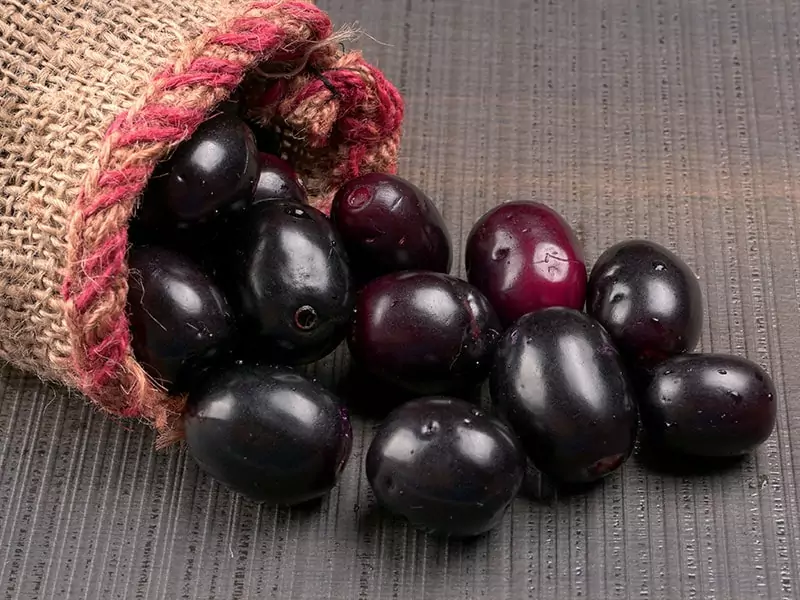 The majestic Jamun tree, fondly referred to as Java Plum, Jambul, Black Plum, or Jambolan, originates from the diverse landscapes of India. This evergreen wonder has found a home across Southeast Asia and tropical regions, adding its charm to the Myrtle family (Myrtaceae).
The tree grows fast and flowers from March to April. It produces fruits that resemble a big plum. In the early stage, jambul fruits are green and gradually change into pink and purplish-black when fully ripe. The taste is slightly sweet, sour, and a little spicy.
The fruit is prized for its medical properties; according to research, they contain healthful substances such as anthocyanins and ellagic acid that help control blood sugar levels.
3. Jackfruit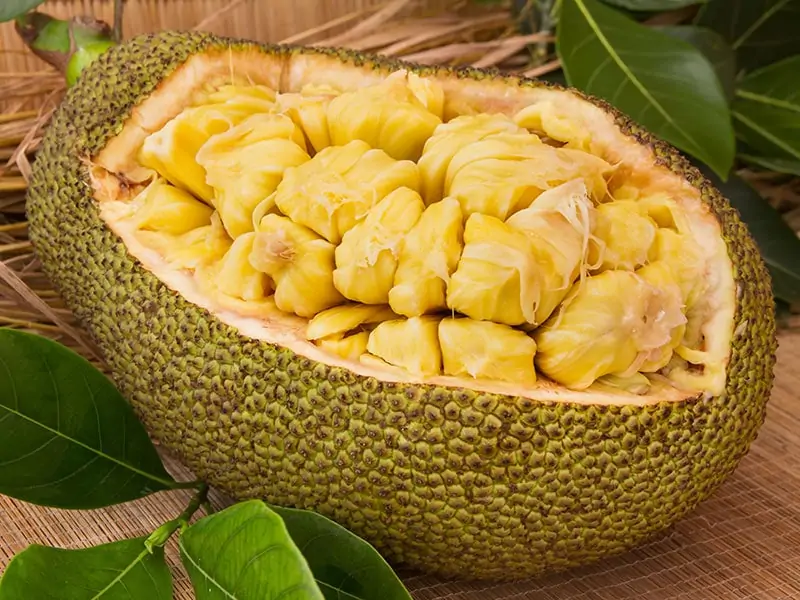 You must have heard of jackfruit before. Jackfruit is a tropical fruit that is grown on the jackfruit plant in Asia, mainly in Thailand and Vietnam.
Its fruits have a rough, spiky peel and lots of fibers on the inside. Basically, jackfruit is one of many fruits that have a non-round shape. When jackfruit is ripe, its thick, crunchy pulp becomes sweet, and it gives off an amazing fruity aroma.
The fruit is the world's largest fruit reaching 60 cm (23 inches) long and weighing 18 kg (39.6 pounds)! With a high content of vitamin C, potassium, dietary fiber, and other essential vitamins and minerals (1), jackfruit is a healthy and flavorful option to incorporate into your diet.
You can easily spot canned jackfruit in the US, but these are unripe jackfruit and contain mostly fibers. This variety of canned fruit is used for cooking; people consider it as an ingredient rather than a fruit.
This type of processed jackfruit has bland and neutral flavors and a chewy, meaty "bite", so one of its particular uses is to add "chicken" texture to a plant-based meat dish or add to soup. In a nutshell, it is a widely used ingredient in vegan meals.
4. Jambu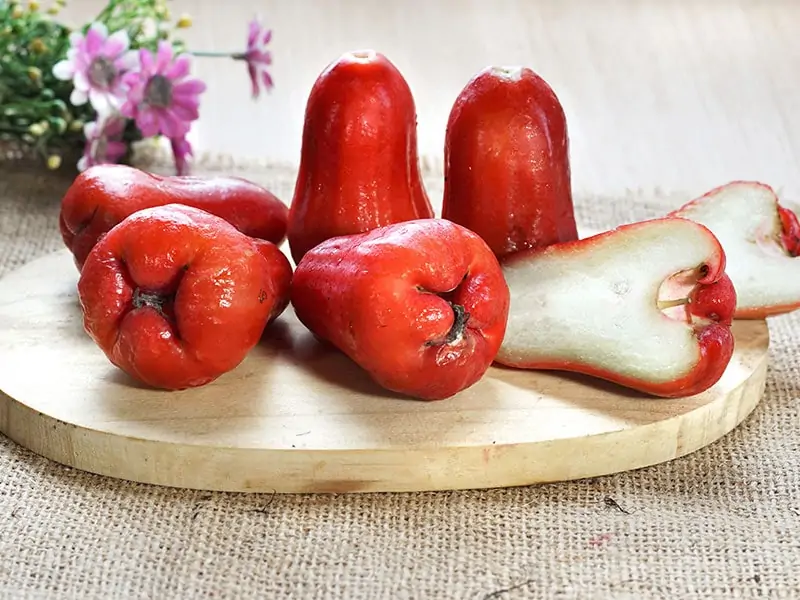 Jambu is another exotic fruit that you should try. You may have heard of it, but with different names: jumbo, java apple, wax apple, or rose apple.
Jambu fruits are shaped like a bell or a pear. Mature jambu fruits have pink or purple skin. It's extremely juicy, slightly sour white fibrous flesh with a fragrant aroma that is reminiscent of roses.
Interestingly, the fruit can be eaten whole, including the skin, as long as you clean them thoroughly. People usually get rid of the bigger end part since it is bitter and hard; the rest are safe to eat.
5. Japanese Plum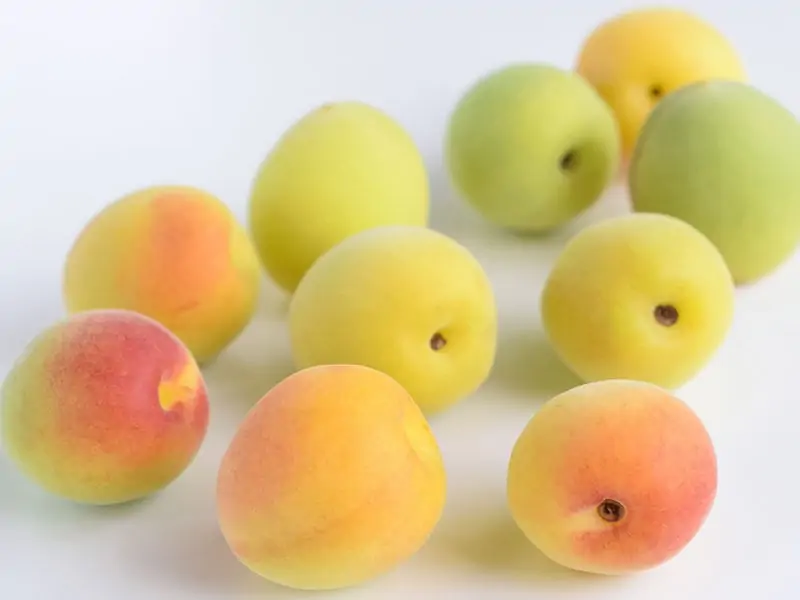 With central China as its birthplace, this captivating plant has proudly flourished in Japan for more than 1,000 years. Known affectionately as the Loquat, it's truly a testament to nature's adaptability.
Similar to other types of plum, the fruits have a thick skin, fulfilling, juicy pulp, and a sweet and sour taste. People often describe the flavors as a wonderful combination between an apricot and a peach.
The naturally sweet taste allows it to be used as a healthy sweetener, added in tea instead of sugar, made into jam or candied plums, and served as a snack.
The fruits can also be eaten fresh right off the tree without much processing. Or you can preserve them by steeping them in liquor to make plum wine or use them for jelly.
6. Jujube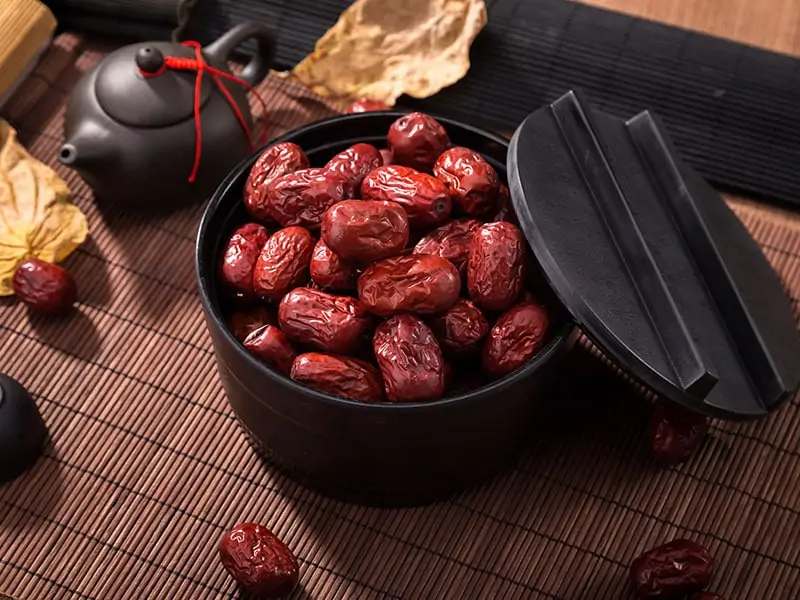 Jujube is commonly known as jujube red dates or Chinese dates. The fruits are harvested from the jujube tree, a shrub plant that is majorly found in Central and Southern Asia.
Dried jujube fruits are mildly sweet and have a slightly tough texture. Its moderate, natural sweetness is deemed perfect for sweetening drinks without the need for unhealthy sugar. You can add it to tea or detox drinks and various beverages, plus it also adds texture to the drink.
Both fresh or candied jujubes can be consumed as a snack, but most of the time, these are dried and used for many different purposes.
For countless generations, this miraculous remedy has provided solace to those struggling with insomnia and anxiety. Exciting research indicates its potential to benefit both the nervous system and digestive health.
You can use it to make Korean-style desserts as well. Overall, they are a significant ingredient used to improve the overall flavors and add nutrition to various dishes.
7. Jostaberry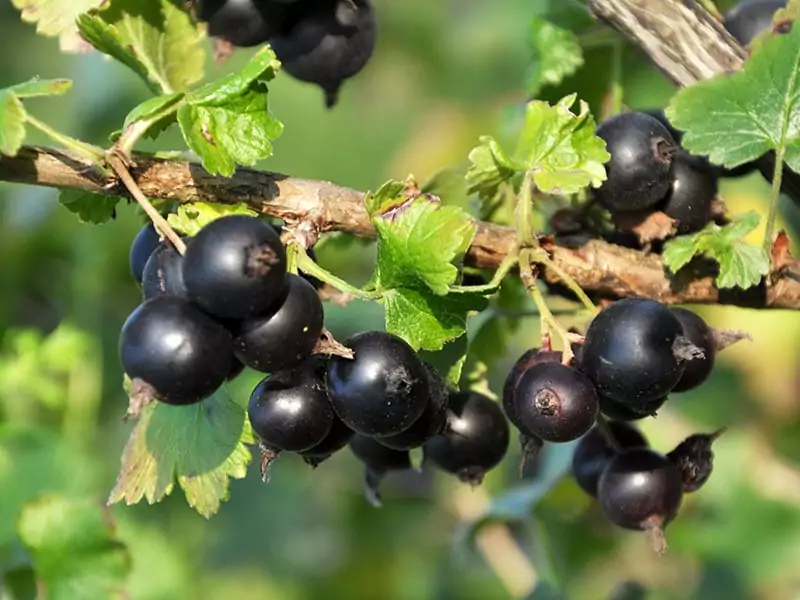 Jostaberry is the fruit of a complex-cross shrub plant that was developed from blackcurrant, European gooseberry, and black currants in an attempt to produce a plant that yields berry-type fruit on thornless branches.
Similar to other types of berries, jostaberry can be eaten fresh. The ripe fruits deliver a mild sweetness and flavors that are described as a combination between blackcurrant and gooseberry, and texture somewhat like grapes.
People eat them with cream, make jam, or chopped up and mixed with other vegetables to make a healthy, fresh-tasting salad. The fruits can be frozen without ruining the texture and flavors, so you can store them for a long time and make the most of them.
8. Juniper Berry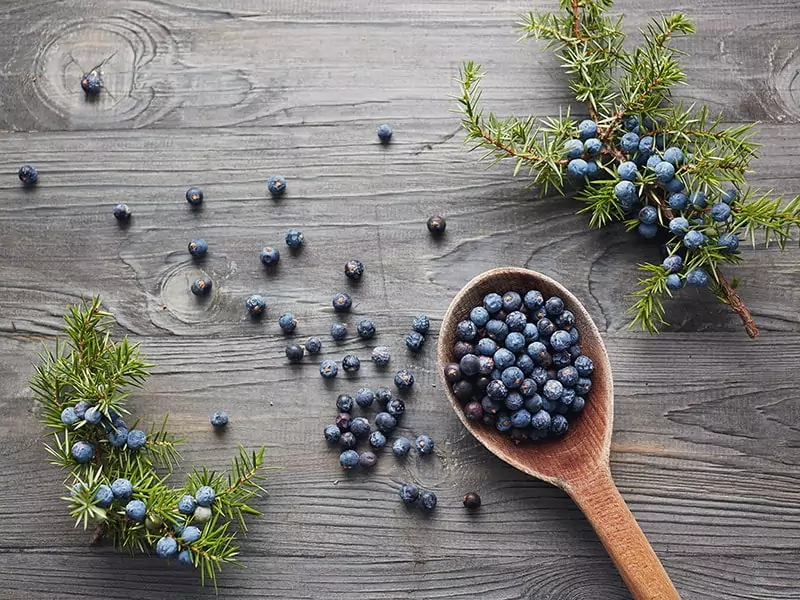 One of the mysterious condiments, and not everyone knows about it. Juniper berries are seed cones produced from various species of juniper, a shrub plant, or evergreen tree commonly found in the Northern Hemisphere.
They are described as having a distinctive, beautiful aroma, a perfect blend of woody and spicy scents, with a gritty texture and tart flavors. This one-of-a-kind flavor profile renders them useful for a lot of culinary purposes.
The berries are widely used as a condiment to make marinade sauce for various types of meat and poultry dishes. Ancient people used it as a substitute for black pepper, which was a luxury back in the day.
One of its most popular uses is as a major flavoring agent in gin. Juniper berries are also crushed, dried, and fermented into a simple, traditional juniper brandy or used to brew beer and make other types of liquors.
9. Juneberry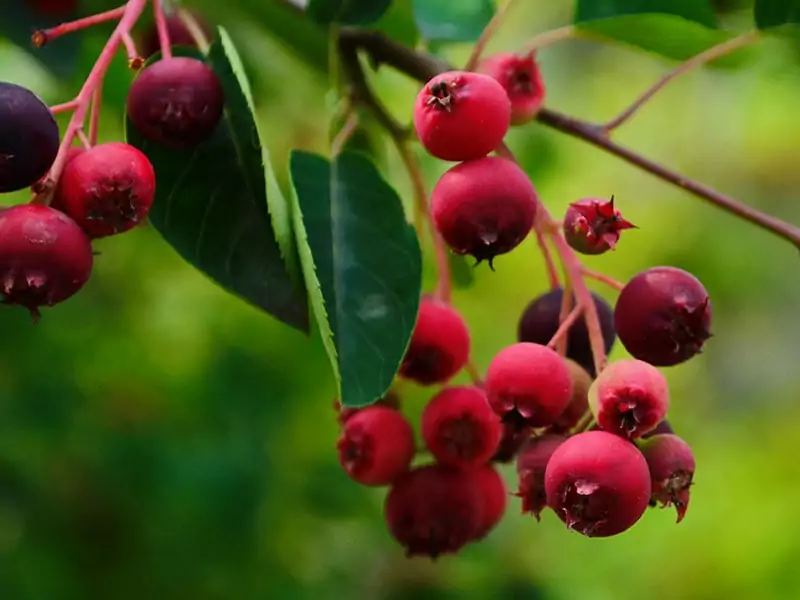 Juneberry is actually a genus of 20 specific species of wild berries, its scientific name is Amelanchier, and it has various local names, including sugar plum or Saskatoon berries.
People say that the taste of juneberry is somewhat similar to blueberry, immature ones carry a tart and bland taste, but if you wait longer for a fully ripe juneberry, you will enjoy its delectable sweetness that resembles cherry and almonds.
Fresh juneberries can be eaten right off the tree. If you want to incorporate the wonderful flavors into other dishes or simply save them up for your family members and friends, then you can make jam, jellies, or crush them into a fruity pie filling.
10. Jonathan Apple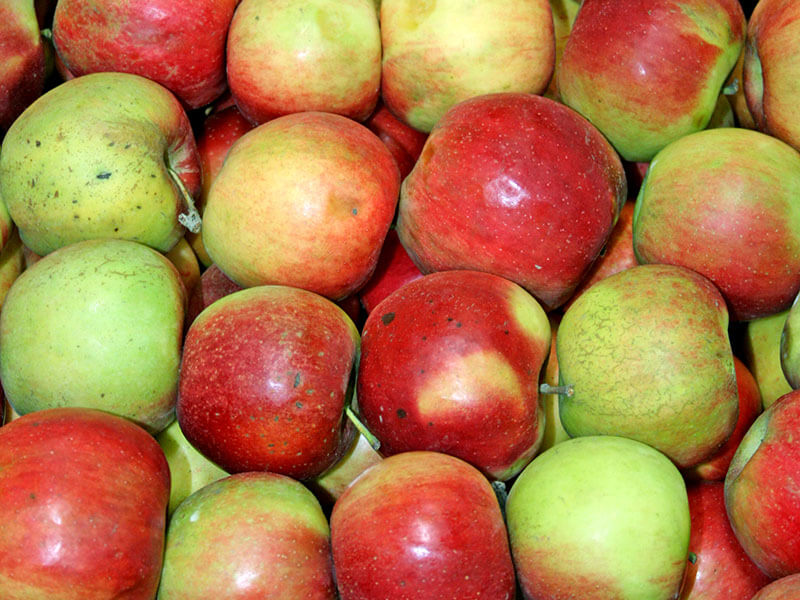 Jonathan apples are medium-sized fruits cherished as one of the best apples for their exceptional taste. Their bold, tart, yet well-balanced flavor is encompassed with tough, smooth skin with a red and yellow color.
Inside, you'll find crisp and juicy white flesh. As a close relative to the Esopus Spitzenburg apple, Jonathan apples are grown in the U.S. and are perfect for fresh eating, freezing, and cooking, as they hold their shape well after being cooked.
Vegetables
11. Jalapeno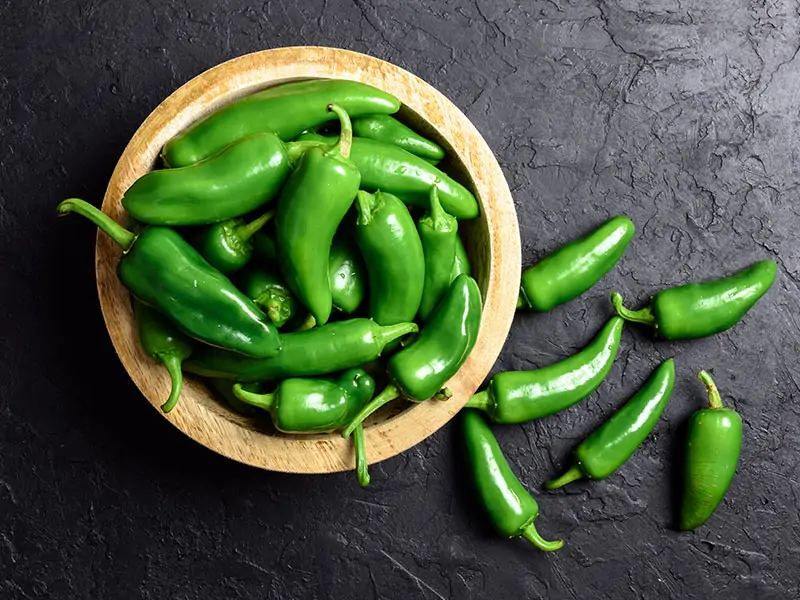 ​​If you are a spicy food lover, then you must have heard of this ubiquitous spice. Jalapeno is known as one of the most popular chilies varieties in the world.
This type of chili pod has thick, crunchy flesh and fewer seeds, which usually loosen off easily. When freshly harvested, jalapeno peppers are bright green and unripe; over time, they gradually turn yellow or red when fully ripe.
Originating from Mexico, jalapenos are essential for adding a spicy kick to many Mexican dishes. When selecting the perfect jalapeno for your meal, look for the scars on the pepper's exterior. More scars indicate a spicier jalapeno, so choose according to your heat preference.
Jalapeno peppers are mashed up or used to garnish cocktails or mixed in any beverage recipes that call for a mild, pleasant heat. And jalapeno is also an ideal alternative to cayenne peppers if you cannot find them at the local stores.
Chopped or thinly sliced pieces of Jalapeno are wonderful to top meat dishes; they add interesting, fresh, and unique flavors and can do a total upgrade to your meal.
12. Jamaican Hot Pepper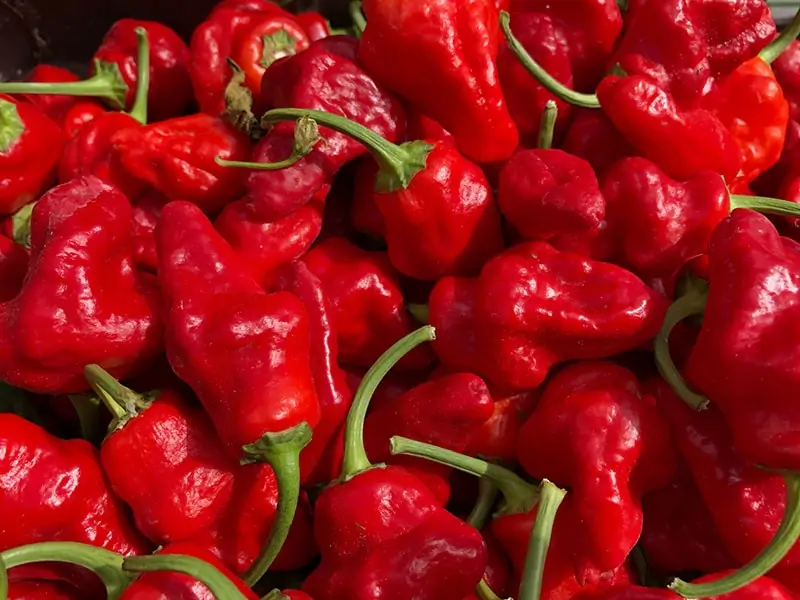 As the name suggests, Jamaican hot pepper originates from Jamaica, an island country in the Caribbean Sea. However, you can grow them directly from the seed in your garden, and the plant will bear fruit after around three months.
Jamaican hot peppers have the shape of a tiny squash, with its skin ribbed in many directions and usually flat like a dish.
These extremely hot peppers will produce fiery heat that feels like exploding in your mouth. On a Scoville scale, its pungency scores approximately 150.000 units, which means it is five times spicier than Jalapeno.
These peppers can be enjoyed fresh or made into pickled peppers or used to add heat and flavors to any kind of dish: braises, stews, or beverages. Another popular use of these is making hot sauce or made into a concoction to marinate meat and poultry.
13. Jarrahdale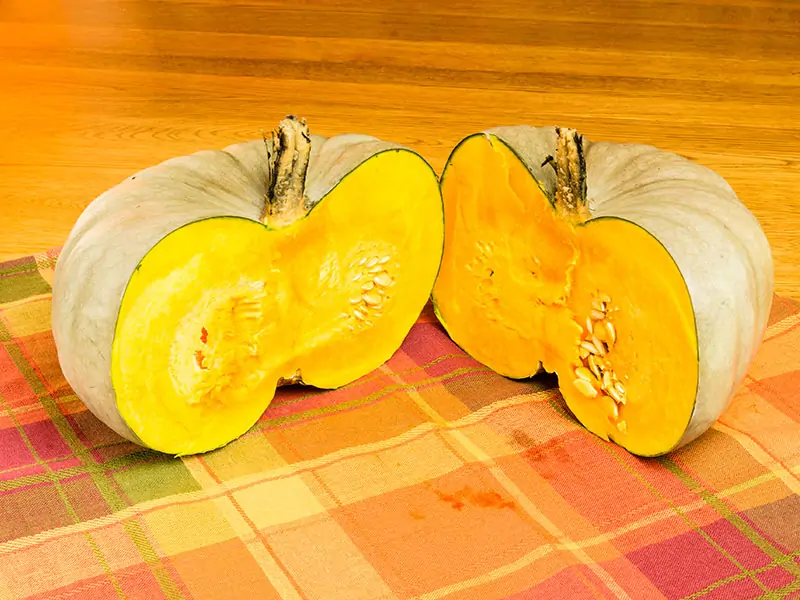 Jarrahdale is an heirloom variety of winter squash and pumpkin that originates in Australia. It is also known as blue pumpkin because the skin is grayish-blue. The pumpkin can weigh from 6 pounds; some even weigh 120 pounds if planted in favorable conditions.
Some say it is one of the best-tasting pumpkins in the world, as under that grayish bizarre-looking skin is the super dense, smooth pulp with a vibrant orange color that immediately stimulates everyone's appetite.
Jarrahdale has a sweet and buttery texture that makes it a shining dish by only simple roasting in the oven. It is also perfect to use in soups and stews.
14. Jerusalem Artichoke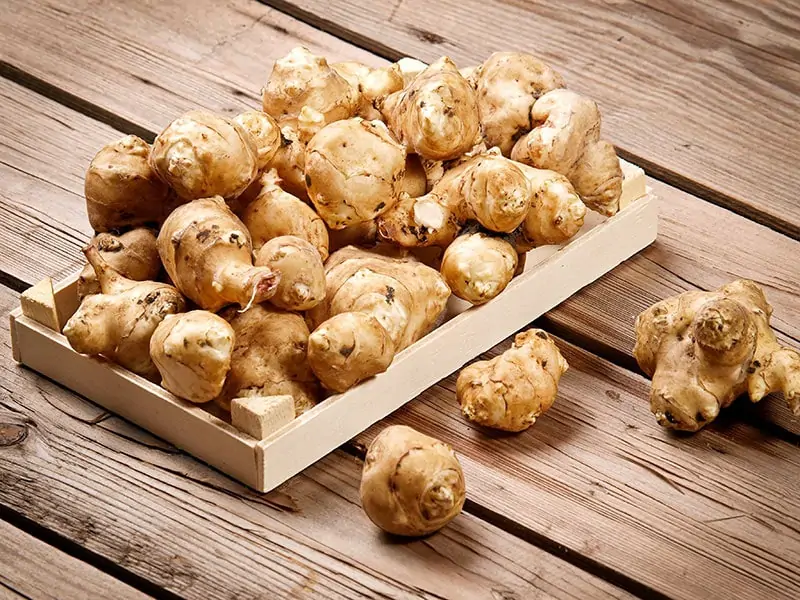 This delightful surprise in the form of Jerusalem artichokes isn't artichokes and has no connection to Jerusalem! In fact, they resemble water chestnuts in taste and can be consumed much like potatoes.
Jerusalem Artichoke is a variety of wild sunflower that has its origin in central North America. It is a folk medicinal herb. It is also known as sun roots, sunchoke, or earth apple.
Freshly harvested Jerusalem artichoke is crunchy and has a little starchy, nutty taste to it, along with a subtle hint of sweetness. It is totally safe to eat them raw; the crispy texture and fresh taste add a zing to any type of salad.
Cooked sun roots have a creamy and soft texture similar to boiling potatoes. Sunchoke is also used to make tea to slake your thirst and provide the body with essential nutrients, much more beneficial than sugar-loaded drinks, and it does taste amazing.
15. Jelly Mushrooms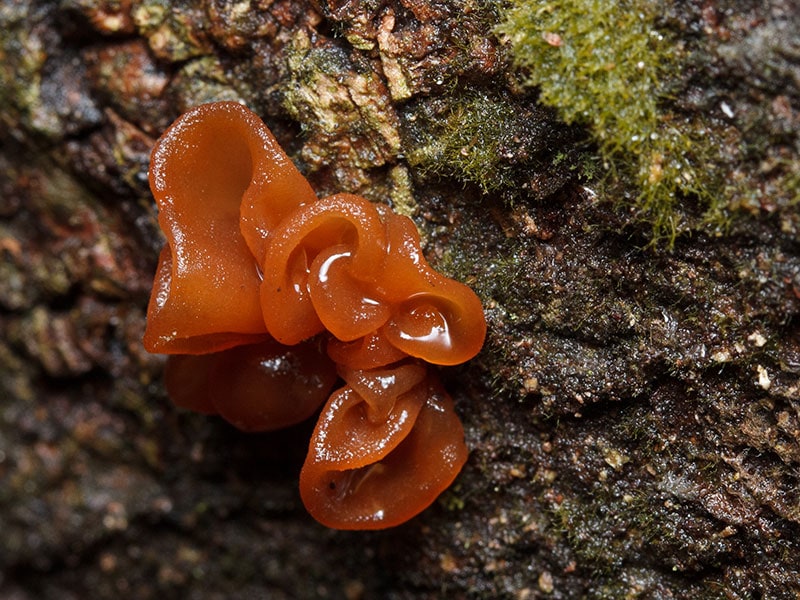 Jelly mushrooms are a group of mushrooms that grows on old bark, twigs, and branches. The color, with slight transparency and moist flesh, varies depending on the species. The texture is similar to jelly, while some varieties are chewy, crunchy, and gelatinous.
Most species of jelly mushrooms are edible and can be eaten raw, only a few are known as poisonous. They are abundant in the spring or fall, and the best place to look for them is wood logs near melted snowbanks.
Certain jelly mushrooms have an appealing taste, while most are described as having an earthy flavor. They can be added to soup or salad. Some notable jelly mushrooms are wood ear, cloud ear fungus, witch's butter.
16. Julienned Vegetables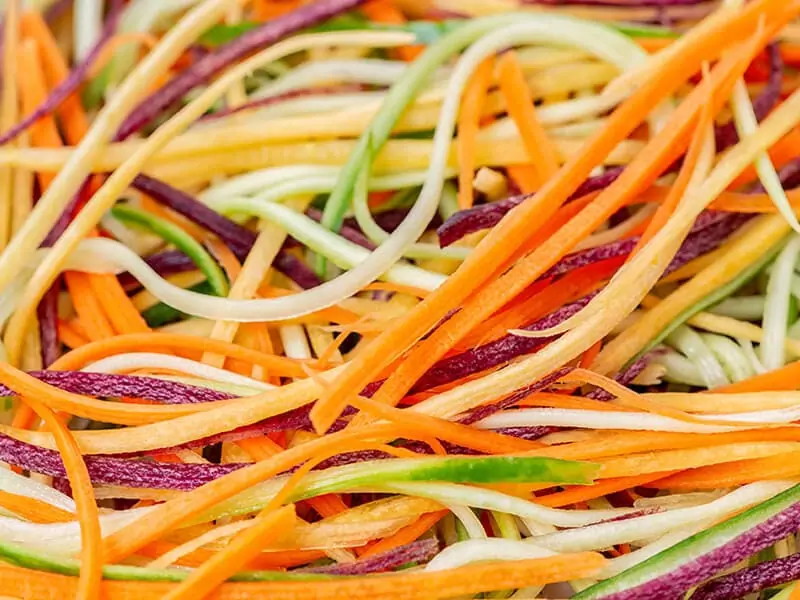 The word is also used to refer to a kind of preparation method for vegetables, in which vegetables, especially marrow fruits like carrots, radishes, cucumbers, zucchini, etc., are cut into long and matchstick-sized strips.
The resulting pieces are usually about 1/8 inch wide and 2 inches long, although the exact dimensions can vary depending on the recipe or application. People can use the julienne cut in dishes like stir-fries, salads, and sandwiches to add texture and visual appeal.
Finally, you will need a sharp knife to cut it, but it might be time-consuming. In this case, you might use a mandoline slicer.
17. Jicama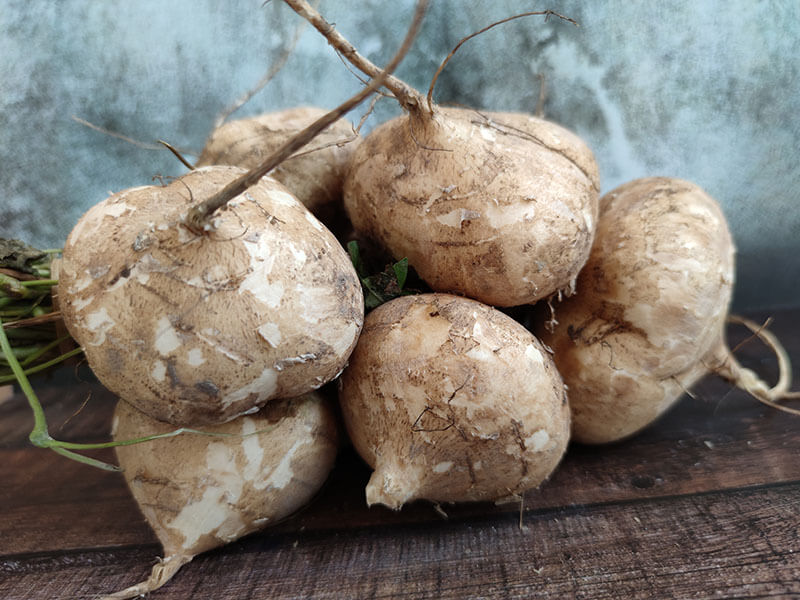 Jicama (pronounced HEE-kah-ma) is a root vegetable originating from Mexico. The root has a thick, brown skin with a crisp, white interior. With a taste reminiscent of a not-so-sweet apple, it is similar to a cross between a potato and a pear.
Low in calories yet high in fiber, water, and antioxidants like vitamins C, E, and beta-carotene (2), Jicama is a nutritious choice. In Central and South America, it's a common dish served by street vendors with lemon or lime juice alongside chili pepper for an extra kick.
18. JoJo Potatoes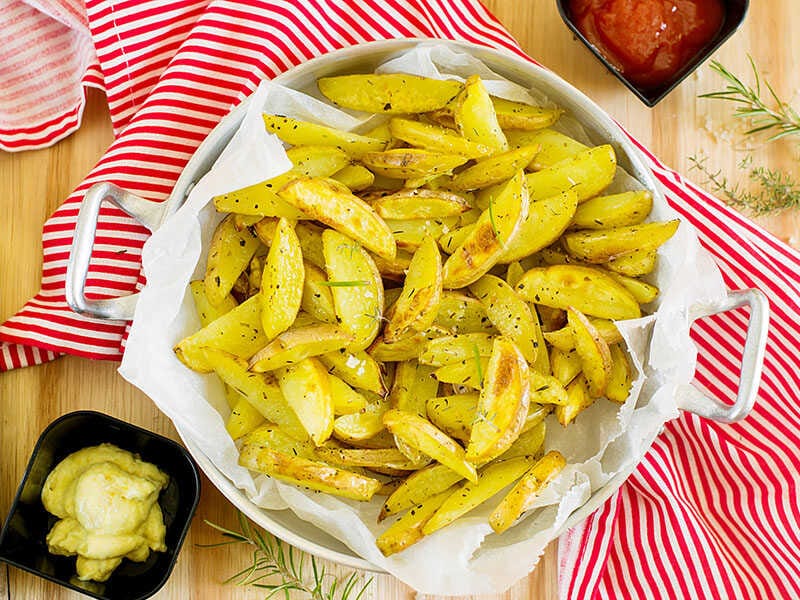 JoJo potatoes are simply thick potato wedges with a fun name that people in the Northwest love to use. These wedges are usually heavily seasoned and deep-fried, resulting in a crispy exterior and a fluffy interior.
These mouthwatering wedges are best with ketchup, but you can bake them in the oven for a healthier alternative to traditional French fries.
Meat & Seafood
19. Jambon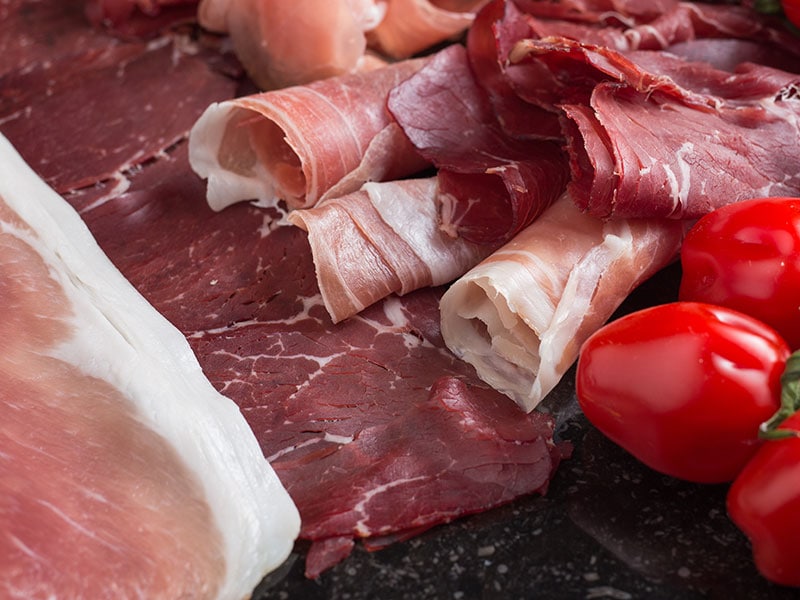 Jambon is a French word for ham, a type of processed meat from leg-cut pork; therefore, you will find many French delicacies that use this component. Moreover, the dish originates in Europe, and most European countries have their own version of it.
There is a great variety of jambon based on their origins. Some notable names include Spanish Jamon, prosciutto in Italy, and jambon de lacaune from France. Depending on the region's weather, Jambon can be processed by dry curing, wet curing, and smoking.
Dry-cured jambon is drier with deeper colors and more pronounced flavors; wet-cured jambon is soft and less salty, and smoked jambon has a distinctive woody aroma.
Jambon is usually served fresh and uncooked, cut into thin slices, and rolled up for the aesthetic look. The meat is salty enough to eat without additional seating and perfect to pair with bland sandwiches and unsalted butter.
20. Jewfish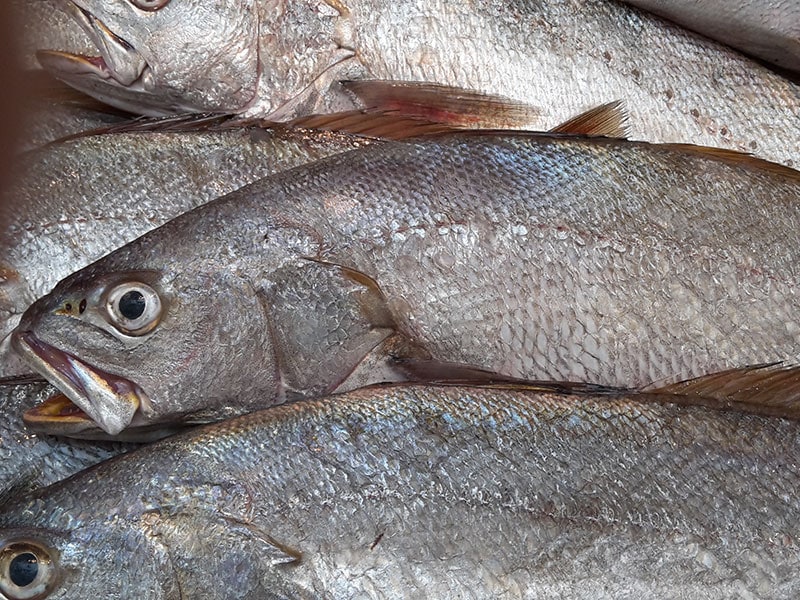 Jewfish is a type of fish that thrives in tropical waters. It has a quite flat body and brown skin. The most commonly seen jewfish are those found in Australia, name's Mulloway jewfish.
Jewfish fillets are the best quality part of jewfish, so they are prepared in a way that preserves its original texture and flavors. You can prepare them the same way as steaks; grilling or roasting can liven up the flavors or coat them with breadcrumbs and deep-frying.
Other flesh parts of jewfish are drier, so you can make use of them to make delectable fish soup or mix with vegetables into a seafood salad. Jewfish are incredibly high in protein, vitamins, and Omega-3, DHA, EPA, etc (3).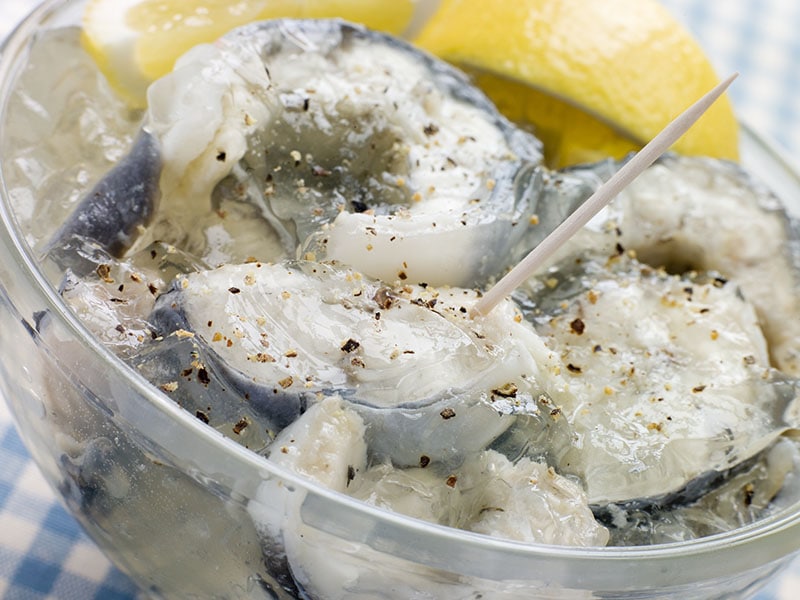 The jellied eel is a traditional British dish that originates in the 18th century in London. Back then, eels were a cheap and nutritious food source for London's people.
Freshwater eels are boiled in water and vinegar. The process will make eels release all their collagen into the fish stock. The stock was also added with nutmeg and lemon juice to increase the flavor. It is then left to chill and solidify into jellied eels.
The dish was commonly served with pie and mash, which were minced beef-filled pastry pie and mashed potatoes. The whole meal was a staple food for the working class in London.
Nowadays, it is quite rare to find a shop that sells this staple food, but you can totally make jellied eels at home; herbs and spices also vary depending on the flavors intended.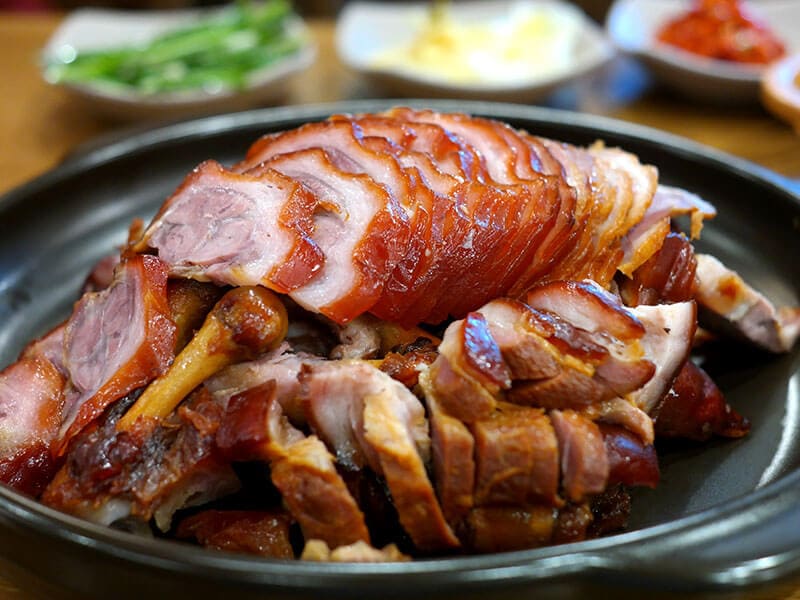 Jokbal is a popular Korean meat dish, and it is basically braised pork's trotters in a special broth of soy sauce, radish, chilies, herbs, and various spices. The dish can be made from other pork parts, but Koreans favor the trotters because of their chewier and firmer meat.
After a long time of simmering in a flavorful broth, the pork leg will become darker in color and gain exquisite flavors. The bone is first removed, then the trotter is cut into thin slices and served on a big plate with various herbs and lettuce.
Meat dishes in Korea are typically served with a lot of side dishes. People wrap the meat in fresh lettuce and pair it with a few pieces of kimchi or pickled radish. Pork legs naturally contain a lot of gelatin, so it is said to promote healthy and youth-looking skin.
Jokbal is a perfect dish to supplement the chat when you have a drink with your friends and is best enjoyed with Korean liquor soju.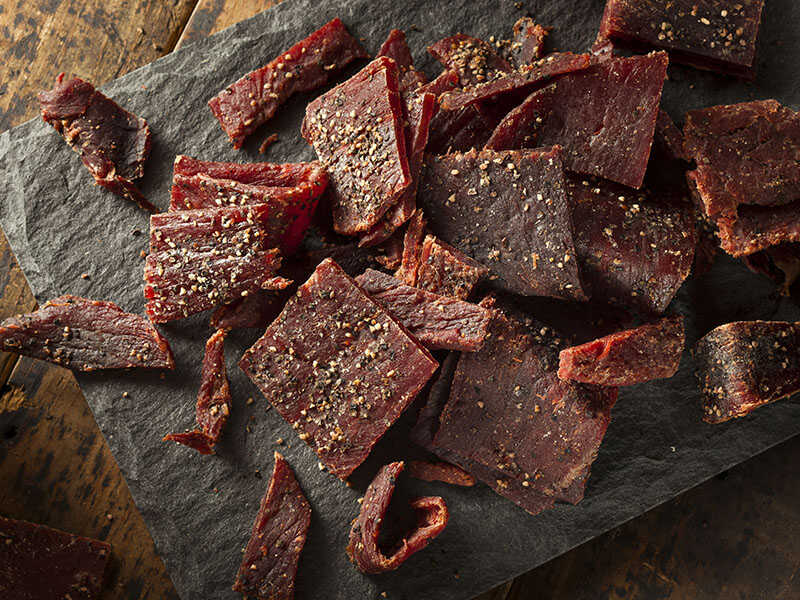 Jerky is typically lean meat that has been dried and cut into thin strips. Traditionally, jerky is made from domesticated animals such as beef, pork, and hunted animals like deer and bison.
The whole-muscle part of an animal's meat is favored because the texture is chewier and contains no fat. Even with fat parts, people will cut them off and then slice the whole lean meat into thin slices and press them to extract the excess juice.
Normally, salt is added during the drying process to increase flavor and delay bacterial development. Meat is marinated with a mixture of seasonings and smoked on low heat.
Jerky is a wonderful snack enjoyed with your family or friends around the cozy campfire on camping trips. The salty and sweet taste of meat is perfect, and there's no need for additional preparation. The product's shelf life can last for months without refrigeration.
24. Jägerschnitzel (Pork Schnitzel & Mushroom Gravy)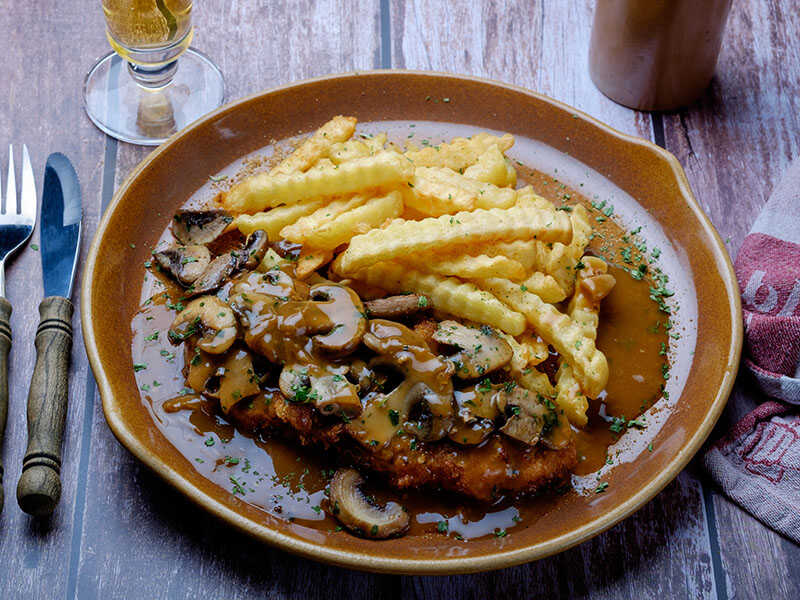 Jägerschnitzel, meaning "hunter's cutlets," is a beloved dish in Germany with roots traced back to the 1800s, made with venison or wild boar loin. Another popular spelling of this dish is "jaegerschnitzel", a simplified version of the German word.
Nowadays, it's usually prepared with pork and consists of breaded, fried cutlets smothered in a delicious mushroom, tomato, and cream sauce. And you can enjoy it with sides like salad, mashed potatoes, or fries.
Fun fact: the Texas favorite, chicken-fried steak, is thought to have evolved from this German classic! You might even find breaded, roasted jagdwurst with tomato sauce and Spätzle noodles in some schnitzel regional variations.
25. Jambon Au Madere (Braised Ham With Madeira Sauce)
Jambon Au Madere is a mouthwatering French dish that takes a cured ham to the next level with a rich Madeira sauce.
Coming from the Morvan district of Burgundy, renowned for its mild, high-quality cured hams, this dish transforms a simple ham steak into a sophisticated delight. The tender ham and the luxurious Madeira sauce create a truly memorable dining experience.
Snacks & Desserts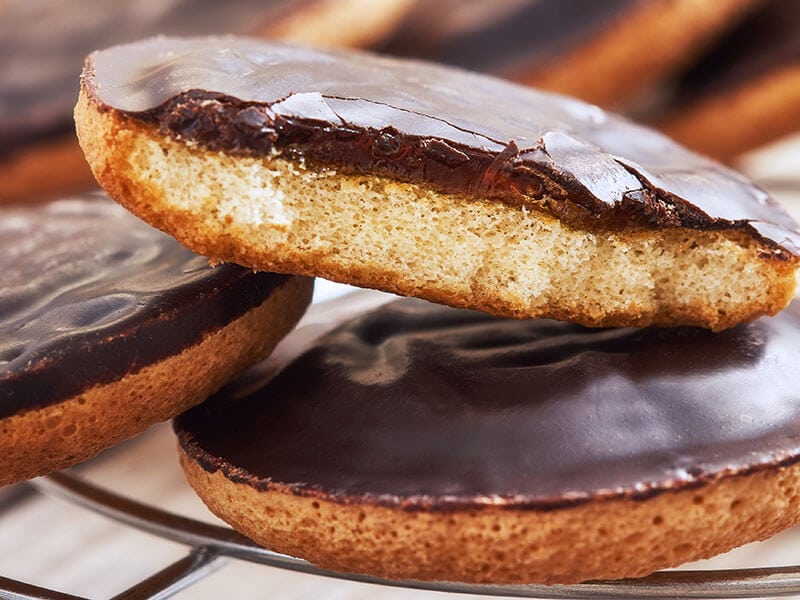 Jaffa cakes might remain obscure in the US, but they are well-known and favored in Britain. It is a type of commercial biscuit first manufactured and introduced to British people in 1927 and quickly gained popularity afterward.
It is actually a large-sized biscuit with three layers: the spongy soft piece of cake on the bottom, a layer of orange jelly in the middle, and a coat of chocolate on top.
The orange-flavored jaffa cakes are the most common, but some other varieties suit people's preferences, such as strawberry and blackcurrant flavors.
You can try making these sweets at home with readily available ingredients. Orange jelly can be substituted with marmalade, and you can put in your creative spin and make changes to the middle jelly layer with any fruit flavors that you like.
27. Jaffle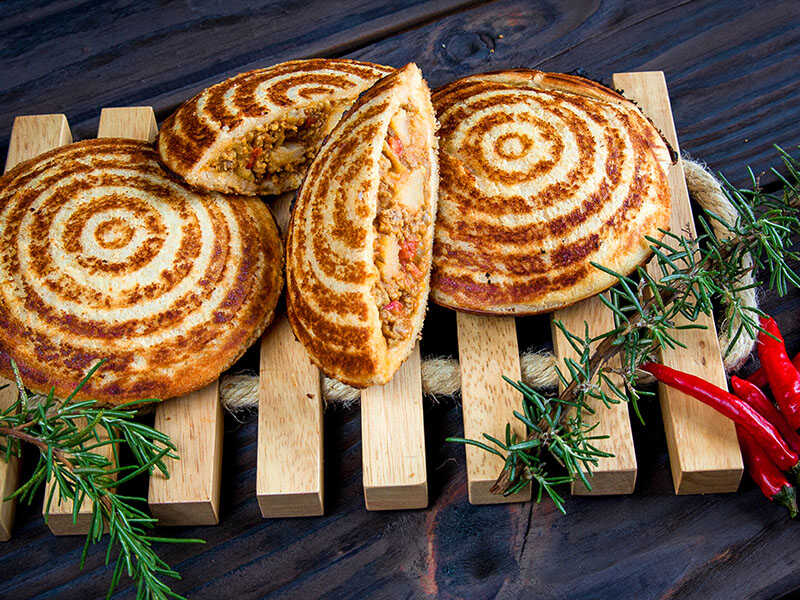 Jaffle is an Australian-styled sandwich with both closed ends, with a spectacular look of a clamshell-patterned triangle. Jaffles are made with a special Jaffle iron toaster, which was a creation of an Australian engineer.
You can go wild with the filling of Jaffle, it is as versatile as a quiche, which allows you to choose from a variety of vegetables, cheese, meat, and even seafood.
You can make both savory and sweet fillings, depending on your needs. Jaffle makes a perfect choice for a snack or breakfast. It is also quick to make and no less delicious and more nutritious than a big meal.
Jam Roly-poly is a traditional British pudding dessert that can be served as a main dish. The cake used to be prepared and served in cloth or shirt sleeves and therefore referred to as dead man's arms or dead man's leg.
There are two main parts of jam roly-poly, the regular dough and the jam. The dough is flattened into a square shape and topped with a spread of jam or marmalade. It is rolled up, covered in parchment paper, and cooked by steaming or baking.
People serve it up by cutting it into thin, same-sized pieces with a medium width of half an inch, and they may garnish it with dollops of frosting to add some richness to the flavors. The dish can be served with tea and is best enjoyed while it's still warm.
Making jam roly-roly is not as complicated as you think, don't you believe? You need to watch this cooking guide.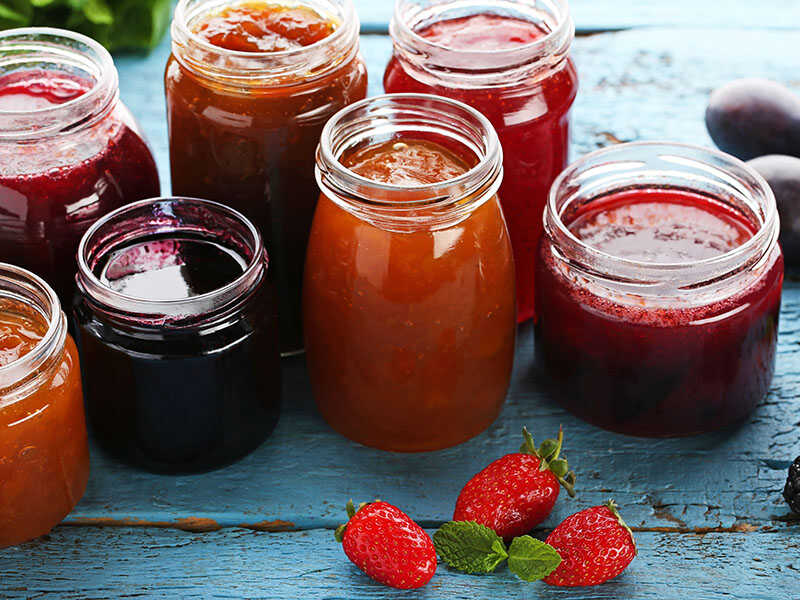 In general terms, jam is preserved fruits with sugar and acid. Pulp is first removed from sweet or sour fruits, and plenty of sugar is added in and cooked on low heat until the sauce reduces and forms a thick texture. Lemon juice is used to balance out the sweetness.
Jam can be made of any fruit, but berry jam is the most popular. Some types of jam also earn a specific name; for example, marmalade is made of citrus fruits.
Plus, if you are unsure whether jams can go bad or not, there are certain reasons and factors that decide their shelf life.
People also add spices to enhance the flavor and preservatives to extend the shelf life. Jam is mostly used to spread bread and sandwiches or play the role of filling for baked goods.
30. Jawbreaker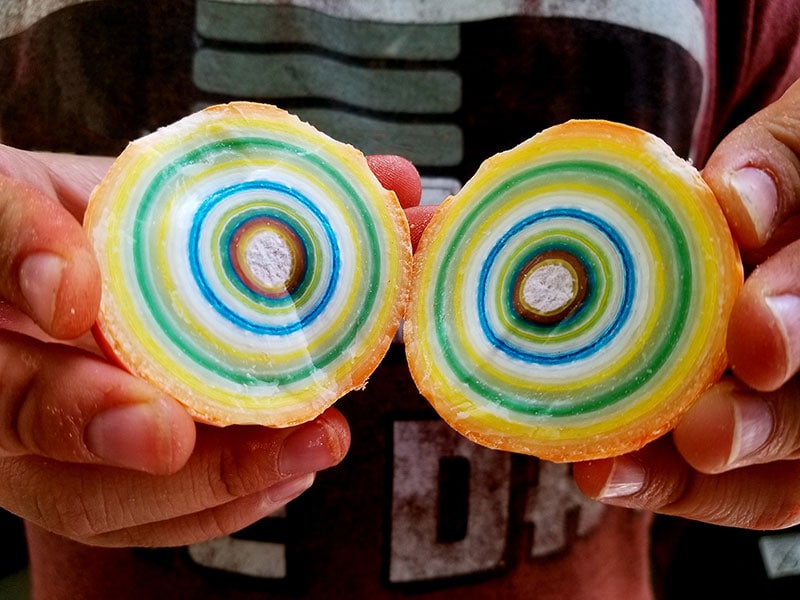 Jawbreaker is a type of confectionery that is among the big icons of childhood. The candy is nostalgic for everyone. Also known as gobstopper in the UK, the candy is an extremely hard round candy ball that is made from sugar.
A typical jawbreaker candy has a size range from 0.4 to 1.2 inches in diameter, just as the same size as a marble, but some exceptions are as large as a tennis ball. The bigger it is, the more exciting it feels to the kids.
The candy is compressed sugar with various layers of different colors, and its changing color is like magic to every child. Children love to enjoy the sweet and wait enthusiastically for the outer layer to melt, revealing the next one gradually.
As hard as a rock, it is thought to crack your teeth if taking a hard bite, as the name jawbreaker suggests. If you want a taste of nostalgia, then don't hesitate to give yourself peace of mind and bring back good old memories with this candy.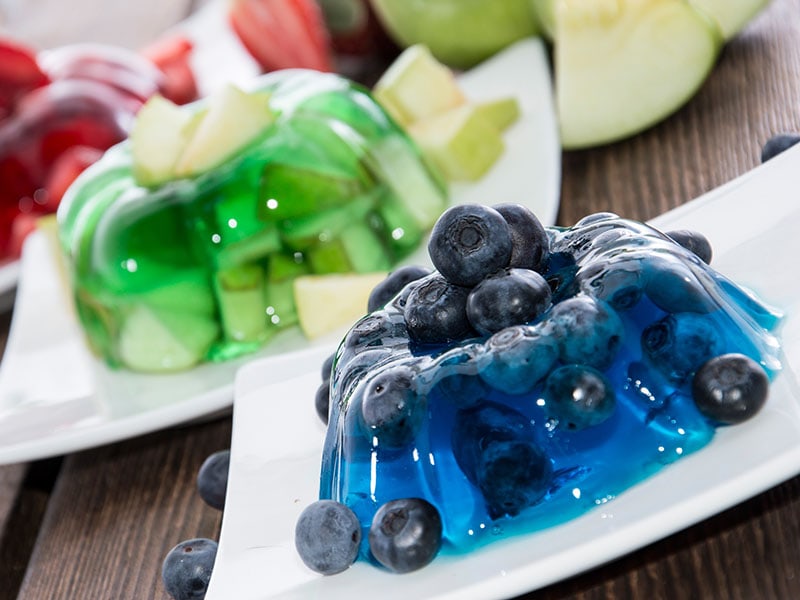 Jell-O is actually a brand name, but it has gained popularity and has become a household name. It refers to a wide range of snacks made from sugar, gelatine, and fruit flavors.
Jell-O can be sold pre-made, ready-to-eat, or prepared as packages of powder. The powder dissolves easily in water, and the mixture is left in the fridge to solidify. Jell-O naturally has a soft jelly texture and mildly sweet taste, and flavors vary from fruits to pudding or chocolate.
Jello-O is typically served with cream and fruits. It is naturally low in calories, and its colorful look makes a perfect decorative dish for tea time or coffee breaks. People also add various things to the mixture before it sets.
Chopped nuts and fruits or liquor like vodka and rum are mixed into the Jell-O mixture and served as an alcoholic beverage at parties. The drinks are called Jell-O shots, and as the alcoholic flavors do not prevail, people usually drink them excessively and end up getting drunk.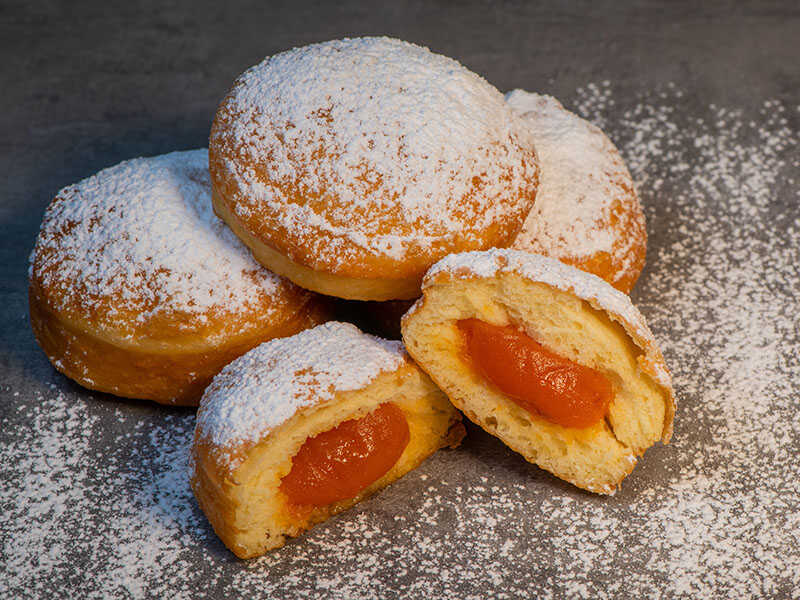 Jelly doughnuts are a type of jam-filled doughnut dusted with white sugar. They are a widespread dessert and snack and have a wide range of varieties on all continents. The jelly filling is not regular jelly but actually a mixture of jam, corn syrup, fruits, and sugar.
The pastry is pretty high in calories; a single one contains about 270 calories (such as the Jelly Donut from Dunkin Donuts (4)). The fact that it is deep-fried and filled with jam probably makes people have an upset stomach. Jelly doughnuts are best enjoyed while still hot, and if stored in the fridge, they can last up to a week.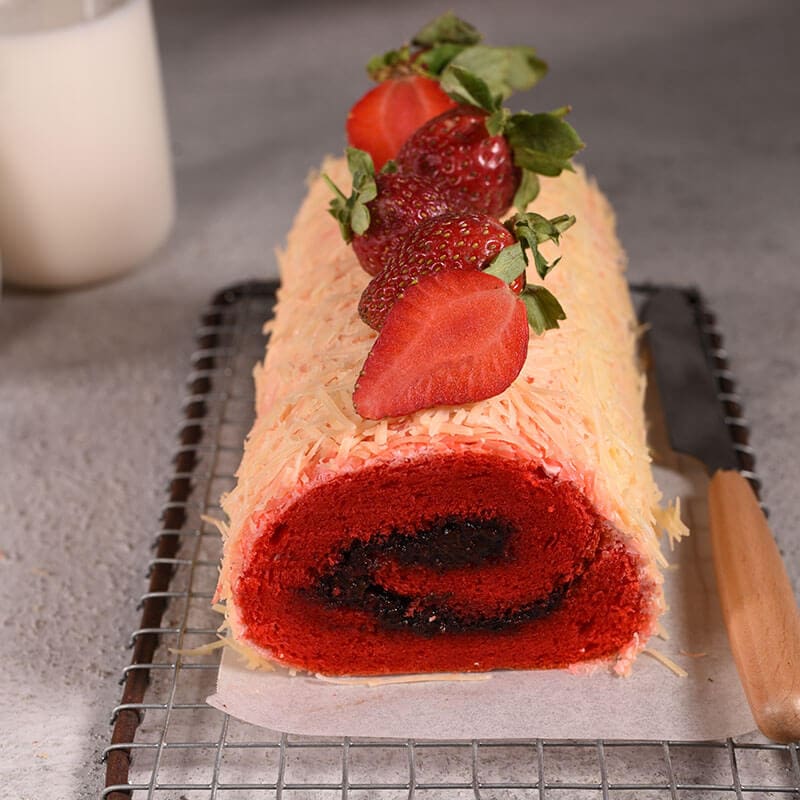 A jelly roll is a fluffy sponge cake filled with jam or jelly and icings and then rolled up into a log, similar to how people prepare Jam Roly-Poly. The cake is then dusted with sugar powder.
It is the equivalent of a Swiss roll, but Swiss rolls are prepared with a denser and thicker sponge cake layer and are usually filled with cream or chocolate. Both are cut into bite-size pieces and served with cream or fruits.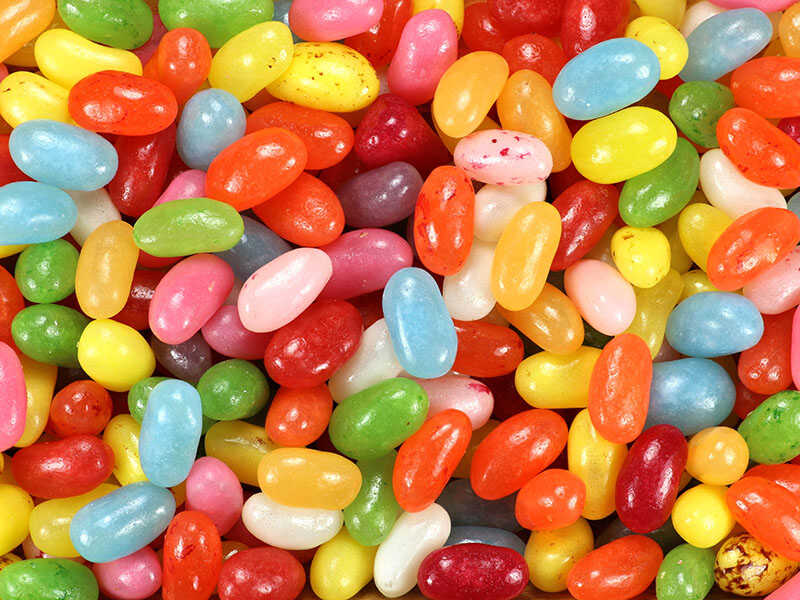 Jelly beans are a type of confectionery that is made primarily of sugar and colorings. As the name suggests, they are small bean-shaped candies with a gel interior and a colorful shiny outer softshell.
Jelly beans usually come in a package of 8 varieties of colors; each has a different flavor. The color also represents the fruits; some typical flavors include berries, mangos, plums, mints, etc.
Some premium brands even offer striking novelty in the flavors, bringing the taste of almost everything into jelly beans. You can be surprised by the exact taste of some soft drinks, popcorn, beer, cappuccino, and many other exotic tastes in one small bean candy.
Jelly beans are childhood candy for everyone, let's connect you and your kids by learning how to make them.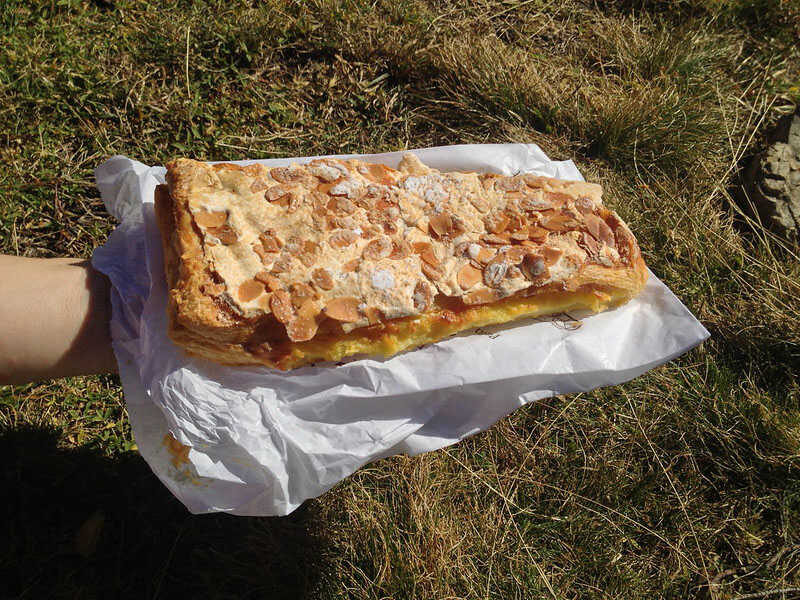 Jésuite is a type of French puffed pastry with a distinct triangular shape. It is a traditional dish in French; the name and shape are closely associated with a Jesuit's hat. It is considered a significant part of Catholic cuisine.
The dessert is made from pastry filled with frangipane or almond cream, a French-styled custard, then topped with sliced almonds and dusted with brown sugar. After baking, the desert puffs up nicely and has a brown, flaky outer look, and includes many layers.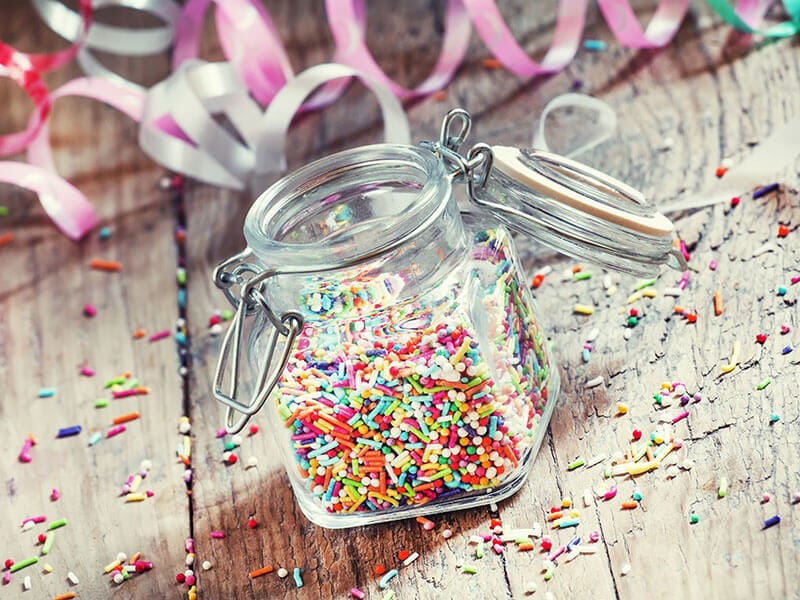 If you are a baker, you definitely know what this is. Jimmies are tiny sprinkles mostly used to decorate on top of a dessert. As a confectionary, they are totally edible and mainly made from sugar. In fact, Jimmies refer to those made with chocolate.
They add a little crunchy texture and sweetness to the icings, as well as various colors to make the cake more appealing. Some also use them in baked goods, as these are hardly melted compared to other types of sprinkles and cake add-ins.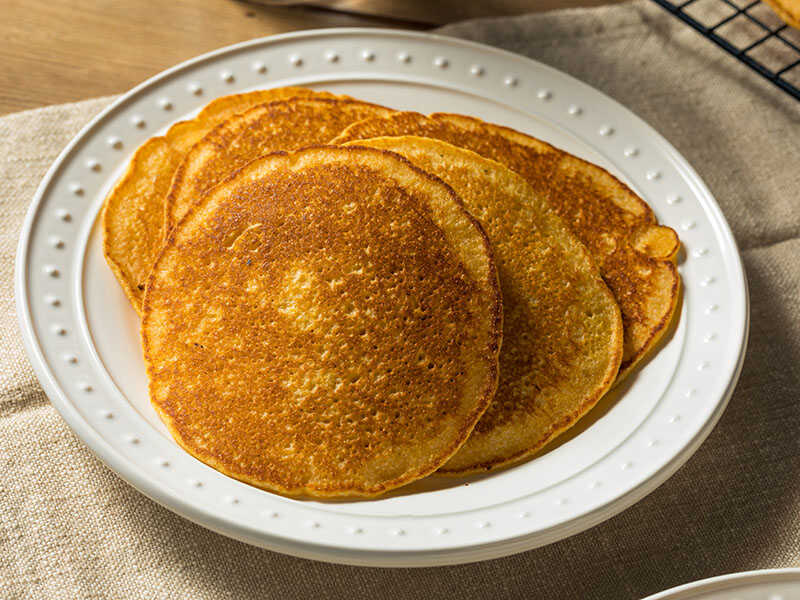 Johnnycake is a common staple food consumed by people in North America. Early versions of jonnycake are made from cornmeal, water, and salt. These are mixed into a batter and fried in a pan, just like how we make pancakes.
Modern johnnycakes are believed to originate from Rhode Island. From the shores of the US and Canada to the vibrant Caribbean, this delectable treat has captured the hearts and taste buds of many.
Known by aliases like journey cake, Johnny bread, Shawnee cake, or spider bread, it's a beloved culinary delight. The cake is of such great cultural significance to people here that people hold baking and eating competitions under its name every year.
Milk can also be used instead of water, and sweeteners are sometimes added. Johnny Cakes are served hot with butter, some drizzles of maple syrup, or apple sauce.
38. Jordan Almonds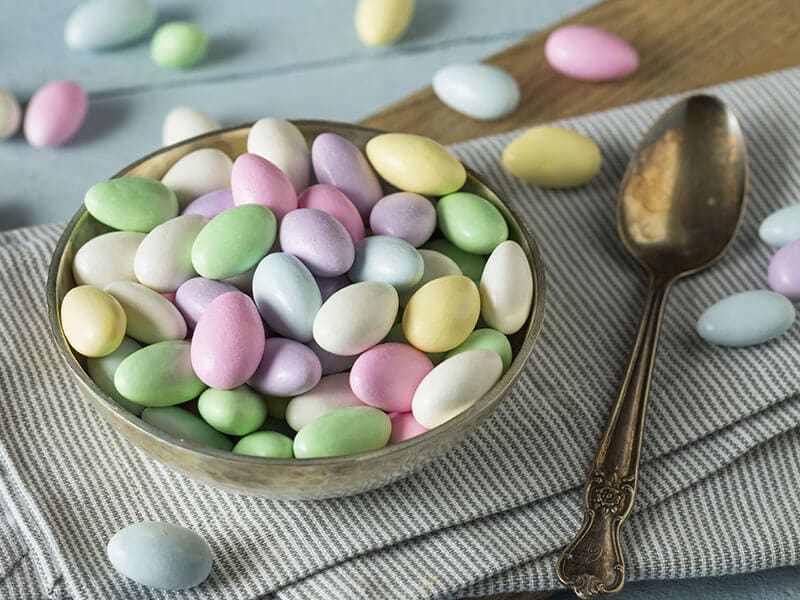 Jordan Almonds are a regular treat for celebratory occasions. They are an assortment of nuts and edible seeds such as almonds, hazelnuts, aniseeds, etc., covered by a hard coating of chocolate and sugar.
Nobody really knows the origin of Jordan almonds; some say they originate in Rome and were first created by a Roman pastry chef, traditionally in the form of honey-covered almonds.
Their name "Jordan" might be derived from the word "jardin", which means garden in French. Others say that Jordan almonds are a variety of almonds that grow along the Jordan River in Palestine.
Jordan almonds hold great meaning for couples on wedding occasions. Greek people believe the bitter nature of almonds represents hardships in life, adding a sugar coating to it with the hope that the new couple will share a sweet life together.
In Italian weddings, only five almonds are distributed to the guests, and they represent health, wealth, happiness, fertility, and longevity.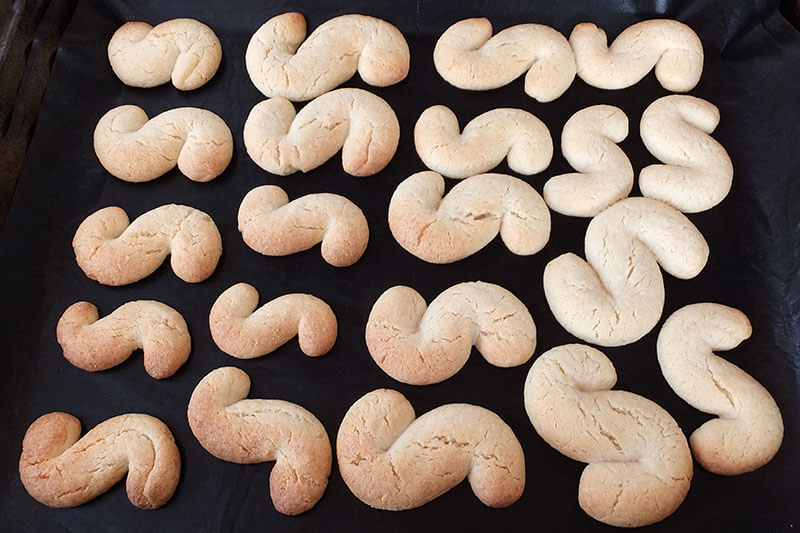 Jumbles are simple cookies made with a basic recipe of flour, butter, egg, and sugar. While cookies are a generic term for all kinds of flat baked goods without cream and icings, jumbles refer to the crispy cookies only and in various shapes, like a knot, rings, or rolled.
Due to very little water content, they are very hard and dense, almost like pie crust, and therefore the shelf life can last up to one year, allowing it to be a versatile and ready-to-eat snack.
The cookies are usually flavored with plant-based aromatic ingredients such as aniseed, coriander, and rosewater. In the US, they are crispy, flat, and thin cookies that are flavored with lemon zest.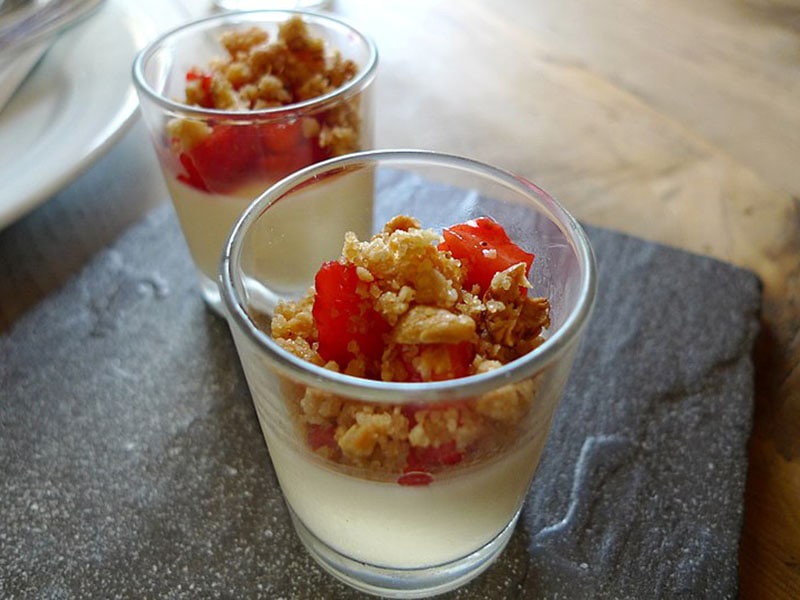 Junket is a pudding dessert that uses fermented milk as the base. Sugar and vanilla are added to milk first; then, the mixture is heated before a kind of digestive enzyme called rennet is added to form curdle.
The dessert is reported to originate in French, where people have a similar dessert called "jonquet", which is also curdled milk sweetened with sugar. In medieval England, junket was a noble food made with cream, spices, and rose water as flavorings.
The curdled milk is mashed up a bit and usually topped with grated nutmeg or almonds. Slices of fruits are used for garnish and add a taste of freshness. It is a healthy dessert and extremely useful to boost the digestive system.
41. Jalebi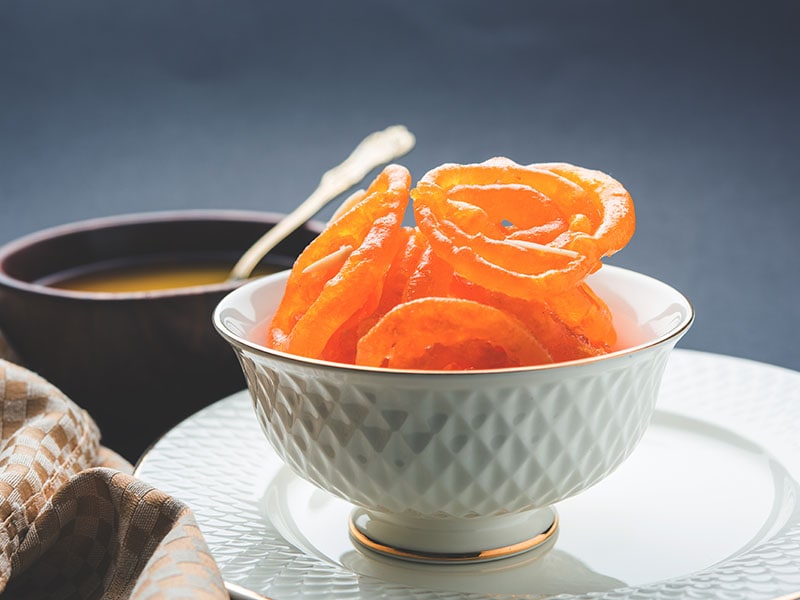 The beloved Arabian sweet Jalebi is known for its unique spiral shape and has gained massive popularity in India, Pakistan, and Bangladesh. This tasty delight goes by various names, such as jilapi, zelepi, jilebi, jilipi, zulbia, jerry, mushabak, z'labia, or zalabia.
Although its origin is unknown, there's evidence of a Middle Eastern variety called zalabiyeh. Prepared by deep-frying thin dough spirals and soaking them in sugar syrup, Jalebi boasts a chewy texture and sweet flavor.
In India, the treat holds a special place as a 'celebration sweet,' often distributed in government offices on national holidays like Independence Day and Republic Day.
Beverages
42. Jasmine Tea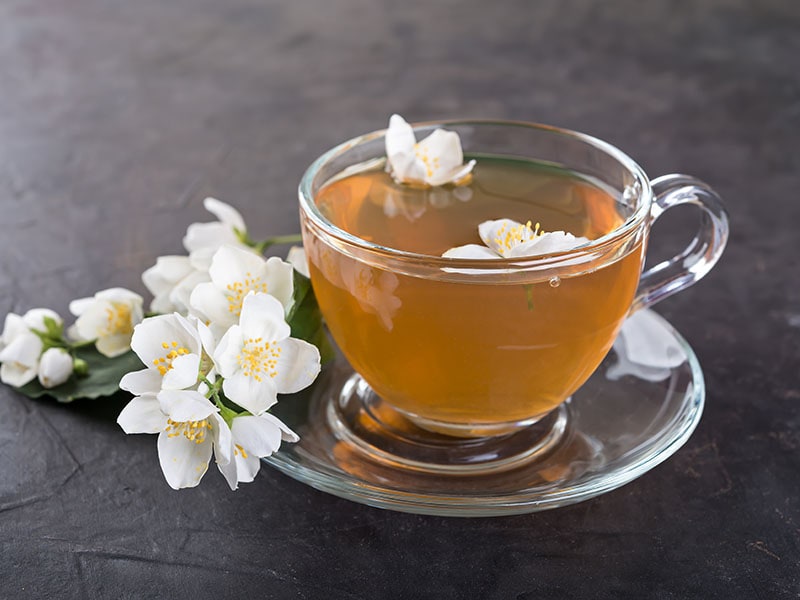 Let me introduce you to China's most famous scented tea, jasmine. This type of tea rose to popularity around the fifth century and became widespread during the Qing dynasty, thanks to increased tea exports to the West.
This delightful tea is infused with the aroma of jasmine blossoms, creating a subtly sweet and highly fragrant experience. While green tea is commonly used as the base, white and black teas are also options. Today, tea shops worldwide continue to serve jasmine tea as an aromatic beverage.
43. Jenever (Dutch Gin)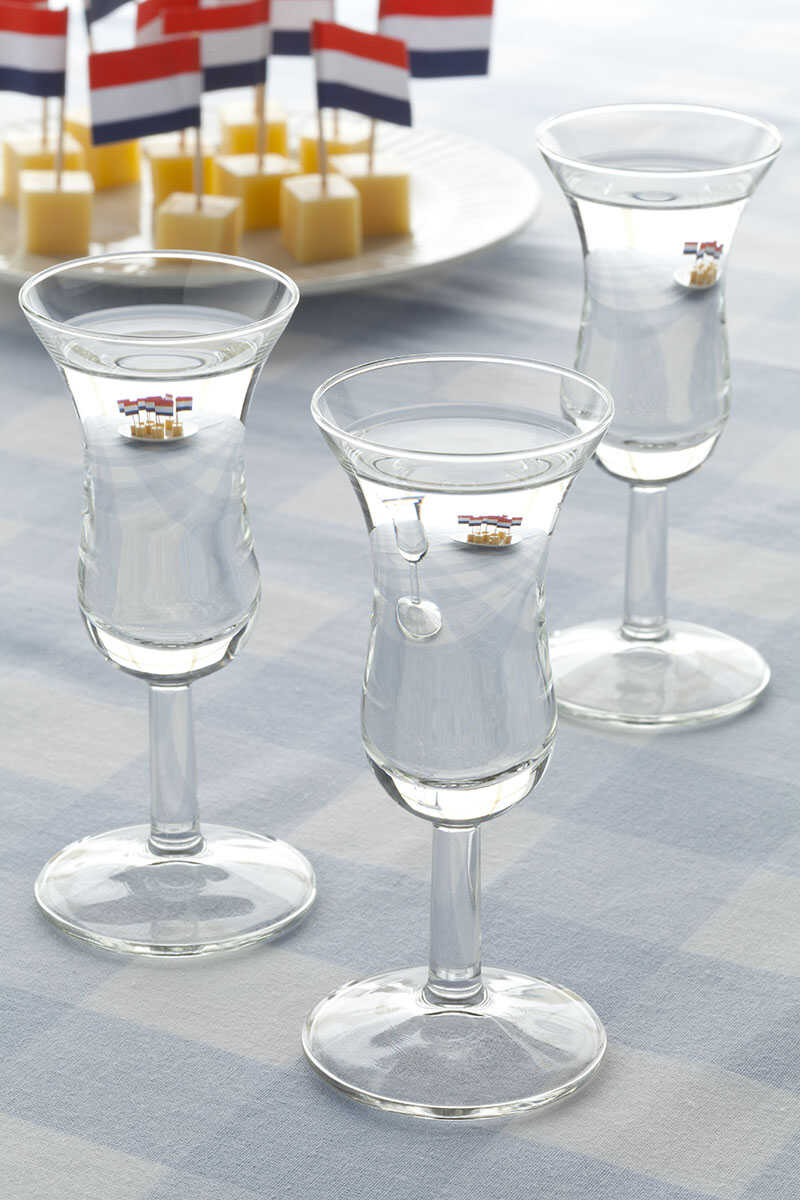 Jenever is a fascinating juniper-flavored traditional liquor with several names like Hollands, genever, genièvre, peket, and Dutch gin. Jenever is usually popular in the Netherlands, Belgium, northern France, and northwestern Germany.
The liquor was first produced by distilling malt wine (moutwijn in Dutch) to 50% alcohol by volume. Commonly, there are two varieties, with the Jonge jenever having a neutral taste akin to vodka and a slight juniper and malt wine aroma.
On the other hand, Oude Jenever possesses a smoother, aromatic profile with malty, woody, and smoky flavors reminiscent of whisky. Interestingly, people sometimes age Jenever in wood.
44. Julep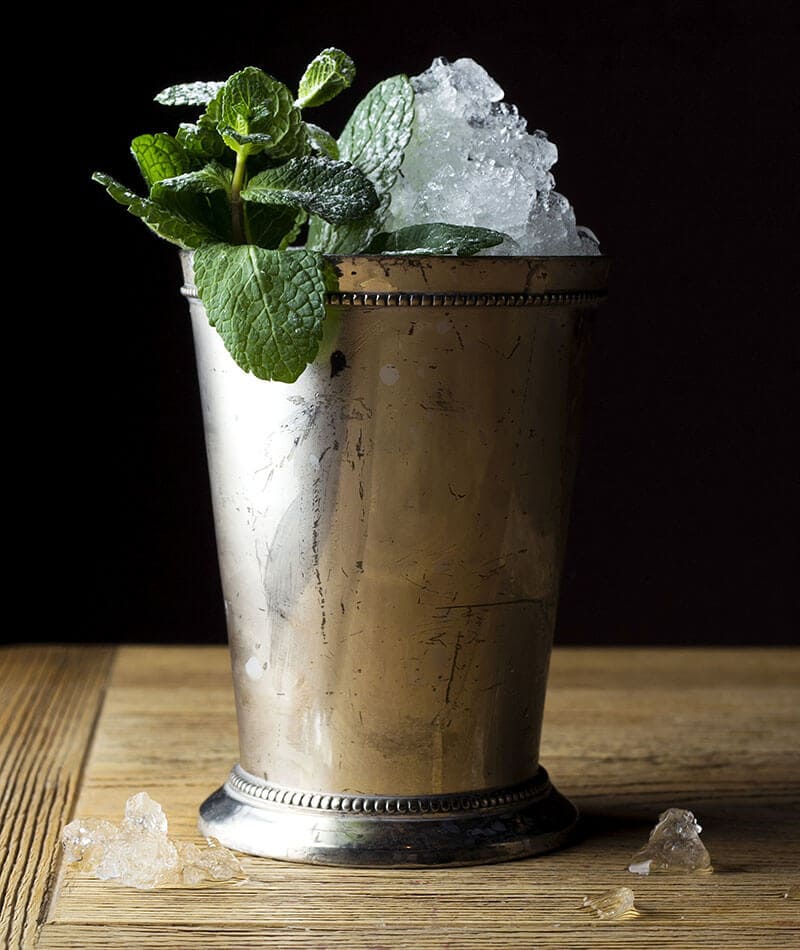 Julep's a tall drink best known for being served over crushed ice with spirits, liqueurs, wines, or fortified wines. Among them, the Mint Julep steals the spotlight, being the traditional beverage of the Kentucky Derby.
This whiskey cocktail blends bourbon, mint leaves, and sugar syrup into a beautiful harmony of sweet, smoky, and herbal flavors. Trust me, a Mint Julep is just what you need on a hot summer day!
Dairy Foods
45. Jameed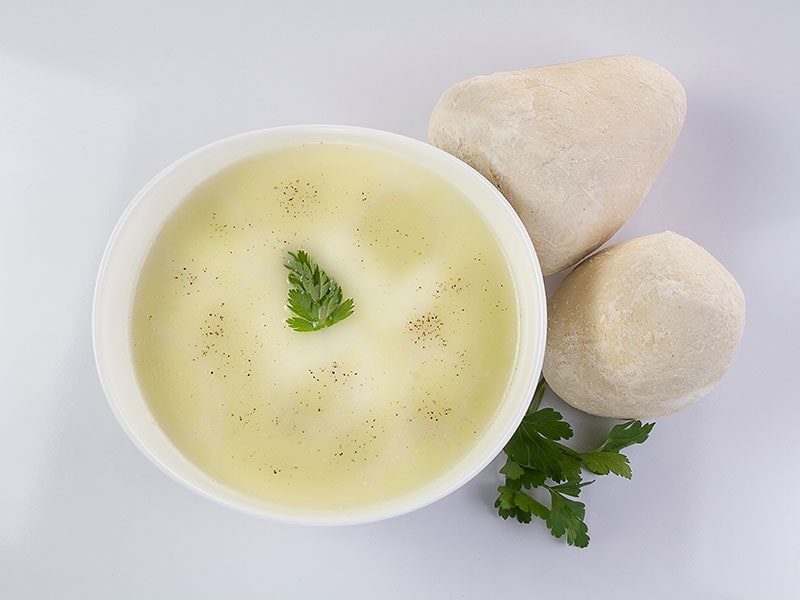 Jameed is a dairy product made from goat's milk or sheep's milk. Milk is first kept in cheesecloth to ferment and forms a thick curled-like texture. Then salt is added daily for the next few days; the yogurt is further hardened and becomes a round hard ball of milk.
It is either dried in the sun and changes to a shade of yellow or dry in shades and remains pure white. The result of the process is a compact ball of dry milk; therefore, it can be stored at room temperature and is an important food for travelers on long journeys.
Bedouins, a nomadic ethnic group in the Middle East, primarily consume it. Jameed is the main ingredient in "manaf", a traditional Jordanian dish, where lamb is cooked in jameed and served with rice.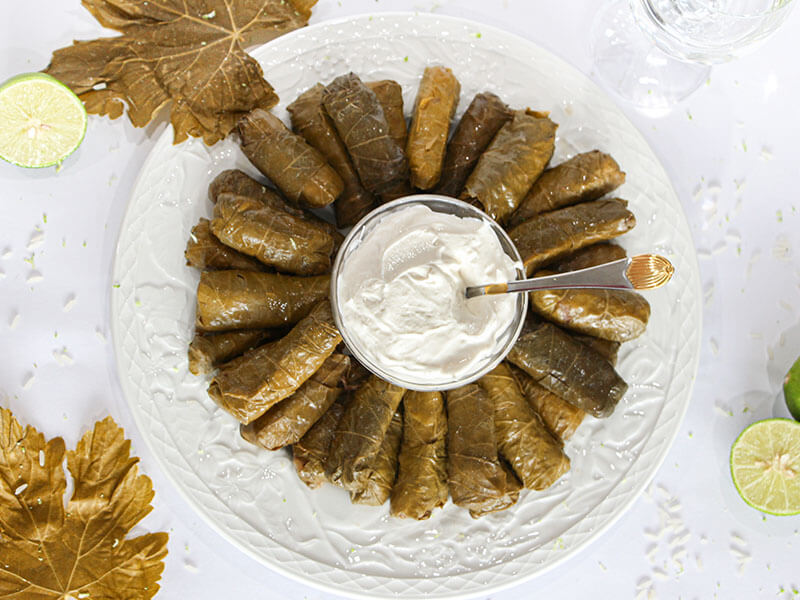 Jocoque is another fermented product from milk popular in Mexican cuisine. Traditionally, milk is placed in a clay vessel and left near a consistent heat source such as a stove or fire. The hot temperature will gradually transform the milk and make it thicker.
Jocoque is sometimes categorized as white cheese. It has a texture ranging from curdle-like yogurt to hard as cheese and is sometimes similar to play dough. The color is quintessential white as snow and is made primarily from sheep, cow, or goat's milk.
Jocoque is popular as a dipping sauce served with tortillas and seasoned with dills or thymes. In some Mexican cities, people may mix them with various chopped vegetables like carrots and cucumber.
47. Jack Cheese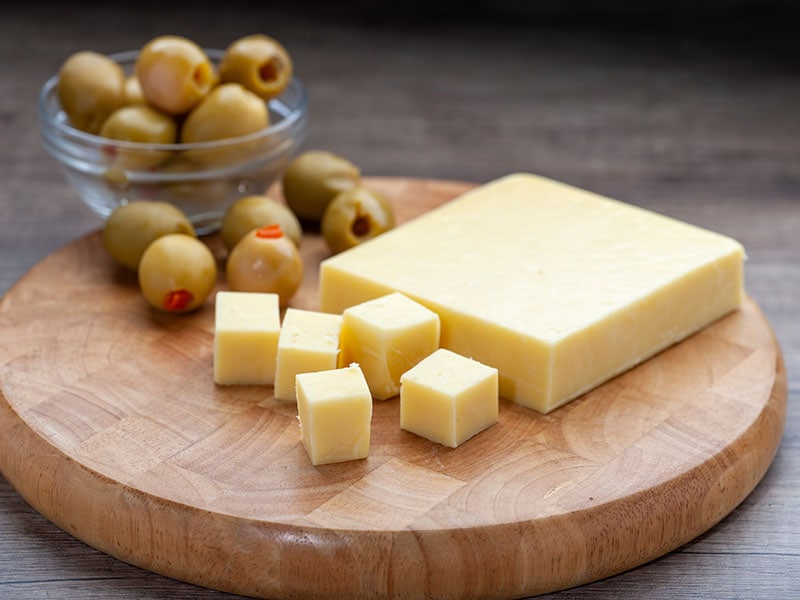 Jack cheese, also called Monterey Jack, has a rich history dating back to the 18th-century Franciscan friars of Monterey, Alta California. Later, David Jacks, a California businessman, started selling it commercially.
With a mild, creamy flavor, the softer varieties found in supermarkets only take a month to age, while "dry Jack" needs up to six months. This cheese is not only an excellent addition to a charcuterie board, but it's also a fantastic partner for wines.
Other Foods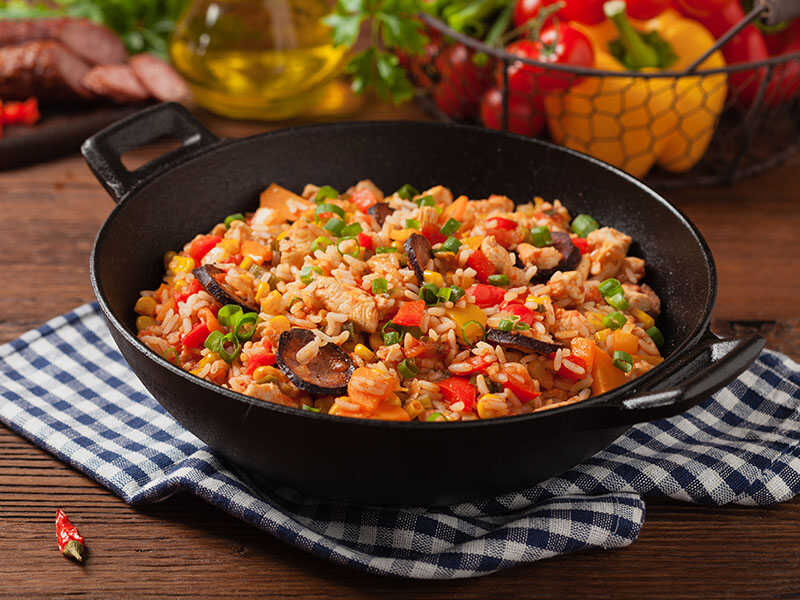 Jambalaya is the icon of Louisiana Creole cooking style, which is a blend of West Africa, French, Spanish, and some other influences of Southern United States cuisine. Basically, it is a rice dish mixed with various meat and vegetables, similar to Jollof rice in some sense.
The meat used in jambalaya is usually a variety of smoked sausages like andouille, a French sausage, other meat like chicken, pork, and sometimes seafood. The meat is prepared first, usually by browning in a cast iron.
The vegetable base is typically a mixture of onion, celery, bell pepper, and other spices, cut into small pieces and sauteed with oil until it forms a viscous sauce.
Then meat and long-grain white rice is added along with seasonings and broth, and all are left to cook until finished.
Why don't you give your regular dinners a makeover with Jambalaya, which is simple and super delicious Louisiana Creole rice?
49. Jasmine Rice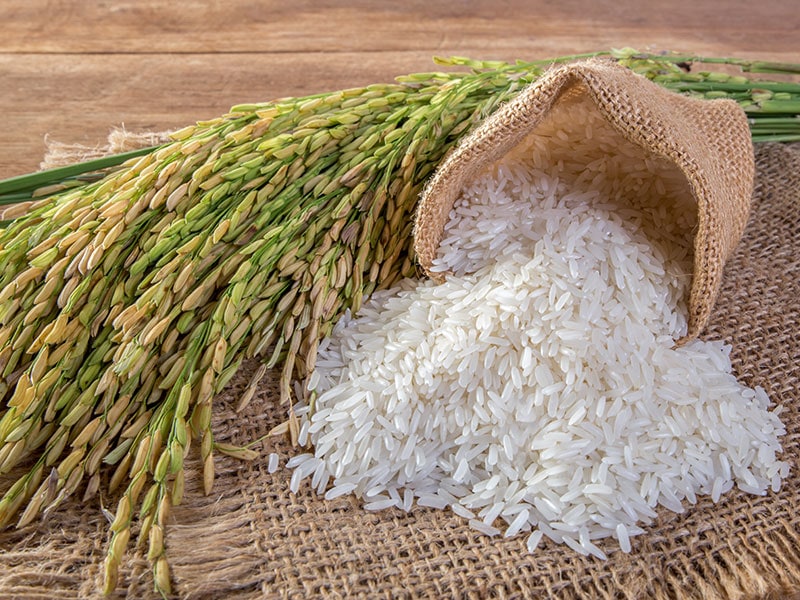 Jasmine rice is one of the most popular rice varieties in the world. The long-grain rice is favored for its distinct aroma, and its fragrance is a combination of popcorn and pandan, a tropical plant that has fragrant leaves used as flavorings.
This variety is primarily cultivated in Indo-China areas, where the weather is conducive; most productions come from Thailand, Cambodia, and Southern Vietnam. When cooked, the rice is moist, sticky, and has a natural, slightly sweet taste.
There are two major types of jasmine rice categorized by how it is processed. Brown jasmine rice are those grains harvested and dehulled, leaving a tanned grain, while white grains are whole grains milled to remove the germ and bran. Brown rice is more nutritious than white.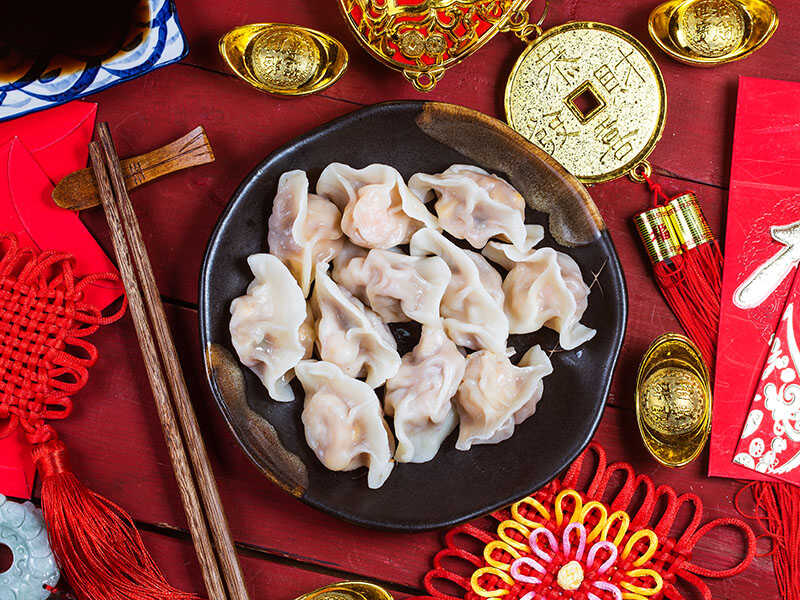 Jiaozi is the official name of Chinese dumplings popular among Chinese and Asian cuisine. The dish is sometimes called potstickers in the Western world. Dumplings are basically dough wrappers filled with ground meat and vegetables.
Fillings vary greatly, depending on people's preferences. Common filling recipes call for pork, beef, chicken, and shrimp, while for vegetables, people can use scallion, celery, mushroom, cabbage, etc.
For Chinese people, jiaozi is a must-have dish on the Lunar New Year's Eve dinner table because the horn-like dumplings are thought to represent "money". Some even put a lucky coin inside, and whoever finds it will embrace great fortune in the upcoming year.
Chinese cuisine is never out of heat, and I am sure everyone wishes to step foot in China at least once.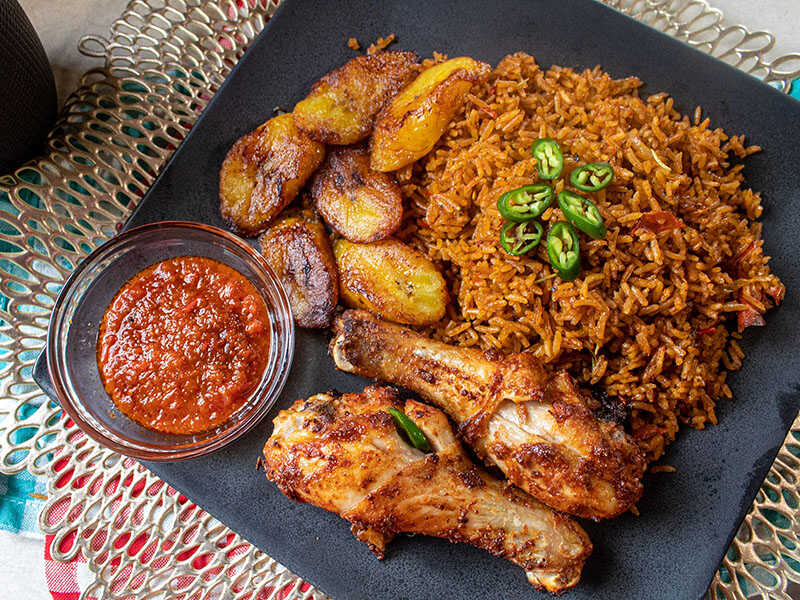 Jollof rice is a common staple food of West Africa; it's a popular dish in Liberia, Ghana, and Nigeria. Jollof rice is a wholesome dish combined with rice, meat, and vegetables, providing you with all essential nutrients.
It is basically a rice dish cooked in tomato stew or tomato puree as a base. Some herbs and spices are added to enhance the flavors. For example, in the world of Nigerian cuisine, Nigerian curry powder and thyme are essential condiments.
The rice is cooked long and absorbs all the goodness from the tomato sauce; the result is bright red rice packed with flavors. In some regions, people love to eat Jollof with meat, typically beef, chicken, and seafood.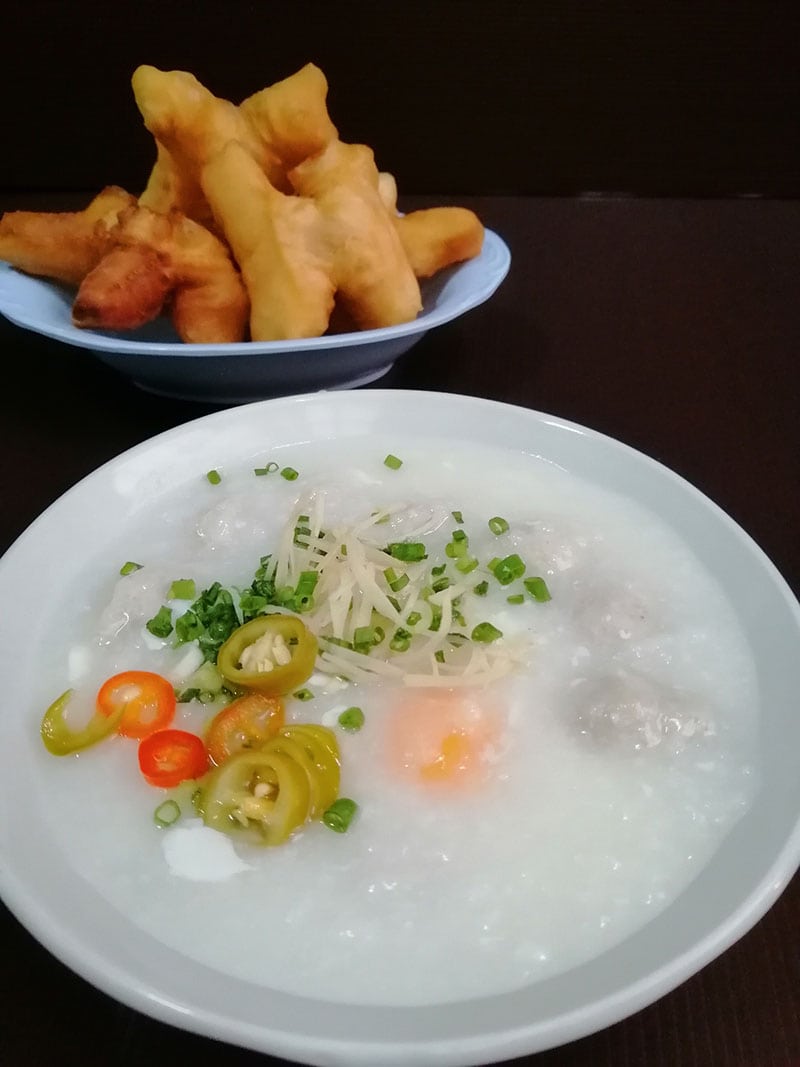 Jook is a fulfilling rice dish that is certainly the most popular breakfast meal among East Asian people. It is an equivalent of Westerner's porridge, with rice as the main ingredient, not barley. In Western countries, it is known as congee.
Jook is smooth, viscous like tomato sauce, and tastes fresh. Jook is usually seasoned with salt or pepper to increase the flavors because plain jook is pretty bland.
People also load it with chopped vegetables like garlic, ginger, scallion, peas, etc., and a variety of chopped meat and seafood to increase nutrition and bring in a fulfilling mouthfeel to the dish. It is also a common dish cooked for sick people.
53. Jachnun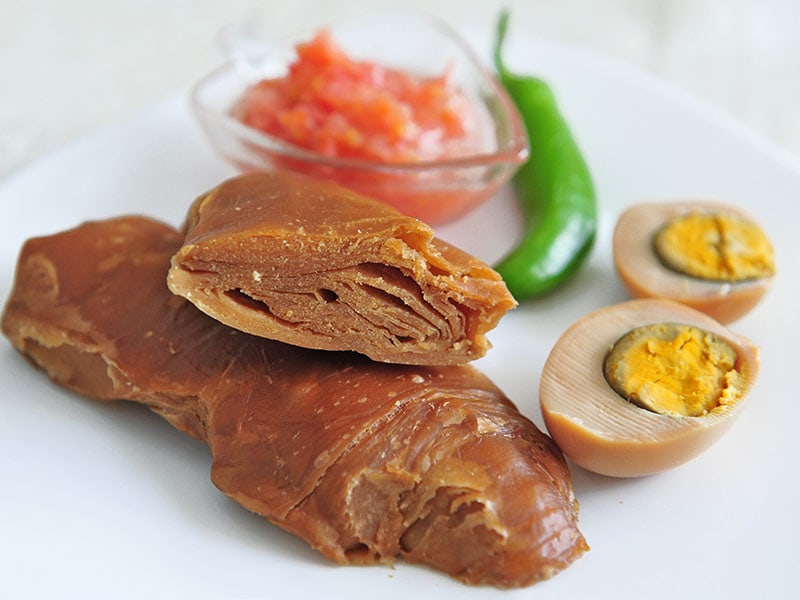 The delicious Yemenite Jewish pastry Jachnun comes from the Adeni Jews and commonly appears on Shabbat mornings. This dish gained popularity in Israel, thanks to Yemenite Jewish immigrants.
To prepare Jachnun, you'll need thin dough coated with a spiced, clarified butter called Samneh, traditionally flavored with fenugreek and aged in a smoked container. Sometimes, honey is added to the mix before rolling the dough into rolls and cooking them.
FAQs
Listing J-named Food Is Not Longer A Challenge!
Let's count all the food on this list to see how many you know and how many you have eaten. More importantly, I hope you find this post beneficial to you in multiple ways, like enriching your knowledge about worldwide cuisines.
Lastly, I would be very glad if you could share more about any wholesome food that starts with the letter J in the comment section. And remember to share this post with your friends and family!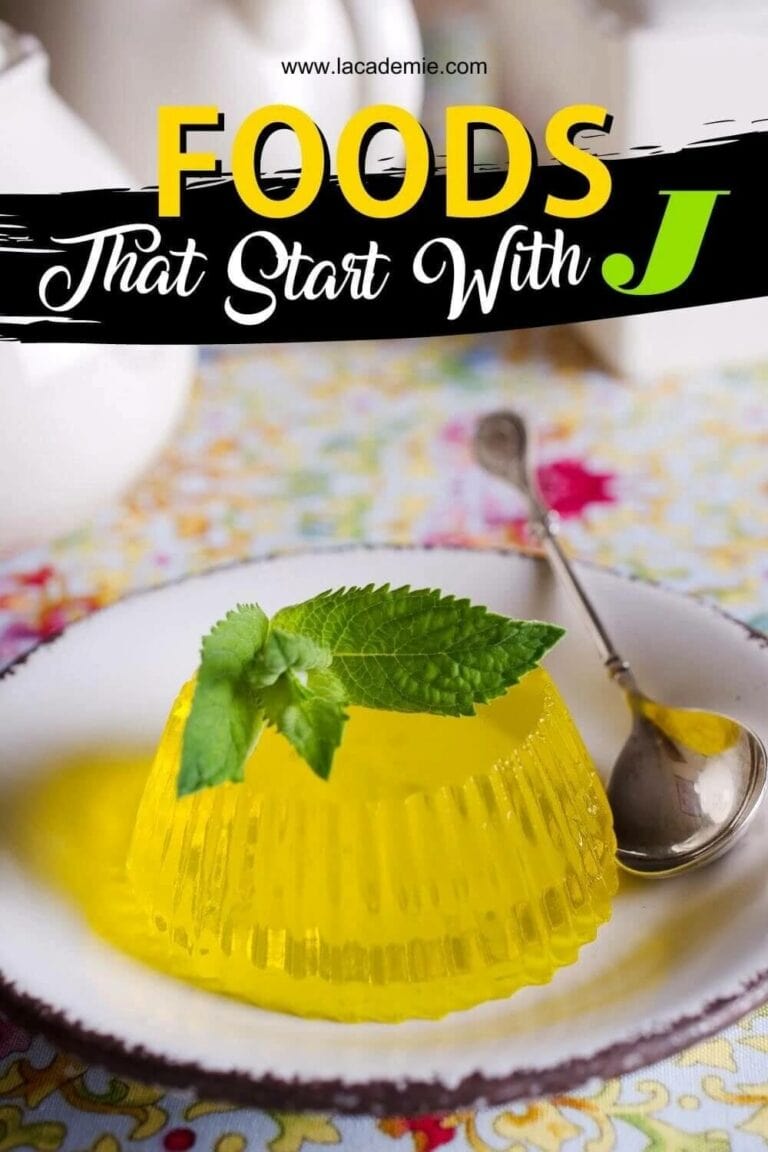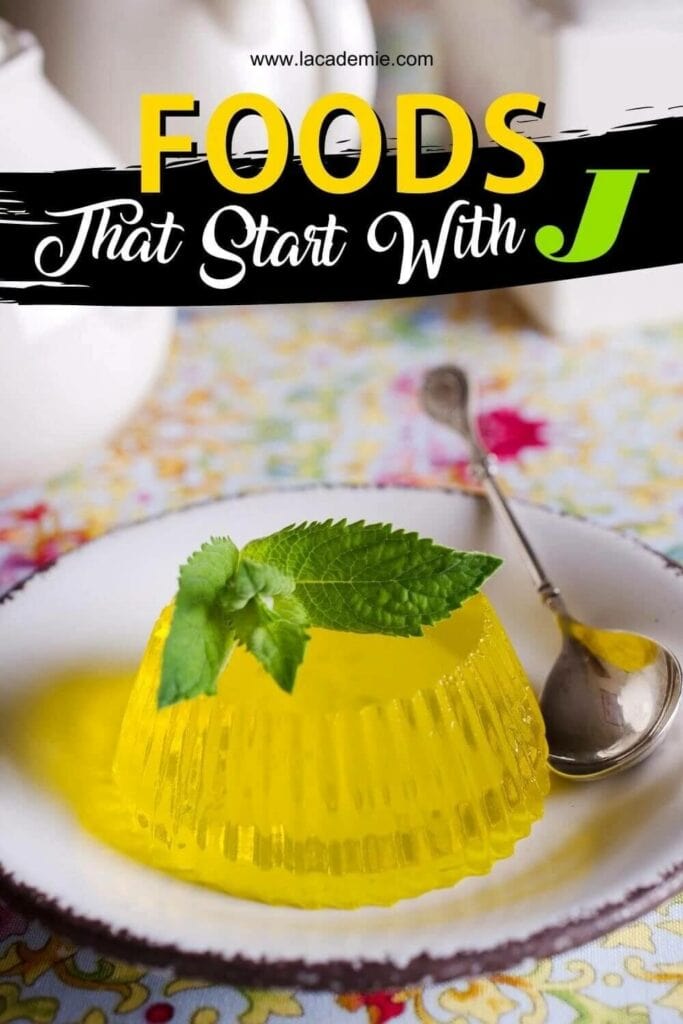 References
Health Benefits of Jackfruit (2021). webmd.com.
8 Health and Nutrition Benefits of Jicama(2019). healthline.com.
Here's How Eating Jewfish Can Be Beneficial For Your Health (2018). Thehealthsite.com.
Dunkin Donuts Jelly Donut Nutrition Facts (2023). fastfoodnutrition.org.