What is so special about foods that start with Y? Perhaps the excitement starts with the letter itself: a letter that bridges vowels and consonants and defies pronunciation rules. If you're in an alphabet-based food challenge, you may find yourself in a pickle with this second-to-last letter.
But don't worry: many options begin with Y, and you can find plenty of them in this post. From Yakisoba and yuzu in the East to Yukon Gold potatoes and Yankee pot roast in the heart of America, my article will cover everything. Read on, and find out for yourself!
Yearning for Y: Delicious Items You Should Try
Fruits
Yuzu
Yangmei
Yali Pear
Yellow Passion Fruit
Yellow Watermelon
Yellow Mango
Yellow Squash
Yellow Apple
Legumes And Vegetables
Yellow Bell Pepper
Yams
Yardlong Beans
Yacon
Yukon Gold Potatoes
Yuca Root
Yellow Eye Bean
Yautia
Yellow Wax Beans
Yellow Beet
Yam Bean
Main Dishes And Sweets
Yorkshire Pudding
Yiros/ Yeeros (Roasted Meat On Pita Bread)
Yakisoba (Stir-fried Noodles)
Youtiao (Chinese Fried Dough)
Yakhnet Batata (Lebanese Potato Stew)
Yankee Pot Roast
Yamarita (Fried Yam)
Yakitori (Japanese Skewered Chicken)
Yakhni Pulao (Fragrant Rice Dish Cooked In Broth)
Yokan (Jelly Candy)
Others
Yogurt
Yeast
Yellow Cornmeal
Yellowfin Tuna
Yabby
Yellowtail
Fruits
1. Yuzu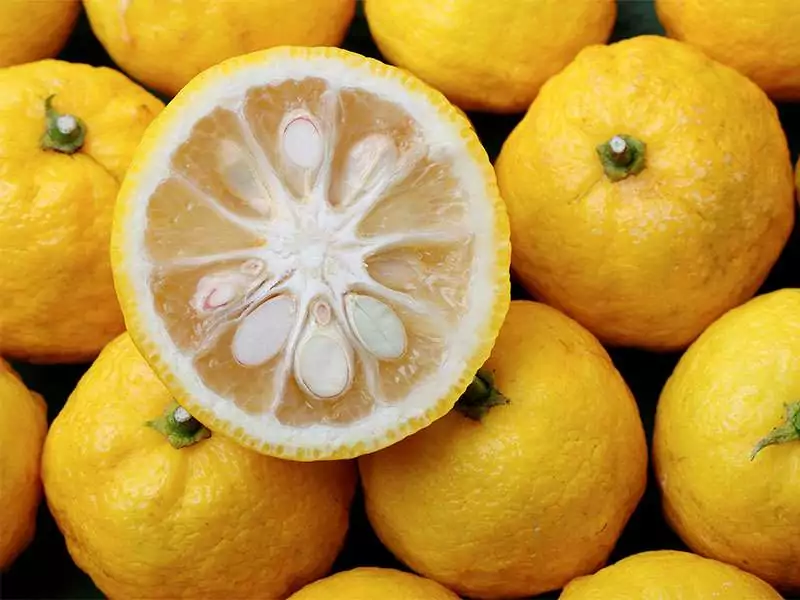 If someone asks you for fruits that begin with Y, tell them about yuzu, a delicacy from Japan. Australia and some European countries can cultivate this fruit, but Japan is still the dominant supplier. It is pretty expensive in Western countries, but its incredible fragrance is totally worth it.
Yuzu looks like a small tennis ball with uneven skin and can be yellow, orange, or green, depending on the degree of ripeness. The flavor of this citrus fruit is very tart, like a combination of lemons, mandarins, and grapefruits.
Therefore, eating yuzu raw isn't a common way to use it. Instead, people use its juice and zest in making jams, preparing tea, infusing with liquors, or flavoring desserts. This vitamin-packed fruit can improve brain health, soothe nerves, and strengthen immune systems (1).
2. Yangmei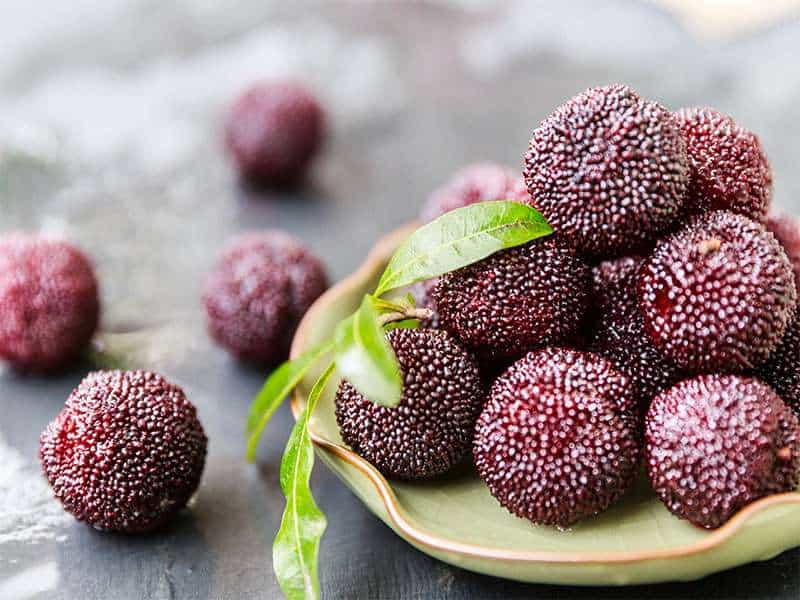 If you have never heard of yangmei (Myrica rubra) before, you may be more familiar with its other names: Chinese bayberry, yumberry, or waxberry. This type of fruit is similar to strawberries and raspberries, very sweet but also tangy and more herbal in taste.
Yangmei contains many antioxidants, minerals, fibers, and other vital vitamins. It can greatly aid you against inflammation, intestinal ailments, cancer, and even diabetes. However, this superfood is pretty expensive because its season is relatively short, lasting only from May to June.
With yangmei, you can make desserts and alcoholic beverages or even put them in meals as a secret ingredient that can upgrade your dish to a whole new level. But what I love most is dried yangmei – I fall in love with them at the first bite.
3. Yali Pear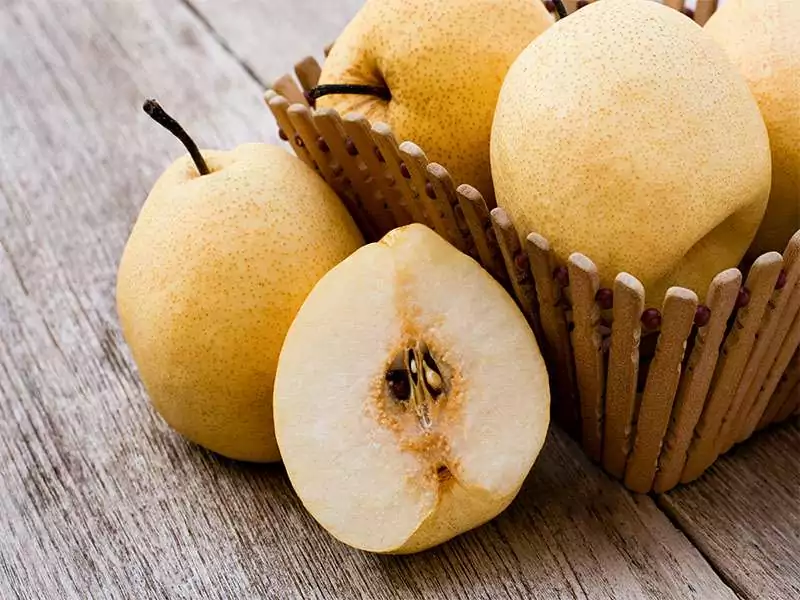 This Asian pear variety hails from China. Its name is literally "duck pear" in Chinese since many people think it looks like the tail of a duck. The fruit is more rounded in shape and larger in size than regular pears.
In addition, they feature smooth, greenish-yellow skin and crisp, creamy white flesh. While this pear has a higher water content and a lower sugar content than other varieties, it can continue to ripen after picking to become very sweet and juicy.
You can slow down the ripening process and preserve Yali pears for months by storing them in the fridge. Yali pears can bring you incredible benefits, such as providing significant amounts of vitamins C and K, dietary fiber, potassium, and antioxidants.
4. Yellow Passion Fruit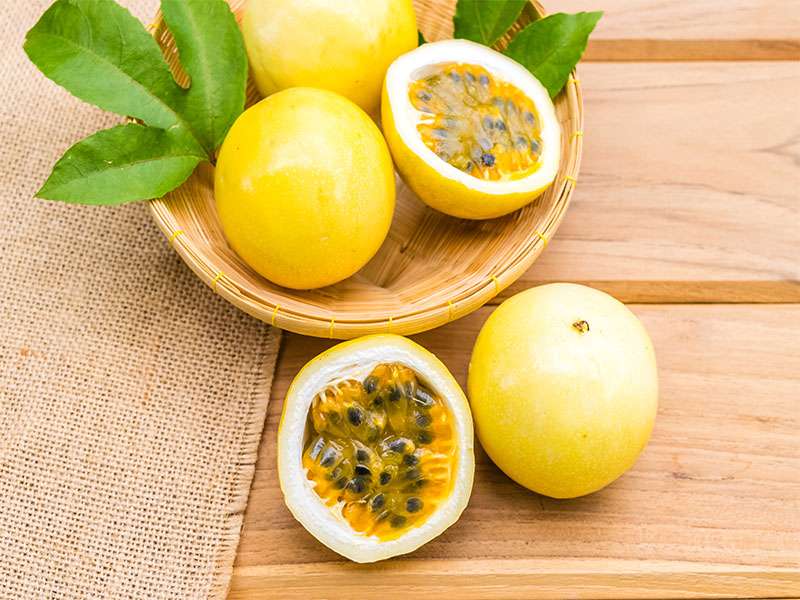 The yellow passion fruit (Passiflora ligularis) goes by other names, such as and sweet granadilla. It is grown in many Latin American countries and a few US coastal states. It is larger and more aromatic than typical passion fruit.
This delicious yellow fruit is the king of drinks (juice, cocktails, and even beer) and desserts (yogurt, ice cream, and smoothies). You can also mix this fantastic fruit with salad, salad dressing, or sauces to add a tropical touch to your meal. Eating it raw is another terrific option.
5. Yellow Watermelon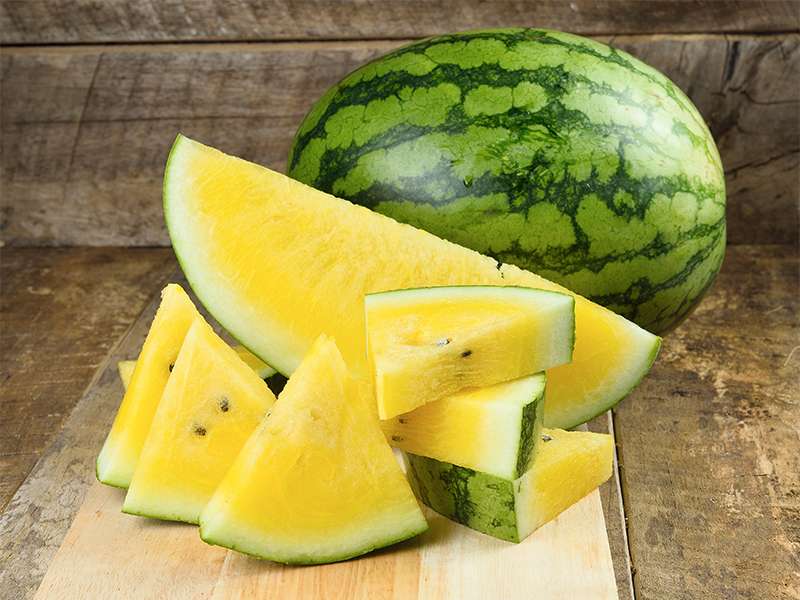 This type of watermelon boasts yellow flesh, which is different from conventional watermelons with pink to red flesh. While this fruit may seem exotic to many people, it isn't genetically modified at all: it has a very long history, first domesticated in Africa 5000 years ago.
The difference in color is due to the lack of lycopene, an antioxidant responsible for the red color. Yellow watermelons don't have it, but they are full of beta-carotene, hence the yellow color. The compound also gives sweet potatoes, carrots, and pumpkins their hue.
On the outside, yellow watermelons look completely like red-fleshed watermelons, but their size is a little smaller. When you taste them, you will realize they are sweeter, too. Their texture is crisp and juicy, making them a wonderful summertime treat.
Yellow watermelons are low on calories yet rich in dietary fiber, vitamins A and C, and minerals. Feel free to consume it as you would with any watermelon.
6. Yellow Mango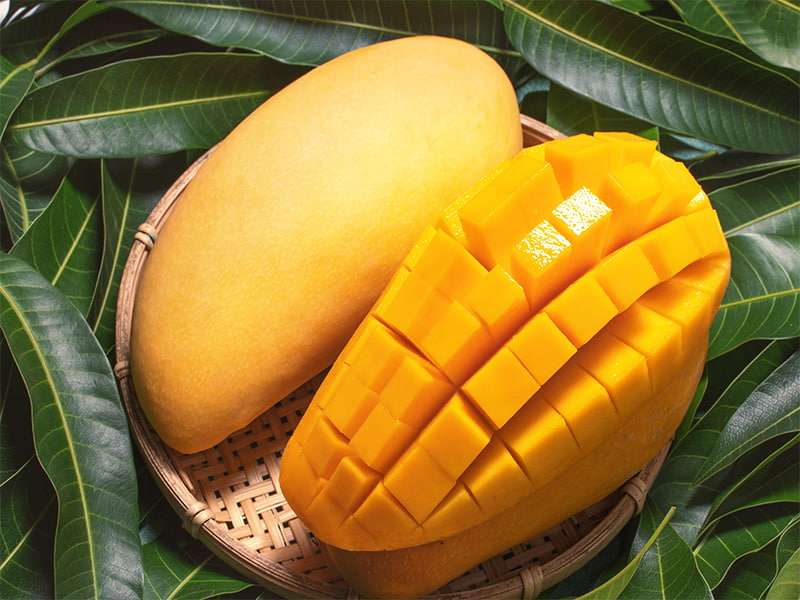 This term often refers to Ataulfo, a mango cultivar from Mexico. This mango is yellow from the outside to the inside, and its juicy, non-fibrous flesh offers a rich, honey-like sweetness. It is a little smaller than other commercial varieties, but the divine quality more than makes up for that hiccup.
Many American consumers seem to think so since Ataulfo consistently ranks among the most popular mango varieties in the US. You can eat them as a delicious snack or mix them in a salad bowl. Using them in smoothies, yogurts, or sweet beverages is another terrific idea.
7. Yellow Squash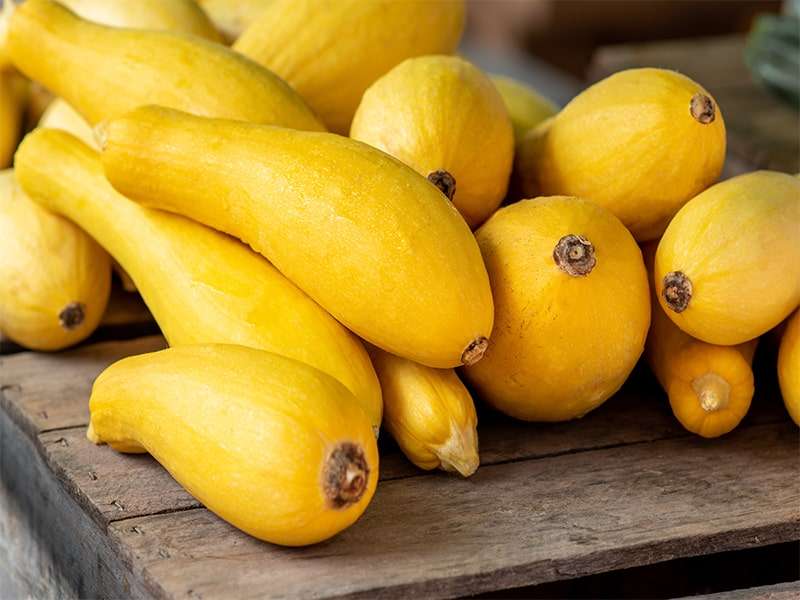 Yellow squash is a popular variety of summer squash. I have a helpful fact to share with you first: zucchini is a type of squash, while squash can include other varieties than zucchini. When it comes to flavor, yellow squash is very mild and subtly sweet, suitable for eating raw or cooking.
There are two types of yellow squash: crookneck squash and straightneck squash. Both are watery and brilliant golden. They also have a fat bottom and get smaller toward the neck. The only difference lies in how much the neck curves.
This beautiful squash variety boasts more seeds than zucchini and can be eaten cooked or raw. It is rich in vitamins A, vitamin C, fiber, folate, magnesium, and potassium, while its sugar and calorie content is almost non-existent. If you're seeking weight loss, this is the perfect vegetable to try.
8. Yellow Apple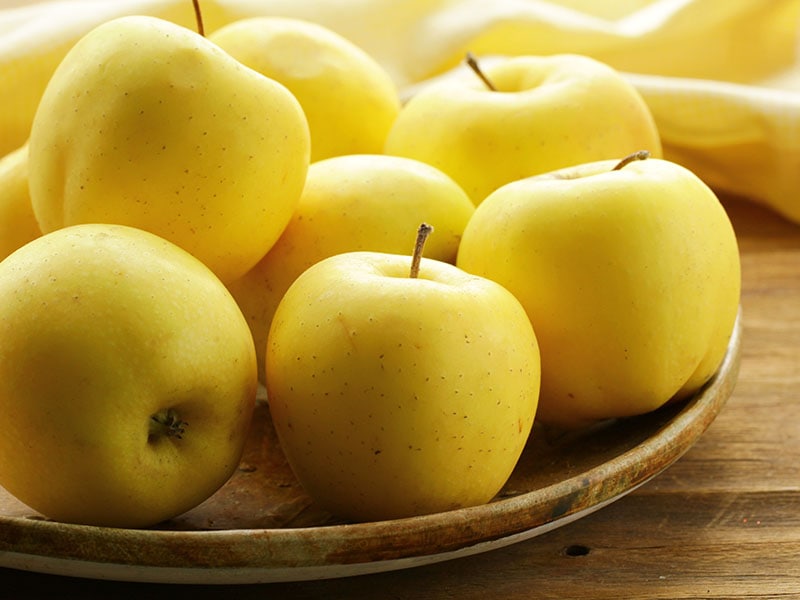 Apples aren't only green and red. Several apple varieties boast an eye-catching golden hue, such as Golden Delicious, Silken, or Blondee. Many others offer a mix of yellow and red or green, like Jonagold or Rhode Island Greening. Generally, they are as sweet and crisp as red apples.
This beautiful yellow fruit have various uses. While red apples contain slightly more beneficial compounds, yellow apples are still a nutritious choice to eat raw, make salads, or prepare apple sauce and preserved apples.
Legumes And Vegetables
9. Yellow Bell Pepper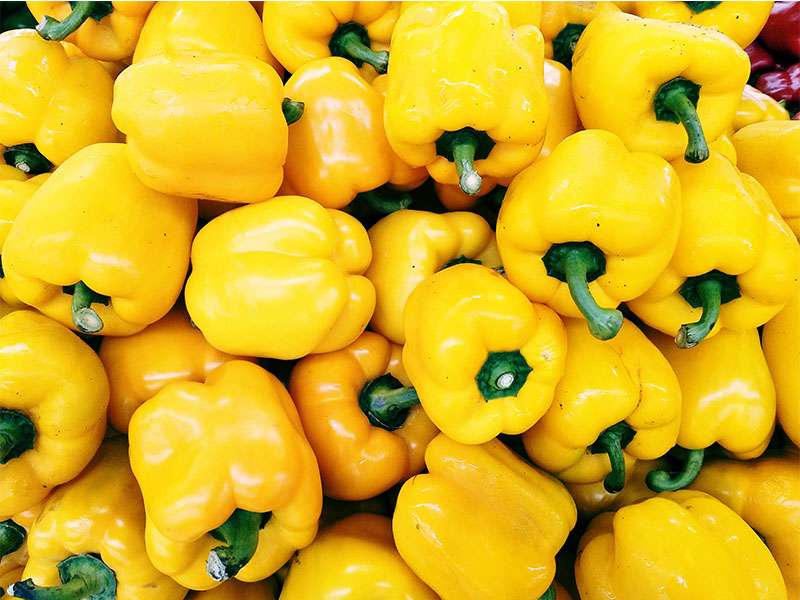 Bell peppers are famous for having so many colors. There are two reasons for that: the harvesting time and the vegetable variety.
All bell peppers change their color as they grow. The longer they ripen, the sweeter and more nutritional they become. Depending on their varieties, these bell peppers start as green before changing to red, orange, and, of course, yellow.
While yellow bell peppers are available year-round, their peak season is summer. The vegetable goes perfectly with hot dishes. You can also simply eat raw yellow bell peppers with your favorite herbs and some cheeses.
When you go to the supermarket or organic stores, go for bell peppers that feel heavy and thick and have glossy, smooth skin. When you take them home, apply the correct way to keep bell peppers fresh and tasty. Doing so will keep their sweet and grassy flavor for a longer time.
10. Yams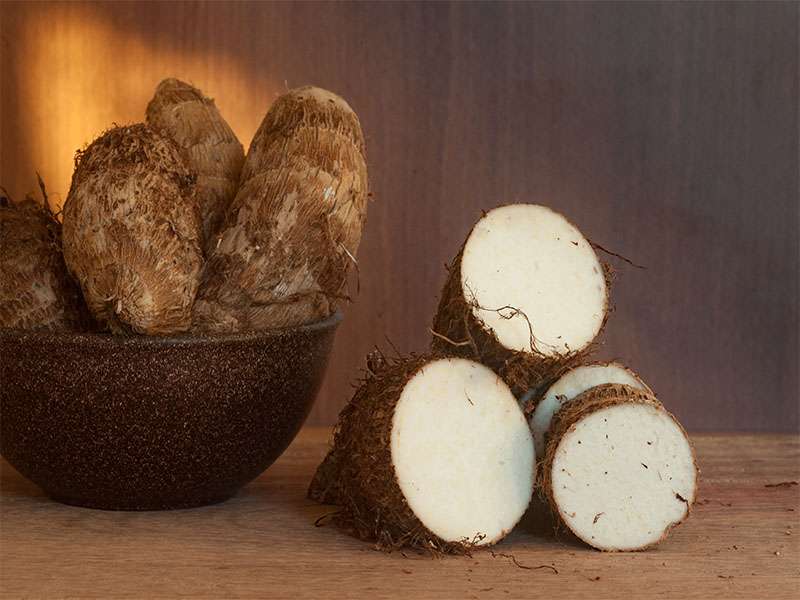 Yams look pretty similar to sweet potatoes with hairy, rough purple-white skin. However, there are some aspects that make sweet potatoes and yams different. For example, yams are drier, less sweet, and more starchy than sweet potatoes.
People rarely eat yams raw but rather boil, bake, or fry them to serve with other dishes. Some even mash or pound yams into thick soups and cook them with their favorite meat.
Yams are one of the healthiest tuber vegetables. They contain a lot of vitamins A, antioxidants, dietary fiber, and minerals (like copper, iron, and potassium). They are easy to find, too: there are more than 600 types of yams distributed over tropical regions in Africa, Asia, and America.
11. Yardlong Beans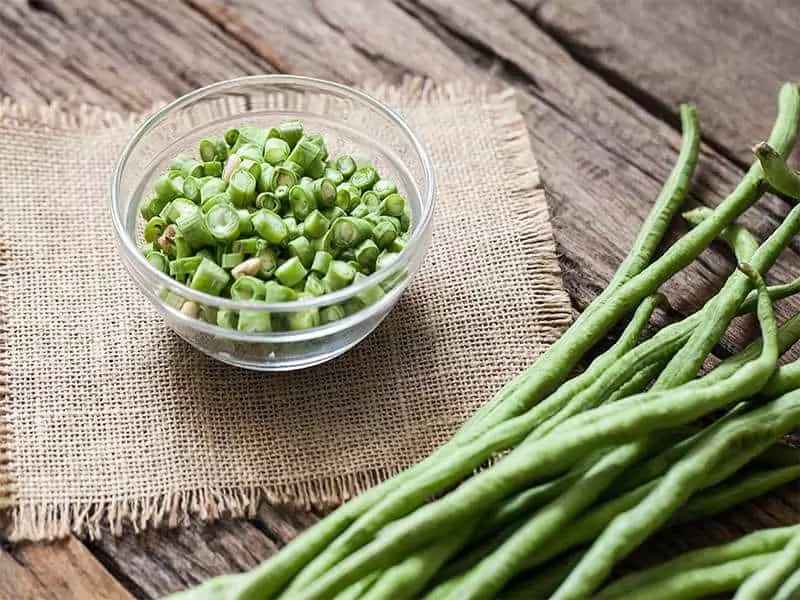 Do you believe yardlong beans can live up to their name and grow until it is a yard long or even more? If you do, the sad news is that this legume can only reach half a yard in length, and people usually eat it long before that because the immature green pod is much more delicious.
This high-yielding legume is a subspecies of the cowpea and has many other names, such as Chinese long beans, asparagus beans, and snake beans. It usually comes in different shades of green, though purple and red yardlong beans are also popular.
Yardlong beans have a similar flavor to green beans, but their texture is denser, and the flavor is much more intense. You can try many cooking ideas with the beans, like adding to a salad, steaming, stir-frying, stewing, or pairing with grilled pork and sandwiches.
12. Yacon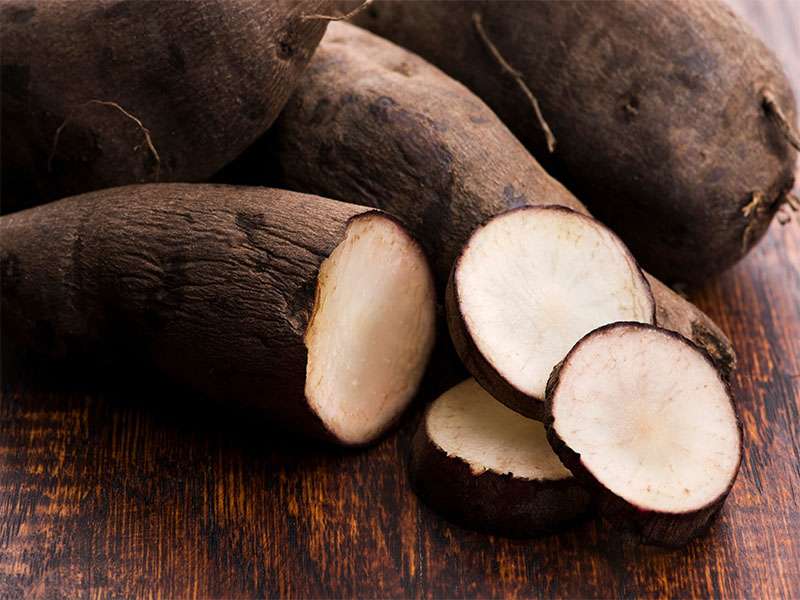 Yacon is a large tuber vegetable mainly grown in South America, which is cultivated for its edible roots. Unlike many similar plants, yacon has no starch and boasts a sweet and mellow flavor resembling that of apples, watermelons, and pears. Therefore, some people call it the Peruvian ground apple.
To best experience this taste, you should eat yacon raw. Its crisp and crunchy texture won't let you down. But you can also boil, roast, or turn the tuber into chips and syrup. Yacon leaves are also edible: they are low in sugar yet pleasantly sweet and fruity.
Yacon is rich in dietary fiber, vitamin C, minerals, and, best of all, antioxidants. It supports weight control, helps lowers blood pressure, reduces bad cholesterol, and regulates blood sugar, among other things (2)
13. Yukon Gold Potatoes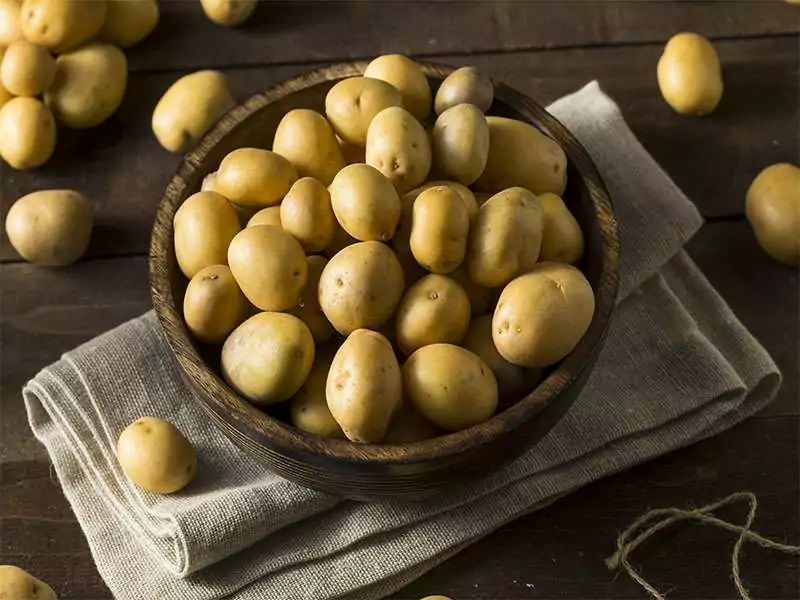 Yukon Gold potatoes have medium to large sizes. Their characteristics include thin, smooth, eye-free skin and yellow-tinged or light brown flesh. This medium-starch potato is like a cross between the North American white potato and a yellow South American variant.
With their firm, moist, and waxy flesh and mild buttery, these potatoes can fit into any cooking role. You can process them in any method, from roasting, grilling, and frying to boiling, mashing, and sauteing. Mashed potatoes made from them are extremely creamy.
This all-purpose potato goes best with cream, butter, garlic, bacon, cheese, scrambled eggs, and all kinds of herbs. It is available almost all year round and easy to find at every grocery store and supermarket.
14. Yuca Root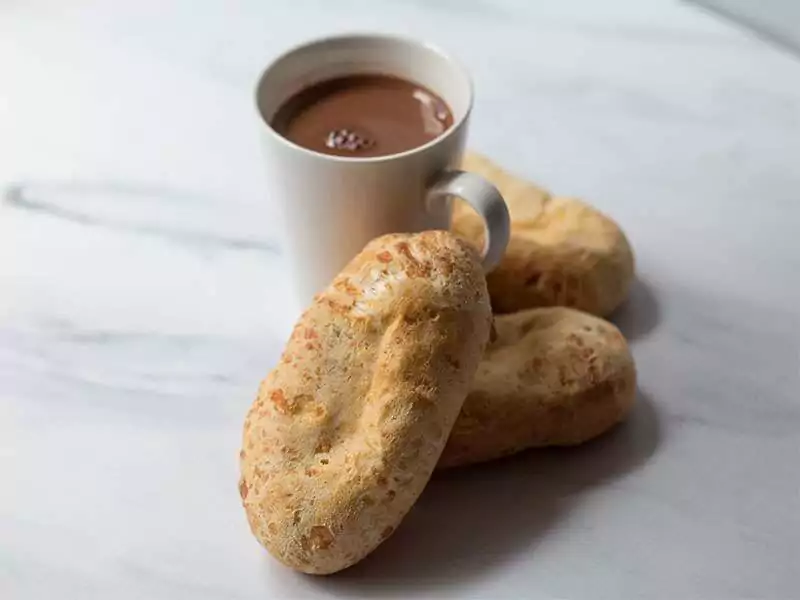 If you're confused between yuca and yucca, remember this: yuca (also known as cassava) is a starchy root vegetable, while yuccas are primarily a herb or an ornamental plant.
Yuca roots are larger than sweet potatoes and have a thick, grainy texture. Their ivory-colored starch has a mildly sweet and nutty flavor. Yuca roots are available year-round, so you can buy them any time you like.
You can turn this root vegetable into many fantastic dishes, such as fries or bread. You can also level it up to a creamy mashed yuca bowl, soups, baked goods, etc. Yuca roots are rich in vitamin C, fiber, and minerals, so they make a great substitute for rice.
One thing that you should bear in mind is that after cutting the vegetable into slices or pieces, remember to put them right into a bowl of cold water since its color can quickly change into a darker hue.
15. Yellow Eye Bean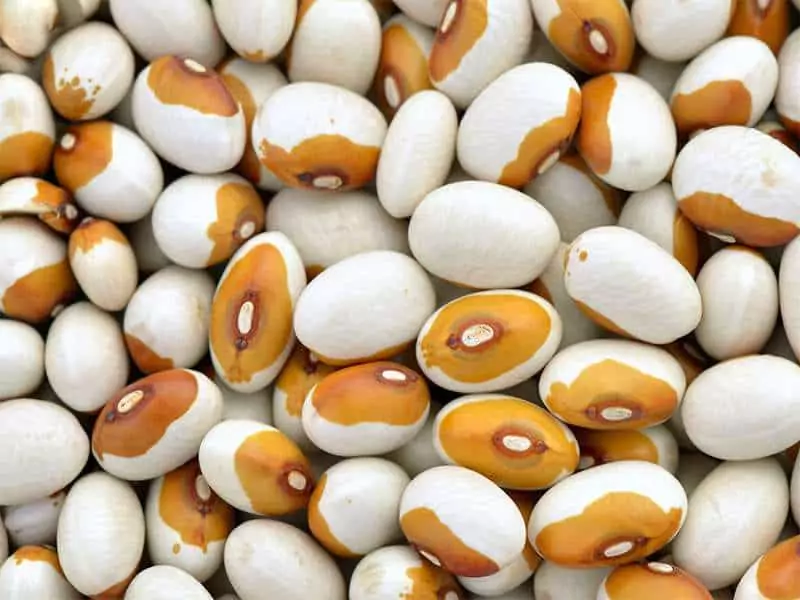 Have you seen yellow eye beans before? I was amazed by their appearance the first time I saw them. This heirloom bean variety is ivory-colored but also features a large mustard-brown spot around the eye in the middle. Its size is between navy beans and kidney beans.
Cooked yellow eye beans are creamy and instantly melt in your mouth. They will delight your palate with a smooth, earthy, and slightly sweet flavor. It's easy to mix them with all kinds of foods.
You can bake them with molasses to serve with hot dogs and breakfast food. As with any other bean, yellow eye beans need to be soaked in water for six to eight hours before cooking. Alternatively, you can speed up the process by parboiling the beans and soaking them for just one hour.
16. Yautia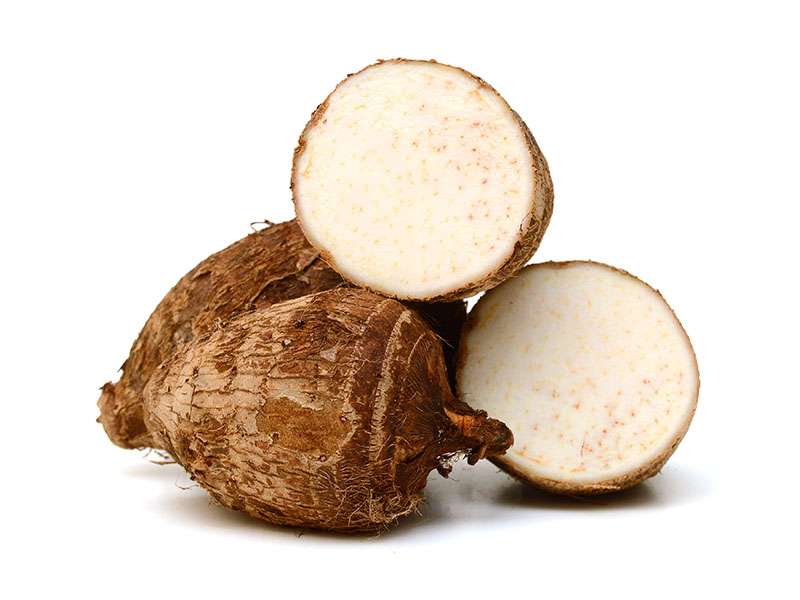 Hailing from the Caribbean, this starchy vegetable is a wonderful alternative to potatoes or wheat flour. Its other names are malanga and American taro. Its brown skin isn't smooth but rather rough, bark-like, and hairy, while its flesh has a creamy texture and a sweet, nutty taste when cooked.
In short, yautia looks like yuca and tastes like russet potatoes with additional woody notes. Its starch breaks down easily during cooking and can do a great job of thickening soups and stews. The high content of fiber, complex carbs, and vitamins is another plus point.
17. Yellow Wax Beans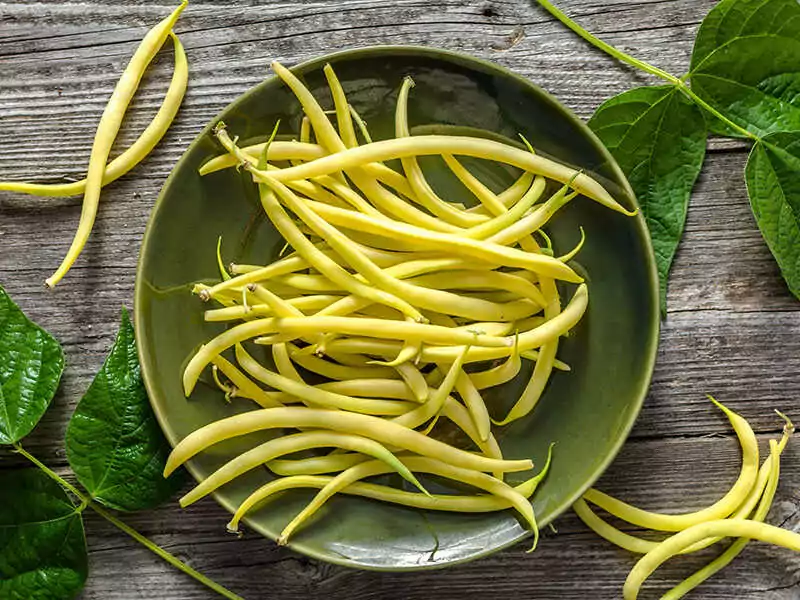 This type of wax bean is exactly the same as the green variety in every way. Except for the color, of course. The difference comes from the lack of chlorophyll in yellow wax beans, the green pigment that creates the verdant hue.
Yellow wax beans are firm and succulent, with a flavor running from vegetal sweetness to nuttiness. They can be used the same way as green wax beans: raw consumption, boiling, steaming, roasting, or adding to a salad. They are a wonderful source of folate, vitamin C, and iron.
18. Yellow Beet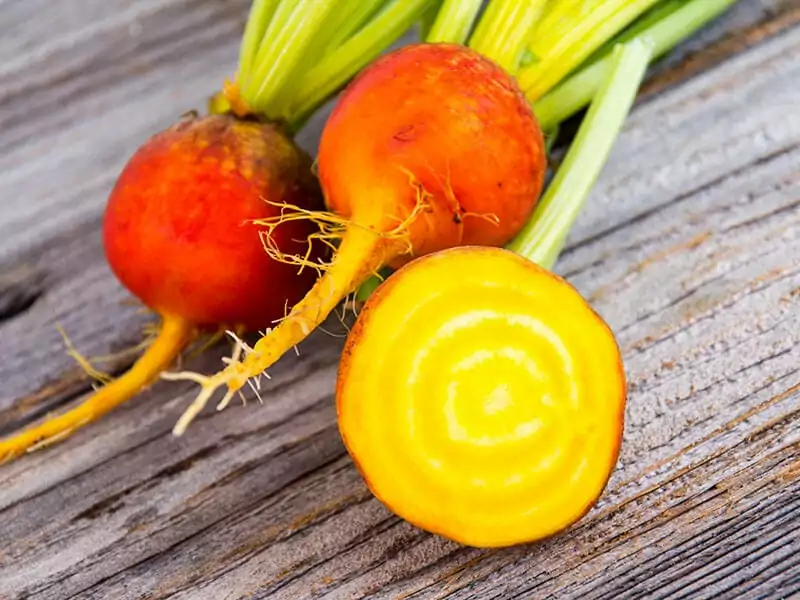 If somebody gives you a cup of yellowish-orange beverage that looks suspiciously like carrot juice and tells you it's beet juice, will you believe them? I will because there is a beet variety with the exact color: yellow beets, also known as golden beets.
They are comparable to regular beets in terms of nutritional values, culinary uses, and flavors, though my taste buds tell me that yellow beets are milder and a little sweeter. The golden hue comes from betalains, which are powerful antioxidants.
In addition, yellow beets are also rich in fiber, beta-carotene, folate, and manganese. Eat them raw, roast them, or juice them as you do with red beets: their beautiful color will make a nice addition to your meals.
19. Yam Bean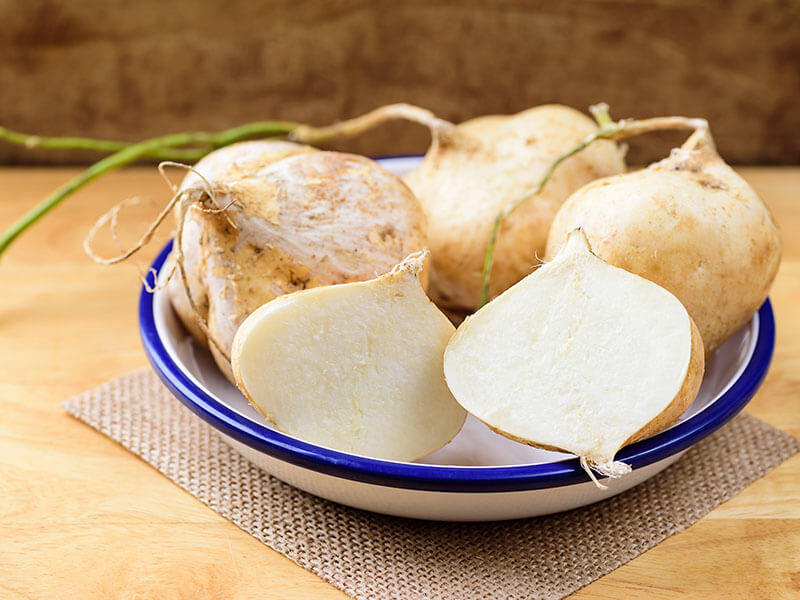 No, yam beans aren't the same as yams. The latter is a starchy tuber, while the former, despite looking like a large turnip, boasts white flesh with high water content and a mild sweetness. Flavorwise, yam beans are like a cross between pears, unripe apples, and raw potatoes.
In addition, they are healthier than potatoes or yams. Their antioxidant content is significant, and they are extremely helpful for weight loss, making you feel full without providing too many calories thanks to large amounts of water and fiber (3).
Yam beans go by many other names, like jicamas or Mexican turnips. Latin American cuisine offers many snacks and street foods made with it. Surprisingly, Southeast Asian kitchens do, too. Vietnamese fresh spring rolls or Indonesian Rojak (a salad dish) are a few examples.
Main Dishes And Sweets
20. Yorkshire Pudding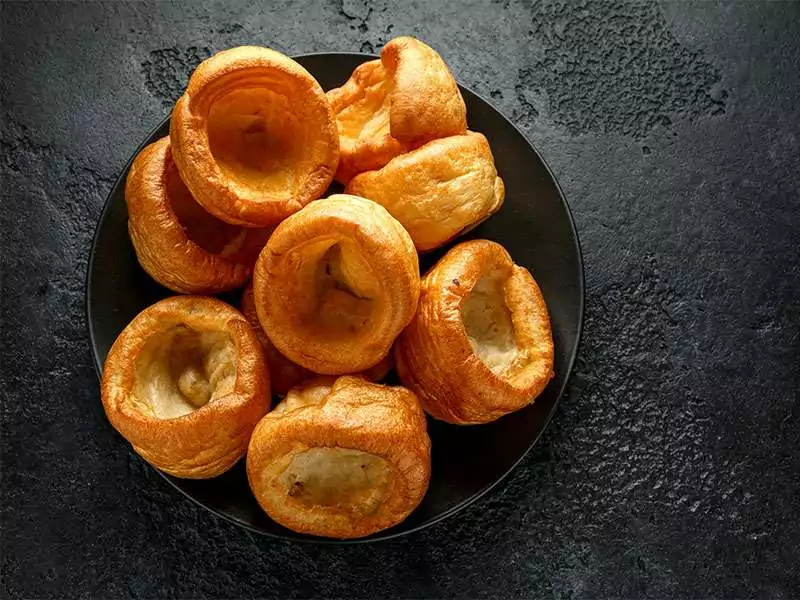 Yorkshire puddings are a classic English dessert. They are essentially baked cakes made from basic ingredients, such as eggs, flour, and milk or water. Locals often have it for Christmas and the Sunday roast (a traditional British meal with roasted meat and side dishes).
This dessert can also be an appetizer or a side dish. These days, many people like to serve it with beef and gravy or fill it with sausage and mash for the main course.
The famous American popovers are pretty much the same as English Yorkshire puddings. But the latter commonly uses meat drippings from roasting the meat for the Sunday roast, while the former only contains butter. Therefore, the English treat is much more savory and decadent.
A secret to preparing a yummy Yorkshire pudding is to pay attention to the oil. Olive oil is fancy but unsuitable for this task; sunflower oil or vegetable oil is much better. In addition, you should put the batter in your refrigerator overnight and give the puddings plenty of space in the oven.
21. Yiros/ Yeeros (Roasted Meat On Pita Bread)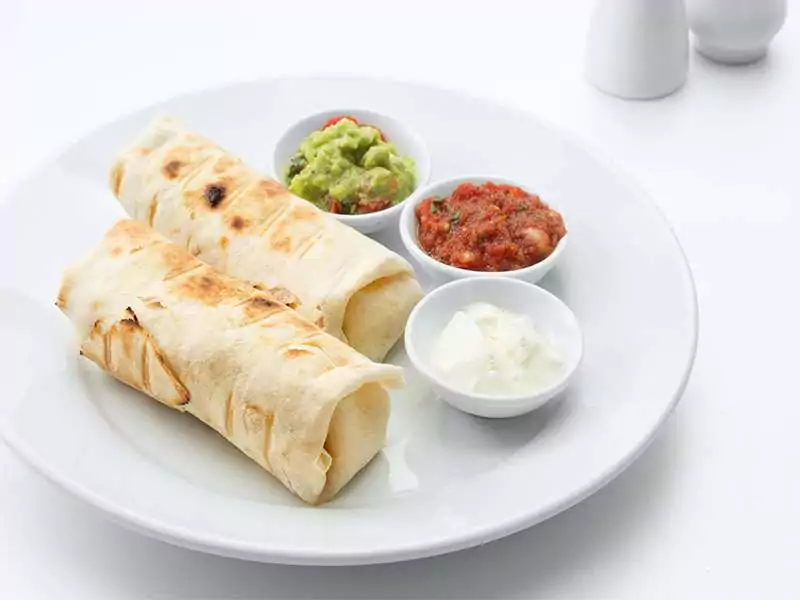 I used to know nothing about this dish until a visit to a cozy Greek restaurant opened my eyes. Only then did I know "Yiros" or "Yeeros" is just an alternative spelling of gyros! As you can imagine, it consists of meat cooked on a spit, crispy pita bread, vegetables, herbs, and Greek sauces.
You can choose between pork (the most popular alternative), lamb, or chicken in the meat category. Common vegetable and herb choices are tomatoes, red onion, fried potatoes, parsley, etc. To top it off, the famous tzatziki sauce is an unskippable part.
22. Yakisoba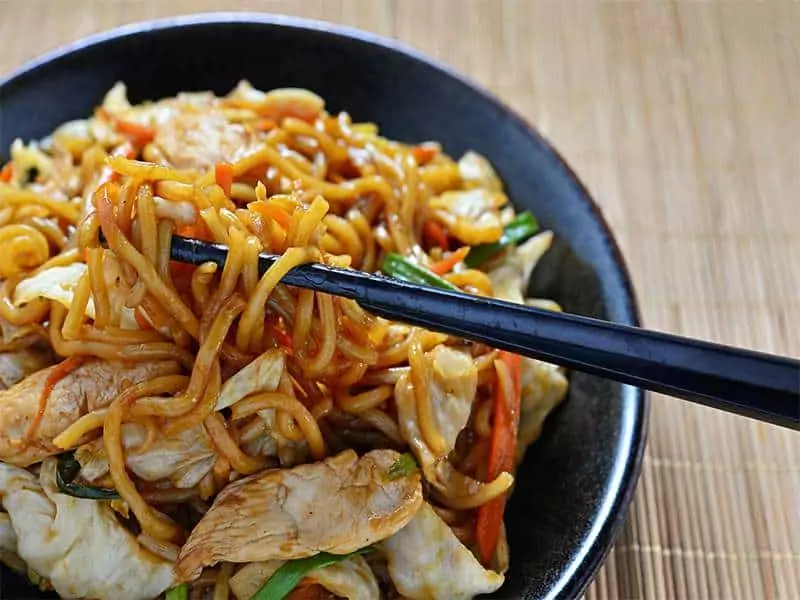 Are you familiar with ramen? Now, rather than serving the chewy and springy wheat flour-based noodles in the broth, many Japanese people love to stir-fry them with pork, beans, vegetable, and a signature sweet and salty sauce similar to Worcestershire sauce. That creates Yakisoba.
Though its literal translation is "fried noodle," this is a superb stir-fry. Some people think it drew inspiration from Chinese recipes. But Yakisoba has a more complex flavor profile than many Chinese noodle stir-fries, such as lo mein or chow mein.
While locals often prepare Yakisoba on a griddle, you can substitute the tool with a wok or a skillet. Besides serving this dish as a normal stir-fry, you can add it to a hot dog along with pickled veggies and mayonnaise, creating a popular fast food item called Yakisoba-pan.
23. Youtiao (Chinese Fried Dough)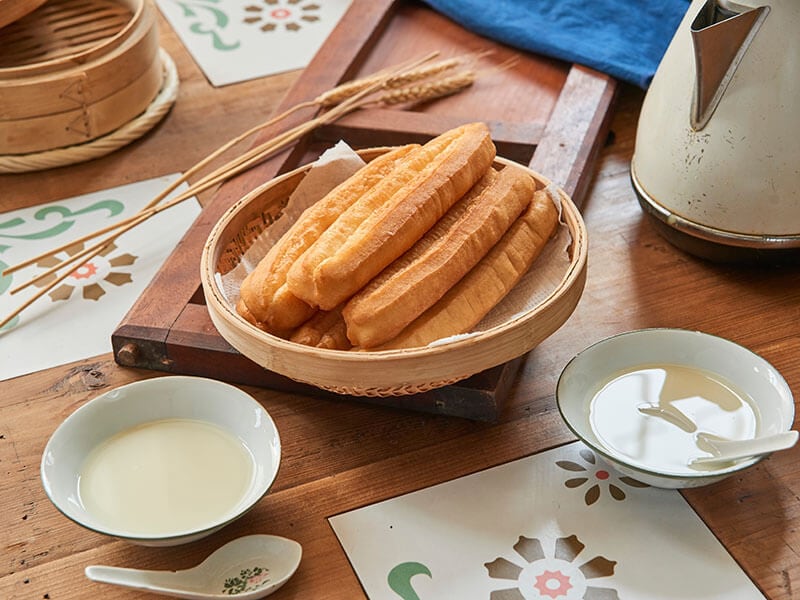 Also known as Chinese crullers, Chinese oil sticks, or fried breadsticks, Youtiao is one of the most popular Chinese food for breakfast. Locals love to dunk it in soymilk or rice congee.
Generally, each Youtiao consists of a pair of breadsticks that are deep-fried in oil until crispy on the exterior and airy on the interior. It has a similar look to Spanish churros. In fact, there is even a theory that Portuguese sailors brought how to make Youtiao home and created churros!
But while churros are sweet and usually paired with chocolate, youtiao offers a savory (almost salty) and oily flavor. This snack is well-known in many Southeast Asian countries. In Northern Vietnam, people often enjoy Pho with it.
24. Yakhnet Batata (Lebanese Potato Stew)
This Lebanese stew is a wonderful comfort food that doesn't take much time to prepare. Potatoes, diced into cubes and cooked with aromatics and lima beans in olive oil before being gently stewed until tender, are the main star. If you want more proteins, chicken or beef will do.
But meat may not be necessary after all because the potato stew is already brimming with richness and flavors. Serve it with bulgur, steamed rice, or brown rice.
25. Yankee Pot Roast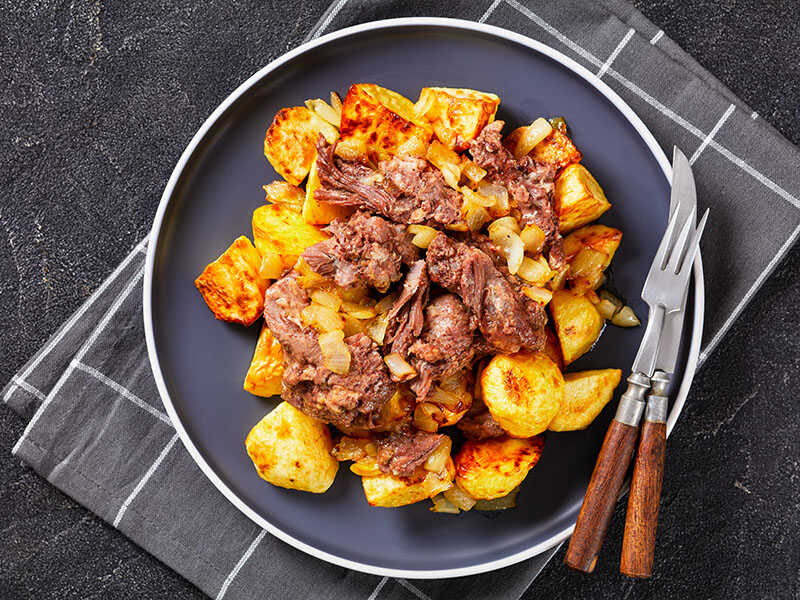 Everybody knows about pot roast, the iconic American dish. It involves searing and slow-cooking a tough beef cut in the gravy until tender and succulent. While this version is already delicious, you can try an upgrade with Yankee pot roast.
As you can guess, this dish originated in New England, probably in the mid-19th century, when its recipes first appeared in cookbooks.
Brisket, chuck, and bottom round are among the best cuts for it. Besides beef, Yankee pot roast also incorporates root vegetables (like parsnip, carrots, or potatoes) for more flavor. It is very rich, flavorful, and suitable for cold nights.
26. Yamarita (Fried Yam)
Also known as Dundun Oniyeri, Yamarita is one of the most famous recipes created by Hausa people. This quick and convenient dish is massively popular in Nigeria, where you can find it in any restaurant or food stall. It can double as both a snack and a side dish.
Making it is a breeze: simply boil strips of yam in water before coating them in a mixture of eggs, all-purpose flour (or corn flour), and spices (like garlic and ginger). Finally, deep-fry and serve them with hot sauce, stews, or vegetable soup.
27. Yakitori (Japanese Skewered Chicken)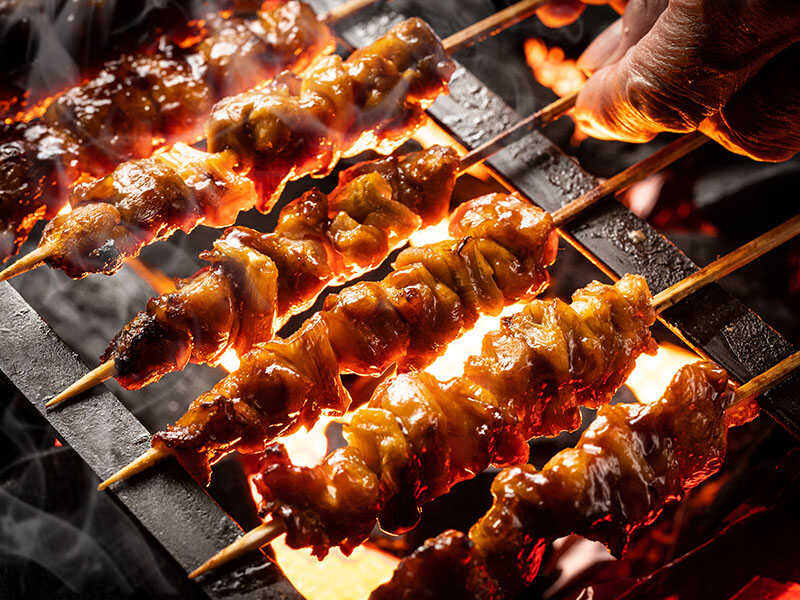 If you're into the vibrant street food scene of Japan, Yakitori is a special delight you can't miss. It consists of bite-sized pieces of chicken that are skewered and grilled over a charcoal fire. The meat can come from any part of the chicken: thighs, breasts, skin, or even offals.
Given that no chicken part goes to waste, it's no wonder that Yakitori is a very affordable snack or appetizer. Japanese people even have a type of restaurant specializing in it: Yakitori-ya. You can also find Yakitori in izakaya bars or restaurants.
So why is it so popular? The secret lies in the wonderful flavor imparted by the special Yakitori sauce, a combo of soy sauce, sake, and mirin. Chefs marinate the chicken in it for hours before cooking to give it an unforgettable taste.
For the best experience, you should pair this type of grilled chicken with steamed rice, sesame carrot salad, spicy cucumber salad, or a beer. While it is relatively healthier than other grilled foods due to being made of chicken, don't forget to consume it in moderation.
28. Yakhni Pulao (Fragrant Rice Dish Cooked In Broth)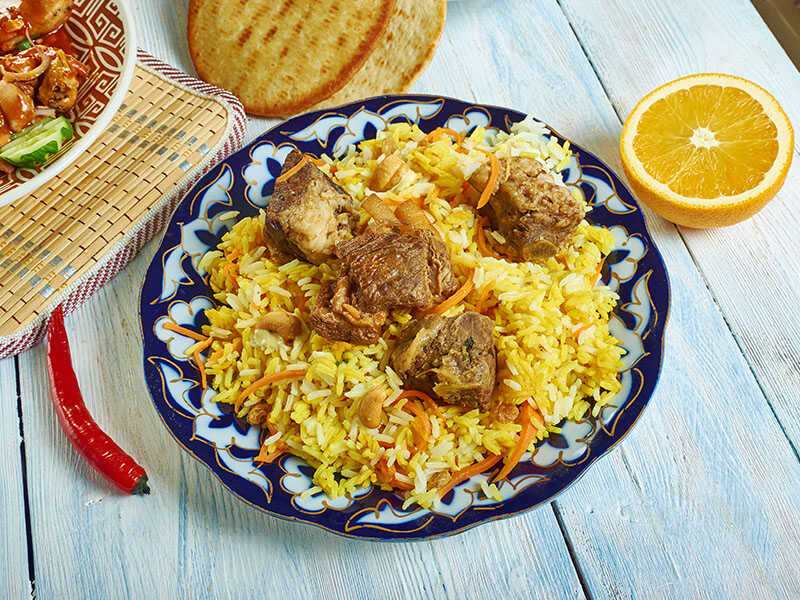 While the exact birthplace of this famous Indian and Pakistani dish is up to debate, it is probably of Persian origin. It consists of two parts: "pulao" (or "pilaf") for rice and "yakhni" for the rich stock cooked from meat and bones. Chicken and lamb/ mutton are the two most popular versions.
In case you want to prepare chicken stock, don't use boneless thighs or breasts, or your stock will be rather bland. A more important tip is that there should be plenty of spices in the broth: fennel seeds, saffron, cinnamon, cloves, cardamom, ginger, and any aromatics you can get your hands on.
Cook the rice, meat, and vegetables in the broth until all the liquid is absorbed by the rice, and the yummy Yakhni Pulao will be ready!
29. Yokan (Jelly Candy)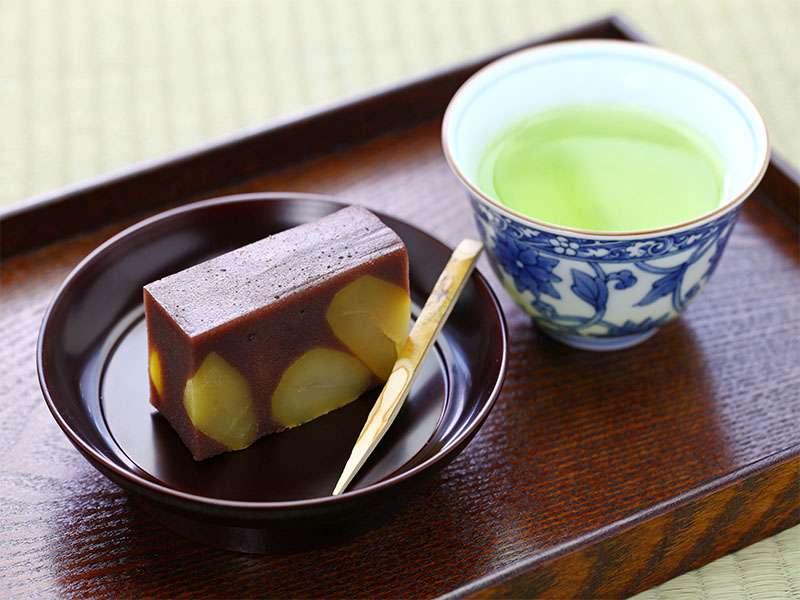 Yokan is a traditional Japanese sweet treat made from red bean paste, agar-agar powder, and sugar or honey. It is traditionally block-shaped and has a dark brown hue. If you want a more colorful version, you can replace red bean paste with white bean paste or add green tea powder.
There are two main types: Neri Nokan and Mizu Yokan. The former uses more agar-agar powder than water than the latter, so it is relatively firmer and thicker. Both versions have a melt-in-your-mouth texture and a sweet flavor, so people love eating Yokan with green tea.
You can check out this helpful guide on how to prepare Yokan.
Others
30. Yogurt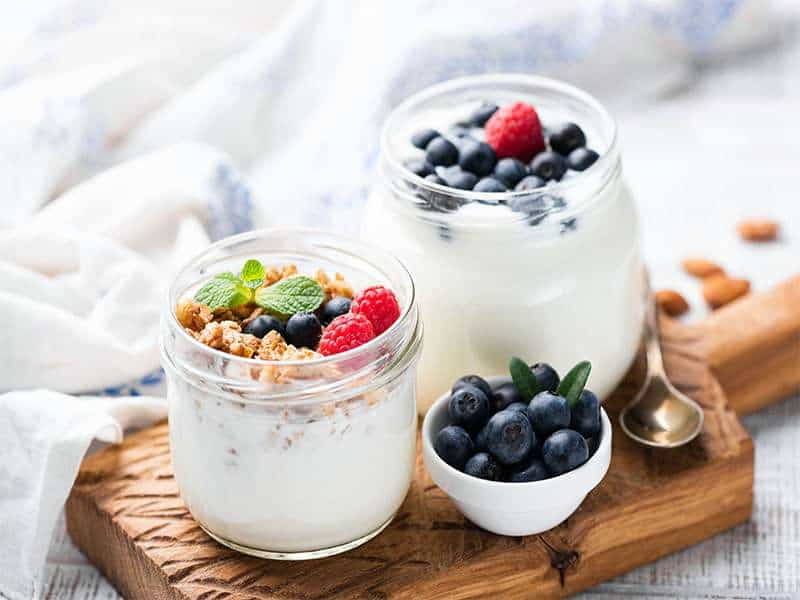 Whether you go to Europe, Asia, or America, yogurt is a popular foodstuff you will always encounter along the way. Also known as yourt or yoghurt, this creamy or semi-fluid treat is created by fermenting heated milk with bacteria, which are known as yogurt cultures.
This process can take place for several hours and produces lactic acid, creating the signature tang of yogurt. While yogurt is classified as a dairy product, it contains less lactose than milk, cheese, and other similar products. Therefore, lactose-intolerant people can consume it in small amounts.
Yogurt is extremely rich in B vitamins, proteins, calcium, and probiotics. This impressive nutrition profile can provide you with many benefits, such as an immunity boost, stronger bones, healthier bones, a stronger digestive system, etc. (4)
You can enjoy yogurt every day in many ways. The most popular method is just to eat it on its own or with fresh fruits. Feel free to make desserts with it, such as American parfait or yogurt muffins. Using this ingredient in making marinade or salad dress is also a brilliant idea.
Greek yogurt, or strained yogurt, has a thicker texture than regular yogurt and can give you a richer mouthfeel. If you are wondering whether yogurt can get spoiled, the sad answer is yes. But you can refrigerate or freeze yogurt to prolong its shelf life.
31. Yeast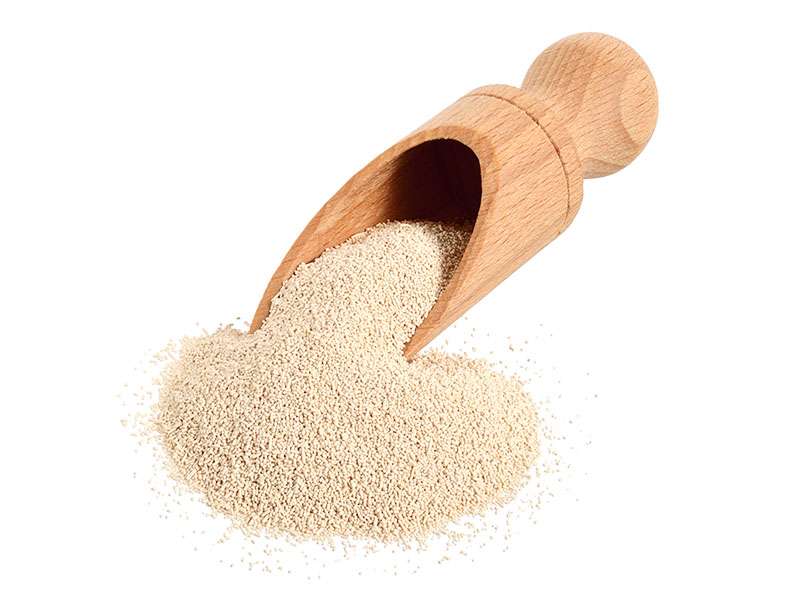 Yeast refers to single-celled microorganisms that are classified as fungi. It has many important applications to human life, but for foodies, its key roles lie in baking and wine/ beer-making.
When yeast reacts with sugar and starch, it begins a fermentation process that releases alcohol and carbon dioxide. The former creates alcoholic beverages, while the latter helps the dough rise. Yeast not only forms the texture but also contributes to the overall flavor and aromas.
You need this stuff to bake high-quality bread, pizzas, dumplings, sponge cakes, etc. When it comes to baking, there are three main types of yeast: fresh, instant, and active dry. They differ in terms of leavening qualities, the texture of the final product, and the need for proofing.
In case you don't know, proofing means checking if the yeast is still alive. This is a must-have step if the yeast is near or past expiration day. You do so by adding the yeast to a bowl of warm water mixed with sugar. If small bubbles appear, the yeast is good to go.
32. Yellow Cornmeal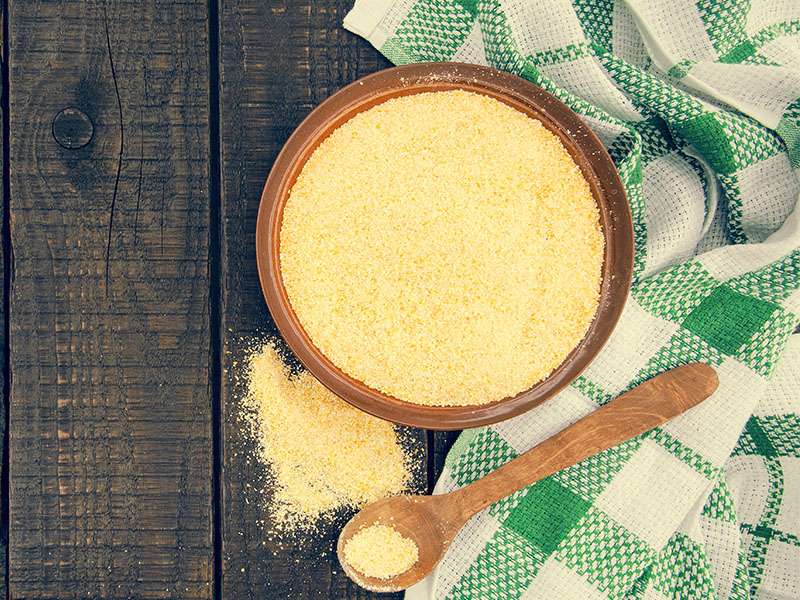 Yellow cornmeal is exactly what its name indicates: a type of cornmeal that is yellow. Its color comes from thawing yellow dried corn as the main ingredient. Another characteristic is that the corn kernels used to make yellow cornmeal are always stripped of the husk and germ.
This type of cornmeal is often known as steel-ground cornmeal in America. Some people think that yellow cornmeal is less finely ground but sweeter and more flavorful than white cornmeal.
Which cornmeal variety is better for making cornbread and similar dishes has been a subject of debate for a long time. But perhaps it all comes down to personal preferences.
33. Yellowfin Tuna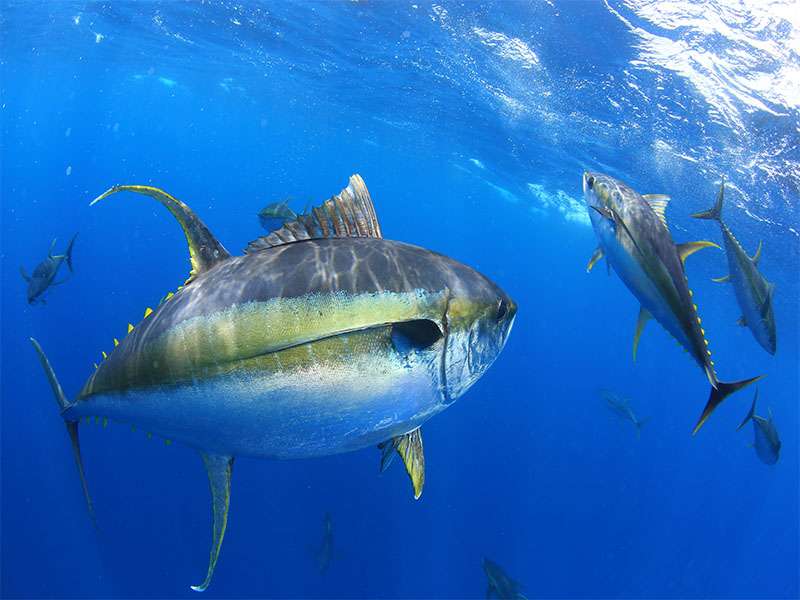 One of the most commercially popular tuna species in the world, yellowfin tuna is a common sight in numerous supermarkets. You may find it sold under the name of ahi tuna. This name, however, can also be used for bigeye tuna.
Yellowfin tuna derives its name from its long, bright-yellow dorsal fin and a yellow stripe along its side. It has slightly firmer and leaner meat than other tuna varieties. If you want to try a less fishy-tasting type of tuna, the mild flavor of yellowfin tuna will please you greatly.
This tuna species is very rich in proteins, omega-3 fatty acids, and potassium. People often eat it raw, especially in sashimi and sushi. In case you cook it, such as by grilling or searing, do so lightly to keep the meat rare.
34. Yabby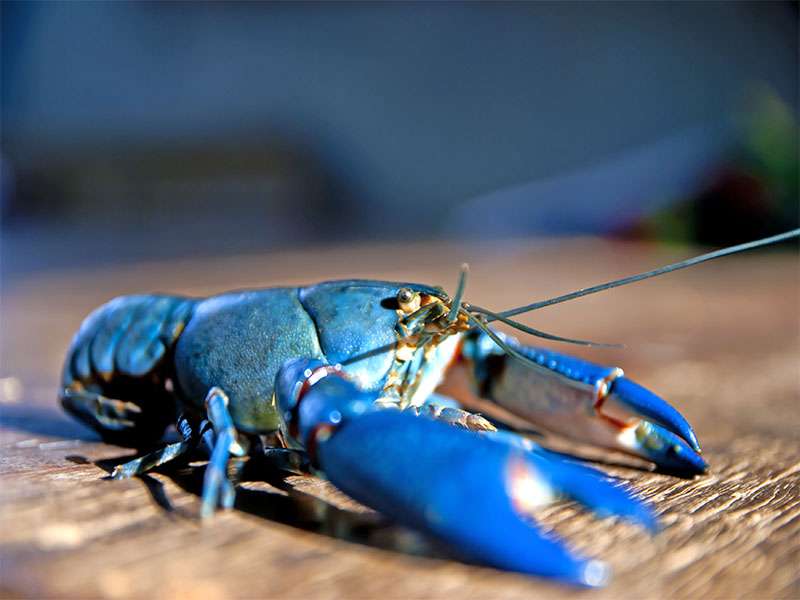 If you think "yabby" has an Australian sound to it, you're right: it is a freshwater crustacean found in Australia. If you see a yabby for the first time, you might mistake it for a small lobster.
A resilient species that live in the extreme environments of Australia, yabbies boast sweet and succulent meat on par with or even better than lobster and crayfish. Catching yabbies in the summer and early autumn is a popular activity for Australians, both young and old.
This seafood can greatly refresh your typical appetizer. Try cucumber soup with yabbies and drink a sunset cocktail on a dusky afternoon on the beach, or put some seafood sauces on those little chubby yabbies and barbecue them at a dinner party.
35. Yellowtail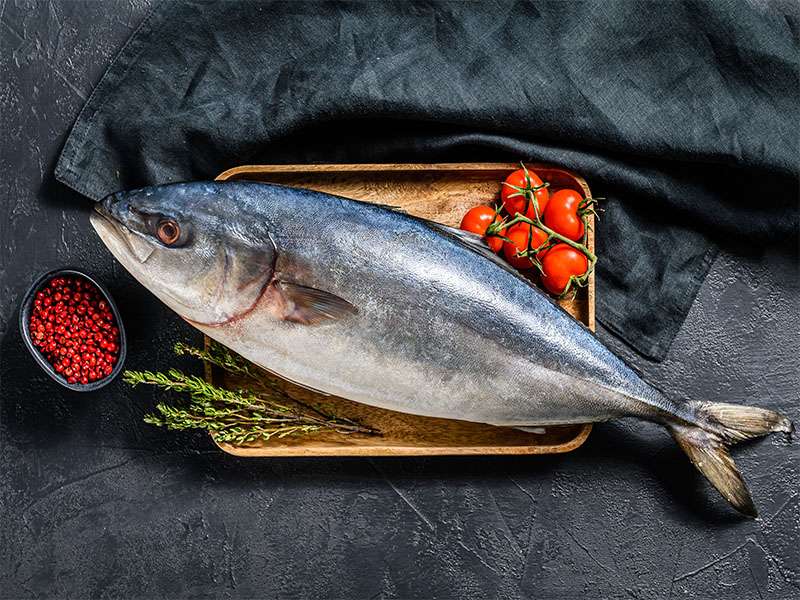 Let me introduce to you the king of the fish – the yellowtail (also known as Japanese amberjack). While this fish can be found in many countries around the Pacific Ocean, it is most famous in Japanese cuisine, which extensively uses it in sushi and salami under the name of hamachi.
With a mild yet fatty and buttery flavor and lean texture, the fish plays this role flawlessly. It is also one of the best sources of omega-3 fatty acids and proteins. These nutrients offer many benefits, including reducing blood pressure and even improving your mood.
FAQs
As you can see, there is a whole world of enticing foods that begin with the letter Y out there to discover. From exquisite seafood in Australia to African delicacies, many wonderful things are waiting to awaken your senses.
The world is a buffet of flavors, and Y is another delicious stop. Let's continue to savor it, one letter, one dish, one bite at a time. Let me know any other option that starts with Y that this post has yet to include in the comments. And don't forget to share this post with your friend!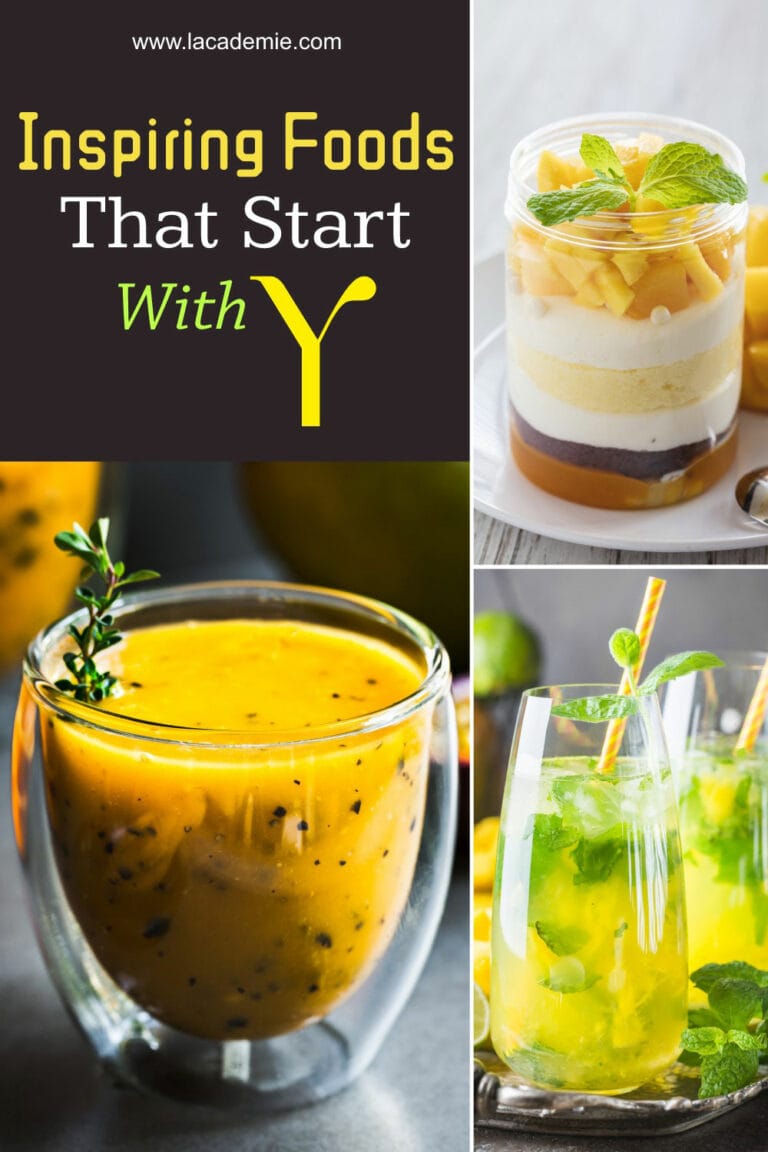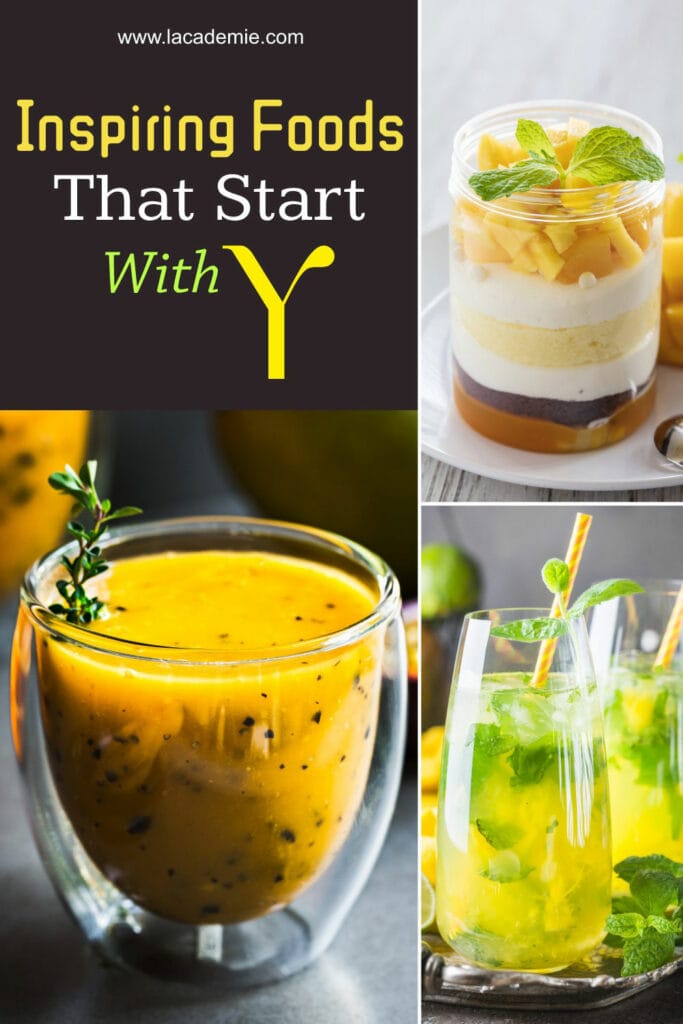 References
Mandl, E. (2020) 13 emerging benefits and uses of Yuzu Fruit, Healthline.
Yan, M.R. et al. (2019) A sustainable wholesome foodstuff; health effects and potential dietotherapy applications of Yacon, Nutrients.
Kubala, J. (2023) Top 7 health and nutrition benefits of Persimmon, Healthline.
Yogurt (2023) The Nutrition Source.