"Y" is the 25th letter in the alphabet order, so I'm going to bring you 25 foods that begin with "Y." But why do I want to show you this letter, instead of the other 25 other letters in the alphabet?
Do you remember Sesame Street – an educational television program designed for preschoolers? If that is your favorite thing in your childhood, you probably know the song "Why Do I Love the Letter Y". I guess that's why I'm so into this letter.
So without further ado, let's begin with the brief list of 25 foods that start with "Y"
Yogurt
Yeast
Yellowfin Tuna
Yuzu
Yams
Yellow Cornmeal
Yardlong Beans
Yangmei
Yabby
Yacon
Yellowtail
Yukon Gold Potatoes
Yellow Bell Pepper
Yucca
Yorkshire Pudding
Yōkan
Yali Pear
Yiros
Yellow Eye Bean
Yellow Passion Fruit
Yautia
Yakisoba
Yellow Watermelon
Yellow Mango
Yellow Squash
25 Foods That Start With "Y" Around The World
Stay tuned because you are about to find out about the whole new global food tour that begins with "Y" you can't find anywhere. Please patiently read my detailed yet funny article about these 25 foods; maybe you can pick some interesting ideas along the way.
1. Yogurt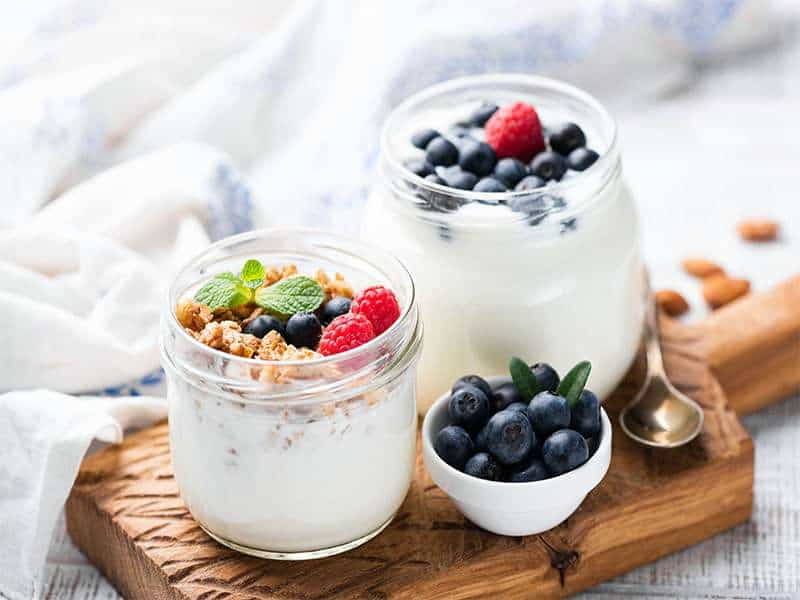 On top of the list is nothing new but the famous dairy foods called: Yogurt. Its reputation comes from not only its insanely good taste but also its tremendous benefits.
Yogurt contains several health benefits, such as bringing essential nutrients sources and proteins to our bodies, improving digestive health, and strengthening your immune system. Besides, it has also been shown to help reduce high blood pressure, which is a huge risk for heart disease.
There are countless ways to serve yogurts, but I particularly like the dessert called " yogurt parfait". Originated in 1894 in France and means "perfect," it has the perfect combination of honey, natural Greek yogurt, fresh berries, and crunchy almond-flavored granola.
You can enjoy yogurt whenever you want – for breakfast, snacks, or even after dinner. It's pretty tasty, easy to make, and suitable for you if you're going to eat clean.
Some people are also concerned about whether yogurt is spoiled because they find it is not easy to tell when they go bad. But do not worry, there are many easy ways to check it by your senses.
2. Yeast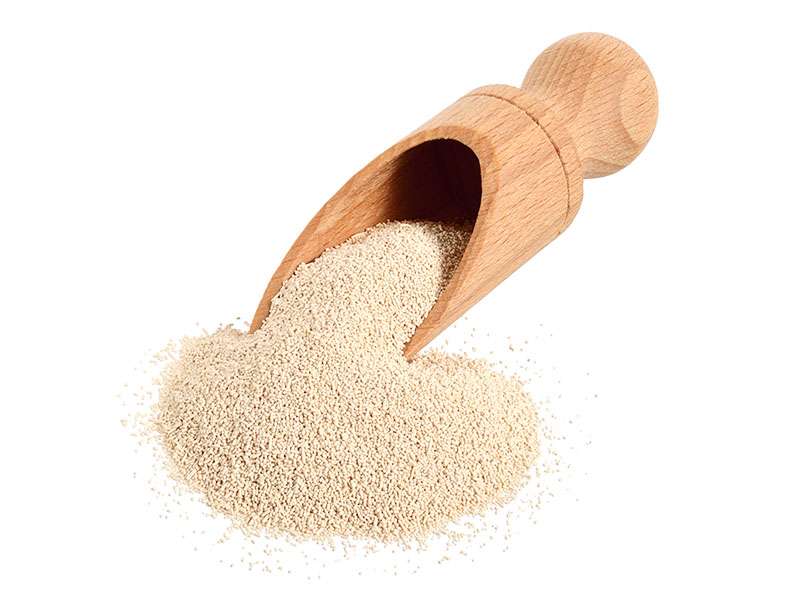 Yeast is a member of the fungus, and its cell has an average lifespan of a few days. Yes, I know, it's a living species. It thrives in liquids. But in the culinary world, dried yeast is considered a useful ingredient. This ingredient is essential in making cakes. It exists in granules and is packaged.
It is used to create porosity, soft for cakes such as bread, pizza dough, dumpling, sponge cake,…or make alcoholic beverages such as beer, wine, or distilled spirits.
Surprisingly, the brewer's yeast contains many minerals and vitamins B (except B12). So maybe next time when you consume any alcoholic drink, you can use the benefits of yeast as your defense to keep on drinking a little more.
One interesting fact about yeast is that it brings more than 600 flavors and aroma compounds to the final beer you drink every day. That's incredible with just a tiny fungus.
3. Yellowfin Tuna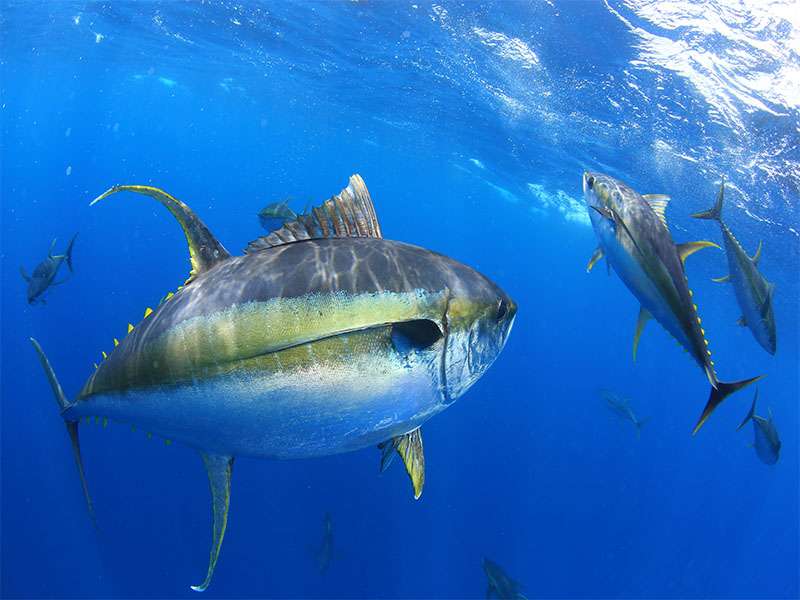 Yellowfin tuna is a form of tuna and also known as ahi tuna. It is found in tropical seas and subtropic seas. People usually mistake Yellowfin tuna with Bluefin tuna. However, they are both luxurious fish. They are the perfect choice for sashimi or Tuna steak.
Yellowfin tuna fish is an excellent food because it contains much nutrition that could bring countless health benefits, keep our body in shape, protect the liver and the eyes. Besides, it is a good source of magnesium and omega-3.
Yellowfin tuna has several ways to serve, so you can never get tired of them. You can reduce the fat content by mixing tuna steak with sliced tomato and cucumber salad. Or you can cook spinach with cream sauce and serve with yellowfin tuna – what a perfect combination.
4. Yuzu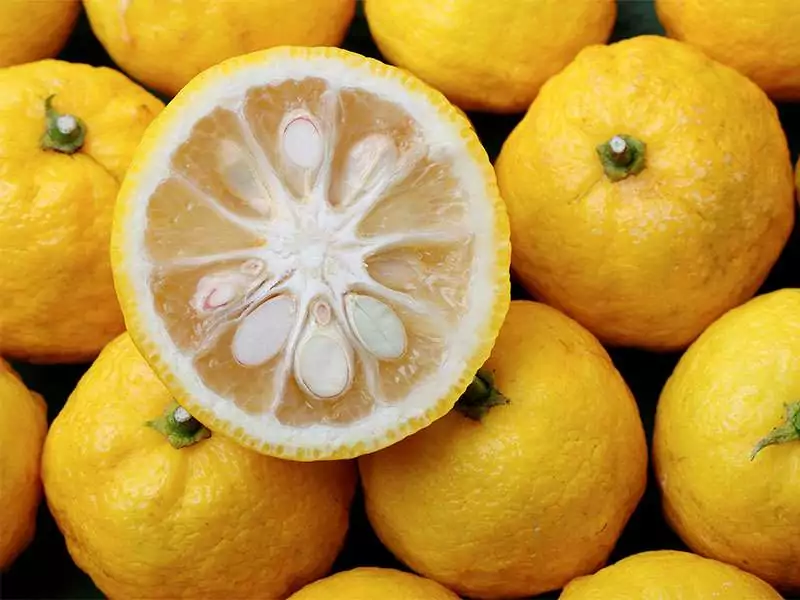 If someone asks you what fruits that begin with y, tell them about yuzu. It is the fruit that belongs to the fruit types orange and mandarin. It is also known as "Citrus Junos".
Yuzu has been cultivated mainly in East Asia, especially in Japan, which is why it's pretty expensive in the Western.
Yuzu looks like a small tennis ball with uneven skin and can be either yellow or green, depending on the degree of ripeness. Its flavor is a combination of lemon, mandarin, and grapefruit – perfect for summer.
You can create almost everything out of this tiny little fruit: juice, tea, cocktail, or serving Yuzu with various foods all over the world. You can even take it to the bathroom to relieve your mind and moisten your skin.
Yuzu has a ton of valuable content and three times as much vitamin C as lemons.
5. Yams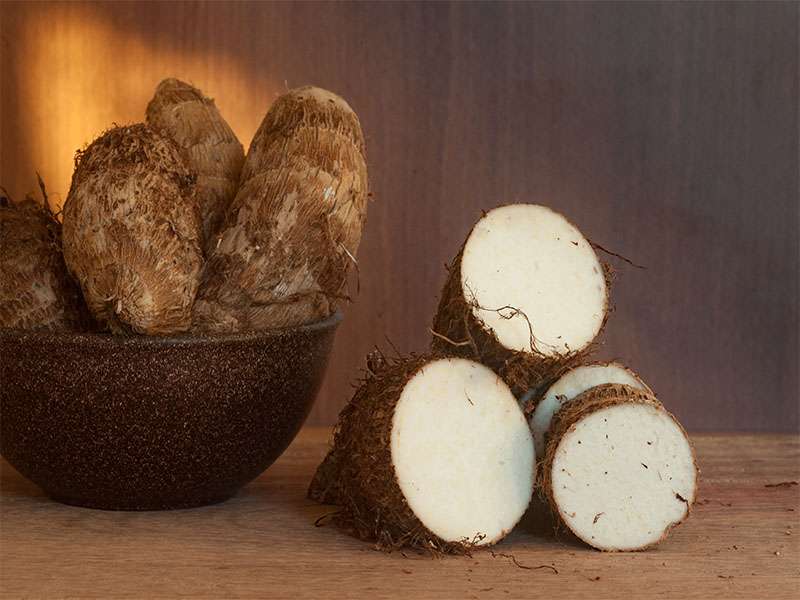 Yam looks pretty similar to sweet potatoes with hairy, rough purple-white skin. However, there are some aspects that make sweet potatoes and yams different. For example, yams are less sweet and more starchy than sweet potatoes.
People rarely eat yams raw but rather boil, bake, or fry those and serve them with other dishes to level up the flavor. Some even mash or pound yams into thick soups and cook with any of their favorite meat.
Maybe you didn't notice before, but Yams are one of the highest carbohydrate and energy sources of vegetables. It contains Vitamin A, B, C, E, K, manganese, iron, potassium, and dietary fiber. Thus, it's a very familiar and nutritious food that is affordable to everyone.
As a perennial plant, yams can be cultivated at any time, so it is available all year round. There are 600 species of yams worldwide, especially in West Africa, Asia, Latin America, the Caribbean, and Oceania.
6. Yellow Cornmeal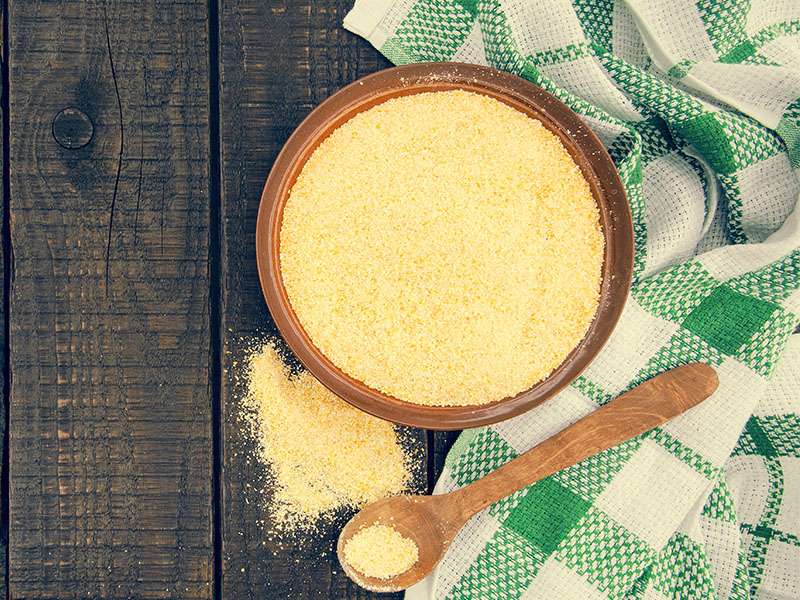 Yellow cornmeal is a meal ground from dried corn. It's one of the food staples grounded to coarse, medium, and fine consistencies: the smaller the size, the faster liquid absorption.
This ingredient is prevalent in the USA, usually used to make cornbread or tortillas. Yellow cornmeal can be mixed with flour to make as well.
Yellow corn meals are usually mistaken for corn flour, corn starch. Corn flour is the smoothest, silkiest grind of cornmeal used to thicken gravy and other sauces. Corn starch is a starchy white powder and is commonly used to thicken the texture in desserts such as puddings and ice cream.
On the other hand, the yellow cornmeal adds flavor, texture, and body to a dish, perfect for cookies or muffins. Yellow corn meals are flexible, whether for a main meal in the morning, a sweet dessert after dinner, or a crispy, airy crust brunch on a lazy afternoon Sunday.
7. Yardlong Beans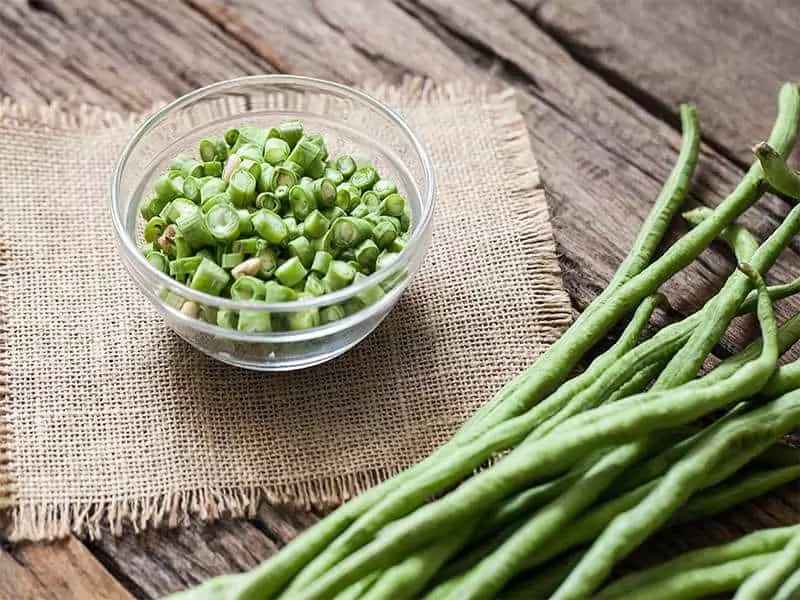 Have you heard of this vegetable with some similar names, such as Chinese long beans, asparagus beans, snake beans before? Do you believe yard-long beans can live up to their name and grow until it is a yard long or even more?
The answer, hopefully, yes. Yardlong bean is a subspecies of the cowpea, often growing up to 3 feet in length (though people usually eat them before reaching their full sizes, because the immature green pod is much more delicious, guilty.)
Yardlong beans are usually in different shades of green, sometimes even purple and red. When you go to the supermarket to buy a bundle of yardlong beans, one tip is to choose the thin beans free from bulging with the emerald green color, which shows crunchy and fresh beans.
There are many ideas to cook yardlong beans. You can steam them, serve with fried rice, or boil it and put them between sandwich slices. I love it best when grilling them and eating them with grilled pork – perfect for a camping trip.
8. Yangmei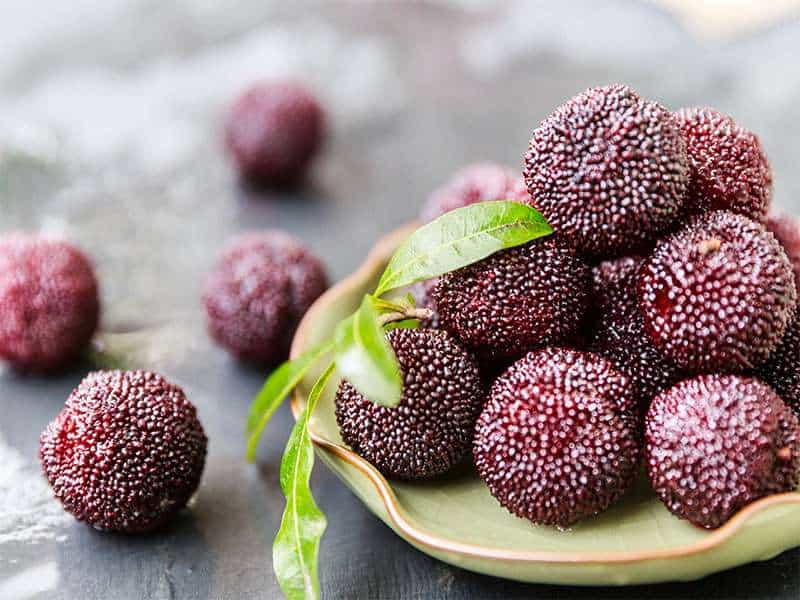 If you have never heard of yangmei before, you may be more familiar with Myrica Rubra, Yumberry, Waxberry, or Chinese Bayberry. Yangmei is a type of fruit similar to strawberry and raspberry, but slightly tart and more herbal in taste.
Yangmei contains many antioxidants, minerals, fibers, and other vital vitamins. It is also a magic fruit that could deal with inflammation, diarrhea, intestinal ailments, cancer, and even diabetes (1).
This superfood is pretty expensive because it only comes once a year and is mainly grown in Asia, specifically in Taiwan or China. So when it's their season, I suggest you should buy plenty of yangmeis and stock them in your fridge, if you are guiltily crazy about this fruit, like me.
With yangmei, you can make desserts, alcoholic beverages or even put them in meals as unique secret ingredients that could upgrade your dish to a whole new level. But what I love most is dried yangmei – I love them at the first bite.
9. Yabby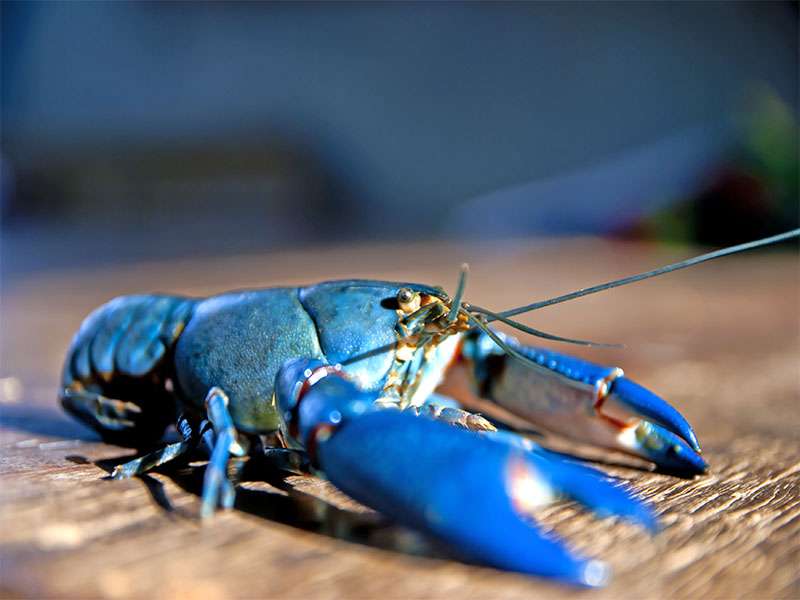 Yabby – what a lovely name for the shrimp! If you see a yabby for the first time, you might mistake it for a lobster (but in a smaller size). Yabby is a freshwater crustacean found in Australia.
One thing that I think it's pretty funny about yabbies: as fatty as its name is, yabbies eat pretty much anything in front of them, from other living animals to dead plants or any decomposing algae under the water.
But much as colorful as its outer shell and wonderful as its benefits, yabby is not a protected species. On the bright side, it makes mouth-watering dishes that could blow away your typical appetizer (just don't think of what they had consumed).
I literally do not exaggerate if I say yabby is the soul of the party. You can try cucumber soup with yabbies and drink a sunset cocktail on a dusky afternoon on the beach, or put some seafood sauces on those little chubby yabbies and barbecue them at a dinner party. It saves the party, I swear!
10. Yacon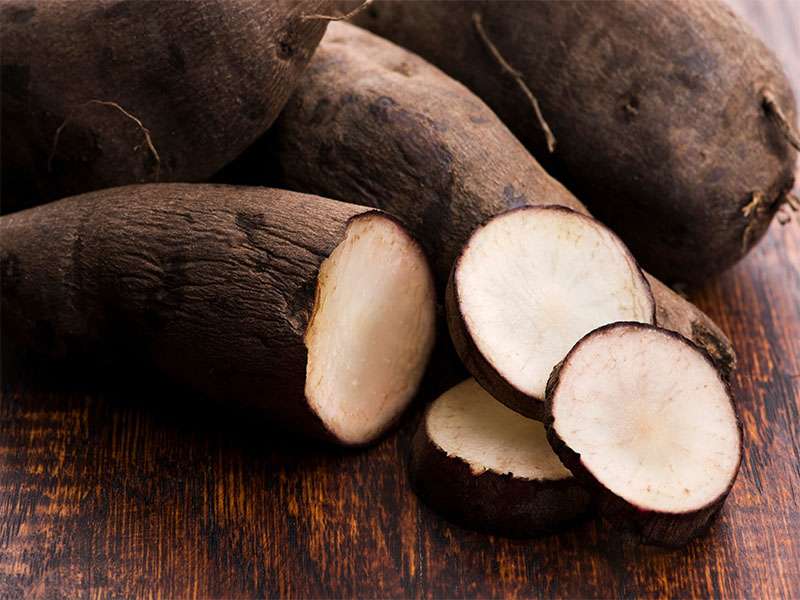 Yacon is a large perennial plant mainly grown in South America, which is cultivated for its tuberous roots. Yacon can be eaten raw, but more commonly, it is usually turned into powder or syrup.
One fresh yacon root contains carbohydrates, fructans, sugars, protein, fiber, fat, vitamin C, calcium, potassium, phosphorus (2). I mean, is it too much for a tiny mediocre food to have that many good sources?
Maybe because of its humble appearance with tremendous benefits that makes yacon so lovable not only in America but all over the world. It promotes thriving microbiomes, supports weight control, helps lowers blood pressure, protects our livers, reduces bad cholesterol, and regulates blood sugar. Incredible, right?
11. Yellowtail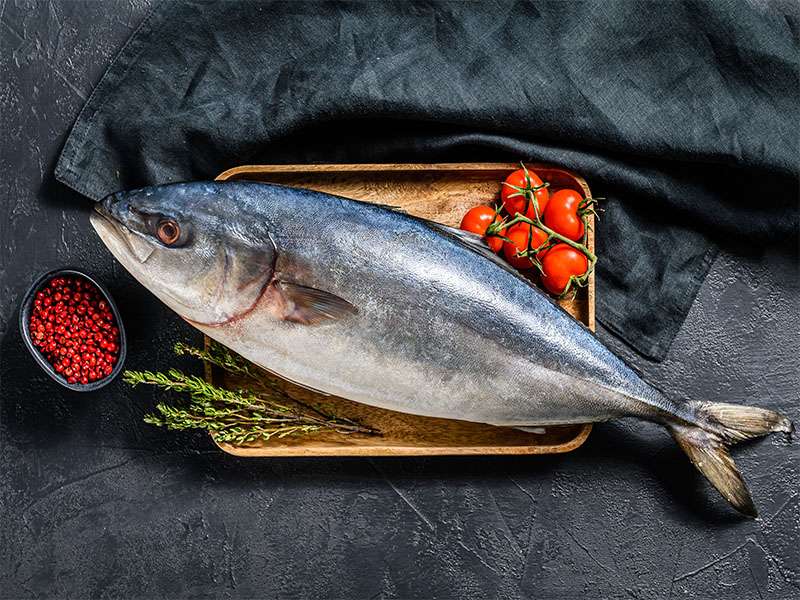 Let me introduce to you the king of the fish – the yellowtail. The yellowtail has a long, fusiform body and can grow to about 7 feet in length with a weight of up to 80 pounds or more. This edible kind of fish has been commonly consumed at the Japanese dining table for a long time.
Yellowtail is one of the best sources of omega-3, rich in acid and amazingly high protein. These sources help bring a wide range of benefits to the table, including reducing blood pressure, decreasing inflammation, and even improving our mood.
This fish can be served in various ways. This great fish is one of the most popular seafood in sushi and sashimi restaurants because it has a delicate savory flavor. This high-fat content also gives it a creamy, buttery texture, making it a popular choice for nigiri.
12. Yukon Gold Potatoes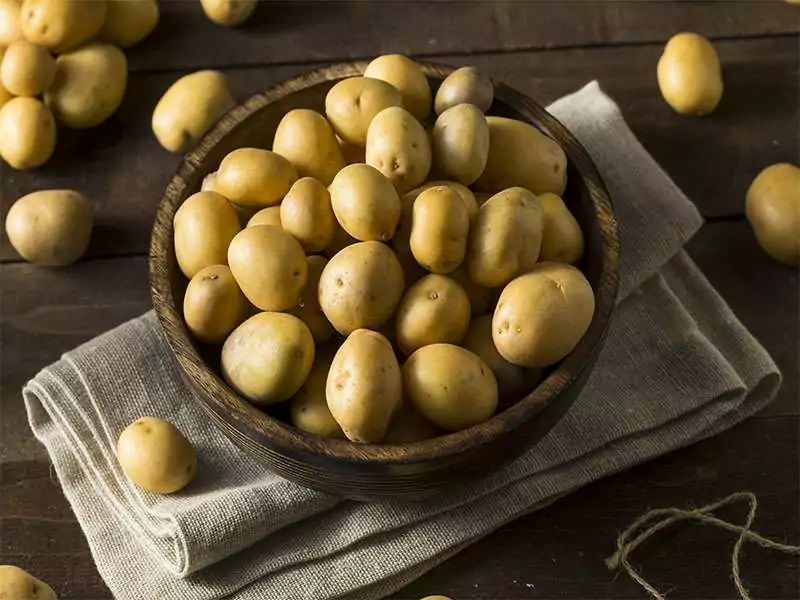 Yukon Gold Potatoes is a large cultivar of potato most distinctly characterized by its thin, smooth, eye-free skin and yellow-tinged or light brown flesh. This potato is somewhere in between the North American white potato and a yellow South American.
With their firm, moist, and waxy flesh and mild buttery, earthy flavor, this potato is increasingly popular in the United States. Thus, people use Yukon gold potatoes pretty much in any method, from roasting, grilling to frying, mashing, sauteing, and boiling.
Though this variation is highly recommended for mashed dishes, ensure you know the best way to thicken mashed potatoes because soggy ones will ruin your appetizing.
These potatoes go best with cream, butter, garlic, bacon, cheese, scrambled eggs, and all kinds of herbs. You can create endless recipes from this tiny little piece of vegetables. It's so versatile and delicious that even our precious president Obama preferred this potato when he was in the White House.
Yukon Gold Potatoes are available almost all year round, so you can have this humble yet amazing potato anytime.
13. Yellow Bell Pepper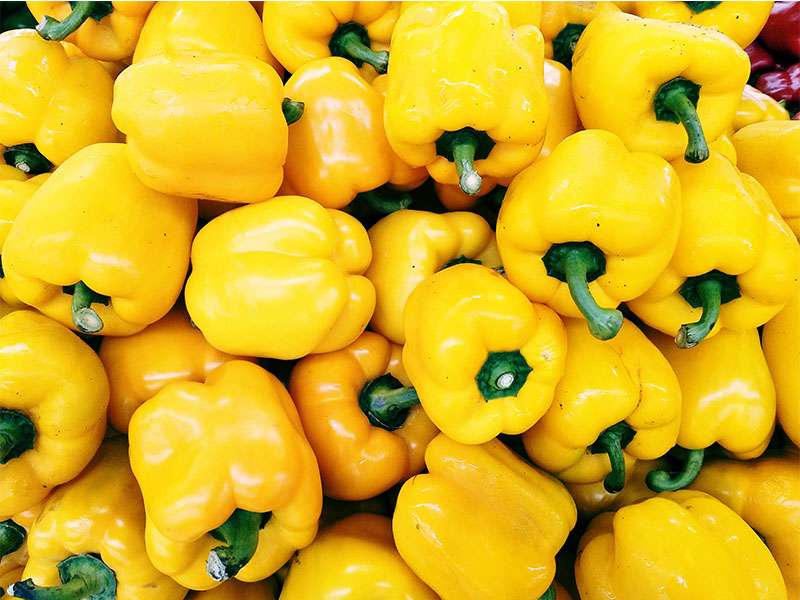 I love anything that has a yellow color, and yellow bell pepper is not an exception. You might wonder why it all comes from bell pepper plants, but it has so many colors. There are two reasons for that: the harvesting time and the vegetable variety.
All bell peppers change their color as they grow. The longer they ripen, the sweeter they get in taste, and the more nutritional they gain. Therefore, the green bell peppers are the cheapest ones.
Yellow bell peppers are available year-round, with a peak season in the summer, so it goes perfectly with hot dishes and even with cocktails. Or you can just simply eat raw yellow bell peppers with your favorite herbs and some cheeses. Then pop them all in the oven
When you go to the supermarket or organic stores, choose yellow bell peppers wisely with ones that feel heavy and thick, and have glossy, smooth skin. When you take them home, remember the correct way to keep bell peppers fresh and tasty.
14. Yuca Root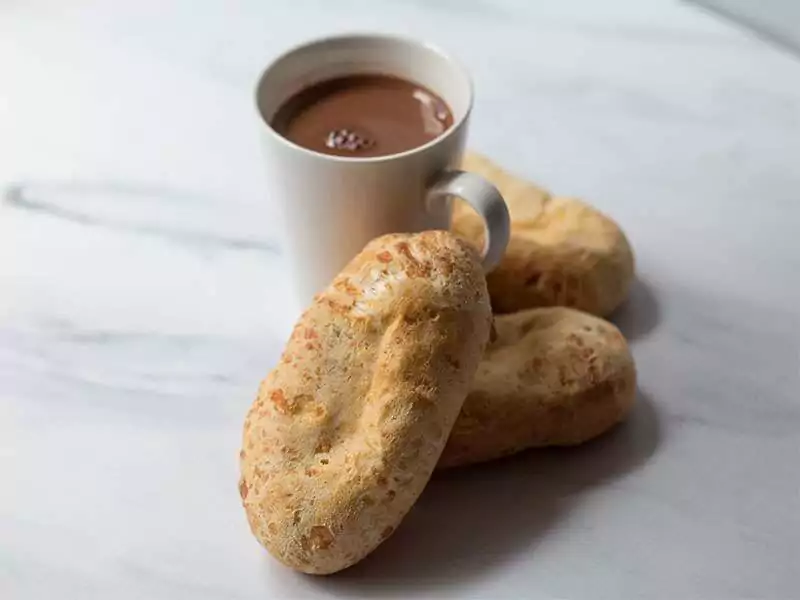 Is it strange that you eat root for food? No, it's not! Or at least, not with Yuca root. You might be confused between Yuca and Yucca. Yuca is the root of the Cassava plant, while Yucca is primarily an ornamental plant.
The shape and size of the Yuca root are pretty much the same as that of a sweet potato with a more brown, hairy skin, grainy texture, and starchy taste. Yuca root is available year-round, so you can buy it any time you have cooking ideas that need them.
Speaking of dishes, you can turn this plain mediocre root into a fantastic, even high-end plate that you could hardly believe. You can make fries or bread (very basic), or level it up to a creamy mashed yuca bowl (3), or make soups, desserts, etc. The possibilities are limitless.
If your favorite cuisine is Cuban delicacies, you might be familiar with their famous Yuca con Mojo that is made from yuca root with sauces. It's easy to make yet tastes fantastic.
One thing that you should bear in mind is that after cutting it into slices or pieces, remember to put it right into a bowl of cold water since its color could change very fast into the darker, brownie which is not really amusing.
15. Yorkshire Pudding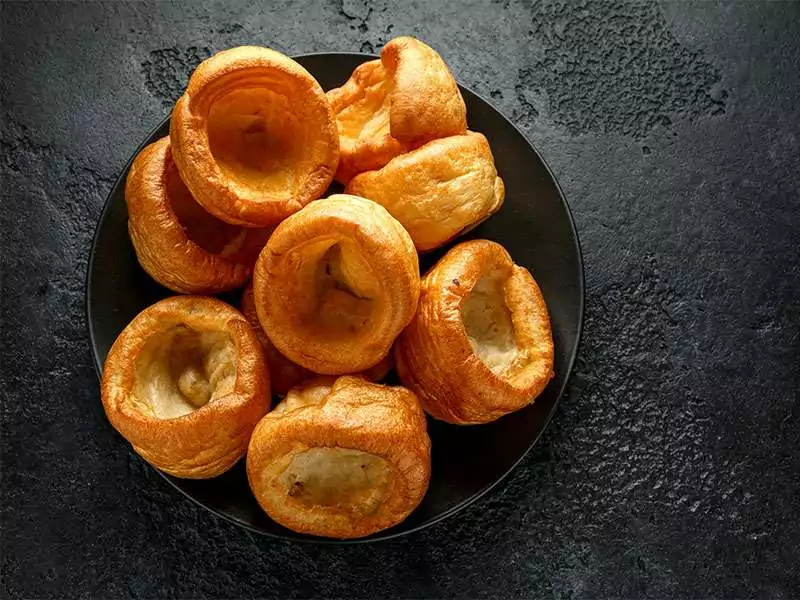 Yorkshire pudding is a popular English starter dish, a baked cake made from basic ingredients, such as egg, flour, and liquid. It is a versatile dessert that can be served in many ways.
Yorkshire pudding first was just an appetizer or a side dish. But since it gets more attention, people make it to the main meals that are served with beef and gravy or filled with bangers and mash.
The famous American Popovers are pretty the same as English Yorkshire pudding. But we both love Yorkshire so much that we have come up with two Yorkshire pudding days. The first Sunday in February in the UK and the 13 October in America. We call these two days are the National Yorkshire pudding day.
One secret that not many people tell you if you are going to make yourself a Yorkshire pudding is to pay attention to the oil. Before spooning in your batter, the tins must be oiled and placed in the oven beforehand. Besides, it's better if you put the batter in your refrigerator overnight.
16. Yokan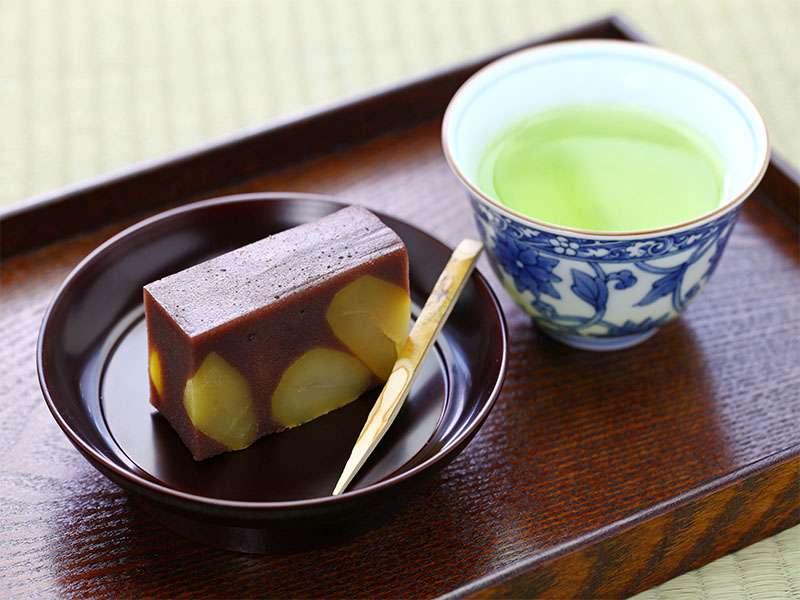 Yokan is a traditional Japanese sweet treat made from red bean paste, agar-agar powder, and sugar or honey. Its form usually is a block jelly with a meticulous sharp edge. If you want a more colorful version, you can replace red bean paste with white bean paste and add green tea or other elements to make colors.
There are two main types: Neri yokan and Mizu yokan. To be honest, I'm not a fan of Japanese food, but god, I love both types of this simple and delicate dessert. Whenever my friends come back from Japan, I always tell them to bring me the original Yokan as a souvenir.
People love eating Yokan with green tea, but I prefer enjoying these little jelly cubes with sweet peach tea. I don't know why but it melts and mixes perfectly fine in my mouth.
Everything from Japan seems very uncomplicated but in an expensive way. But making this Yokan is not as difficult as you might think. You can check out this video for a more detailed guideline on how to make a Yokan dessert.
17. Yali Pear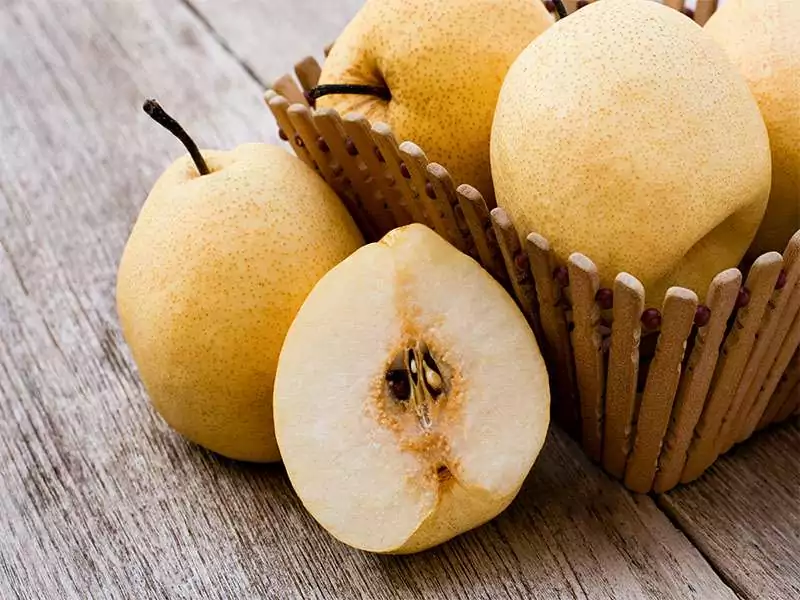 Yali pear is one member of the Asian pears. They are a bit thin and soft with a balanced taste of sweet and fresh in every crisp bite. Inside, the Yali pear fruits are creamy white, but outside are light greenish-yellow smooth skin.
I love everything about Yali pears. I love its unique tear-drop shape with medium to large size. I love its sweet, juicy taste and its firm and crisp texture that give you a whole new indulgence for your appetizer.
You can slow the ripening process of Yali pears by storing them in the fridge. At room temperature, it can stay in good condition in about one week.
Eating Yali pears can bring you incredible benefits, such as providing significant sources of vitamin C and K, or dietary fiber, potassium, and antioxidants. You can eat fresh Yali pears or serve them with several wonderful dishes.
18. Yiros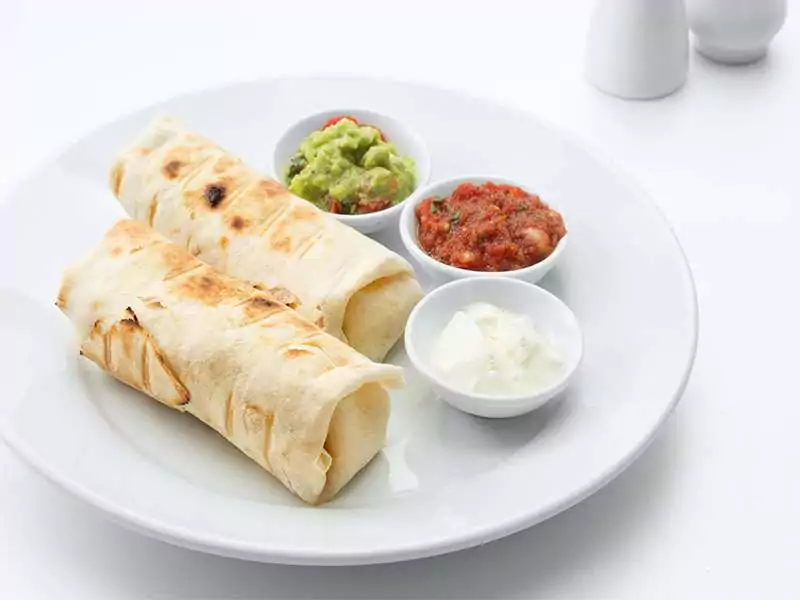 I overlooked this food before, until one night after exhaustedly returning from work and accidentally walked into a cozy humble Greek restaurant in the small alley. I tried a dish with an odd name: Yiros. And that was lit!
Yiros is a traditional Greek cuisine with crispy bread on the grill and stuffed with all kinds of meats, vegetables, herbs, and some unique Greek sauces.
You can choose between lamb, pork, or chicken in the meat category, served with tomato, red onion, parsley, shredded lettuce, a whole lot of cheese, and dressed with the most famous sauce – tzatziki.
Depending on where you live, you may know it as Yiros, Gyros, or even Yeeros – whatever you call it, it's a delicious meal.
19. Yellow Eye Bean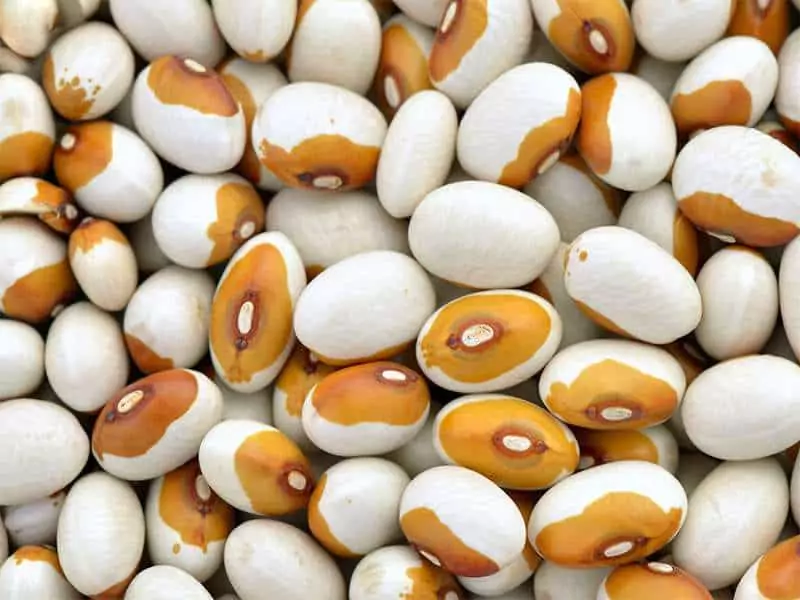 Have you seen those yellow eye beans before? I was struck by its appearance the first time I saw the yellow eye beans. It's so uncommon and somehow alluring in an unexplainable way.
The cooked beans are soft and instantly melt in your mouth and embrace your soul with an earthy, bland but smooth, and slightly sweet flavor. It doesn't have a sharp taste or strong smell. So it's easy to mix with all kinds of foods.
As you can probably guess, yellow eye beans are so beneficial for our health. It includes so many nutritions, such as fiber, protein, sodium, vitamins, and carbohydrates. It is also cholesterol-free and contains no saturated fat.
As with any other bean, yellow eye beans need to be soaked in water six to eight hours before cooking. You can speed up the soaking process by boiling those yellow eye beans in water, removing heat, covering, and soaking for just one hour.
20. Yellow Passion Fruit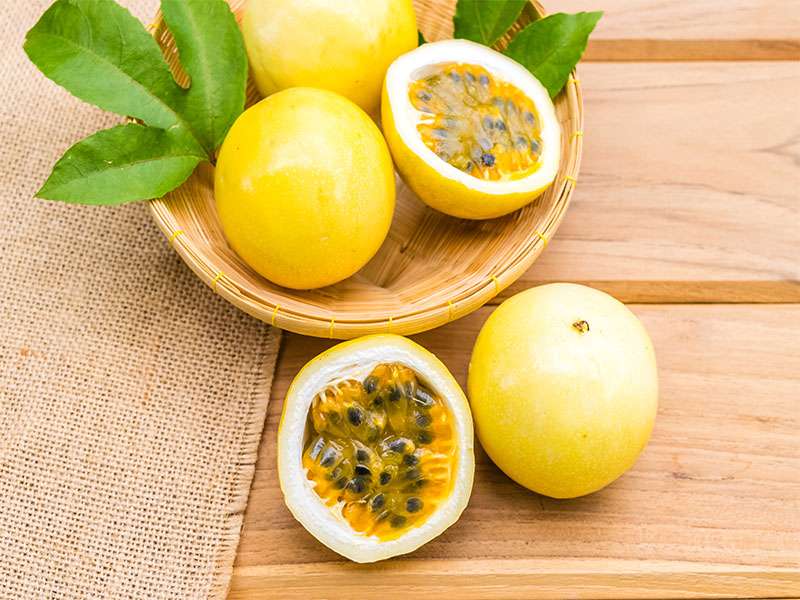 Yellow passion fruit is usually grown popular in California, Florida, and Hawaii. Yellow passion fruit flowers generally have white petals. Besides, the vining can grow up to 35 to 40 feet in length.
This delicious yellow fruit is the king of drinks (juice, cocktails, wine, smoothies, and even beer) and desserts (yogurt, ice cream, cake, caramel). Moreover, you can mix this fantastic fruit with salad, salad dressing, sauce, or some tropical meals.
You probably heard people say that yellow passion fruit can improve your mental and physical health tremendously. Seems impossible with just an ordinary fruit, right? But it's true.
Yellow passion fruit has a good source of Vitamin A, Vitamin B3, Vitamin B6, Vitamin C, and some antioxidants like beta carotene (which converts into Vitamin A) or polyphenols. It helps improve your moods, your eyes, your skin, both your digestion and constipation. It also boosts the immune system, prevents anemia.
21. Yautia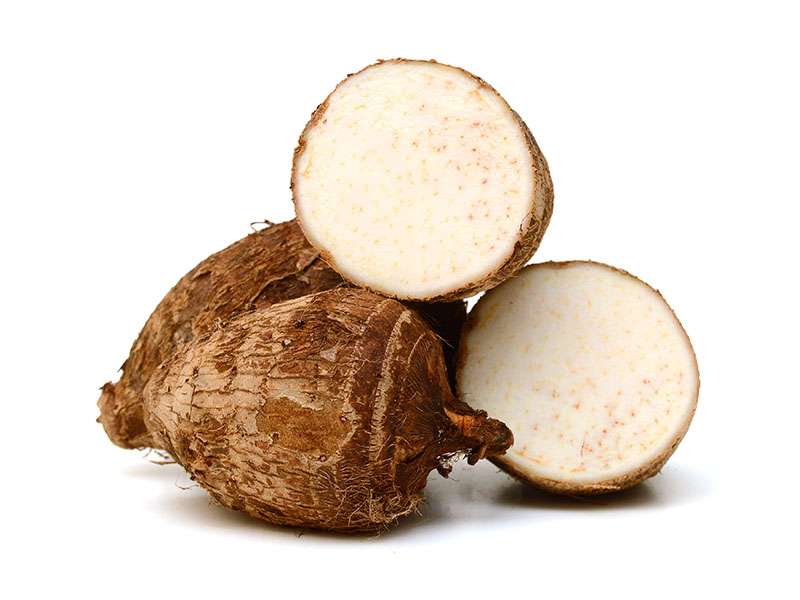 Yautia is a big root with brown to reddish skin and cream, pale yellow, or grayish purple inside.
The appearance of Yautia is not smooth but rather bumpy and hairy. After cooking, Yautia's flavor is soft and light with an earthy and nutty taste. It's pretty similar to other potato roots but a little more of a woody smell and a note of black walnuts.
Yautia has a low content of sodium, saturated fat, and cholesterol but many vitamins like A, C, B6, and potassium, copper. Yautia root is cheap and available all year round.
22. Yakisoba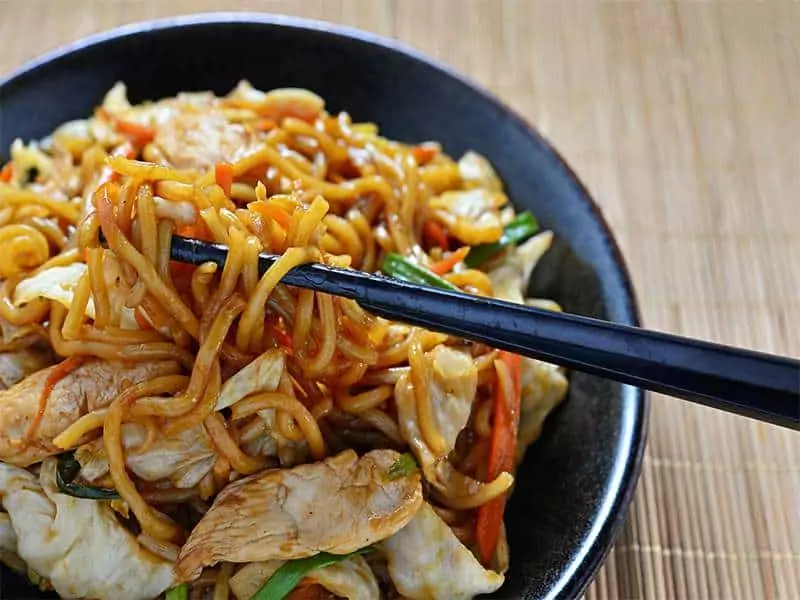 This food is pretty hard to pronounce since it's not originated from American. It comes from Japan (though others say it's the upgraded version of the famous noodle in China) and is made from wheat flour and served with Worcestershire sauce.
If you just take a quick look at Yakisoba noodles, you could probably mistake it with ramen noodles, but in the stir-fry version. And if you have a griddle at home, do not miss this one to try out among other easy griddle ideas. You will love it, I promise!
You would see some slices of pork, beans, carrots, cabbage, onions, and a signature sweet and salty sauce in the traditional Yakisoba bowl. You can switch pork with chicken or beef, depending on your favorite.
It can be served normally as any other noodles, or more creatively, eaten in a hot dog style by spreading the noodles from the top to the bottom of the bread then topped with mayonnaise, ketchup, and shreds of red pickled ginger.
23. Yellow Watermelon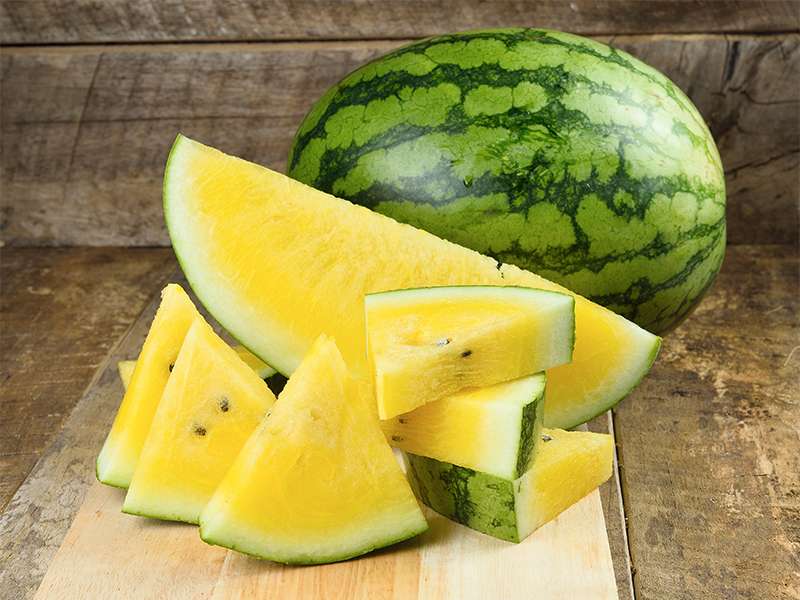 You might be more familiar with the red watermelon with black seeds and green skin. But yellow watermelon? Is it different from the typical watermelon?
The answer is yes, slightly different. It's smaller, sweeter, though it is pretty much the same with some uneven green stripes in its appearance. Yellow watermelon is popular in the summer. If you buy some yellow watermelons, eat those with salt and chilly to have a whole brand new experience.
Not only is yellow watermelon delicious, but it has many health benefits as well. It is very low in calories, rich in dietary fiber, and high in vitamins A and C. One thing that sets this fruit aside compared with other watermelons is beta-carotene, which is usually found in carrots.
24. Yellow Mango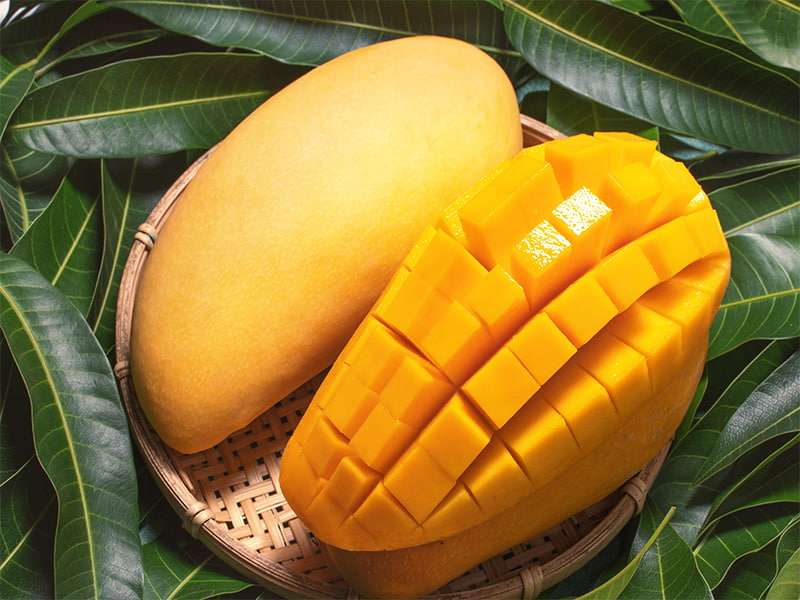 Yellow mango, or as people usually call Ataulfo, is a mango cultivar from Mexico. This mango is yellow from the outside to the inside; rich, sweet in flavor, soft, and juicy in texture. Now we can find this fruit in supermarkets or any fruit store.
One yellow mango contains many different vitamins, minerals, and antioxidants that could lower the risk of cancer, lower blood pressure, and prevent constipation (4).
You can eat yellow mango as a delicious fruit or mix it in a bowl of salad. Sometimes, you can also cook it with fish or meats to bring the sweetie for the dish. Besides, yellow mango is also an ideal ingredient for any kind of drink or alcoholic beverage.
25. Yellow Squash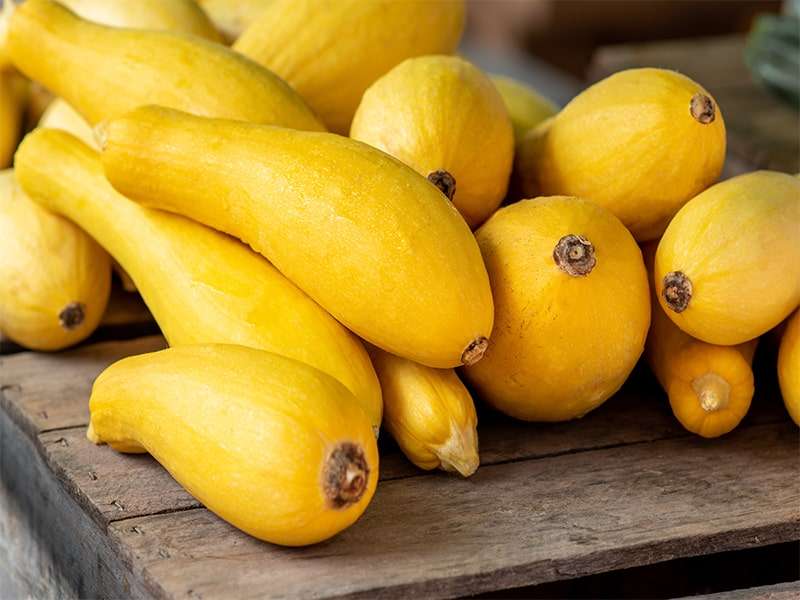 The last food I want to show you guys in this article is the yellow squash. This veggie is one of my favorites, not only because of its appealing appearance but also its taste and benefits. If you are on a diet, you can try this lovely yellow squash.
The yellow squash is larger in the bottom and thinner on the top, with pretty smooth skin and distinctive color. Compared with the typical zucchini, the flesh is whiter and has more giant seeds.
It's famous for its low calorie, low sugar content. And its fiber and water content can help you stay fuller, longer. So if you are trying to lose weight or be aware of what you are consuming every day, this yellow squash could be your ideal choice for a meal.
More Ideas On Foods That Start With "Y" Letter?
If you can bear with me until this line, you might find yourself a list of various foods around the world that begin with Y.
After reading my conscientious article, I hope you could also learn some exciting and eye-opening information about foods you may never have heard before.
No need to thank me, instead, comment down any thoughts that you have about this topic. Besides, I'm an open-minded person, and I would love to know any extended ideas on foods that begin with Y.
If you have any trouble finding the foods that begin with any letter, just tell me. I love nothing more than helping you out!
Enjoy your day, and I'll see you in the following article!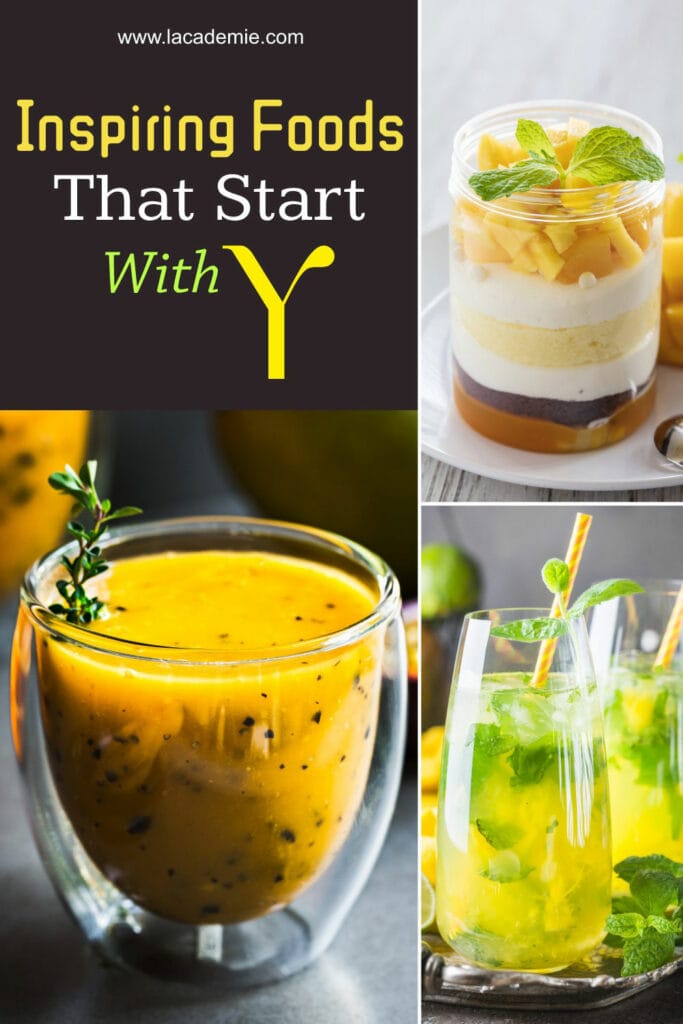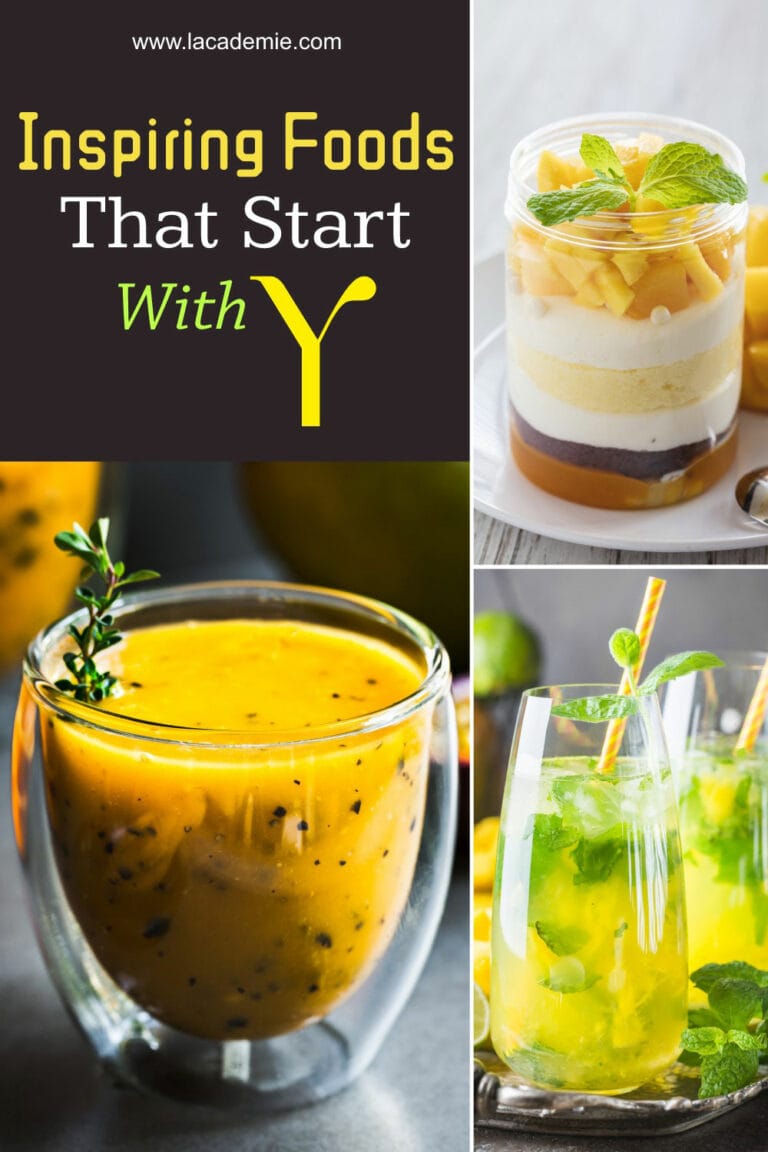 References
Chinadaily.com.cn. 2021. Love at first bite: Yangmei is a delicious taste of summer fun. [online] Available at: <https://www.chinadaily.com.cn/a/201906/10/WS5d148876a3103dbf1432aa8c.html>.
(COVID-19), C. and Blogs, W., 2021. Yacon Root Syrup: Are There Health Benefits?. [online] WebMD. Available at: <https://www.webmd.com/diet/health-benefits-yacon-root#1>.
The Spruce Eats. 2021. Swap Mashed Potatoes for Creamed Yuca (Cassava) With Roasted Garlic. [online] Available at: <https://www.thespruceeats.com/creamed-yuca-cassava-with-roasted-garlic-2138086>.
Blogs, W., 2021. Health Benefits of Mango. [online] WebMD. Available at: <https://www.webmd.com/diet/health-benefits-mango#1>.
Foods by The Alphabet
Foods That Start with Y (You are here)