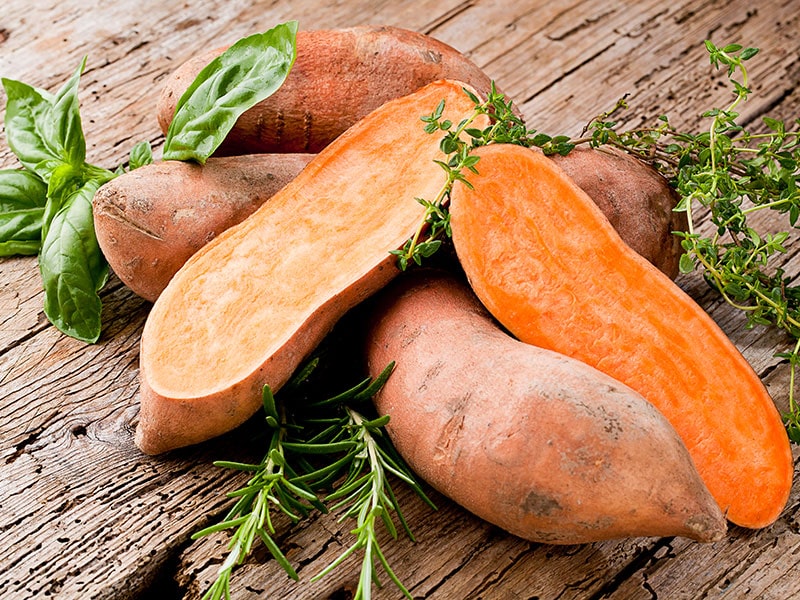 There is a broad range of food that starts with S ranging from Western to Oriental cuisines. In the attempt to explore the rich world of cooking, I have found the idea of tasting foods based on their names starting from a to z an exciting idea.
Food is part of the soul of a culture. And there is no better way to experience and gain insight into the mainstream life of locals than tasting its signature food, plus you enjoy the delights of tasting delicious food. It is very much like hitting two birds with one stone.
In this post, I'm gonna introduce to you a comprehensive list of signature foods beginning with S from worldwide cultures. A brief introduction is also included to guide you through their uses.
Hopefully, you will gain some useful knowledge and find suitable foods to have a tasty and novel swap for your meal. I'm sure these one-of-a-kind dishes will breathe novelty into your daily meal. So let's dwell on it!
37 Foods That Start With Letter S
Here is my top list of 37 unique foods that begin with the letter S, from Western to Ornamental cultures:
Fruits, Herbs And Vegetables
Sauerkraut
Sage
Seaweed
Shallots
Starfruit
String Beans
Serrano Pepper
Sprout
Salad
Sapote
Soy Beans
Salal Berries
Satsuma
Sweet Potato
Sofrito
Salsa
Star Anise
Saffron Thread
Sunflower Seed
Spinach
Meat And Seafoods
Sardine
Scallop
Shabu Shabu
Sashimi
Sushi
Sukiyaki
Sosaties
Sea Urchin
Sea Cucumber
Snacks And Desserts
Sherbet
Semifreddo
Sachertorte
S'mores
Other Foods
Sincronizada (Mexican Ham and Cheese Melts)
Soba Noodle
Swiss Cheese
Salmorejo (Spanish Cold Tomato Soup)
Fruits, Herbs, And Vegetables Beginning With S
First of all, let's get to know some popular fruits, herbs and vegetables that start with S. Eating more greens should be put on top priority.
Sauerkraut is a German national dish that is basically made with pickled cabbage. Cabbage is julienned and fermented with lactic acid bacteria; the whole process is called Lacto fermentation, the same way Korean kimchi and The US's pickle is made.
The dish is consumed in German and Eastern Europe, such as Poland, Baltic countries, Ukraine and Russia. Each adopts an indigenous name for it. Sauerkraut is served in a meal as a side dish or used to complement other dishes, such as Eisbein, a trotter dish.
It is used as a common filling for Polish dumplings and savory Russian pastries. Sauerkraut is also added to soups. In America, it is a condiment for seafood and hotdogs, and a side dish paired with Thanksgiving turkeys in Maryland.
2. Sage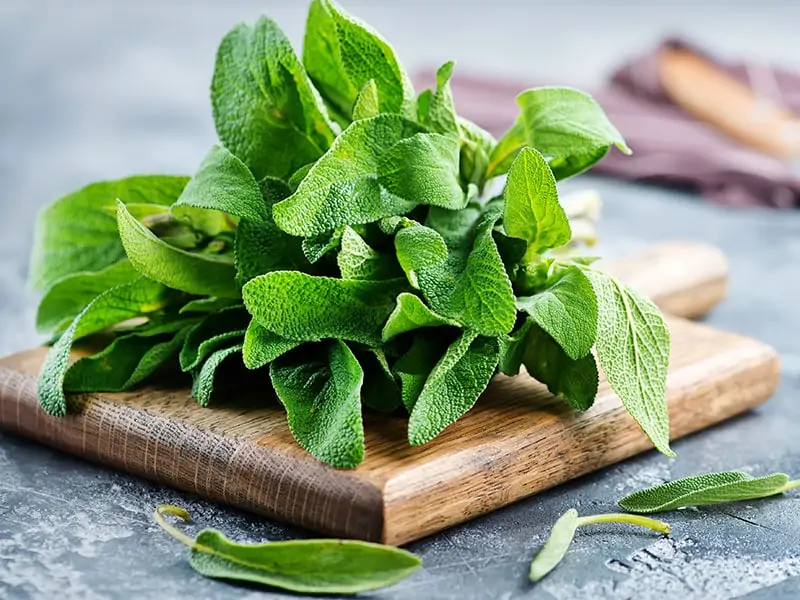 Sage (other names garden sage, golden sage) or the official name Salvia officinalis is a member of the mint family. It is an evergreen bush with short woody stems, grayish-colored leaves, and purple flowers. It has been widely used as a culinary and medicinal herb.
In Britain and America, it is among the essential herbs with rosemary, thyme, and parsley. The dried plant adds a note of peppery and tangy savoriness to the meat dish. Sage is used along with onion stuffing to accompany roasted chicken or turkeys on big occasions.
Sage is chopped and mixed with butter to make sage butter, similar to garlic butter. A sprinkle of chopped sage leaves in soups will add a world of flavors and improve its look.
It is also used as a significant ingredient to make tea or flavor various types of tea, such as black tea. But if it is too hard to find sage, there are many options to replace sage perfectly, for instance, marjoram.
The use of sage offers a ton of benefits to the body; it is associated with improving brain health and loaded with antioxidants that help enforce your immune system.
3. Seaweed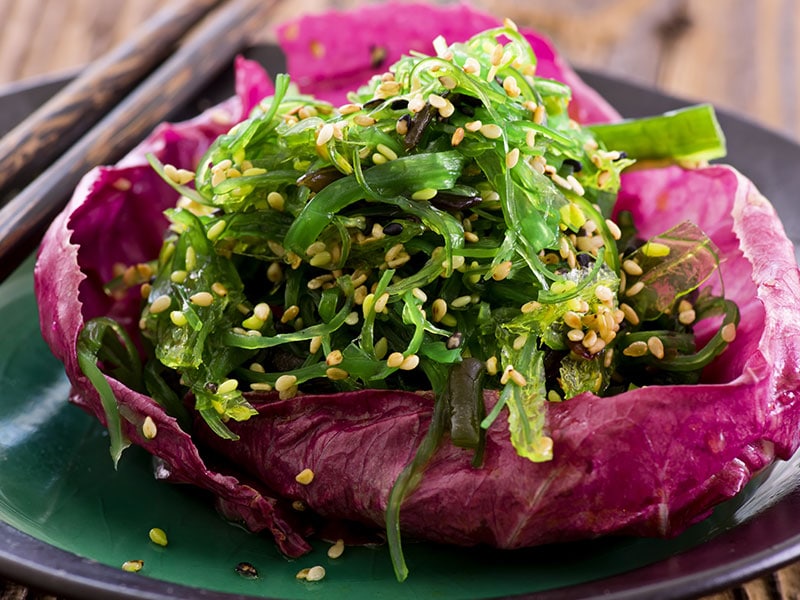 Edible seaweed is a wholesome type of algae that grows in the ocean or brackish water. They are consumed as a significant part of dietary meals in places all around the world.
Seaweeds generally have a salty taste and crunchy texture, so they are usually mixed into fresh-tasting salads or added to soups. One of them is Korean traditional seaweed soup, a dish that always appeared on Korean birthday celebrations.
Some notable seaweeds popular and favored by people are sea grapes, sea lettuce, and nori (seaweed sheets to wrap kimbap and sushi).
4. Shallots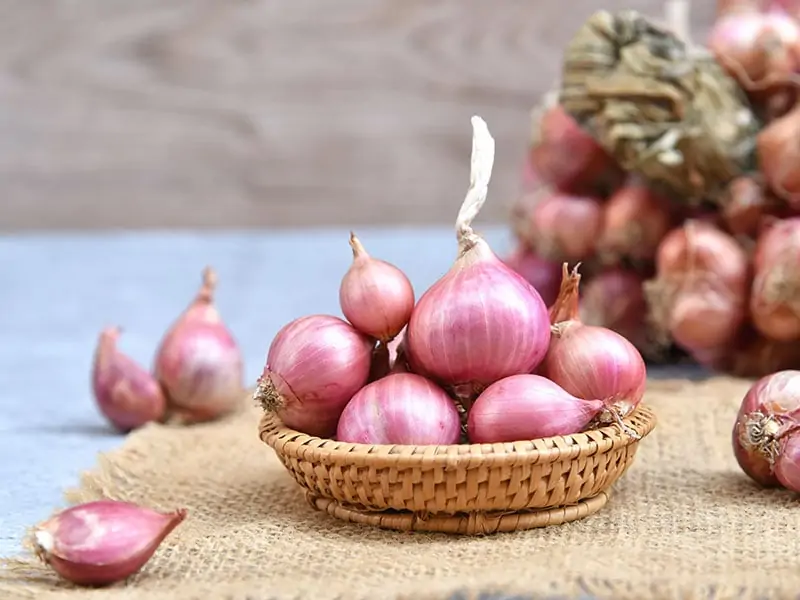 While a lot of people consider shallots and onions as the same, they are different in biological terms. Similarly, you will easily recognize the difference between shallots and green onions to identify which ingredient is better for your cooking recipes.
Shallots have a distinct note of sweetness, while onions are more peppery and tangy. The texture is also crunchy and juicy, just like onions. Their shape is also a notable feature that distinguishes them from onions.
Shallots are a ubiquitous ingredient in French and particularly Asian cooking. In Asia, they are used to accompany pickled cucumbers or make a pickle dish in their own right. Deep-fried shallots are used to garnish and enhance the flavors of congee and many other dishes.
Raw slices of shallots are added to fish sauce or used to top grilled meat. You can try to use them as an onion swap, such as a spread on pizzas or a quiche filling. Using them in salad and pasta dishes or roasting it with veggies are also great ideas to enjoy.
Shallots are helpful to treat common flu and cold, alleviate allergy and promote heart health. There are a multitude of health benefits of eating shallots, so do not hesitate to have it in your meal.
5. Starfruit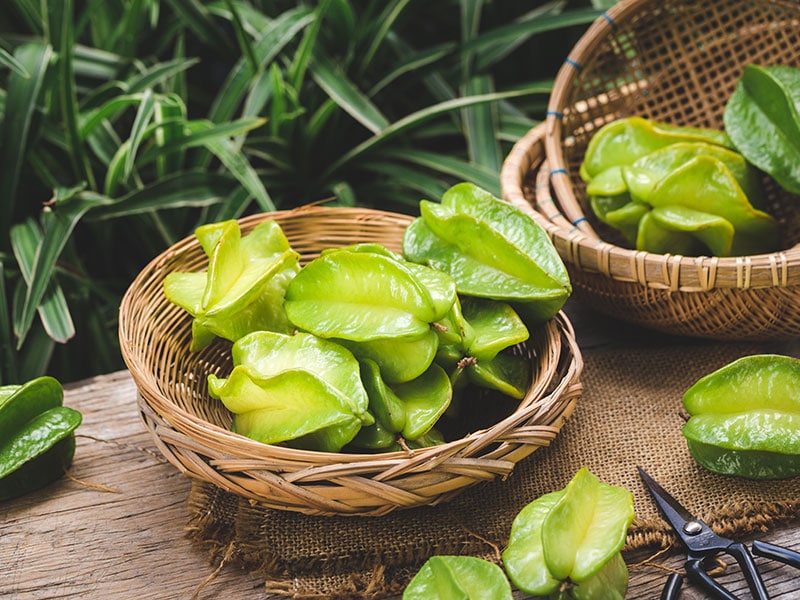 Star fruit (official name carambola) is the fruit of Averrhoa carambola, a species of tree in the Southern Asian tropical region. As a tropical fruit, it is now cultivated in various tropical climate regions in the world.
The fruit usually has 5 ridges, and when cut in a cross direction it looks like a star. Immature fruits are green and gradually change to yellow till fully ripe. The flavor of star fruit can be described as "sharp sour", and the tart dares to rival limes. The flavor is reminiscent of green apples.
In terms of texture, young fruits' flesh is firm, crunchy, and extremely juicy, therefore usually consumed before maturity. When fully ripe, it is sweet with a subtle note of sourness, and flavors are described as a blend of grapes, apple, pear, and citrus fruits.
Unripe star fruits are eaten whole and usually dipped in a sipping mixture of rock salt, chili flakes, and other spices. In Australia, it is mixed with chopped or diced vegetables into relishes, a popular vegetable side dish.
In Vietnam, slices of starfruit are used as a fresh ingredient in various roll or wrap dishes. The fruit is also used in making several types of beverages such as iced drinks and cocktails, for both garnish and flavor purposes.
6. String Beans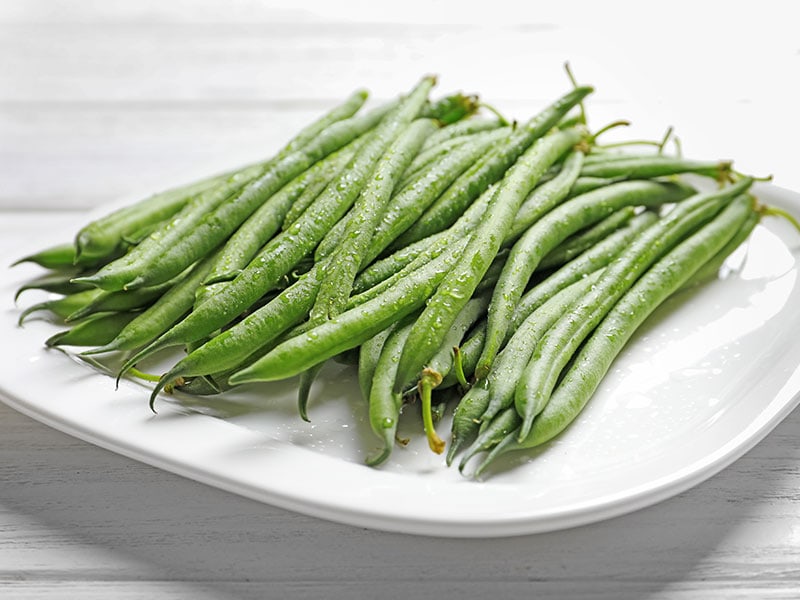 String beans or green beans refer to long pods of beans harvested from various species of common bean. Some other common names include green beans and snap beans. They are harvested when the beans inside the pod are still immature, and the color is vibrant green.
String beans may vary in length and shape depending on species; some common species of string bean such as runner bean or hyacinth bean have pods' typical length of 10 centimeters. Asparagus bean pods have an exceptional length of nearly 50 centimeters.
String beans are a widely consumed vegetable, it is present in regional and national cuisines all around the world. They are eaten raw, or boiled, steamed, baked, and grilled into various delicious dishes. In China, string beans are pickled in vinegar and served as a side dish.
String beans are also a significant ingredient in soup, stews, rice dishes, and casseroles. In the Northern US, string beans are often seen on the dining table at Thanksgiving. The wholesome veggie is sold fresh, canned or frozen, or even dried and fried as a snack.
String beans are loaded with fibers, vitamins, and nutrients, some notable features are strengthening the immune system and promoting heart health as well as the digestive system.
7. Serrano Pepper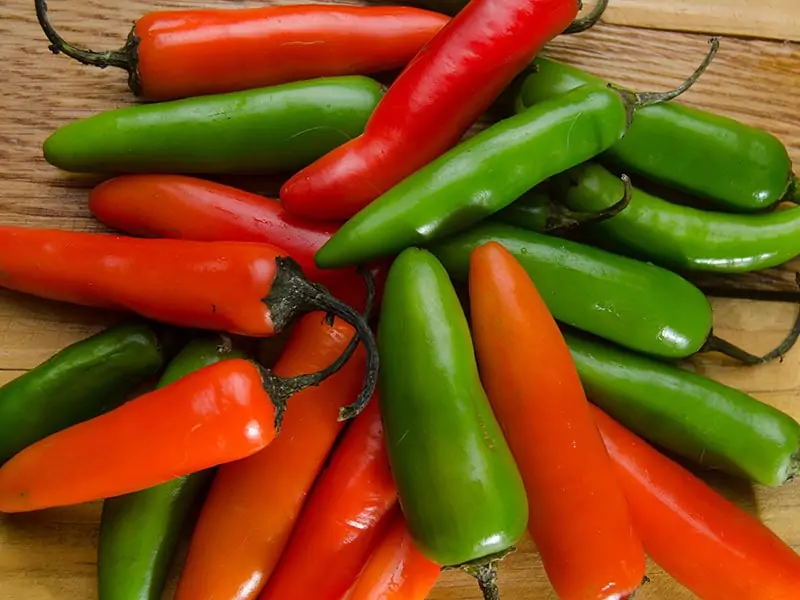 Serrano pepper is a variety of chili pods originating in the mountainous areas of Mexican states. It is a close relative of the wider-known Jalapeno pepper, and the two are similar in shape and color.
That's why Jalapeno is one of the most popularly-used replacements for Serrano pepper in case you can't buy Serrano anywhere.
An individual pod typically ranges 4-5 centimeters in length, while Jalapeno can grow much bigger. Serrano peppers are green when young, and depending on the varieties, they turn brown, yellow, orange, or red when fully mature.
On the Scoville heat level, Serrano pepper's pungency scores range from 10.000 to 23.000 units, which is five times higher than its cousin Jalapeno peppers. They are also known for having more flesh than most other types of chiles.
Serrano pepper is among the most used chilies in Mexican cuisine, usually featuring in salsa, hot sauce, and salad recipes. Just like jalapeno, these hot can be roasted, pickled, or used to garnish dishes. They are the perfect choice if you want a step up in flavors and crave spiciness.
Serrano peppers are a rich source of vitamin B6, B3, fibers, and other essential nutrients, hence providing consumers with lots of health benefits such as aiding weight loss, relieving pain, and controlling blood sugar.
8. Sprouts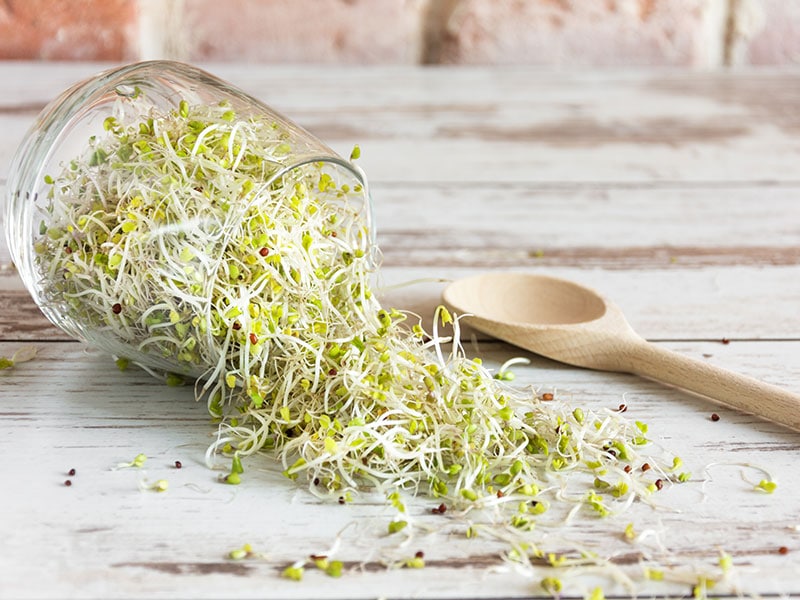 Sprouts are vegetables grown from soaking mung beans in water, which are basically germinating seeds. They are among the most common home-grown food and are considered the most wholesome, healthy, and natural product.
One of the common sprouting techniques is to place all the refined, high-quality mung beans in a jar and cover with a cloth or mesh strainer, then water is added and the beans are soaked thoroughly, then drained and repeat the process.
It usually takes 4-6 days to have crunchy, juicy mung beans ready to eat, but this also depends on the room temperature. The higher it is, the faster the seeds germinate. Mung bean sprouts have a pleasant note of bitterness and are extremely juicy.
Sprouts are used for culinary purposes in almost every Asian country, particularly China, Korea, and Southeast Asia. Common uses are ingredients for stir-fried dishes, dumpling filling, or fresh accompaniment in rolls and wrap dishes (eg. Vietnamese spring rolls).
Salad is undeniably the most wholesome food, even those meat lovers sometimes cannot deny its deliciousness and great health benefits. Its versatility allows the use of a wide range of food: vegetables, meat and seafood, eggs and cheese.
Salad is served chilled or at room temperature and usually goes with a sauce as dressing. Some certain types of salad require raw ingredients, such as raw lettuce or sliced tomatoes, cucumber which adds the unbeatable taste of freshness that no other dishes can offer.
There are tons of salad dishes from various countries in the world, each adapted to its original and unique cuisine. There are six types of salads: green salads, fruit salads, rice and pasta salads, bound salads, dinner salads, and dessert salads.
You can try Russian spring salad, Italian antipasto salad, French Nicoise salad, and thousands of other unique tasting salads. Generally, they are fresh side dishes for sandwiches or other meaty main dishes. And the final purpose of these salads is to compliment the main course.
10. Sapote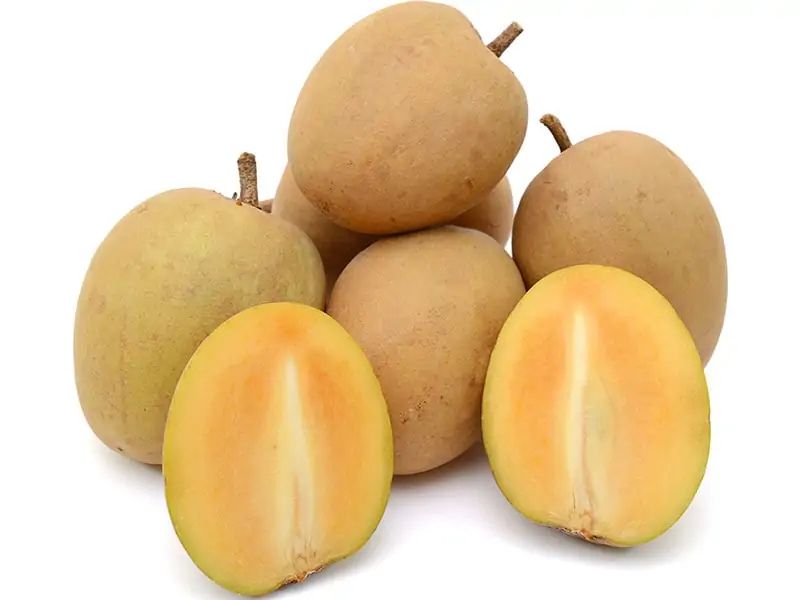 Sapote is a tropical fruit that remains obscure in the US and is commonly found in tropical areas around the world, particularly Southeast Asia and Southern America.
Sapote has an overwhelming sweetness that is reminiscent of brown sugar, which is interesting because the flesh is also brown in color. Green fruits have an acrid taste and flesh is full of sap, but if picked when unripe, the fruits can still continue to ripen.
11. Soybeans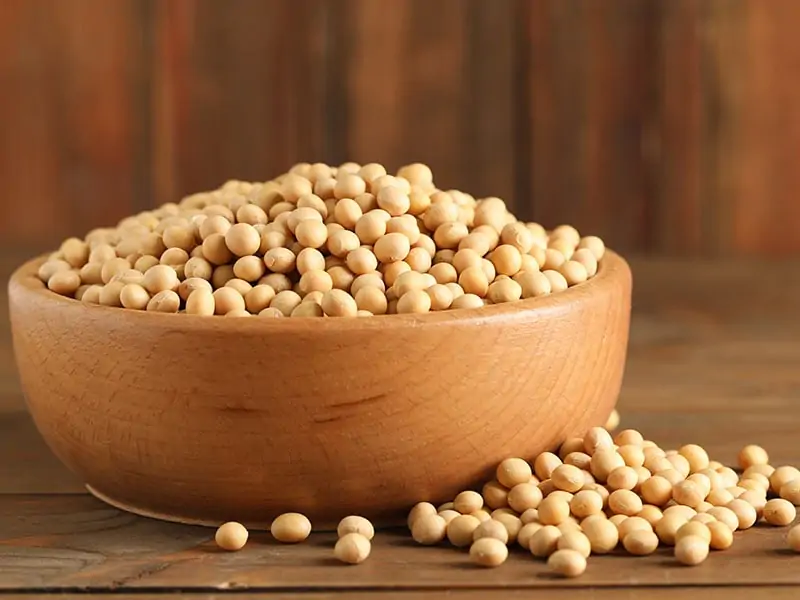 Soybeans are edible seeds of the species of legume, a type of plant native to East Asia. Fresh soybeans are used to make soy milk, tofu, and soybean oil. They are also used as an ingredient in Chinese stir-fries and roasted and made a pub snack.
Fermented soybeans offer wider uses. Some notable fermented soybeans products are the ubiquitous soy sauce, teriyaki sauce, soybean paste, and Japanese's natto, which is made from raw beans and has a sharp, tangy smell and unique taste.
Soybeans are considered a cheap yet nutritious food because of their high content of protein, dietary fibers, magnesium, and phosphorus.
Consumption of soya chunks (a side product of oil extraction) allows for the long feeling of satiation and therefore a good choice for weight loss. However, soy allergy should also be taken into consideration.
12. Salal Berry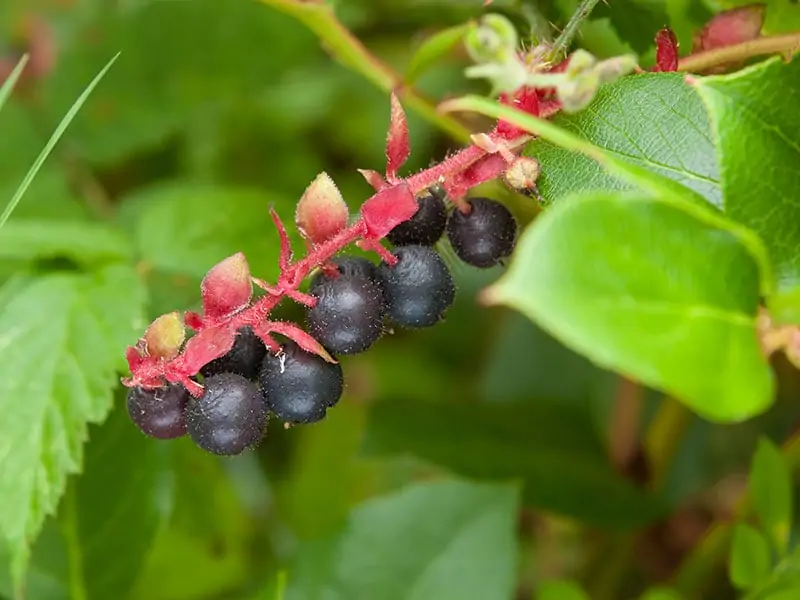 Sometimes it makes me round-eyed to learn how many wondrous berries there are in the wild. If you go on a camping trip on the coast of Oregon in late summer, you may find branches of salal berries appear in front of your eyes out of the blue.
Salal berries are mostly found in coastal and cliff areas from Northern California up to Alaska. The fruit bears a striking resemblance to blueberries, but its color is blackish blue and is quite hairy on the outer skin.
The peak season for salal berries is from August to September when they are most abundant and it takes a fairly short time to fill your basket to the brim.
13. Satsuma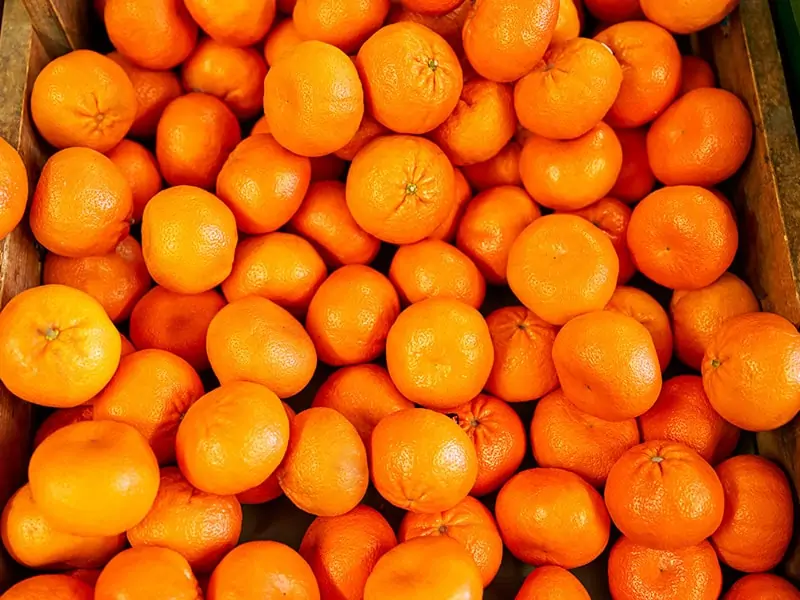 Satsuma (or another name tangerine) is a type of citrus fruit that has a relatively flat body, thin skin, and few seeds. They are cultivated worldwide in subtropical areas of Asia, Russia, South America, Central Florida, and North Carolina.
They are extremely juicy, with a taste of sweet and slightly sour, which makes it decadent on its own or lends its freshness to various salads, desserts, and baked goods.
These lovely fruits of the winter are in peak season from October to December. You can easily find high-quality satsumas loaded in wooden carts in grocery stores. When the season comes, look for those puffy, heavy fruits with tight, firm peel.
14. Sweet Potato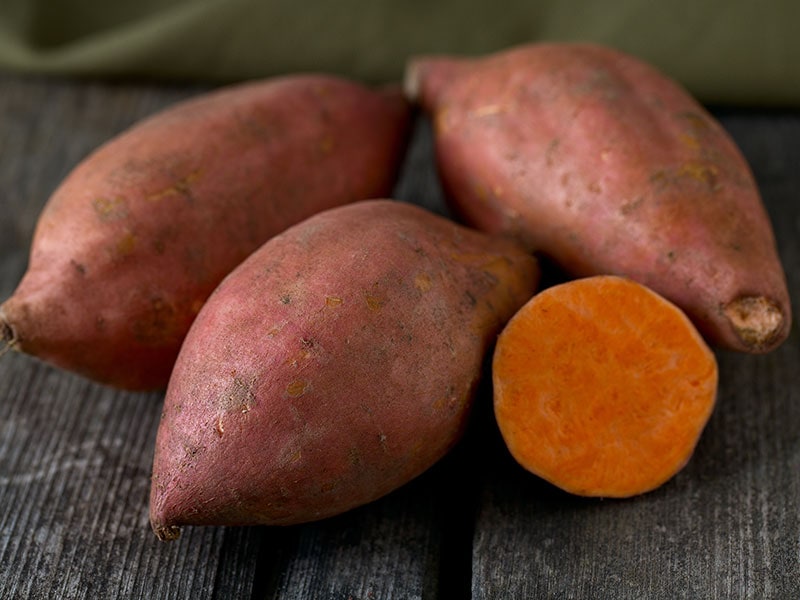 Sweet potato is the name of a marrow vegetable harvested off the dicot plant and is cultivated throughout temperate and warm tropical areas such as China and Eastern US.
While sweet potato and potato may be confused, the two are actually distantly related. The root is starchy and sweet, grows into a huge tuberous shape, and has papery dark outer skin and flesh of white, yellow, orange, and sometimes purple, depending on the varieties.
The root has been widely used in cuisines all around the world. It is often roasted or boiled and sold by street vendors in Asian countries like Korea, China, and Vietnam. If you want to enjoy sweet potato raw, you can also do it. Just remember to wash the potatoes carefully.
Not only the marrow but also the young leaves of the plant can be used as healthy vegetables. And do not throw leftovers away as you can use them to create the best leftover sweet potatoes treats that everyone would crave.
In the US, sweet potatoes candied in brown sugar and marshmallow or mashed sweet potatoes are often served as a side dish on Thanksgiving. Many people also love to enjoy sweet potatoes' skins. It is listed as the state vegetable of several US states like Louisiana and North Carolina.
Sofrito is a sauce prepared by sauteing or stir-frying finely chopped aromatic ingredients into a viscous mixture. It is widely used in Meditterannian cooking and Latin cooking, which lends amazing flavors to various dishes.
The main ingredients to make a sofrito sauce include garlic, onions, peppers, tomatoes, and bay leaves, and depending on the cuisine you are following, some other ingredients may be called for. And never forget vegetable oil like olive oil, which is the key to consistency.
Sofrito offers great uses in stir-frying, adds depth to the flavor of stews and meat dishes, or most basic uses it as a spread on freshly toasted slices of bread. If you crave the taste of Mediterranean and Latin, this sauce is the secret to boost your appetite.
Understanding how to make sofrito sauce clearly will help you never get faults. You can see this video to know more:
Salsa is a common name of various Mexican sauces that are used for multiple culinary purposes. Its major ingredient is commonly tomatoes, flavored with scallions, onion, pepper, and spices.
What is special about salsa is the incomparable and somewhat unbearable spicy flavors, which are commonplace in Mexican cuisine.
Salsa can be added to stews, served as dressing in various meat and poultry dishes. salsa is usually low in calories and fat, packed with vitamins, so it is a healthy inclusion in your meal.
Perhaps the most popular salsa sauce is the avocado salsa or commonly known as guacamole, which is served with potato chips, tacos, and tortillas.
You cannot forget the flavor of authentic Mexican salsa sauce when you come to local restaurants. Now, you can be confident to make it at home.
Or if you are too busy at work, the best option for you is those convenient store-bought salsas that you can easily spot in any supermarket. So go get one and enjoy it with any Mexican-styles dish.
17. Star Anise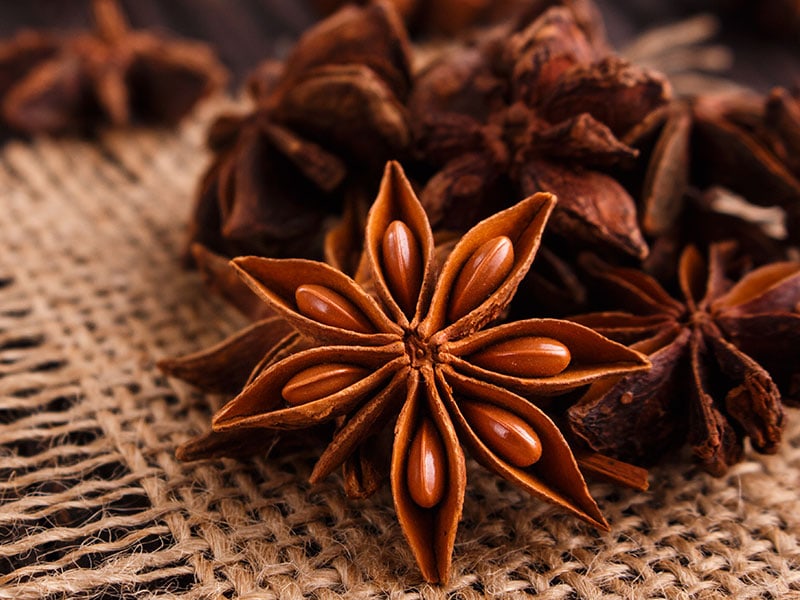 Star anise is the star-shaped fruit of a plant called Illicium Verum native to Northeast Vietnam and Southern China. The fruits are picked before fully ripening, sun-dried, and develop a brown chocolate color and a wooden look.
The spice bears licorice flavors of anise, a combination of sweet and spicy, and a very strong aroma. It is used widely for culinary purposes in places all around the world.
In China, star anise is a ubiquitous spice to marinade meat, an integral part of Chinese five-spices. It is also used to enhance soup's flavors and add nutrients. In Vietnam, star anise is a must-have spice in making traditional noodle soup, pho.
In Western culture, the powerful and district aromatic flavors render the spice useful in brewing liquor and tea (eg. French wine vin chaud). Adding it to coffee adds depth to the flavors and brings you a whole new experience of enjoying coffee.
18. Saffron Threads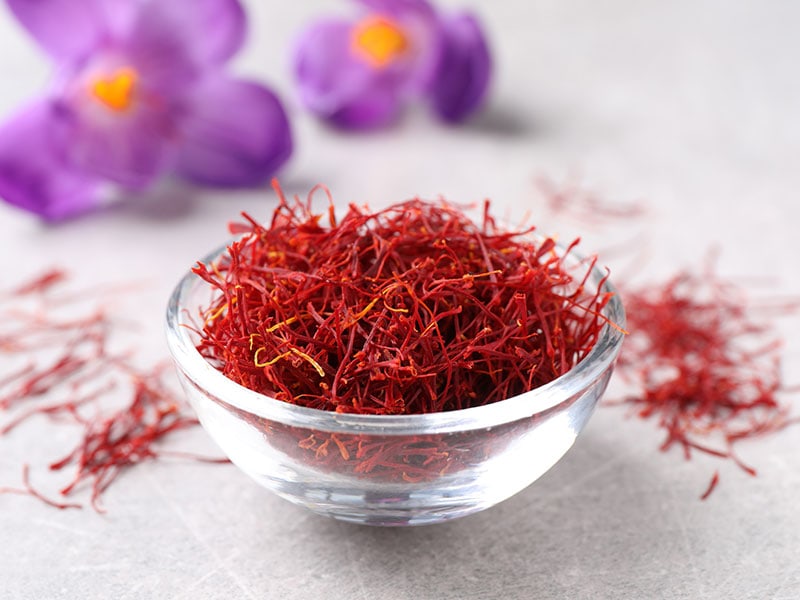 Saffron threads are among the most exquisite and expensive spices in the world. Depending on the quality, a kilogram of saffron can cost thousands of dollars. Why is it so costly?
Saffron is collected from the crocus flowers of a plant native to Greece and Central Asia. Harvesting is extremely labor-intensive, because crocus flowers have to be hand-picked, and it costs around 150.000 flowers to produce a kilogram of saffron.
Saffron is a prized ingredient and widely used both for culinary and medicinal purposes. It is used as a flavoring and coloring agent in various dishes. Its aroma is described as honey with a metallic or hay-like undernote.
As the spices cost an arm and a leg, there are many substitutes of saffron, for example, safflower (or Portuguese saffron), turmeric, annatto – the orange-red condiment found in Mexico, etc.
19. Sunflower Seed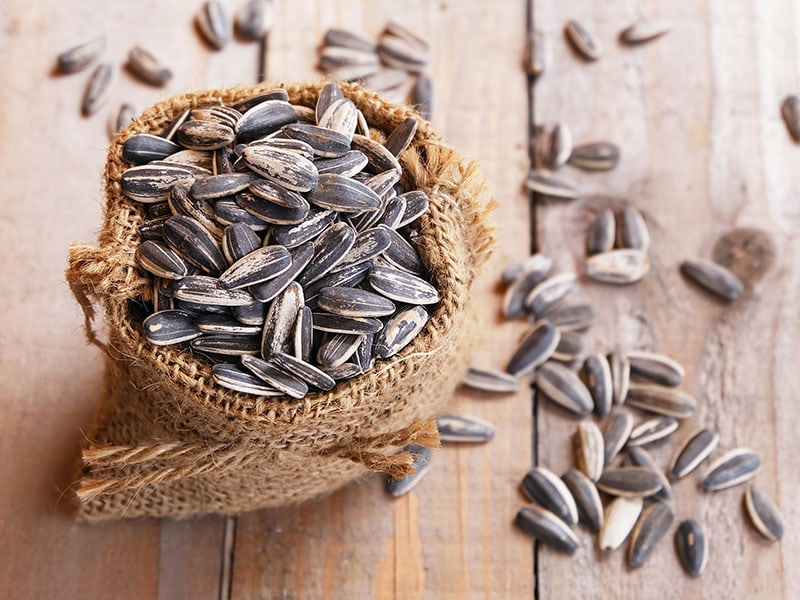 Sunflower seeds are the fruit of sunflowers, harvested off the flower head, and then dried in the sun. They have edible kernels contained in a teardrop-shaped, black, hard shell.
They can be roasted and flavored with cinnamon powder, salt, cheese, etc to enhance the flavors. Sunflower seeds are enjoyed as a snack, the kernels have a crunchy texture and slightly sweet and savory taste, with a mild buttery aroma.
They are also dehusked and sprinkled on salad, ice cream, or sorbets, or mixed in melted chocolate and add crunchiness to baked goods.
20. Spinach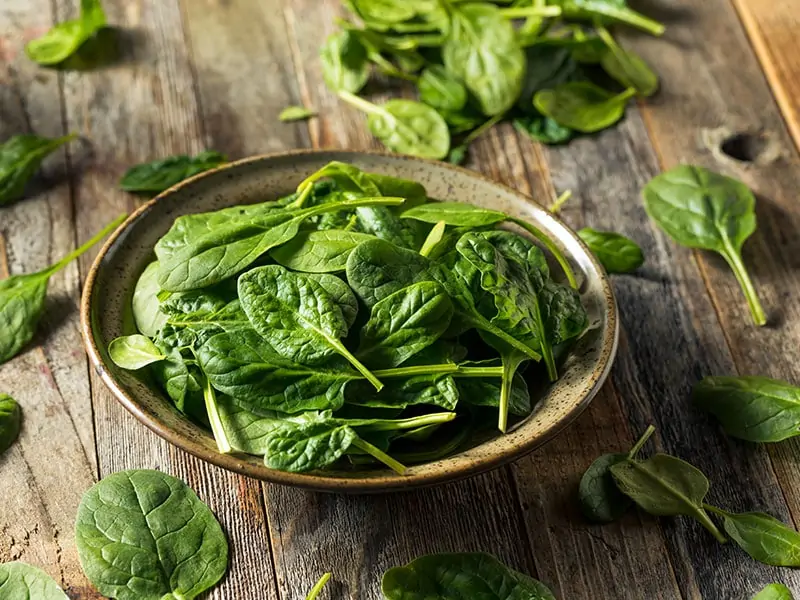 Spinach is a healthy leaf vegetable that originated in West Asia. They are close relatives of beets and quinoa.
Once a little-known vegetable, spinach gained worldwide popularity thanks to its feature in the famous comic Popeye the Sailor Man as it is claimed to make him buff and healthy. And the comic did not blow up its efficiency, spinach is indeed a rich source of iron and calcium.
Spinach can be enjoyed both raw and cooked. Raw spinach is blended and made into a detox smoothie or mixed with other vegetables to make a salad. Spinach is also boiled, steamed, roasted, and prepared in many creative ways.
While you may enjoy the fresh taste of raw spinach, it is recommended to eat them when fully cooked to absorb all the iron and calcium the vegetables offer.
Meat & Seafood That Starts With S
Of course there are a lot of awesome meat and seafood dishes that begin with S, and they are a great source of protein and nutrients.
21. Sardine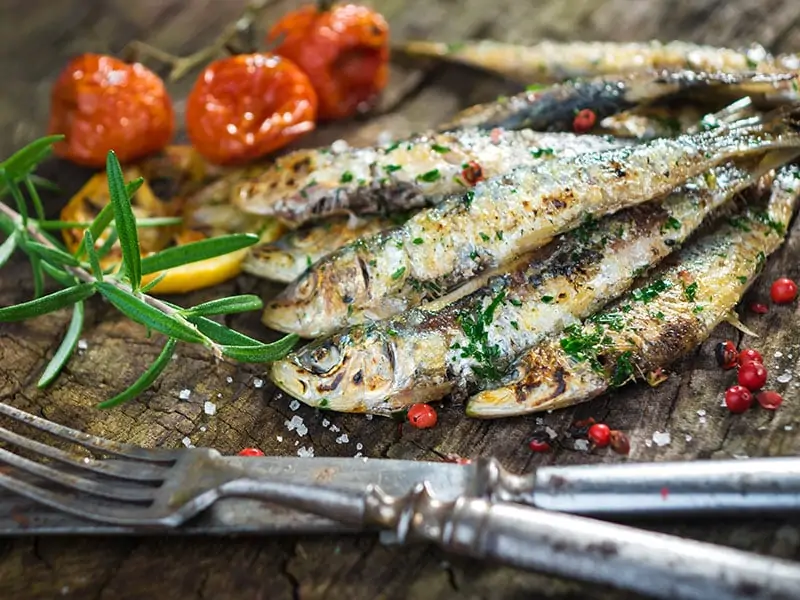 Sardines are a group of species of relatively small, silver fishes that live in large schools in the sea. The fish is used primarily for human consumption and is a classic food in Sardinian cuisine. Fresh sardines are directly grilled or dried, smoked, and most frequently, canned for preservation.
Sardines are prized for the tremendous health benefits it brings to people. Naturally rich in omega-3 fatty acid and loaded with essential nutrients, the fish is sought after as a perfect choice for keto or Paleo diets and recommended for pregnant women and children.
The fish has a salty taste with a soft and chewy texture, and they can be prepared in various ways, such as topped on pizzas, filled in tacos, or mixed into pasta. Once you try the canned sardines, you will crave more!
22. Scallop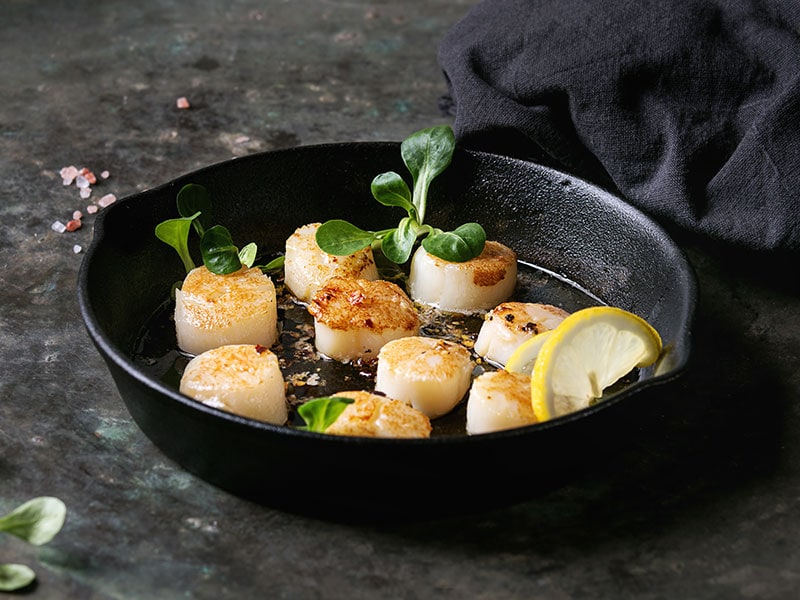 Scallops is the common name for a group of species of saltwater clams. In culinary uses, it is specifically referred to as the meat inside the shell, which resembles a chunk of cross-sectioned radish.
Scallop meat is white, firm, and juicy, with a fresh briny taste that is reminiscent of the sea. It is used to make various delicious tasting dishes. Scallops can be enjoyed raw, thinly sliced, and served as a part of a sashimi assortment or sushi.
They are also baked, grilled, pan-seared, and served with garlic butter sauce and lemon juice. Scallops can be the centerpiece of a fancy dinner, and enjoying it with a glass of white champagne is the real delight.
Shabu-shabu is a savory Japanese-styled hot pot that includes thinly sliced meat and various types of vegetables cooked in water or stock and dipped in soy sauce or sesame seed-based sauce.
The name shabu-shabu is actually from the sound "swish wish" of boiling water in the pot.
Traditionally, beef is the major meat, sometimes high-end versions like wagyu beef are also included, along with chicken and seafood.
For vegetables, tofu, Chinese cabbages, mushrooms, carrots, and commonly used ingredients for hot pot are included. In some places, traditional Japanese foods such as udon, mochi are served along with it.
If you have the chance to travel to Japan, do not forget to enjoy this hot pot to experience the soul of Japanese cuisines.
There is nothing better than a hot pot of shabu-shabu on winter days. Let's try to cook it, and it will warm your body up.
Sashimi is unarguably the most famous delicacy of Japanese cuisine. It consists of raw seafood and meat cut into thin slices and dipped with soy sauce and heat ingredients such as wasabi and finely grated ginger roots.
The dish is world-renowned for its freshness and uniqueness. Japanese chefs consider it the most refined food for formal dining occasions, and it is not exaggerating to say that both preparation and serving are the performance of art.
And contrary to people's thinking, raw meat and seafood do not taste bad or stinky at all, because sashimi is essentially made from high-quality meat and served chilled. The pungency of heat ingredients also alleviates any odors present in the meat.
Visitors to Japan should not miss out on the opportunity to enjoy this dish. Once you have a taste of novelty and see the whole exquisite process of making sashimi, you will be amazed!
Sushi is a traditional Japanese dish containing vinegared rice paired with slices of raw seafood, meat, and vegetables. What differentiates it from a similar raw meat dish named sashimi is the presence of rice wrapped in nori or Japanese roasted seaweed sheets.
Since each type of sushi can have different ingredients, the answer to whether your favorite sushi is free of gluten or vegan-friendly is constantly changing. So, you'd better examine the ingredients in every sushi before eating.
Seafood commonly served in a sushi platter is squid, eel, salmon, tuna, and imitation crab meat. A bowl of soy sauce, pickled ginger, and wasabi are served on the side as a dipping sauce. As a main course dish, presentation and eating etiquette are strictly followed.
Sukiyaki is another Japanese-style hot pot, where thinly sliced beef and vegetables are cooked in a broth ( usually a mixture of soy sauce, sugar, and mirin, Japanese traditional liquor) and dipped in a bowl of well-beaten raw egg.
Plenty of vegetables are served along with beef, such as tofu, Chinese cabbage, leafy vegetables, mushroom, etc. Wheat dishes such as udon and mochi are also served at the end of the meal.
Sukiyaki is sometimes considered the sweet equivalent of shabu-shabu, as the broth is full of umami-ness and sweetness. It is generally a winter dish and is usually enjoyed at a Japanese year-end party.
Sosatie is an iconic South African dish featuring meat cooked on skewers. Lambs and muttons are cut into bite-sized chunks and marinated overnight in a concoction made from tamarind juice, fried onion, chilies, garlic, and curry leaves.
Other ingredients such as red onions, peppers, prunes, and dried apricots are skewed between pieces to increase diversity and enhance the general flavors. Skewers are most commonly cooked in a barbecue-style or grilled and pan-fried.
Another food starting with S is suya, which is the West Africa equivalent of sosatie. What makes the difference in suya is the marinade sauce, which usually includes peanut cake, salt, vegetable oil, and various spices. Suya is usually served with Jollof rice.
28. Sea Urchin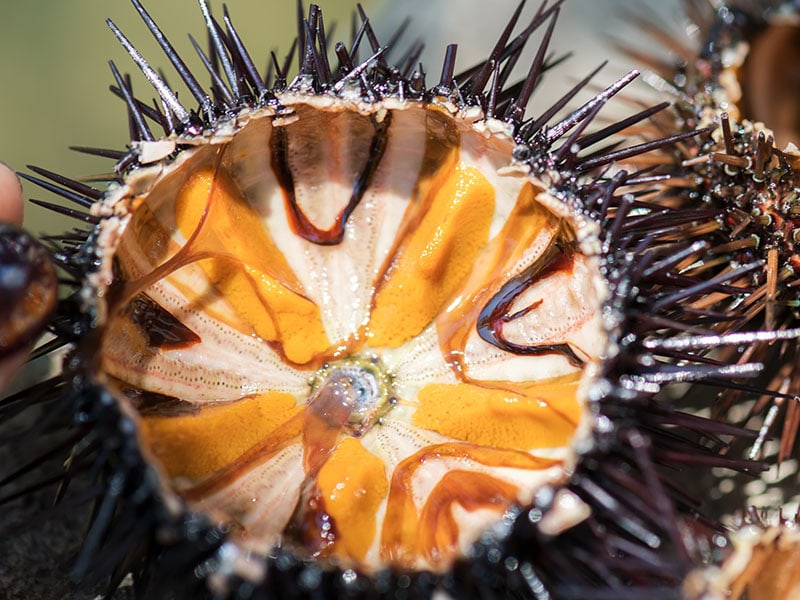 Sea urchin is a sea animal that resembles a spiky ball and is sometimes called sea hedgehogs. The edible part is contained within the shell.
As a delicacy, sea urchins are served in the main course of a fancy dinner, and its exquisite flavors are worth the bucks. Sea urchin's taste is full of umami-ness and flavors of the ocean. The flesh is soaked in lemon juice and served raw like Japanese sashimi.
29. Sea Cucumber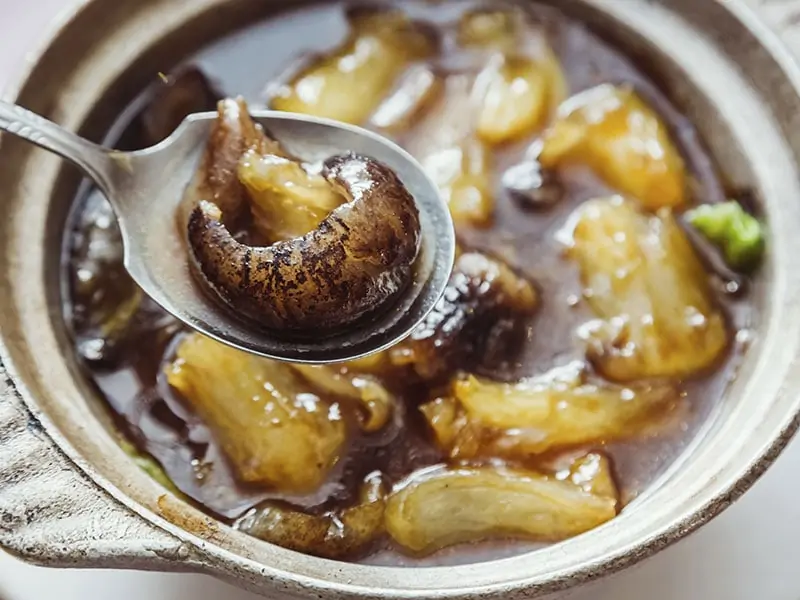 Sea cucumber is a marine species that has dark leathery skin and an elongated body that resembles a cucumber, a type of vegetable. They are found on the seafloor in places all around the world.
In culinary use, sea cucumber can be eaten raw, boiled, pickled, fried, or stewed in soup. It is considered a delicacy in Asian cuisines and served with various vegetables like Chinese cabbage, kale, and mushrooms.
Snacks & Desserts That Start With S
Desserts are a must-have to finish a perfect meal properly, and you should also stock some snacks in the kitchen cupboard to munch on in case late night appetite comes.
Summer is around the corner, and it's the perfect time to enjoy sherbet, the ultimate summer treat. Sherbet is iced water flavored with syrup, fruit juice, wine, liquor or honey. Milk or buttermilk are added to increase the smooth and creamy consistency.
You can make refreshing homemade sherbet with various fruits like raspberry, strawberry, oranges, etc to your liking and served on a plate with chocolates, grated nuts and pieces of fresh fruits.
Semifreddo is a class of frozen desserts that are featured in Italian cuisine. Main ingredients include egg yolk, sugar, and cream, and depending on the recipes, fruits, nuts, and chocolate are called for both for garnishing and taste.
Semifreddo is a fancy dessert that is no less beautiful than those made by award-winning pastry chefs in high-end restaurants. It is quite similar to mousse inconsistency. This dessert is sure to satisfy the taste buds of any sweet tooth.
Sacher torte is an Austrian-originated chocolate cake and is renowned as one of the most famous specialties representative of Viennese cuisine.
The cake includes layers of soft, fluffy chocolate sponge cake filled with red-brown apricot jam, and finished off with chocolate icing. A dollop of unsweetened whipped cream is served on the side to complement the beautiful look and decadent taste.
Another interesting fact is that The 5th of December is the National Sachetoret day in the US when people celebrate by enjoying this dessert.
No camping trips are fulfilled if you don't stack some s'mores in your backpack. Melted marshmallow with sweet and bitter chocolate sandwiched in a pair of Graham crackers, who can resist all the goodness combined in one treat?
S'more has long been a popular and favored snack. People gather around the flickering, cozy campfire, have a casual chat, and prepare s'mores together. If you don't know, s'more is the extraction of "some more", suggesting how delicious and irresistible it is.
Other Foods
Last but not least, I would like to introduce some other types of foods; they are all worthy inclusions in your meal.
Mexican food lovers are familiar with sincronizada, the Mexican-styled sandwich which is made of tortilla filled with ham, fried beans, chorizo, and cheese. It is toasted or lightly fried until the cheese melts and served warm with salsa sauces.
It is usually mistaken as quesadillas due to the striking resemblance in look. However, quesadillas do not require ham as the filling, and its tortillas are made from masa harina, or cornflour. Sincronizada makes a fulfilling breakfast or a perfect snack for late night.
Soba noodle is a Japanese traditional noodle made from buckwheat and used as the major ingredient in various dishes.
The noodles are served either hot or cold in the dish. Cold cooked noodle is enjoyed as a dish in its own right, usually topped with sesame seeds, grated radish, etc, and dipped with soy sauce and mirin. Cold dishes are commonplace in the summer.
Hot soba noodle dishes usually refer to noodle soups, in which soba noodles are poured over with hot broth, and served with various toppings.
Soba has some nutrients that are not present in other grains like white rice and wheat flour, so the noodles can make a wholesome supplement to daily meals.
36. Swiss Cheese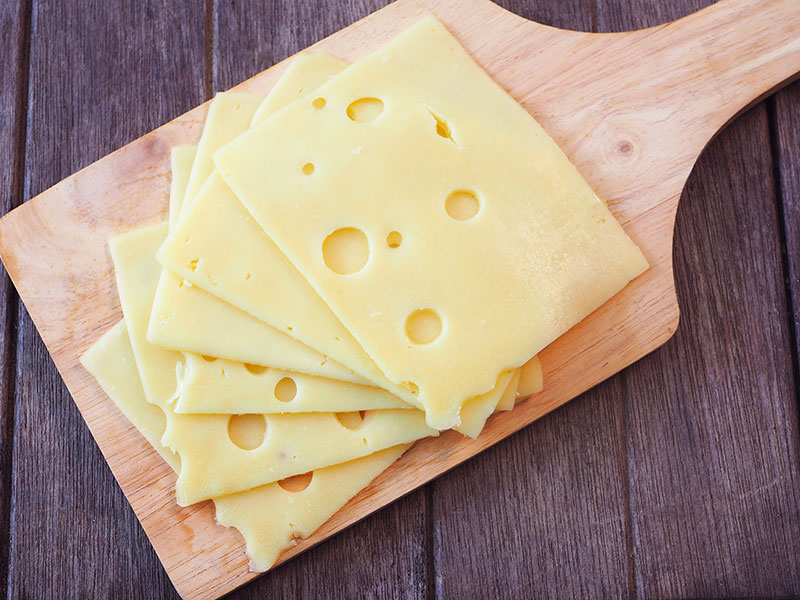 Swiss cheese is the common name for all varieties of cheese that is yellow, hard, or semi-hard, regardless of its origin or place of manufacture.
The name Swiss cheese actually refers to the similar look of Emmental cheese, a type of cheese that originated in Switzerland.
All are essentially made from cow milk, pasteurized or raw milk can be used depending on the place of manufacture. A block of Swiss cheese can be smooth in texture or carved with holes. If you remember, the cheese full of holes in the Tom and Jerry series is Swiss cheese.
Some notable Swiss cheese varieties are Gruyere and Appenzeller. Swiss cheese generally has a mild and nutty flavor. Interestingly, the larger the holes are, the more pronounced flavors the cheese carries.
Salmorejo is a Spanish soup or sauce made of pureed tomatoes, bread, garlic, salt, and olive oil. It is orange-red in color, extremely smooth, and creamy. The puree is served cold and sometimes garnished with Spanish ham (Jamon) or topped with a diced hard-boiled egg.
It makes the perfect choice for a fulfilling and hearty meal, either served as a starter or main course for dinner or lunch.
Include These Foods In Your Meal From Today
As a person full of curiosity, I am always excited to make and try new foods. There is an unnamed joy that no words can describe when you much on delicious food and feel like you are getting closer to foreign cultures.
As I have introduced to you a wide variety of food starting with S, hopefully, new inspirations strike and encourage you to swap to a more versatile and interesting meal.
I hope you find this post interesting and you can use it to your benefit. If you know any wholesome and unique food that starts with the letter S, don't hesitate to introduce it in the comment section.
And don't forget to share this post with your friends and family, they are gonna be thrilled!