In this article, you can easily learn which other herbs and spices you could use as a substitute for sage. It is often the little things that make the difference, and while you paid attention to have enough meat, whipping cream, and or even coconut milk at home, you might have to discover that you are out of sage.
No worries, despite its unique and special flavor that sage adds to meals, it is easily substitutable with things that you more likely have at home. Thanks to my long-range of cooking experience, I can share with you my knowledge about the Salvia officinalis plant, which is its correct botanical name.
Browse through this article and learn everything about this herb, how its flavors are best used, and most importantly, which other herbs you can take instead.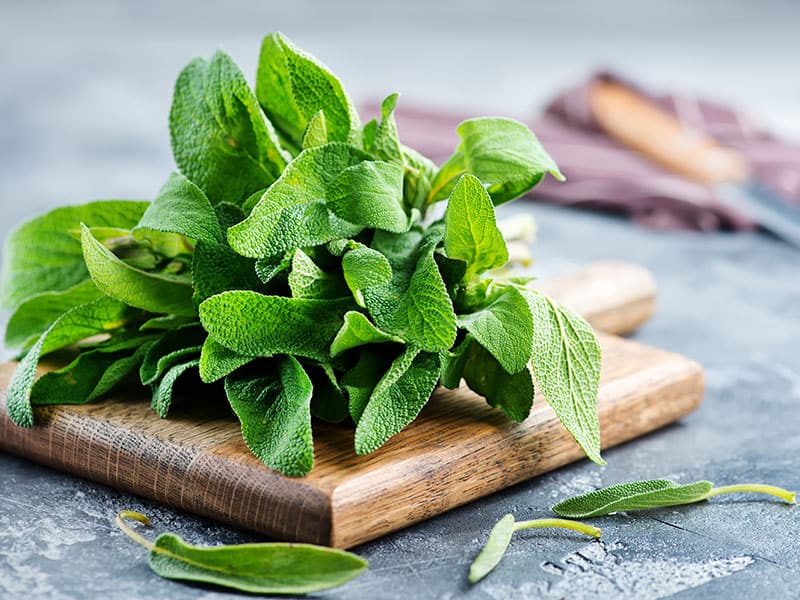 Everything You Need To Know About Sage
Maybe you have actually, until now, never heard of that word at all. To begin with, sage is a plant that belongs to the mint family. It is not too much different from other commonly used herbs such as rosemary, lemon balm, basil, oregano, marjoram, or thyme.
In contrast to those, however, sage has a more bitter taste with a subtle note of sweetness. Being kind of a backbone spice in the Mediterranean, especially Italian dishes, it adds hints of eucalyptus, pine, and lemon to dishes.
Another reason why it is so popular is the fact that it can be given to a huge variety of dishes, for example to simple pasta sauces, chicken or pork marinara, as well as soups and stuffing. For example, you will find sage in many recipes for the Thanksgiving or Christmas turkey, but it can also be used to refine dishes such as Ratatouille.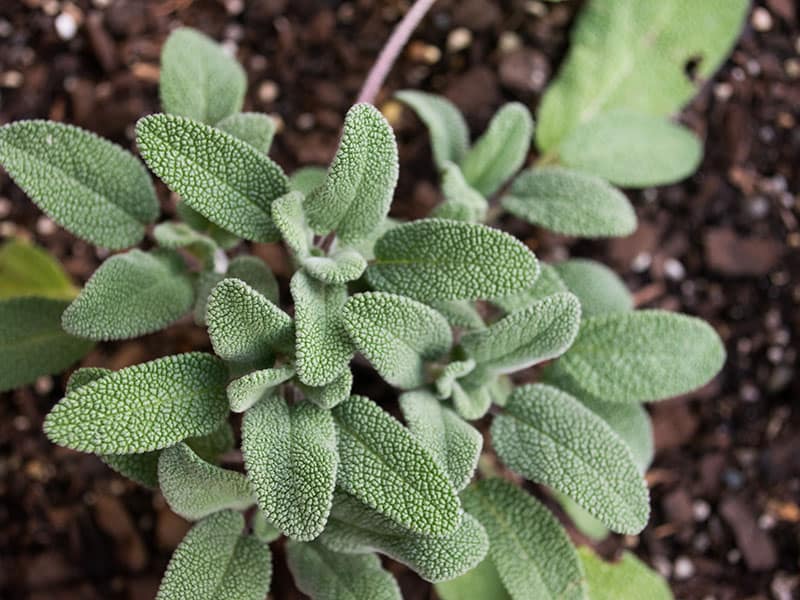 The Greatest Benefits Of Sage
One of the reasons why sage is found in many recipes is the biological specification of the sage leaves. Despite them being soft, they can withstand high temperatures, which means that all flavors are retained during cooking.
Hence, sage can be added to sauces or used to marinate raw meat as it will survive the grilling process, providing an excellent taste experience.
Furthermore, according to ancient Greek and Egyptian medicine, the frequent consumption of sage contributes to better health. In particular, it should support digestion and will prevent flatulence or even bloating and is, therefore, a great spice to accompany heavy meals.
The Best Sage Substitutes
After you have learned the benefits of sage, take a look at what else from your spice shelf you can use to substitute it, in case you do not have it or simply do not want to spend money on it just because of one recipe.
Method 1: Thyme
As previously mentioned above, thyme is another herbal plant from the same family as sage and has many similarities. In terms of the flavors you can get from thyme, you'll find that it can add bitter and sweet flavor to meals and is a very nice spice for meat, vegetables, and potatoes.
Being equally popular in Mediterranean cuisine, it is a good and safe alternative to sage. Despite that, if you do not make it very careful, both plants actually look similar, so it has happened that people by mistake chose the wrong plant when shopping for their home herb bed.
Dose: Substitute with equal amounts to sage. So, take the same amount of thyme as if you were to use sage.
Method 2: Marjoram
An equally good alternative to sage is marjoram. Its flavor is pretty similar, which explains why sage can also be used as an ingredient to substitute marjoram in various recipes. However, bear in mind that marjoram's citrus note is slightly stronger than sage.
Therefore, if your recipe, for example, also wants you to add some lime or lemon juice, be more careful with that to not overload it with a lemon taste.
Also, you have to pay attention to the fact that, unlike sage, marjoram cannot withstand hot temperatures as well, which means that I recommend adding this herb rather at the end of the cooking process. Hence, it is not suitable to marinate meat.
Dose: As the intensity of marjoram is similar to sage, you can substitute in equal amounts.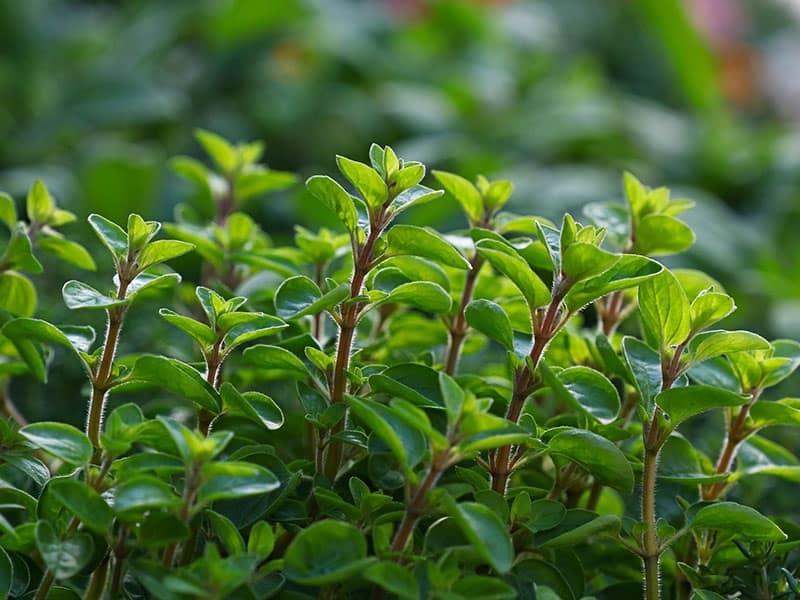 Methd 3: Oregano
Many people know this herb as the primary pizza spice, as it is often used to garnish a Margherita. This has a reason as a pizza with no or fewer toppings is rather weak in taste, and the strong oregano will spice up that meal.
Despite the more dominant flavor, it can be used to substitute sage, but it will not lead to a fully identical taste. For this reason, you need to try and taste more during the cooking process to make sure you will land where you wanted to.
Many people are actually very familiar with the combination of tomatoes and oregano; hence it is a great alternative to sage for Italian dishes such as pasta variations, paninis, or Aperitivo snacks.
Anyone who's somewhat familiar with oregano probably know that it's often compared to thyme. You'll need to compare thyme and oregano side-by-side to know whether which one is better for you if you're not sure which one to use as a substitute for sage in your recipes.
Dose: In general, you can use it in equal amounts to sage. However, as it is slightly more dominant, I recommend using a little less first and then add more after tasting your meal to avoid spicing over.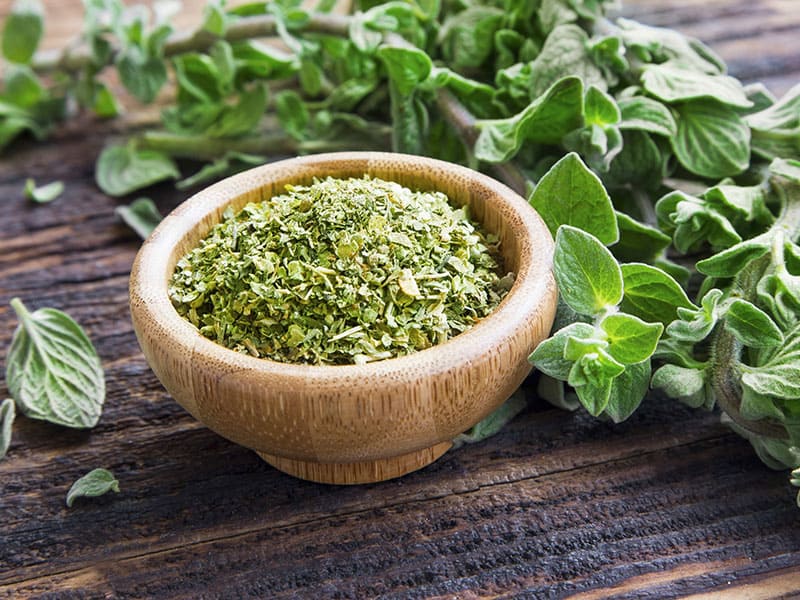 Method 4: Rosemary
Rosemary is one of the finest and also most expensive Mediterranean herbs. As it is a lot stronger than most other herbs of this family, it is often used in much smaller quantities and hence offsets the higher cost.
Biting into rosemary, you will notice a note of wood, pine, a little bit of citrus, and noticeable pepper. It is often used with baked potatoes but also works great on steak, grilled spareribs, grilled vegetables, as well as in creamy soups. For all those types of dishes, you can perfectly exchange sage with rosemary.
Dose: As mentioned, rosemary is a lot more intense, and you will most likely need only 1/3 of the amount of sage to achieve a similar savor.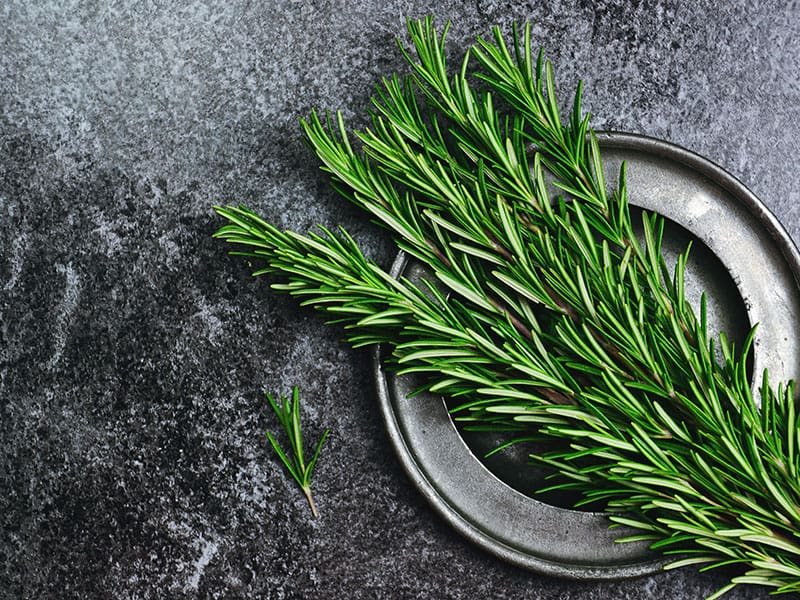 Method 5: Sweet Basil
I might lean a bit far out, but basil is probably the most commonly known herb of the Mediterranean mint family. Being widely used on pizza to garnish pasta dishes, as well as in pesto sauces, it is a key ingredient of Italian dishes.
On the other hand, it is not as close to sage as the herbs mentioned above, which makes it a little more difficult to use as a substitution. With its subtle lines of mint and sweet pepper notes, it will be perfect to use for various pasta sauces and noodle dishes.
When it comes to basil, you may find it in fresh and dried forms. Although there are quite a few differences between fresh and dried basil, you can use both to substitute sage. In fact, you can utilize a few tips to dry basil with the oven so that you can always have aromatic herbs in your kitchen.
Dose: Working with basil is very simple as it can be exchanged in the same amount as if you were to cook with sage.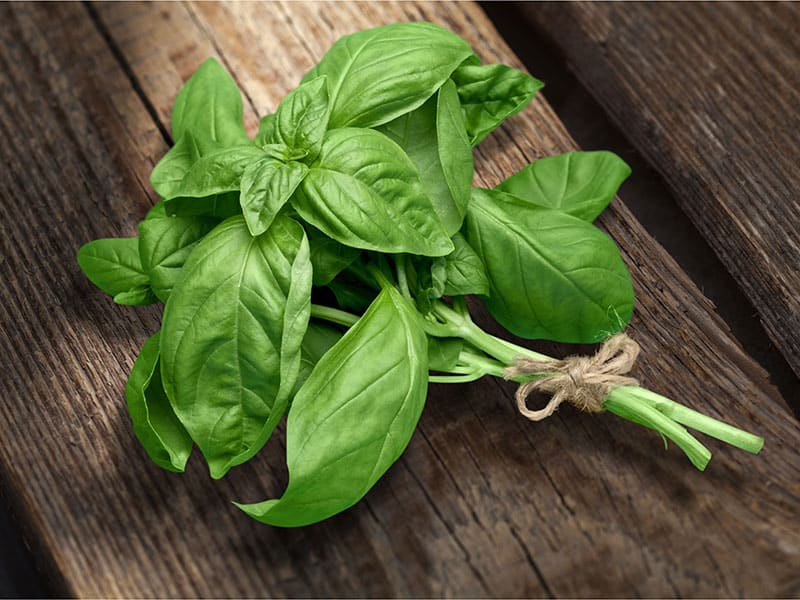 Method 6: Savory
You maybe wonder why savory was not mentioned as another member of the mint family at the beginning of this article. Well, simply because it is, in fact, not a member of that botanical group.
However, it is considered to be the Canadian equivalent to the Mediterranean sage plant. If you do not want to invest in a large selection of different herbs, savory is making it very convenient for you as it provides notes of mint, thyme, and marjoram all in one herb.
Whereas real sage is not able to cope with a frosty winter climate, the Canadian savory actually has variants that adapted to the strong, Canadian winters, which are conveniently called winter savory.
Both summer and savory winter work well as a sage substitute, although I must mention that winter sage has a more bitter taste, so use this one more thought.
Dose: You can exchange sage with summer savory in equal amounts and winter savory with a little less if you do not like the bitter taste.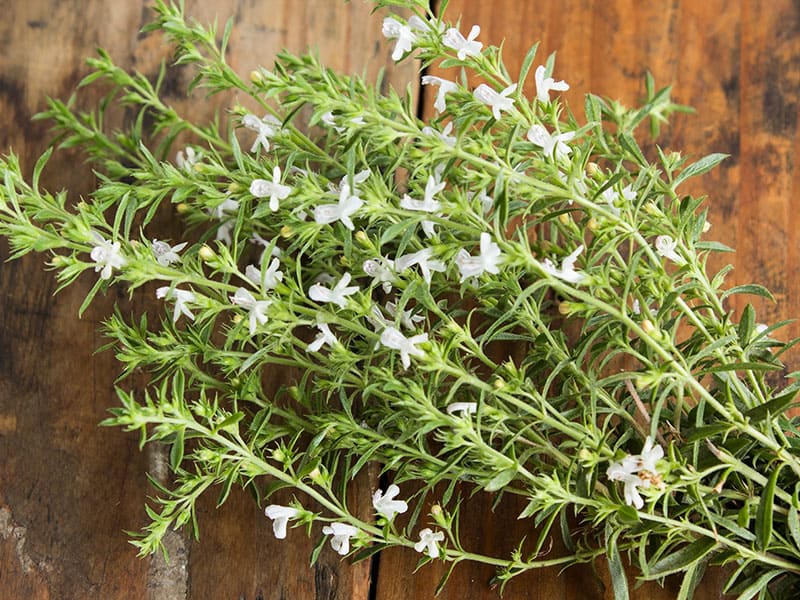 Method 7: Mint
All the time, I was presenting to you other members of the mint family, and you may already wonder why I have not mentioned mint itself until now. Your thoughts are indeed justified, as mint can, in some cases, also work well as an alternative to sage.
However, mint is often used in combination with something sweet, such as cocktails, ice cream, desserts, or chocolate. So, despite being related to sage, it may not always be an appropriate replacement as people do not associate savory dishes with mint.
On the other hand, spicing up lighter dishes such as a sauce, a soup or salad dressings, mint can create a wonderful taste, and if used in the right amounts, nobody will miss sage in your meal. Also ideal as a coriander stand-in, mint is one of the most versatile herbs in the kitchen.
When opting for mint as a sage substitute, make sure that you don't accidentally grab basil instead. Despite the clear dissimilarities between basil and mint, some people still confuse the two due to their somewhat similar appearance. So be careful.
Dose: Be more careful and start with half the amount of sage. Then, step by step, add a little more until you are satisfied with the taste.
Method 8: Spice Mixes
If you do not have any of the ones above at home, check your inventory for spice mixes. Some mixtures, such as chicken spices or pizza spices, contain a well-balanced blend of thyme, marjoram, oregano, and sometimes also mint, rosemary, and even sage.
Hence, a good spice mix can also be a great alternative to sage as well and depending on your recipe, and it will substitute not only sage but also other herbs and spices. To use spice mixes the right way, scan the ingredients list to get an overview of what flavors are included.
Then, check your recipe on what spices it suggests you add and make sure you are not using anything double. My advice here is to add it in steps and always taste your food in between.
Using Fresh Vs. Dried Spices
Believe it or not, but there is a strong debate among cooking enthusiasts whether to use fresh herbs or dried spices. Many people state that fresh herbs provide a cleaner and more intensive taste.
This is, however, not always true as dried herbs often are higher concentrated as they do not contain any more water in the leaves that can dilute their flavors. Hence, when using dried spices, I would always use only one-third of the number of fresh herbs.
Another major benefit of dried spices is their long shelf life. As they often come in glasses, you can store them for about one year. This is very practical, as, unlike salt and pepper, other spices are not as frequently used, and considering their high price, it would be a pity to have them go to waste.
One point that dried spices, however, cannot win is their attractivity. Especially when you want to garnish a dish, you have to use fresh herbs as this will make every plate look much more appealing. Think of how beautiful fresh basil leaves look, and you cannot replace that with a dried herb.
FAQs Regarding Sage and Other Herbs
Just in case the article did not provide you with enough information about sage and its friends, give a look at the FAQ section, where you might learn something more.
Expectation Vs. Reality
As the old saying goes, many ways lead to Rome, which means that there is never just one way to achieve something. Therefore, be passionate to explore and experiment a little while cooking to learn about all those different herbs and their effects on your meals.
In addition to trying out new variations, you can also join a cooking class where you learn more about ingredients and can get inspired about how to combine them,
Sage has its unique taste but can also easily be substituted. Depending on what you are cooking, there are some herbs that are more suitable than others. However, in the end, it is important that you like it and if you have already started cooking, you anyway have to live with what you had.
Let me know which herb is your favorite substitute, and drop the other readers and me a comment. Good Luck!