How to store parsley might be a simple question, but not everyone has a suitable answer for that question.
Like other green leaves, parsley offers a lot of health benefits. Besides having low calories and high antioxidants, some studies even show that they strengthen your bones and improve heart health. (1)
However, parsley is very susceptible to spoilage if you are not storing them the right way. And not every time you'll have some parsley stand-ins right in your kitchen. So, below I will suggest some practical ways to keep your parsley longer. So, keep scrolling!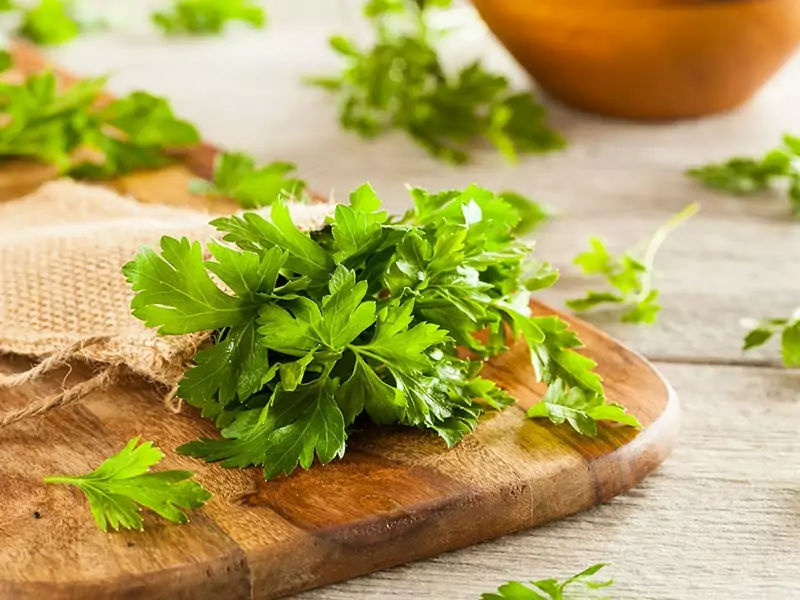 So, How To Store Parsley Effectively?
How to store parsley in your kitchen is a common question with many answers. But which ones are truly effective? Therefore, I will suggest to you 5 methods to save your parsley.
In the cool compartment of the refrigerator
In the freezer
At room temperature
Drying parsley
Making parsley butter
But before storing, you should know how to have fresh, clean, and healthy parsley for your pantry. Let me share with you some useful kitchen tips.
How To Choose Fresh Parsley?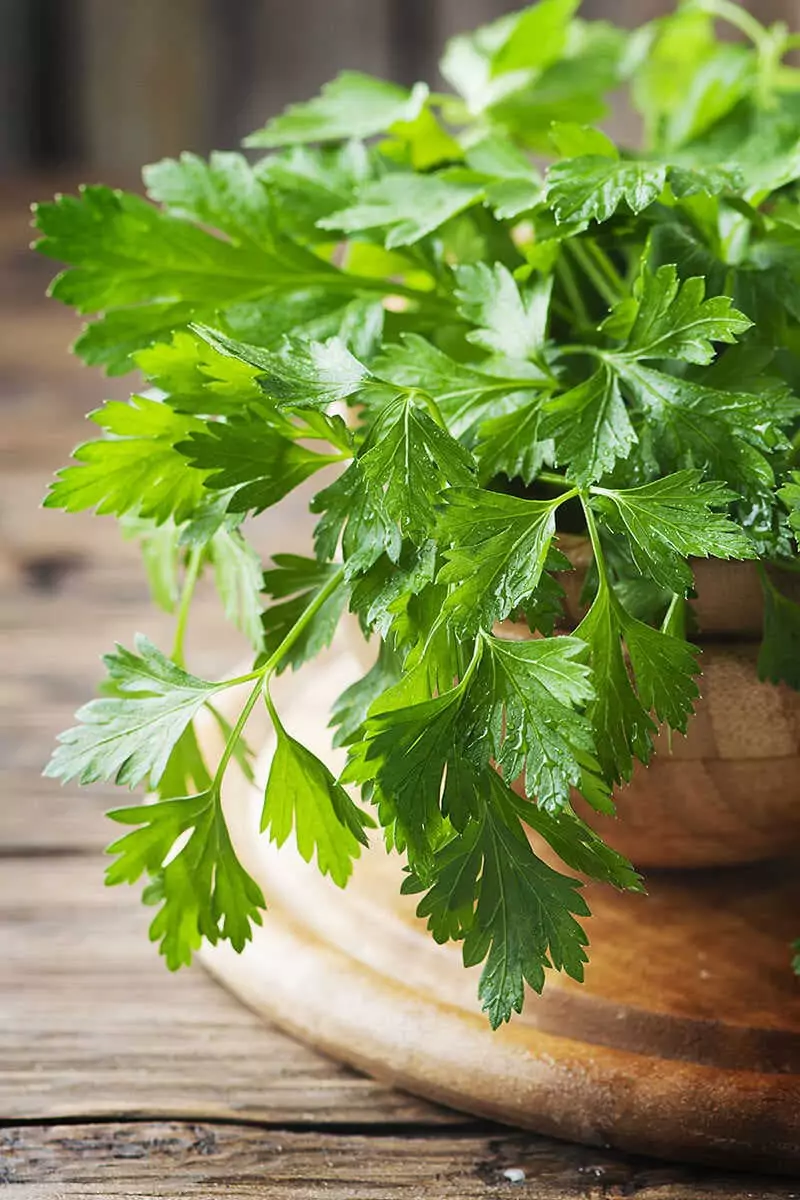 It is not very difficult to buy fresh parsley at any market around you. Below are some tips to have fresh parsley in your kitchen:
It would be best if you see whether their leaves are wilted or have turned yellow. It is best to choose parsley bunches that have lots of green leaves and are not wilted.
You can check the fragrance when choosing parsley to buy. If it has weird smells, such as chemical smells, then you better pick other bags.
If you have a chance, you can select the bunches with roots. Parsley is relatively easy to grow. So, you can choose to plant them with left-over roots or seeds. If you can grow your own, you can be sure that your parsley is clean, fresh, and healthy as well.
General Preparatory Steps For Store Parsley:
After taking your parsley home from the market or harvesting them in your garden, you always need to do some preparatory steps before choosing a way to store them. Either you want to make butter or just put them into the cool compartment, you should first follow these steps:
Step 1: Rinse Your Parsley
No matter how to store your parsley, the first step should always be washing. Not only to remove the dirt, take off the harmful insects on the stems of leaves, but it can also help you to hydrate them enough before storing them.
And one more reason for the washing step is that you might not want to rinse your parsley once again after taking them out of the refrigerator, which is not convenient.
Step 2: Let Them Dry
After rinsing the parsley, you have to dry them off. If you have some well-trusted salad spinners, you can use them. Or get paper towels to gently blot the droplets out of the leaves or stems gently.
Another choice is to put them in baskets and dry them in the sunlight or in a well-ventilated place.
Washing parsley will be extremely easy when you follow these steps.
Reveal How To Store Parsley Step-By-Step:
Now, let's move to the 5 most effective ways based mainly on the kitchen storing equipment or utensils for that method. From there, you can freely choose which one to apply to your kitchen.
#1: Store In The Cool Compartment Of The Refrigerator
The cool compartment or vegetable drawer of your refrigerator is one of the most commonly used places to store parsley and other kinds of vegetables. And with this place, I suggest 2 methods to keep your fresh parsley available at any time.
Using Fabric Towels
Fabric towels are easily found in your kitchen and using reusable fabric towels can help you to reduce plastic waste
Step 1: Wet Your Towels.
Choose a clean, absorbent cotton kitchen towel in your house with an appropriate size.
Wet your towel with cool water and squeeze it out as much as possible. The qualified towel to use is only slightly damp.
Step 2: Wrap The Parsley Up.
Spread your kitchen towels on the counter or a flat surface.
Place your fresh parsley in the center of the towels, wrap the towels gently around your parsley and place them in the vegetable drawers.
Step 3: Change The Towels.
Replace the towels with other ones once a week. If not, your parsley might be wilted quickly.
Note:
This way can be applied to both delicate herbs like parsley or hardy herbs like rosemary. You just need to remember to put the delicate herbs and hardy herbs in separate towels.
This method can help you to keep your delicate or softer herbs stay fresh for up to 2 weeks, and hardy herbs can last for 3 weeks or a month.
You can also use absorbent paper towels instead.
Benefit:
All the vegetables in the drawer will be hydrated too and can also be fresh longer.
You can use this way to store both delicate and hardy herbs.
Using Ziploc Bags
This easy method can help you keep your parsley fresh for up to 1,5 weeks, and it can either be used to store other hardy or soft herbs. :
Put your fresh parsley into a clean Ziploc bag.
Partly squeeze the air in the bags out and close it.
Notes:
You should keep the stems of the parsley as the nutrition left in the stems can still keep the leaves stay green and moisturize them so that the leaves can stay fresh longer.
Also, you need to put your patches on top of the other things in the fridge so that your parsley leaves won't be crushed.
You shouldn't mix the new with the old ones because the old wilted leaves might affect the fresh leaves and make them spoil faster.
You better find the environmental-friendly plastic Ziploc bags because you have to use many bags if using this way.
This is a recommended method to store parsley within a minute. Watch this video:
#2: How To Store Parsley In The Freezer
You might wonder how we can store soft leaf herbs like parsley in the freezer. Yes you can. Freezing your parsley might help you keep them fresh and ready to use for up to 1 month.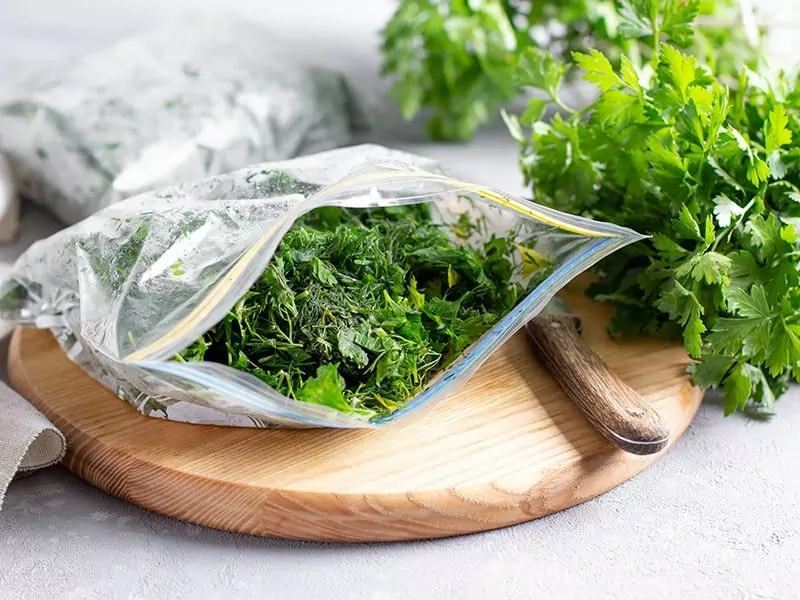 Step 1: Another Preparatory Step
After rinsing and drying in the general preparatory steps, you can prepare in whatever form you want to use when you take them out of the freezer.
For example, if you want to use the parsley leaves, you should take the leaves out of the stem. Or you want to use the chopped stems; you should chop them up before putting them in the freezer.
Step 2: Wrap Or Spread.
In this step, I will separate it into 2 more minor ways.
Spread Them Out.
Spread them out evenly so they won't stick to the others on wax paper or any replacement of it that you can find like paper towel or parchment paper. It's all up to you.
Put the towel, sheet, etc., on a baking tray and put it in the freezer for up to 24 hours until your parsley freezes out.
Take the parsley out of the tray and now you don't need to use your paper or towel anymore.
Put the parsley into a Ziploc bag or a container specially designed for the freezer. And freeze it. This way can help you to keep your parsley usable for up to a month.
Wrap Them Up.
Wrap your parsley around with an absorbent paper towel and put them right into the Ziploc bags or containers.
If you want to store your hardy herbs this way and think they are a little too dry, you can keep your paper towels slightly damp to moisten the herbs inside the bags or containers.
Notes:
This method is specially used to store parsley, and maybe the other kinds such as cilantro, chives, or green onion, etc.
Put the bags in the front near the door, far off the fridge fan, because when the temperature goes so low, it can make your parsley leaves change color and wilted.
There are many high-quality vegetable containers on the market to get your research and use them. It can help you to save plastic bags.
Step-by-step instructions: How to store parsley in the freezer.
#3: Preserve Your Parsley At Room Temperature.
Treat your parsley like flowers because you will not leave your flowers in the refrigerator, right? And yes, this way is used explicitly with many kinds of delicate herbs, typically parsley.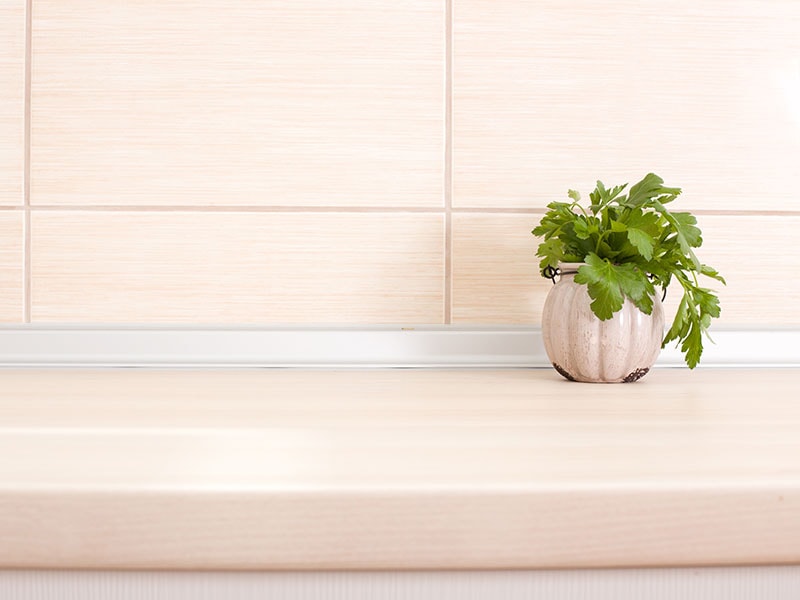 This is also the simplest way among all the ways I have recommended to you since the beginning.
Trim 1-2 cm off the stem to help your parsley absorb the water better.
Prepare a small cup or Masson jar partially filled with water.
Put in your bouquet of parsley.
Put your cup on the counter or in an open-air place; your kitchen counter is a perfect place.
Whenever you need to use them for food, trim them right on the cup. This method can help to keep your fresh parsley available for up to a week on your kitchen counter. And how relaxing it is to see something green while cooking or preparing your meals, isn't it?
Note:
You need to remember only 2 things which are changing the water in the cup if you see the watercolor changing and leaving as much stem as possible.
#4: Make Your Homemade Dried Parsley
Like other methods, you have to complete all the preparatory steps before going to the drying process.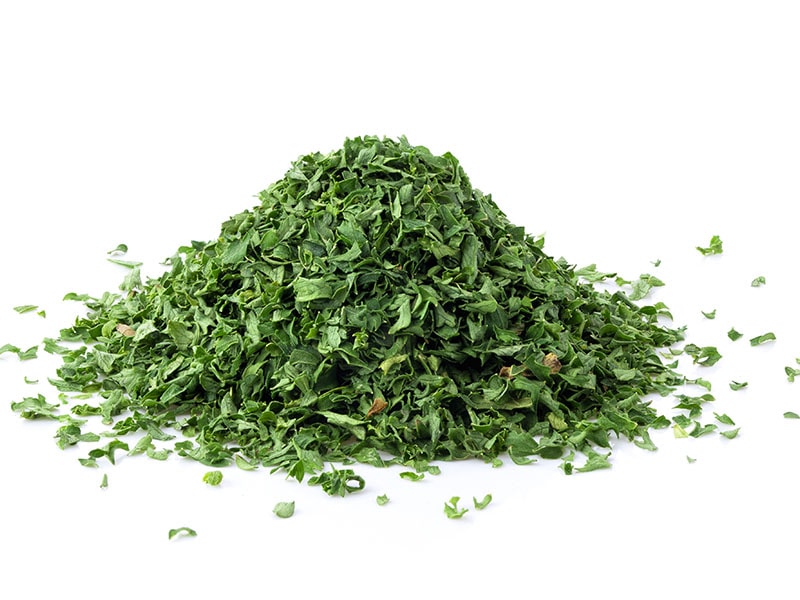 Remember to preheat your oven to 350 degrees F or 180 degrees C.
Take off the leaves one by one by hand. Choose the fully matured leaves and throw the turning yellow or discolored leaves away.
(Sometimes, you can see some white spots under the leaves or leaves with different shades of green, they are still okay to be used).
Spread the leaves on a parchment-lined baking sheet. If you don't have parchment, you can find some other alternatives for parchment paper that are oven-safe. Never put your parsley leaves directly on the baking sheet as it'll quickly burn under high heat.
Make sure you are not overlapping them. Overlapping can make the leaves won't dry and have to dry them again.
Before putting the parsley in the oven, turn the oven temperature down to 170 degrees F or 75 degrees C.
Place the baking tray or sheet in the oven and let it bake for 20 minutes.
After 20 minutes, place the sheet on a cooling rack and let them cool down.
After a few minutes, try to break them up by hand. The leaves should crumble between your fingers.
(If they are not as crumbling as they should be, then there is still a lot of moisture inside the leaves. In this case, you have to do those steps above once again. This time, you should bake your leaves for only 10 minutes, not 20.)
Put your final products in a jar, and you can store your dried parsley for up to a year in your cupboard.
Note:
With the stems that are not used, you can keep those clean and put them in the freezer for further use or make the vegetable stock with it.
Remember to check for the mold before use.
Step-by-step to make your homemade dried parsley.
#5: Making Parsley Butter Like A Chef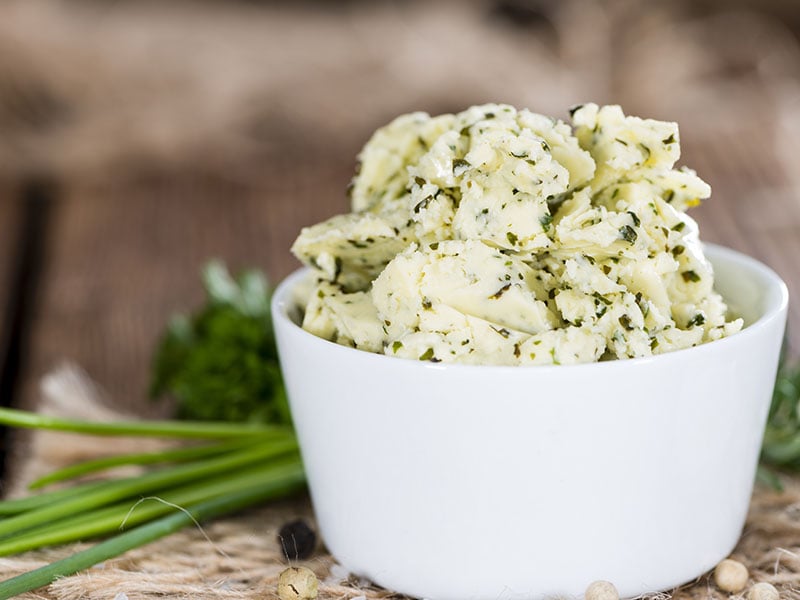 Have you ever heard about herb butter? This is one of the common ways that the chefs use to either add flavor to their butter and store their parsley. I will guide you on how to make parsley butter like a chef.
With this method, you need to prepare:
55 grams of softened room temperature butter.
( Your butter should be taken out of the refrigerator and be at room temperature for 25 minutes)
A splash of lemon juice ( ½ or 1 teaspoon only)
1 to 2 teaspoons of nice and finely chopped parsley.
A pinch of salt.
A pinch of cracked pepper.
Now, follow these steps below:
After making sure that your chopped parsleys are not too coarse, put them into the butter.
Add 1 pinch of salt and 1 pinch of cracked pepper into the mixture.
Add a splash of lemon juice. This can give a bit of acidity.
Mix them until they are distributed well.
Use a cling film to form a log of your parsley butter.
Put the log into the freezer, and you can use the butter for your steak or morning toast.
Note:
You shouldn't use too much lemon juice because it can make your mixture too soft.
You can also use some garlic in this mixture.
You can save this parsley butter log for up to 3 months in the freezer ( It mainly depends on the date of the butter package).
You can make your parsley butter within 5 minutes. Watch this video to know more:
How Long Can Parsley Last?
Different methods of storing can help you to preserve your parsley in different amounts of time. The table below might help you to have a general idea about my tips-sharing today. Comparing the available storing time for each method can help you to choose the best one for you.
| Stored in/at | Storage methods | Last for |
| --- | --- | --- |
| Cool compartment | Using fabric towels | 2 or 3 weeks |
| Cool compartment | Using Ziploc bags | Up to 1,5 weeks |
| Freezer | Spread or wrap them up | Up to a month |
| Room temperature | Putting in a cup of water | Up to a week |
| Cupboard / Dry place | Drying | Up to a year |
| Freezer | Making butter | Up to 3 months (depends on the date of the butter package) |
More About Parsley: A Kind Of Superfood That Has Many Health Benefits.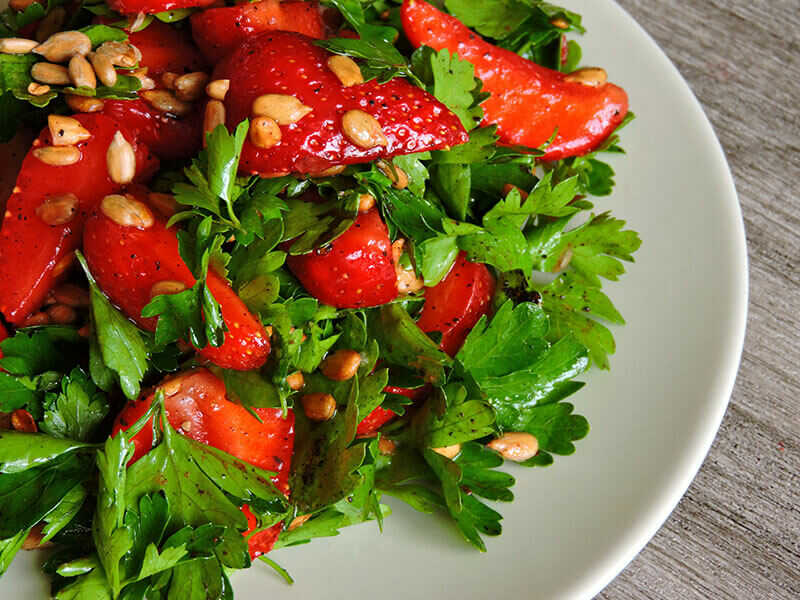 Like any other kind of green leaves, parsley brings many health benefits and even has more than you think. (1)
Provide Many Essential Nutrients and Are Low in Calories
30 grams of fresh parsley has only 11 calories, but 108% of the Reference Daily Intake (RDI) of vitamin A, 53% of the RDI of vitamin C, 547% of the RDI vitamin K, and many others.
They also have many antioxidants and cancer-fighting substances. And because parsley has low calories so you can easily put it in your diet dishes.
Help Your Bone Stronger
Parsley has many vitamin K, an important nutrient to the bone. Therefore, it helps your bones stronger and supports your bone density.
Protect Your Eyes
Parsley also contains carotenoids, an essential compound that can help you to prevent age-related macular degeneration (AMD).
Improve Your Immune System
Vitamin A and C in parsley can help to improve your immune system and prevent diseases caused by bacteria.
FAQs:
Concerning how to store parsley in your kitchen? The questions below are frequently asked and can help you to find your answers.
Which Is Your Most Favorite Parsley Storing Method?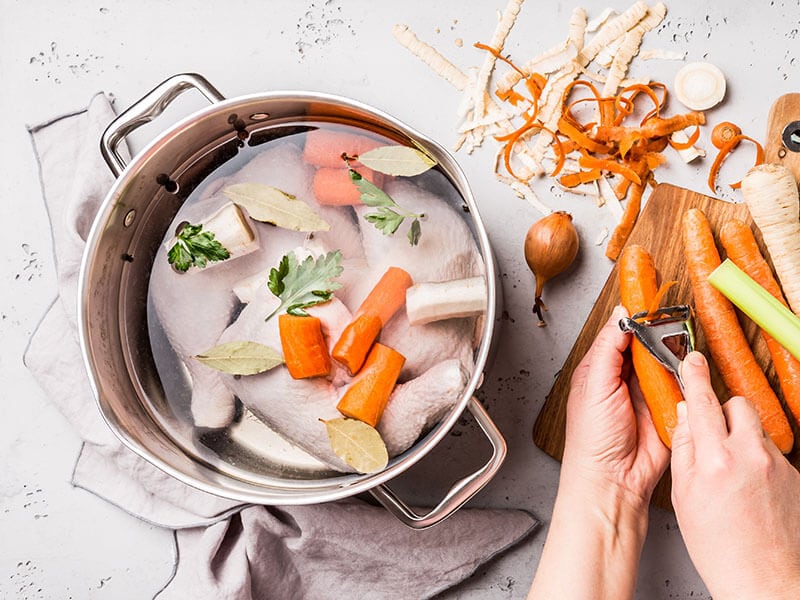 Keeping your parsley for a long time can help you save ingredients and time from going to the market to restore them. I hope those must-known kitchen tips for 2023 can help you and your family always have delicious meals every day.
If you have any other tips about ways to store parsley that I have not mentioned yet, feel free to leave your comments below. Sharing is caring!
Nutrition Facts
1 servings per container
---
Amount Per ServingCalories396
% Daily Value *
Total Fat 44.7g

68

%
Cholesterol 118mg

40

%
Sodium 9mg

1

%
Potassium 34mg

1

%
Total Carbohydrate 0.3g

0

%

Dietary Fiber 0.1g

0

%
Sugars 0.2g

Protein 0.6g

0

%
---
* The % Daily Value tells you how much a nutrient in a serving of food contributes to a daily diet. 2,000 calories a day is used for general nutrition advice.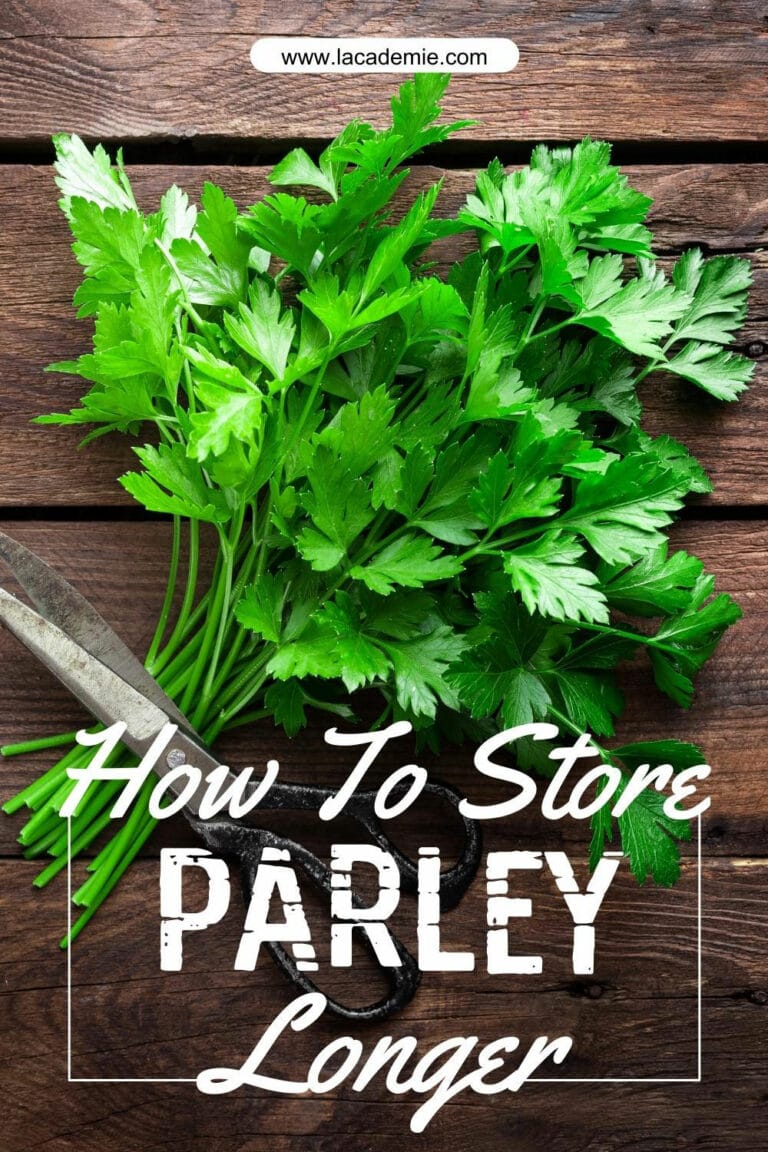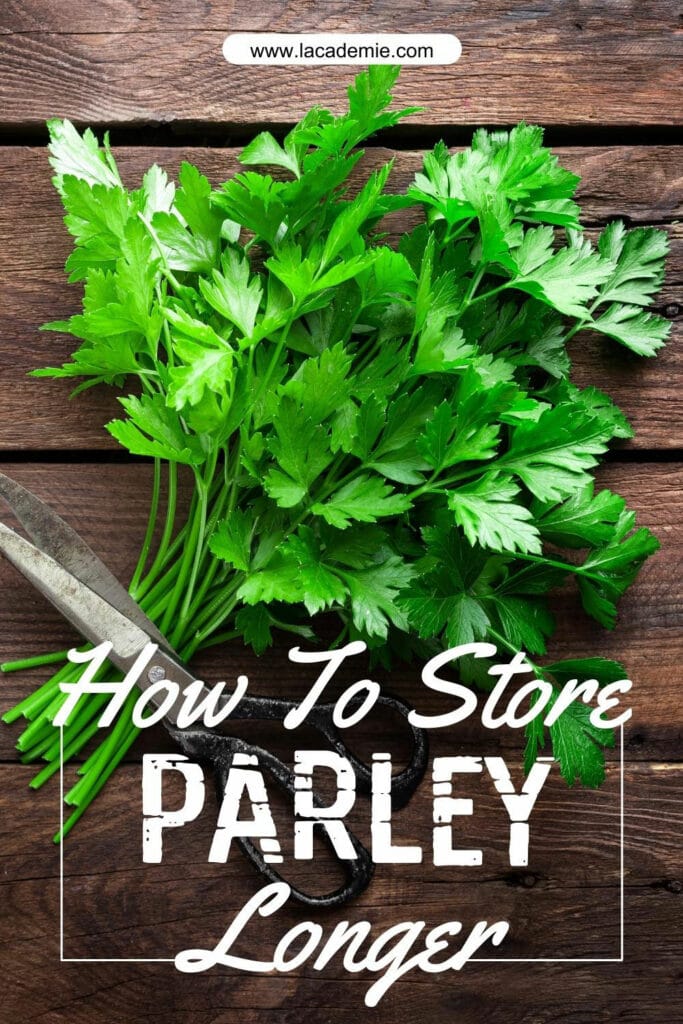 References:
2021. 8 Impressive Health Benefits and Uses of Parsley.
Paula, M., 2021. Is Too Much Intake of Parsley Bad?. [online] Healthy Eating | SF Gate.
Woman – The Nest. 2021. The Nutrients in Raw and Cooked Parsley.