Are you curious about cilantro substitutes as you do not have any fresh cilantro available at home? Or do you want to make your meal tastier with other types of cilantro replacements? This post will provide some excellent cilantro alternatives to season your food.
Having specific knowledge about each cilantro replacement is necessary to choose the right one that is suitable for your food. I am here to help you find some fantastic fresh herbs and coriander seeds.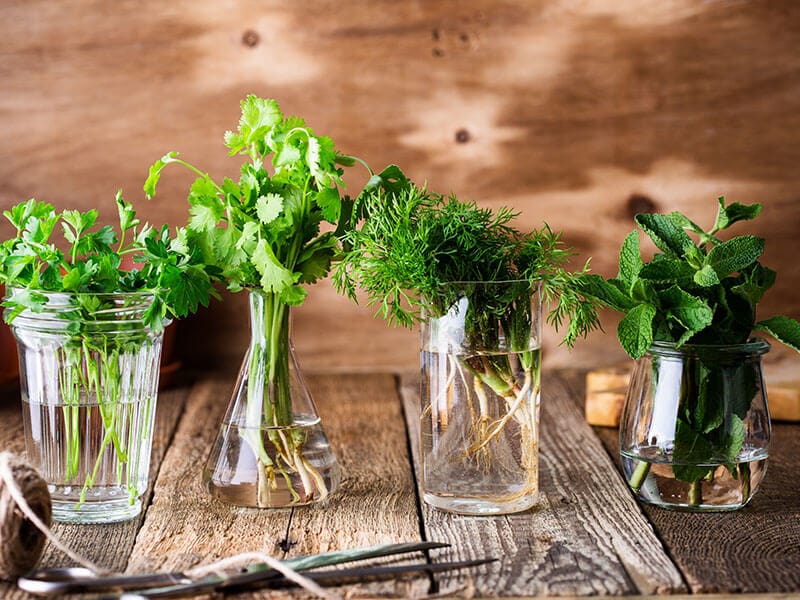 Have You Ever Heard Of These 12 Cilantro Substitutes?
Some dishes will taste less delicious if they lack cilantro as a seasoning. Indeed, cilantro is an important herb in many dishes that accompany quesadillas. But what will you do if you can't find them in the supermarket?
Do not worry! There are numerous types of fresh herbs and coriander seeds that can replace cilantro.
Herbs
Parsley
Dill
Mint
Basil
Vietnamese Coriander
Oregano
Papalo
Ground Seeds And Spices
Cumin
Caraway
Curry Powder
Garam Masala
Fennel
Cilantro – An Indispensable Herb In Most Recipes!
Before going into detail about the substitutes above, scroll down to understand more about cilantro!
A Brief Overview Of Cilantro
Cilantro is the leaves of the Coriandrum Sativum plant and one of the variations of the Apiaceae family. It is mainly used in a lot of Middle Eastern, Mexican, Indian, and Asian dishes.(1)
Overall, they are perfect for warm Sunday dinner treats to gather everyone in your family. So how does cilantro taste and why do people love to use them in their cooking ideas?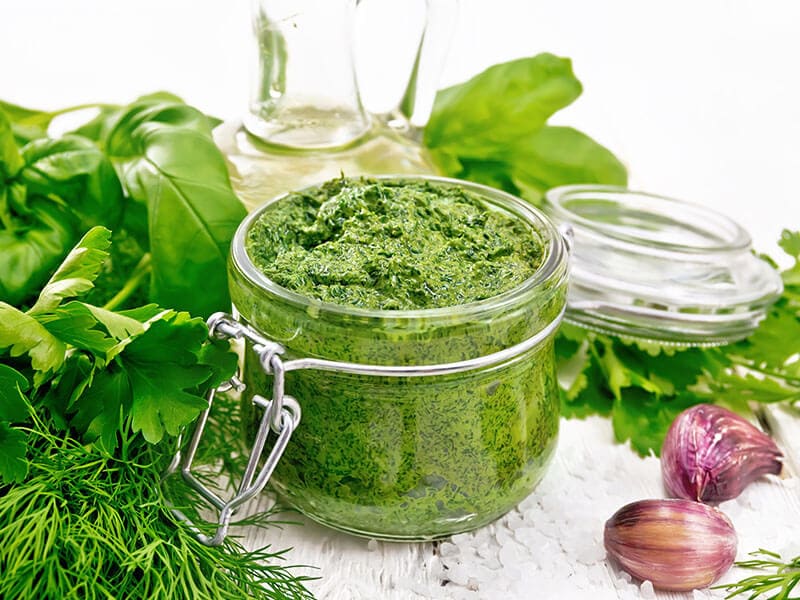 Cilantro has a peppery, tangy, and slightly citrusy flavor. The whole cilantro plant is edible, but people prefer using the leaves in many cuisines. Various kinds of cilantro can be used as a top dressing. Pulsing them in a food processor to make the sauce is also a good idea.
If you have more than enough to use, you can extend your fresh cilantro's shelf life in many ways: refrigerate, freeze or make salted cilantro. Do not forget to prepare it properly before storing it.
Let's make this delicious homemade cilantro pesto for your meal. Watch this video below:
How About The Health Benefits Of Cilantro?
Cilantro is not only an ingredient that makes the food tastier but also is a nutrient-rich herb. Check the table below to clarify!
| | |
| --- | --- |
| Health Benefits Of Cilantro | Explanation |
| Regulate blood pressure | It is packed with a high amount of minerals, including potassium. Potassium helps reduce heart rate and blood pressure. |
| Beneficial for skin and vision | It contains the fat-soluble vitamin A which helps maintain healthy skin and improve your vision. |
| Develop brain health | The amount of vitamin K packed in cilantro is the highest. It plays a vital role in Alzheimer's disease treatment by reducing neuronal damage. (2) |
| Prevent cancers | It also helps prevent lung and oral cavity cancers by containing a great source of vitamin A. |
Some further advantages of cilantro are:
Helps In Digestion
Boosts The Sleep Quality
Improves Bone Health
Helps Rid Heavy Metals From Your Body (3)
12 Cilantro Substitutes You Should Not Miss!
Below are 12 popular herbs and coriander seeds that are used as alternatives to cilantro. I have divided them into two groups: Herbs and Ground Seeds with Spices.
| | |
| --- | --- |
| Cilantro substitutes | Proportion |
| Parsley | 1 tbsp cilantro = 1 tbsp parsley |
| Dill | just use a little amount |
| Mint | use less amount |
| Basil | 1 tbsp cilantro = 1tbsp basil |
| Rau ram | 1 tbsp cilantro = 1 tbsp rau ram |
| Oregano | 1 tbsp cilantro = ½ tbsp oregano |
| Papalo | 3 tbsp cilantro = 1 tbsp papalo |
| Cumin | 1 tbsp cilantro = 1 tbsp cumin seeds = ½ tbsp cumin powder |
| Caraway | 1 tbsp cilantro = 1 tbsp caraway |
| Curry powder | 1 tbsp cilantro = ½ tbsp curry powder |
| Garam masala | use less amount |
| Fennel | use less amount |
Use These Aromatic Herbs To Replace The Cilantro
If you run out of cilantro or just want to try new things, take a look at the seven types of herbs usually used as cilantro substitutes in this table below!
1. Parsley – An Excellent Italian Idea To Replace Cilantro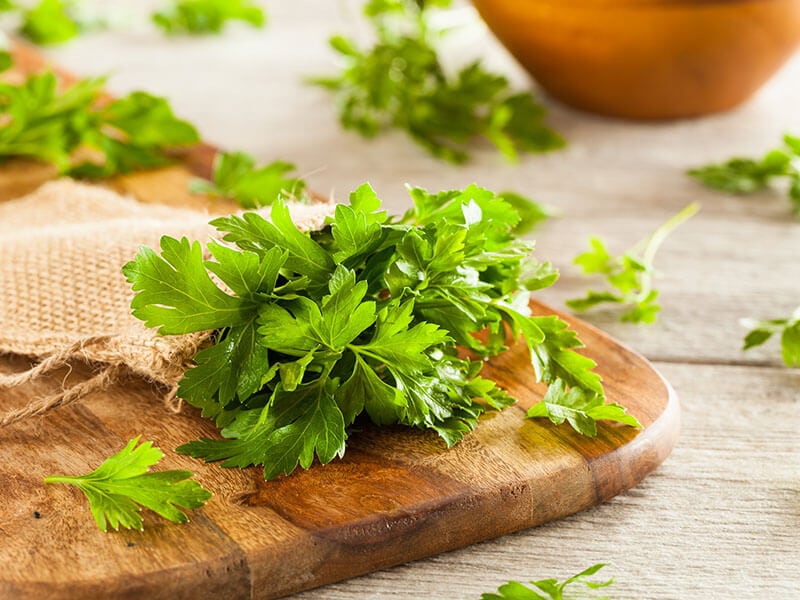 When you run out of cilantro, parsley is the best substitute right on the spot as it's the close relative with cilantro. These two herbs are so similar in appearance that some people may mistake them for each other.
In fact, there are many factors to differentiate parsley and cilantro. Parsley doesn't taste exactly like cilantro, as it's more bitter and lacks some citrus flavor. To compensate for that, you can add some sugar and lime or lemon when cooking parsley.
Because of their similar taste, you should use a 1:1 ratio to substitute means that one tablespoon of parsley equals one tablespoon of Cilantro.
Watch this video to know more:
2. Dill – Distinctive Taste But Still A Decent Substitute Of Cilantro
Although dill and cilantro are not interchangeable, people still use dill instead of cilantro in some recipes. With the right storage methods for your fresh dill, it'll provide fresh citrus and grassy taste all the time.
Most Europeans and Asians use fresh and dried dills to add flavor to their food, including sauces, salads, sandwiches, or roasted and grilled seafood. It also goes well with cream cheese and sour cream.
Do not forget to add dills toward the end of the cooking process to keep their flavor. Dills will lose their flavor and taste bitter if you incorporate them while cooking.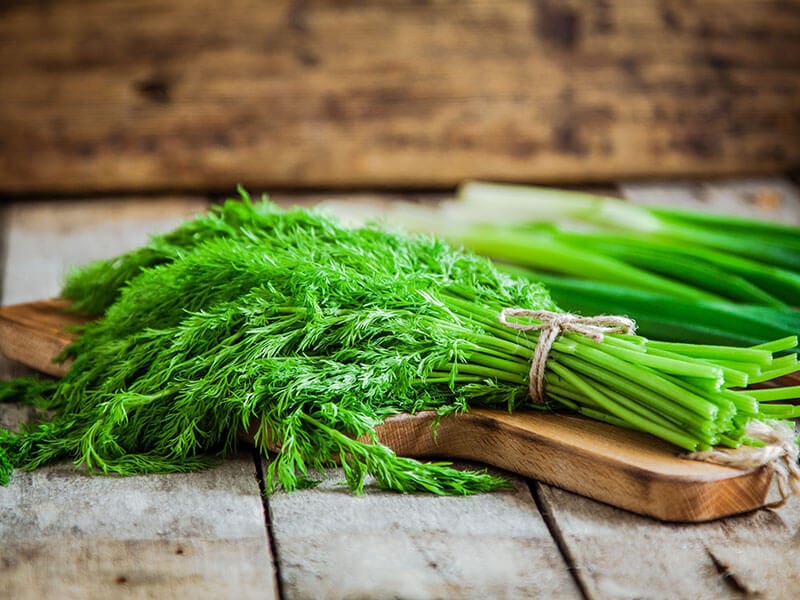 3. Mint – An Exciting Cilantro Alternatives
Mint is also known as mentha, one of the variations of the Lamiaceae family. Since it contains menthol, mint tastes subtly sweet and cool, making some people prefer it to replace cilantro.
However, you can fix that by adding some sour ingredients like vinegar or lime. Primarily when you use mint for garnish, some accompanied lime wedges will make it taste more like cilantro.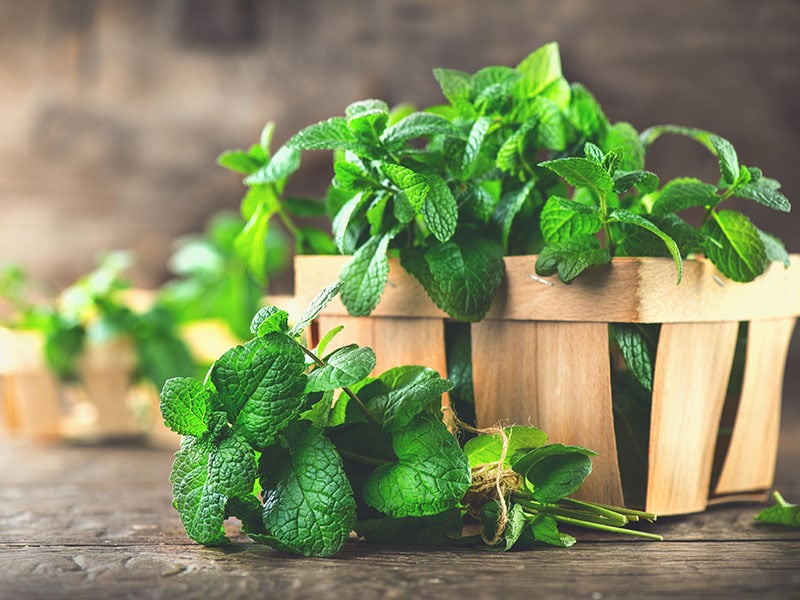 4. Basil – One Of The Most Suitable Substitutes For Cilantro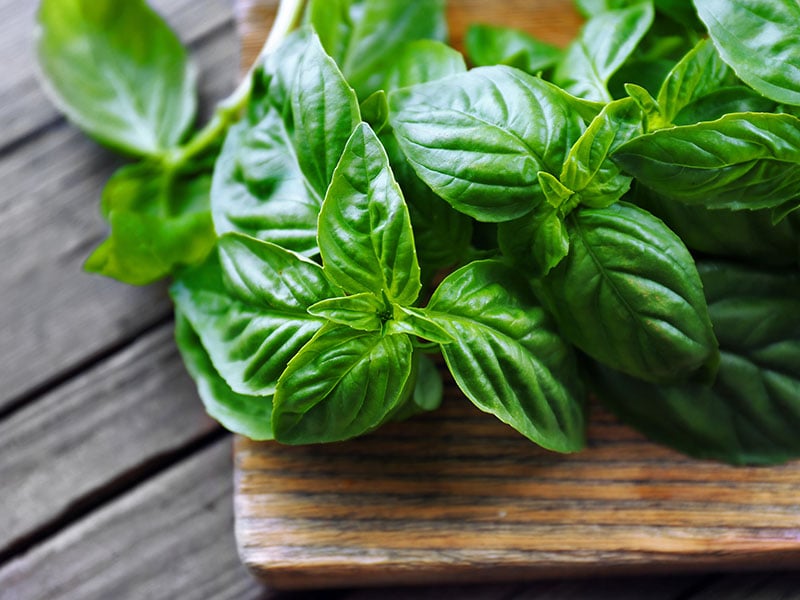 Basil is also known as great basil. It is native to tropical regions, and it belongs to the same family with mint – the Lamiaceae family. Therefore, basil and mint look very similar. Be careful not to grab one instead of another.
This nutrient-rich herb is packed with vitamins, minerals, and antioxidants. It is widely used as herbal medicine that offers many health benefits, including reducing stress, supporting liver health, and reducing high blood sugar.
Although basil may change the flavor of the dishes for its distinctive sweetness, it still can replace cilantro in some recipes. Especially when it comes to Thai dishes, Thai basil is a perfect substitute for cilantro.
Or you can try some potential basil alternatives, for example, oregano, to replace cilantro. And this herb will be discussed in more detail in the following part.
However, you should add basil at the end of the cooking process to not lose its freshness as it can not handle heat exposure well.
Some great uses of fresh basil to expand your daily menu. Let's watch this video:
5. Rau Ram – A Vietnamese Substitute For Cilantro
Other names of Vietnamese coriander are rau ram, Vietnamese mint, Vietnamese cilantro, or laksa. It is identified with Vietnamese cuisines such as spring rolls, pho, or salads.
It is also widely used in other Southeast Asian cuisines. It appears in Malaysian laksa soup, or Cambodian soups, stews, salads, and naem (Cambodian summer rolls). In the culinary world of Laos, the locals also eat its leaves with raw beef larb.
Vietnamese coriander is a perfect substitute for cilantro because it has a very similar flavor to cilantro. However, this vegetable tastes distinctly peppery and is more aromatic than cilantro, making it an alternative in fresh salads and other flavored foods.
You can use one tablespoon of Vietnamese coriander to substitute for that exact amount of cilantro.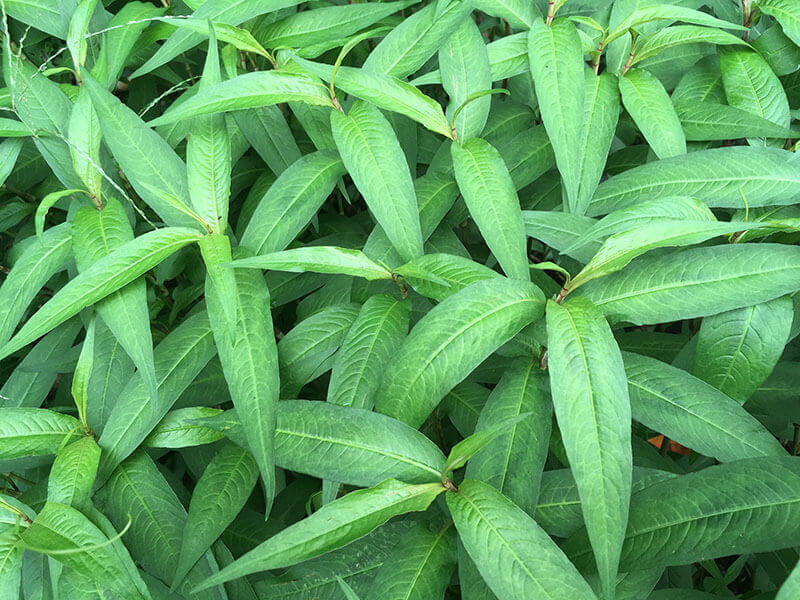 6. Oregano – A Fragrant Culinary To Replace Cilantro
Oregano is also known as wild marjoram and Origanum vulgare. It also belongs to the same family with mint – Lamiaceae. People used oregano as a garnish for a wide variety of dishes years ago.
Oregano is an essential ingredient in most Italian, Mexican, Turkish, and Greek dishes because of its subtly sweet and slightly bitter flavor. Unlike other herbs, people prefer using dried oregano to fresh ones for cooking.
But in case both dried and fresh oregano are too hard to buy, luckily, there are various solutions to replace oregano. And they can work at their best to make your dishes more flavorful as long as you use them with the suitable amount.
Back to using oregano for replacing cilantro, you can mix oregano with other herbs and lime juice to make a replica flavor of cilantro.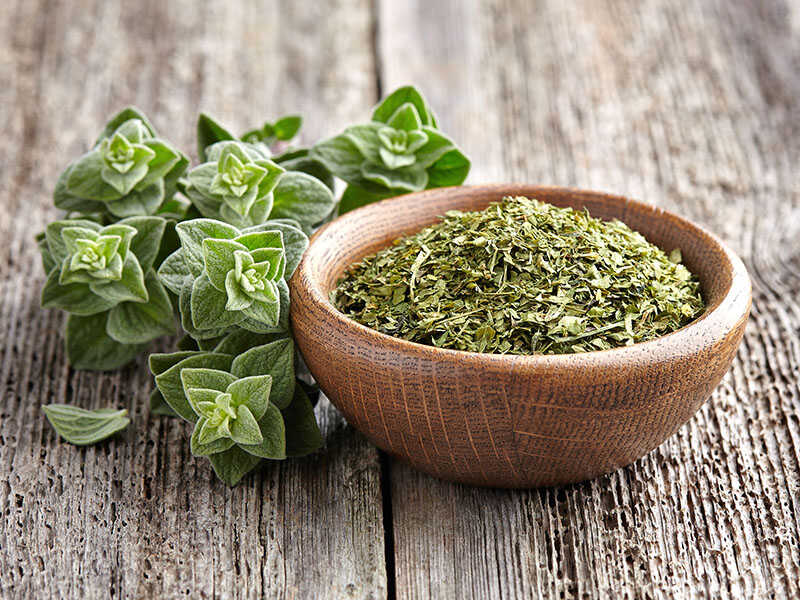 7. Papalo – Give This Strong Cilantro-like Flavor A Go!
Papalo is native to Mexico, Central, and South America, but it is mainly grown in Mexico and used in many Mexican dishes. So it is also called Mexican herb. It is recognizable by its green and egg-shaped leaves.
Papalo and Cilantro have a very similar taste, but papalo tastes pretty more robust. Therefore, just use a 1:3 ratio when substituting. For instance, you use one tablespoon of papalo to replace three tablespoons of cilantro.
Another reason why you should choose papalo when running out of cilantro is papalo in its season when cilantro is in the off-season. According to that, you can enjoy the excellent taste of cilantro for around a year by replacing it with papalo.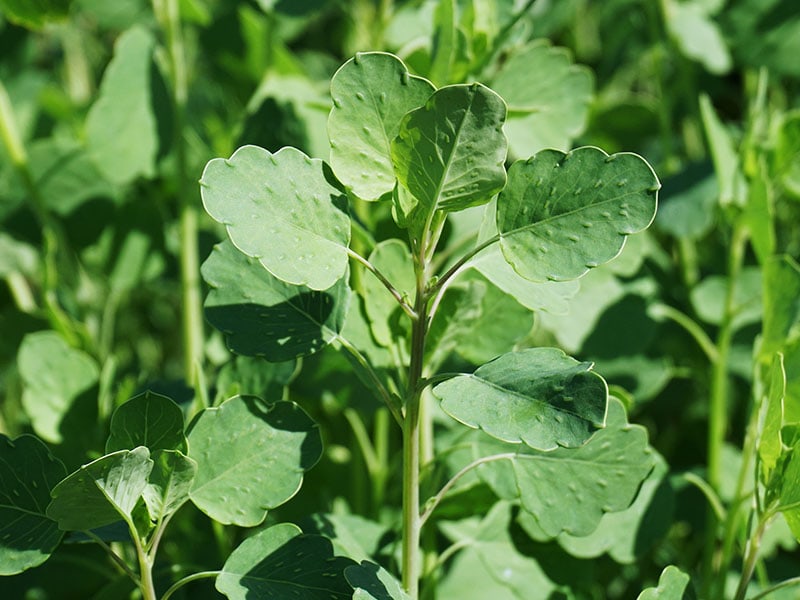 Using Ground Seeds And Spices To Replace Cilantro Is Also A Great Idea!
If it is hard to find fresh substitutes, using ground seeds and spices can be a consideration. You can replace cilantro for your food with the following coriander seeds.
8. Cumin – The Best Cilantro Substitute When Making Tacos
Cumin is made from the Cuminum Cyminum plant, which belongs to the parsley family. Cumin seeds have a small and boat-shaped appearance. About the color, they primarily present brownish-yellow.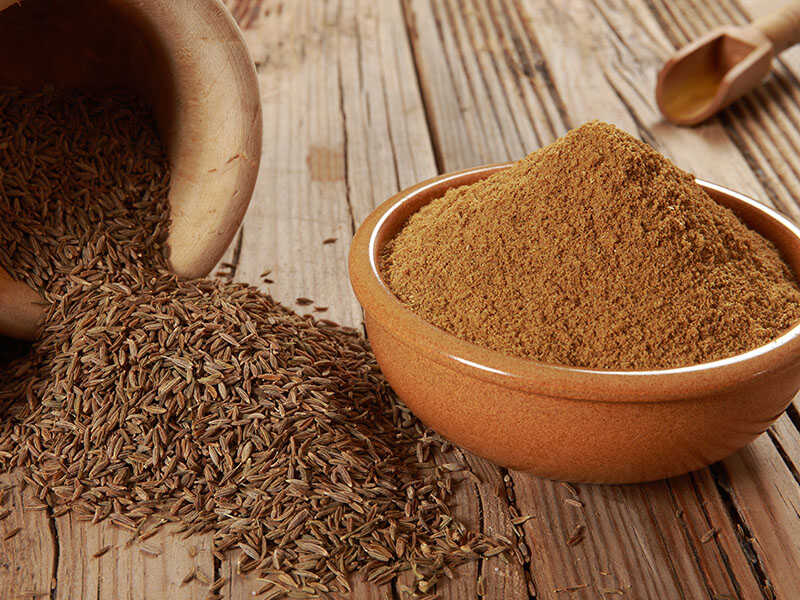 You can use whole cumin seeds or cumin powder. However, pay attention to the amount when using them for replacing cilantro because cumin's tastes might be different in different forms.
In fact, you should add less cumin powder than the whole one because it tastes stronger and more concentrated.
If you want to use the whole cumin seeds to replace Cilantro, you better roast them before adding them to the food to get the best result.
There is a lot more information about cumin for you to find out.
9. Caraway – Aromatic Ground Seeds That Tastes Just Like Cilantro
Caraway is very popular in Denmark and other Scandinavian countries. In those countries, it is used to bake desserts and make alcoholic drinks.
While using caraway as a cilantro replacement, some recommended recipes are potato salad, tomato-paste soups or sauces, and roasted pork. Just like cumin powder, it is widely used as a powder or the whole seed.
Caraway adds a unique bittersweet flavor to your dishes. A 1:1 ratio is suggested to substitute cilantro. However, the appearance of caraway is similar to coriander, so be careful when buying it.
Fun facts: Caraway seeds can also be used as a replacement for coriander. As caraway seeds have a more concentrated flavor, it'd be wise to add them a few at a time to your dish to prevent them from overpowering your recipe.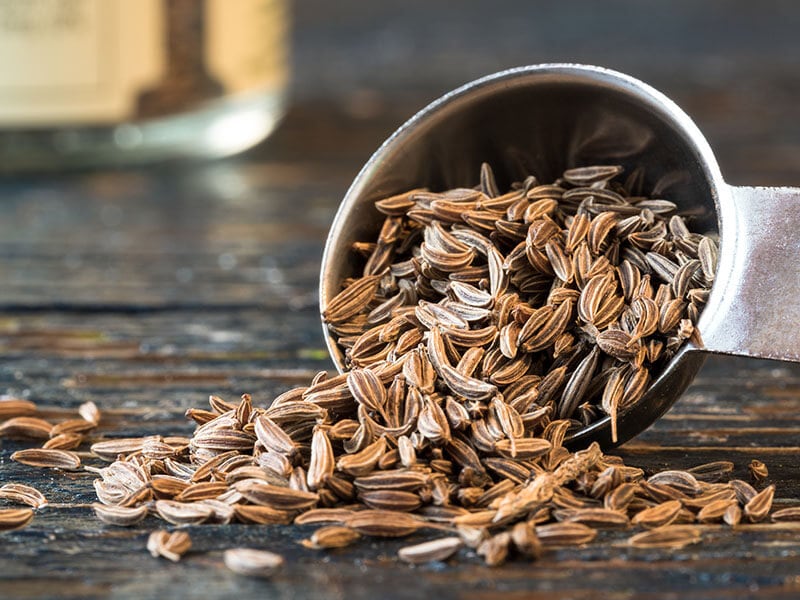 10. Curry Powder – A Popular Spice That Can Substitute Cilantro
Curry powder is a spice that is made from turmeric, cumin, ginger, and other ingredients. It is found in almost all Indian dishes. Curry powder has a savory and slightly sweet taste.
Besides Indian curry powder, there are different types of it from other countries, including Thai curry powder. However, the flavor of each type is not too different from one another.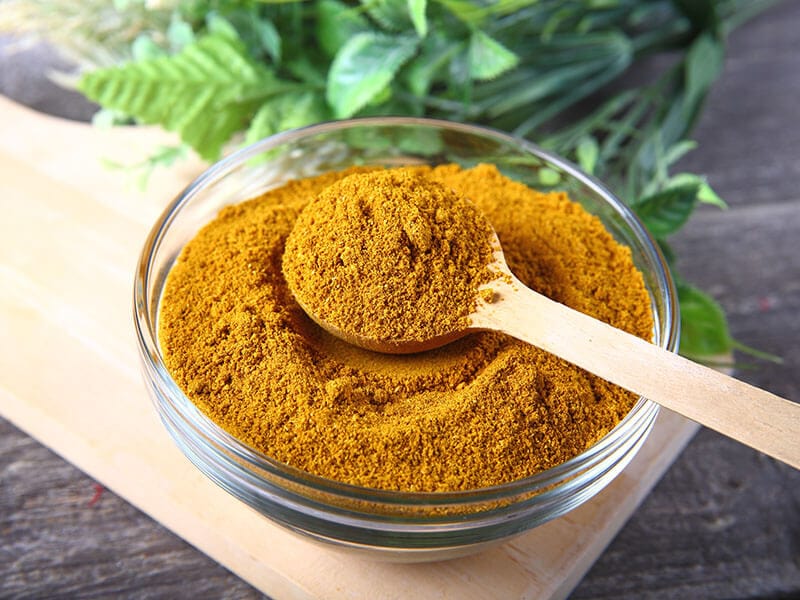 You should add a small amount of curry powder to your food when substituting Cilantro because of its powerful taste. Specifically, use half of a tablespoon of curry powder instead of one tablespoon of cilantro.
Three easy-to-make curry powder recipes you should not miss! Check out this video to know:
11. Garam Masala – Try A New Flavor That Is Similar To Cilantro Taste
Just like curry powder, garam masala is also an Indian native spice. It is a mixture of cumin, black pepper, cinnamon, and bay leaf. Garam masala is used as a garnish in some Indian recipes, including roasted or grilled meat and fish.
Garam masala tastes hot and spicy. Although it may add a new flavor to your food, it still can be a must-try to replace cilantro when it is off-season.
Remember to add garam masala toward the end while cooking to keep their best flavor.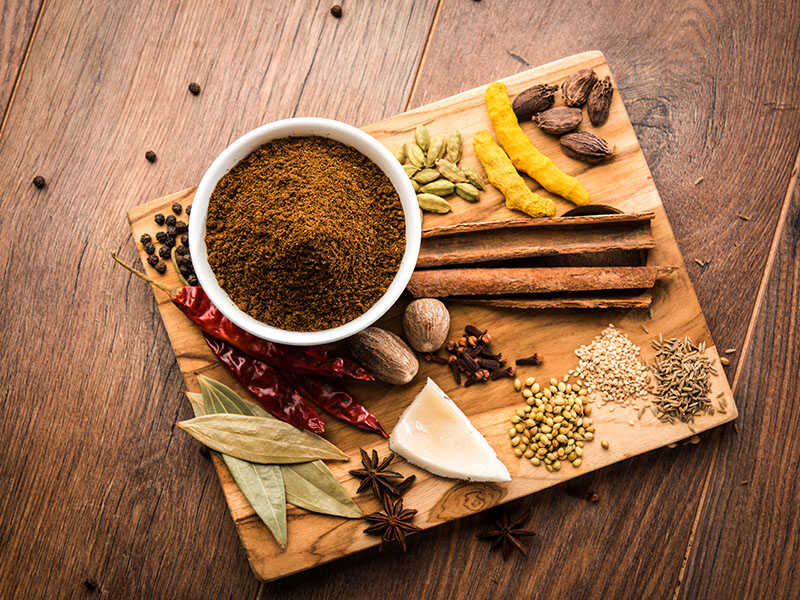 12. Fennel – A Highly Nutritious Spice To Substitute Cilantro
The last cilantro substitute that I want to introduce is fennel. Eating fennel seed powder is beneficial for heart health and inflammation. Another reason that makes fennel a stand-out choice to replace cilantro is that it is available all year round.
Fennel adds sweet and aniseed flavor to many dishes, ranging from fish and meat to bread and chutney. It looks like cumin and caraway seed but a little more greenish.
Fennel ground powder is easy to buy and has a long shelf life if you store it properly. The best way is to place it in an airtight container and keep it away from the sunshine.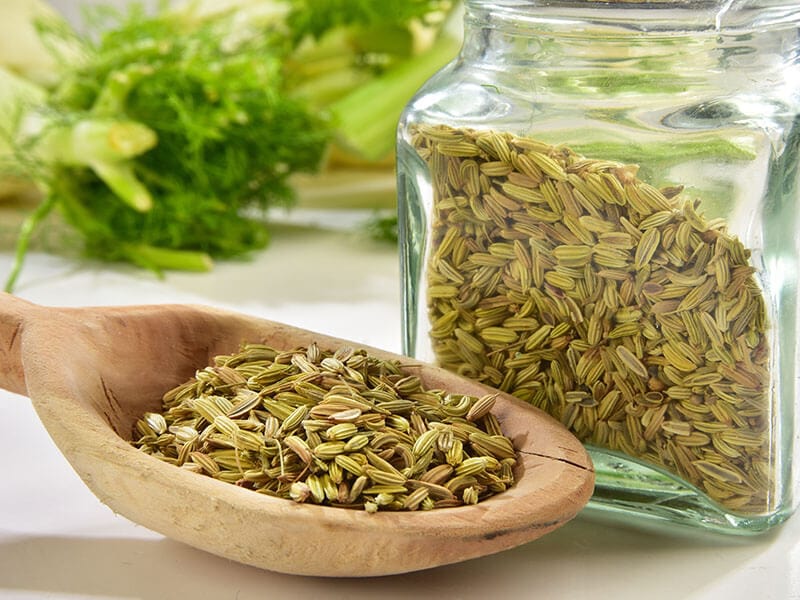 Do you know all of the excellent benefits of fennel seeds? Check out this video to know:
FAQs
You may have some questions that are related to the listed substitutes above. I hope the following answers are helpful.
Have You Tried One Or Some Of The Substitutes Above?
Although adding spices and garnishes makes the food tastier and more flavorful, do not overuse them because they will bring some unwanted side effects. Reduce other seasonings such as pepper, sugar, or salt if you plan to add herbs powder.
Among the listed substitutes above, maybe some of you have tried them before. Comment your experience with these types of fresh herbs or powders in the comment box below. If they sound strange to you, take note for later use when you run out of cilantro.
If the listed cilantro substitutes information is useful for you, please like and share this post. I hope you will get the best result when using them. Thank you for reading!
Nutrition Facts
1 servings per container
---
Amount Per ServingCalories1.4
% Daily Value *
Sodium 2.1mg

1

%
Potassium 21mg

1

%
Total Carbohydrate 0.2g

0

%
Protein 0.1g

0

%
---
* The % Daily Value tells you how much a nutrient in a serving of food contributes to a daily diet. 2,000 calories a day is used for general nutrition advice.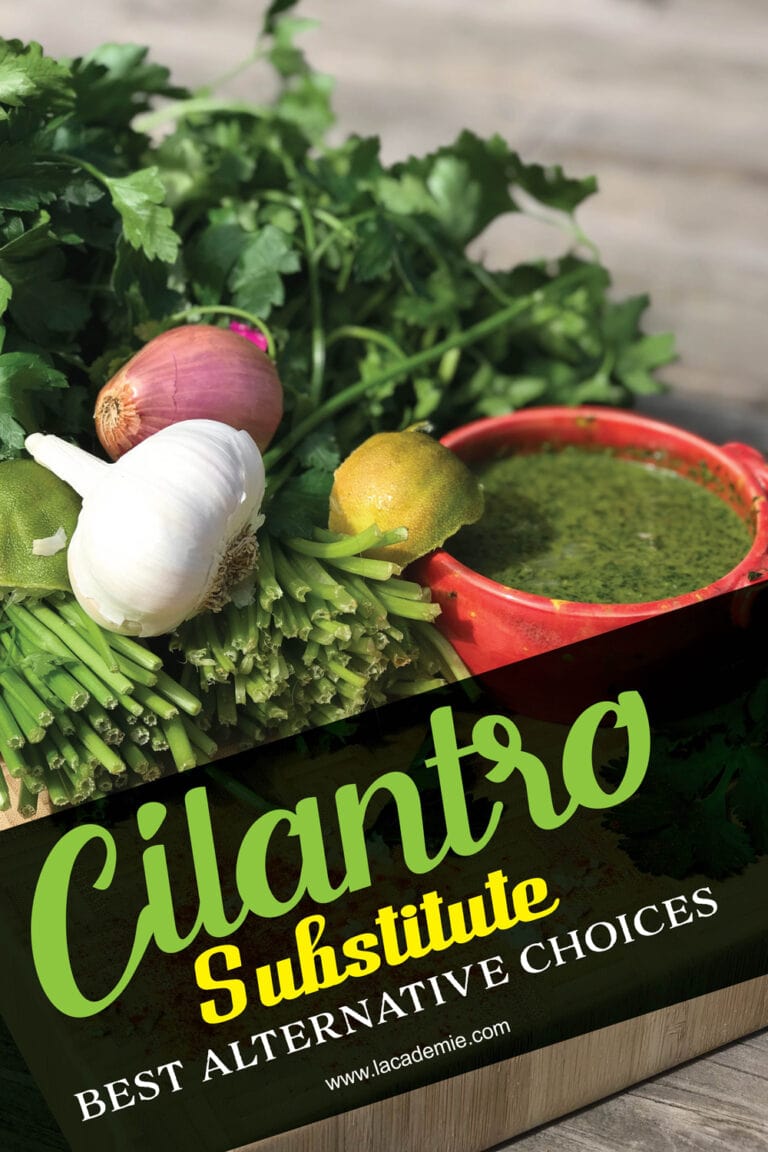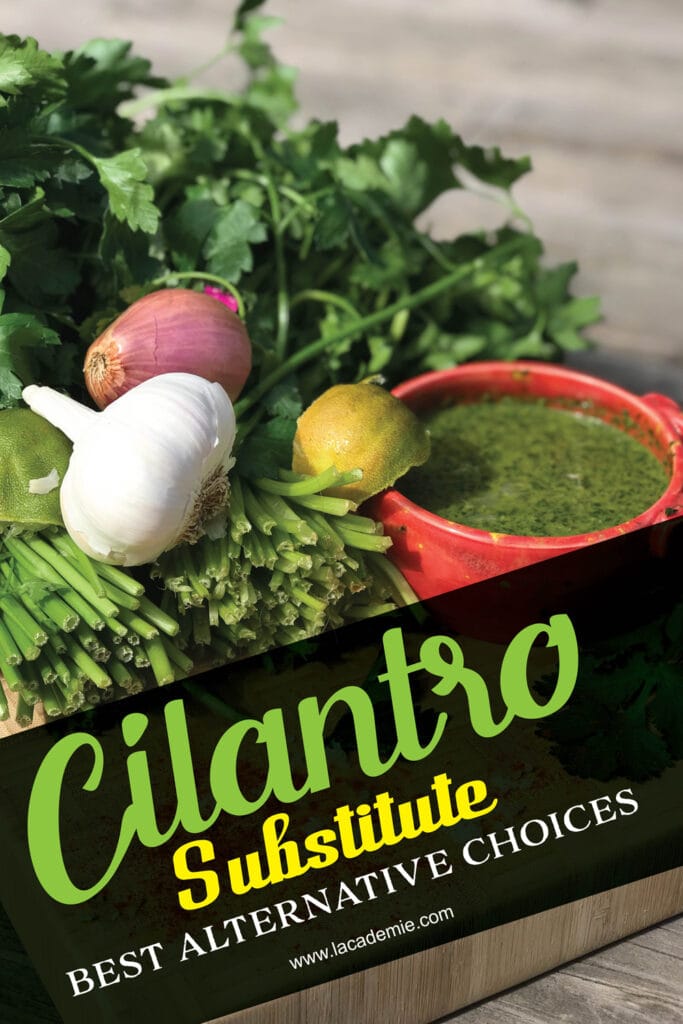 References
En.wikipedia.org. 2021. Coriander – Wikipedia. [online] Available at: <https://en.wikipedia.org/wiki/Coriander> .
2021. [online] Available at: <https://fdc.nal.usda.gov/fdc-app.html#/food-details/169997/nutrients> .
2021. Health Benefits of Cilantro. [online] WebMD. Available at: <https://www.webmd.com/diet/health-benefits-cilantro#1-2> .