What are the differences between parsley vs. cilantro? Can you substitute one herb for another? If you don't know how to answer these questions correctly, this article is specially made for you.
People often confuse parsley with cilantro (or vice versa) for their similar looks. However, each herb has its own characteristics. They also share some common features.
After reading this post, you will know exactly what the differences between parsley and cilantro are. I will try my best to explain to you as clearly as possible.  Let's get started!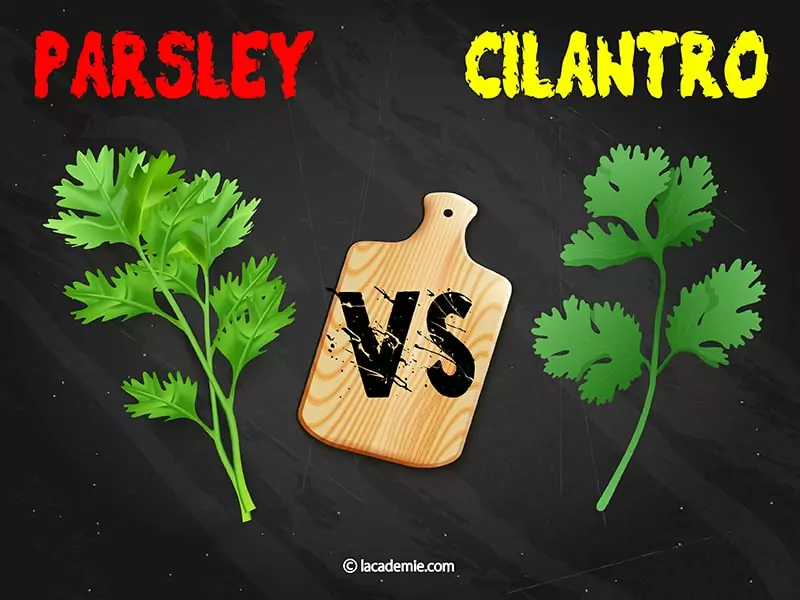 What Are The Differences Between Parsley Vs Cilantro?
Although they both belong to the Apiaceae herb family, parsley vs cilantro are actually different types of plants. Therefore, the two herbs have their own distinct characteristics.
Appearance: they resemble each other in a significant way. However, I will show you how to distinguish them based on their looks later. Basically, parsley leaves are pointy, while cilantro leaves are more rounded.
Taste: their flavors are both very unique. Parsley tends to be grassy and peppery, while cilantro has a more potent herbal scent and zesty taste. People use parsley and cilantro for different culinary purposes.
Health benefits: Each herb contributes to human health differently, though they are both rich sources of antioxidants. Parsley is prominent for its high vitamin K content.
Below is the summary table of the significant differences between parsley vs. cilantro. I hope the details in this table are enough for you not to mistake one of the herbs for another.
| Characteristics | Parsley | Cilantro |
| --- | --- | --- |
| Appearance | The serrations are pointed; Italian parsley's leaves are flat; Curly parsley's leaves are curly | The serrations are rounded; Cilantro's leaves are flat |
| Color | Bright, yellow-green | Dark, emerald green |
| Smell | Fresh, grassy | Soapy, zesty |
| Taste | Peppery, bitter | Pungent, citrusy, spicy, bold |
| Stem Flavor | Bitter | Flavorful |
| Garnish or ingredient | Curly parsley is often used as a garnish; Italian parsley is often used as an ingredient | Both |
| Food | European, Mediterranean, and Middle Eastern cuisines; Incorporated in the cooking process | Asian, Middle Eastern, Indian, and South American cuisines; Added at the end to enhance the flavors |
| Flavor | Retaining well during cooking | Nearly disappeared after being cooked |
| Health benefits | High in vitamin K and vitamin B contents | A powerful detoxifier; Antiseptic properties |
Parsley Vs. Cilantro – Appearance
Parsley and cilantro are relatives to each other. The two are both fragrant herbs with vibrant green leaves growing from their long, slim stems.
However, it's pretty easy for you to tell the differences just by the look. Let's dig into each herb's details.
Parsley
Parsley's scientific name is Petroselinum crispum. There are two varieties of parsley: Italian parsley and curly parsley.
Italian parsley has flat leaves, while the curly one obviously has curly leaves. Cilantro leaves are also flat, and that's why Italian parsley is often mistakenly regarded as cilantro or vice versa.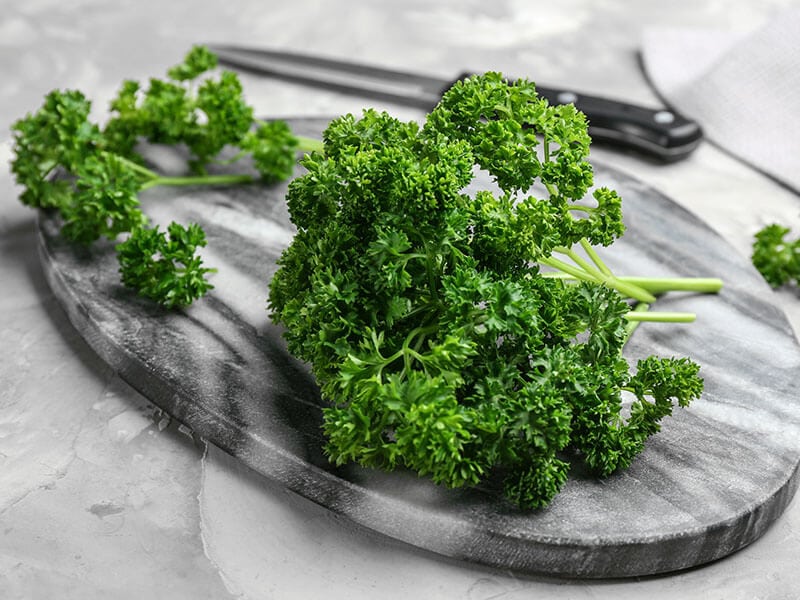 Italian, or flat-leaf parsley, is more widely used because it is easier to grow, and its taste is stronger than the curly parsley.
However, both of them have sharp serrations. And their leaves are a bit brighter, more inclined to yellow than cilantro.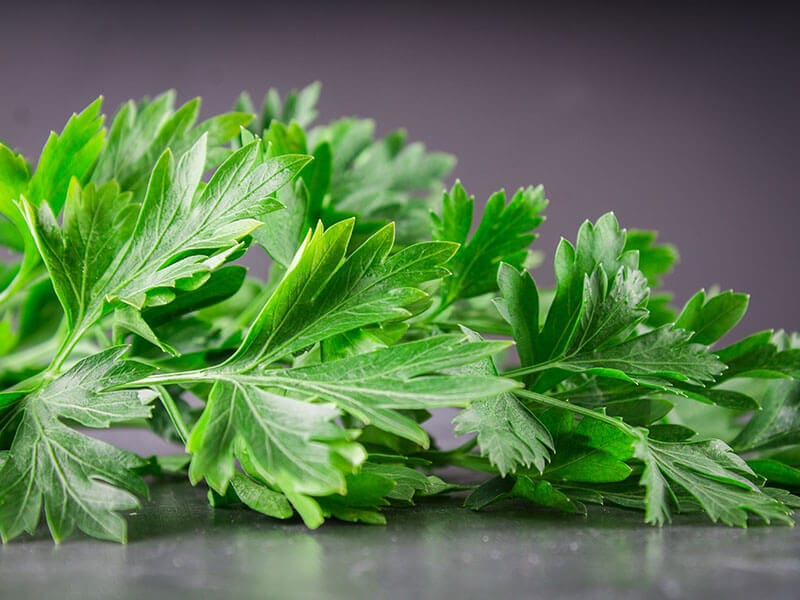 Cilantro
The scientific name for cilantro is Coriandrum sativum. Until now, people still argue about the differences between fresh and dried cilantro. But in this article, I'll only talk about the former.
In some areas, cilantro is regarded as coriander or Chinese parsley. People pick up the "coriander seeds" from cilantro when it becomes more mature.
The tips of cilantro serrations also have a saw-toothed pattern, just like parsley. However, they are more rounded and lacy. Cilantro's color is darker and deeper than parsley.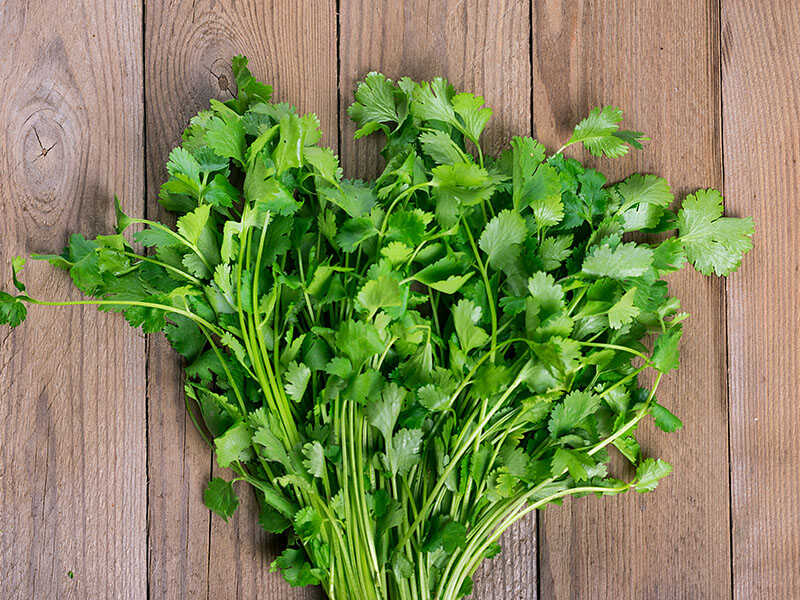 Parsley Vs.Cilantro – Smells And Tastes
The answer is yes. If you can't tell those two apart just by looking, why not try to smell or taste them? Both of them are aromatic herbs, and each has its own unique scents and flavors.
The Exceptional Smell And Taste Of Parsley
Let's dig deeper into the unique characteristics of parsley!
Parsley's Smell:
You can arouse the scent of parsley by rubbing or pinching it. Doing so will release a fresh, grassy smell, which can be described as a mild herbal scent.
Parsley's Taste:
If you eat parsley, you will probably experience the feeling of eating peppers. It has a bitter aftertaste too. Some people find that there is a lemon note from this herb.
As mentioned previously, Italian parsley's flavor is more potent than curly parsley. The flat-leaf herb tastes more peppery, while the curly version is relatively blander.
The Intense Flavor And Scent Of Cilantro
Cilantro's smell and taste are strong enough to emphasize any dish with just a pinch of it.
Cilantro's Smell:
People have a love-hate relationship with cilantro's smell. Some of them claim that cilantro reminds them of dish soap. This is quite strange to hear at first, but indeed it turns out to be a matter of genetics.
Cilantro contains chemical compounds called aldehyde, which are commonly used for making detergents. There are people with a particular type of gene that makes them become more sensitive to aldehydes.
Therefore, for someone, smelling cilantro feels like smelling a bar of soap!
Cilantro's Taste:
Cilantro's flavor is considered bolder than parsley. It establishes a spicier, more pungent, and more lemony taste than parsley. Therefore, adding cilantro to any dish certainly enhances its flavor.
In addition, you can try reducing cilantro's soapy taste by crushing it into smaller parts.
Parsley And Cilantro In The Cooking World
Although both herbs are garnishes, you can definitely differentiate parsley from cilantro by their tastes. Thanks to that distinction in tastes, parsley and cilantro can be added to very different types of food.
Let's find out more about their differences.
Parsley As An Incredible Garnish And Ingredient
Parsley is a herb native to the Mediterranean region. Nowadays, it is widely used across countries in Europe, the Middle East, and North America.
Parsley tends to bring out the best flavor of any dish when combined with other ingredients. Even its root is edible, though it is a bit bitter. Therefore, it is used in a wide range of cuisines across those areas. Some of the dishes are:
Salads
Soups
Casseroles
Stews
Sauces
Marinades
Green smoothies
Juices
While cilantro is regarded as Chinese coriander, parsley is popularly known for its Italian flat-leaf herb. Hence, lots of Italian recipes call for parsley, such as pasta and pizzas. It's also an essential ingredient in tabbouleh – a Middle Eastern cuisine.
As I mentioned earlier, Italian parsley has stronger tastes than curly one. Therefore, curly parsley is often used for culinary garnishing purposes. The unique ruffled texture of curly parsley also makes your dishes look more attractive.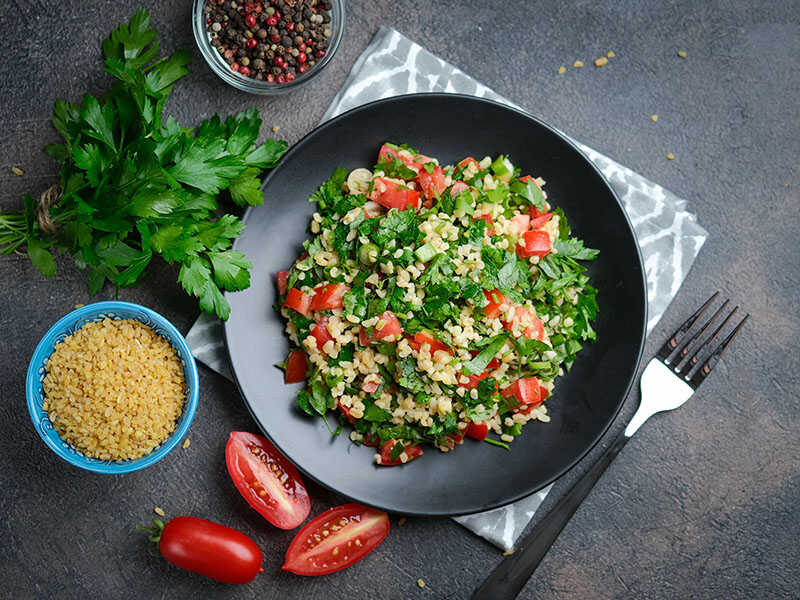 This viral clip shows you how to make delicious Italian pasta with parsley.
Use The Exquisite Cilantro To Bump Up Various Dishes
Cilantro is used in traditional Indian, Mexican, and Asian recipes. People in North Africa, the Middle East and the Caribbean add it to their cuisines as well.
People prefer cilantro for its flavorful taste and aromatic scent. You can eat every part of this herb, and its stem is very flavorful. Cilantro is combined in a lot of delicious dishes:
Guacamole (mashed avocados)
Tacos
Salsas
Chutneys
Pico de gallo (diced tomatoes)
They can either be sprinkled on liquid foods, such as soups, curries, and pho (Vietnamese noodle soups).
Unlike parsley, cilantro doesn't retain all of its flavors if involved in the whole cooking process. Therefore, people use different types of cilantro as a garnish or only add them at the very end of recipes. One common way of using cilantro is adding it into freshly made salad dressings/food dips.
Thanks to its deep, distinctive emerald green color, many soups and main dishes are decorated with this herb.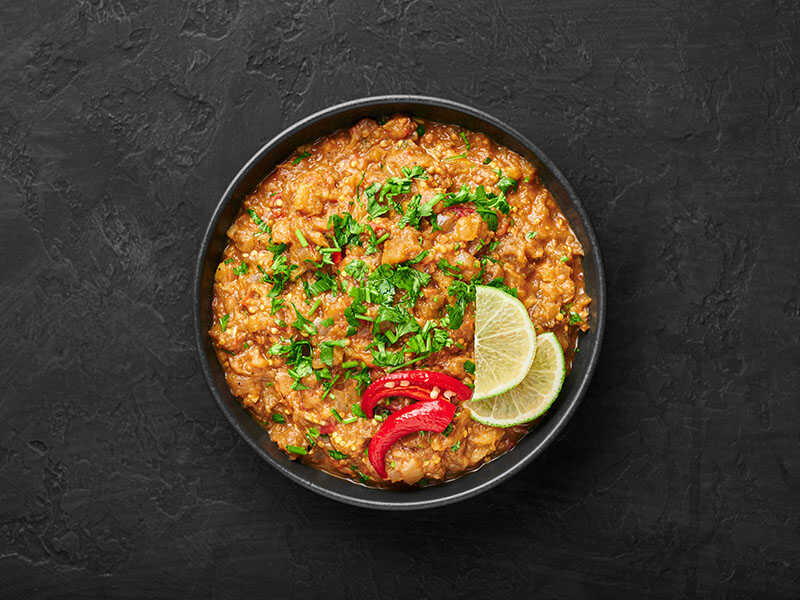 A fabulous recipe for Italian pesto sauce! Are you curious about it?
Health Benefits Of Parsley And Cilantro
Parsley and cilantro are both known for keeping your diet healthy. They also play a role in traditional medicine. But in which ways do they improve your health?
Well, parsley and cilantro are herbs. Therefore, their calories are low and they both contain a lot of vitamins, such as vitamin A and vitamin C. Two common health benefits of these two are lowering the amount of sugar in the blood and keeping your heart healthy.
Below are the individual health benefits of parsley and cilantro.
Parsley
Parsley features a lot of high-value nutrients. Therefore, its contribution to health is undeniable.
These are the precious nutrients in parsley (1):
Myricetin: a flavonoid, which helps to lower blood sugar levels.
Folate: also known as vitamin B9 – a vitamin good for your heart.
Iron: an essential mineral for the immunity system.
Vitamin A and vitamin C: powerful antioxidants.
Vitamin K (high levels): prevent blood clotting and cancerous tumors.
Cilantro
There are some similarities between parsley and cilantro's nutrients. However, each of them contributes to human health in its own different way.
Below are what is contained inside cilantro (2):
Quercetin: a flavonoid, which is against inflammation.
Calcium: an essential mineral for keeping healthy bones and teeth.
Potassium: maintaining a steady heart rate.
Iron, vitamin A and vitamin C: just like parsley.
Detoxifiers: helping the body get rid of heavy metals.
Can I Substitute Parsley For Cilantro And Vice Versa?
The answer is both yes and no. Let's find out the reasons, shall we?
Using Cilantro Instead Of Parsley
Cilantro has a very distinctive taste and can only be added to specific types of cuisines. Using cilantro as a replacement for parsley in cooking recipes will definitely change the flavors of your dishes to some degree. This is why you need to consider it carefully before replacing parsley.
However, there are specific fabulous recipes that you can call for cilantro instead of fresh parsley leaves. Try the substitution in southeast Asian or Mexican cuisines.
It's ok to replace parsley with cilantro as a garnish. I suggest using cilantro in a moderate amount when substituting it for parsley so as not to affect the taste of your dishes.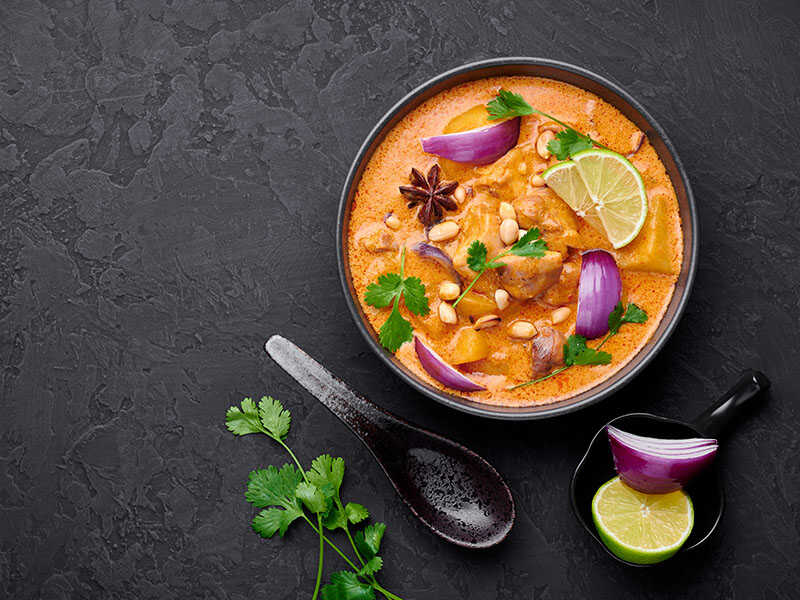 Using Parsley As An Alternative For Cilantro
On the other hand, parsley's smell and taste are milder. Therefore, it is okay to use parsley as an alternative for cilantro in some recipes. While the limitations are not as strict when replacing cilantro with parsley, there are still a few key points you need to keep in mind for best results.
To mimic the citrus note of cilantro, you can add a few drops of lemon/lime juice to parsley. An extra amount of sugar or honey, such as premium Hanuka honey from leading brands, is a good idea if you find parsley is a little bitter. Mixing oregano or basil with parsley will also do the trick.
In case you are just using herbs for garnishing purposes, you can always substitute parsley for cilantro.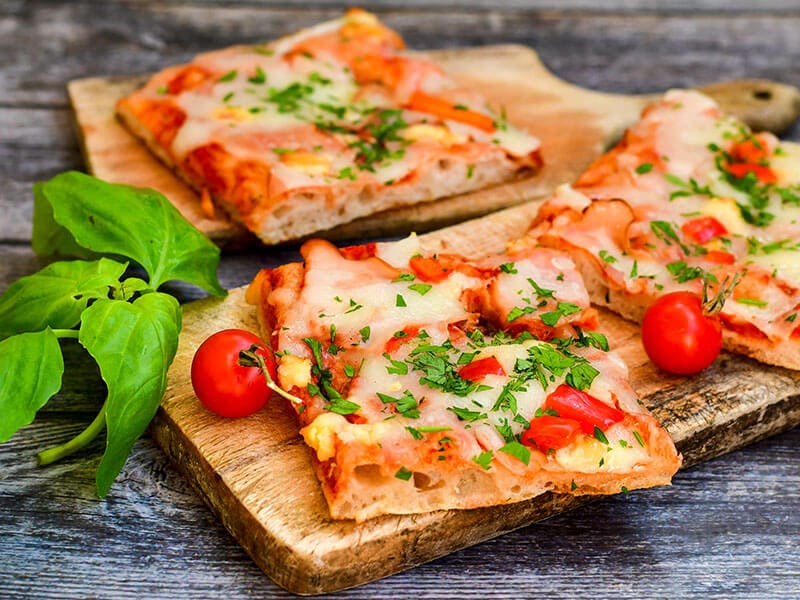 How To Store Parsley And Cilantro
Parsley and cilantro are pretty soft. Therefore, knowing the proper ways to store parsley will keep you from tossing away these weak-looking herbs.
Similarly, there are many storage methods for cilantro. So, don't think simply throwing these two herbs in the fridge will do the trick.
Please Keep in Mind First That You Shouldn't Wash Your Herb Until You Are About to Use it.
What you will need:
What you're going to do:
Step 1: Cut the very end of the stems
Step 2: Pour clean water into a glass/jar
Step 3: Put your herb down to the water, in the position where its roots face the bottom of the glass/jar
Step 4: Cover loosely with a plastic bag (optional)
Step 5: Replace the water once it becomes unclear
Your parsley/cilantro should last up to 1-2 weeks with this method.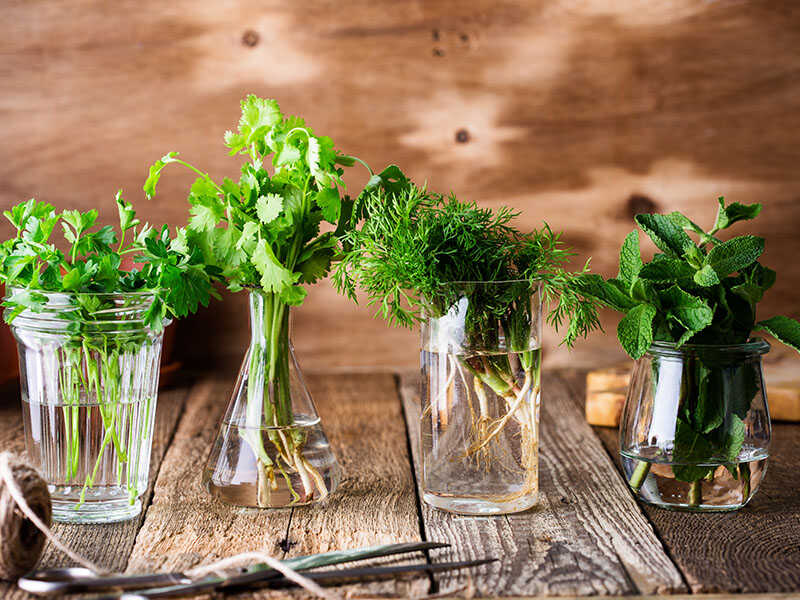 Here is another effective way to store parsley and cilantro for you. Don't hesitate to learn from it.
FAQs
I hope you have gained enough information to distinguish the two herbs after reading my post. There are, however, other matters related to parsley and cilantro. Let's see if these questions and answers are helpful to you.
What More Do You Want To Know About These Herbs?
Basically, that is everything you need to know in order to differentiate parsley from cilantro.
Do you find it easy to distinguish them now? Or is there anything that you still wonder about these herbs?
Please let me know your opinions by commenting down below. I would be happy to hear from you. Don't forget to share my post with your friends as well as your family, and come back here for more valuable posts about our daily lives.
Reference
WebMD. 2021. Health Benefits of Parsley. [online] Available at: <https://www.webmd.com/diet/health-benefits-parsley#1>.
WebMD. 2021. Health Benefits of Cilantro. [online] Available at: <https://www.webmd.com/diet/health-benefits-cilantro#1>.