Finding a parsley substitute can be challenging. There are many herbs and greens for you to try out there, but do their flavors and looks really fit your parsley dishes? What if you choose the wrong types and those recipes turn out to be disasters?
Don't worry anymore because this post is here to help you and provide you with all the necessary information. Whether you avoid using parsley because of your herb allergy or simply because it's not available in your kitchen, let's get to know 15 alternatives together!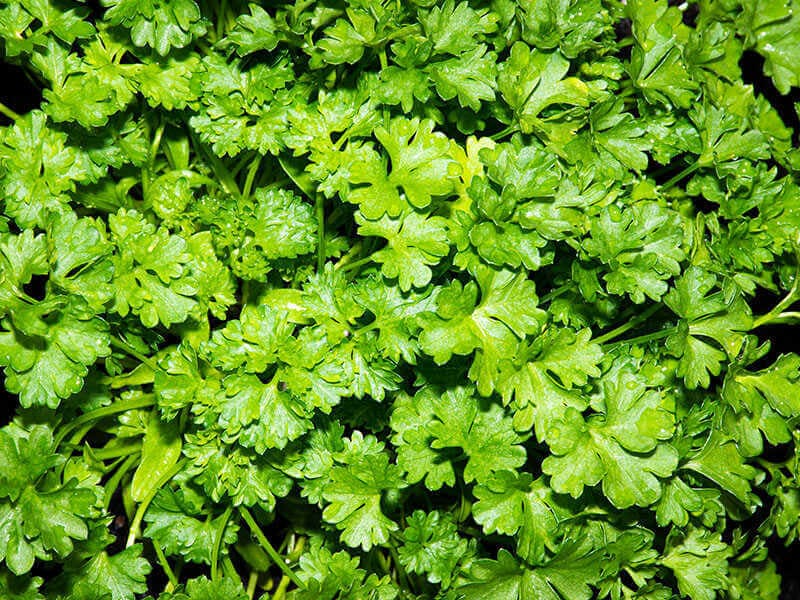 The Exclusive List Of Parsley Substitutes
There are many options for you to choose when it comes to substituting for parsley. However, some herbs may not fit your true purpose of using parsley. Hence, I have divided this post into two parts based on your purposes.
Take a look at these 15 incredible plants so you can have the first clue about them!
For Culinary Purposes:
Arugula
Chervil
Tarragon
Chives
Endive
Basil
Oregano
Lovage
Rosemary
Thyme
For Garnishing Purposes:
Green Onions
Mint
Cilantro
Celery Leaves
Carrot Greens
The Ultimate Description Of Parsley
The scientific name for parsley is Petroselinum crispum (1). This is a herb native to the Mediterranean region. Nowadays, parsley is widely used across countries in Europe, the Middle East and North America.
Parsley has a pleasing green color. The striking look of parsley leaves makes many dishes more attractive. Therefore, people use parsley as a means of food decoration.
Parsley is an aromatic herb. You can evoke the fragrance by kneading it. Doing so will release a fresh grassy scent, which can be described as a mild herbal scent.
If you eat parsley, you will realize it has a peppery taste. Some people find a citrus flavor in this herb.
Two Incredible Types Of Parsley
Parsley, when mixed with other ingredients, tends to bring the best flavor out of any cuisine. Even its root can be eaten, although this part is a bit more bitter. Therefore, it is a kitchen staple in many countries.
There are two varieties of parsley: Italian parsley and curly parsley. They can either be used in fresh or dried forms. Let's find out all about these varieties of parsley.
Italian Parsley
This kind of parsley is also regarded as flat-leaf parsley as its leaves are flat. Italian parsley is more widely used because it is easier to grow and has a more robust flavor than curly parsley.
Italian parsley is often confused with cilantro due to their similar appearance. One of the most notable distinctions between parsley and cilantro is that parsley's serrations are a lot sharper and more jagged than cilantro's. Knowing this will prevent you from grabbing the wrong one.
The flavor of Italian parsley is way more intense than curly parsley. It's more peppery and has a note of bitterness. Therefore, many Italian recipes call for this flat-leaf version of parsley, such as pasta and pizza.
In other areas, people use Italian parsley in a wide variety of cuisines. Soups, salads, sauces… are some of the dishes that include parsley as an ingredient.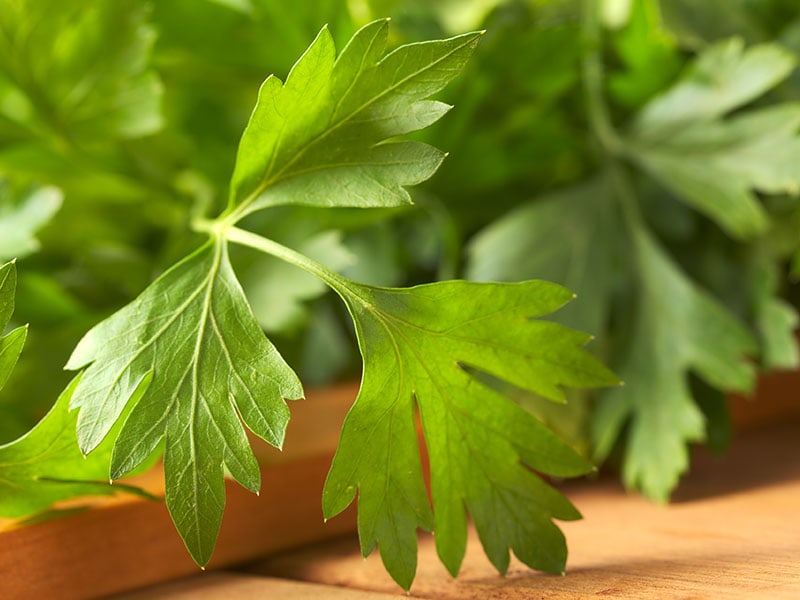 Curly Parsley
The name says it all, doesn't it? Obviously, curly parsley has curlier leaves than the flat-leaf variety. The taste of this curly version is relatively blander and less spicy when compared to Italian parsley.
Therefore, people don't often involve curly parsley in the whole cooking process. As it loses most of the flavor after being cooked, curly parsley is often used for culinary garnishing purposes, or only added toward the very end of cooking.
Decorating your dishes with this unique wavy texture of parsley leaves will make them become way more eye-catching and delicious.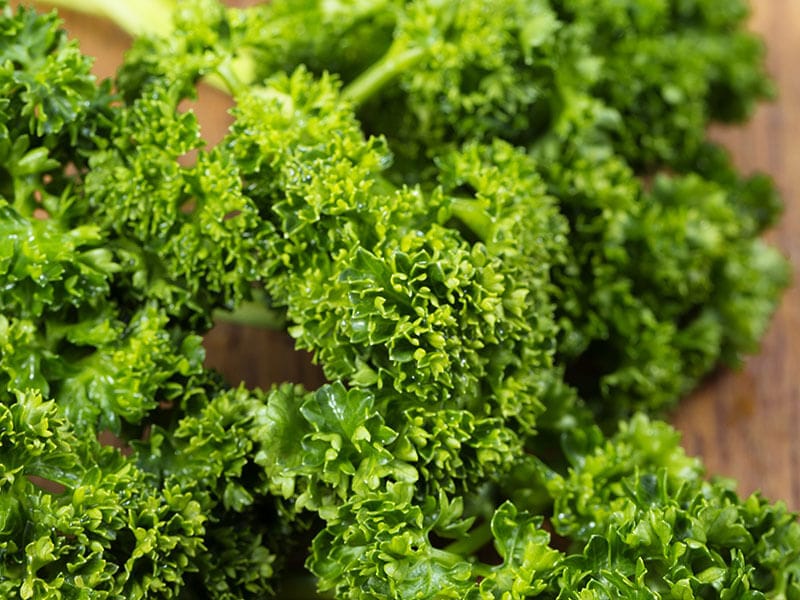 The Absolute Way To Switch Between Fresh Herbs And Dried Herbs
As mentioned earlier, people use parsley in both dried and fresh forms. Like any other dried food, dried parsley is more concentrated, which means it has a bolder taste and a more pungent smell than the fresh one.
If your recipes require you to incorporate parsley leaves while cooking, you can substitute both forms of parsley the other way round. The ratio of substitution is 1 teaspoon dried parsley equal to 1 tablespoon fresh parsley.
Unless you don't plan to substitute parsley with other herbs in this post, it's ideal to stick to the form of parsley in the recipe. For example, if the recipe calls for dried parsley, you should use dried basil, dried lovage… in place of dried parsley.
If you want to use parsley as a garnish, dried parsley probably won't work very well. Instead, let's swap for other fresh alternatives in this post and your dishes should turn out to be stunning as they should be.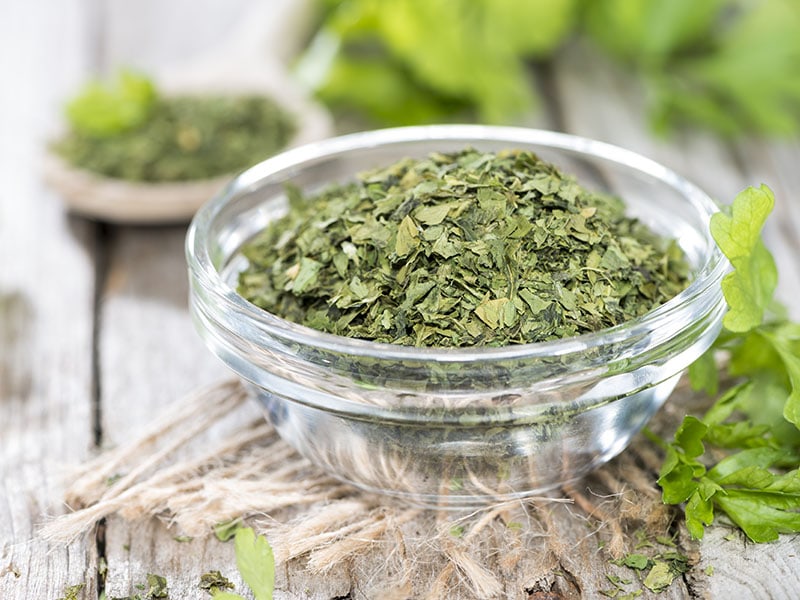 Fantastic Parsley Substitutes For You To Try
You forgot parsley's average shelf-life, or didn't know the correct way to store parsley properly, and now you don't have the necessary ingredient for your recipe? Don't fret; there are various herbs and greens that can achieve similar purposes. Check them out below!
Amazing Alternatives You Can Use For Culinary Purposes
Below is the list of substitutes that you can involve in cooking recipes. Some can even be beautifully garnished.
Let's find out about their striking looks, flavors and other related information right away!
Arugula is The Centerpiece Of Any Salad Dish
Arugula is in the same group of green as mustard green and cabbage. You may call it by other names, such as rocket, roquette and rucola.
People often put arugula in salads because of its beautiful green color and it's easy to prepare. Arugula has a peppery taste that is very similar to parsley. However, because it is bitter, you should switch to this green instead of parsley moderately.
I recommend that you chop the leaves of arugula before cooking because they are pretty big. You can decorate your dishes with chopped arugula as well.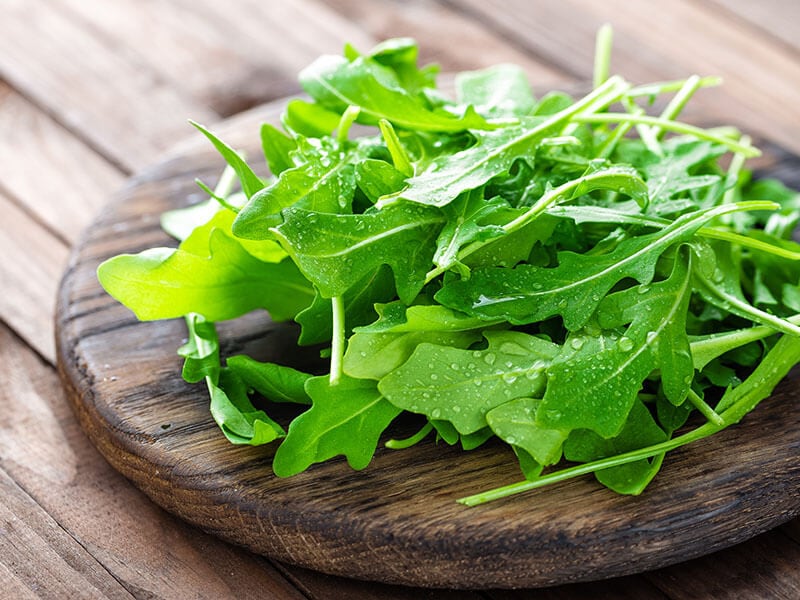 Chervil Is A Must-Try Herb When It Comes To Parsley Substitute
Chervil is a very close relative to parsley, which explains the remarkable resemblance between their looks and flavors.
However, the taste of chervil tends to be weaker, especially when you compare it with flat-leaf parsley. Therefore, please slightly increase the amount of chervil if you plan to use this herb in place of parsley.
You can also use chervil to garnish your cuisines because its flavor diminishes significantly once cooked. Or you can add chervil at the end of your cooking process to retain íts full flavor.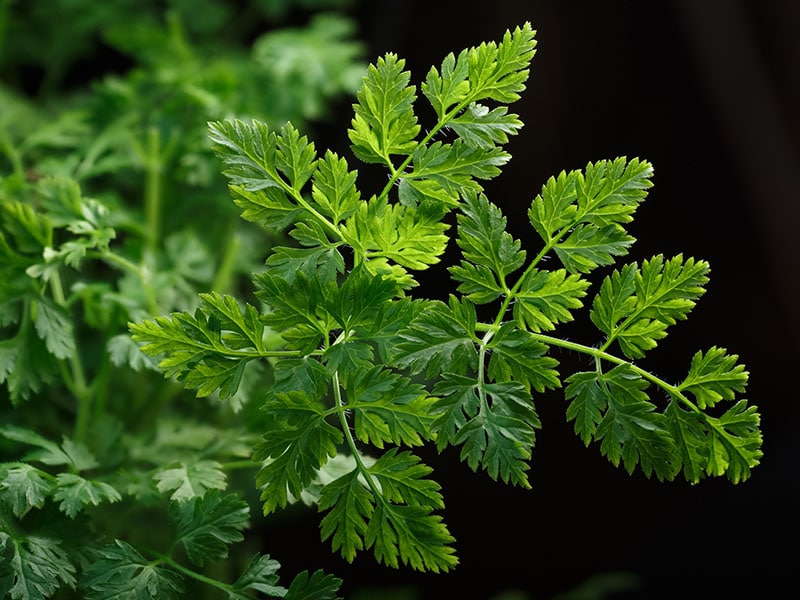 Tarragon – The Secret Ingredient Of Delicious French Cuisines
Just like chervil, tarragon is a herb commonly used in French food. Together with parsley, chives and chervil, they create the combination of a famous herb mixture: Fines herbes.
Thanks to tarragon's complex flavor profile, it can brighten up various cuisines. However, because its taste slightly differs from parsley, it's fine to substitute this herb for parsley in a minimal amount.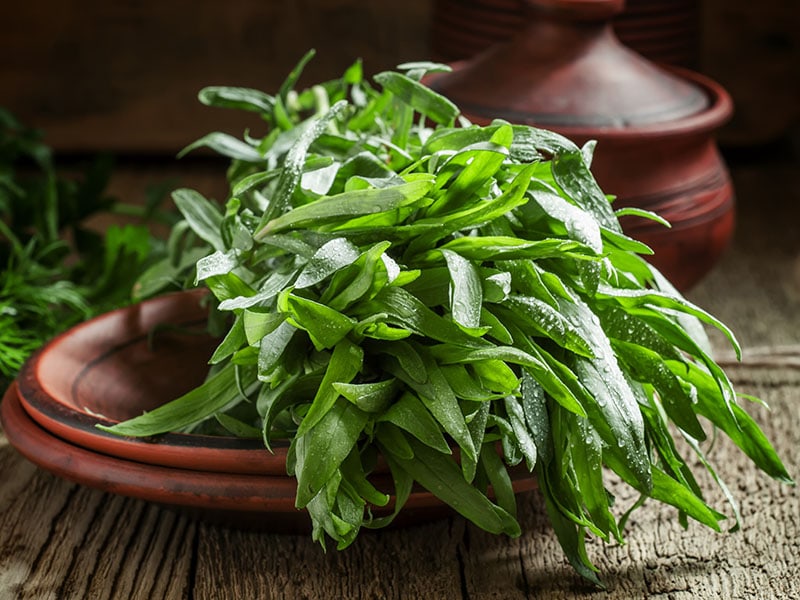 Chives Are Easy To Buy But Super Effective To Use In Place Of Parsley
Chive is a well-known relative of onion and garlic with a beautiful, long fresh green stem. Therefore, chives, onions and garlic's tastes are not really different.
Whether you use chives in fresh or dried form, you can substitute them for parsley in various cuisines. Chives go along really well with different types of food, just as garlic and onions do.
Thanks to their magnificent green color, chives are a popular garnish type around the globe. If you are looking for a herb that can decorate food like parsley, chives will be an excellent choice.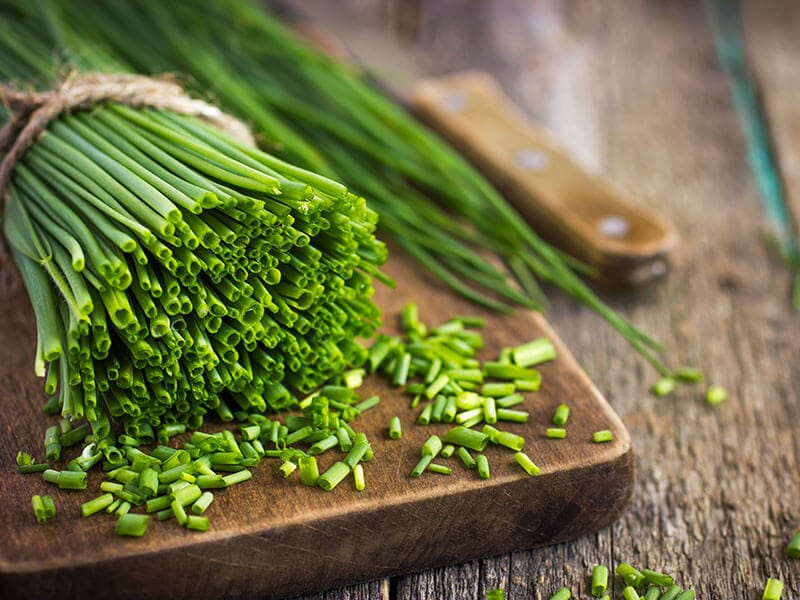 Endive Is A Perfect Substitute For Parsley
There are three major varieties of endive: escarole, curly and friseée. You nearly can not separate curly endive from curly parsley by the look. Therefore, this food with "E" as the beginning letter is a perfect alternative to parsley because of its vibrant color.
In addition, endive bears a great resemblance to the flavor of arugula: intensely peppery and bitter. Therefore, its taste is slightly more pungent than parsley. You may want to reduce the amount of endive a little bit when substituting it for parsley.
As endive's crisp and slightly bitter flavor can blend well with many things, you can add it to salad, grill, braise, or roast it to serve alongside savory dishes. In fact, endive goes well with meaty companions for fondue. So if you're a fan of fondue, why don't you try this out!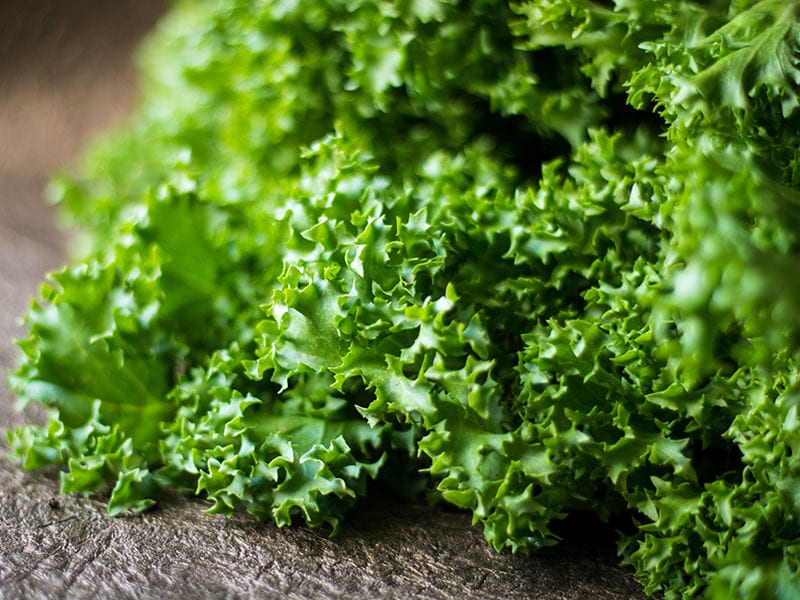 The Soul Of Italian Recipes: Basil Leaves
If parsley can be the perfect replacement for basil, I don't see why the opposite is not possible. A signature herb in many Italian dishes, basil provides a robust flavor when combined with other food. With its potent herbal scent, basil can easily replace parsley in various recipes.
If you want to use basil instead of parsley, it's better to use it in dried form. Fresh basil tends to be more suitable for Italian cuisines. However, it's fine if you replace parsley with fresh basil for garnishing purposes.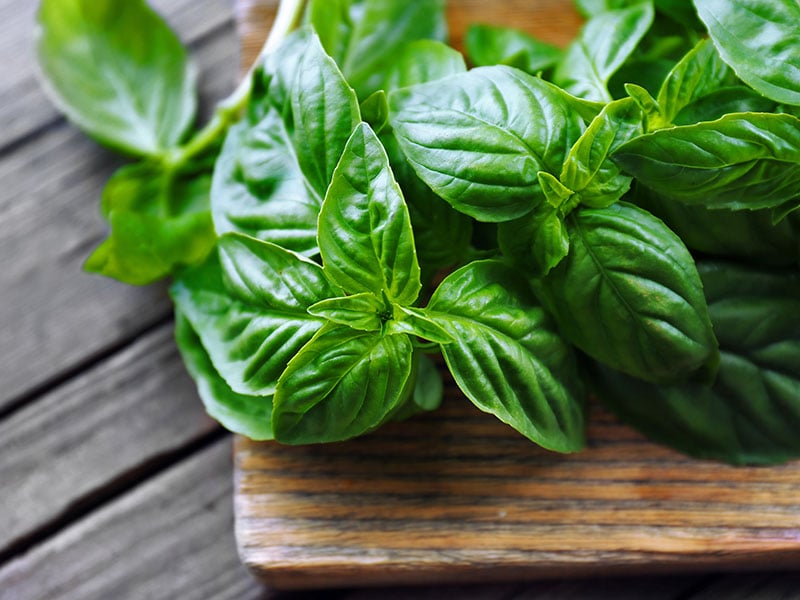 Another Gorgeous Aromatic Herb You May Try: Oregano
Oregano is another famous Italian kitchen staple. It is also a member of the mint family, but contrary to mint, it is savory. When compared to parsley, oregano has a much bolder taste.
Oregano can pair well with many of the foods that you would garnish with parsley. You can use fresh oregano as an edible garnish. If you want to substitute oregano for parsley in cooking recipes, you had better use it in dried form.
However, you'd likely want to avoid using too much oregano in place of parsley because its flavor is intense.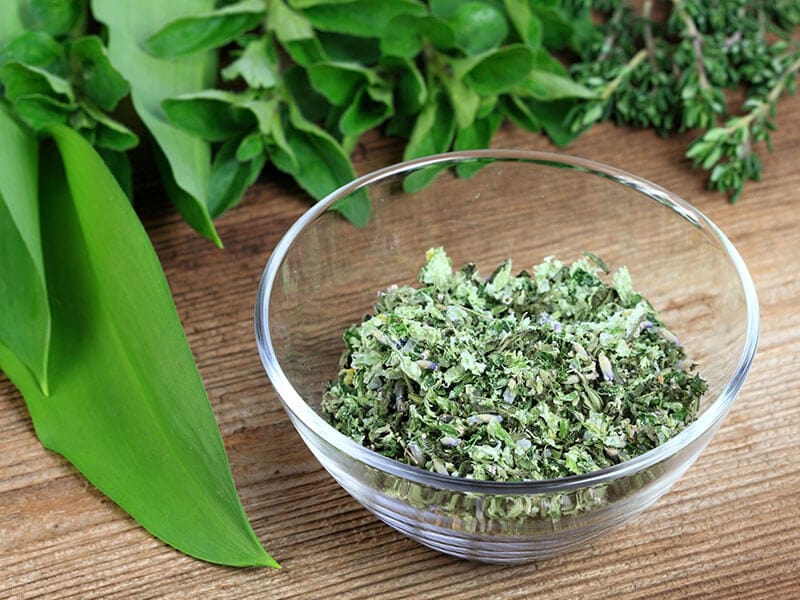 Oregano will even make garlic butter bread more flavorful. Try this wholesome recipe and tell me how you feel by commenting below!
Lovage Bears The Best Resemblance To Parsley
This is a much rarer species compared to other plants in this post. When it comes to the taste, lovage would resemble parsley and celery the most. It brings you the closest flavor to parsley, but sometimes it may be hard for you to buy this particular herb.
With an arguably similar taste, lovage can work so well as a cooking substitute for parsley. It can ideally be used in any recipes that call for parsley, and you can count on the leaves of lovage to match the look of parsley.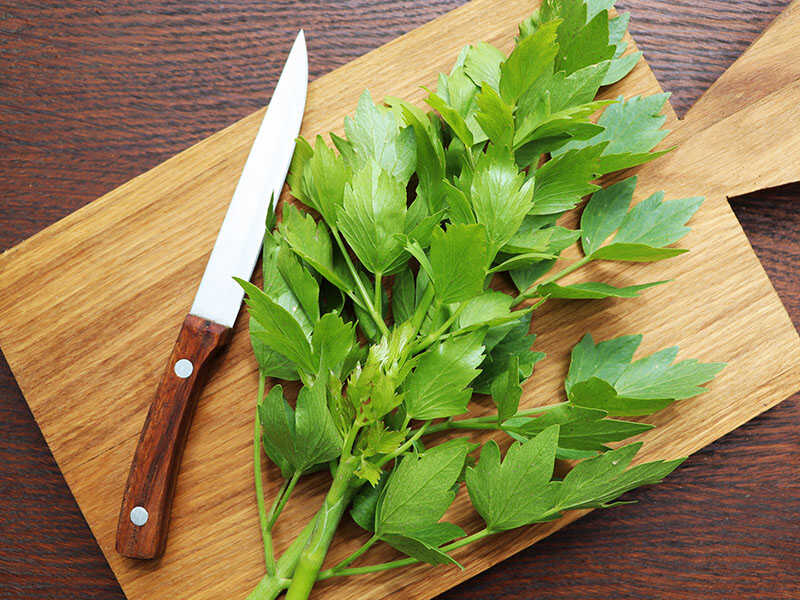 Incorporate In Your Recipes Or Give Your Dishes A Magnificent Look With Rosemary
Rosemary can also be considered a first-rate substitute for parsley. This is a fragrant herb that is used across multiple cuisines. The taste of rosemary can be described as peppery, woodsy and citrusy.
Because rosemary is one of the most aromatic herbs out there, it's also suitable as an alternative ingredient for poultry seasoning, sage, oregano, etc. Suffice to say, this herb's versatility is a force to be reckoned with. This is why you should always have this in your kitchen.
Thanks to its pungent flavor, you can try substituting rosemary for parsley if you want to stimulate your senses more strongly. Both fresh or dried rosemary would replace parsley well.
In addition, the appearance of rosemary is really stunning. Therefore, it is used to decorate a wide variety of food, from savory dishes to sweet cakes. Garnishing your food with this decent-looking herb will make it much more attractive.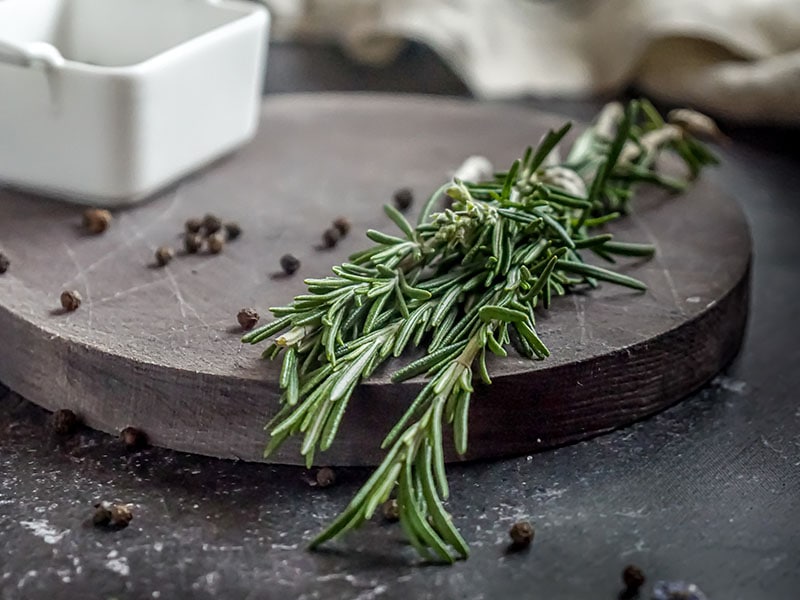 Who Wouldn't Love Thyme – The Extremely Fragrant Herb?
Thyme is another aromatic herb in this post. This herb is commonly used across countries for culinary, medical and decorating purposes.
When compared to parsley, the flavor of thyme is a bit different. Thyme is sweet, floral and tastes similar to mint leaves. However, parsley and thyme resemble each other in the peppery taste.
I recommend that you substitute thyme for parsley in dried form. This is because the peppery taste of thyme is milder than parsley, and in dried forms all flavors tend to be more concentrated.
Thanks to its distinctive look with small leaves, thyme can work really well as a garnish for all cuisines. Therefore, there's no problem switching parsley for thyme when you want to make your food look more delicious.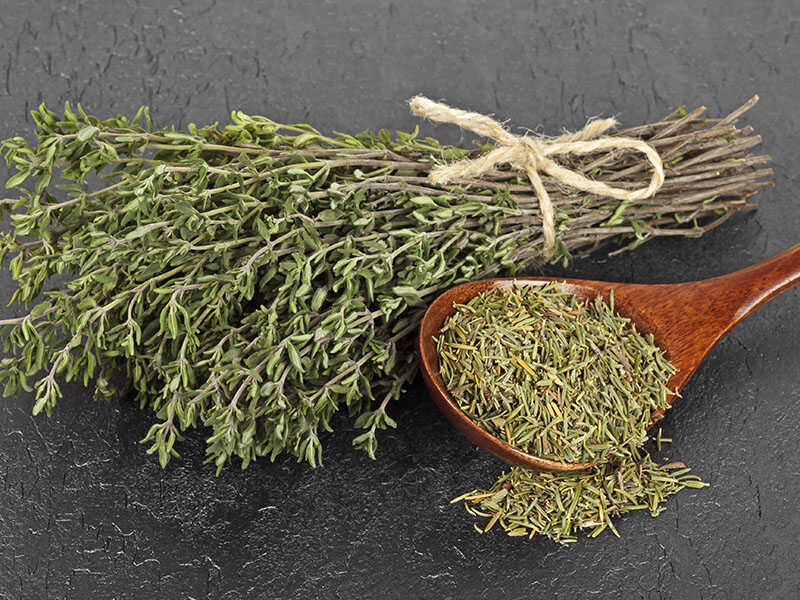 Gorgeous Alternatives For You To Garnish Your Dishes
These greens can only be used to sprinkle on your dishes because their flavors and parsley's flavor are not much alike.
The Commonly Used Yet Elegant-Looking Green Onions
Although green onions come with many kinds, they are often grassy and somewhat spicy, while parsley is peppery and slightly bitter. They don't contain the aromatic flavors of herbs. Therefore, green onions are not regarded as an ideal alternative for parsley in most recipes.
However, if you chop their stalks into thin slices and sprinkle them all over your food, green onions can act as an effective substitute for parsley for garnishing purposes.
Their tastes and textures are very different from each other. When it comes to finding an alternative green flourish of parsley, please use green onions in small quantities to not affect the flavors of your dishes.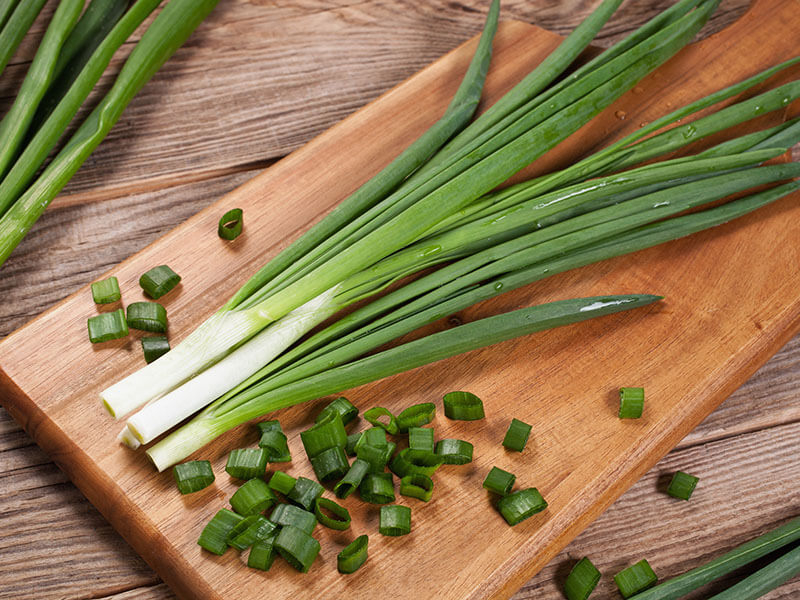 Mint – The Beautiful Green Spot That Suits The Look Of Any Dish
Mint is an aromatic herb appearing in many sweet and savory recipes. Many love its beautiful green color, so make sure you know different approaches to retain mint leaves' freshness. This way, you can also preserve their flavorful profile and positive effects on human health.
About the taste, mint has a delicate sweet bite and a cool aftertaste. Therefore, the flavors of parsley and mint are actually not much similar. If you need a little green to brighten up your sauce or dish of choice, mint could be an ideal candidate.
I recommend that you mince the leaves first before garnishing your food. When it comes to Asian and Middle Eastern dishes, mint will pair really well.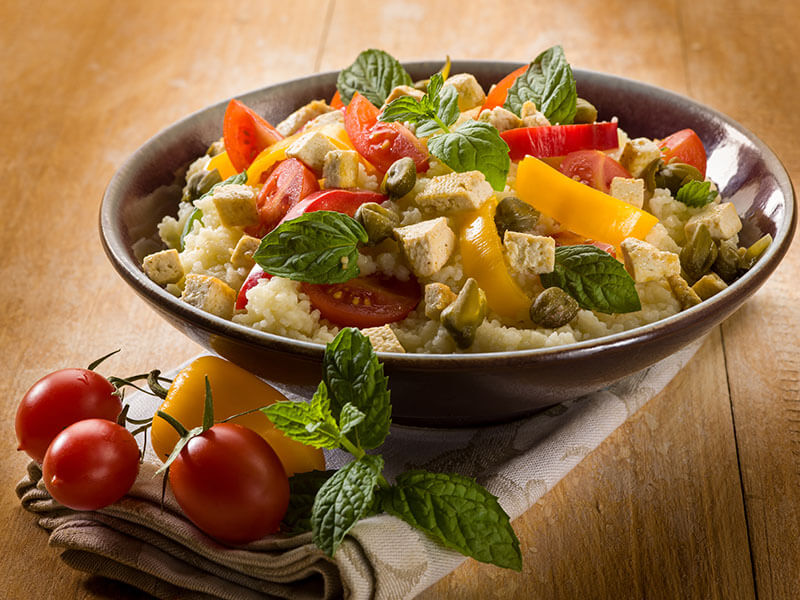 Cilantro Is A Close Relative Of Parsley
Both cilantro and parsley belong to the Apiaceae herb family (2). Many people still confuse fresh cilantro with dried ones. However, these two offer different flavors. As for fresh cilantro, it has a stronger flavor and a more distinctive aroma than parsley, despite their similar look.
These two herbs are applied in very different styles of cuisines. Parsley is widely used in Europe, the Middle East, and North America, while people in India, Mexico, and Asia prefer using many kinds of cilantro. Each of the herbs has its own unique taste.
Therefore, it is rarely acceptable to replace cilantro with parsley in recipes. If you plan to switch to cilantro, make sure the flavors of your dishes don't turn out to be very weird when doing so. However, it's very ok if you substitute cilantro for parsley when garnishing food.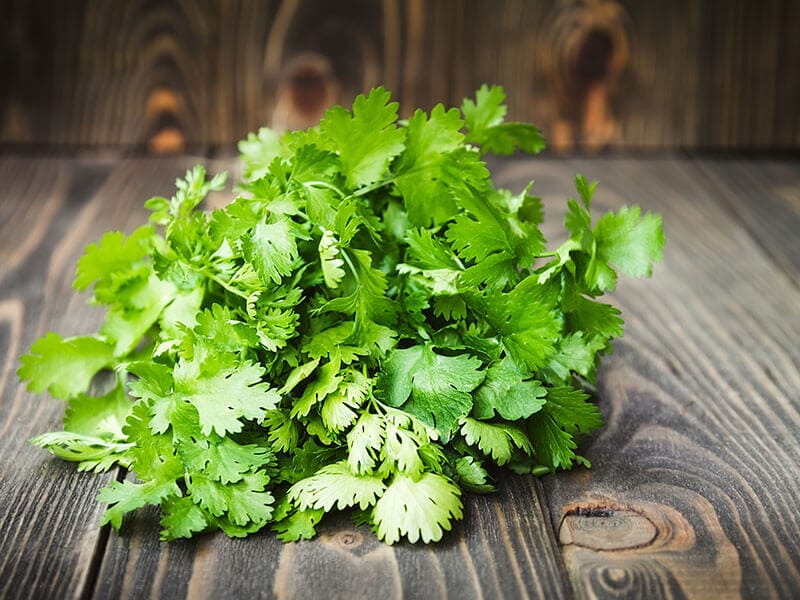 Celery Leaves Are The Unexpected Yet Super Amazing Garnish
All celery varieties belong to the same family as parsley, which is also the family of carrots and chervil. This explains why parsley can sometimes be utilized as an alternative ingredient for celery seeds and celery. Aside from the stalk, celery leaves are also edible.
If you chop those leaves and sprinkle them on your dishes, they are almost identical in appearance to parsley. Therefore, chopped celery leaves are another fantastic option for you to try with.
However, the taste of celery leaves is kind of flat. Hence, it's not ideal to replace parsley with these leaves when involved in the cooking process.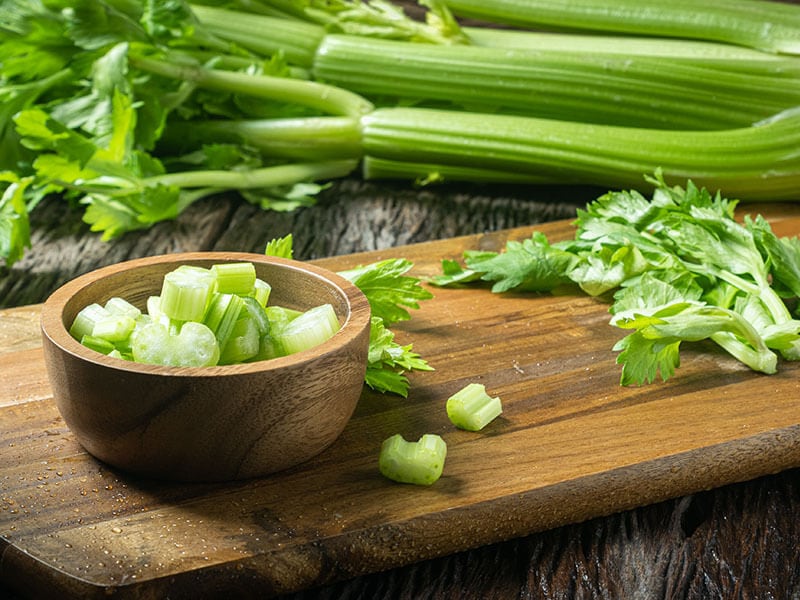 Carrot Greens Are The Exceptional Ingredient To Decorate Your Dishes
Have you ever thought that the green tops of carrots are edible? I was so surprised the first time I found out about this. They taste like a combination of parsley and carrot but much more bitter.
Hence, carrot greens are not commonly used in place of parsley in cooking. On the other hand, they can act as a stunning visual substitute for the real herb. Try chopping them finely and garnishing your food with these greens. You'll be amazed, I promise.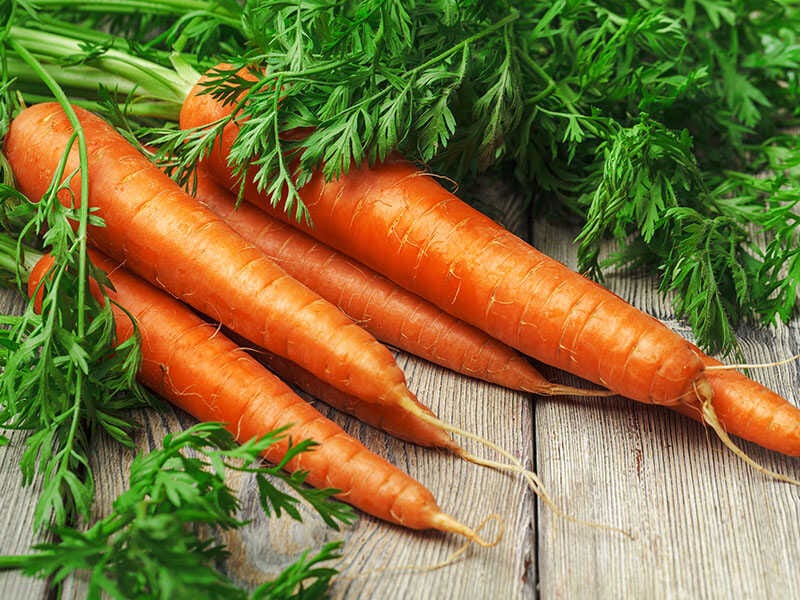 FAQs
Below are the frequently asked questions about parsley substitutes. If you have any more questions about this topic, please feel free to comment below.
What Plants Are You Going To Use Instead Of Parsley?
Are you satisfied with the above list? I hope they provide enough information for you to confidently choose any of them as an excellent substitute for parsley.
Do you plan to make some dishes with your chosen alternatives? May I know what recipes they're going to be? Please comment down below because I really want to know. Don't forget to share my post and come back here for more daily valuable posts.
Nutrition Facts
1 servings per container
---
Amount Per ServingCalories2.5
% Daily Value *
Total Fat 0.1g

0

%
Sodium 2.7mg

1

%
Potassium 37mg

2

%
Total Carbohydrate 0.4g

0

%

Dietary Fiber 0.2g

0

%
Sugars 0.2g

Protein 0.3g

0

%
---
* The % Daily Value tells you how much a nutrient in a serving of food contributes to a daily diet. 2,000 calories a day is used for general nutrition advice.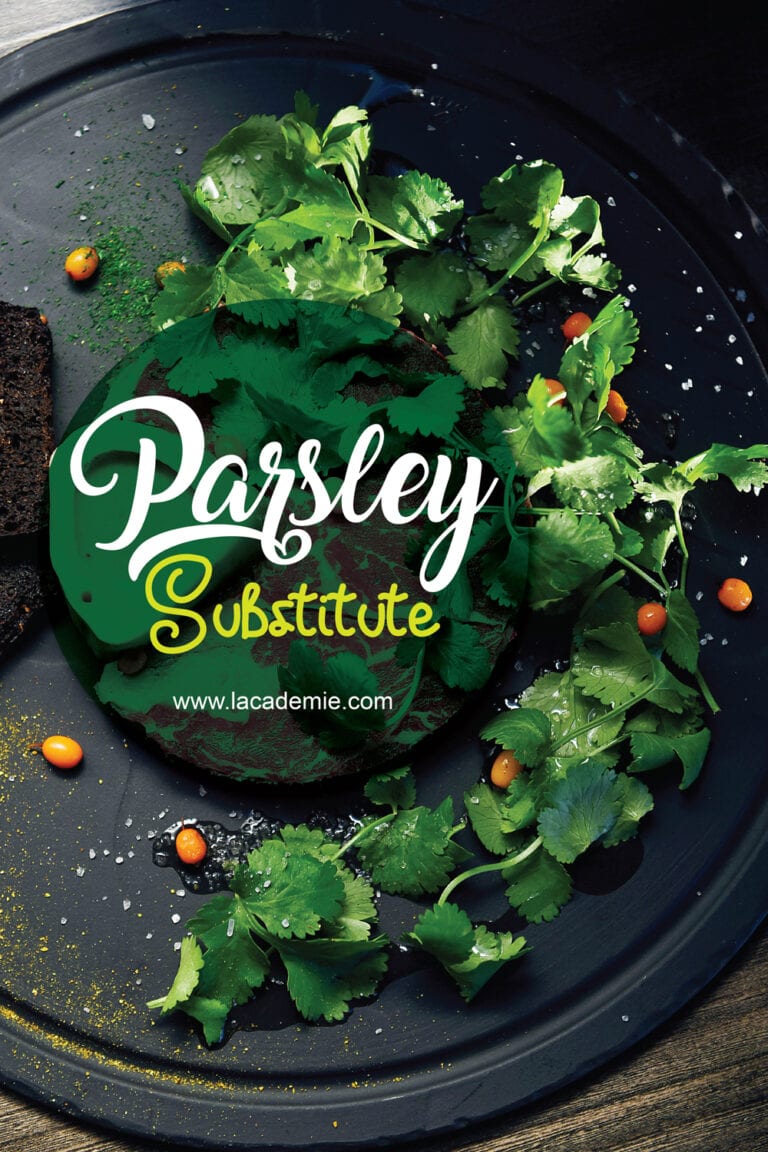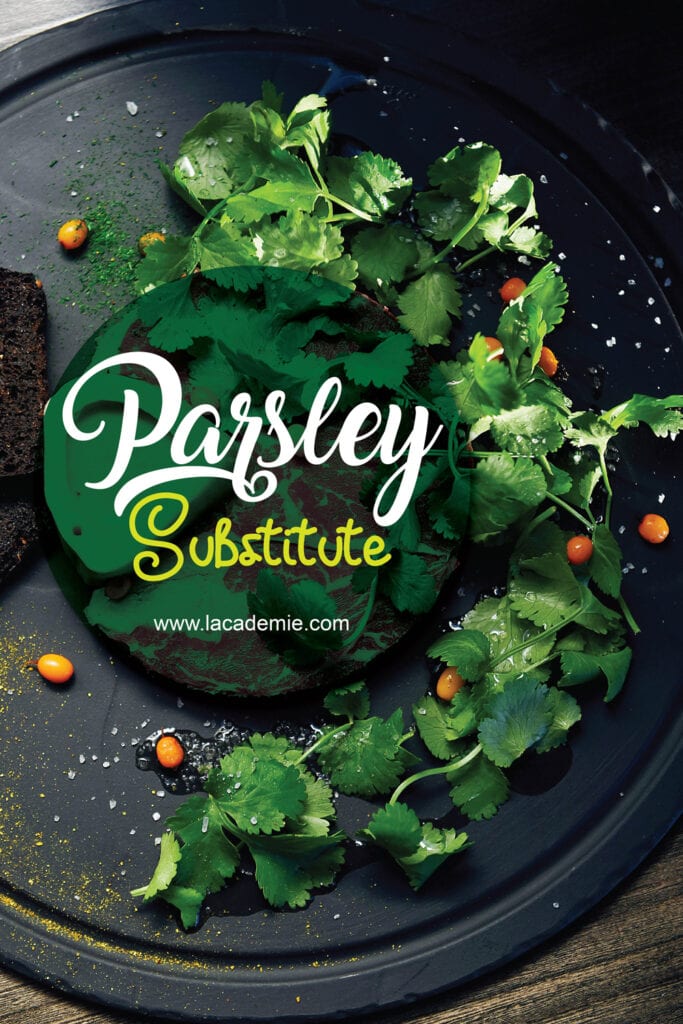 Reference
En.wikipedia.org. 2021. Parsley – Wikipedia.
En.wikipedia.org. 2021. Apiaceae – Wikipedia.