What do leeks taste like, and can you use them for anything other than soups? It is time to find out more about these vegetables and include them in your diet.
In the past, I used to mix leeks with green onions, and I believe that I am not the only one. Leeks belong to the onion family but are quite distinct from their relatives by flavor and use in the kitchen.
I love leeks, and whenever I get my hands on the fresh and young leeks, I get them. Over the years, I developed the best methods for cleaning the leeks as it can be challenging for the first time.
If you want to find out more about leeks, then keep reading.
What Are Leeks?
Before we jump to the leek's taste and use, let's learn more about these vegetables.
Leeks belong to the onion family and are similar to other alliums, such as scallions, garlic, shallots, and chives. The leek size varies from small to large.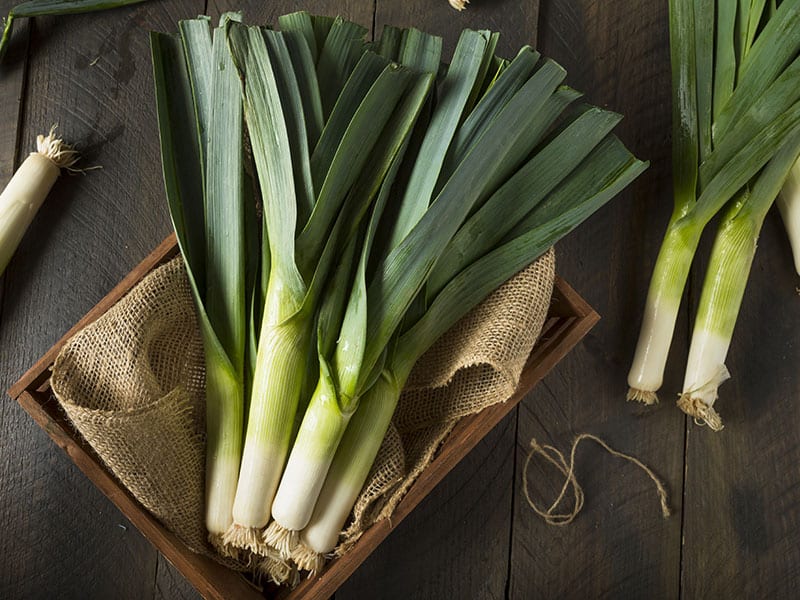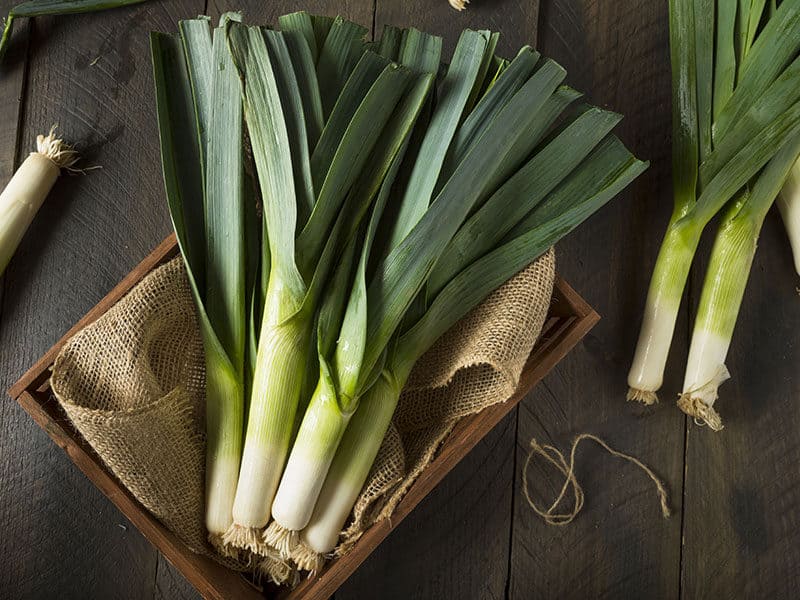 Leeks are used in different cuisines around the world. For example, the widely recognized and served dish is leeks and potato soup, but leeks are more versatile than that.
Appearance
Leeks have flat leaves, much wider and thicker than green onions. The bulb doesn't grow separately from leaves. Rather, the leaves are wrapped around each other on the entire leeks. It looks something like a robust celery bunch, and their growth isn't very different from that.
The stalks grow densely packed around each other and get thinner as you go towards the middle.
How Are Leeks Different From Green Onions?
You may mistake leeks as a member of green onions' big family, but they are a completely different plant from the same family. First of all, leeks are much larger than green onions.
They have wider and denser leaves, different flavors, and use.
On the other hand, green onions have a visible bulb on the bottom, something leeks don't have. Therefore, next time you find yourself in the supermarket wondering if the green onion is just an underage leek, check the bottom.
If possible, touch the leaves. Leaves on leeks are fibrous and thick, while green onions have thin, narrow, and porous leaves.
Watch this video to know more:
Interesting Fact About Leeks
Did you know that leek is one of Wales's national emblems? One legend says that during the Heathfield battle in 633 C.E on the leek field, the Welsh warriors wore leek as the identification sight. They won the battle, so the leek spread throughout the country as a symbol of good luck.
Apart from being an irreplaceable food of Welsh cuisine, leeks are also part of a festive tradition. People in Wales wear it on March the 1st, the day of St. David, the monk who came up with the leek as an identification idea.
What Do Leeks Taste Like?
Leeks are much sweeter than green onions, and the way you cook them determines the flavor. Raw leeks have a more tender taste compared to other vegetables from the onion family. The taste is somewhat grassy with an herbal pinch to it.
You can eat them raw in salads, but most people prefer to cook them.
Still, if you want to try raw leeks, I recommend cutting them in a half-moon shape and use them in salads, burgers, and different sandwiches. The larger the leek, the stronger the flavor is.
Whichever method of cooking you choose, the texture will change.
Leeks will become more creamy and buttery, with a mild flavor and added aroma of the food cooked with them.
Roasting leeks ensures crisp texture and melting sensation in your mouth. To boost the flavors, you can add some spices that go well with caramelized onions, such as thyme.
Watch this video to know more:
What Parts Of Leeks Are Edible?
Unlike green onions, the edible parts of leeks are white and light green sections. Those look like stems.
You can also eat dark green leaves, but you risk getting bitterness or ruining your dishes.
Additionally, you can cook those dark green leaves, but they need more time to become tender.
Nutritional Value Of Leeks
Leeks are very healthy and low-calorie food. One serving of 100 grams of raw leeks contains only 61 calories. The same amount of leeks contains only 0.3 grams of fat and 3.9 grams of sugar, 20 milligrams of sodium, and 180 milligrams of potassium.
Leeks are rich in several vitamins, such as vitamin A, K, C, B6, and minerals such as calcium, iron, and magnesium.
Health Benefits Of Leeks
Leeks contain kaempferol, a beneficial antioxidant with anti-inflammatory and anti-cancer properties.
These vegetables can reduce the risk of stomach, colon, and prostate.
Next, they reduce the osteoporosis risk by keeping your bones strong due to vitamin K.
Because leeks contain carotenoids, they can protect your eyes and reduce the risk of degeneration.
Lastly, leeks are great for weight management. Because of water and fiber content, leeks can give a person a prolonged feeling of fullness. When added to dishes, they improve the flavor significantly.
Watch this video to know more:
Selecting Leeks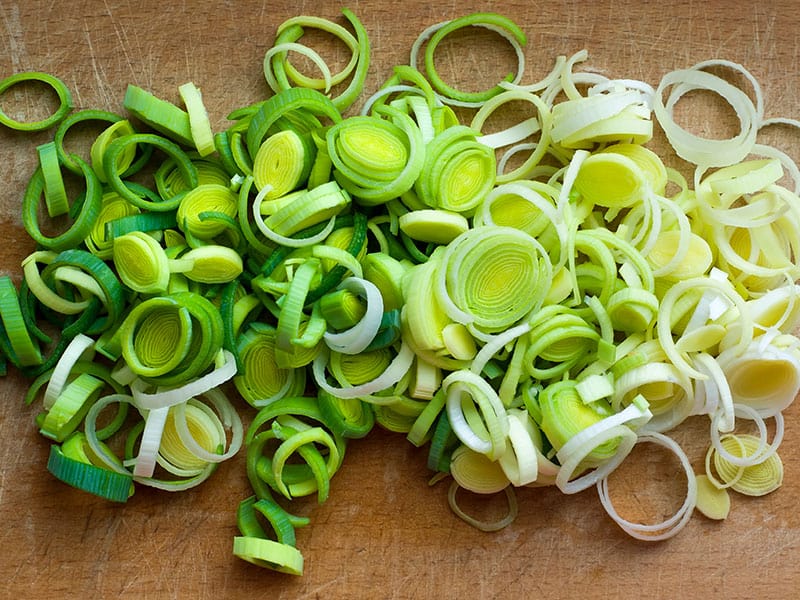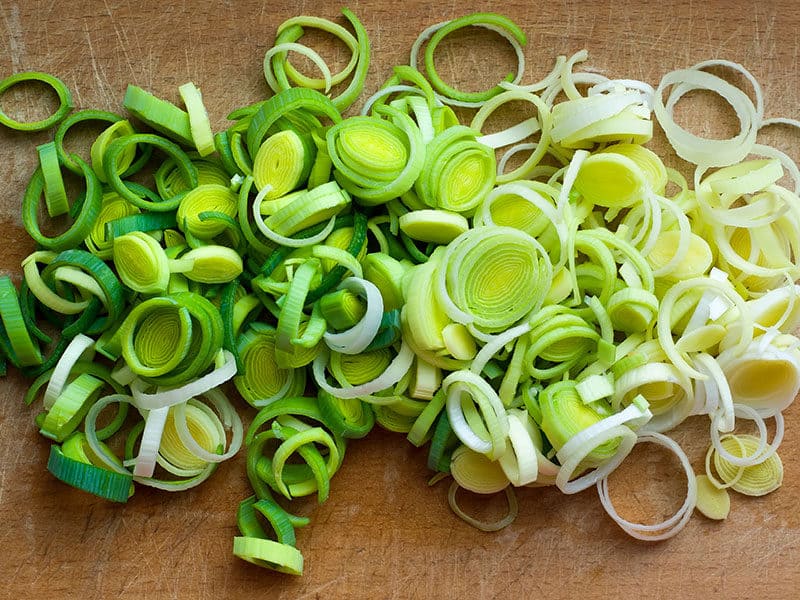 Not all leeks taste the same or complement your dishes.
The leeks with large sections of white and light green are the freshest. Make sure there are roots on the bottom, as it prolongs the freshness of the leeks.
If you prefer milder flavors, pick smaller leeks. Large stalks ensure the strongest flavor kick.
Avoid buying large leeks with dark green tops without roots. Those are a tad old and have an unpleasant taste. Also, if you notice leaves turned yellow at the ends, it means that leek is drying out. Hence, it will have a dull taste and isn't good for cooking.
If you bought leeks a few days ago, and the parts started to darken, you can use them in leek soup.
Still, fresh and firm leeks are best for every recipe.
Watch this video to know more:
How To Use Leeks In The Kitchen?
When I first discovered leeks, I only used them fresh in various salads. Over the years, I experimented and used leeks instead of onions in some recipes. You should try that too, once you master the cleaning and cutting them.
Here are my methods for cleaning, cutting, and preparing leeks.
How To Clean Leeks?
Leeks have layered texture and the dirt can pile up under every layer. Therefore, it can be challenging to clean the leeks completely. It is especially true for thick leeks, as they hold more layers, so more dirt can stick under the layer.
If you wash only the stem of the leek, you will clean only the outer parts.
Therefore, my method for cleaning leeks includes cutting them first and then washing them. I usually cut them in 1-inch thick circles, put them in a colander, and wash them thoroughly with cold water over the sink.
You can let them drain and dry before you continue to use them.
How To Cut Leeks?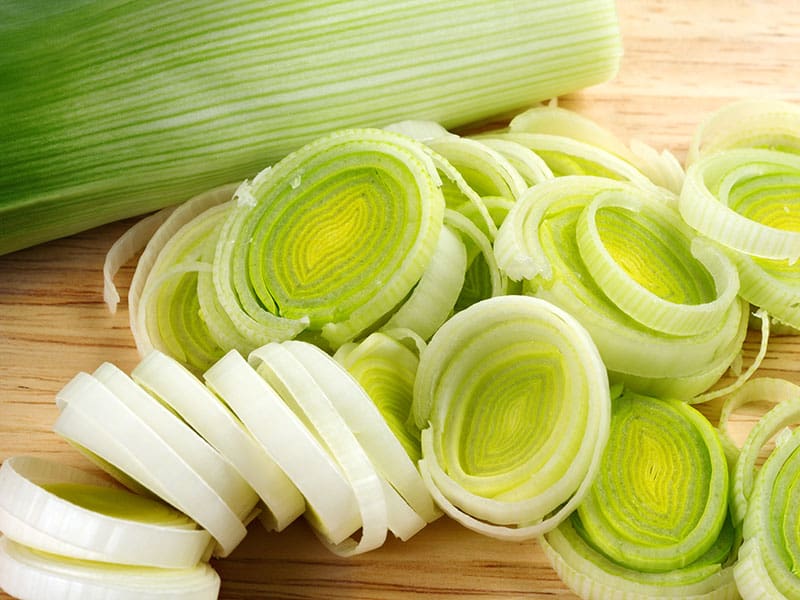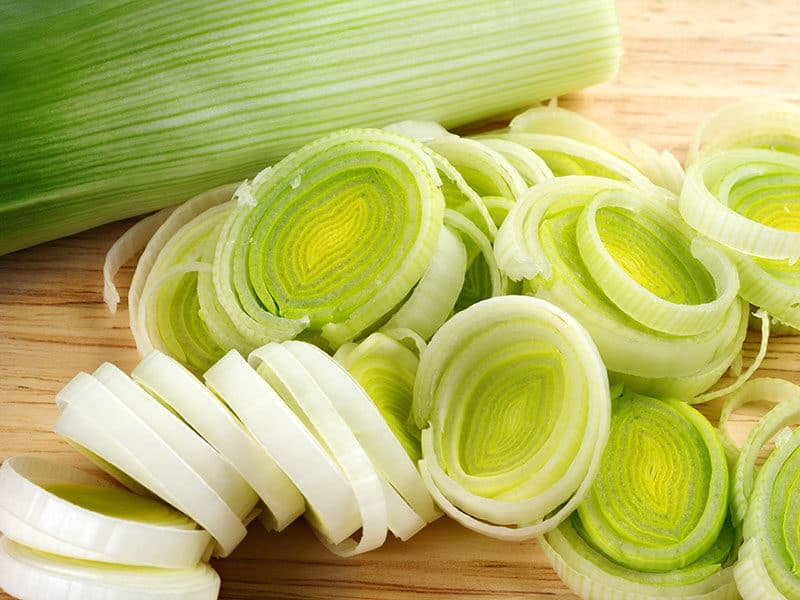 Wash the leeks to avoid pushing dirt further into layers.
Then, cut off the darkest parts at the end of the plant and toss them away. It is because the best parts are white and light green. Cut the roots at the opposite end of the plant.
What you have left with is the edible leek part that you can cut in several ways – rings, half-moons, or in half lengthwise.
Use a large chef knife or your sharpest Chinese cleaver to cut leeks quickly and precisely. Small leek rings are great for salads and sautéing.
If your leek is too thick and the rings have a larger diameter you can cut the leek in half lengthwise, and then cut every part to a 1-inch thick half-moon.
Additionally, some people prefer to cut leeks in half lengthwise, until they end up with thin leek sticks to add to dishes.
Watch this video to know more:
How To Store Leeks?
If you have bought fresh leeks and you don't use all of them, you might be wondering which are the best ways to prolong your leeks' freshness. Below are some of the easiest methods that you can do right away.
Shake the leeks that you plan to store to remove the soil as much as possible. Rinse the plant well and let it drain. Damp a paper towel and wrap the leeks to maintain the freshness as long as possible. You can use a perforated plastic bag to store the leeks like this in the fridge.
The leeks can stay good in the refrigerator for a maximum of ten days. However, approximately on the seventh day, the leaves will start to turn yellow. You can trim them to prolong the freshness for a couple of more days.
Generally, the larger leeks go bad sooner than smaller ones.
The ideal conditions for storing leeks are about 32 degrees Fahrenheit and 95 to 100 percent relative humidity. If the temperature is too warm, leeks will turn yellow sooner.
Can You Freeze Leeks?
You used to wonder whether freezing is possible with green onions. And now, since leeks are pretty similar, you may question the same thing. Well, while the possibilities can vary, the information below can help you.
Leeks are in season between October and May, but if you want to use them over the summer, you could freeze them.
Leeks can stay frozen for around ten months in a refrigerator if you freeze them properly.
However, the key to freezing leeks is in their preparation. Preparation takes time because you shouldn't just toss them in the freezer. But, it also makes it easier to use once you want to include them in your meals.
The first thing to do is to clean the leeks and trim the roots. Next, cut them in small rings, as you would normally, and blanch them. To do so, keep them in boiling water for 40 seconds and then, put them in the cold water. That will help the plant to maintain the freshness, appearance, and taste.
Dry them well with a kitchen towel and use a baking tray to freeze the leeks in a single layer.
After two hours, put the leek in a practical freezer container with a lid.
I wouldn't recommend freezing whole lids, as that will take much time and space. Additionally, you will freeze the parts you don't use for cooking such as dark green parts, and the leeks won't freeze evenly.
Cutting and blanching them is the best method.
When you want to use them from the freezer, just sauté them in the pan or add them to boiling water.
If you want to defrost these leeks, a thawing tray is the best choice. Or just leave these leeks at room temperatures. But remember to use them immediately after defrosting.
Best Recipes With Leeks
Once you start cooking with leeks, you won't go back to using onions in all recipes. I will share my two favorite recipes with leeks to try as soon as possible.
Leeks Tart
You can make tarts from almost every vegetable and fruit, and leeks have become one of my favorite vegetables for the tart.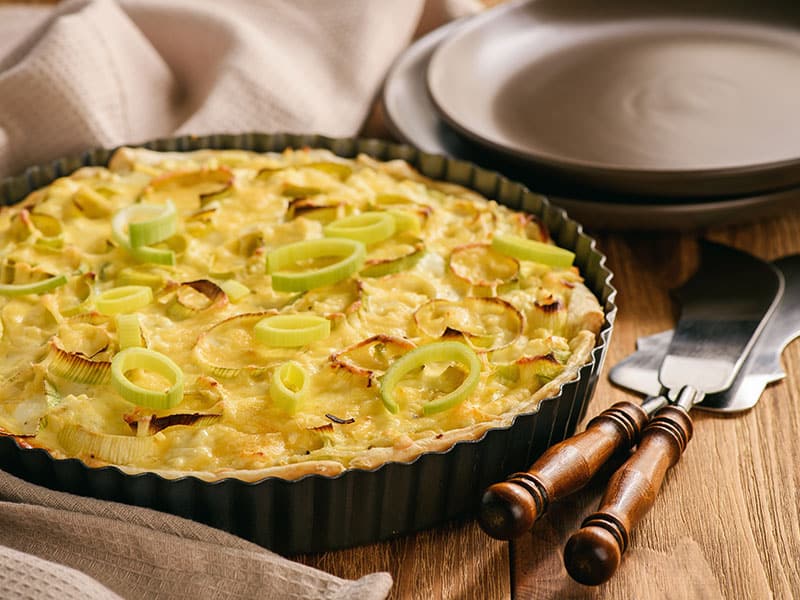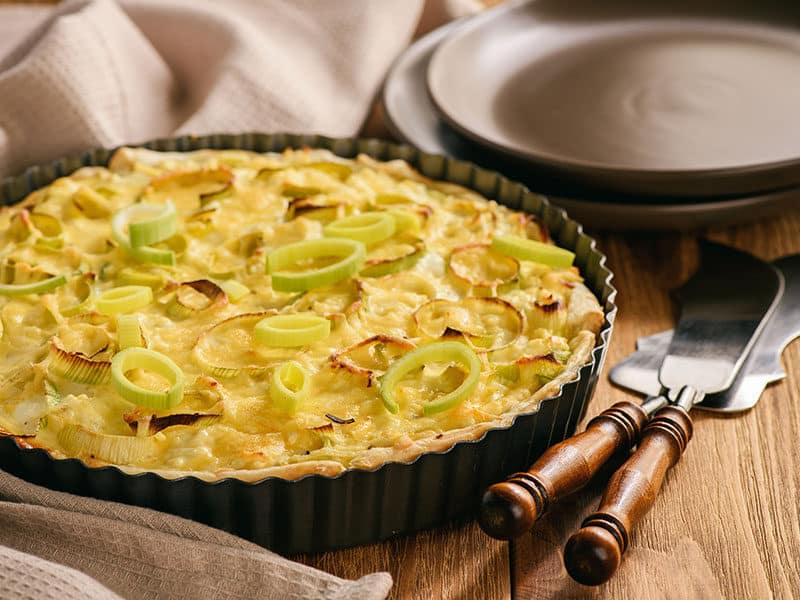 Things you need:
Flour
Pastry – 350 g
Leeks – 2
Cream – 125 ml
Spinach – 150 g
Peas – 200 g
Mozzarella – 4 pearls
Butter – 1 tablespoon
Egg – 1
Preheat the oven to 390 degrees Fahrenheit. Then, roll the pastry on the suitable pastry board to not get things messy. Make sure you sprinkle it with flour beforehand. Put the dough in the tart pan approximately 3 cm deep and trim excess dough.
Sauté chopped leeks in melted butter, add half a glass of water, cover the pan and let it cook for 5 more minutes. Whisk the remaining ingredients – cream, egg, peas, and spinach and you've got your filling.
Pour the filling into the tart and put your leeks on top of it, alongside mozzarella pearls. Bake the tart for 30 minutes and serve it with a fresh green salad.
Leeks And Cauliflower Soup
Leeks and potato soup are by far the most common, but I prefer cauliflower instead. It has a milder taste and fewer carbohydrates than the original potato leek soup.
Here is what you need:
Butter – 3 tablespoon
Olive oil – 2 tablespoon
Spice – salt, pepper to taste
Leeks – 3 medium-size
Garlic – 2 cloves
Cauliflower – 1 large head
Vegetable broth – 6 cups
Heavy cream – 1 cup
Melt the butter and olive oil and sauté garlic, leeks, and cauliflower for 10 to 15 minutes. Add vegetable broth, bring to boil, put the lid, and let it simmer for 50 minutes. Then, take the soup away from the heat and use a hand mixer to smooth the texture. Mix in heavy cream in the soup and serve with fresh parsley sprinkled on top.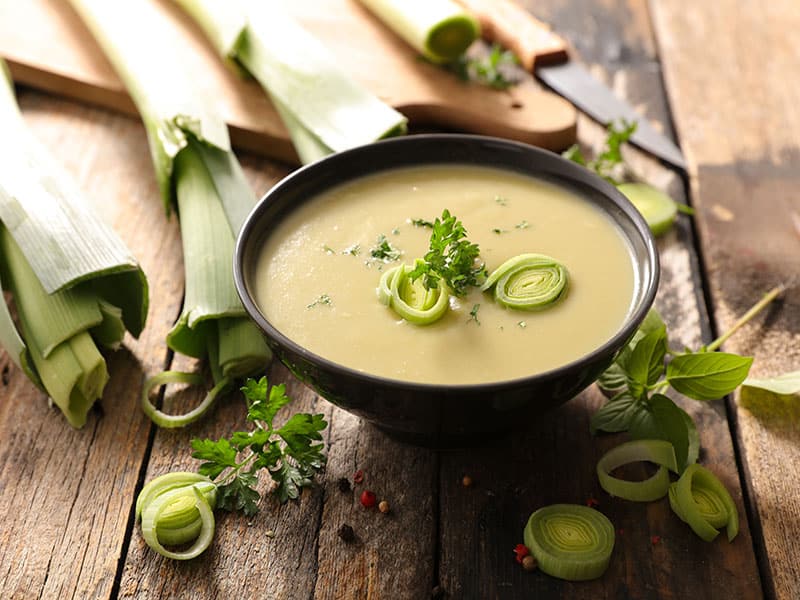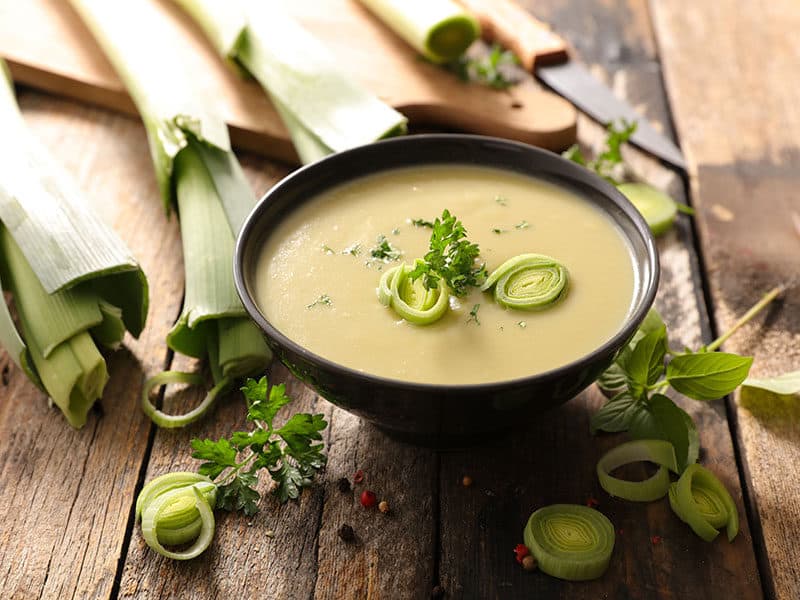 Watch this video to know more:
Leeks: Favorite Onions To Use In Many Dishes
Leeks are unjustly neglected onion relatives with so many health benefits that some people consider them as a superfood. Leeks have a mild and sweet taste and get a creamy texture when cooked.
You can use them in soups, salads, sandwiches, burgers, pies, and so many other ways.
Do you like leeks? How do you prepare them?
If you enjoyed my article about leeks, don't forget to like and share it to spread the word about healthy and delicious leeks!