There are several aromatic herbs, and thyme vs. oregano seems like a long-time debate as they are both versatile in cooking.
If you are a gardener, you can easily recognize thyme and oregano as these herbs are easy to grow. However, I am sure many people cannot distinguish between thyme and oregano as they are just familiar with the store-bought dried form of these two.
Therefore, the primary purpose of this post is to explain how different they are through various facets so you will never mistake them from now on. Check it out, guys.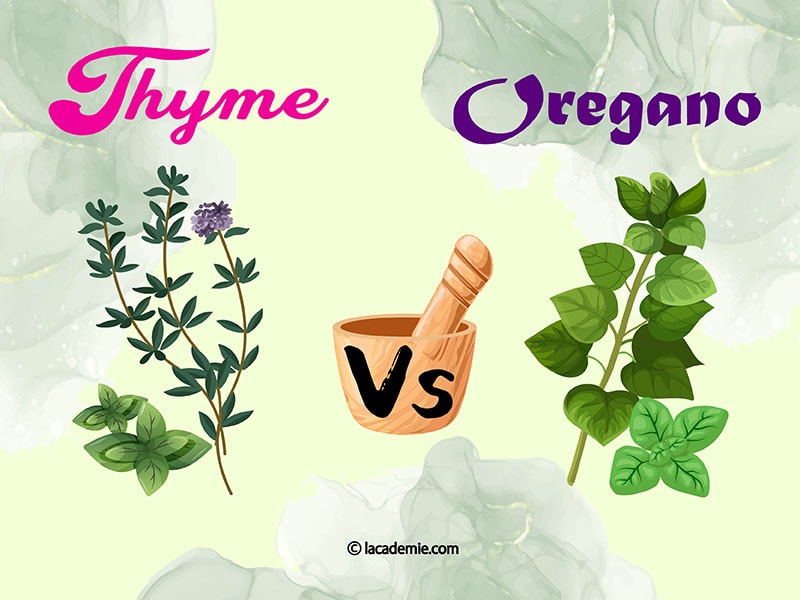 Discover Your Herbs With Thyme and Oregano
Despite the fact that thyme and oregano belong to the same plant family, they have distinct physical appearances, tastes, flavors, and applications, since they are used not only in cooking but also in medicine or other purposes.
However, they still have similar characteristics, so that you can substitute one for another in many recipes, such as making some spice rubbings for your favorite poultry. Are you curious to find out other usages? Let's scroll down for more information.
What Is Thyme And How Are They Used?
If you have not heard of thyme before, you are in the right place. Because everything in this post shows you what thyme is and other profound information about them, so keep reading; otherwise, you will regret it.
The Full Background Of Thyme
Thyme is a plant that belongs to the genus Thymus, in the mint family named Lamiaceae. Their origin is from the Southern Mediterranean and became one of the most used herbs worldwide. Nowadays, you can easily find thyme in Europe, Africa, and Asia regions.
In the past, Greeks used thyme for bathing and burning them in the temples as they believed thyme could increase their courage. Similarly, women in the European Middle Ages era also used them as a gift for warriors, to encourage them to fight.
Nowadays, due to thyme leaves' appetizing flavor and pleasant smell, they are mostly used for culinary purposes. That's why you can easily find them in the supermarket, in a dried form packaged in jars.
How they are versatile in cooking is undoubted, but do you know that thyme can also be used to produce medicine and for ornamental purposes? For more detailed information about thyme usages, the comparison part of thyme and oregano will reveal it to you.
4 Common Varieties Of Thyme In Cooking
Thyme has more than 300 types for cooking and landscaping purposes, but in this post, I mainly focus on thyme varieties that are popular in cooking.
Common Thyme (Thymus vulgaris): It is also known as ​​ English or French thyme. The plant's height is from 6 to 12 inches with grey-green leaves. Their pungent flavor is an ideal choice to accompany beef wellington or other meat, fish, cheese, and veggie dishes.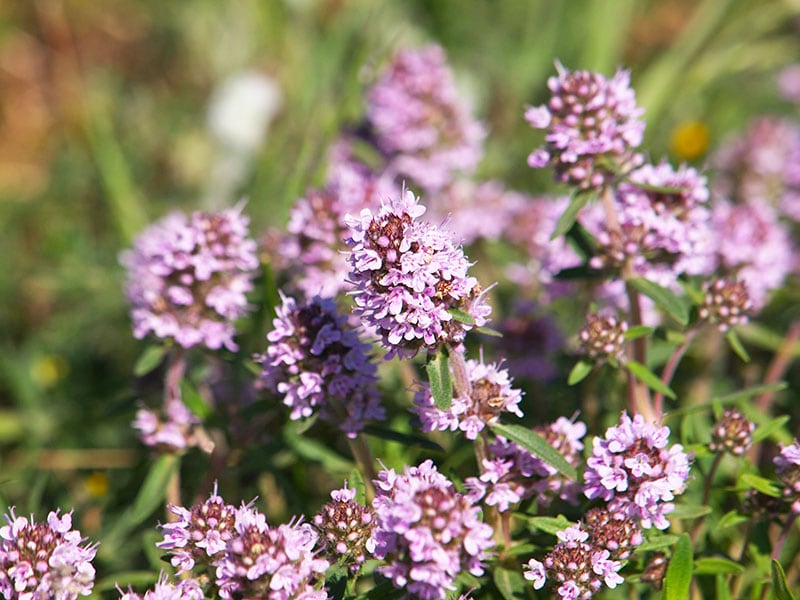 Lemon Thyme (Thymus x citriodorus): It has dark green leaves and a height of 12 to 15 inches. This lemon thyme is a good choice if you want some citrus and savory touch to your dish.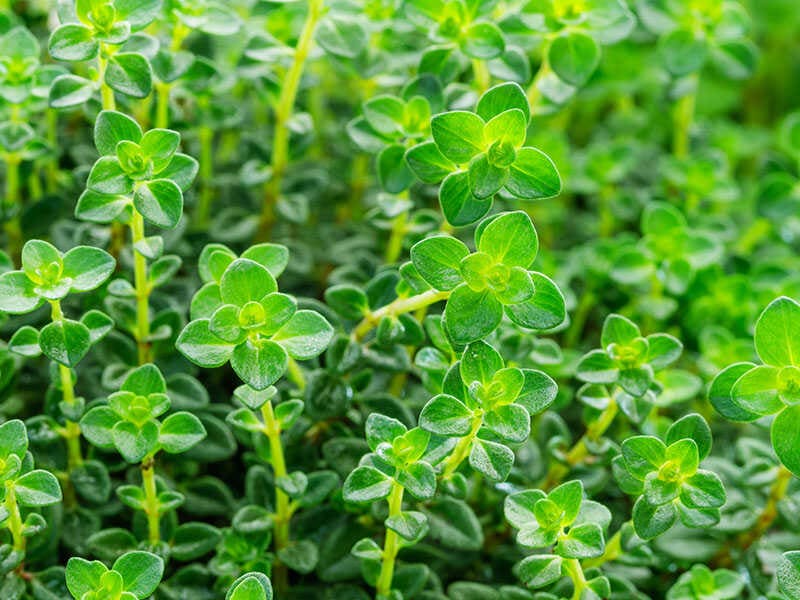 Oregano-Scented Thyme (Thymus pulegioides): It looks quite similar to lemon thyme with an average height of around 10 inches and dark green leaves yet slightly shiny.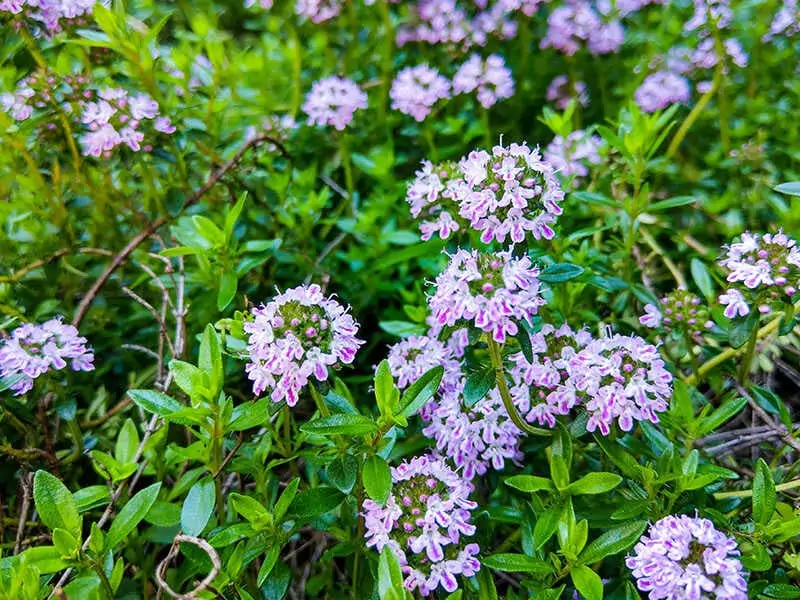 Caraway Thyme (Thymus herba-barona): This type is shorter than above thyme varieties as it is only around 4 inches tall with narrow green leaves.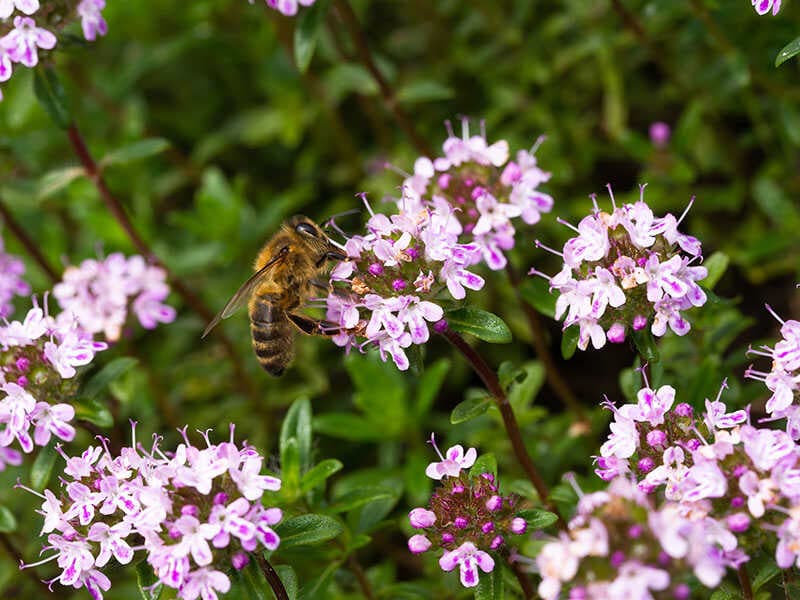 But if the recipes do not mention which types of thyme you should use, the common thyme is totally fine.
How About Oregano? Are They Better Than Thyme?
As another popular herb in cooking, oregano has a different flavor profile compared with thyme. But first, let me introduce some general information about the history of oregano.
The Overview Of Oregano
Many have known oregano is a powerful herb in many pizzas and pasta, lasagna, etc. But not many know where this herb comes from or its history, right?
Oregano – (scientific name is Origanum vulgare) is native to the Mediterranean and western Asia and famous for its pungent aroma and peppery taste.
They belong to the Origanum genus, in the same mint family with thyme as the Lamiaceae family. Oregano can grow everywhere, but they prefer mild climates. Eurasia and Mediterranean areas are their favorite place to grow.
Oregano is a woody plant, and people use oregano leaves as a herb. Americans started to use oregano after being introduced by Italians, and it was gaining more popularity in the USA after World War 2 when American soldiers came back home from Italy.
The word 'oregano' is derived from the Greek word 'oros', which means mountain, and 'ganos', which means brightness or joy. So oregano is 'brightness or joy of the mountain' (1).
Like thyme, whether oregano comes in fresh or raw form, they are very useful to human life, especially in cooking and medical treatment. And how oregano works in these usages will be explained deeply in the comparison part so you can have a better look at oregano and thyme.
7 Popular Types Of Oregano
Although there are more than 40 types of oregano, I will only cover 7 common oregano varieties with distinct characteristics, including 5 types that can be used in various cooking recipes and 2 types for landscaping.
Here are 5 oregano varieties that have been widely used in many recipes around the world.
Common Oregano (Origanum vulgare): As their name suggests, this one is the most popular oregano variety that you can easily spot in many pizza or tomato-based dishes. They can grow well outdoors with well-drained soil and sun.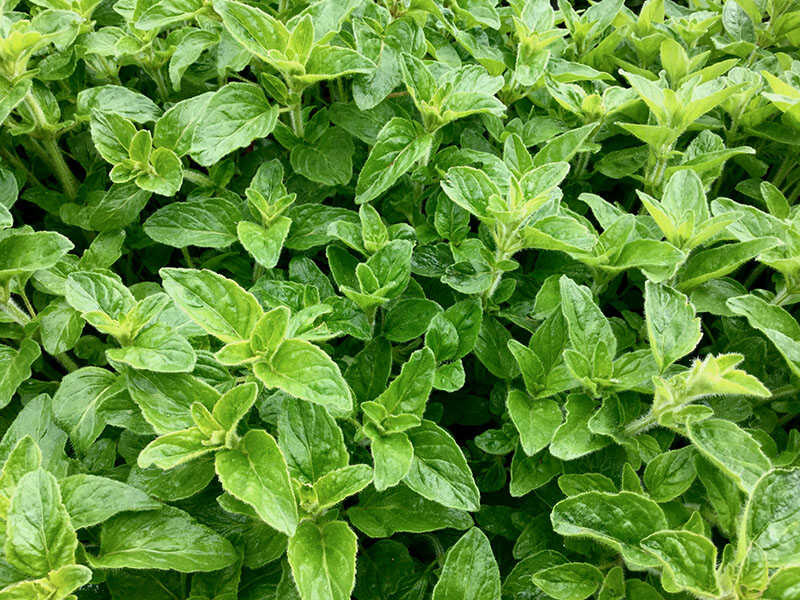 Syrian Oregano (Origanum syriacum): Their flavor is quite different from common oregano and widely used in Syrian cuisine and other Middle Eastern countries' cooking. You can grow them in hot climates with dry soil.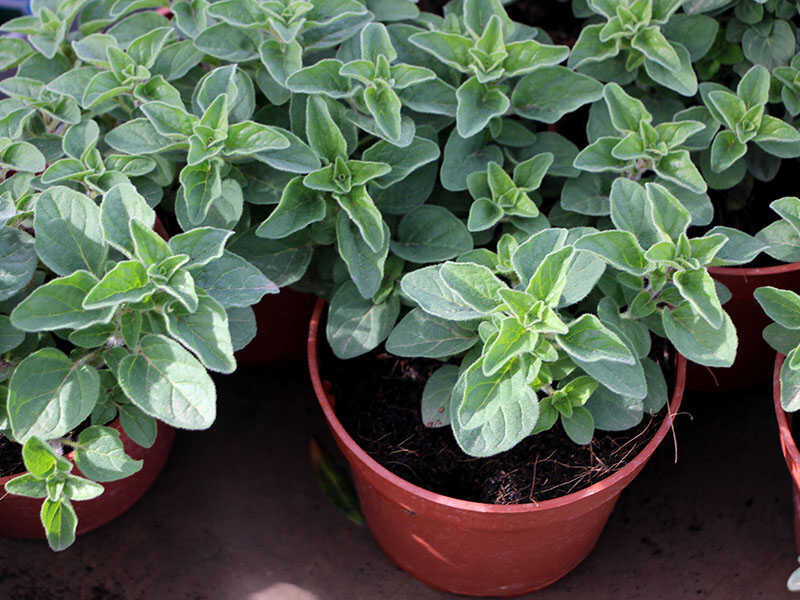 Greek Oregano (Origanum heracloticum): Or you can call them European oregano or Turkish oregano. They have a strong flavor that pairs well in Italian, Spanish, and Greek recipes. Their look is quite similar to common oregano as well.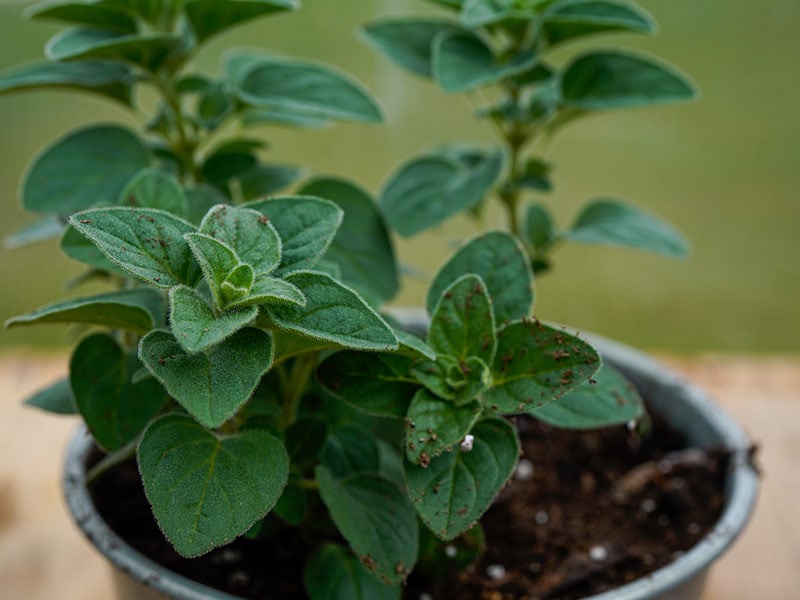 Italian Oregano (Origanum x majoricum): With a milder flavor, you can use Italian oregano for several dishes like pasta, soup, or sauces. Their leaves are quite bigger than common oregano leaves.
Sweet Marjoram (Origanum majorana): Though marjoram is another herb, some of the marjoram types are a variation of oregano, like sweet marjoram. Their flavor is more subtle compared to common oregano, and they can grow well in hot climates.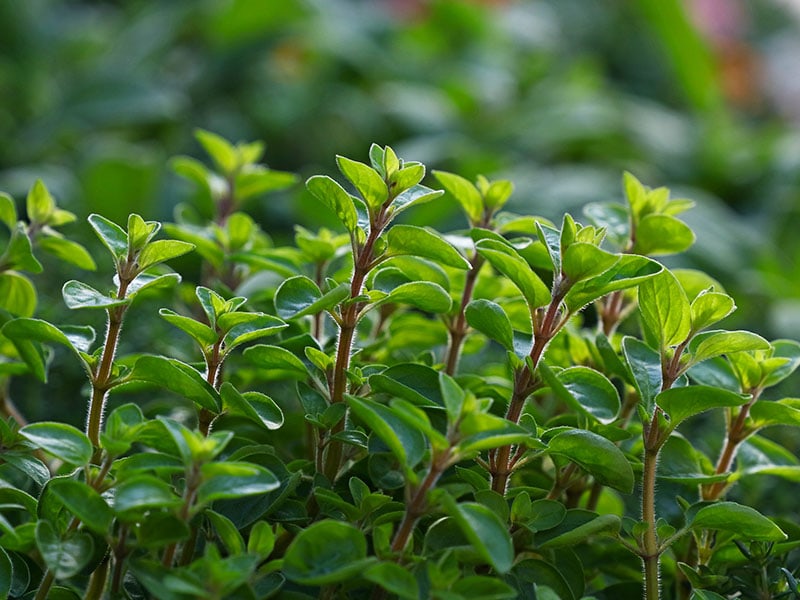 And here are 2 types of oregano for an ornamental purpose such as:
Golden Oregano (Origanum vulgare 'Aureum'): Unlike other varieties, this oregano has golden-yellow leaves and grows well in warm climates. However, as they have a more appealing look, people prefer to use them for ornamental purposes rather than cooking.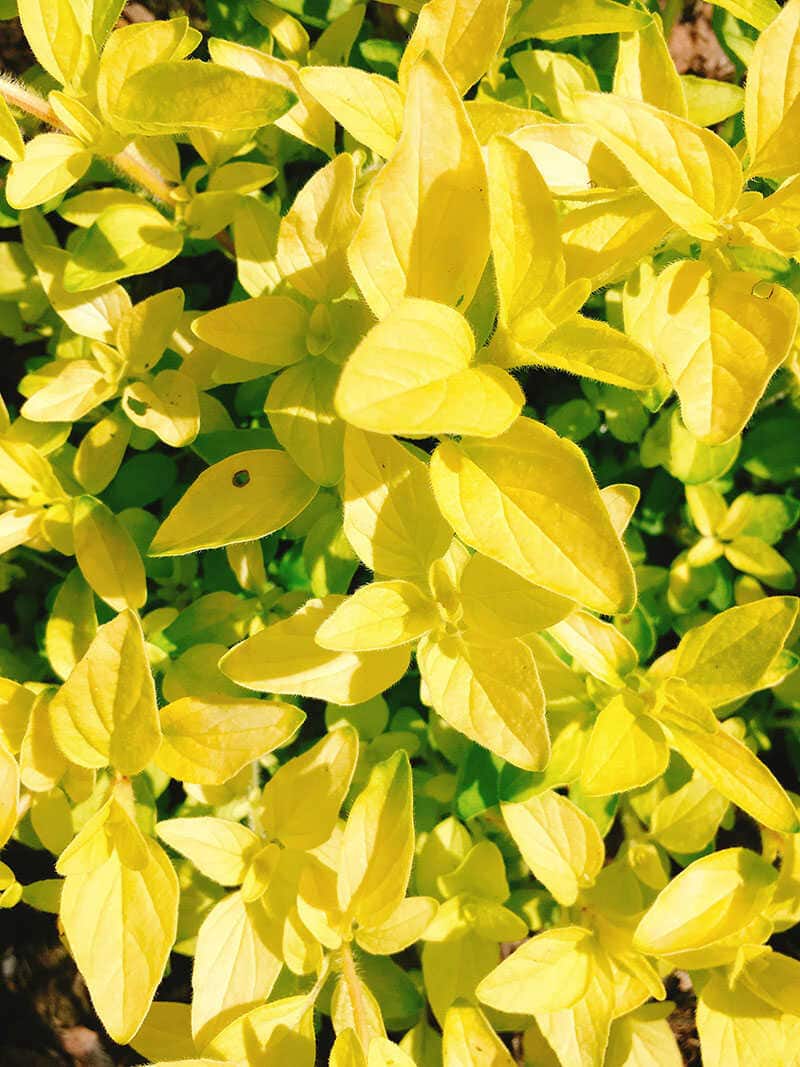 Ornamental Oregano (Origanum libanoticum): This one is also used for landscaping. Ornamental oregano has aromatic leaves yet lacks flavor; therefore, this oregano is not used for cooking.
Thyme Vs. Oregano – Understanding Their Similarities and Dissimilarities
Making a comparison between thyme and oregano is the greatest method to learn the differences between the two herbs and to help you remember the knowledge better. For a quick comparison between these 2, please see the table below.
Thyme
Plant Family: Lamiaceae
Genus: Thymus
Scientific Name (Common Variety): Thymus vulgaris
Varieties Quantity: More than 300 varieties
Where To Grow: In Europe, Africa, and Asia
Appearance
For fresh thyme
Stems: 6 to 12 inches in tall and up to 18 inches in width with green and slight tint color. The stem top is soft with young shoots and woody, firm bottom
Leaves: Tiny round leaves with green-gray color that grow in small clusters.
Leaf color examples:
Wooly thyme: gray and fuzzy leaves
Silver thyme: gray-green with silver edges
English thyme: deep-green and glossy
Turkish thyme: green
Flowers: white or lilac color and bloom in early to mid-summer
For dried thyme: Ground/shredded form with light grey-green to brown color
Smell: Stronger and spicier smell with the aromatic and woody scent
Flavor
Flavor of fresh thyme: Fresh, subtle earthiness, floral, woody, lemony, slightly sweet, peppery, and light minty hints
Flavor of dried thyme: Stronger than fresh ones
Usage
For culinary:
Go well with various savory dishes like soup, stews, and broths. Or can be used to make sweets.
Can be added to chicken or veal, and most veggies dishes
Can be used as a marinade ingredient for meat or veggies
Famous in French cuisine.
For other usages:
To make medicine to treat cough, cold, flu, and stomach.
Support sleep and prevent inflammation
Perfect to boost your mood (thyme essential oil)
Can be used for landscaping
Can be used as an odor
Can act like a disinfectant (human body and house)
Prevent the appearance of rats, mosquitos, or even bacteria
To produce other products like perfumes, soap, toothpaste, etc.
Note: Do not drink thyme oil
Pair Well With Other Herbs As: Marjoram or oregano, sage or tarragon, bay or basil, rosemary, and garlic
Nutrition
Higher in vitamin C, A, K (in dried form), calcium (in dried form), and iron than thyme
High in thymol – an antibacterial compound
Health Benefit: Good for your skin, eyes, blood, immune and circulatory system, stomach, and mood.
Oregano
Plant Family: Lamiaceae
Genus: Origanum
Scientific Name (Common Variety): Origanum vulgare
Varieties Quantity: More than 40 varieties
Where To Grow: Mostly in Eurasia and the Mediterranean
Appearance
For fresh oregano
Stems: 1 to 3 inches in tall and 2 to 4 inches in width Hairy stems when young and woody when older
Leaves: Fine hairy with deep or bright-green color Have oval shapes that can be fuzzy or smooth
Flowers: white, pink, or light purple color and bloom in summer
For dried oregano: Ground/shredded form with yellow-green to brown color
Smell: Pungent, peppery, and light scent of mint
Flavor
Flavor: Fresh, peppery, pungent, slightly bitter, sharp, lemony, slightly sweet, and light minty hints
Flavor of dried oregano: Stronger than fresh ones
Usage
For culinary:
Go well with many tomato-based dishes like pasta, pizza, lasagna, or legume dishes.
Can be added to beef, pork, lamb, or poultry
Can be used to make salad dressings or as a salad green in a whole-leaf form
Popular in Italian, Greek, Creole, Mexican, and Turkish cuisines
Popular in Italian, Greek, Creole, Mexican, and Turkish cuisines
For other usages:
To make medicine to treat cough, cold, flu, and skin problems.
Can be used for landscaping
Note: Do not drink oregano oil
Pair Well With Other Herbs As: Parsley, mint, marjoram, bay, thyme, basil, cilantro, and garlic
Nutrition
Higher in potassium, calories, and calcium (in fresh form) than thyme
Also high in antioxidants
Health Benefit
Good for your heart, stomach, and bones
Avoid bacteria and cancer cell's growth
Reduce infection and pain
Thyme Vs. Oregano – Appearance
As there are various types of thyme and oregano, I will choose the most popular type of thyme and oregano to compare, which are Common thyme and Common oregano. And they have differences in appearances.
Stems: Thyme's height is around 6 to 12 inches, and its width can be up to 18 inches. On the other hand, oregano can grow from 1 to 3 inches with 2 to 4 inches in width.
Thyme's stems are relatively soft at the top and firm at the bottom. However, the stems of oregano are quite hairy when they are immature, then turn to woody when aged.
Leaves: Both oregano and thyme leaves grow in clusters. In particular, thyme leaves are tiny with green or green-grayish color, whereas oregano leaves have a bright green color with an oval shape that can be a bit fuzzy to smooth. Oregano leaves also have a fine hairy layer.
However, thyme leaves' color might be varied based on their varieties. Wooly thyme has fuzzy gray leaves, while Silver thyme leaves are gray-green with silver edges.
English thyme can be easier to tell as they have dark green and glossy leaves. And Turkish thyme leaves are pretty small and green that grow close to the stems.
Flowers: Thyme flowers have white or lilac color, while oregano flowers' color can be white, pink, or light purple (e.g., English thyme).
However, you can easily recognize thyme and oregano in their fresh form. Dried thyme and dried oregano are pretty tricky to identify.
All the store-bought dried herbs come in the ground (or shredded) form. But overall, dried thyme will have a light grey-green to brown color, whereas dried thyme is in yellow-green to brown color. So make sure you read the label carefully.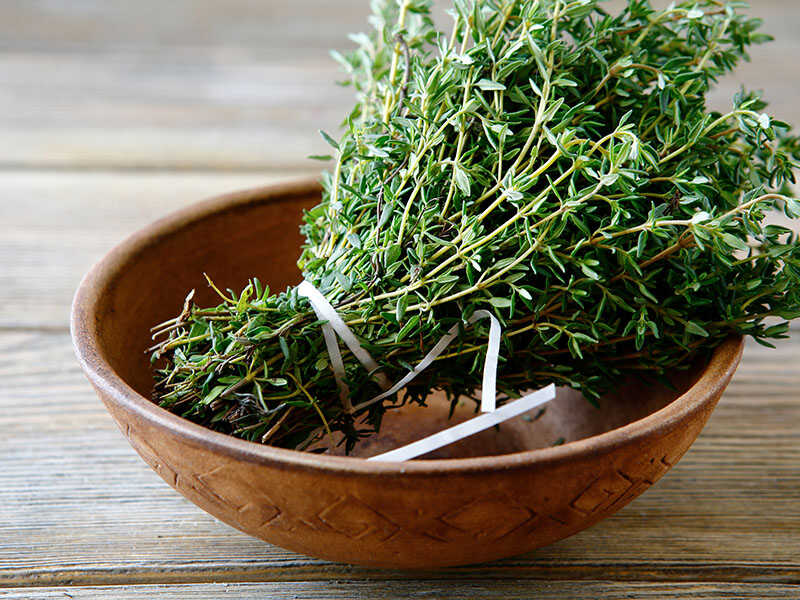 Thyme Vs. Oregano – Smell
Thyme's smell is stronger and spicier with the aromatic and woody scent, especially when you rub thyme leaves with your finger. Oregano has a pungent, peppery smell and somewhat resembles the scent of mint.
Thyme Vs. Oregano – Flavor
In case you are still unsure about identifying between oregano and thyme, taste them for better checking.
Both of them have fresh lemony, lightly sweet, peppery, and a touch of mint. Moreover, thyme's flavors are subtle earthiness, woody, and somewhat floral.
But remember, the taste also alters depending on the variety of oregano and thyme. In general, you will sense the pungent, slightly bitter, and sharp taste in oregano.
You should also note that dried thyme and oregano flavors are more robust than their fresh forms because the dried herbs are more concentrated.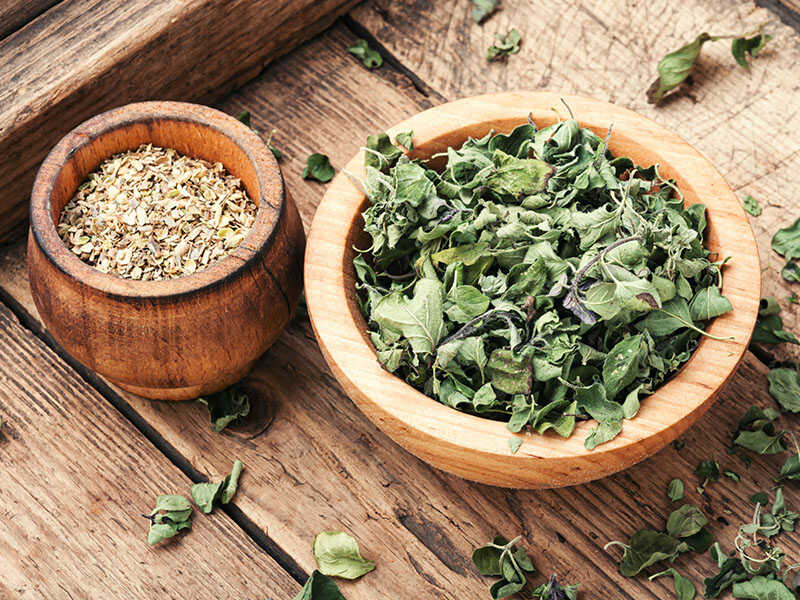 Thyme Vs. Oregano – Usages
Thyme and oregano are such good friends for humans as you can use them for various purposes, from cooking to landscaping. They also have some other usages that might be beyond your expectation. Let's find out.
For Culinary
Thyme can be used alone or combined with other herbs. They pair great with marjoram or oregano, sage or tarragon, bay or basil, rosemary, and garlic.
They are mostly used in savory meals like meat, poultry, seafood, or veggies for a more aromatic and lighter taste in your dishes. Thyme also appears in many traditional French cuisines as stews, soup, or broth. And surprisingly, thyme can be a good ingredient to make sweet recipes.
Chicken and veal are 2 best types of meat to go along with the thyme. And most vegetables can be eaten with thymol. Also, you can use thyme to make a marinade for meat and veggies to increase the overall flavor.
On the other hand, oregano goes well as a flavoring in many tomato-based dishes like pasta, lasagna, or pizza with their sharp and pungent flavor. They can be served as a salad green in salad dishes due to their big leaves or used to make salad dressing in chopped form.
They are also great for making marinades for meat (e.g., beef, pork, and lamb), poultry, and other veggie recipes. Italian, Greek, and Turkish people have done it for a long time.
Moreover, oregano is also an essential ingredient in several seasonings. For example, if you want to make some spice mixtures to replace chili pepper, find some oregano immediately! You can even add it to olive oil and yogurt.
Check how powerful fresh thyme and dried thyme are when you use them to flavor your meat. Watch this video to know more:
For Other Purposes
Oregano and thyme have been used for medicine for decades, especially the oil extracted from them.
Thyme supports sleep, prevents inflammation, cough, and stomach diseases. Also, their essential oil can release your stress and boost your mood.
Besides, oregano is best used to cure common flu, colds, or respiratory tract diseases like sore throats, coughs, or skin problems.
Oregano and thyme can be used as ornamental plants as well. So, if you're searching for something to grow both indoors and out, they are great choices.
However, thyme is more versatile as people can use them to make deodorant, disinfectant (for both human and house), or prevent rats, mosquitoes, or bacteria. Thyme oil is also used to produce perfumes, soap, toothpaste, and mouthwashes.
And there is 1 important thing that you must remember: you cannot drink thyme or oregano oil.
For a closer view of how the other usages can affect your body, keep reading the following parts for the health benefits of using thyme and oregano.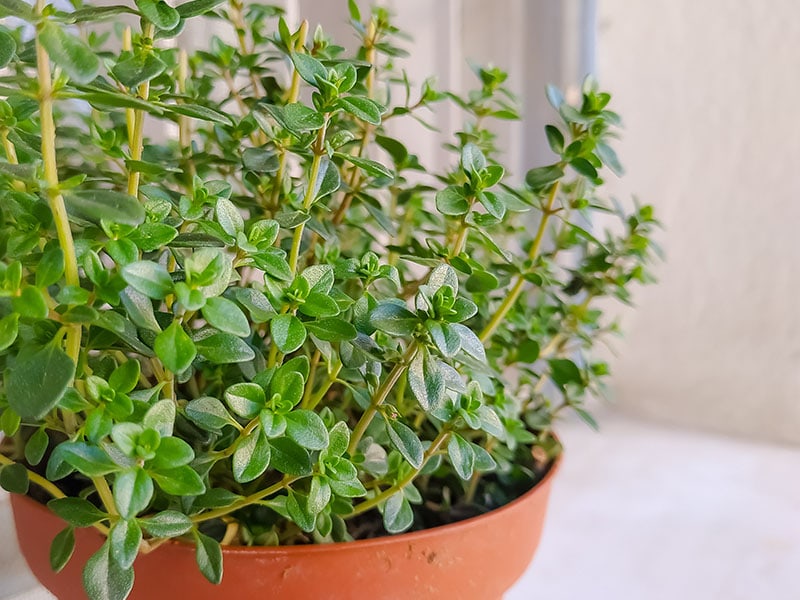 Thyme Vs. Oregano – Nutritional Value
As thyme and oregano are useful in fresh and dried form, I analyzed their nutritions in these 2 forms and found out some interesting facts. Take a look at the table first.
| Properties | Oregano (Fresh, 1 g) | Oregano (Dried, 1 g) | Thyme (Fresh, 1 g) | Thyme (Dried, 1 g) |
| --- | --- | --- | --- | --- |
| Calories | 2.7 | 2.7 | 1 | 2.8 |
| Fat | 0 g | 0 g | 0 g | 0.1 g |
| Sodium | 0.25 mg | 0.3 mg | 0.1 mg | 0.5 mg |
| Protein | 0.1 g | 0.1 g | 0.1 g | 0.1 g |
| Total Carbohydrates | 0.689 g | 0.7 g | 0.2 g | 0.6 g |
| Vitamin D | 0 g | 0 g | 0g | 0 g |
| Vitamin A | 0.51 mcg | 0.85 mcg | 2.38 mcg | 1.90 mcg |
| Vitamin C | 0 g | 0g | 1.6 mg | 0.5 mg |
| Vitamin K | 6.2 mcg | 6.2 mcg | 0 g | 17.1 mcg |
| Calcium | 15.97 mg | 15.97 mg | 4.05 mg | 18.9 mg |
| Iron | 0.37 mg | 0.368 mg | 0.1745 mg | 1.24 mg |
| Potassium | 12.6 mg | 13 mg | 6.1 mg | 8.1 mg |
The nutritional amounts in fresh and dried forms of thyme and oregano are different due to the impact of the drying process.
In general, as they are both in the same plant family, their nutrition (mostly) is quite similar, except thyme is richer in vitamin C, A, and K (compared between the dried forms of these 2), calcium (in dried form as well), and iron.
The thymol compound in thyme is also good for antibacterial function. In contrast, oregano is higher in calories, potassium, and calcium (in fresh forms of these 2). Oregano also contains a large number of antioxidants.
But when comparing the fresh and dried forms of both herbs, while fresh and dried oregano is very similar in nutrients, dried thyme has more nutrition than fresh thyme.
Thyme Vs. Oregano – Health Benefits
Thyme and oregano have differences in health advantages. Here are some distinct points that thyme and oregano can benefit you.
By using thyme, you can:
Treat your acne and have a better skin
Lower your blood pressure and cholesterol
Stop coughing by using thyme oil extracted from leaves
Smooth your stomach pain
Enhance your immune system as thyme is a good source of vitamin A and C
Improve your feeling as the active substance carvacrol in thyme
How is thyme oil so helpful in your life? Check the doctor's presentation.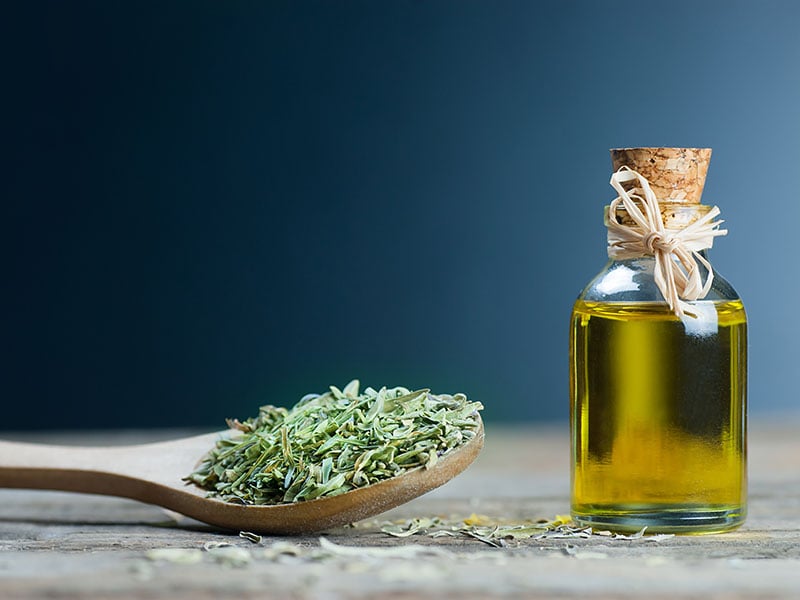 By using oregano, you can:
Prevent chronic and cardiovascular disease as the high level of antioxidants
Avoid the attack of bacteria thanks to their antibacterial properties
Kill cancer cells and prevent their growth
Reduce infection and inflammation as oregano contains carvacrol and thymol – antiviral compounds and antioxidants (2).
Improve your gut health and reduce E. coli bacteria in the stomach (by using oregano oil)
Oregano oil can work as a painkiller to relieve pain.
Boost bone function as oregano is high in calcium.
Let's learn more about oregano oil advantages by an expert's explanation.
Now you might come up with some common things between thyme and oregano at this point. Let me summarize it again for you as:
They are in the same mint family.
They can be used in various cooking recipes.
They have various health benefits.
Extending Thyme and Oregano Shelf Life With These Storing Tips
In this section, I will separate it into two categories: fresh herbs and dried herbs, so that no matter which you buy, you will know how to preserve them properly.
For Fresh Thyme and Oregano Herbs
To ensure you can store your thyme and oregano well, you should wash them first to remove the potential bacteria or viruses.
Use a paper towel and place your herb on it. Gently roll the paper towel and keep the herb inside, then put it in a plastic bag or wrap before keeping it in the fridge.
With proper care and a good-working fridge, you can keep your thyme and oregano fresh in 2 weeks.
For Dried Thyme and Oregano Herbs
Here are 6 notes on storing dried thyme and oregano herbs that you should note down.
1. The Whole Dried Herb Can Last Longer: If you can buy dried herbs in a whole form, you can grind them at home, if desired.
2. Check The Dryness Of Your Herbs: This step only applies to homemade drying herbs. To ensure they are completely dried, use your fingers to rub them. If you find they are crispy, they are dried.
3. Keep Them In Airtight Containers: If you make dried herbs at home, you need an airtight container to store them, like jars or something with a lid on top. Do not use plastic due to their chemical.
4. Make Sure You Place Them In A Dry, Cool Place: Because the moisture will ruin your herbs. Also, do not place them in direct sunlight. So a pantry or closed cabinet is more preferred.
5. Label Them: In case you might forget the time you make/buy dried thyme and oregano.
Good storage for dried herbs can help them extend their shelf life significantly. And you can consume them in 1 to 3 years.
What Dishes Can You Make With Thyme And Oregano?
Alright, now you are all set to cook something tasty when you have a handful of thyme and oregano. And no matter whether your herbs are dried or fresh, they are the perfect ingredient to brighten your meal.
Whether you bake or grill chicken, they are all delicious, thanks to the flavorful dried oregano.
Also, with some citrus taste of lemon, it works well with oregano to make the best chicken dish. This dish is worth a try no matter how busy you are since it is incredibly quick and easy to prepare.
Your dinner is so delicious and beautiful with this chicken and oregano dish.
Now I will show you how to make the best oregano dressing with fresh oregano. And this recipe is a true standout that can salvage a variety of salads.
Again, the combination of lemon and oregano is ideal for adding a tart and herby note to your salad. You can also add the dressing to other meaty dishes, like grilled chicken, pork, or seafood.
Mushrooms have always been the iconic ingredient for a hearty soup. And if you add some fresh thyme, you just upgraded your soup to a higher level of deliciousness.
Simple ingredients, no-fuss preparation, and incredible taste, what else can you ask for a chilly day?
Hurry yet? Let this warm soup fill your stomach with its robust flavor.
After making this dish, I guarantee you will never spend any penny on a store-bought rice box. Why? Because this seasoned rice dish is super tasty and easy.
Dried herbs like thyme and parsley combine to make the best rice dish at an affordable price. If desired, you can add more herbs to increase the flavor of the rice.
Can Thyme And Oregano Work Well To Substitute For Each Other?
As thyme and oregano have similar minty, earthy, and herby notes, you can swap them for a 1:1 ratio. For example, 1 teaspoon of fresh/dried thyme equals 1 teaspoon of fresh/dried oregano.
But if you use dried thyme to replace fresh oregano and vice versa, you should reduce half the amount of dried herbs with a ratio of 1/2:1 – for instance, 1/2 teaspoon of dried oregano for 1 teaspoon of fresh thyme.
You have to reduce the amount of dried form because they are stronger in flavor than the fresh ones, causing the off-balance in the final taste.
However, remember that only English and French thyme can be used as a suitable alternative for common oregano.
FAQs
Do you want to gain more knowledge about them in the shortest way? Here are some frequently asked questions with answers regarding thyme and oregano.
Thyme And Oregano – The Powerful Herbs That Should Be Available In Your Kitchen
Now that you know how helpful thyme and oregano are, why don't you try growing them yourself? These two herbs, whether dried or fresh, are quite diverse in their applications.
That's why I cannot decide which is superior because they both have unique qualities and health advantages. So, what are your thoughts on them? Which one is your favorite?
Please tell me what you think about thyme and oregano in the comments area. Your likes and shares are greatly appreciated if you found this content interesting and informative. Thank you.
Reference List
etymonline.com (2021), Oregano [Online]. Available at: <https://www.etymonline.com/word/oregano>.
Nayely, L. et al. (2017), 'Essential Oils of Oregano: Biological Activity Beyond Their Antimicrobial Properties', Molecules, vol.22(6), pp.989. Available at: <https://www.ncbi.nlm.nih.gov/pmc/articles/PMC6152729/>