Choosing what to serve with beef wellington is not as easy as you think; combining foods inappropriately can destroy the taste of the savory dishes. Also, for a serving, food incorporation must ensure the balance of nutrition values.
You may have a side dish for Beef Wellington in your mind, but you have no idea whether your choice is suitable to go with the food or not. The following article will let you know which foods to serve with beef wellington for desirable meals.
What To Serve With Beef Wellington?
Here are some outstanding side dishes accompanying your beef wellington to make it more glamorous, flavorus, and delicious.
1. Potato Dauphinoise
2. Mashed Potatoes
3. Baked Sweet Potatoes
4. Honey-Balsamic Glazed Carrots
5. Carrot Puree
6. Roasted Baby Carrots
7. Grilled Broccoli
8. Asparagus
9. Roasted Brussels Sprouts
10. Green Beans Almandine
11. Frisee Salad
12. Winter Green Salad
13. Risotto Mushroom
14. Rice Pilaf
15. Tarragon Sauce
16. Cabernet Sauce
17. Madeira Sauce
18. Red Wine And Shallot Sauce
19. Cognac Sauce
20. Madeira Brown Sauce
21. Creamy Thyme Sauce
22. Sherry Cream Sauce
23. Green Peppercorn Sauce
24. Creamy Mushroom Sauce
25. Tarts And Pies
26. Fruit Salad
27. Ice Cream Sundaes
28. Cheesecake
29. Chocolate Cake
30. Wines
Better Grasp About Beef Wellington
Beef Wellington is a type of steak dish made out of fillet steak covered by pate and duxelles and then wrapped in puff pastry before being baked until golden brown. Some other recipes recommend you wrap the coated meat in a crepe to limit the moisture and soggy pastry.
You can also use leftover roast beef for cooking many dishes, including beef wellington. Regardless of how you cook the dish, beef wellington is an elegant, scrumptious but luxurious dish that is great to enjoy for all occasions, ranging from dinner, Christmas party, to dating.
In terms of nutrition values, beef wellington is a rich source of fat, protein, calcium, potassium, which makes it an ideal dish to provide you with energy, strengthen your bones, and support the function of all cells.
For those reasons, you had better choose side dishes for a beef wellington which are in vitamins, iron, fibre, etc. so that you can reach a balanced diet for your good health
Take it easy. Follow me to bring them to light!
Top 30 Amazing Side Dishes For Beef Wellington
Let's go through one-by-one to know more about what is the best thing to accompany beef wellington.
Vegetables To Go With Beef Wellington
As mentioned before, your decent beef wellington is a good source of calories, protein, and fat, so what you need to make a balanced diet is veggies-made dishes. They promisingly bring your savory dish with diverse colors, fabulous taste, and nutritional values.
Potato Dauphinoise or Mashed Potatoes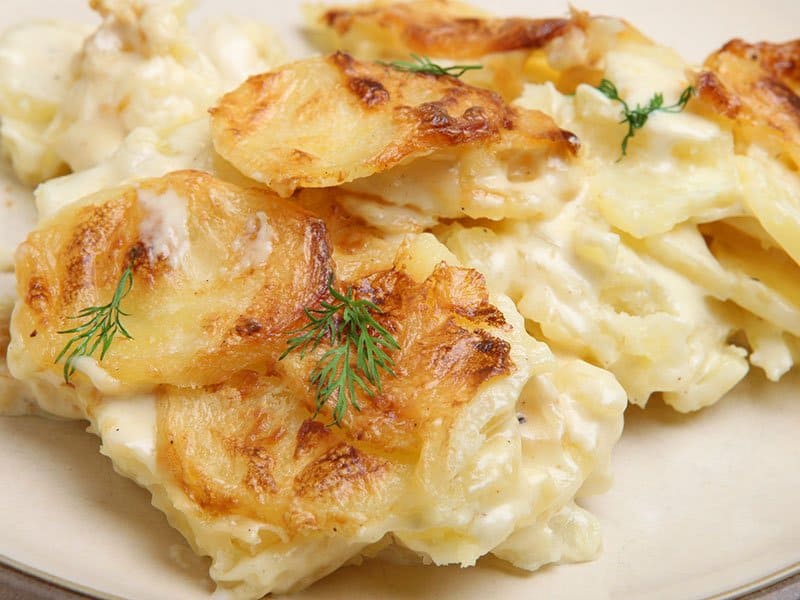 If you want to bring your cooked beef wellington with a vibrant color but a nutritious taste, sides made by potatoes would not be missed. Potato dauphinoise and mashed potatoes seem challenging to make? No.
For potato dauphinoise, you just need to slice potatoes and top them with cream, gruyere, thyme, a little salt, and pepper. Easier with mashed potatoes, just mashing potatoes with milk, sour cream, butter, and adding some sauteed garlic can fish your delicious side.
And garlic mashed potatoes are also an ideal food to enjoy with corned beef that I usually make. Overall, added ingredients would increase potato taste to a new level. Trust me!
Baked Sweet Potatoes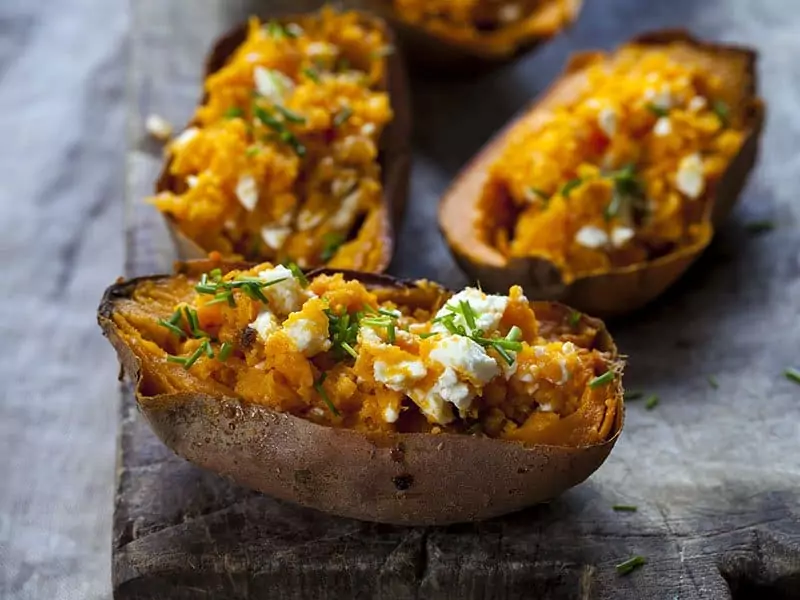 Just like the potatoes, you also make a wonderful dish for beef wellington with sweet potatoes. This does not require you much effort to make it, just bake them by your available oven and slather them with butter. It's definitely ready for you to taste.
Sweet potato-made dishes are rich in fiber which can help with weight loss maintenance, so this would be the best idea for those who want to eat much but not to gain weight.
Honey-Balsamic Glazed Carrots/ Carrot Puree/ or Roasted Baby Carrots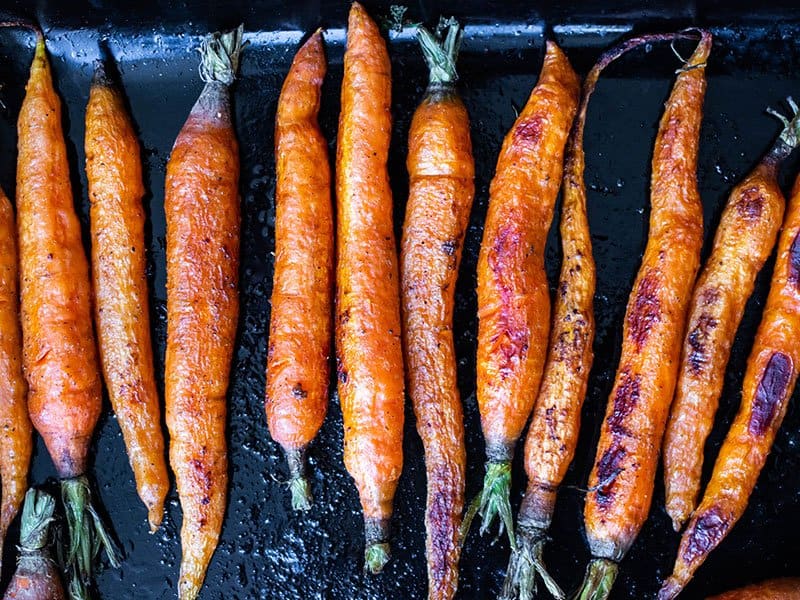 Here are carrot-based side dishes that you must try: honey-balsamic glazed carrots, carrot puree, and roasted baby carrots. If you're concerned with whether carrots might spoil, these dishes will help you use up your carrots while bringing new flavors to your main dish.
For carrot puree, it's easy! What you need to do is pureeing the carrots in the blender of ginger and cinnamon. Also, to make roasted baby carrots, you can roast baby carrots until caramelized.
Moreover, nothing better fits the bills than glazed carrots with honey and balsamic. You would find it easy but time-consuming to make the side dish. However, you will be paid for flavorus but nutritious food. It will change your prejudice with boring dishes made with carrots.
These three eathy sides by carrots definitely bring you pleasure when being accompanied with beef wellington.
Grilled Broccoli
Why don't you consume grilled broccoli as a side dish for beef wellington? I promise that it is good to taste. As the name, you need to grill cut broccoli with some spices if you want until they appear a little bit of black char. Don't worry because it would elevate the flavors of broccoli flavors.
Asparagus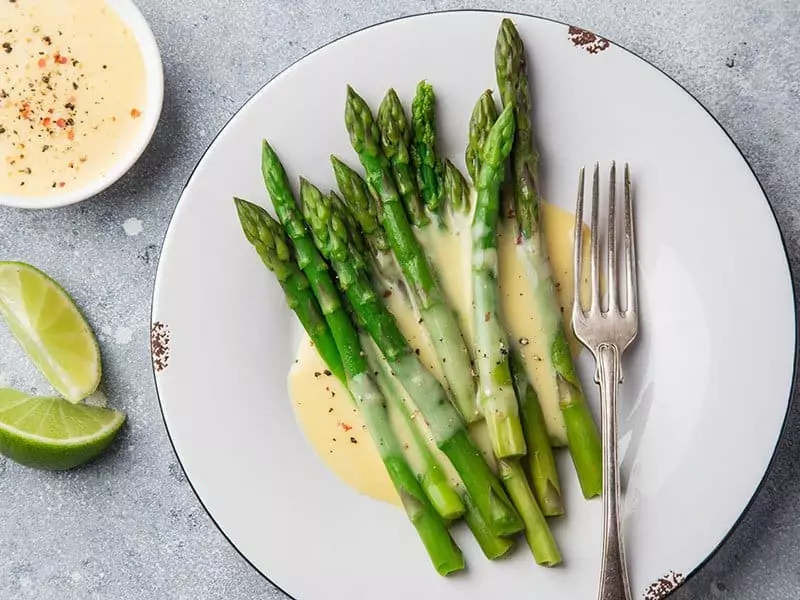 If you are into asparagus flavor, I promise this combination of asparagus and hollandaise sauce would offer you an outstanding side dish for your glamorous and tasty beef wellington. It's not difficult to eat because of its appearance.
You need to notice that overcooking asparagus would devastate the sauce and your main dish – beef wellington. Be careful with that!
Roasted Brussels Sprouts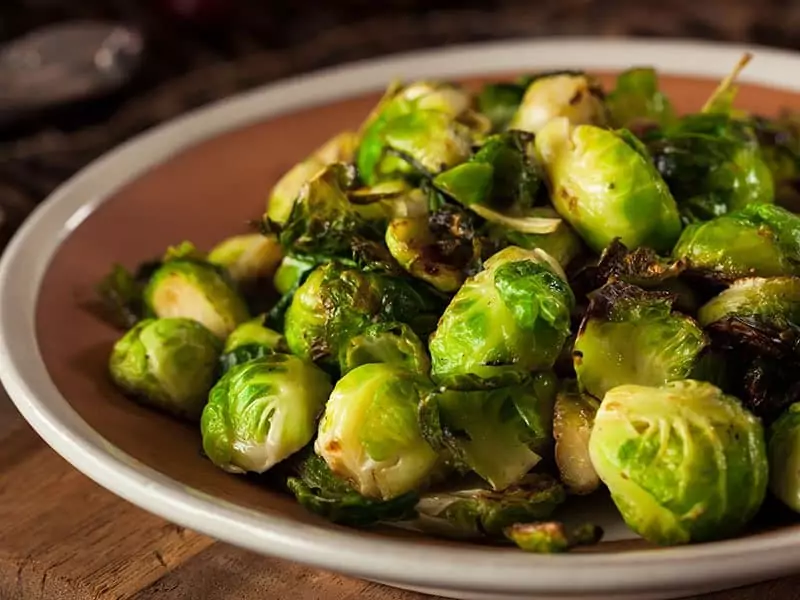 It is regrettable if you don't use your available oven to roast some brussels sprouts which are really insane to go with your beef wellington. What you need to do is cutting spouts in half, tossing them with olive oil, seasoning, and roasting them for 30 minutes.
After being cooked, the marinated sprouts will offer you a sweet, creamy, nutty, and earthy flavor, which makes it work excellently with your well-prepared beef wellington. Hear me out.
Green Beans Almandine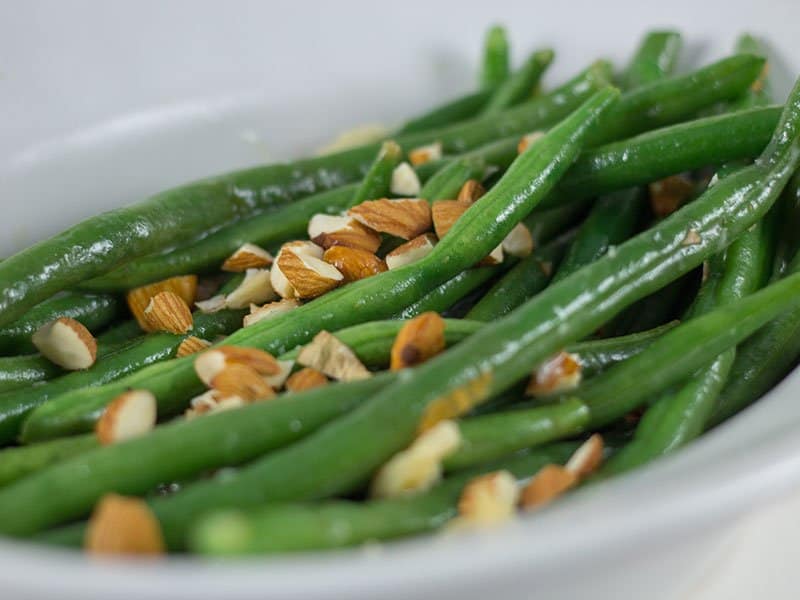 It couldn't be simpler to serve your beef wellington with green beans almandine. Most people love this green bean almondine, and I believe you, too.
To finish the side dish, you need to place beans into a microwave with little water in less than 10 minutes to kee[ the lovely green color of them. Next, set them aside to drain prior to frying them with some other essential spices.
The dish is low in protein, fat but high in sodium, while your beef wellington must follow the contrast pattern. Thus, it would be one of the should-considered side dishes for your savory beef.
Frisee Salad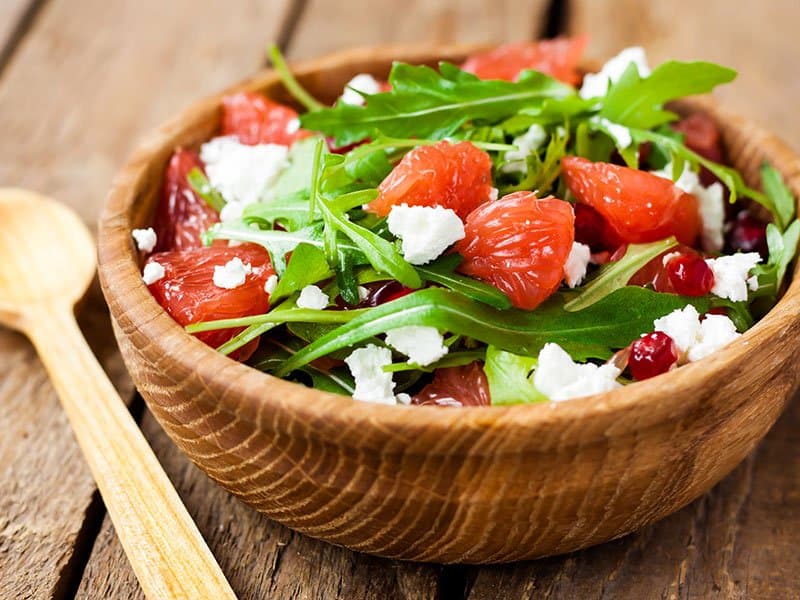 When talking about side dishes, salads should be included in the list. If you want to balance the nutrients you consume and always keep your eyes on your weight, the frisee salad will help you to limit the number of calories coming from your tasty beef wellington.
The salad with nuts, cheese, honey, fruits, veggies, and crispy greens, would keep your meals light, eye-catching, crunchy, and not to mention extremely nutritious. And this recipe can accompany beef stew too! You would love it for the first time, believe me.
Winter Green Salad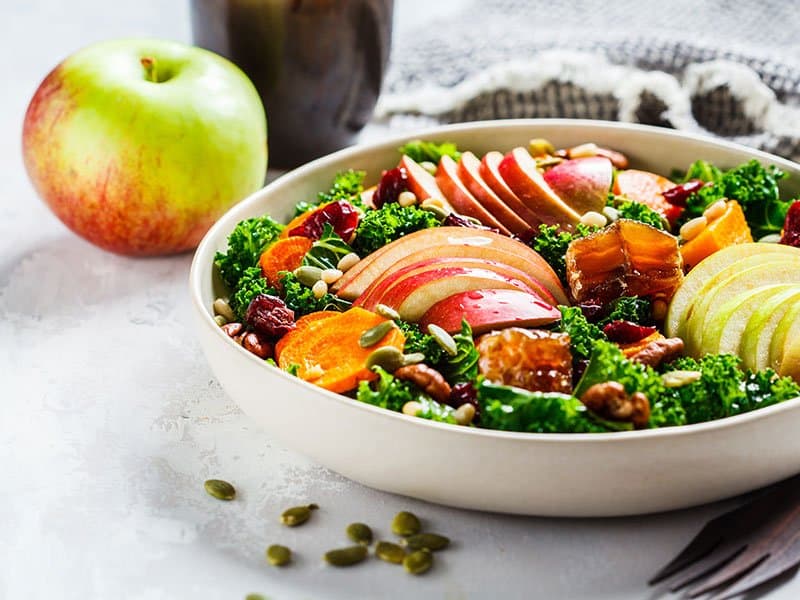 One more type of salad pairing well with beef wellington is winter greens, a basic salad with a yummy dressing made by honey, balsamic vinegar, olive oil, and mustard. Enjoying this kind of salad will make you refreshed, so this would be a good idea if you serve it as an appetizer.
Savory Dishes Serve With Beef Wellington
Apart from vegetables, starches also go well with your beef wellington and are fabulous to satisfy your hunger.
Risotto With Mushroom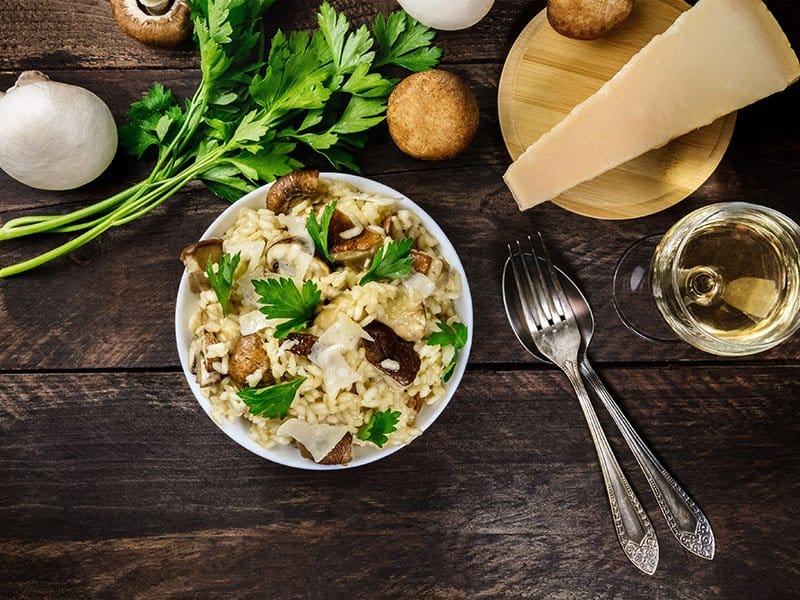 A serving of risotto infused with mushrooms is an ideal idea for going with beef wellington. It would bring you delicious fillings, an attractive taste, elegant but luxurious look. The harmonious combination of this side dish and savory would make your meal a masterpiece.
Rice Pilaf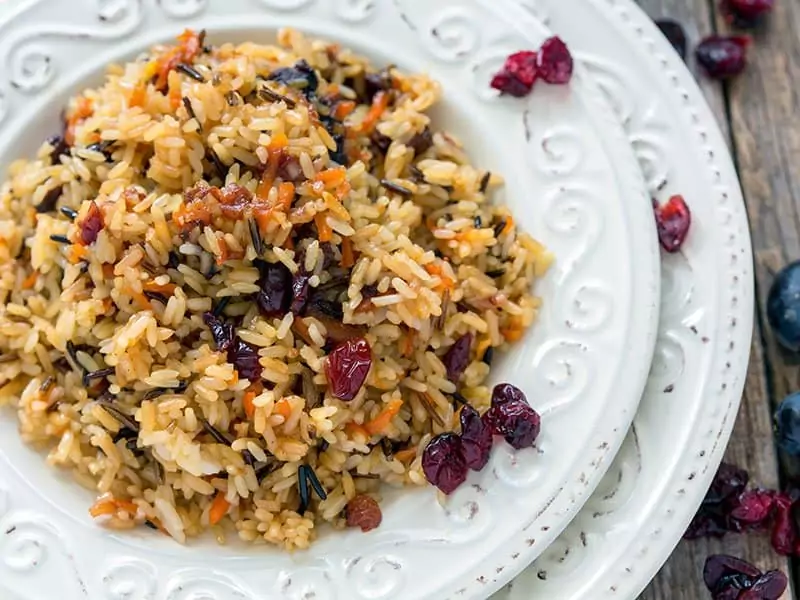 You will kick the simple idea of steaming rice up a notch by making pilaf instead, as pilaf is much more glamorous and better than steamed rice but also easy to make.
All you need is adding some stock, your favorite veggies, herbs, and spices to your cooked rice. If you want to have a healthier version, brown rice will be considered because it contains less starch.
Sauces Pair Well With Beef Wellington
How wonderful the accompanying sauces would decide to what extent your Beef Wellington is good simply because they can stimulate food taste.
Tarragon Sauce
One of the most popular recipes with tarragon, tarragon sauce takes you around 45 minutes but is easy to do with just 6 basic steps to finish the sauce.
This kind of sauce is the blend of chopped tarragon leaves as the main ingredient and other flavorings such as butter, finely sliced mushrooms, dijon mustard, sugar, and creme fraiche. Notably, beef wellington would pair well with the warm tarragon sauce.
Cabernet Sauce
Cabernet sauce would contribute to the list of special sauces for beef wellington. The dressing comprises various ingredients, such as fresh thyme leaves, bay leaf, cabernet sauvignon wine, beef stock, Worcestershire sauce, dijon mustard, and some essential spices.
The sauce would make your Beef Wellington eye-catching when pouring over the dish.
Madeira Sauce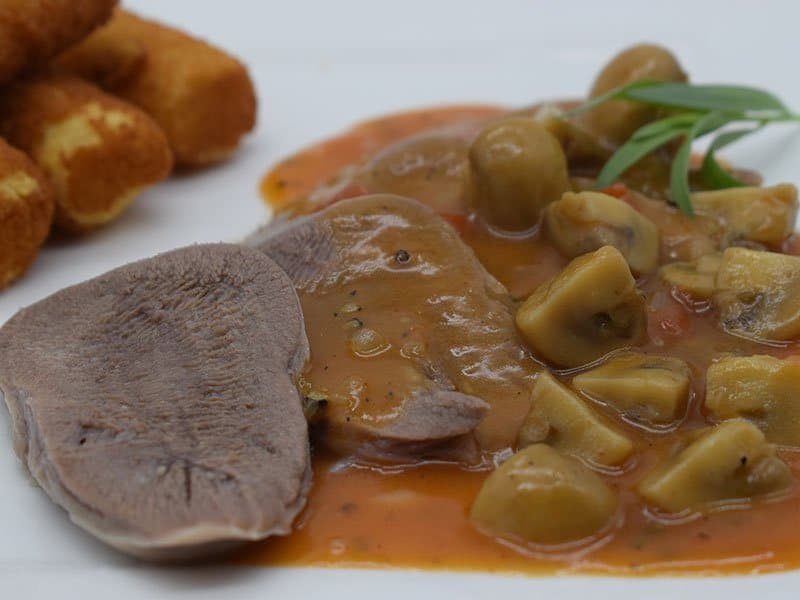 You need to finish the sauce by combining your prepared stuffings, like beef consomme, bouillon granules, and tomato paste in a large saucepan. If you are unsure about whether using beef broth or beef consomme is better for this recipe, you can use either of them.
After mixing these ingredients, heat the mixture, add a blend of butter and flour to the sauce, and then pour a little wine. The sauce is set aside to serve with the cooked Beef Wellington instead of spreading over the dish.
Red Wine and Shallot Sauce
This kind of sauce is a blend of sliced shallots, crushed garlic clove, rosemary, balsamic vinegar, red wine beef stock, and butter. You can cook the sauce within 10 minutes and taste it better when it's warm, thus prepare it while cooking Beef Wellington.
Cognac Sauce
As the name suggests, you need cognac – an iconic French beverage, as the most crucial ingredient for making the sauce. Also, you need to combine finely minced shallots, beef stock, thyme leaves, and heavy whipping cream to make a perfect tasted sauce.
The sauce is poured over the well-cooked beef wellington for the best taste.
Madeira Brown Sauce
Madeira brown sauce is a harmonious combination of Madeira wine and some other ingredients, such as flour, tomato puree, beef broth and butter. However, making this sauce takes you much time, so you had better finish it in advance of making a beef wellington dish.
Creamy Thyme Sauce
Creamy thyme sauce includes sour cream, pinot grigio, dijon mustard, chopped fresh thyme, cornstarch, and essential spices to stimulate sauce taste. The taste of sour cream would make your beef wellington more special and flavorus .
Sherry Cream Sauce
Another sauce that can be paired well with your beef wellington is Sherry cream sauce which is made by cooking a blend of butter, garlic, flour, black pepper, beef broth, dry sherry – an alcoholic beverage from Spain, and heavy whipping cream.
It will be a thoroughly perfect choice if you serve the cream sauce over your well-cooked beef wellington.
Green Peppercorn Sauce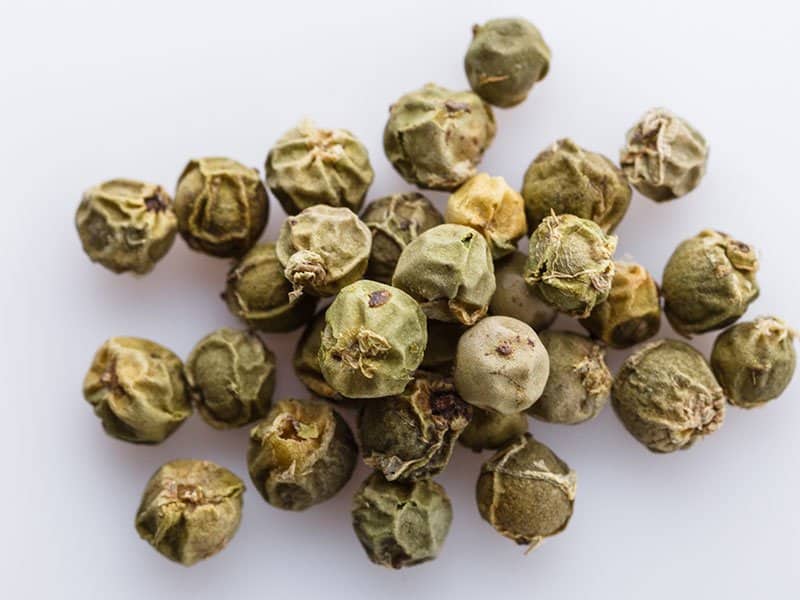 You will be keen on this kind of sauce if you match it with your beef wellington. Green peppercorn sauce comprises diverse ingredients, ranging from shallots, thyme leaves, brandy, beef broth, dijon mustard, cornflour, heavy cream, and green peppercorns.
Pouring the thickened sauce over the cooked beef wellington would make your dish.
Creamy Mushroom Sauce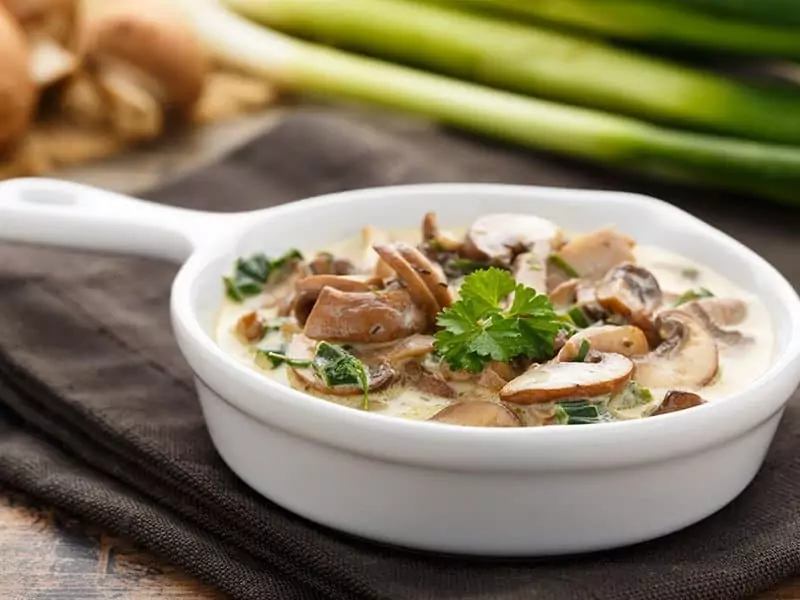 One more tasty sauce you should try with your beef wellington is a creamy mushroom sauce. The delicate harmony of heavy cream, mushroom, and other stuffings would make a great contribution to a perfect beef wellington.
You are recommended to serve this sauce over your cooked beef wellington. Let's try. It can cheer you up.
Best Desserts To Accompany With Beef Wellington
A fantastic dessert offers an excellent way to finish your meals. Here are some of the most highly recommended desserts you can opt to complement your meal with beef wellington.
Tarts and Pies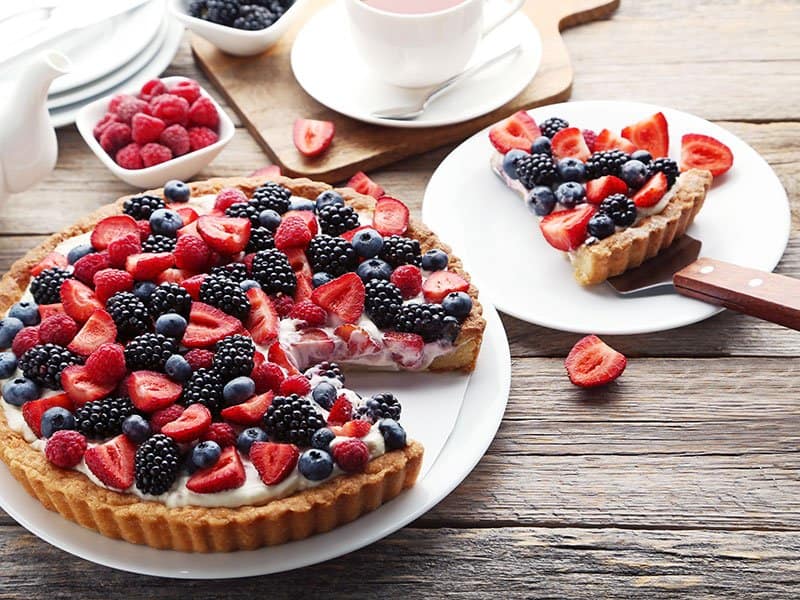 Tart and Pies are the same as ingredients when they are the harmonious combination of fruits, nuts, custards, chocolate, cheese, or cream. Then, they can be baked prior to using.
However, the pies are surrounded with pastry topping, while the tarts are much smaller and are put on the top.
Fruit Salad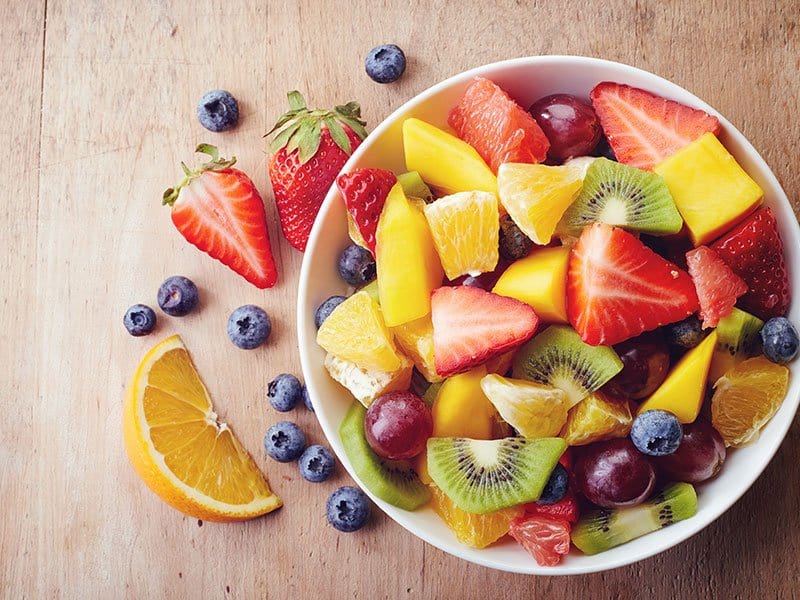 After consuming a high protein food like beef wellington, supplying your body with desserts that are rich in vitamins or fibers is essential. Fruit salads ranging from gourmet fruit salads to tasty lemon bars would finish your meal nicely.
Ice Cream Sundaes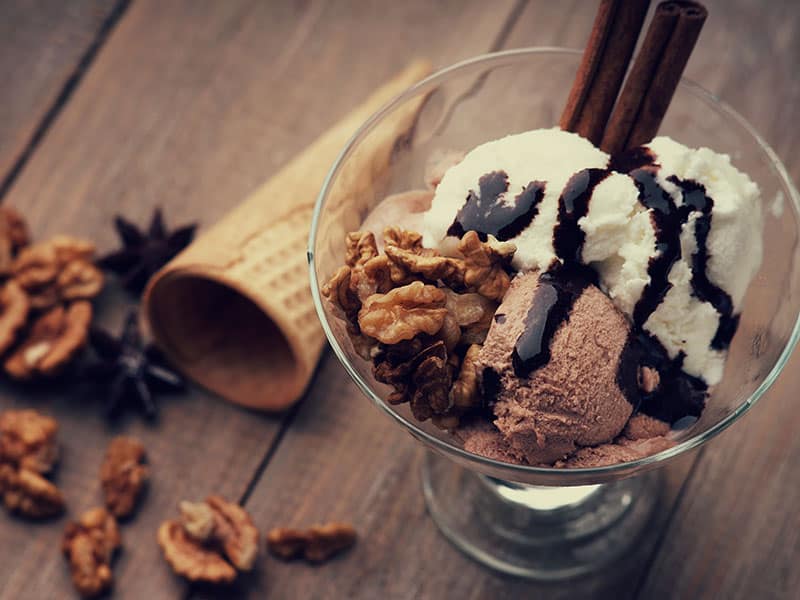 A fancy dish like beef wellington should side with a luxurious-yet-flavorsome dessert, right? And ice cream sundaes is my choice. It is the perfect balanced mixture of high-quality toppings and flavorings, making it become the best option to eat after the main dish.
Cheesecake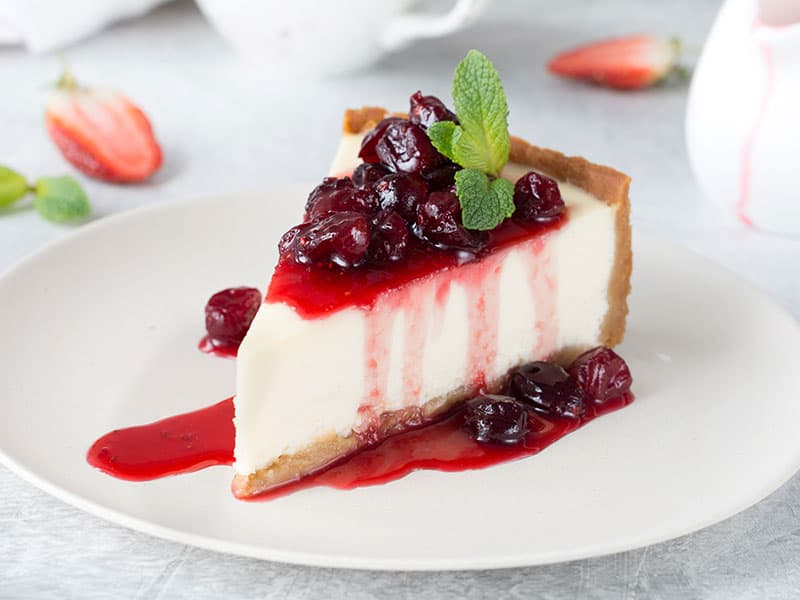 Cheesecake, one of the best sweet desserts to pair with Beef Wellington, is made of a graham cracker crust, cheese, sugar, and some added fruits. Cheesecakes taste good, but if you are concerned about your weight, that will not be the best idea as they contain too much saturated fat and calories.
Chocolate Cake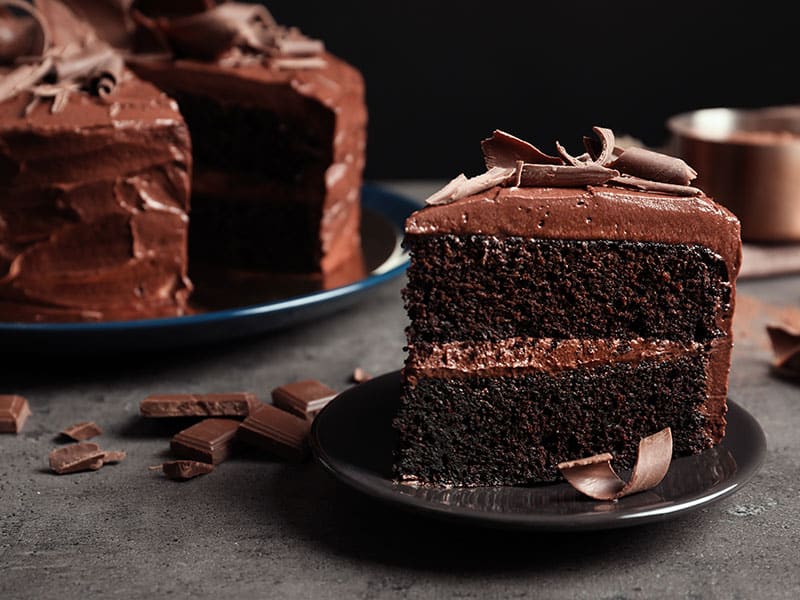 Another prevalent side dessert is chocolate cakes, which contain chocolate as the main ingredient and other fillings such as fudge, vanilla creme, or artificial sweeteners.
This dessert will balance the nutrients that you consume when it is a rich source of carbs which is low in Beef Wellington.
Side Beverages For Beef Wellington
Fabulous drinks would burst your dish flavors, so choosing appropriate beverages to go with beef wellington would greatly matter to you.
Wines
The best drink to enjoy when eating Beef Wellington is wine. Basically, all the wine choices would bring you different features to a wonderful meal, but choosing the best-matched wine contributes greatly to the main dishes.
There are must-try divine wines for enjoying a delicious beef wellington, such as Perrin and Fils, 2007 Cantina Tollo Aldiano Montepulciano D'Adruzzo, Château Le Boscq, Amarone, Red Bordeaux, Red Burgundy, Cabernet Sauvignon, Merlot or Syrah.
FAQs
Now, follow me to some frequently asked questions related to your savory. You may have the same problems. Let's check them out!
Expectation Vs Reality
I have mentioned 30 amazing things to serve with scrumptious beef wellington and recipes, but whether they taste good or not also depends on many other factors such as the freshness of ingredients, the number of spices, and, more importantly, your cooking skills.
Additionally, there are too many other dishes which can go well with beef wellington. Thus, please feel free to share your discoveries as well as your experience in the comment section below.
If you think the post is helpful, share it with your relatives and set time to enjoy beef wellington and its sides together.
Nutrition Facts
4 servings per container
---
Amount Per ServingCalories237
% Daily Value *
Total Fat 7.9g

11

%
Cholesterol 21mg

8

%
Sodium 75mg

4

%
Potassium 868mg

25

%
Total Carbohydrate 36.9g

12

%

Dietary Fiber 2.5g

8

%
Sugars 4.4g

Protein 6.1g

12

%
---
Calcium

99

%
Iron

2

%
Vitamin D

28

%
* The % Daily Value tells you how much a nutrient in a serving of food contributes to a daily diet. 2,000 calories a day is used for general nutrition advice.