How many tarragon recipes do you know? Tarragon is a wonderful herb to flavor your dishes for both fancy parties and daily meals. So it wouldn't hurt to expand your knowledge of tarragon use in cooking.
This reminds me of when I discovered what recipes I can make with basil. It truly expanded my horizon, showing me several exciting dishes to add to my meal rotations. I hope that this will happen to you too, once you check out the many fascinating dishes featuring tarragon.
That's exactly what I'm going to show you in this post. From the main course to snacks and drinks, tarragon will take them to a whole new level of yumminess. Keep on reading for more tarragon recipes that work wonders!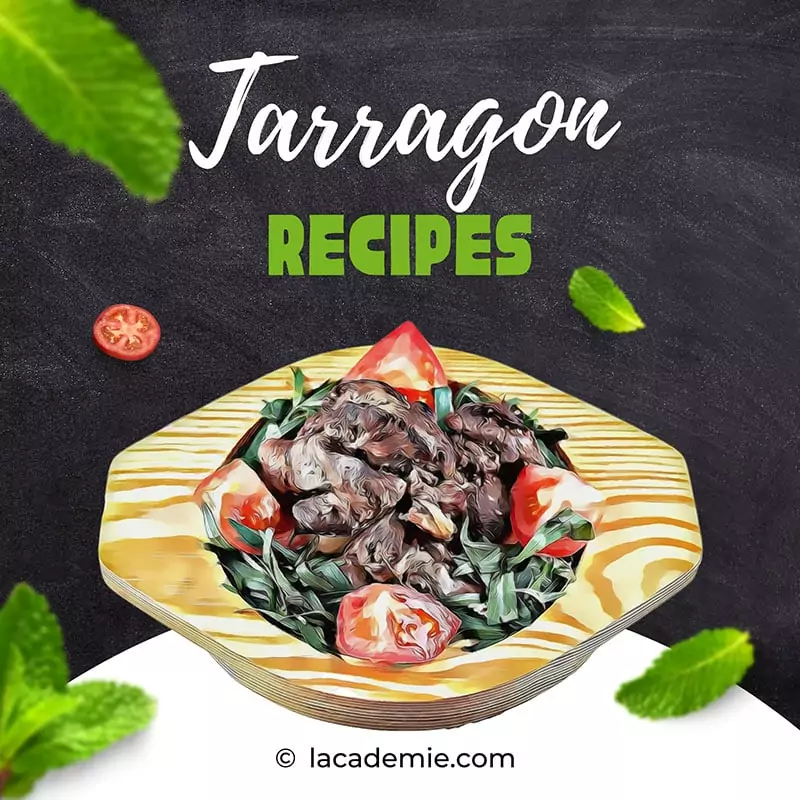 Spectacular Dishes That Tarragon Makes Tastier
Many French cookbooks affectionately call tarragon the "king of herbs" due to its aromatic qualities. Among the varieties of tarragon, the French cultivar is the best. But tasting is believing, so let's check out the following recipes to feel the appeal of tarragon for yourself.
While carrots are enormously good for your health and eyesight, they have a woody taste and chewy texture that many don't like. My solution is to cook a delightful carrot soup with tarragon.
This dish is a little complicated to prepare. You have to cook it two times: sauteing carrots with onions for the first time, then pureeing the stuff and cooking it with orange juice, ginger, and chopped tarragon the second time.
For your trouble, you will enjoy a tear-jerkingly beautiful orange soup with a hunger-provoking smell.
You will learn how to cook carrot soup with tarragon and orange in less than 3 minutes.
Leeks are so rich in vitamins, minerals, and antioxidants that many people call them a superfood. A tasty way to savor the flavor of leeks is to make them into this delicious and appetite-stimulating soup.
As you can see from the name, you need sliced leeks, sliced potatoes, and chopped fresh tarragon. Cook the first two ingredients with butter and water, then stir in with tarragon, cream, yogurt, and seasonings. This creamy soup is fit for any time of the day.
Nothing combines healthy eating with a delicious taste as well as a bowl of green salad. With the addition of creamy, scrumptious canned tuna and sweetly-scented tarragon, it will be even more nutritious and delicious.
This dish isn't very different from regular salads. You just need to add a few fresh tarragon sprigs to the dressing and flaked tuna to the salad. Don't forget to top with lemon juice and tomato slices to give your food a pleasant tang that brings balance to your fatty tuna.
Nothing gives foodies as much relief from the hot summer as a bunch of fresh and juicy strawberries. It would be a great idea to harness their sweetness into a healthy salad made from chicken breasts, peas, and onions.
To "prepare" this food is an overstatement because you just need to mix all ingredients in a bowl. A dressing of tarragon blended with mayonnaise and seasonings will go with the salad. You can add goat cheese and more vegetables to enrich the flavor, although that isn't necessary.
Are you having a hangover after a wild night? I will let you in on a secret: asparagus is a natural remedy for it. Also, a dish of nutritious asparagus salad decorated with tarragon is a delicious way to deliver the cure.
There are two ways to whip up this dish. You can boil the asparagus until crisp-tender, or you can peel it into thin pieces.
Next, whisk cheese, olive oil, seasonings, mint, fresh tarragon, and other herbs to make the dressing. Mix your cooked or raw asparagus with the dressing and enjoy.
Discover how to make a green tarragon asparagus salad here.
At first glance, a bowl of plain stirred green beans doesn't look like the kind of food that stimulates appetite. That's bad news if you are a vegetarian or have to eat beans regularly. But don't worry, tarragon is here to rescue you from blandness.
Actually, you're going to need both tarragon and a mixture of shallot and butter (or vegetable oil). Coat and cook the beans with the shallot mixture for several minutes. You wouldn't want to exceed that time or your beans will turn into a mushy mess with an ugly color.
Now, decorate your beans with tarragon and serve. Besides a fragrance full of tarragon's signature flavors, they should have a nice verdant green appearance and a firm, crunchy texture that makes your teeth feel good.
Cod is an excellent source of low-fat, low-cholesterol protein. Even people with chronic diseases like diabetes or high blood pressure can eat it every day. A few spoonfuls of tarragon and mustard sauce will make it both health-promoting and mouth-watering.
After you have sauteed some cod fillets in a skillet, pour the sauce over them. To prepare the sauce, you just need to mix and whisk mustard, chopped tarragon, garlic, olive oil, butter, and lemon juice. When the filets are well coated, sear them a little bit more, and they are done.
To make your meal even more flavorful and nutritious, how about pairing codfish with some delectable side dishes? It'll be quite a shame if there's no suitable dish around to elevate the taste of your yummy codfish doused in mustard tarragon sauce.
Seafood and tarragon are a superb combination. A great example is the pairing of the herb with scallops which are called "the candy of the sea" due to their sweet, umami flavor.
Preparation for this dish starts with searing the scallops until they have gold crusts around them. Then you make herbed butter by frying butter with garlic, broth, and chopped herbs (including tarragon). Coating the butter with the scallops will complete your dish.
You can eat it with boiled vegetables for a low-carb diet or with bread. Whatever your choice of accompaniment is, you will always experience the mild, savory flavor of scallops made more delicate by the fragrance of tarragon.
You may not be a fan of cabbage, but a bowl of roast cabbage flavored with tarragon will certainly win you over. This dish is as easy as its name: just roast some wedges of cabbage after coating them with a mixture of oil, lemon juice, garlic, and seasonings.
Top them with minced tarragon leaves and pecorino cheese and you can enjoy the dish. The best way to do so is to take a slow bite and feel the sweet, buttery, slightly peppery taste of cabbage and cheese mingled with the herbal aroma of tarragon.
If you don't have fresh tarragon available, it's okay to opt for dried ones as a replacement for fresh tarragon. Remember that dried tarragon has a much stronger flavor profile than fresh ones, so you should add it in small amounts at a time.
This dish is as old as the mountains but it is still as yummy as any trendy food out there. It is a classic example of how tarragon can complement high-protein foods. Tarragon chicken is suitable to serve at big parties as well as family meals.
After you've sauteed some chicken breasts, cook the tarragon sauce by stirring some cream with tarragon, shallots, and butter in a frying pan. When the sauce thickens, coat the chicken with it and transfer to a plate. Savor the buttery smell first before munching on the tasty flesh.
Dive in this detailed guide on how to make chicken in tarragon sauce the French way.
Nothing does a better job of symbolizing prosperity and togetherness than an outdoor barbecue. Your steaks may be already perfect but do you know what else you can do to make them even more delicious? The answer lies in a bunch of tarragon sprigs.
After you've roasted some excellent, juicy steaks, let's whip up some tarragon sauce. Simply stir-fry cream with soy sauce, mustard, chopped tarragon, and minced herbs. Lastly, drizzle the sauce over the steaks and serve with potatoes and peas.
Please note that you can use all kinds of steak for this recipe, such as sirloin, filet, and rib-eye steak. A few spoonfuls of brandy to the sauce will also be a nice touch.
A hard-boiled egg is hardly appetizing. But I'm going to introduce to you a creative way to make this cooked egg variant sexy with chopped fresh tarragon. This rich and tasty dish is great for both holiday gatherings and daily meals.
Let's start with cutting the unassuming boiled eggs lengthwise in half and removing the yolks. Mix and mash the yolks with mayonnaise, vinegar, and spices. Don't use the tarragon with the yolks but rather fill it, along with minced onions, into the empty egg white halves.
Now stuff the spice yolks into the whites, garnish with herbs and enjoy. One bite will show you how much richer and more flavorful your egg has become.
If you are looking for a snack that is both light and nutritious, I will recommend some crab cakes. But not just any cake, the type that goes with sweet and powerfully scented tarragon. This dish is delicious enough on its own but can pair with other foods.
The preparation involves mixing crab meat, butter, eggs, toasted breadcrumbs, chopped tarragon, and other spices. Then you divide the stuff into equal parts and fry them until brown in olive oil. Sink your teeth into sweet, crisp, fatty crab meat and rejoice!
No matter what kind of pasta you use for this dish, it will be made more desirable by a lemon and tarragon garnish. Be it linguine, fettuccine, or capellini, just bring it on – no need for you to distinguish between linguine and fettuccine. You may also add some asparagus for more fiber.
It is sillily easy to prepare this dish. A bunch of peeled shrimp needs to be stir-fried until pink first, then you add to the pan some cooked pasta, cooking water, and lemon juice. You can also include dairy products like butter and heavy cream in the mix for a richer flavor.
Toss and stir the pasta for some minutes before serving. Decorate your plate with some fresh tarragon and it's ready!
Cooking fettuccine with shrimp and tarragon is easier than you think.
Who says that wafers are all butter and flour? The following toothsome type of cake has a nice herbal scent that will produce an invigorating effect on your senses. Besides, it only takes a short time to prepare.
Herbed wafers are made in the same way as normal wafers, except that you must add dried tarragon, dried oregano, and garlic to the batter. Now, turn on your oven and bake your wafers until they are golden brown.
Tarragon cheese wafers are a crisp and savory snack to eat on their own or serve with vegetable soup and salads.
When it comes to tarragon, it might be the case that authentic Italian cuisine can't rival that of its neighbor France, but it still offers delightful treats. Panna cotta ("cooked cream") is a delicious snack made from flavored cream and gelatin. It can be paired with tarragon to outstanding effect.
All you need to do is to heat and whisk a mixture of gelatin, heavy cream, milk, and chopped tarragon. Strain it with a fine sieve and cool the liquid in a refrigerator. Your panna cotta should feel as soft as a baby's bottom and have a nice faintly grassy scent.
If you think that ice cream is a harmful, calorie-dense, nutrient-deficient junk food, it's time to stop being a believer. This recipe will give you a green, tasty snack with a great herbal undertone.
The first step is to make an ice cream base by beating and heating milk, corn starch, cream, and sugar together. Then you blanch some tarragon leaves and puree them with the base and olive oil in a suitable model of blenders. Sieve the mixture well and let it chill overnight in the refrigerator.
Now, churn the ice cream with your ice cream maker or by other means. Wait for a few more hours and you can enjoy the tingling sensation of healthy, fatty ice cream melting away in your mouth.
If anything can make a plant-based diet delightful, marinated mushrooms are certainly one of them. It has a tangy aroma and a savory, earthly taste that rivals the flavor of the best meat. Marinated mushrooms are also loaded with fiber, vitamins, minerals, and antioxidants.
But you can improve the mushrooms even further by making the marinade from vinegar, olive oil, dried tarragon, and other dried herbs. Nothing more is required but a few hours of waiting.
But why should you use dry tarragon for this recipe instead of fresh ones? When you understand what makes fresh tarragon different from dried ones, you'll see why. Of course, fresh tarragon can work for this dish, too; however, the results might not be as satisfactory.
A creamy hamburger or a juicy steak is wonderful to eat but day after day, aren't you fed up with the greasy, fatty taste? If so, let's remedy the situation with some cucumber pickles improved with fresh tarragon.
It's just like making ordinary pickled cucumbers. But when you chill cucumbers with water, vinegar, garlic, salt, and sugar, don't forget to add a generous dose of tarragon. Store the pickle in the refrigerator overnight, and you will have something healthy to eat with ham, eggs, or else.
Butter has a delicious smell but when you eat it too often, the chances are that you will grow dull to its fatty taste. I suggest a solution to that scenario: let's scent butter with tarragon. This type of improved butter goes well with meat, chicken, and roasted food.
You won't believe how easy this recipe is. All you need to do is to mix butter with chopped tarragon, chopped shallots, lemon juice, and pepper. Serve it right away or you can chill it for the texture and flavor to settle in.
Bearnaise sauce is considered one of the best sauces in French cooking, with tarragon as its defining ingredient. I have said "tarragon sauce" many times in this post, but the two things aren't really similar.
Tarragon sauce is used in food preparation while you drizzle bearnaise over your finished dishes. With that cleared up, let me show you how to make this creamy sauce.
You begin with simmering shallots, wine, vinegar, and tarragon until only a few tablespoons of liquid remain. Meanwhile, whisk egg yolks with clarified butter and water, there should be some heat to aid the process. Finally, combine the yolk mixture with the tarragon reduction, and add seasonings.
Check out how to make creamy bearnaise sauce here.
If you dislike the widespread use of cream or creme fraiche in tarragon sauce, I have a proposal for you. Let's make some creamless, fat-free tarragon-based sauce with ripe tomatoes.
All you need is a few peeled tomatoes, garlic, fresh tarragon, vinegar, and spices. Puree the tomatoes with garlic until smooth, then slowly add the rest to the blender.
Alternately, you can combine chopped tarragon with olive oil and minced garlic first before cooking the mixture with pureed tomato over a low heat. The sauce is great with grilled chicken, meat, veggies, etc.
Fat food and no drink makes Jack a choking boy. Understanding that, I'm going to give you an easy recipe to make an excellent drink that will help you wash down the delicious dishes: tarragon lemonade. It is a little elaborate to prepare but totally worthwhile.
First, you need to mix boiled water with sugar and fresh tarragon leaves. When the water is cool enough, discard the leaves and add some fresh lemon juice and salt to taste. Now, garnish your savory drink with lemon slices and gulp it down to feel the heat withdraw.
A few drops of gin improve the flavor though making the lemonade slightly inappropriate for the underage.
Discover how to make a thirst-quenching cup of lemonade with tarragon and gin.
Here is another drink recipe with tarragon that will keep the hot summer at bay. You can even feel very high-spirited after drinking it. However, this stuff is an adult juice so watch out for your kiddos.
This feel-good drink requires you to pour grapefruit juice, gin, tonic water, and crushed fresh tarragon into a tall glass. Shake them up to blend the liquids well. Add some ice cubes and you can enjoy a sip of this uplifting drink.
Green tea is deliciously grassy-tasting and rich in health-promoting compounds. So it is beneficial for you to drink every day. A few garnishes of lemon juice and fresh tarragon will improve the flavor further.
Or you can skip out the green tea entirely and only use tarragon. Steep a few fresh sprigs in hot water, add some dried peppermint to taste, and you have a really exotic drink to enjoy.
The Fragrant Scent Of Tarragon Awaits You
That's all I have to share with you. Your meals will be much more alive thanks to those tarragon-themed recipes. They are easy to prepare but you will feel no differences between them and takeout food.
I hope you love those recipes and will soon give them a try. Of course, they are from being fixed rules: there is always room for improvisation. If you make any interesting discoveries, please don't hesitate to comment.
If you find this post useful, please share it with your friends and loved ones. Thank you very much and bone appetit!
Nutrition Facts
4 servings per container
---
Amount Per ServingCalories526
% Daily Value *
Total Fat 3g

5

%
Cholesterol 8mg

3

%
Sodium 152mg

7

%
Potassium 472mg

14

%
Total Carbohydrate 17.6g

6

%

Dietary Fiber 3.4g

12

%
Sugars 9.1g

Protein 3g

6

%
---
Calcium

47

%
Iron

1

%
Vitamin D

2

%
* The % Daily Value tells you how much a nutrient in a serving of food contributes to a daily diet. 2,000 calories a day is used for general nutrition advice.