Welcome to my blog!
In this post, I will bring you exciting information about tarragon substitute as well as some more useful recipes and tips when you use this herd. Tarragon and tarragon substitutes are added in many French dishes.
If you are in France or a big fan of well-known cuisines, you have been heard that tarragon is "the King of herbs". Besides fresh tarragon, the dried tarragon is also a good alternative for your recipes.
However, you can use other herbs to replace tarragon in your dishes, and I sure the flavors they bring as the same as tarragon, and your dishes are still protected carefully. I don't waste your time anymore; let's start exploring tarragon substitutes for your creativity.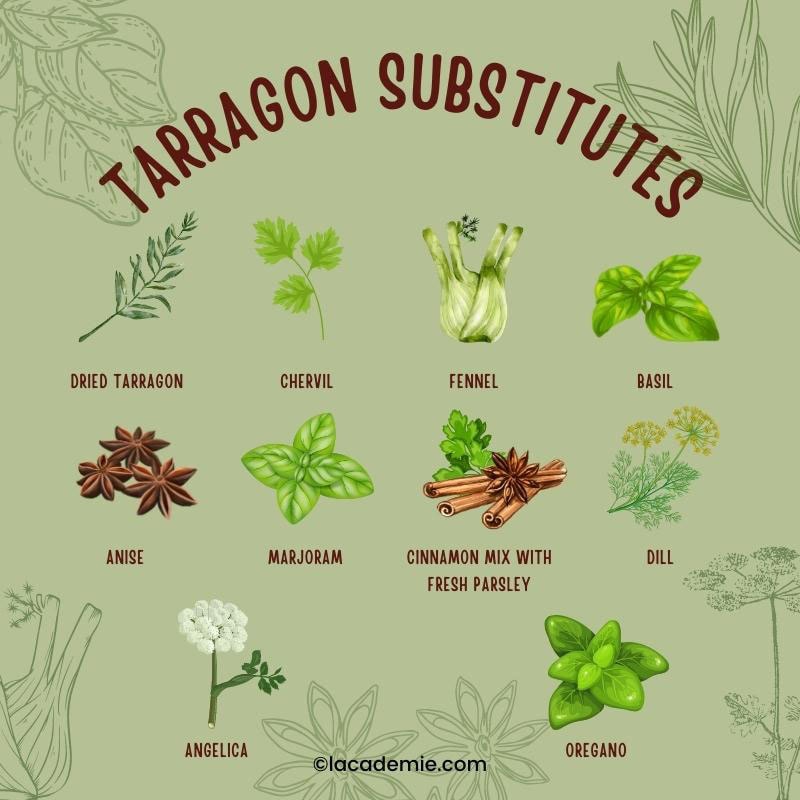 What Is Tarragon?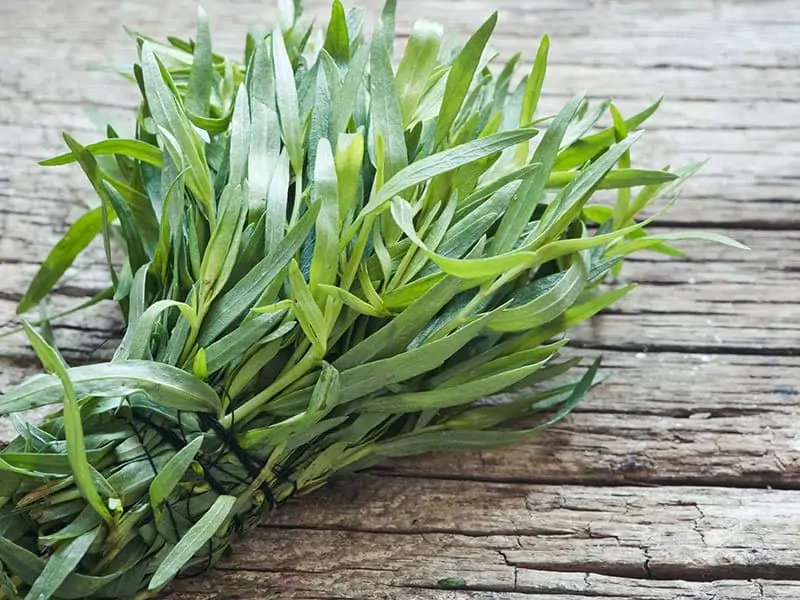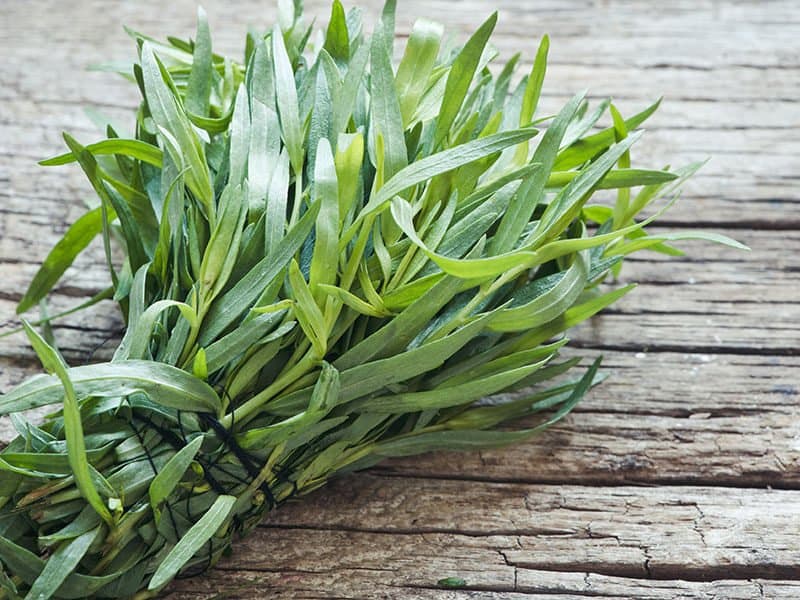 Before discovering tarragon substitutes, you should know some basic information about tarragon to have a general view of it. The best way to get the knowledge is from its definition.
As I mentioned in the previous part, tarragon is indispensable in French cuisine. Due to the signature flavor of tarragon, it's one of the four significant herbs that often appear in every recipe. Tarragon is famous because of its skinny, glossy skinny leaves and aromatic flavor.
You can harvest tarragon every year since it is a perennial. It belongs to the Artemesia genus, and its stems are woody and tough, as well as its leaves are thin and long with the pointed end.
I wish you could go to France at least one time in your whole life to enjoy thin chicken, fish, and eggs dishes that are combined tarragon, and you will feel a relatively neutral flavor in each bite.
In case you want to feel clearly the flavor and aroma of tarragon, you should taste Béarnaise sauce that is improved from Hollandaise sauce.
How Many Types Of Tarragon?
You can easily find all the cultivars of tarragon on the market now: French, Russian, and Mexican tarragon. Let's discover how to differentiate each type.
French Tarragon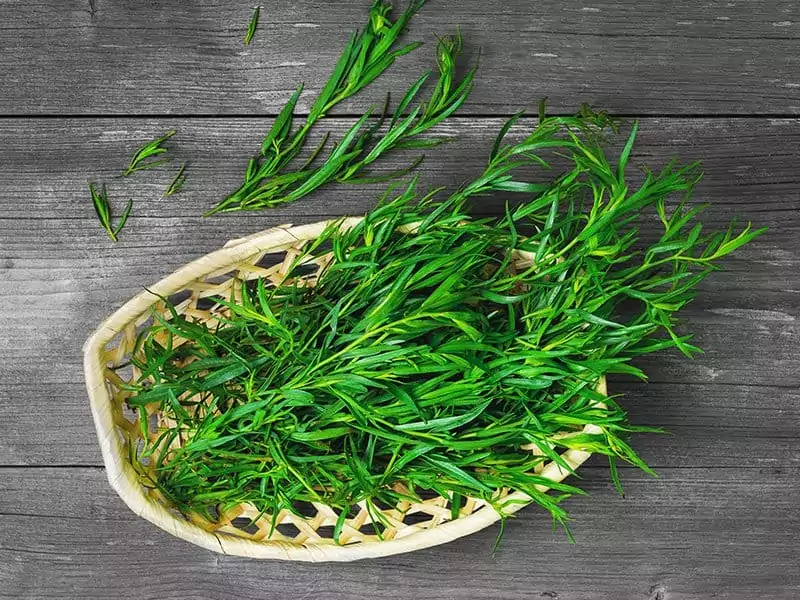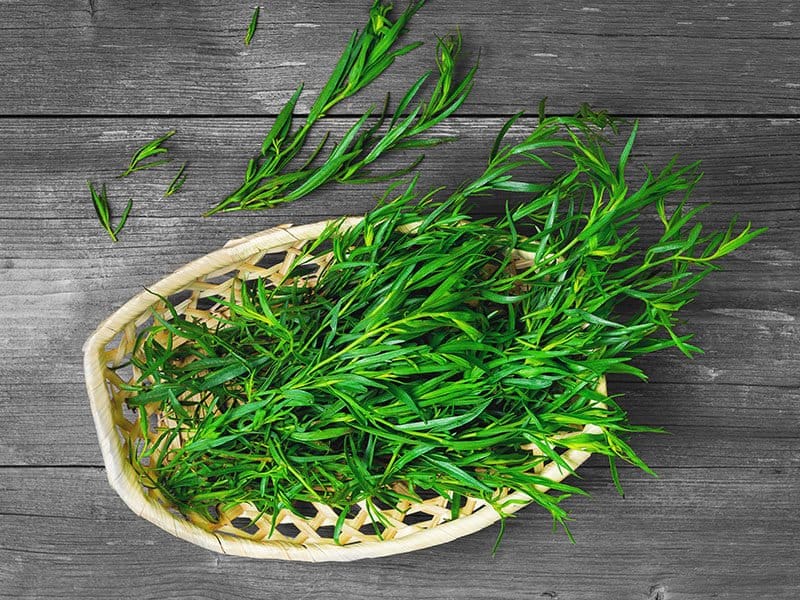 French tarragon can grow prosperity in the temperate region and is mostly used in cooking recipes to bring you a unique experience. The ideal height is 24 inches, and the leaves are 2 inches long.
You can simply recognize French tarragon by its green leaves since they are greener than the other 2 types. You can see pale green and tiny flowers at mature French tarragon, but you cannot plant them as the flowers are sterile. Therefore, you are compulsory to divide root to cultivate it.
Russian Tarragon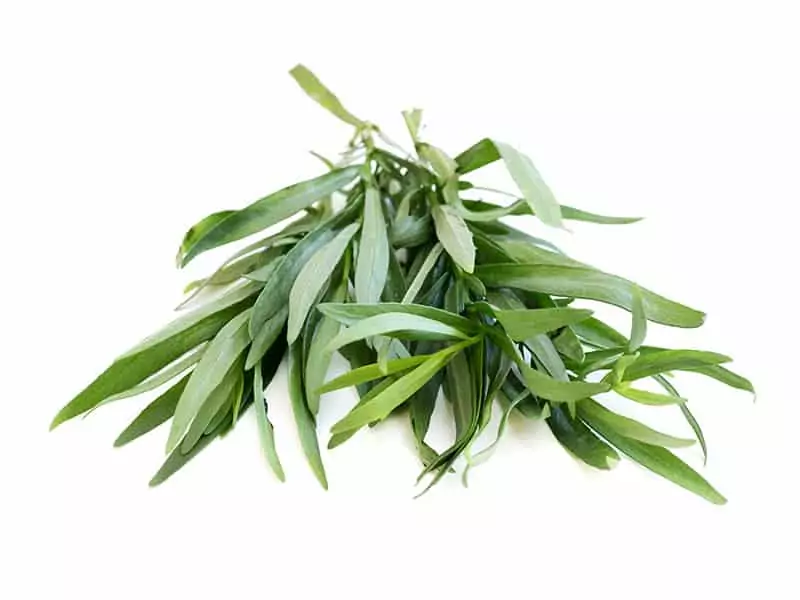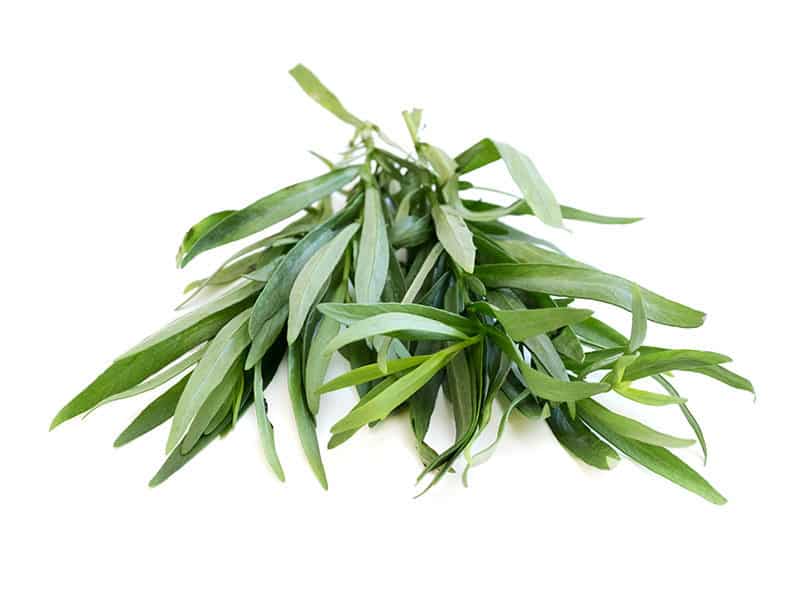 Owning some features is similar to French tarragon, but Russian tarragon is hard and can grow up to 35 inches in height. That's why you can see Russian tarragon planted in arid regions, and you don't need to spend much time caring about it.
If you compare French tarragon to Russian tarragon, you will find the Russian tarragon's leaves are longer, narrower, and coarser than French tarragon.
Mexican Tarragon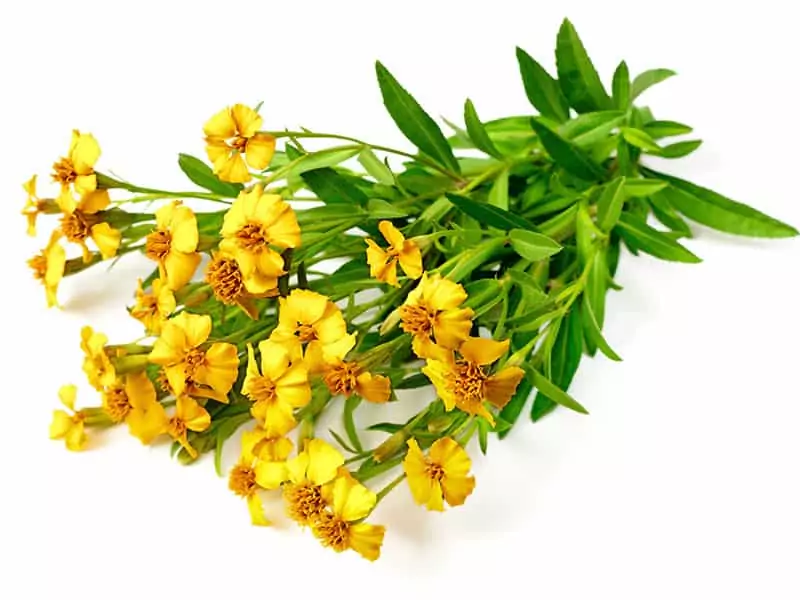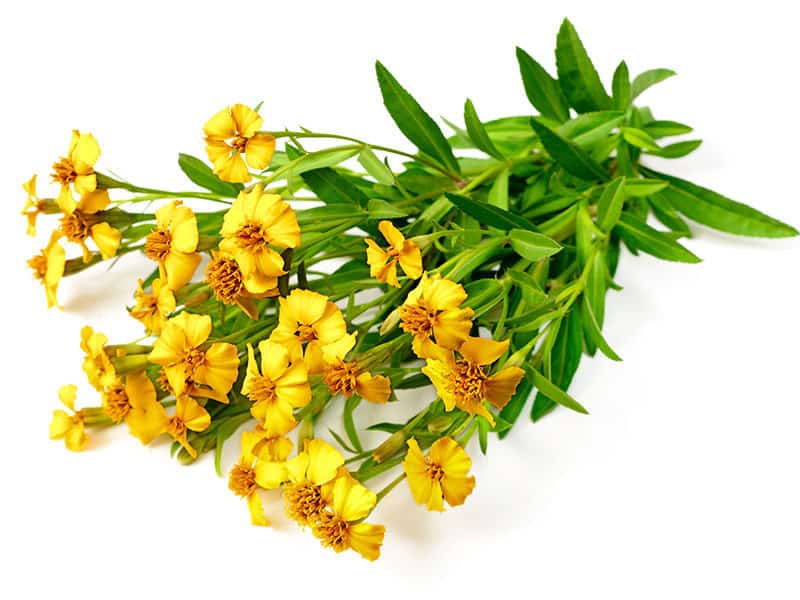 You will come to the last type of tarragon that is Mexican tarragon. It is also known with another name is Mexican mint marigold. Mexican tarragon can reach up to 35 inches height like Russian tarragon and be grown in annual years in mild regions and as a perennial herb in hot regions.
Its leaves are quite shiny green and 3 inches long and have yellow flower heads. These flowers can help you recognize French tarragon and Mexican tarragon if you catch both of them in the supermarket. You can also use its flower to create some special dishes.
What Taste Tarragon Likes?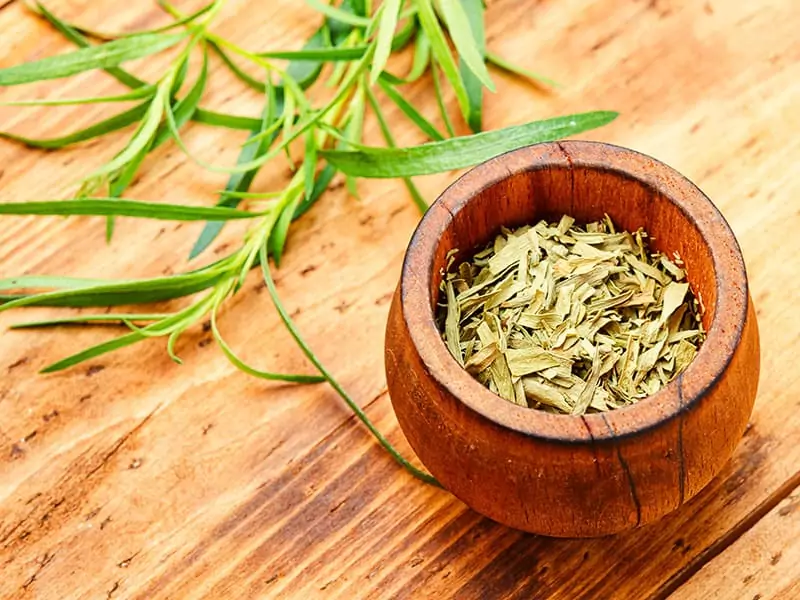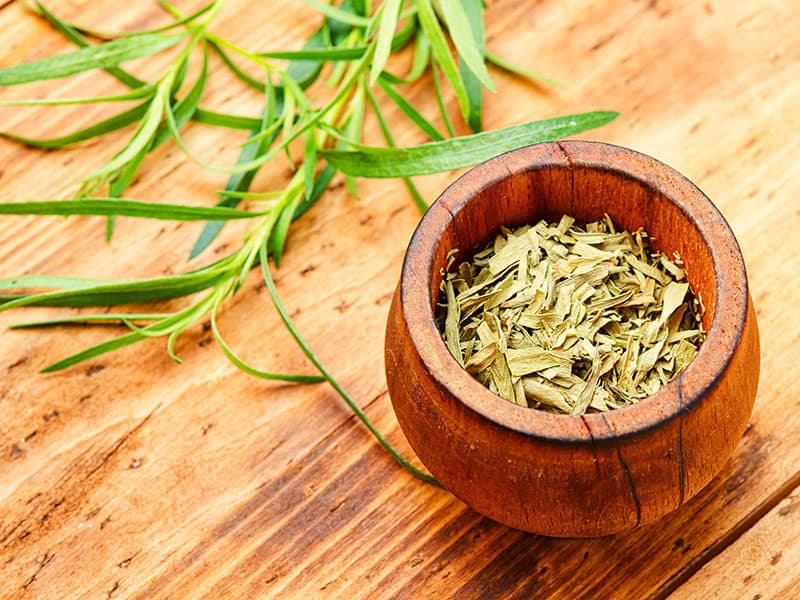 Describing exactly the tarragon's flavor is quite hard, but I will try my best to help you understand its complicated flavor profile. Different people will have a different feel when tasting tarragon.
The first time when you taste it, it includes a combination of licorice and vanilla so that you can feel coolness and warmth on your palate. At some points, it also has a minty taste mixed with a bit of hay's flavor.
Other opinions are that it is a little fresh and likely spicy note similar to when smelling fresh star anise and tasting licorice root.
You cannot find any aroma like tarragon aroma, and it seems to be overwhelmed by other herbs. That is the first thing you realize when holding some tarragon leaves. The aroma of tarragon includes the exclusive aroma of anise and licorice or the combination of celery and mint.
Each type of tarragon also has some differences in taste and aroma. French tarragon is a little bit flavor of licorice or citrus and slightly sweet. In contrast, Russian tarragon is pretty harsher and bitter and easy to lose the flavor and aroma when maturing.
Mexican tarragon is the mix between French and Russian tarragon. The Mexican tarragon's flavor is similar to French tarragon with the hint of anise and much stronger than Russian tarragon, but its flavor doesn't decrease over time.
Benefits Of Using Tarragon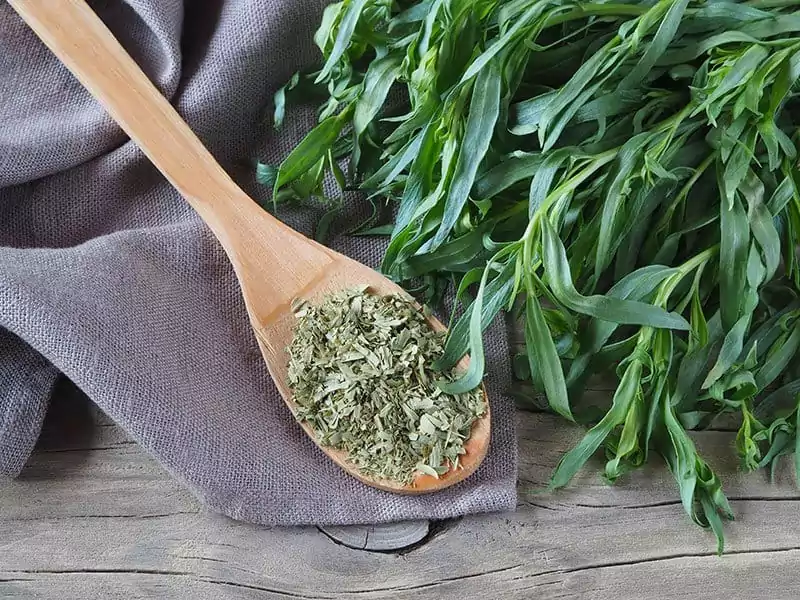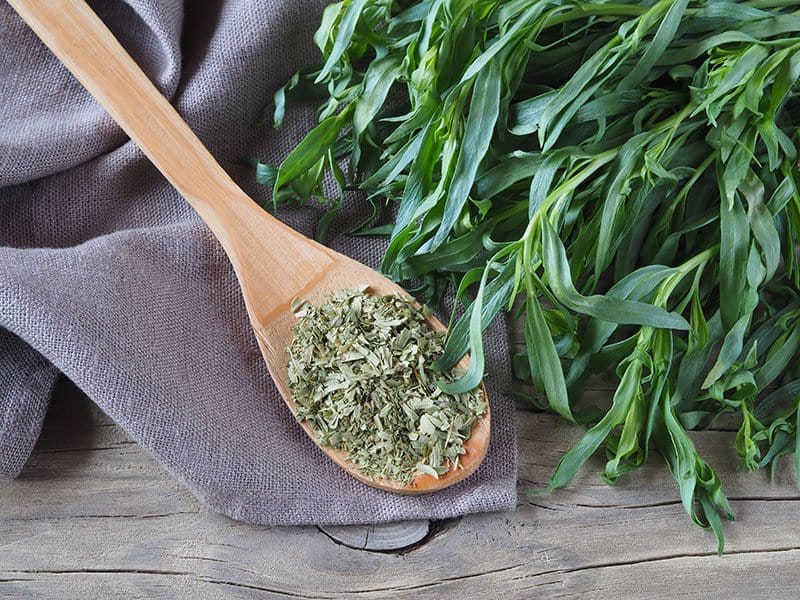 There are many dishes starring tarragon, but you probably don't know about this herb's benefits yet. I am here to help you discover more exciting information about this special herb. In case you use tarragon essential oils, you will get the same benefits as using the original tarragon.
Contain Beneficial Nutrients But Low In Carbs And Calories
Tarragon contains some beneficial nutrients such as iron, manganese, and potassium but is low in carbs and calories. These nutrients are significant in improving your health.
Manganese plays an essential role in growing brain health and reducing stress in your body. Iron is key for producing blood and perform cell function. Iron is significant for people of all ages and all stages. If you lack deficient iron, it will lead to weakness and fatigue.
Potassium is one of the most significant minerals contributing to building up muscle, healthy heart, and nerve function. Some researches show that it is able to lower blood pressure.
Decrease Blood Sugar
Tarragon can help you decrease blood sugar since it can improve insulin sensitivity and the method your body distributes glucose. As you know, insulin is a hormone that transports glucose to cells in your body and metabolizes it into energy for use.
Improve Your Sleep
Sleep deficiency can lead to some risks of conditions such as heart disease and type 2 diabetes, and you shouldn't overuse sleeping pills since they can cause serious complications. Tarragon will help you deal with these problems. It will help you improve your sleep quality thanks to its sedative effects.
Increase Appetite
Many reports point that appetite is controlled by leptin and ghrelin hormones. Leptin is considered a full hormone, while ghrelin is a hunger hormone. Tarragon can stimulate appetite by decreasing leptin hormone or increasing ghrelin.
Balancing leptin and ghrelin will also help you improve life quality and energy.
Relieve Pain
Tarragon has played a role in relieving pain for a long time in traditional medicine since tarragon contains Arthrem that has positive effects on many volunteers with osteoarthritis and helps them relieve pain.
Contain Antibacterial Properties
Nowadays, using natural additives to preserve food has become more and more popular, and plant essential oils are an updated idea in this field. The scientists point that tarragon oils contain some supplements that can inhibit E.coli and staphylococcus aureus that are reasons for foodborne illness.
Easy To Add In Your Diet
As you know, tarragon has an exclusive flavor and aroma; therefore, it is used to incorporate into your diet, such as adding it to egg dishes, garnish on chicken, using it to create special sauces, and combining them with fish, and more.
Other Potential Benefits
There are still many benefits of using tarragon that researchers have not discovered completely yet, but you can know some hints about them. It may have some advantages for heart health and may reduce inflammation. However, these effects have been still on the paper, and you have to wait for more time to understand clearly.
10 Best Tarragon Substitute Selections
What tarragon substitute can you use when you don't have fresh ones on hand for your recipes with tarragon? This section will introduce the top 10 tarragon substitute you may have already in your kitchen to you.
Dried Tarragon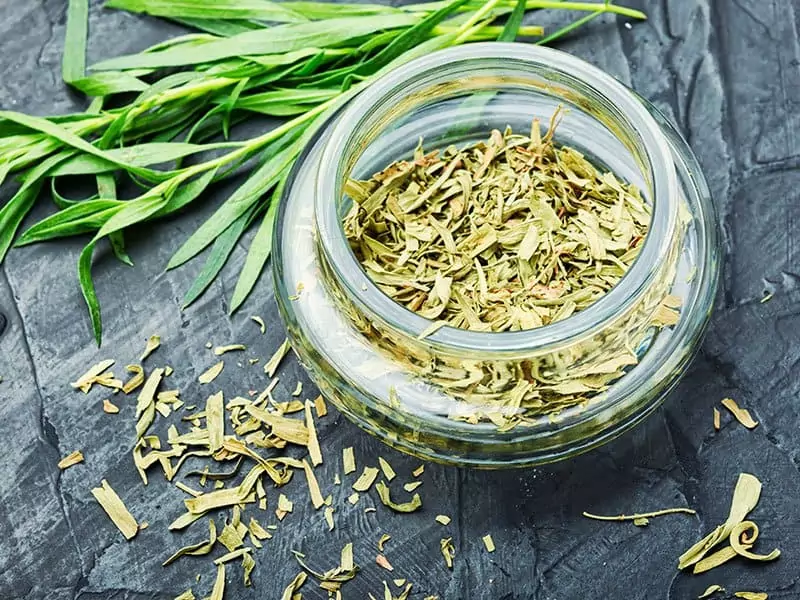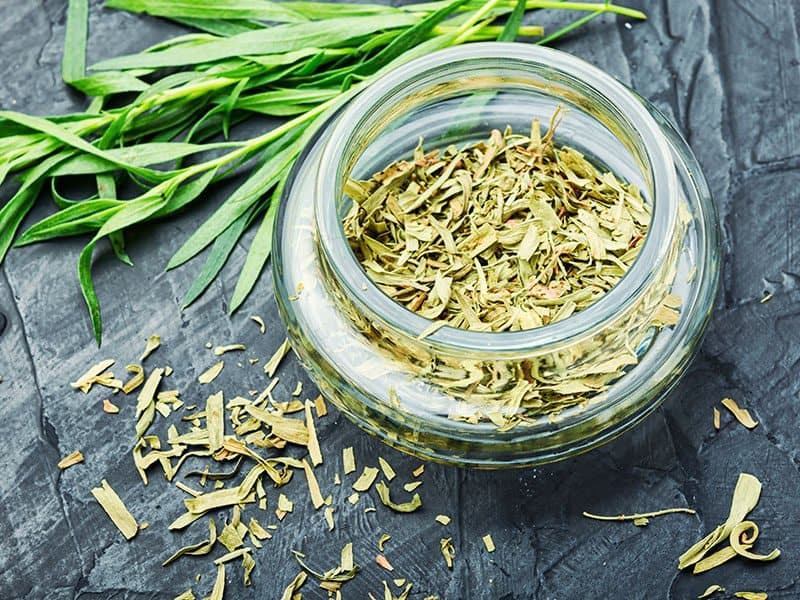 When you compare dried tarragon with fresh tarragon, it's obvious that dried tarragon is the best substitute for fresh tarragon, and it can be found easily in any grocery. Nevertheless, you should know that it will have some significant differences in flavor and can change your recipes.
Dried tarragon is a little bit bitter and stronger than fresh tarragon; therefore, you just need to use a small amount of it for your dishes that will help you use it sparingly. One teaspoon of dried tarragon is equal to one tablespoon of fresh tarragon.
Using dried tarragon will create an unforgettable flavor when combining with aromatics and herbs such as thyme, shallots, and basil. Besides, several béarnaise sauce recipes just use dried tarragon instead of fresh tarragon to bring you specific experience.
Chervil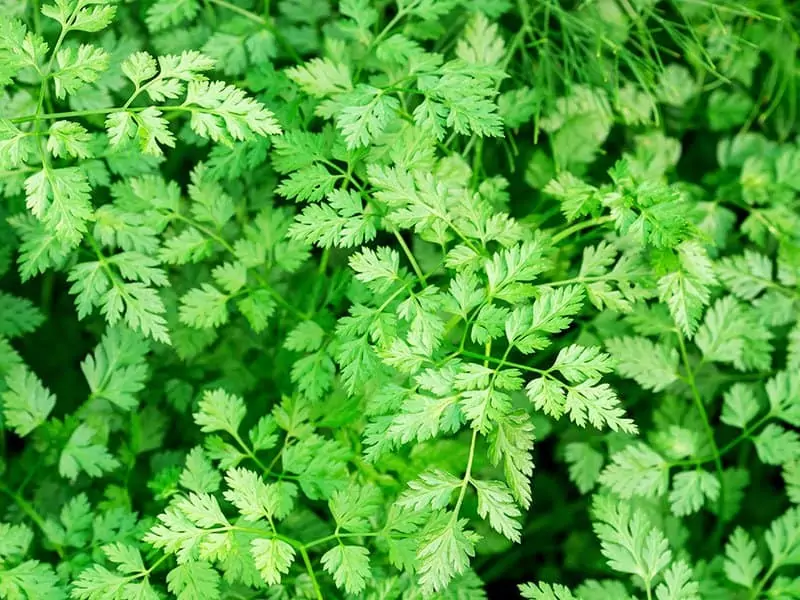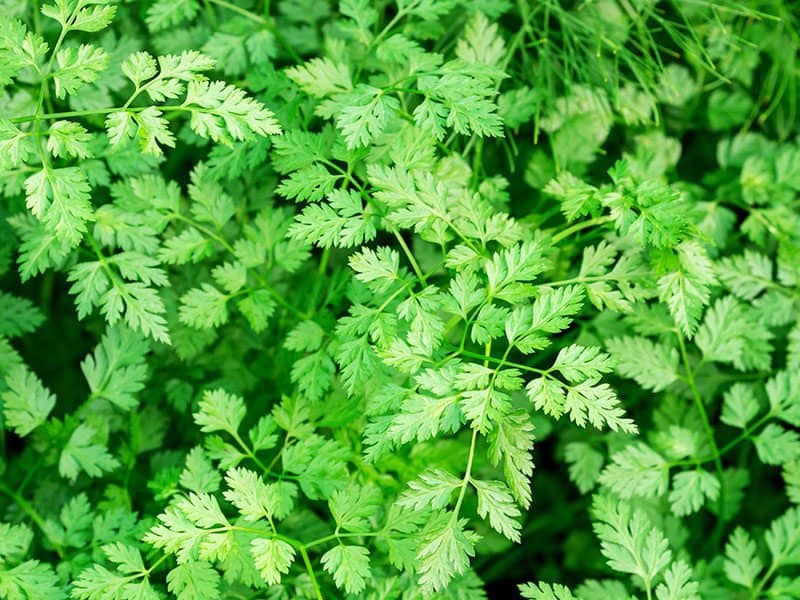 Besides using dried tarragon, chervil is also a good solution since it has the closest flavor and aroma when compared to tarragon. Its taste is similar to anise and licorice, but it is not too strong; therefore, chervil is an ideal tarragon substitute when you don't like tarragon too intense.
If you use one tablespoon of fresh tarragon in your recipes, you can use the same amount of chervil for your dishes. In case you want to get the same effect as tarragon, you should use more chervil.
Chervil is a perfect ingredient for eggs, vinaigrettes, salads, poultry, and béarnaise sauce.
Fennel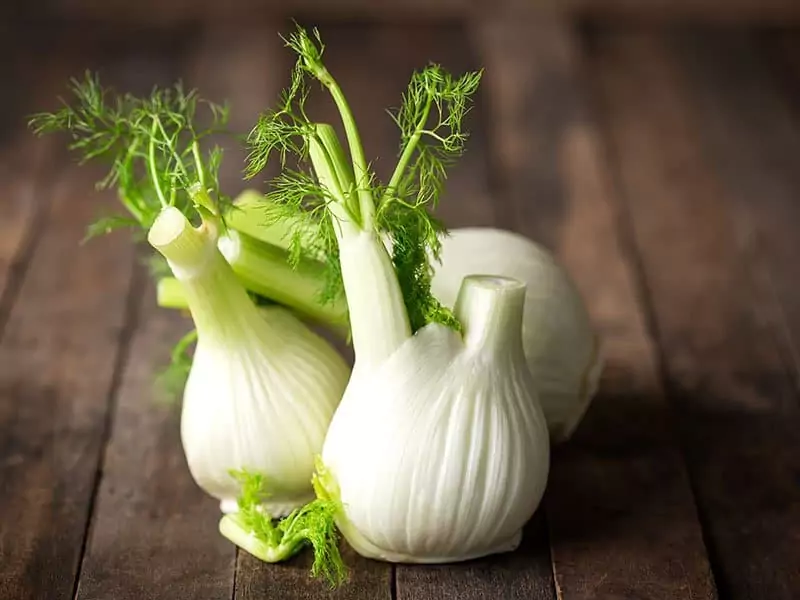 Fennel is a common spice in Asian cuisine, and now you can discover that it can alter tarragon to make special dishes. Fennel's flavor is nearly the same as tarragon's flavor since it is similar to black licorice taste.
There are many ways for a fennel to replace tarragon in cooking, and I will show you how I use fennel. One tablespoon of fresh fennel brings effects like one tablespoon of fresh tarragon, while a pinch of fennel seeds can be used to instead one tablespoon of fresh tarragon.
For one teaspoon of dried tarragon, 1/8 teaspoon of fennel seeds is a perfect amount.
How can I use fennel? You can add fennel in dishes mostly made from vegetables such as citrus salads, soups, and vinaigrettes.
Basil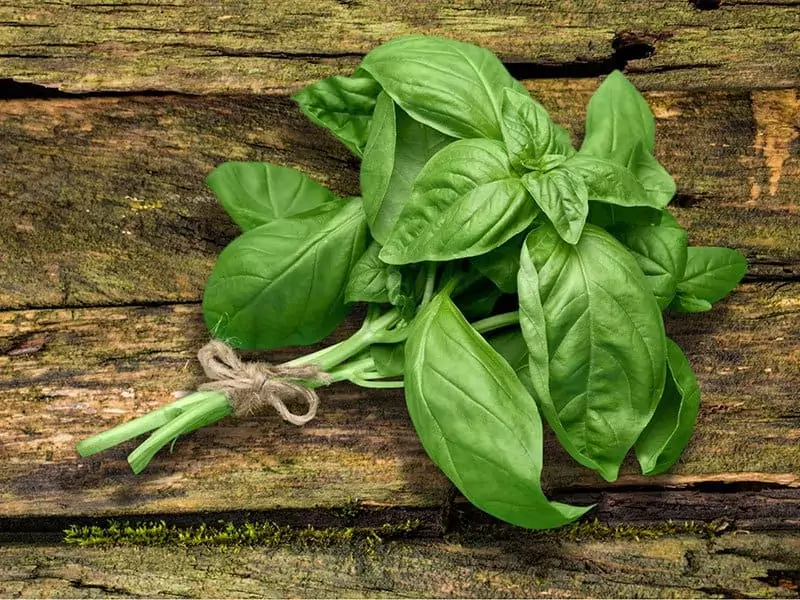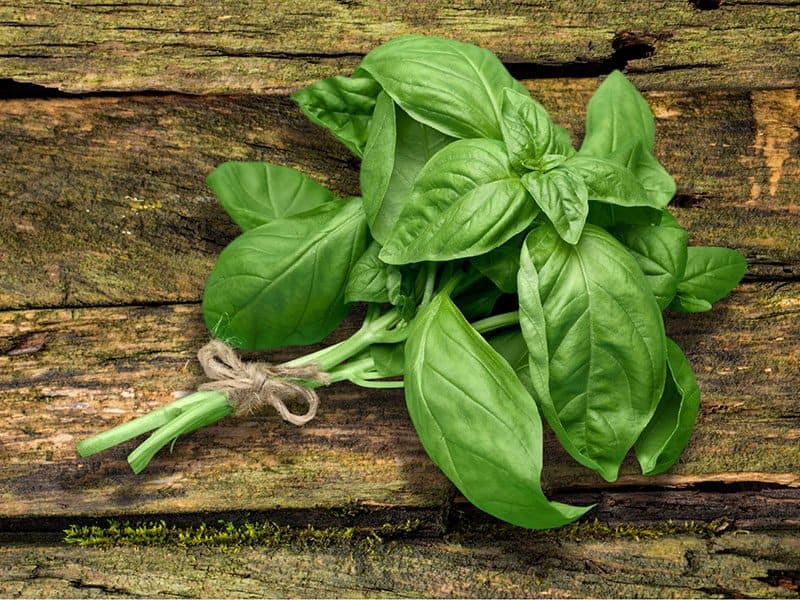 Basil is also a popular spice of Asians. In fact, the flavor you get from basil is similar to tarragon but milder and doesn't have a hint of licorice. You need to use a lot of basil to replace fresh tarragon if you want to get the right flavor.
Two tablespoons of basil will be a perfect amount to alter one tablespoon of tarragon. Basil is an indispensable ingredient for pasta and cream sauces, salads, fish, and more. Basil shouldn't be added béarnaise.
Anise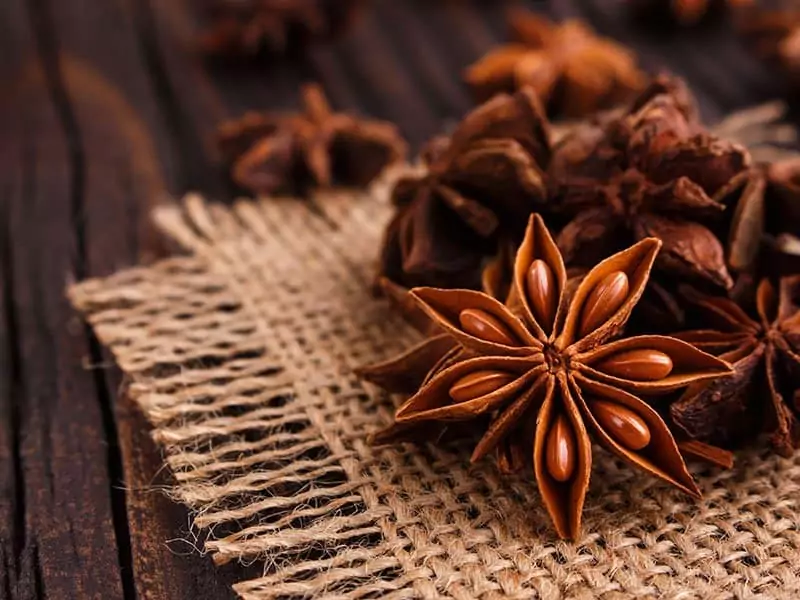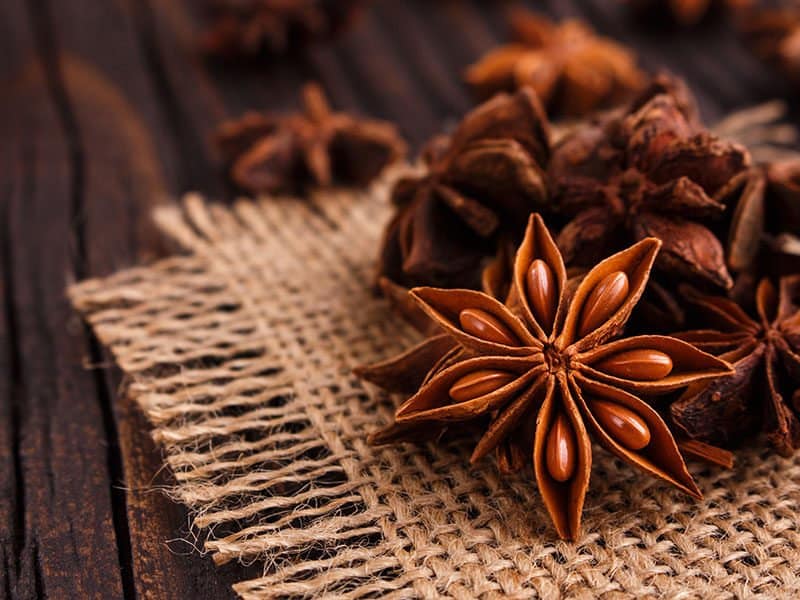 Fresh tarragon has a hint of anise; therefore, it will be such a deficiency if you miss this spice in the list of tarragon substitutes. Besides, both anise and tarragon create a licorice taste.
However, you shouldn't think that anise and licorice are the same. Anise has a strong and pungent flavor and also has the cross taste of tarragon and fennel.
Anise is a perfect ingredient for those who want to deeper taste profile with a little bit of sweet and spicy flavor. A pinch of anise seed will bring you the same effect as a tablespoon of fresh tarragon or a teaspoon of dried tarragon.
You can use anise for sweet and savory dishes such as soups, broths, and stews. For people who love Vietnamese dishes, you can taste anise flavor in Beef Pho.
Marjoram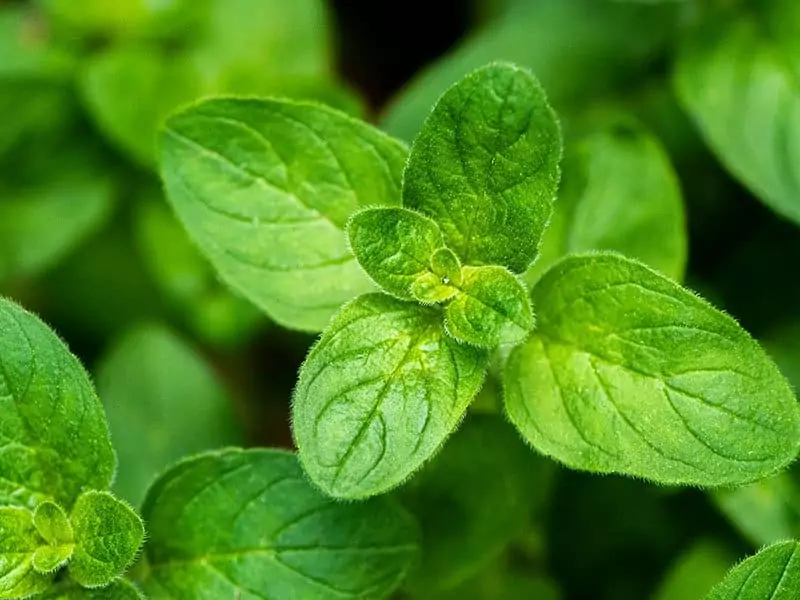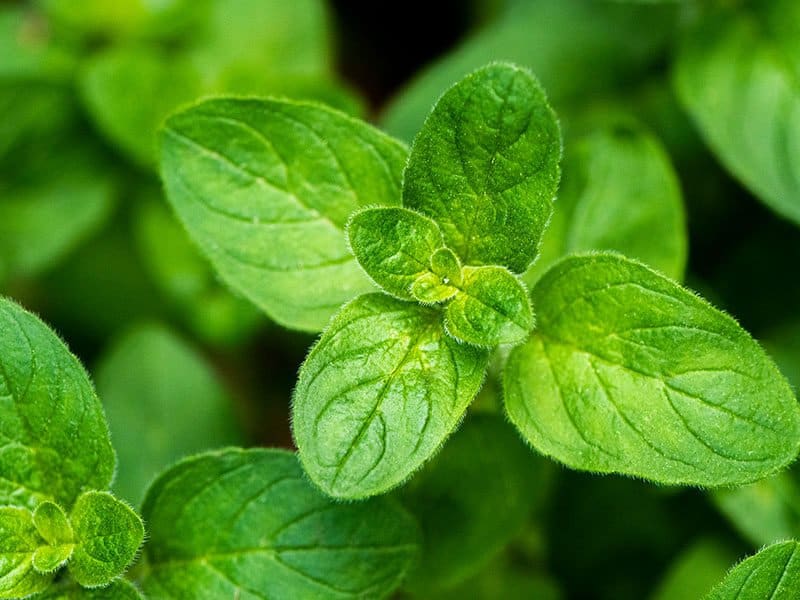 Marjoram's flavor is warm with hints of citrus, and you can feel the coolness like mint. Its taste and aroma are mild, and you can use it according to the 1:1 rate that means 1 teaspoon of marjoram, similar to 1 teaspoon of dried tarragon.
You can add it to vegetable dishes, poultry dishes, and salads if you don't know how to combine it with other ingredients
Cinnamon Mix With Fresh Parsley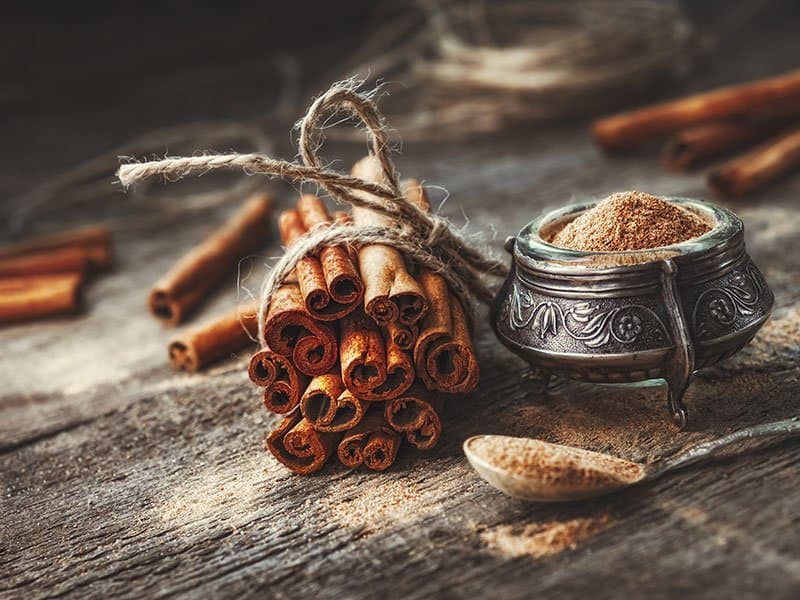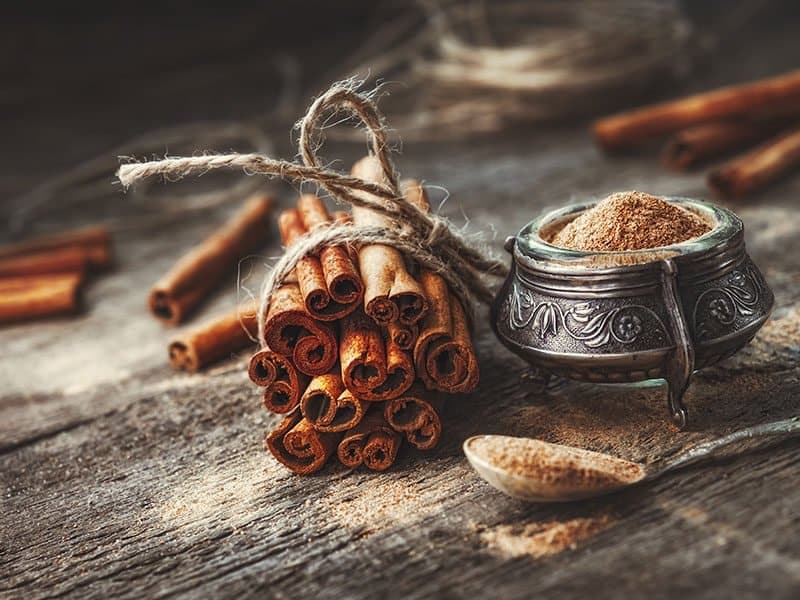 Cinnamon and fresh parsley will essential ingredients making French béarnaise sauce create a harmonic taste for seafood, steak, and poached eggs if fresh or dried tarragon are not available. The extract of cinnamon and fresh parsley will help your sauce have bitterness and sweetness.
You have to simmer and let the liquid cool down, then use it as a tarragon substitute. You need 1 tablespoon parsley and ½ teaspoon cinnamon with ¼ cup of water. Try it and tell me your result.
Dill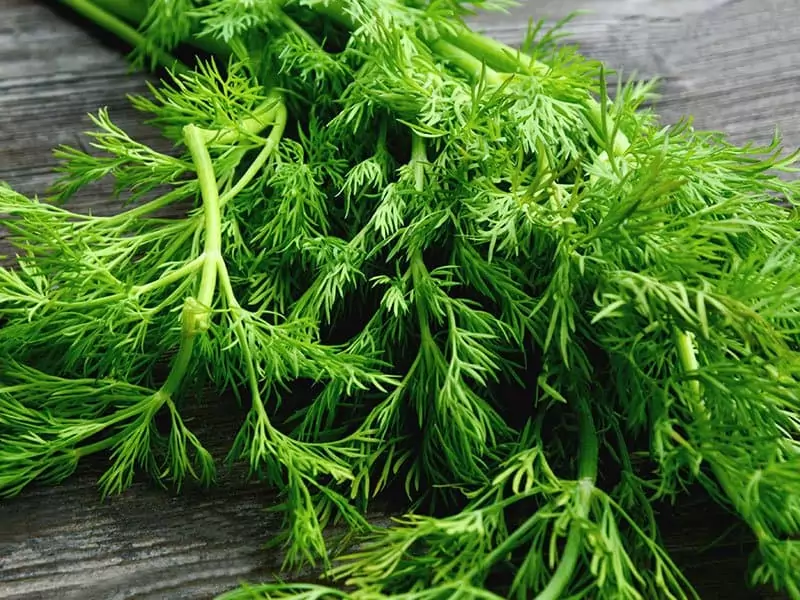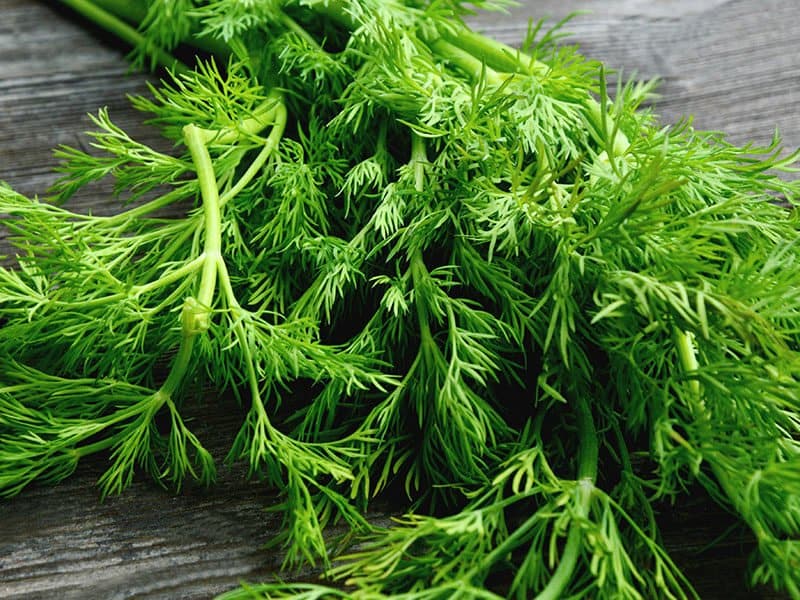 Dill doesn't have a taste of licorice; therefore, it will be a perfect combination with seafood. The taste of dill is pretty bitter and sweet with celery notes and hints of citrus.
One tablespoon of dill is equal to one tablespoon of fresh tarragon and brings the same effect as one teaspoon of dried tarragon.
Vinaigrettes, seafood, salad, and cream sauce are excellent dishes when adding dill.
Angelica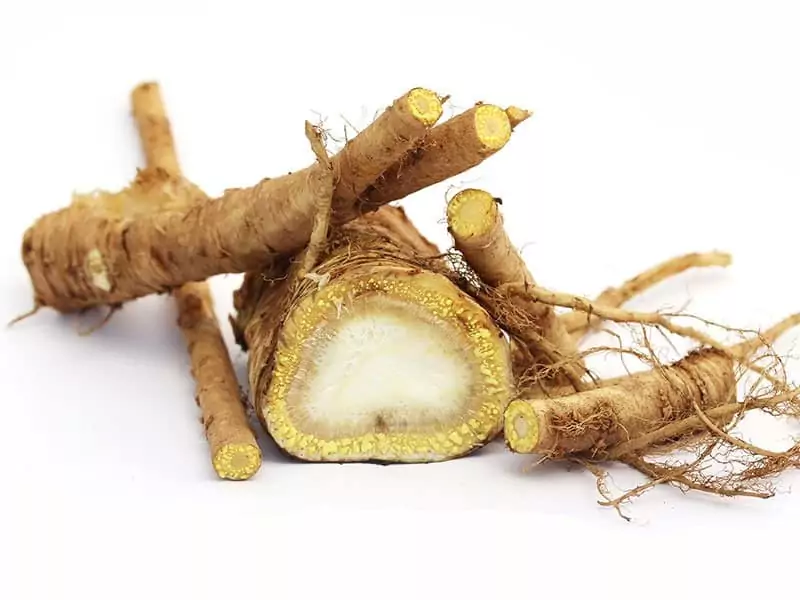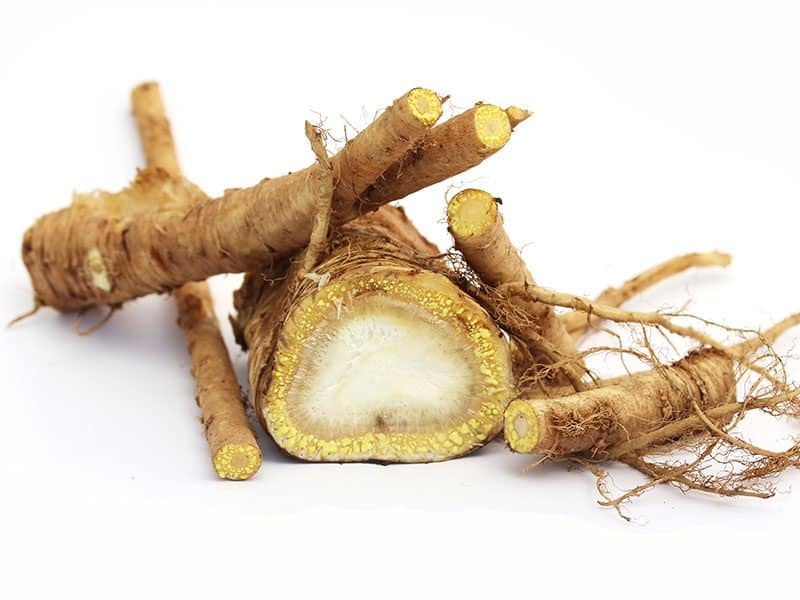 Angelica is a little bit bitter and has a pretty sweet aroma with a hint of licorice and celery. You cannot use all parts of angelica for cooking; seeds and roots will contribute to upgrading dishes' flavor while leaves are not suitable for cooking.
You can use angelica at a 1:1 rate that means one teaspoon of angelica, similar to one teaspoon of dried tarragon.
Angelica is not the easiest herb you can find, and it will bring you deeper flavor when being cooked with poultry, fish, soups, and stews.
Oregano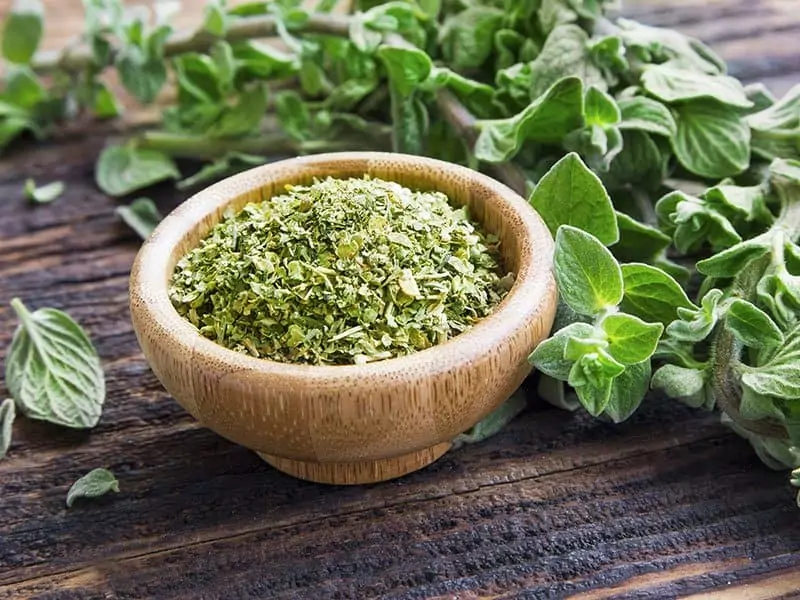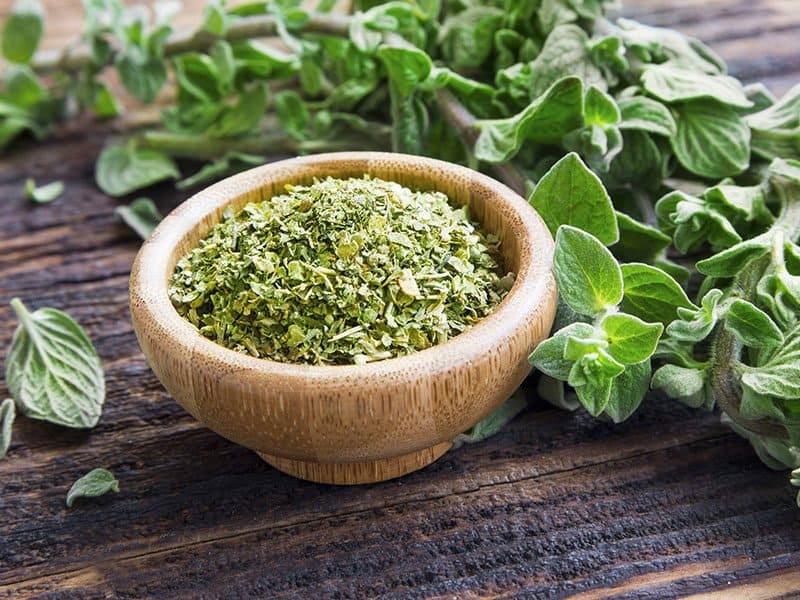 Oregano is closely the same as marjoram, with quite peppery, bitter, and sharp when you taste it. You can use one teaspoon of oregano to alter one teaspoon of tarragon in recipes. You can commonly feel the oregano taste when enjoying tomato-based sauce in spaghetti or pizza.
Besides, there are still several dishes you can catch the oregano's appearance that is vegetable recipes, salads, and poultry.
How Long Does Tarragon Last?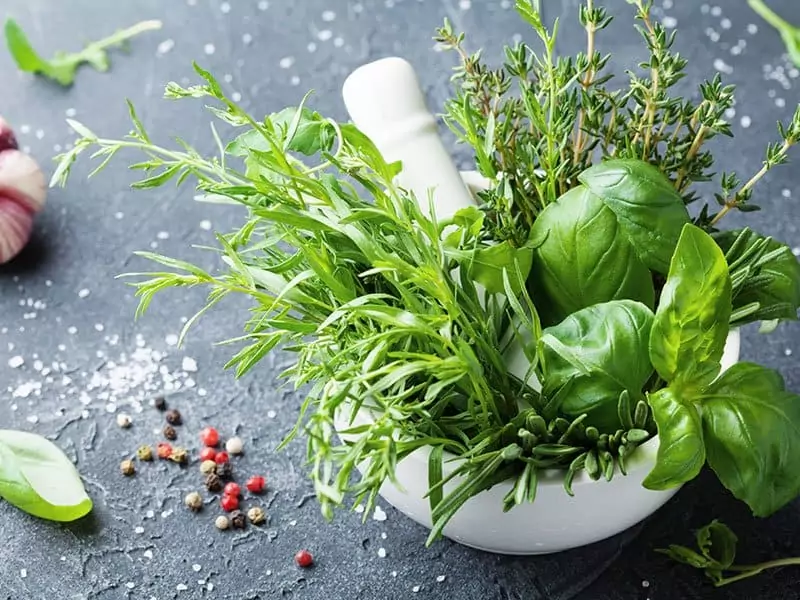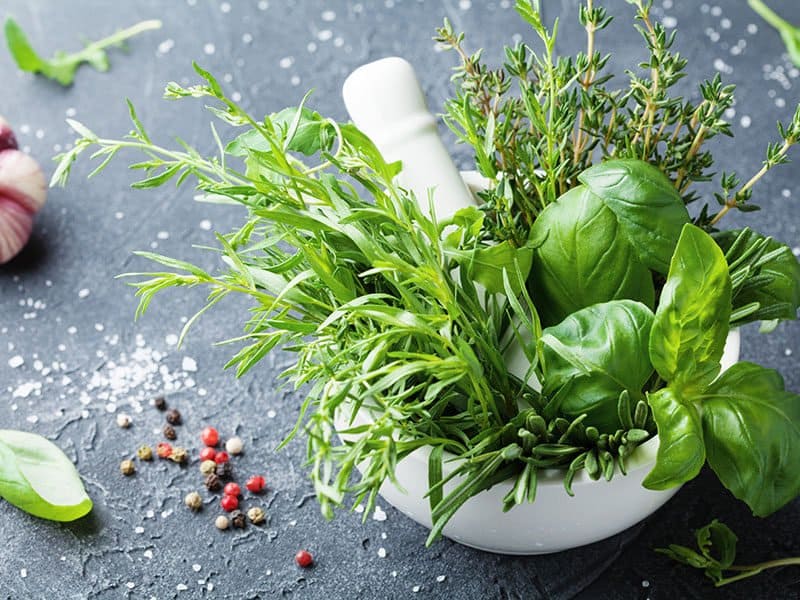 You should pay extra attention to the best time of using fresh and dried tarragon to keep its original flavor and aroma as well as upgrade your dishes. Each way of storage will have a different time.
If you store fresh tarragon in the fridge, you can keep it in good condition for up to 14 days; after that time, the taste seems to be lost, and you cannot feel its entire flavor.
Meanwhile, after doing a few steps to dry tarragon and freeze it with a small amount of water, you can use it for about 4-6 months without worrying about losing its exclusive flavor.
You can maintain the excellent quality of dried tarragon at room temperature for about 1-3 years if you place it in containers with tight lids in a dark and cool place and the air cannot penetrate into them.
How To Store Tarragon?
The best time of using tarragon will become nonsense if you don't know how to store it properly. Here are 2 popular methods for keeping fresh and dried tarragon in excellent quality that easy to follow. Don't hesitate; let's start.
Dehydrate Tarragon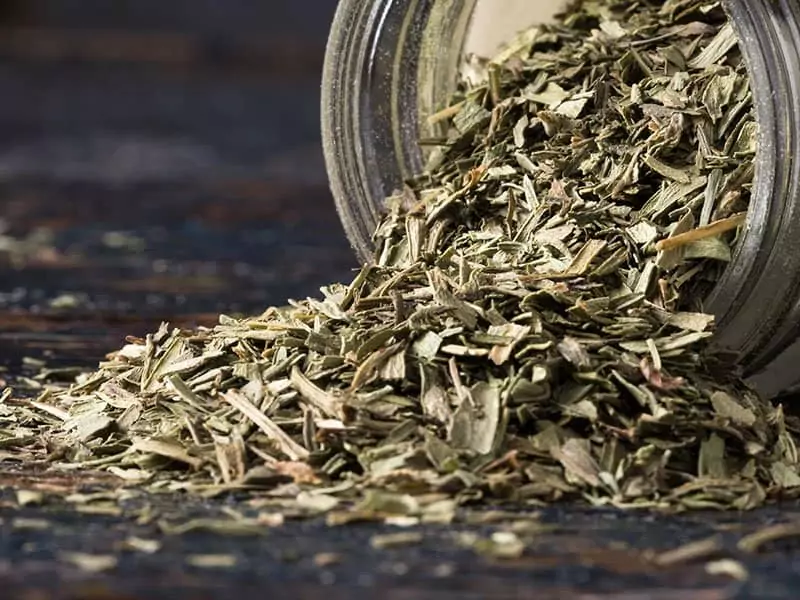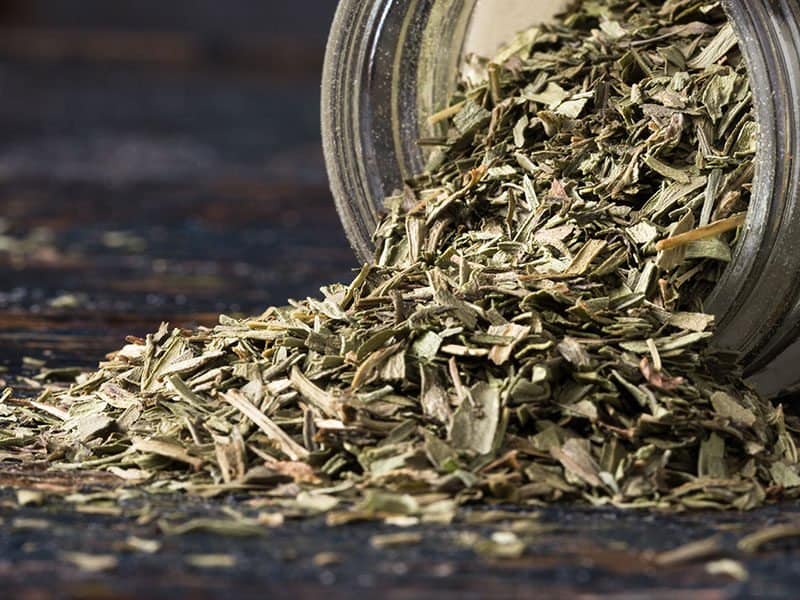 Before starting dehydrating tarragon, you need to pick the high-quality fresh tarragon to ensure the perfect results.
Step 1: Wash your tarragon carefully to remove all residue and sand on it.
Step 2: Arrange them on trays and place them according to each line to ensure well-ventilated air. In case you airdry tarragon, you can tie them in bundles and hang them in a cool and shiny place.
Step 3: Set up your machine at the lowest temperature. Normally, I control the panel at 95 degrees F, place the trays in it and wait for 6 hours to see my products.
Step 4: Your dried tarragon will meet the requirements if it is crumbles and brittle when you touch it after let it cool down.
Step 5: You need to spend time separate tarragon leaves with tarragon stems them store them in a container with a tight-fitted lid in a cool and dark place.
Freeze Tarragon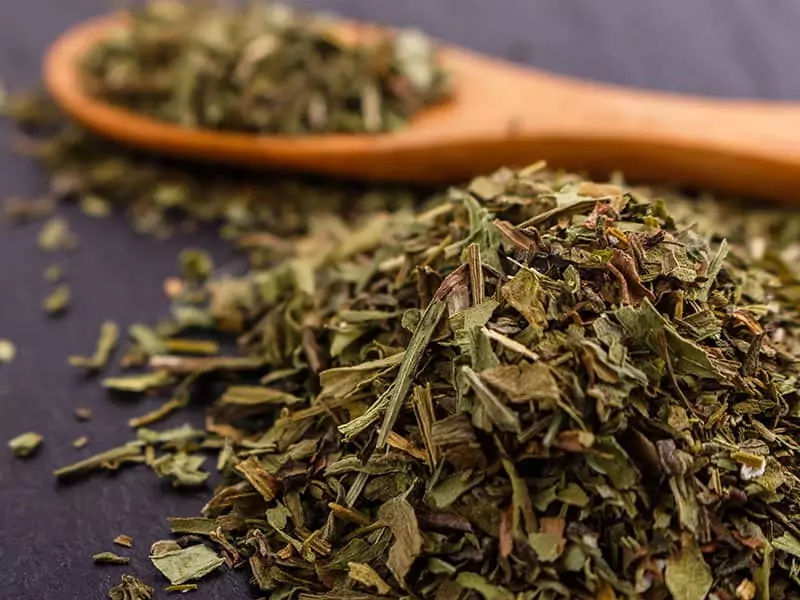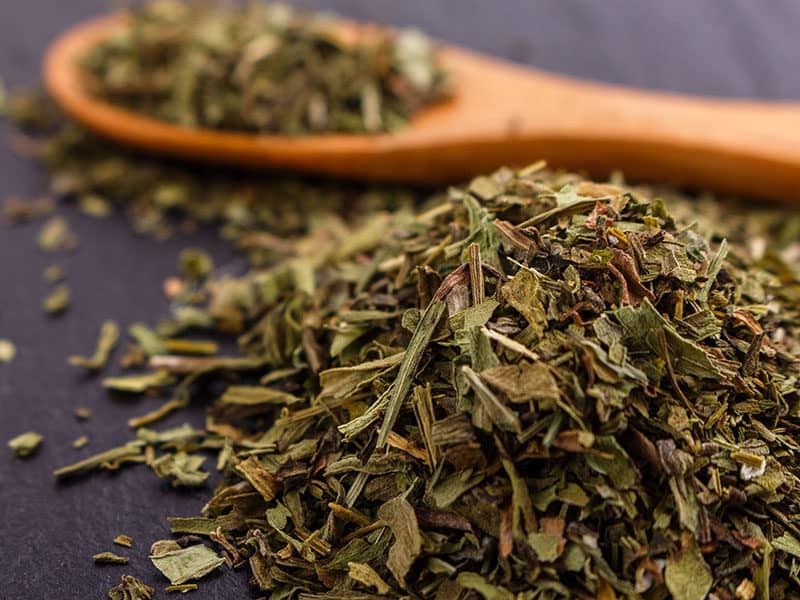 This method will help you keep tarragon in fresh condition, and it requires fewer steps than the previous method.
Step 1: Wash your tarragon well, then remove tarragon leaves from stems.
Step 2: You can chop leaves for the flavor and aroma that are easy to release or keep whole leaves to save your time.
Step 3: Pour 2 tablespoons of tarragon in ice cube trays or any trays with small holes you have for simple use.
Step 4: Fill each hole with water and oils. I recommend you fill water to avoid changing the taste of your dish.
Step 5: Freeze them and pick the iced block out when you need to use them. You don't have to thaw it, just toss a cube into your stew and wait to enjoy.
Application Of Tarragon In Daily Cooking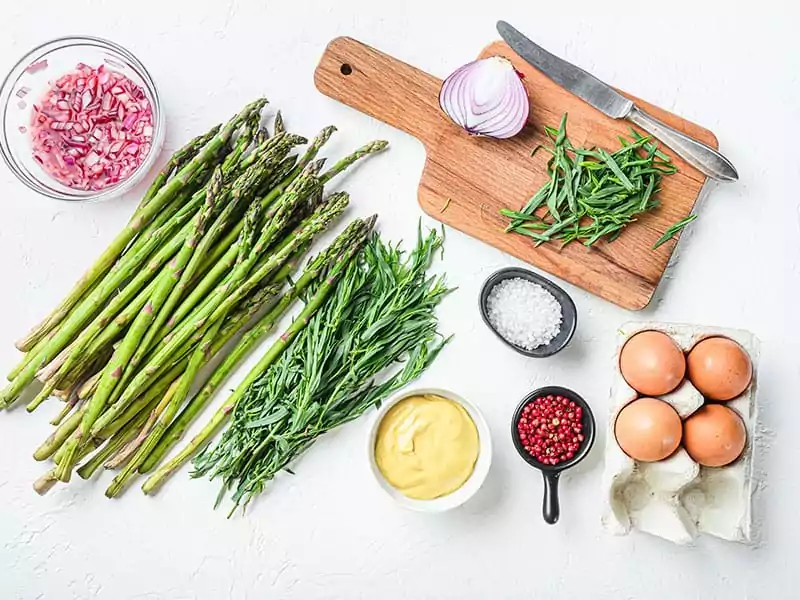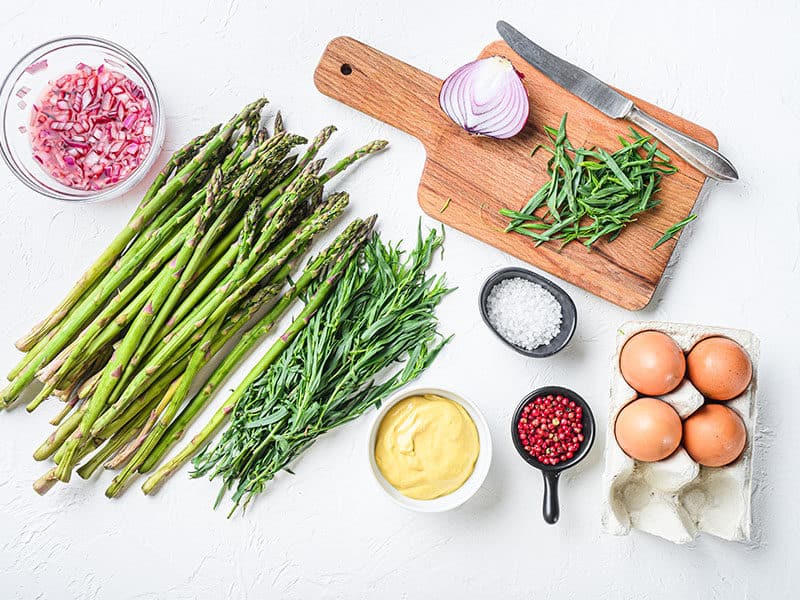 You can explore more recipes for using tarragon, and here, I am very excited to bring you 9 excellent dishes that you surely like. If you are curious about them, let's scroll down and do it at your home.
Bearnaise Sauce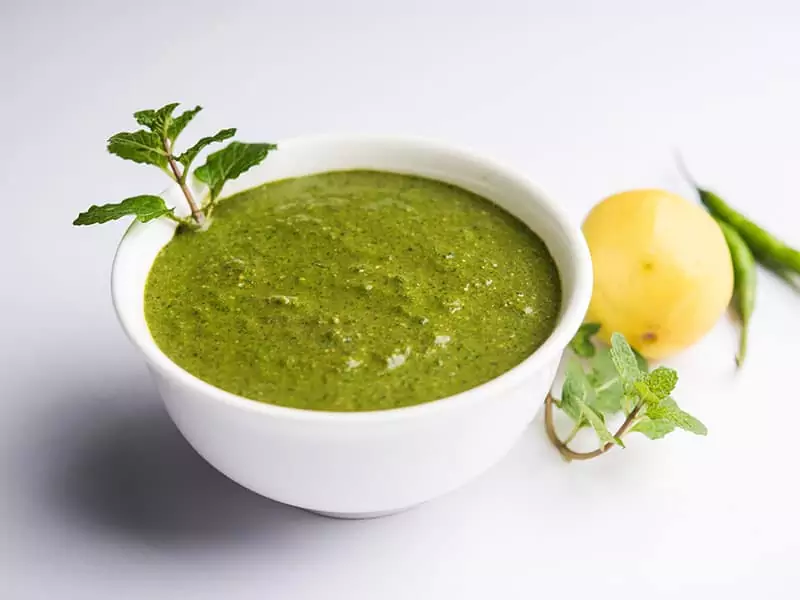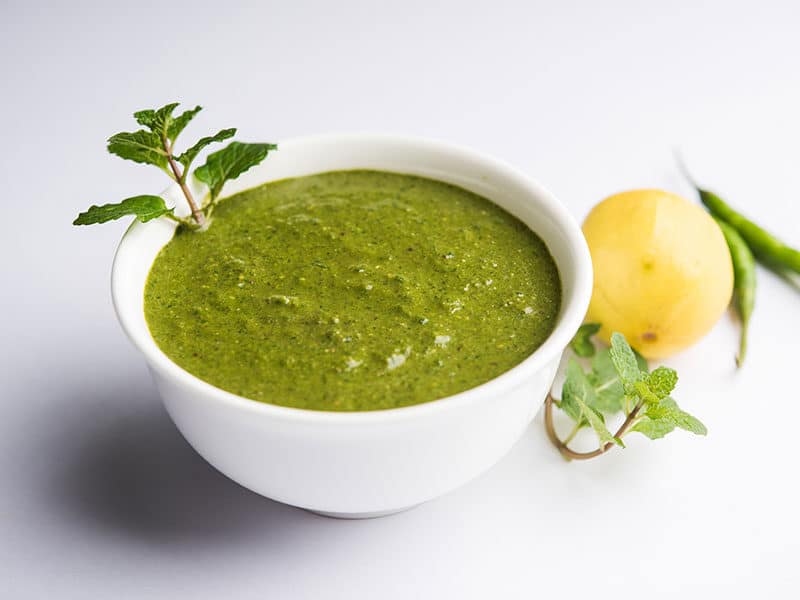 I have mentioned béarnaise sauce many times, and you probably wonder what I am saying. Béarnaise sauce is a classic butter sauce that is created with a lot of ingredients such as chopped fresh tarragon or tarragon substitute with the proper amount. Egg yolks, minced shallots. Lemon juice and wine vinegar.
It is an ideal addition to roasted chicken, and it will be hard to forget this taste. Béarnaise sauce also goes well with Filet Mignon – an insanely popular dish from France. Although this dish is slightly demanding to prepare, its incredible flavors and juicy texture are definitely worth it.
Tarragon Vinegar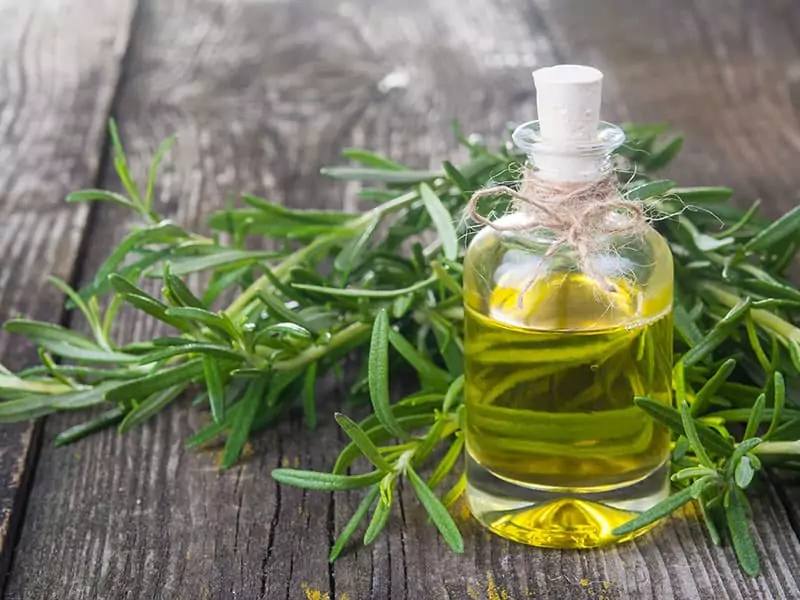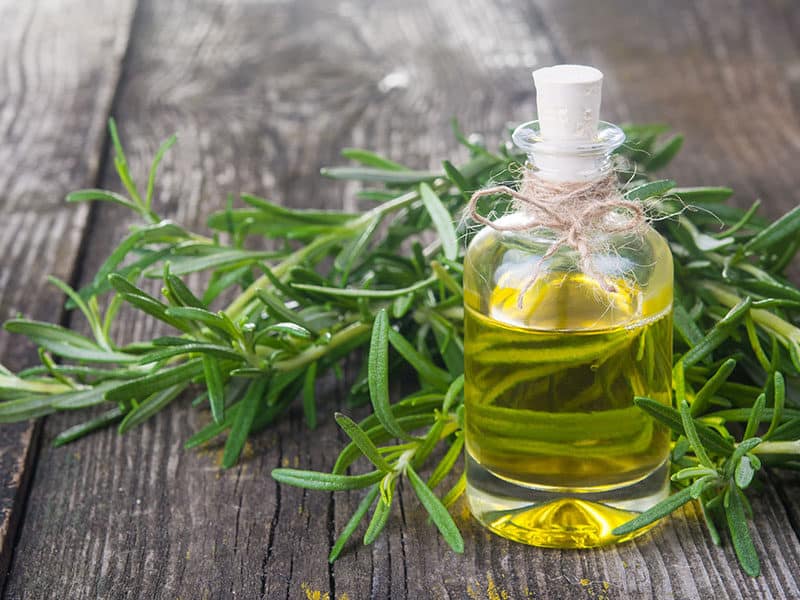 Tarragon vinegar is a wonderful recipe to combine with other dishes. You need to bruise gently fresh tarragon and seep it in white wine vinegar for about 3 weeks before the tarragon gets strained. Afterward, you can store it for up to 6 months.
Omelette With Tarragon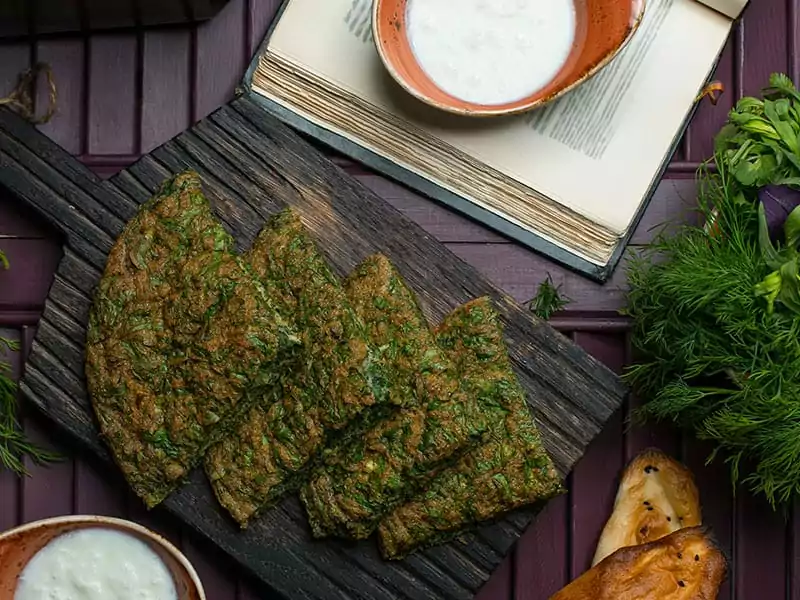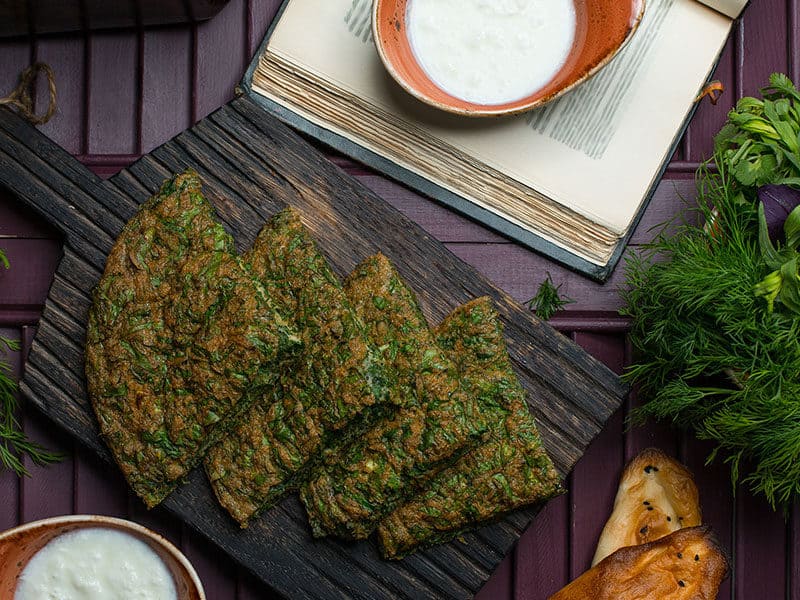 This is a traditional French dish. You cannot find any omelet that more delicious than it. The combination of goat cheese and chopped tarragon will wake up your brain and stimulate appetite.
Herb Salad Dressing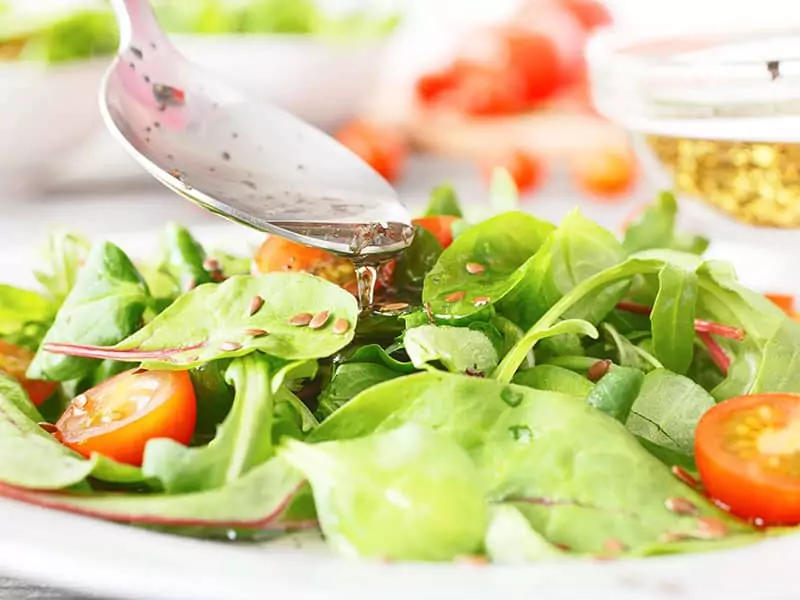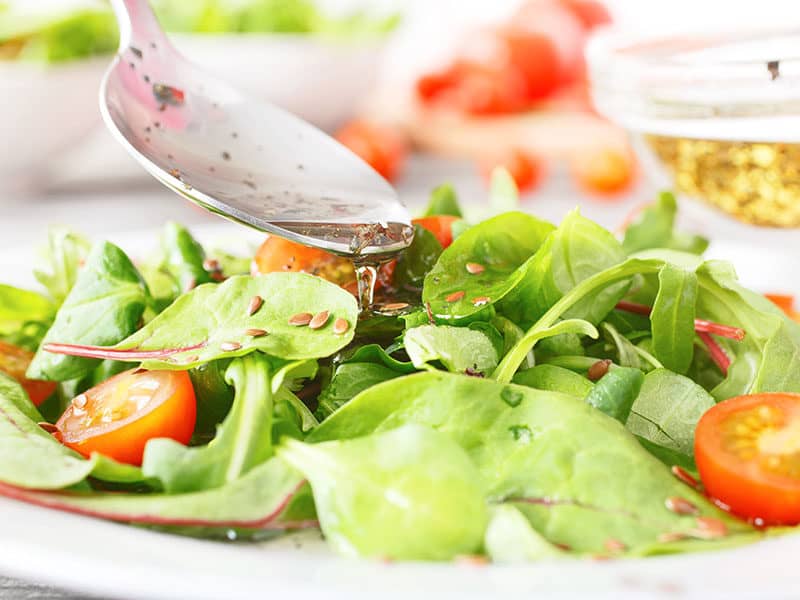 This salad is good for your health since it contains many beneficial ingredients such as tarragon, olive oil, salt, vinegar, and pepper.
Tarragon Aioli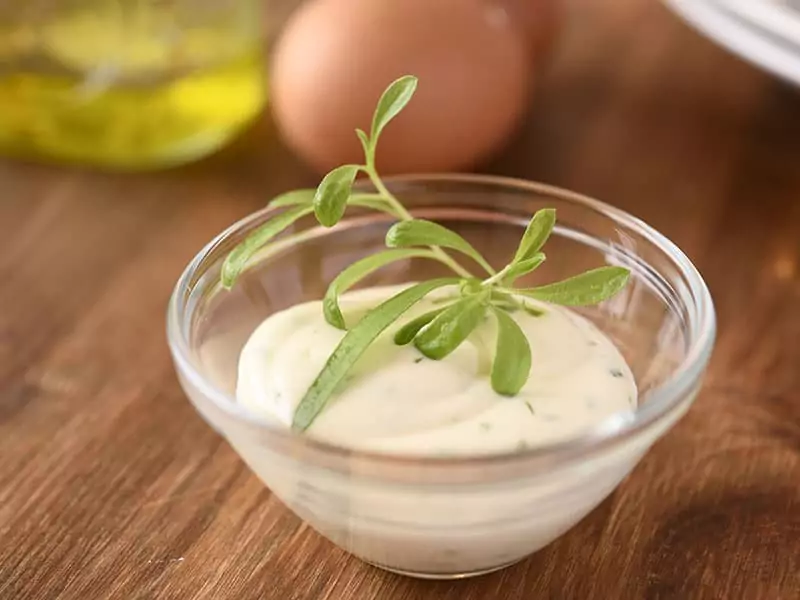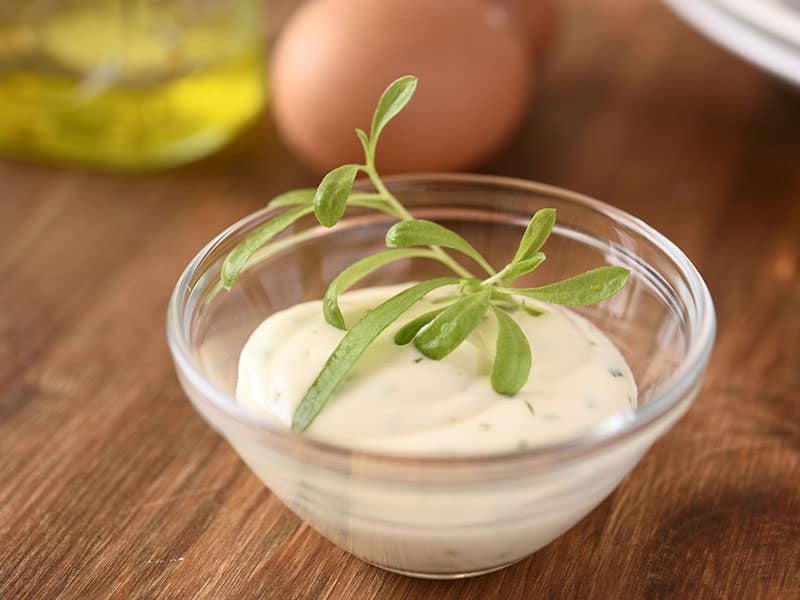 You can make tarragon Aioli at home and serve it with some hot and crispy bread and other foods that are the best way to boost your mind in the morning. You can mix mayonnaise with minced tarragon or tarragon substitute and garlic, then sprinkle some lemon zest and lemon juice to upgrade flavor.
Besides, pieces of bread, tomato, bacon, and lettuce are also perfect partners.
Chicken Tarragon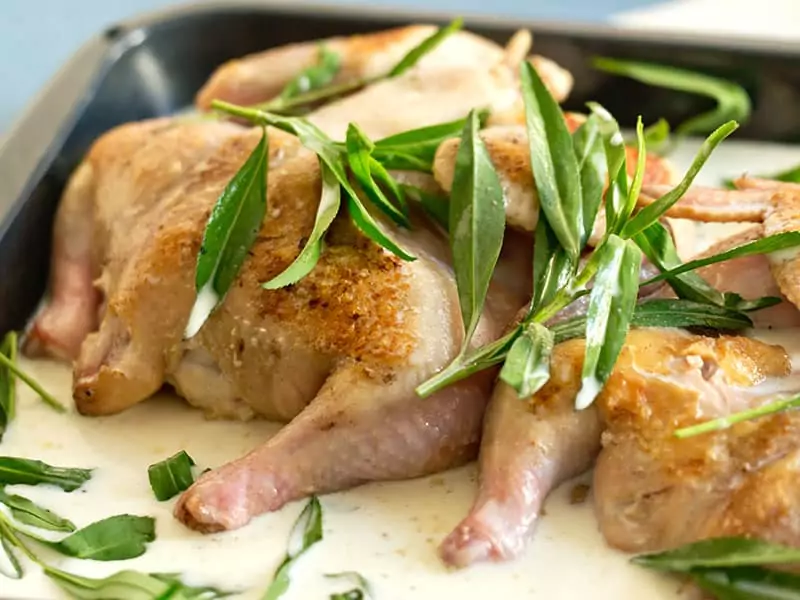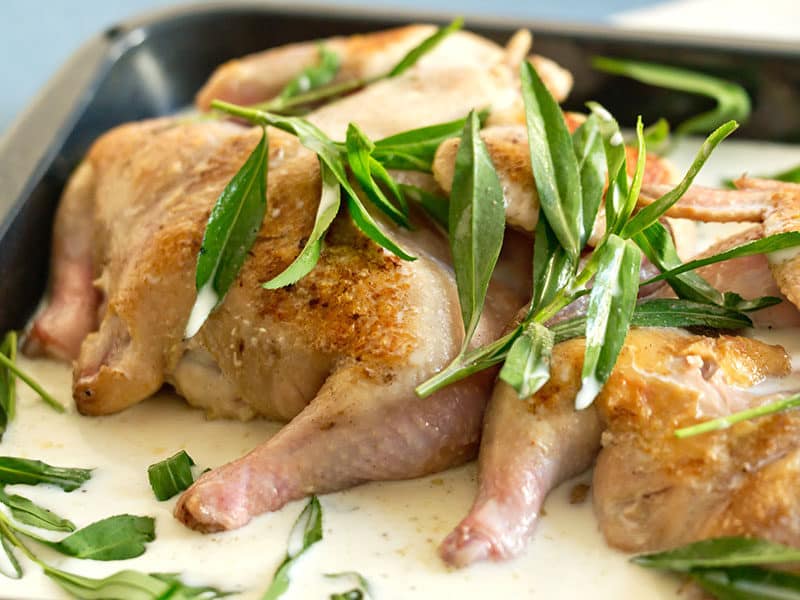 After cooking boneless chicken with shallots, butter, tarragon, broth, and dry white wine in Dutch ovens, you can chop some tarragon leaves and sprinkle them on the dish when you take it out of the ovens.
Tarragon Salad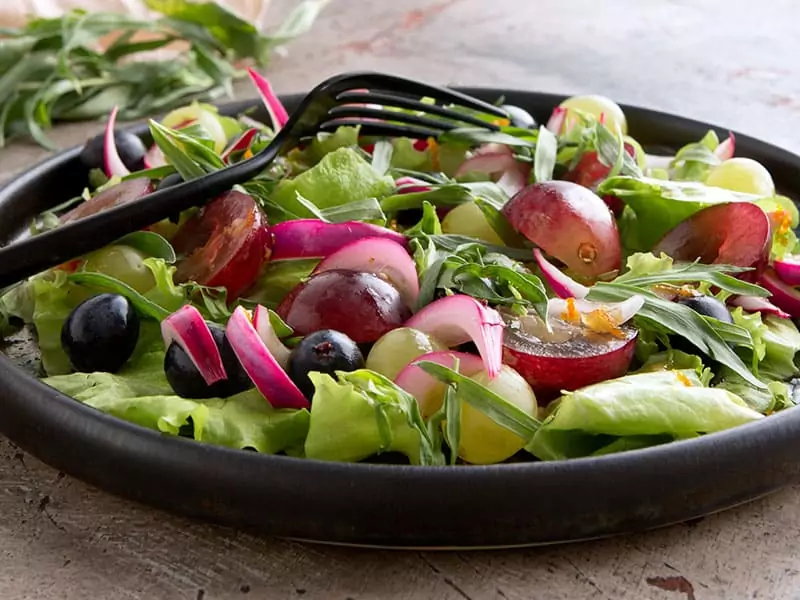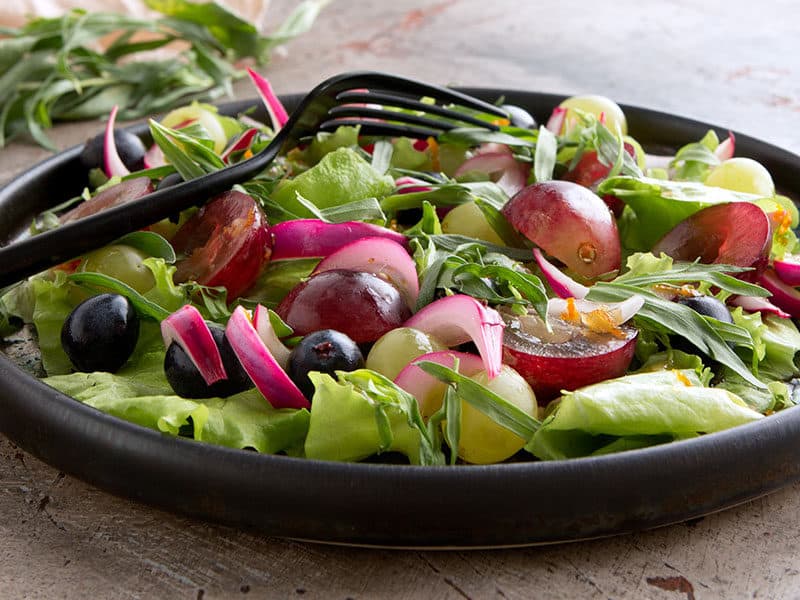 Have you ever tried to taste the combination of mozzarella, tomato, and tarragon? If you have not yet, let's try to do it. I am sure this is the freshest dish you have taste in your life. In case fresh tarragon is hard to find, basil is also a perfect substitute.
Tarragon Crab Cake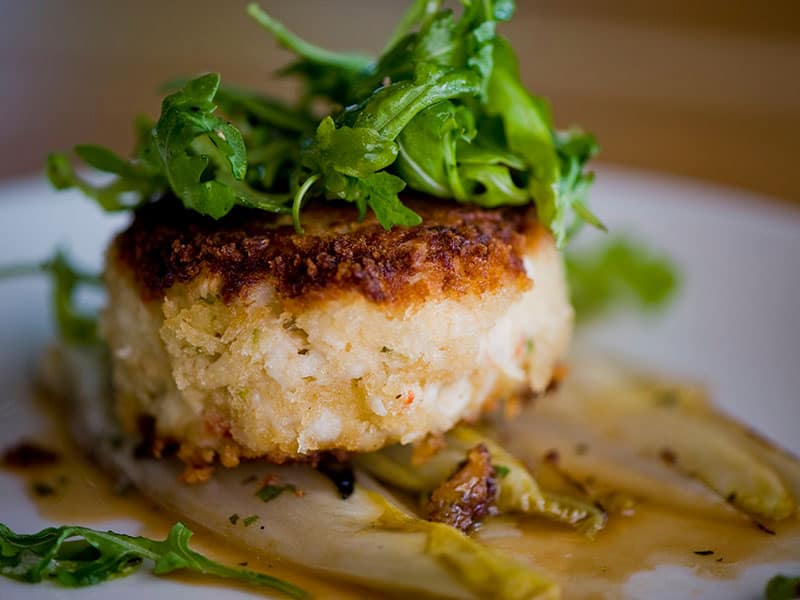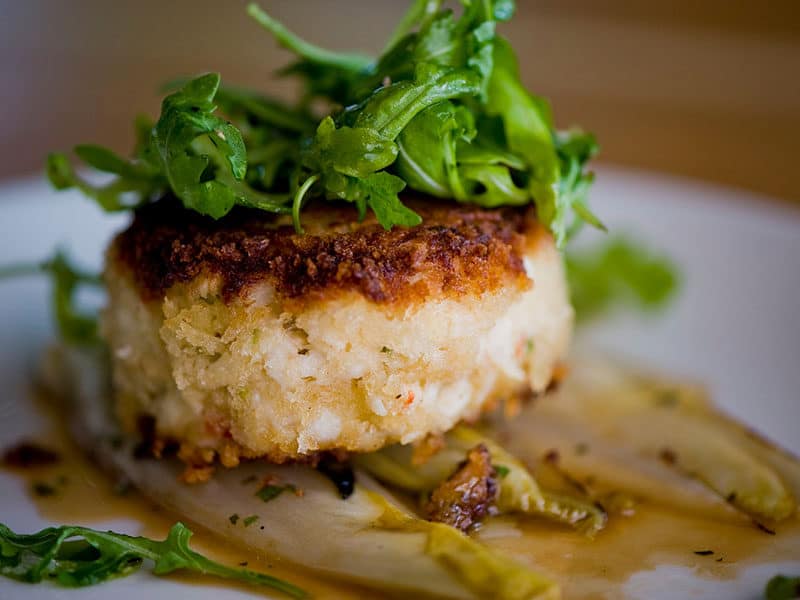 All ingredients you need are tarragon, crab meat, egg, scallions, bread crumbs, lemon juice, and seasonings. Then, you mix them and place them in ovens until you realize the eye-catching yellow and take them out and enjoy.
Tarragon Warm Potato Salad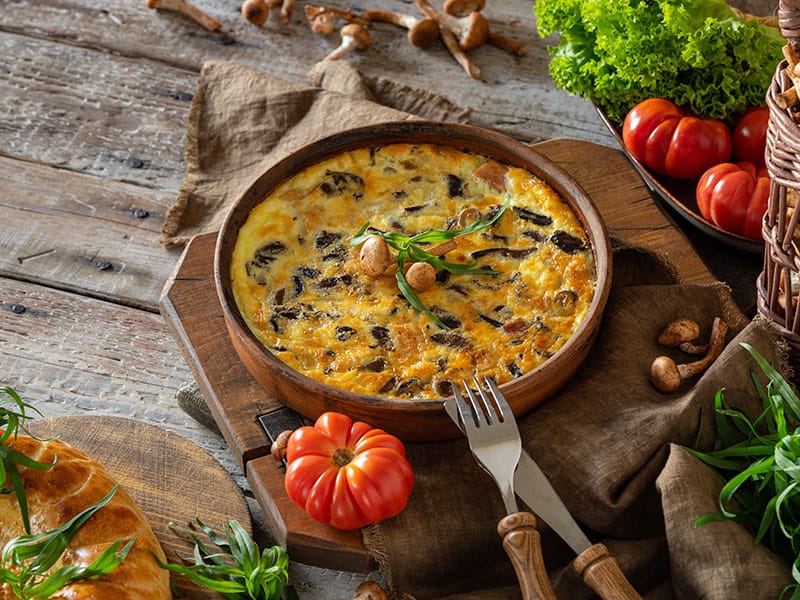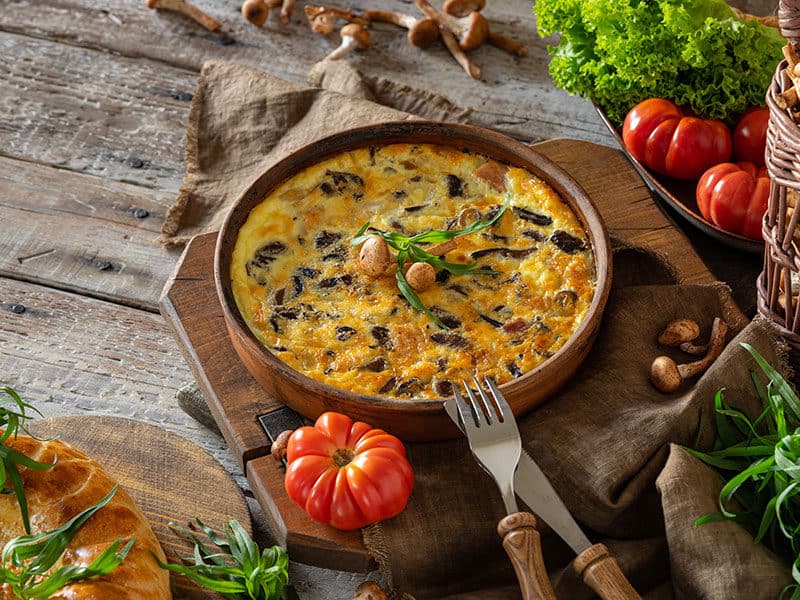 If you used to eat Jacket Potato, you could imagine the way to make this dish. You need to boil your cubed potato coated with the mixture of white wine vinegar, Dijon mustard, minced garlic, and tarragon until it is cooked. Afterward, you will season it with some pepper, salts, and tarragon before serving people.
Side Effects Of Tarragon You Should Know
Until now, there is not enough reliable research to show the side effects of using tarragon when you take it by mouth, apply it on your skin, and inhale as aromatherapy. Therefore, you can continue using it as long as you don't overuse it.
Bonus Tips When Using Tarragon Substitute
The useful information doesn't stop at the side effects section; you should read through my extra tips that I have collected to help you avoid some unwanted situations when using tarragon and tarragon substitutes.
You can extend the lifespan of fresh tarragon in the refrigerator by rolling them loosely in a damp paper towel then place them in a jar with full water or a resealable plastic bag. Remember to cover the lid loosely to allow tarragon to breathe.
If you want to grow tarragon at home, choose French tarragon is a good choice, and you need to buy a plant since it cannot be cultivated from seeds. Its height is not too high, and you can grow it in your kitchen.
You should add tarragon at the end of the cooking process to keeps its aroma and flavor.
Tarragon Substitute – Versatile Ingredients for Special Dishes
Tarragon substitute is easy to find and can create various kinds of dishes that will vary in your flavor. It does not only upgrade your recipes but also brings you 9 benefits when using. You can reference some recipes I provide you to change tarragon into tarragon substitute to meet your wishes.
If you like my post, please consider sharing it with your loved people to bring them useful information, and you can gather them to hold a party with some recommended dishes. I am sure you and your guests will have an unforgettable experience.
Do you want to tell me something about tarragon? Don't be shy; let's type for me in the comment box chat below. I am here to listen to you and reply to you any time I can. Don't forget to come back here each day to read more interesting information since I will return with other articles.
Nutrition Facts
1 servings per container
---
Amount Per ServingCalories1.8
% Daily Value *
Sodium 0.4mg

0

%
Potassium 18mg

1

%
Total Carbohydrate 0.3g

0

%
Protein 0.1g

0

%
---
* The % Daily Value tells you how much a nutrient in a serving of food contributes to a daily diet. 2,000 calories a day is used for general nutrition advice.