Back then, the only fennel seed substitute I could think of was anise seeds, a licorice-flavored spice that perfectly teams up with my baking treats. However, I was in such awe to find out that there are plenty of choices I can add to the list.
Given that, if you are struggling with finding a satisfactory substitute, this post is here to help you out. From spices to herbs, you will be astonished to learn that there are so many options that can mimic the taste of fennel seeds. It's the magic of cooking!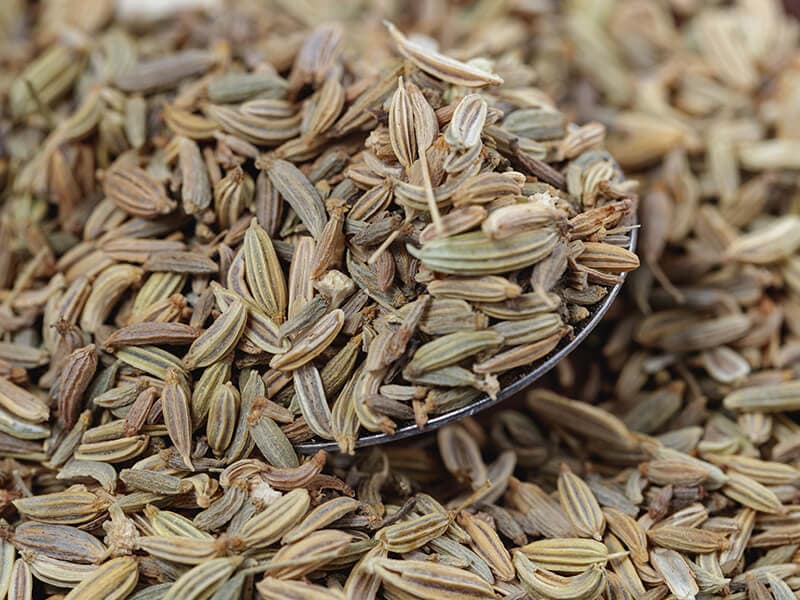 12 Alternatives For Fennel Seeds That May Shock You
Besides anise seeds, what else can stand in for fennel seeds when it's not within reach? The list below has eleven more answers to this question. From caraway seeds, celery to anisette, what's your pick?
Spice Substitutes For Fennel Seeds
Anise seeds
Dill seeds
Caraway seeds
Cumin seeds
Licorice root powder
Mahlab
Herb Substitutes For Fennel Seeds
Fennel
Parsley
Celery
French tarragon
Other Substitutes For Fennel Seeds
Anisette liqueur
Fennel oil
Before offering you a closer look at these substitutes, I'll begin with a brief introduction to fennel seeds. Stop with the waiting; let's scroll down!
Fennel Seeds-A Perennial Favorite Spice
Fennel seeds, also known as saunf in India, are a type of aromatic spice with a distinctive licorice-like taste. After being harvested, they are dried under the sun or in the oven before consumption.
These flavorful seeds can be found almost anywhere. They are used whole or ground, sometimes mixed with other spices to create a seasoning blend. Toasting them is also recommended for an extra crunch.
With an amazing flavor profile and versatility, fennel seeds are incorporated into many dishes. They are used as a crust for fillets, a garnishing for soup, and an accompaniment with cheese and bread. You will also love to have them in your baked treats.
Fennel seeds are more than just a pantry staple. These tiny seeds are rich in potassium, which helps regulate fluid balance and reduce blood pressure. They are also known as a natural remedy for skin treatment and promote weight loss.
Excellent Fennel Seed Alternatives You Cannot Miss
With a characteristic sweet flavor resembling licorice, it can be quite difficult to come up with an ingredient that tastes similar to fennel seeds. Well, no need to rack your brains. The table below will provide you with twelve substitutes and their corresponding ratio.
Substitutes
Substitute Ratio
Anise seeds
1 tsp of fennel seeds = 1 tsp of anise seeds
Dill seeds
1 tsp of fennel seeds = 2 tsps of dill seeds
Caraway seeds
1 tsp of fennel seeds = 1 tsp of caraway seeds*
Cumin seeds
1 tsp of fennel seeds = 1 tsp of cumin seeds
Licorice root powder
1 tsp of fennel seeds = 1/2 tsp of licorice root powder
Mahlab
1 tsp of fennel seeds = 1 tsp of mahlab
Fennel
1 tsp of fennel seeds = 1 pound of fennel bulb

1 tsp of fennel seeds = 1 cup of fennel fronds*

Parsley
1 tsp of fennel seeds = 1 cup of parsley*
Celery
1 tsp of fennel seeds = 1 cup of celery*
French tarragon
1 tsp of fennel seeds = 1 tsp of French tarragon*
Anisette liqueur
Start with a tiny dose first before adding more
Fennel oil
Start with a tiny dose first before adding more
*These ratios are not straight and should be measured according to your recipe and likings.
Flavorful Spice Options That Can Replace Fennel Seeds
You may have known that anise seeds can take over fennel seeds, but did you know that dill seeds can also do the same job? I bet you did not. Be prepared for more surprises in this section; you won't regret reading it!
1. Anise Seeds
When fennel seeds are out of supply, don't be hesitant to grab a bag of anise seeds. These two spices resemble visually, even to the point of being mislabeled in some North American supermarkets, and are often used interchangeably.
Although anise seeds are smaller than fennel seeds, they are still packed with a sweet flavor that you want to lend your tea and desserts. You may use them in savory recipes, too, such as hearty meat and seafood dishes.
With considerable similarities in taste and appearance, you can substitute anise seeds for fennel seeds as a 1:1 ratio.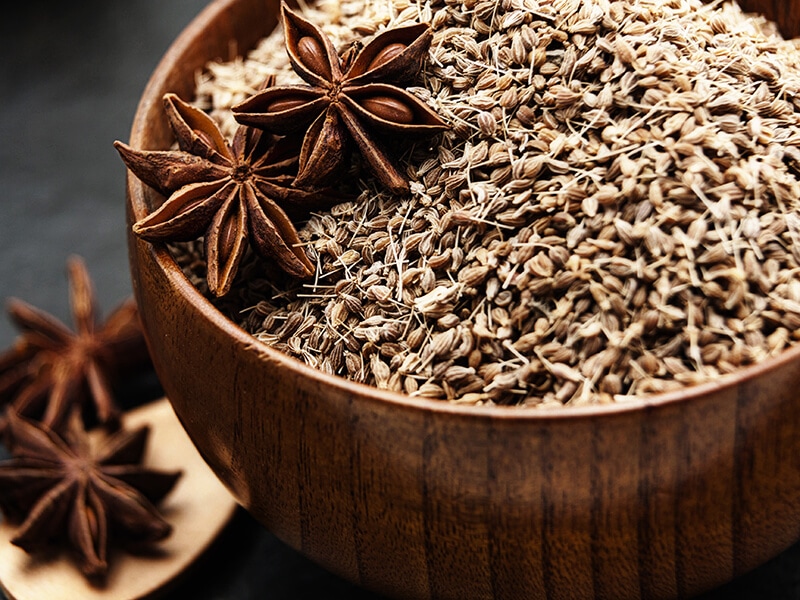 2. Dill Seeds
In a pinch, dill seeds are an excellent alternative for fennel seeds. These seeds are derived from a plant native to South-West Asia and Europe, which has been grown since medieval times.
Dill seeds have various culinary uses, with the most popular one being involved with making pickles, stand-in for celery seeds, replacement for fennel seeds, etc. The taste will remind you of caraway, which is pretty delicate, so you'll need to increase use more than initially required.
Replace a part of fennel seeds with two parts of dill seeds.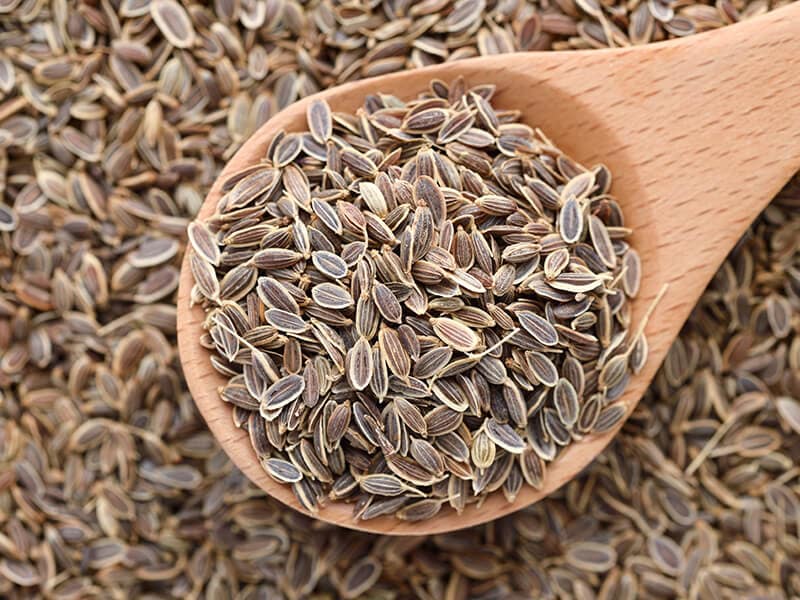 3. Caraway Seeds
Caraway seeds are another option you can consider when fennel seeds are absent in your kitchen. These brownish seeds are actually a kind of fruit obtained from a plant of the same name, which has also been cultivated since ancient days.
Like fennel and dill seeds, caraway seeds offer an awe-inspiring versatility in cooking. From casseroles, sausages to soups and stews, caraway seeds are the perfect partner. The taste is somewhat nutty with a licorice finish that's less intense than fennel seeds.
Thus, add one teaspoon of caraway seeds if your recipe calls for the same amount of fennel seeds.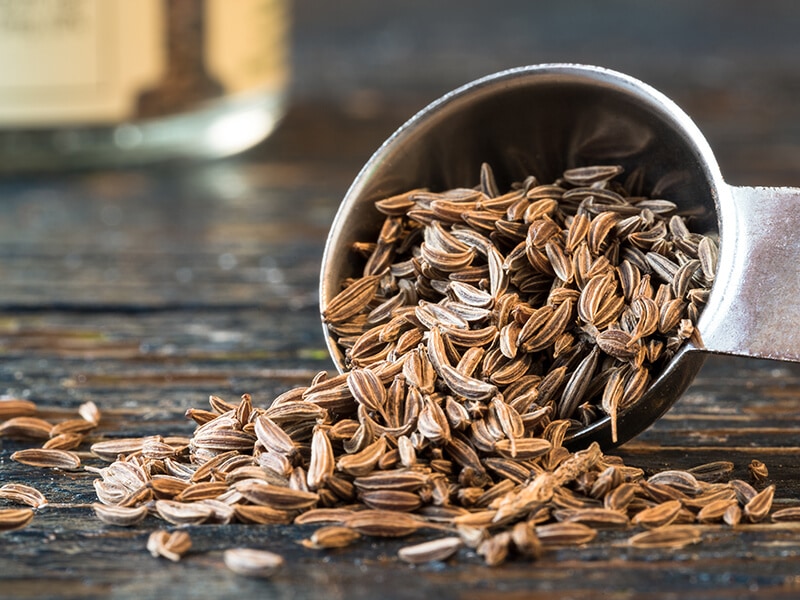 4. Cumin Seeds
Small and brownish, it's no surprise to see cumin seeds being mistaken with caraway seeds. They are a mainstay in an array of Asian and Mediterranean dishes but soon become a rage in other cuisines.
Nothing tastes quite like cumin seeds, and you will have to agree with that. All notable kinds of cumin can lend a rich, earthy flavor to your soup and bread, leaving your taste buds satisfied until the last spoonful. In addition, they are a decent source of antioxidants. What's not to love?
The swap ratio for fennel seeds will be 1:1.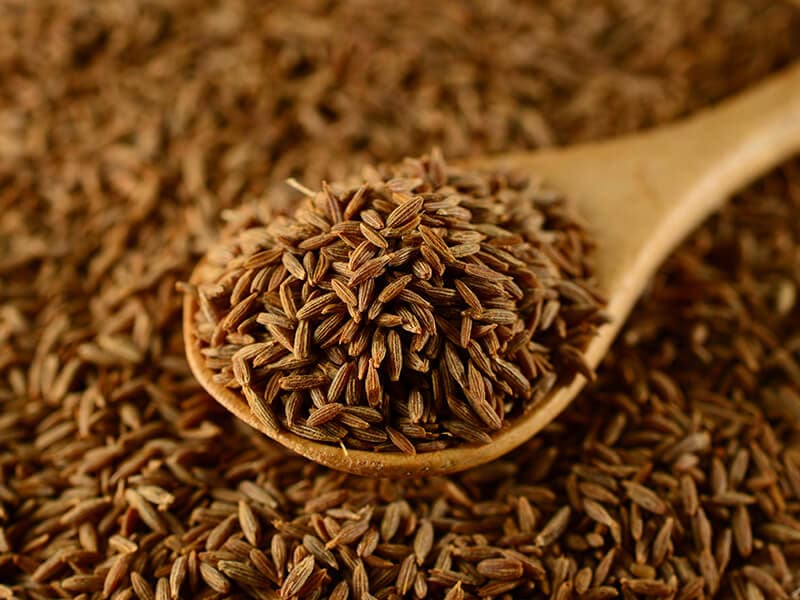 5. Licorice Root Powder
Licorice root powder makes some of the most decadent desserts ever, and here's why. It has a potent sweetness, which can complement well with chocolate or fresh fruits. The powder is also used to prop up big flavors of slow-braised dishes.
So between anise and licorice, what should you choose? While there are so many differences between anise and licorice, their flavor seems to be more or less similar, making it harder to choose. My tip is, if you're a fan of a bitter aftertaste, opt for licorice; if not, anise is your choice.
However, it's your best bet to add it to your cup of tea like how the Chinese do. Within 100 grams per day, health issues regarding skin or digestion are certain to be alleviated. The extract encourages you to smile as well since it can improve dental health. (1)
If you exceed the limit consumption, your blood pressure will be severely affected. Thus, it is advised that you use this powder in moderation. To sub one teaspoon of fennel seeds, a half part of licorice powder is needed.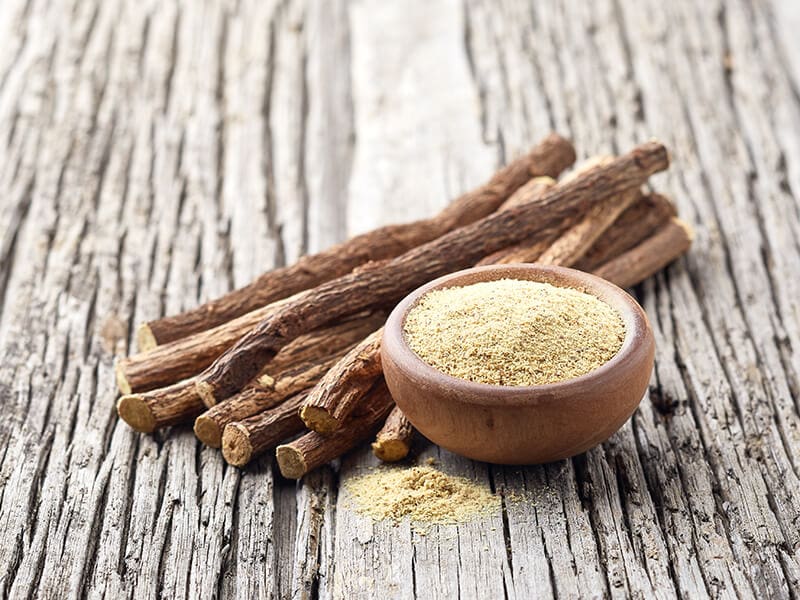 6. Mahlab
When fennel seeds are low in stock, mahlab is another alternative that is only one call away. These little guys are packed with a distinctive flavor that, to some people, is a harmonious fusion of cherry and almond. When cooked, they evoke a lovely fragrance.
Hence, it's a huge loss if your spice rack does not have a mahlab. It is an apt match with your baked goodies, especially Moroccan luscious sweet treats, but feel free to experiment with cheese or meat dishes. Whatever you opt for, I'm sure that you'll be pleased with the result.
The replacement ratio is 1:1.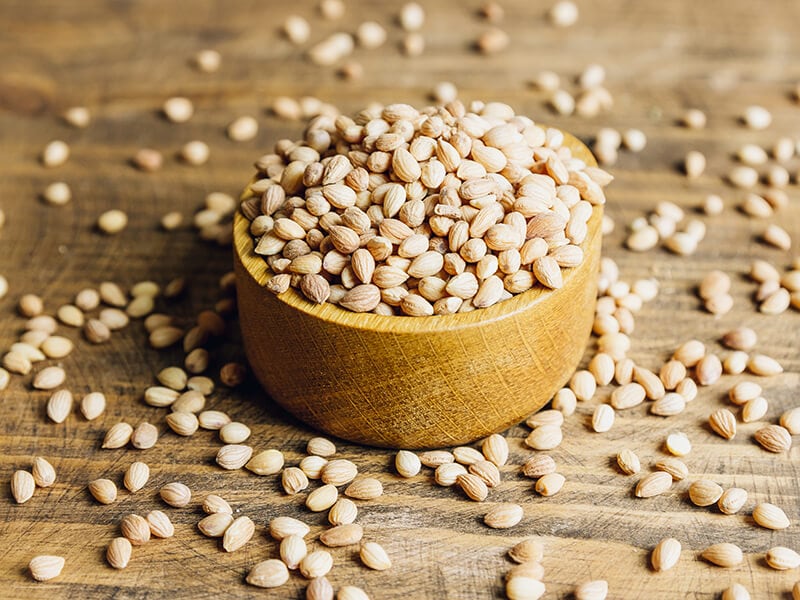 Use Fennel Seeds, Or Alternatively-These Aromatic Herbs
Herb lovers, this section is dedicated to you. These luscious herbs are not only packed with wonderful flavors but also do an excellent job imitating the taste of fennel seeds. Are you excited to meet them yet? Let's go!
7. Fennel
No fennel seeds? Stop by the vegetable section at the supermarket and stock up some fresh fennel instead. The fronds of this fruit/vegetable with "F" as the first letter look pretty similar to fresh dill and can be eaten raw with salad or roasted for an extra depth of flavor.
Besides the delicate fronds, the bulb can also be used as a replacement for fennel seeds. Of course, the swap is only possible if you don't mind having some crunchy interests in your dishes.
With one teaspoon of fennel seeds, you will need a pound of the crunchy bulb. If you go with the leaves, start with a cup, then work up until you achieve the desired taste.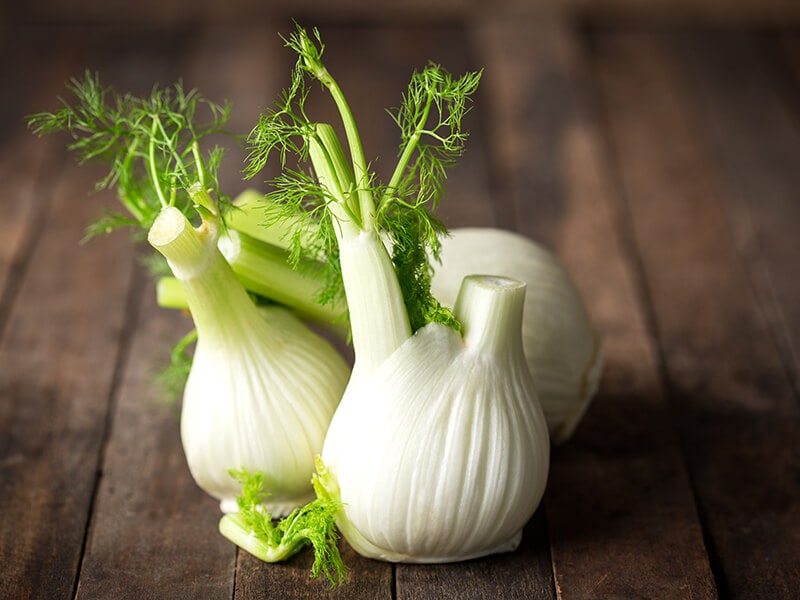 8. Parsley
For some people, parsley is more or less than just a decorative touch to their dishes. Yet, the fragrant herb can brighten other ingredients, primarily steak and salad, with refreshing notes redolent of a herbal garden kissed with morning sunshine.
Parsley is underlooked because of how people use it. You will see them chop the herb finely, which can undermine its herbaceous flavor. The unmistakable sweetness of fennel seeds is missing in parsley, so the swap won't likely succeed with your favorite dessert.
When opting for this, make sure you don't accidentally grab cilantro, which won't work in this scenario. The feature that differentiate parsley and cilantro the most lies in the serrations, with cilantro's more rounder. There are other aspects too, but I'll get to that on another day.
Similarly, begin with a cup of parsley and increase the amount to taste.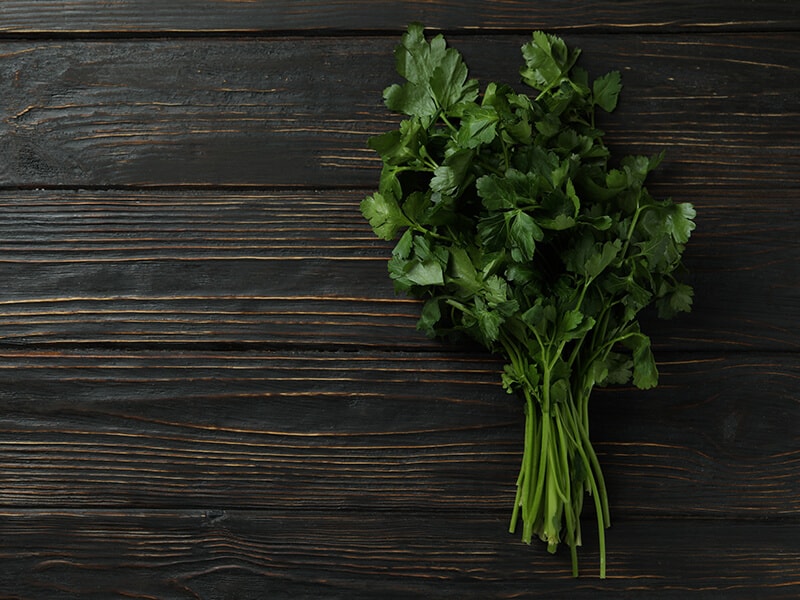 Upgrade your knife skills with this guide on chopping parsley:
9. Celery
If fennel seeds are considered one of the best-matched substitutes for celery seeds, I don't see why celery can't be a fill-in for fennel seeds in dishes such as stock, salad, or soup. Fresh celery can can also offer your palate a nice crunch, which is not something fennel seeds can do.
Because celery is quite a delicate vegetable, you should store it in the fridge to extend celery's standard shelf-life. Can't have celery as a replacement for fennel seeds if it's spoiled in the first place, am I right?
The plant's flavor ranges from mildly sweet to almost unbearable, according to some, mainly because of being overcooked or not having blanched. (2) Like parsley, celery fails to mimic the licorice sweetness, so it mainly works with cheese, eggs, or red meat.
For one teaspoon of fennel seeds, employ one cup of celery or more until you think the taste is perfect.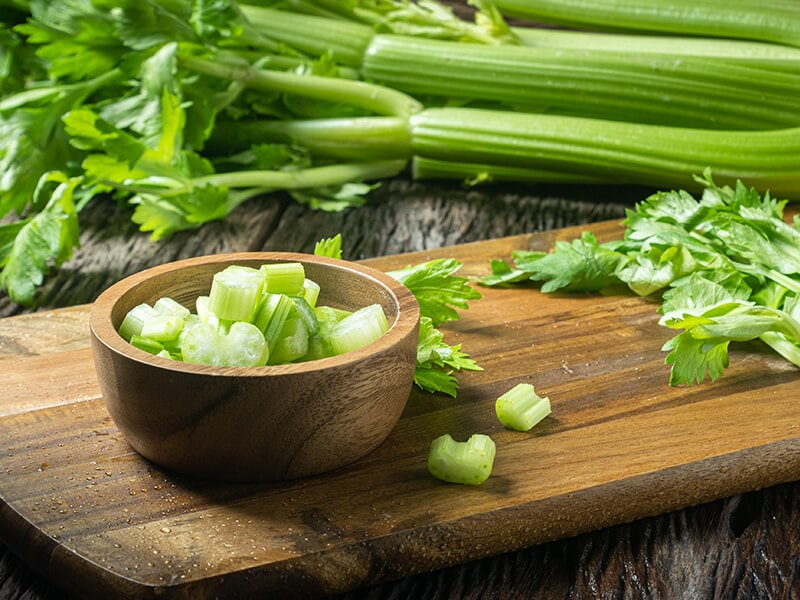 10. French Tarragon
Tarragon plays a vital role in many French recipes, namely béarnaise sauce, and fine herbs blend. The perennial herb has also found its way into panzanella, tomato soups, and coolers that quench your thirst during the summer heatwave.
Tarragon has two variants, French and Russian, with the former choice being more delicate in flavor. When cooked, it gives off a smidge of sweetness likened to licorice, so you know what to do when fennel seeds are not at your disposal.
For each teaspoon of fennel seeds, employ one teaspoon of French tarragon.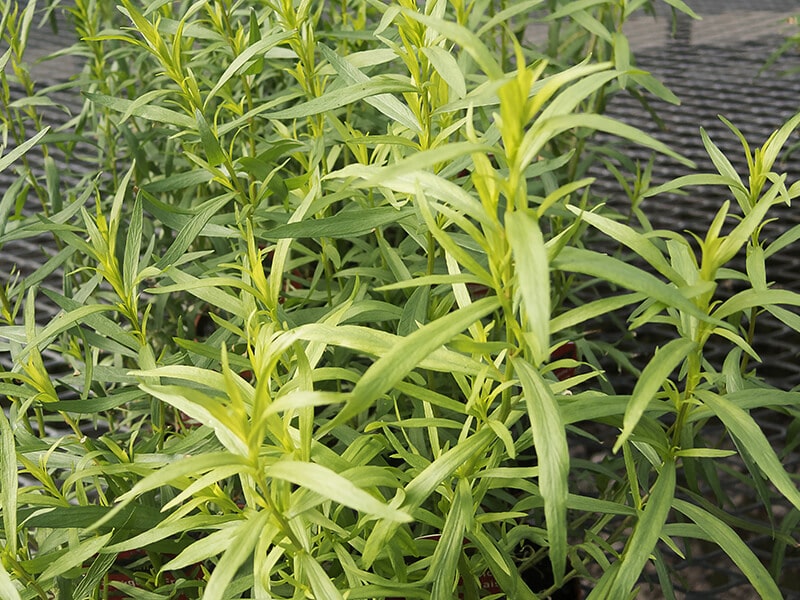 Other Substitutes For Fennel Seeds You Cannot Miss
Should you be down on your luck and could not find any seed or herb substitutes, there is still a glimpse of hope. In fact, there are two: anisette liqueur and fennel oil. Keep reading and see how to use them in lieu of fennel seeds.
It's a long-lived tradition in many Italian households. After finishing a slap-up meal, everyone in the family will gather around for a cup of espresso. The fun begins when anisette turns up, adding a potent sweetness to everyone's drinks. Now that's quality time!
Since the French liqueur is made with fennel seeds, the exchange won't affect the final taste much. It can be quite strong, though, so it's your best bet to balance out the taste with fresh fruits. This alternative contains alcohol, which is not something for your kids.
The ratio will vary depending on how your bottle tastes, so I recommend that you start with a tiny dose first before adding more.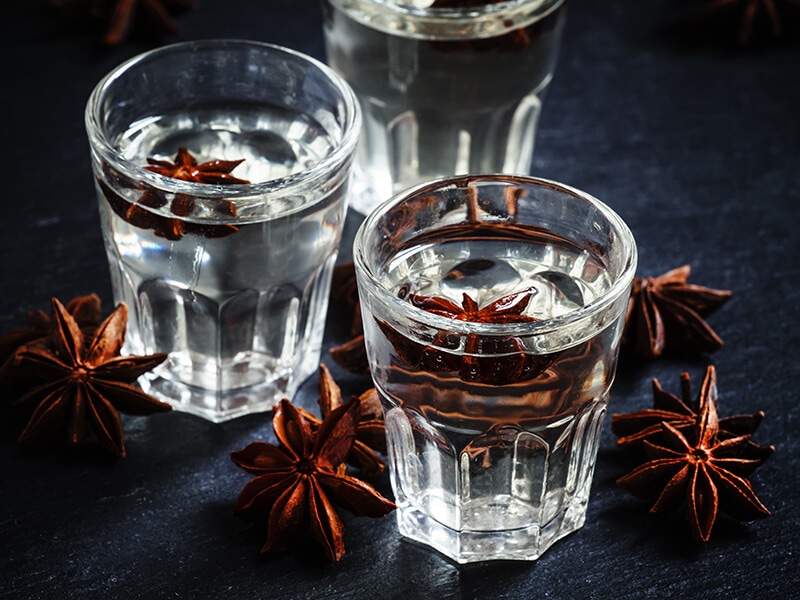 Enjoy your morning espresso with a few drops of anisette liqueur:
If you can't find fennel seeds but come across a bottle of fennel oil, put it in your trolley. This magical oil has several health benefits, for example, reducing inflammation and encouraging weight loss, and has similar uses as its base ingredient, fennel seeds.
With an oily consistency, this alternative is mainly suitable as a fennel seeds replacement in salads. According to experts, you should not consume more than two teaspoons of fennel oil per day, so it should be the last resort if you can find other ingredients.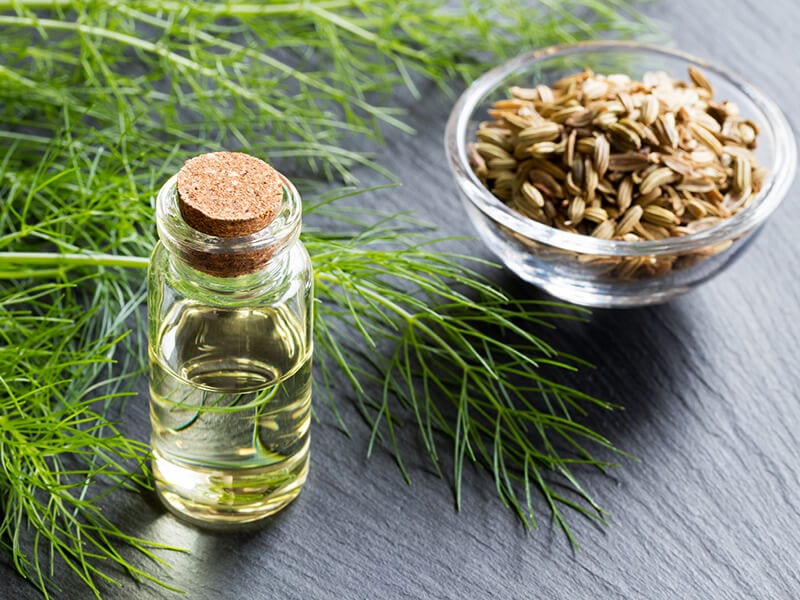 FAQs
As usual, this section is reserved for your most asked questions. Don't miss out!
An Opportunity For A Pace Of Change
I owe these fennel seeds substitutes one. They have been with me through thick and thin, promising to add a depth of flavor to my dishes, and they did deliver.
Thus, don't be sad if fennel seeds are not here; instead, see its absence as a chance to try out these spices. I'm sure that you have never used them all before. What is your first pick for tonight's dinner?
Let me and other readers know your choice, and don't forget to tout your result via the comment section below. Of course, questions, hacks, or whatever you think it's fun to share are always welcome here. Thanks in advance!
Nutrition Facts
1 servings per container
---
Amount Per ServingCalories7.1
% Daily Value *
Total Fat 0.3g

0

%
Sodium 0.3mg

0

%
Potassium 30mg

1

%
Total Carbohydrate 1.1g

1

%
Protein 0.4g

0

%
---
* The % Daily Value tells you how much a nutrient in a serving of food contributes to a daily diet. 2,000 calories a day is used for general nutrition advice.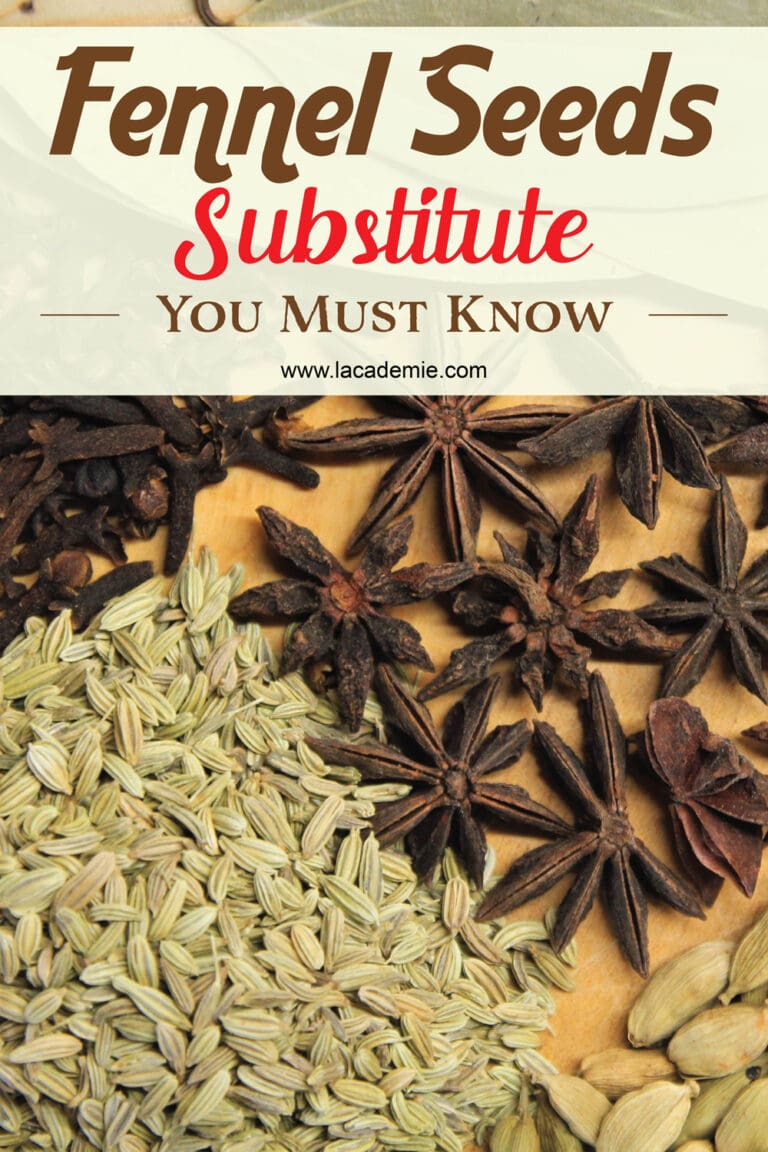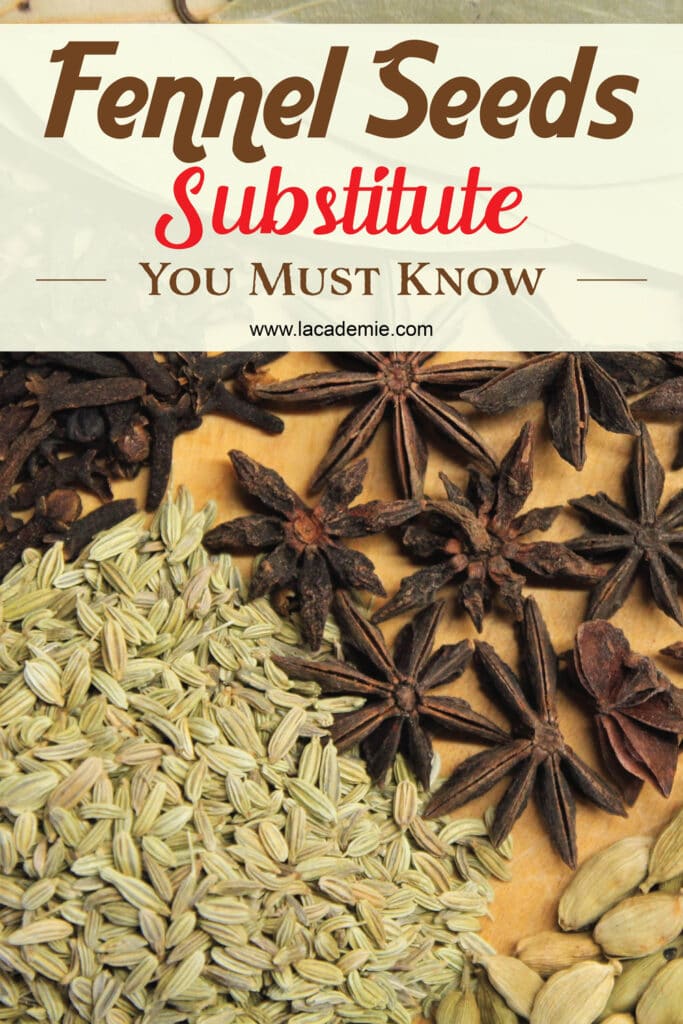 References
Healthline. 2021. Licorice Root: Benefits, Uses, Precautions, and Dosage.
Melchor, L., 2021. 5 Reasons Why Your Celery Tastes Bitter | Gardener's Path. [online] Gardener's Path.