Moroccan desserts can't be tasted all in a short trip to this beautiful place because there are endless options here. Its cuisine has been well-known worldwide for unique flavors, irresistible aromas, and finest ingredients.
From sweet to savory treats, Moroccan snacks won't let you down, and make sure you can always find much goodness that satisfies your tastes.
Spices have always been a highlight of desserts. They tend to add cinnamon, anise, and orange blossom water to all traditional cakes. You will soon get used to the wonderful taste of these spices when enjoying foods during your stay in Morocco.
Moroccan baking methods might share some common techniques with French ones. You will find out more in the following article!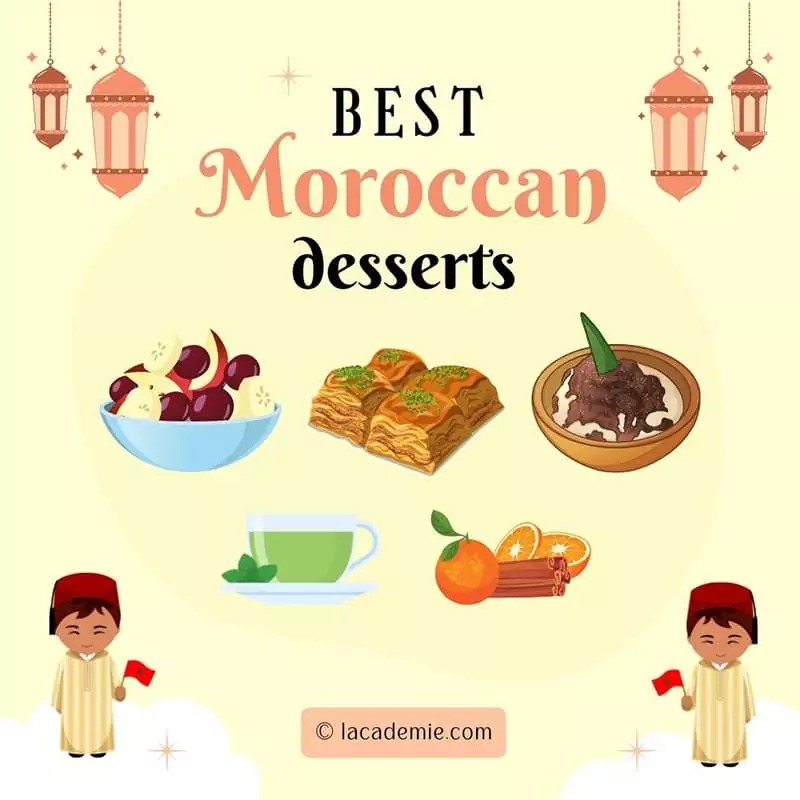 List Of Popular And Delicious Moroccan Desserts
Are you curious about Moroccan desserts? Have you ever tried these dishes before? Feel free to jump to any recipe to find out more about it now.
Pastry Recipes
M'hancha (Moroccan Almond Snake Pastry)
Baklava
Almond Briouat
Ktefa (Jawhara)
Cake Recipes
Meskouta (Moroccan Lemon Cake)
Moroccan Beghrir (Semolina Honeycomb Pancakes)
Sfenj (Moroccan Doughnuts)
Maamoul (Arabian Date Filled Cookies)
Ghriba (Almond Crescent Cookies)
Moroccan Chebakia (Sesame and Honey Cookies)
Ghoriba Bahla
Fekka Cookies
Halwa dyal Makina (Piped Moroccan Biscuits With Chocolate)
Others
Sellou
Cinnamon Oranges
Roz Bil Heleeb (Rice pudding)
Moroccan Mint Tea
Moroccan Fruit Salad
Best Moroccan Desserts You Should Add Into Your Travel Food List
Before visiting a foreign country, it's recommended that you dig all information on the Internet about it, from history, geography to cultural customs and etiquette, especially about its cuisine.
And let me tell you a secret about Morocco if it's on your travel list this year: This kingdom is a heaven for foodies, like me. Let's discover more!
Pastry Recipes
Moroccan pastry recipes mostly include filo dough and warqa pastry sheets which bring them unique textures and flavors.
M'hancha is a Moroccan dessert well-known for its snake-like shape. Simply put, this cool-looking treat is a roll of filo pastry and almond paste that tastes amazingly good.
People perceive it as a nutty, moist, and buttery goodie, and they often sprinkle powdered sugar, honey, and almond slices over the top of m'hancha to make it look more appealing.
Usually, this sweet pastry is made for a large number of guests, so you don't have to worry about asking for more. People would simply break off small parts of the coil and enjoy!
Baklava is a perfect treat to end a meal in Morocco. It's basically composed of pastry, nuts, butter, sugar syrup or honey, and oil.
Many may know that this dessert has been found first in Turkey and become famous in other parts. Each country might develop its own version of baklava. How interesting!
It might appear too sweet for health-conscious people, but it truly brings a kind of satisfaction for people who want to indulge themselves a little bit.
Almond briouats are an iconic Moroccan pastry that you can find on most special occasions and tea time. It's made with orange flower water, almond paste, and cinnamon.
First, almond paste is formed into small balls; then, you use warqa pastry sheets to wrap around the almond paste and make the triangle-shaped pastry. Next, fry them in the hot oil pan until they become crispy and golden. Finally, this incredible treat is coated with honey.
Although it's often made in a large quantity, this biscuit seems to be easy to store at room temperature.
Ktefa (jawhara) is a popular Moroccan dessert and also known as milk bastilla. As long as you stock warqa pastry in your pantry, cooking this snack is amazingly simple.
After being cut into a circle, warqa pastry is fried until crispy and golden. Custard sauce and almond crumbs are sandwiched between each layer of this pastry. You can make your own milk sauce by thickening whole milk in the saucepan with corn starch.
For more information about ktefa recipe and cooking instruction, click the link below:
Cake Recipes
Soft and flavorful, Moroccan cakes can satisfy any sweet tooth. Below are several quick and simple recipes you could try today.
This simple, light and flavorful dessert pairs well with a cup of mint tea and is my favorite pick of all time. You can also serve it warm.
What is the best part? Making Moroccan lemon cake (Meskouta) is not tricky at all. It takes only a few minutes to mix the cake batter, and the rest is taken care of by the oven.
Meskouta tastes good enough even with the glaze, but if you crave a zestier and tarter aroma, feel free to cover the cake with it.
Just add confectioners' sugar and lemon juice into a bowl and stir until it becomes smooth, then drizzle over the baked good.
Beghrir is the traditional Moroccan pancakes that appear with hundreds of small holes on their surface. The reason behind their fascinating look is because of the yeast in the batter.
This pancake is quick and easy to make and often served with honey, jam and butter. It's a safe bet that you will love its light, sponginess, and softness, which feel amazing in your mouth.
Beghrir's batter consists of semolina flour, all-purpose flour, active dry yeast, sugar, eggs, baking powder, and milk.
Sfenj is a Moroccan version of a doughnut. It's often made early in the morning for breakfast or in the afternoon for tea time.
It's undeniable that sfenj is excellent alongside coffee and tea, especially Morocco mint tea.
In this recipe, the dough is formed into many doughnut-like shapes and tossed into hot oil pan until it gets golden. Sfenj is crispy outside and fluffy inside, which satisfies all your sugar cravings.
To enhance the flavor, you just need to sprinkle a bit sugar powder over its surface.
Moroccan cookie recipes are various and interesting to taste. They often contain a lot of traditional ingredients which help you to widen your cooking experiences.
Let's discover maamoul – an ancient dessert from the Middle East! Usually, this cookie appears soft and tends to melt in your mouth. With each bite, you can feel its natural sweetness which comes from date paste inside.
In some other maamoul recipes, people can replace dates with walnuts and pistachios. Either way, it tastes terrific.
To complete this special cookie's filling, you might need to find a spice called "mahlab." If it's impossible, I suggest that you use a bit of almond extract and anise as a replacement.
Ghriba (almond crescent cookie) is another melt-in-your-mouth cookie you can try once you visit Morocco. Its recipe also consists of almonds because Moroccans love to add this nut into everything.
This sweet and crescent-shaped cookie is topped with cinnamon to enhance its overall flavor because cinnamon often goes well with almonds.
If you're a sweet tooth, I bet this recipe will surely blow your mind and your family members, too.
Chebakia might take time to make but well worth the effort. This cookie appears on special occasions such as birthdays, weddings, and especially during the holy month of Ramadan.
The dough is made by mixing flour, almond meal, roasted sesame, saffron threads, cinnamon, fennel, anise, butter, and olive oil together. After that, it's rolled as thin as possible and shaped into flower cookies.
Like almond briouat, chebakia is a fried dessert with honey all over the outside. You can sprinkle sesame seeds and almond slices on top of the cookie to finish the dish.
Ghoriba bahla means "silly stranger" in the Moroccan language because it has cracks on the surface that somehow look like crooked smiles. This shortbread cookie and coffee are a surprisingly awesome combination you can use to treat your guests.
Ghoriba doesn't take much time to prepare and contains flour, butter, sugar, almonds, and sesame. It has a crunchy and crumbly texture with a slightly sweet and nutty flavor.
You can serve fekka cookies alongside milk, tea, and coffee, and they are the perfect complement. For biscotti fans, these Moroccan cookies are much like it.
They might be available in various shapes and sizes so that you can freely choose from them. In the traditional version, fekka cookies consist of almonds and raisins.
The secret for the unique shape of halwa dyal makina is using a suitable cookie press. Or you can replace it with a pastry bag or meat grinder with a round nozzle. To elevate the flavor of the treat, both ends of halwa dyal makina are dipped in chocolate sauce.
This snack's recipe requires corn flour (corn starch), flour, vanilla, eggs, sugar, salt, vegetable oils, and dark chocolate. Many people said the flavor of corn flour goes well with chocolate, making the dish fantastic.
Others
Moroccan desserts are endless. Therefore, it's impossible for me to put them all in category. Let's enjoy some of recipes which are more like random creation of its food culture.
Sellou (sfouf) is a healthy dessert that doesn't require any baking task and is often recommended for women in the postpartum period due to its high nutrition.
It's a rich confection of almonds, sesame seeds, and cooked flour. There is no fixed recipe for sellou; you can customize it depending on your taste preference. Some people would like to add a lot of cinnamon and anise. Others flavor it with honey or sugar.
In terms of presence, it could be kept in a powdered form or molded into small cubes. The texture can also be flexible so that you can choose to make sellou with coarsely ground or finely ground, dry or moist finish.
Morocco is widely known for its delicious yet straightforward desserts, and cinnamon orange is one of them. It would be best if you could choose navel oranges as the main ingredient because of their flavorful and zesty taste.
Cinnamon orange is a sweet combination of oranges, orange blossom water, and spicy cinnamon. It's pretty delightful and addictive once you have tried.
As the name implies, roz bil heleeb (rice pudding) is made only from rice and milk.
You can add orange flower water if you prefer.
The cooking method includes two steps: First, you cook the rice in boiling water until soft, and second, pour milk in the pan and keep the rice bubble fairly gently in milk.
When serving, feel free to top it with nuts, cinnamon, and shredded coconut.
This is how you make Moroccan rice pudding. Let's watch!
Traditional Moroccan mint tea has a strong flavor and slight sweetness, which combines well with other desserts. Tea lovers might want to add it to their collection immediately. As a Moroccan, it's perfect for enjoying mint tea in the morning and afternoon.
To make tea, you need to prepare fresh mint leaves, gunpowder loose tea, sugar, and, if possible, a heat-resistant kettle or teapot. When serving, Moroccan homeowners will pour from the height into the cup of guests as a way to show their panache.
Morocco fruit salad is my go-to dessert when living in Morocco due to its refreshing flavor. However, it sometimes appears as an accompaniment in Moroccan meals. But all in all, it's a mixture of various fruits such as bananas, oranges, apples, and strawberries.
You need to cut the fruits into small cubes, toss them into a salad bowl, add sugar, and mix them well. Next, add vanilla yogurt, orange juice, and stir.
What Is Your Favorite Treat?
Most Moroccan dessert recipes are simple to make and delicious to taste. They often include almonds, cinnamon, and orange flower water as a way to create a signature flavor. Not to mention, warqa pastry is so convenient and versatile, which you can use to create various desserts.
Notably, Moroccan desserts are often served with iconic Moroccan mint tea, which complements each other excellently.
I like cinnamon orange best among all of the above recipes due to its straightforward cooking process and impressive aroma.
If you're a sweet tooth, make sure you'll come back for more exciting desserts here in Morocco.
And if you have any questions related to Morocco cuisine, especially desserts, comment below; I'll try to get back to you as soon as possible.
Nutrition Facts
2 servings per container
---
Amount Per ServingCalories84
% Daily Value *
Total Fat 0.3g

0

%
Sodium 1mg

1

%
Potassium 297mg

9

%
Total Carbohydrate 21.3g

8

%

Dietary Fiber 3.5g

12

%
Sugars 14.5g

Protein 1.5g

2

%
---
* The % Daily Value tells you how much a nutrient in a serving of food contributes to a daily diet. 2,000 calories a day is used for general nutrition advice.