For someone who loves orange and its sweet and sour taste, orange desserts are definitely indispensable to refresh this fruit. Orange desserts are not only delicious and nutritious, but they also look beautiful with their bright orange color.
Try to imagine one day, get up very early and go to the kitchen and make a cake. When the whole family wakes up, seeing the delicious orange dessert on the table, they will surely be delighted. It felt great at that time!
Therefore, you should continue with this article, as it gives you more orange desserts recipes than you think. 30 recipes I bring to you – one recipe a day, and you'll have a month full of oranges!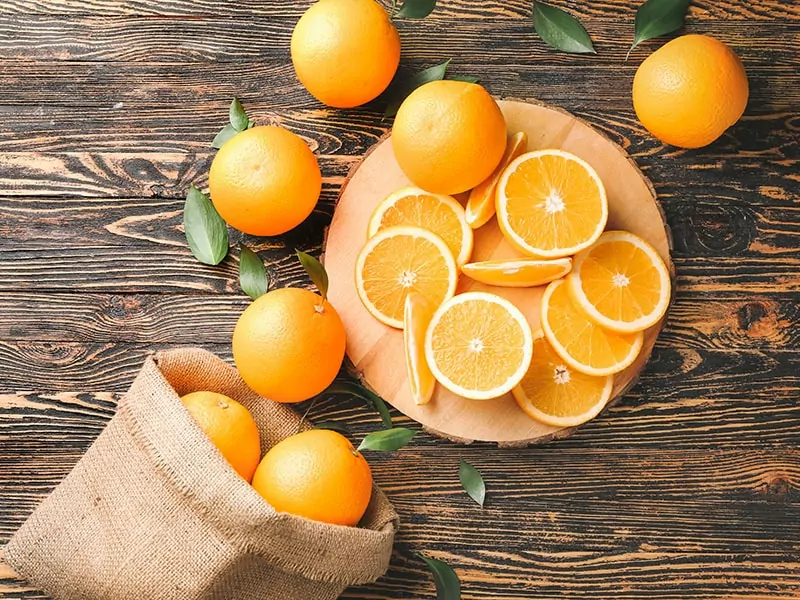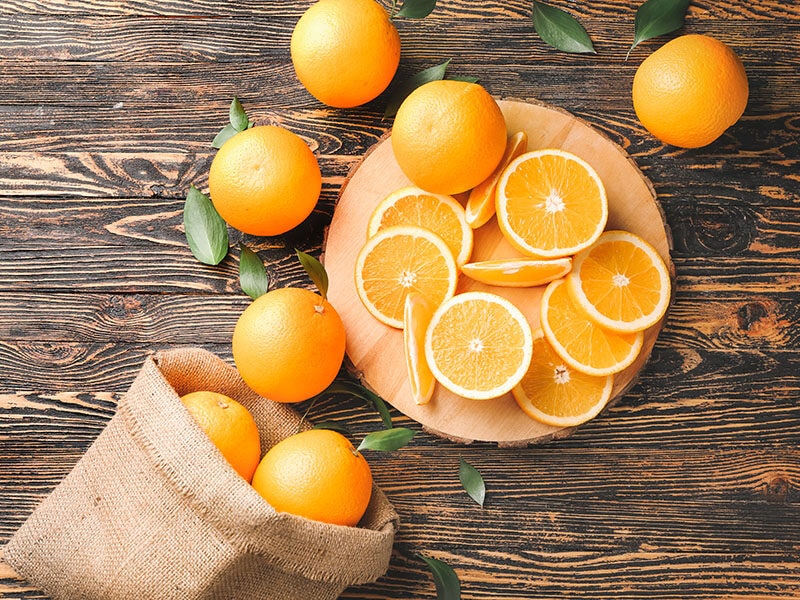 30 Attractive Orange Desserts To Enhance Your Flavor
It is such a shortcoming experience when you have never been immersed in scrumptious orange flavor. 30 orange desserts you will learn today will be make you happy:
Bake Orange Desserts
Orange Crush Pound Cake
Orange Upside-Down Cake
Orange Coffee Cake
Orange Liqueur Cake
Mandarin Orange Bundt Cake
Orange Shortbread Cookies
Orange Pistachio Cookies
Orange Meringue Pie
Orange Olive Oil Baked Donuts
Orange Rolls
Orange Tart
Cranberry Orange Scones
Orange Creamsicle Cupcakes
Orange Creamsicle Poke Cake
Dark Chocolate Orange Cookies
Chocolate Orange Brownies
Florentines
Blood Orange Cardamom Cake
No-Bake Orange Desserts
Orange Creamsicle Cheesecake
Orange Creamsicle Pie
Orange Creamsicle Dream Bars
Orange Chocolate Truffles
Candied Orange Slices
Orange Fudge
Orange Pudding
Blood Orange Panna Cotta
Other Orange Desserts
Ambrosia Fruit Salad
Orange Hot Chocolate
Cranberry Orange Bread Pudding
Orange Sorbet
Ultimate Orange Desserts: 30 Excellent Choices In 2023
To change the taste of the whole family and raise the dining experience with oranges to a new level, you can refer to the recipes below to make orange dessert newer and more interesting:
Bake Orange Desserts
If you're a huge fan of baking and don't mind the complicated baking phase, you'll definitely love the amazing orange pies full of deep flavors that I'll introduce below:
A sour orange that can make a soft, moist, sweet cake, served with a cup of tea is nothing. Orange crush pound cake can also be a light and elegant afternoon treat.
Orange crush pound cake has a delicious, spongy, and fluffy taste. In particular, the cake still retains the perfect aroma and porosity when cooled. The combination of oranges and butter makes the perfect ingredients for orange crush pound cake.
Surely this will be a great snack that the whole family should not miss. Orange crush pound cake with delicious, beautiful flavor promises to become one of the favorite cakes for your entire family.
When the weather starts to get better, I am craving cake and coffee again. I especially like the butter-cake, how delicious it is to eat. And orange upside-down cake is one of the best butter-cakes that is great for a chilling afternoon.
As the name suggests, the upside-down orange peach cake is decorated with beautiful pieces of orange on the bottom. After baking, it is turned upside down to create an eye-catching pattern.
If you don't have any dessert ideas for the upcoming dinner party, why don't you experiment with this beautiful, soft and fluffy orange cake? When eating, you cut the cake into bite-sized pieces and invite everyone to enjoy it.
Surely everyone will admire your ingenuity as well as the beautiful color of the cake. The upside-down orange cake doesn't need any decoration. It's already gorgeous.
Moreover, the sweet caramel will penetrate into the cake, making the cake moist and soft and have a delightful orange smell. Adding shiny, beautiful pieces of orange on the top of the cake is very beautiful.
The outstanding recipe of this orange upside-down cake is in this video!
Coffee cake is a delicious cake that is too familiar to everyone. But why don't you turn this cake into a more interesting cake with some oranges? I usually prepare this novelty coffee cake for breakfast or a midday snack.
Orange coffee cake is both delicious and attractive, with a soft, fragrant aroma of orange mixed with coffee, adding an eye-catching, lovely appearance. Moreover, the orange coffee cake also has a great consistency and scent.
Orange liqueur cake is fragrant, soft, and moist, eating without feeling drya, and extremely exquisite. The passionate liqueur will help this orange cake have a charming, relaxing fragrance, making you want to enjoy it forever.
The warm, sweet orange flavor combines, supporting the liqueur perfectly to create a unique, poetic, and unforgettable taste. Orange liqueur cake will be a great dish at tea parties with friends.
You can also use this wonderful recipe as a breakfast on someone's birthday with a glass of juice or a glass of milk. Save the recipe and make it for your friends or family to enjoy, sure that everyone compliments it.
Mandarin isn't a familiar orange variety. But once you try it, you'll love its flavor. Combined with regular bundt cake, mandarin will create a new type of cake with a new, lovely taste! Mandarin orange bundt cake is crispier and more attractive than ordinary cakes.
Mandarin orange bundt cake is delicious, has a moderate softness, and is great with a cup of hot tea! Enjoy this cake on weekends. You will feel comfortable and relax after a tiring working day.
On cold, rainy days, what's more enjoyable than chewing warm orange shortbread cookies and sipping a cup of fragrant tea! Shortbread cookies are a simple and delicious snack that everyone loves.
With the same simple shortbread cookie recipe but with orange freshness, a little bit of bitterness of orange peel, this cookie will become great to make everyone enjoy eating.
Especially if you are new to baking, you should try to make this cake because this is the dish with the highest probability of success. After successfully making orange shortbread cookies, you will have more motivation to make other cakes.
This cute cake is an orange pistachio cookie with an aroma and buttery taste, thanks to the pistachio filling. Cookies are crunchy, nutty, with a nutty taste of pistachio, with an orange scent. You can't resist its appeal.
The great thing that orange pistachio cookies bring is the rich and abundant nutrition of pistachio. Especially fiber, this seed contains a lot of fiber and protein, so you can eat less and still feel full for a long time.
This dessert is not only delicious, but you can also use it as a meaningful gift for friends and relatives. Try it with your oranges!
Orange meringue pie is a straightforward cake to make, but it's delicious, engaging, and has a cute little shape. Today I will show you how to make this super cute orange pie.
Orange meringue pie has a melt-in-your-mouth texture and smells like orange. The cake is a bit sour, less sweet and quite easy to eat, very suitable for children or those who are losing weight. In addition, meringue pie can also be used to decorate the party table, which is extremely lovely.
This pie, when baked, has a sunshine color. When eaten, it gives off a beautiful orange scent, along with a soft texture and a melted butter taste. This is a great dish that you can treat your friends to at gatherings.
Donut has long been a favorite dessert of many people. And how about incorporating more of your favorite ingredients like oranges and olive oil to bake donuts? The results are extremely positive!
You do not need to go to the bakery. With a simple donut maker, you can make these delicious and beautiful baked donuts at home. Due to their soft spongy texture and eye-catching decoration and shape, the orange donuts attract people from the first bite.
Just take a bite! The donut melts in your mouth with a fatty, tangy orange flavor, accompanied by the characteristic flavor of olive oil. You will surely love this cake.
Rolls is a beautiful, delicious cake that is also very simple to make. And add oranges; it's even better! Orange rolls are soft and sweet and extremely simple and easy to make.
Sweet and shiny, fatty and adorable, this perfect dessert recipe for seafood will make you unable to sit still and go to the kitchen to make it right away. The crust is soft and moist. The filling is just fatty and fragrant, so children and adults love to eat it!
You can take advantage of the weekend morning to get up a little early to prepare these lovely cakes for the whole family to enjoy!
You can change the dessert for the whole family with the mini version of the lovely orange tart. Anyone who has tasted it will surely love it with the sweet and sour taste from fresh oranges combined with the creamy cake base.
If you do not know, the orange tart is one of the famous sweet recipes of French cuisine. I will help you make this delicious French cake simple and easy to make. You can add some chocolate as an attractive base to create a new flavor.
The orange tart peel will have a beautiful golden brown color, crispy, combined with a delicious fatty filling. This tart is fragrant with butter. Each piece of sweet orange is soaked in sweet caramel sauce.
Cranberry orange scones are simple, delicious, and easy to make. These golden, soft, fragrant scones will surely satisfy even the most demanding diners, also very suitable for sipping with a cup of hot tea or coffee!
This scone has a light aroma of orange and a layer of delicious cream that is hard to resist. In particular, the cake is also combined with cranberry, so it has a very characteristic and delicious taste. So, let's try to make delicious cranberry orange-flavored scones to treat the whole family!
Cupcake is one of the most popular cakes in the world. In addition to the usual vanilla or chocolate flavor, cupcakes have hundreds and thousands of different flavors for those who are fond of sweet desserts to enjoy and explore. And today, it's fresh orange cupcakes with ice cream – a perfect cupcake recipe for the fall!
A little sour taste of orange mixed with the sweetness of cream makes the cupcake become extremely attractive. The way to make this cupcake is effortless, so you can still make it yourself right the first time.
Find your ultimate simple way to make this dessert through this video!
An orange creamsicle poke cake is a cooling dessert suitable for summer. It's also perfect for picnics and light parties.
The soft frosting and orange flavor make this cake taste just like your childhood frozen treat. Why not go to the kitchen and give it a try?
Cookies are desserts that are easy to make and loved by everyone. Try embellishing the cookies with some orange and dark chocolate! Chocolate cookies have an eye-catching appearance, moderate sweetness of oranges, buttery aroma, and crispy texture that will make you satisfied.
Elevate your dark chocolate orange biscuits with the scent of freshly grated orange zest or other similar-tasting alternatives. Or if you want something other than sourness, you can go along with a layer of sweet and bitter dark chocolate on top.
This cake is quite suitable for weekend get-togethers with family and friends. Come into the kitchen with me this weekend to try your hand at making delicious dark chocolate orange cookies for the family!
Chocolate lovers can't miss the bold chocolate orange brownie cake with a soft and moist sponge texture. Yes, the traditional sweet and bitter brownie is now doubled in taste thanks to the delicious sweet and sour orange layer.
The brownie achieves a rich, moist texture with the intense bitterness of chocolate combined with other ingredients' orange and fatty flavors. Biting into a piece of intense orange and chocolate aroma makes the devotees of this ingredient impossible to refuse.
This cake is straightforward to make. If you also want to try this delicious new version of Orange Brownie, come to the kitchen with me right away!
Orange is a popular ingredient in many delicacies, and one of them is florentine. Eating some florentines will help you fully enjoy the freshness and nutritional value of this ingredient.
This is a traditional Italian sweet food which is flavored by orange peel (or candied peel) and dark chocolate. The chocolate and orange are elementary to make and easy to eat – really a perfect flavor couple, and even better with the crispy almonds!
Cardamom is a popular Indian food because it has many beneficial effects on health. The traditional blood orange cardamom cake is always an attractive dish because of the crispy texture of the crust mixed with the delicious aroma of cardamom and the sweet and sour taste of orange.
Well, there's nothing like a beautiful crispy blood orange cardamom cake as a dessert for the whole family's weekend meal. Although this cake is quite difficult for those who are new to baking, practice this recipe many times, and you will see that they are not difficult anymore.
No-Bake Orange Desserts
For those who are not very good at baking, these no-bake orange desserts will be easier to make. I'm sure that you will be extremely happy with the following ultimate desserts:
Orange creamsicle cheesecake has the buttery taste of cream mixed with orange's sweet and sour taste, creating an irresistible delicious cheesecake, eating a piece of cake that melts in your mouth.
With a soft and cool texture, soft and smooth cake base combined with the distinctive aroma of fresh oranges, this is a highly delicious dessert to treat the whole family on a sunny day.
You can use orange cheesecake with a cup of lemon tea. There's nothing to complain about. This is a great dish that indeed everyone who eats it will fall in love with it. Join me in the kitchen to make a simple, delicious orange cheesecake without an oven!
You must have heard many times about the delicious and sweet orange creamsicle pie with a crispy crust and an attractive aromatic filling. A little more information for you, orange creamsicle pie is a cake originating from European countries with a fairly simple way of making it.
The success rate of this pie is quite high, and the failure rate is almost shallow. So if you've just started making cakes and want to test your skills to entertain the whole family, this is a pretty ideal choice!
However, this recipe for orange creamsicle pie has quite a few steps and requires you to be a person with a bit of patience, standing hard in the kitchen for a long time to get a perfect batch of cakes. Don't worry, let's discover how to make orange creamsicle pie with me in this article!
Orange creamsicle dream bars look fancy with their crunchy, delicious texture for a simple yet nutritious breakfast. Some can grab a bar and eat whenever you feel the need to recharge!
This is a food rich in energy, healthy nutrition, very good for people with brain activity or who need a quick energy supplement. Let's go to the kitchen to learn how to make this healthy, nutritious cake with me!
Chocolate truffles are a trendy type of chocolate in the US and are especially expensive to buy. Inside is a chocolate filling mixed with cream and butter so that when biting into the inside, the chocolate is very soft.
More specifically, the filling inside can be creative and add more flavor, like in this case, orange oil. The most common outer shell is cocoa powder, but the whole family can be completely creative with the chocolate outer shell.
Yes, you can refresh the usual chocolate truffles recipe with a bit of highly delicious and attractive orange flavor that anyone who eats it once will not forget.
In short, I find this dessert is not difficult to make, but if you can make it yourself and put it in a beautiful box, it will definitely be a significant gift for your loved ones.
Candied orange slices are sweet and chewy and will be an interesting snack to help you relieve sudden cravings. Each slice of orange is chewy and soft like a delicious marshmallow, both sweet and full of flavor from the orange peel.
This is an effortless and easy way to make candied orange slices at home. This snack is both delicious, safe, and hygienic, and brings many health benefits when providing you with vitamin C, and also helps children eat more deliciously.
This video will help you make your real delicious candied orange slices!
Orange creamsicle fudge with its soft, supple, and delicious orange flavor will be an attractive snack for everyone, especially children. This fudge brings people to enjoy a sweet, attractive taste that is unforgettable.
This dessert is said to be a food with many health benefits. Because orange fudge is made from delicious fresh oranges, it contains a lot of natural vitamin C.
With their compact size, you can easily take them with you on outings or gatherings with friends. This fudge is also suitable as a gift for relatives and friends in meetings.
Why not make your own tasty orange fudge referring to this video!
Not only made with nutritious orange juice, but this pudding also fascinates anyone with its beautiful appearance with tiny pieces of orange sprinkled on the cake. The special texture of the pudding plus the delicious orange flavor will make you excited.
This pudding really looks irresistibly delicious. This dish is also very suitable for girls who want to diet. Moreover, it is also for everyone because it is perfect for health and skin beauty.
Blood orange panna cotta has a sweet taste and attractive appearance. So, there is nothing better than making orange panna cotta by yourself in the hot summer to enjoy with the whole family.
You know, blood orange panna cotta, when finished, will be very smooth and cool. Each spoonful of sweet and fatty panna cotta intertwined with the light sour taste of incredibly delicious oranges will make you melt.
Great, you can quickly quench cravings with this soft and delicious blood orange panna cotta. With just a few essential ingredients, you will successfully make this dessert.
Other Orange Desserts
How about some attractive orange desserts for enhancing the flavor of your main dinner? Let's find out your best answer by continue reading:
27. Ambrosia Fruit Salad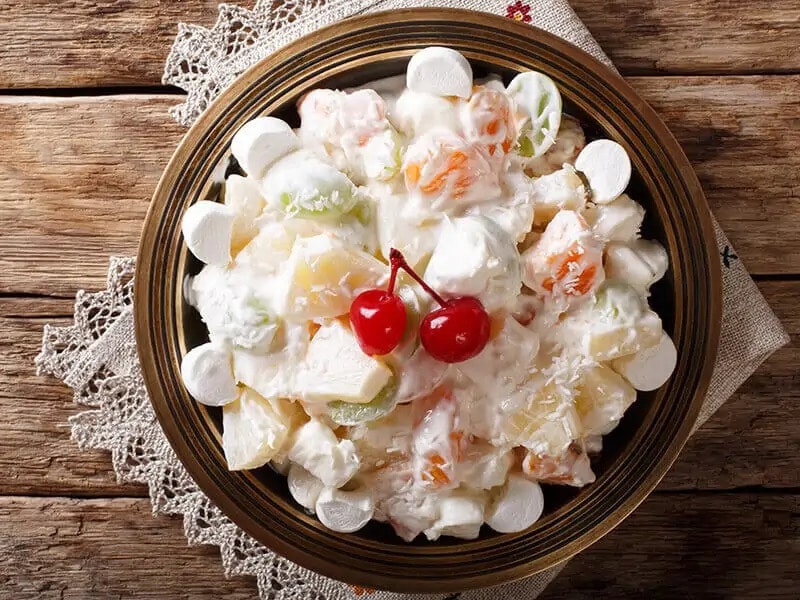 Ambrosia is a variation based on the traditional salad. It is a sweet salad consisting of various chopped fruits mixed together. This recipe has oranges as the main ingredient and finishes in just 15 minutes.
Pair mandarin oranges with canned pineapple to make your Ambrosia salad fun and colorful. This recipe offers a wonderful combination of crisp, sweetness, and sourness. Let's learn how to make this quick and easy fruit salad with me.
When it's cold outside, enjoying a warm and delicious drink is a great thing! Today, I will show you how to make a very tasty and beloved drink – hot orange chocolate.
With uncomplicated ingredients such as fresh oranges, and a bunch of cinnamon, making a glass of hot chocolate is extremely easy. You can use these warm ingredients to create a hot chocolate orange drink that will surprise and delight your guests.
Bread pudding is extremely popular in many countries around the world. This pudding is served with broken bread by drizzling a liquid pudding, in this case, orange plus cranberry, milk, cream, eggs, and rich butter.
Well, today, I'm going to show you how to make irresistible cranberry orange bread pudding. This pudding is sweet, soft, fatty, and smooth because one of the main ingredients is fresh milk, so it is very nutritious. It will refresh the taste of bread and make your breakfast more attractive and nutritious.
The cool, sweet orange sorbet with a soft and velvet-like texture is especially attractive but not too fat. It will definitely be a refreshing ice cream that will make you and the younger members both nod and compliment.
Yes, orange sorbets make people love not only because of their seductive taste but also because it is pretty simple and quick to make. You just need to prepare sugar syrup, add some orange juice, then freeze them in the fridge to have a delicious sorbet to enjoy.
So, What Is Your Favorite Orange Dessert?
I'm sure out of these 30 orange dessert recipes, there's definitely one for you. Or maybe you love them all? You always have days to do everything. Let life be filled with the orange dessert you love!
I hope you can successfully make great orange desserts to enjoy with your loved ones and friends. And I will be happy if you leave a comment and share this orange-filled post!
Nutrition Facts
8 servings per container
---
Amount Per ServingCalories276
% Daily Value *
Total Fat 9.3g

14

%
Cholesterol 97mg

33

%
Sodium 225mg

10

%
Potassium 134mg

4

%
Total Carbohydrate 45.1g

15

%

Dietary Fiber 0.4g

0

%
Sugars 30.8g

Protein 4.2g

8

%
---
Calcium

19

%
Iron

1

%
Vitamin D

10

%
* The % Daily Value tells you how much a nutrient in a serving of food contributes to a daily diet. 2,000 calories a day is used for general nutrition advice.