Nothing compares to the best orange juice cocktails when summer rolls around. From Mimosa to Screwdriver, it's proper to say that orange juice is indispensable to any well-stocked bar worldwide.
Since this citrusy element is available year-round, it's the perfect tool to help you achieve your fruity quota as desired. Based on the specific variety, orange juice can bring out vibrant shades of orange and yellow or an enticing ruby red color.
If you're ready to turn this top-notch mixer into a delicious and refreshing cocktail, you're in the right place. This round-up has all the recipes to accommodate any occasion for a boozy treat, be it a simple happy hour or a summer poolside party with a crowd.
Keen to know more about these crazy delicious drinks? Let's dive right into the world of orange juice cocktails!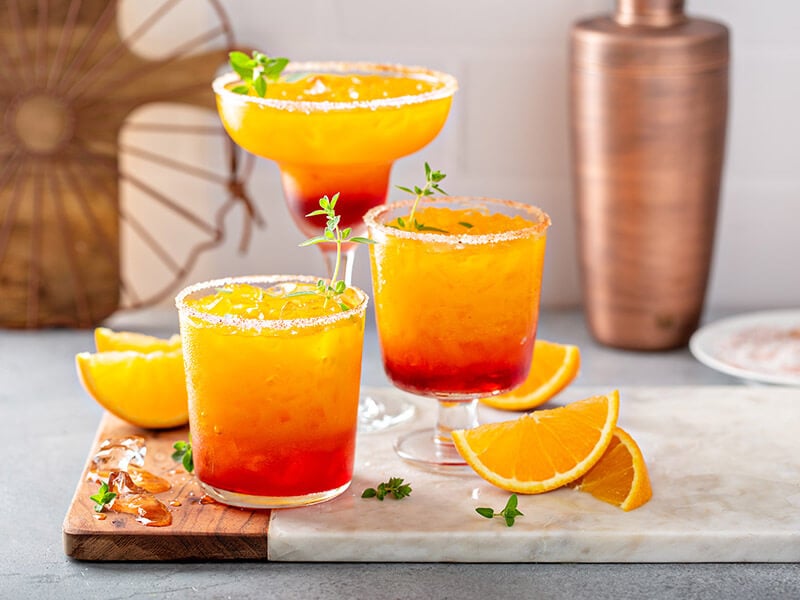 Orange Juice & Cocktail – A Match Made In Heaven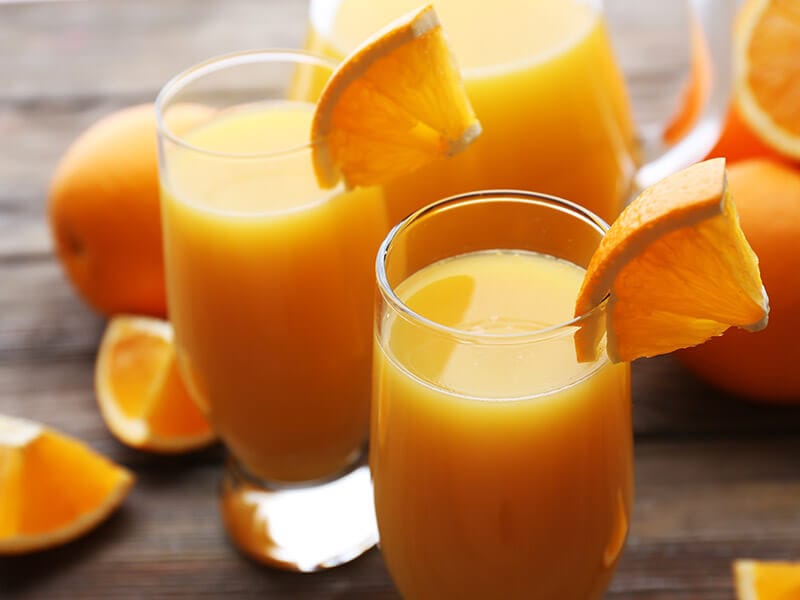 The best orange juice is the juice that you squeeze at home. But if you're pressed on time for the party or bridal shower, the store-bought version is the next best thing. For drinkers on a diet, try to find the juices with no added sugars and are not from concentrate.
Bright, citrusy, and refreshing orange juice turns out to be a more excellent mixer than you may expect. The two best pairings for it are vodka and rum. Besides that, the juice tastes great with virtually any liquor such as bourbon, champagne, and tequila.
Some say resting the juice for a few hours can improve its flavor, while others don't favor the bitterness that forms after waiting too long to drink it. To counter the bitterness, you need to add a bit of sweetener like sugar to the mixture.
Besides being a cocktail staple, orange juice has been associated with many health benefits. The liquid's especially rich in one nutrient: vitamin C. One serving of orange juice provides just enough vitamin C that you need for the whole day.
The abundance of vitamins, folate, and potassium in orange juice works well in improving heart health, reducing the risks of kidney stones, and decreasing inflammation. Asides from breakfasts, you'd want to incorporate this wonder liquid into more happy hours!
The 23 Best Orange Juice Cocktails For Hot Summer Days
Are you looking for some of the greatest boozy refreshers with orange juice at hand? I've got you covered with concoctions to accommodate every occasion year-round!
Total time: 5 minutes
Back in the Pre-Prohibition era, the Bronx Cocktail was one of the most requested, with some even venturing to call it the Cosmopolitan in its heyday. Be it winter or summer, when the orange season is at its peak, this drink will take you back to an early 1900s American bar.
The standard Bronx combines sweet and dry vermouth, liven up by a generous dash of orange juice. With added lemon juice, this original New York drink is crispy, juicy, strong, and with a subtle hint of sweetness.
The trick to mastering this timeless concoction? It's all about the freshly squeezed orange juice, which delivers the whole pack of flavors. The use of orange peel in this recipe adds a distinctive aroma and a sharp, tangy taste to balance out the natural sweetness.
Perfect your skills for the Bronx Cocktail with this expert guide!
Total time: 3 minutes
One of the first cocktails to feature vodka in the world, the origin of Screwdriver is somewhat musky. The most famous story points its creation to American marines during World War II, when they'd pour vodka into their O.J and stir it up with a screwdriver, hence the name.
The Screwdriver is nothing more than vodka and orange juice at its most basic. There's no mystery about it. Simple but classic, the drink brings out a bright orange juice flavor with a spicy finish that's super refreshing during the summer.
However, with this simple cocktail, the make-or-break deal is all about the quality of each ingredient. A mid to top-shelf vodka bottle is the ultimate way to bring out boozy and smooth flavors, minus the headaches and hangovers afterward.
Thanks to its ease of making, Screwdriver is undoubted one of the most popular cocktails among drinking lovers. Whether it's Sunday brunch, a happy hour treat, or a boozy drink that's easily multiplied to accommodate your friends, it's guaranteed to wow the crowd!
Total time: 4 minutes
Of course, the first thing that grasps attention in this drink is its provocative name. Although there're many stories surrounding the origin of this cocktail, it's primarily associated with a young bartender named Ted Pizio.
In the 1980s, Ted was working at Confetti's Bar in Florida when he was inspired by a peach schnapps ad and came up with the idea of a refreshing fruity brew. The drink was named after "sex" and "beach," which he thought were Florida's most prominent tourist attractions.
As you take the first sip, expect an explosion of berry and citrus flavors across your tongue. The combination of peach schnapps, orange juice, and cranberry juice gives the drink its seductive nature. Thanks to its sweetness and fruitiness, you can hardly taste the alcohol.
The alcoholic-free content of this drink is as thoughtfully made as its boozy one. Did you know that this drink's easy mocktail version is called "Cuddles On The Beach?" Simply omit the vodka and replace peach schnapps with peach nectar, and you're good!
Sex On The Beach Cocktail can be made easily with this detailed tutorial!
Total time: 5 minutes
Whether it's a romantic night with your special someone or just a cozy night with your friends, the Orange Moscow Mule is a top-notch choice. Taking just five minutes in total, this exquisite ginger beer cocktail is perfect for anyone, especially those who'd like a light punch.
Orange juice and ginger beer go exceptionally well together, lending the drink a tangy, gingery, and sweet taste all at once. The flavor profile is rounded out by a touch of lime juice, which delivers a bright and vibrant mouthfeel.
With orange juice being available year-round, it's time this refreshing mule has its spot in your home bar. Moscow Mule aficionados swear by copper mugs for keeping the drink nice and cool. From this recipe, you can accommodate any number of guests with ease.
Total time: 5 minutes
Fuzzy Navel is a highball cocktail that has stood the test of time, the sweet marriage of orange juice and peach schnapps. As you can tell from its own name, this delight is a child of the 1980s and has inspired many other drinks such as Hairy Naval and Fuzzy Shark.
Where did its funny name come from, you ask? "Fuzzy" refers to "peach fuzz," which likely plays into the peach-flavored liqueur in the recipe. On the other hand, "navel" implies navel oranges, the variety of oranges used in the original version.
Like many drinks of its time, the Fuzzy Navel is on the sweeter side and very easy to make. From the bright color to the fruity, peachy, and refreshing flavors, this gulbable treat screams summer and is not as boozy as its brunch brethren, Screwdriver.
Recreate this '80s Fuzzy Navel at home for a happy hour session!
Total time: 5 minutes
If you're a fan of mimosas but want a higher-proof drink, the Buck's Fizz might be your new favorite. Little do many knows, this tasty and easy mixed drink was first created as an excuse to begin drinking earlier and named after its birthplace: the London's Buck's Club.
Similar to Mimosa, this classic cocktail also features two main attractions: champagne and orange juice. What sets Buck's Fizz apart is the proportions of ingredients, leading to higher alcohol content and more effervescence.
Bubbly, fruity, and bursting with juicy orange flavor, it's no surprise this excellent cocktail is the perfect celebration hamper. Traditionally, it's long been served as the "Welcome drink" at formal events like anniversaries, weddings, and special occasions.
Total time: 2 minutes
Are you throwing a get-together? Impress the crowd with this stunning and delicious Vodka Sunrise. This summery delight shares many similarities, an exciting rendition of the world-famous Tequila Sunrise, only that it's made with vodka instead of tequila.
True to its name, this cocktail looks like a summer sunrise captured in a highball glass. The blend of vodka and orange juice with a dash of grenadine results in multiple layers of bright orange and reddish at the bottom like a sunrise effect.
As elegant as it looks, this well-deserving vodka cocktail is an easy drink that comes together in two minutes. Unlike tequila, vodka contributes little alcoholic flavor. So if you're having someone over who's never had booze before, this recipe should be an excellent place to start.
Soft, sweet, and sweet, with subtle notes of fruitiness, this Sunrise delight will be at the top of your collection. The trick to pulling the sunrise effect to perfection? It's all about gently and slowly pouring grenadine first into a glass with ice. You can't go wrong with that!
Here's how to impress a big crowd with the classic Vodka Sunrise!
Total time: 10 minutes
Blood Orange Mimosa is essentially everything you love in a classic Mimosa, but with a twist: blood oranges. This specialty citrus fruit, which owns its origin in Sicily, showcases the finest that Florida and California offer.
This delightful cocktail has a striking red color and a complex flavor profile thanks to blood oranges. Compared to the regular variant, these gorgeous fruit types tend to be more floral, tart, and with a more admirable bitter balance, which pairs wonderfully with the touch of rosemary.
Finally, a budget-friendly sparkling wine like Prosecco and champagne gives it a light and fruity taste that lingers on your palate. This gorgeous cocktail makes a festive addition to any party or holiday celebration.
Total time: 10 minutes
Can you imagine sitting under the summer sun on the British Virgin Islands with a nice Soggy Dollar Bar Painkiller glass in hand? Talk about a dream! This authentic delicacy is best devoured in a hammock by the beach, but a little shade by the poolside does it.
Initially, this legendary Caribbean cocktail was first created in a world-renown beach bar on the island of Jost Van Dyke. Back in these days, since there was no road to the island, boaters would often swim ashore to the beach bar and pay with wet money, hence the name.
According to the original recipe, this concoction combines tropical elements like pineapple juice, orange juice, cream of coconut, and Pusser's rum. To many, it tastes creamy, fruity, and with that acidic tang from the tropical fruits, much like the adult version of Piña Colada.
Total time: From 5 minutes to 10 minutes
Among the endless ways to cool the armpits down in the hot summer, nothing can compare to a tried-and-true glass of Orange Crush Cocktail. While bartenders everywhere have put their twists on this drink, it's the most famous icon in Maryland, where it was born.
Similar to the beaches of Maryland, this quintessential triple sec cocktail is the perfect drink for a hot evening. The dual of triple sec and orange vodka creates a nice mix of sweet and citrus blend. Plus, orange juice is the key to that refreshing scent zesty flavor.
What I love about this recipe is that you can get away with lower-quality alcohol and still be able to enjoy the summer soiree to the fullest. Although it doesn't pack a high kick, the drink is likely high in calories, so make sure you only sip it in moderation.
This Orange Crush Cocktail is a must-try cocktail in this hot summer!
Total time: 5 minutes
Who knew orange and whisky make such a heavenly match? This drink is a rendition of the timeless whisky sour, which can brighten up a cold wintry day. Quickly pouring in just minutes, this complex whiskey cocktail makes an excellent adult treat.
As the base spirit, whisky lends itself to a deep complexity ranging from smoky, sweet to spicy flavors. When mixed with whisky, the natural sweetness of orange juice is meant to tone down the sharp alcoholic taste.
On the other hand, a touch of aquafaba is a classic in this recipe, creating a frothy and foamy texture on top like egg white. For this classic drink, you'll want to serve it in an old-fashioned glass or an A coupe.
Total time: About 5 minutes
Little did many folks know that Edna's Lunchbox, the legendary delicacy in Oklahoma City, was first considered a mistake by its creator: Edna Scott. Despite the seemingly obvious name, the cocktail is not something you can keep in a lunchbox.
In the late 1990s, Edna made the concoction with the intention of a different drink. Her mistake tastes so good that it garnered a local cult following around town. Edna's Lunchbox eventually became the icon of not only the bar but also Oklahoma City in its citizens' eyes.
Typically, every Edna's Lunchbox starts with a glug of amaretto put in a shot glass, which sits at the bottom of a chilled beer mug or pint glass. Bartenders then fill this delicious amaretto-flavored cocktail with equal parts of light beer and orange juice.
Edna's Lunchbox is exceptionally toothsome and refreshing when it comes to the flavor. With such a simple setup, the well-kept secret to perfecting this drink is by serving it in a properly chilled mug. Fresh orange juice is excellent, but you can get by with some store-bought.
Master the classic Edna's Lunchbox following these simple steps!
Total time: About 3 to 5 minutes
To recreate such a tantalizing cocktail, only Aperol checks all the boxes. This Aperol-based delight is best enjoyed during the aperitivo hour, often between 7 pm and 9 pm. Don't be shy to indulge in yourself and add this easy Aperol cocktail recipe to your repertoire.
First, there's the Aperol. Described by many as the "Italian sunset in one glass," this aperitivo is the well-kept secret to that bright and evocative orange color and orange juice. A second spirit, Prosecco, provides a sugary and sweet tone with a semi-dry finish.
All in all, Orange Aperol Sun is a dream come true for Italian drinking lovers. And while you can skip it, a thin orange slice or two is the traditional way of adding a refreshing touch to the drink.
Total time: 5 minutes
More than just a cocktail, Rum Swizzle is a way of living, a traditional lifestyle. The earliest rum swizzle recipe credits Swizzle Inn, the oldest pub in all of Bermuda, in 1932. Over time, it rose to fame and has been seen by many as "Bermuda's national drink."
There's just no right or wrong way of making this quintessential rum cocktail. The drink varies across the island, but most consist of three parts: rum, fruit juices, and bitters. Aromatic bitters also give it a robust aroma with hints of bitterness and spiciness.
In this recipe, the holy trinity of orange, pineapple, and lemon juice creates an outstanding balance with a natural sweetness and the tropical vibe best-suited for summer parties. Plus, pairing falernum with rum is a smart move to help round out the base and bring out an excellent depth.
Impressing your guests is a breeze with this unique Rum Swizzle recipe!
Total time: 2 minutes
A little work is all you need to turn happy hour into a New Orleans boozy feast! This tasty rum cocktail hits your mouth with a refreshing, sweet, and fruity taste from the first sip. If you're a rum cocktail connoisseur, you'll fall in love with it right away.
Besides its powerful punch, the name "Hurricane" is associated with the hurricane lamp, the original glass in which it was initially served. As far as the story of this classic cranberry-featured cocktail goes, its roots can be traced to Pat O'Brien's bar in New Orleans in the 1940s.
After the first taste, you can tell that this Hurricane Cocktail is full of flavors from passion fruit, lime, and orange juices. Rather than dark rum, this healthy variation is lightened up with white rum, which delivers a sweeter, softer taste overall.
Total time: About 3 minutes
Simple yet sophisticated, Orange Blossom Cocktail contains just a total of three ingredients. Ever since its first appearance, this timeless Cointreau concoction has become one of the most requested in the Prohibition era and went on to be a modern classic.
At the alcohol base, the intense citrus fragrance of gin and its pine-like, mildly bitter flavor is the perfect companion for Cointreau. An orange liqueur, Cointreau contributes to the sweet orange aroma with the perfect balance between bitter orange and sweet tastes.
For best results, I suggest using quality liquor and fresh orange juice. Much similar to the Bronx, this concoction is a solid brunch cocktail. So whenever you're seeking an elegant yet effortless enough to win a crowd over, Orange Blossom Cocktail might be what you need.
When the temperature climbs, keep cool with this Orange Blossom Cocktail!
Total time: From 5 minutes to 15 minutes
With such a gorgeous appeal, it's hard to imagine how easy it is to bring Tequila Sunrise Margarita to life. Turning this cool tequila cocktail into a margarita is an exciting and effortless way to enjoy the classic without feeling bored.
The synergistic harmonization of earthy and sweet tequila, citrusy and orange-infused liqueur, and a dash of lime juice simply hits all the right notes. In addition, two drops of grenadine syrup at the bottom are great for creating that bright orange-reddish hue.
Bright striations of color and a gustatory joy, Tequila Sunrise Margarita evokes the summer sunrise even before you taste it. It's tailor-made for a dinner and tailgate party so that you can ditch the same old vodka for something refreshing and delicious.
Total time: 2 minutes
Simply put, the Madras Cocktail is a blend of juice and vodka. Thanks to its fruity-looking, lovely bright red appeal, this cocktail is brilliant for your Christmas, Valentine's Day, and pool party tables.
This cocktail seems like the reminiscence of a Cosmopolitan, but with more cranberry and less lime flavor for some drinkers. The generous volumes of orange juice and cranberry juice make this drink fruity, sweet, tangy, and refreshing.
For those who aren't much of a vodka lover, just substitute it with other spirits like tequila and gin. When you serve it at a party, make a big pitcher with a separate bucket of ice right next to it. This way, your guests can enjoy their drink as they want without the ice watering down.
Up your boozy game with this timeless recipe of Madras Cocktail!
Total time: 5 minutes
The Antioxidant gets its name for good reasons and is worth the hype. From tangerine to orange and lime juice, this cocktail is an abundant source of dietary antioxidants, so you can just relax while strengthening your cells from damage.
This concoction utilizes two types of alcohol: vodka and Aperol. The delicate bitterness and citrusy of Aperol pair beautifully with the mild bitterness of vodka. One of the main elements is the addition of tangerine syrup offers a zesty aroma and a vibrant yellow color.
When it comes down to the art of cocktail making, The Antioxidant is seriously underrated. Executed with perfection, it can be lighted on fire, thanks to the volatile oils in just a slice of orange peel. Trust me, watching the sight is undoubtedly as impressive as sipping on it.
Total time: 5 minutes
The Monkey Gland is a classic in any drinking connoisseur's repertoire if you can get by its odd name. Bizarre medical experiments inspired this vintage cocktail. But it turns out as of the best-tasting gin and Absinthe cocktails you'll ever have.
Monkey Grand owes its origin to Harry's New York Bar in Paris during the 1920s. The drink was named after the controversial idea of Dr. Sergei Voronoff, a French surgeon who claimed that the sex glands could increase health, vigor, and drive.
More often than not, this gin-centered cocktail is a simple blend of dry gin, absinthe, and orange juice. This results in a nice fruity flavor with a subtle touch of anise and an intoxicating fragrance.
Besides its incredible complexity, a teaspoon of pomegranate grenadine is also tossed for that desirable deep burgundy hue. A versatile concoction, Monkey Gland can be consumed at any hour, be it mediation time, after dinner, or as an aperitif.
Learn the Monkey Gland recipe from a professional mixologist!
Total time: 5 minutes
Although it doesn't contain any Orange Dreamsicle, this dreamy is all you can ask for when the temperature continues to climb. Made with orange juice, whipped cream vodka, and lots of ice, the drink tastes exactly like its namesake frozen treat.
At the stage's center, freshly squeezed orange juice gives off a natural fragrance and a delicate sweetness that's not overwhelming. Meanwhile, a great touch of whipped cream vodka results in a smooth drink, so you can have a little kick minus the hangover afterward.
You need to assemble all three ingredients in a blender and give it a whirl until the texture's perfectly smooth and creamy. Don't be shy to spray some whipped cream on top when it comes to decoration. This dessert-like drink is best served immediately!
Total time: From 3 minutes to 5 minutes
Composed of just two ingredients, Garibaldi Cocktail is visually stunning as it is easy to prepare. Rather than the typical orange juice, this modern riff uses blood orange juice, which mixes with Campari in an eye-catching red color.
This Italian tipple is named after Giuseppe Garibaldi, a central figure in the unification of Italy. The story goes that this lovely brunch cocktail's signature red-orange color represents the scarlet shirts of his followers in their fight for liberation.
Not all brunch staples must be complicated, and this exquisite Campari cocktail is proof of that. With simple and fresh ingredients, it perfectly captures the essence of summer: beautiful, delicious, and refreshing.
Because the drink can't get any more straightforward, the success lies heavily in the quality of your orange juice. The best result always comes from freshly squeezed orange juice because its frothiness makes the perfect contrast to the bitterness of Campari.
Take a trip to the Italian summer with a glass of Garibaldi Cocktail!
Total time: From 3 minutes to 5 minutes
The final but no less critical, Satan's Whiskers Cocktail has a long history in many drinking enthusiasts' collections. Its ghoulish name is quite the well-deserving cocktail for your Halloween monster party.
Historically speaking, this Halloween-themed cocktail made its debut in The Savory Cocktail Book by Harry Craddock, published in 1930. There're two variations of this classic: the "straight" version using Grand Marnier with the "curled" one calling for Orange Curacao.
Gin is mixed with sweet, dry vermouth and an orange liqueur to bring this drink to life. Thanks to this medley of spirits, the glass has just a gentle sweetness and fruitiness that's livened up by orange juice. A dash of bitters adds a crisp depth to enhance its complexity.
When In Doubt, Opt For Orange Juice Cocktails!
Of all these fantastic orange juice cocktails, I hope you've found at least one recipe that suits your taste and occasion. While this mixer is available for all seasons, some of these concoctions certainly have a more spring and summer vibe.
If you're planning to serve these orange juice drinks at your next garden or pool party, set out a big pitcher with some ice on the side. All that's left is to watch your guests devour it and express their feelings about your bartending skills.
Let me know if you've enjoyed this compilation by leaving a comment here. While you're at it, don't hesitate to share this boozy article with your friends and loved ones!
Nutrition Facts
1 servings per container
---
Amount Per ServingCalories230
% Daily Value *
Total Fat 0.1g

1

%
Sodium 3mg

1

%
Potassium 52mg

2

%
Total Carbohydrate 8.2g

3

%

Dietary Fiber 0.1g

1

%
Sugars 2.2g

Protein 0.2g

1

%
---
* The % Daily Value tells you how much a nutrient in a serving of food contributes to a daily diet. 2,000 calories a day is used for general nutrition advice.