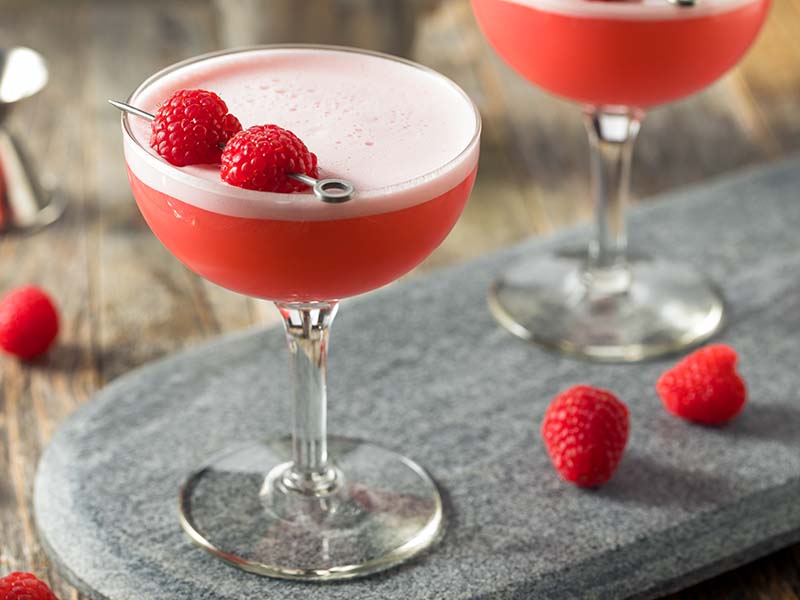 Do you want to mix the best gin cocktails at home to fascinate your lonely nights or serve them as an aperitif for your guests before dinner? Or do you simply crave to try gin cocktails but hesitate to go to the local bar? If yes, then this article is perfect for you!
You can expect a wide range of gin cocktails, from classic to creative versions, from refreshing to seductive drinks in this article. What's more, I also offer you essential knowledge about gin and gin cocktails before you turn into a gin cocktail lover!
Therefore, I promise that the diverse cocktail recipes listed below won't disappoint you and your guests if you want to set the mood tonight. Let's dive into the article and find the cocktails that you want to make!
Why Gin Cocktails Are The Best Options?
Gin is a popular spirit–a term to call alcoholic drink which was produced by the distillation process. Therefore, gin is a high-level alcoholic drink that has a bitter taste combined with the sweet flavor of juniper berries.
In fact, gin is the second-best choice for making cocktails (just behind Vodka) because it is very versatile. The liquor can easily adapt itself to different flavors of herbs, fruits, or even vegetables.
In addition, gin is also the main ingredient for many drinks on the list of the finest mocktail recipes that anyone should try at least once in their life.
Through the list below, you can notice that gin can transform into many things, from a sweet lady–Pink Lady cocktail – to an elegant afternoon – Creamy Earl Gray Cocktail.
Overall, there are 6 types of gin cocktails: Martini, Old-fashioned or Classic, Daiquiri, Sidecar, Whiskey Highball, and Flip. However, you don't need to remember and learn how to classify gin cocktails if you don't have any plan to become a professional bartender.
Numerous Ways To Deal With Gin Cocktails
When you mix a cocktail or want to create a new gin cocktail recipe, remember to follow the flavor balance rules. For example, sweet can enhance salty, bitter can balance sweet, or spicy can balance sweet.
If you have not tried any alcoholic drink or gin cocktail before, remember to take small sips one by one because you can easily get drunk just after a few drops. Besides, while there are many variations of gin cocktails, you should start with those having the flavors you like.
Talking about variations, you can also classify and enjoy gin cocktails based on the weather or the seasons in the year. On the other hand, there are many drinks that are for all seasons and can taste excellent no matter how bad or good your mood is.
When you've been a gin cocktail lover, you can search for and use vintage gin in your recipes. Many vintage gin bottles are sold overseas at very high prices, and they can be decades old.
20 Exciting Gin Cocktails Recipes That You Can Easily Mix At Home
After learning essential knowledge, it's time for you to indulge in a wide range of recipes. Most of which are mixed beverages easy to mix at your own wet bar!
Total time: 5 minutes
Firstly, I will kick off with a very classic drink–Bee's Knees Cocktail. About the history of this cocktail, it's believed that a man named Frank Meier invented the drink during Prohibition in the U.S–the era of the national ban on the trade of alcoholic drinks in the 20th century.
Apparently, the name "Bee's Knees" sounds very nonsensical just like many other phrases in that era, such as "the eel's ankle" or "the cat's whiskers". However, people think that the cocktail's name took after a popular slang at that time, which means "the best".
Just like its name, Bee's Knees' main ingredient, which creates the overall flavor, is honey. Gin is certainly the liquor of the drink while there is also a small amount of lemon juice in it. The reason is that lemon juice will add a tangy flavor and lightness to the cocktail.
After you finish mixing the ingredients, you can use a lemon twist to decorate the Bee's Knees cocktail. If you want to garnish it with any other fruits or ingredients, feel free to do so.
If you want to master mixing Bee's Knees Cocktail, don't skip this guidance!
Total time: 5 minutes
In my opinion, the French 75 cocktail is the most perfect yet simple blend of gin, champagne, lemon juice, and sugar or syrup. This fancy French cocktail is a suitable aperitif for elegance-themed parties or gatherings.
You need a cocktail shaker to mix all the ingredients (aside from champagne). Remember to add a few ice cubes to form the frost. After that, strain the mixture into a champagne coupe, and finally, top your drink with any type of champagne that you like.
The drink was created during World War I, around 1915, by barman Harry MacElhone. The unique name of the cocktail, "French 75", originated from a weapon of the French army at that time–the French 75mm field gun.
Total time: 10 minutes
Gin and Tonic is a highball cocktail that has a mixed flavor of fresh citrus, aromatic juniper berries, refreshing tonic water, and a little bittersweet taste of coriander. Normally, the ratio to make this cocktail is 1:1 or 1:3 of gin to tonic water.
Tonic water is a carbonated drink that consists of water, carbon dioxide, and dissolved quinine. To suppress the bitter taste from quinine, sugar or agave is added to the cocktail. Scientifically, tonic water can also have health benefits related to malaria treatment.
This special frozen cocktail is a perfect beverage for your summer whether you're at a beach or alone on summer nights. The reason is that this recipe also has simple syrup to balance out the bitterness and cucumber to add freshness to the drink.
This tutorial is for you if you want to make the ultimate Frozen Fin and Tonic!
Total time: 5 minutes
The most special thing about this cocktail that you can notice at first sight is the brilliant scarlet color. As you may not know, the blood orange is a special fruit that has crimson flesh and a subtle flavor of raspberry or strawberry.
Different from the original blood orange cocktail, this recipe has St. Germain–an elderflower French liquor. Overall, this blood orange elderflower gin cocktail tastes like sweet orange, with elderflower flavor and unique fruitiness.
To mix this cocktail, you don't need a cocktail shaker. According to the instructions, just simply mix all the ingredients and slowly pour the mixture with large ice cubes into a cocktail glass. Finally, you can decorate the drink with blood orange slices or fresh lemon.
Total time: 2 minutes
The Negroni cocktail – a famous Italian alcoholic drink – is a simple mixture of gin, sweet red vermouth, and Campari. As an Italian bittersweet liquor, Campari contains a variety of herbs and fruits such as clove, orange peel, cinnamon, cherry, etc.
As a whole, the flavor of this drink is bittersweet, which is a result of combining Campari plus gin with sweet vermouth. The ratio between the three alcohol ingredients is equally 1:1:1. After shaking them, prepare a glass and strain the mixture over a large ice cube.
Finally, garnish the drink with orange peel or slim orange slices. What's more, you can actually add more flavor to the cocktail by moving the orange peel around the rim of the glass.
Let's learn how to make a Negroni cocktail from a professional bartender!
Total time: 5 minutes
You can experience this special version–blueberry Rosemary Gin and Tonic with a variety of flavors by using different brands of gin every time you make the cocktail.
Overall, this amazing blueberry cocktail is a perfect combination of muddled blueberries, fresh rosemary, tonic water, and slightly bitter gin.
In preparing the ingredients, you also need lime juice and simple syrup. Note that either fresh or frozen blueberries can be used for this drink. Firstly, combine all the ingredients (but leave out tonic water) and mix them with a cocktail shaker.
After that, strain the drink with an ice cube and top the cocktail with tonic water. Finally, garnish it with sprigs of rosemary, lime slices, or blueberries.
Total time: 5 minutes
The stunning Clover Club cocktail had its name from the men's club in Philadelphia (operating from the 1880s until the 1920s), and it was first served in 1882. Clover Club has a foam layer on top which results from shaking the egg white with other ingredients.
Making a Clover Club is an art form in itself, which I believe requires a certain devotion and passion. Besides egg white, this recipe calls for syrup, lemon juice, and gin. Remember that egg white is the last to be added to the shaker to prevent cloudiness and chunks.
Overall, this cocktail tastes like a sweet-tart delight with raspberries lying on top of the flavor. It's absolutely a summer gin cocktail that brings freshness and sweetness to a sunny day.
Don't skip this tutorial if you want to make a Clover Club cocktail!
Total time: 5 minutes
White Lady cocktail is made from gin, triple sec, lemon juice, and egg white. Originally, it was thought to be invented by Harry McElhone in 1919 using crème de menthe. After that, in 1929, when he worked at a bar in Paris, Harry decided to replace crème de menthe with gin.
This stylish triple sec cocktail still majorly maintains the flavor of gin, but the lemon juice and orange-flavored triple sec manage to balance out the bitter taste. It's very simple to mix: shake, dry shake, strain, and then garnish the drink.
Total time: 5 minutes
Here comes another charismatic lady to the table–Pink Lady cocktail! This classic pink cocktail is one of the can't-miss classic drinks if you want to have a taste of the high society's favorite drink in the Prohibition era.
The key ingredients that the drink needs are gin, lemon juice, grenadine, and egg whites. Interestingly, the beautiful pink color of the cocktail is the result of mixing gin and grenadine together.
When you take a sip from the Pink Lady cocktail, the sour and sweet flavor will gradually spread inside your mouth. On a side note, if you have a sweet tooth, you can add cherry or any syrup to the cocktail.
This detailed guide will help you mix a perfect Pink Lady cocktail.
Total time: 5 minutes
Gin Fizz cocktail was originally named after the city where it was born–the "New Orleans Fizz". The drink was an invention of Henry C. Ramos at his bar in 1888. Therefore, many people also call it the Ramos Gin Fizz cocktail.
At that time, this cocktail was so popular that if you arrived at the bar and ordered it, you could see dozens of different bartenders were also mixing the Gin Fizz cocktail. So, what is the secret behind this captivating vintage alcoholic drink?
Apparently, you can say that the Gin Fizz cocktail tastes like a delicate lemon pie. The perfect blend of lemon juice, sugar, soda, and gin will make you addicted to the refreshing flavor that you can only taste from a Gin Fizz cocktail.
Total time: 5 minutes
Bramble cocktail–a spring cocktail–originated in London back in 1984, and its inventor is a bartender named Dick Bradsell. You can say that this British cocktail is a fascinating drink with which you can experience a total blackberry flavor with an alcohol kick of gin.
Originally, the Bramble cocktail was made with creme de mure (a blackberry liqueur). But in this recipe, you will use Chambord or creme de cassis (a blackcurrant liqueur) to replace it. More importantly, you have to prepare high-quality gin to pull out the perfect taste.
Mixing a Bramble cocktail can be a challenge if you skip this tutorial.
Total time: 20 minutes
Different from other recipes in this article, this Lemon Basil Strawberry Gin Rickey cocktail requires more time and steps to complete. This creative fruity and sweet cocktail is inspired by the highball Gin Rickey cocktail.
Originally, Joe Ricky, the cocktail inventor, used bourbon and carbonated drinks to make the drink in the late 19th century. Later on, it became acceptable to replace the bourbon with gin, and, ta-da, Gin Rickey then appears in the list of the best gin cocktails everyone should try.
In this recipe, you will add strawberry-basil syrup and lemon juice, which makes the cocktail become sweeter and fruiter for an oppressive summer. What's more, you have to make the syrup yourself because that is a special recipe that is not sold at the supermarket.
To make the syrup, first, prepare a small pot and medium heat. After that, mix the sugar, strawberry, basil leaves, and water until the mixture becomes dense and mushy. The syrup will then be added to the shaker with other ingredients to make the drink.
Total time: 5 minutes
Gin and Sin cocktail first appeared in the 1920s, but no one knows exact information about its inventor or birthplace. The main ingredients to make this cocktail are gin, citrus, grenadine, orange juice, and lemon juice.
To make this simple mixed alcoholic drink with orange juice, you only need to shake, strain, and garnish. Gin and sin cocktails will bring a light and fruity flavor, which is implied by a unique gin flavor and a hint of sourness.
You need to go through these instructions before mixing the Gin and Sin cocktail.
Total time: 20 minutes
This is another altered version of the original Gin Fizz with special addition of spiced pear flavor. If you wonder, spiced pear is the combination of lightly sweet and juicy pear flavor with a little star anise and cardamom to create the spiciness.
It's not difficult to make the spiced pear syrup. You just need to mix sugar, water, pear, and herbs together in a hot pan and let the mixture simmer for about 5 minutes. Finally, add the syrup to the shaker to make the Spiced Pear Gin Fizz cocktail.
Total time: 5 minutes
Gimlet is a cocktail that has gin and lime juice as the main ingredients. Talking about the origin, "gimlet" was a word used to describe a sharp and piercing tool. Therefore, the name "gimlet" may also point to the unique effect that the drink has on the drinker.
In the 19th century, British officers promoted this drink and even gifted it to the sailors. The reason is that Gimlet contains many vitamin C which can prevent the risk of scurvy–a disease from which sailors usually suffered at that time.
Besides gin and lime juice, this recipe also requires raspberry syrup as the special twist and fresh raspberry for garnishing. The first step is placing a large ice inside the glass to create the chillness. After that, you will use the shaker to mix all the ingredients in 30 seconds.
Finally, strain the drink into a glass and decorate it with the fresh raspberry. Originally, Gimlet was mainly tangy and aromatic. But with the added flavor, this innovative raspberry cocktail becomes sweeter and more pleasant to drink.
You can't skip this guide if you want to make an all-season Raspberry Gimlet!
Total time: 3 minutes
The Southside cocktail is a distinctive drink that combines gin, lime juice, syrup, and mint. One fun fact about this cocktail is that it was believed to be the favorite alcohol drink among the gang of Al Capone–an American crime syndicate dominating Chicago during Prohibition.
The name "Southside" was given to the drink because Al Capone was in charge of the southside of Chicago, and he also wanted to differentiate it from the popular Northside cocktail at that time.
Apparently, the Southside cocktail is a brilliant recipe that hides the insensitivity and roughness of gin and creates a palatable, refreshing, and cool flavor. Mint plays an important role in this drink. Thus, you need to carefully transport, store and muddle it.
Total time: 4 minutes
The Aviation cocktail was invented in the early 20th century by Hugo Ensslin–a German bartender who worked in New York. This drink has a purplish sky-blue color which sets it apart from other cocktails with bright and vibrant colors.
To make the drink, you need to prepare gin, Maraschino liqueur, Crème de Violette, lemon juice, cherries, and lemon curd. Maraschino liqueur is made from distilled Marasca cherries, while Crème de Violette is a liquor that has artificial floral flavors.
Those two will create a neutral and natural base for the light sourness of lemon juice to come out when you have a taste of the Aviation cocktail. You can garnish the drink with cherry, blackberry, or any other fruit that you want.
This is an easy tutorial for you to follow and make the best Aviation Cocktail.
Total time: 5 minutes
Gin Espresso Martini is a wake-up cocktail that consists of gin, espresso, coffee beans, Kahlúa, etc. Seemingly, Dick Bradsell, a famous and innovative British bartender, is credited with creating the Espresso Martini recipe.
To describe the taste, this coffee-based alcoholic drink has a strong caffeine flavor which is complemented by the slight sweetness of sugar and dream. Before mixing the cocktail, you need to brew the espresso and let it sit on the counter until it cools completely.
After that, mix gin, Kahlúa (a coffee liqueur), espresso, and simple syrup in a martini shaker. After straining the mixture into a pre-chilled glass, you can put a few coffee beans as the topping for your cocktail.
Total time: 3 minutes
This drink is believed to originate from a mischievous joke in a New York bar in 1874. Since the joke got so well-known, many bartenders decided to take the inspiration and created the drink named Tom Collins cocktail.
The main ingredients to mix this timeless American cocktail are gin, sparkling water, lemon juice, and simple syrup. Sparkling water is carbonated water that can create a frothy topping for the cocktail.
In addition, Tom Collins can be combined with a wide range of spirits and flavors, which then results in many variations of the cocktail. For example, you can have a champagne tom collins as an aperitif, or there's also herb-infused Tom Hollins if you like herbs.
It's okay if you fail on the first attempt; just watch this tutorial and try making the Tom Collins cocktail again!
Total time: 40 minutes (included 30 minutes of steeping time)
The last recipe I offer to you is a special combination of a gin cocktail and a well-known English tea, the Creamy Earl Grey cocktail. This is a unique recipe, which you can hardly find at any public bar.
Besides the familiar ingredients (gin, lemon juice, and egg whites), you need to prepare Earl Grey tea, especially the lavender-flavored one. While removing the yolk from the egg whites, try to use clean hands or a slotted spoon to avoid bacteria contamination.
Starting with the Earl Grey syrup, prepare a saucepan to mix water, sugar, and tea from an Earl Grey tea bag. After that, let the syrup sit on the counter for about 30 minutes before starting to make the cocktail.
Overall, I believe that you can have a unique experience with this drink. It will taste like having a teacup with subtle alcohol, which will suit you well whenever you want to take an enjoyable rest after long hours of working.
Let's Grab The Ingredients And Make The Gin Cocktail You Want!
Don't waste time procrastinating or contemplating how difficult it can be to prepare gin cocktails; your actions will speak louder than your thoughts! Remember to check all of your ingredients to make sure whether they are fresh enough to pull out the correct flavors.
A great gin cocktail can complement your meals, comfort you at night, energize you with positive feelings, or even lighten up your moods. Making gin cocktails are just simple steps but can set a pleasant atmosphere between your guests or family members.
Don't hesitate to leave your comments below to give your opinions on the recipes, and share this article with your friends to choose the best gin cocktails for the next party! See you at other articles, cheers!